Jardin, a colorful town filled with beautiful flowers up in the Andes mountain, is filled with natural wonders in the surrounding area. There are countless waterfalls around the area, including one inside a cave called Cueva del Splendor. On top of that, there are many more such as Cascada del las Escaleras and Cascada del Amor.
The one that stood out to me was Chorro Blanco. Chorro Blanco is a hidden waterfall that measures about 100 meters high in height. It is so hidden that you won't even be able to find it on Google Maps or maps.me. Located almost inside the forest, you will hardly find any tourists there. There are tours that you can do that will charge you a hefty amount.

If you are interested in more amazing waterfalls, check out La Chorrera, the highest waterfall in Colombia next to Bogota.

But here we will tell you how to hike to Chorro Blanco from Jardin without getting lost (by yourself).
---
Things To Know Before Hiking To Chorro Blanco
Since Chorro Blanco is impossible to locate on the maps, it shouldn't surprise you that the way to Chorro Blanco is a little tricky. There are no signs along that way to indicate where you should go, making the hike even more confusing.
Thankfully, there are tours you can do on horses that will lead you to Chorro Blanco. Tour? I don't want to do a tour. I want to save money. I am not telling you to do the tour. I am saying that since horses pass by the trail frequently, you will see horse tracks along the way.
Horse tracks will help you so much to reassure you that you are on the right path. Horse tracks look like something like this.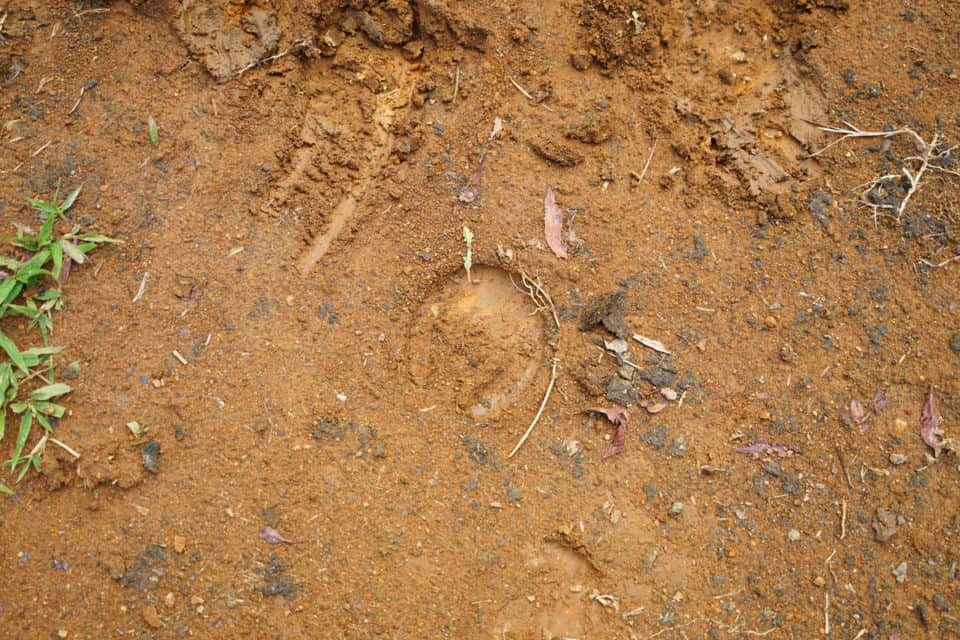 If there are horse tracks on your path, you are going the right way!
Another tip is that you will be walking in paths that will require you to open the gates or untie barbed wire fences. If you see a gate in front of you, that does not mean that you are going on the wrong path! We had to open or untie around 5-10 fences to get to Chorro Blanco.
The last tip is a general tip for not getting lost. On the path to Chorro Blanco, you will pass by many people's houses along the way. If you are at a fork and one of the paths looks like it's going towards someone's house, pick the one that isn't. 
---
Transportation: How To Get To Chorro Blanco
There are three ways to get to the starting point for the hike to Chorro Blanco: by mototaxi, public transportation (shared Jeeps), and by walking. This is ONLY to where the hike starts. All of these options take you to the same spot. The trail from the starting point to Chorro Blanco is approximately 2.5 hours.
There are also three options for coming back to Jardin. 
The first one is walking back the same way you came from, and calling your mototaxi driver to pick you up where you were dropped off.
The second way is to walk back the same way you came from, and then walking some more all the way back to Jardin.
The third and recommended way is to take public transportation (shared Jeep) that leaves at 5 pm to Jardin. More information on that down below.
Time and cost to get to the beginning of the hike to Chorro Blanco (not including the 2.5-hour hike to Chorro Blanco)
| | | |
| --- | --- | --- |
| | Cost (COP) | Time (minutes) |
| Mototaxi | ~20000 | 30 |
| Shared Jeeps | 5000 | 45 |
| Walking | – | 150 |
Total time and cost to get to Jardin from Chorro Blanco (including the hike from Chorro Blanco)
| | | |
| --- | --- | --- |
| | Cost | Time (minutes) |
| Mototaxi | ~20000 | ~180 |
| Shared Jeeps | 5500 | ~135 |
| Walking | – | ~270 |
Mototaxi to Chorro Blanco
Mototaxi is probably the easiest option to go to the starting point of the hike. They can be easily found all around the town of Jardin and especially around the main square.
You have the freedom to go at any time you want, but I recommend no later than 10:30 AM if you plan on catching the transport back to Jardin. The mototaxi should not cost you more than ~20k pesos.
We paid 20k pesos for them to take us to Alto de las Flores, or you can tell them to take you to where the hike for Chorro Blanco begins. This is the option I would highly recommend.
Public Transportation (Shared Jeeps) to Chorro Blanco
Public transportation, or shared Jeeps, can be easily found in the main terminal of the city. They are cheaper than mototaxi at about ~5000 pesos per person. But the only problem with that is that they only leave at 6 AM, 12 PM, or 4 PM.
If you are taking the Jeeps, you are forced to take the 6 AM just so you can come back to Jardin before the sun sets. If you are okay with waking up early to catch the 6 AM Jeep, this is probably the best option for you. 
Hiking All the Way to Chorro Blanco
Now if you are really into hiking or want to save money, you can walk the entire way. Walk towards Alto de Las Flores on your Google maps or maps.me. The hike will take about 2.5 to 3 hours to the beginning where you will have to hike another 2.5 hours to the waterfall.
---
Packing List For Chorro Blanco Hike
Your journey to Chorro Blanco will probably start in the morning and end in the late evening. For that reason, I would recommend you to pack several things.
Sunscreen – Jardin is at a fairly high elevation at 1750m above sea level. Sun is stronger than your average city in New York or London for example.
Insect Repellant with Picaridin – Jardin is surrounded by trees, woods, and nature. You will encounter many insects on your hike to Chorro Blanco. Picaridin is proven to be more effective than DEET.
Rain Poncho or Rain Jacket – Jardin gets quite a bit of rain. During my one-week stay there, it rained every single day. You don't want to be caught in the rain without a rain jacket or poncho.
About 1-2L of water, a packed lunch and snacks would help tons on your trip to Chorro Blanco. Don't forget to bring a bathing suit and a towel if you plan on jumping into the water.
Microfiber travel towel –  It is extremely light and portable and also dries quickly. You might want to get two in case you bring one to the beach and get it dirty.
---
Chorro Blanco: Step-By-Step Hiking Guide To Avoid Getting Lost!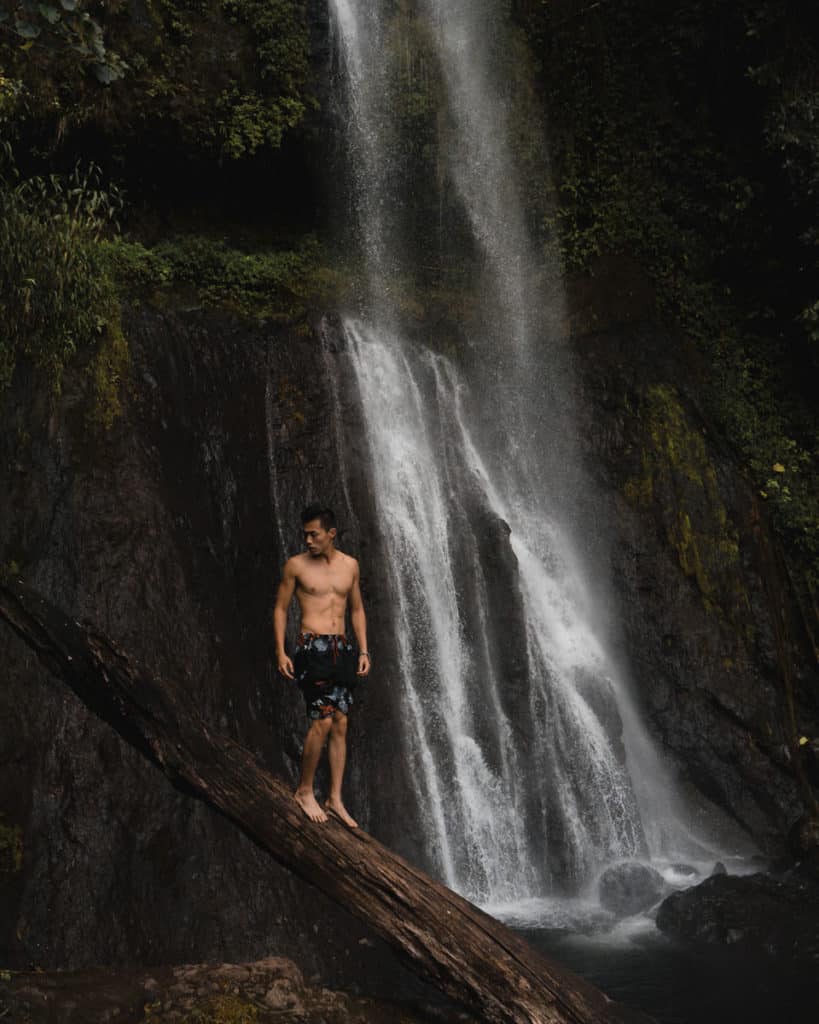 So you have decided to go to Chorro Blanco? Perfect, it is totally worth it even with all the hard work. This is a step-by-step guide on how to arrive at Chorro Blanco so you don't get lost. So let's begin!
So you have arrived at Alto de las Flores where the hike to Chorro Blanco begins, either by mototaxi, shared Jeeps, or walking.
You will come across an intersection, to the right is the main road and the left takes you up to some elevated ground. PICK LEFT AND GO UP!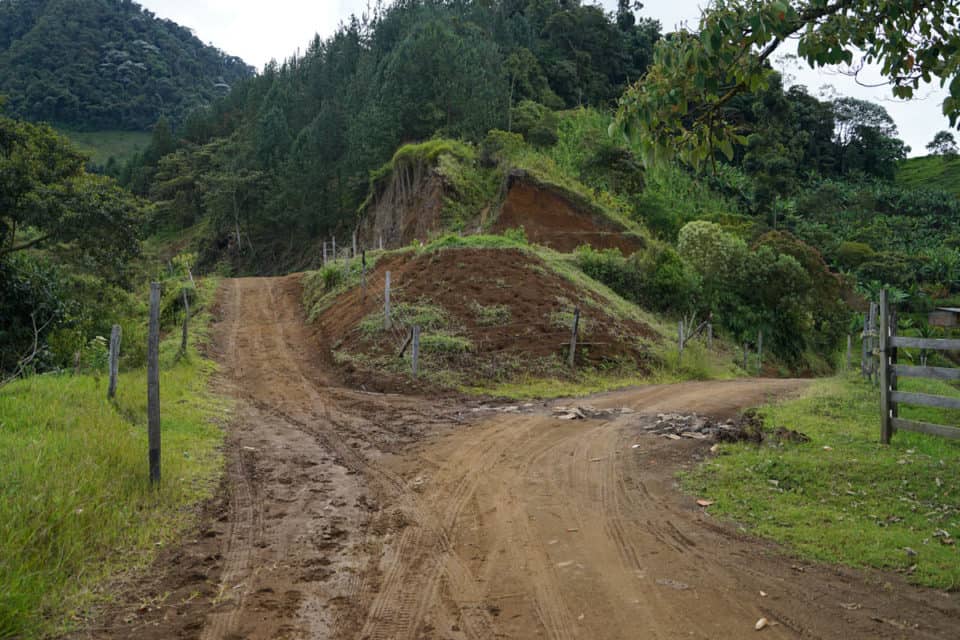 After picking the path on the left and going up, you will immediately have to make a decision to go left towards the house or right into the forest. Pick left and head towards the house with a gate in the front. The path should look something like this.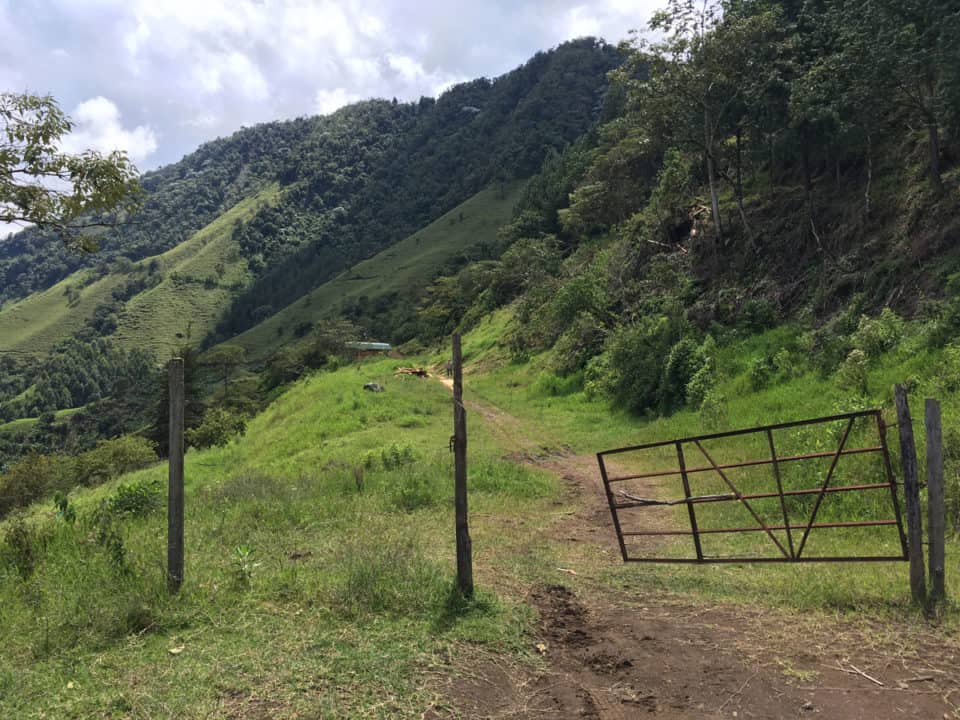 You will be walking for a bit before you have to decide between left or right again. On your way, you will encounter fences and gates that you have to open to get through. Don't worry. This is normal. You will encounter many gates and fences along your way.
After a bit of hiking, you will reach two paths, one to the right that leads up and one to the left that leads to a patch of green grass. Pick the path on the right. It should look something like this.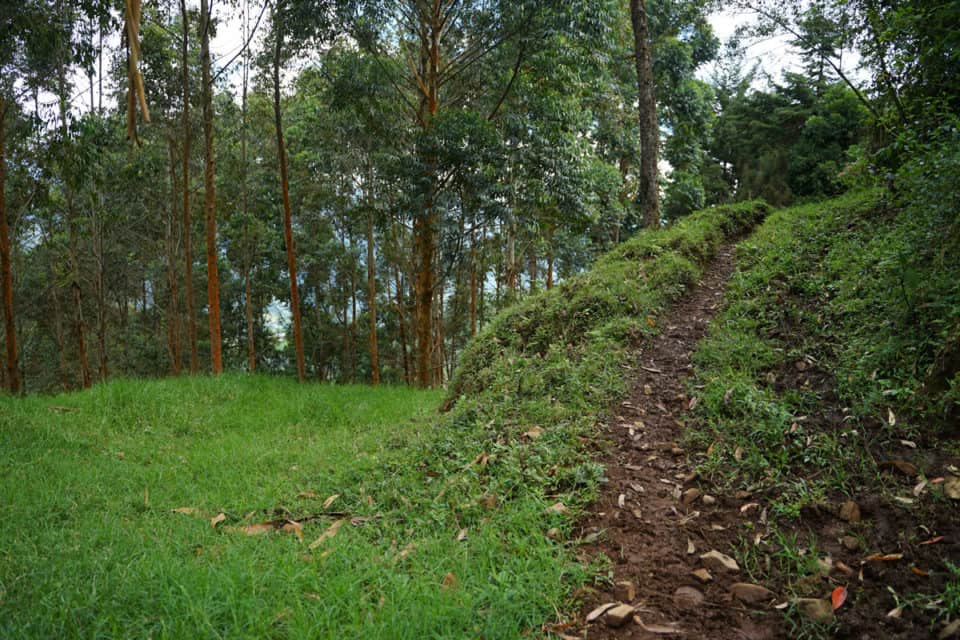 If you picked left, you will end up on a private property and have to turn back. After more hiking, you will arrive at a gate with the yellow house. Once you enter the gate, you will see a path to the left and a path to the right.
The path to the right takes you through a few houses, that is the path you want to take. It should look something like this.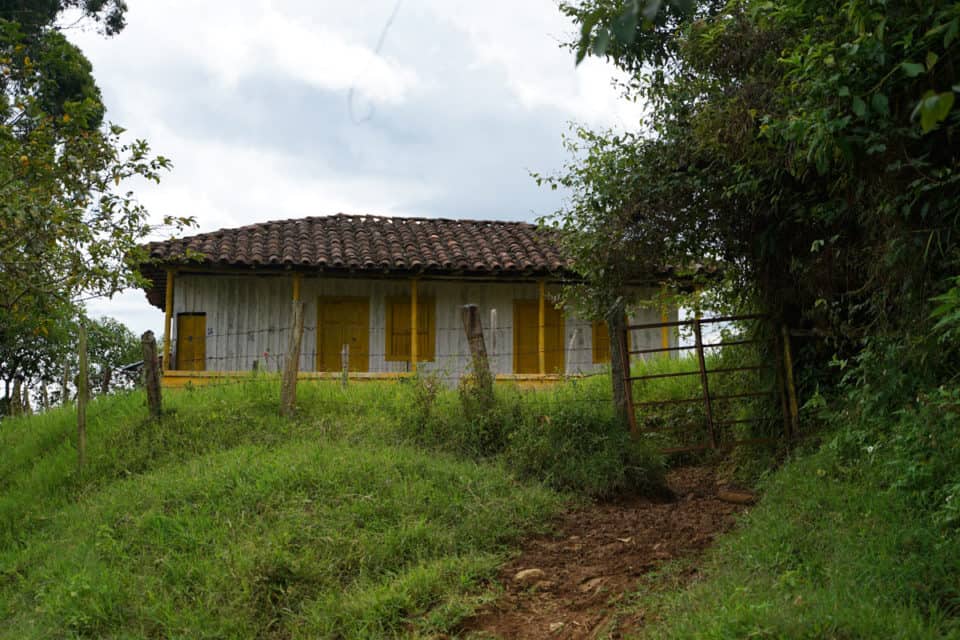 After you pass the houses, you will immediately see a gate to the right, or a path to the left that leads deeper into the woods. Pick the path to the left! The path to the right leads you to someone's private property. The path should look something like this.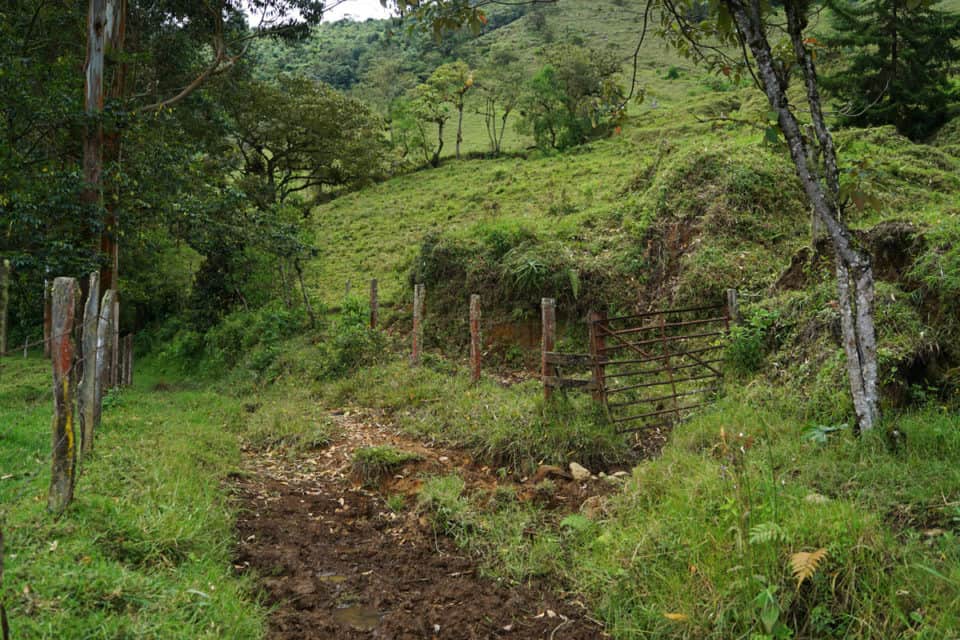 After hiking for a bit of time, you will come across another choice. This time there will be a sign that says "Venta de Queso". If you go to the right, you will come across a house that sells cheese. The house is guarded by angry dogs so unless you really want to buy some cheese, don't go to the right! Pick the path on the left.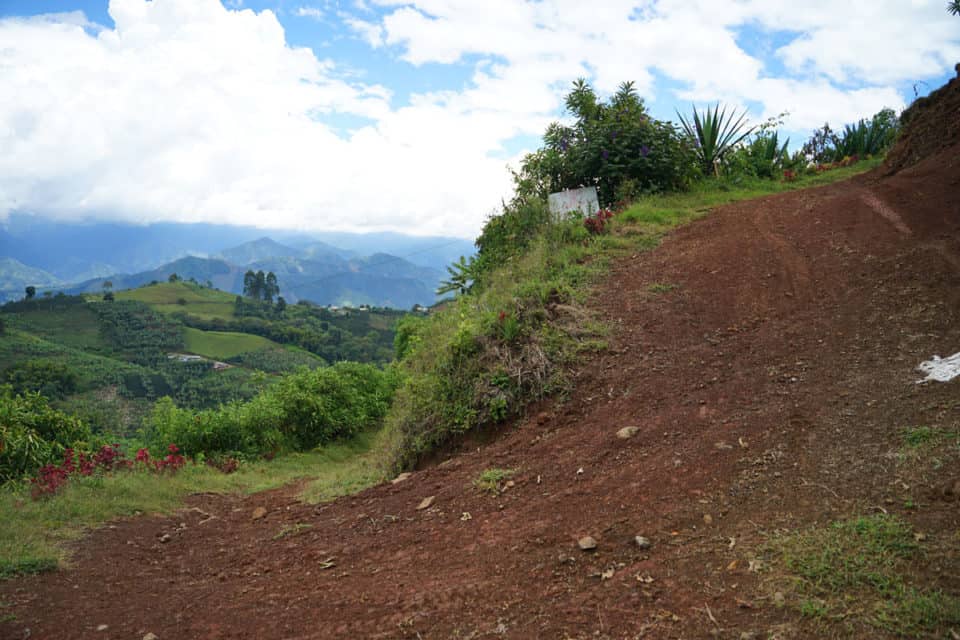 After you picked the left path, you will come another split after a minute or so. Pick the path on the right that leads up and into the woods.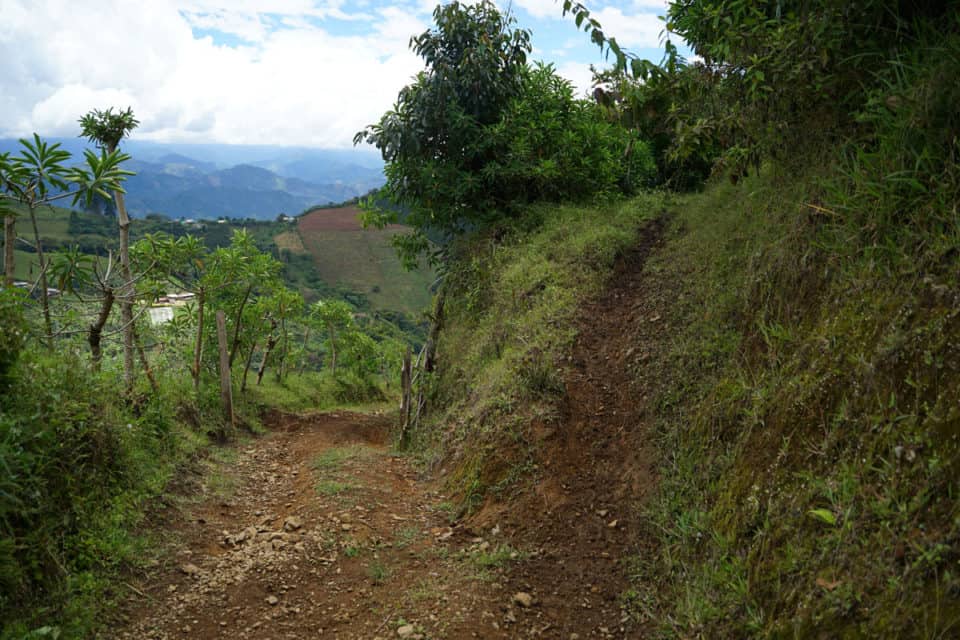 After continuing downhill for a bit, you will encounter another split. The path on the right will take you up and the path on the left will have you continue on your trail. Pick the path on the left. This will be the last choice you have to make!! You are almost there!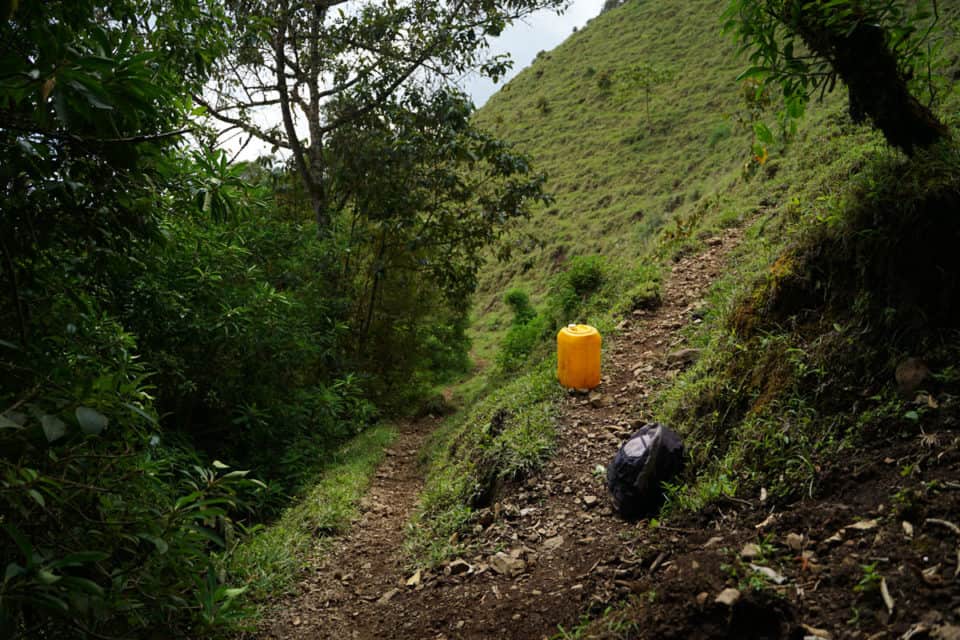 If you continue on that path for 30 minutes or so, you will arrive at the house for Chorro Blanco where you have to pay 2,000 pesos for entrance. On the way there, you will pass by a concrete building and what looks like some kind of station for water.
Continue down and you will see many cows along the way and many fences you will have to open up. Once you get down to the bottom, the house for Chorro Blanco looks like something like this.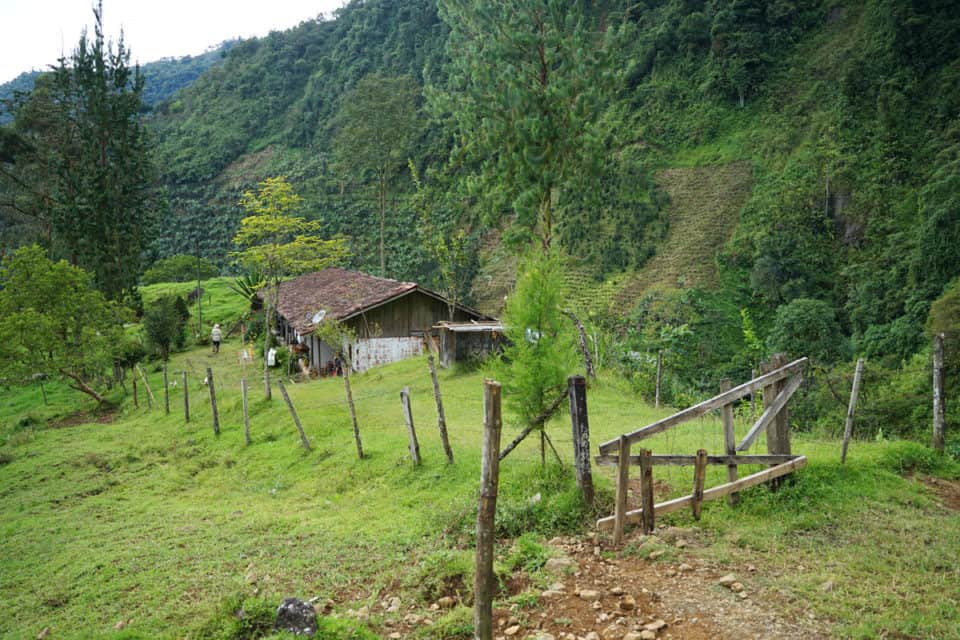 You have (almost) made it!!! Once you pay the owner of the house (Also the owner of the waterfall), he will lead you on a 15-minute path to Chorro Blanco. The path itself starts fairly easy but then you enter the jungle and it gets quick slippery and difficult. At one point, you have to crawl through a hole in a tree just to continue on the path!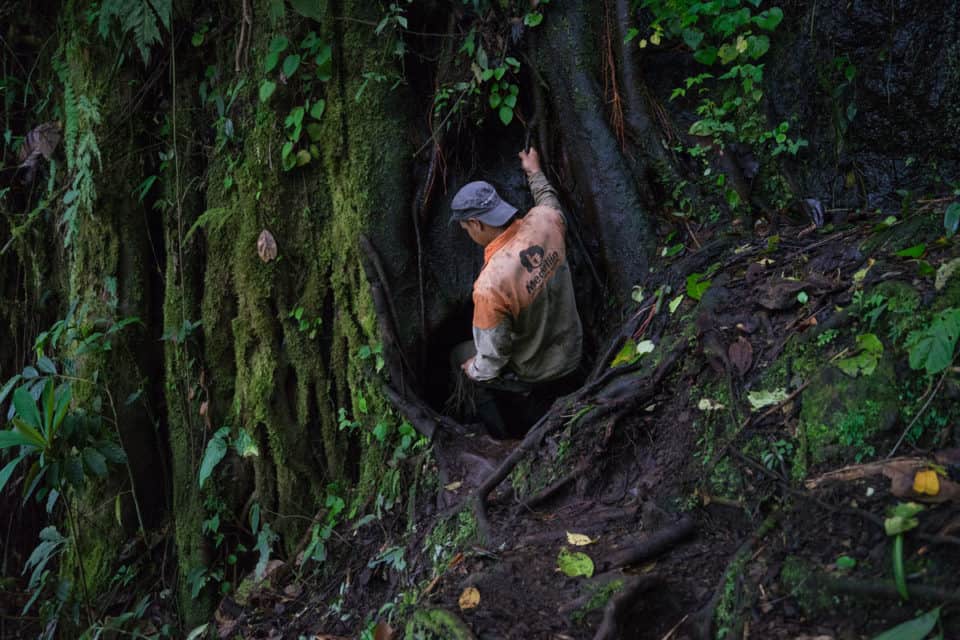 After you crawl through the opening in the tree, you will reach Chorro Blanco. I hope you remembered to bring your bathing suit because you deserve a swim after that difficult hike!
---
How To Get Back To Jardin From Chorro Blanco
After you have enjoyed Chorro Blanco, be sure to stop by at the house to enjoy some freshly made yogurt or juice. They use fresh milk taken from the cows on their farm to make the yogurt so it is extra thick and fresh.
Now there are three ways to head back, if you came in a mototaxi and have the driver's number, you can walk back the same way and ask him to pick you up.
Second, you can walk back all the way from the beginning all the way to town.
Third, which I am going to go into detail below, involves walking for 1.5 hours and then catching transport to town. I highly recommend this route because the way back to where you started the hike is quite difficult. The only trick to this is that there is only one transport at 5 PM. For that reason, I suggest you leave no later than 3:30 PM from the house. 
Taking Public Transportation Back to Jardin From Chorro Blanco
Start your hike back the same way you came in. However, instead of going back up where you came from, take a right onto a path that is slightly going downwards. It should look like something like this.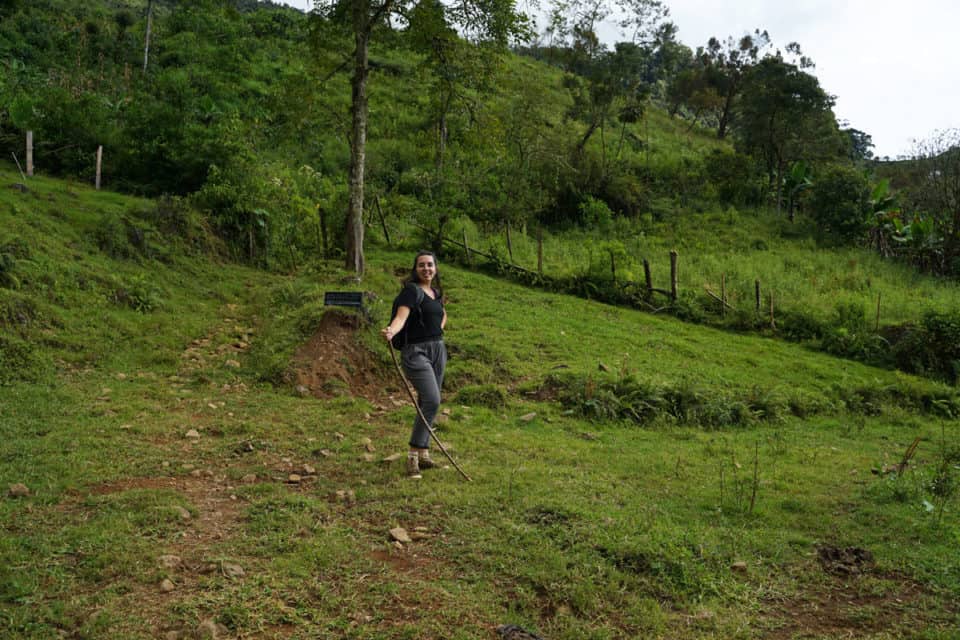 Continue heading down this path for about 45 minutes and you will reach a beautiful house on your right. Immediately after the beautiful house, you will reach the main road with a yellow gate and the option to go left or right. Go left at this intersection.
At this point, your apps for maps such as google maps and maps.me should start working. The beautiful house on your right will look like something like this.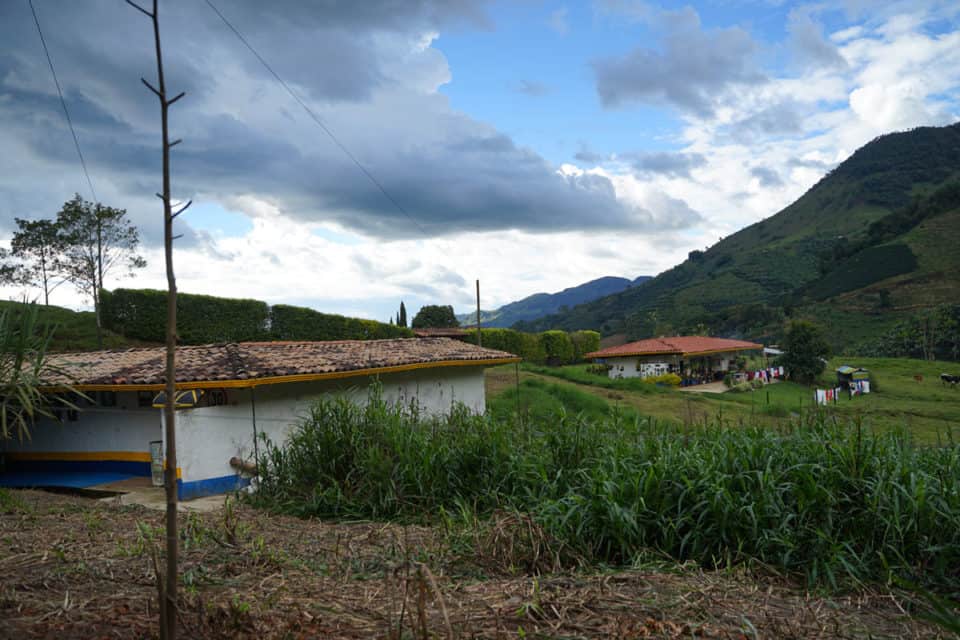 After making that left turn at the intersection, continue on the path for another 45 minutes or so. Remember to stay on the main path, there are many small trails that lead into the woods again. Don't take those. After 45 minutes of uphill hiking on the main road, you will arrive at a metal cross where the transport will come at around 5 PM.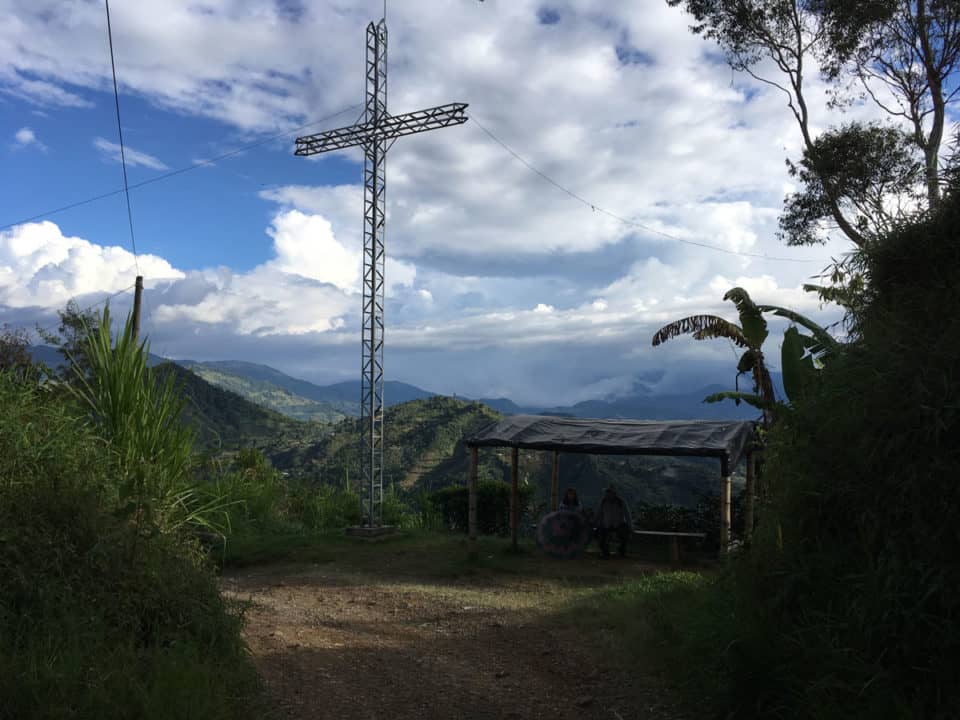 Congratulations!! You made it! Just sit back and relax and a Jeep will come pick you up shortly! The way back will cost you 5,500 pesos.
---
Where To Stay In Jardin
Best Hostel in Jardin – Creo Ecolodge Jardín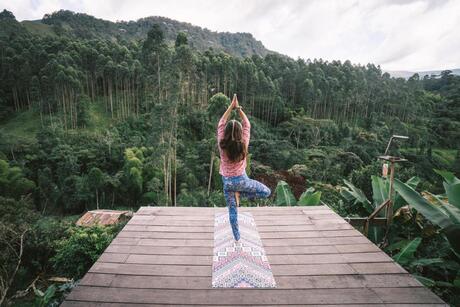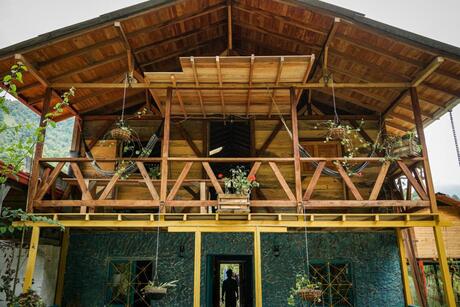 If you are visiting Jardin, chances are, you want to enjoy the pristine nature this charming town has to offer. There is no better place to do so (affordably) than Creo Ecolodge Jardin.
The hostel is located 2 kilometers away from the center of Jardin in the most gorgeous setting in Antiquoia. Guests can wake up to sweeping views and a complimentary breakfast to kickstart their day. The hostel is also environmentally friendly and sustainable, so what is there not to love?
Best Hotel in Jardin – Casa Passiflora Hotel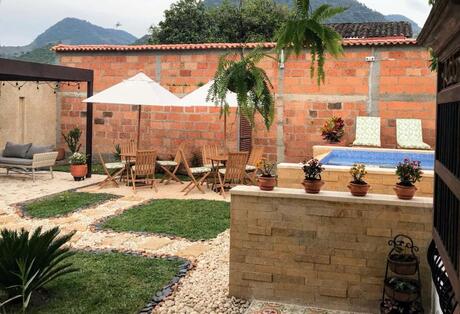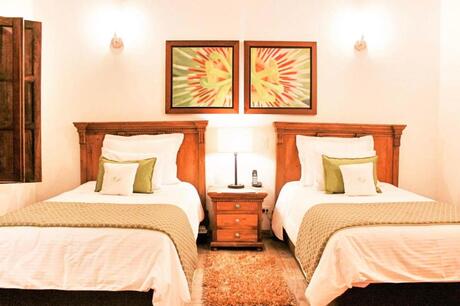 If you are looking for a fancy hotel, then I would recommend Casa Passiflora Hotel Boutique. Though I did not stay there, I heard many great things about it! It even has a hot tub!
---
Like this post? Don't forget to save it on Pinterest!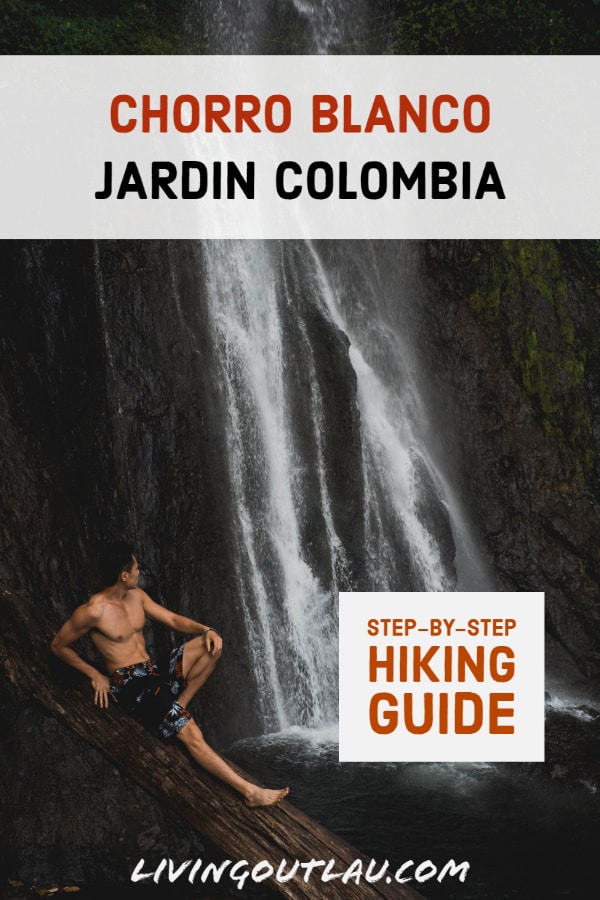 ---
I hope this Chorro Blanco guide will help you get there without getting lost! Looking for another amazing natural wonder to do in Jardin? Check out Cueva del Splendor, it is a waterfall in a cave!

How was your experience going to Chorro Blanco? Let us know in the comments!
Disclaimer: Some of the links above are affiliate links. That means if you book or make a purchase through the links, we will earn a small commission at no extra cost to you! The money will help run this site! Thank you!