Not sure what to do in Salento, Colombia? Worry not.
Salento is a small town with about 7000 residents, located in the Quindio region of Colombia. As part of Colombia's coffee triangle, this area is known for its lush landscapes and temperature weather which provide one of the best environments for coffee beans to grow.
But are there other things to do in Salento Colombia besides experiencing the Colombian coffee culture? That was our worry when we decided to include this in our Colombia itinerary.
But after visiting Salento ourselves, this sleepy town became one of our favorite places in Colombia. From giant wax palm trees to colorful colonial streets and a vibrant town square, there was just so much to discover in Salento.
That is why we have written this guide on the 17 best attractions in Salento Colombia. You'll also find information on where to stay, how to get there, and how to get around once you have arrived!
Enjoy!
---
What Are The Best Things To Do In Salento, Colombia?
1. Hike Cocora Valley And See The World's Tallest Palm Trees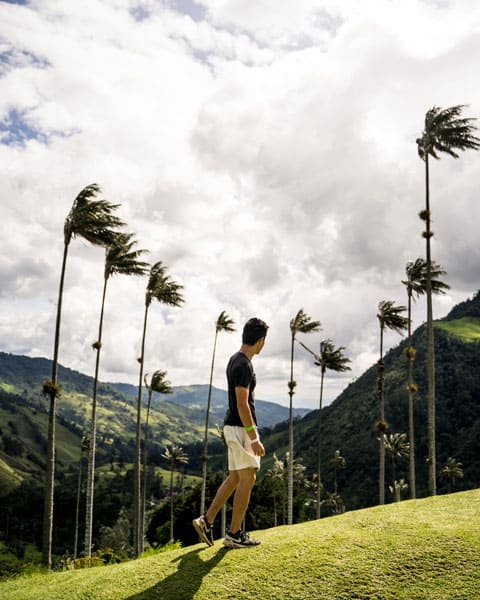 Without a doubt, Cocora Valley, or Valle de Cocora in Spanish, is the biggest attraction in Salento. Home to the tallest wax palm trees in the entire world, travelers come from all over the world just to see these epic palm trees near Salento!
Situated inside the Los Nevados National Park, th palm trees can grow up to 60m (200 feet) or the height of a 14-story building! It is a unique experience that cannot be had anywhere else in the world. They are also the national tree of Colombia!
To get to Cocora Valley from Salento, you can either walk from town or take one of the Jeeps that leave frequently at Plaza de Bolivar. The Jeeps leave once they fill up so there is no schedule to it. Just show up, buy a ticket, and wait until it is your turn!
When you arrive in Cocora Valley, you have two options to see the wax palms trees:
the out-and-back trail to the viewpoint
the long loop
The out-and-back trail takes you straight to the best viewpoint of Cocora Valley and all its mighty giants. This is the best option for anyone that doesn't want to do any extensive hiking.
The long loop means you do an entire 5-6 hour hiking trail in the Cocora Valley. Doing the long trail counterclockwise on this trail means seeing these iconic Colombian gems at the end of your hike, and clockwise means you will see them first thing.
We hike the long loop in Cocora Valley when we were there, and the moment you see the palm trees after a strenuous but beautiful hike is just unforgettable! Make sure you do the loop counter-clockwise, otherwise there won't be anything to see at the end.
2. Stroll Along The Beautiful Calle Real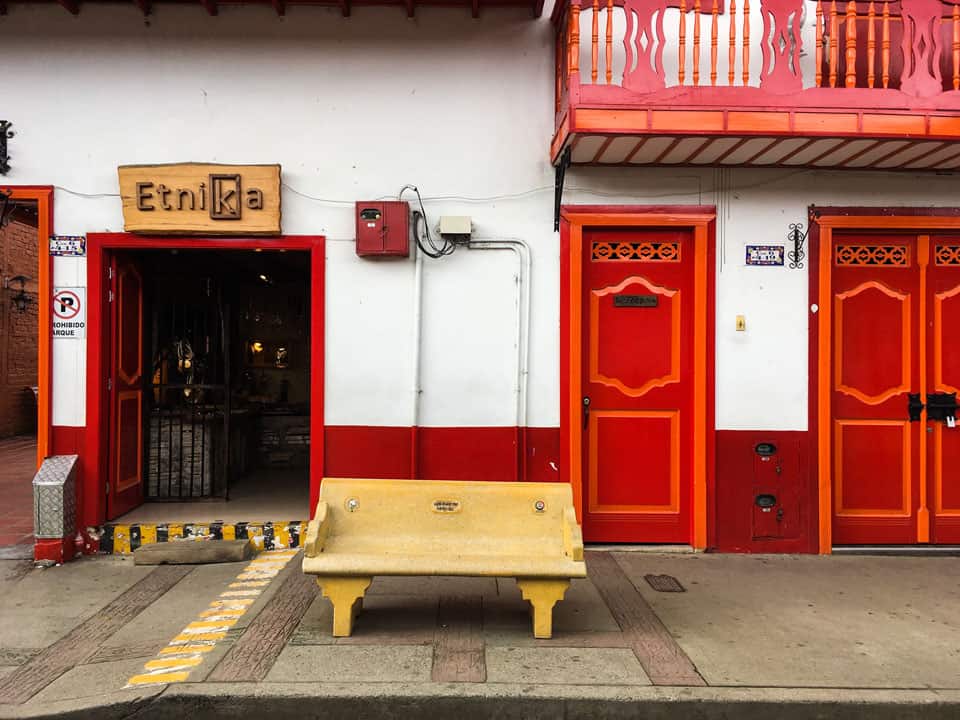 Calle Real is the "main" street that every town in Colombia has. It is the street where you will find cute cafes, local Colombian food, boutique shops and souvenir shops, along with some of the most colorful buildings in town. It is the liveliest street in town.
Though not very long, you can easily spend some time here just strolling down the street and popping in any stores that you find interesting. If you are looking to buy something in Salento, maybe a souvenir from Colombia, Calle Real is the place you want to go.
That is why Calle Real is must-visit place in Salento. But luckily for you, it is located conveniently in the town center. If you prefer a relaxing time, we recommend checking it out on the weekdays. When the weekend comes, it is crowded with tourists and almost feels like a different place.
3. Go On A Coffee Plantation Tour In Salento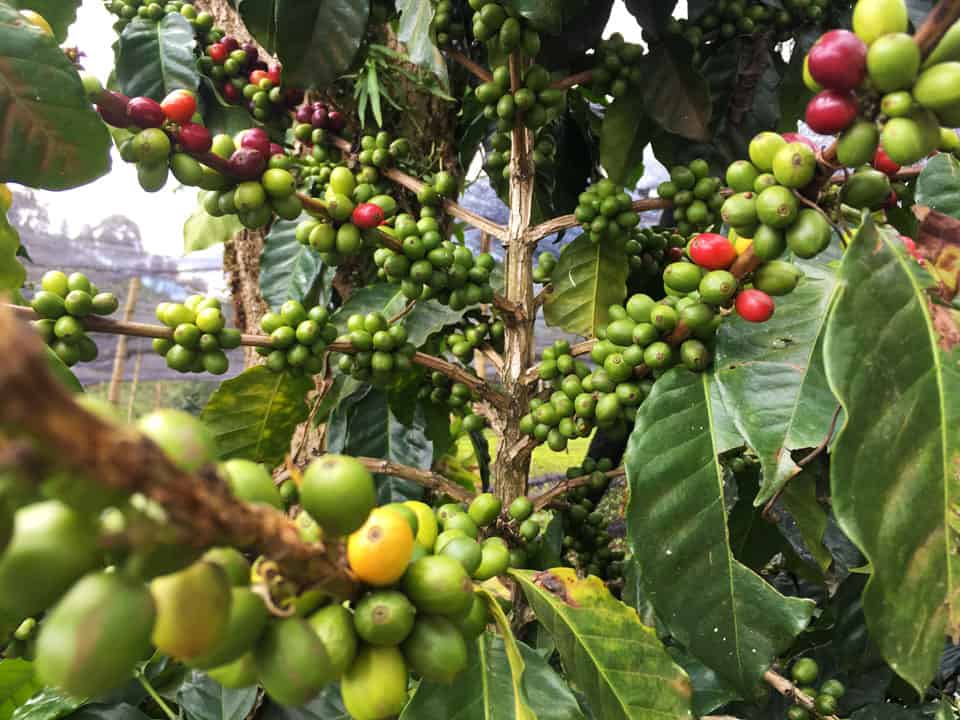 If you are visiting Colombia, you cannot leave without tasting a cup of coffee from the local plantations. Colombia's coffee is considered one of the best in the world due to its ideal growing conditions and the minerals in the soil.
Luckily for you, Salento is located in the Quindio region, the heart of the coffee triangle region in Colombia.
Therefore, it should go without saying that visiting one of the coffee farms is one of the best things to do in Salento.
Every coffee farm in Colombia exports its coffee overseas because of how much more money it can earn.
By visiting the coffee plantations themselves, not only do you get to learn the steps to producing a fine cup of coffee, but you get to buy high-quality Colombian coffee directly from the source. It is an excellent way to support the local economy and treat yourself!
How and Where to Get the Coffee Tours in Salento?
There is an abundance of coffee farms located on the outskirts of Salento, and many of them offer a walk-in coffee farm tour.
My personal recommendation is to go to Las Acacias Coffee Farm and Finca El Ocaso Salento on your own. They are both short hikes from the town of Salento itself.
If you want to take your coffee farm visit to the next level we recommend checking out this unique coffee tour here. You learn every step of the coffee-making process from the beginning to the end. You even get to experience what it is like working on a coffee farm in Colombia!
4. Go Up To Mirador De Salento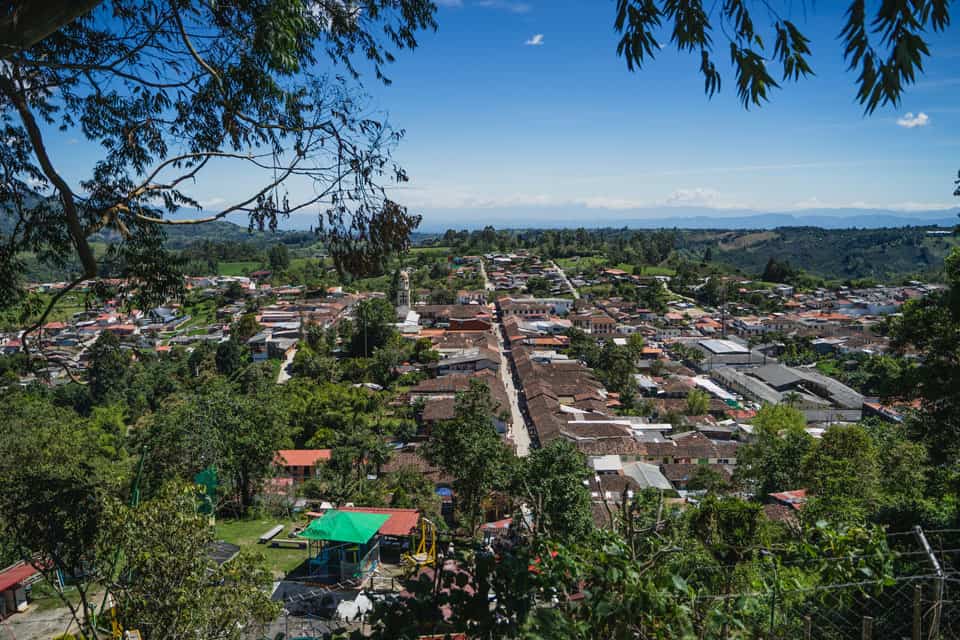 Interested in some stunning panoramic views of Salento? Then you have to check out the Mirador De Salento or the Viewpoint of Salento, one of the best places to visit in Salento!
Though not very creative or impressive with the name, I can guarantee you the view will leave you breathless. However, the way to the top of this viewpoint will also leave you breathless, literally.
The Mirador De Salento (sometimes also referred to as Alto de La Cruz) is located conveniently in town. Head down towards the end of Calle Real and you will find yourself at the bottom of a 238-step climb to the Mirador De Salento.
Two hundred thirty-eight steps later, you will not only see the entirety of Salento and the little traditional "paisa" houses but the lush nature that the Quindio coffee region is known for.
5. Visit Filandia, A Beautiful Colonial Town Nearby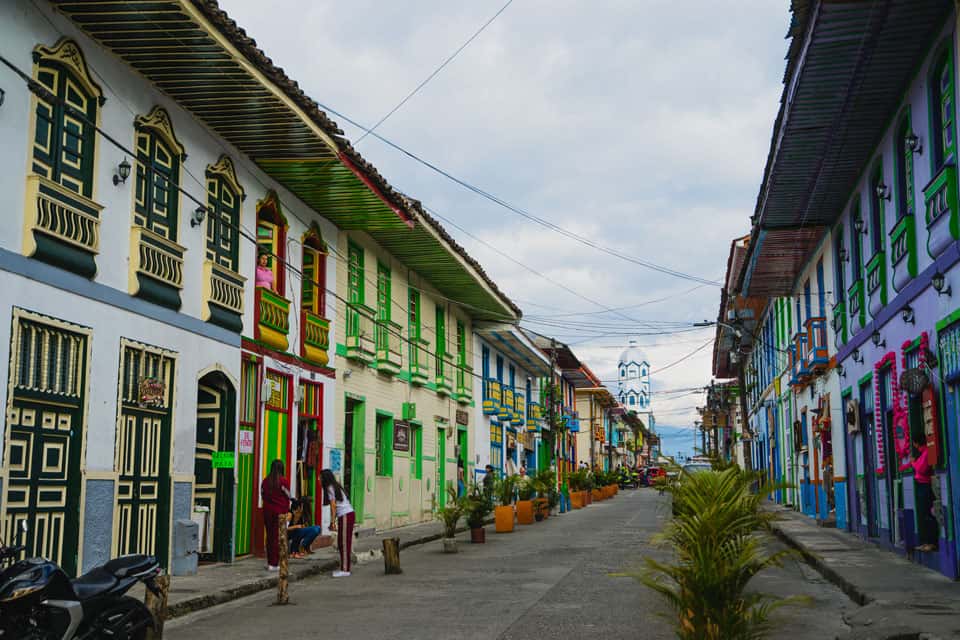 Filandia is a hidden gem that many Colombia travelers have not even heard of. Located only an hour away from Salento, you can visit Filandia on a day trip or for a few days.
Filandia is probably my second favorite town in all of Colombia, just behind the color colonial town Jardin.
Part of the reason is that they are very similar. Filandia has some of the most amazing nature, grass fields stretching beyond horizons that your eyes can reach, double waterfalls, and some of the best sunsets in Colombia.
If you stop by Filandia, make sure you try the famous restaurant, Helena Adentro, their eggplant appetizer is one of the best food I have tasted in Colombia. For the best coffee and sunset spot, check out Cultivar Cafe Restaurante, the view from there is incredible.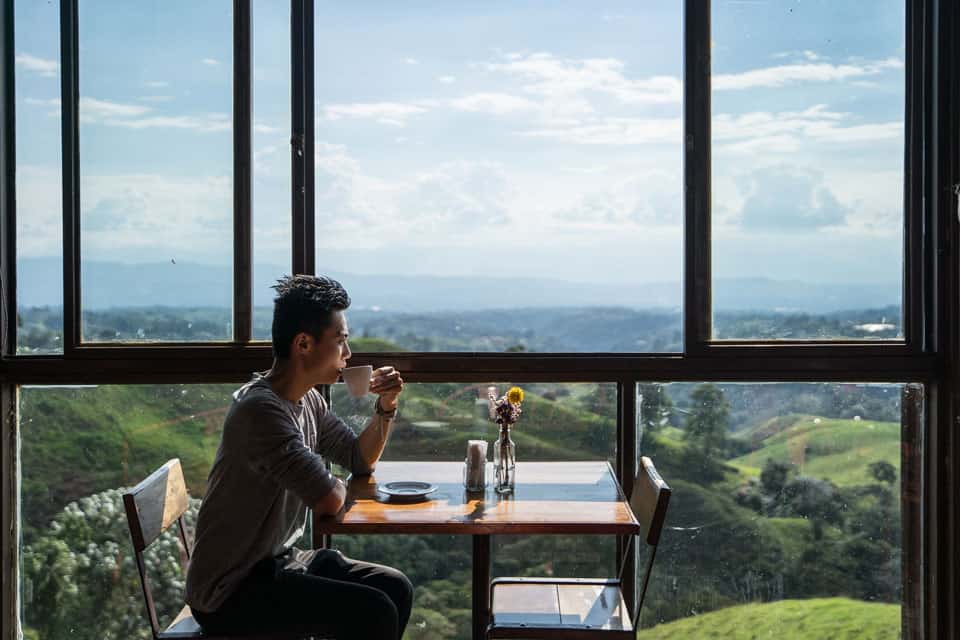 How to Get to Filandia from Salento?
To get to Filandia from Salento, head over to the main park in the town square of Salento, Plaza De Bolivar, the same place where you got your transportation to Cocora Valley. Tell the person at the booth that you want to go to Filandia and he or she will be able to assist you further.
Depending on your time of departure, you might have to take a bus to Armenia and make a switch to Filandia, or you might be able to score a direct transfer! Departure times are not as often as we would've liked so make sure you plan ahead!
6. Take A Short Hike To Waterfall Santa Rita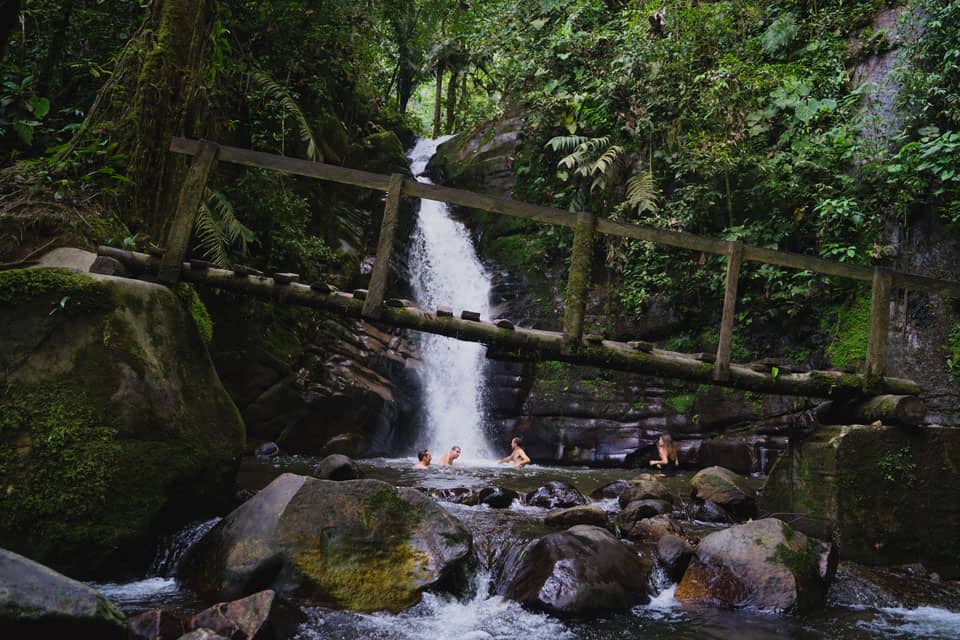 Salento is located in the rich coffee region surrounded by some of the lushest nature in the world. It shouldn't surprise you that it also has an amazing waterfall nearby, Santa Rita waterfall.
If the Colombia heat is proving to be a little too much to handle, why not take a short hike and bath in the freshwater of Santa Rita? Surrounded by nature on all sides, this Salento waterfall feels like a paradise in the jungle. Come with your friends, splash some water around, and have a good time.
Since you can walk there from town and the entrance fee is cheap, it is one of the best activities in Salento if you are on a budget.
How to Get to Santa Rita Waterfall from Salento?
The way to Santa Rita is about 1.5 hours from Salento. If you look on Google Maps, or maps.me, you will see two routes with roughly the same amount of time to get there. DO NOT take the route behind the Mirador De Salento!
If you do, you have to pay in order to pass certain parts of the path and you have to cross a river, with no bridge. Take the path that's going out of Salento toward the main highway.
7. Visit The Acaime Hummingbird Sanctuary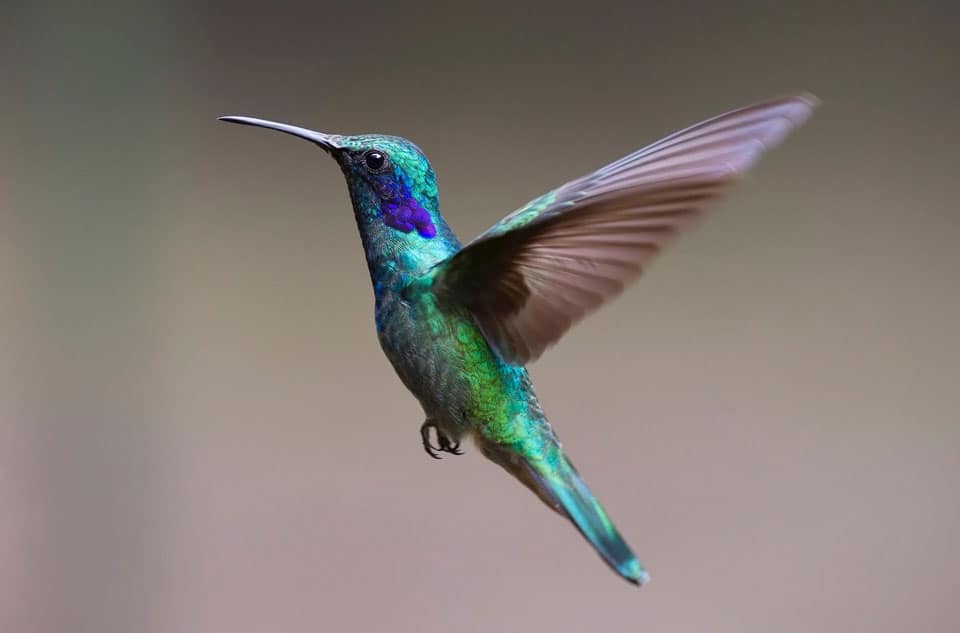 The Acaime Hummingbird Sanctuary, Casa de los Colibris in Spanish, is located in the Cocora Valley (Valle de Cocora) and can be reached on a 45-minute detour from the Valle de Cocora hiking loop.
If you are into hummingbirds, this is a place you cannot miss. Admire the hummingbirds as they fly freely over your head. Sip on some of the best local coffee and sample some of the cheese from the region. The Acaime Hummingbird Sanctuary is a place worth checking out when you are in Salento.
How to Get to Acaime Hummingbird Sanctuary from Salento?
Since the Acaime Hummingbird Sanctuary is located in Cocora Valley, the only way to reach it is through hiking the Cocora Valley long loop. Start the loop counterclockwise and about 2 hours in you will arrive at a fork.
Take the path to the right and you will arrive at Acaime Hummingbird Sanctuary in about 45 minutes or so. Do note that by adding this detour, you will add an additional 1.5 hours to 2 hours to the already demanding 5-6 hour loop in Cocora Valley itself.
8. Eat Trout (Trucha), The Famous Local Colombian Dish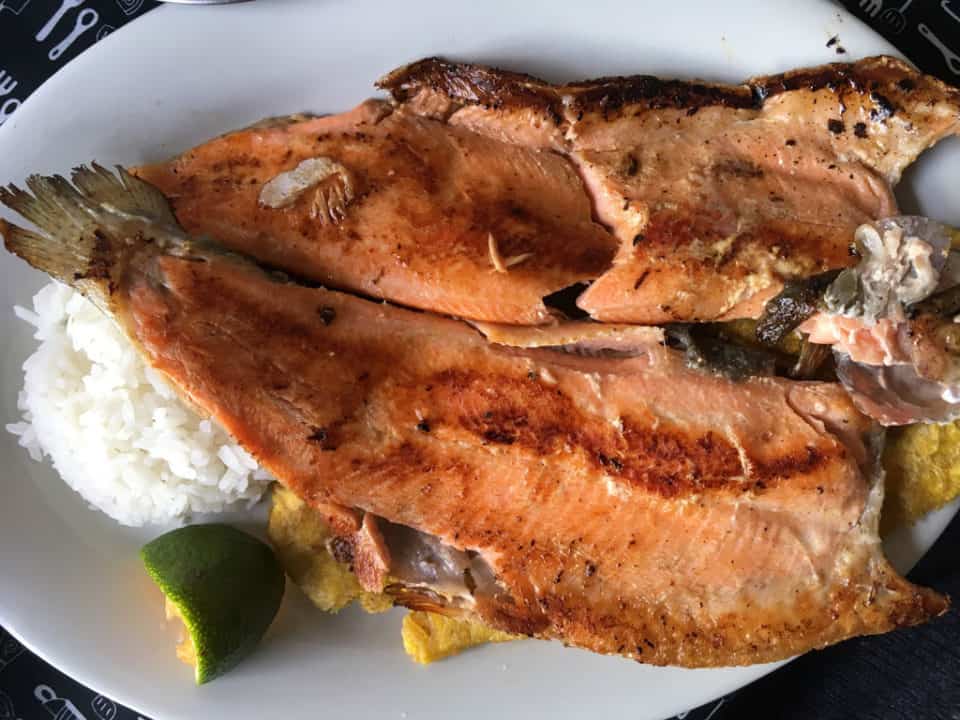 Trout, or trucha in Spanish, might seem like a common plain dish. However, trout is a delicacy and one of the many traditional Colombian dishes, especially in the Quindio region where Salento is located.
That is because of the many trout farms that are located in the region. Using the pure water from the fresh streams in the mountains, the result is some of the most delicious trout you will ever taste.
Where Can You Eat Trucha in Salento?
You can find trucha at almost every restaurant in Salento. Calle Real has plenty of restaurants that serve some of the best truchas in the area. If you are lucky, Plaza de Bolivar sometimes has food trucks that sell trucha cooked in many different ways.
They are usually more common during the weekends when tons of Colombian tourists come to visit.
My favorite is definitely fried or with garlic!
9. Play Tejo, Colombia's National Sport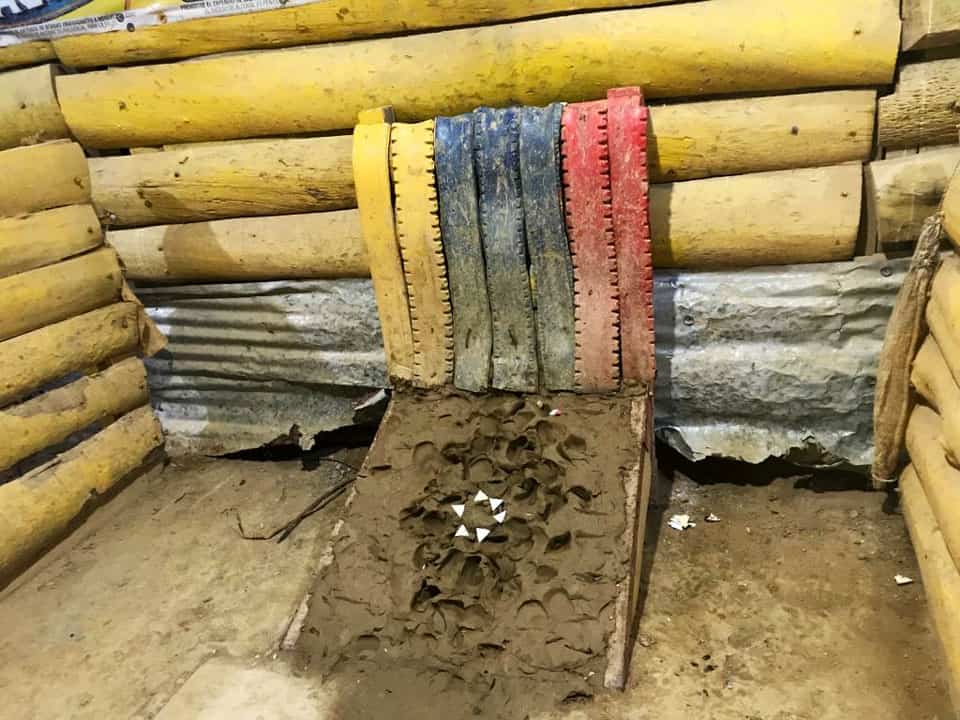 Tejo is a traditional Colombian game played using gunpowder and explosives.
Yes, I said it right. EXPLOSIVES!! The game is usually played in a bar while chugging tons of beer and alcohol. At this point, you might think Tejo is a recipe for disaster, and you are probably right. However, the game is full of fun and is usually safe.
One of the most interesting things about Colombia is that the national sport of Colombia, Tejo, dates back to the pre-Colombian era. It is the one thing you must do in Salento, or in Colombia in general.
Where Can You Play Tejo in Salento?
Cancha de Tejos Los Amigos is the best spot to play Tejo in Salento. It is a bar where you will meet local Colombians and travelers from around the world. The beers are affordable at Los Amigos and the staff will teach you how to play Tejo!
It is one of the best things to do in Salento if you want to be social and meet other travelers and Colombian tourists!
10. Go Horseback Riding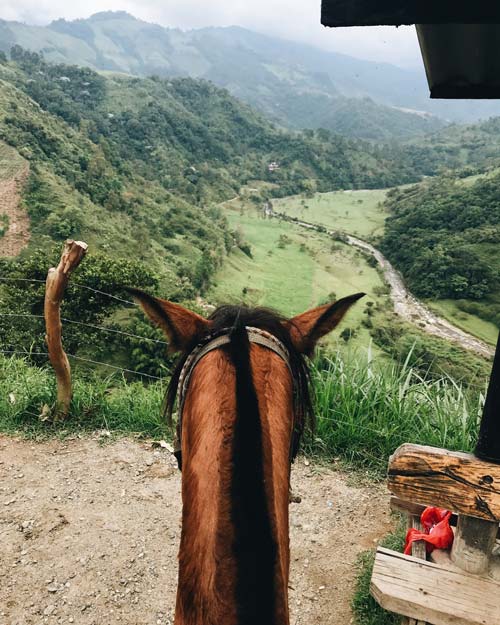 Another way to explore the Cocora Valley in Salento is through horseback riding. This option is perfect for those that would prefer a little bit more comfort and convenience, as hiking in Cocora Valley is no easy task.
Not only do you get to enjoy the scenery without sweating like a madman, but you can also explore trails that are not accessible on foot.
You get to enjoy a completely different viewpoint of the wax palms that you don't get when hiking. That means fewer tourists and more opportunities to enjoy this Colombia wonder in peace!
But if you want to secure your spot before and not waste time scouting around town, check out our recommended horseback riding tour here!
11. Try One of the Food Trucks
If you are visiting Salento during the holiday season or on the weekends, then you are in luck. The main square of Salento comes alive on those occasions, and numerous food trucks come together to offer visitors some of the freshest and most affordable meals in town.
The most iconic dish of Salento is trout, but these food trucks offer plenty of options in terms of how it is cooked. You will also find other local Colombian dishes such as patacones, arepas, and more!
12. Relax at One of The Coffee Shops in Salento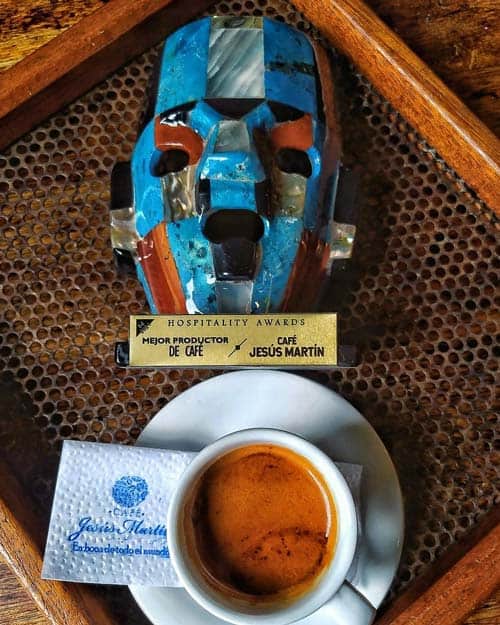 As the heart of Colombia's coffee region, no trip to Salento is complete without enjoying some Colombian coffee at a cafe. Luckily, there are plenty of options to choose from in Salento, but none is as revolutionary as Jesus Martin Coffee Shop.
The owner of the cafe, Jesus Martin, is famously known for his efforts to promote and change Colombia's coffee scene! The coffee shop itself is chic with friendly staff and a relaxing atmosphere. It has plenty of brewing methods to prepare the best cup of coffee for you to enjoy.
With an owner that takes pride in his products, Jesus Martin Coffee Shop is arguably the best cafe in Salento!
But this cafe is often full, especially on the weekend. If you cannot grab a table at Jesus Martin, try one of these excellent coffee shops down below.
Cafe Quindio
Cafe de la Esquina
Summer Cafe
13. Go People Watching at the Main Square
The Main Square (Plaza de Bolivar) is one of the most popular spots for locals to hang out, making it one of the best places for people-watching.
We particularly enjoyed grabbing a cup of coffee and just admiring the beautiful colonial-style buildings around the square. Though lively, it is never too overwhelming and you can immerse yourself in the relaxed small-town vibes.
If you are lucky, you will find small carts selling all kinds of snacks such as fruits, chicharron and more!
14. Try an Oblea!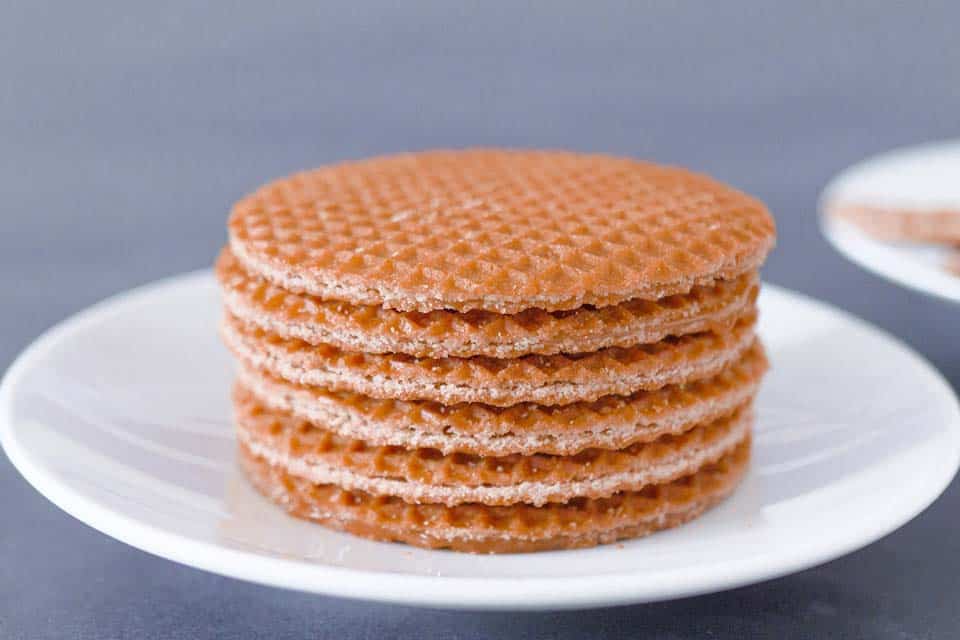 One of the best foods to eat in Salento is Obleas, a traditional Colombian dessert. It is made with two communion wafers sandwiching something sweet in the middle, usually dulce de leche. But nowadays, you can find fillings such as jam, fruits, whipped cream, and more!
Anyone with a sweet tooth will immediately fall in love with the Oblea. Luckily, the best place in Salento to try an Oblea is Sueño de Fresas (check location here)!
15. Visit La Carbonera, the Hidden Gem of Salento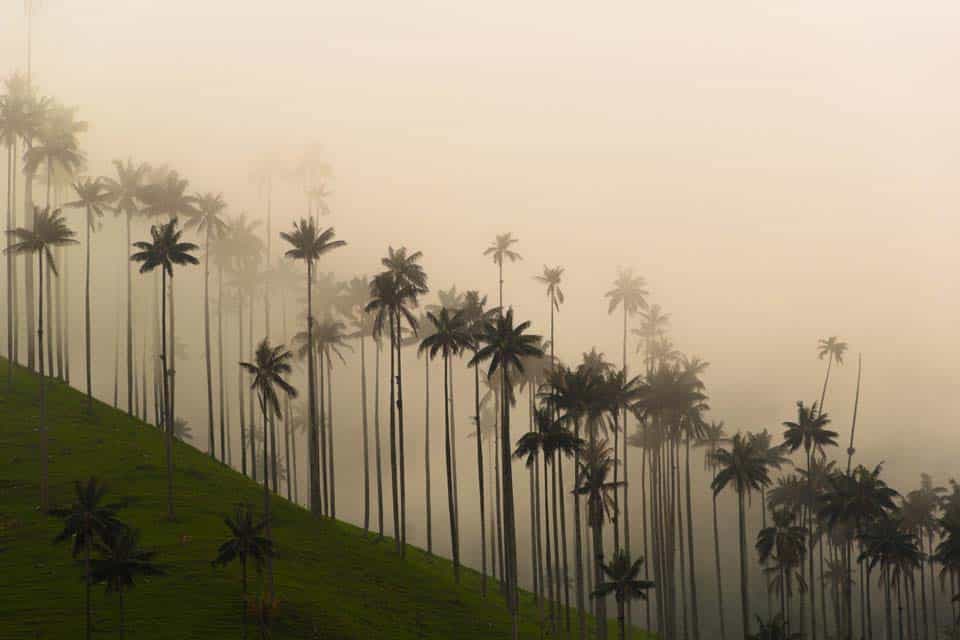 La Carbonera is one of the best hidden gems of Salento. Similar to the Cocora Valley (Valle de Cocora), it is a forest with stunning wax palms. But when it comes to beauty and uniqueness, Cocora Valley does not even come close to La Carbonera.
For starters, La Carbonera is twice the size of Cocora Valley. It is estimated that La Carbonera has over ten times the number of wax palm trees than Cocora Valley, and nearly no tourists! That means visitors can have peace and solitude when admiring those massive giants.
There is a reason why La Carbonera is a hidden gem; it's not easy to get to. To get there, we highly recommend going with a tour company. You could also rent a motorcycle or hire a Jeep for a day. Similar to Valle de Cocora, there is a bit of hiking involved!
16. Check Out the Hot Springs of Santa Rosa de Cabal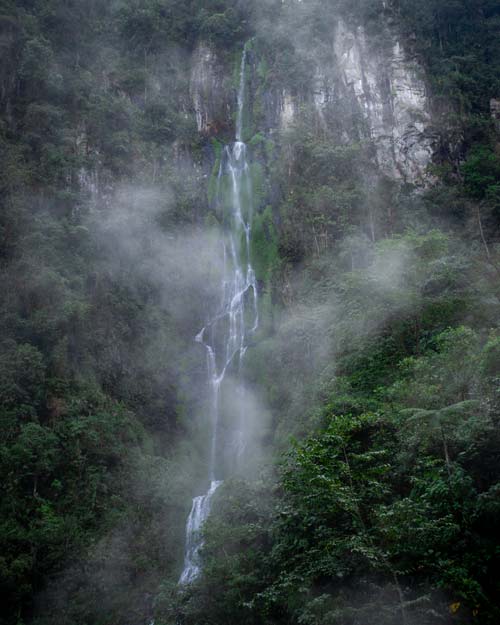 An hour away from Salento is one of Colombia's best natural hot springs, Thermales Santa Rosa de Cabal.
We were quite surprised to find that the Zona Cafetera (coffee region) of Colombia also had hot springs. But we didn't question it and knew immediately that a relaxing soak is exactly what we needed after hiking Cocora Valley.
To get to Santa Rosa de Cabal from Salento, you can take a Willy Jeep to Pereira and then switch to a bus to Santa Rosa de Cabal.
The thermal springs are located on the outskirts of town, so you can walk if you are on a budget or take another Jeep to the entrance of the hot springs. Though more costly, you can also take a direct taxi from Salento!
The complex is extensive and there are many different pools for you to enjoy. Unlike typical hot springs where the water is magmatic, the ones in Santa Rosa de Cabal are telluric. This means the water is odorless, tasteless, and drinkable (I still wouldn't recommend it).
What I do recommend is to get to this Salento hot springs as early as possible to avoid the crowds. Alternatively, you can consider staying in the Thermales Santa Rosa de Cabal hotel, which is situated right next to the hot springs, for easy access at all times!
If you are not short on time, spending a night at the hotel and relaxing completely in the thermal baths is not a bad idea at all!
Find out more about the Thermales Santa Rosa de Cabal Hotel here!
17. Go Shopping at La Aldea Del Artesano
Located a short walk away from the center of Salento is an artisan market known as La Aldea Del Artesano. This small market is a small community where local artists make crafts using indigenous materials.
Buying a souvenir from here guarantees that you don't have anything fake, plus you can support the local artisans! It is certainly better than buying something on Calle Real.
What makes this place even more special than the outstanding craftsmanship is how friendly the artisans are.
This is their home and they are more than happy to chat you up and ask you about your travels, where you are from, and the usual! In return, you will learn lots about their stories, crafts, and lives!
---
Things To Do In Salento, Colombia Map
Above is an interactive map featuring all of the attractions we've talked about. With this map, you can easily plan your Salento itinerary and plan how many days you need in Salento.
Click the star next to the name of the map to save it onto your own personal device. This'll help you go from one attraction to another when you are in Salento!
---
How Many Days To Stay In Salento, Colombia?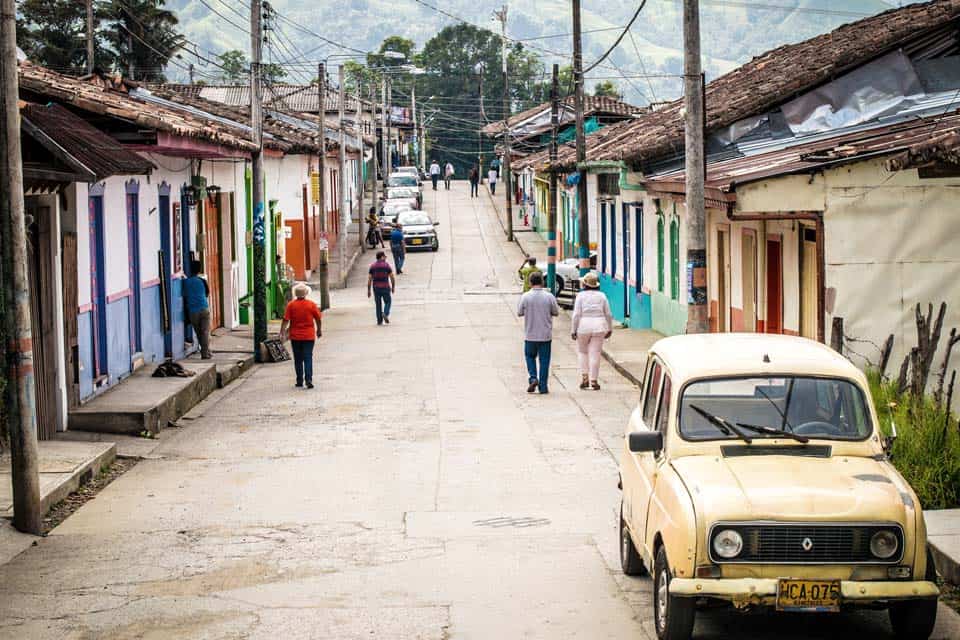 I recommend staying in Salento Colombia for at least 2 full days. One day is technically enough to see the best attractions in Salento but you will be rushed. It would involve a very early start to hike Cocora Valley and then come back in the afternoon to go on a coffee tour and explore the town.
As a result, two days is the ideal amount of time to visit Salento. That way, you can allocate one day to fully enjoy Cocora Valley, and another day to enjoy the town and the coffee tours.
Staying more than 2 days is perfectly fine, especially if you are a slow traveler. There are plenty of things to do in Salento Colombia to keep you entertained!
We personally stayed nearly a week in Salento Colombia. And for a town that has a handful of streets, that was more than enough time to see the best of Salento!
---
Where to Stay In Salento, Colombia
When picking a place to stay in Salento, keep in mind that the town is quite small and walkable. Unless you are staying outside the town, any accommodation in the town would suffice! Here are some lodging we recommend: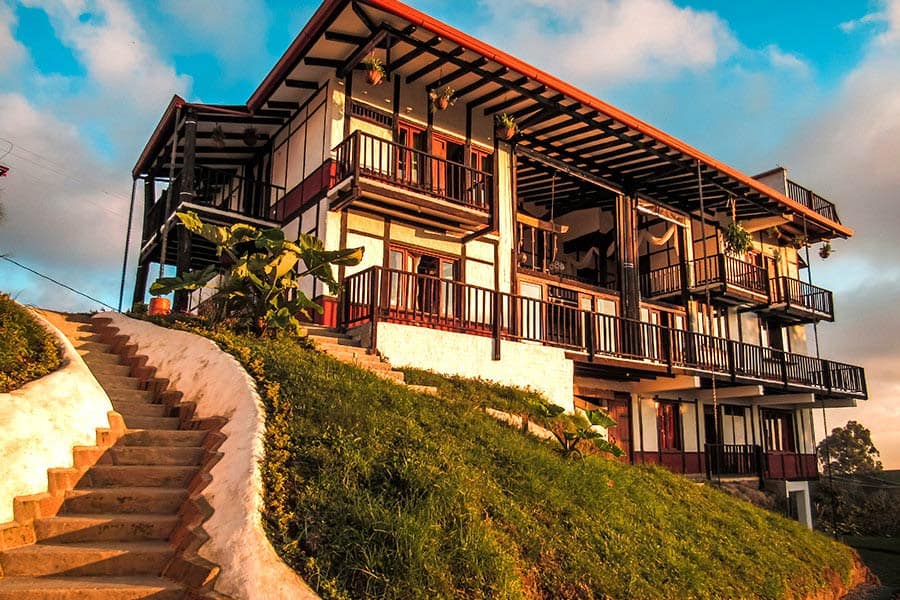 Coffee Tree Boutique Hostel is arguably the best hostel in Salento. Don't let the price fool you. Coffee Tree Boutique hostel is an amazing hostel with some of the best views of Salento on the balcony. Did I mention the fabulous breakfast that is included? It also has family-styled private rooms.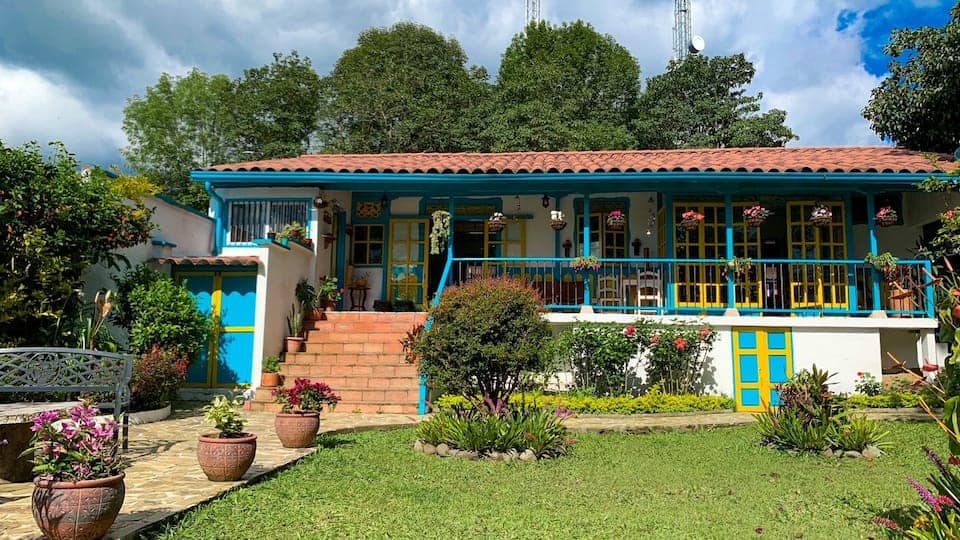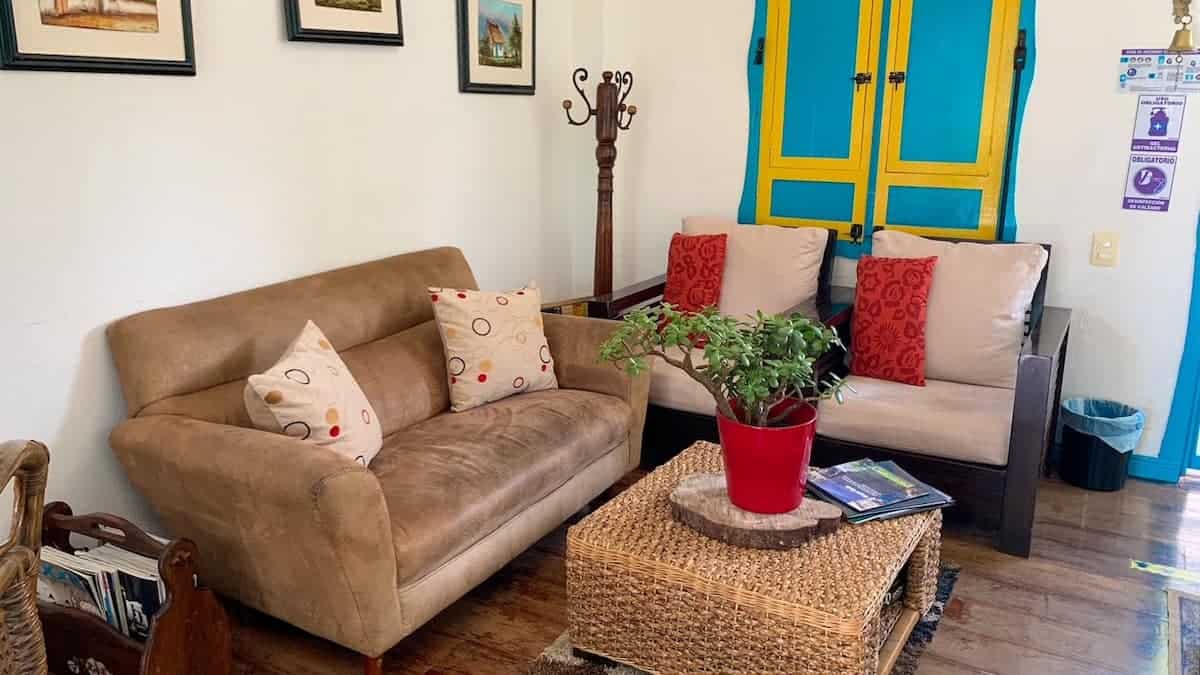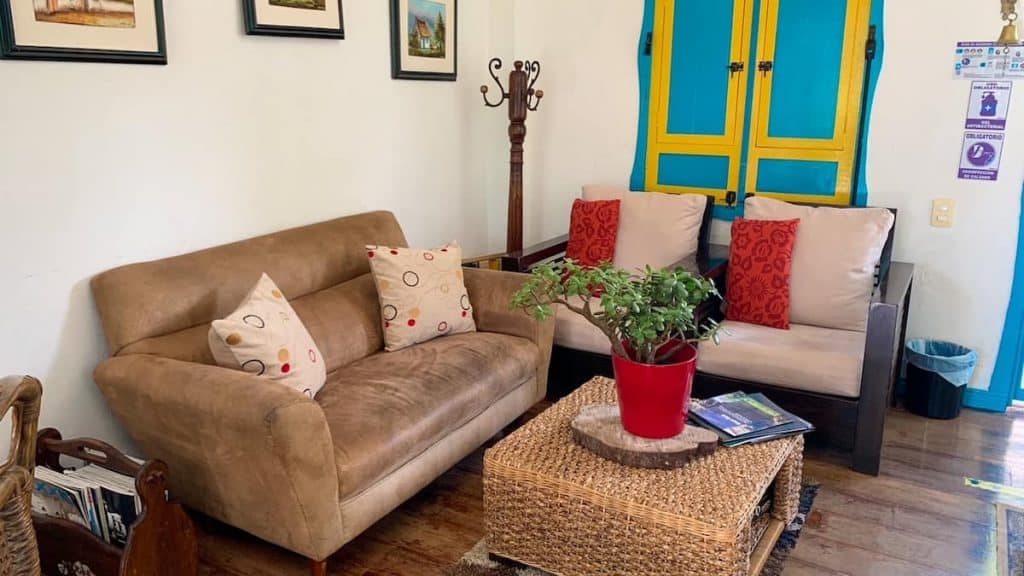 To fully immerse yourself in the Colombia experience, we recommend staying in a traditional house in Salento! Luckily, you can do that with Airbnb. This Salento Airbnb features pretty white tiles and a colorful roof, typical to that of a traditional house in the region!

Featuring 3 bedrooms, this Airbnb in Salento can comfortably accommodate 9 guests, allowing them to enjoy incredible amenities such as a lush backyard with your own personal coffee plants, a smart TV with Netflix, laundry machines and more!

Located near Calle Real, its ideal location offers guests ease of access to the best things Salento has to offer!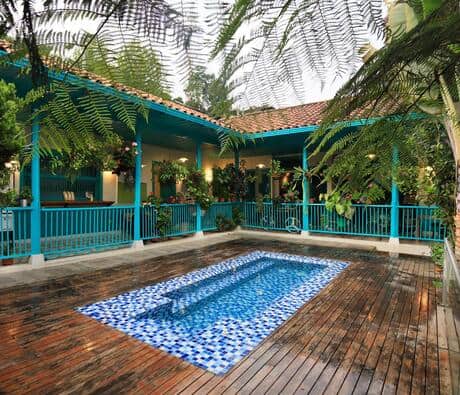 Casa De Las Dos Palmas is a small and lovely boutique hotel with some of the cutest decors in Salento. Everything is perfect from the free breakfast to the staff. Did I mention the jacuzzi that will rejuvenate your body after the long hikes?
---
How To Get To Salento, Colombia
Because Salento does not have its own airport, the most popular way to get there is via a bus.
Buses to Salento depart from various parts of the country. If you are flying to the closest airport to Salento, you would fly into Pereira Airport (PEI), which is only 27.1 km away. From there, you can catch a bus departing to Salento from the bus station.
The same goes for Armenia airport (AXM), which is another airport near Salento.
If you are spending a bit of time in Colombia, you might be coming from Medellin, Jardin, or Bogota. There are direct buses from Medellin and Bogota, and both routes take about 8 hours. From Jardin, you will need to take two buses, and it is a whole day ordeal as well.
How to Get Around Salento Colombia
Salento is a small town, so most of the time you will be walking from one place to another. But if you need to go further out of town, there are shared Willy Jeeps that you can take. They only depart to the most popular places in Salento, such as Cocora Valley, Armenia, and so on.
You can get off anytime when you are on a Jeep, perfect if your destination is between Salento and a main attraction.
Taxis are not very common in Salento, simply because you can walk to most places. If you want to visit an unusual attraction, you can arrange transportation with one of the tour companies in town.
---
Salento Colombia FAQs
Is Salento Colombia Safe?
As a small town with around 7,000 residents, Salento is very safe. All the town residents know each other so it is hard to get away if any of them commits a crime.
What is The best Day Trip From Salento?
The best day trip from Salento is either Filandia or Santa Rosa de Cabal. Filandia is another small town with incredible coffee shops and lush views, while Santa Rosa de Cabal is home to soothing natural hot springs!
Is Salento Colombia Worth visiting?
Salento is one of the best places to visit in Colombia. Situated in the heart of the coffee region, this sleepy town features gorgeous colonial-style architecture, lush green landscapes, and the world's tallest wax palm trees.
What Is The Elevation In Salento?
Salento is situated 1,895 meters (6,200 ft) above sea level. The weather is temperate and rain is plentiful in Salento
---
Like this post? Don't forget to save it on Pinterest!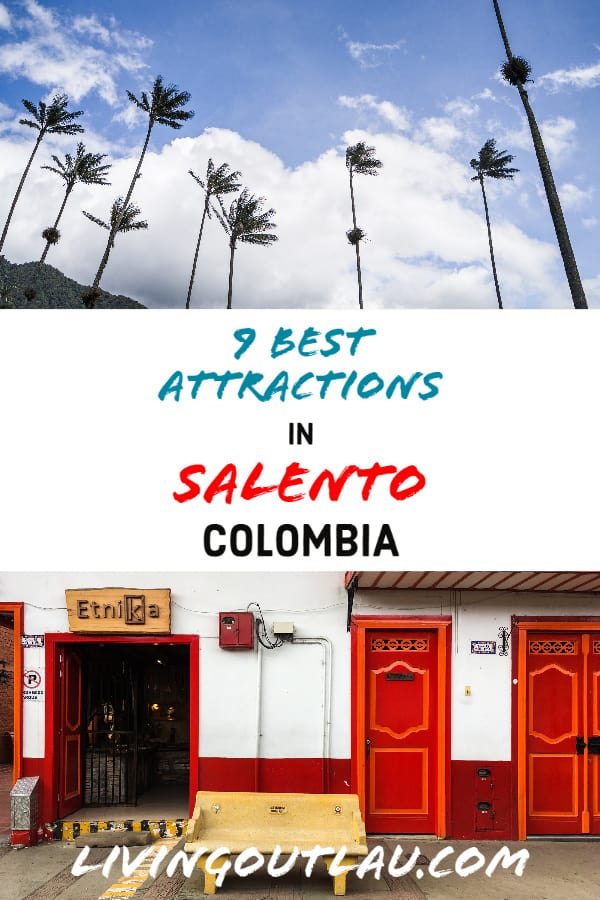 ---
There you have it, the 17 best things to do in Salento Colombia today.

If you have any questions or concerns about Salento, Colombia, don't be afraid to reach out or leave a comment!

Enjoy Colombia and safe travels!
Disclaimer: Some of the links above are affiliate links. That means if you book or make a purchase through the links, we will earn a small commission at no extra cost to you! The money will help run this site! Thank you!