Not sure what to do in San Gil? Worry not.
This small town in the Santander Department is nicknamed the "adventure capital" of Colombia, and there are plenty of adrenaline-pumping activities to keep travelers entertained. From bungee jumping to extreme caving and level 5 rafting, you will never run out of fun things to do in San Gil.
That is why San Gil is a place you should not miss on your Colombia trip. But what if you don't want to jump off a bridge or rappel down a waterfall? Is there anything else to do?
Since San Gil is located in the lush Santander region, there are more than just adventurous attractions. Our guide will cover what to do in San Gil, Colombia, including the non-risky activities that are suitable for kids and everyone in the family!
Before going to San Gil, we would highly recommend getting some travel insurance. Since you'll be doing lots of adventurous activities, it's better to be safe than sorry!
---
What Are The Best Things To Do In San Gil, Colombia?
1. Level 5 White Water Rafting in Rio Suarez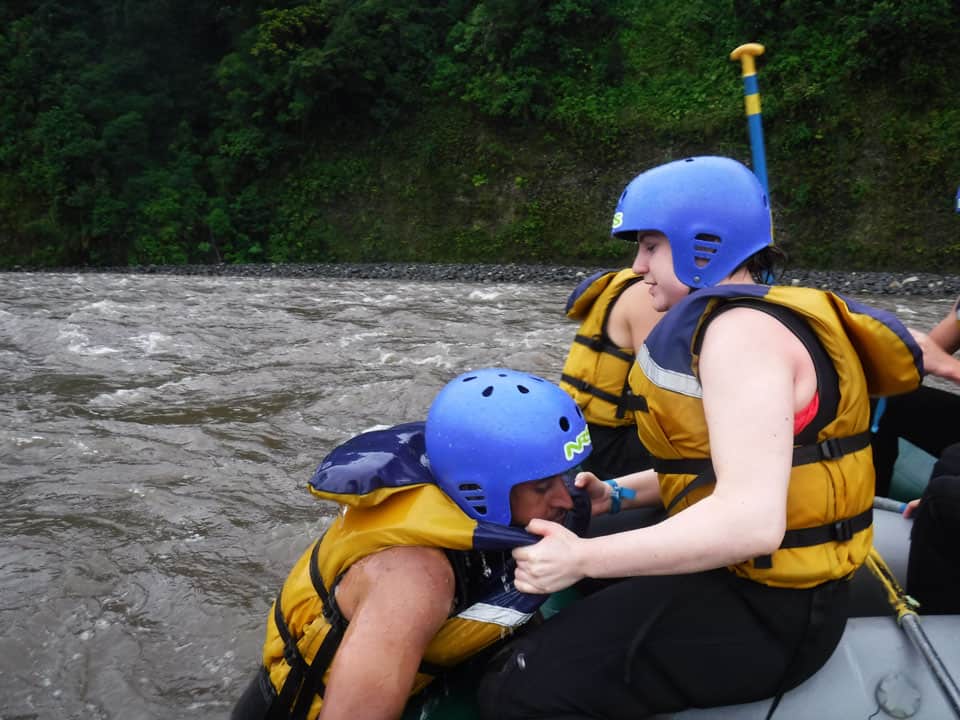 Perhaps San Gil's most adventurous activity is white water rafting in Rio Suarez. The adventure capital of Colombia is one of the few places on earth that offers level 5 white-water rafting. Though extremely fun, there is a huge inherent risk with level 5 rafting.
Raft through Rio Suarez and you will truly understand and appreciate the force of nature.
For those that want more kid-friendly activities, you can opt for level 2 and level 3 rafting in Rio Fonce. The rapids are a lot less powerful in Rio Fonce so everyone in the family can enjoy this watersport safely!
Rafting is only available through a guided tour, and there are many tour companies in San Gil that offer them.
2. Take a Day Trip to Barichara, Colombia's Prettiest Village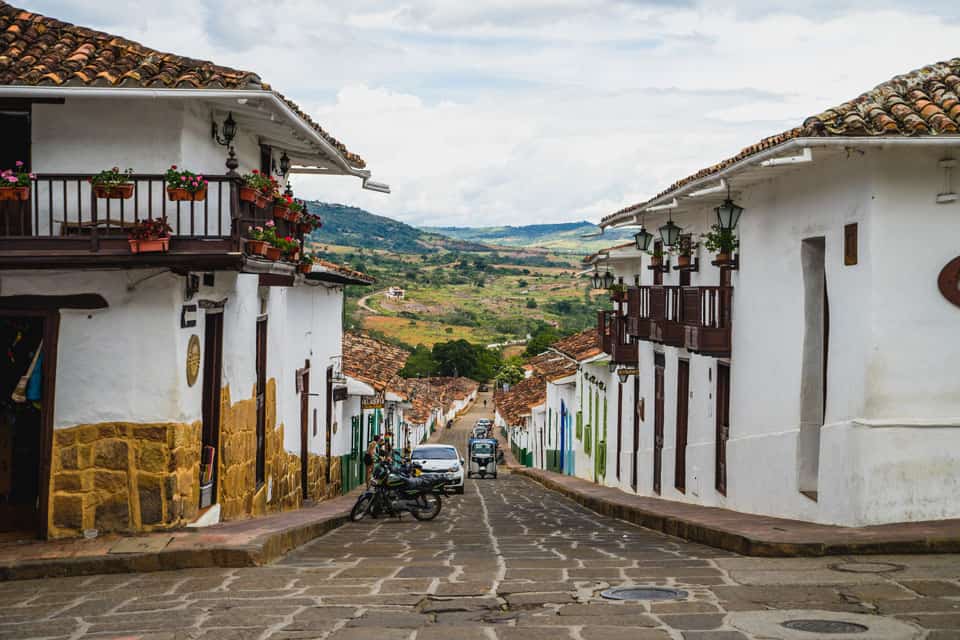 Barichara is a beautiful sleepy town located 45 minutes away, making it a wonderful day trip from San Gil. It is one of the few colonial towns that are tourist-friendly, similar to Jardin in Antioquia.
Famously known in Colombia as the prettiest town in the country, come to Barichara and walk along the historic cobblestone streets and admire the well-preserved white colonial houses along the way. Enjoy a traditional Colombian meal in the region and visit the main cathedral in the plaza.
When visiting Barichara, make sure you check out Salto del Mico for the best views of the lush scenery of Colombia. Then take a short hike on Camino Real and arrive in another historical colonial town called Guane.
3. Visit The Waterfall Cascada Juan Curi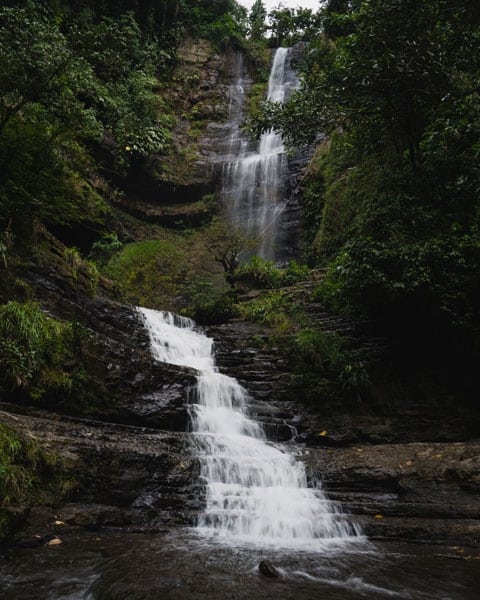 The 180-meter double waterfall of Cascada Juan Curi is considered one of the best places to visit in San Gil. Located 30 minutes away from San Gil, Visitors can take the bus headed towards Charala and asked to be dropped off at the entrance for Juan Curi Waterfall.
Once you arrive at the entrance of the Cascadas de Juan Curi Ecological Park, you'll need to hike for about 30 minutes to get to the waterfall. The trail is easy but sometimes can be a bit muddy, especially after a rain storm.
After a sweaty hike, visitors can cool themselves off with a swim at the pools of the waterfall. On a popular day, you'll find loads of people sitting by the waterfall, enjoying the fresh air and sometimes a picnic!
If you are lucky, you'll see people rappelling down the waterfall!
4. Relax in Natural Pools at Las Gachas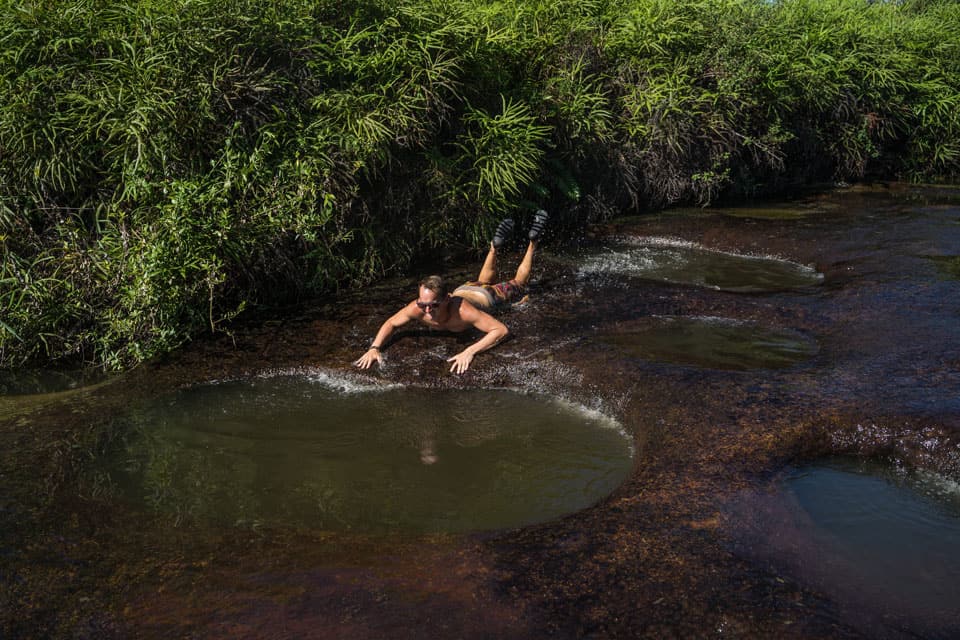 Las Gachas is one of the best hidden attractions in San Gil. That is because it is located quite far from town. But if you can find a way to add it to your itinerary, you are not going to regret it.
Las Gachas is series of natural plunge pools located on a shallow riverbed. These unique geological are believed to be created from the natural erosion of the rock by riverwater (at least what the locals have told me).
Each of these natural pools is like a mini-Jacuzzi, but beware that some of them are a little shallow and some of them are a little deeper.
We recommend visiting on the weekdays so you get the chance to have your private pool. Weekends can get quite crowded and you'll find tons of locals cooling down from the brutal Colombian heat! It is a perfect place to relax on a hot summer day or after some adrenaline-pumping activities.
If you visit during Colombia's dry season (January to April), you might not encounter lots of running water on the river. This could cause lots of moss and algae to gather in the water, making them unpleasant to swim in. Whichever season you are visiting, make sure wear some socks because the riverbed is slippery.

To get to Las Gachas, you can take a bus at Terminalito from San Gil to Socorro, and then change to another bus to Guadalupe. There are buses that go from Socorro to Oiba, where you can also switch to another bus to Guadalupe. From Guadalupe, it is about a 45 minutes walk to get to Las Gachas.
It is quite the effort to get to Las Gachas from San Gil. We recommend starting as early in the day as possible. The alternative option is hiring a taxi that will be willing to do that journey with you, but we recommend having more people in your group to make it more economical.
5. Go Paragliding!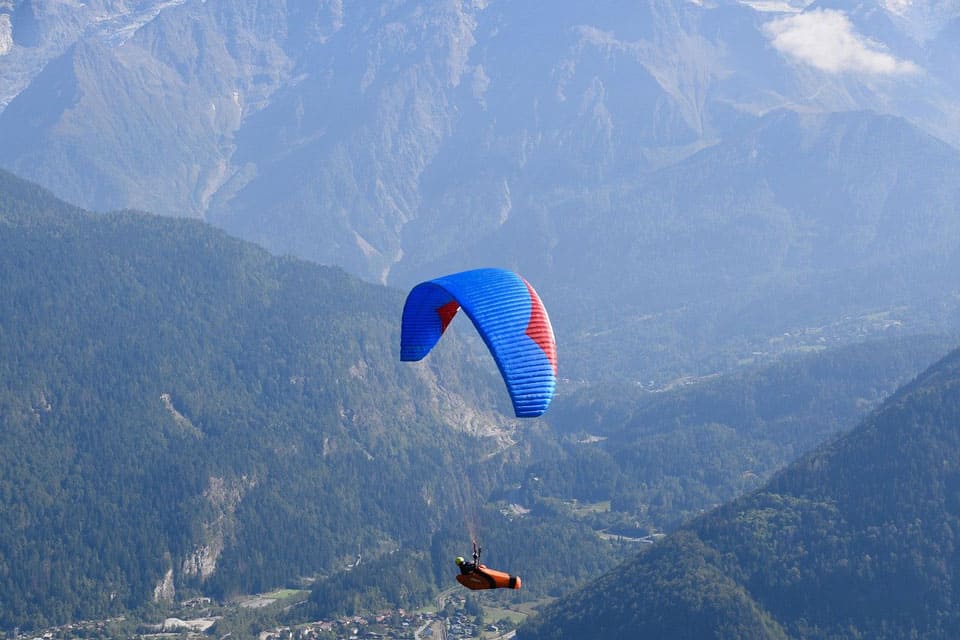 Travelers interested in seeing the beauty of Santander from above should consider paragliding in San Gil. Though not much of an adrenaline sport besides take-off and landing, paragliding is a great way to get a bird's eye view of the region.
From the air, you can see the far-stretching greenery that the region of Santender is known for! Once you are in the air, many paragliders experience nausea because of the turbulence. Make sure you take some motion-sickness medicine take off!
6. Extreme Caving at Cueva Del Indio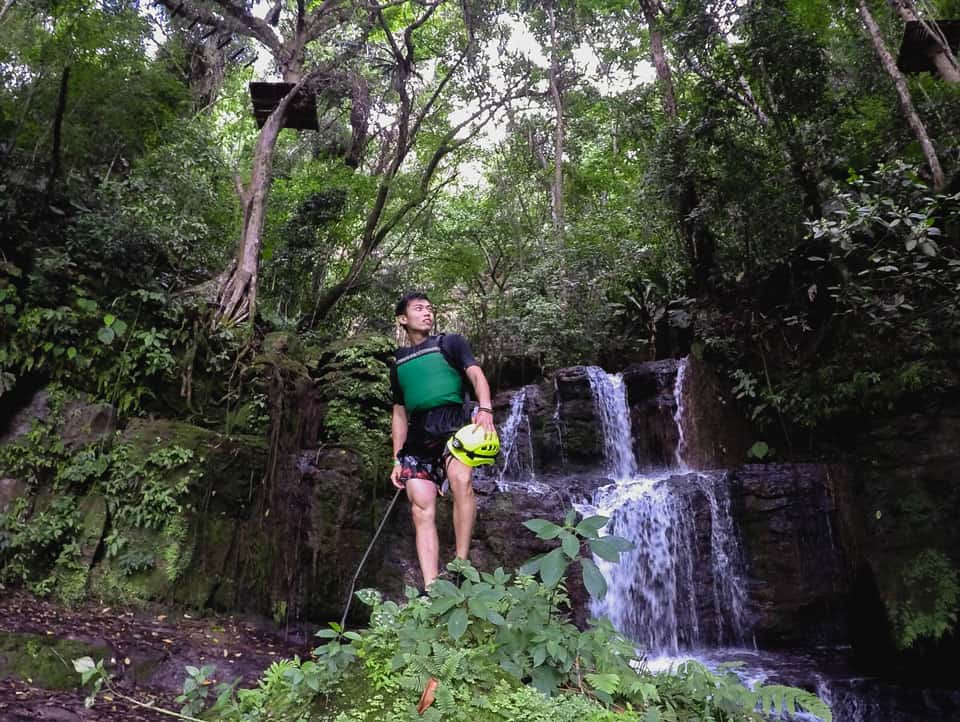 San Gil is located in the Santander region of Colombia, a region that is filled with caves. Cueva del Indio is one of those caves in Santander. However, it is not just any cave, it is one of the most extreme caves near San Gil.
Explore the darkness of the cave with only your headlamps, see bats in their natural habitat, and finish your caving experience with a 5.4m jump into the water in complete darkness! If you are afraid, there will be a ladder on the side that you can use to descend.
Cueva del Indio is located in Paramo and you can easily find a bus at the Terminalito Bus Station of San Gil that goes there!
7. Easy Caving at Cueva de La Vaca
If the thought of jumping into the abyss in Cueva del Indio terrifies you, visit Cueva de la Vaca in Curiti instead. Cueva de la Vaca is the family-friendly cave where everyone can get to enjoy the excitement of exploring a cave.
Come to Cueva de la Vaca to enjoy a 90-minute guided tour where you will learn about the geological formations inside the caves through stalagmites and stalactites. Keep in mind that even though this is an easy cave, spaces are quite tight. If you are claustrophobic, you might want to reconsider going.
As far as we know, there are only one tour agency in Curiti that does tours. Visitors can take a bus from Terminalito to Curiti, and then head to this agency here.
8. Canyoning At Cascada Juan Curi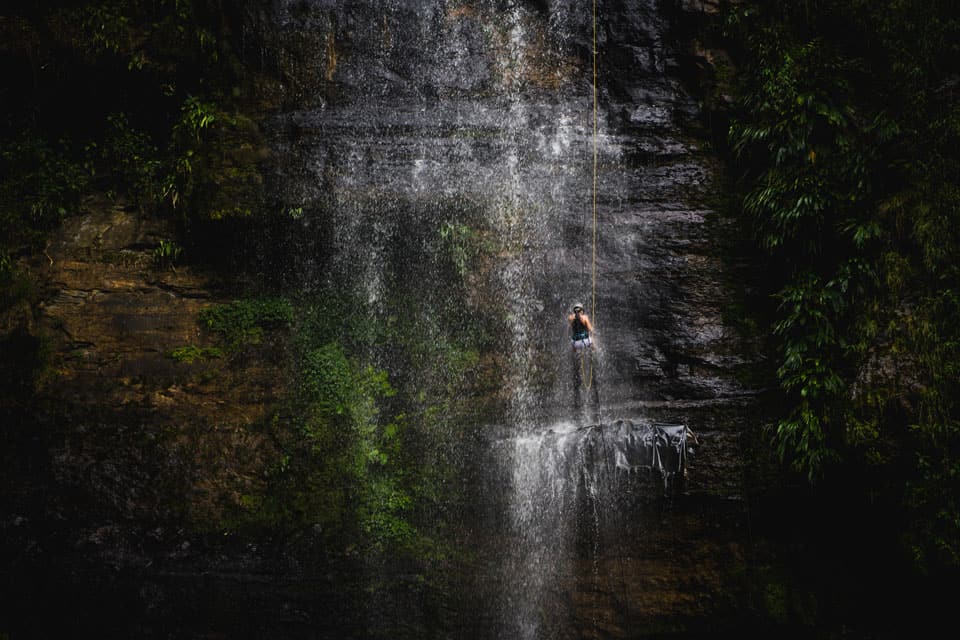 If seeing Juan Curi Waterfall was not enough for you, you have the option to take it to the next level and rappel down this beast. Canyoning and rappelling are popular activities in San Gil.
When we visited the waterfall, we saw all these people canyoning down the waterfall and they made it looked so fun and easy. When we tried, it was a complete (fun) disaster.
The cascading water was so powerful that we had no control of our limps whatsoever. It was pretty much getting slapped in the face constantly for 15 minutes as you try to make your way down. The trick is to balance it out with a little bit of water so its challenging but not impossible to go down.
Getting slapped in the face for 15 minutes? 10/10, would recommend.
9. Hike to The Viewpoint at Cerro La Cruz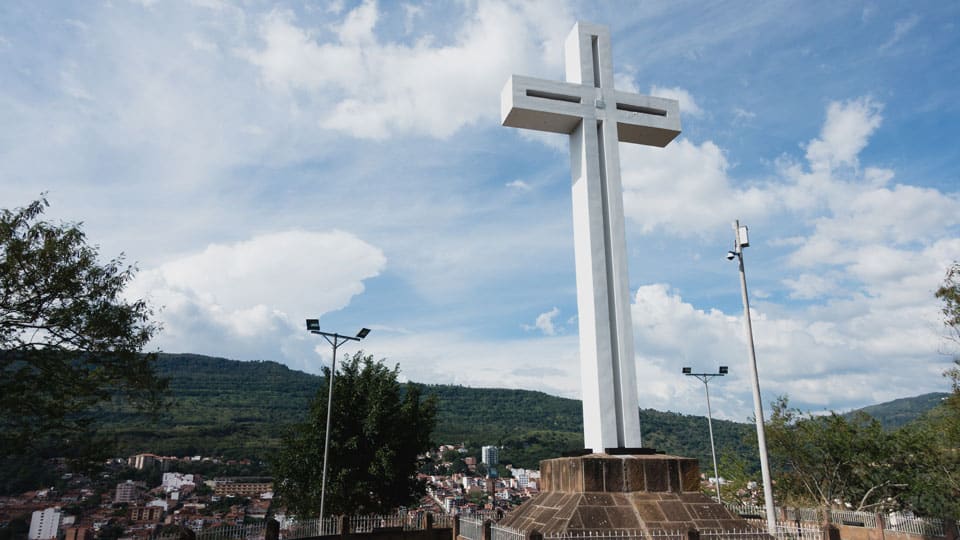 No San Gil itinerary is complete without visiting Cerro de la Cruz. It is a little viewpoint across the Rio Fonce where visitors can admire the unique architecture of San Gilin its entirety.
Visiting Cerro de la Cruz was one of the first things we did when we arrived in San Gil. The views were stunning, especially with how the town blended in with the lush greenery around it. The city and nature were co-existing harmoniously.
There is no entrance fee to Cerro de la Cruz, so make sure you stop by!
10. Take a Stroll in Parque Gallineral
If you are looking for something relaxing to do in San Gil, go for a stroll in Parque Gallineral, or Gallineral Park. This 7-hectare park near the center of town is situated along Rio Fonce in San Gil and offers visitors an escape from the chaos of the city center.
Besides being a place to walk around, the park even has its own swimming pool! Though to enter the park, you would need to pay an admission fee of 6,000 COP for a day pass. Admission to the pool would cost an extra 4,000 COP.
This tranquil park is home to unique wildlife of the region, including squirrels, iguanas, and much more. The bearded trees inside the park are some of the coolest trees I have ever seen. There are also plenty of adventure activities inside the park that visitors can pay extra to participate.
It is the perfect place to visit in San Gil with kids!
11. Relax in The Natural Baths at Balneario Pescaderito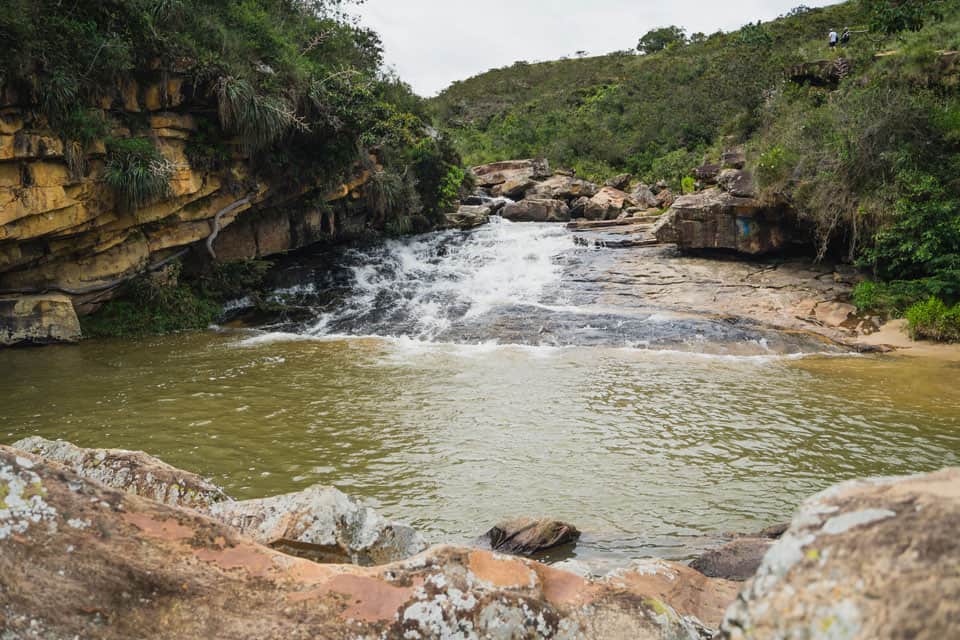 Another top attraction in San Gil is the pools at Balneario Pescaderito. Technically, Balneraio Pescaderito is a river but with the formation of the rocks, many natural pools are formed. The best thing about these pools is that they are totally free to enter and easily accessible.
Take the bus from the Terminalito Bus Station of San Gil to Curiti (30 minutes). Once you get off, you have the choice to walk for 45 minutes to Pescaderito or take a tuk-tuk.
Once you arrive, walk up the river and find the perfect spot to go swimming. One a hot day, you might find plenty of locals finding a refuge from the heat here. We even saw locals going down on a tube in the river, which is pretty dangerous but to be expected in Colombia.
12. Mountain Biking at Chicamocha Canyon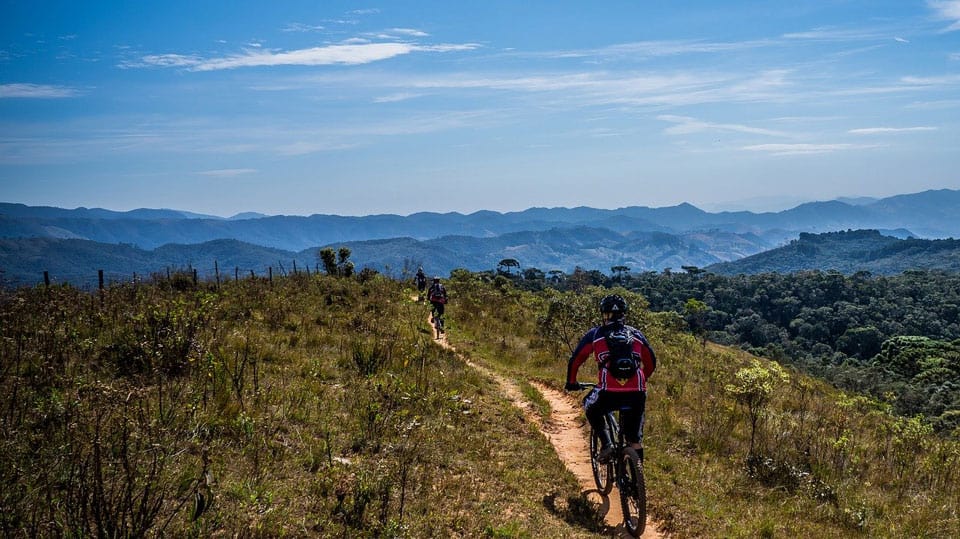 The Chicamocha Canyon located in San Gil is the perfect place for mountain biking. Passing through beautiful views and traditional villages, mountain biking is not just for adrenaline junkies. It is also for nature lovers that would love to learn about local culture.
We recommend a little bit of mountain biking experience if you decide to take this tour. There is quite a bit of uphill cycling which could tire inexperienced bikers out quickly. But if you are somewhat physically fit (and know how to ride a bike), there isn't much to worry about. The tour guides are also very nice and accommodating to everyone's needs.

You can find tours for mountain biking in San Gil in the tour agencies throughout town.
13. Bungee Jumping in Rio Fonce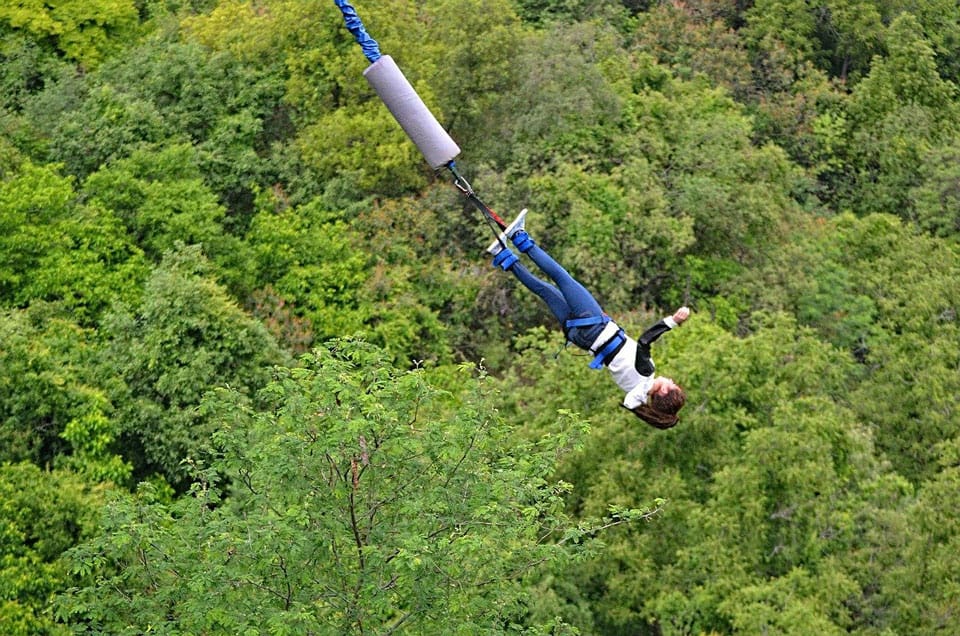 If none of these activities are adventurous enough for you, perhaps bungee jumping 70 meters might make your heart race. Though we did not try bungee jumping (and we'll never try it, thanks for asking), we met tons of people that had an amazing time doing it.
You might be worried about the safety when doing a dangerous sport like bungee jumping in Colombia. But from what we heard, the team is very professional and the equipment are up to safety standards!
---
San Gil Activities Map
Above is a map of the best things to do in San Gil, Colombia. The attractions in San Gil are quite spread out, which means visitors will need to plan their itinerary properly to take advantage of everything it offers.
There is a star next to the name of the map. If you click on it, you can save the map onto your own personal device, so you can use it on your own Google Maps for itinerary planning.
---
Where To Stay In San Gil, Colombia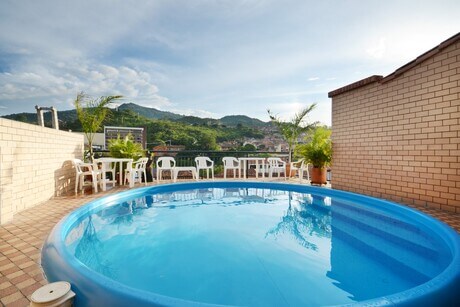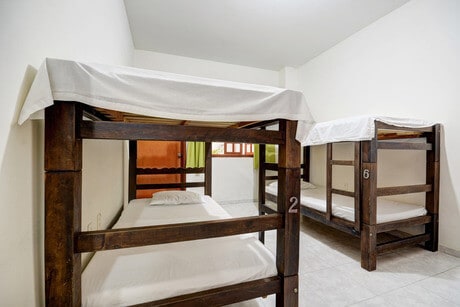 Without a doubt, the best hostel in San Gil is Sams VIP Hostel. Situated just one block away from the main square of the town, visitors are within walking distance of all the action. But you might be reluctant to leave your hostel because of its multiple terraces offering stunning views of the city, a pool to beat every the harshest Colombian summers, and many other facilities for guests to enjoy.
The relaxed atmosphere along with the modern and clean rooms are going to make any guest feel comfortable immediately. It also has two fully-equipped kitchens for guests to enjoy.
---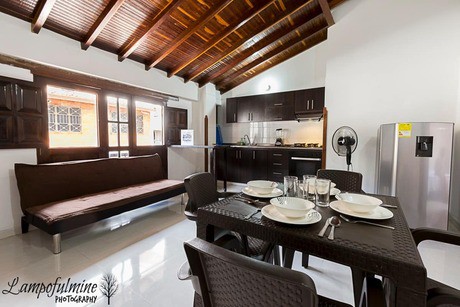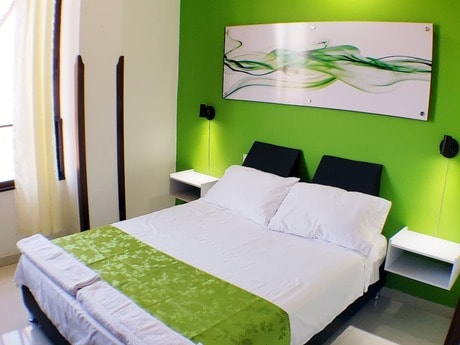 Since San Gil is mostly a backpacker destination, nie hotels are hard to come by. The best hotel in San Gil is Apartahotel San Gil Plaza. The hotel is situated on the perimeter of town, which means that guests are far from the chaos of town center. It boasts a rooftop top where you can sunbathe and go for a refreshing sea, as well as admiring the stunning views from there.
It features a fully-equipped kitchen and a clean and spacious living area, which makes it comfortable for guests no matter how long they are planning to stay.
---
How Many Days To Stay In San Gil?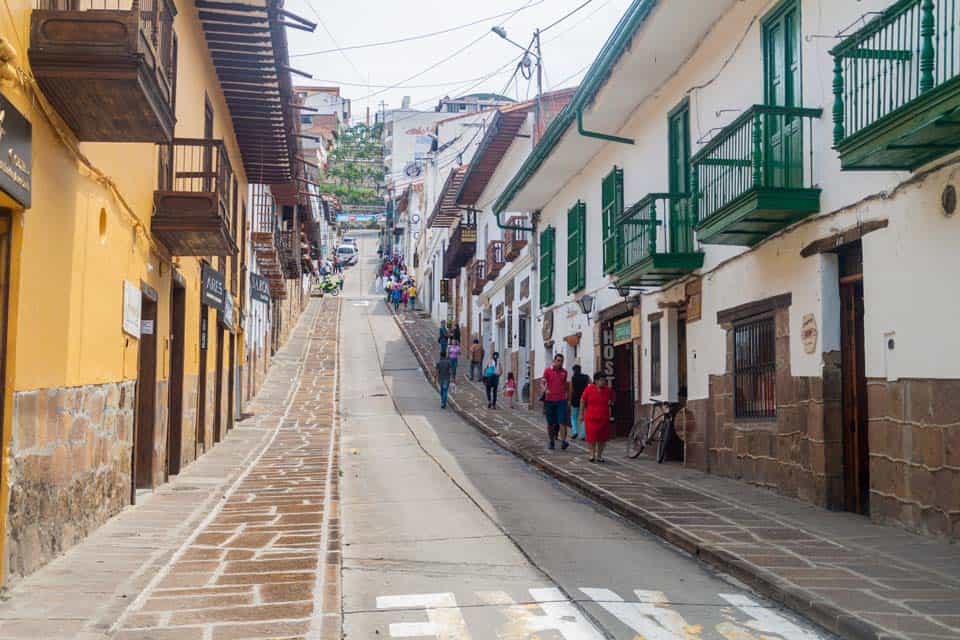 We recommend staying at least 3 days in San Gil to enjoy the best it has to offer. But even in 3 days, chances are, you won't get to participate in all of its adrenaline-pumping activities. However, it will give you a good glimpse into what the "adventure capital of Colombia" is all about!
You are more than welcome to stay longer. San Gil is super affordable and its a laid-back town with plenty of things to offer tourists!
---
How To Get To San Gil, Colombia
Since there is no airport in San Gil, the best way to get to San Gil is through a long-distance bus. If you are coming from the Caribbean Coast, you can get an overnight bus from Barranquilla or Santa Marta to San Gil. Visitors coming from Bogota can also do the same with an 8-hour overnight bus.
However, if you are coming from Medellin, the bus only takes you to Bucaramanga, the nearest big city from San Gil. From there, it is an additional two hours on a different bus to San Gil.
If you are flying in, you'll need to fly into the airport in Bucaramanga. From there, you can take the same bus as mentioned above to get to San Gil.
For all things bus related in Colombia, we recommend using busbud.com for planning and buying your tickets!
---
Where To Eat In San Gil, Colombia
San Gil is definitely not known for its food, but there are several excellent restaurants where you can have a nice meal. Here are some of the restaurants in San Gil we recommend:
Gringo Mike's San Gil – Gringo Mike is perhaps the most famous restaurant in San Gil. This is not a place that serves traditional Colombian cuisine, but instead they have burgers and burritos instead. If you've been on the road for too long, you'll appreciate the well-made international dishes at Gringo Mike's.
La Barra 1516 – A great restaurant with a big outdoor dining area that usually has a lively atmosphere with rock music playing. It is one of the best places to eat dinner, have a few beers and enjoy some good company.
El Meson del Arriero – If you are looking for authentic Colombian food in San Gil, El Meson del Arriero is the place to go. Their Bandeja Paisa, a native dish to the Antioquian region, is one of the best in the country!
---
When Is The Best Time To Visit San Gil?
The dry season (January to April) is usually the best time to visit San Gil. This time of the year receives little rainfall, so visitors can enjoy the outdoor activities.
However, some attractions, such as Las Gachas, might be better during the rainy season. But rainy season might not be good for visitors planning to go rafting in Rio Suarez.
There are pros and cons of visiting San Gil in the different seasons.
---
San Gil Colombia FAQs
Is San Gil, Colombia Safe?
Compared to other cities in Colombia, San Gil is a very safe place. Because the town isn't so big, locals all know each other and crime isn't very prevalent. The only issue with safety is all the adventurous activities you'll be doing in San Gil. For that reason, we recommend purchasing some travel insurance!
Is San Gil worth visiting?
San Gil is known for its adventure sports, many of which involves some of the most pristine nature in Colombia. For adventure travelers and backpackers, San Gil is definitely worth visiting. But if you are something that don't enjoy chasing waterfalls, exploring caves, and other adrenaline-pumping activities, you might want to skip San Gil.
---
Like this post? Don't forget to save it on Pinterest!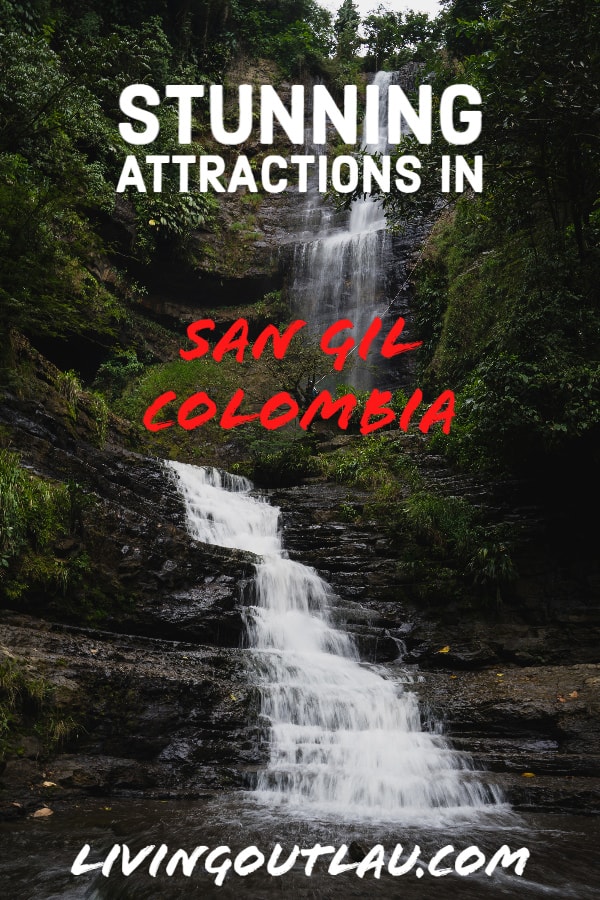 ---
Those are the 13 top things to do in San Gil, Colombia. Have you done any of them? Let us know in the comments!
Disclaimer: Some of the links above are affiliate links. That means if you book or make a purchase through the links, we will earn a small commission at no extra cost to you! The money will help run this site! Thank you!