Whether you are having your first solo trip or planning on traveling solo, quotes are an excellent way to capture the emotions that comes with such a life-changing experience. At LivingOutLau, we know what it feels like to embark on your first solo journey and explore the world because we are solo travelers ourselves.

Traveling solo has changed us tremendously and given us perspectives of the world that would not be possible to achieve otherwise. In fact, there are many benefits of solo traveling, such as an increase in confidence, making new friends and so on.

That is why we have written this post on the 75 best solo travel quotes, so they can help inspire you or captivate your audience on social media!

Enjoy!
Interested in more captivating quotes? Check out our other posts below!
---
Our Favorite Quotes For Traveling Alone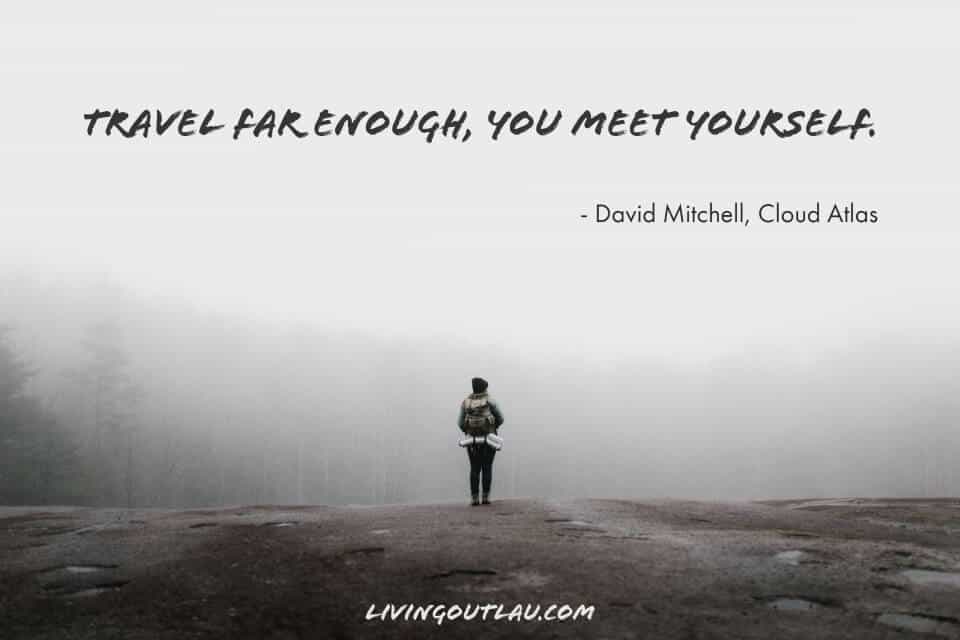 After years of solo backpacking, these are our favorite quotes about traveling alone. They have either motivated us to push on when solo traveling got rough or helped us capture the complicated emotions we felt during our journey.
"I was forced to wander, having no one, forced by my nature to keep wandering because wandering was the only thing that I believed in, and the only thing that believed in me." – Roman Payne
"When I travel, people say 'Yet another place in this world'. But I see 'Another world inside every place I go." – Vivek Thangaswamy
"Travel far enough, you meet yourself." – David Mitchell, Cloud Atlas (2003)
"This is the journey of your life. Don't try to explain it to others, because only you can see it." – Nitin Namdeo
"The very basic core of a man's living spirit is his passion for adventure. The joy of life comes from our encounters with new experiences, and hence there is no greater joy than to have an endlessly changing horizon, for each day to have a new and different sun." – Christopher McCandless
"Everything will be alright in the end so if it is not alright it is not the end." – Deborah Moggach, The Best Exotic Marigold Hotel (2004)
"Twenty years from now you will be more disappointed by the things that you didn't do than by the ones you did do. So throw off the bowlines. Sail away from the safe harbor. Catch the trade winds in your sails. Explore. Dream. Discover." – Mark Twain
"It is not the destination where you end up but the mishaps and memories you create along the way!" – Penelope Riley, Travel Absurdities
"To awaken quite alone in a strange town is one of the most pleasant sensations in the world." – Freya Stark
"Solo travel not only pushes you out of your comfort zone, it also pushes you out of the zone of others' expectations." – Suzy Strutner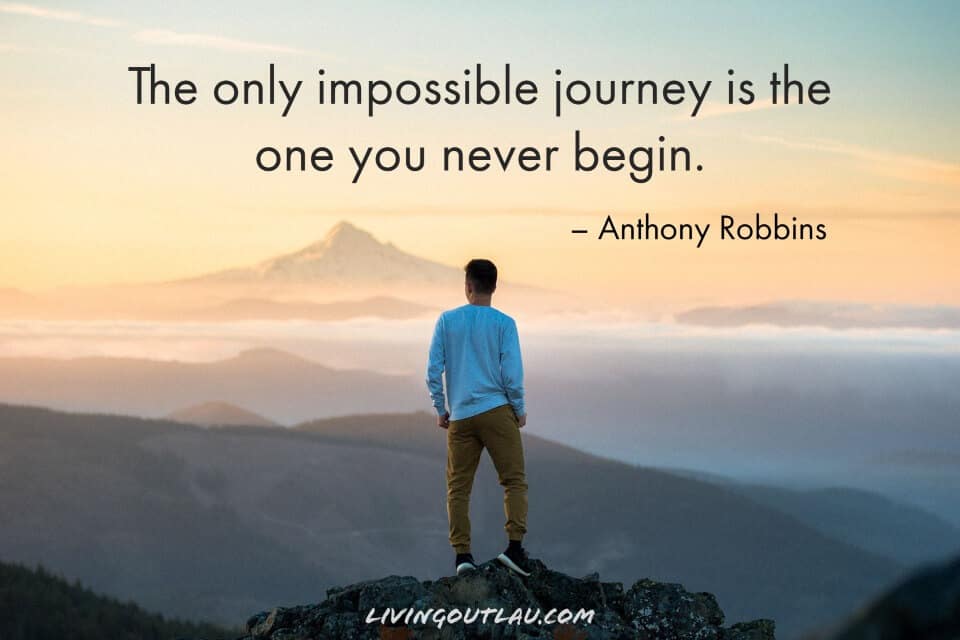 "Traveling solo does not always mean you're alone. Most often, you meet marvelous people along the way and make connections that last a lifetime."
"The only impossible journey is the one you never begin." – Anthony Robbins
"Sometimes one day in a different place gives you more than ten years of a life at home." – Anatole France
"They say life is a highway and we all travel our own roads, some good, some bad, yet each is a blessing of its own." – Jess "Chief" Brynjulson
"To my mind, the greatest reward and luxury of travel is to be able to experience everyday things as if for the first time, to be in a position in which almost nothing is so familiar it is taken for granted." – Bill Bryson
---
Simple Solo Travel Quotes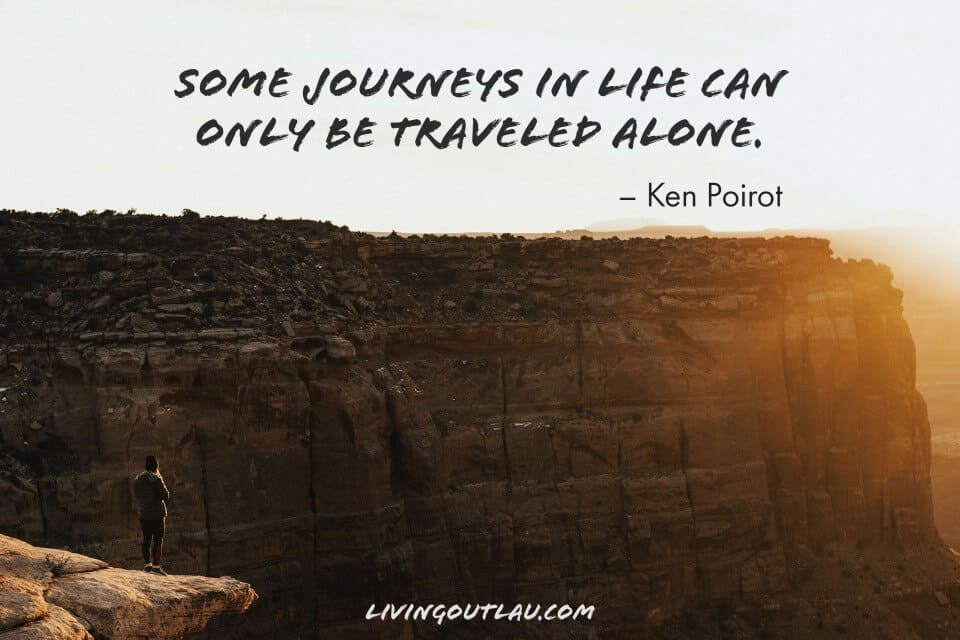 Simple solo travel quotes are perfect for those that want to share on social media but not sound too tryhard. They are perfect for every kind of scenario!
"Some journeys in life can only be traveled alone." – Ken Poirot
"A girl who travels has relationships that are based not on security, but on sincerity." – Lauren Kleefeld
"Only the road and the dawn, the sun, the wind, and the rain, And the watch fire under stars, and sleep, and the road again." – John Masefield
"Walk your own path and be yourself." – Joanne Nussbaum
"To move, to breathe, to fly, to float, To gain all while you give, To roam the roads of lands remote, To travel is to live." – Hans Christian Andersen
"You have to get lost before you can be found" – Jeff Rasley
"Life begins at the end of your comfort zone." – Neale Donald Walsch
"To travel is to be alive, but to get somewhere is to be dead." – Alan Wilson Watts
"The idea of my heart dancing with delight was far too good to pass up." – Tahir Shah, Travels With Myself (2011)
"A wise man travels to discover himself." – James Russell Lowell
---
Funny Travel Solo Quotes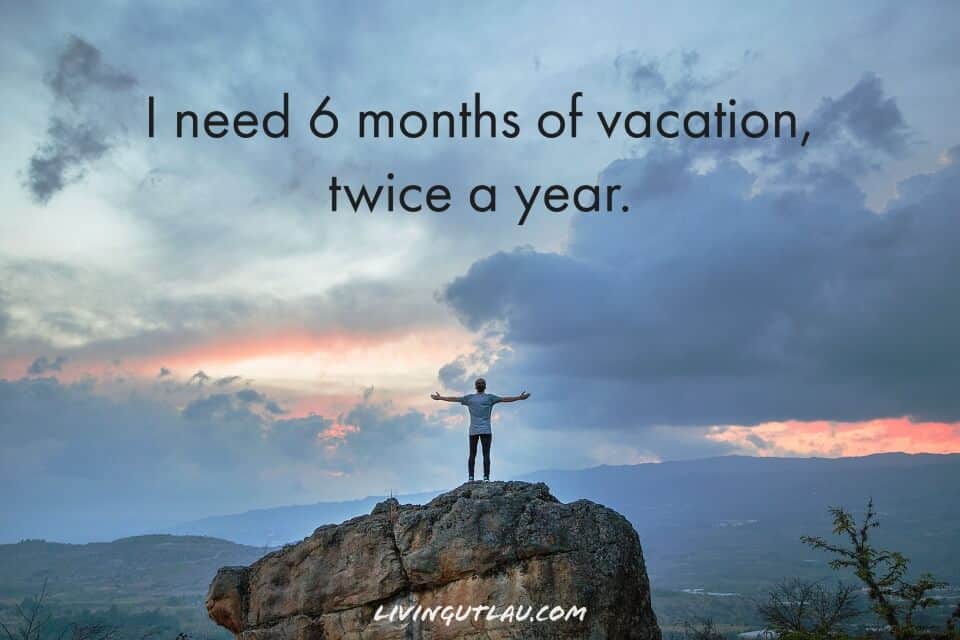 Want to get those engagements on Instagram or social media? Use one of our funny travel solo quotes! These quotations are perfect for getting comments and likes!
"I don't want to go to Peru." How do you know? You've never been there." I've never been to hell either and I'm pretty sure I don't want to go there." – Richard Paul Evans, The Sunflower (2005)
"You can handle just about anything that comes at you out on the road with a believable grin, common sense and whiskey." – Bill Murray
"Just because I am paranoid does not mean that someone is not out to get me."
"The best way to know a city is to eat it." – Scott Westerfeld, Afterworlds (2014)
"Be strong", I whisper to my WiFi signal!"
"I need 6 months of vacation, twice a year."
"All you need is love a passport."
"Good things come to those who book flights."
"I travel a lot, I hate having my life disrupted by routine."
"If you look like your passport picture, you probably need a trip."
---
Profound Traveling Alone Quotes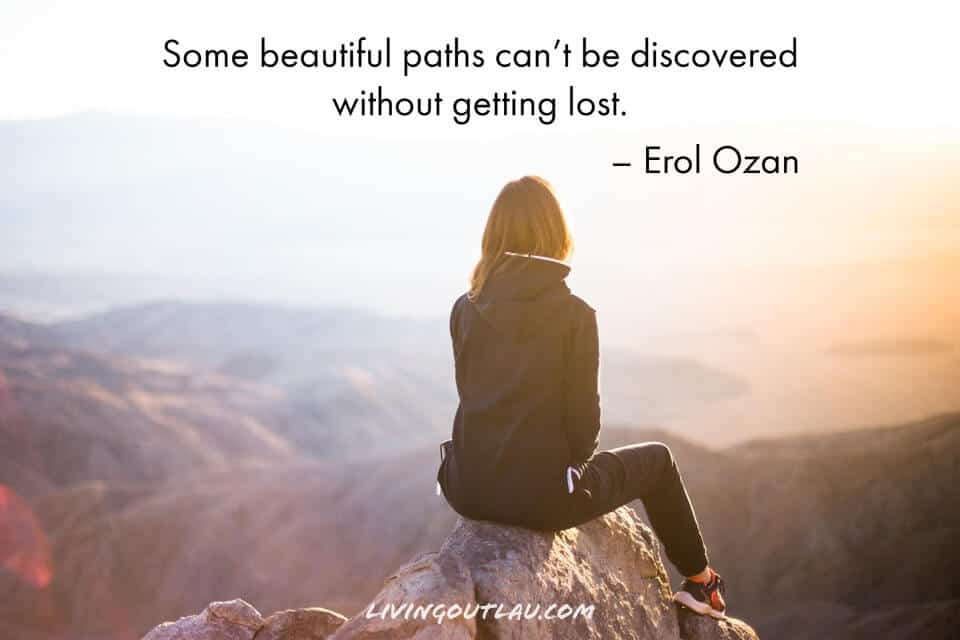 Profund traveling alone quotes are ideal for solo trips, especially since it is such a thought-provoking and eye-widening experience!
"The journey of a thousand miles begins with a single step." – Lao Tzu
"The man who goes alone can start today; but he who travels with another must wait till that other is ready." -Henry David Thoreau
"Some beautiful paths can't be discovered without getting lost." – Erol Ozan
"Nobody can discover the world for somebody else. Only when we discover it for ourselves does it become common ground and a common bond and we cease to be alone." – Wendell Berry, A Place on Earth (1966)
"The wish to travel seems to me characteristically human: the desire to move, to satisfy your curiosity or ease your fears, to change the circumstances of your life, to be a stranger, to make a friend, to experience an exotic landscape, to risk the unknown.." – Paul Theroux, The Tao of Travel: Enlightenments from Lives on the Road (2011)
"I think one travels more usefully when they travel alone, because they reflect more." – Thomas Jefferson
"Any country where I am not bored is a country that teaches me nothing." – Albert Camus
"There are as many worlds as there are kinds of days, and as an opal changes its colors and its fire to match the nature of a day, so do I." – John Steinbeck
"Life is a magical journey, so travel endlessly to unfold its profound and heart touching beauty." – Debasish Mridha
"We must leave this terrifying place to-morrow and go searching for sunshine." – F. Scott Fitzgerald
---
Solo Traveler Quote From Books And Movies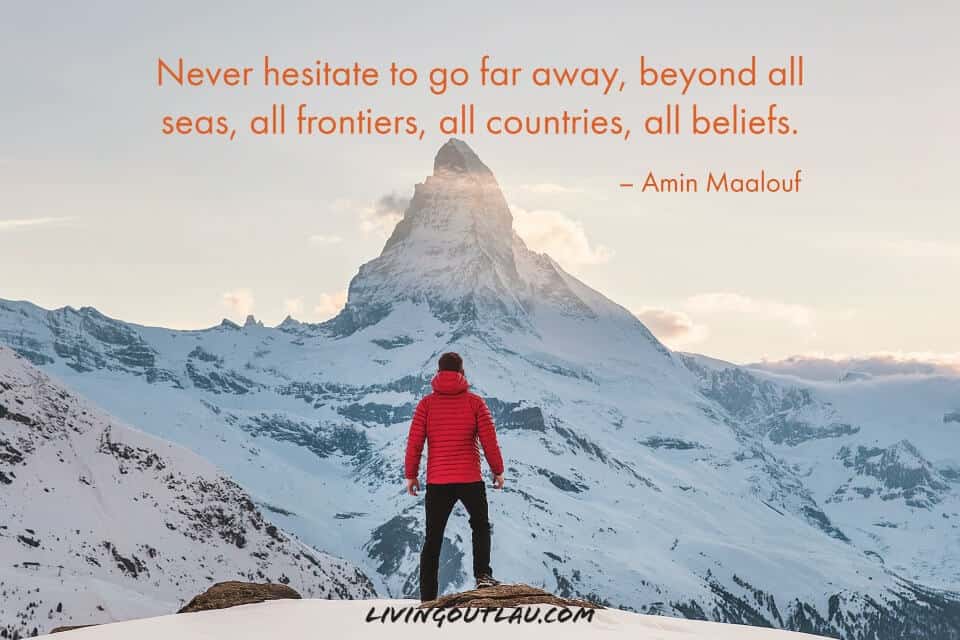 Solo traveler quotes from books or movies are perfect for social media because they are so poetic! Use these wisely and you can get the engagement you want!
"Never did the world make a queen of a girl who hides in houses and dreams without traveling." – Roman Payne, The Wanderess (2013)
"It seemed an advantage to be traveling alone. Our responses to the world are crucially moulded by whom we are with, we temper our curiosity to fit in with the expectations of others. " Alain de Botton, The Art of Travel (2002)
"My spirit gets nourished in faraway places. Sometimes I wonder if it's a biological need, perhaps a biological flaw, that compels me to seek the excitement and challenge that comes of being in a place where nobody knows me." – Rita Golden Gelman, Tales of a Female Nomad: Living at Large in the World (2001)
"I had chosen to leave, and live alone in a foreign country. And in fleeing thousands of miles across the Pacific, I chose myself, and a chance at a different future." – Alison Singh Gee, Where the Peacocks Sing: A Palace, a Prince, and the Search for Home (2013)
"I guess I'm too selfish to travel well with other people, […]" – Alice Steinbach, Without Reservations: The Travels of an Independent Woman (2000)
"Find the right paths for your journey. Travel along these paths to your final destination." – Lailah Gifty Akita, Think Great: Be Great! (2014)
"Not all those who wander are lost." – J.R.R. Tolkien, The Fellowship of the Ring (1954)
"I can speak to my soul only when the two of us are off exploring deserts or cities or mountains or roads." – Paulo Coelho, Aleph (2010)
"How you live your life is up to you. You have to go out and grab the world by the horns. Rope it before it ties you down and decides for you." – Sarah Reijonen, Country Girl: Letting Love & Wanderlust Take the Reins (2013)
"Never hesitate to go far away, beyond all seas, all frontiers, all countries, all beliefs." – Amin Maalouf, Leo Africanus (1986)
---
Song Lyrics About Solo Traveling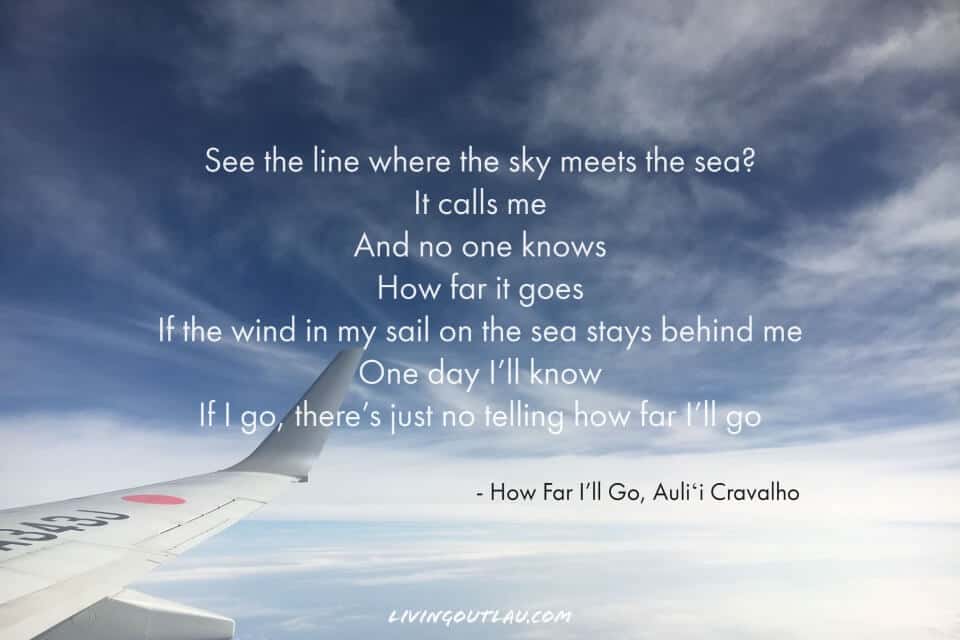 Nothing is a better caption than song lyrics about solo traveling! Just be careful about getting them stuck in your head!
1. I Travel Alone, Noël Coward

I travel alone, Sometimes I'm east, Sometimes I'm west,
No chains can ever bind me, No remembered love Can ever find me.
I travel alone, Fair though the places And faces I've known,
When the dream has ended And passion has flown,
I travel alone.
2. Like a Rolling Stone – Bob Dylan

How does it feel, how does it feel?
To be without a home
Like a complete unknown, like a rolling stone
3. No Roots – Alice Merton

And a thousand times I've seen this road
A thousand times
I've got no roots, but my home was never on the ground
4. Rio – Hey Marseilles

On the way I will go
Where the days left to breathe
Are not gone, are still long
I am travelin' on
5. How Far I'll Go – Auliʻi Cravalho (From Moana)

See the line where the sky meets the sea?
It calls me
And no one knows
How far it goes
If the wind in my sail on the sea stays behind me
One day I'll know
If I go, there's just no telling how far I'll go
6. End Of The Line – Traveling Wilburys

Well, it's alright, ridin' around in the breeze
Well, it's alright, if you live the life you please
Well, it's alright, doin' the best you can
Well, it's alright, as long as you lend a hand
7. Born To Be Wild – Steppenwolf

Get your motor runnin'
Head out on the highway
Looking for adventure
In whatever comes our way
8. Lost Highway – Hank Williams

When I pass by, all the people say
Just another guy on the lost highway
9. Free Bird – Lynyrd Skynyrd

For I must be traveling on now
'Cause there's too many places I've got to see
But if I stay here with you, girl
Things just couldn't be the same
'Cause I'm as free as a bird now
10. Runnin' Wild – Airbourne

You got me runnin' wild, wild and free
The open road is all I need
Runnin' wild, wild and free
It's never gonna be like it used to be
---
Short Solo Trip Quotes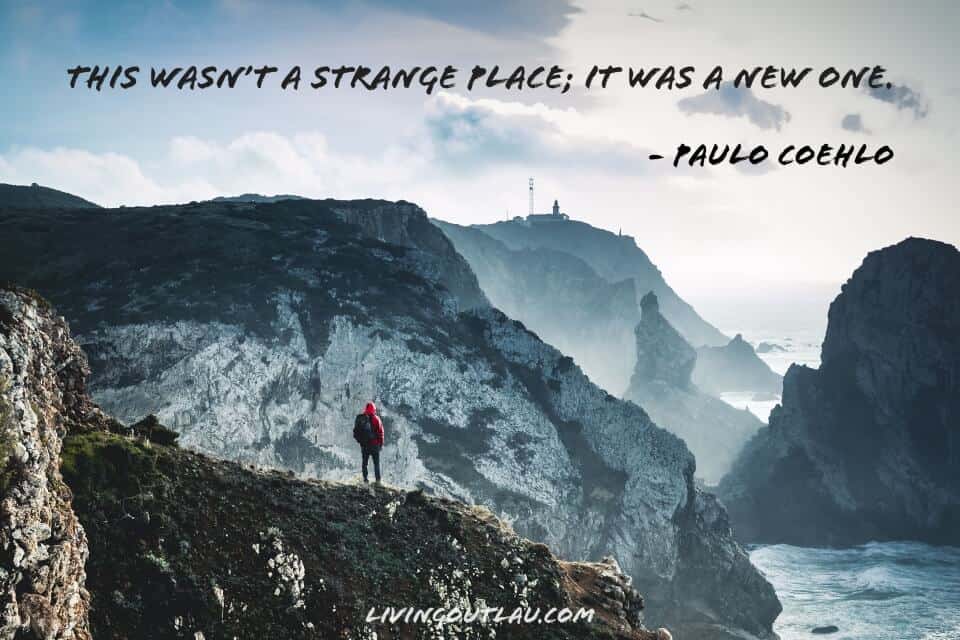 Nobody's got time to read your long captions! Use one of these short solo trip quotes and get straight to the point!
"Wherever you go becomes a part of you somehow." – Anita Desai
"Travel brings power and love back into your life." – Rumi Jalalud-Din
"The journey itself is my home." – Matsuo Basho
"Most of the time, beauty lies in the simplest of things." – Winna Efendi, The Journeys
"Serendipity was my tour guide, assisted by caprice." – Pico Iyer
"Go solo, go now!"
"If you never go, you'll never know."
"Explore, Experience, Then Push Beyond." – Aaron Lauritsen
"This wasn't a strange place; it was a new one." – Paulo Coehlo
"I may be going nowhere, but what a ride." – Shaun Hick
---
Bonus Quotes About Solo Travel!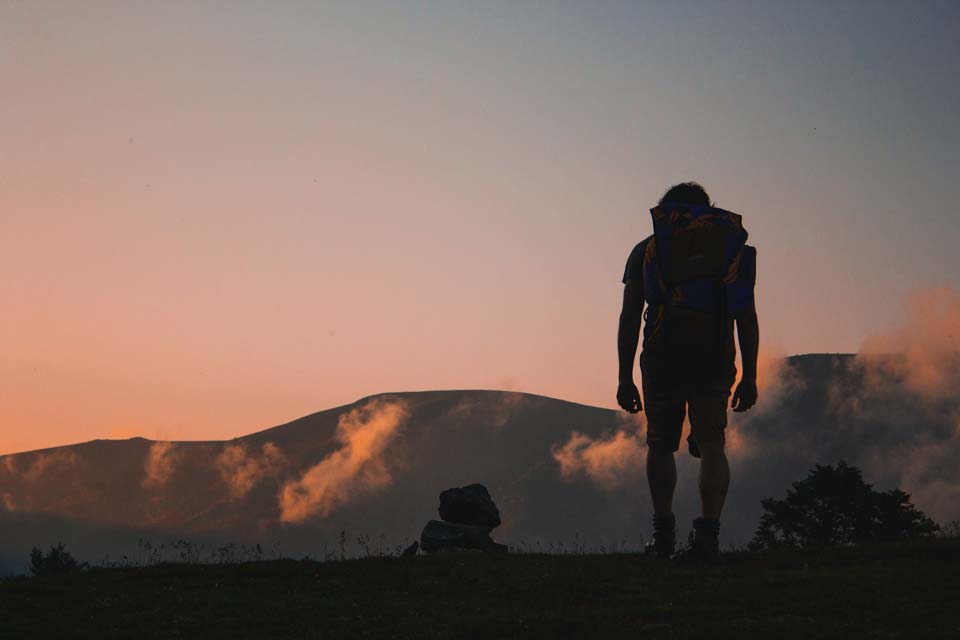 "Life is either a daring adventure or nothing at all." – Helen Keller
"You never really travel alone. The world is full of friends waiting to get to know you!"
"Half the fun of travel is the aesthetic of lostness." – Ray Bradbury
"I'm never happier than when I'm alone in a foreign city; it is as if I had become invisible." – Storm Jameson
This life is an enduring and complex journey, but finally I have reached the point in my story where I am appreciative of where I've been, proud of where I am, and excited about where I have yet to go." – Becca Lee
"Tell me, what is it you plan to do with your one wild and precious life?" – Mary Oliver
---
Like this post? Don't forget to save it on Pinterest!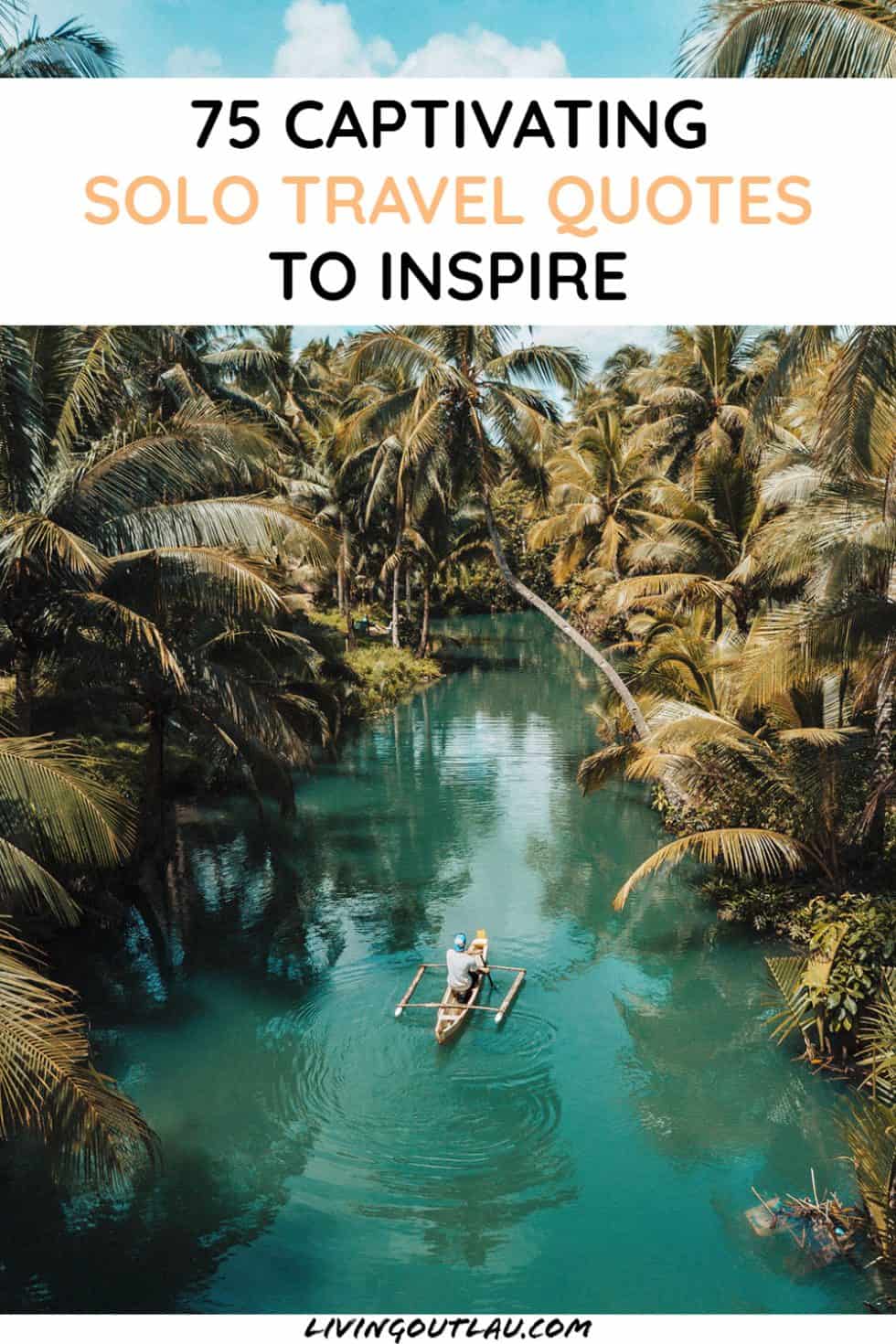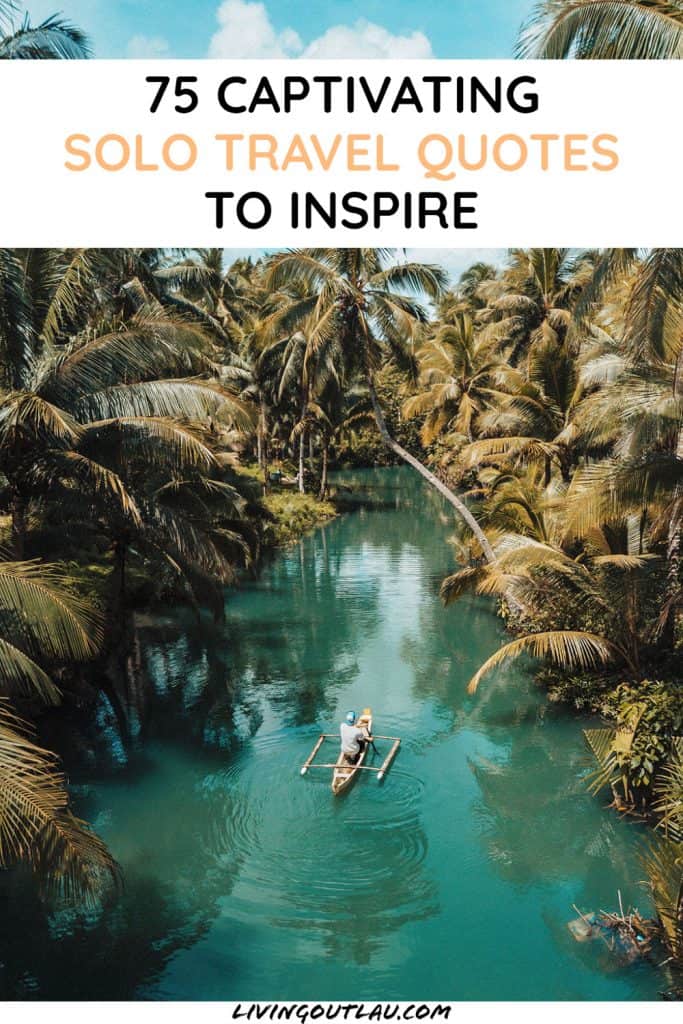 ---
Those are the 75 best quotes for traveling solo! We hope you found the perfect quote or captions to tag along with your solo travel photos!

Any questions? Leave them in the comments!
Disclaimer: Some of the links above are affiliate links. That means if you book or make a purchase through the links, we will earn a small commission at no extra cost to you! The money will help run this site! Thank you!