One of the most epic things to do in life is to travel with your friends and make crazy incredible memories! Explore the unknown, try new food, and make mistakes that you will remember for the rest of your life.

To accompany the legendary trip with friends, here are some of the best traveling with friends quotes that are perfect for captioning that photo or video! Don't forget to check out some travel tips with friends to ensure your trip goes smoothly!

Want more quotes for your travels? Check out our other posts!
---
Our Favorite Traveling With Friends Quotes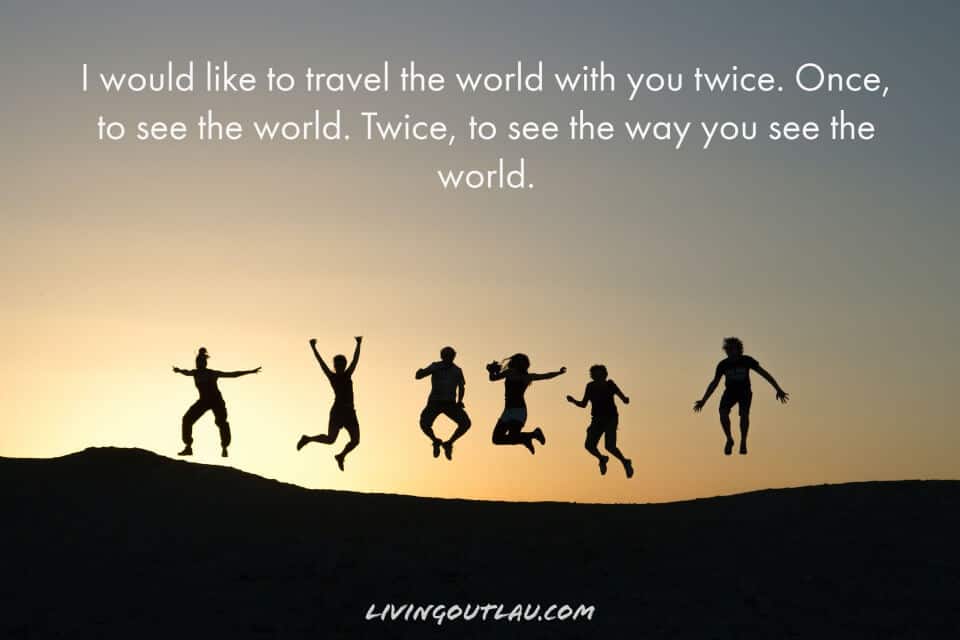 These are our personal favorite quotes about traveling with friends. Whether it is to capture the difficulties when it comes to traveling with friends or the precious memories made, you will find a quotation here that works!
"There is a whole world out there. Pack your backpack, your best friend and go."
"A good friend listens to your adventures. Your best friend makes them with you."
"It doesn't matter where you're going, it's who you have beside you."
"Life is meant for good friends and great adventures."
"I would like to travel the world with you twice. Once, to see the world. Twice, to see the way you see the world."
"The best things in life are the people we love, the places we've been, and the memories we've made along the way."
"Good friends are like stars, you can't always see them but you know they're there."
"In life, it's not where you go, it's who you travel with." – Charles M. Schulz
"A friend may be waiting behind a stranger's face." – Maya Angelou
"Good times and crazy friends make the best memories."
---
Short Traveling Quotes With Friends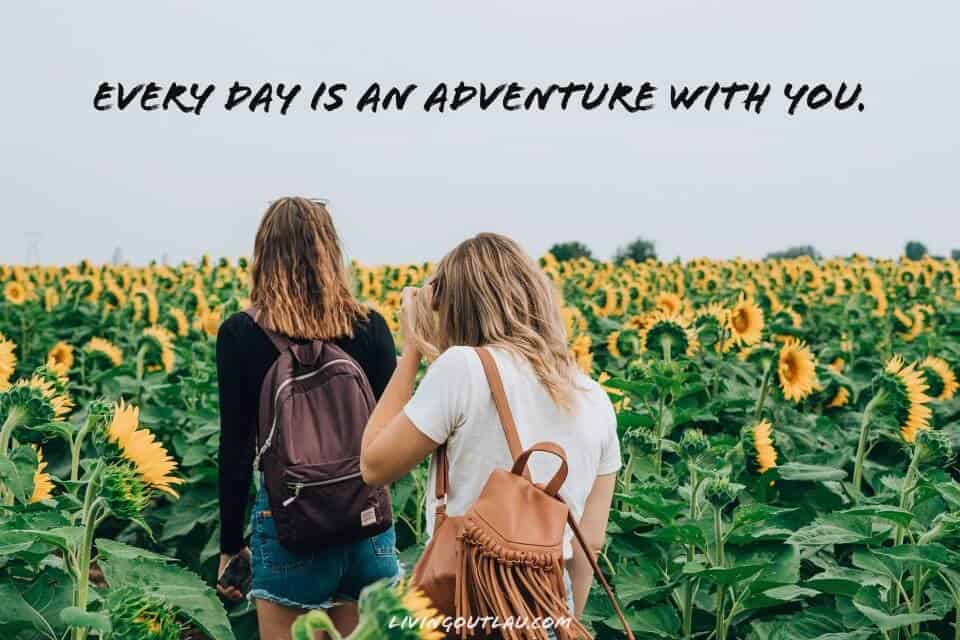 Short traveling quotes with friends are perfect for those Instagram posts that you want to keep short and sweet. Nowadays, not a lot of people are willing to read through long captions. Use one of these and get straight to the point and engage your audience!
"Friends that travel together, stay together."
"Ten minutes with a genuine friend is better than years spent with anyone less." – Crystal Woods
"No road is long with good company." – Turkish Proverb
"Every day is an adventure with you."
"Together is our favorite place to be."
"A journey well shared is a journey well enjoyed."
"The tans will fade but the memories will last forever."
"We all start as strangers."
"Let's get lost."
"Live life with no excuses, travel with no regret." – Oscar Wilde
---
Funny Quotes About Friends Traveling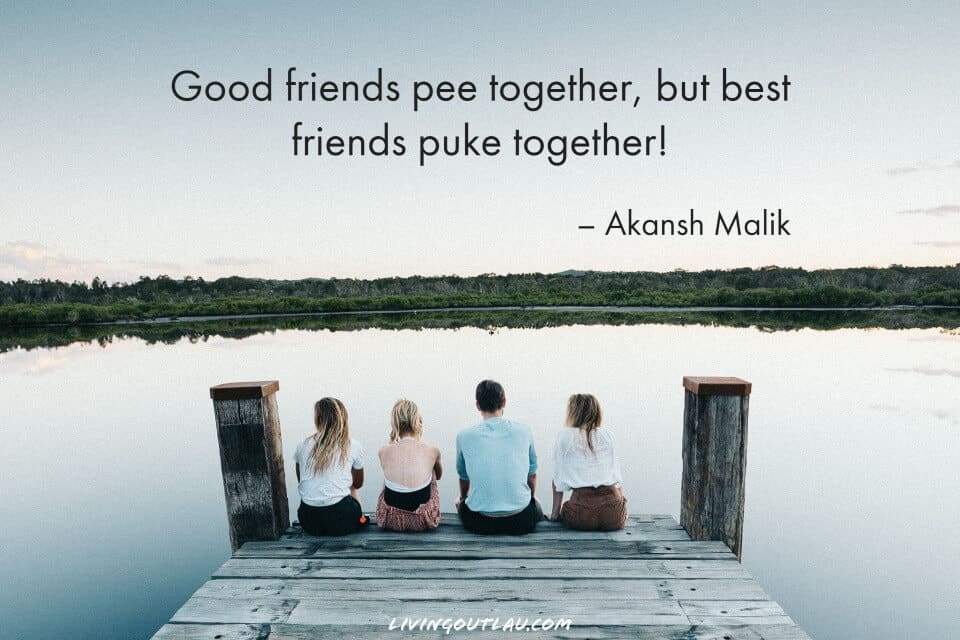 An awesome trip with friends will unquestionably come with plenty of hilarious moments. That is why these funny quotes about friends traveling are the ideal captions. Funny captions are perfect for social media because everyone loves a good joke!
"When you're in jail, a good friend will be trying to bail you out. A best friend will be in the cell next to you saying, 'Damn, that was fun'." – Groucho Marx
"I have found out that there ain't no surer way to find out whether you like people or hate them than to travel with them." – Mark Twain
"You and me, we are more than friends. We are like a small travel gang!"
"Good friends pee together, but best friends puke together!" – Akansh Malik
"When life gives you best friends, use them." – Areej Farooq
"You can pack for every occasion, but a good friend will always be the best thing you could bring!"
"As long as we don't die, this is gonna be one hell of a story." – John Green
"Every brunette needs a blonde best friend."
"If your friends don't openly laugh at you, are they really your friends?"
"I want to live in a world where searching for flights burns calories."
---
Road Trip With Friends Quotes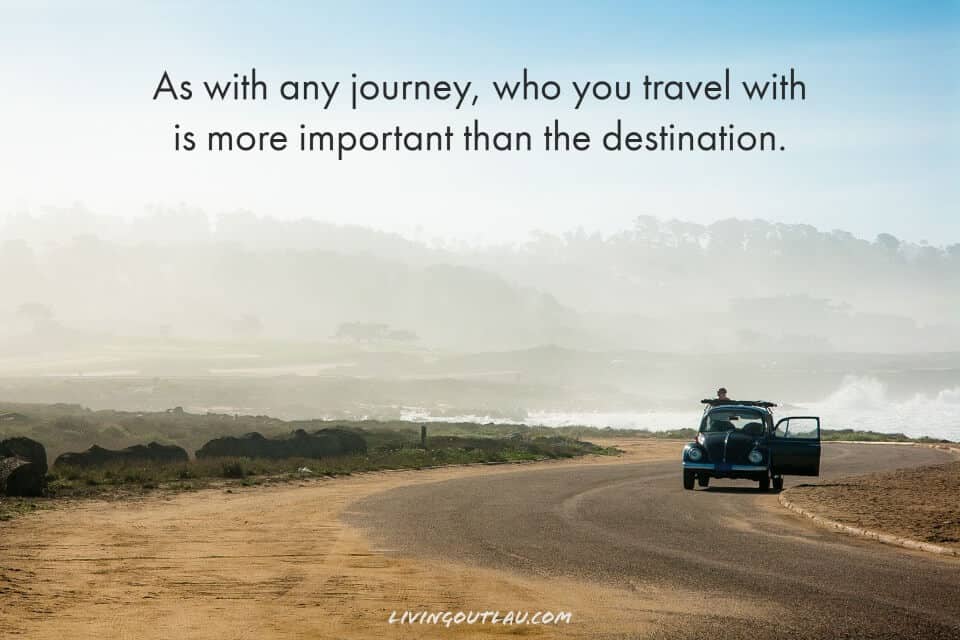 Nothing in this world is quite like a road trip with friends. The hours spent driving in the car, taking in the incredible views, listening to your favorite music, and talking about nonsense with your friends, that is the life we all dream of. Here are some of our road trip with friends quote to capture that moment!
"Life is about doing things that don't suck with people who don't suck."
"As with any journey, who you travel with is more important than the destination."
"Follow your heart a little more and listen to your head a little less." – Fabiola Francisco
"Because the greatest part of a road trip isn't arriving at your destination. It's all the wild stuff that happens along the way." – Emma Chase, Tamed (2014)
"And just like that, we're on our way to everywhere." – Emery Lord, Open Road Summer (2014)
"Just grab a friend and take a ride, together upon the open road." – A Goofy Movie
"Adventure is out there." – Up
"Road trippin' with my two favorite allies – fully loaded we got snacks and supplies. It's time to leave this town it's time to steal away. Let's go get lost anywhere in the U.S.A." – Red Hot Chilli Peppers, Road Trippin'
"The most beautiful thing in the world is, of course, the world itself." – Wallace Stevens
"Road trips aren't measured by mile markers, but by moments."
---
Profound Travel Buddy Quotes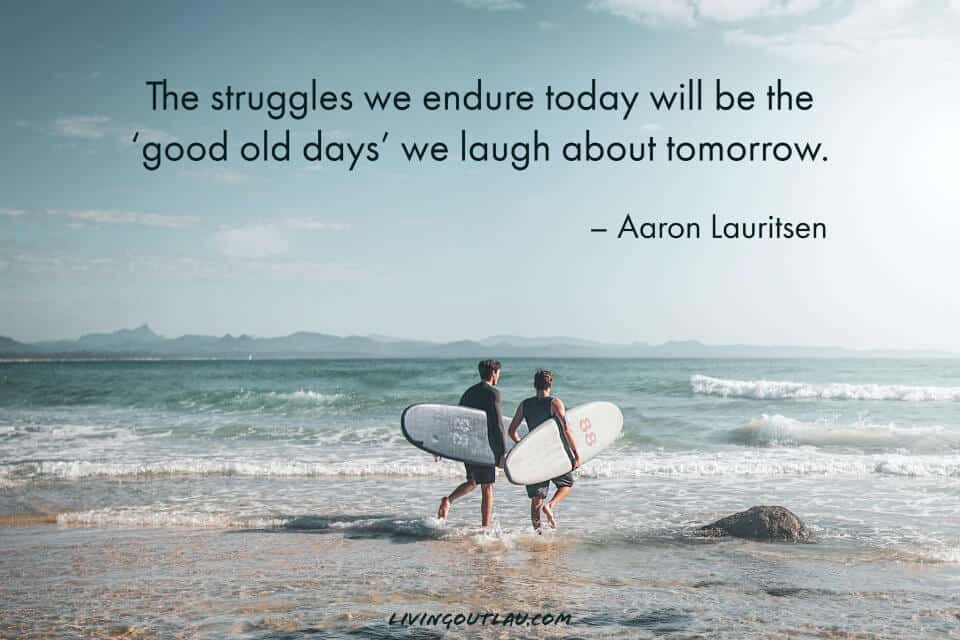 Whether you like it or not, travel isn't always just fun and games. Sometimes travel is profound, life-changing, and challenging, especially if you have a travel buddy. These profound travel buddy quotes are best to express those emotions!
"If you have two friends in your lifetime, you're lucky. If you have one good friend, you're more than lucky." – S.E. Hinton
"Many people will walk in and out of your life, but only true friends will leave footprints in your heart" – Eleanor Roosevelt
"There is an unspoken bond you create with the friends you travel with." – Kristen Sarah
"If you want to go fast go alone. If you want to go far go together." – African Proverb
"There are no strangers here; Only friends you haven't yet met." – William Butler Yeats
"We are all travelers in the wilderness of the world & the best we can find in our travels is an honest friend." – Robert Louis Stevenson
"Best friends are people hard to find, difficult to be, and impossible to live without. They are the people you get along with so easily in the journey called life." – Khushi Parwal
"The struggles we endure today will be the 'good old days' we laugh about tomorrow." – Aaron Lauritsen
"Distance means so little when someone means so much."
"Will you come travel with me? Shall we stick by each other as long as we live?" – Walt Whitman
---
Inspirational Travel With Friends Quotes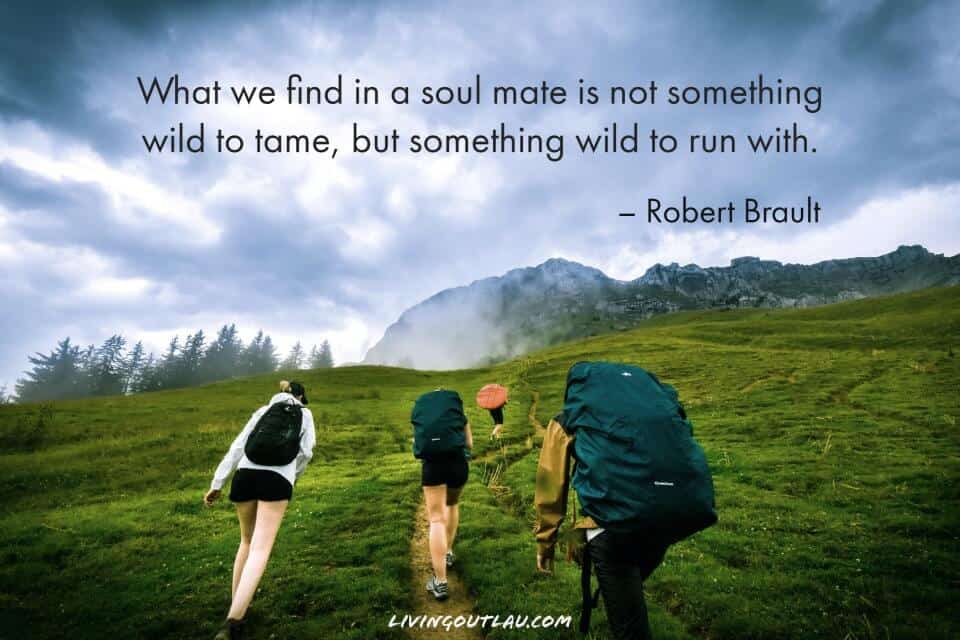 Our inspirational travel with friends quotes are perfect to encourage you to take that trip or motivate you to continue on when it gets rough. Travel isn't always rainbows and butterflies and these quotes will certainly help!
"Don't walk in front of me… I may not follow. Don't walk behind me… I may not lead. Walk beside me… just be my friend." – Albert Camus
"Friendship is not something that you seek but something that finds you." – Mokokoma Mokhonoana
"What we find in a soul mate is not something wild to tame, but something wild to run with." – Robert Brault
"It's the friends we meet along the way that help us appreciate the journey."
"Find a group of people who challenge and inspire you; spend a lot of time with them, and it will change your life." – Amy Poehler
"Friendship is the golden thread that ties the heart of all the world." – John Evelyn
"You never really travel alone. The world is full of friends waiting to get to know you!"
"As with any journey, who you travel with can be more important than your destination."
"I'd love to travel the world with you by my side."
"Life is partly what we make it, and partly what it is made by the friends we choose." – Tehyi Hsieh
---
Simple Quotations About Traveling With Friends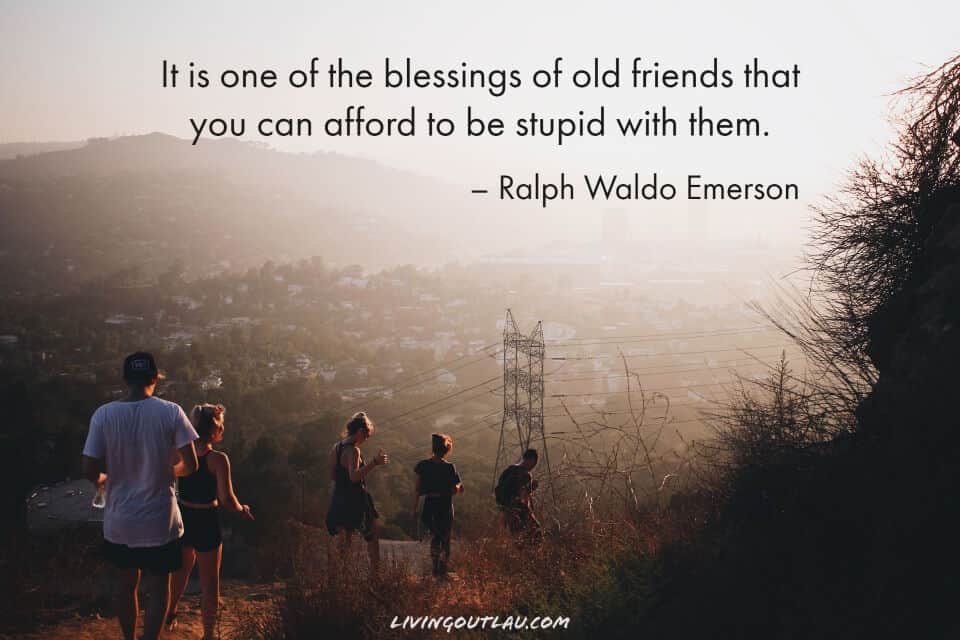 Simple quotations about traveling with friends are perfect for any occasion. They get the point across without sounding too tryhard. Pair that with your adventures with friends and you have the perfect post for social media!
"It is one of the blessings of old friends that you can afford to be stupid with them." – Ralph Waldo Emerson
"A true best friend may get you into trouble, but they will always be there to pull you out of it too." – Kaylee Stepkoski
"Anyone can have a friend, but the one that would walk in a storm to find you is all you will ever need." – Shannon L. Alder
"When life gives up on you, know that your best friend will always be there."
"Best friends are forever. That's why they're called BFFs." – Lauren Conrad, Sweet Little Lies (2010)
"Beach girls now, beach girls tomorrow, beach girls till the end of time." – Luanne Rice, Beach Girls (2004)
"A journey is best measured in friends, rather than miles." – Tim Cahill
"Let the adventure begin."
"Sometimes all you need is a great friend and a tank of gas."
"Friends, sun, sand, and sea, that sounds like a summer to me."
---
Bonus Adventure With Friends Quotes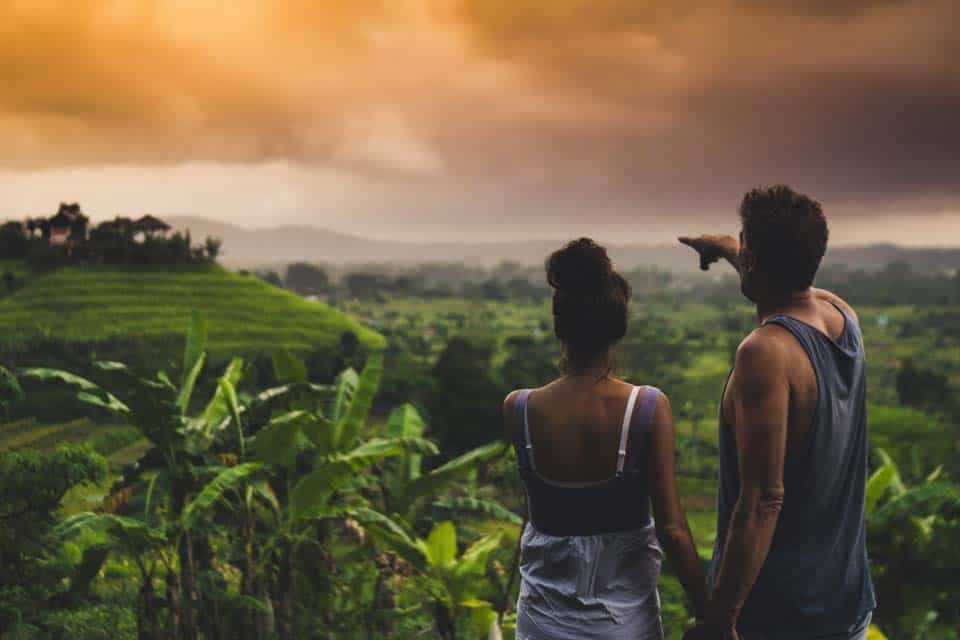 "Having a best friend is like having your own little corner of the world to escape to."
"Perhaps travel cannot prevent bigotry, but by demonstrating that all people cry, laugh, eat, worry, and die, it can introduce the idea that if we try and understand each other, we may even become friends." – Maya Angelou
"The more I traveled, the more I realized fear makes strangers of people who should be friends." – Shirley MacLaine
"Perhaps travel cannot prevent bigotry, but by demonstrating that all people cry, laugh, eat, worry, and die, it can introduce the idea that if we try and understand each other, we may even become friends." – Maya Angelou
"Good company in a journey makes the way seem shorter." – Izaak Walton
"Life by the water is always better, especially with a few good friends in tow."
"Each friend represents a world in us, a world possibly not born until they arrive, and it is only by this meeting that a new world is born." – Anais Nin
"Each friend represents a world in us, a world possibly not born until they arrive, and it is only by this meeting that a new world is born."
"As soon as I saw you, I knew a grand adventure was about to happen."
​​"When traveling life's journey, it's good to have a friend's hand to hold on to."
---
Like this post? Don't forget to save it on Pinterest!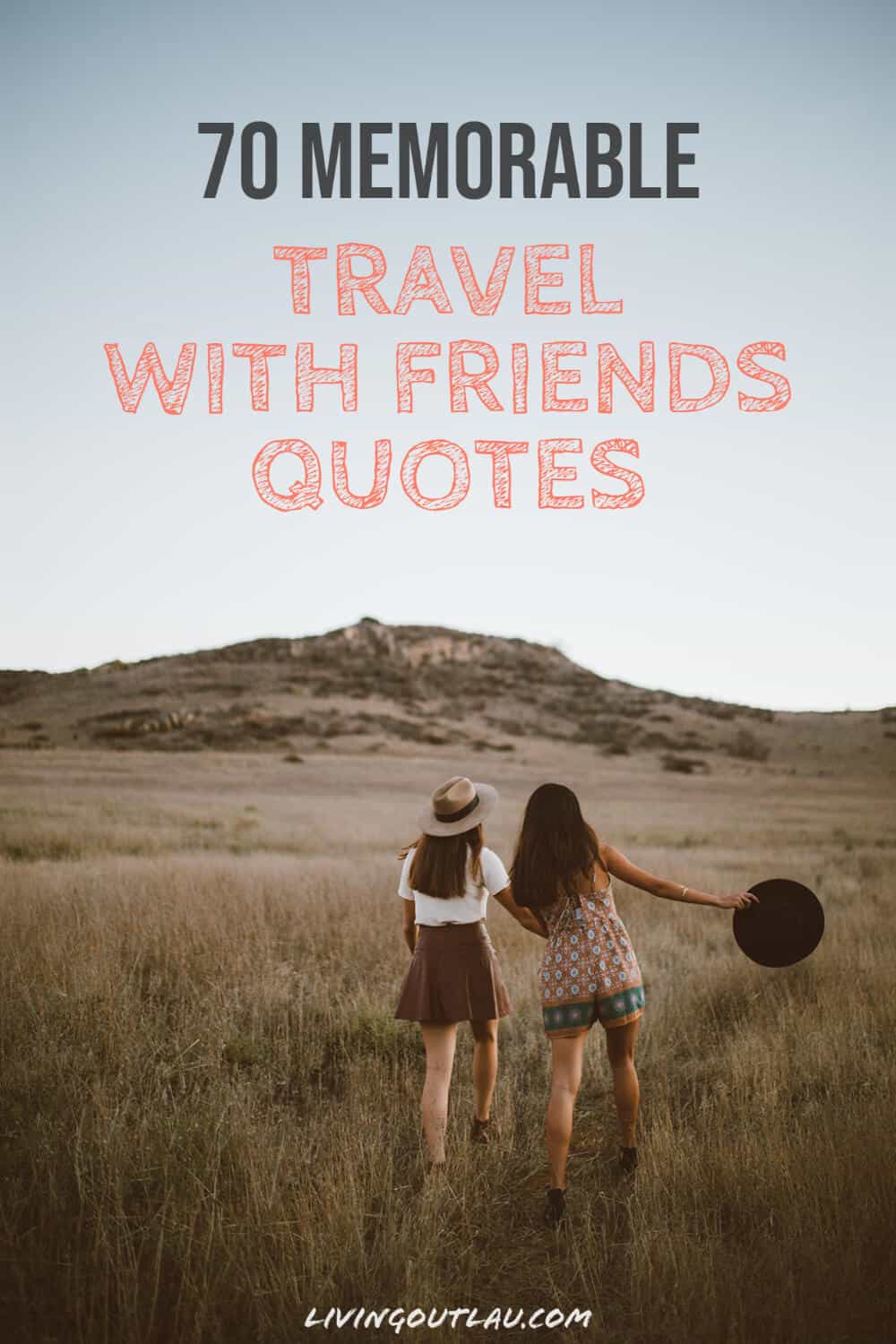 ---
Those are the 70 best traveling with friends quotes for Instagram or any kind of social media. We hope you found the perfect quote or captions for your trip!

Any questions? Leave them in the comments!
Disclaimer: Some of the links above are affiliate links. That means if you book or make a purchase through the links, we will earn a small commission at no extra cost to you! The money will help run this site! Thank you!