Looking for the best waterfall quotes for Instagram or social media? You have come to the right place.

Waterfalls are some of the most majestic creations of mother nature. Violent current, overwhelming mist, and crashing sounds awaken the natural instincts inside us. For some of us, it is a sense of serenity, but for others, it is vigor and everything in between.

However, even with the best photos of waterfalls, it isn't complete with the perfect nature captions for waterfalls.

That is why we have written this guide to provide you with 100+ best waterfalls captions and quotes, all of which are perfect to engage your audience. We have included puns, humorous quotes, poems, lyrics, and inspirational sayings!

So water you waiting for? Chase some waterfalls (before they dry up like Victoria Falls) and enjoy some of our best quotes on waterfalls!
Check out some of our sunset quotes as well!
Our Favorite Instagram Captions For Waterfalls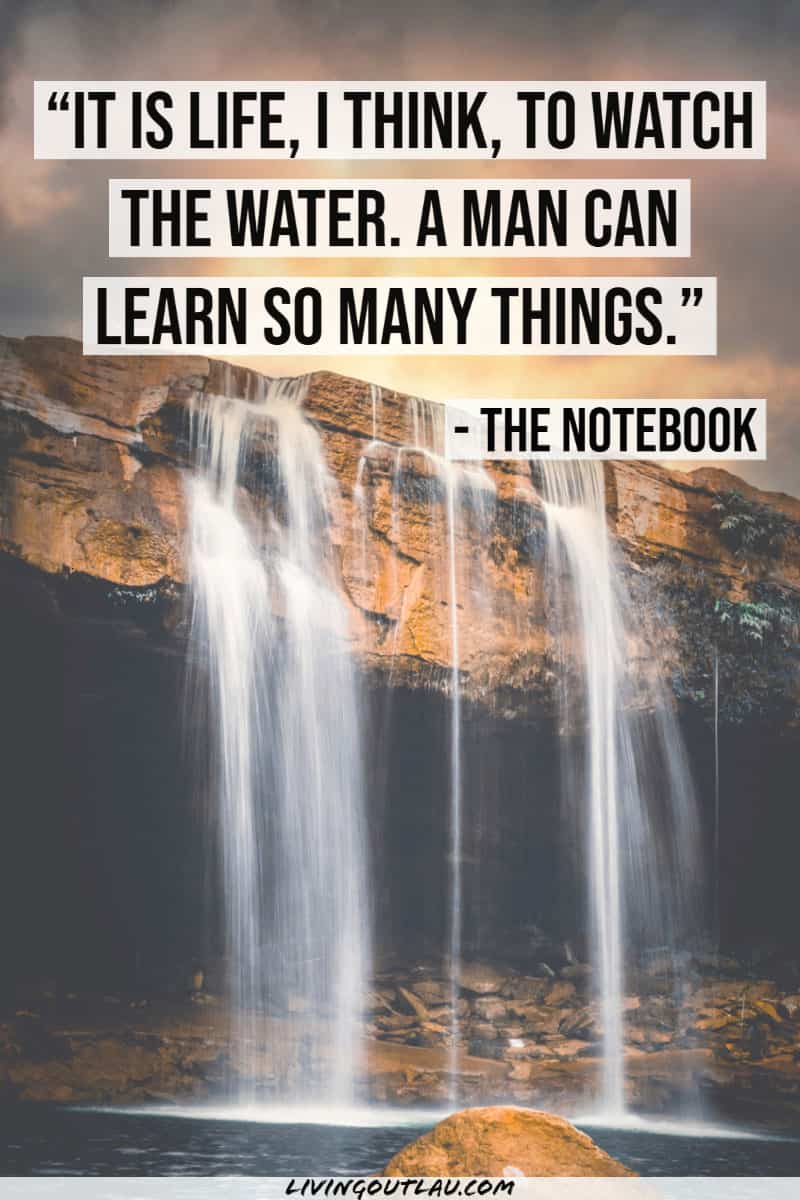 Check out our 16 favorite Instagram captions for waterfalls! We have used some of these on our Instagram and loved how they complemented our photos! 

1. "Tripping on skies, sipping on waterfalls."

2. "It is life, I think, to watch the water. A man can learn so many things." – Nicholas Spark, The Notebook (1996)

3. "I love the sounds and the power of pounding water, whether it is the waves or a waterfall."- Mike May

4. "Go with the flow. Force nothing. Let it happen – trusting that whichever way it goes. It's for the best." – Mandy Hale

5. "The idea is that flowing water never goes stale, so just keep on flowing." – Bruce Lee

6. "Waterfalls are exciting because they have power, they have rainbows, they have songs, and they have boldness and craziness!" – Mehmet Murat ildan

7. "They both listened silently to the water, which to them was not just water, but the voice of life, the voice of Being, the voice of perpetual Becoming." – Hermann Hesse, Siddhartha (1922)

8. "Always be like a water. Float in the times of pain or dance like waves along the wind which touches its surface." – Santosh Kalwar

9. "Let's swim to the moon
Let's climb through the tide
Surrender to the waiting worlds
That lap against our side."
– Jim Morrison

10. "Water was calmness and tranquility, but it was the rage of a storm as well." – F.C. Yee, The Shadow of Kyoshi (2020)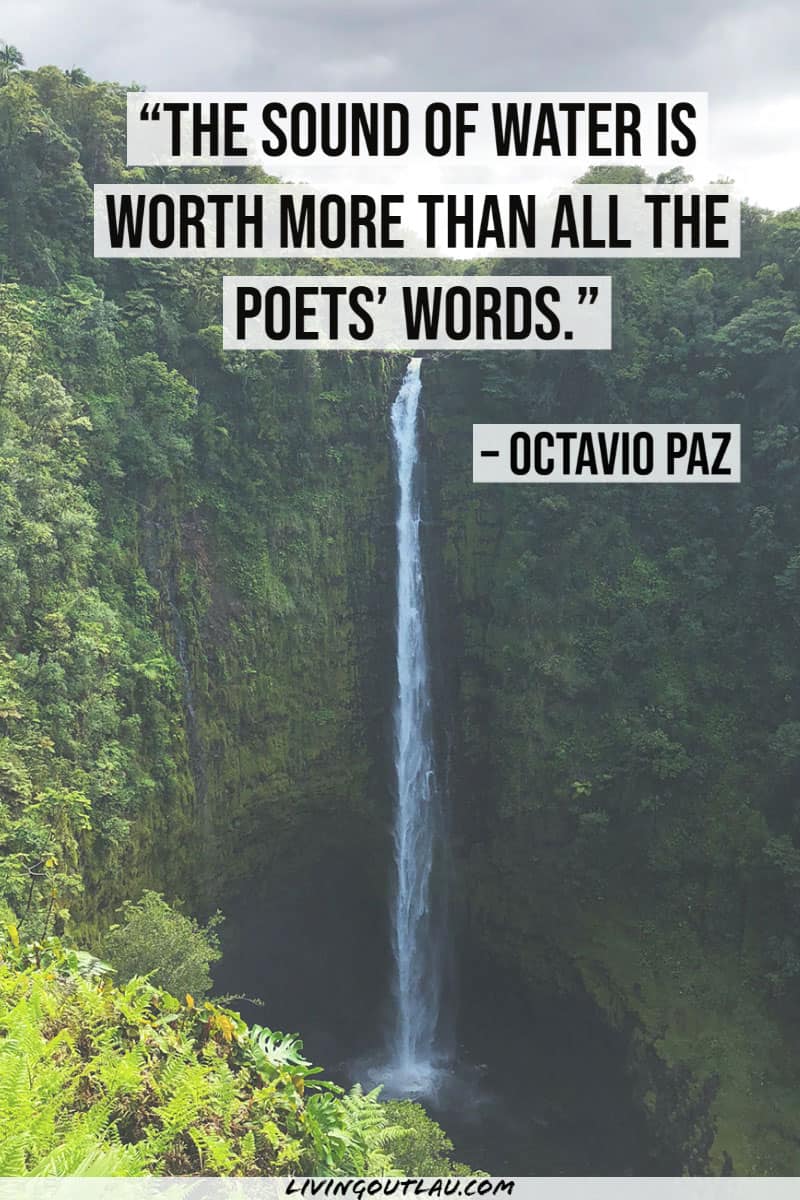 11. "Be like water, Flow like a river, Crash like the rain, Fly like the cloud again!" – Md. Ziaul Haque

12. "I am like a drop of water on a rock. After drip, drip, dripping in the same place, I begin to leave a mark, and I leave my mark in many people's hearts." – Rigoberta Menchu

13. "The fall of dropping water wears away the stone." – Lucretius

14. "All water has a perfect memory and is forever trying to get back to where it was." – Toni Morrison

15. "A drop of water, if it could write out its own history, would explain the universe to us." – Lucy Larcom

16. "The sound of water is worth more than all the poets' words." – Octavio Paz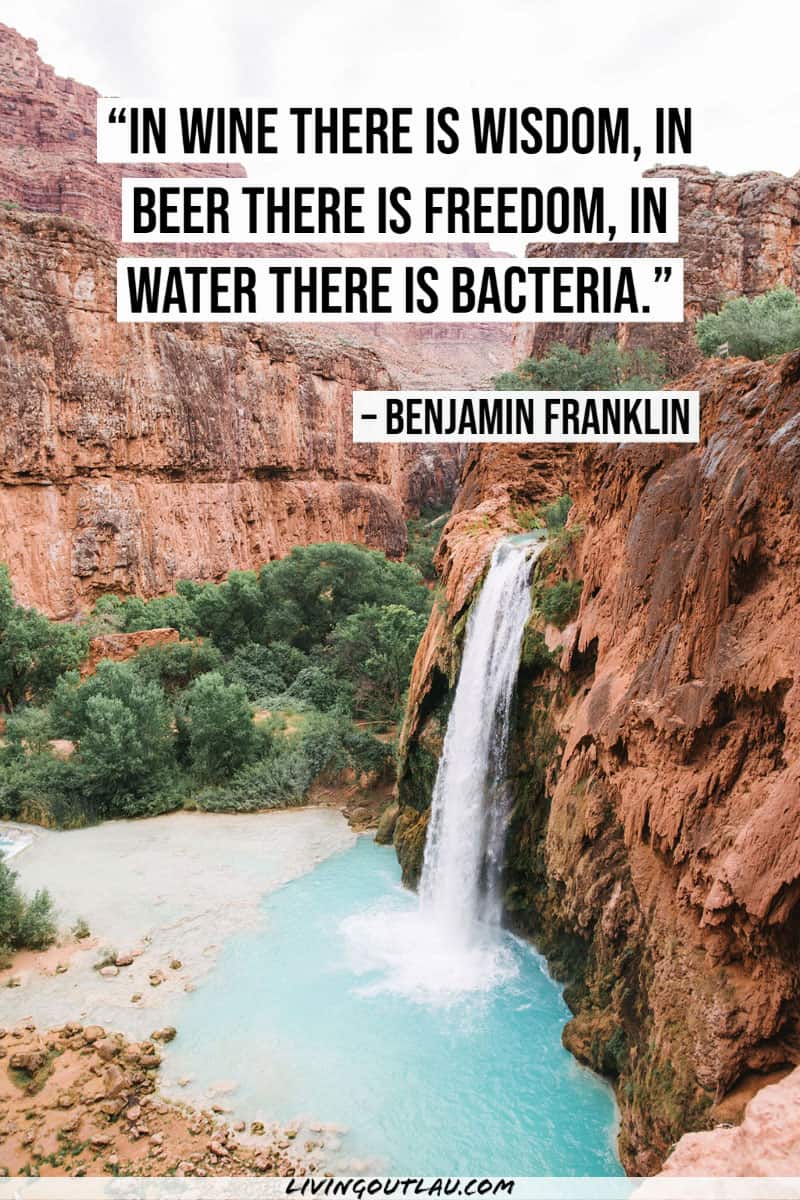 Want to get a chuckle out of your audience? Try one of our favorite funny waterfall quotes!

1. "When God takes a shower, waterfalls come to life around the world. When I take a shower, my hair usually clogs the drain." – Anthony T. Hincks

2. "Sorry, TLC. I chased the waterfall."

3. "You can lead a horse to water, but you can't make him participate in synchronized diving." – Cuthbert Soup, Another Whole Nother Story (2010)

4. "I really have to get my plumbing fixed."

5. "My therapist set half a glass of water in front of me. He asked if I was an optimist or a pessimist. So, I drank the water and told him I was a problem solver."

6. "In wine there is wisdom, in beer there is freedom, in water there is bacteria." – Benjamin Franklin

7. "I've always had a duck personality. Calm above water, feet going crazy below." – K. Flay

8. "There are only three things women need in life: food, water, and compliments." – Chris Rock

9. "The mind is like an iceberg, it floats with one-seventh of its bulk above water." – Sigmund Freud

10. "I'm not a very good swimmer, and every time I'm in the water, I'm constantly reminded of that because I feel like I'm going to drown!" – Tom Holland
Inspirational Quotes About Waterfalls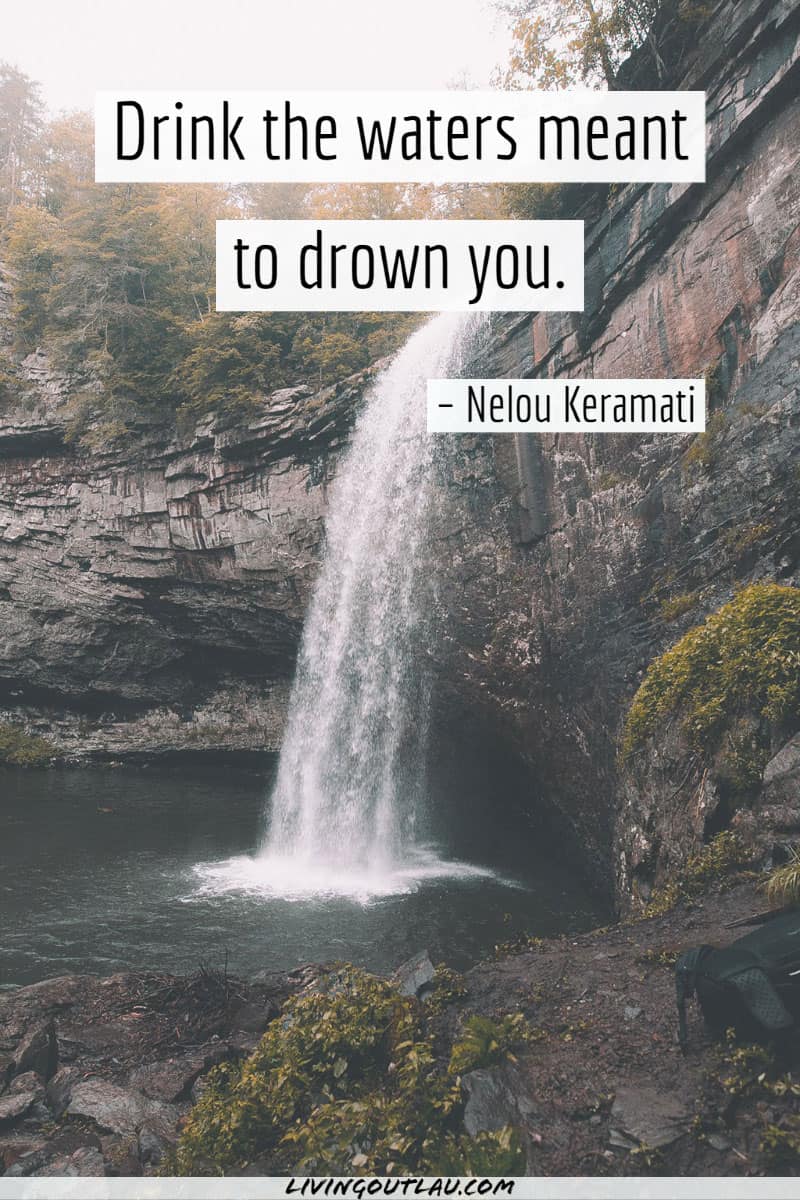 Waterfalls are some of the most powerful natural creations. Use one of these inspirational quotes about waterfalls to motivate your readers!

1. "Look with open eyes and you will see the beauty of waterfall." – Anthony Hincksever."

2. "Like a waterfall, life doesn't flow backward."

3. "Life is like a waterfall. It is always moving and there is always an uneven flow to it."

4. "Many a calm river begins as a turbulent waterfall, yet none hurtles and foams all the way to the sea." – Mikhail Lermontov

5. "Water does not resist. Water flows. When you plunge your hand into it, all you feel is a caress. Water is not a solid wall, it will not stop you. But water always goes where it wants to go, and nothing in the end can stand against it. Water is patient." – Margaret Atwood, The Penelopiad (2005)

6. "Empty your mind, be formless, shapeless, like water. Be water, my friend." – Bruce Lee

7. "When life places stones in your path, be the water. A persistent drop of water will wear away even the hardest stone." – Autumn Morning Star

8. "I am like the water that runs over me, immune to permanence, recycling endlessly. I am water; I am life. The form may change, but the substance stays the same. Strike me down and I will rise again. Vincit qui patitur." – Rick Yancey

9. "Water is sufficient…the spirit moves over water." – Friedrich Nietzsche, Ecce Homo (1888)

10. "Drink the waters meant to drown you." – Nelou Keramati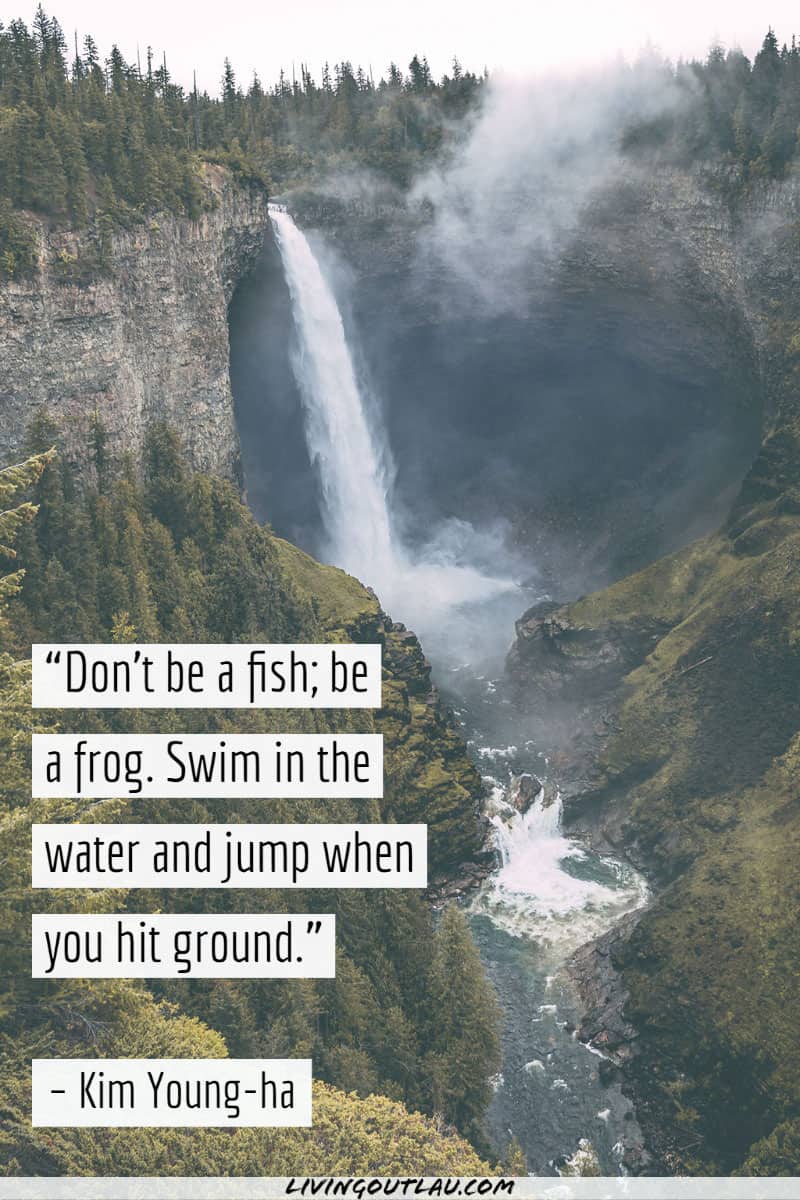 11. "You do not drown simply by plunging into the water, you only drown if you stay beneath the surface." – Paulo Coelho, Warrior of the Light (1997)

12. "You don't have the power to make rainbows or waterfalls, sunsets or roses, but you do have the power to bless people by your words and smiles You carry within you the power to make the world better." – Sharon Larsen

13. "Lessons from a waterfall – Keep moving, and you will eventually get over it."

14. "Don't be a fish; be a frog. Swim in the water and jump when you hit ground." – Kim Young-ha

15. "Iron rusts from disuse; water loses its purity from stagnation… even so does inaction sap the vigor of the mind." – Leonardo da Vinci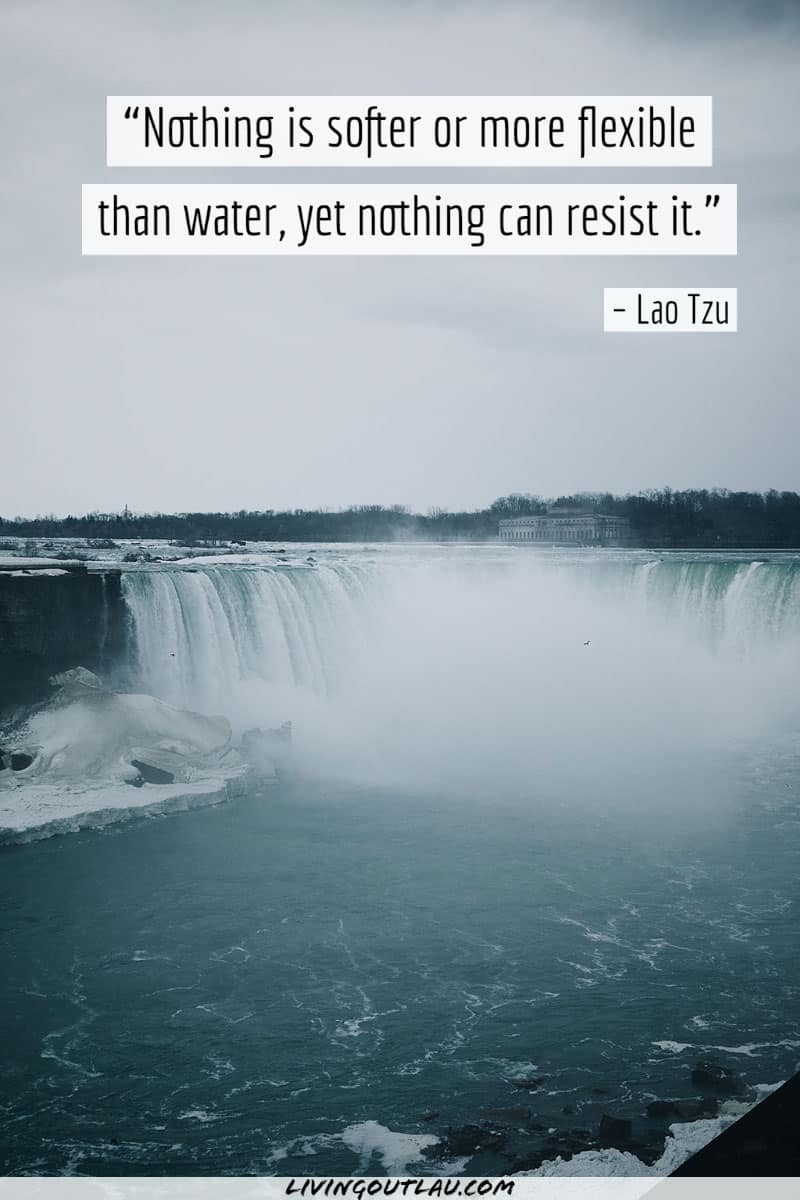 What does "chasing waterfalls?" mean for you? For us, it means doing something out of the ordinary, going out of our comfort zone, and chasing goals that might seem hard to attain. Here are the perfect chasing waterfall quotes to caption your photos!

1. "Once we have tasted far streams, touched the gold, found some limit beyond the waterfall, a season changes and we come back changed but safe, quiet, grateful." – William Stafford

2. "A waterfall happily and cheerfully flows in the nature; there is happiness only if there is freedom! " – Mehmet Murat ildan

3. "I can see my rainbow calling me through the misty breeze of my waterfall." – Jimi Hendrix, May This Be Love

4. "BRB, chasing waterfalls."

5. "I need waves. I need waterfalls. I want rushing currents." – Tahereh Mafi, Ignite Me (2014)

6. "Just let go – and fall like a little waterfall." – Bob Ross

7. "The power of a waterfall is nothing but a lot of drips working together."

8. "My mind is a raging torrent, flooded with rivulets of thought cascading into a waterfall of creative alternatives." – Mel Brooks

9. "Nothing is softer or more flexible than water, yet nothing can resist it." – Lao Tzu

10. "All good writing is swimming under water and holding your breath." – F. Scott Fitzgerald
Waterfall Quotes About Love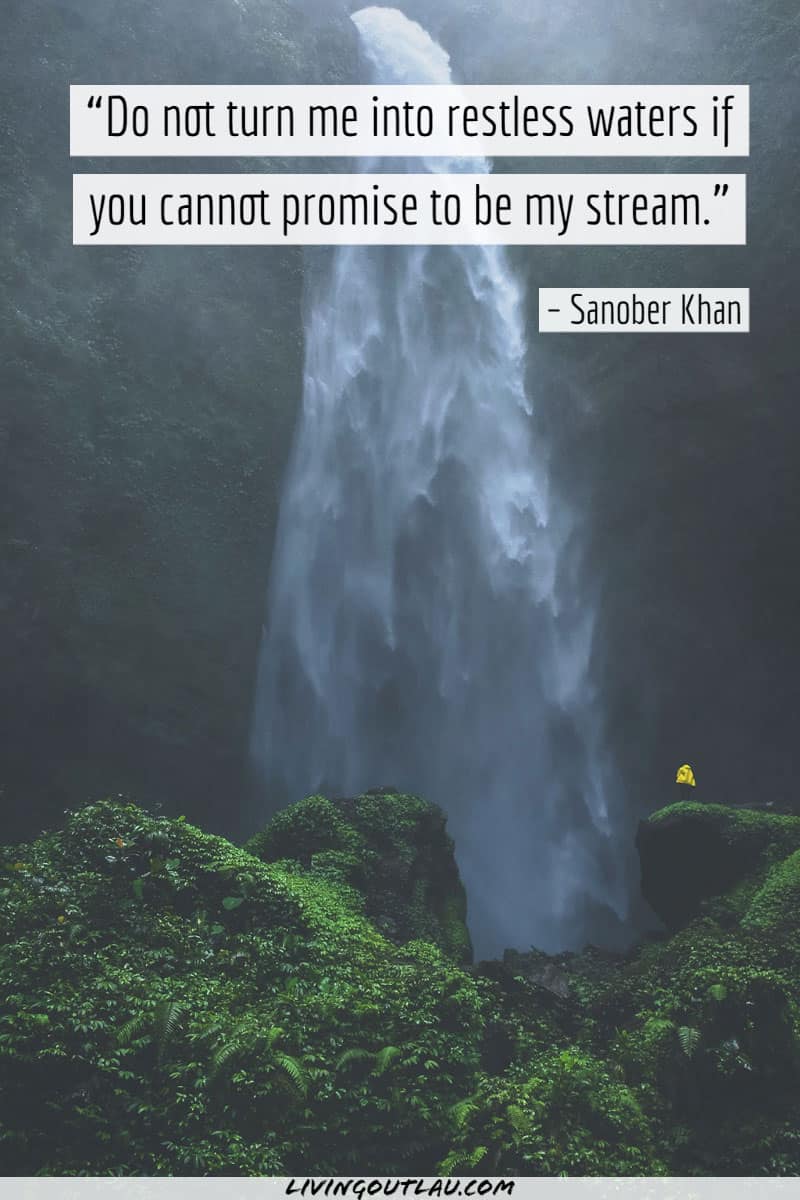 Waterfalls are full of romantic energy. Use one of these water quotes about love to evoke emotions from your fans!

1. "Your love is like a waterfall, running wild and free."- Chris Tomlin

2. "Do not feel sad for your tears as rocks never regret the waterfalls" – Munia Khan

3. "The fall of your hair is rushing through my head like elegant waterfalls repeatedly dancing down into an open riverbed." – Curtis Tyrone Jones

4. "When you are outpouring your emotion, it is like me trying to climb up a waterfall to get to you." – Kate McGahan, Jack McAfghan: Return from Rainbow Bridge: An Afterlife Story of Loss, Love and Renewal (2016)

5. "Do not turn me into restless waters if you cannot promise to be my stream." – Sanober Khan

6. "Beauty soaks reality as water fills a rag." – Chet Raymo, Honey from Stone: A Naturalist's Search for God (1987)

7. "Too much of water hast thou, poor Ophelia, And therefore I forbid my tears." – William Shakespeare, Hamlet (1603)

8. "Without the wetness of your love, the fragrance of your water, or the trickling sounds of your voice ― I shall always feel thirsty." – Suzy Kassem, Rise Up and Salute the Sun: The Writings of Suzy Kassem (2010)

9. "Water has its moods, flowing or still; it can lure you like a lover, or look as bleak as a broken heart." – Patricia A. McKillip, Winter Rose (1996)

10. "I am not here for calm waters anymore. I want to be known for my love for hurricanes." – Nitya Prakash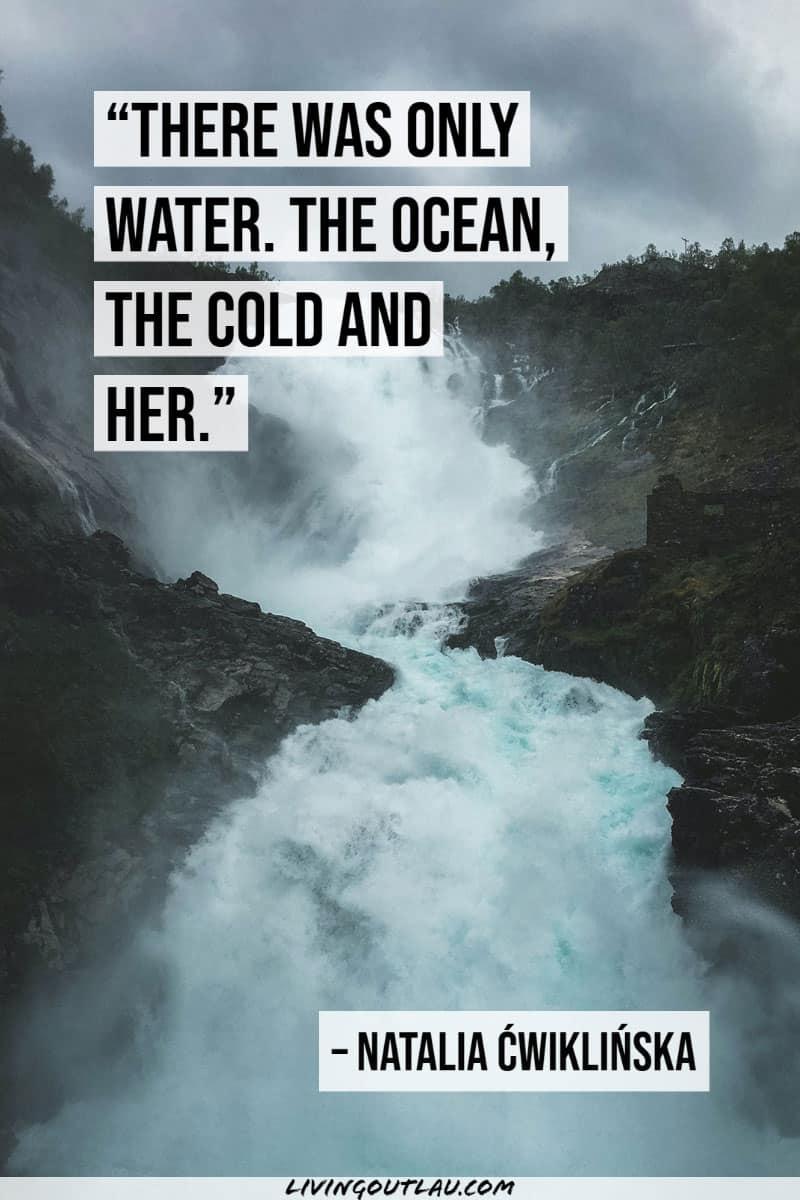 11. "Like a house that has a home and a river that flows, so does love become when you open your heart, even when the lights go out or the flow encounters rocks." – Goitsemang Mvula

12. "I water my plants until they drown & this is the only way I know how to love." – Nitya Prakash

13. "Love like water, searching for the sea. Love like Time, searching for meaning. Love like all that was, and ever will be." – Gregory David Roberts, The Mountain Shadow (2015)

14. "… you know that soft is stronger than hard, water stronger than rocks, love stronger than force." – Hermann Hesse, Siddhartha (1922)

15. "Take a fish out of water it dies. Take the love out of my heart, and I become an atheist." – Anthony T. Hincks

16. "Romance often begins by a splashing waterfall and ends over a leaky sink." – Ellen DeGeneres

17. "I think love is the greatest force in the universe. It's shapeless like water. It only takes the shape of things it becomes." – Guillermo del Toro

18. "I used to believe that love was finding someone who would lead you through the deep water." – Anne Hathaway

19. "There was only water. The ocean, the cold and her." – Natalia Ćwiklińska, The Bride (2019)
Powerful Waterfall Quotes For Instagram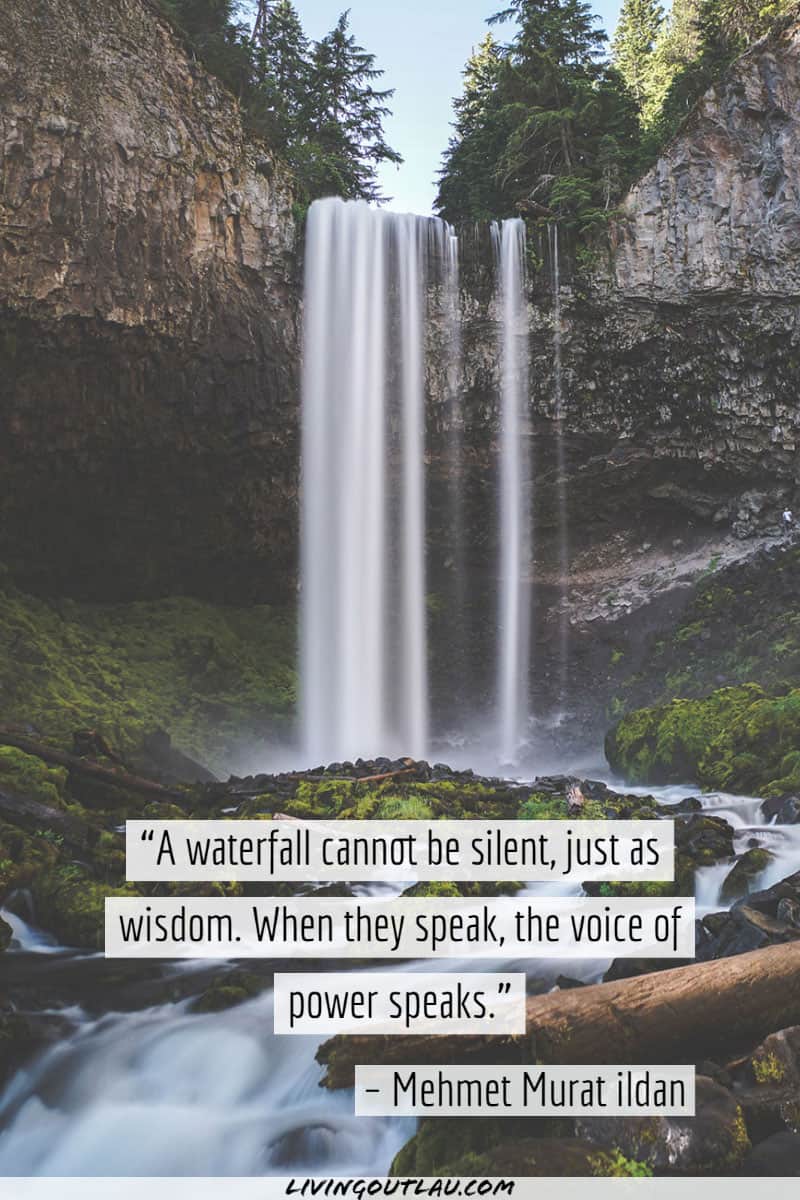 These powerful water quotes for Instagram are perfect for those who want to express the immensity of a waterfall. If you visited a waterfall that made you say "Wow, I am going to get washed away", then one of these might be good for you!

1. "Water is the most perfect traveller because when it travels it becomes the path itself!" – Mehmet Murat ildans

2. "I love places that make you realize how tiny you and your problems are."

3. "Water is the driving force in nature."

4. "A waterfall cannot be silent, just as wisdom. When they speak, the voice of power speaks." – Mehmet Murat ildan

5. "When the moonlight and the waterfall come together, all other things fade from the scene!" – Mehmet Murat ildan

6. "Human nature is like water. It takes the shape of its container." – Wallace Stevens

7. "Water was something he loved, something he respected. He understood its beauty and its dangers. He talked about swimming as if it were a way of life." – Benjamin Alire Sáenz, Aristotle and Dante Discover the Secrets of the Universe (2012)

8. "When a stone is dropped into a pond, the water continues quivering even after the stone has sunk to the bottom." – Arthur Golden, Memoirs of a Geisha (1997)

9. "Water belongs to us all. Nature did not make the sun one person's property, nor air, nor water, cool and clear." – Michael Simpson, The Metamorphoses of Ovid (8)

10. "The spirit is colourless like water" – Lailah Gifty Akita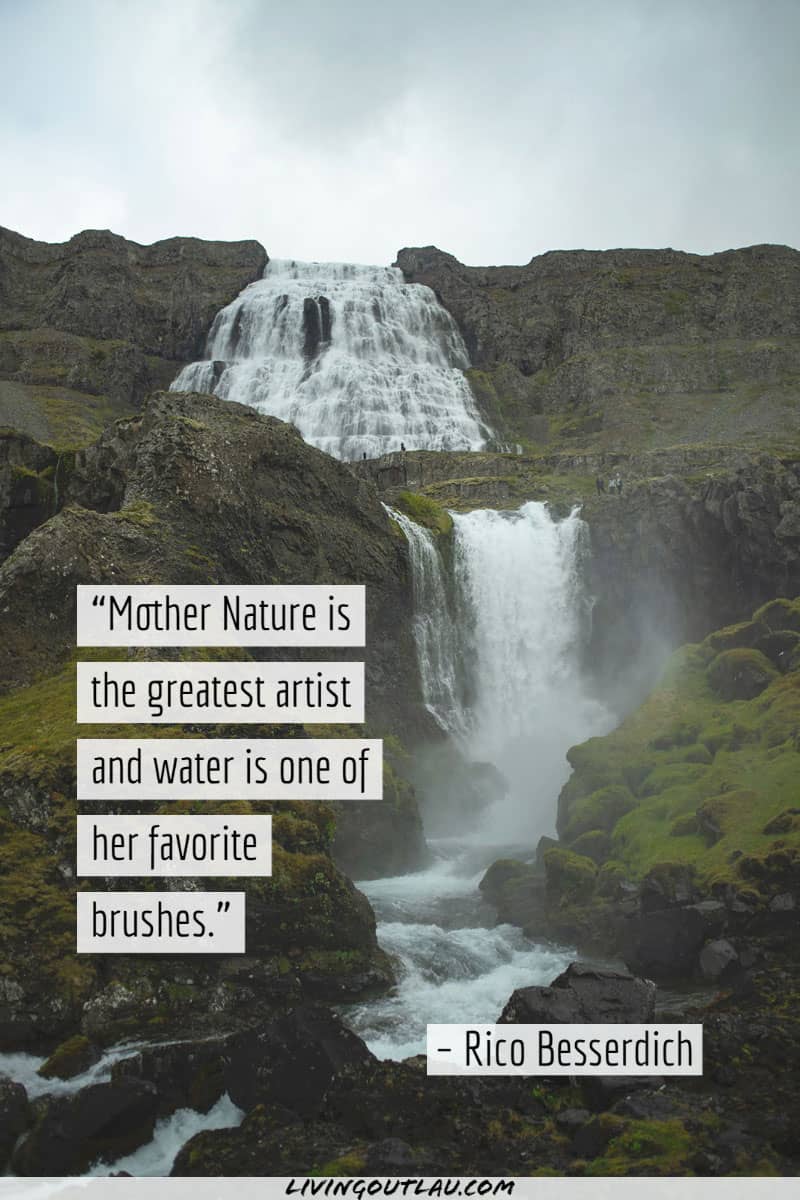 11. "Some people get killed by water. Some die from dehydration." – Mokokoma Mokhonoana

12. "Without water, life would just be rock." – Anthony T. Hincks

13. "Mother Nature is the greatest artist and water is one of her favorite brushes." – Rico Besserdich

14. "Water in the boat is the ruin of the boat, but water under the boat is its support." – Jalaluddin Rumi, The Rumi Collection (1998)

15. "Just as a waterfall grows slower and more lightly suspended as it plunges down, so the great man of action tends to act with greater calmness than his tempestuous desires prior to the deed would lead one to expect." – Friedrich Nietzsche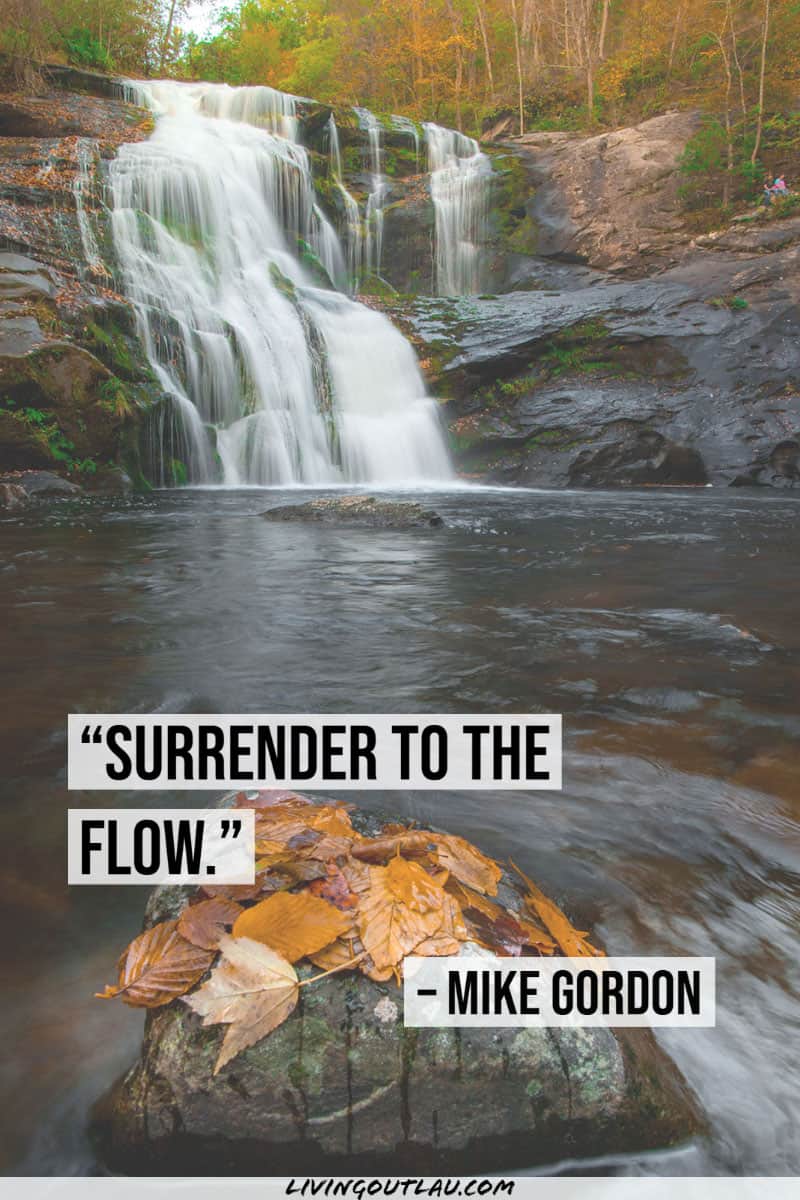 Short waterfall quotes are quick and snappy, perfect for capturing the attention of your audience without sounding too unnatural. If that is something you are looking for, check out these short waterfall captions!

1. "Surrender to the flow." – Mike Gordon

2. "Run wild and free like a waterfall" – Anamika Mishra

3. "When water falls, it flies." – Anthony T. Hincks

4. "Do not seek water, get thirst." – Rumi

5. "Keep close to nature's heart."

6. "Water." – Ulysses S. Grant (Former U.S. President)

7. "The water tells none of its secrets." – Nikos Engonopoulos

8. "Only living water satisfy the thirsty soul." – Lailah Gifty Akita

9. "For an instant, silence, noisier than a waterfall." – Salman Rushdie, Midnight's Children (1981)

10. "Dreams are made of trails and waterfalls."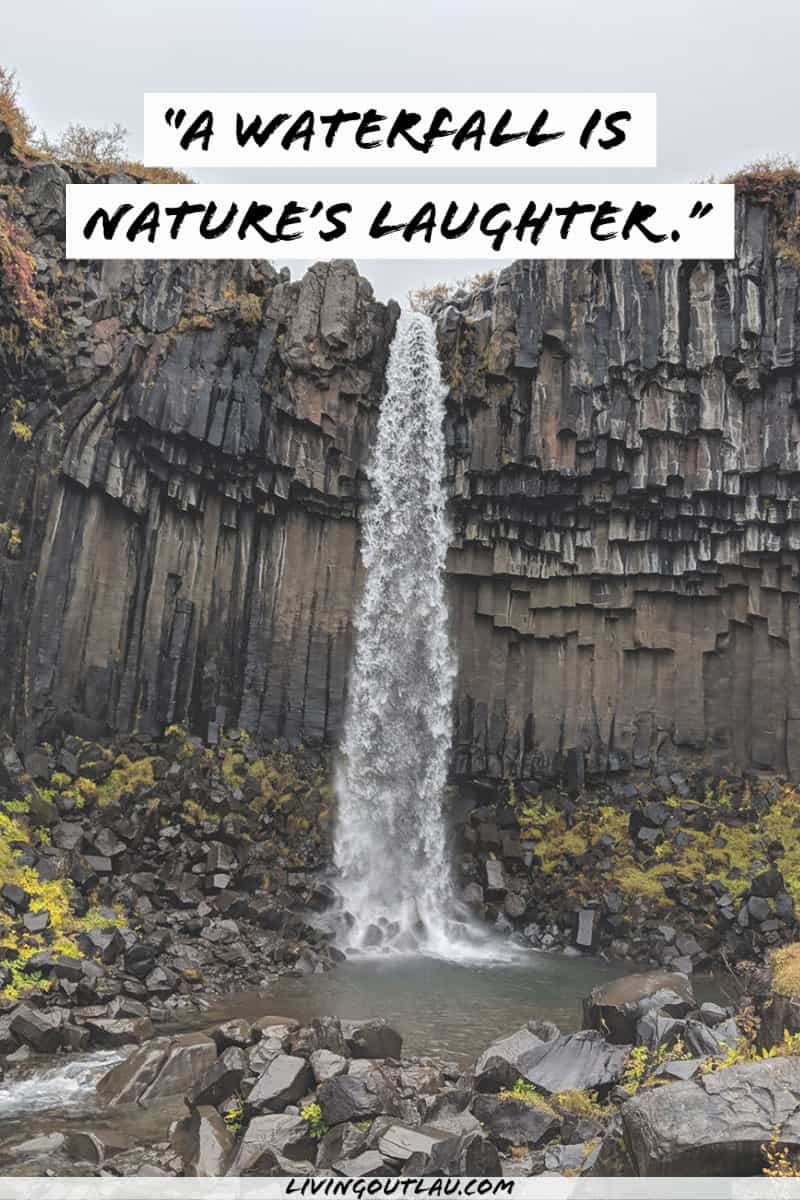 11. "A waterfall is nature's laughter."

12. "Wild, beautiful, and free."

13. "Good words cool more than cold water." – John Ray

14. "Not complaining about this view."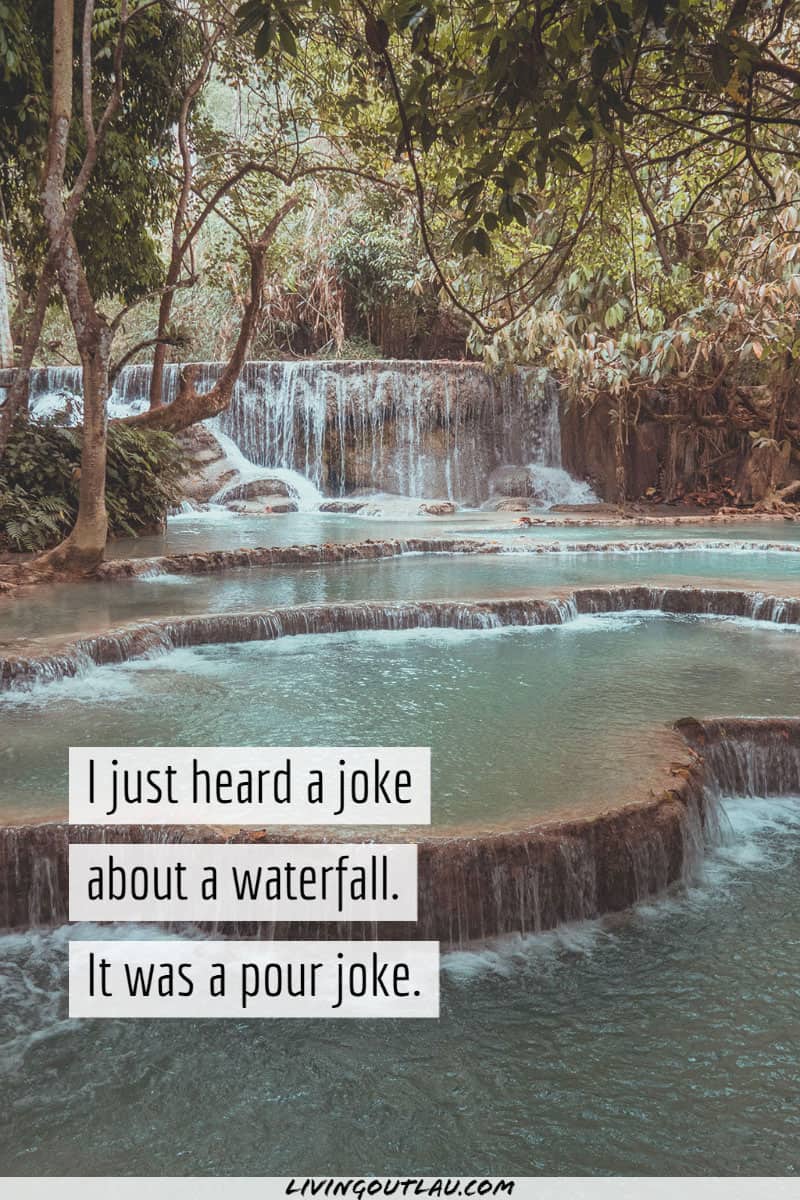 Waterfall puns are our favorite type of captions. Lighthearted and hilarious, they are perfect for everyone in the family!

1. What did the sea say to the river? You can run, but you can't tide.

2. I just heard a joke about a waterfall. It was a pour joke.

3. My friend can't afford to pay his water bill. I sent him a card saying "Get well, soon".

4. Have you heard about the three holes in the ground? Well, well, well…

5. So long boiled water. You'll be mist.

6. You know what I said after digging a hole and finding water? Well done!

7. "If you throw a pair of fins in water, they'll float. But if you throw one Fin in the water, Helsinki."

8. If H2O is water, what's H2O4? Drinking

9. What did the expensive water say to the cheap water? You have no taste.

10. What's the opposite of a waterfall? A firefly.

11. What do you call a dried up waterfall? Water fell.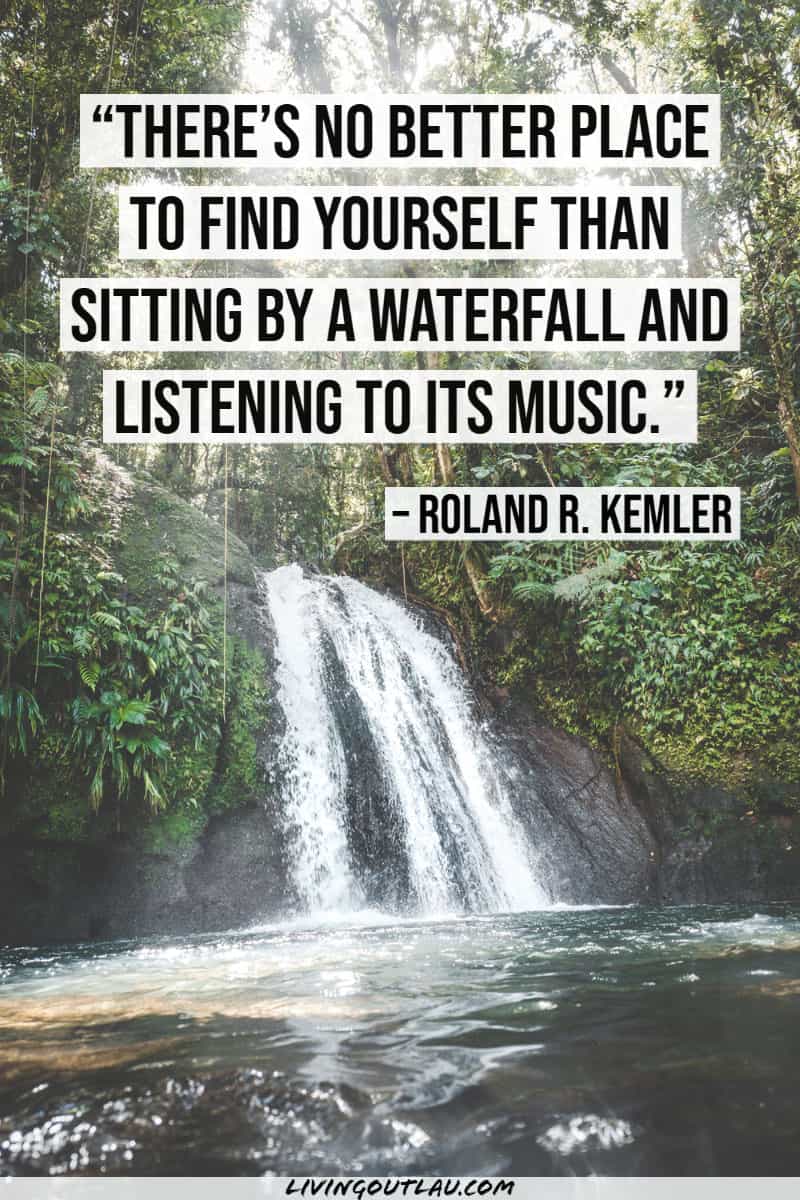 Can't find one that you like? Check out our additional waterfall sayings!

1. "There's no better place to find yourself than sitting by a waterfall and listening to its music" – Roland R. Kemler

2. "Grace is finding a waterfall when you were only looking for a stream." – Vanessa Hunt

3. "The river plunged down in a long waterfall, plashing into several rocky pools on its way down the cliff." – Alison Croggon, The Naming (2002)

4. "You can't trust water: Even a straight stick turns crooked in it." – W.C. Fields

5. "You are water
I'm water
we're all water in different containers
that's why it's so easy to meet
someday we'll evaporate together."
– Yoko Ono

6. "I am a Pisces, a fish out of water, searching for a way back home." – James Kidd

7. "There are often many people dying from thirst while many people are running for dear life away from the rain." – Mokokoma Mokhonoana

8. "Of all known liquids water is probably the most studied and least understood." – Felix Franks

9. "And listen to the faucets, like the rush of a waterfall heard through thick woods just as the birds began to sing early one morning years ago in the hills outside Florence." – Kevin Prufer

10. "Like water, we are truest to our nature in repose." – Cyril Connolly
BONUS Water falls Quotes!
If you have made it this far down the post, we want to spoil you with some extra water falls quotes! Here are more inspirational waterfall quotes, profound captions for waterfalls, and more!
1. "Emerald slopes became so tall they touched the clouds, and showers painted diamond waterfalls that sluiced down cliff sides."

– Victoria Kahler
2. "Mist to mist drops to drops. For water thou art, and unto water shalt thou return."

– Kamand Kojouri
3. "I open my eyes to see Ry staring at me, and my desert soul erupts with turquoise water, floods and cascades and waterfalls rushing in around my rocky parts, pushing and reshaping and filling every hidden dark spot."

– Kiersten White, The Chaos of Stars (2013)
4. "I love you like a river that understands that it must learn to flow differently over waterfalls and to rest in the shallows."

– Paulo Coelho, Aelph (2010)
5. I firmly believe that nature brings solace in all troubles.

– Anne Frank
6. "There's hope at the bottom of the biggest waterfall."

– Patrick Ness
7. "Eventually, all things merge into one, and a river runs through it."

– Norman McLean
8. "A river cuts through a rock, not because of its power but because of its persistence."

– Jim Watkins
9. "Experiencing the present purely is being empty and hollow; you catch grace as a man fills his cup under a waterfall."

– Annie Dillard
10. "A waterfall is concerned only with being itself, not with doing something it considers waterfall-like."

– Vernon Howard
Like this post? Don't forget to save it on Pinterest!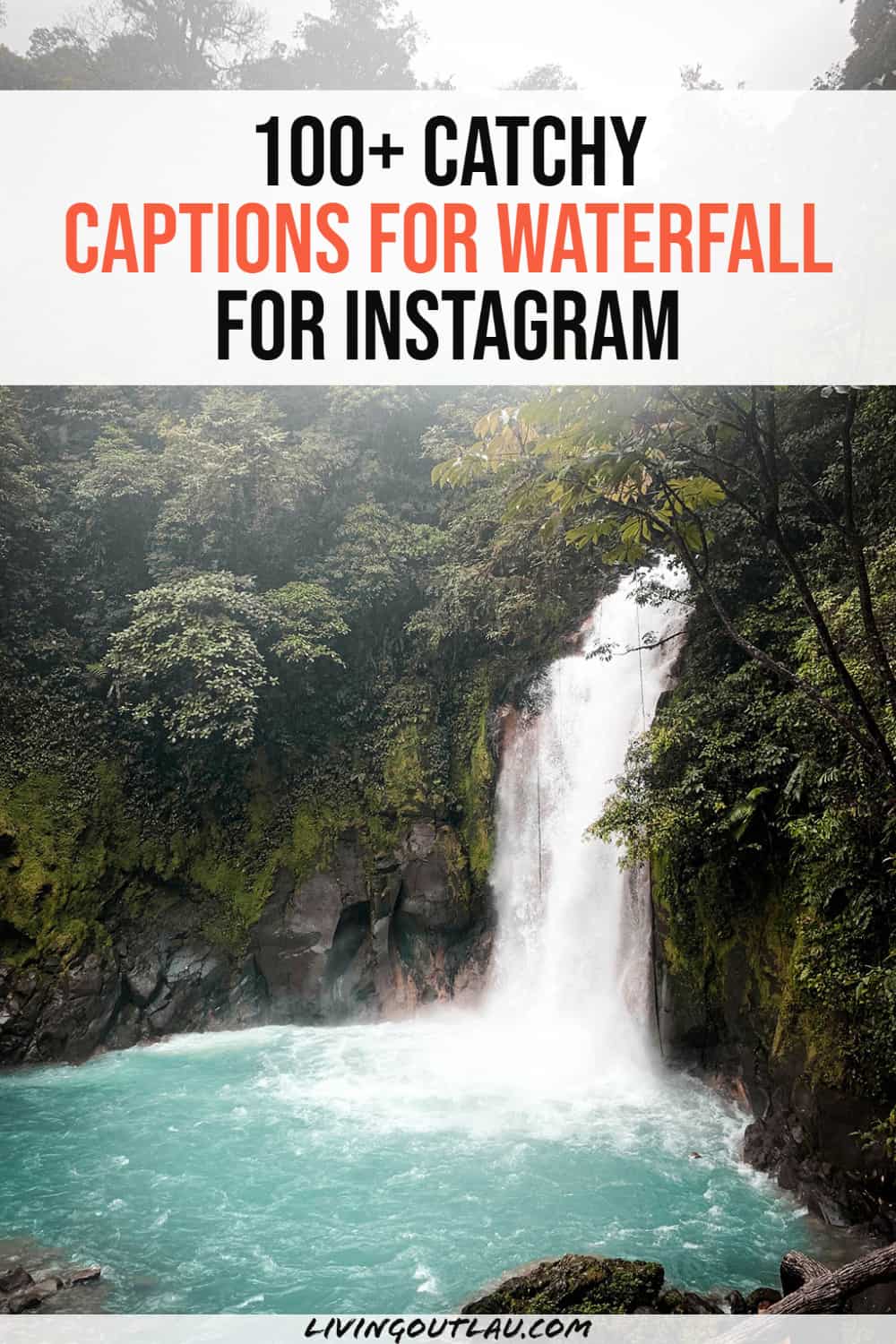 Those are the best 100+ waterfall quotes for Instagram or any kind of social media. Water you waiting for? Use them already!

Any questions? Leave them in the comments!
Disclaimer: Some of the links above are affiliate links. That means if you book or make a purchase through the links, we will earn a small commission at no extra cost to you! The money will help run this site! Thank you!