Looking for catchy Instagram captions for sunsets to engage your audience? You have come to the right place.

Sunrises and sunsets are some of the best things mother nature has given us. It allows us and enjoy to smaller things in life, something that is rare from the hustle and bustle of life. There are plenty of reasons to just stop everything and go watch a sunset!

However, no matter how jaw-dropping your sunset photo is, it needs to be accompanied by the perfect sunset quote. Below are over 100 sunsets quotes that will compliment your magical sunset photo!
Let's find the perfect sunset captions for you!
Looking for more awesome quotes? Check out our incredible waterfall quotes post!
---
Instagram Captions For Sunsets From Books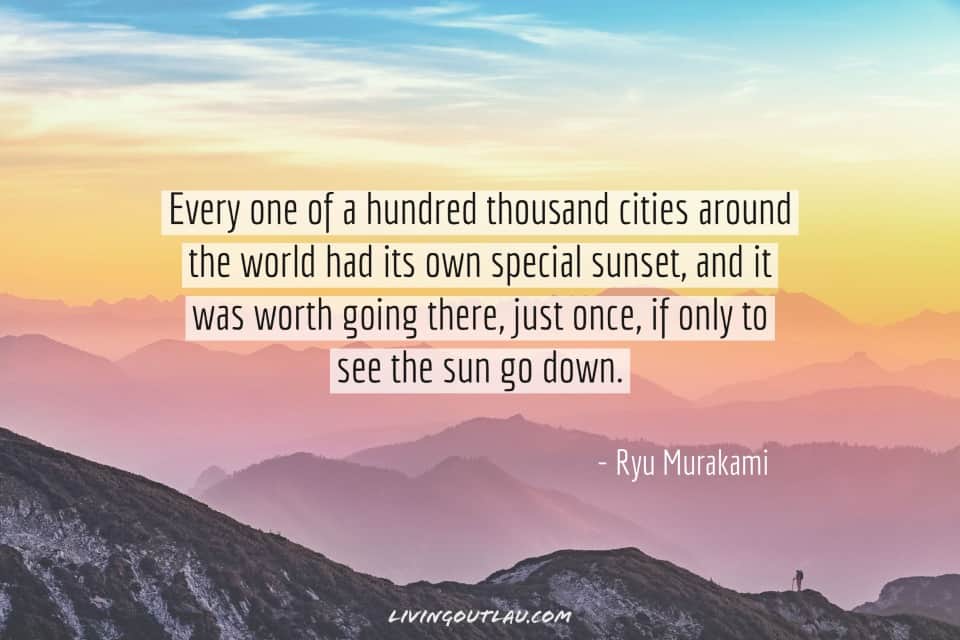 Instagram captions for sunsets from books are perfect for getting engagements (especially when using a quote from a popular book) or for anyone that likes poetic captions!
"Every one of a hundred thousand cities around the world had its own special sunset, and it was worth going there, just once, if only to see the sun go down." – Ryū Murakami, Coin Locker Babies (1980)
"A sunset is the sun's fiery kiss to the night." – Crystal Woods, Write like no one is reading 3 (2016)
"You know, one loves the sunset, when one is so sad." – Antoine de Saint-Exupéry, The Little Prince (1943)
"Sunsets, like childhood, are viewed with wonder not just because they are beautiful but because they are fleeting." – Richard Paul Evans, The Gift (2007)
"Sunsets are one of our simplest and most profound gifts [..] they remind us that we are blessed to have enjoyed a perfect day, and they provide hope that tomorrow will be even better." – Viola Shipman, The Recipe Box (2018)
"A sunrise or sunset can be ablaze with brilliance and arouse all the passion, all the yearning, in the soul of the beholder." – Mary Balogh, A Summer To Remember (2002)
"The water was glassy and calm, still candy-colored in the afterglow of sunset." – Stephen King, Bag of Bones (1998)
"Clouds come floating into my life, no longer to carry rain or usher storm, but to add color to my sunset sky." – Rabindranath Tagore, Stray Birds (1913)
"Sunrise is the start of something beautiful: the day. Sunset is the start of something beautiful: the night." – Juansen Dizon, Confessions of a Wallflower (2017)
"This is my favourite time of the day. Light and dark touch for a few moments. […] I used to wish dusk would last longer, but its quickness seems to add to making it special." – Regina McBride, The Nature of Water and Air (2000)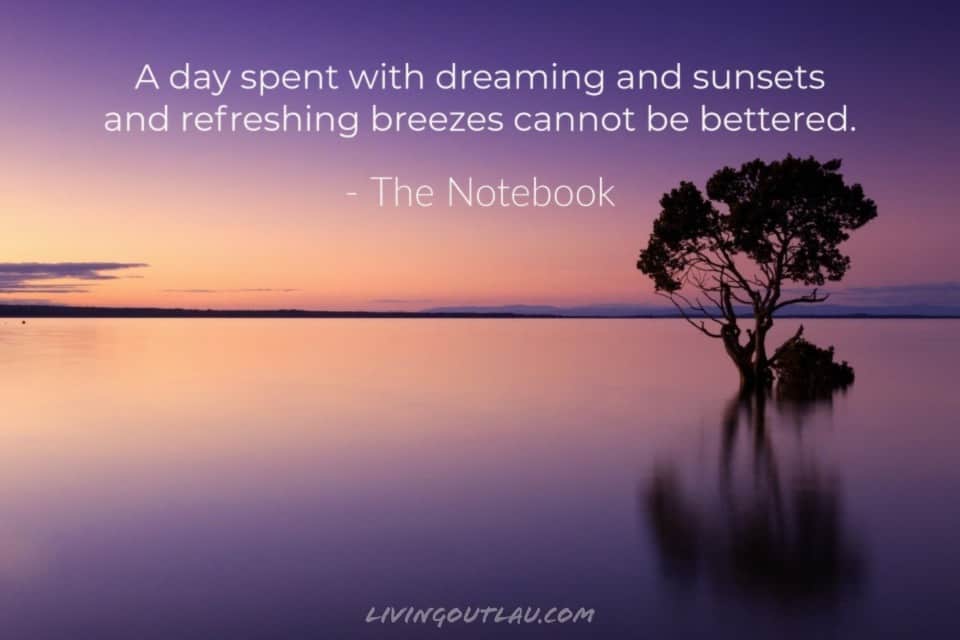 "I can't give you the sunset, but I can give you the night." – Erin McCarthy, High Stakes (2006)
"A day spent with dreaming and sunsets and refreshing breezes cannot be bettered." – Nicholas Sparks, The Notebook (1996)
"Sunsets we always liked because they only happen once and go away" – Ray Bradbury, Dandelion Wine (1957)
"Foam is white and waves are grey. Beyond sunset leads my way." – J.R.R. Tolkien, Bilbo's Last Song (At the Grey Havens)
---
Short Sunset Captions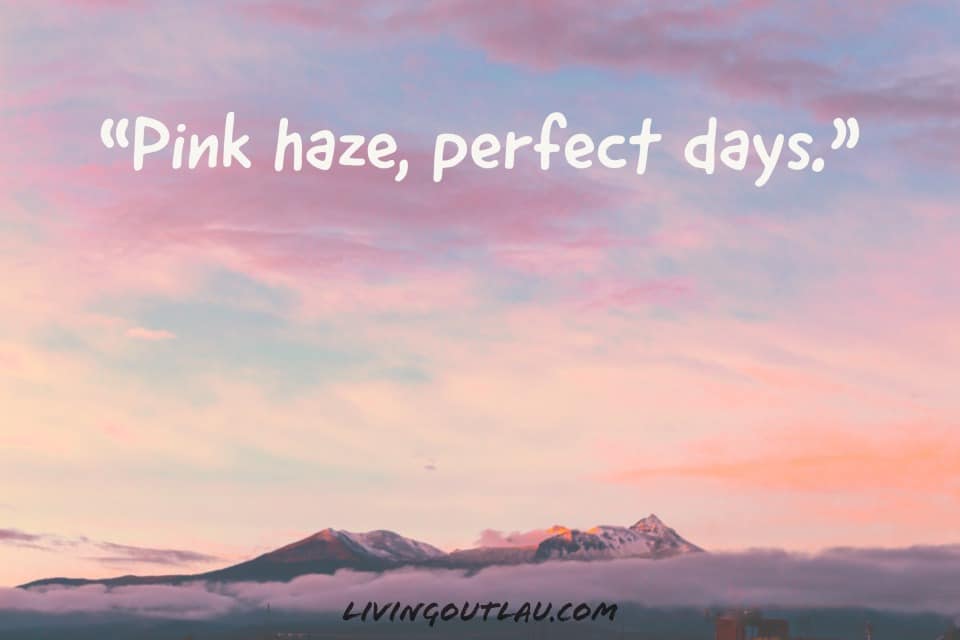 Want something that is quick and catchy to grasp the attention of your readers? These short sunset captions are the best for doing that!
"Mother nature doesn't need a filter."
"Forever chasing that sunset."
"Cherish every sunset."
"No sunset is ever the same, that's what makes them so special."
"I long for endless sunsets."
"Ride off into that sunset."
"Sunsets are one thing in life that won't wait."
"Paint the sky with gold, pink and orange."
"Pink haze, perfect days."
"A sunset always delivers."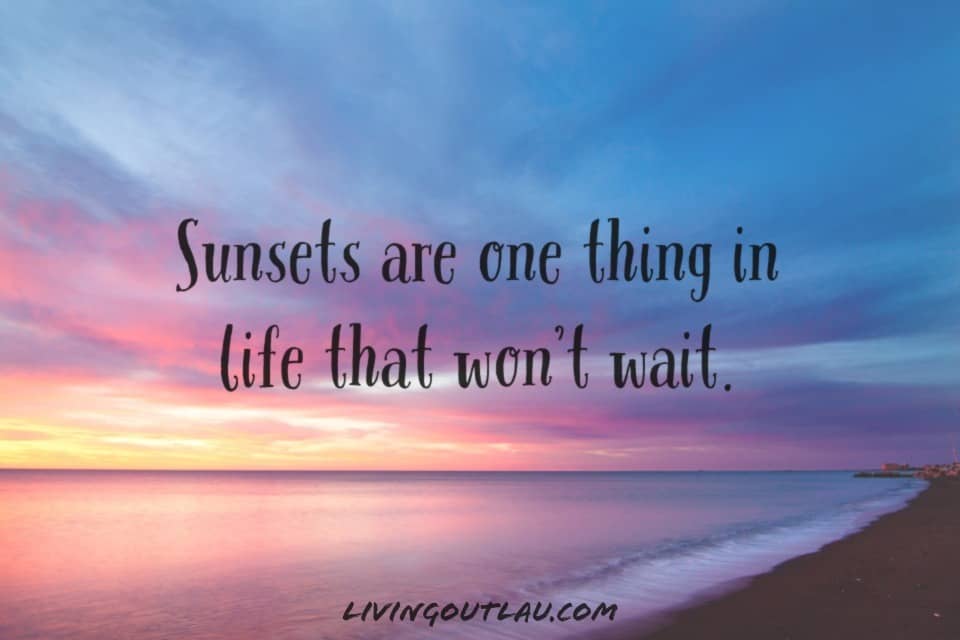 "Grateful for that sunset."
"Breathe in the sunset."
"Food, friends and sunsets."
"Sunsets and silhouettes."
"Sunset skies. Life is good."
"Sunset vibes, happy times."
"Here comes the sunset."
"Now, bring me the horizon" – Pirates of the Caribbean
"So who painted the sky? I'd like to shake their hand."
"Race you to the next sunset!"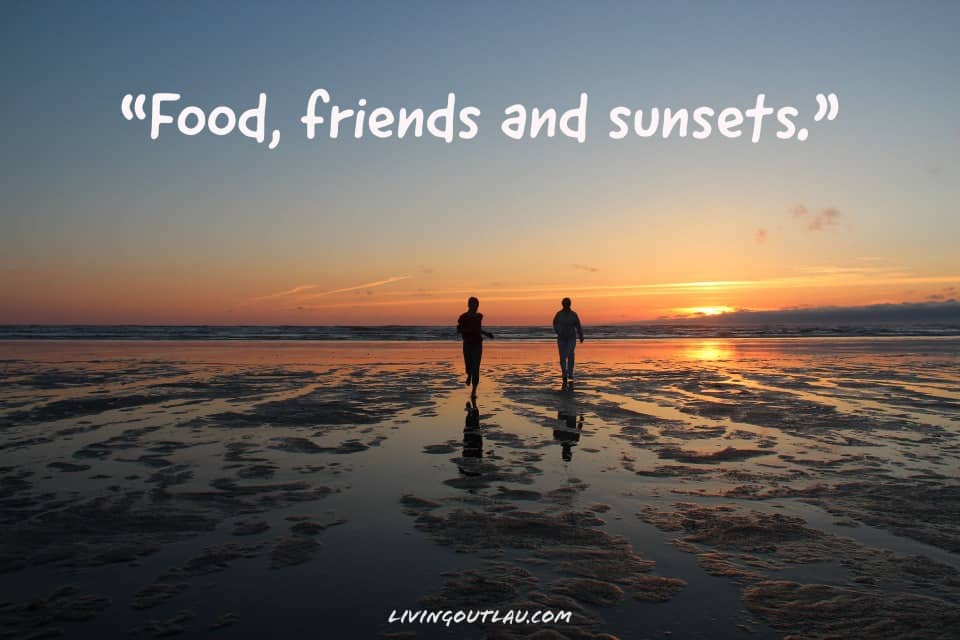 "Beaches. Friends. Booze. Sunsets. Can life get any better?"
"Sunsets and oceans. It's what I do!"
"Sunsets and silhouette!"
---
Funny Sunset Captions For Instagram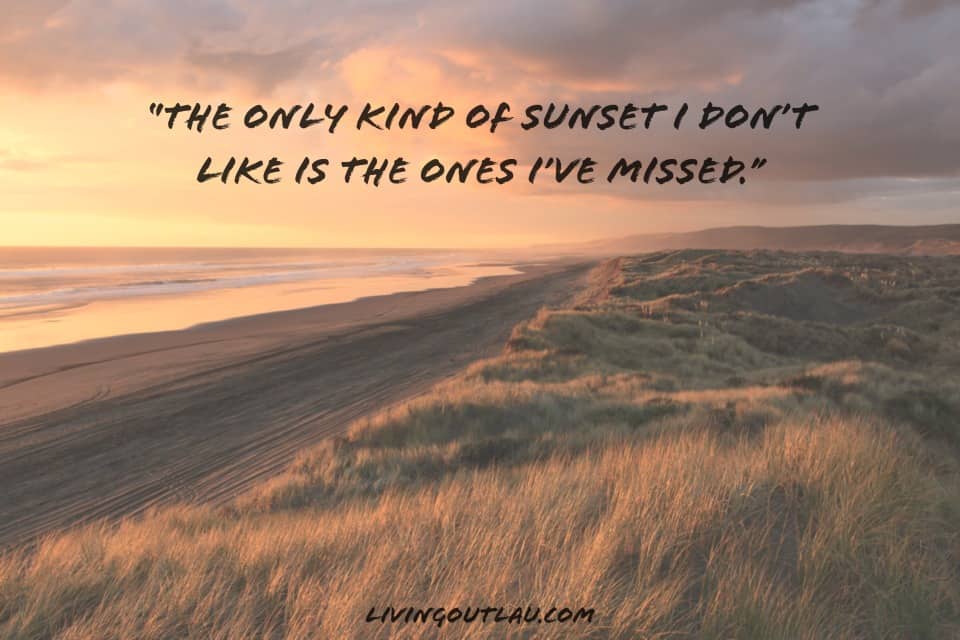 Funny sunset captions are perfect for those that want to engage with their audience. It makes it easy for them to leave a comment on your Instagram post! These quotes are also non-cringy, so your friends don't have to internally barf when they see your captions!
"Watch more sunsets than Netflix."
"Sundown is my kind of meltdown."
"The only kind of sunset I don't like is the ones I've missed."
"If I could lick the sunset, I bet it would taste like Neapolitan ice cream." – Jarod Kintz
"Everything gets hotter when the sun sets."
"Okay mother nature, you got my attention."
"I just need more sunsets in my life."
"Looking for perfection? Found it in last night's sunset."
"Golden hour is my happy hour."
"Sunsets are boring…said no one ever."
---
Sunset Captions With Puns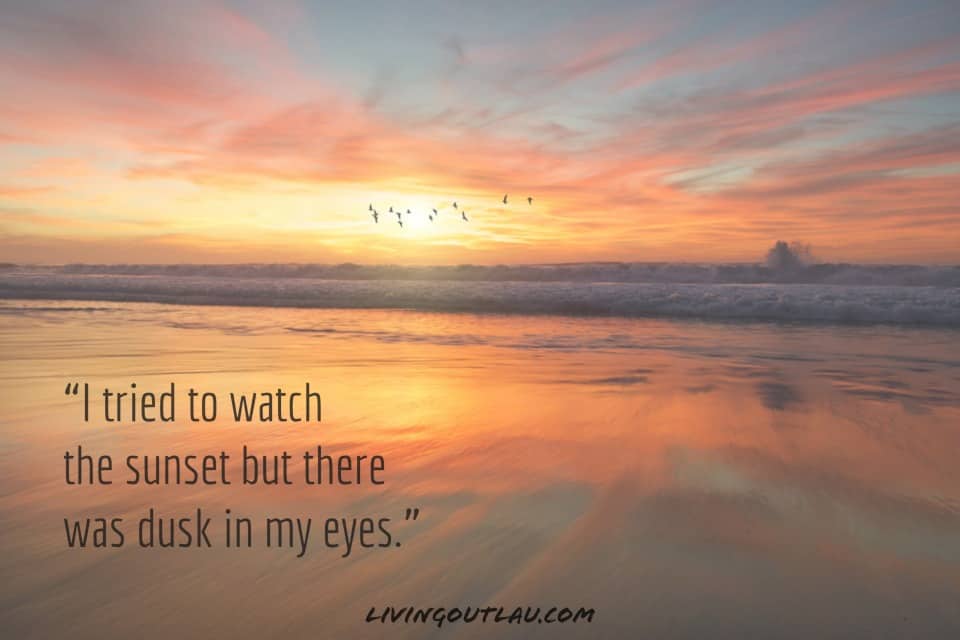 Sunset and puns are some of the best things in life. Combine these two wonderful things and you get something even more amazing – sunset captions with puns!
"Girls just wanna have sun(sets)."
"I stayed up all night waiting for the sunset…then it dawned on me."
"I tried to watch the sunset but there was dusk in my eyes."
"The sun set sun-denly."
"I wanted to see the sunset, but I mist it"
"It's all sun and games until somebody gets hurt"
"Your chances to watch the sunset tonight are getting dim."
"Blondes have more sun."
"Watching the sunset is illuminating."
"I was confused so I went to watch the sunset and think. It didn't help though, it just left me in the dark."
---
Profound Captions About Sunsets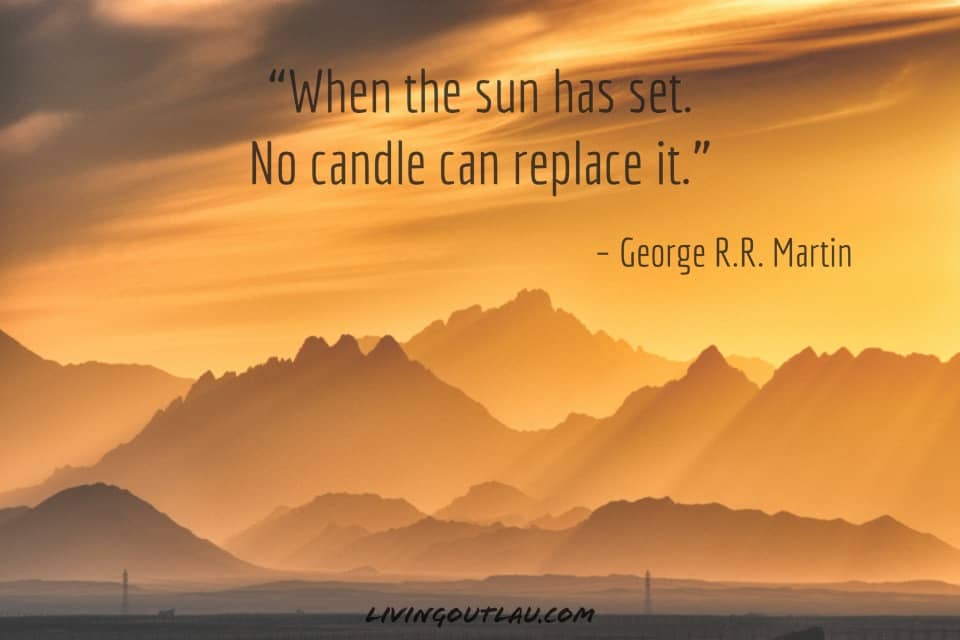 Profound captions about sunsets are perfect for people that want something deep, though this might backfire depending on the where you intend on them. Pick wisely!
"There's a sunrise and a sunset every single day, and they're absolutely free. Don't miss so many of them." – Jo Walton
"No Sun outlasts its sunset, but it will rise again and bring the dawn." – Maya Angelou
"Sunrises and sunsets are daily proof that the day can start and end beautifully, the rest in between is up to you."
"When the sun has set. No candle can replace it." – George R.R. Martin
"Never waste any amount of time doing anything important when there is a sunset outside that you should be sitting under." – C. Joybell C.
"Sunset is a wonderful opportunity for us to appreciate all the great things the sun gives up!" – Mehmet Murat ildan
"Sunset is always wiser than sunrise because it has added the experience of an entire day to its soul." – Mehmet Murat ildan
"The best way to live your life is this: at sunset, just think of the beauty of the sunset, because life is nothing but what the present moment offers you!" – Mehmet Murat ildan
"Every sunset is a journey, a journey to remember the memories of the past." – Mehmet Murat ildan
"At sunset you see a mix of humanity's regrets and some wishes coming true, thus the exploding and contrasting colours." – Lamine Pearlheart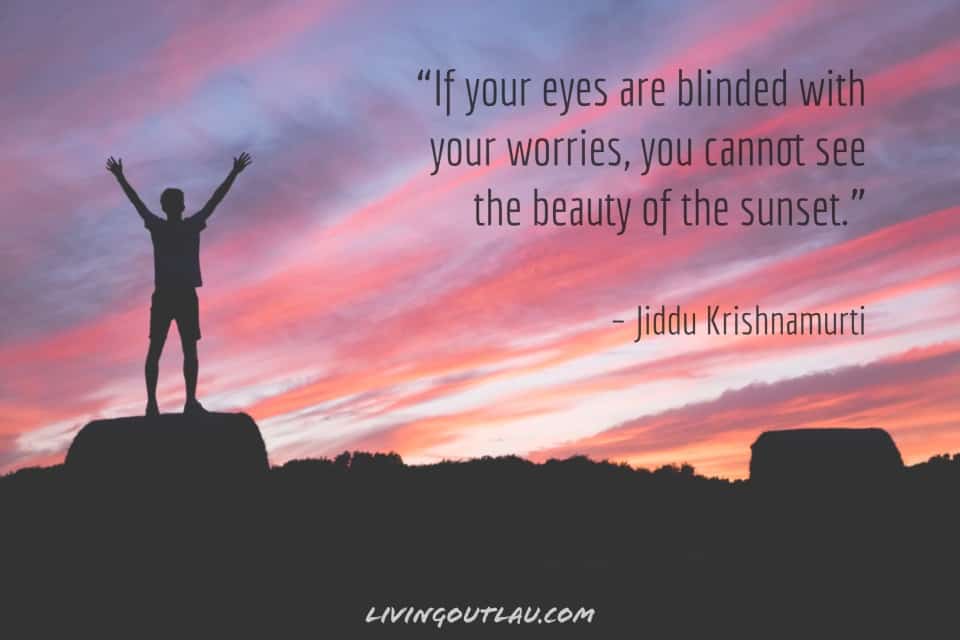 "Today was about chasing sun-rays, beach waves, and sunsets. All things beautiful that give you peace are worth chasing. Everything else isn't." – April Mae Monterrosa
"Life does not come with instructions on how to live, but it does come with trees, sunsets, smiles and laughter, so enjoy your day." – Debbie Shapiro
"Sunset is so marvellous that even the sun itself watches it every day in the reflections of the infinite oceans." – Mehmet Murat ildan
"When I admire the wonders of a sunset or the beauty of the moon, my soul expands in the worship of the creator." – Mahatma Gandhi
"If your eyes are blinded with your worries, you cannot see the beauty of the sunset." – Jiddu Krishnamurti
"Bursts of gold on lavender melting into saffron. It's the time of day when the sky looks like it has been spray-painted by a graffiti artist. " – Mia Kirshner
"Know what you want to do, hold the thought firmly, and do every day what should be done, and every sunset will see you that much nearer the goal." – Elbert Hubbard
"The strange thing about sunset is that we actually don't want the sun to set, we want it to stay right on the horizon, not below it, not above it, just right on it." – Mehmet Murat ildan
"Endure the pain in sunrise, so when it's sunset, there's lots of profit to be gained." – Seyi Ayoola
"The more clouds you have in your sky, the more colourful sunset it will be." – Sajal Sazzad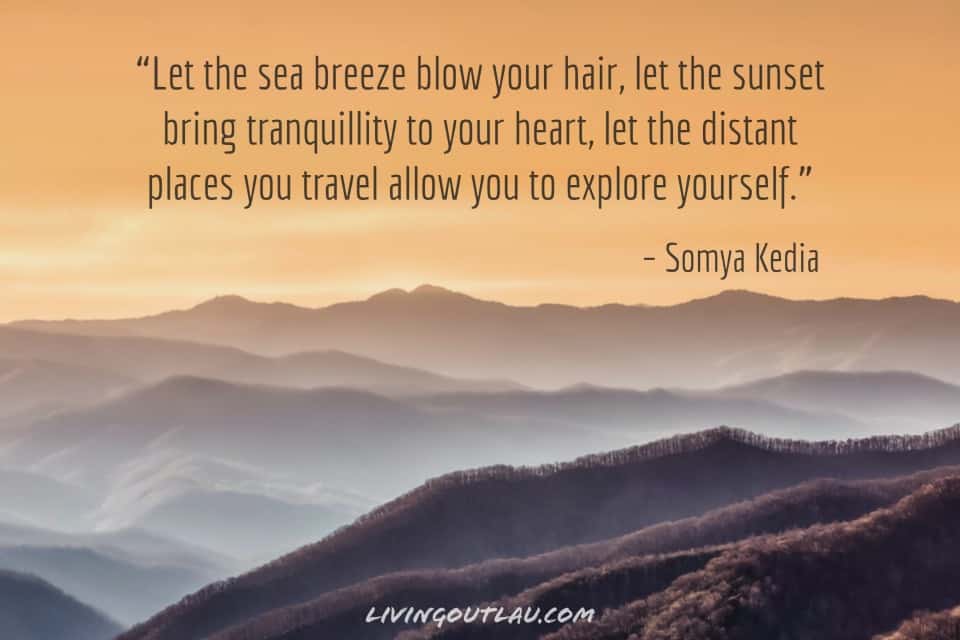 "Believe in yourself and you can change a sunset into a new dawn." – Anthony T. Hincks.
"Let the sea breeze blow your hair, let the sunset bring tranquillity to your heart, let the distant places you travel allow you to explore yourself." – Somya Kedia
"May every sunrise hold more promise and every sunset hold more peace." – Umair Siddiqui
"I love that this morning's sunrise does not define itself by last night's sunset." – Steve Maraboli
"I like that time is marked by each sunrise or sunset whether or not you actually see it." – Catherine Opie
"Each sunset is the beginning of a very, very bright and powerful sunrise." – Sri Chinmoy
"We were made to enjoy music, to enjoy beautiful sunsets, to enjoy looking at the billows of the sea." – Desmond Tutu
---
Simple Sunset Captions For Instagram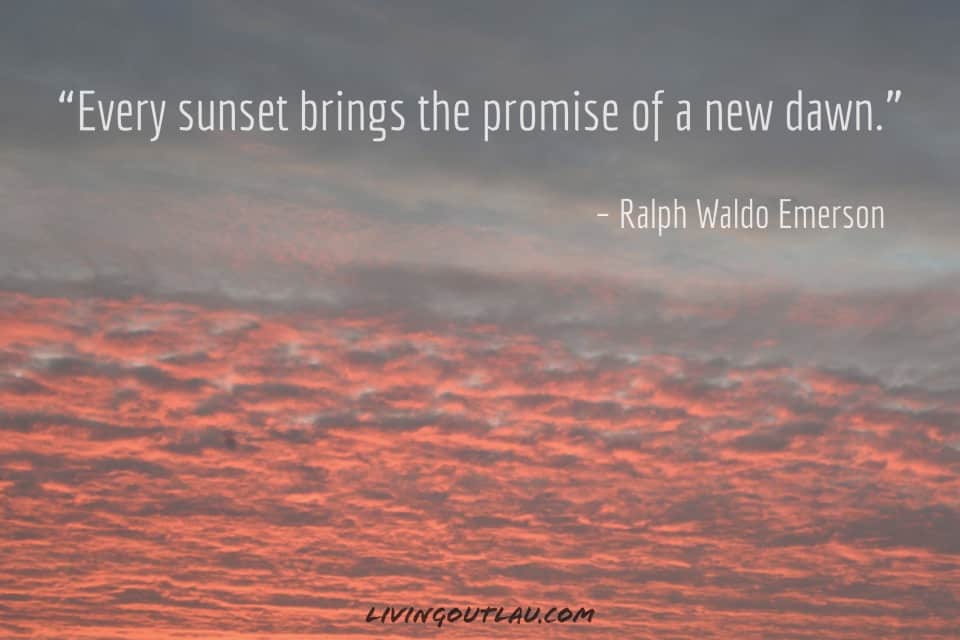 Want to put a caption for your sunset photo but don't know what to put? Pick one of our simple sunset captions for Instagram. Headache solved!
"Sunsets are the best kind of gold, that can't be sold."
"Every sunset is an opportunity to reset." – Richie Norton
"There is nothing more musical than a sunset." – Claude Debussy
"Every sunset brings the promise of a new dawn." – Ralph Waldo Emerson
"There's nothing like a beautiful sunset to end a healthy day." – Rachel Boston
"There can't possibly be anything more beautiful than seaside beach at sunset." – Bryn McCarren
"My dream date would be a hike through the woods followed by an outdoor picnic followed by a glass of wine at sunset. Heaven!" – Nina Agdal
"I always say that the times in my life when I've been happiest are the times when I've seen, like, a sunset." – Chris Evans
"Sunset is still my favourite colour, and rainbow is second." – Mattie Stepanek
"If you are in a beautiful place where you can enjoy sunrise and sunset, then you are living like a lord." – Nathan Philips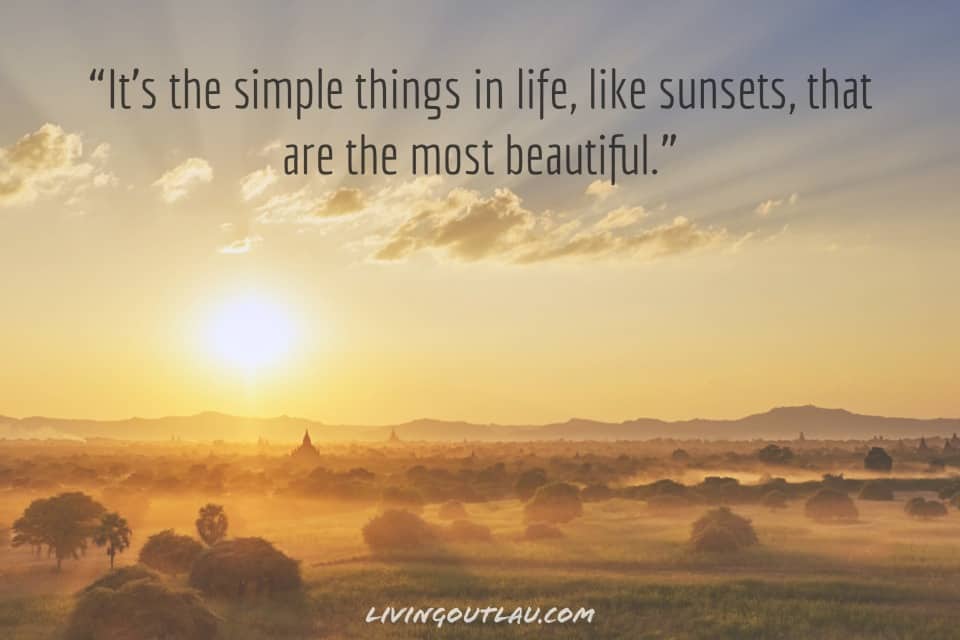 "Your choice between sunrise and sunset depends on your attitude." – Ibn Jeem
"Sunsets are my escape into the reality I want to continuously live." – Rachel Roy
"It is almost impossible to watch a sunset and not dream." – Bernard Williams
"Every time I watch the sun set my heart skips a beat."
"All you need in life is love, friends and sunsets."
"It's the simple things in life, like sunsets, that are the most beautiful."
---
Romantic Sunset Quotes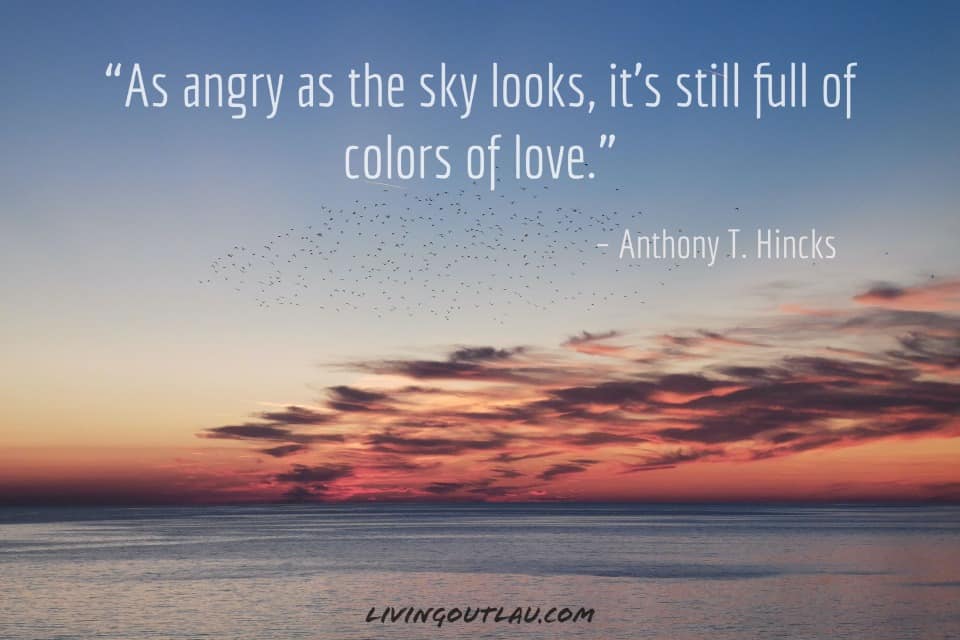 A bit of a hopeless romantic? These romantic sunset quotes are perfect to express your thoughts (vaguely)!
"Don't forget: beautiful sunsets need cloudy skies." – Paulo Coelho
"Sunsets are always better shared." – Wayne Gerard Trotman
"A girl in love with sunsets. A man hell-bent on being her sunrise." – Nitya Prakash
"When you look at the beautiful sunset, you feel as if you are falling in love. Maybe all over again." – Avijeet Das
"As angry as the sky looks, it's still full of colors of love." – Anthony T. Hincks
"The most beautiful sunset is when you have it with your beloved one and the most beautiful sunrise is quite the same." – Galina Nelson
"Sunsets are proof that endings can often be beautiful too." – Beau Taplin
"There's always a sunrise and always a sunset and it's up to you to choose to be there for it…Put yourself in the way of beauty."- Cheryl Strayed
---
Captions For Sunset From Song Lyrics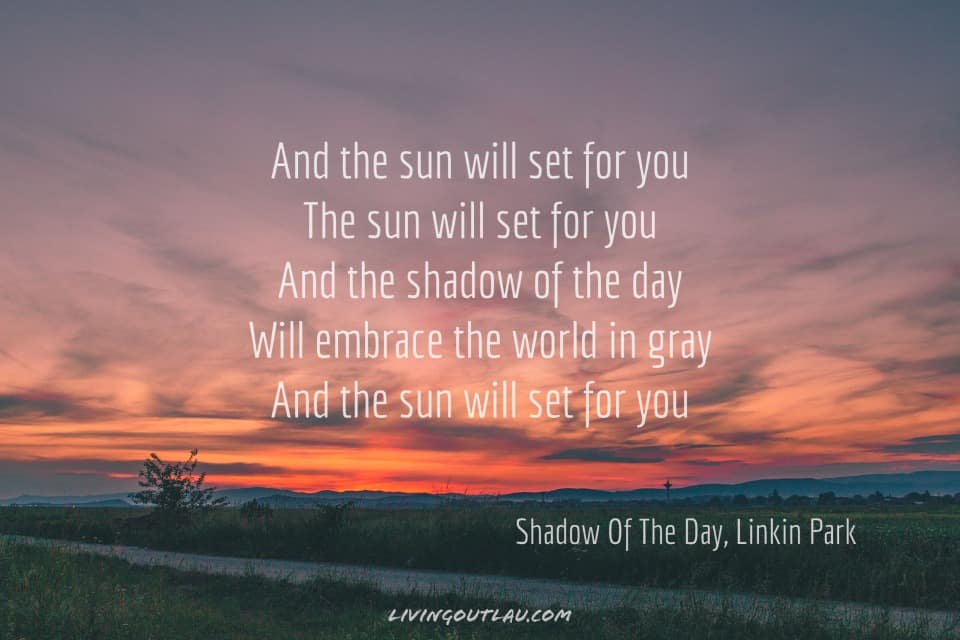 Can't get a song out of your head? Why not try using captions for sunset from song lyrics on your social media?

1. Shadow Of The Day – Linkin Park

And the sun will set for you
The sun will set for you
And the shadow of the day
Will embrace the world in gray
And the sun will set for you

2. Must Do Something About it – Paul McCartney

I've just seen another sunset on my own.
All day long I've been alone,
and I must do something about it,
yes I must do something about it.

3. Castle On The Hill – Ed Sheeran

I'm on my way
Driving at 90 down those country lanes
Singing to Tiny Dancer
And I miss the way you make me feel, and it's real
When we watched the sunset over the castle on the hill

4. Sunrise, Sunburn, Sunset – Luke Bryan

Sunrise, sunburn, sunset, repeat
Moonlight, all night, crashin' into me
Nothin' will ever be easy as you and me
Tangled up with nowhere to be
Just sunrise, sunburn, sunset, repeat

5. Waterloo Sunset – The Kinks

Terry meets Julie, Waterloo Station, every Friday night
But I am so lazy, don't want to wander, I stay at home at night
But I don't feel afraid
As long as I gaze on Waterloo sunset, I am in paradise
---
Sunset Captions For Girls
We have specifically dedicated a section of this post for sunset captions for Instagram for girls. These quotes usually resonate more with girls and romantics.
"She was born to explore, have adventures, and watch sunsets!"
"Sun kissing ocean. Beach touching bum."
"Her heart was made of liquid sunsets." – Virginia Woolf
"The sun loves the moon so much that he dies every night to let her breathe." – Jeffrey Fry
"Toes tingle in the sand. Eyes glint under golden skies. And I know I love you."
---
Bonus Caption For Sunset Pictures
We love sunsets so much that we decided to give you some extra bonus captions for your sunset pic! If you can't find a quote that you like above, make sure you check out this extra section!
"The sky broke like an egg into full sunset and the water caught fire." – Pamela Hansford Johnson
"Here's to a lifetime of golden sunsets spent together."
"A setting sun setting fire to the sea and sand."
"Shout out to Mother Nature for putting on a show tonight."
"Proof that few things in life are as beautiful as a setting sun."
"The sky has changed from orange to a hundred shades of pink to a dark navy blue, and I'm still loving you."
There's too many sunsets I haven't seen." -Sara Bareilles
"Let's go somewhere the sun kisses the ocean."
---
Like this post? Don't forget to save it on Pinterest!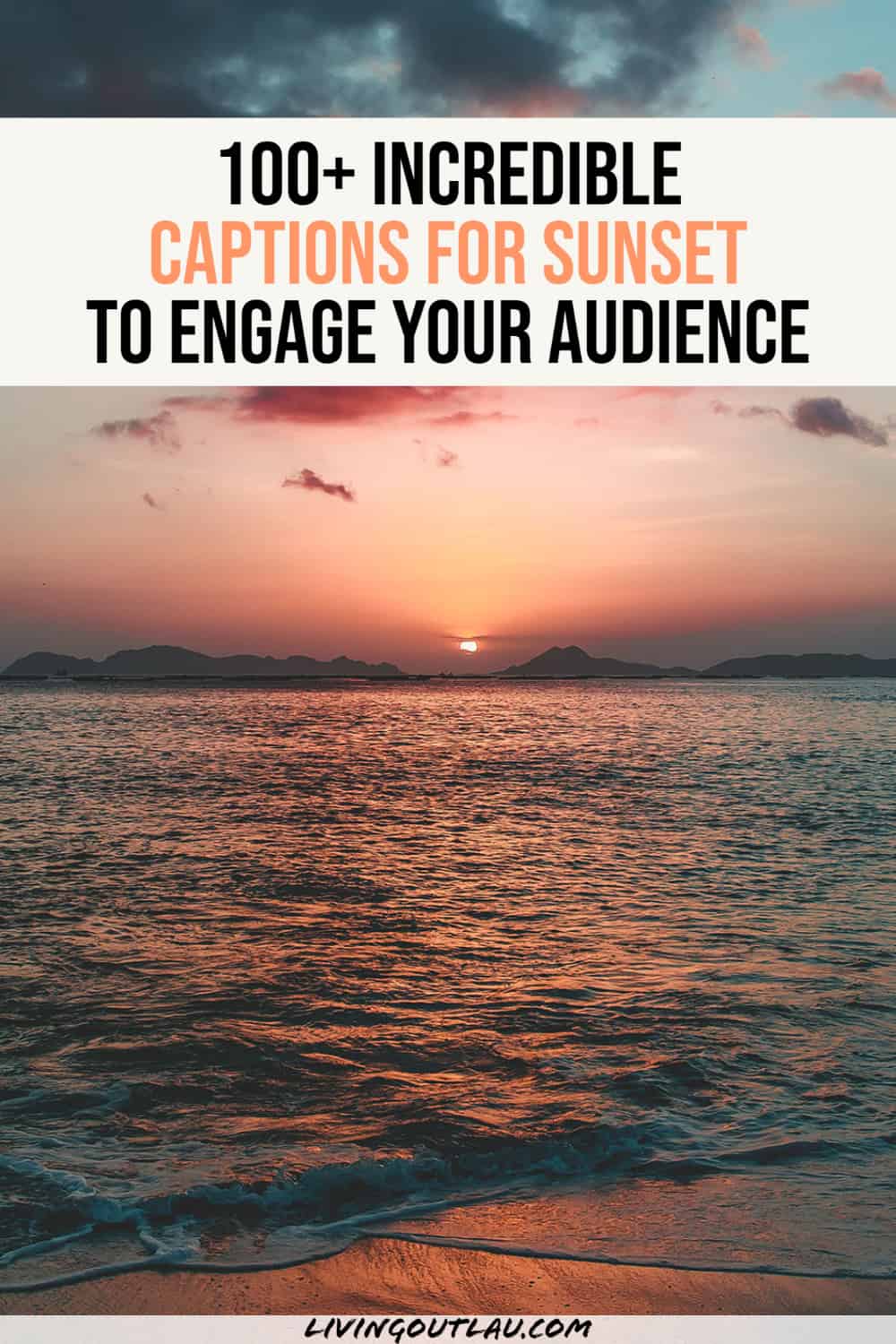 ---
Those are the best 100+ sunset captions for Instagram, Facebook or any kind of social media. We hope you found the perfect quote or captions!

Any questions? Leave them in the comments!
Disclaimer: Some of the links above are affiliate links. That means if you book or make a purchase through the links, we will earn a small commission at no extra cost to you! The money will help run this site! Thank you!