Family travel can be stressful. It doesn't matter if you are the parent or the child, there are plenty of ways it could go wrong. After all, you don't always have the same interests and lifestyle. There is nothing worse than having one bad family vacation and having everyone not willing to go to another one.

However, there are many good benefits of family travel. Whether that is bonding with some of the dearest people in your life or just exploring somewhere new together, family travel isn't always so bad.

That is why we have written this post on the 70 best quotes about family travel, so you can be inspired to travel with your family and cherish the precious memories. You will also find some excellent travel with kids quotes!
Interested in more quotes? Check out our other posts here:
---
Our Favorite Traveling With Family Quotes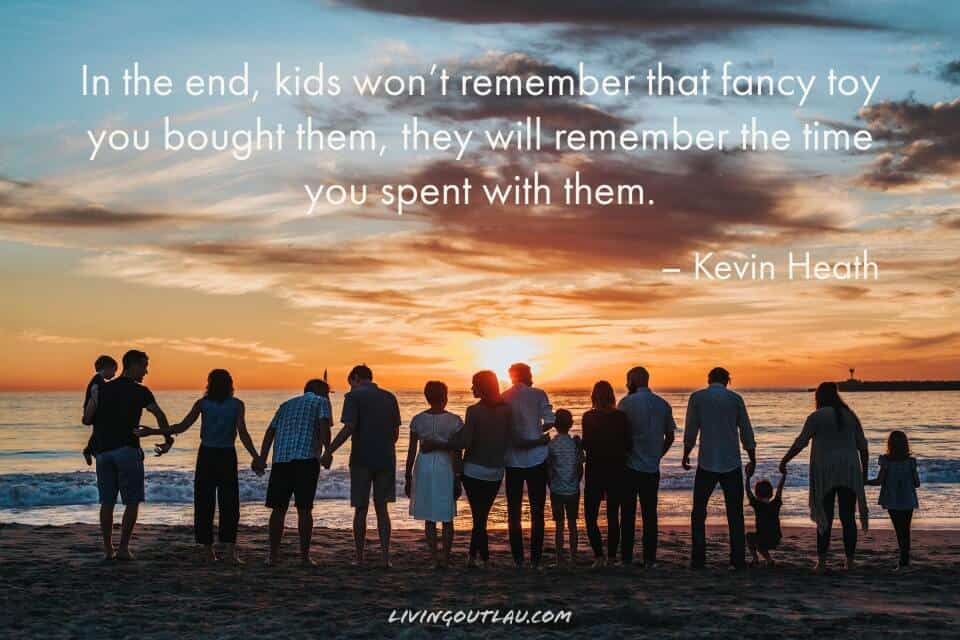 These are our 10 favorite traveling with family quotes. Not only do these resonate with us, but they are also very insightful and inspirational!
1. "The greatest legacy we can leave our children is happy memories." – Og Mandino
2. "Sometimes you will never know the value of a moment until it becomes a memory." – Dr. Seuss
3. "Fill your life with experiences, not things. Have stories to tell, not stuff to show."
4. "Traveling in the company of those we love is home in motion." – Leigh Hunt
5. "Don't count the days. Make the days count." – Muhammad Ali.
6. "In the end, kids won't remember that fancy toy you bought them, they will remember the time you spent with them." – Kevin Heath
7. "Life is either a daring adventure or nothing at all." – Helen Keller
8. "There are no perfect parents and there are no perfect children, but there are plenty of perfect moments along the way." – Dave Willis
9. "Every day we make deposits in the memory banks of our children." – Charles R Swindoll
10. "Take only memories, leave only footprints." – Chief Seattle
---
Short Family Trip Quotes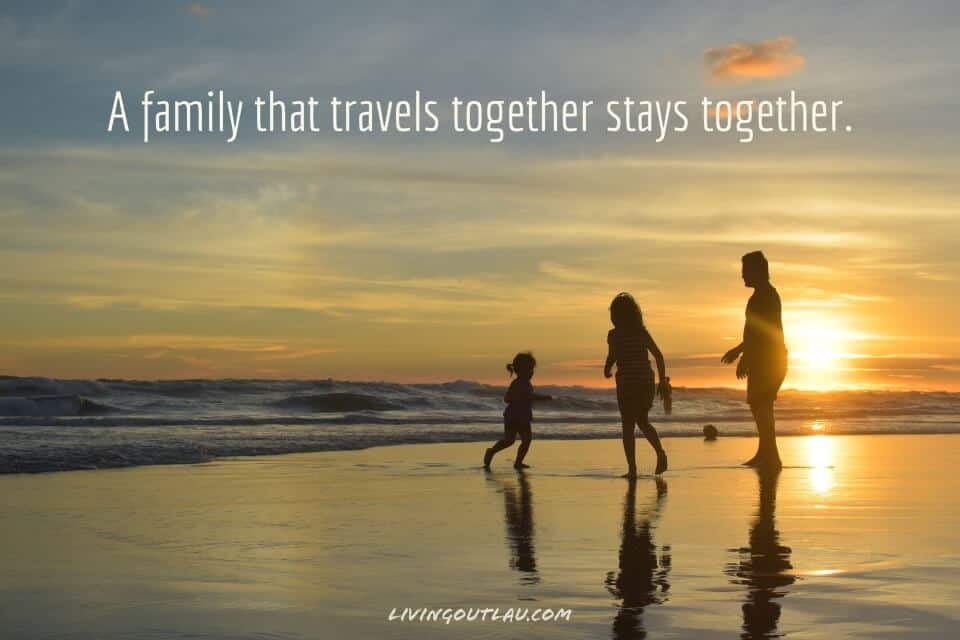 Short family trip quotes are perfect if you don't want to have long captions that might sound a little too cheesy. They are perfect for every occasion!
1. "I have learned that to be with those I like is enough." – Walt Whitman
2. "When all else fails, take a vacation." – Betty Williams
3. "Here's to a vacation of no regrets!" – Joan Rylen
4. "A family that travels together stays together."
5. "Adventure awaits."
6. "Having kids is a reason to travel, never a reason to stop."
7. "Travel to unravel." – Richie Norton
8. "To travel is to live. Life's a trip." – Richie Norton
9. "Kids don't remember their best day of television."
10. "No road is long with good company."
---
Funny Quotes About Family Travel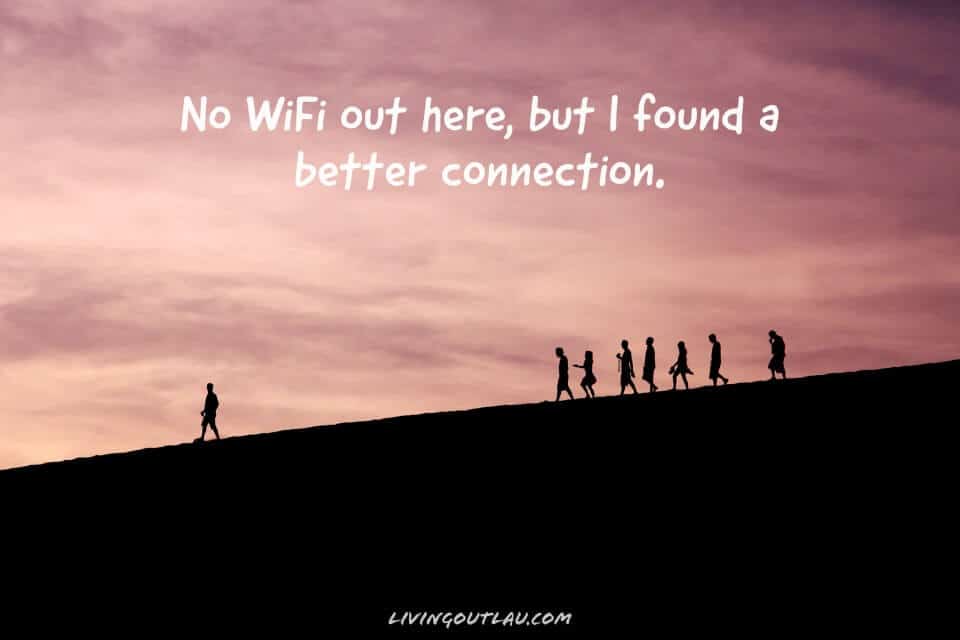 Nothing is easier to remember than humor! Use one of these funny quotes about family travel to remember those loving memories.
1. "I don't want to go to Peru." How do you know? You've never been there." I've never been to hell either and I'm pretty sure I don't want to go there." – Richard Paul Evans, The Sunflower (2005)
2. "There are two kinds of travel: first class and with children." – Robert Benchley
3. "Are we there yet?"
4. "That's why I love road trips, dude. It's like doing something without actually doing anything." – John Green, An Abundance of Katherines (2006)
5. "A road trip is a way for the whole family to spend time together and annoy each other in interesting new places." – Tom Lichtenheld
6. "My favorite childhood memory is my parents paying for my holidays."
7. "Education is important but travel is importanter!"
8. "I need Vitamin Sea."
9. "No WiFi out here, but I found a better connection."
10. "Now is the time to seas the day."
---
Inspirational Family Vacation Quotes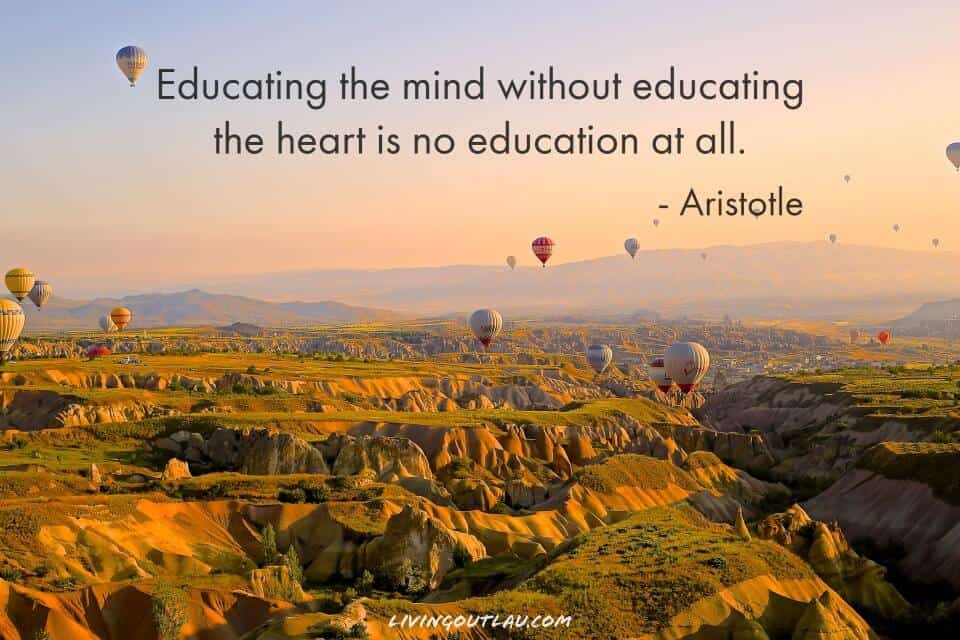 Sometimes family travel isn't all glamorous. In fact, it probably isn't most of the time. That doesn't mean you shouldn't travel! Take in some of these inspirational family vacation quotes and push yourself to do what needs to be done!
1. "Deciding not to travel with kids because they won't remember, is like not reading them books because they won't remember the stories you read them."
2. "Jobs fill your pocket, but adventures fill your soul." – Jaime Lyn Beatty
3. "In matters of healing the body or the mind, vacation is a true genius!" – Mehmet Murat ildan"
4. "You can learn many things from children. How much patience you have, for instance." – Franklin P. Jones
5. "The best education you will ever get is traveling. Nothing teaches you more than exploring the world and accumulating experiences." – Mark Paterson
6. "Educating the mind without educating the heart is no education at all." – Aristotle
7. "May your adventures bring you closer together, even as they take you far away from home." – Trenton Lee Stewart
8. "Live in this belief: "I am not born for any one corner of the universe; this whole world is my country." – Seneca, Letters from a Stoic
9. "At the end of your life, you will never regret not having passed one more test, not winning one more verdict, or not closing one more deal. You will regret time not spent with a husband, a friend, a child, a parent." – Barbara Bush
10. "Experience, travel – these are as education in themselves." – Euripides
---
Happy Family Travel Quotes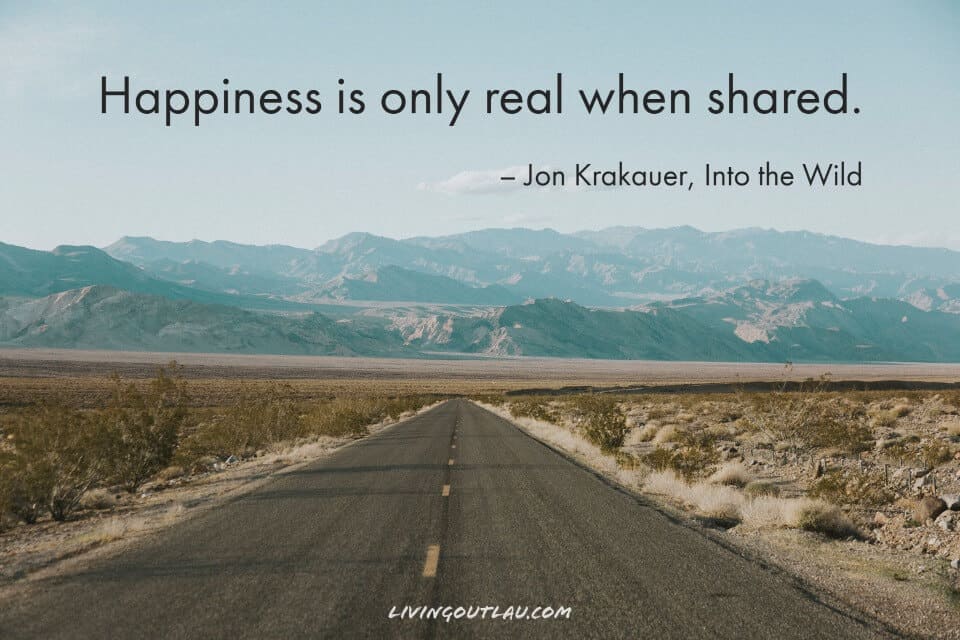 Cherish those special memories of your vacation using one of our favorite happy family travel quotes!
1. "Happiness is having a large, loving, caring, close-knit family in another city." – George Burns
2. "Happiness [is] only real when shared." – Jon Krakauer, Into the Wild
3. "Happiness is planning a trip to somewhere new, with someone you love."
4. "Suntans and sandcastles."
5. "I live to explore the world with the people I love the most."
6. "This is my road. I'm so happy you came and traveled with me." – Rachel Hartman, Tess of the Road (2018)
7. "Joy is portable, bring it with you."
8. "What's your favorite place?" "I don't have a favorite place. I have my favorite people. And, whenever I'm with my favorite people, it becomes my favorite place."
9. "Oh, the places you'll go" – Dr. Seuss
10. "Live life with no excuses, travel with no regret" – Oscar Wilde
---
Profound Travel Quotes With Family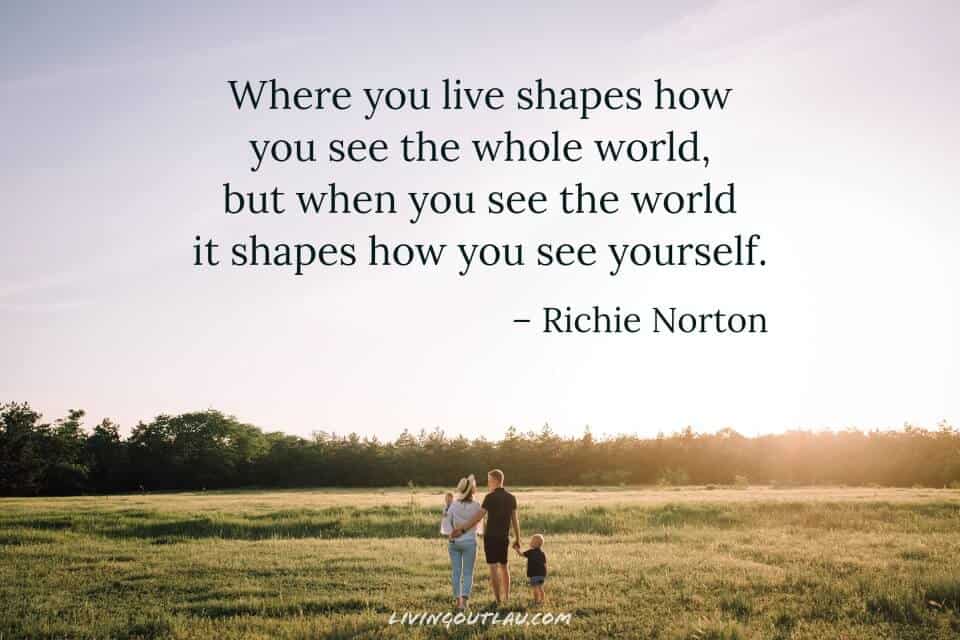 Family travel is more than what you see on the surface. Our profound travel quotes with family will you understand why this is such an incredible experience!
1. "Not all classrooms have 4 walls."
2. "Adventures are the best ways to learn."
3. "Travel is like an endless university. You never stop learning." – Harvey Lloyd
4. "Travel in the younger sort is a part of education; in the elder, a part of experience." – Francis Bacon
5. "Teaching kids to count is fine, but teaching them what counts is best." – Bob Talbert
6. "Don't just tell your children about the world. Show them."
7. "Where you live shapes how you see the whole world, but when you see the world it shapes how you see yourself." – Richie Norton
8. "Traveling is like going to the library! The more you travel, the more you will feel as if reading books!" – Mehmet Murat ildan
9. "Two of the greatest gifts we can give our children and roots and wings." – Hodding Carter
10. "If you think adventure is dangerous, try routine; it is lethal." – Paulo Coelho
---
Simple Family Adventure Quotes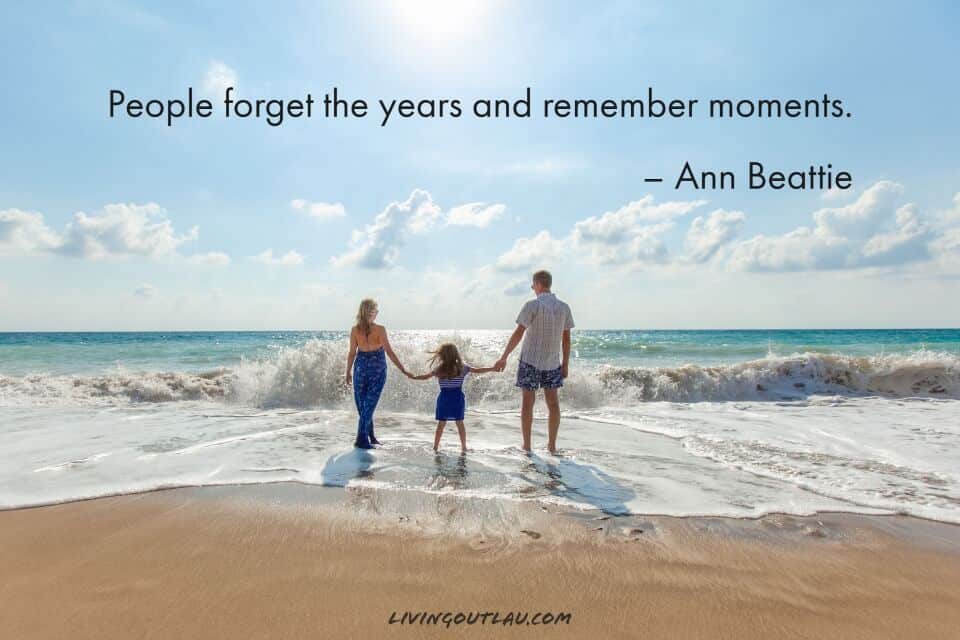 Simple family adventure quotes are the best captions for remembering your family vacation memories. Easy and simple, they are perfect for social media!
1. "There is no time to be bored in a world as beautiful as this."
2. "Wherever you go, go with all your heart." – Confucius
3. "Adventures are the best gift you could ever give to kids."
4. "Wherever you go becomes a part of you somehow. " – Anita Desai
5. "If you don't try new things, you stay stupid." – Alexander Watson
6. "Life is too short to not go on that spontaneous road trip."
7. "People forget the years and remember moments" – Ann Beattie
8. "Some roads aren't meant to be traveled alone."
9. "The journey, not the arrival matters." – T.S. Eliot
10. "Always say yes to family travel!"
---
Bonus Family Outing Quotes!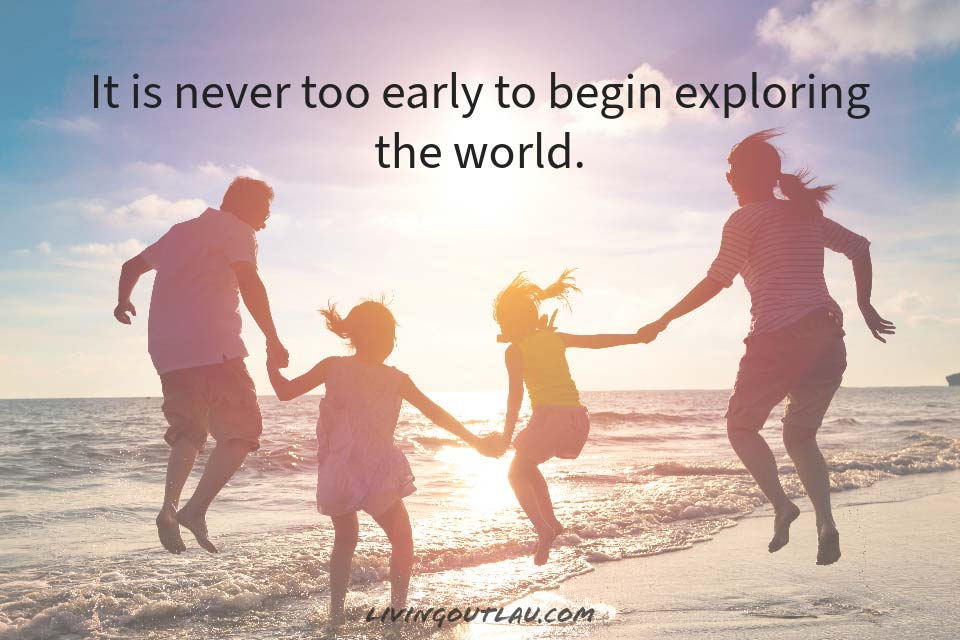 Did you think we were done? Here are 5 bonus family outing quotes that will help you describe that special bonding time on your family vacations!
1. "We have such a brief opportunity to pass on to our children our love for this Earth, and to tell our stories. These are the moments when the world is made whole. In my children's memories, the adventures we've had together in nature will always exist." – Richard Louv, Last Child in the Woods: Saving Our Children from Nature-Deficit Disorder
2. "Of all the paths you take in life, make sure a few of them are dirt." – John Muir
3. "There are no seven wonders of the world in the eyes of a child. There are seven million." – Walt Streightiff
4. "It is never too early to begin exploring the world."
5. "Own only what you can always carry with you: known languages, known countries, known people. Let your memory be your travel bag." – Alexandr Solzhenitsyn
---
How Do You Caption a Family Trip?
Captioning a family trip can be both fun and memorable, allowing you to express the joy and experiences of the journey. Selecting the perfect caption for your family trip photos can be difficult, but we recommend you to select a quote that evokes emotions.
Look for the following characteristics in the quotes:
Something that emphasizes the significance of shared experiences in strengthening familial bonds
Something that encapsulates the essence of a family vacation, focusing on love and happiness as the core of a memorable trip
Something that is humorous and reflects the chaos and fun of traveling with children
Something that captures the excitement and anticipation of a family trip
Something that emphasizes the joy of creating lasting memories together
---
Like this post? Don't forget to save it on Pinterest!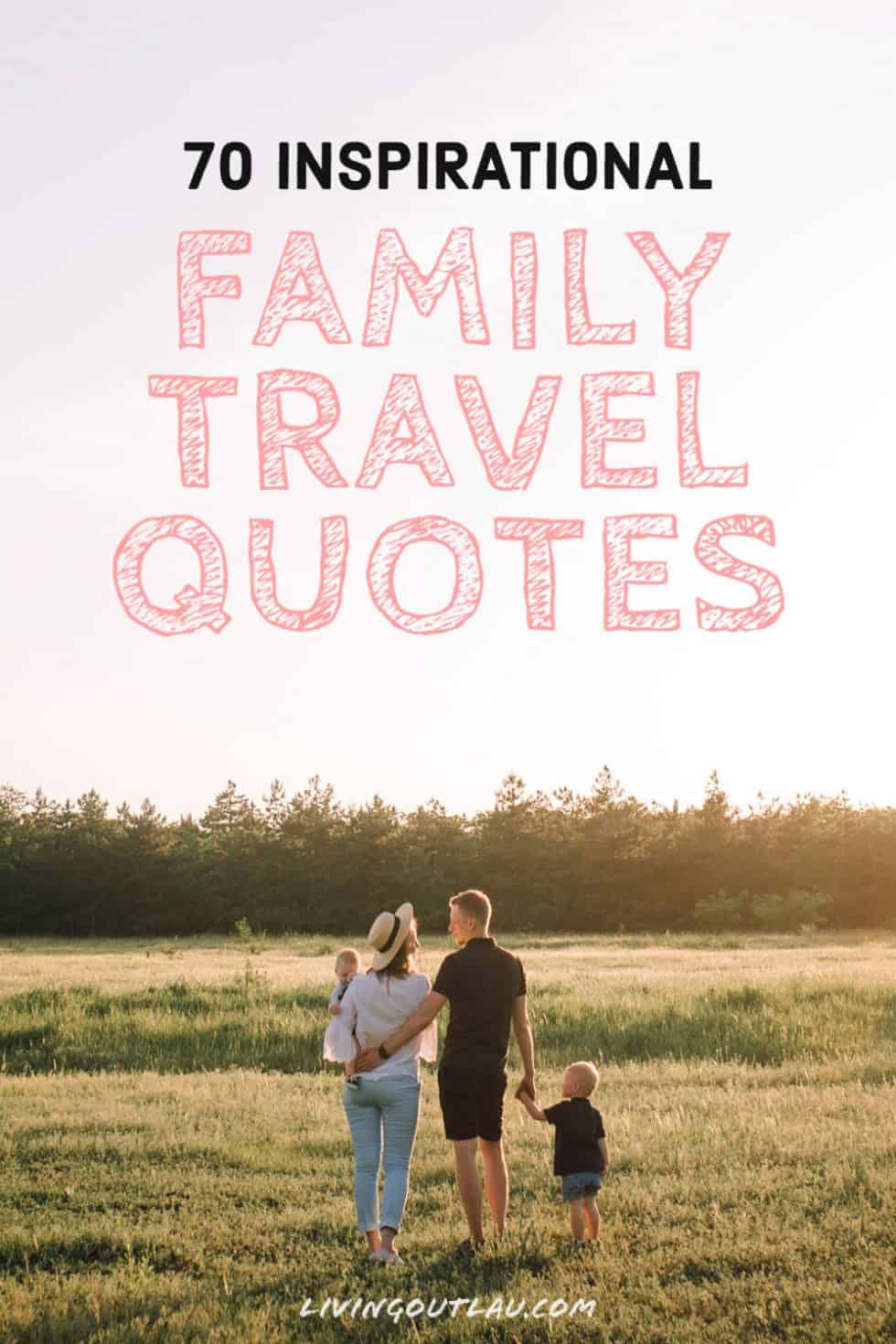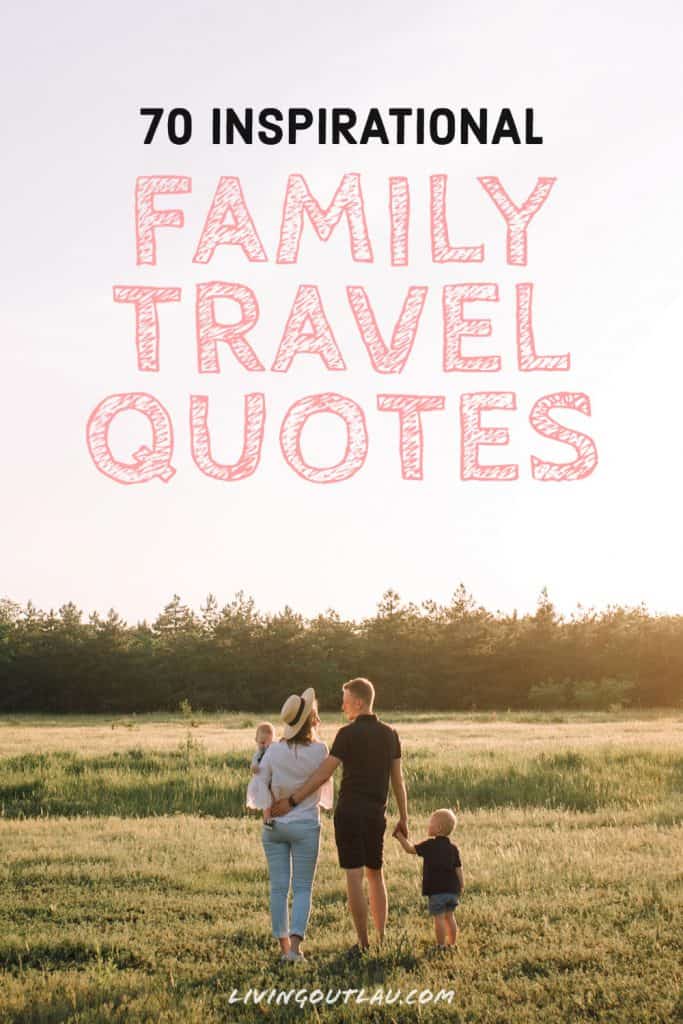 ---
Those are the 70 best quotes about travel with family. We hope you found the perfect quote or captions for your needs!

Any questions? Leave them in the comments!
Disclaimer: Some of the links above are affiliate links. That means if you book or make a purchase through the links, we will earn a small commission at no extra cost to you! The money will help run this site! Thank you!