Looking for the best quotes on hiking and trekking? You have come to the right place.

There is nothing better to do than hiking and exploring the outdoors when you are traveling (or even at home). It is a free activity that allows travelers to enjoy the magnificent creation of mother nature.

Not only do most hikes offer spectacular views, but it also keeps you in shape and boosts your mood and mental health, something that is often overlooked when traveling for a long-term.

After hiking in many different countries around the world (our favorite is Peru), we want to share with you some of our favorite hiking quotes that inspired and captured that feeling of summitting a mountain or getting lost in the woods.

Below are over 101 epic hiking captions for Instagram or any social media to complement your beautiful photos. Many of these quotes come from prominent figures such as John Muir (also known as Father of National Parks), Henry David Thoreau and more.

Enjoy!
Looking for more quotes? Check out our following posts!
Our Favorite Quotes on Hiking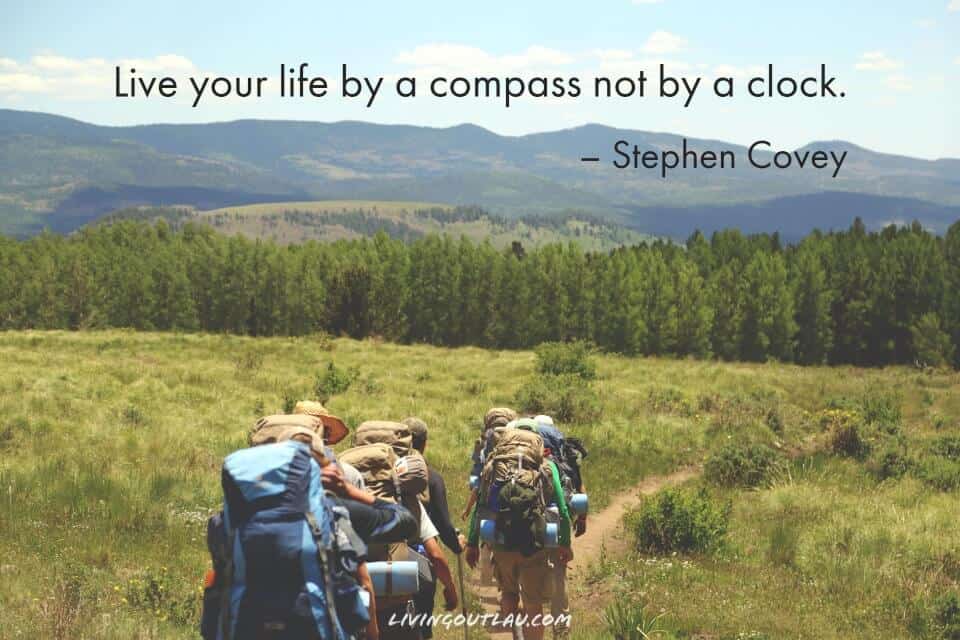 Here are 10 of our personal favorite quotes about hiking. We felt that these quotes either inspired hikers to push outside their comfort zone or really capture the experience of an arduous hike or trek. We hope you enjoy these as much as we do!

1. "It's not the mountain we conquer, but ourselves." – Sir Edmund Hillary

2. "The journey of a thousand miles begins with a single step." – Lao Tzu

3. "Me thinks that the moment my legs begin to move, my thoughts begin to flow." – Henry David Thoreau

4. "I love places that make you realize how tiny you and your problems are."

5. "I felt my lungs inflate with the onrush of scenery—air, mountains, trees, people. I thought, 'This is what it is to be happy.'" – Sylvia Plath

6. "Climb the mountain not to plant your flag, but to embrace the challenge, enjoy the air and behold the view. Climb it so you can see the world, not so the world can see you." – David McCullough Jr.

7. "It isn't the mountains ahead to climb that wear you out; it's the pebble in your shoe." – Muhammad Ali

8. "Carry as little as possible, but choose that little with care." – Earl Shaffer

9. "Live your life by a compass not by a clock." – Stephen Covey

10. "Only those who risk going too far can possibly find out how far they can go." – T.S. Eliot
Short Hiking Captions for Instagram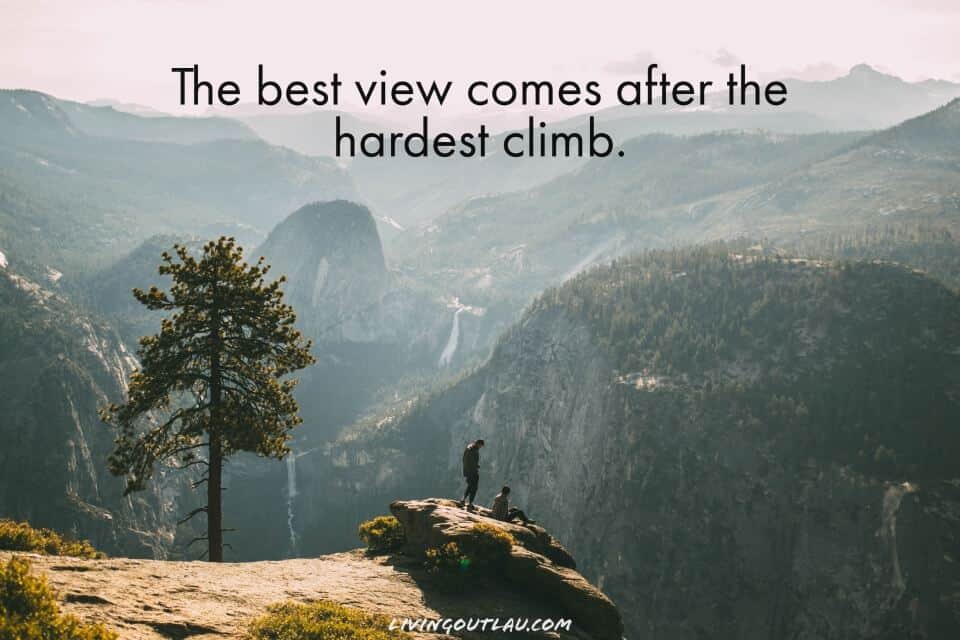 If you want to get keep the attention of your audience and earn that engagement on social media, then one of our short hiking captions for Instagram is perfect. They are short and sweet and get straight to the point.

1. "The best view comes after the hardest climb."

2. "Take only memories, leave only footprints." – Chief Seattle

3. "The world reveals itself to those who travel on foot" – Werner Herzog

4. "Hiking and happiness go hand in hand (or foot in boot)." – Diane Spicer

5. "Let's wander where the WiFi is weak."

6. "The mountains are calling and I must go." – John Muir

7. "A flat trail never made a skilled hiker."

8. "Every mountain top is within reach if you just keep climbing" – Barry Finlay

9. "You can't climb up a mountain with downhill thought."

10. "Hike more, worry less."
Inspirational Hiking Quotes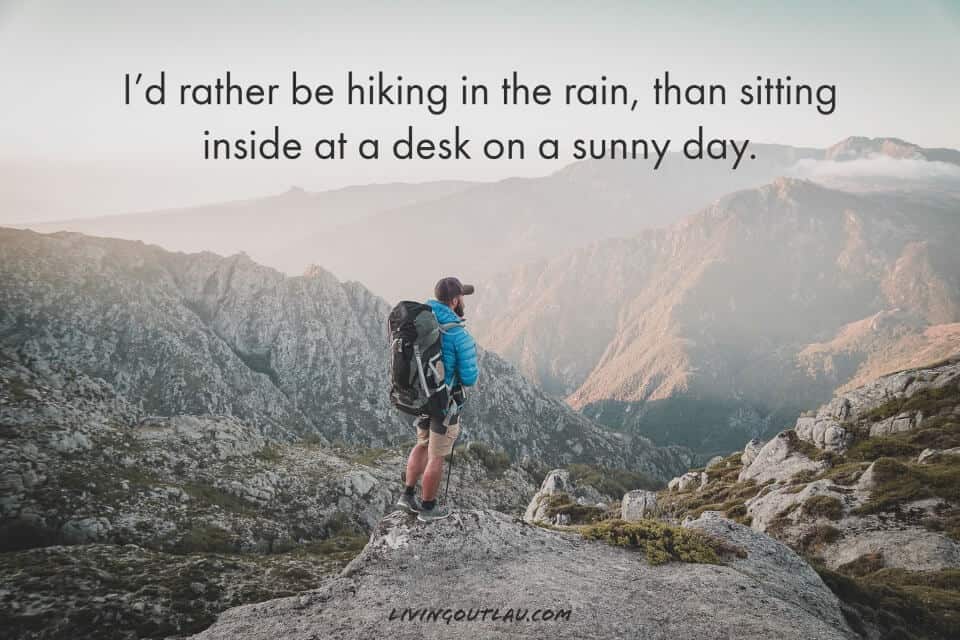 If you are planning or doing a difficult trek (such as the Salkantay Trek we did in Peru), then make sure you read up on some inspirational hiking quotes. These will give you the motivation to continue when you feel like you cannot go any further.

1. "Hiking is one of those things that you can only do when you have the determination in you."

2. "We don't stop hiking because we grow old – we grow old because we stop hiking." – Finis Mitchell

3. "I always wonder why birds stay in the same place when they can fly anywhere on earth. Then I ask myself the same question." – Harun Yahya

4. "It's easier to go down a hill than up it but the view is much better at the top." – Henry Ward Beecher

5. "I'd rather be hiking in the rain, than sitting inside at a desk on a sunny day."

6. "I took the one less traveled by, and that has made all the difference." – Robert Frost

7. "Perhaps there is no thrill so great as that which comes with a walk in the freshness of morning air." – Hellen Keller

8. "If everyone in the world took care of each other the way folks do out on the trail, and if everyone approached each day with as much hope and optimism as hikers do, the world would be a better place." – Jon Tullis

9. "For hiking is one of those things that you can only do when you have the determination in you." – Carl Sagan

10. "Although I deeply love oceans, deserts, and other wild landscapes, it is only mountains that beckon me with that sort of painful magnetic pull to walk deeper and deeper into their beauty." – Victoria Erikson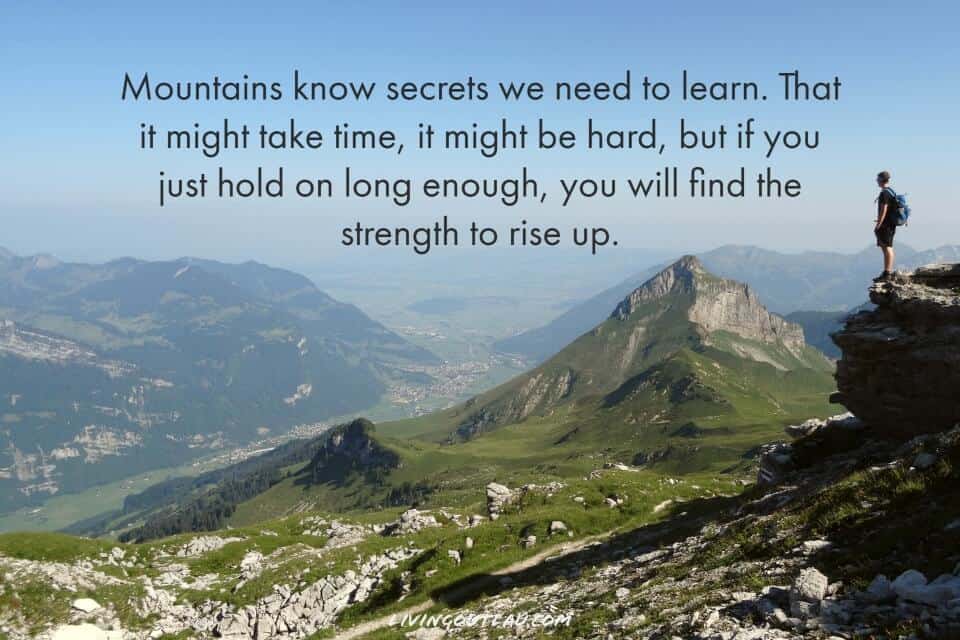 11. "Hiking is not escapism; it's realism. The people who choose to spend time outdoors are not running away from anything; we are returning to where we belong." – Jennifer Pharr Davis

12. "Everyone wants to live on top of the mountain, but all the happiness and growth occurs while you're climbing it." – Andy Rooney

13. "Mountains know secrets we need to learn. That it might take time, it might be hard, but if you just hold on long enough, you will find the strength to rise up." – Tyler Knott

14. "When everything feels like an uphill struggle, just think of the view from the top."

15. "And at the end of the day, your feet should be dirty, your hair messy and your eyes sparkling." – Shanti
Trekking is an amazing experience where you can fully immerse yourself in the beauty of nature through a multi-day journey. Here are some epic trekking captions that will help you convey how incredible your experience is!

1. "There are no shortcuts to any place worth going." – Beverly Sills

2. "Somewhere between the bottom of the climb and the summit is the answer to the mystery why we climb." – Greg Child

3. "People do not decide to become extraordinary. They decide to accomplish extraordinary things." – Edmund Hillary

4. "May your trails be crooked, winding, lonesome, dangerous, leading to the most amazing views. May your mountains rise into and above the clouds." – Edward Abbey

5. "Real adventure is defined best as a journey from which you may not come back alive, and certainly not as the same person." – Yvon Chouinard

6. "May your dreams be larger than mountains and may you have the courage to scale their summits." – Harley King

7. "Jobs fill your pockets, but adventures fill your soul." – Jaime Lyn

8. "Keep going, because you did not come this far just to come this far."

9. "It does not matter how slowly you go as long as you do not stop." – Confucius

10. "The way up to the top of the mountain is always longer than you think. Don't fool yourself, the moment will arrive when what seemed so near is still very far" – Paulo Coelho
Funny Hiking Quotes for Instagram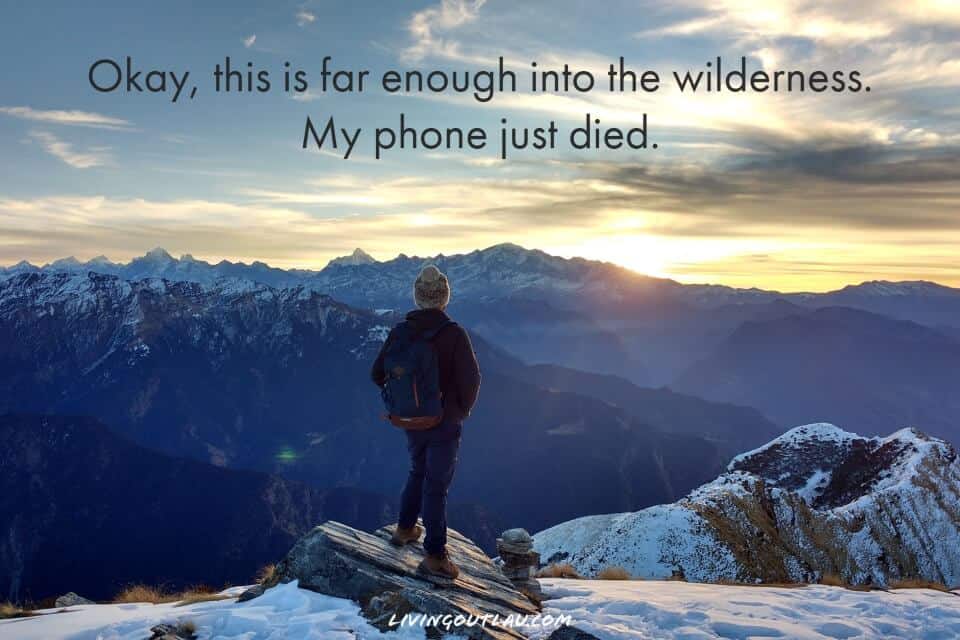 There is nothing better to get the attention of your audience than humor. Our funny hiking quotes for Instagram will help you get the engagement you want for your photos!

1. "Bring a compass. It's awkward when you have to eat your friends."

2. "Sleeping bags are the soft tacos of the bear world."

3. "Cover the earth before it covers you." – Dagobert D. Runes

4. "Think outside. No box required."

5. "Follow your passion. Stay true to yourself. Never follow someone else's path unless you're in the woods and you're lost and you see a path. By all means, you should follow that." – Ellen DeGeneres

6. "Always hike with someone in worse shape than you. There are bears out there, you know!"

7. "Wow, you have six toes? Nah, that's a blister."

8. "How's your knee? It's fine, it only hurts when I walk."

9. "All hikers secretly desire to whirl like Julie Andrews when hiking through the alpine mountains."

10. "Okay, this is far enough into the wilderness. My phone just died."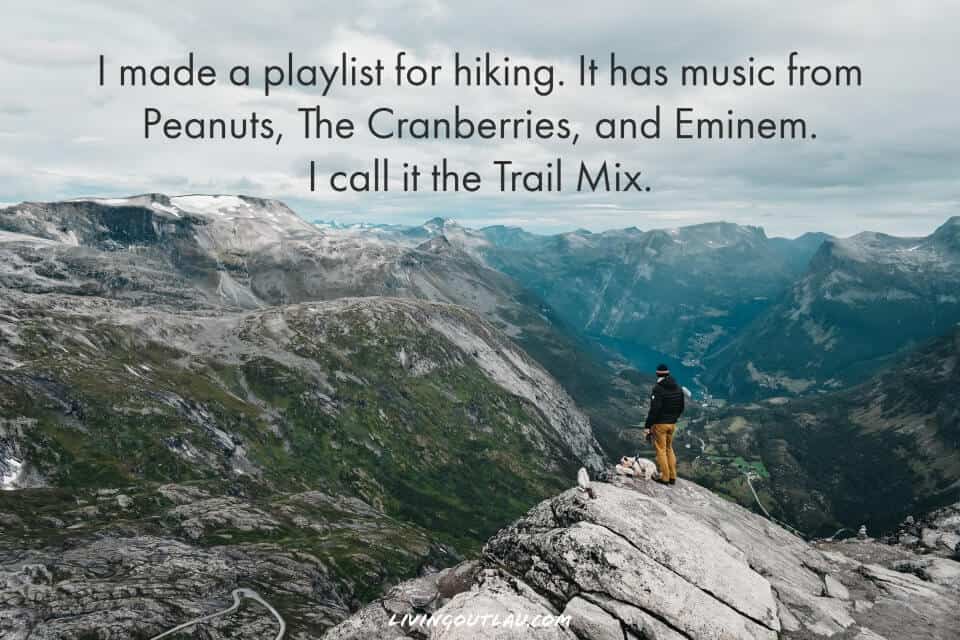 11. "My most memorable hikes can be classified as 'Shortcuts that Backfired'." – Edward Abbey

12. "If you are in a bad mood, go for a walk. If you are still in a bad mood, go for another walk." – Hippocrates

13. "If there's one thing I've learned from hiking, it's that the early bird gets the face full of spider webs."

14. "Hiking is just walking where it's okay to pee." – Demetri Martin

15. "Whoa… I think I have a blister on my blister."

16. "According to the map, we've only gone four inches." – Dumb & Dumber

17. "Are we lost? Oh no of course not, I just can't find the trail."

18. "Uh… Oh, I think we have walked off the map."

19. "I made a playlist for hiking. It has music from Peanuts, The Cranberries, and Eminem. I call it the Trail Mix."

20. "Mountains aren't just funny. They are hill areas."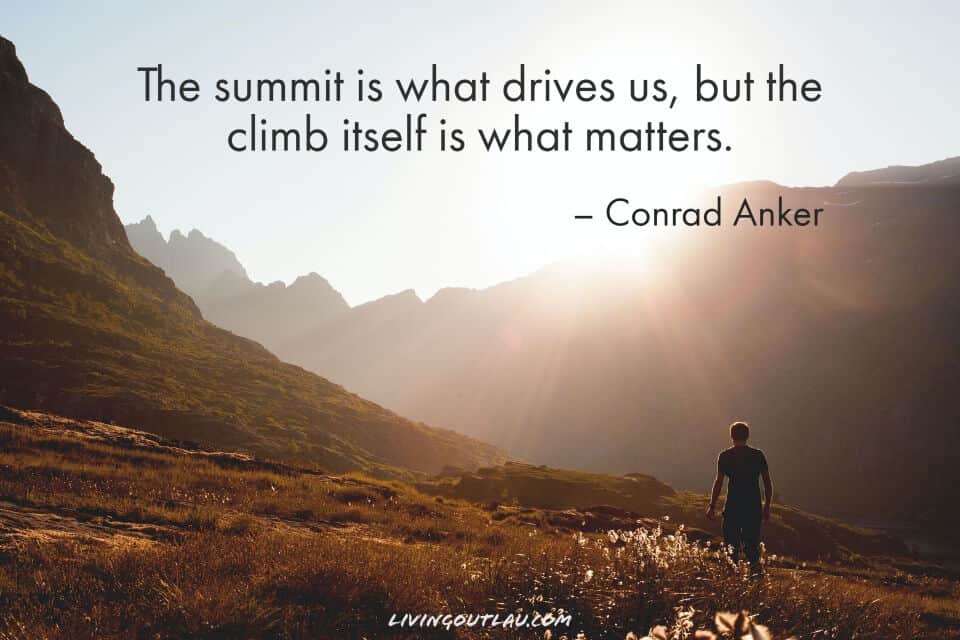 Our simple trekking quotes are perfect for the hikers that enjoy the simpler things in life. These quotes aren't as dramatic as the epic hiking quotes but it is enough to spice up that beautiful photo you took!

1. "Carry as little as possible, but choose that little with care."- Earl Shaffer

2. "Never quit on a bad day." – Ben Crawford

3. "Trekking means a travelling experience with a thrilling excitement." – Amit Kalantri

4. "Hiking's not for everyone. Notice the wilderness is mostly empty." – Sonja Yoerg, The Middle of Somewhere (2015)

5. "Speed is not a priority, just enjoy your hike." – Barry Perdana Putra

6. "Of all the paths you take in life, make sure a few of them are dirt." – John Muir

7. "The summit is what drives us, but the climb itself is what matters." – Conrad Anker

8. "Everywhere is within walking distance if you have the time." – Steven Wright

9. "Collect moments, not things."

10. "When you get tired, learn to rest, not quit." – Banksy
Quotes About Hiking Mountains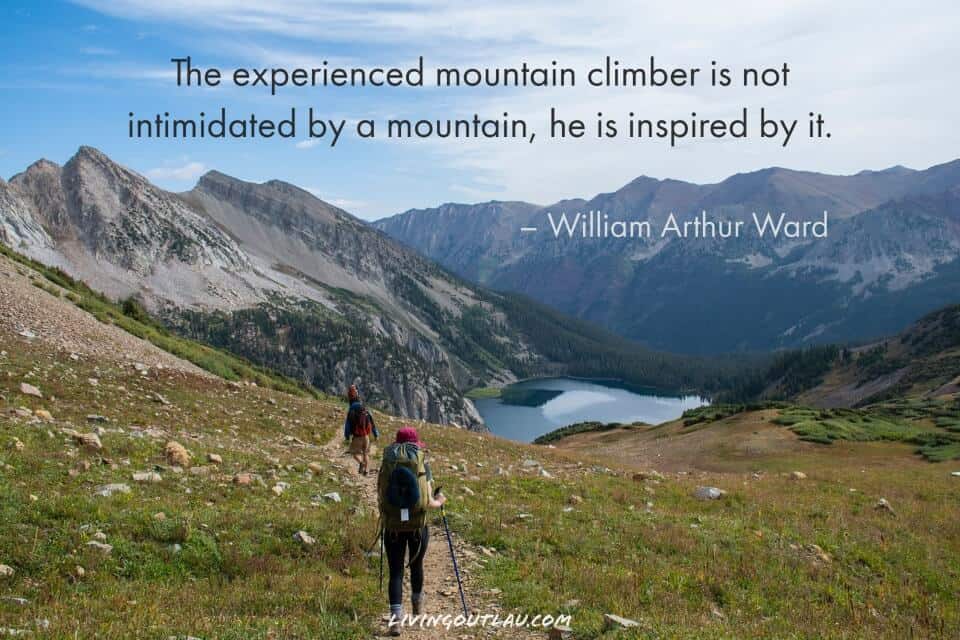 Our quotes about hiking mountains are ideal for hikers either planning to conquer that mountain or have already defeated it. They help inspire and captivate the emotions when achieving such a great feat!

1. "You're off to great places, today is your day. Your mountain is waiting, so get on your way." – Dr. Seuss

2. "The experienced mountain climber is not intimidated by a mountain, he is inspired by it." – William Arthur Ward

3. "Because in the end, you won't remember the time you spent working in the office or mowing your lawn. Climb that goddamn mountain." – John Kerouac

4. "You need mountains, long staircases don't make good hikers." – Amit Kalantri

5. "A mountaintop is not simply an elevation, but an island, a world within a world, a place out of place." – Paul Gruchow, The Necessity of Empty Places (1988)

6. "Feeling LOW? Go on mountains." – Prajakta Mhadnak

7. "Mountains make me believe that nothing can be bigger than nature, not even human ego." – Jay Kumar Singh

8. "It is the mountain that has been calling me, and it's time to answer." – Susan Jagannath

9. "Keep close to nature's heart…and break clear away, once in a while, and climb a mountain or spend a week in the woods. Wash your spirit clean." – John Muir

10. "Great things are done when men and mountains meet." – William Blake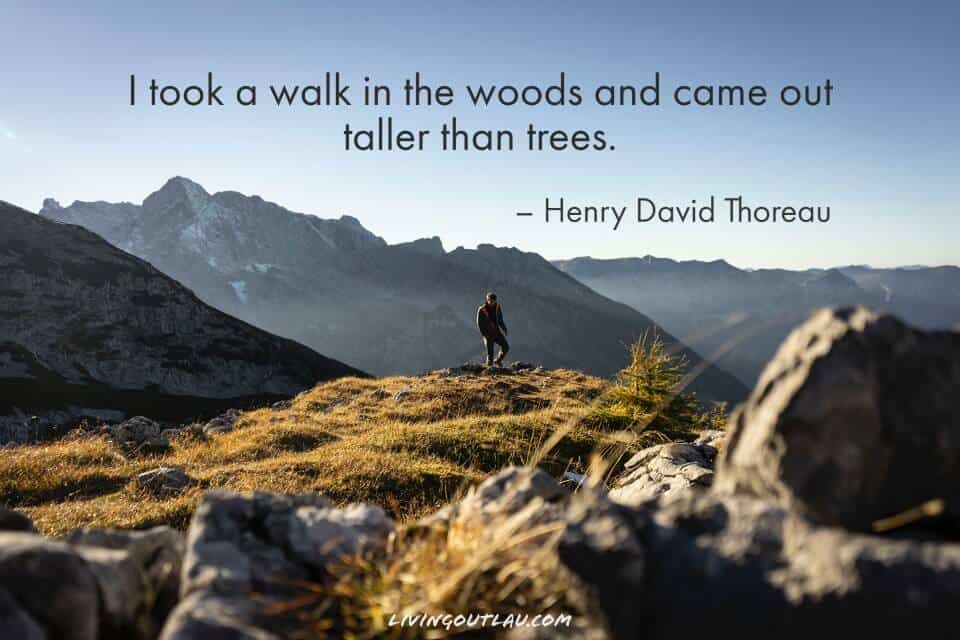 Nature and the woods are some of our favorite places for a hike. Their mysterious character and shady environment often provide a sense of tranquility that is therapeutic. Use one of our hiking in nature quotes to capture your experience!

1. "I go to nature to be soothed and healed, and to have my senses put in order." – John Burroughs

2. "Between every two pines there is a doorway to a new world." – John Muir

3. "I took a walk in the woods and came out taller than trees." – Henry David Thoreau

4. "Look deep into nature and you will understand everything better." – Albert Einstein

5. "An early morning walk is a blessing for the whole day." – Henry David Thoreau

6. "Walking is a man's best medicine." – Hippocrates

7. "There is always an adventure waiting in the woods." – Katelyn S. Bolds

8. "A walk in nature walks the soul back home." – Mary Davis

9. "In every walk with nature, one receives far more than he seeks." – John Muir

10. "To walk in nature is to witness a thousand miracles." – Mary Davis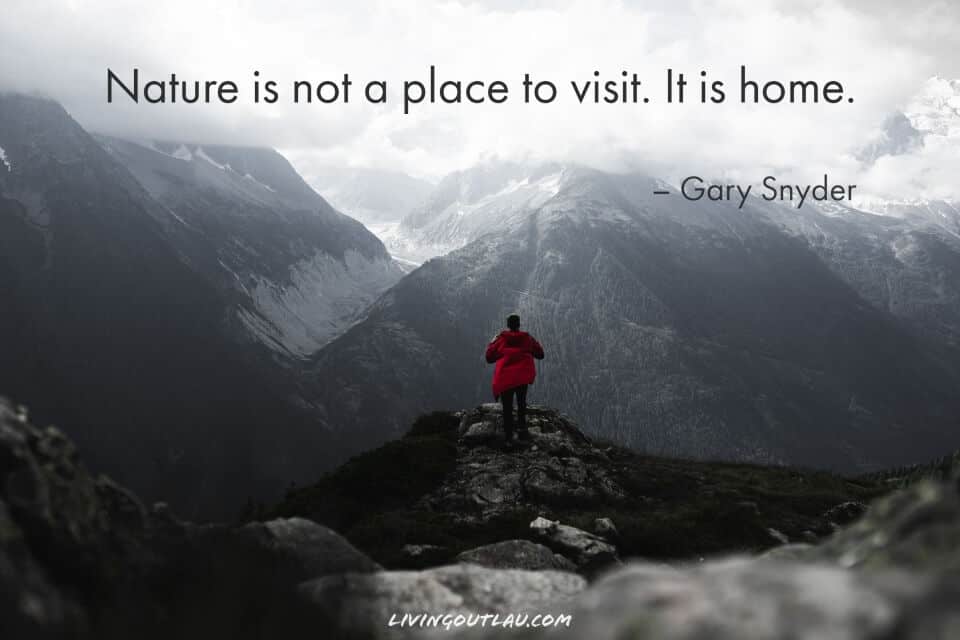 11. "All that the sun shines on is beautiful, so long as it is wild." – John Muir

12. "In every walk with nature one receives far more than he seeks." – John Muir

13. "Nature is not a place to visit. It is home." – Gary Snyder

14. "Some beautiful paths can't be discovered without getting lost." – Erol Ozan

15. "In all things of nature there is something of the marvelous." – Aristotle
Hiking With Friends Quotes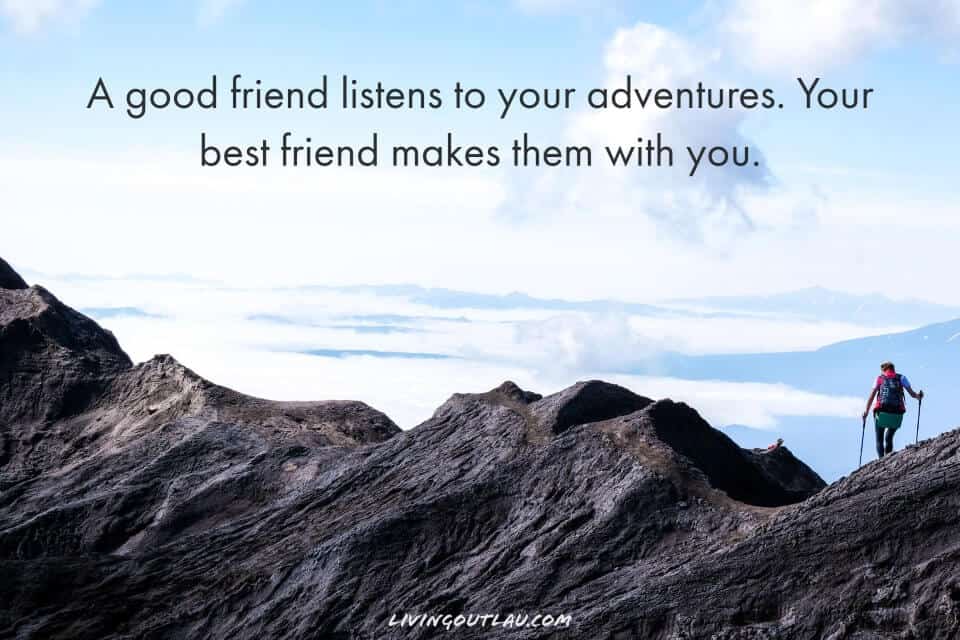 Do you know what is better than hiking? Hiking with friends! Hiking with friends is an excellent way to make new memories and strengthen the bonds. Add in one of our hiking with friend quotes and you have a recipe for an amazing friendship!

1. "A good friend listens to your adventures. Your best friend makes them with you."

2. "It doesn't matter where you're going, it's who you have beside you."

3. "Let's get lost."

4. "As with any journey, who you travel with is more important than the destination."

5. "The struggles we endure today will be the 'good old days' we laugh about tomorrow." – Aaron Lauritsen

6. "As with any journey, who you travel with can be more important than your destination."

7. "Let the adventure begin."

8. "Happiness is hiking with friends."

9. "It's not how many miles you walk, it's how many smiles you share."

10. "It's not where you go, but who you go with."
Like this post? Don't forget to save it on Pinterest! 🙂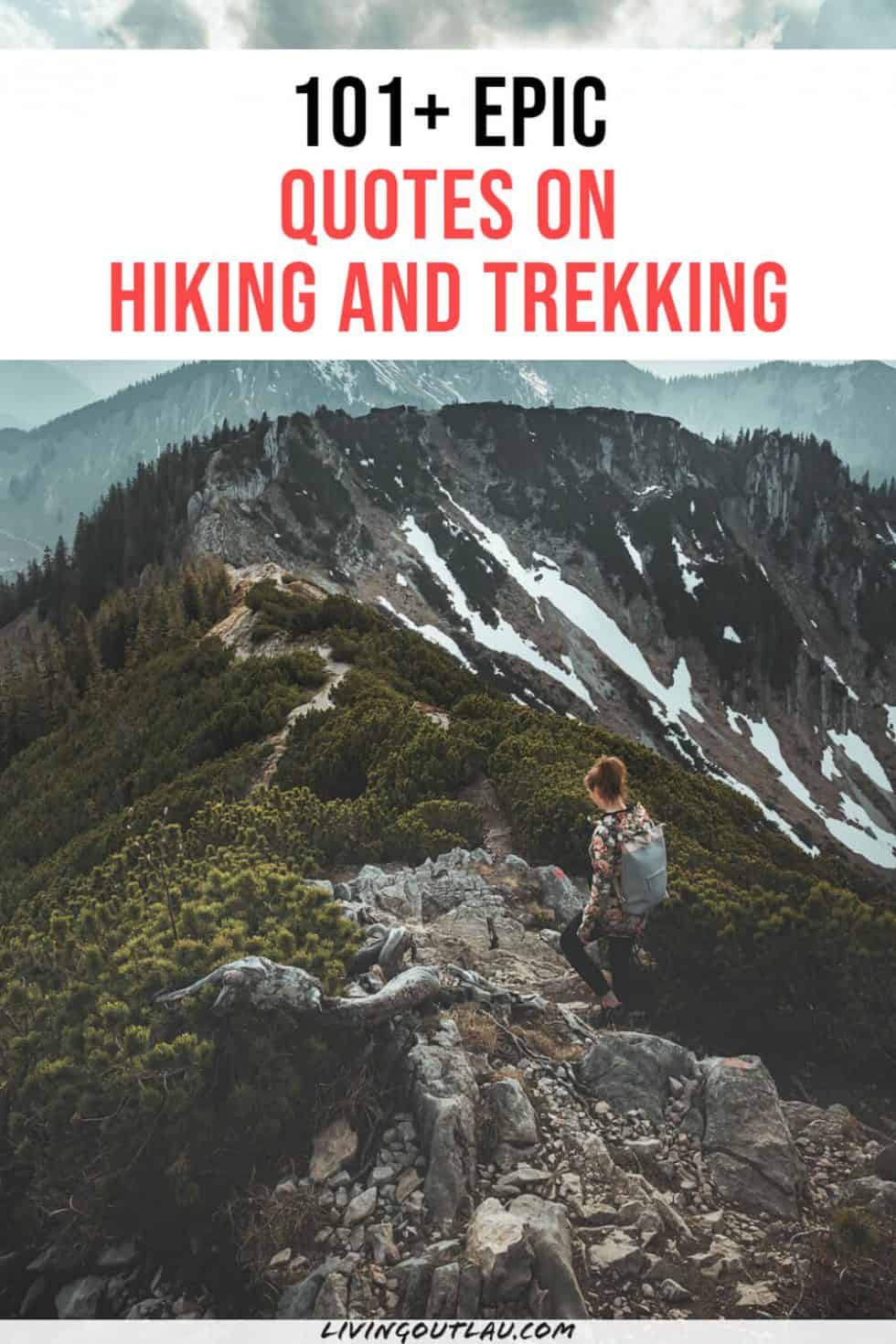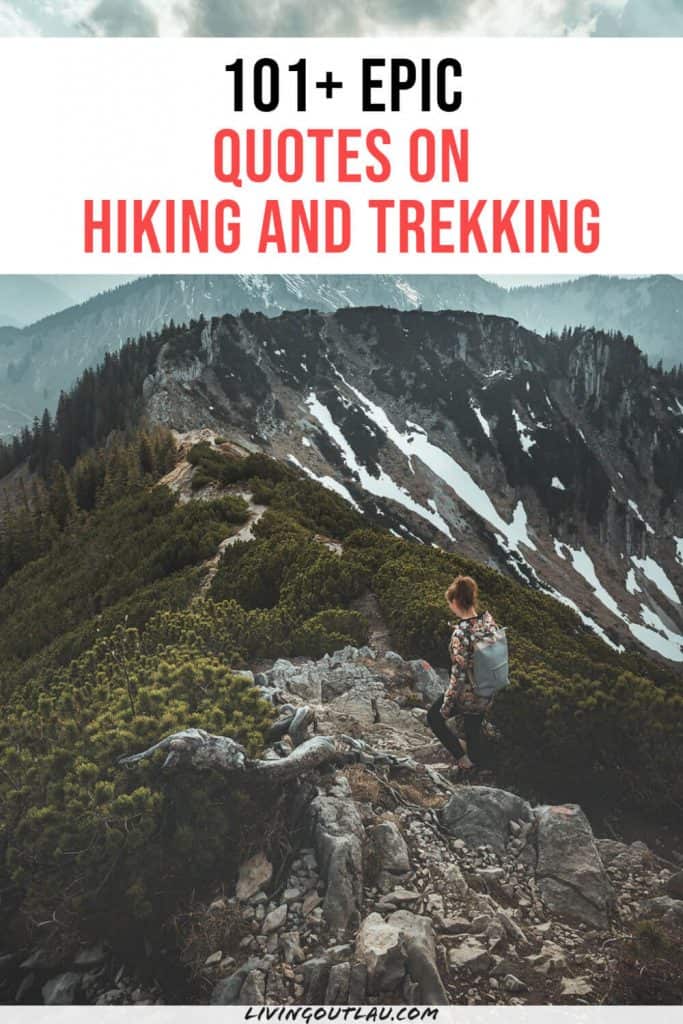 Those are the 101+ best quotes about hiking for Instagram or any kind of social media. We hope you found the perfect quote or captions!

Any questions? Leave them in the comments!
Disclaimer: Some of the links above are affiliate links. That means if you book or make a purchase through the links, we will earn a small commission at no extra cost to you! The money will help run this site! Thank you!