With the ability to go at your own pace, explore the off-the-beaten-path, there is simply no better way to travel than a long road trip. After our road trip to Yellowstone and Romania, we have fallen in love with this style of travel.

With many benefits of taking a road trip, we have curated a list of more than 100 of the best quotes about road trips and long drives. These are perfect for captioning the photos you will be taking on your incredible adventure on the road!

Looking for more travel quotes? Check out some of our favorites here:
---
Our Favorite Quotes About Road Trips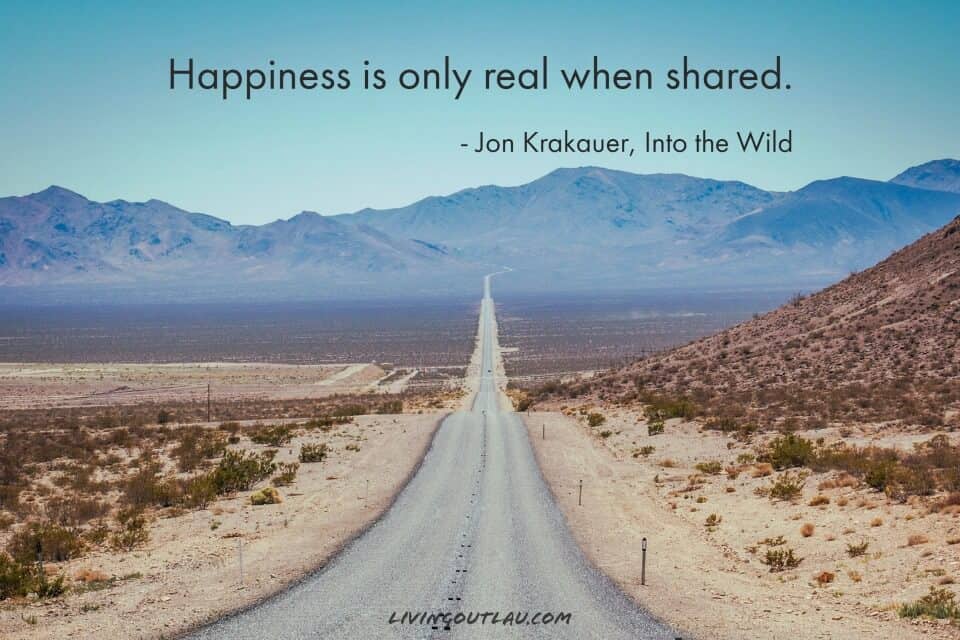 Here are 15 of our favorite quotes about road trips. We believe that these inspire us to take that long-overdue road trip and immerse ourselves in the incredible experience. Pair one of these captions on your social media to help reminisce that memorable road trip or show your audience the great time you are having!
"I may not have gone where I intended to go, but I think I may have ended up where I intended to be." – Douglas Adams
"Sometimes the most scenic roads in life are the detours you didn't mean to take." – Angela N. Blount, Once Upon an Ever After (2014)
"Life is either a daring adventure or nothing." – Helen Keller
"What we find in a soul mate is not something wild to tame, but something wild to run with." – Robert Brault
"So shut up, live, travel, adventure, bless and don't be sorry" – Jack Kerouac, Desolation Angels (1958)
"There's only one place I want to go and it's to all the places I've never been." – Nikki Rowe
"Lose your path. Find your way." – Natalia Jaster, Kiss the Fae (2020)
"Traveling in the company of those we love is home in motion." – Leigh Hunt
"Happiness [is] only real when shared." – Jon Krakauer, Into the Wild
"An inconvenience is an adventure wrongly considered." – G. K. Chesterton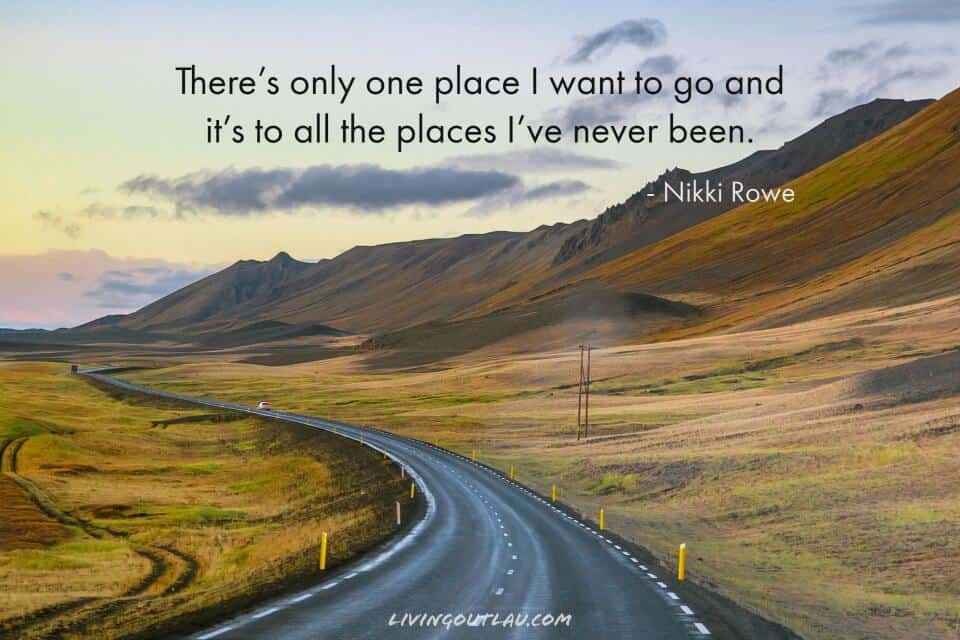 "I want to go on a road trip, just you and me. The highway, the radio, the blue sky, the backroads, and with our windows down, we'll talk about everything and nothing. We'll sing our hearts out, and we'll make memories that we'll never forget. Just you and me…"
"Life is beautiful if you are on the road to somewhere." – Orhan Pamuk
"When all's said and done, all roads lead to the same end. So it's not so much which road you take, as how you take it." – Charles de Lin
"It doesn't matter how old you get, buying snacks for a road trip should always look like an unsupervised 9-year-old was given $100."
"I don't know where I'm going from here but I promise it won't be boring." – David Bowie
---
Short Road Trip Quotes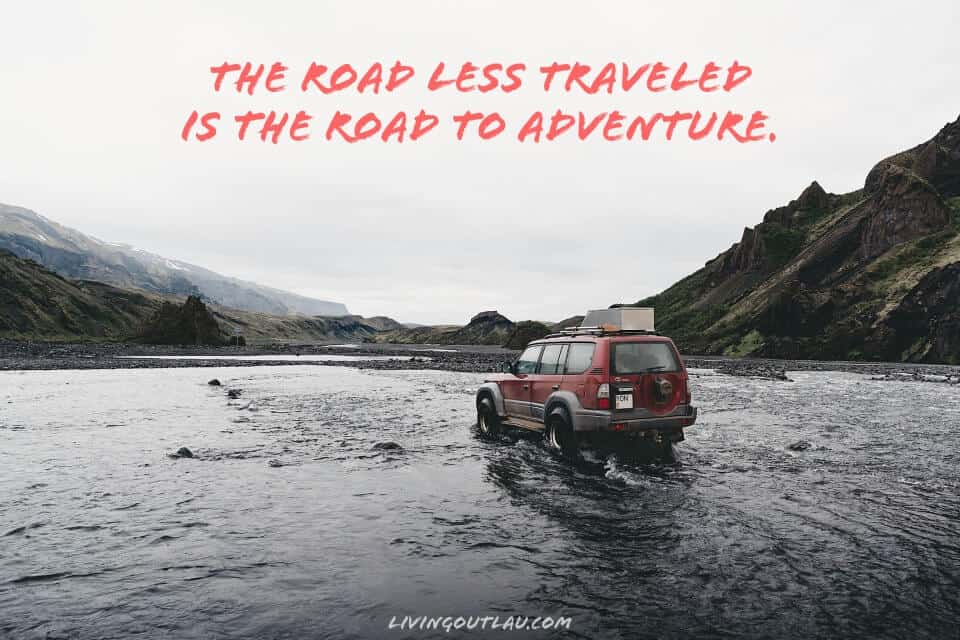 Keep your road trips long and your road trip quotes short! These short road tripping quotes are ideal for scenarios where you have to keep your caption short and simple. Don't worry though, these quotes are still very insightful and get the job done!
"Roads were made for journeys, not destinations." – Confucius
"Jobs fill your pockets, but adventures fill your soul" – Jaime Lyn
"The road less traveled is the road to adventure."
"I haven't been everywhere, but it's on my list." – Susan Sontag
"Until you step into the unknown, you don't know what you're made of." – Roy T. Bennett
"Difficult roads often lead to beautiful destinations."
"All great adventures have moments that are really crap." – Ellen Potter, The Kneebone Boy (2010)
"The journey is the destination." – Dan Eldon
"Adventure is a need." – Toba Beta, My Ancestor Was an Ancient Astronaut (2010)
"Even blind alleys lead somewhere." – Marty Rubin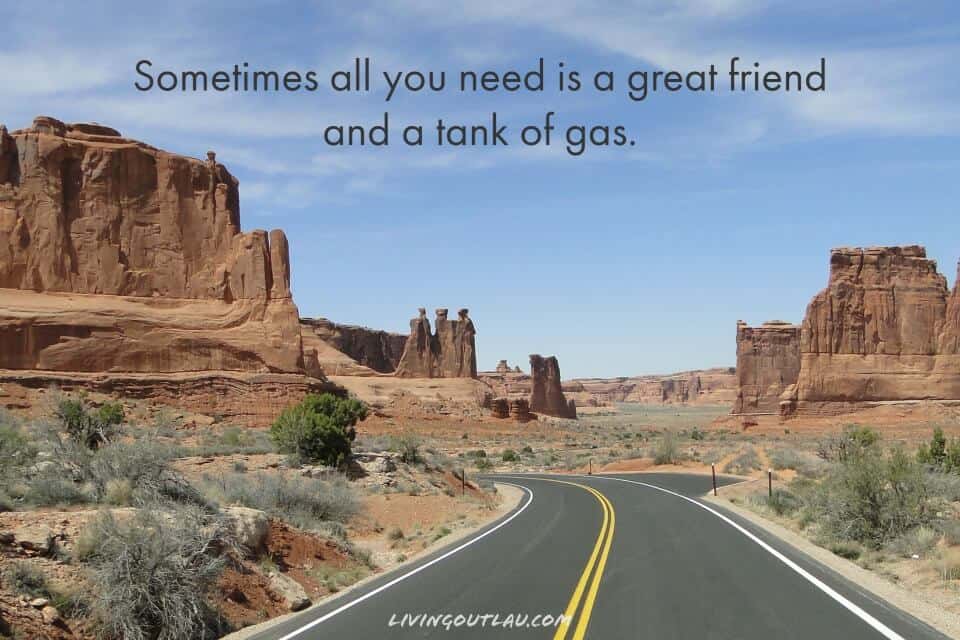 "Misadventure is still adventure."
"Adventures don't always require a plane ticket." – Dylan Thuras, Gastro Obscura: A Food Adventurer's Guide (2021)
"Joy is portable, bring it with you."
"Life is too short to not go on that spontaneous road trip."
"When in doubt – choose adventure!" – Thor F. Jensen
"It's not the destination, it's the journey." – Ralph Waldo Emerson
"People don't take trips, trips take people." – John Steinbeck
"Sometimes all you need is a great friend and a tank of gas."
"Happiness is a road trip with a good playlist."
"Road trips and sunsets are the ingredients of happiness."
---
Funny Road Trip Captions For Instagram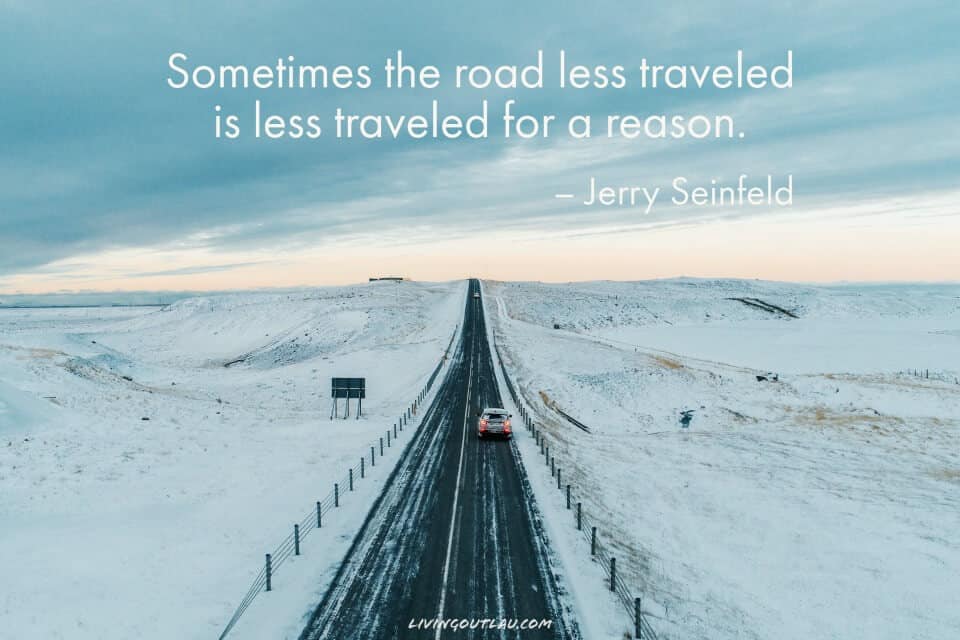 No road trip is complete without a series of funny and silly moments. Try one of our funny road trip quotes for Instagram. Humor is an excellent way to get engagement on social media without sounding too tryhard.
"According to the map, we've only gone four inches." – Dumb and Dumber
"Kilometers are shorter than miles. Save gas, take your next trip in kilometers." – George Carlin
"Sometimes the road less traveled is less traveled for a reason." – Jerry Seinfeld
"That's why I love road trips, dude. It's like doing something without actually doing anything." – John Green, An Abundance of Katherines (2006)
"Road trips required a couple of things: a well-balanced diet of caffeine, salt and sugar and an excellent selection of tunes—oh, and directions." – Jenn McKinlay, Books Can Be Deceiving (2011)
"The entire road trip could be summed up as one giant attempt to keep from crashing the car during fits of rage and fits of hysteria." – Kari Martindale
"My therapist and I even have a joke about it: shit is truly fucked up when I start threatening to take a road trip." – Chris Gethard
"Adventure is just bad planning."
"Is it a real road trip if you don't make at least one bad decision?"
"Are we there yet?"
---
Epic Road Trip With Friends Quotes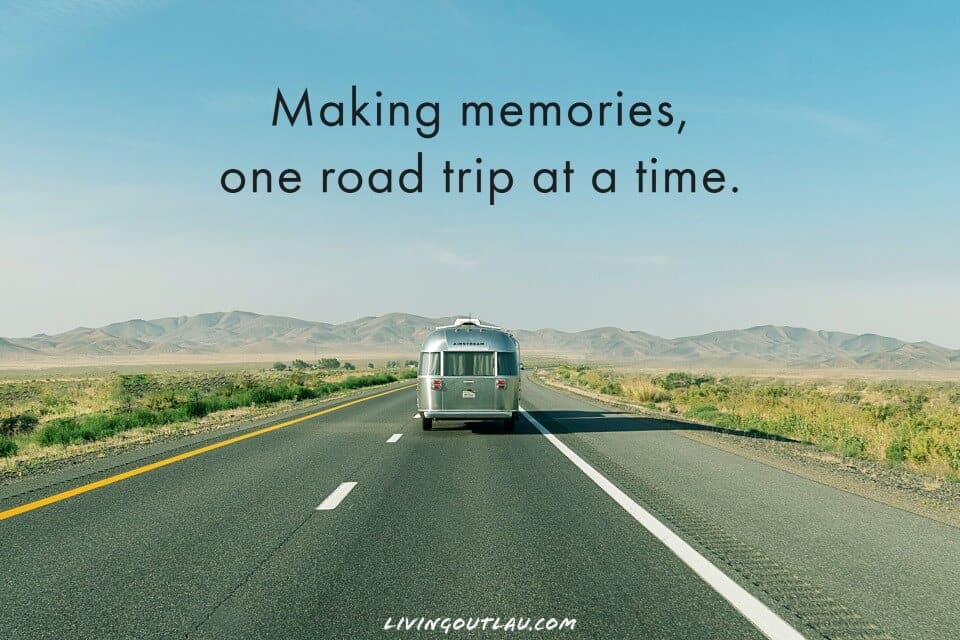 If a road trip isn't epic, then something is not right. These road trip with friends quotes help capture the epicness of any road trip. Use these to remember the incredible memories, unfortunate mishaps and more!
"Because the greatest part of a road trip isn't arriving at your destination. It's all the wild stuff that happens along the way." – Emma Chase, Tamed (2014)
"Road trips aren't measured by mile markers, but by moments."
"No road is long with good company." – Turkish Proverb
"Making memories, one road trip at a time."
"Live your life by a compass, not a clock." – Stephen Covey
"I love road trips. You get into this Zen rhythm; throw the sense of time out the window." – Miriam Toews
"Some beautiful paths can't be discovered without getting lost." – Erol Ozan
"Good company in a journey makes the way seem shorter." – Izaak Walton
"A journey is best measured in friends, rather than miles." – Tim Cahill
"You can pack for every occasion, but a good friend will always be the best thing you could bring."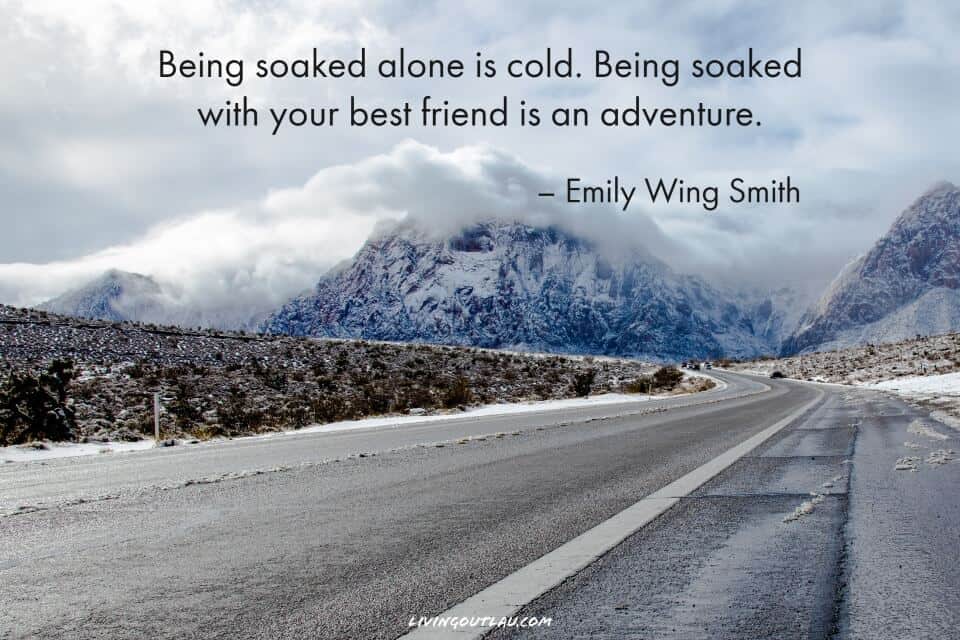 "Some roads aren't meant to be travelled alone." – Chinese Proverb
"It's not about the destination. It's getting there that's the good part." – Morgan Matson, Amy & Roger's Epic Detour (2010)
"And just like that, we're on our way to everywhere" – Emery Lord, Open Road Summer (2014)
"Being soaked alone is cold. Being soaked with your best friend is an adventure." – Emily Wing Smith, Back When You Were Easier to Love (2011)
"If you're on a road trip, you need driving music." – Edgar Wright
"It is great to do what you love but greater with the great team." – Lailah Gifty Akita, Think Great: Be Great! (2014)
"The possibility of anything happening amplified the feeling of freedom, not knowing what might happen next." – Joey Gnarly
"I have learned that to be with those I like is enough." – Walt Whitman
"Every epic adventure starts with a bad idea."
"The greater the complication, the richer the tale." – Thor F. Jensen
---
Inspirational Road Trip Quotes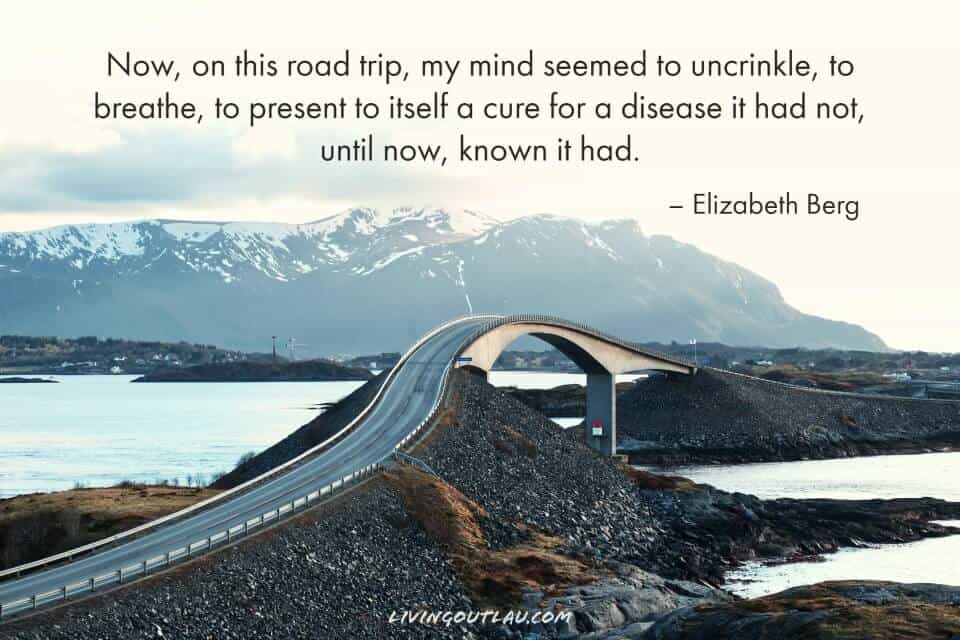 Above all else, a road trip should ultimately inspire. The liberating feeling of a long drive and solitary roads are meditative. These inspiring road trips quotes will not only ignite your passion for a road trip, but they will also help you see that a road trip is more than just a trip on the road.
"I see my path, but I don't know where it leads. Not knowing where I'm going is what inspires me to travel it." – Rosalía de Castro
"The freedom of the open road is seductive, serendipitous and absolutely liberating." – Aaron Lauritsen, 100 Days Drive: The Great North American Road Trip (2016)
"Sometimes you find yourself in the middle of nowhere, and sometimes in the middle of nowhere, you find yourself."
"Look at life through the windshield, not the rearview mirror." – Byrd Baggett
"If you make the mistake of looking back too much, you aren't focused enough on the road in front of you." – Brad Paisley
"The world is too big to stay in one place, and life is too short to do just one thing."
"A good traveler has no fixed plans, and is not intent on arriving." – Lao Tzu
"Once a year, go somewhere you have never been before." – Dalai Lama
"It's in those quiet little towns, at the edge of the world, that you will find the salt of the earth people who make you feel right at home." – Aaron Lauritsen
"Now, on this road trip, my mind seemed to uncrinkle, to breathe, to present to itself a cure for a disease it had not, until now, known it had." – Elizabeth Berg, The Year of Pleasures (2005)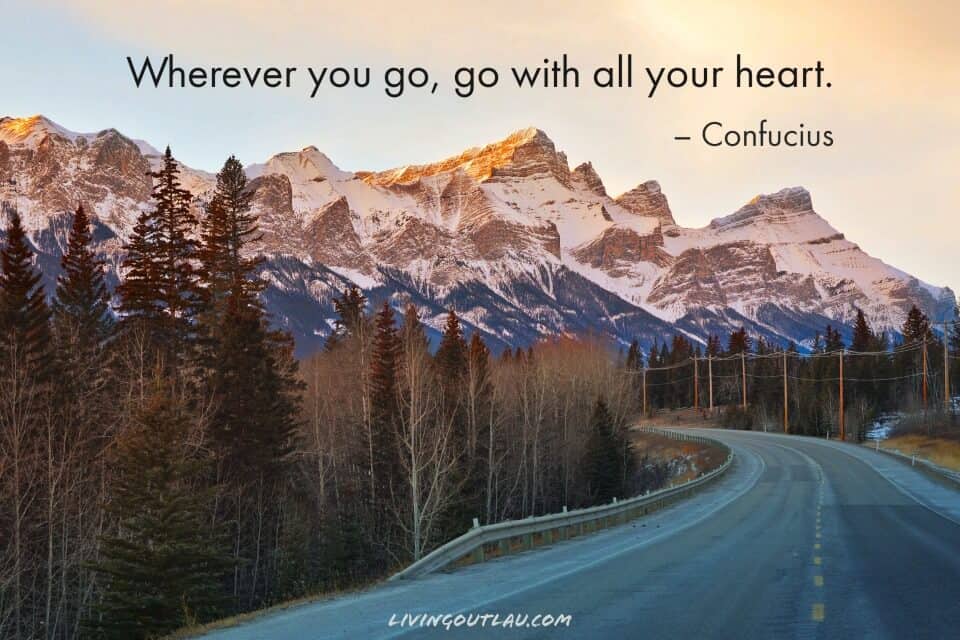 "Why do you go away? So that you can come back. So that you can see the place you came from with new eyes and extra colors. And the people there see you differently, too. Coming back to where you started is not the same as never leaving." – Terry Pratchett, A Hat Full of Sky (2004)
"Don't dwell on your past – it's not where you're going" – KayLynn Flanders, Shielded (2020)
"Educating the mind without educating the heart is no education at all." – Aristotle
"Wherever you go, go with all your heart." – Confucius
"Be brave. Be wild, and stay forever hungry for love, art, knowledge and adventure" – Erin Van Vuren
"This is how you have adventures. You find cool things and you do them … you don't just read books about them!" – Jonathan King
"Some of the most beautiful encounters, Are the unexpected ones." – Mimi Novic
"Where will my heart lead if I've yet to wander so many unknown paths?" – Paulo Coelho, Hippie (2018)
"Each new day is an invitation to an adventure of your own making." – Steven Redhead, Life Is a Dance (2019)
"An open mind and a willing heart are the beginning of many a great adventure. Let's get started." – Colleen Houck, Tiger's Dream (2018)
---
Long Drive Quotes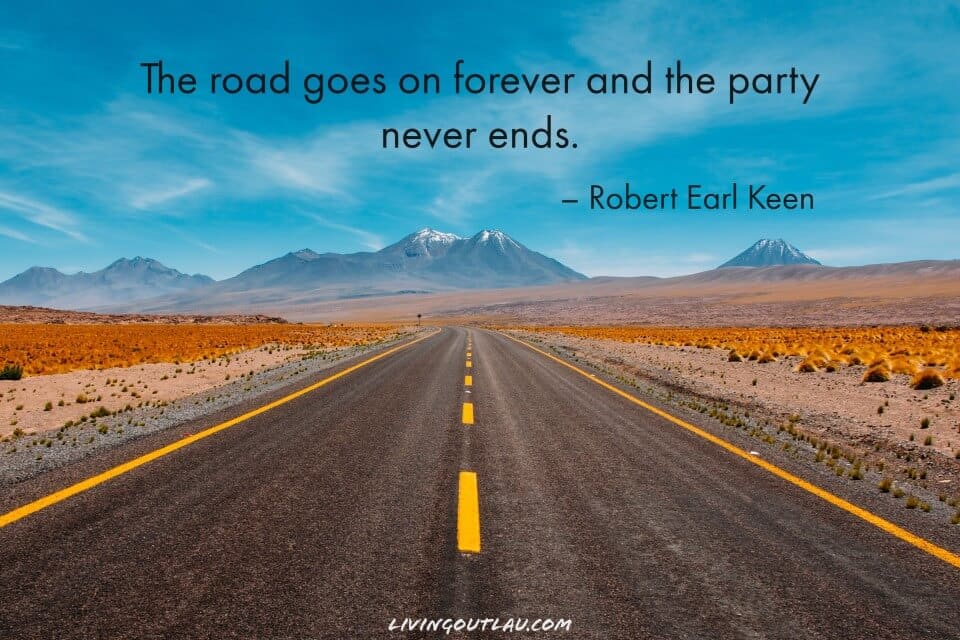 Long drives allow the mind to wander, and some of the most inspiring moments might come from a long drive. These long drive quotes will captivate what it is like to go on these long journeys.
"The road goes on forever and the party never ends." – Robert Earl Keen
"The most beautiful thing in the world is, of course, the world itself." – Wallace Stevens
"Sometimes the best therapy is a long drive and good music."
"One's destination is never a place, but rather a new way of seeing things." – Henry Miller
"The biggest adventure you can ever take is to live the life of your dreams." – Oprah Winfrey
"No, no! The adventures first, explanations take such a dreadful time." – Lewis Carroll, Alice's Adventures in Wonderland / Through the Looking-Glass (1871)
"I climb behind the steering wheel… I drive off immediately without once looking back; it's a long journey but it leads to freedom." – Corinne Hofmann
"I can speak to my soul only when the two of us are off exploring deserts or cities or mountains or roads." – Paulo Coelho, Aelph (2010)
"I love being on the road. I love that lifestyle, traveling city to city, rocking out, and moving on to the next place." – Caleb Johnson
"Some roads aren't meant to be traveled alone."
---
Family Road Trip Quotations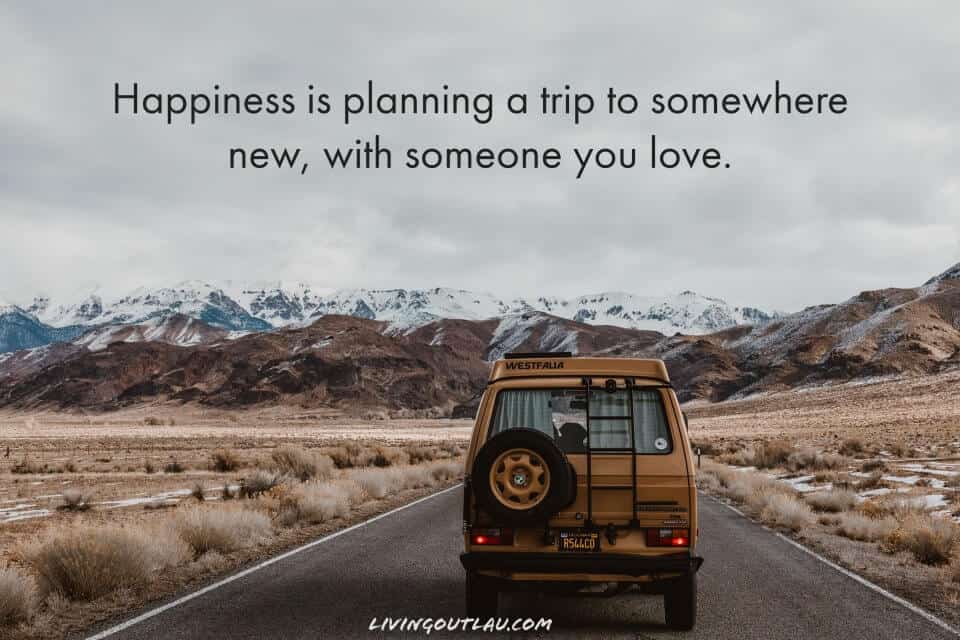 When I was an adolescent, a road trip with the family was something I dreaded. Being stuck in a car with your parents for hours when you could be with your friends isn't exactly a fun idea. As I grew older, this sentiment has started to change.

These family road trip quotations will motivate kids and adults to spend more time with their families and go on a road trip together!
"In 1903 the Wright brothers invented airplanes, because in 1902 they took a road trip across the country with their family." – Bill Engvall
"A road trip is a way for the whole family to spend time together and annoy each other in interesting new places." – Tom Lichtenheld
"It doesn't matter where you're going, it's who you have beside you."
"The struggles we endure today will be the 'good old days' we laugh about tomorrow." – Aaron Lauritsen, 100 Days Drive: The Great North American Road Trip (2016)
"It might not get sense for you today, tomorrow, or even in a year. But one day, this will be one of your fondest memory."
"May your adventures bring you closer together, even as they take you far away from home." – Trenton Lee Stewart, The Mysterious Benedict Society and the Perilous Journey (2008)
"No WiFi out here, but I found a better connection."
"My favorite childhood memory is my parents paying for my holidays."
"There are two kinds of travel: first class and with children." – Robert Benchley
"Happiness is planning a trip to somewhere new, with someone you love."
---
Quotes About Roads and Journeys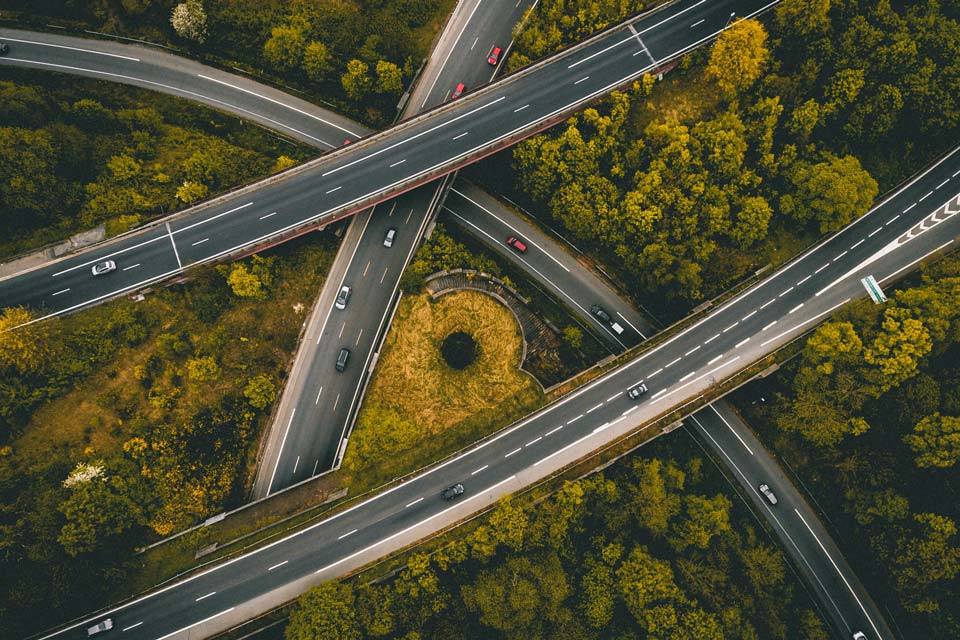 Road trips often lead to journeys and adventures that you never knew you'd have. Use one of our following quotes on road trips for your next caption!
1. "Taking the long way around, because the scenic route is always worth it."
2. "The best views come after the hardest climbs on the scenic route."
3. "The only impossible journey is the one you never begin" – Tony Robbins
4. "To awaken alone in a strange town is one of the pleasantest sensations in the world. You are surrounded by adventure. You have no idea of what is in store for you, but you will, if you are wise and know the art of travel, let yourself go on the stream of the unknown." – Freya Stark 
5. "It's a dangerous business, Frodo, going out your door. You step onto the road, and if you don't keep your feet, there's no knowing where you might be swept off to." – J.R.R. Tolkien
6. "So, remember when we were driving, driving in your car. Speed so fast felt like I was drunk. City lights lay out before us, and your arms felt nice wrapped around my shoulders, and I had a feeling that I belonged, and I had a feeling I could be someone." – Fast Car, Tracy Chapman
7. "Still, round the corner, there may wait, a new road or a secret gate." – J. R. R. Tolkien
---
Bonus Road Trip Sayings!
1. "I travel not to go anywhere but to go. I travel for travel's sake. The great affair is to move." – Robert Louis Stevenson
2. "I just go with the flow, I follow the yellow brick road. I don't know where it's going to lead me, but I follow it." – Grace Jones
3. "You can be writing every day. When you go on a road trip, the trip itself becomes part of the story." – Steve Rushin
4. "If you come to a fork in the road, take it." – Yogi Berra
5.  "To move, to breathe, to fly, to float, To gain all while you give, To roam the roads of lands remote, To travel is to live." – Hans Christian Andersen
6. "Map out your future – but do it in pencil. The road ahead is as long as you make it. Make it worth the trip." – Jon Bon Jovi
7. "Road trips are the equivalent of human wings. Ask me to go on one, anywhere. We'll stop in every small town and learn the history and stories, feel the ground and capture the spirit. Then, we'll turn it into our own story that will live inside our history to carry with us always. Because stories are more important than things." — Victoria Erickson
---
Like this post? Don't forget to save it on Pinterest!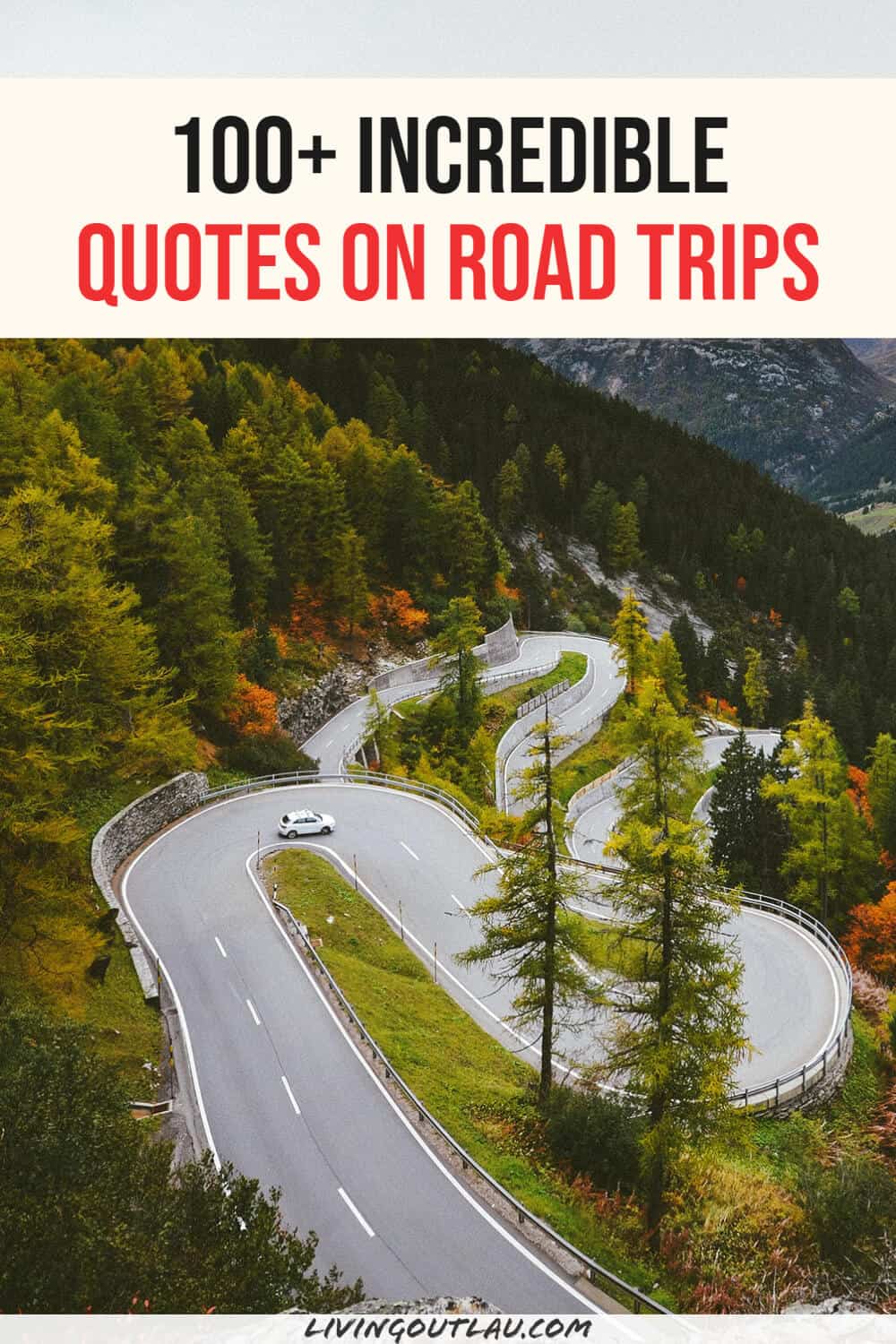 ---
Those are the 100+ best road trip quotes for every occasion. A road trip is certainly a special way to travel. We hope you found the perfect roadtrip quote or caption for your need!

Any questions? Leave them in the comments!
Disclaimer: Some of the links above are affiliate links. That means if you book or make a purchase through the links, we will earn a small commission at no extra cost to you! The money will help run this site! Thank you!