Not sure how many days in Istanbul to stay? We are here to help.
As a city that spans two continents and 2063 square miles, planning a trip to Istanbul is no easy task. From the interesting historic center to the glorious Bosphorus Strait, there are so many things to do in Istanbul.
It is simply too overwhelming.
That is why we have written this guide to help you sort out some of your headaches, first starting by determining how many days to spend in Istanbul.

Enjoy!
---
Quick Tip On How Many Days In Istanbul Is Enough
Deciding on how many days to spend in Istanbul is different for every traveler because each traveler's travel style is different. For example, if you are someone that likes to take guided tours in Istanbul, you will experience a lot more than someone who is exploring by public transportation.
Therefore, it is quite difficult to say what is the optimal amount of time to stay in Istanbul.
But from our experience (and speaking with other travelers), we recommend that you spend at least 3 days in Istanbul, especially if you are a first-time visitor. Three days is the minimal amount of time where you can enjoy the top attractions in Istanbul leisurely.
Any shorter than that, you will have to skip or rush through many sights in Istanbul, and that is just no way to have a vacation.
---
How to Decide How Many Days to Spend in Istanbul, Turkey?
Before you take our word for it and book a 3-night stay in Istanbul, we want to help you decide how many days YOU might need in Istanbul. As we said, everyone's travel style differs so our general recommendation might not be suitable for you.
Here are some factors you might want to consider when planning how many days are in your Istanbul itinerary.
Are You Planning on Taking Guided Tours in Istanbul?
Guided tours are excellent ways to discover a complex city like Istanbul. Tour guides offer valuable knowledge that many travelers would not typically get. Guided tours also typically include transportation, so you can save yourself some time navigating through the streets of Istanbul.
Do You Like to Go Shopping?
Istanbul is a paradise for people that love to go shopping. From gorgeous Turkish rugs to enchanting lanterns, shopaholics can spend hours browsing through the numerous bazaars of Istanbul.
If you plan on shopping, whether that is buying souvenirs or gifts, we recommend that you add an extra day to your Istanbul stay.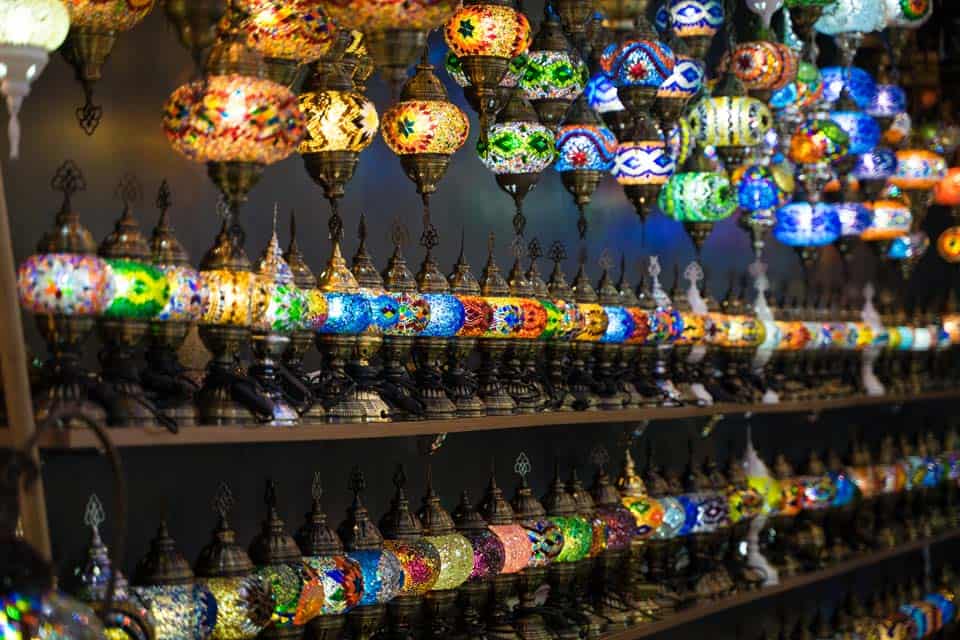 Are You Planning to Enjoy Istanbul's Nightlife?
Anyone planning to enjoy Istanbul's vibrant nightlife should plan on staying an extra day or two. When you go out in Istanbul, you will come across the national drink of Turkey, Raki. This spirit will give you hangovers that remind you of the first time you got drunk.
Do You Consider Yourself a Slow Traveler?
If you are someone that likes to travel slowly, such as spending time in a cafe or chilling by the waterfront, then you will want to add more days in Istanbul. As slow travelers ourselves, we stayed over a week in Istanbul, exploring one neighborhood a day.
Slow travelers should consider staying around 5 days in Istanbul.
The truth is, there are just so many things to do in Istanbul that you won't feel bored even after a whole week there. From the grandiose mosques to the intriguing history, not a single day will pass by without you experiencing something new.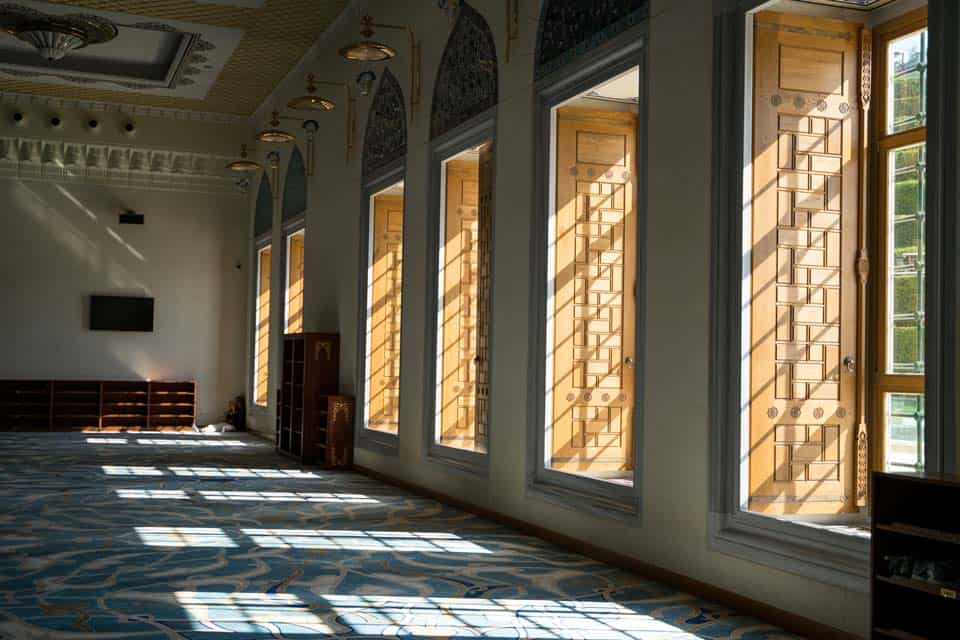 Below we will outline what your itinerary will look like if you have a certain number of days to stay in Istanbul. These itineraries are assuming you have full days (8 AM to ~10 PM)
---
Suggested Istanbul Itineraries
1 Day in Istanbul
Sorry lads, 1 day in Istanbul is just not going to work. To start off, getting from the Istanbul Airport (IST or SAW) to the city center is complicated and takes a bit of time. The same applies vice versa.
If you have only 24 hours in Istanbul, you should try your best to see as many sights as you can in Sultanahmet, the historic center of Istanbul.
Here you will find some of the best things to do in Istanbul such as The Blue Mosque, Hagia Sophia, Topkapi Palace, Basilica Cistern, the Hippodrome, the Grand Bazaar and the Spice Bazaar.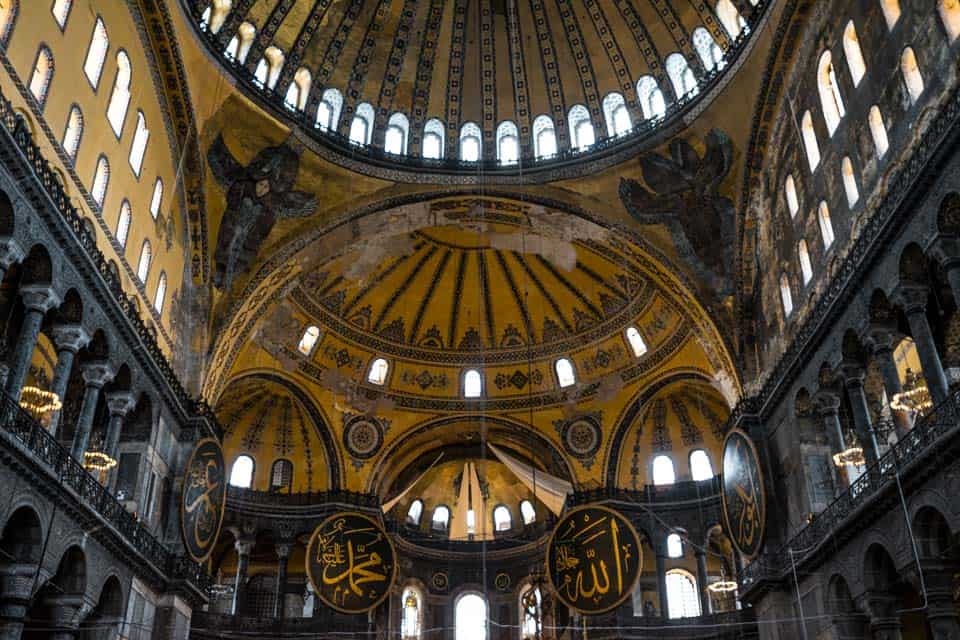 Spend some time checking out the Suleymaniye Mosque and its four minarets. It is named after Suleyman the Magnificient, one of the most important sultans in the history of the Ottoman Empire.
With only 1 day in Istanbul, you won' have enough time to check out the Asian side of Istanbul, but don't miss the opportunity to get on a sunset Bosphorus Cruise tour to admire the sunset views of Istanbul from the Bosphorus Strait. It is one of the must-do things in Istanbul.
If you are not exhausted by the time your tour is over, you can enjoy some nightlife at Taksim Square and Istiklal Street.
2 Days in Istanbul
2 days in Istanbul is the minimum amount of time you will need to see all the main attractions. It will involve a lot of sightseeing at a faster than normal pace, which might not be enjoyable for some people.
Similar to having 1 day in Istanbul, your day 1 will be spent exploring Sultanahmet, but instead of visiting Suleymaniye Mosque, you will have to skip that.
Instead, you will head over to Taksim Square and explore Taksim and the famous Istiklal Street. As one of the busiest areas in Istanbul, the neighborhood is filled with shops, cafes, and eateries. Don't forget to visit the soaring Galata Tower that played such an important role in Istanbul's history.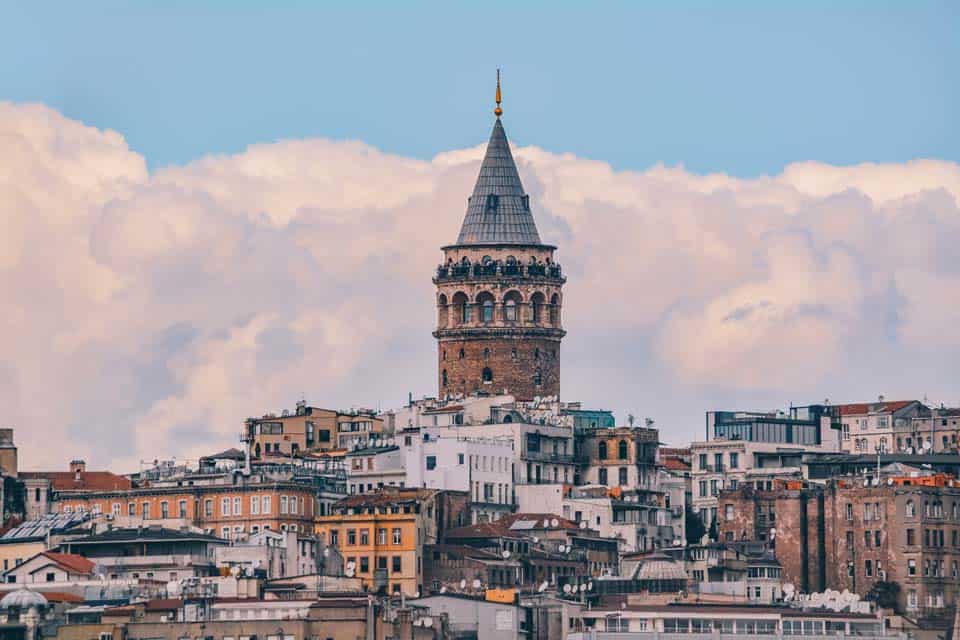 If you have 2 days in Istanbul, you will have the opportunity to explore the Asian side of Istanbul, namely the neighborhoods of Kadikoy and Uskudar. Kadikoy is a neighborhood known for its cheap and excellent food options. Uskudar is known for its epic sunset view, which is only enhanced by the famous Maiden's Tower.
When you are on the Asian side of Istanbul, don't forget to visit the Camlica Mosque, the biggest mosque in Turkey. Its architecture and extravagance are extraordinary, and seeing it is a must if you have the time in Istanbul.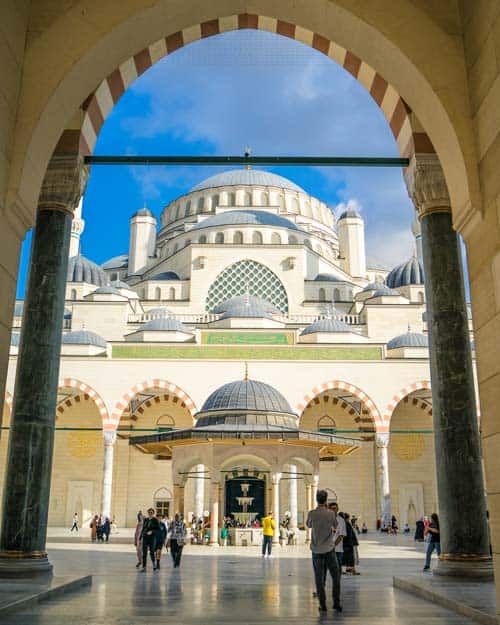 3 Days in Istanbul
If you asked me, "how many days in Istanbul is enough?", I would probably tell you 3 days.
3 days in Istanbul is the optimal amount of time for tourists. With three days, you can dedicate one day each to the most important areas in Istanbul:
Sultanahmet
Galata Tower/Taksim/Istiklal Street
Asian side of Istanbul
Your first day in Istanbul will be similar to the 1 day in Istanbul itinerary, covering the major sights of Sultanahmet.
Day 2 should be spent exploring Taksim, Istiklal Street and Galata Tower. A full day in this area will allow you to not just see the sights, but enjoy some of the nice cafes and street foods in the area. We recommend you to pair a traditional hammam (Turkish Bath), one of the most famous things in Turkey, on the morning of this day.
The third day in Istanbul is a visit to the Asian side, similar to what was outlined above in the "2 days in Istanbul" part. Once again, a visit to the Camlica Mosque is a must!
4 Days in Istanbul
4 days in Istanbul is when things get interesting. With this number of days in Istanbul, travelers can start getting off the beaten path.
We recommend either exploring the Adalar (the Princes' Islands) or Balat, a traditional Jewish quarter with colorful buildings, cobblestone streets and hip coffee shops.
The Princes' Islands is a cluster of 9 islands southeast of the Island. Four of the nine islands are available for tourists to visit, and Buyukada (the biggest of the four) is arguably the best one. Visitors will find gorgeous historical buildings and mansions on the island, as well as nice beaches to swim in.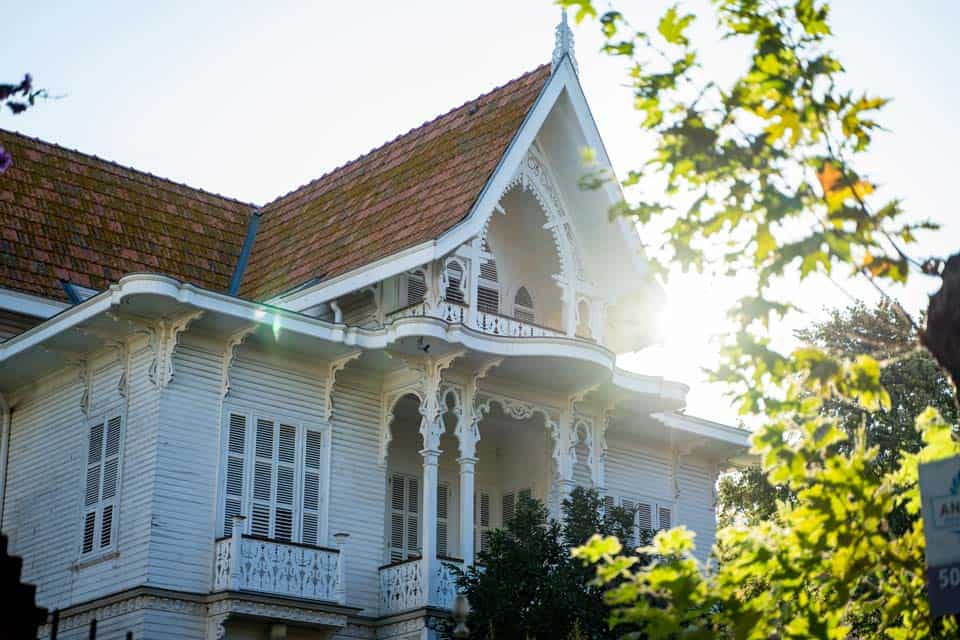 On the other hand, Balat is a cute little neighborhood in Istanbul. Enjoy a day of strolling down cobblestone streets, eating delicious food, chilling at one of the numerous stylish cafes, and exploring some of its colorful buildings.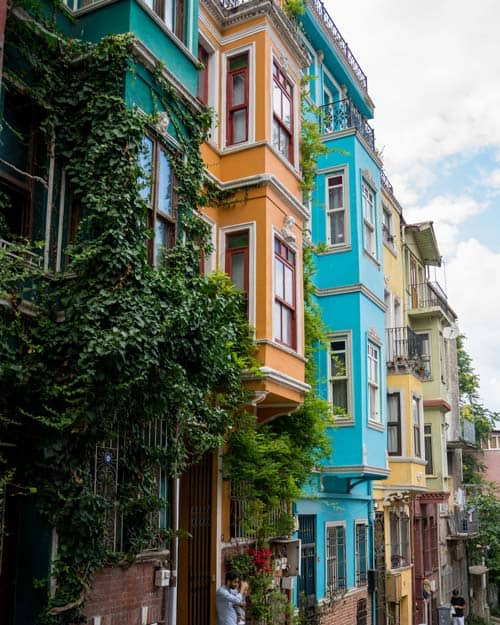 5 Days in Istanbul
5 days in Istanbul might seem like a lot of time, but there are still plenty of places to visit in Istanbul. If you haven't visited both Balat and the Princes' Islands by now, definitely do that.
Otherwise, take a day trip to Besiktas, one of the more upscale neighborhoods in Istanbul. Besiktas is home to the majestic Dolmabahçe Palace, the biggest palace in Turkey. It served at the main administrative building for many years under the Ottoman Empire.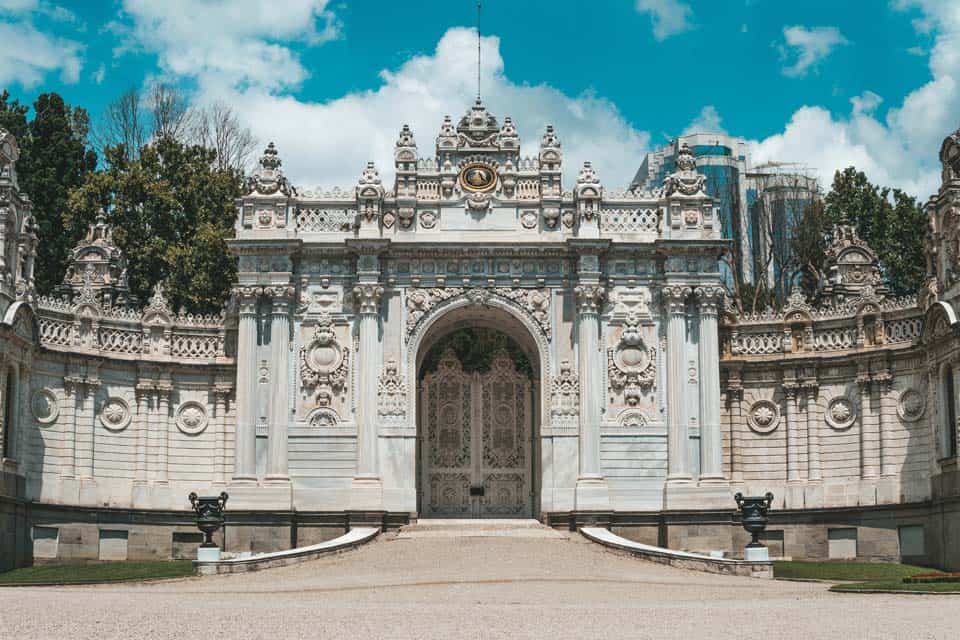 The neighborhood of Besiktas is also home to many beautiful parks, perfect for a day of quiet relaxation after days of walking around Istanbul.
5 days in Istanbul is perfect for travelers that prefer a slower pace of travel.
7 Days in Istanbul (Or More)
7 days or more in Istanbul is plenty of time to explore Istanbul, even for slow travelers. With this amount of time, you can spend it by taking day trips from Istanbul such as Bursa (the birthplace of the famous Iskender Kebap).
Remember to get a Turkish sim card if you plan on taking a long day trip!
You have time to explore the Asian side of Istanbul more thoroughly, as a typical Istanbul itinerary usually has only 1 day on that side.
Take some time to enjoy the delicious and affordable food in Kadikoy, and afterward explore the nearby neighborhood of Moda and its cool graffitis.
Moda is also home to a beautiful waterfront, where you have excellent views of the European side of Istanbul. If you are staying in Istanbul for more than a week, chances are, you are not rushing things and a sit by the water wouldn't cost you anything.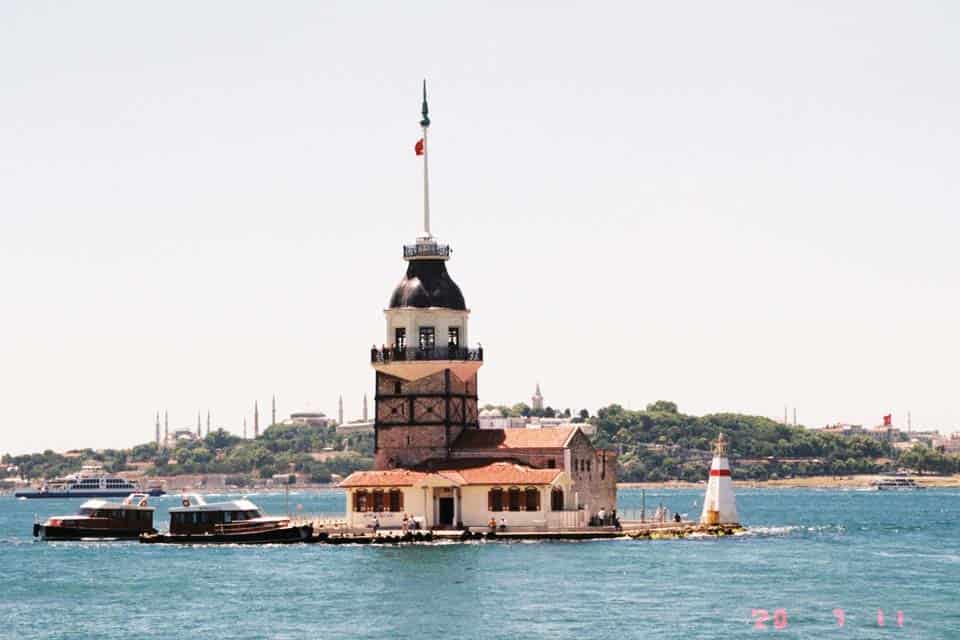 Head over to Uskudar and check out the fish markets. Follow that with a chill day at one of its renowned seaview cafes.
Don't feel like you have wasted your time if you spend 7 or more days in Istanbul, this electrifying city has plenty to offer and you won't ever feel bored. It is no surprise that many travelers and digital nomads that visit end up living in Istanbul!
---
Where To Stay in Istanbul To Maximize Your Time
One of the biggest factors for deciding how many days to visit Istanbul is where you will be staying. Choose the wrong location and you will be far away from the city's main sights, adding to your limited travel time.
That is why it is imperative that you select the right neighborhood to stay in Istanbul, and we are here to help you do that.
If you only have a few days in Istanbul, it is important that you stay in Sultanahmet, the historic center of the city. If you have a few more days, Taksim and the surrounding area (such as Kabatas, Karakoy and Galata) are also fine.

Here are some of the best places to stay in Istanbul.
Want more information on where to stay in Istanbul?
Check out our complete Istanbul accommodation guide here!
Best Hotel In Istanbul – The Magnaura Palace Hotel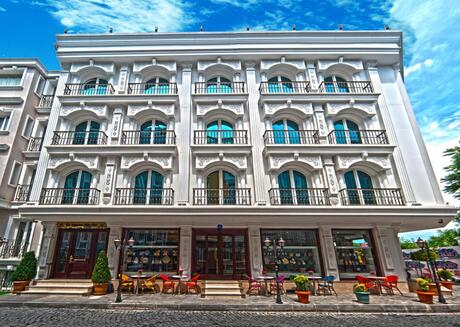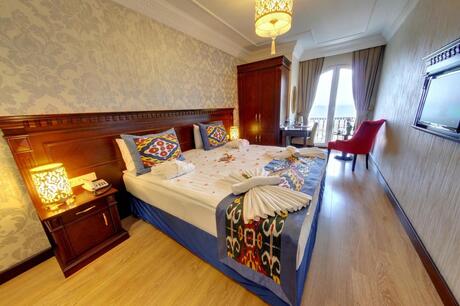 If you are looking for a luxurious stay in the heart of the historic Sultanahmet district, then look no further than the Magnuara Palace Hotel. Located minutes away from the two biggest attractions in Istanbul, the Hagia Sophia and the Blue Mosque, guests can maximize their time in Istanbul.

This Istanbul hotel features spacious and clean rooms, many of which have a balcony with beautiful views of the historic town. Its decor is classic, using traditional Turkish textiles and furniture.
Its terrace also boasts incredible views of the historic mosques in the neighborhood.
Best Vacation Rental In Istanbul – Blue Mosque Suites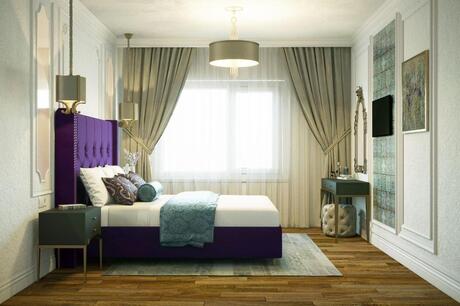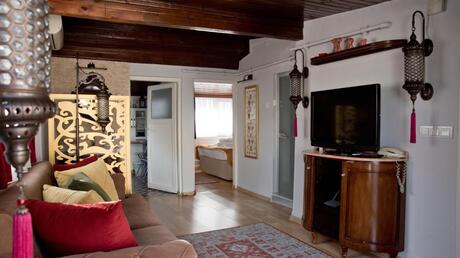 Enjoy the feeling of home away from home with one of the coziest vacation rentals in Istanbul, the Blue Mosque Suites. Each apartment unit features a private bathroom with a hot tub and a fully-equipped kitchen, just in case the Turkish food isn't your thing.

Guests will also find a washing machine to use, as well as a terrace that features sweeping sea views. Complimentary tea and coffee are offered throughout your stay, so make yourself feel at home already!

This vacation rental unit is also walking distance away from the Blue Mosque and Hagia Sophia.
Best Hostel In Istanbul – Hostel Le Banc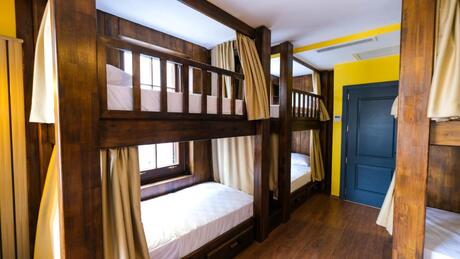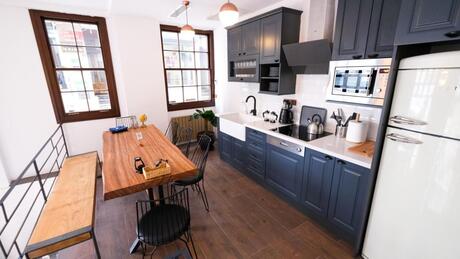 Hostels typically get a bad rep for being noisy, dirty, and uncomfortable, but that isn't the case with Hostel Le Banc. For an affordable price, guests can enjoy comfort, coziness, as well as a social atmosphere that traditional hotels lack.

Each dormitory bed features a comfortable mattress on an ornate wooden frame and a curtain for privacy. A/C is also available in the room. When you are not resting your aching muscles on your bed, head up to the terrace, an excellent location to catch the sunset in Istanbul.

Hostel Le Banc is located in Galata, and guests can have ease of access when visiting the attractions in the area such as the Galata Tower, Istiklal Street, and Taksim Square.
---
How To Get Around Istanbul, Turkey
If this is your first time in Istanbul, you must have questions about how to get around Istanbul. Luckily for you, Istanbul is well connected by many modes of public transportation such as the tram, metro, ferry, buses and more.
Before you hop on a bus or the metro, you must first purchase the Istanbulkart. The Istanbulkart is a contactless smart card for paying the fare on any public transportation in Istanbul. It can even pay for public restrooms in some places!
The Istanbulkart is sold at nearly all public transportation stops. You can purchase it through one of the yellow/blue machines located at the stops. The machines also allow you to top up the balance of your card.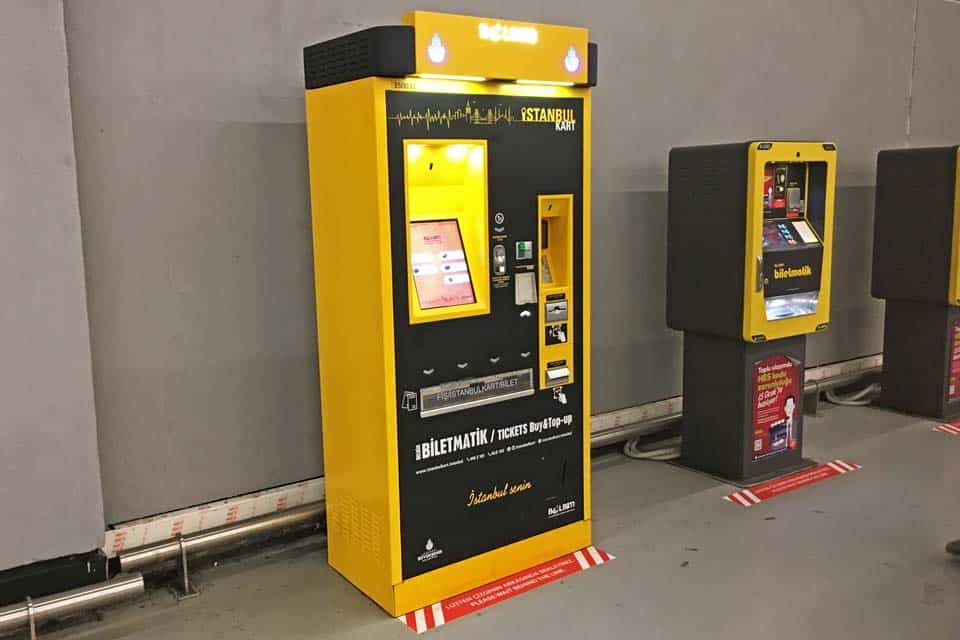 If you prefer comfort over affordability, then you will want to take taxis to get around Istanbul. Taxis are fairly affordable in Istanbul and they all use the meter. However, it is not uncommon for taxi drivers to take advantage of tourists by taking a detour or going a longer way just to rack up the fare.
Uber is "available" in Istanbul, but it just hails normal taxis and you end up paying more than usual. A Turkish Uber alternative is BiTaksi, a taxi-hailing app that gives you the best price and allows you to pay by card in Istanbul. Download the app if you plan on taking taxis a lot in Istanbul.
Lastly, the best way to get around Istanbul is just by walking. Though you might use public transportation or taking the occasional taxi, the bulk of your sightseeing is going to be done on foot.
Istanbul is known as the City on the Seven Hills (same as Rome, which is what it was modeled after). Make sure you bring some comfortable shoes to Istanbul because you will be doing lots of walking!
---
Tips For Visiting Istanbul
Dress Conservatively
Istanbul, like the rest of Turkey, is still a very Muslim country. Though we all want to look amazing for our vacation, it is important that you don't offend local customs. Especially for women, it is important that you don't show off too much skin.
When visiting religious sites such as mosques, women must cover their knees, shoulders, and hair. Pants, full-length skirts or dresses, and long sleeve shirts are ideal.
For men, your knees must be covered when entering a mosque, so make sure you pack some long pants as well!
Don't Forget to Haggle When Buying Something (Especially at the Bazaars)
You can literally shop 'til you drop in Istanbul with its infinite number of shops, bazaars, and souvenir stores. It is easy to be bedazzled by intricate handmade Anatolian rugs, glowing lanterns, and incredible ceramics.
However, it is important that you don't forget to haggle when shopping at these "touristy" shops.
It is not uncommon for vendors to charge 2 to 3 times what the item is worth, and haggling is the only way you can get a "fairer" price.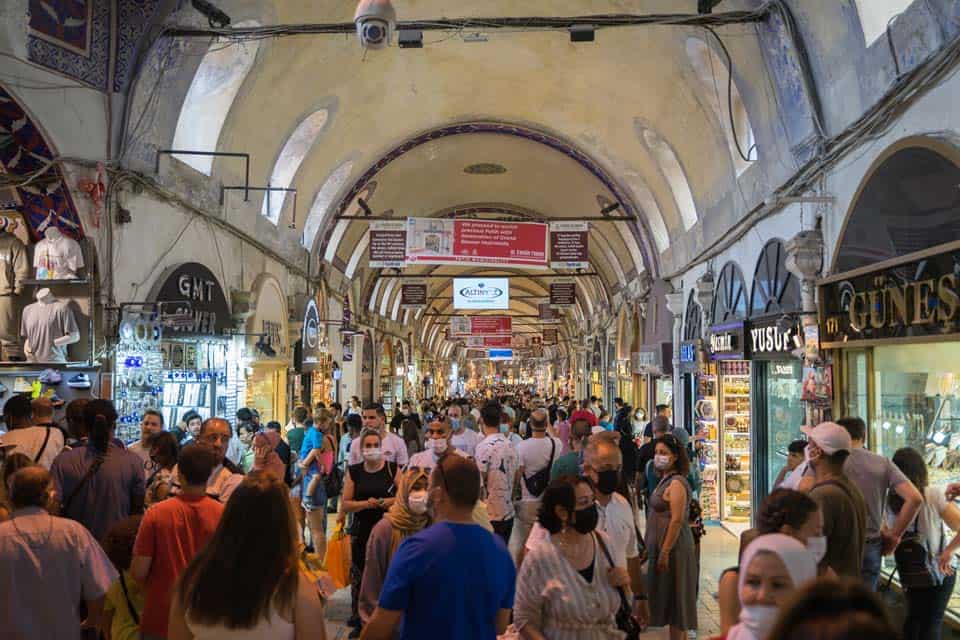 Purchase the Museum Pass!
The museum pass is a one-time payment card that offers tourists free access to several attractions in Istanbul, with the most notable ones being the Topkapi Palace (including the Harem) and the Galata Tower.
At the time of writing, the museum pass costs 360 TL and is valid for 5 days after you first use it (not when you purchase it). The entrance to the Topkapi Palace Museum is 200 TL and the additional Harem inside is 100 TL.
Just by visiting those two museums, you will have spent 300 TL. Additionally, the entrance fee for the Galata Tower is 100 TL, so you would save 40 TL by visiting those three places.
Find out the full list of places that the Istanbul museum pass covers.
The museum pass is usually worth it unless you only have 1 day in Istanbul.
---
How Many Days to Spend in Istanbul and Cappadocia?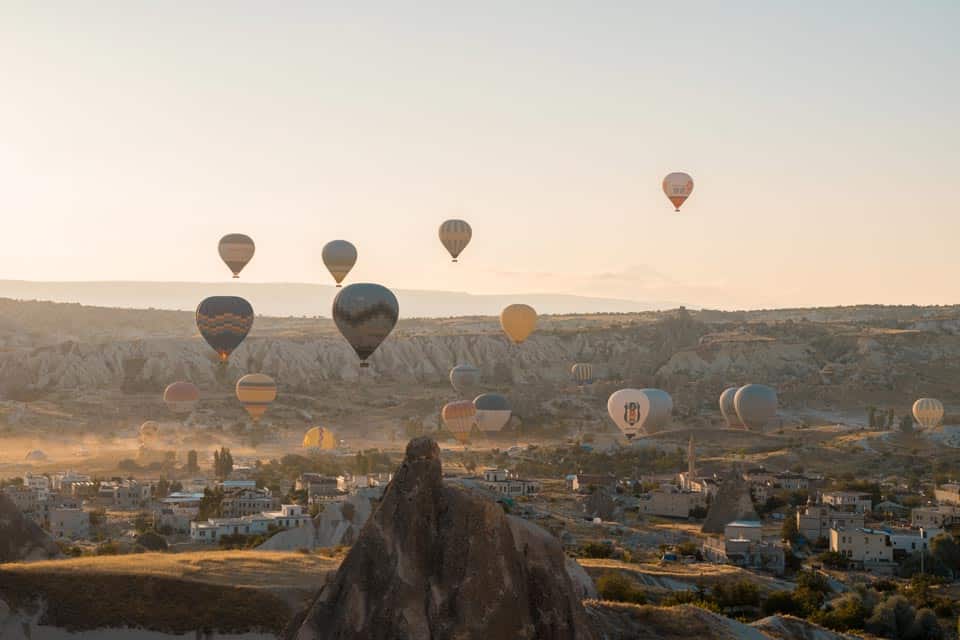 Anyone planning a Turkey trip will undoubtedly include the two best places to visit – Istanbul and Cappadocia.
Generally, we recommend spending 3 days in Istanbul, but deciding on how many days to stay in Cappadocia is a little trickier.
Because the hot air balloon rides (one of the best things to do in Cappadocia) depends on the weather, they don't take off regularly. We recommend spending 4 days in Cappadocia to ensure that you can get one of the magical hot air balloon rides on your trip!
---
Is Istanbul Expensive?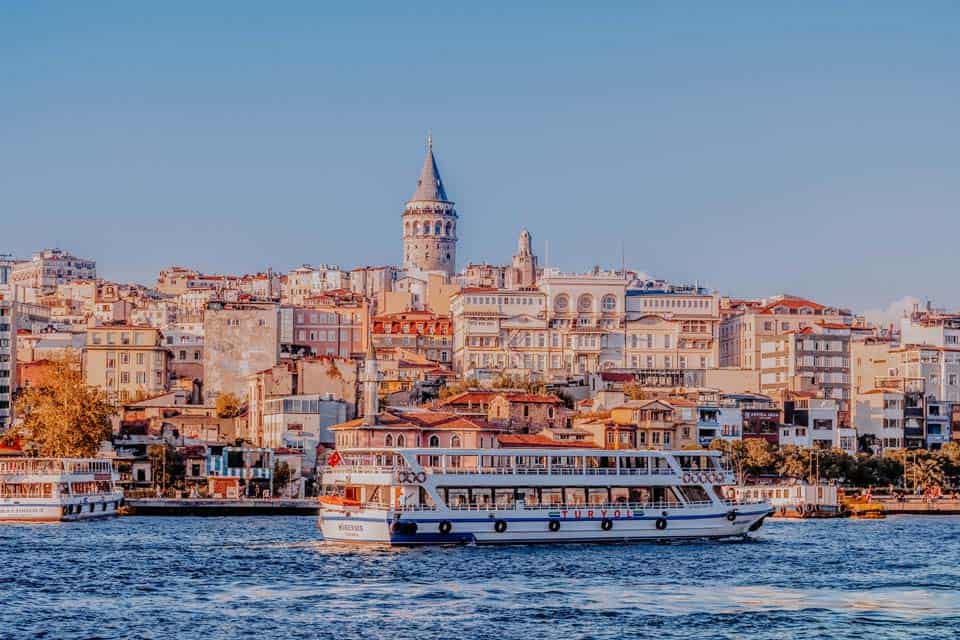 Istanbul, like the rest of Turkey, is very affordable to travel in (at the time of writing). 1 USD is equivalent to over 8 Turkish Liras, something that is unprecedented before.
Budget travelers can spend less than 25 USD a night and enjoy Istanbul comfortably. Travelers looking for more extravagance can spend around 200 USD and party in luxury.
---
When is the Best Time to Visit Istanbul?
Generally, spring and autumn are the best times to visit Istanbul. The city is a lot less crowded (and hectic/noisy) and accommodations tend to be cheaper. The temperature is also ideal for exploring the city on foot, even during the midday.
However, spring and autumn do see more precipitation than the summer, but that is a small price to pay considering how hot, crowded, and busy the summer months are.
---
Like this post? Don't forget to save it on Pinterest!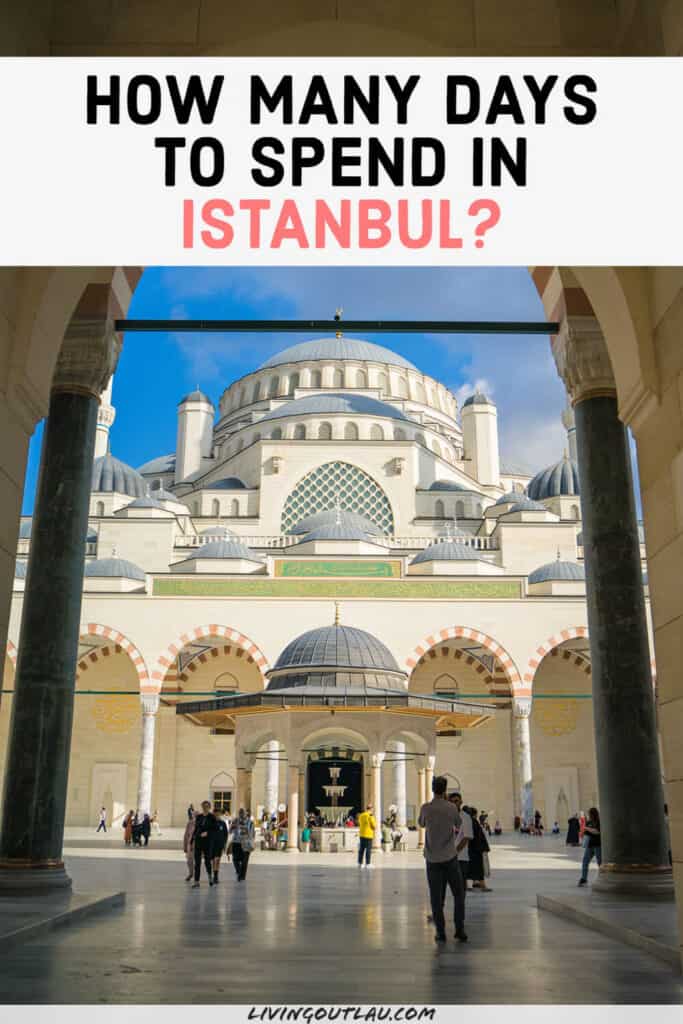 ---
This concludes our guide on how many days to spend in Istanbul. Hopefully, now you have a better idea of what to expect on your Istanbul trip.

Any questions? Leave them in the comments!
Disclaimer: Some of the links above are affiliate links. That means if you book or make a purchase through the links, we will earn a small commission at no extra cost to you! The money will help run this site! Thank you!