Not sure what to do in Istanbul in 4 days? Worry not.
As the most influential city during the Byzantine and Ottoman Empire, Istanbul is a city filled with remarkable historical attractions, inspiring architecture, and stunning mosques.
A city of this significance is bound to have many things to do, and it might actually feel overwhelming planning an Istanbul trip alone.
That is why we have created this suggested 4-day Istanbul itinerary, which features only the must-see places in Istanbul.
Enjoy!
---
How Many Days To Spend In Istanbul, Turkey
Before we jump into the action of our Istanbul itinerary, let's take a step back and consider whether 4 days in Istanbul is enough time or not. You don't want to plan a trip to Istanbul and then realize you don't have enough time to cover its best attractions.
Good news for you. Generally, four days is considered the optimal time to spend in Istanbul, aka "City on Seven Hills." Though how many days to spend in Istanbul might vary from traveler to traveler, it is recommended that you spend no less than 3 days there.
4 days will allow you to explore the historic neighborhoods of Istanbul (such as Sultanahmet and Taksim), indulge in delicious Turkish cuisine, discover Istanbul on water, visit some of Turkey's most spectacular mosques, and more!
Looking to elevate your Istanbul trips with tour guides and unique experiences? Check out our recommended guided activities below:
---
What To Do In Istanbul In 4 Days
When we created this itinerary for Istanbul, we were looking for ways to maximize the amount of time you have there. Finally, we decided that it is best to visit Istanbul neighborhood by neighborhood, so you can minimize the time you spend commuting.
It is also extremely important that you pick the right area to stay in Istanbul, otherwise, you might spend hours just going from one place to another. Remember, Istanbul is huge!
Just getting from the Istanbul Airport to the city center already takes around 2 hours!
Day 1 In Istanbul: Sultanahmet
Here is a quick outline of the key places we are visiting on day 1 of our Istanbul itinerary:
The Blue Mosque
Sultanahmet Square (The Hippodrome)
Hagia Sophia
Topkapi Palace
Basilica Cistern & more!
No matter if you have 1 day, 10 hours, 1 hour, or even 30 minutes in Istanbul, the neighborhood you must visit is Sultanahmet.
Sultanahmet is the historic center of old Istanbul, home to many of the best landmarks in Istanbul such as mosques and museums. The first attraction on our Istanbul itinerary is The Blue Mosque.
The Blue Mosque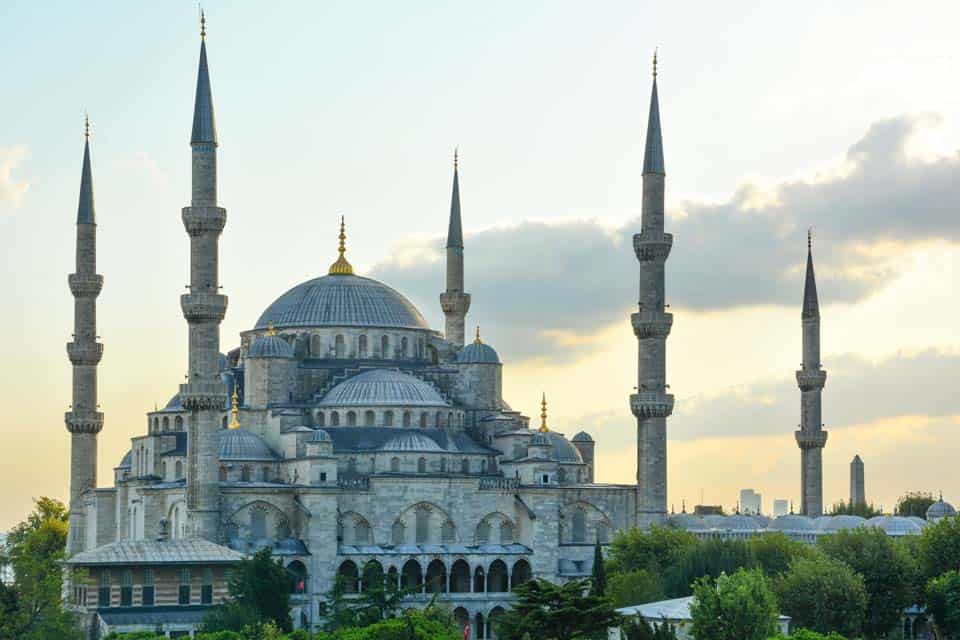 Chances are, if you have seen a postcard from Istanbul, you have already seen the Blue Mosque. Also known as Sultan Ahmed Mosque, the Blue Mosque is one of the historical Istanbul landmarks that make up the UNESCO Heritage Site of Istanbul.
Built between 1609 to 1619 during the Ottoman empire, the Blue Mosque is a current-day functioning mosque that attracts numerous visitors and worshippers. You must be wondering, why is the Blue Mosque called the Blue Mosque? Its exterior isn't blue at all.
This Istanbul attraction earned its name from the 20,000 blue handmade Iznik tiles that are used to decorate the interior of the Mosque. There are also plenty of gorgeous stained glass windows that make this Istanbul mosque so majestic.
The Blue Mosque is completely free to enter (just like all mosques in Turkey), but visitors must dress appropriately. We will talk more about the dress code for mosques down below. You also cannot visit during prayer times, which we will also discuss more below.

Estimated Time of Visit: 1 Hour
Sultanahmet Square (The Hippodrome of Constantinople)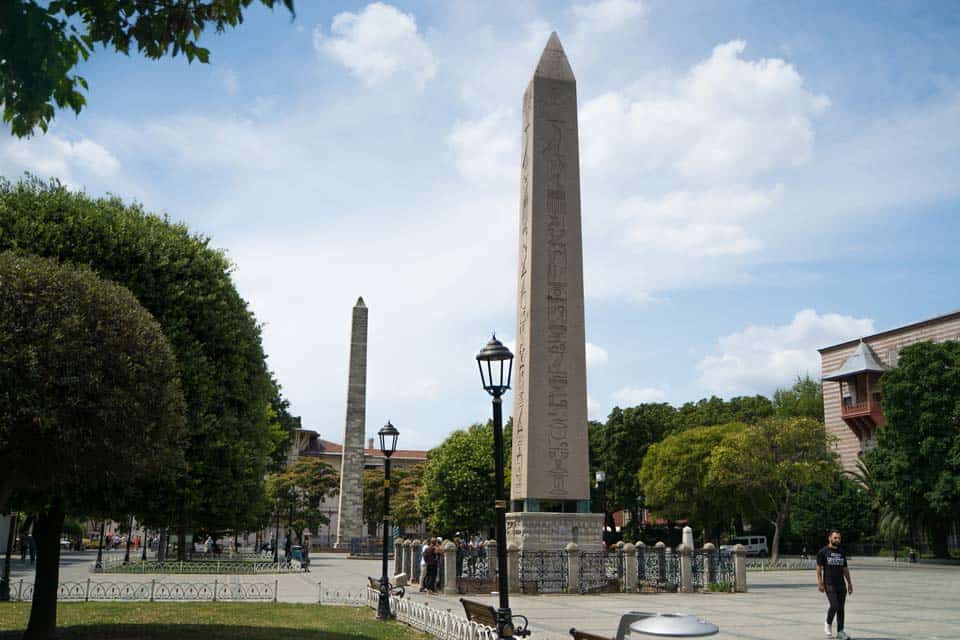 Before the Ottoman Empire conquered Istanbul (then called Constantinople) from Constantin the Great and the Byzantine Empire, Sultanahmet Square was called The Hippodrome of Constantinople. It was the center for social, sports and other entertainment.
After the fall of Constantinople, the Hippodrome was eventually replaced by the present-day Sultanahmet Square, which is situated directly on top of the pre-existing Hippodrome.
The Sultanahmet Square is not only beautiful but also features many of Constantin's prized treasures such as the Obelisk of Theodosius, Serpent Column, and Walled Obelisk.

Estimated Time of Visit: 30 to 45 minutes
Hagia Sophia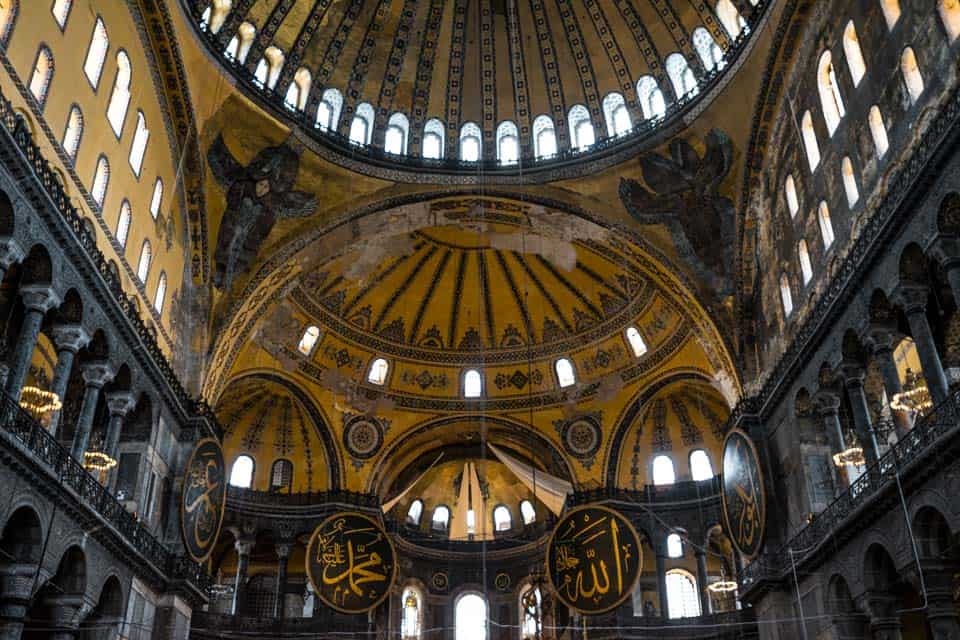 After visiting the Hippodrome, it is time for the most iconic building in Istanbul – the Hagia Sophia. Built in 537, the Hagia Sophia is one of the oldest buildings (if not the oldest) in Istanbul.
Constructed when Istanbul was still Constantinople during the times of the Byzantine, the Hagia Sophia was originally an Orthodox Catholic Cathedral.
When the Ottoman Empire (under the leadership of Mehmet the Conqueror) conquered Constantinople in 1453, the Hagia Sophia was converted to a mosque. However, in 1934, the government of Turkey decided to convert it into a museum. Luckily, in 2020, it re-opened as a mosque again.
Hagia Sophia is completely free to visit and no sane traveler should miss it on their Istanbul trip. Everything from the architecture to the interior design to the small details is purely marvelous. It is such an unworldly feeling when you stand inside the Hagia Sophia.

Estimated Duration of Visit: 1 hour to 1.5 hours
Topkapi Palace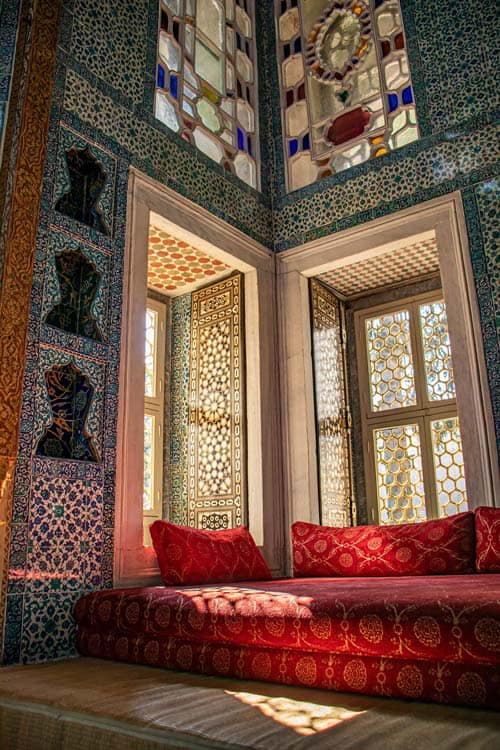 Built in 1459, six years after the conquest of Constantinople, the Topkapi Palace served as the main residence and administrative headquarters of the Ottoman Sultans in the 15th and 16th centuries.
The Topkapi Palace slowly lost its appeal as sultans preferred to spend time in more luxurious places by the Bosphorus. Nowadays, it is one of the most comprehensive museums in Istanbul.
With numerous courtyards, gardens, exhibits, and rooms, visitors can spend hours in the Topkapi Palace. One attraction inside the Topkapi Palace that you shouldn't miss is the Harem, a place where the female members of the Sultan lived. Its intricate tiling is one of the best photography spots in Istanbul.
Entrance to Topkapi Palace is somewhat costly. Including the Harem, which has its own separate entrance fee, expect to pay 285 TL (at the time of writing). The ticket comes with an audio guide but we HIGHLY recommend you to have a private guide.
The guides at Topkapi Palace will give you all the history you need to know about Istanbul.

Estimated Duration of Stay: 2 to 3 hours
Basilica Cistern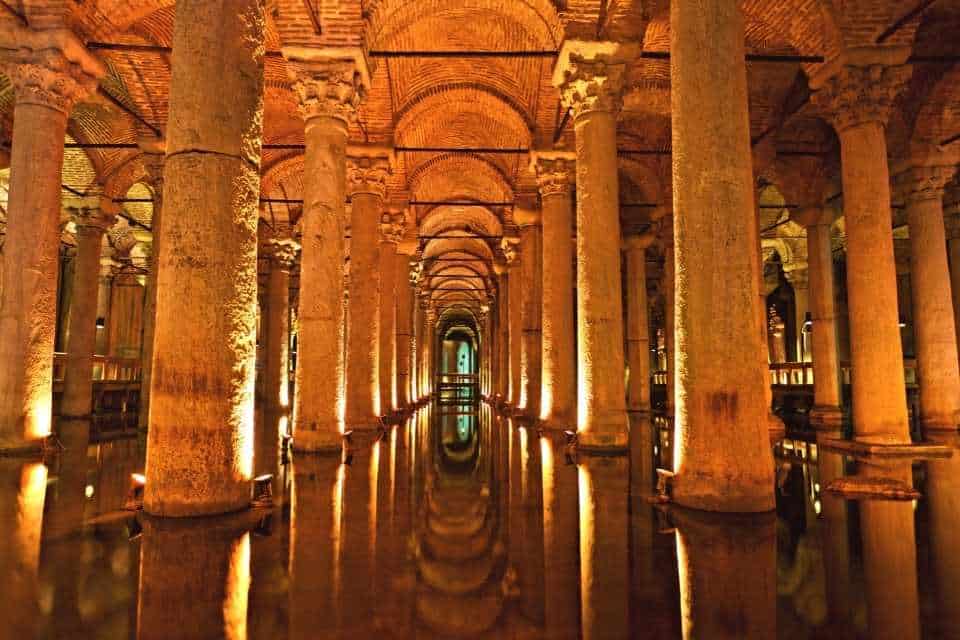 The Basilica Cistern is one of the most remarkable manmade structures in Istanbul. Built during the rule of the Byzantine Empire, cisterns were used to store rainfall runoff water and aqueduct water originating from springs and streams.
In the case of the Basilica Cistern, it provided a filtration system for the residents of Constantinople and the Ottoman Empire. In fact, it is estimated that there are around 80 cisterns in Istanbul, but visitors only need to see the best and biggest – the Basilica Cistern.
With an area of 9,800 square meters, the Basilica Cistern has a storage capacity of approximately 100,000 tons of water. It is an absolutely breathtaking piece of work, especially considering its underground location, size, usage, and time when it was built!

Estimated Duration of Stay: 1.5 hours
Bosphorus Sunset Cruise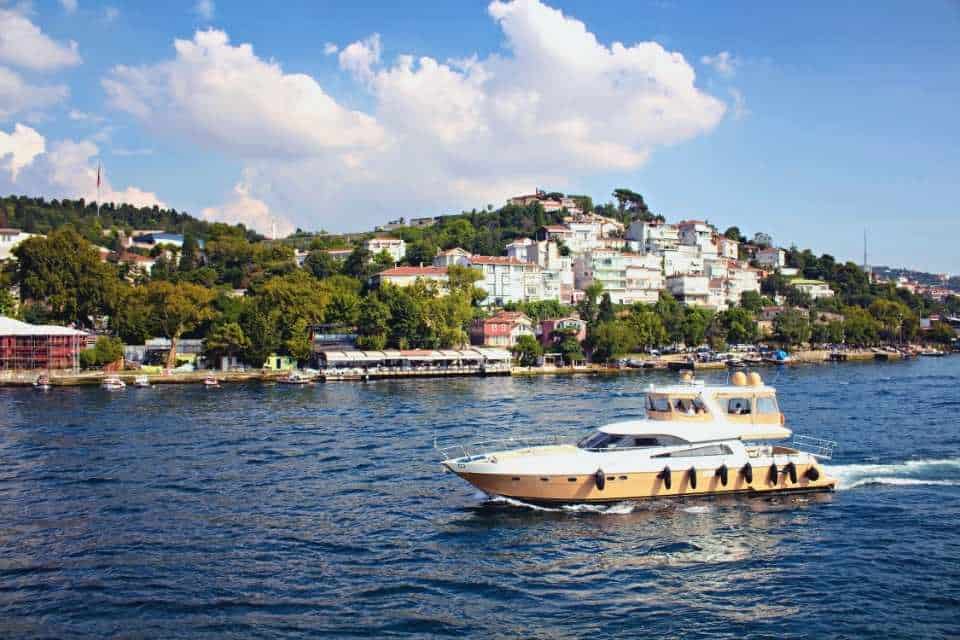 As you might know already, the beautiful Turkish city of Istanbul spans two continents – Europe and Asia. The separator between the two continents is a body of water known as the Bosphorus Strait.
Consequently, the best way to see some of the most incredible views of Istanbul is from this strait. Luckily for you, regular Bosphorus cruises take travelers to admire Istanbul's beauty.
The one we highly recommend is the luxury Bosphorus Sunset Cruise. Though it might be a bit more expensive than a regular Bosphorus cruise, the glass-encased boat offers unparallel views as it passes by some of the remarkable sights in Istanbul such as the Dolmabahce Palace, Ortakoy Mosque, and Rumeli Fortress.

After 2.5 hours, travelers will leave completely bedazzled by Istanbul's enchanting features. A complimentary drink and small Turkish dishes are also offered onboard.
Where To Eat In Sultanahmet
Day 1 of our 4 day Istanbul itinerary is focused on Sultanahmet, so visitors must try one of the restaurants in that neighborhood. Luckily, Sultanahmet is home to many restaurants that feature traditional Turkish dishes such as Turkish Tea and Turkish Coffee.
But unluckily, as the historic center of town, the restaurants in Sultanahmet are very expensive relative to the rest of Istanbul.
There is one thing you must try in Sultanahmet and that is Turkish ice cream (dondurma) from the street vendors! Turkish ice cream is very different than typical ice cream and the vendors in Sultanahmet offer something special ;).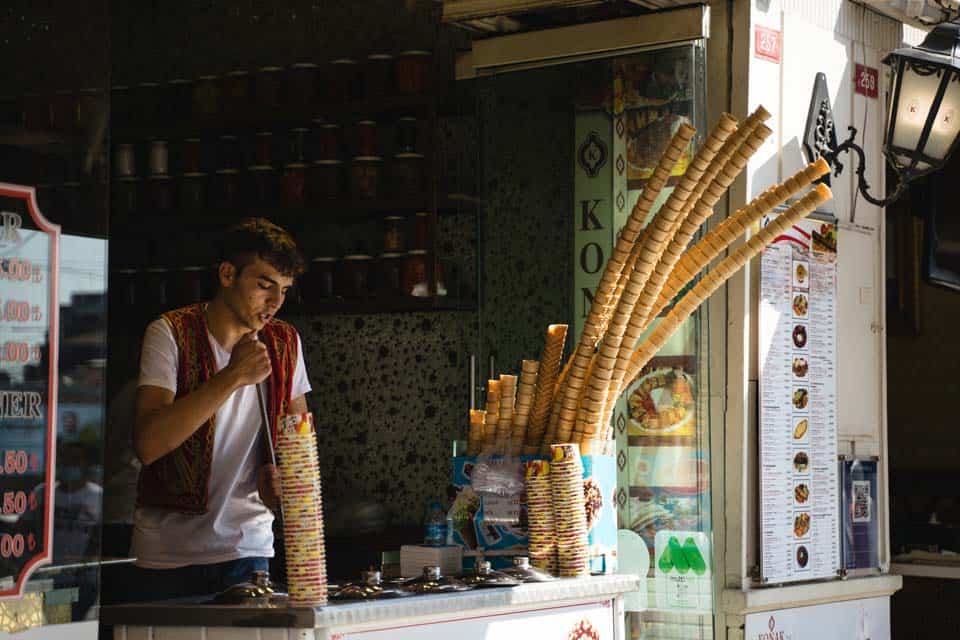 Here are some restaurants we recommend in Sultanahmet:
Divella Bistro Restaurant – Incredible restaurant serving a wide array of top-notch food including seafood, kebabs, steaks, and of course, baklava! The price is above average but worth it! The menu is in English so you won't need to know any kind of basic Turkish words or phrases!
Ortaklar Kebap Restaurant – An excellent restaurant serving traditional Turkish cuisine at affordable prices. You must try it at least once when in Istanbul!
Day 2 In Istanbul: Eminonu & Modern Center of Istanbul
Here is the outline of the main sightseeing locations in Istanbul on day 2 of our itinerary:
Suleymaniye Mosque
Grand Bazaar
Spice Bazaar
Galata Tower
Istiklal Street
Taksim Square
Overview: The second day of our Istanbul 4 days itinerary focuses on Eminonu, a neighborhood in the Faith district next to Sultanahmet. There we will explore the bustling seaside neighborhood, check out Suleymaniye Mosque, Grand Bazaar, and the Spice Bazaar.
Enjoy some cheap and local food in Eminonu before heading over the Galata Bridge into Kabatas. Head up to the Galata Tower, then explore Istanbul's most famous Istiklal street, before visiting the iconic Taksim Square.
There is going to be a lot of walking (some uphill) on the second day, make sure you bring comfortable walking shoes!
Suleymaniye Mosque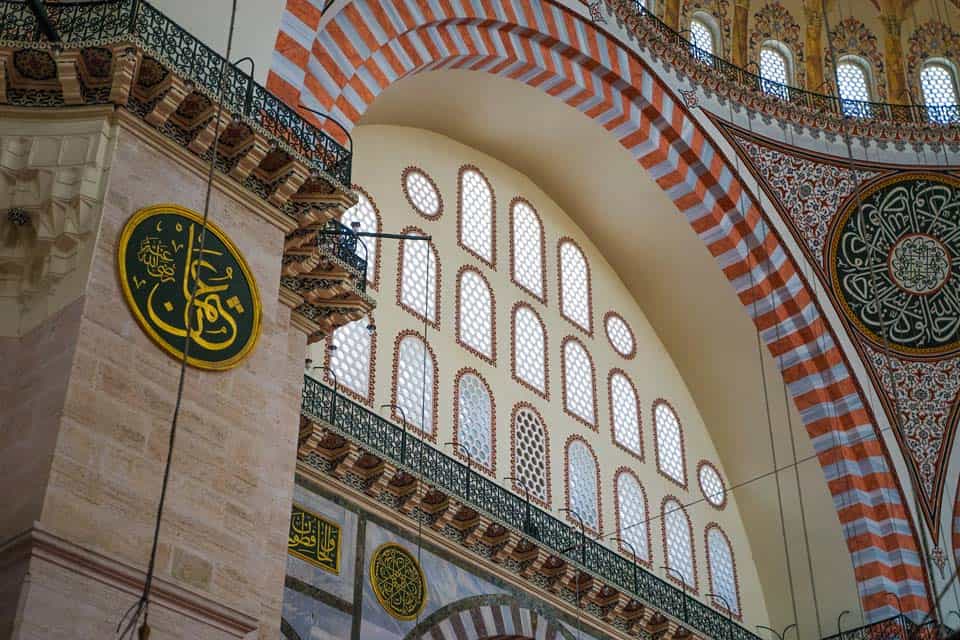 The first stop on the second day of our Istanbul 4-day itinerary is Suleymaniye Mosque, a mosque dedicated to Suleiman the Magnificient, the longest-reigning sultan of the Ottoman Empire.
As one of the most influential sultans in the history of the Ottoman Empire, the mosque dedicated to him is quite spectacular. For 462 years, Suleymaniye Mosque was the biggest mosque in Istanbul, until it was surpassed by the Camlica Mosque in 2019.
Like most mosques in Istanbul, the Suleymaniye Mosque features a forecourt and a Mausoleum. Perched on the Third Hill of Istanbul, it also offers spectacular views of the Golden Horn and the surrounding areas.

Estimated Duration of Stay: 1 hour
Grand Bazaar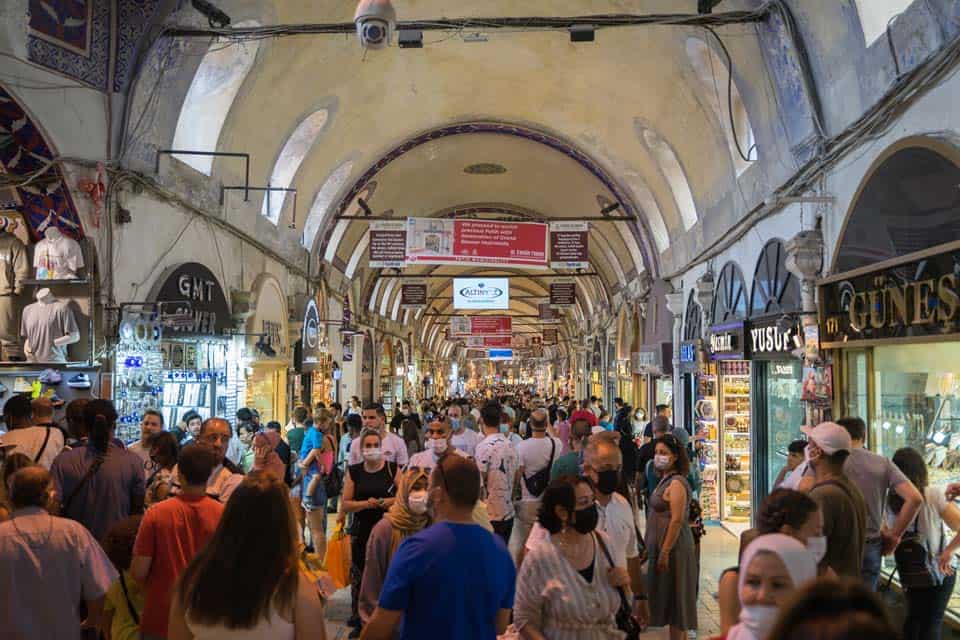 No Istanbul trip is complete without visiting the Grand Bazaar in Istanbul, one of the largest and oldest covered markets in the world. Built in 1461, it is often referred to as one of the first shopping malls in the world.
With a total area of 30,000 square meters, there are 61 streets and over 4,00 shops inside. It is an understatement to call the Grand Bazaar a maze – it's a labyrinth. The Grand Bazaar receives a huge number of visitors daily. In fact, in 2014, it was the most visited tourist attraction in the world.
Once you step into the Grand Bazaar, all sense of time is lost. You could spend hours there browsing the beautiful Turkish rugs, getting mesmerized by the colorful Turkish lamps, or even just having a cup of Turkish tea at one of the small cafes.
Needless to say, the Grand Bazaar is one of the best places in Istanbul to get a Turkish souvenir. It is an absolute paradise for shopaholics!
But when it comes to shopping at tourist attractions, there is certainly a mark-up on the prices. Do not purchase anything there without negotiating first. You could easily pay 2 or 3 times the regular price if you don't!

Estimated Time of Stay: 1 hour to 2 hours (more if you want to do serious shopping)
Spice Bazaar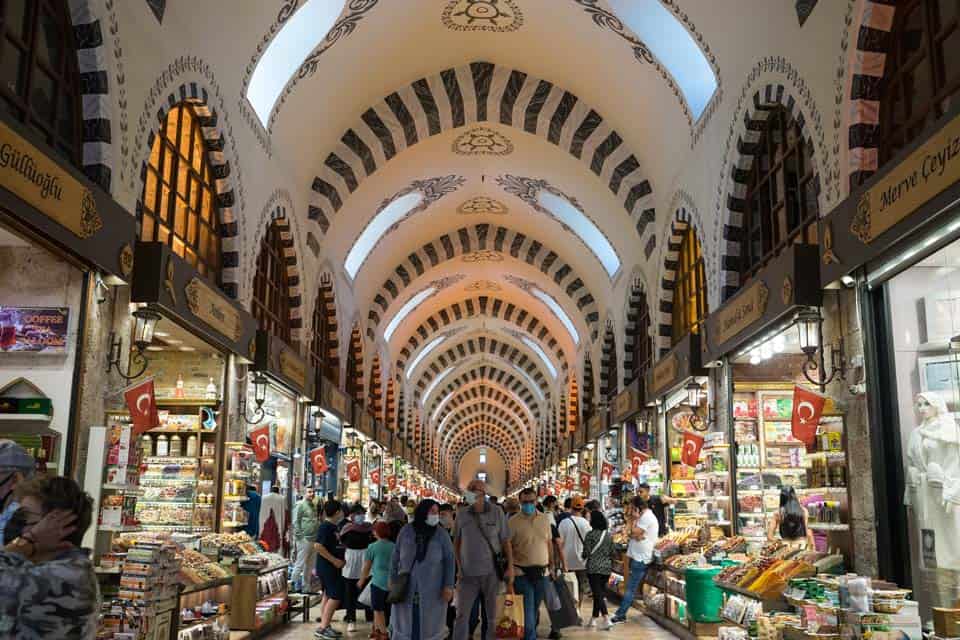 Located a short walk from the Grand Bazaar is another one of Istanbul's best bazaars – the Spice Bazaar. Often overshadowed by its giant neighbor, the Spice Bazaar doesn't receive as many visitors as the Grand Bazaar, but it really should.
The Spice Bazaar is in the shape of an L, making it much smaller and easier to navigate. Built in the 17th century, the Spice Bazaar is much newer than the Grand Bazaar, and it is actually rather modern looking.
The main difference between the Spice Bazaar and the Grand Bazaar is the smell when you first walk in. Numerous teas, spices, and foods are for sale in the Spice Bazaar, and they fill the air with a delightful aroma.

Estimated Duration of Stay: 45 minutes
Galata Bridge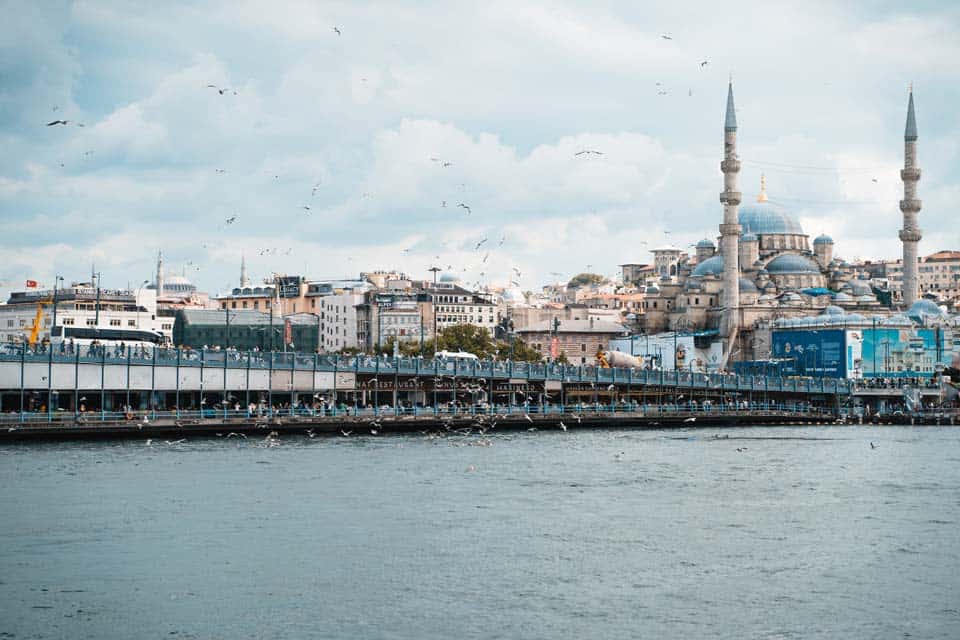 Exit the Spice Bazaar and cross over the Galata Bridge. The Galata Bridge spans across the Golden Horn and connects the old historic center with the new center. From Galata Bridge, you can have a clear look at the Fatih municipality of Istanbul and all of its historical landmarks.
Take some time to observe the numerous fishermen on top of the bridge, catching fresh seafood that will later turn into delicious meals. The Galata Bridge and the surrounding areas are a hub of activity. Take it all in as you stroll across the bridge!

Estimated Duration of Activity: 30 Minutes
Galata Tower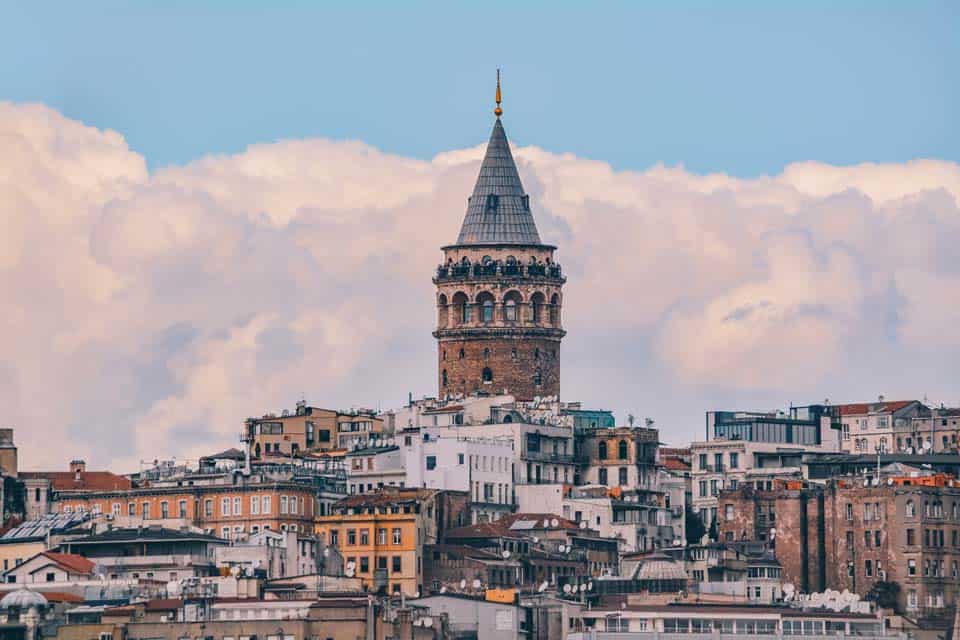 The Galata Tower is arguably the most significant place to visit in the Beyoğlu District. Rising 63 meters above the ground, it contrasts starkly with the neighboring buildings.
As one of the highest buildings in that area, the Galata Tower offers unparalleled panoramic views from its outdoor circular observatory deck. From there, visitors can see all of Sultanahmet, the Galata Bridge, Golden Horn, Bosphorus Strait and much more.
Built in 1348 under the Byzantine Empire, the Galata Tower was the tallest building at the time. It was part of Constantinople's fortification, but under the Ottoman Empire, it was a fire-watching tower.
There is a museum that showcases the entire history of the tower, and don't you dare miss it when visiting! At the time of writing, the entrance fee for the Galata Tower is 100 TL.
If you want a tour guide for the Galata Tower and the surrounding neighborhood, we recommend this guided tour!
Estimated Duration of Stay: 30 to 45 Minutes
Istiklal Street (Independence Street)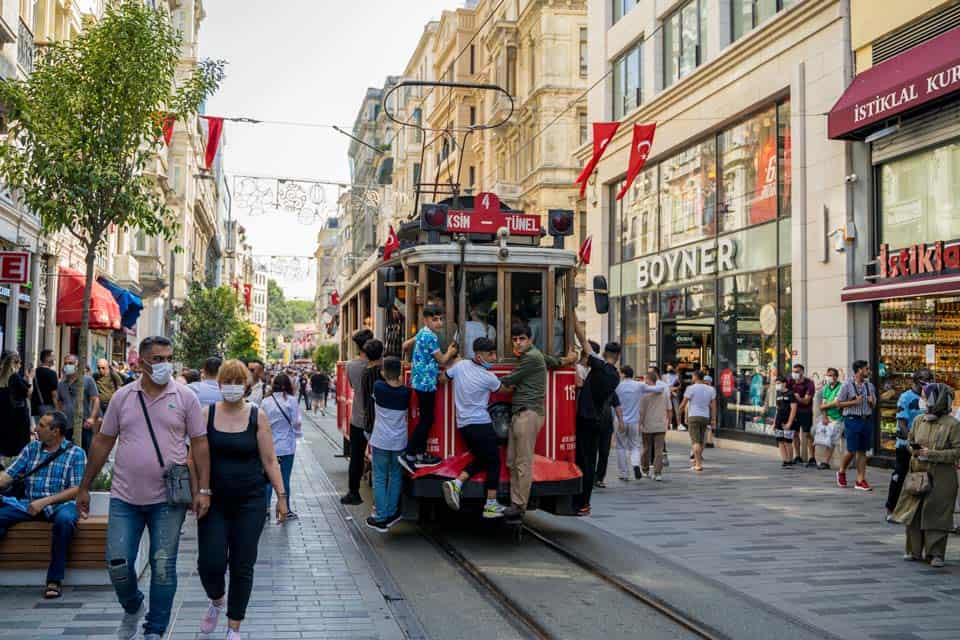 The Galata Tower is located in one of the most authentic neighborhoods in Istanbul. Spend some time wandering down its narrow streets that are filled with trendy cafes, chich bars, and historical buildings.
One of the most iconic streets in that area is pedestrian-only Istiklal Street, a 1.4-kilometer (0.87-mile) long street that's the heart of activity in Istanbul at all times of the day.
In the daytime, you will find tourists and locals enjoying its shops, restaurants, bookstores, boutiques and more. At night, Istiklal street is bustling with life as many of the local bars and nightclubs are situated near the area.
Though a "pedestrian-only" street, the historic Istiklal tram covers about half the span and connects to Taksim Square, our next destination. The fare costs 1.75 TL (at the time of writing) but if you are short on time, you are better off walking because the tram has to make many stops due to pedestrian traffic.
The tram is the second-oldest subway line after London's Underground!
Taksim Square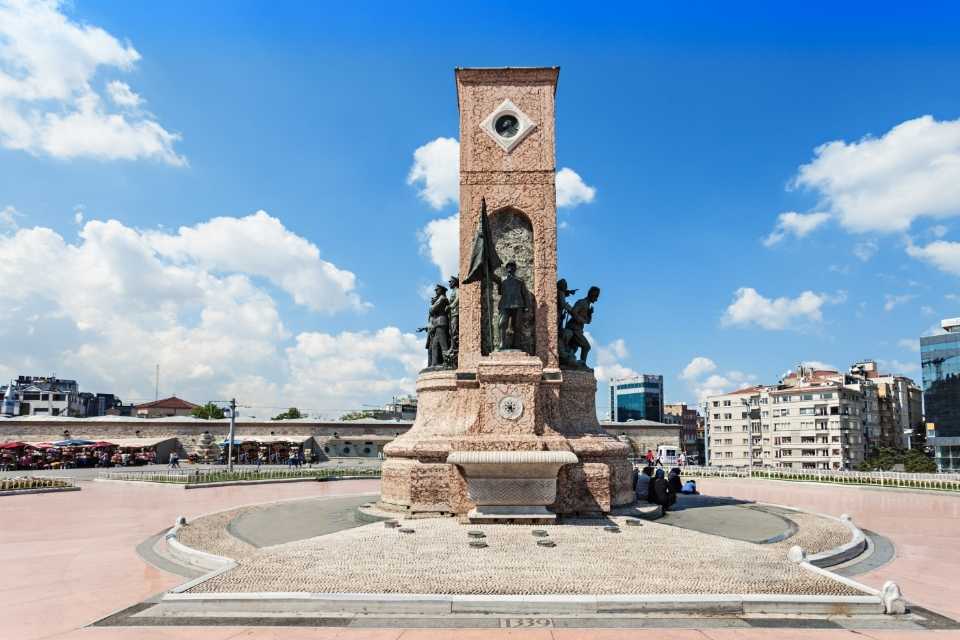 Home the central Metro Station of Istanbul, Taksim Square is often referred to as the heart of modern Istanbul. Surrounding the area are many internationally-branded hotels and eateries such as Mariott, Hilton, McDonald's, Burger King, and more!
However, this isn't an excuse for you to try some international fast food, especially since Taksim Square has some of the best and cheapest foods in Istanbul.
On the perimeter of the square, you will find several doner kebab shops for dirt cheap. The caveat? You will need to wait in line as they are very popular. Visitors mustn't miss the Taksim Square Mosque, a triple-story mosque that can hold 3,00 worshippers at the same time.
The center of Taksim Square is the iconic Republic Monument, which is crafted by Italian sculptor Pietro Canonica.

Estimated Duration of Stay: 30 to 45 Minutes
Where to Eat On Day 2 of Our Itinerary
For lunch, it is recommended that you try something local near Eminonu. Here are the restaurants we recommend there:
Bizim Mutfak – A canteen-style restaurant featuring affordable Turkish food, perfect for travelers who want to sample the rich flavors of Turkey.
Beyaz İnci Restaurant Galata Köprüsü – It is one of the many seafood restaurants under the Galata Bridge. Though the price is a bit higher compared to restaurants not on the bridge, it does offer excellent seafood and incredible views.
For dinner, we recommend something in Beyoglu (across the Golden Horn). As we mentioned, the area is filled with amazing eateries of various shapes and sizes. Here are some that we recommend:
Tomtom Kebap – A small charming cafe focused on kebabs and wraps, Tomtom Kebap will show you Turkish flavors you have never tasted before (and at an affordable price).
Antiochia – For something fancier, Antiochia is an excellent choice. Its exquisite interior decor combined with heart-warming service and mouth-watering dishes are worth every penny (or Lira)!
Day 3 In Istanbul: Asian Side of Istanbul
Places to visit in Istanbul on day 3 of our itinerary:
Commuter Ferry
Kadikoy
Camlica Park
Camlica Mosque
Uskudar
Overview: The third day of our 4 days in Istanbul itinerary focused on the Asian side of Istanbul. This side is said to have some of the best foods in Istanbul, and because it is not touristy, the prices are much lower.
We will spend the morning wandering around the quaint streets of Kadikoy, enjoying breakfast or brunch at some of its amazing restaurants. After filling your belly, we will head over to Camlica Park for stunning panoramic views of Istanbul from another angle.
Follow the path in Camlica Park to Camlica Mosque, the biggest (and most beautiful in our opinion) mosque in Turkey. Finish off the day watching the sunset at Uskudar!
Commuter Ferry to Kadikoy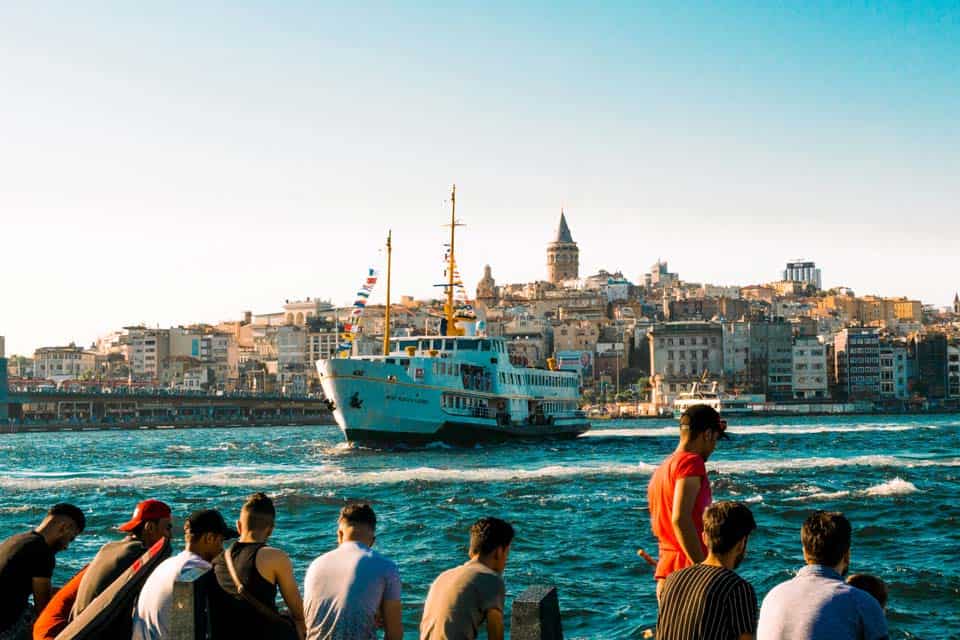 If you are staying in the European side of Istanbul, you will need to utilize Istanbul's public transportation to get to Kadikoy. There are two ways to get there – the Marmaray Metro line or the ferry.
Though the Marmaray is usually faster, the views from the ferry are worth the extra commute time. It is also cheaper to take the ferry! You can take the ferry from the ferry terminal at Eminonu or Karakoy, whichever one is closer to you.
Kadikoy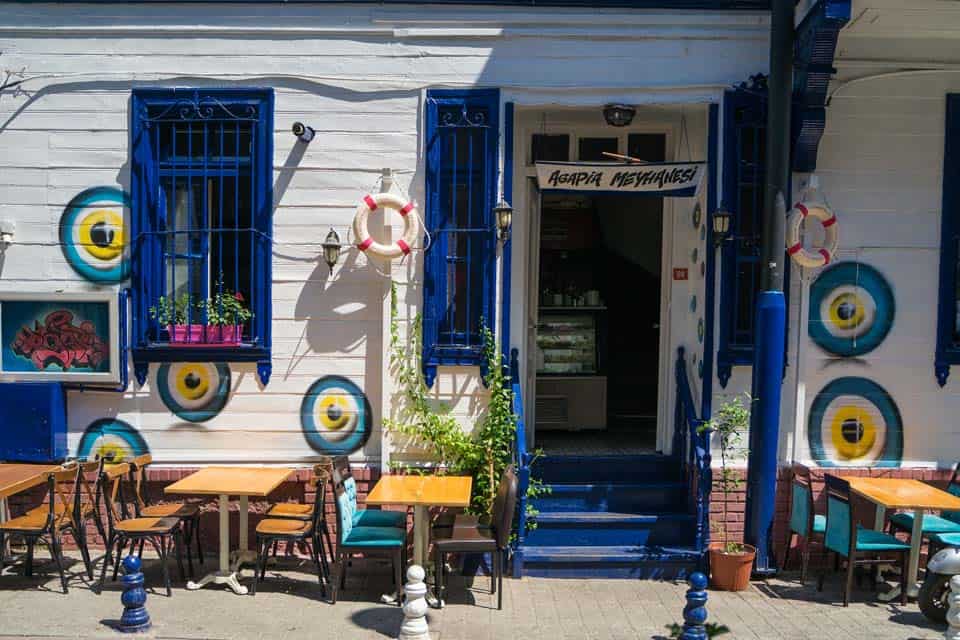 There seems to be some sort of rivalry between the Asian side and the European side of Istanbul. When we were on the European side, many locals were saying that the European side is better and the Asian side s*cks.
Though that set our expectations pretty low, we were surprised at how beautiful and charming the Asian side of Istanbul is, especially Kadikoy. A neighborhood known for its bustling fish markets and streets after streets of top-notch cafes and restaurants, Kadikoy is our definition of paradise.
We recommend you to spend an hour or two wandering down the quaint streets and sampling as much food and drinks as possible. One Istanbul street food you mustn't miss is stuffed mussels, or Midye Dolma in Turkish.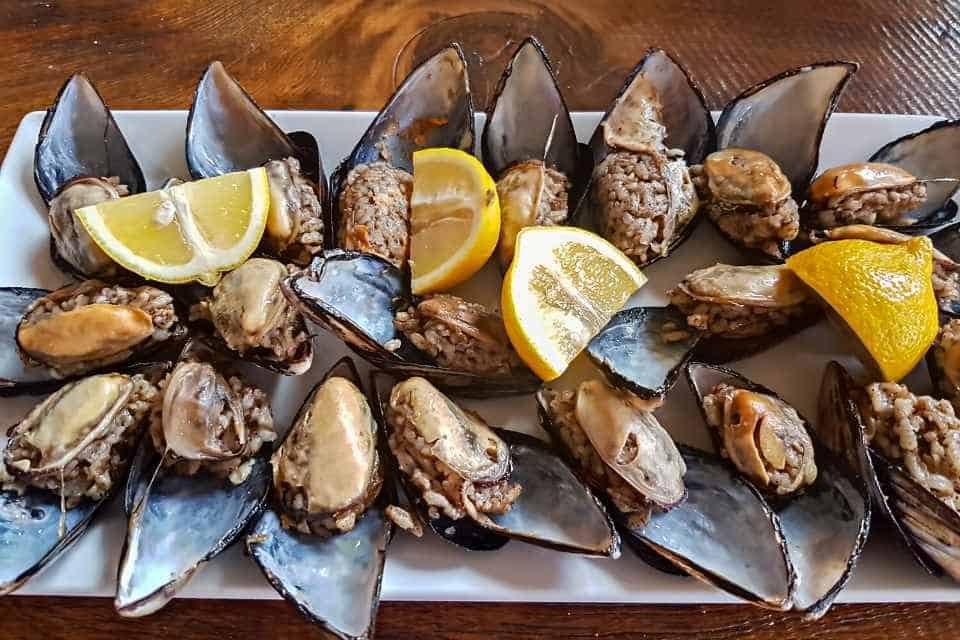 A dish featuring fresh mussels stuffed with aromatic rice and spices topped with sprinkles of fresh lemon juice, Midye Dolma is one of the best foods we tried in Istanbul. We recommend trying it at Kadikoy Midyecisi.
Don't hesitate to eat and drink to your heart's (and belly's) delight. Unlike Sultanahmet, the food in Kadikoy is very affordable!

Estimated Duration of Visit: 1.5 to 2 hours
Camlica Park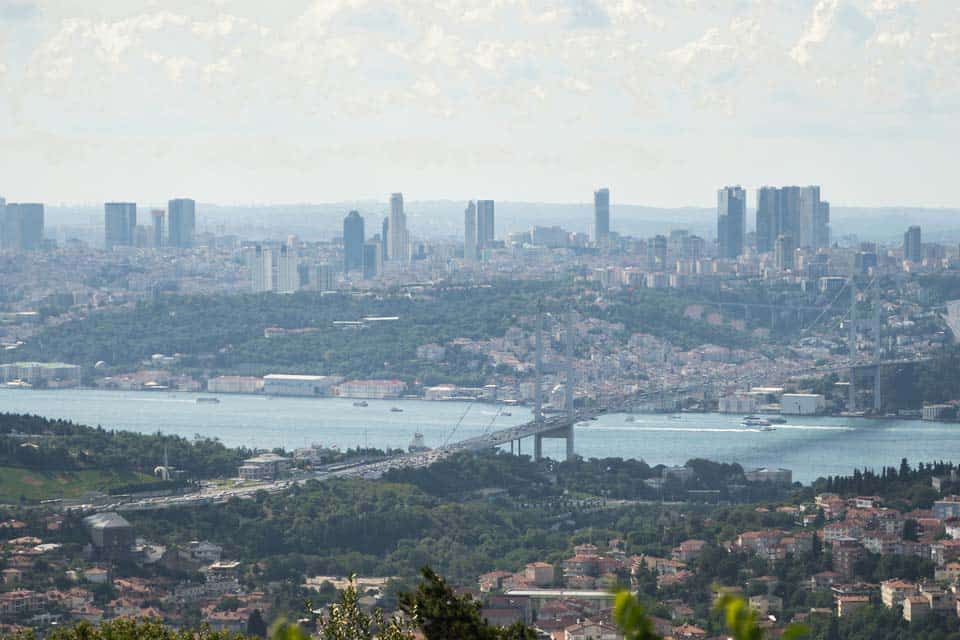 The Camlica Park is located on one of the many hills of Istanbul and offers wonderful views of its surrounding areas. Getting there involves a little bit of hiking and using Istanbul's bus system. From Kadikoy, you can take a variety of buses to Kiskli Metro station, where you can easily get to Camlica Park with a short walk.
Camlica Park is often referred to as Camlica Hill, and the terms are often used interchangeably. The small hike takes about 20 minutes to complete. Once you arrive treat yourself to incredible views and some refreshments from Çamlıca Sosyal Tesisleri restaurant at the top of the hill.

Estimated Duration of Stay: 30 minutes to 1 hour (not including the trip to the top)
Camlica Mosque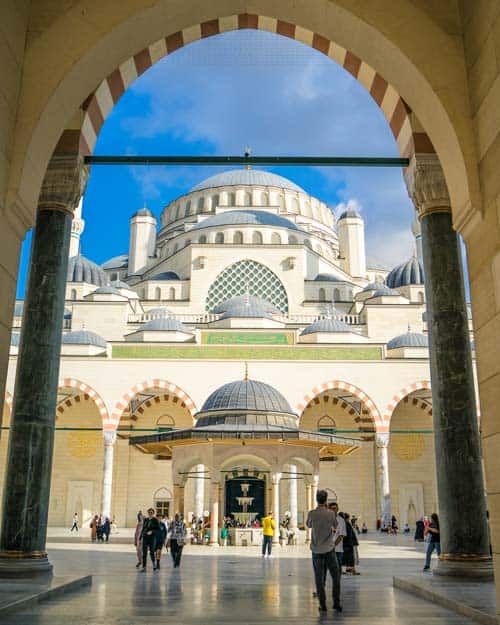 No Istanbul visit is complete without visiting Camlica Mosque, the biggest and most spectacular mosque in all of Turkey. Surprisingly, the Camlica Mosque isn't on a lot of itineraries for Istanbul, maybe because it is far into the Asian side.
This Istanbul hidden gem was completed in 2019 and features an art gallery, a library, and a museum. The interior of the mosque is astonishing but we loved the spacious courtyard even more. It is the perfect place to capture a photo of this architectural masterpiece.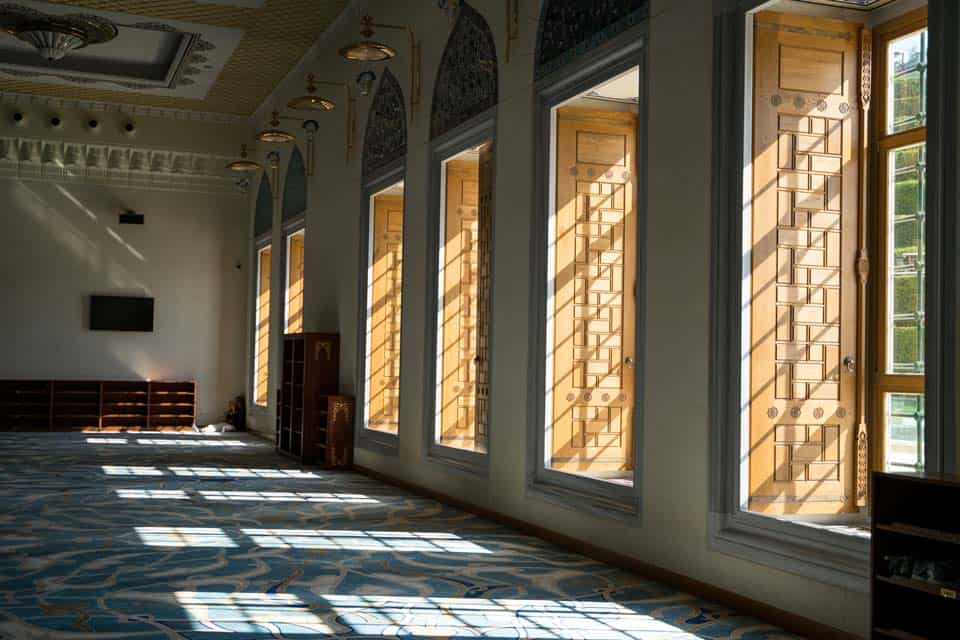 We felt like miniature figures walking around the huge spaces. Everything was so grand and meticulous. You could eat off the floor if you wanted to! This is one of the best things to do in Istanbul in 4 days so don't miss it!

Estimated Duration of Stay: 1 to 1.5 hours
Uskudar
The last attraction on our itinerary is Uskudar, a seaside neighborhood that is said to be the best spot to watch the sunset in Istanbul. Uskudar features a long-stretching promenade that is filled with many cozy cafes.
At sunset, this area is bustling with people trying to catch a glimpse of the fading sun behind the iconic Maiden's Tower, a Byzantine-era fortification.
If you arrived in Uskudar before sunset, feel free to check out the neighborhood. Though drinking coffee from one of its millions (okay, maybe not millions) cafes is probably the most popular thing to do, Uskudar has a bustling fish market and many boutique shops.
Otherwise, go grab a drink, pick out the perfect spot to watch the sunset, and wait for the magic to appear before your eyes!
Estimated Duration of Stay: 1 hour
Where To Eat On The Asian Side of Istanbul
Çiya Sofrası – One of the most popular restaurants in Kadikoy, Çiya Sofrası features homemade traditional Turkish cuisine and a cozy ambiance.
Kimyon Kadıköy – A restaurant located in the heart of Kadkoy, Kimyon Kadıköy focuses on local favorites such as kebabs, pides, and soups. Its affordable prices and laid-back environment are bonuses!
Filizler Koftecisi – As the most famous seaside restaurant in Uskudar, Filizler Koftecisi offers jaw-dropping views, great food, and a lively atmosphere but at an above-average price.
Day 4 In Istanbul: Adalar (Princes' Island) or Free Time!
Things to Do in Istanbul on the 4th day:
Having a Hammam (Turkish Bath)
Visiting Adalar aka the Princes' Island (or)
Visiting the quaint neighborhood of Balat
Whirling Dervishes Performance
Overview: Our last day in Istanbul is going to be a lot more relaxing. Start your day off with a Turkish Bath, or Hammam in Turkish. Then either take a half-day trip to the nearby Princes' Island or explore the quaint neighborhood of Balat! Then finish off the night with a traditional Turkish performance called the Whirling Dervishes!
Hammam (Turkish Bath)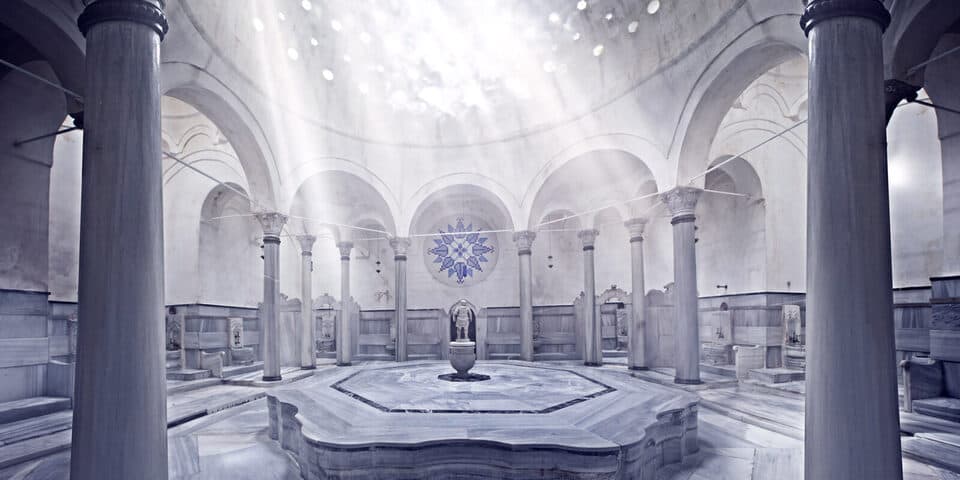 If your body isn't in shambles after the first 3 busy days in Istanbul, then you deserve a round of applause. If it is, then you deserve a hammam, or Turkish Bath in English. (You should still get a Turkish Bath if you feel okay, it is an experience of its own!)
There are several hammams in Istanbul, but the ones we recommend are Çemberlitaş Hamamı and Cağaloğlu Hamamı due to their historical value and affordability. Both of these are located in or near Sultanahmet so they are easy to get to.
The Cağaloğlu Hamamı is a nearly 300-year-old historical hammam and also one of the places listed in the book "1000 Places To See Before You Die".
On the other hand, the Çemberlitaş Hamamı is more than 400 years old and is one of the oldest historical hammams in Istanbul.
Other notable hammam in Istanubl is the Ayasofya Hürrem Sultan Hamamı, the hammam next to Hagia Sofia. That one is extremely pricey when compared to the two we mentioned above.
Some hotels in Istanbul also offer hammam services, but they don't occur in historical hammams!
It is usually not needed to make a reservation beforehand unless you are visiting during peak season. Just rock up and get ready to be pampered!
Adalar (Princes' Island)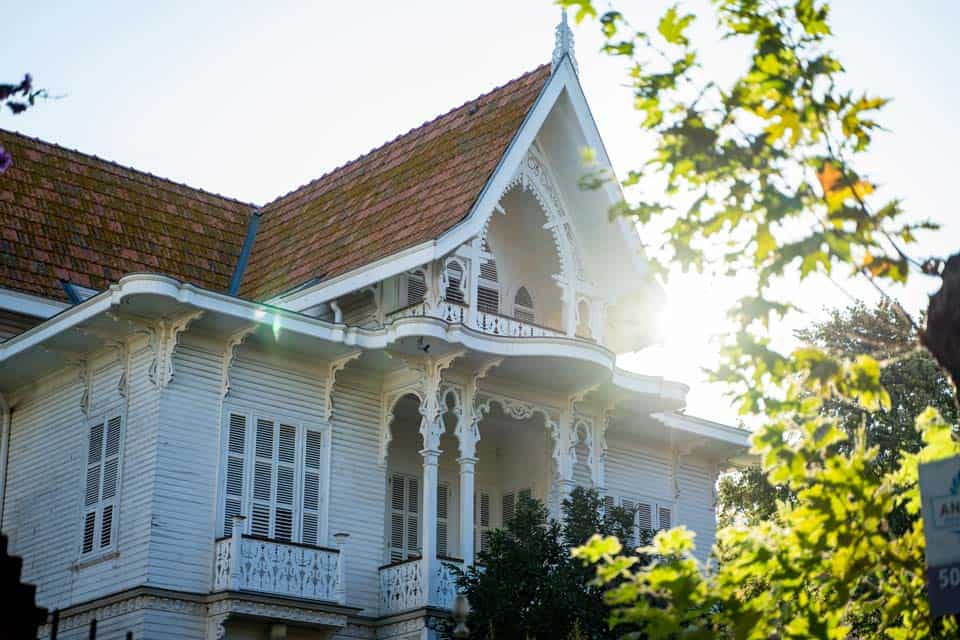 If the weather is nice and you would like to go swimming on some of Istanbul's finest beaches, then we recommend heading to Adalar, or the Princes' Island in English. Accessible only by the ferry system, visitors have the choice to visit four of the nine islands in the Adalar archipelago.
The one we recommend visiting is Buyukada, the biggest of the islands. Buyukada's most striking features are the gorgeous wooden mansions that dot the small 2-square-mile island.
Come rent a bike and cycle the charming streets and take a break from the hectic city of Istanbul. Better yet, enjoy a meal at one of Buyukada's seaside restaurants. After you are satisfied, go explore Buyukada's pristine nature or go swimming in one of its beaches.
Balat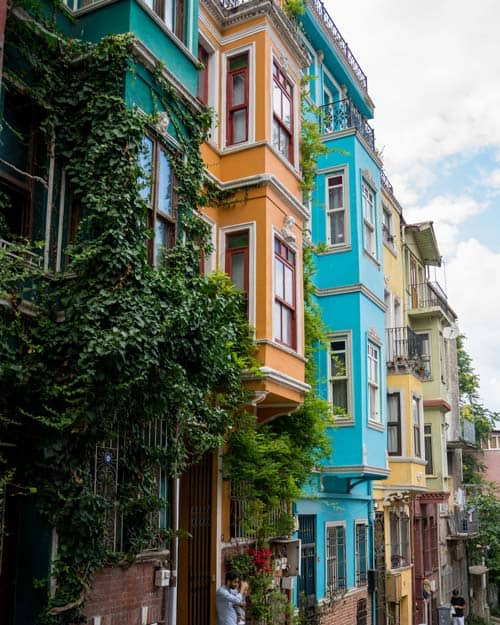 If the weather isn't too nice or you don't want to take a long ferry ride to Adalar, then head over to the neighborhood of Balat.
A mixing pot of different cultures, Balat is home to many different ethnic communities However, what makes Balat one of the must-see places in Istanbul are its picturesque cobblestone streets lined with colorful buildings.
Chic cafes and antique shops create a unique atmosphere in Balat, and everywhere you go just makes you want to take your camera out and snap a photo. And when you are tired, go have a Turkish coffee and a slice of cake to pick you up!
If you have more than 4 days in Istanbul, you should dedicate an entire day in Balat to exploring its unique charms and quirks. But since it doesn't have as much historical value as Sultanahmet or Taksim, it is an optional attraction on our itinerary.
Whirling Dervishes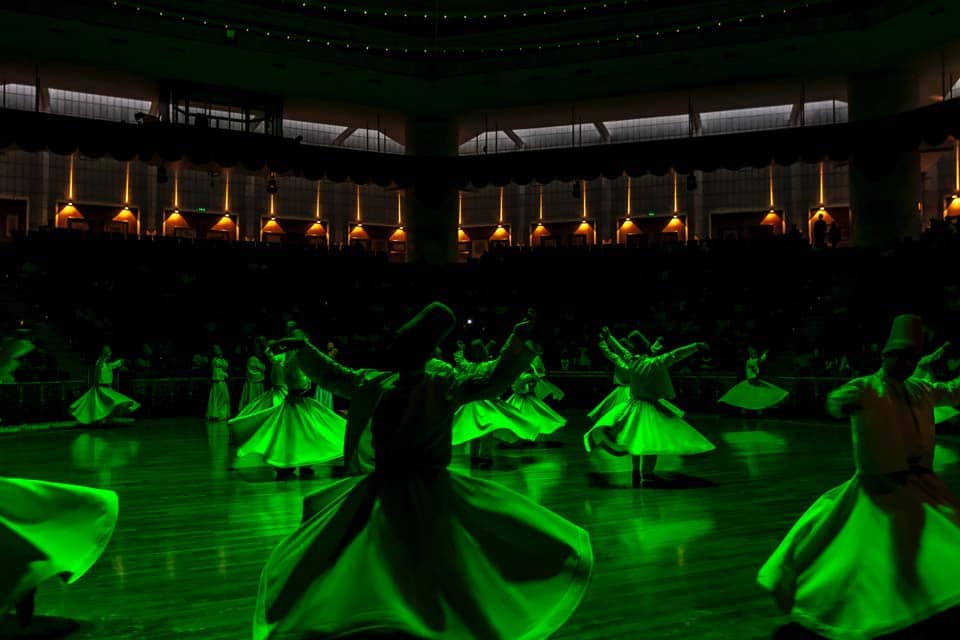 The Whirling Dervishes performance is one of the traditional dances you can see in Turkey, and there is no better place to do so than Istanbul. The dance originates in the 13th century from the famous Sufi Muslim mystic and poet, Jalaluddin Rumi.
Nowadays, it is mainly practiced by the Sufi Dervishes of the Mevlevi order.
The dance is a type of active meditation where the dervishes spin to reach higher enlightenment. Along with a white robe that shrouds the dancer's ego, the practitioners believe that it was one of the many roads that lead to Allah.
The performance is quite unique and its definitely worth checking out. There are many Whirling Dervishes performance, but we recommend checking out from the Mevlevi Order if possible.
---
4 Days In Istanbul Itinerary Map
At LivingOutLau, we are huge fans of maps because they help us visualize where everything is. As you can see above, there are circles with 4 different colors: blue, green, purple and orange.
Each color represents a different day. For example, blue represents the first day when you will explore the Sultanahmet district. The number is the order in which you will visit the attractions. We recommend that you follow the numbers as they help you optimize your time.
Don't forget to click on the star next to the name to save it to your own device!
---
Where To Stay In Istanbul, Turkey
Best Hotel In Istanbul – The Magnaura Palace Hotel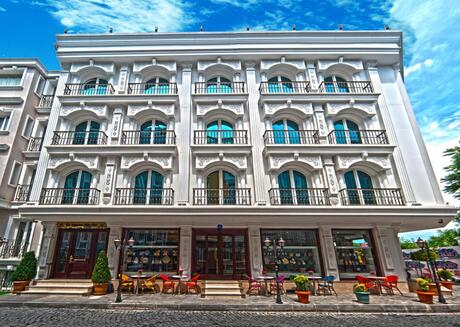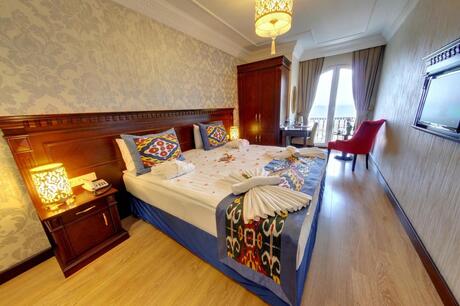 If you are not sure where to stay in Istanbul, then you cannot go wrong with the stunning Magnaura Palace Hotel. Located in the heart of Sultanahmet, guests are a few minutes away from the two best attractions in Istanbul – Blue Mosque and Hagia Sophia.
When you are not exploring Sultanahmet, come relax in their cozy air-conditioned rooms. Decorated with Turkish textiles, the interior decor is charming, unique, and provides stunning visuals.

If you want somewhere comfortable for your 4 nights in Istanbul, Magnaura Palace Hotel will not disappoint.
Best Vacation Rental In Istanbul – Blue Mosque Suites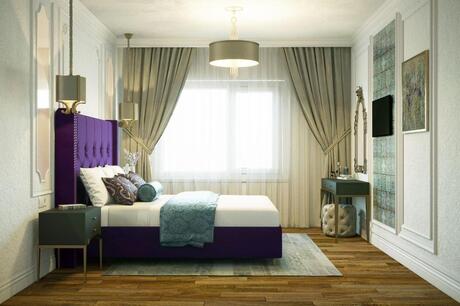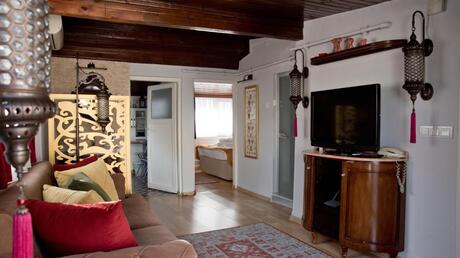 If you prefer the comfort of an apartment where you can cook and do your own laundry, then the Blue Mosque Suites is ideal for you. Each unit is equipped with its own private bathroom, bathtub and washing machine, so no need to worry about privacy.
This vacation rental in Istanbul is also within minutes of walking from Blue Mosque, Sultanahmet Square, and Hagia Sofia!
Best Hostel In Istanbul – Hostel Le Banc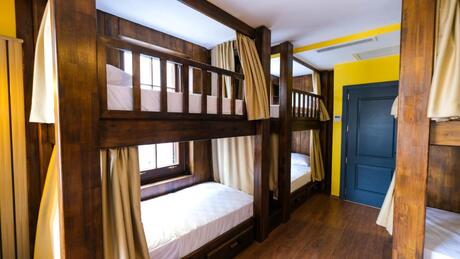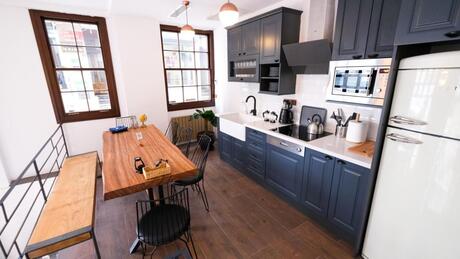 Hostels have a reputation for being loud, dirty, and uncomfortable, but not at Hostel Le Banc. With each bed featuring a premium mattress on an ornate wooden frame, your own curtain, electric socket, comfort is not a foreign concept here.
The hostel features a fully-equipped communal kitchen, where you can cook your own meals and make some friends with other travelers. It also has an outdoor terrace where you can catch some beautiful sunsets in Istanbul!
---
5 Crucial Istanbul Travel Tips
Get the Istanulkart as soon as you arrive! – The Istanbulkart is a contactless smart card for paying the fare on all public transportation in Istanbul. Without it, traveling around Istanbul would be a nightmare. The Istanbulkart can be purchased at all major stations, including the Istanbul airports!
Make sure you dress appropriately! – After all, Turkey is still a Muslim country. We don't want to say this but please dress a little bit more conservatively. This is true especially when you are visiting mosques, where there is a certain dress code for men and women.
Check prayer times before visiting a mosque! – Mosques are always open to visitors, except when there is a prayer. Muslims typically pray 5 times a day so make sure you check the prayer time before you visit a mosque in Istanbul. (A simple Google search will do).
Purchase the Istanbul Museum Pass! – The Istanbul Museum Pass is a one-time payment card that gives tourists access to many attractions in Istanbul such as Topkapi Palace, Galata Tower, and more! It lasts for 5 days and you can save some money by doing so!
Bring comfortable walking shoes! – Known as the City on Seven Hills, you will be doing ALOT of walking in Istanbul. Bring comfortable shoes or live with blisters!
---
Best Time To Visit Istanbul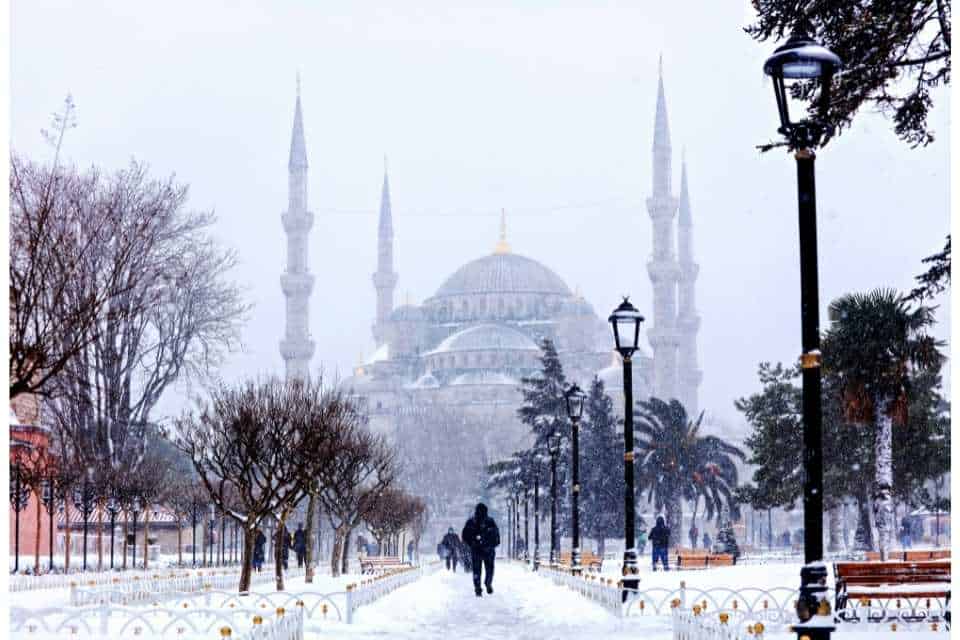 The best time to visit Istanbul is unquestionably Spring (March to May) and Fall (September to November). During these times, the weather is warm but not hot, perfect for exploring the city on foot.
The summer months are the hottest and busiest, which means the prices of everything from food to accommodation will be higher and you will need to fight through crowds to enjoy some of the sights in Istanbul.
Winter is often wet and rainy (sometimes even snowy), so we generally wouldn't visit Istanbul during that time. The prices are some of the lowest of the year though.
---
Visiting Istanbul FAQs
Is 4 Days Enough in Istanbul?
YES! 4 days in Istanbul is the perfect amount of time. You will have enough time to visit all the historical attractions, explore the quaint Asian side, and even sneak in a soothing hammam (Turkish bath)!
Is it Better to Stay in Sultanahmet or Taksim?
Both areas have their pros and cons. Taksim is more lively at night and cheaper. Sultanahmet is closer to more of Istanbul's historical attractions. You can't go wrong staying at either. They are also not too far apart from each other.
Can You Do Istanbul in 3 days?
3 days in Istanbul is really pushing it. Yes, you can see all of its historical attractions, but you won't have time to enjoy a different side of Istanbul!
Can you Visit Cappadocia from Istanbul?
---
Like this post? Don't forget to save it on Pinterest!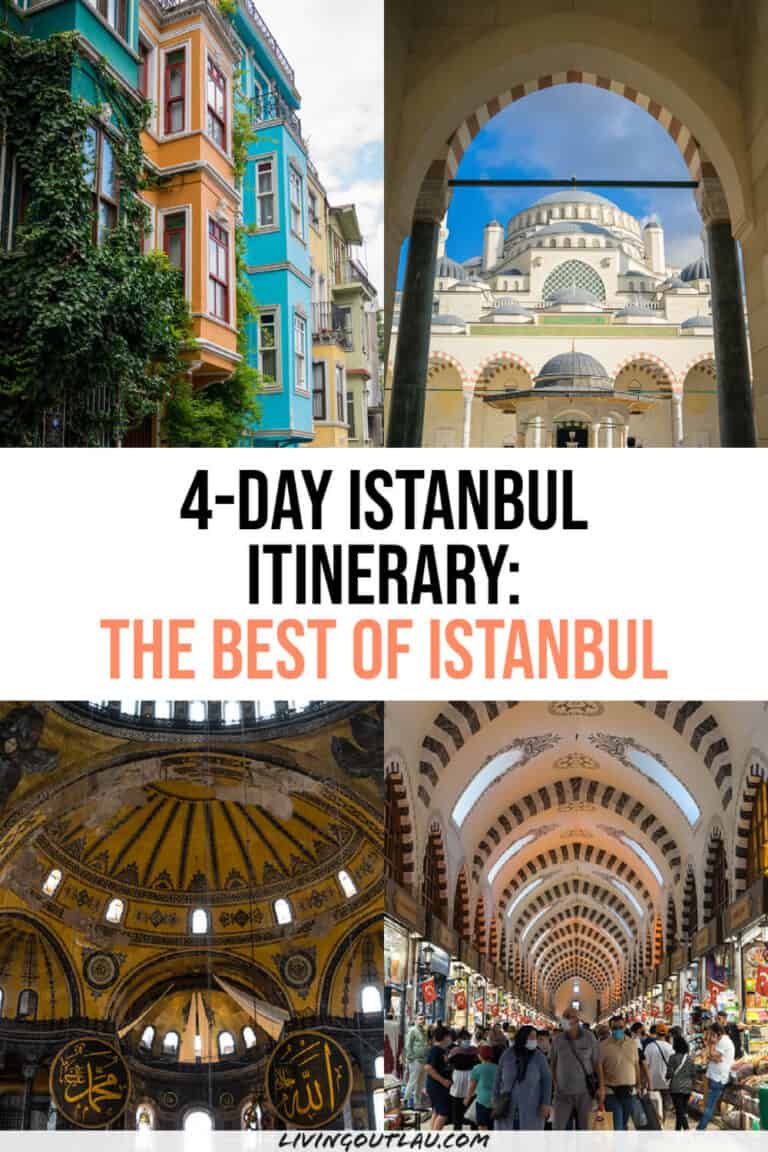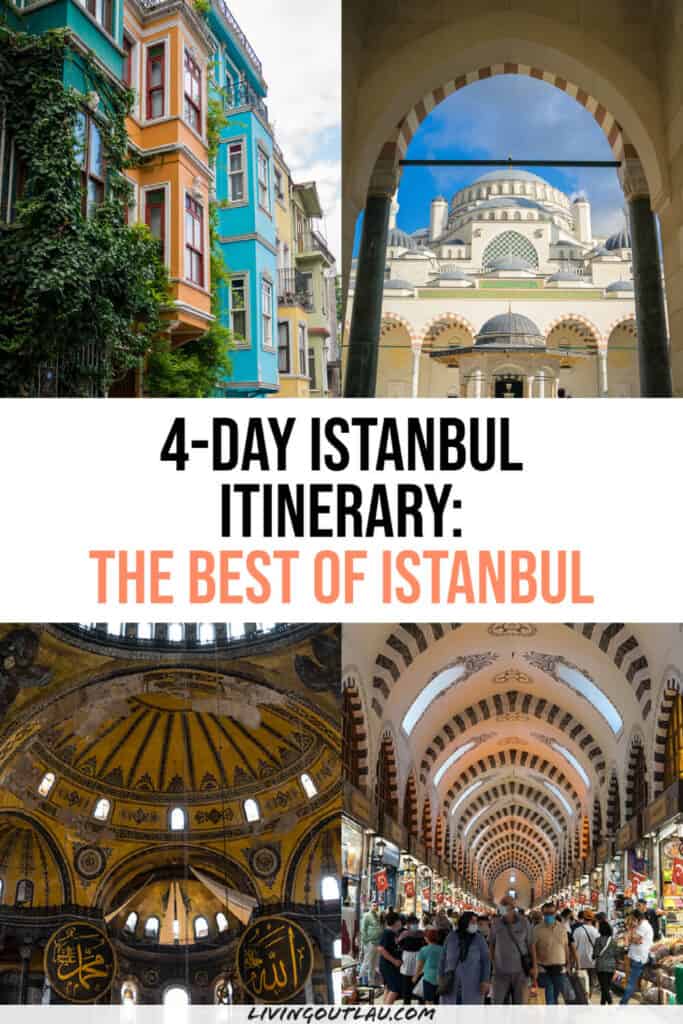 ---
This concludes our 4-day Istanbul itinerary. We hope our guide will help you plan the most epic trip to Istanbul. Enjoy!

Any questions? Leave them in the comments!
Disclaimer: Some of the links above are affiliate links. That means if you book or make a purchase through the links, we will earn a small commission at no extra cost to you! The money will help run this site! Thank you!