Not sure how many days to spend in Cappadocia? Worry not.
Encompassing over 9,883 hectares, Cappadocia is home to unworldly fairy chimneys dotting its desert landscapes, old historical artifacts, and of course, the world-renowned hot air balloon rides.
However, the vast area makes it difficult to plan an itinerary to Cappadocia. How many days in Cappadocia are needed to see its beauty?
In this post, we will help you decide how much time you will need in Cappadocia to experience all its wonders!
---
Quick Tip On How Many Days In Cappadocia Is Enough
Deciding on how many days to spend in Cappadocia is difficult as it depends on several factors.
What type of traveler are you? What do you wish to see in Cappadocia? Besides personal differences, one thing that will affect your time in Cappadocia is the weather.
If you are visiting Cappadocia, chances are, you want to experience of its legendary hot air balloon rides.
I have bad news… The hot air balloon rides aren't available every day.
Whether they fly or not heavily depends on the weather conditions (especially wind conditions) because they do not have brakes on these hot air balloons.
You could wait a week in Cappadocia and still not get to fly in one of Turkey's most famous attractions! (knock on wood)!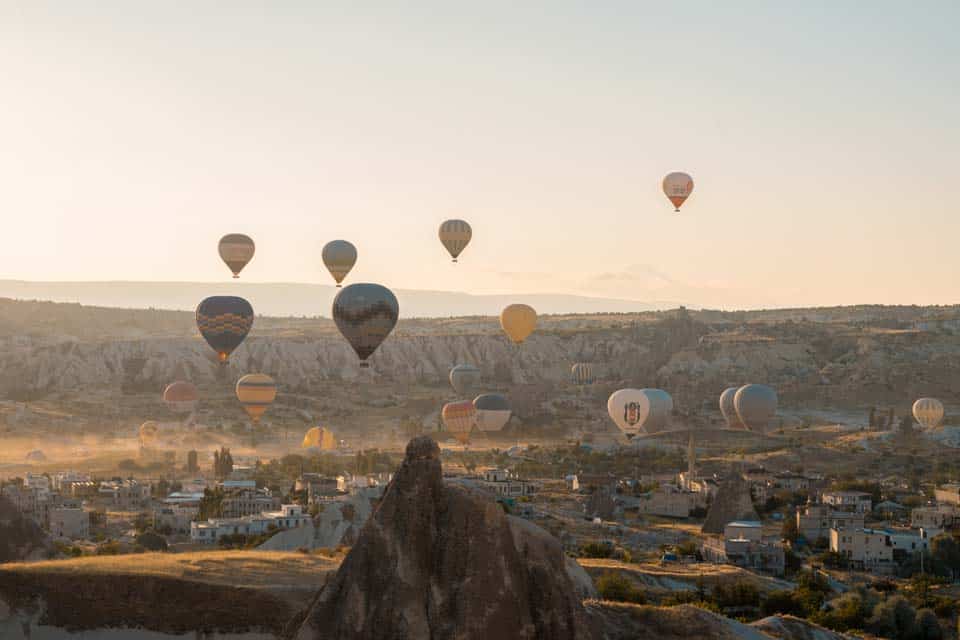 If riding in one of the hot air balloons is a must on your Cappadocia trip, then we recommend that you stay at least 4 days. Of course, this number of days will have to adjust depending on the season you are visiting, but we will get to that later.
So generally, 4 days in Cappadocia is the perfect number of days to experience the region's best hikes, viewpoints, activities, sights, and of course, the hot air balloons.
If you are not too worried about the hot air balloons, we recommend that you spend 3 days in Cappadocia to explore leisurely. 2 days in Cappadocia is doable for those that plan on taking guided tours or renting a car.
---
How To Decide How Many Days To Spend In Cappadocia, Turkey
Before you take our word for it and book a 4-night stay in one of the best places to stay in Cappadocia, we want to help you decide how many days YOU might need in Cappadocia.
As we mentioned, everyone has his or her own distinct travel style so our general recommendation might not be suitable for you.
That is why we have broken down several factors that might change the number of days to stay in Cappadocia.
Are You Planning on Taking Guided Tours in Cappadocia?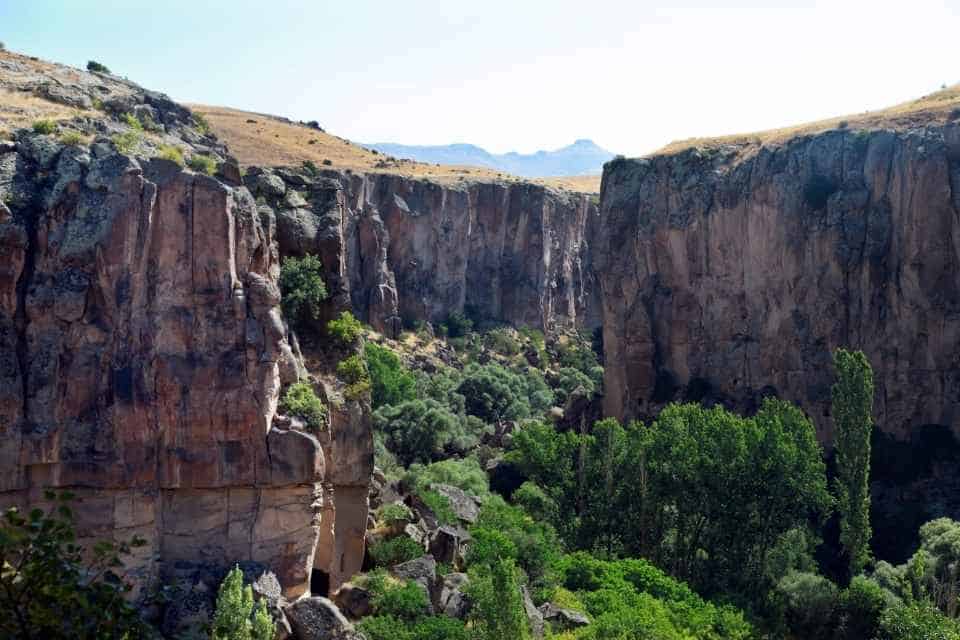 Because of the poor public transportation system in Cappadocia, guided tours are excellent ways to explore this region. Guided tours allow you to visit multiple attractions in Cappadocia in one day, without having to stress over buses, tickets, and guides.
Because of this, travelers planning on taking guided tours can afford to stay for less time in Cappadocia as they can spend their time more efficiently.
The two tours in Cappadocia that will save you lots of time are the Red Tour and the Green Tour.
Are You Renting a Car in Cappadocia?
Similar to taking guided tours, renting a car allows you to get around the Cappadocia region much easier. It also allows you to pick out the specific places you wish to visit in Cappadocia, unlike a guided tour that has a specific itinerary.
Because of this, renting a car in Cappadocia will save you a lot of time and headaches!
Is Riding a Hot Air Balloon in Cappadocia a must for you?
Flying in a hot air balloon in Cappadocia is a once-in-a-lifetime opportunity. However, this opportunity might require some sacrifices, as its schedule depends on the (sometimes unpredictable) weather.
Those that are visiting in the winter or spring might want to allocate extra days in Cappadocia, as balloon cancelations are frequent during those months.
Are You Planning on Doing Any Hikes in Cappadocia?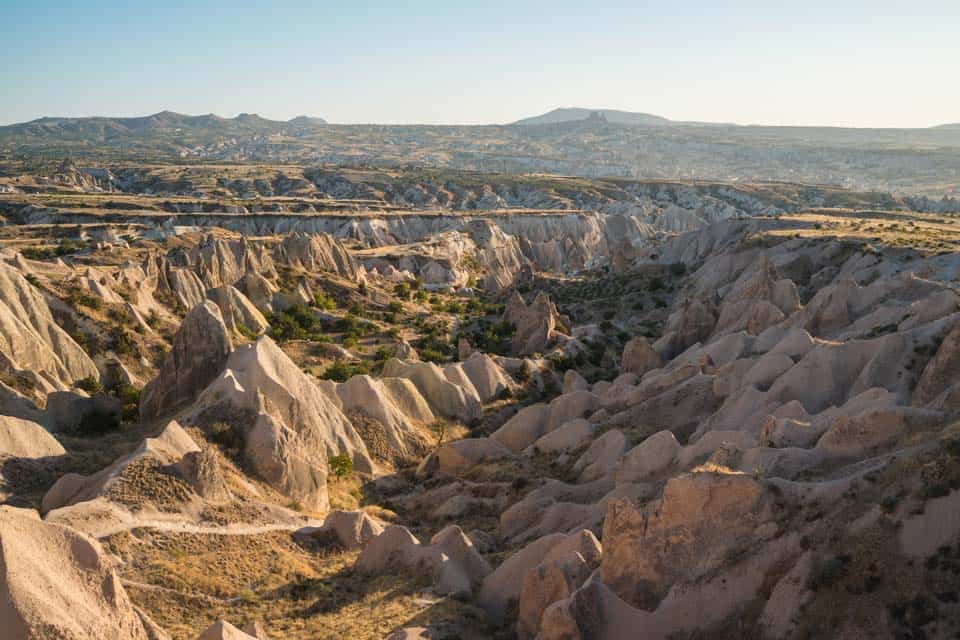 Cappadocia is home to the UNESCO World Heritage Goreme National Park, where visitors will find unworldly fairy chimneys, incredible geological formations, and spectacular hiking trails. If you intend on doing any hiking in Cappadocia (which you totally should), then consider adding a day or two to your Cappadocia itinerary.
Do You Consider Yourself a Slow Traveler?
If you are someone that prefers to travel slowly, then you might want to spend more time in Cappadocia. In fact, we stayed for over a week and didn't get to see all the incredible attractions in Cappadocia.
Besides the numerous activities in Cappadocia, the towns are charming and laid back. It is the perfect place to slow travel and discover the Cappadocian culture thoroughly!
Slow travelers should consider spending at least 5 to 7 days in Cappadocia!
To summarize it all, here are the things you must consider when deciding the number of days to spend in Cappadocia:
Are you planning on taking guided tours in Cappadocia?
Are you renting a car?
Is riding in a hot air balloon a must for you?
Do you want to do any hikes in Cappadocia
Do you consider yourself a slow traveler?
Below we will outline what your itinerary will look like if you have a certain number of days to stay in Cappadocia. These itineraries are assuming you have full days (8 AM to ~10 PM)
---
Sample Cappadocia Itineraries
1 Day in Cappadocia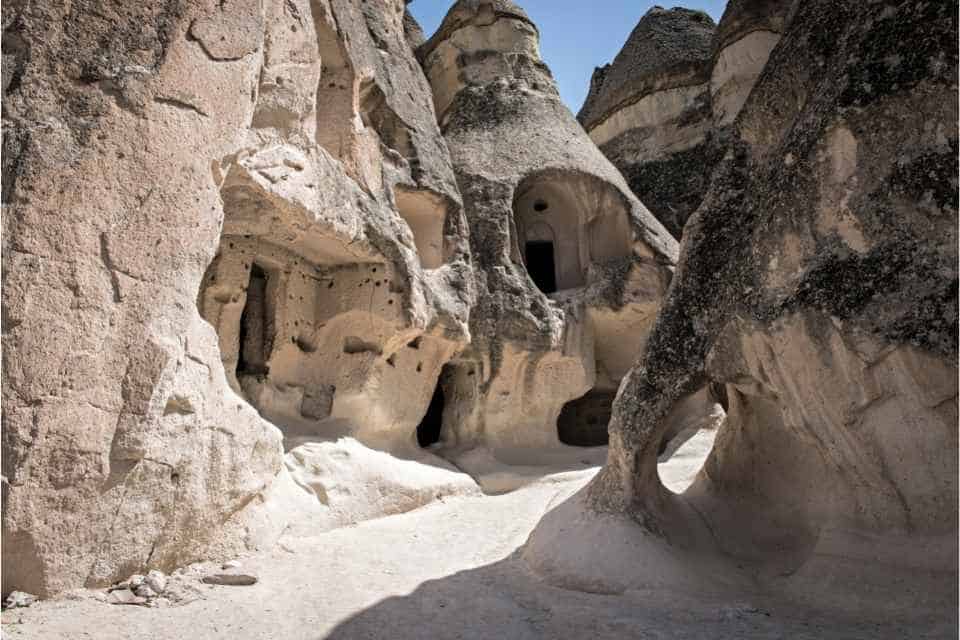 Spending only 1 day in Cappadocia is a bold move.
To start off, there is a good chance you might not be able to ride the hot air balloons thanks to its occasional cancelations. Visiting Cappadocia in the summer is your best bet, as cancelations are the least common in the dry summer months.
If you have only 24 hours in Cappadocia, we highly recommend you to rent a car. You will have the option to pick the places you want to visit in the Cappadocia Valley.
Make sure you check out the Goreme Open Air Museum, Derinkuyu Underground City, Uchisar Castle, and the Red and Rose Valley. Those are the best things to see in the famous UNESCO World Heritage Site of Goreme National Park.
Don't want to drive in Turkey? We don't blame you! Then we recommended that you either take the Red Tour or the Green Tour, whichever seems more interesting to you.
2 Days in Cappadocia
For those without much time in Turkey, 2 days in Cappadocia is the minimum number of days you should spend there.
Though it might not be enough time to ensure that you can ride in one of the hot air balloon rides, two days lets you see most of the main sites in Cappadocia, given that you do tours or rent a car.
With two days, we recommend that you to take the Red Tour on one day and the Green Tour on the other. This will give you the chance to experience the best of Cappadocia, such as Goreme Open Air Museum, Ihlara Valley, Devrent Valley, the beautiful pottery in Avanos, Monk Valley and more.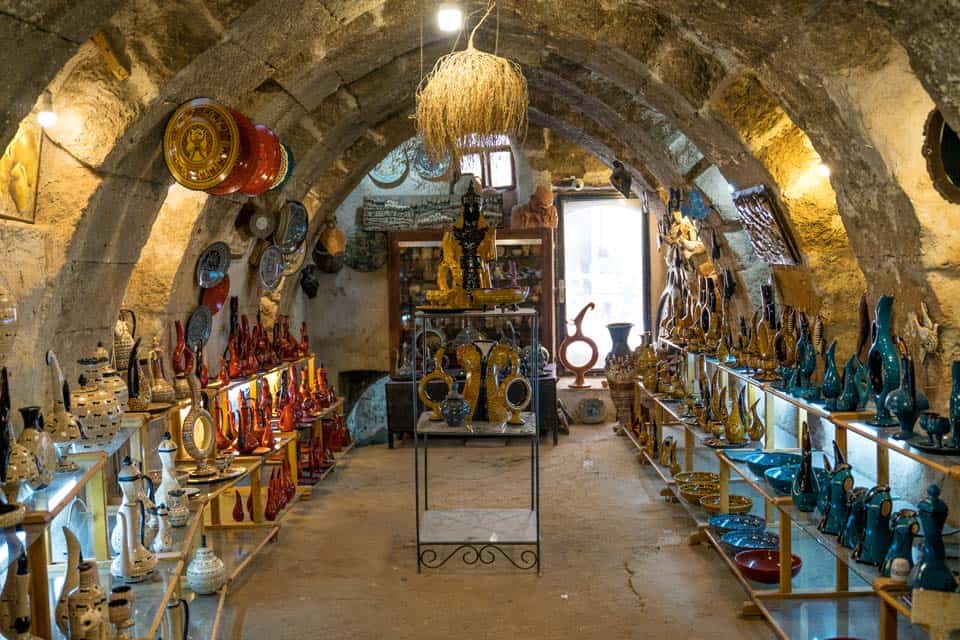 These attractions will not only showcase the best scenic locations in Cappadocia, but also the historical significance of Cappadocia.
If you are renting a car in Turkey, we suggest you to make a trip to Lake Tuz, a unique salt lake that is not included in any of the tours in Cappadocia. It looks like the famous Salar de Uyuni Salt Flats in Bolivia!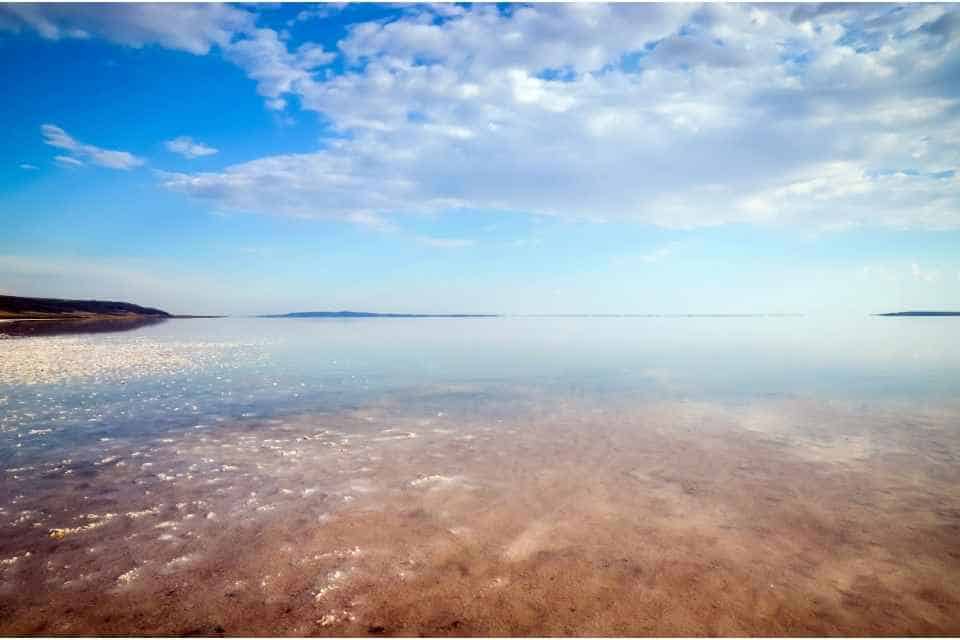 3 Days in Cappadocia
If you are visiting during the summer, chances are, you might only need 3 days in Cappadocia. The sunrise hot air balloon cancelations are infrequent, and visitors will also have plenty of time to explore the attractions in the Cappadocian Valley.
With the extra day in Cappadocia, we recommend that you take advantage of some of the hiking trails in Cappadocia. One of the ones that you must see (and aren't included in any of the tours) is the Love Valley.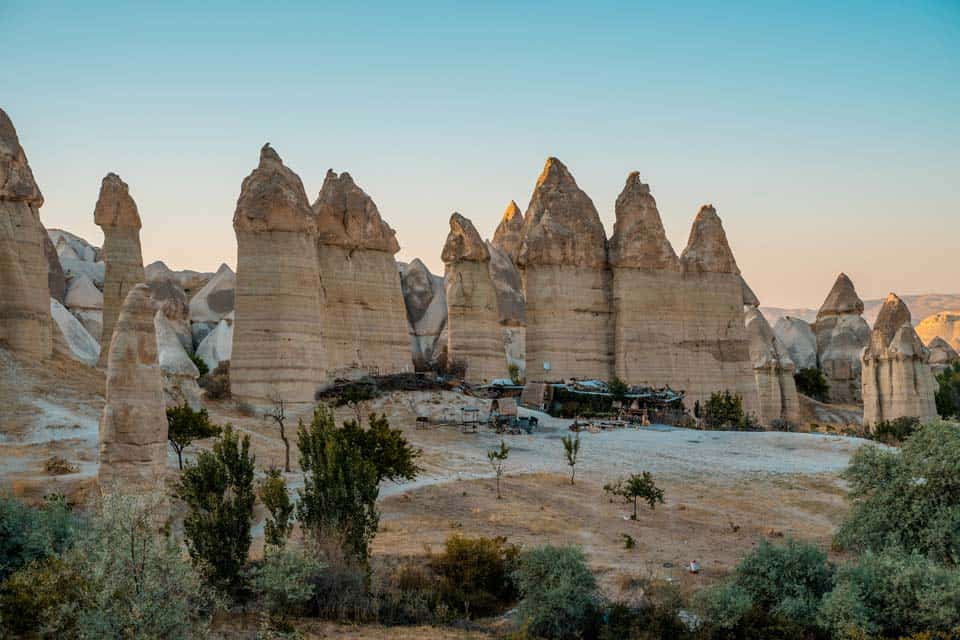 Love Valley is home to many phallic-looking fairy chimneys. They were formed by the rapid erosion of the weak base layer, but the durable top layer stayed intact. The Love Valley hike starts in Goreme and ends in Uchisar, where hikers can visit the Uchisar Castle, the highest point in Cappadocia.
Alternatively, hikers looking for sweeping views can opt for the Red Valley and Rose Valley hike. This trail takes you through some of the best vantage points in Cappadocia as well as many hidden churches. However, some of the vantage points of the Red and Rose Valley trail are accessible by car, so it can get crowded sometimes.
We highly recommend you to time the hike for sunset, as the colors of the sunset accentuate the beauty of the rock formations in the valley.
4 Days in Cappadocia (Our Recommended Number Of Days in Cappadocia)
If you asked us, "how many days in Cappadocia do you recommend?", we would say 4 days.
Personally for us, Cappadocia has everything we want in a travel destination. Incredible views, amazing hospitality, cozy accommodations, great hikes, and lots of historical attractions. We could literally spend weeks there if we want to!
Speaking with the locals, it seems very rare that the hot air balloons don't fly at least once in 4 days. This is the perfect opportunity to cross out one of the most popular bucket list ideas!
With four days in Cappadocia, travelers no longer need to rely on tours to get around Cappadocia. Take advantage of public transportation and travel slowly.
It is possible to go to places such as Avanos, Zelve Open-Air Museum, Uchisar and more just by public transportation.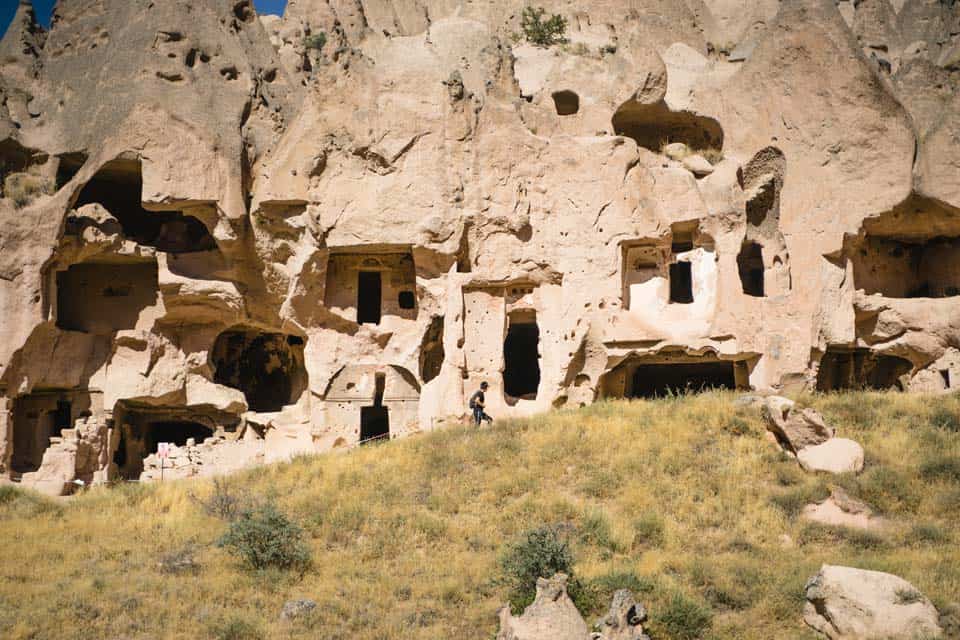 5 Days in Cappadocia (Or More)
5 days in Cappadocia might seem like a lot of time, but it is perfect for those that prefer to travel slowly. With five days, travelers can explore some of the other exciting tours in the Cappadocian valley such as ATV tours, horseback riding, and classic car tours.
In five days, not only are you going to get the chance to ride on one of the hot air balloons, but also admire them at one of the sunrise viewpoints in Cappadocia. The most popular one is Lover's Hill in Goreme as it is easy to get to, especially if you are staying in Goreme (which you totally should).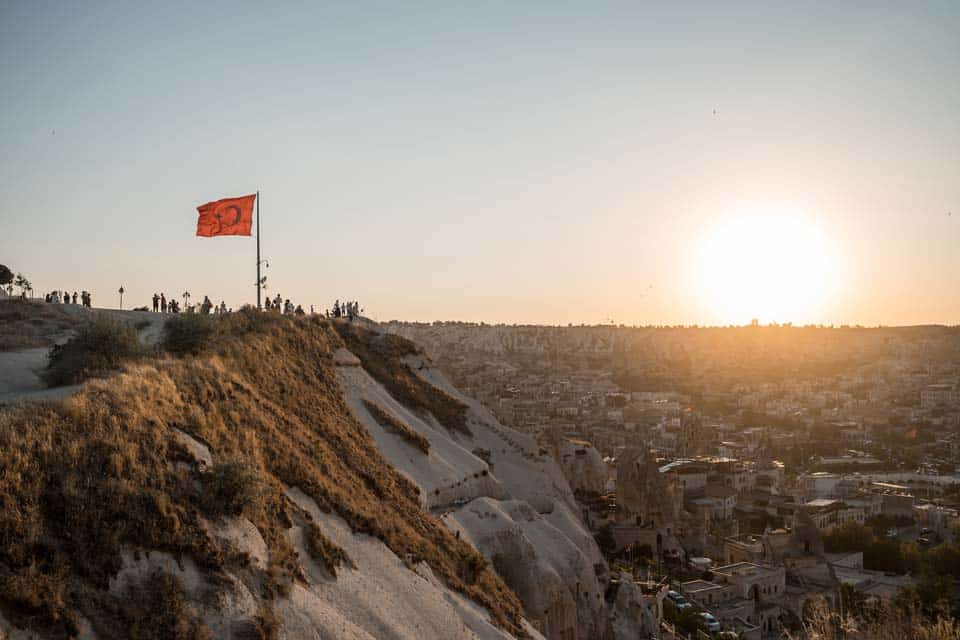 Sit in a terraced cafe and enjoy delicious Turkish foods while admiring the sweeping views of the valley. Stay in one of the epic cave hotels in Cappadocia (such as the Sultan Cave Suites) and experience the lives of a troglodyte.
Five (or more) days in Cappadocia allows you to get in touch with the place deeply.
---
Where To Stay In Cappadocia To Maximize Your Time
One of the biggest factors for deciding how many days to visit Cappadocia is where you will be staying. Choose the wrong location and you will be far away from the best attractions and need to commute for longer.
We are here to tell you where to stay in Cappadocia so you can maximize your time there.
There are many towns in the Cappadocia Valley, but none is as convenient (and beautiful) as the historic center of the valley, Goreme.
Goreme is the heart of Cappadocia – bustling with activities, restaurants, and life. It is where you want to stay if you want to maximize your days in Cappadocia.
There you will also find some of the best accommodation in Cappadocia – cave hotels, budget hostels, and everything in between. However, though the heart of Cappadocia, it still retains its small-town charm that we fell in love with.

Here are some of the best places to stay in Cappadocia, specifically Goreme.
Best Hotel In Cappadocia – Koza Cave Hotel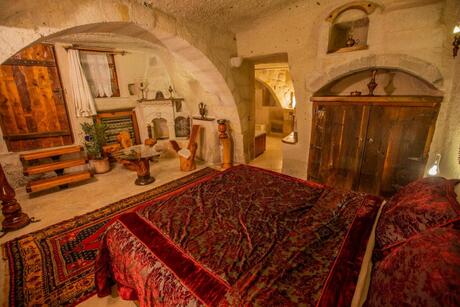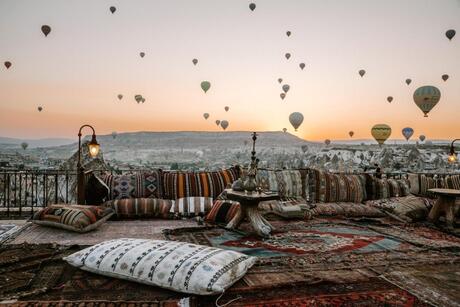 Combining luxury and traditional elements of the Cappadocian Valley, Koza Cave Hotel is arguably the best hotel in Cappadocia.

First of all, Koza Cave Hotel features a terrace that offers one of the best views of Cappadocia and its fairy chimneys. Start your morning by admiring the sunrise hot air balloon rides from your terrace. Its iconic Turkish decor makes it easy to take breathtaking photos!

The rooms are spacious, cozy and well-decorated to provide you with a heartwarming stay. Some rooms offer even offer a fireplace in the living room. Guests can also find rooms with a spa bath and a private terrace!
Best Cave Hotel In Cappadocia – Kelebek Special Cave Hotel & Spa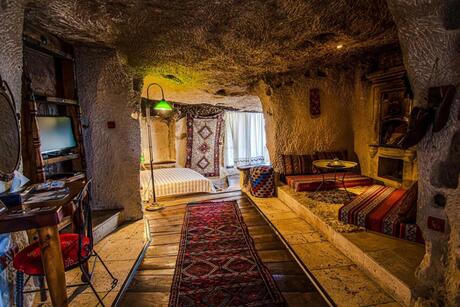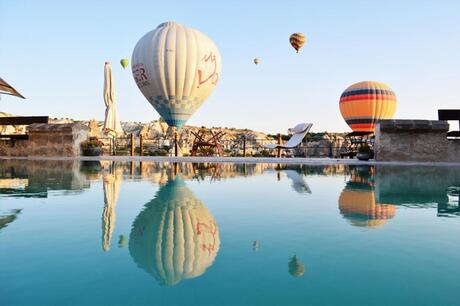 Thanks to the unique geological features of the Cappadocian region, it is dotted with natural and manmade caves, many of which are now stunning cave hotels. No trip to Cappadocia is complete without experiencing one of the iconic cave hotels in Cappadocia such as Kelebek Special Cave Hotel & Spa.

The rooms boast traditional Turkish decor with its Turkish textiles and unique cave arches. Staying in one of these timeless architectural masterpieces is like staying in a museum!

While the decor is rustic, the hotel's shared facilities are quite the opposite. Enjoy a refreshing swim in its private pool, which also provides the perfect views of sunrise and sunset. Better yet, head over to our private balcony for a little bit of privacy!
Best Hostel In Cappadocia – Kamelya Cave Hostel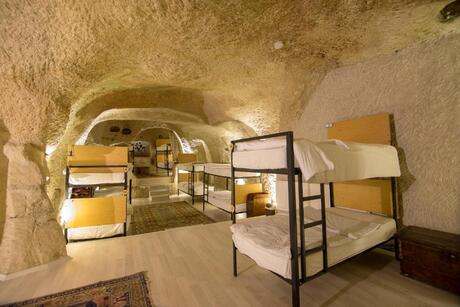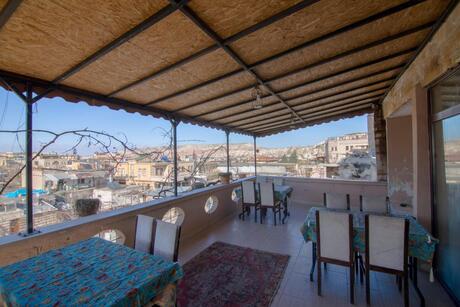 Though Cappadocia might seem like a region where there are only extravagant accommodations, it also has plenty of hostels and budget hotels. One of the best hostels in Cappadocia is Kamelya Cave Hostel.

Featuring cheap private rooms or dormitory beds inside a cave, it is the perfect place to stay for backpackers.

Its most iconic feature is the complimentary (and delicious) breakfast that is served every morning on its terrace. Wake up every morning to the smell of Turkish coffee (or tea) and have a big and nutritious breakfast before starting your day!
---
How To Get To Cappadocia
Cappadocia is located in Central Turkey, approximately 457 miles on the road from Istanbul. Though the large distance, getting to Cappadocia from Istanbul is quite easy but time-consuming.
Buses to Cappadocia
One of the most affordable ways to get to Cappadocia is via Turkey's long-distance buses. From Istanbul to Cappadocia, the journey takes about 8 to 10 hours. It is recommended that you take a night bus in that scenario.
There are many companies that offer long-distance buses to Cappadocia. Some of the more notable ones are Kamil Koc, Metro, and Nevsehir Seyahat. The price and service seem to be consistent with all of them.
In terms of quality, Turkey's long-distance buses are quite nice. Reclining seats, plenty of legroom, and even onboard food and drink are the norm. There are, however, no toilets on the buses but the drivers do make frequent toilet breaks.
For more information on buses to Cappadocia, make sure you check out the official site for buses in Turkey here. It is in Turkish but nothing a little Google Translate doesn't fix. We couldn't book the tickets online through the official site, but we were able to do it on busbud.com, which also has the schedule as well!
Flights to Cappadocia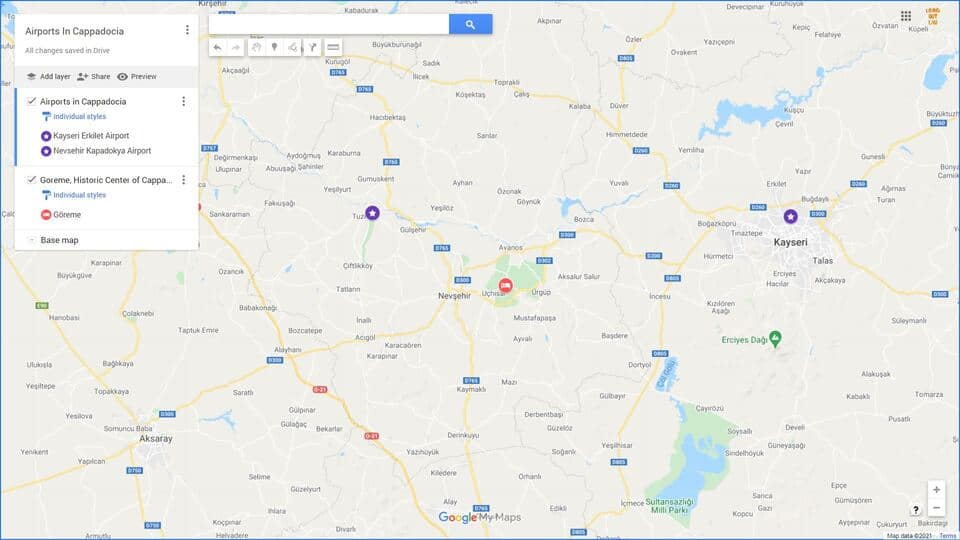 If you are short on time, then consider taking a flight to Cappadocia. While there isn't an airport for Goreme, there are two airports located nearby
Kayseri Erkilet International Airport (ASR)
Nevşehir Kapadokya Airport (NAV)
Kayseri Airport is located about 75 kilometers (or an hour drive) to Goreme, while Nevsehir Airport is only around 40 kilometers (or a 40-minute drive).
Generally speaking, since Kayseri Airport is bigger and serves international flights, the flights are cheaper than Nevsehir's.
Once you arrive at either of the airports, you will need to take an airport shuttle to Goreme regardless, so we recommend you to fly to the cheaper airport. We don't recommend taking a taxi as taxi drivers scam tourists frequently.
---
How To Get Around Cappadocia
Cappadocia is notoriously hard to get around.
All of the points of interest are spread out in the valley, and visiting multiple places in one day is very difficult.
That is why most visitors decide to do tours when visiting Cappadocia. Not only do they provide a knowledgeable guide, but also comfortable transportation from one attraction to another.
Like we have mentioned, if you have a short time in Cappadocia, tours are a must.
Public transportation (vans and buses) is also used frequently to get around, especially for the locals. The problem is that is very difficult to find schedules for the buses, and sometimes even harder to find the stops themselves.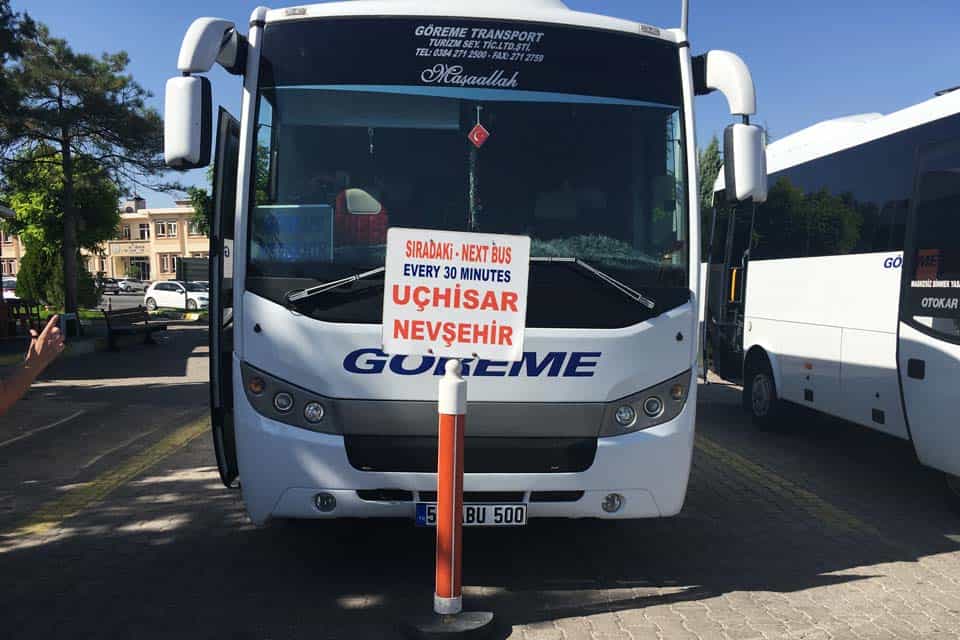 Also, you will typically need to wait a long time for the bus (sometimes an hour or so), meaning you won't be able to optimize your time efficiently in Cappadocia.
If you plan on taking public buses, make sure you ask your hotel reception for detailed information on which bus to take, where to take it, the time schedule, and most importantly, how to get back.
The last option to get around Cappadocia is by renting a car. It is a fairly common approach when it comes to getting around Cappadocia as car rentals are affordable. Parking is also very easy to find in Cappadocia. Once again, it is important to book with a reliable car rental company!
Though getting around Cappadocia is difficult, once you are inside the towns, they are walkable and quite easy to navigate.
---
Tips For Visiting Cappadocia
Pack Warm Clothes: Because of the desert climate system in Cappadocia, it is surprisingly cold in the early mornings and late nights, even in the summer. When you are up in the hot air balloons in the early hours of the morning, you will need a jacket for sure.
The Cappadocia Museum Pass Could Save You Lots of Money: The Cappadocia Museum Pass is a prepaid 3-day pass that offers you free access to eight museums in Cappadocia, including the costly Goreme Open Air Museums and the Underground Cities. At the time of writing, it costs 230 TL and could save you lots of money if you have an action-packed Cappadocia itinerary.
Bring Some Hiking Shoes: One of the best things to do in Cappadocia is hiking through its dreamy desert landscape. Though very appealing to the eyes (and soul), it is not as nice for your feet and legs. The dusty terrain makes the hiking trails in Cappadocia slippery. We recommend packing a pair of hiking boots for Cappadocia.
Reserve Your Hot Air Balloon Tours in Advance: The hot air balloon tours not only get canceled a lot but they are often fully booked far in advance, especially during the peak season. To secure your spot on one of the most epic experiences, make sure you reserve your tour in advance. Here is the company we highly recommend!
---
How Many Days to Spend in Istanbul and Cappadocia?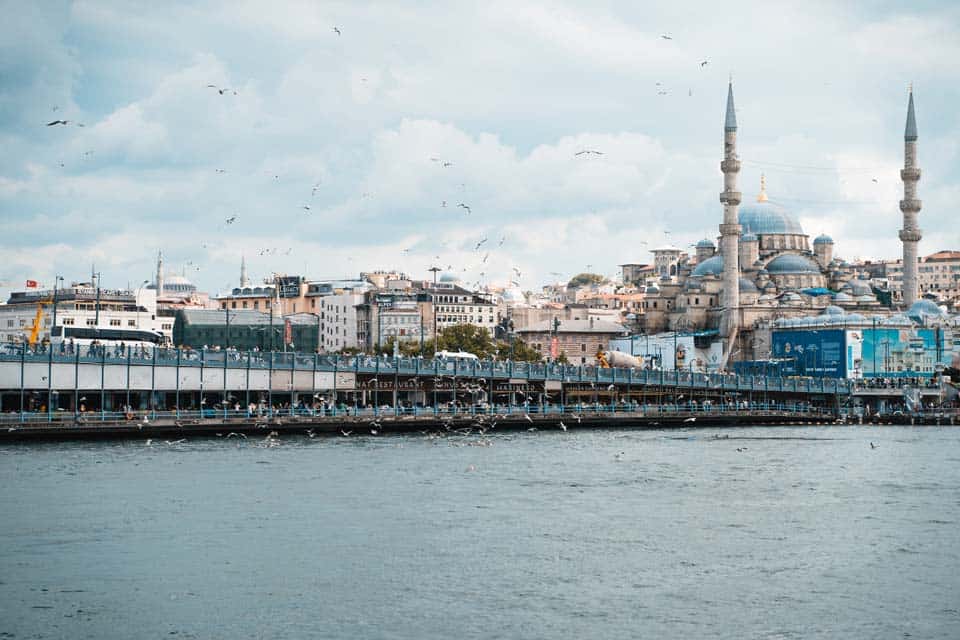 Anyone planning a Turkey trip will undoubtedly include the two best places to visit – Istanbul and Turkey.
Generally, we recommend spending around 4 days in Cappadocia. Deciding how many days in Istanbul is much simpler, as the weather isn't a huge factor.
4 days in Istanbul is ideal for exploring one of the greatest cities of all time. That gives you enough time to visit its historic attractions, sample local Turkish cuisine, and enjoy its magnificent mosques.
---
Is Cappadocia Expensive?
Cappadocia, like the rest of Turkey, is a very affordable travel destination.
However, as one of the biggest sightseeing spots in Turkey, Cappadocia is slightly more expensive than the average price in Turkey.
That doesn't mean budget travelers won't find affordable hostels and cheap food, but they are just less common.
For budget travelers, aim to spend around 30 USD per day, using public transportation and doing DIY visits.
Luxury travelers can spend hundreds of USD per day, taking multiple tours and staying in fancy hotels. The sky is the limit when it comes to spending in Cappadocia.
---
When is The Best Time to Visit Cappadocia?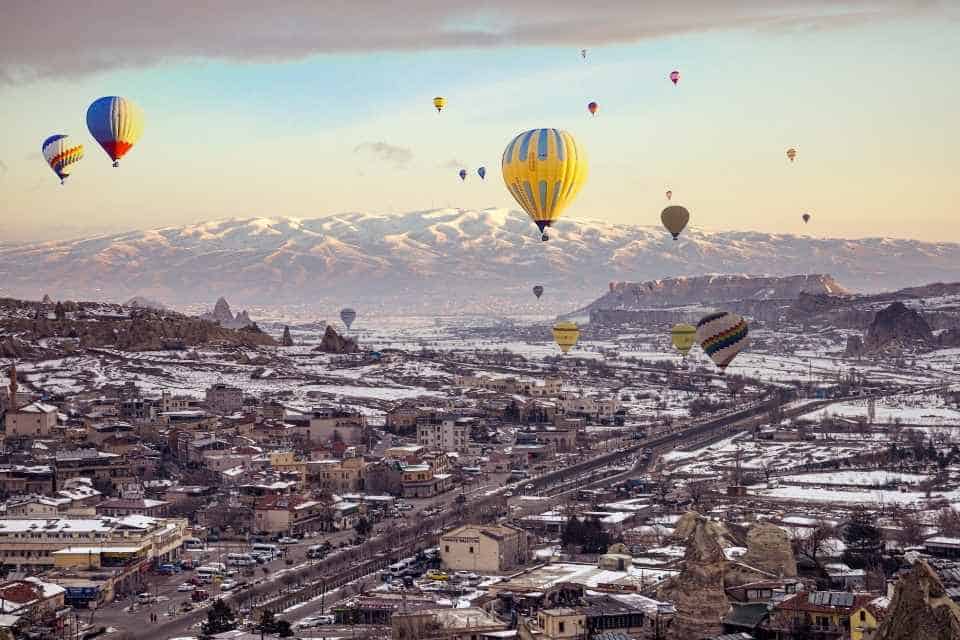 The best time to visit Cappadocia is in autumn (September to October). During this time, the weather is not too hot for exploring the hiking trails and the vast desert.
The best month to visit Cappadocia would be September. Rainfall is at its minimum and hot air balloons fly more frequently.
Summer in Cappadocia can be excruciating with its heat and winter with its cold. Spring is also an ideal time to visit Cappadocia but expect some spring showers.
---
Like this post? Don't forget to save it on Pinterest!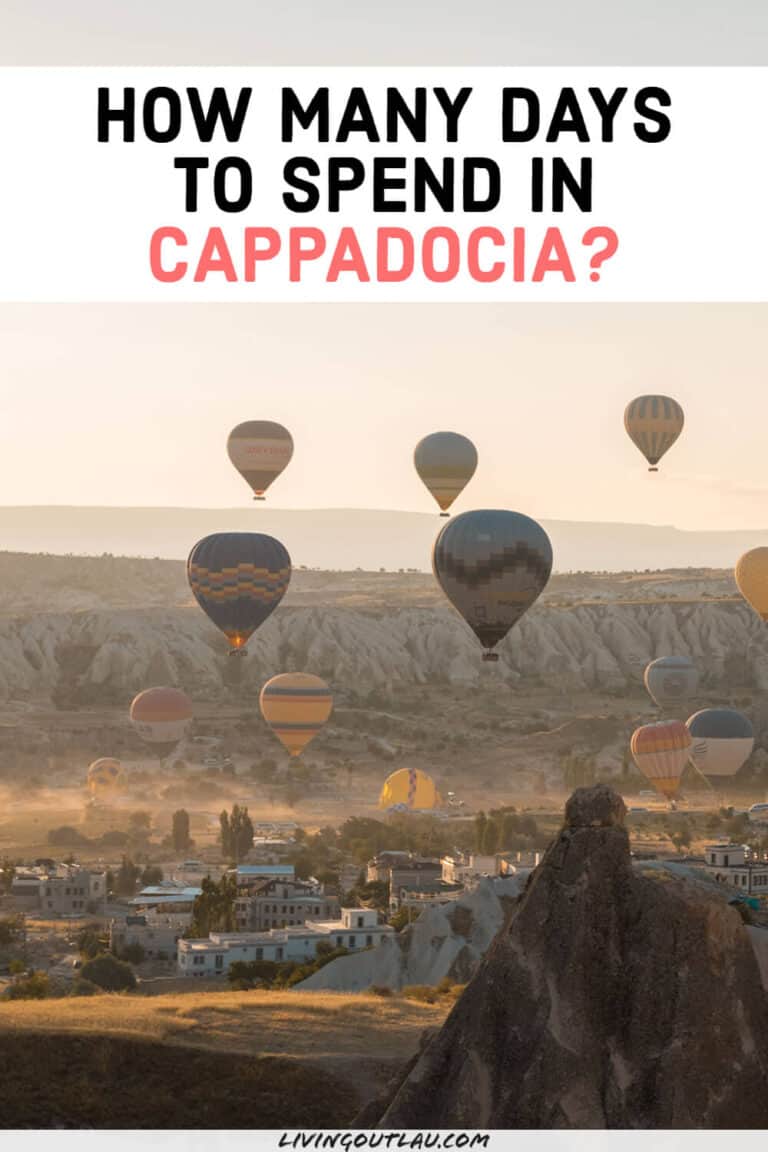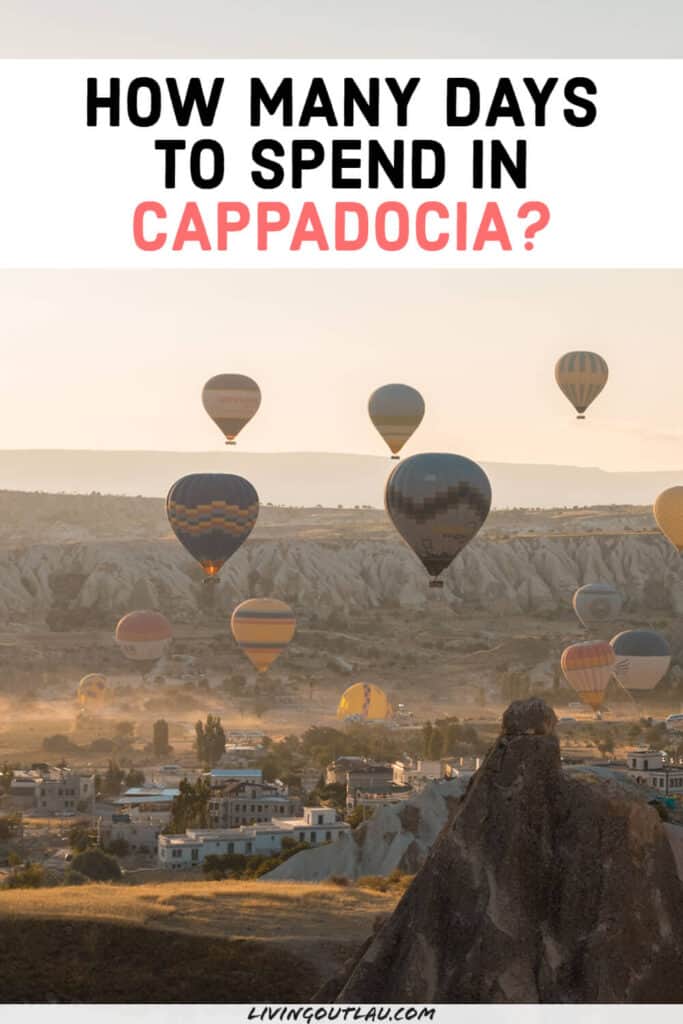 ---
This concludes our guide on how many days to spend in Cappadocia. Hopefully, now you have a better idea of what to expect on your Cappadocia trip.

Any questions? Leave them in the comments!
Disclaimer: Some of the links above are affiliate links. That means if you book or make a purchase through the links, we will earn a small commission at no extra cost to you! The money will help run this site! Thank you!