A country with rich history and diverse geography, Turkey is famous for plenty of things. Once the heart of the mighty Ottoman Empire, it isn't surprising to find a melting pot of culture and cuisine.
From the historic Hagia Sophia to the dreamy hot air balloons of Cappadocia, Turkey has plenty of world-renowned attractions.
For those that are not sure what Turkey is famous for, we have written this post on the 25 most well-known features of Turkey.

Enjoy!
---
What Is Turkey Famous For?
1. Istanbul, One of the Most Vibrant Cities in the World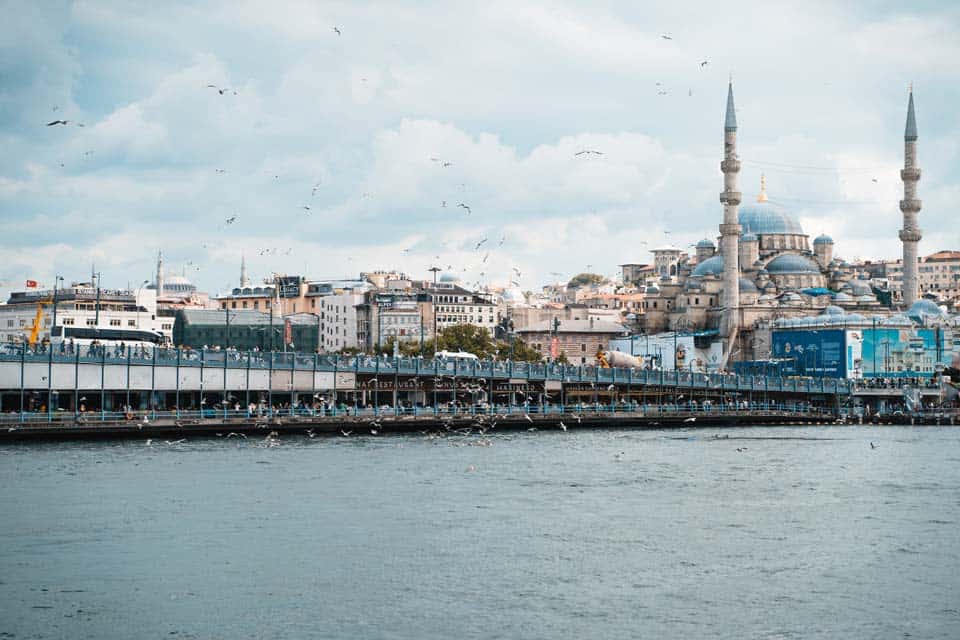 When you think of Turkey, your mind will probably jump to Istanbul, arguably the most famous city in Turkey. Though not the capital of Turkey (Ankara is), Istanbul is the cultural heart of Turkey. Its strategic location on the Bosphorus made it a very desirable city, and many empires have risen and fallen here.
The Old City of Istanbul (Sultanahmet) has been influenced by many different cultures. For example, a Roman Hippodrome lies below the current day Sultanahmet Square, where visitors will find Egyptian obelisks. Hagia Sophia, an iconic symbol for both the Byzantine and Ottoman Empire, now houses Roman and Ottoman relics.
Aside from its historical and cultural significance, Istanbul is a dynamic city with unmatched energy. From the charming neighborhoods to chic cafes, visitors will find plenty of things to do in Istanbul.
Planning to visit Istanbul? Don't miss out on our 4-day Istanbul itinerary!
2. Turkey Is Known For Hot Air Balloons in Cappadocia
If you have seen photos of Turkey, you might be familiar with the epic hot air balloon rides in Cappadocia. This postcard famous region is often deemed as one of the best hot air balloon rides in the world, and it is something you must experience when you visit Cappadocia.
The hot air balloon rises over the dreamy desert landscapes of the Cappadocia Valley, where fairy chimneys, rock-carved churches, and unworldly geological formations dot the region.
If you would like to experience the hot air balloons in Cappadocia, we recommend you to book your tour far in advance because optimal conditions are required for them to take off. You could wait days in Cappadocia and not be able to ride in one!
Check out our recommended hot air balloon tours in Cappadocia!
3. Pamukkale Cotton Castle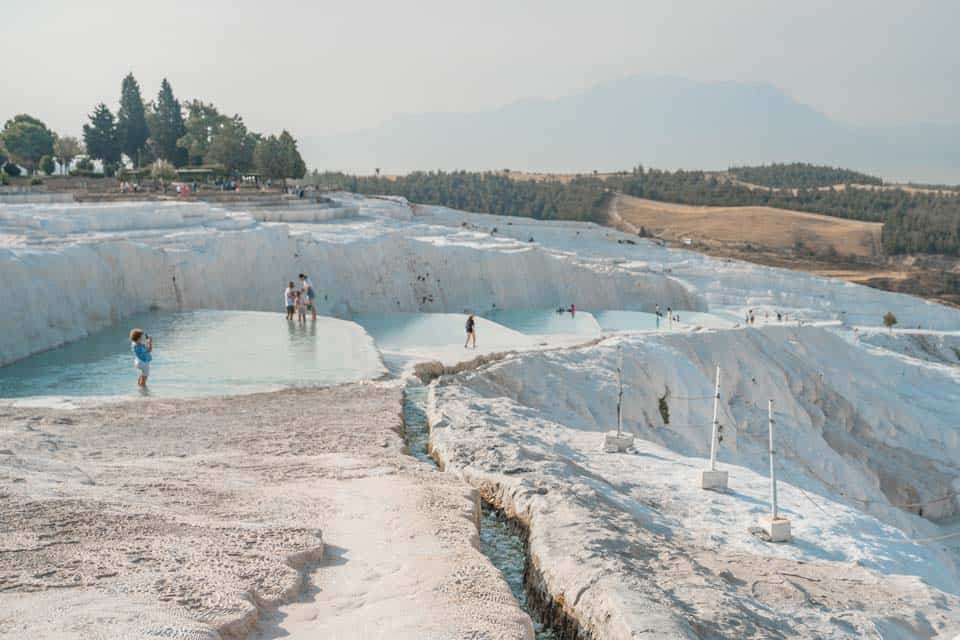 Pamukkale, a name that translates to Cotton Castle in English, is one of the most famous landmarks in Turkey.
Mineral deposits from the natural thermal spring water have created the present-day travertine basins, many of which are filled with water. They are the perfect place to relax after a long exhausting day.
However, what makes Pamukkale a UNESCO Heritage Site is more than just the dreamy pools, but Hierapolis, an ancient Greek City. The thermal mineral waters are said to have healing properties, thus attracting people to settle in the area thousands of years ago.
Though Hierapolis is mostly in ruins, visitors can still imagine the magnificent city it once was, especially when you visit the gorgeous Greek amphitheater. Because the entrance fee of the Pamukkale pools includes Hierapolis, you can jump straight into the relaxing waters when you are tired from exploring the ancient site.
Want to visit Pamukkale? Find out how you can take a day trip from Istanbul to Pamukkale in this guided tour!
4. Ephesus, An Ancient Greece City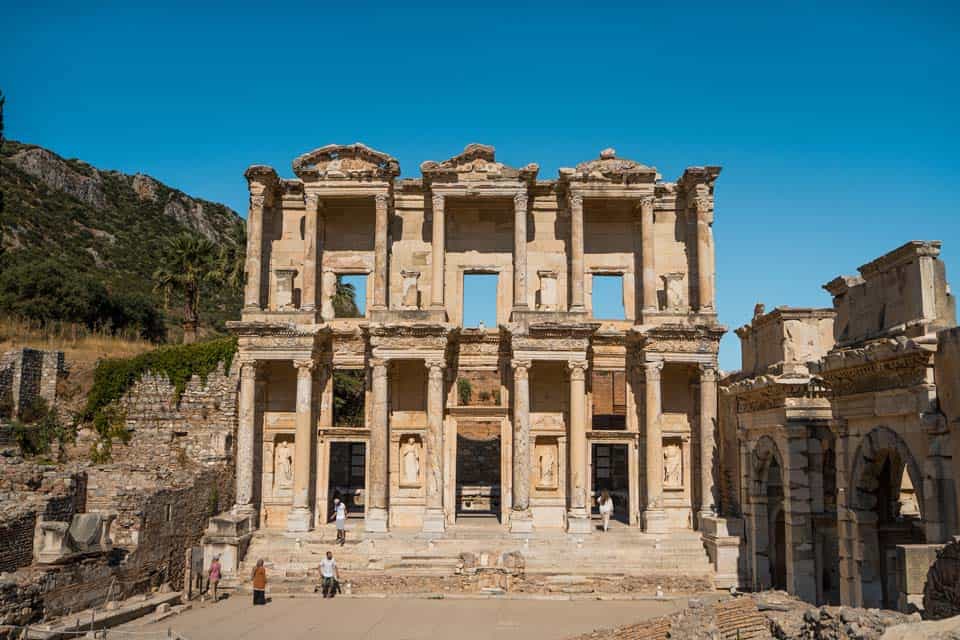 As a UNESCO Heritage Site, Ephesus is one of the most famous places in Turkey. An ancient Greek city built around the 10th century BC in what was once the estuary of the river Kaystros, Ephesus continuously shifted due to the changes in water level.
The strategic location led to many settlements in the area, and visitors can see cultural impacts of the Hellenistic, Roman Imperial and early Christian periods at Ephesus.
One of the most remarkable Turkish buildings in Ephesus is the Library of Celsus, an ancient Roman building commissioned in the 110s. It is one of the few remaining libraries of the Roman Empire in the world.
Though the Library of Celsus is certainly the most spectacular, it isn't the most important building in Ephesus. The title belongs to the Temple of Artemis, one of the "Seven Wonders of The Ancient World." Unfortunately, not much is left of the temple to see.
Interested in visiting Ephesus? Check out our recommended Istanbul day tour to Ephesus here!
5. Turkish Coffee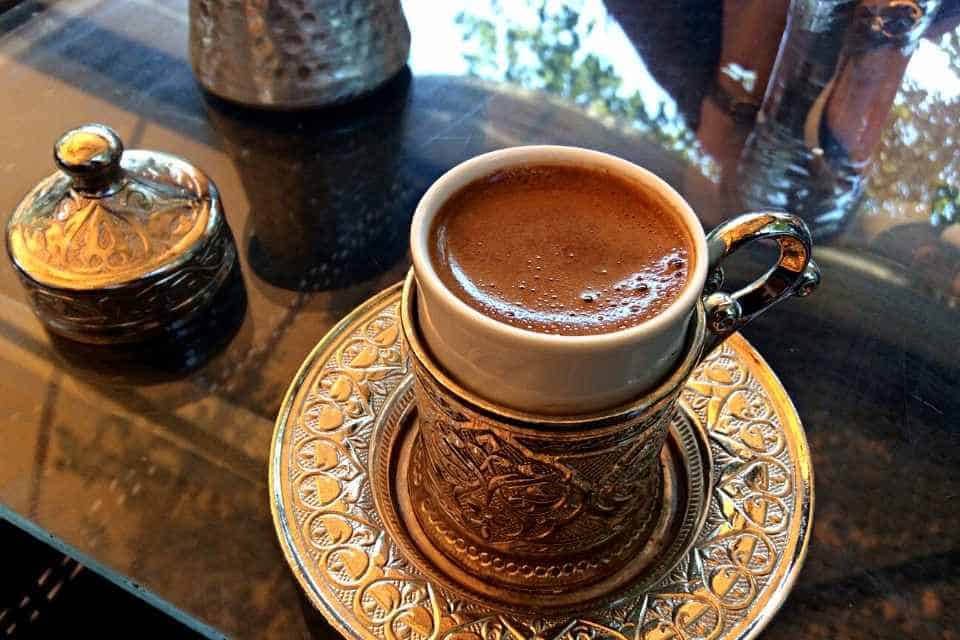 One of the most famous Turkish beverages is Turkish coffee. Unlike traditional coffee-making techniques, Turkish coffee is made by combining finely grounded coffee with water and bringing the mix to a frothy foaming state.
The final product, including the coffee grounds, are poured into cups for drinking. The heavier coffee grounds will sink to the bottom of the cup and the liquid is to be consumed.
Hence, Turkish coffee can be a little bit gritty, thanks to the fine coffee grounds that stay afloat. However, this unfiltered way of making coffee results in a much richer and caffeinated beverage!
6. Turkish Tea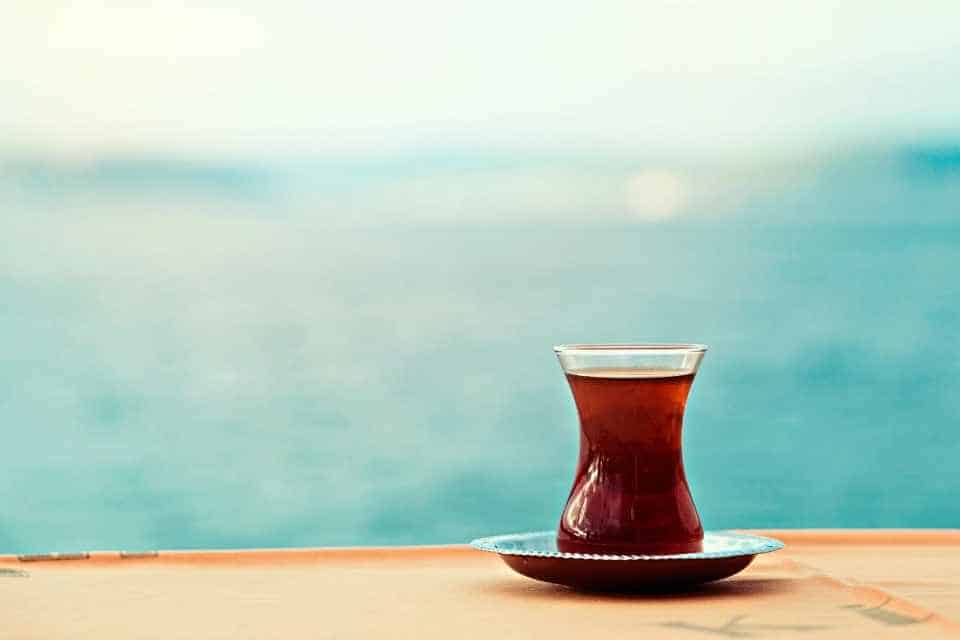 Though Turkish coffee might be the most famous drink Turkey is known for, it is Turkish tea that is more widely consumed. In fact, from speaking with the locals, it is not uncommon to drink 5 cups of Turkish tea (çay in Turkish) per day. During winter, that consumption can go up to 10 cups a day.
In fact, did you know that Turkey has the highest tea consumption per capita in the world? Yes! It beats popular tea-drinking countries like the United Kingdom, Japan, and China!
What is Turkish tea? Turkish tea is made from processed tea plants from Rize, a province in the Black Sea region of Turkey. It is a type of black tea that is often served in tulip-shaped glasses.
7. Having the Biggest City in the World That Spans Two Continents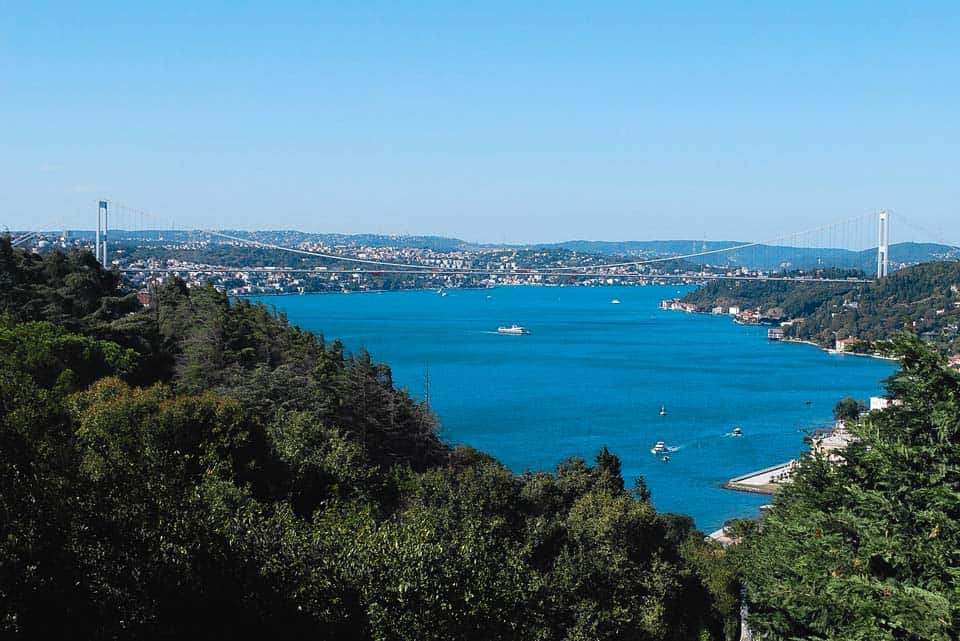 Besides being a vibrant city with extraordinary historical significance, Istanbul has a unique geological feature – it rests on two continents, Asia and Europe. Though there are several cities in the world that have this feature, Istanbul is the biggest of them all.
In Istanbul, the famous Bosphorus Strait separates the two continents, and visitors can commute easily from one side to another with either the ferry, Mamaray Metro line, the Bosphorus Bridge, or the Eurasia Tunnel.
8. Hagia Sophia, The Heart of The Byzantine and Ottoman Empire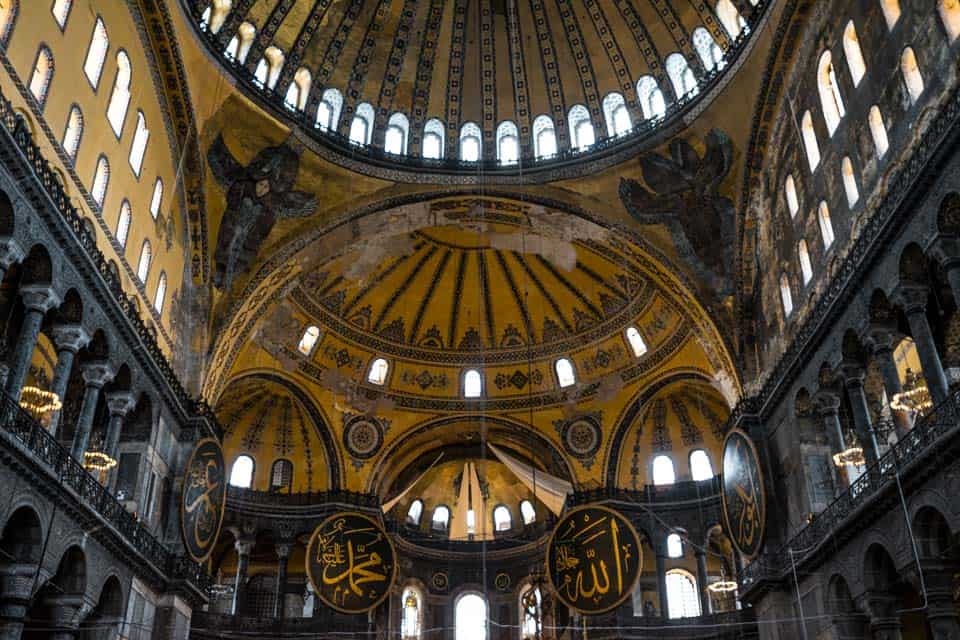 There is no building more famous in Istanbul than the Hagia Sophia, an architectural masterpiece built in 537. Constructed in the year 537, Hagia Sophia was a patriarchal cathedral of the Byzantine Empire.
However, when Constantinople (the name for Istanbul under the Byzantine Empire) was conquered by the Ottoman Empire, Hagia Sophia turned into a mosque.
It wasn't until 1935 that Hagia Sophia became a museum under the Republic of Turkey. But in 2020, the government decided to re-open it as a mosque!
The famous Hagia Sophia is the heart of every empire, civilization or country it has ever existed in. It is a must-visit place when you are in Turkey!
9. Anatolian Rugs (Turkish Carpets)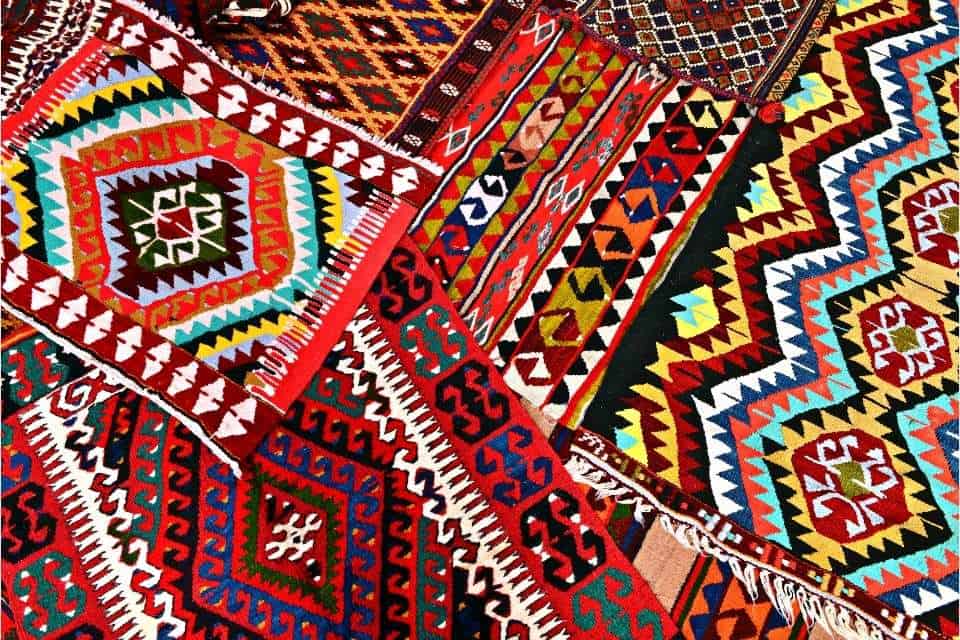 In every market, bazaar, or touristy destination in Turkey, you will find gorgeous Turkish carpets (properly known as Anatolian rugs). It is termed Anatolian rugs because they originate from the Anatolia region of Turkey.
Usually made with a combination of soft wool, fine silk and superior cotton, Turkish carpets are well-known for their superb quality. The Anatolian rugs often feature geometrical shapes and vibrant colors, some denoting certain motifs in the region. People and animals are never on the carpets, as the Quran disallows so.
The Turkish rugs are always tied with a Turkish knot as well.
If you want to buy Turkish carpets in Turkey, you will want to go to a reputable seller as there are plenty of fakes out there. Before you go, you might want to learn more about spotting a real Turkish rug from a fake one!
10. Grand Bazaar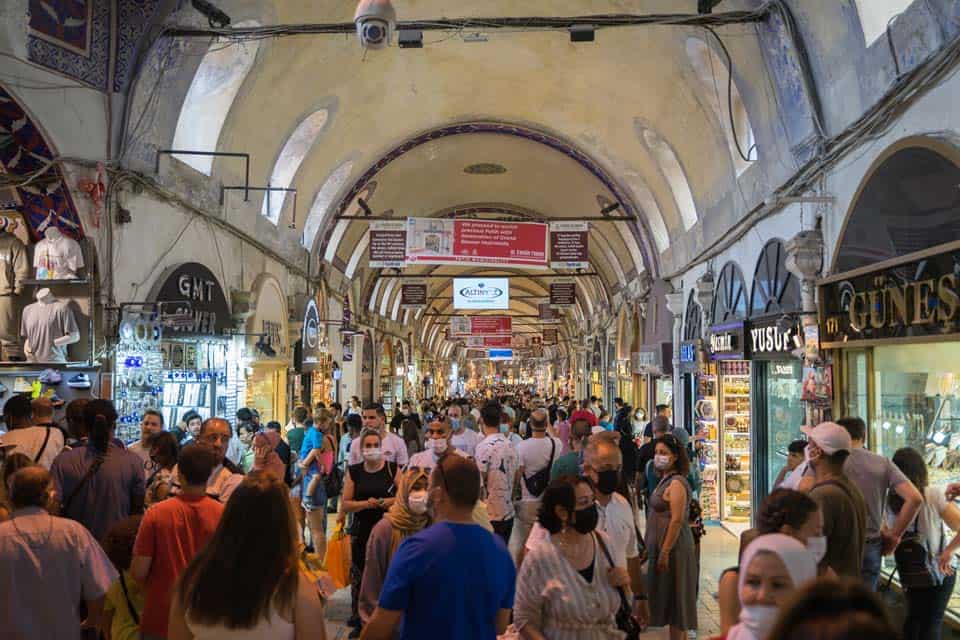 As one of the oldest and largest covered markets in the world, the Grand Bazaar's fame is international. Constructed in 1461, some refer to the Grand Bazaar as the first shopping mall in the world.
In the 30,000 square meters of space, there are 61 streets and over 4,000 vendors in the Grand Bazaar. Visitors can find everything from Turkish carpets, Turkish mosaic lamps, counterfeits, and so much more. It is one of the best places to buy a souvenir from Turkey.
When purchasing something in the Grand Bazaar, always remember to bargain or else you might get ripped off! And if something is too good to be true, then you are probably getting a fake.
11. Being The World's Largest Hazelnut Producer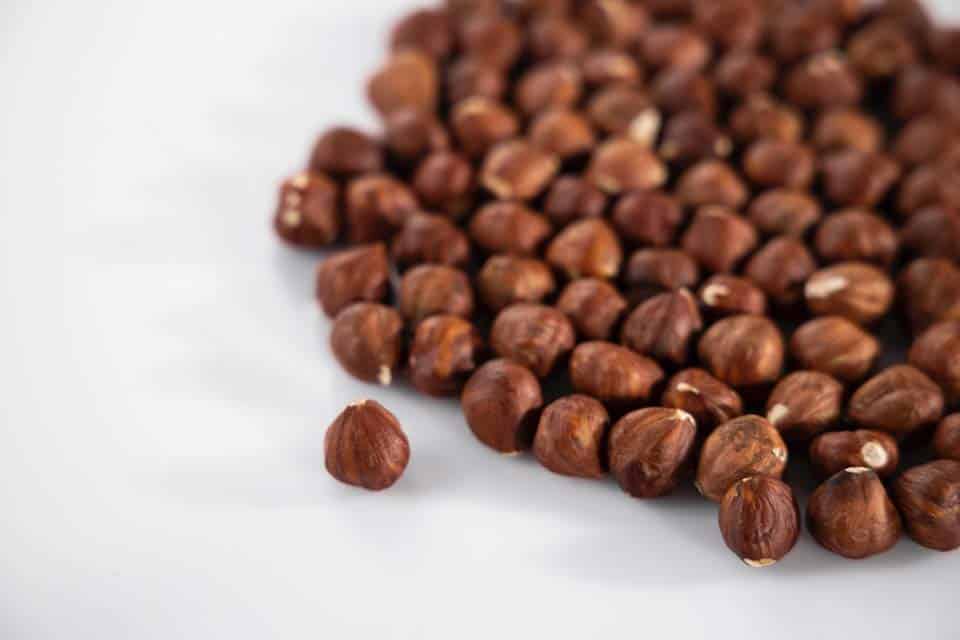 One of the most interesting facts about Turkey is that it is the world's biggest hazelnut producer. According to FAO (Food and Agriculture Organization), Turkey produces 72.9 percent of the world's supply of hazelnuts.
They are mostly grown in the regions of Turkey along the Black Sea, where the soil and steep slope are too difficult for any other type of crops to grow.
12. Nazar, a Turkish Talisman to Ward Off Evil Eye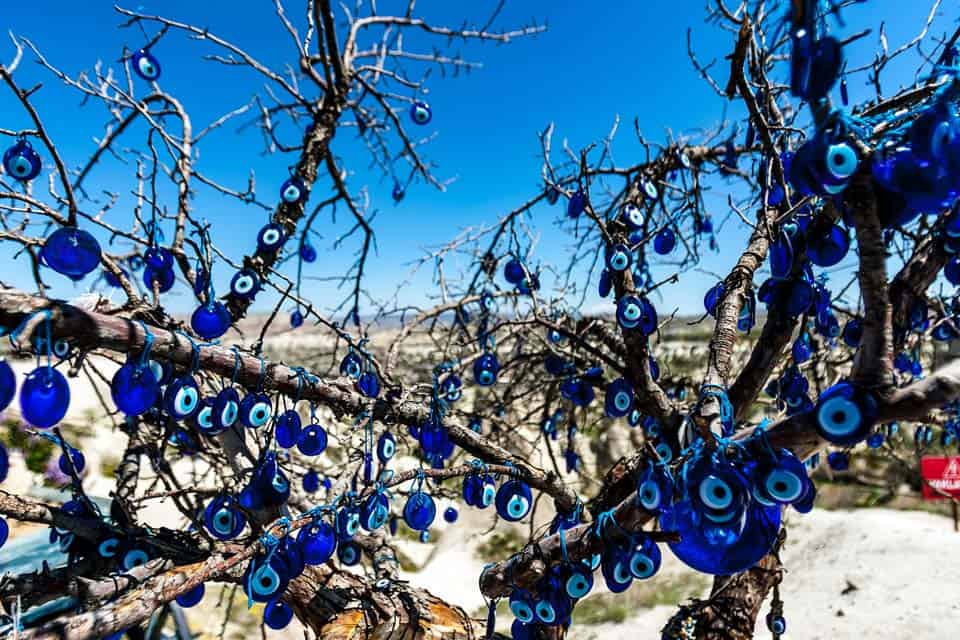 No matter where you visit in Turkey, you will see a strange blue-looking talisman with a dot known as a Nazar. These blue amulets are one of the most well-known Turkish souvenirs as they help fight off Evil Eye, a curse given to someone unaware.
The blue trinkets known as Nazars are often confused as Evil Eyes themselves because they look like eyes. In fact, it is the belief of "an eye for an eye" that results in the Nazars looking like eyes themselves.
13. Baklava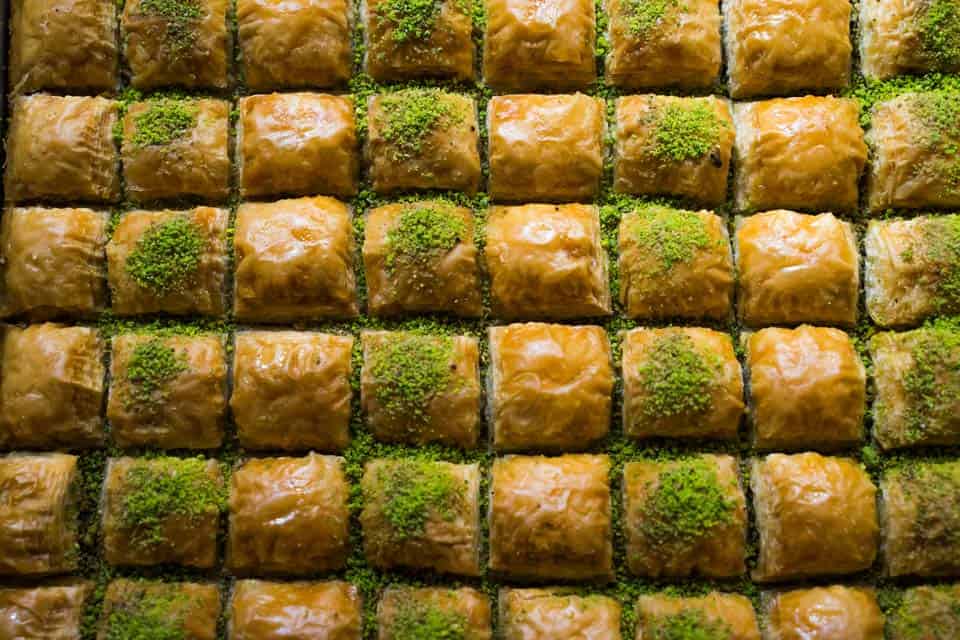 With its roots in the Ottoman Empire, baklava is one of the most famous Turkey sweets. This bite-sized layered dessert is made of filo pastry, filled with nuts, and finally sweetened with honey or syrup.
There are many variations of the modern-day baklava, but the original one is believed to be the pistachio baklava. The proper way to eat them is upside down, as that allows the syrup-soaked bottom to redistribute itself evenly throughout the baklava.
14. Turkish Baths (Hammam)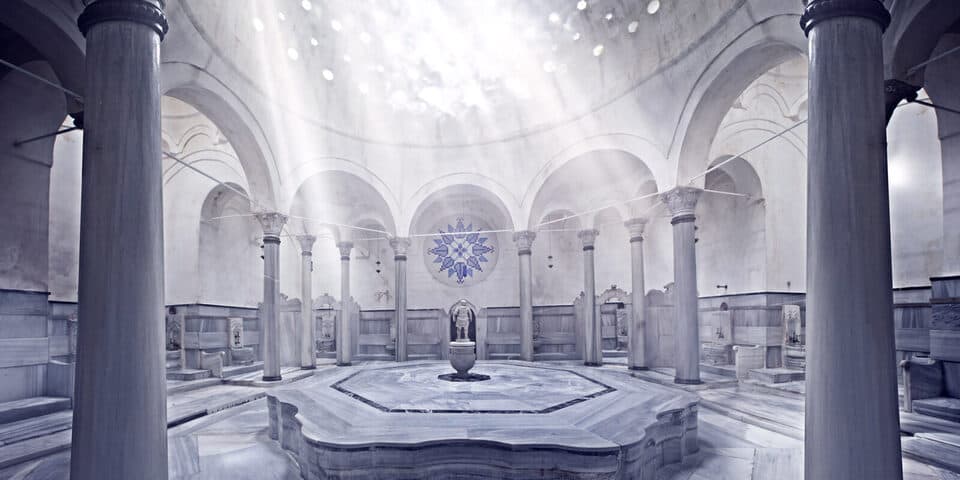 Another thing Turkey is famous for is its Turkish baths, or Hammam in Turkish. A place of pure relaxation and cleansing, visitors will come out of a Turkish bath feeling younger and more vitalized.
The Turkish baths are inherited from the Roman baths. Historically, they were a place for cleansing and socializing but nowadays it is more of a pure relaxation experience. It is very common to be completely nude in the baths, but don't worry, they are gender separated.
But for many, a hammam isn't just a relaxation experience, it is being present with the history of Turkey. Many of the hammams are hundreds of years old and look like masterpieces of interior design. In fact, the Cağaloğlu Hamam in Istanbul is listed as one of the 1000 places to see before you die!
15. Turkish Cuisine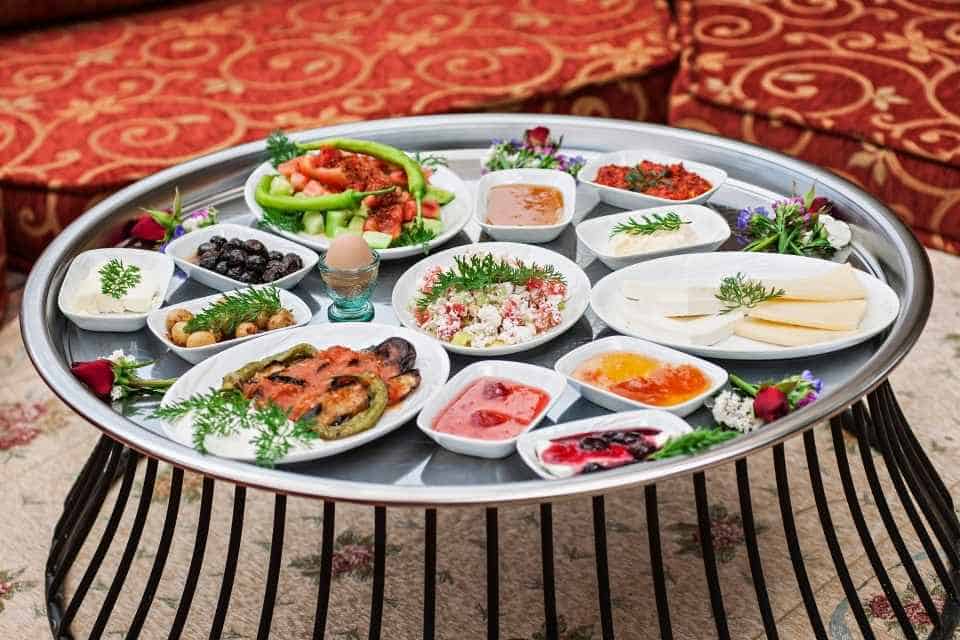 When we visited Turkey, one of the most unique things we noticed was the food. In Turkey, it is nearly impossible to find westernized food unless you are in a touristy part of town. But the thing is, we weren't sad about it because of how delicious Turkish cuisine is.
From mouth-watering kebabs to heavenly sweet sütlaç (Turkish rice pudding), Turkish cuisine is rich in flavor and very diverse, thanks to the many different regions of Turkey.
For example, in Istanbul where fresh seafood is abundant, you will find food like stuffed mussels and fish sandwiches. But when you move to the center of Turkey where Cappadocia is, you won't find seafood anymore, but instead dishes like clay pot kebab, manti and gozleme.
One thing that Turkey won't disappoint you with is the food. If you are an adventurous foodie, you will find yourself in paradise in Turkey!
16. Beautiful and Affordable Seaside Resorts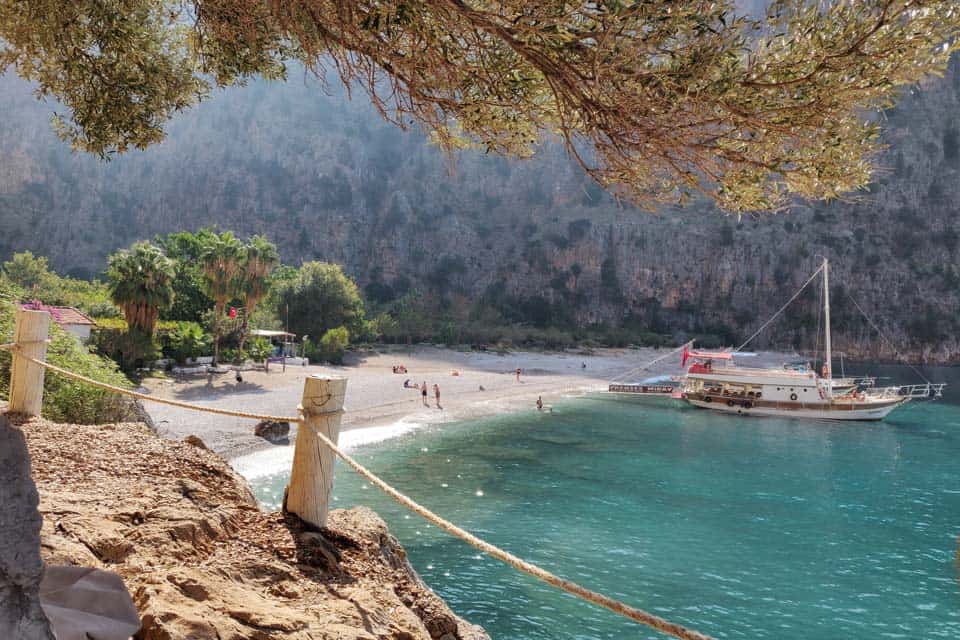 While Turkey might be more known for the beautiful city of Istanbul and the fairy chimneys in Cappadocia, it is no stranger to beautiful seaside resorts. Towns in the southwestern parts of Turkey such as Bodrum and Fethiye rest adjacent to the beautiful Aegean Sea, offering visitors a revitalizing escape.
Not only are the beaches there filled with white sand and refreshing blue waters, but a trip to these coastal towns is also affordable, especially when compared to other blue-water escapes such as Greece or France.
17. Turkish Delight (Lokum)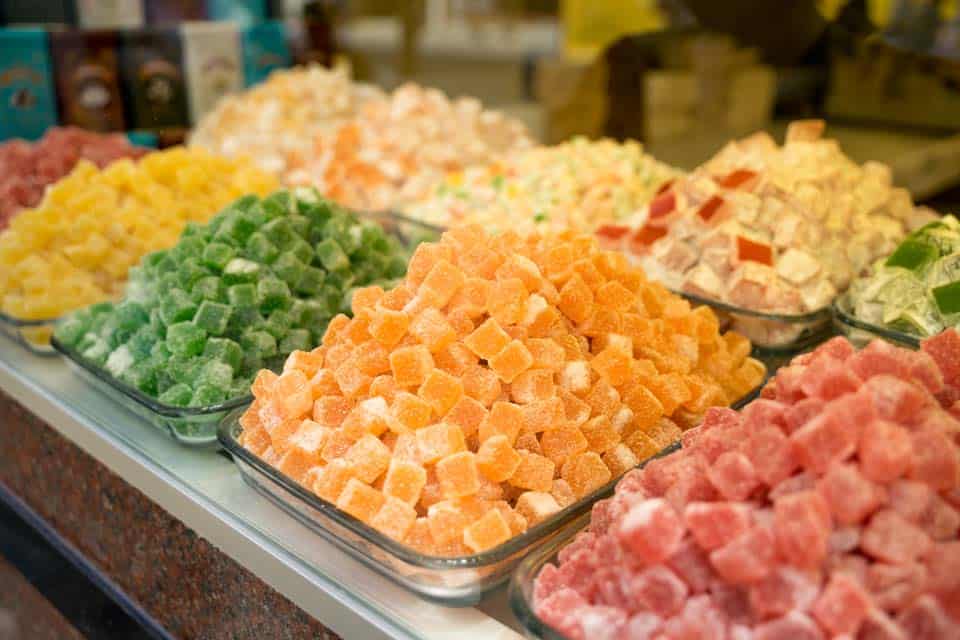 Turkish Delights (Lokum in Turkish) is one of the most known sweets from Turkey. They are small cubes of confections made with a gel of starch and sugar. In simpler words, they are just sugary and chewy cubes.
The cubes are often covered with icing sugar to prevent them from sticking to each other.
There are many flavors for Turkish Delights. The most common ones are rosewater, mastic gum, and lemon. Premium versions of the Turkish Delight will have something in the middle, typically nuts such as pistachio and hazelnuts.
18. The Blue Mosque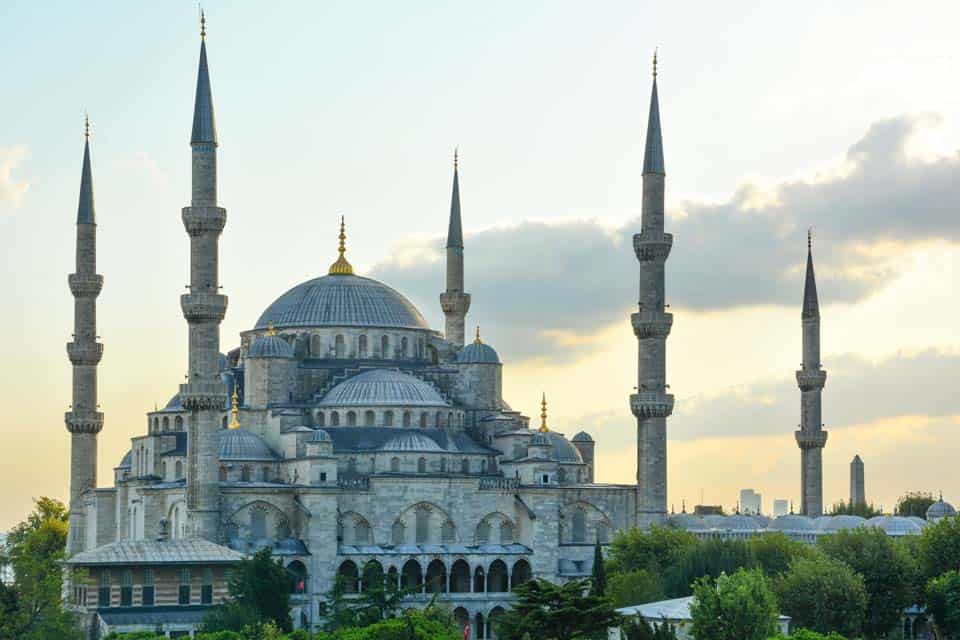 The Blue Mosque is one of the most famous buildings in Istanbul. At first glance, visitors might be confused why the Blue Mosque is called the Blue Mosque because its exterior is not blue.
It actually earned its name for having 20,000 blue handmade tiles that are used to decorate the interior of the mosque.
The beauty of the Blue Mosque is undeniable, but what is more surprising is that it was built between 1609 to 1619, which is a little more than 500 years ago!
19. Turkish Towels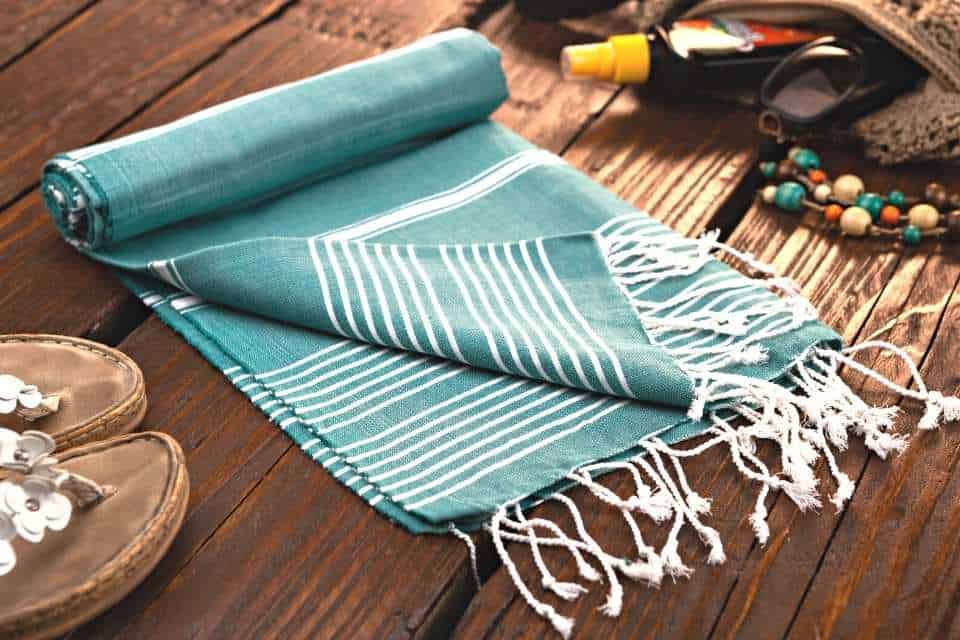 Turkish towels are some of my favorite towels for traveling, so we must include them in our famous Turkey guide. If you don't have one right now, I suggest you buy one ASAP!
Turkish towels are made from Turkish cotton, a premium cotton with extra long fibers. The result is a high-quality towel that gets MORE absorbent and softer after every wash. They are also known to be very quick-drying, which is perfect when it comes to traveling!
20. Turkey is Famous for Turkish Ice Cream (Dondurma)!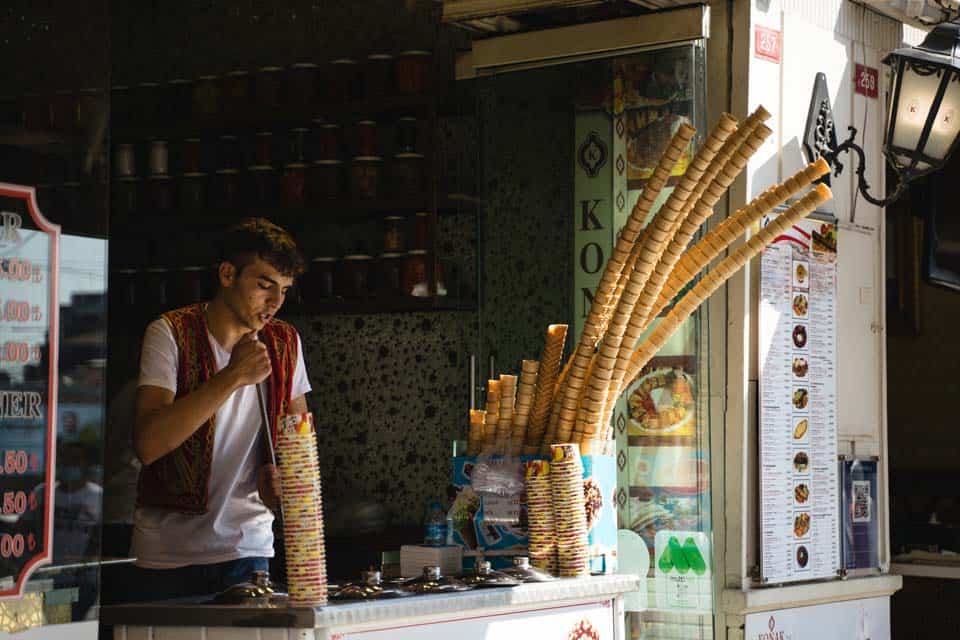 Dondurma, or more commonly known as Turkish Ice Cream, is one of the signature things from Turkey.
Compared to typical ice cream, Turkish ice cream is harder in texture and more resistant to melting. That is because it is made with thickening agents like salep, and mastic, a resin that makes things chewier.
However, the texture and taste of Turkish ice cream aren't what made it famous. When dondurma is served, it is usually accompanied by a show. The vendor attaches the ice cream to the end of a long stick, and when the customer goes to grab it, the vendor teases the customer by rotating the handle and doing other tricks.
Eventually, the vendor gives the ice cream to the customer, but not without a little bit of fun and laughter from both parties.
21. The Historic City of Troy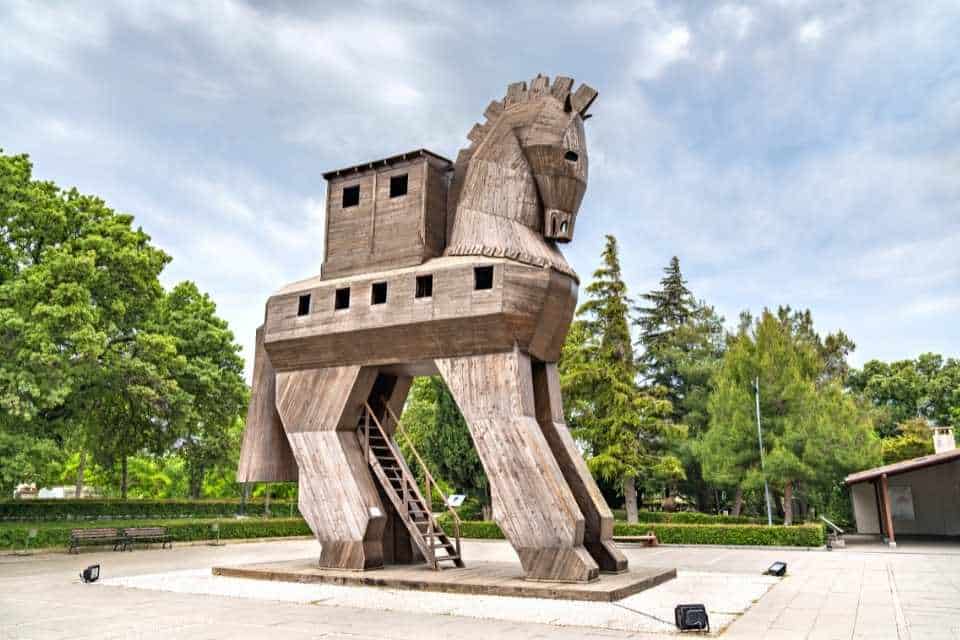 If you have read any Ancient Greek literature, you might know about the mythical city of Troy, the Trojan War, and the legendary Trojan Horse. Featured in prominent literature such as the Iliad and the Odyssey, Troy is a famous city where the Trojans and Greeks fought.
Nowadays, historians believe that the city of Troy is located in Turkey, 30 kilometers (19 miles) southwest of Canakkale. The archaeological sites of Troy consist of nine layers of history, from the Early Bronze Age to the Byzantine era.
It is a present-day UNESCO Heritage Site and one of the most famous ones in Turkey.
Thankfully, visitors can see this important historical landmark on a day trip from Istanbul!
Check out our recommended day trip to Troy from Istanbul here!
22. Oldest Underground Train in Continental Europe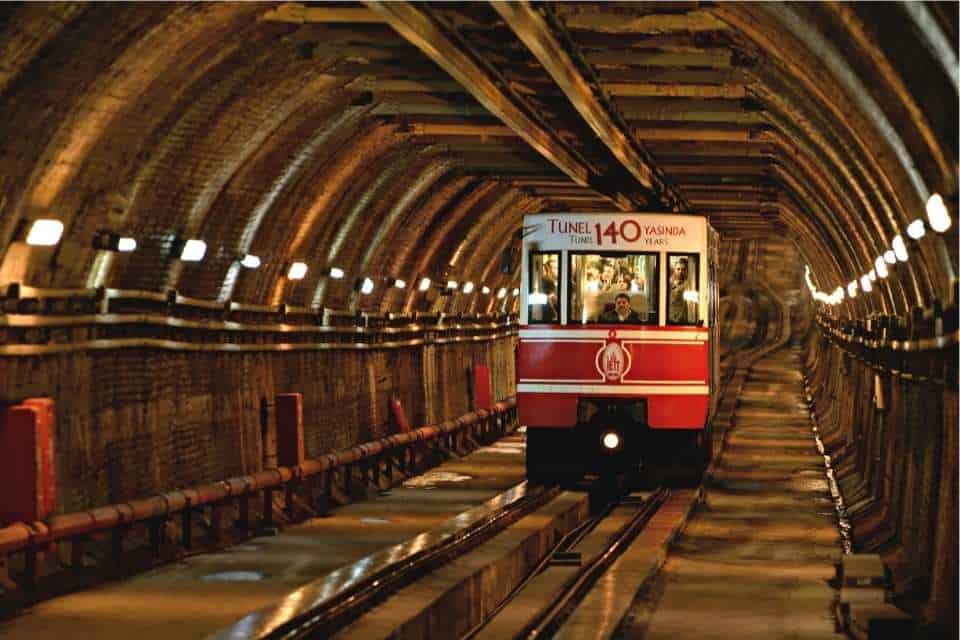 Not many people might know this but Turkey is home to the oldest underground train in Continental Europe. The Istanbul Tunel, which opened in 1875, is an underground train that only runs a distance of 573 meters. Despite the journey taking only 90 seconds to complete, it carried thousands of passengers every day.
The Tunel connects two of the most important neighborhoods in Istanbul at the time – Karakoy and Pera. Though the distance between them is short, Pera is situated on top of a massive hill. Walking from Karakoy to Pera will take more than 15 minutes!
23. Cheap Hair Transplants and Dental Work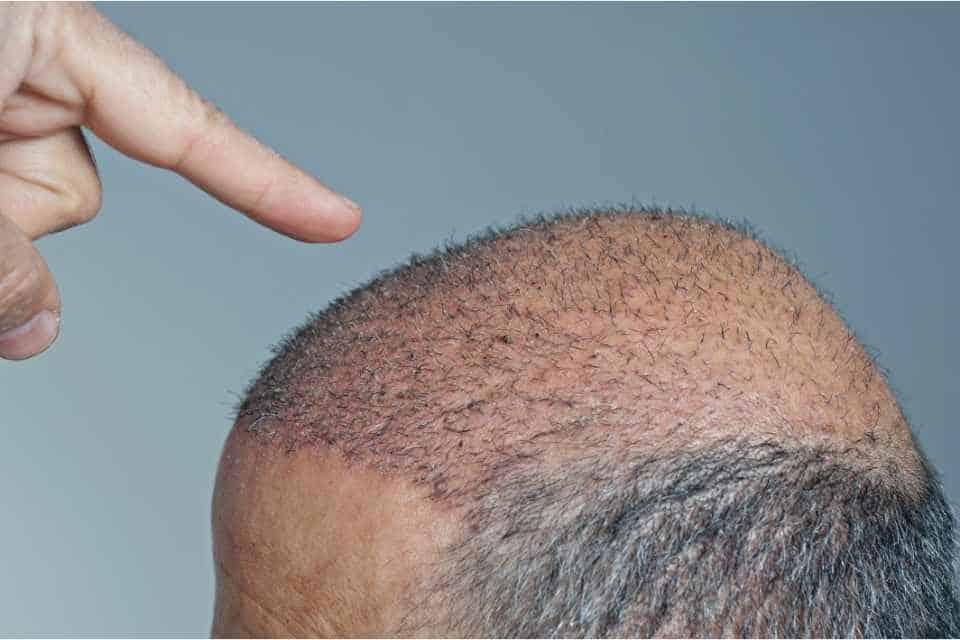 Thanks to the government's incentives for medical tourism, Istanbul is a very popular destination for hair transplants and dental work. Though you might be slightly afraid to do any type of medical procedure in a "cheap" country like Istanbul, the medical staff in Turkey is highly reputable and experienced.
Numerous procedures are performed every year, and the results are often fantastic. Combined with the affordable prices, Turkey is very well-known for its hair transplant procedures and dental work. In fact, for some, that is the reason why some travelers visit Turkey!
24. Ottoman Empire
The Republic of Turkey is the descendants of the Ottoman Empire, one of the strongest dynasties in the world. It lasted more than 600 years, and only crumbled after in 1922 the events of World War I.
The Ottoman Empire rose to power in the 15th and 16th centuries, and at its peak, it included the present-day territories of Hungary, the Balkans, Greece, parts of Ukraine, portions of the Middle East, North Africa, and parts of the Arabian peninsula.
Inside the Ottoman Empire, the prowess of the Janissaries, an elite army of the Ottoman Army, was feared throughout Europe and Asia.
25. Turkish Hospitality
The cornerstone of Turkish culture is its people, and one of the most common characteristics of the Turks is their hospitality. Turkish people are SO friendly.
Traditionally, Turkish people believe that visitors are guests sent by God, and they are to be treated with the utmost respect and warmth. When you are visiting Turkey, it is not uncommon to meet Turks that will ask you lots of questions, especially about your personal life.
Many of them will go out of their way to assist you if you have any problems. Some will just chat you up as you are strolling the streets and doing your own thing. Don't be surprised if that happens to you!
---
Turkey's Most Famous FAQs
Who Are Turkey's Most Famous People?
Suleiman the Magnificant
Mehmet The Conqueror
Mustafa Kemal Atatürk
Osman I
What Are Turkey's Most Famous Foods?
Doner Kebab
Turkish Coffee
Turkish Tea
Baklava
Turkish Delight (Lokum)
What Are Turkey's Most Famous Cities?
Istanbul
Goreme
Antalya
Bodrum
Gaziantep
Who Are Turkey's Most Famous Actors?
Kıvanç Tatlıtuğ
Can Yaman
Burak Özçivit
Fahriye Evcen
Hande Ercel
Demet Ozdemir
---
Like this post? Don't forget to save it on Pinterest!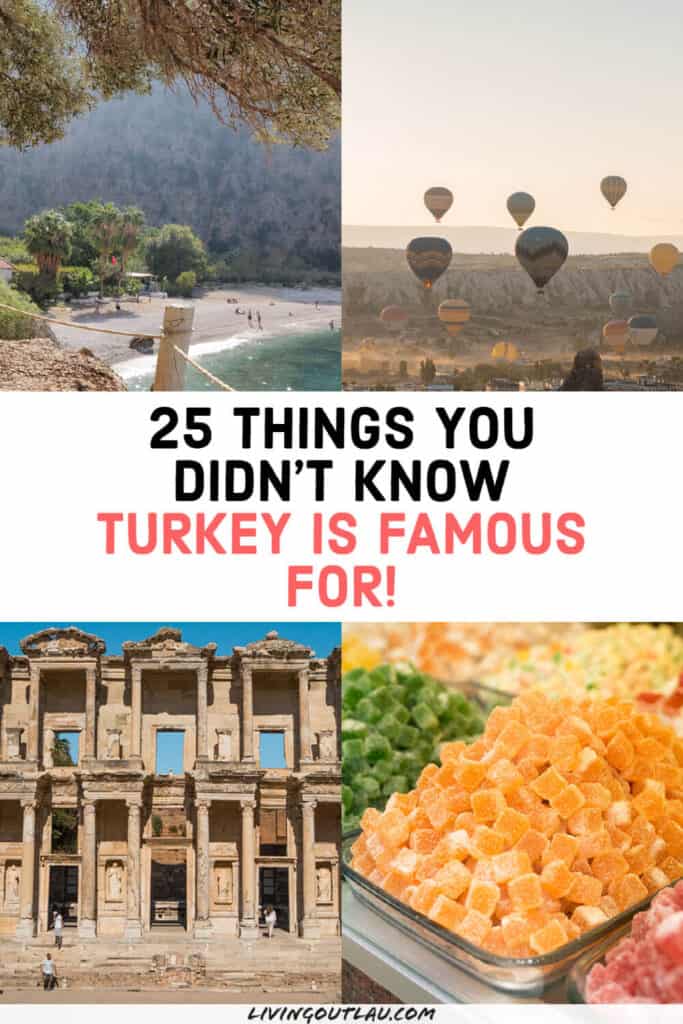 ---
This is the end of our guide on the things Turkey is famous for. If you weren't sure what Turkey is known for, we hope you do now!

Any questions? Leave them in the comments!
Disclaimer: Some of the links above are affiliate links. That means if you book or make a purchase through the links, we will earn a small commission at no extra cost to you! The money will help run this site! Thank you!