Not sure what to do in Cappadocia, Turkey?
Home to the Goreme National Park, Cappadocia is a historic region in Central Anatolia dotted with stunning natural wonders, unworldly fairy chimneys, epic rock formations, and relics of the past.
From adventurous desert hikes to surreal hot air balloon rides and rock-cut churches, let us show you the 26 best things to do in Cappadocia, Turkey!
We have also included valuable information such as how to get to Cappadocia, where to stay in Cappadocia, tours in Cappadocia and more so you have a complete Cappadocia travel guide for your trip.
---
26 Best Things to Do in Cappadocia Turkey
1. Discover The Goreme Open-Air Musem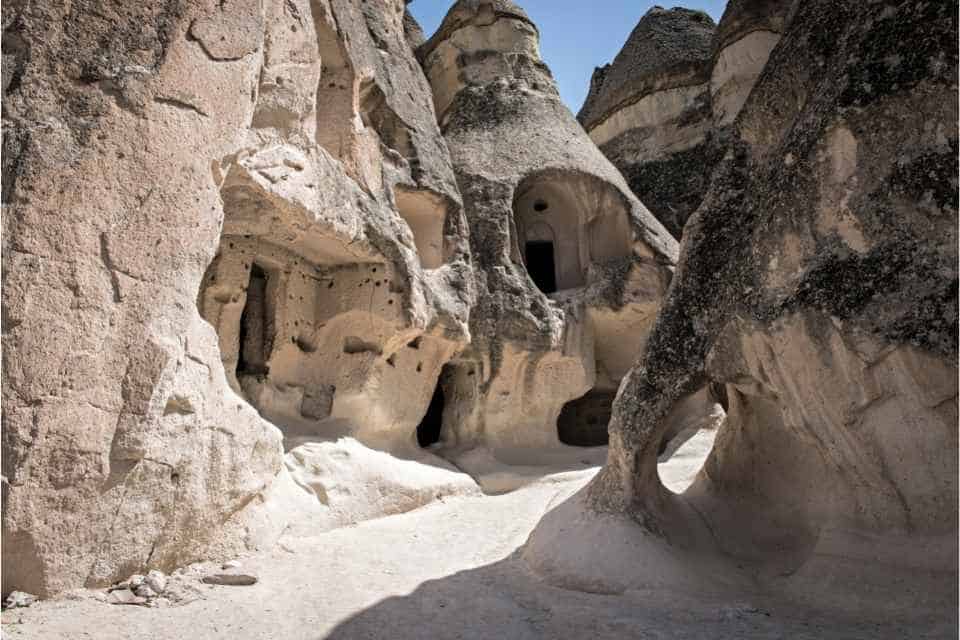 The Goreme Open-Air Museum is a must-see in Cappadocia. A member of the UNESCO World Heritage Site since 1985, the Goreme Open-Air Museum is one of the first three sites in Turkey to earn such an honor.
The Goreme Open Air Museum features a cluster of rock-carved churches, many of which still contain original frescoes dating back to the Byzantine and Roman periods in the 10th to 12th centuries. Though the settlement dates back much older, it is the monastic settlements during those periods that earned the museum's fame today.
A visit to the Goreme Open Air Museum will give you a great understanding of the Cappadocian region, as well as some of its most renowned artifacts there such as the Dark Church. The frescoes inside the Dark Church are arguably the best in all of Turkey.
The best thing about visiting the Goreme Open Air Museum is how easy it is to get there. It is only a 20-minute walk from the popular town of Goreme to the museum. Along the way, you catch a glimpse of some of the spectacular landscapes in the region.
Entrance Fee: 100 TL, extra 30 TL for the Dark Church and more for an audio guide
Opening Hours: 8 AM to 7 PM Daily (Closes earlier depending on the season)
2. Go On A Hot Air Balloon Ride In Cappadocia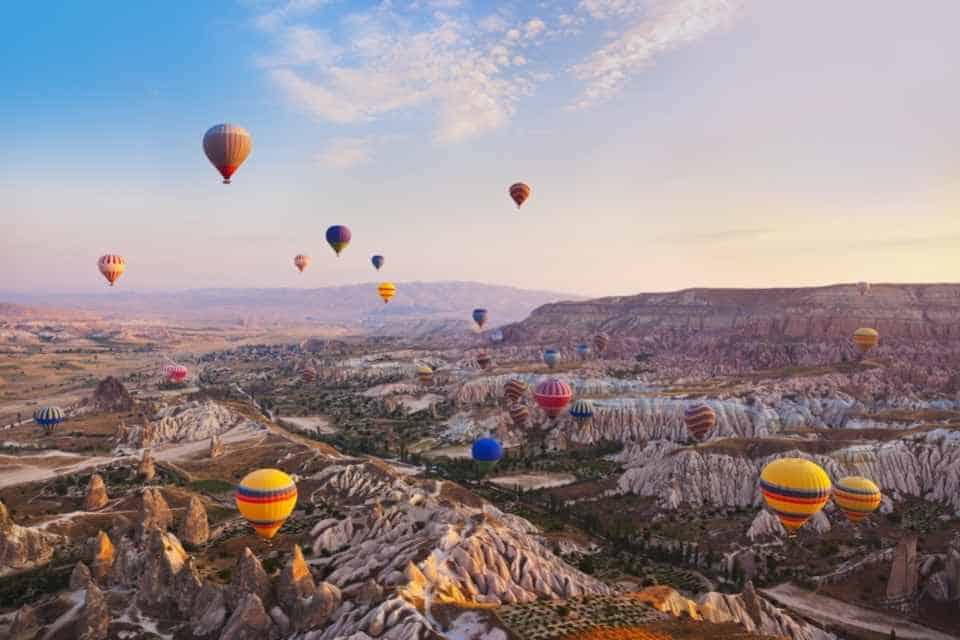 The most unique attraction in Cappadocia is unquestionably flying in one of the hot air balloons. I bet before you even knew about Cappadocia, you have seen photos of these hot air balloons. They are surely some of the things Turkey is most famous for.
Beautiful sunrise, a horde of colorful balloons, dreamy desert landscapes, unworldly fairy chimneys, flying in a hot air balloon in Cappadocia is an absolute bucket list experience.
It is no wonder why Cappadocia is consistently rated as one of the best places for hot air balloon rides in the world.
HOWEVER, flying in a hot air balloon in Cappadocia is not something easy, even if you are the richest man or woman in the world. Because there are no brakes in the hot air balloons, you need the optimal weather and wind conditions to fly one of those magnificent beings.
When we were visiting Cappadocia in the summer, it took 5 days before the optimal conditions were met and the ballons were allowed to fly. That is why we HIGHLY recommend you to book a hot air balloon tour prior to arriving in Cappadocia, especially if you have a short Cappadocia itinerary.
3. Watch The Hot Air Balloon At Sunset At One Of The Viewpoints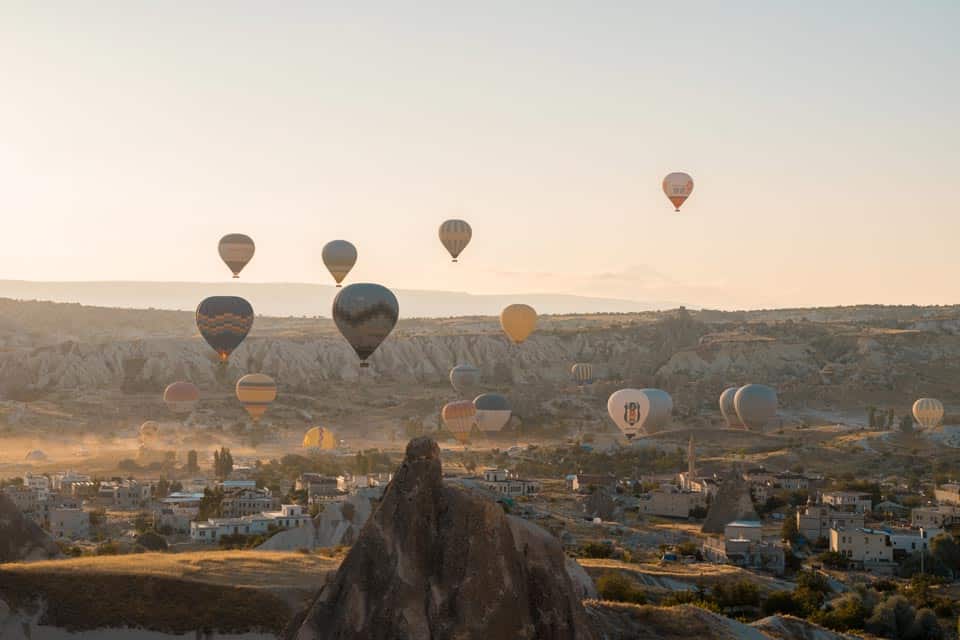 If riding in one of the hot air balloons in Cappadocia is out of your budget, worry not. You can still watch the entire spectacle from one of the many viewpoints in Cappadocia.
Matter of fact, even if you do get on one of the hot air balloon rides, we still recommend that you get up at sunrise and head up to one of the vistas. The change of perspective offers a completely different experience. Additionally, if you want to get cool Instagram portraits, then you can only do it on the ground!
There are plenty of viewpoints in Cappadocia, but the one we personally recommend is here. It is about a 20-minute hike from the center of town so you will have to get up a little bit before sunrise.
Just make sure you wear something warm as it is quite cold in the early morning thanks to the desert climate system.
4. Explore The Derinkuyu Underground City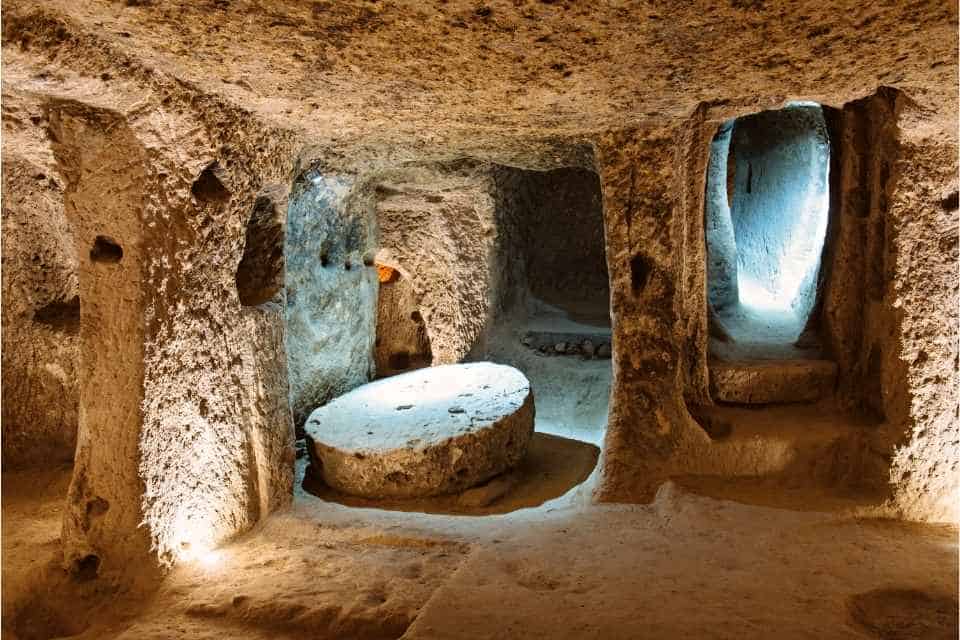 The Derinkuyu Underground City is an ancient multi-level city dating back to the Phrygians in the 8th to 7th century BCE. Located in the town of Derinkuyu, about 40 km away from Goreme, Derinkuyu Underground City is the largest excavated underground city in Turkey.
The 18-story deep underground city is capable of housing up to 20,000 people at a time, along with their livestock and supplies. Historians don't believe that the Derinkuyu Underground City (and other underground cities in the region) was used for living.
The massive stone front door hints that the underground city was used for protection against invaders.
Nonetheless, the intricate construction of the Underground City included a ventilation system and waterways to support its inhabitants for a long period of time.
Hundreds of entrances have been found for the Derinkuyu Underground City, some of them are even in the resident's backyards. In fact, the Derinkuyu Underground City was first discovered when a man found a hidden wall in his home!
It is possible to arrive at Derinkuyu Underground City via public transportation, but we recommend taking a guided tour because there is not a lot of information inside for tourists wishing to learn more about it.
Entrance Fee: 60 TL
Opening Hours: 8 AM to 7 PM Daily (Closes at 5 PM during the cooler months)
Check out our recommended Derinkuyu Underground City tour here!
5. Visit The Stunning Uchisar Castle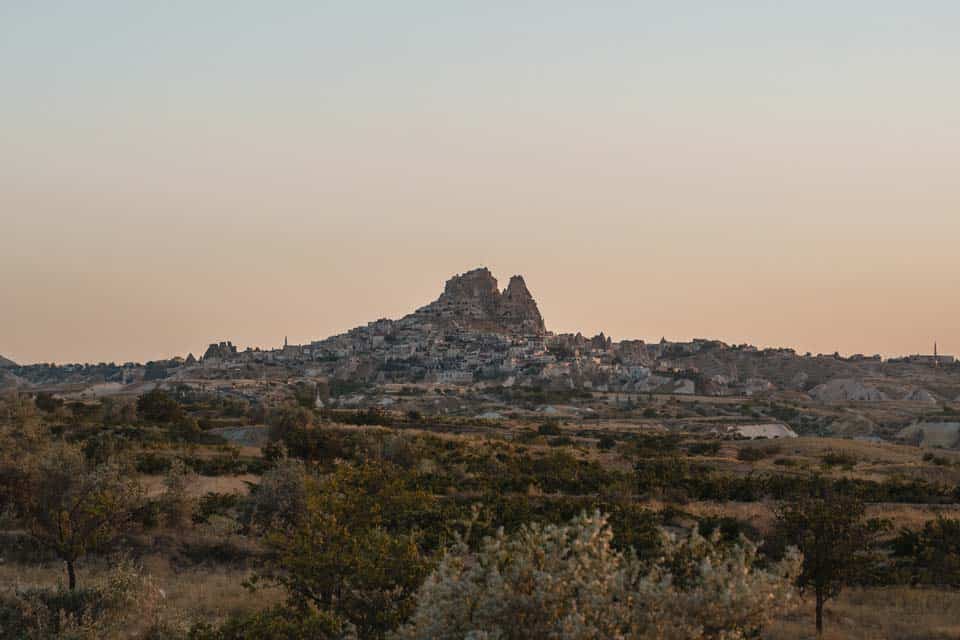 If you are looking for the best views of Cappadocia, then visiting the incredible Uchisar Castle is a must. Perched over the town of Uchisar, the Uchisar Castle is the highest point in Cappadocia. This landmark features two iconic fairy chimneys that are easily recognizable from the entire region.
Due to its strategic location, the Uchisar Castle (sometimes called the Uchisar Fortress) was used as a watchtower back in the Roman, Byzantine and Ottoman periods. If an invading force was seen, the alarm would sound and warn nearby residents of the imminent danger.
Consequently, this attracted many people to settle next to the Uchisar Castle (and hence creating the town of Uchisar), as residents can easily retreat to the fortress for protection.
Nowadays, for an entrance fee of 20 TL (at the time of writing), visitors can enter the Uchisar Castle and see the remains. Some of the rooms have collapsed and proved inaccessible. However, the gem of this Cappadocia attraction is the stunning view at the top, which is perched around 50 to 100 meters above ground.
Uchisar Castle is one of the best spots to watch the sunset in Cappadocia.
Entrance Fee: 20 TL
Opening Hours: 7:30 AM to 8 PM Daily (Closes earlier depending on the season)
6. Stay In An Epic Cave Hotel In Cappadocia
The region of Cappadocia is not only dotted with beautiful fairy chimneys and rock-cut churches, but also many naturally built cave hotels. When you are visiting Cappadocia, you must stay in one of them at least once.
These natural caves not only provide an authentic Cappadocia experience, but they provide nature heating in the winter and air conditioning in the summer. In other words, caves are nature's best hotels. No wonder why there were so many troglodytes in the region!
When picking a cave hotel in Cappadocia to stay in, make sure you select one with good WiFi (unless you want to disconnect). The thick walls sometimes make it hard for the WiFi to get into your room but it shouldn't be an issue for most accommodations.
Traveling to Cappadocia? Consider getting a pocket WiFi to stay connected throughout!
The cave hotel we recommend is Kelebek Special Cave Hotel & Spa. It has authentic dwellings that are used as rooms, but guests will also find luxurious facilities such as a swimming pool and beautiful terraces to watch the magical landscape unfold before you
Find out more information about the Kelebek Special Cave Hotel & Spa.
7. Check Out The Pottery In The Town of Avanos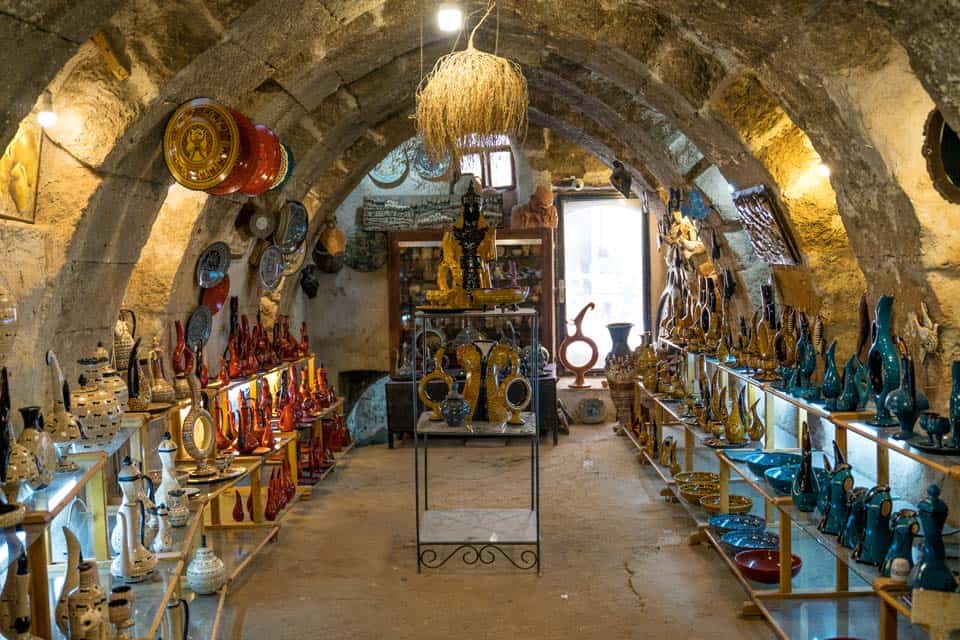 Located about 8 kilometers away from Goreme (the historical center of Cappadocia), Avanos is a small town resting on the banks of the Red River. However, unlike Goreme, Avanos is not known for its fairy chimneys and cave dwellings, but for pottery made using the red clay from the Red River.
It is believed that pottery was created here as far back as 2000 BCE by the Hittites. The result? Generations of craftsmen whose expertise can still be seen today as you wander down the streets of Avanos.
There are A LOT of pottery studios/shops around Avanos, some will even offer a FREE pottery-making tour for those who would like to try.
If you want to buy some pottery from Avanos, just know that there are plenty of shops out there to "scam" you. Pottery shops will claim that all their pottery is handmade by their family but that is not true for many of the shops.
Unfortunately, as the town becomes a bigger and bigger tourist attraction in Cappadocia, this phenomenon is becoming more popular.
8. Take A Day Trip To Salt Lake Tuz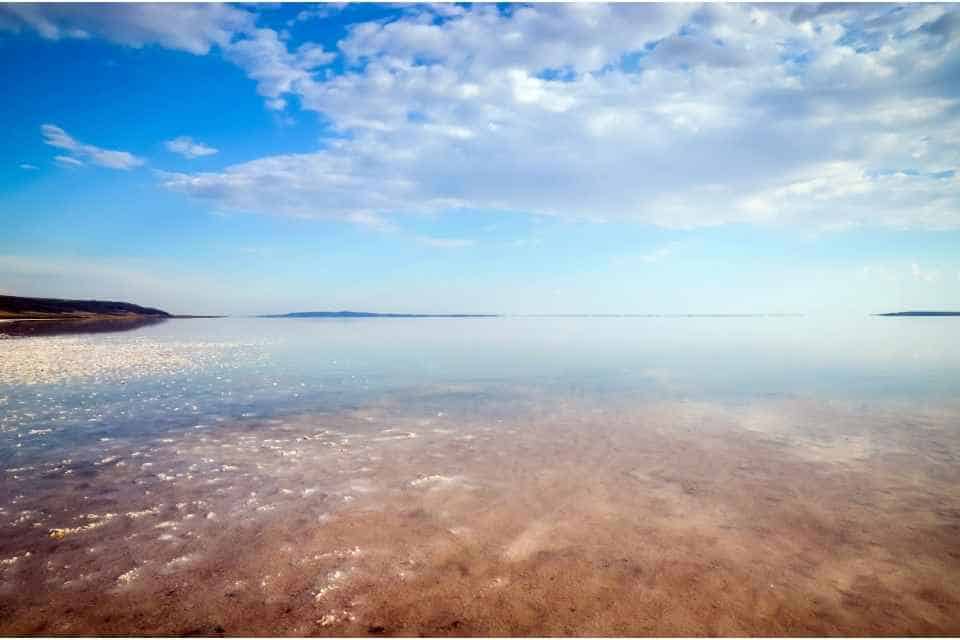 Salt Lake Tuz is one of the most uncommon places to visit in Cappadocia. However, that is not because it is not stunning, but because of how difficult it is to get to. Lake Tuz spans a total of 1,665 km², and there are many spots to see the lake.
From Goreme, it takes about 2 hours by car to get to the nearest part of Lake Tuz. It is a salt lake that is completely free to enter, but make sure you keep your belongings safe because the salinity will destroy your belongings.
It is recommended to enter the Lake barefoot, or don't enter and just admire the lake up close.
Because Lake Tuz is fairly unpopular, it is usually quite difficult to find tours to it. As a result, if you want to see it, your best option is to reserve a tour beforehand or rent a car when you get there.
Check out our recommended salt lake plus underground city tour here!
9. Explore The Zelve Open-Air Museum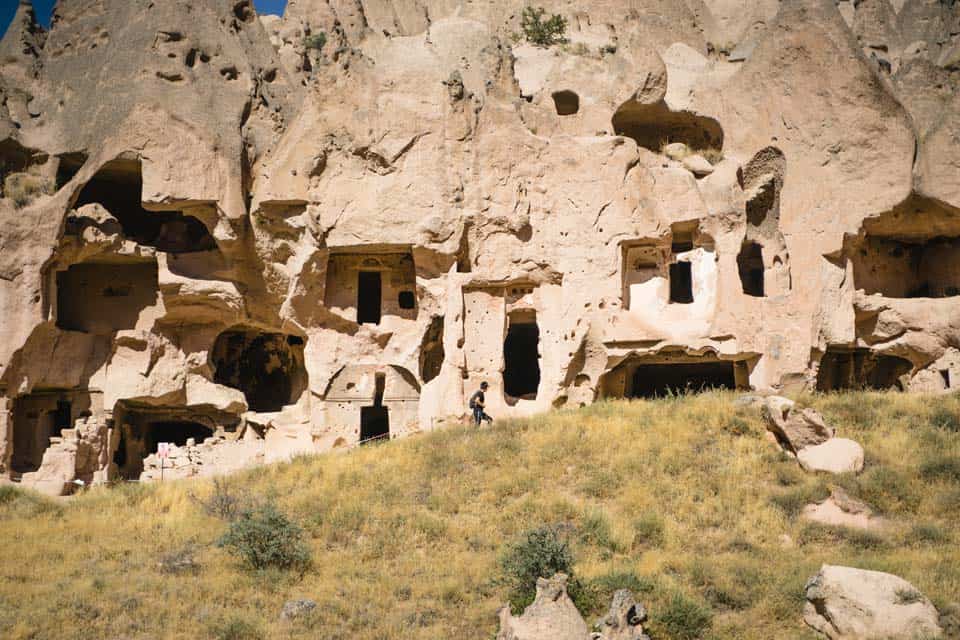 The Zelve Open Air Museum is a great alternative to the Goreme Open Air Museum for travelers looking for a quieter but equally stunning attraction. Home to the Zelve Monastery, this Byzantine-era settlement housed both Muslims and Christians harmoniously.
Zelve was inhabited until 1952 when the villagers were relocated to Yeni Zelve ("New Zelve") due to safety concerns of structures. In fact, if you visit today, you will notice that many of the rooms have collapsed or have been blocked off.
Unlike the Goreme Open Air Museum, visitors won't find well-preserved frescos (wall paintings). However, they will find a valley full of gorgeous fairy chimneys, some religious artworks, numerous churches and incredible cave dwellings.
If you are not too bothered about the frescos in the caves, then Zelve Museum is a better and cheaper alternative than the Goreme Open Air Museum. At the time of writing, the Zelve Open Air Museum costs 25 TL to enter. The ticket includes an entrance to the nearby Pasabag Valley (Monk Valley).
The Zelve Open Air Museum is located about 13 kilometers from Goreme. Visitors can either catch a taxi to it or take public transportation from Avanos. There is a bus going from Avanos to Urgup (and vice versa) that passes through Zelve Open Air Museum.
The entire museum takes about 2 hours to explore.
Entrance Fee: 25 TL
Opening Hours: 8 AM to 7 PM Daily (Closes earlier depending on the season)
10. Go For A Fun ATV Sunset Tour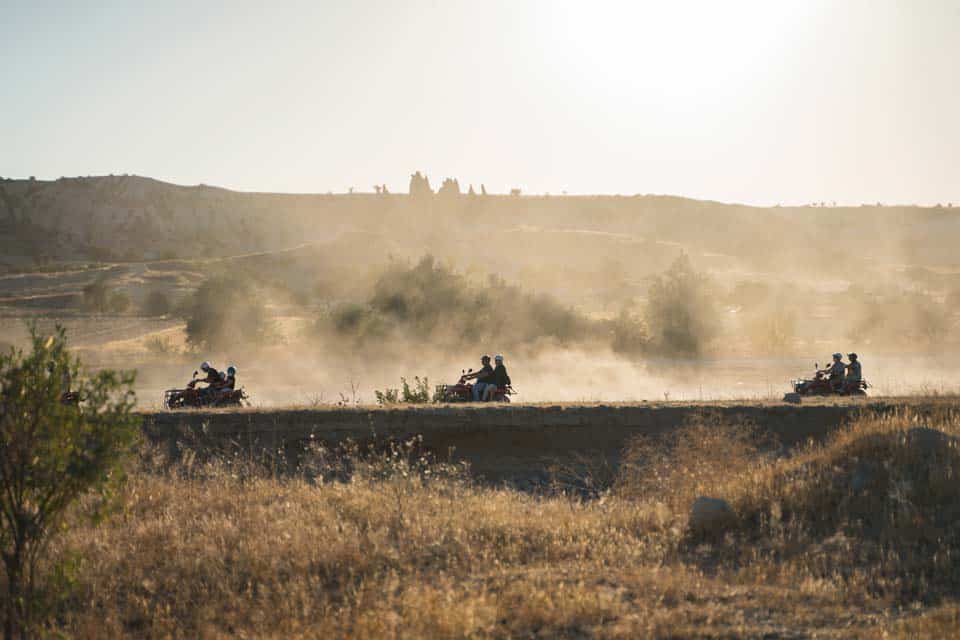 If you are looking for an adventurous activity in Goreme, look no further than ATVing at sunset. The desert landscape of Cappadocia is the perfect terrain for the ATVs to excel in.
Not only do you get to zip through the valleys at high speed, but you also get the chance to admire the valleys of Cappadocia up close at sunset. It is a great way to see them without having to hike for hours!
Because each ATV can carry up to 2 people, this makes it an excellent thing to do in Cappadocia with kids!
11. Go Horseback Riding In The Beautiful Valleys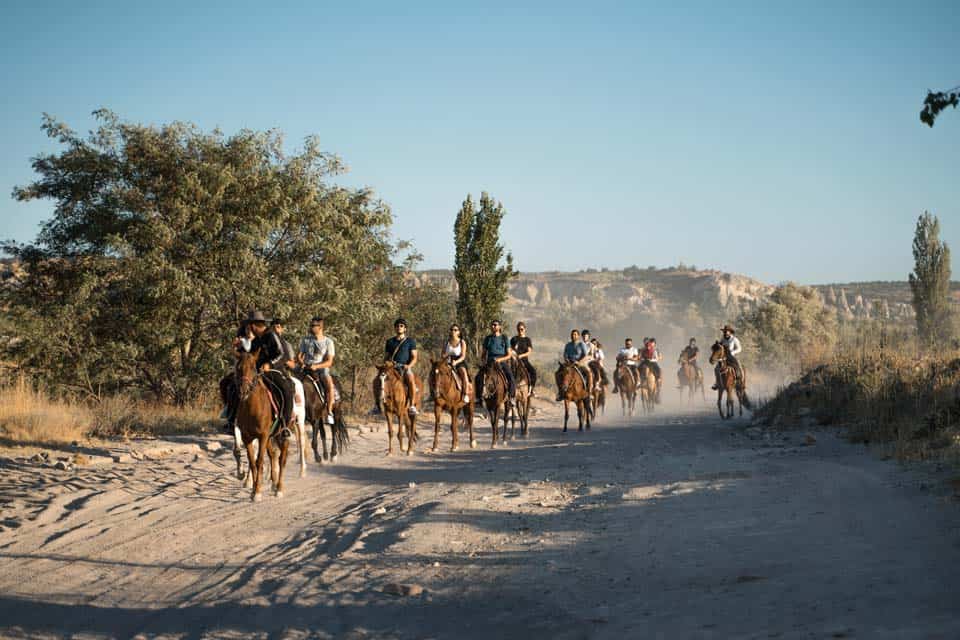 If the ATV tour is a little bit too adventurous for you, why not explore the beautiful valleys of Cappadocia on horseback? Believed to be called "land of the beautiful horses", Cappadocia has plenty of horse farms that offer memorable rides.
Each tour is led by a professional "Turkish cowboy" and he will show you some of the most stunning geographical features in the valley. Being on a horse allows you to get off the touristy path and enjoy some of the best of Cappadocia in solitude.
Check out our recommended horseback riding tour in Cappadocia!
12. Watch The Sunset At Lover's Hill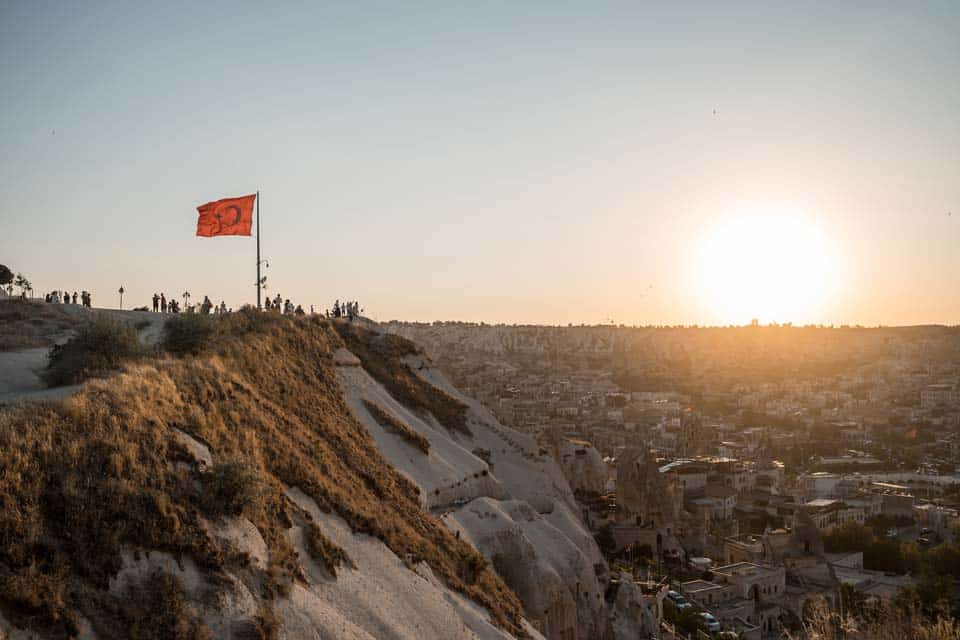 If you are looking for something to do at sunset that isn't costly nor strenuous, then visiting Lover's Hill is a must. Lover's Hill is a small viewpoint located about 15 minutes away from the center of Goreme on foot.
In our opinion, it is one of the best places in Cappadocia to watch the sunset (the other ones being in a nice terrace cafe and Uchisar Castle) as you can see the sun set behind the beautiful town of Goreme.
The entrance fee to Lover's Hill is 3 TL (at the time of writing), making it one of the best cheap things to do in Cappadocia. However, it is possible to circumvent this fee if you arrive at Lover's Hill from the other side of the valley. Even though this is possible, you will have to hike a bit just to save a few Liras.
At the top, visitors will find a massive Turkish flag and a small wooden platform for taking photos. To be honest, the whole Lover's Hill offers excellent photography opportunities.
It is also a popular spot for watching the hot air balloons in the morning, but it tends to be rather crowded.
13. Discover The Ancient Kaymakli Underground City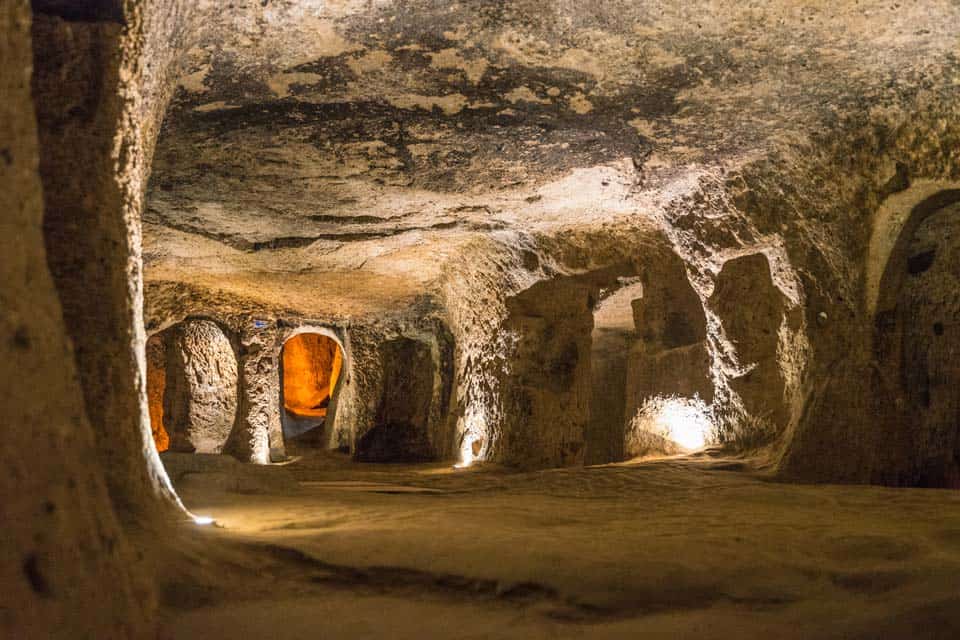 Though Derinkuyu is the biggest and most popular underground city in Cappadocia, it isn't the only one. The other famous underground city is Kaymakli Underground City, the oldest one in Cappadocia.
Similar to Derinkuyu Underground City, the one in Kaymakli was built thousands of years ago. According to the government of Turkey, the caves were built by the Phrygians in the 7th to 8th BCE.
As time went on and more civilizations used the underground city, they expanded and deepened. In fact, the Kaymakli Underground City connects with the Derinkuyu Underground City, and they are about 10 kilometers away from each other!
If you were to pick between visiting Kaymakli or Derinkuyu, we suggest Kaymakli just because of how busy Derinkuyu gets.
In general, Derinkuyu is deeper but Kaymakli is a lot wider, allowing easier access for everyone (especially people with mobility issues). Derinkuyu Underground City also only has one way to get in and out, which can cause serious human traffic jams.
However, it is difficult to find tours for Kaymakli that depart from Goreme. Hence, you will either need to take public transportation or a taxi to get there!
Entrance Fee: 60 TL
Opening Hours: 8 AM to 7 PM Daily (Closes earlier depending on the season)
14. Check Out The Fairy Chimneys At Pasabag Valley (Monk Valley)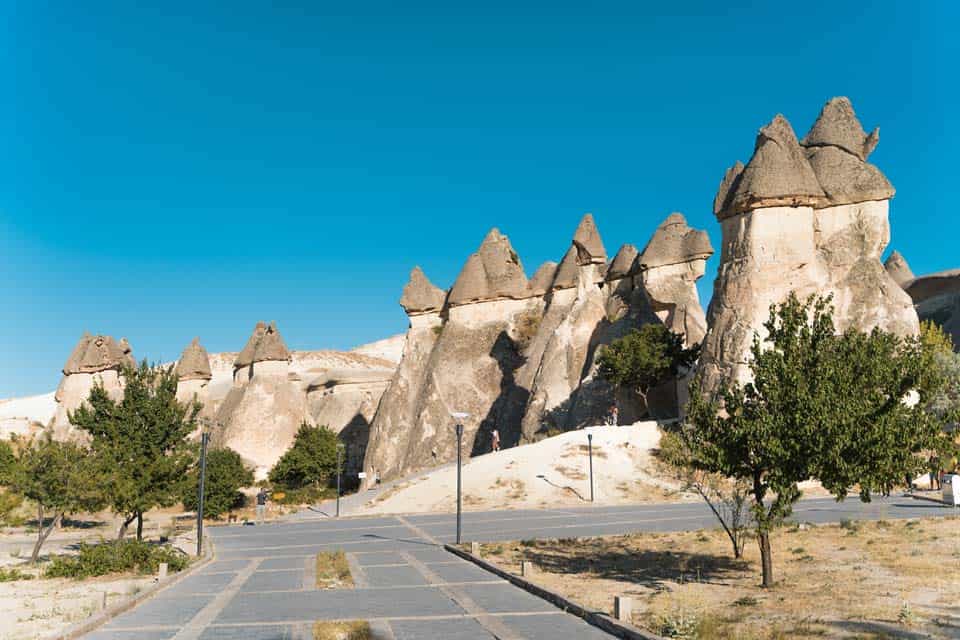 The Pasabag Valley (Monk Valley) is located about 1 kilometer away from the Zelve Open Air Museum. In fact, the entrance ticket you get for Zelve also works for the Pasabag Valley (or vice versa).
Besides being very convenient to visit the Pasabag Valley, the valley is known for its collection of very well-preserved and beautiful fairy chimneys. Its most iconic structures are the double-headed, sometimes even triple-headed mushroom-shaped fairy chimneys.
Similar to most of the fairy chimneys in the region, many of the ones in the Monk Valley have been carved out and used as dwellings and chapels. The most famous one is the tri-level chapel dedicated to St. Simeon.
Though you will see a fair share of fairy chimneys when you visit Cappadocia, we still recommend you to stop by Pasabag Valley for its unique and well-preserved fairy chimneys.
Entrance Fee: 25 TL
Opening Hours: 8 AM to 7 PM Daily (Closes earlier depending on the season)
15. Admire The Amazing Cavusin Castle (St. John the Baptist Chapel)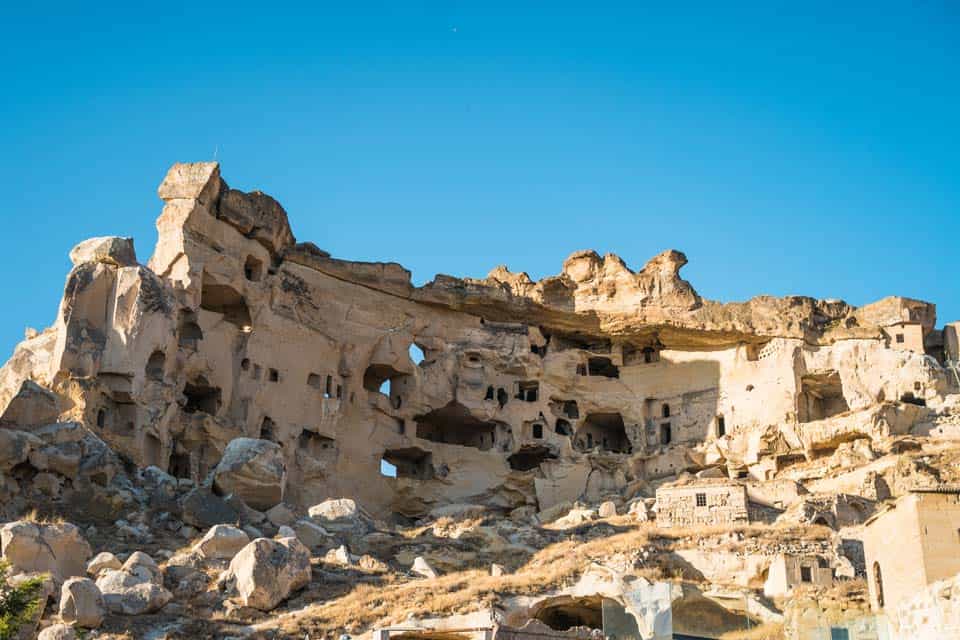 The Cavusin Castle (more widely known as the St. John the Baptist Chapel) is one of the lesser-known attractions in Cappadocia. Located in the town of Cavusin, just 4 kilometers from Goreme, the Cavusin Castle is the perfect activity for half a day.
Though not visited frequently (or even occasionally), St. John the Baptist Chapel is the largest cave church in Cappadocia. However, since it was built in the 5th century, parts of it have become too dangerous to visit.
Similar to many cave chapels in the region, visitors will also see frescoes, but many of them are now faded away.
Nonetheless, for being a free thing to do in Cappadocia, it isn't a bad place to visit. Just remember to be extra cautious with where you are stepping on your visit.
16. Enjoy Delicious Turkish Food With A View At Nazar Borek & Cafe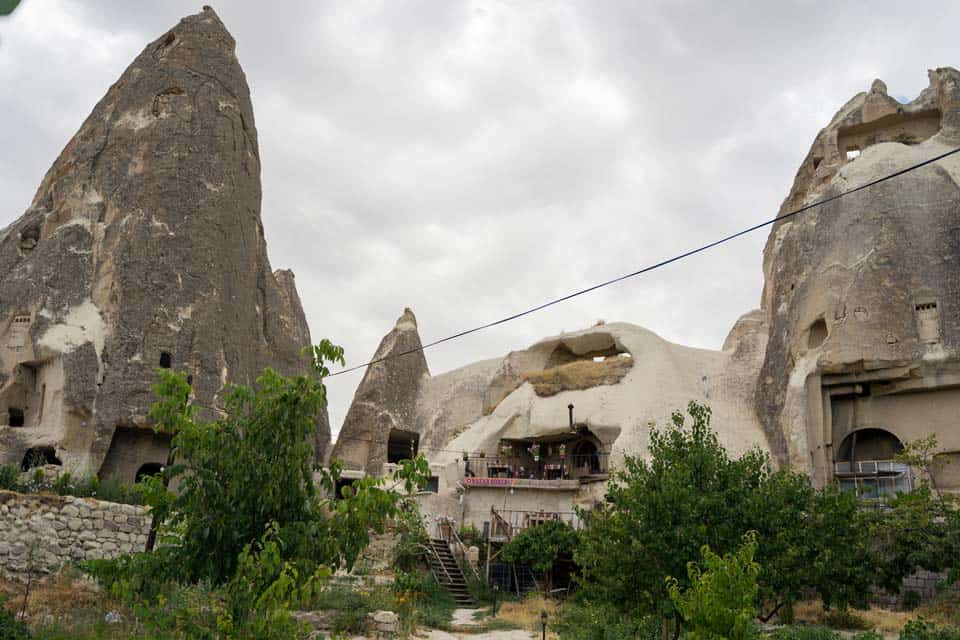 No trip to Cappadocia is complete without trying its local cuisine, and there is no better place to do it than Nazar Borek & Cafe. Located a 10-minute walk from the center of Goreme, Nazar Borek & Cafe is slightly remote and surrounded by incredible fairy chimneys.
In fact, the owner of the restaurant uses many of the pre-carved cave dwellings as kitchen and dining areas. On the premise of the restaurant is an organic garden where the ingredients of the dishes come from, and a historic fairy chimney where the adventurous can climb two to three levels up to a viewpoint.
But that isn't all there is to offer at Nazar Borek & Cafe. The family-run business offers the utmost hospitality to all its guests. Immediately upon visiting, you will feel at home. It is not a business where they are only trying to take your money and kick you out.
Guests are welcome to stay as long as they want, admiring the views from its beautiful terrace with a glass of wine (ordered from the restaurant or bought from the store).
If you are looking for good Turkish food, views, and hospitality, then make sure you check out Nazar Borek & Cafe.
17. Try Some Of The Local Wine In Cappadocia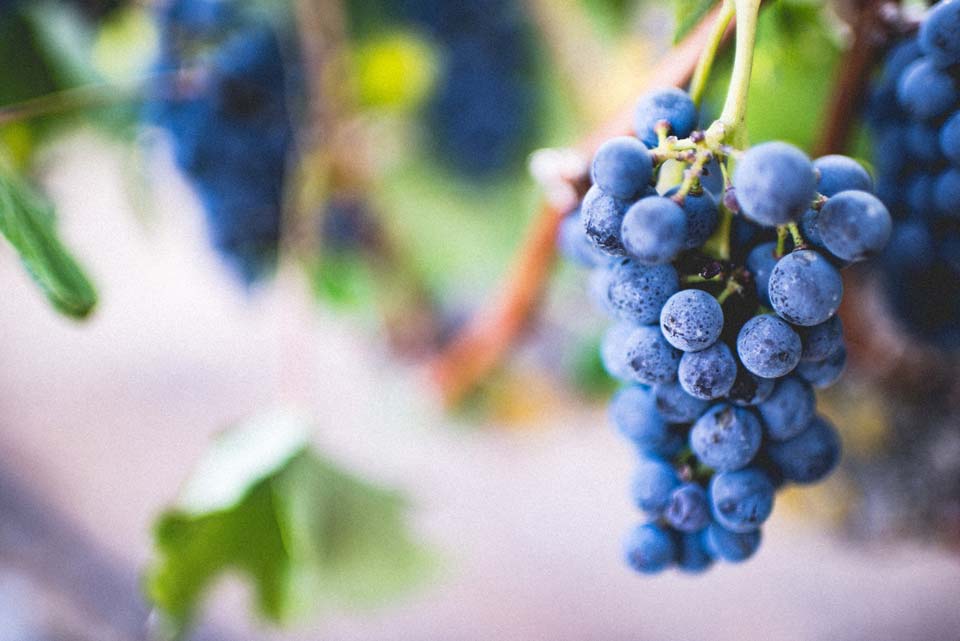 Cappadocia is known for its phenomenal sunsets, epic hot air balloons, and unique fairy chimneys. However, that isn't the only thing Cappadocia is famous for. Wine. Cappadocia is one of the best wine-producing regions in Turkey.
We aren't wine snobs so we don't know much about wine, but we can tell you the difference between a good one and a bad one. And in Cappadocia, there are no bad ones. We spent 30 TL on a bottle of wine (the cheapest there was) at the liquor shop and it was surprisingly a really good bottle.
If you want to learn more about the vineyards and the wine-making process in Cappadocia, we highly recommend you to check out one of the winery tours. The grapes grown in the region offer a spectacular and unique taste unlike anywhere else in Turkey!
Tours for wine tasting are quite hard to find in Cappadocia, so we recommend that you get one online ahead of time.
Check out our recommended vineyard and wine-tasting tour in Cappadocia here!
18. See The Bizzare Chez Galip Hair Museum In Avanos
Visiting the Chez Galip Hair Museum in Avanos is arguably one of the most quirky things to do in Cappadocia. For anyone that is questioning what it might be, it is exactly what the name suggests – a museum full of hair, women's hair.
The story began with the Turkish potter Galip Körükçü, whose family owns the pottery studio situated above the hair museum. When his dear friend moved out of Avanos, she decided to cut a lock of her for him to keep as a memento.
Since then, many women have decided to donate their hair after hearing the sad story. Approximately 40 years later, the museum is now full of women's hair.
Nowadays, women continue to donate their hair to the Chez Galip Hair Museum, but most of them do it because of the raffle. Twice a year, winners are selected off the wall and given an all-expenses-paid vacation to Cappadocia.
For that reason, photography inside the hair museum is prohibited because of personal information.
This creepy attraction in Cappadocia costs 2 TL to enter (at the time of writing). Like we mentioned, it is attached to a pottery shop so you can also check out the pottery here!
Entrance Fee: 2 TL
Opening Hours: 9 AM to 6:30 PM Daily (Closes earlier depending on the season)
19. Go Check Out Some Of the Cool Carpet Shops In Cappadocia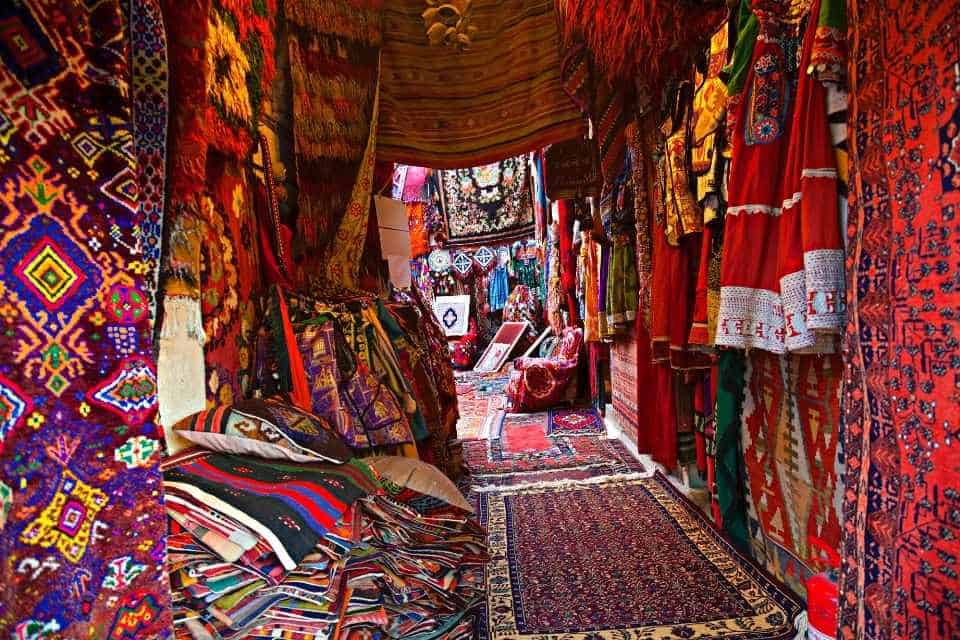 Turkish carpets, or more locally known as Anatolian rugs due to their Anatolia origin, are arguably some of the best carpets in the world. Unlike typical carpets that use cotton and wool, Anatolian rugs use a combination of cotton, wool, and silk, all of which are of the highest quality.
Additionally, the rugs are dyed beautifully. Each carpet is like its own piece of art.
Luckily for the visitors, Cappadocia is located in the Anatolian region, which means the carpets here are incredible. Wonder around the streets of Goreme and you will undoubtedly stumble on many. Even if you don't plan on buying any, they are still a marvel to look at.
20. Go On A Classic Car Tour And Take Amazing Photos!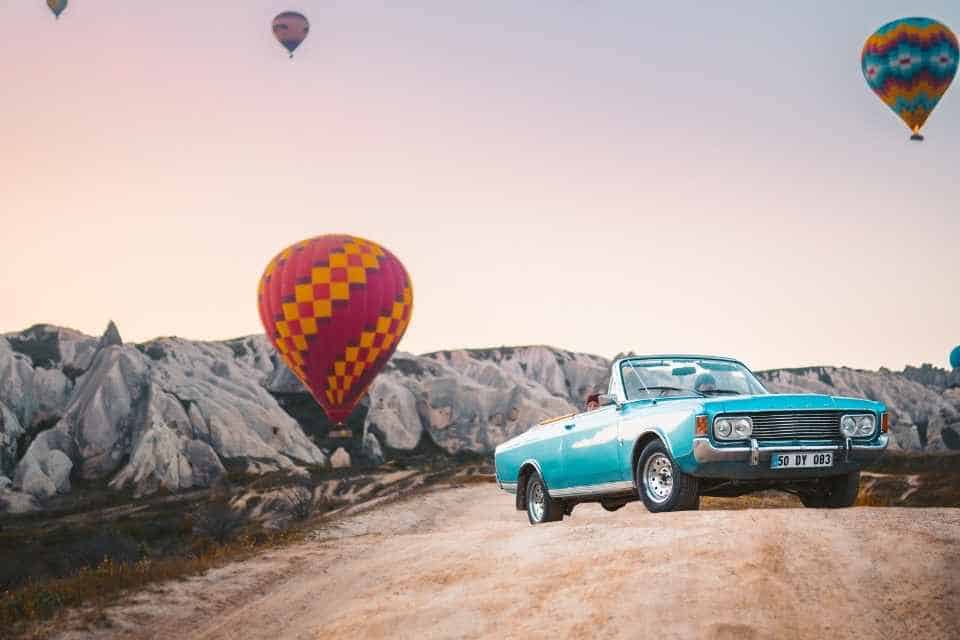 What is better than the unworldly landscape of Cappadocia? The unworldly landscape of Cappadocia plus a tasteful classic car! If you looking to take some of the coolest photos in Cappadocia, the classic car tour is perfect for you.
You will be picked up in a vintage car and driven to some of the best spots for photography in Cappadocia that only locals would know. Once you have arrived, the tour guide will assist you in taking some beautiful photos.
If you are an Instagram model (or real-life model) or an influencer, then the photos from the classic car tour will amaze all your followers! We personally recommend taking the tour around sunrise or sunset for the perfect lighting!
---
Hikes in Cappadocia
No list of the best things to do in Cappadocia would be complete without including some of its amazing hikes. There are plenty of hikes in the region of Cappadocia, but here are some of our favorite ones.
21. Love Valley And White Valley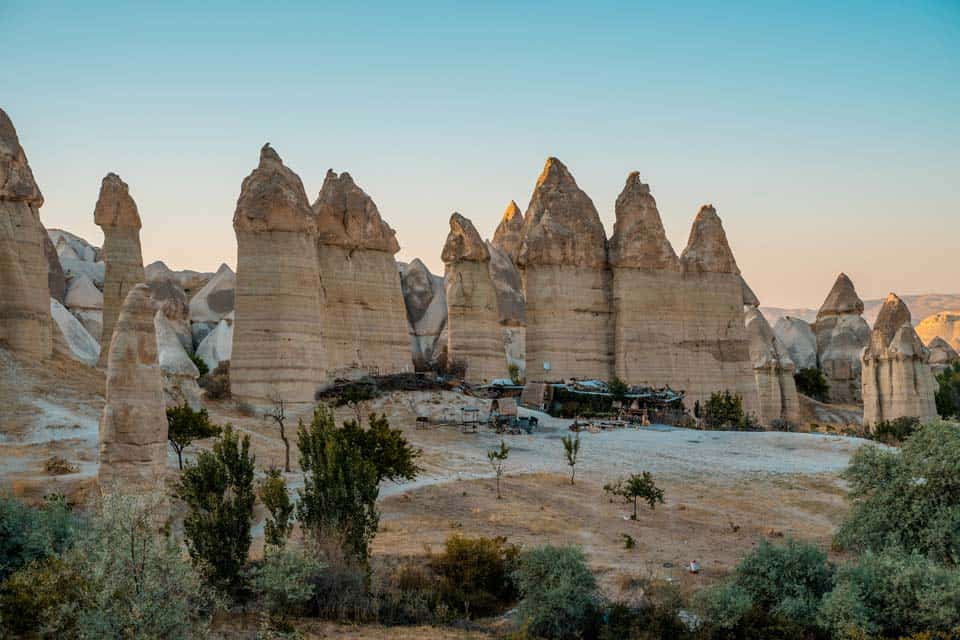 The Love Valley and White Valley hike is a ~8-kilometer thru-trail that starts from the town center of Goreme and ends in Uchisar. On average, the hike takes about 2.5 hours to complete. Because it ends in Uchisar, it is ideal to pair that with a visit to Uchisar Castle.
If you are starting from Goreme, you will first pass through the Love Valley, an area known for its phallic-looking fairy chimneys. Because of the weaker base layers, the bottom layers eroded quicker than the durable top layer and created these unique formations.
Once you are through the Love Valley, you will find yourself in the White Valley. There aren't signs or anything to indicate that you have left Love Valley or arrived at White Valley. You can usually tell by the white rock surfaces on the sides of the valley.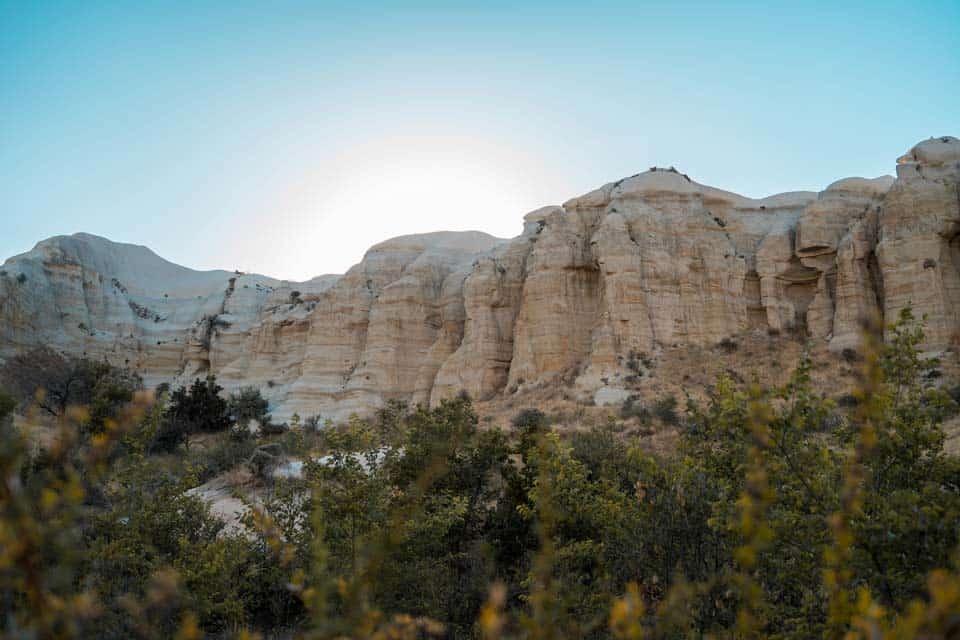 The white valley doesn't have any cool fairy chimneys like Love Valley, but the beautiful landscape does offer a pleasant hiking experience.
It is recommended to do both White Valley and Love Valley at the same time because they are adjacent to each other. Otherwise, you would need to turn around.
Duration: 2.5 hours
Distance: Approximately 8 kilometers one-way
Difficulty: Easy-Moderate
22. Red And Rose Valley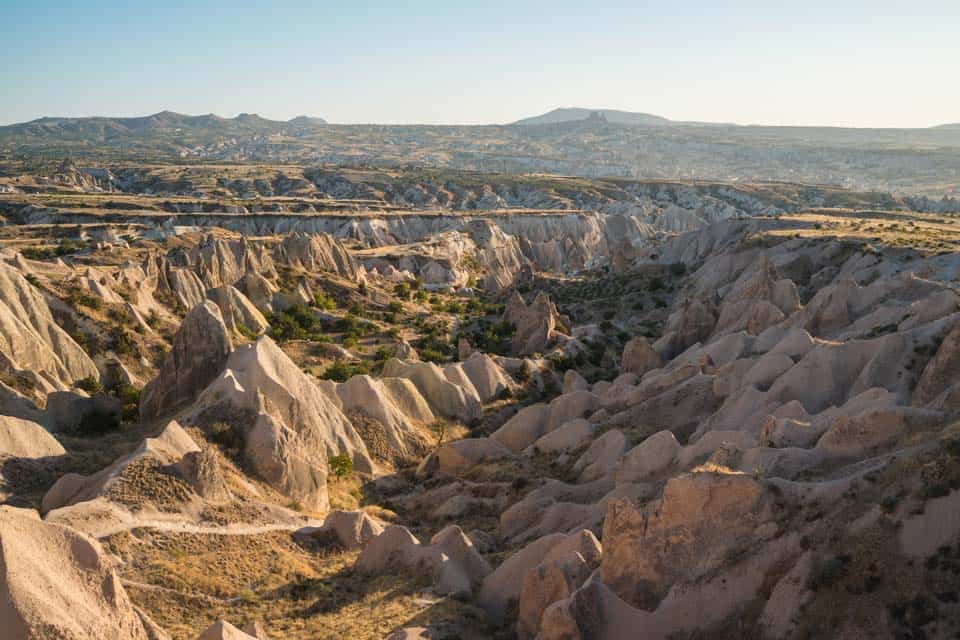 With a trail that takes you through hidden churches, dramatic vibrant red cliffs, and incredible viewpoints, it is not surprising that the Red and Rose Valley hike is arguably the most popular hike in Cappadocia.
The hike starts approximately 1.5 kilometers or a 20-minute walk from the center of Goreme. It is a 7.7-kilometer loop that takes approximately 3 hours to complete. For us, it took more than 4 hours as we took our time exploring the hidden churches on the trail and taking photos from the gorgeous viewpoints.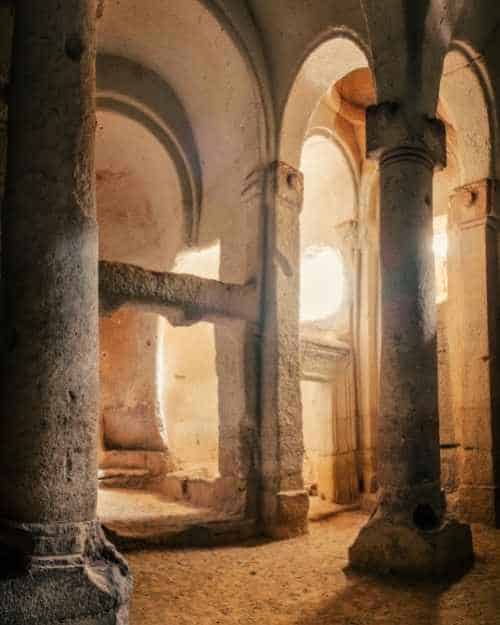 Near the end of the Red Valley, there is a restaurant perched over a hill. Hikers can take in the breathtaking views as they sip on one of the freshly-squeezed juices. It is one of the best spots to watch the sunset in Cappadocia, but just beware that the trail back to civilization is not going to be easy in the dark.
We don't recommend hiking the Red and Rose Valley in the dark unless you are experienced and equipped with a headlamp.
Duration: 3 hours hiking, but expect to spend 4+ hours in total
Distance: 7.7-kilometer loop plus 3 kilometers if you are walking from Goreme and back
Difficulty: Moderate
23. Ihlara Valley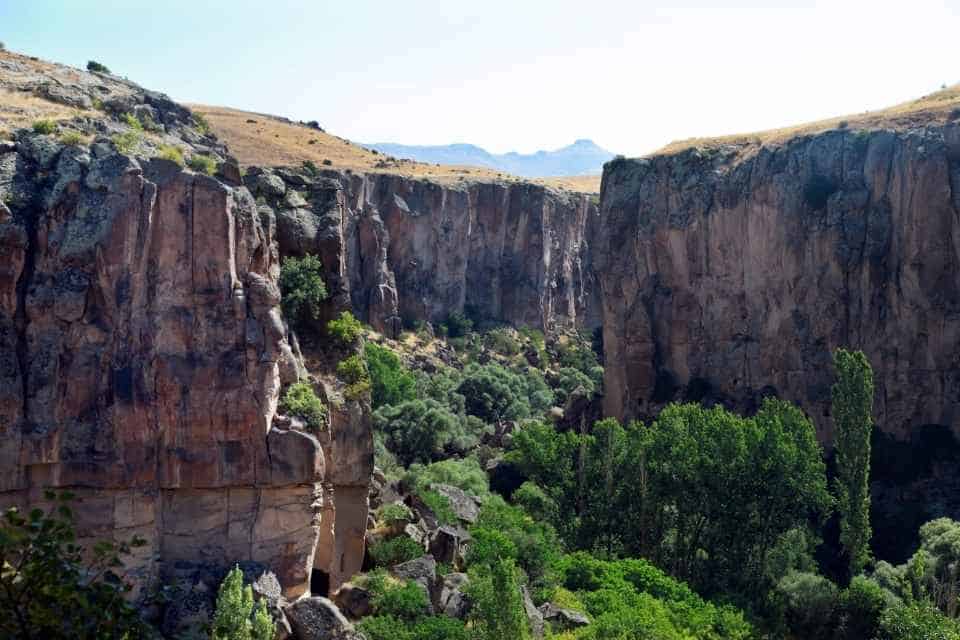 When you are sick of hiking in the desert, why not change the scenery and hike in a lush forest? The Ihlara Valley is a 15-kilometer long 150-meter deep valley located in the Southwest region of Cappadocia, about a 75-minute drive from the historic town of Goreme.
The valley starts at Ihlara village and follows the Melendiz River until the end at Selime Monastery in Selime Village. Along the way, hikers will find thousands of cave dwellings, hundreds of cave churches, and beautiful wildlife that calls the valley home. It is believed that 80,000 people once lived in the Ihlara Valley.
There are a total of 4 entrances to Ihlara Valley, meaning that visitors don't have to hike the entire 14 to 15 kilometers if they don't want to.
We recommend starting at Ihlara Village and continuing for 7 kilometers until you reach Belisirma Village because that's where the majority of the attractions in the valley are located.
Because of how far the Ihlara Valley is from Goreme, travelers will either have to take a guided tour or rent a car.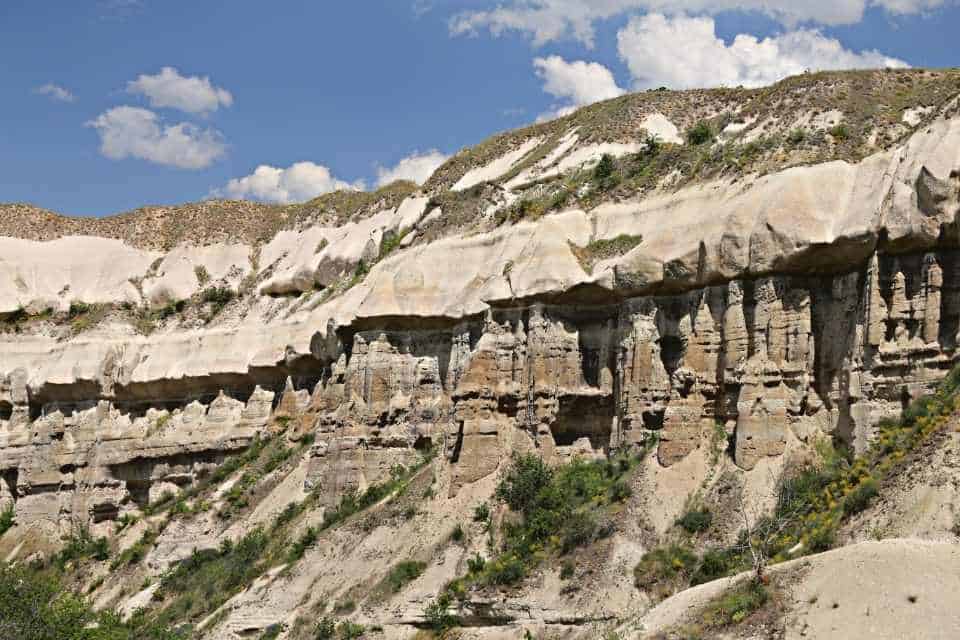 The Pigeon Valley hike is one of the best hikes that you can do from Goreme. Similar to the Love and White Valley, the Pigeon Valley connects Goreme with Uchisar, making it an ideal hike to combine a visit to the Uchisar Castle.
The hike earned its iconic name for its numerous pigeon houses that dot the hiking trail. Historically, the inhabitants of Cappadocia made dovecotes (Pigeon Houses) by carving the soft rock. That is because they wanted to attract the pigeons, whose droppings were used as fertilizer and pigeons themselves as food.
Pigeon Valley has some of the highest concentrations of pigeon holes. Though inhabitants are no longer maintaining or using them, you can see many pigeons living in them.
The Piegon Valley hike is a 3.6-kilometer thru-hike and takes about 1.5 hours to complete one way.
Duration: Around 1.5 hours
Distance: Approximately 3.6 kilometers one way
Difficulty: Easy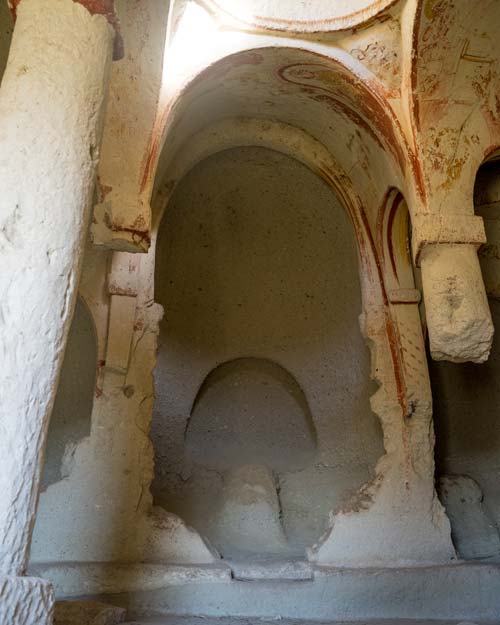 The Hidden Church hike is a hike you won't see in any guidebook because it is something only a few locals know about. Luckily on our trip to Cappadocia, we met some friendly locals that told us about this amazing hidden church in the Cappadocia Valley.
The hike starts in Goreme and takes about 45 minutes to arrive at the hidden church. What makes this hidden church so spectacular compared to the other churches in the region is how dilapidated it is. Multiple columns of the church are broken off, and it looks like it won't be long before the whole thing collapses.
That is exactly why we liked the hidden church so much. It is showing forces of nature reclaiming what belong to them.
Duration: 45 minutes one way
Difficulty: Easy
Location: Because it is a hidden gem in Cappadocia, we don't want to give it away to everyone. Send me a message on Instagram or via contact form and I will give you the location.
26. Devrent Valley (Imaginary Valley)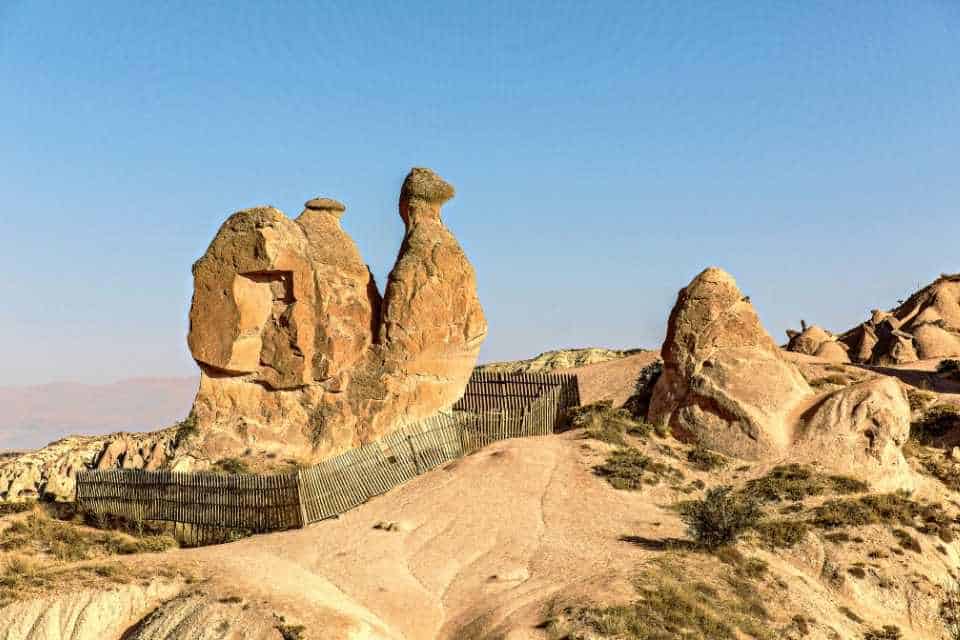 The Devrent Valley (Imaginary Valley) earned its iconic name for the numerous uniquely shaped fairy chimneys and rock formations in the valley. Here, visitors will find rocks that look like animals such as a camel, a dolphin and a snail. And if you use your imagination, you are surely going to see more.
The Devrent Valley is located about a 20-minute drive from Goreme. Getting there on a guided tour or hiring your own car is the easiest way as it is quite difficult (not impossible) to arrive via public transportation.
Once you have arrived, you will see Devrent Valley's most iconic animal-shaped rock – the camel. The best thing about the Devrent Valley is you can spend as much time (or as little time) as you want. Stroll around the valley, check out the cool formations, and just have an excellent time!
---
Map of The Best Things To Do in Cappadocia, Turkey
Above is an interactive map that complements all the information we have above. This map of the best tourist attractions in Cappadocia is perfect for those who only have a limited amount of days in Cappadocia and need to see how far each attraction is away from one other.
Click on the star next to the name of the map and you can save it to your own personal device. This way you can use it to help you navigate when you are in Cappadocia!
Note that some of the activities in Cappadocia are tours, so the location marker for them isn't relevant.
---
How to Get to Cappadocia
The biggest mistake when someone is planning a trip to Cappadocia is underestimating how far Cappadocia is from Istanbul. Cappadocia is located about 700 kilometers away from Istanbul and takes over 8 hours to arrive by car.
If you look at it on the map, Cappadocia is close to the center of Turkey and Istanbul is in the northeast corner.
Luckily, for those that don't want to suffer the 8-hour bus journeys, there are flights that will shorten your travel. Below we will talk about the different ways to get to Cappadocia.
Want a guided tour FROM Istanbul to Cappadocia? Check out this 2-day Cappadocia guided tour from Istanbul!
Flights to Cappadocia
If you are planning to take a flight to Cappadocia, there are two airports that you can choose from
Kayseri Erkilet International Airport (ASR)
Nevşehir Kapadokya Airport (NAV)
Out of the two airports, the Kayseri International Airport is generally cheaper than the Nevşehir Airport.
The only downside is that the Kayseri Airport is located about 75 kilometers (or an hour drive) to Goreme, the historic center of Cappadocia. In comparison, the Nevşehir Airport is located around 40 kilometers (or a 40-minute drive) from Goreme.
The Kayser Airport is located inside the city of Kayseri but the Nevşehir Airport is located nearly 30 kilometers away from Nevşehir in the middle of nowhere.
Either way, if you want to fly into Kayseri or Nevşehir, you will need to take a taxi or airport shuttle to get to Goreme (which is where you should be staying). We HIGHLY do not recommend taxis because you will 100 percent get scammed.
Airport shuttles have set prices and are more affordable than taxis. Your hotel should be able to arrange an airport transfer to Goreme, but if it doesn't (or is pricey), here is a reliable company that we recommend!
Buses to Cappadocia
If time isn't a concern and you want to save a little bit of money, then consider taking a long-distance bus to Cappadocia. Typically speaking, travelers are either coming from Istanbul, Antalya or Ankara. The bus journey from both Antalya and Istanbul will take around 8 to 10 hours, so it is best to take a night bus and sleep through all of it.
If you are coming from another city in Turkey, worry not. Use Turkey's official bus site here and find out the schedule for the routes you are interested in. You can also purchase tickets online, but none of our credit cards went through so good luck.
If you can't buy the bus tickets online, you can buy them at the bus company's counter at the bus station or through busbud.com here, but it doesn't always have all the available buses.
The site is in Turkish though but nothing a simple Google translate wouldn't fix. Generally, there are three companies we recommend to get to Cappadocia, Kamil Koc, Metro, and Nevsehir Seyahat. The prices for the bus tend to be consistent with all the different companies.
The official price of the journey is also listed online so you know you won't get scammed. The good thing about taking a long-distance bus to Cappadocia is that it drops you off in Goreme, so you don't need to take a cab or a shuttle from one of the nearby airports.
---
Where to Stay in Cappadocia
Most people think that Cappadocia is a small town but that cannot be more inaccurate. In fact, Cappadocia refers to a region with an area of 9,883.81 hectares. Inside this region, there are hundreds of towns where you can stay.
So before we dive into telling you what the best places to stay in Cappadocia are, we are going to first tell you which is the best town to stay.
If you are visiting Cappadocia for the first time, staying in Goreme, the historic center of Cappadocia is a no-brainer. Guests will find excellent facilities for tourists, plenty of tours, and a wide range of accommodation.
Here are some of the best places to stay in Goreme, Turkey!
Best Hostel In Goreme – Kamelya Cave Hostel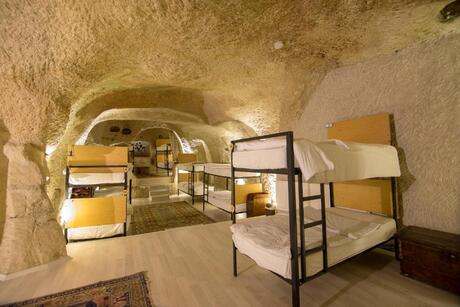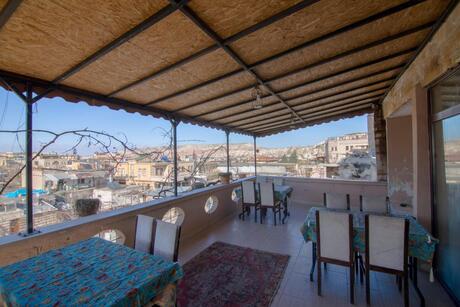 If you are looking for an affordable and comfortable hostel in Cappadocia, then look no further than Kamelya Cave Hostel. Featuring both affordable dormitory beds in a cave and private rooms, Kamelya Cave Hostel is perfect for budget travelers.
Its signature feature is the incredible free breakfast that often features homemade eggs, traditional Turkish breakfast, pancakes and more. It even has a terrace where you can enjoy your breakfast and admire the Cappadocian views.
On the roof, there is a lounging area where you can catch the sunset or sunrise!
Best Cave Hotel In Goreme – Kelebek Special Cave Hotel & Spa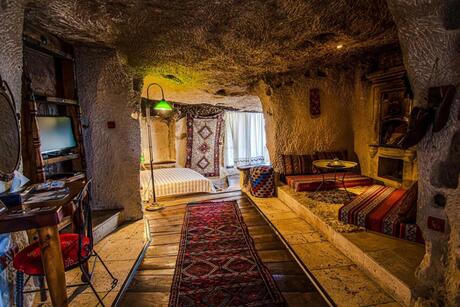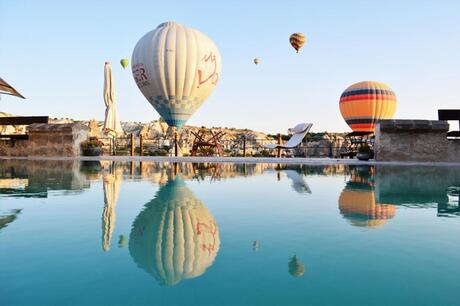 As you probably know by now, thanks to the geological properties of the region, there are plenty of stunning cave hotels in Cappadocia. No trip to Cappadocia is complete without staying in one of those iconic cave hotels such as Kelebek Special Cave Hotel & Spa.
The cave rooms in Kelebek Hotel feature historical cave arches and traditional Turkish textiles. Staying in one of them is like staying inside one of the museums in Cappadocia!
While the rooms ooze traditional rustic charm, the hotel's facilities are luxurious. Enjoy a refreshing swim in their private pool, which also doubles as an amazing viewpoint for watching the sunrise or sunset. Better yet, head to your private balcony and just immerse yourself in the Cappadocian spirit.
Best Hotel In Goreme – Koza Cave Hotel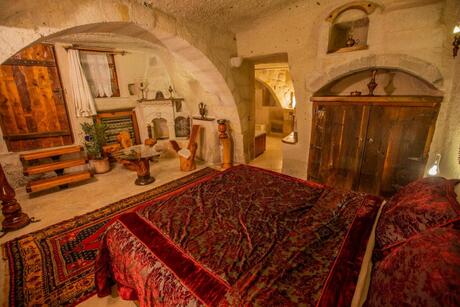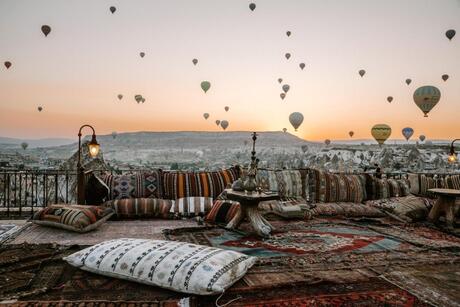 There are plenty of incredible hotels in Cappadocia to choose from but Koza Cave Hotel is definitely one of the best.
First of all, it features one of the most spectacular views, if not, the most spectacular views of Goreme and the surrounding fairy chimneys. If you are a photographer or someone that likes to take stunning photos, you will appreciate its outdoor lounge area. It is truly one of the best places to watch the hot air balloons!
The rooms in Koza Cave Hotel are decorated with traditional Turkish rugs and other furnishings. Some rooms offer a fireplace in the living room, and some even offer a spa bath and a private terrace.
---
How to Get Around Cappadocia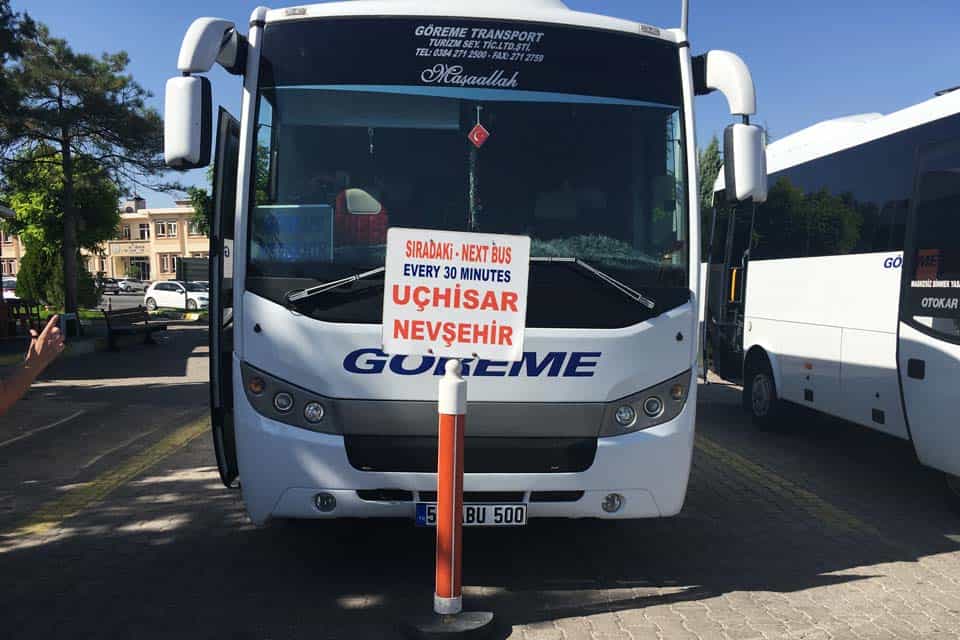 Cappadocia is notoriously hard to get around.
If you are staying in Goreme, there is a bus station where you can find buses/vans to different towns in Cappadocia (such as Nevsehir or Avanos). Once you arrive at your destination, you simply tell the driver to stop and you can get off.
However, what makes public transportation in Cappadocia unreliable is how difficult to find your way back. Drivers and locals outside of Goreme will hardly speak a word of English, so unless you have a Turkish sim card, Google Translate or some basic Turkish, your life is going to be hell.
Keep in mind the schedule of the buses is on "Turkish time", meaning it is quite unreliable and sporadic.
That is exactly why tours in Cappadocia are so popular. They take you to all the top Cappadocia attractions without you having to worry about how to get there and back.
Alternatively, if you are confident driving in Turkey (and allowed to), then consider hiring a car. Parking is quite abundant in Goreme (if you don't mind walking for 5 to 10 minutes). With a car, you can easily visit all the sightseeing spots in Cappadocia easily.
Uber is unavailable in Cappadocia, but there are plenty of taxi drivers in the center of Goreme where you can get a ride with. It is not uncommon to hire a taxi driver for an entire day (or by the hour) to take you too the sights you would like to see.
---
How Many Days to Spend in Cappadocia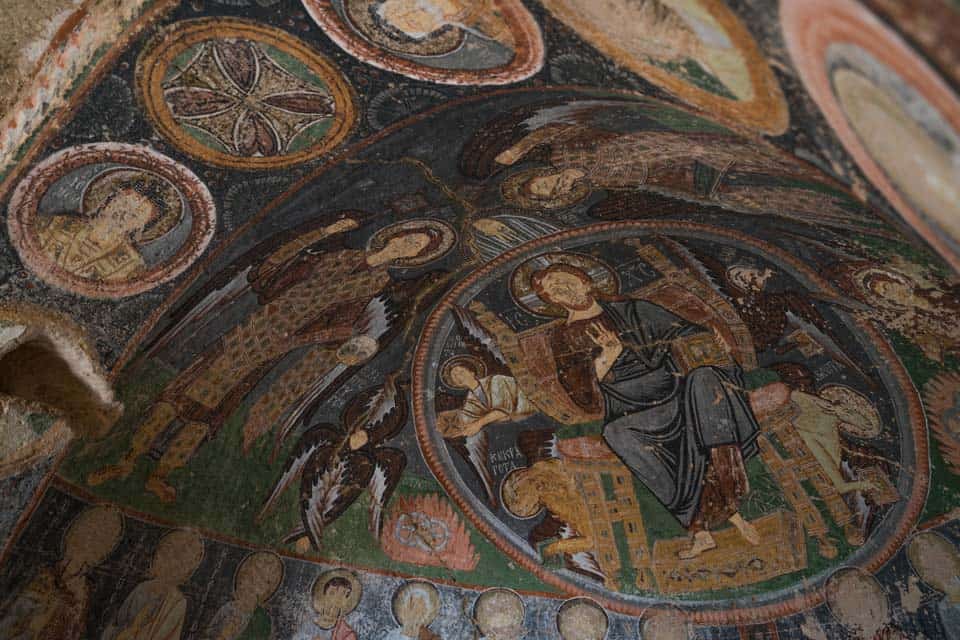 "How many days to spend in Cappadocia?" is one of the most common questions I get. The truth is, it all depends on how much you want to see and whether you have a rental car or plan on taking tours.
If you have a car or plan on taking tours, we recommend spending AT LEAST 2 FULL days in Cappadocia. This is the minimal amount of time you need to see everything, but you will be rushing a bit.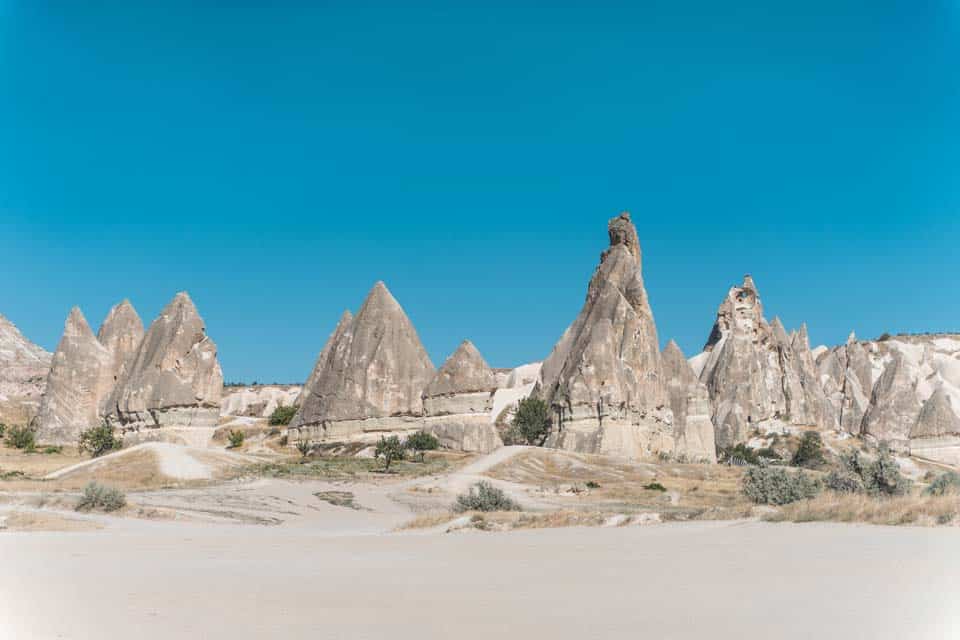 We personally recommend you to spend 4 or more days in Cappadocia. Not only does that mean you can enjoy some of the attractions leisurely, but you also have a high chance of encountering the perfect weather for hot air balloon rides.
If you are staying only 2 days, chances are, the hot air balloons might not fly due to suboptimal weather conditions.
Four days in Cappadocia also allows you to enjoy some of the hikes in Cappadocia, which usually take one full day or the majority of a day. To be honest, Cappadocia is full of activities and you won't feel bored even if you stay for more than a week (like we did)!
If you have difficulty deciding, make sure you check out how many days to spend in Cappadocia guide.
---
Best Time to Visit Cappadocia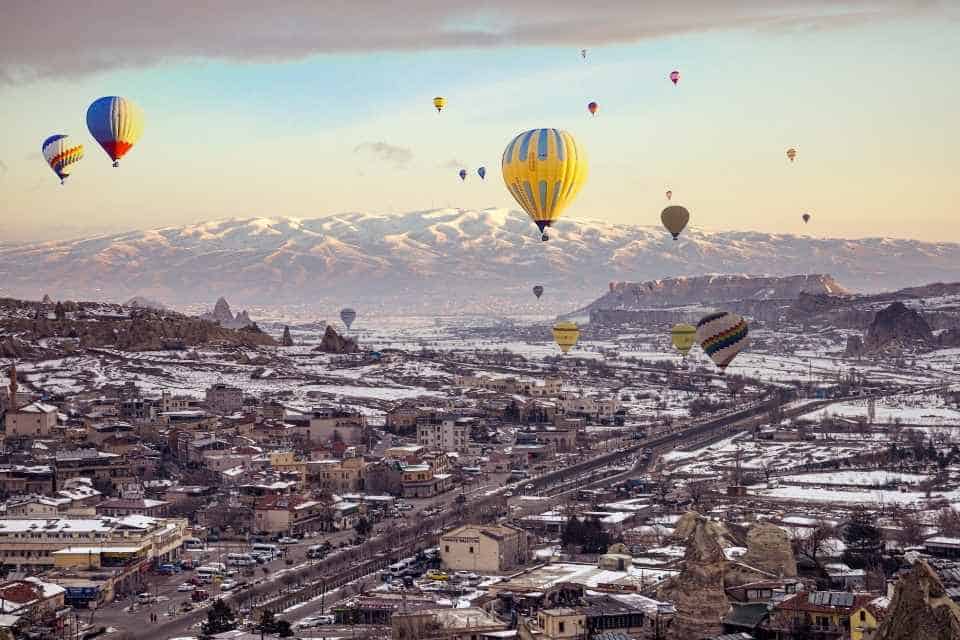 The best time to visit Cappadocia is in autumn (September to October). During this time, the temperature has cooled down enough so exploring the valleys in the middle of the day won't be too hot.
The best month to visit Cappadocia is September. In September, the temperature is perfect for venturing out in the day. Rainfall is minimal compared to spring so hot air balloon rides are less likely to get canceled.
The summer months in Cappadocia (July and August) see the least rain. However, the temperature can get as high as 40 degrees Celcius (100+ degrees Fahrenheit) during the day. It is definitely not pleasant during the daytime but the evenings are very comfortable.
Spring (April to June) is also a popular time to visit Cappadocia. Similar to autumn, the temperature is perfect for both outdoor and indoor activities. However, what makes autumn more favorable to spring is the unpredictable weather in spring. Rain is not uncommon in spring and causes many hot air balloon cancelations.
If you would like to see snow in a desert, then winter is the perfect time to visit. Temperatures below freezing are very common in the winter, especially in December, January and February. Hot air balloons do still take off in the winter, but they are often canceled.
---
Cappadocia Museum Pass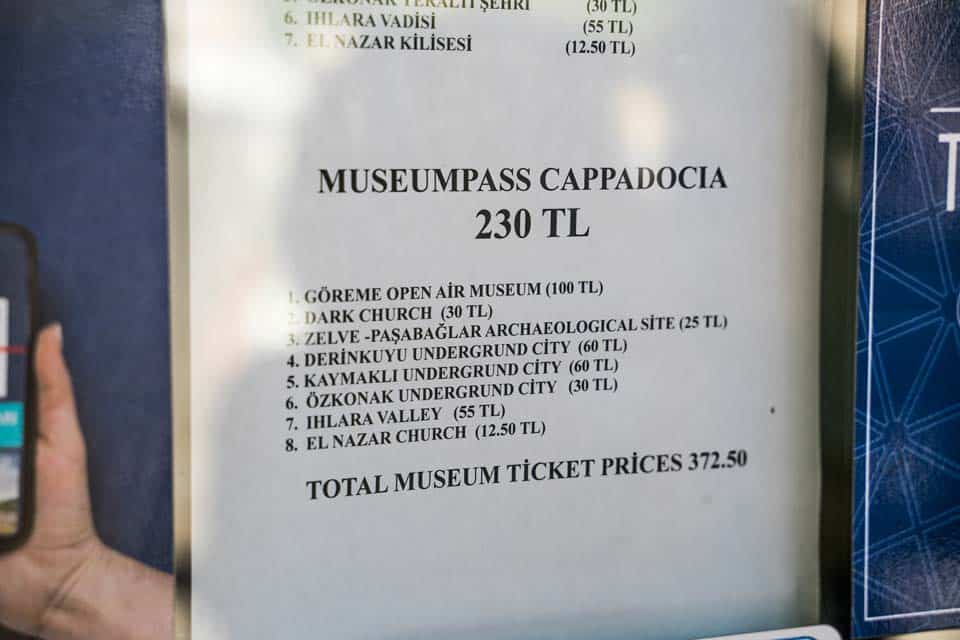 One of the most frequently asked questions about Cappadocia is whether the Museum Pass in Cappadocia is worth it. For those that are unfamiliar with the Cappadocia Museum Pass, it is a 3-day pass that gives you free access to eight museums in Cappadocia.
At the time of writing, the Museum Pass costs 230 TL. If you visit every single attraction covered on the Museum Pass, you would spend 372.50 TL for entrance.
We believe it is an excellent value if you plan on going to a majority of the attractions. Even if you don't go to all 3 of the Underground Cities (who would?) on the Museum Pass, you will still save some money.
You can find out more about the Cappadocia Museum Pass on the official site here.
---
Visiting Cappadocia FAQs
What is there to do in Cappadocia at night?
Nightlife is lacking in Goreme and the Cappadocian Valley. There isn't any nightclub in town but there are a few wine houses and laid-back bars. Adventurous travelers could go for a night hike and admire the clear skies and bright stars.
Is visiting Cappadocia in Turkey expensive?
Turkey is an affordable country to travel to as the Turkish Lira is quite weak. Cappadocia is slightly more expensive than Istanbul in terms of food but accommodation is about the same. Budget travelers can make it by with less than 30 USD a day.
Is Cappadocia safe?
Cappadocia is one of the safest places I have traveled to. With so much of the valley depending on tourism, locals and law enforcement try their best to keep the region safe and inviting for everyone. Even solo female travelers do not need to worry about traveling to Cappadocia alone.
---
Like this post? Don't forget to save it on Pinterest!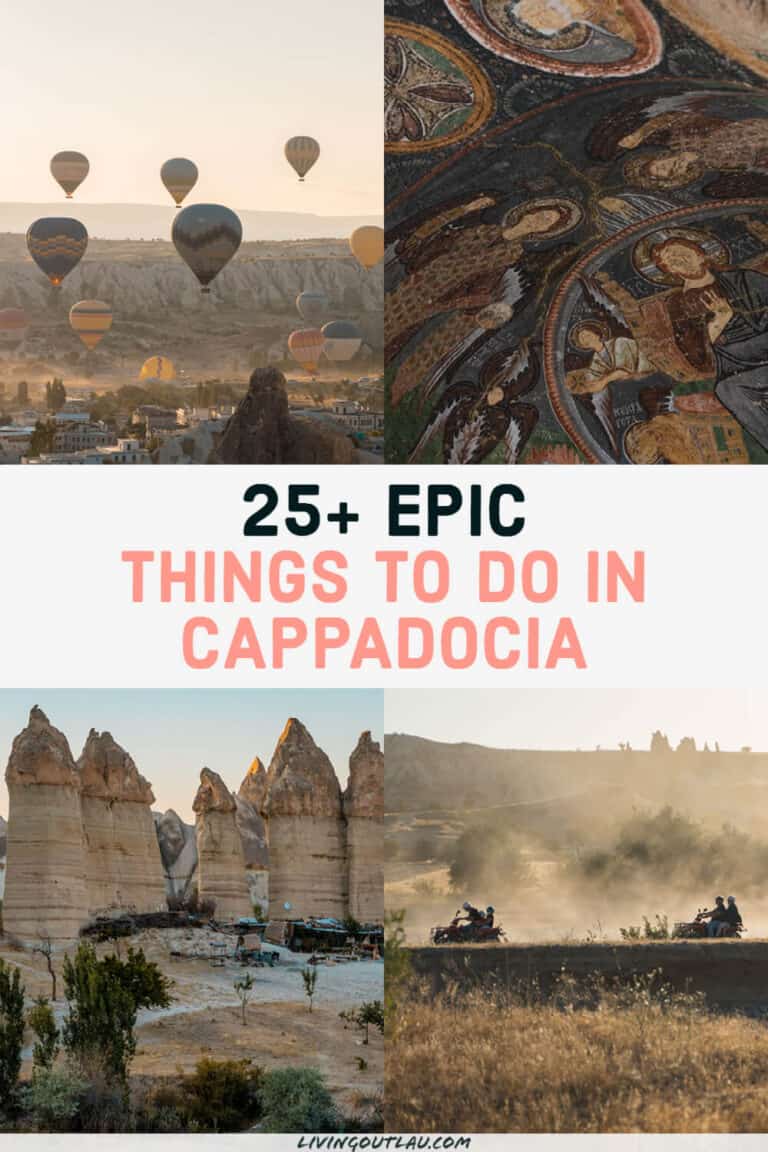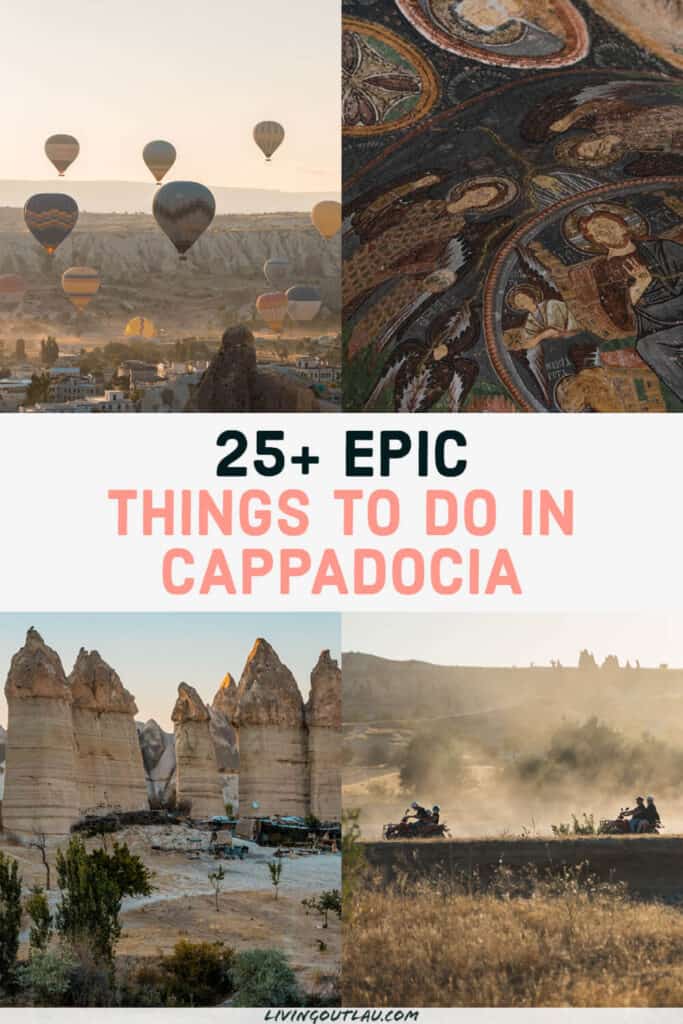 ---
Those are the 26 best things to do in Cappadocia, Turkey. We hope our guide has helped you curate the most epic travel itinerary to Cappadocia!

Any questions? Leave them in the comments!
Disclaimer: Some of the links above are affiliate links. That means if you book or make a purchase through the links, we will earn a small commission at no extra cost to you! The money will help run this site! Thank you!