Not sure what to eat in Istanbul, Turkey? Worry not.
The Turkish cuisine is so diverse that it is not uncommon to be overwhelmed by the number of Turkish foods in Istanbul. With hundreds of years of history and influence from numerous ethnic groups, Turkish cuisine is not only diverse but also very different from western standards.

Matter of fact, if you open any menu at a traditional Turkish restaurant in Istanbul, chances are you might not recognize more than a handful number of dishes. Turkish people also aren't the best in English, so things might get lost in translation when you are reading an English menu.

That is why we have written this Turkish food guide so you can explore the Istanbul food scene confidently. Without further ado, here are 31 of the best Turkish dishes in Istanbul you must try!
---
Best Turkish Dishes In Istanbul, Turkey
1. Iskender Kebap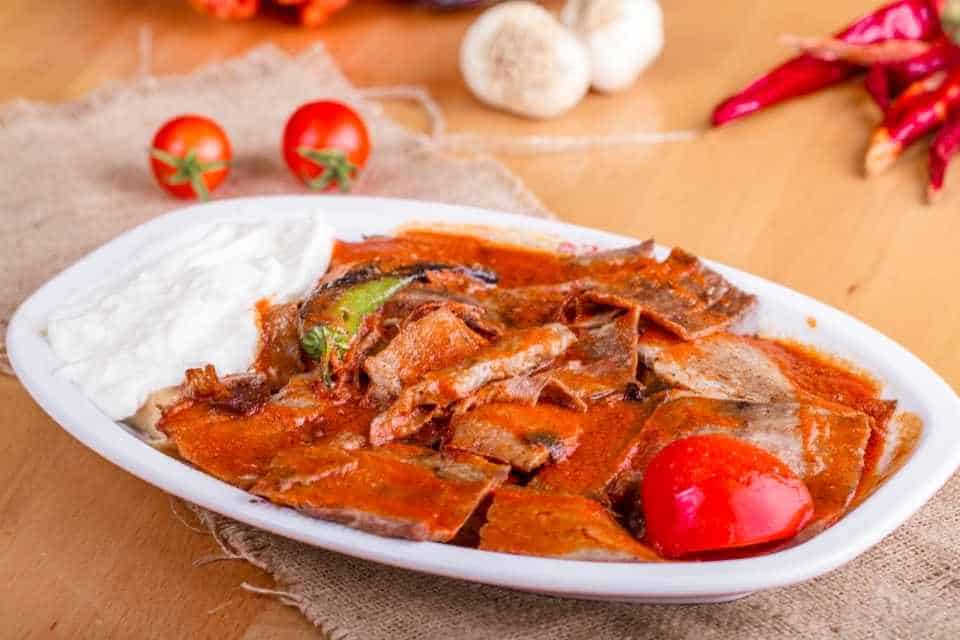 The Iskender Kebap is one of the most famous variations of Turkish kebabs. For meat-lovers, this is often deemed as the most delicious dish in Turkey.
The Iskender Kebap earned its name from the creator of this type of kebab, Iskender Efendi, a master that lived in the city of Bursa in the late 19th century of the Ottoman Empire.
This Turkish dish is made using thinly cut grilled lamb from a doner kebab (something we will get to in a minute), topped with hot tomato sauce, melted special sheep's milk, butter and yogurt. Finally, it is paired with some pita bread.
The result? An extremely flavorful dish that is surprisingly well-balanced.
Though there are many restaurants in Istanbul to try the Iskender Kebap, if you want the original one from the creator, you must travel to Bursa, about 2.5 hours from Istanbul.
2. Lahmacun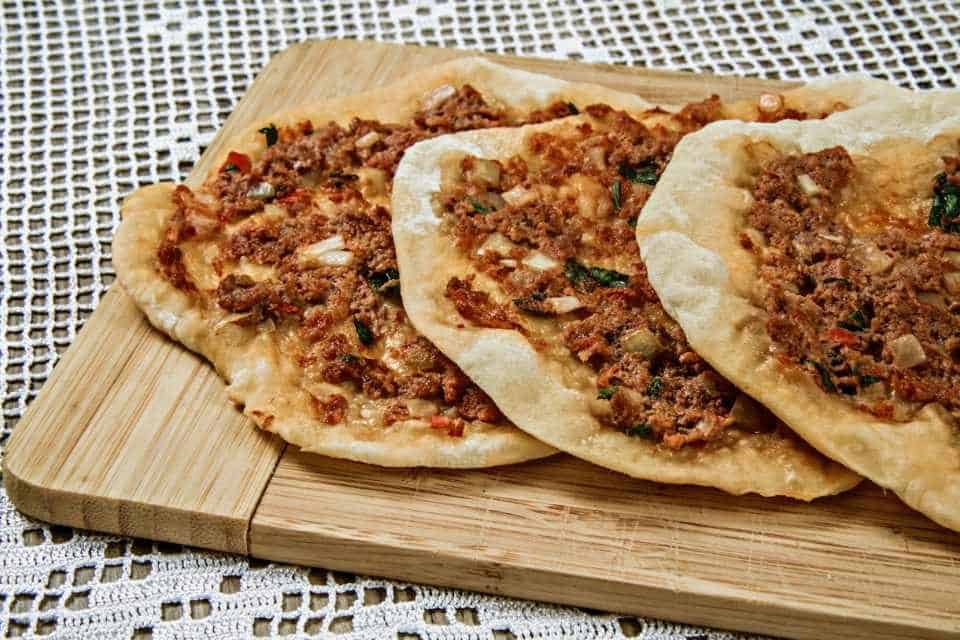 On the surface, the Lahmacun might look like a pizza, especially with its round shape, toppings, and comparable size. Though often referred to as Turkish pizza, the Lahmacun lack two essential ingredients – tomatoes and cheese.
The more proper term for the Lahmacun is a Turkish flatbread. The dough is much thinner and it is usually topped with minced meat, minced vegetables and herbs such as onions, garlic, parsley, chili pepper, and more.
Finally, once all the ingredients are ready, it is then baked.
The result is an extremely light but delicious and savory dish that can be had at any time of the day. We heard the proper way to eat a lahmacun is to cut it up vertically and then roll up the slices.
We aren't 100 percent sure that is the most authentic way to eat it but it sure is tasty when you eat it like that.
3. Manti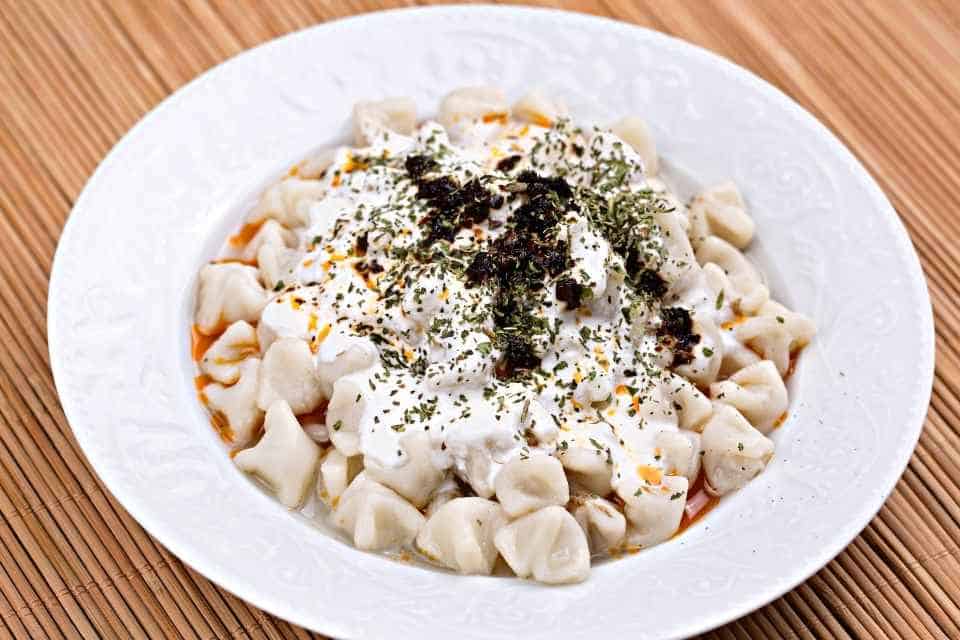 Manti, also known as Turkish dumplings, is one of the most traditional foods in Turkey.
No one knows exactly when or where Manti was created, probably due to the fact that each country has its own form of dumpling. For example, in Poland you have the pierogi, in China the jiaozi, in Japan the gyoza and so on.
Some believe that the manti was inspired by the Chinese mantou (a type of steamed bun). If that is true, then manti could've existed over 2000 years ago.
However, the earliest written Ottoman manti recipe was seen in the 15th century. No one knows the history of the manti, not even the Turkish themselves.
This doesn't stop them from indulging in this simple and delicious dish. The Turkish Manti is a lot smaller than the Asian counterparts and is often the size of your thumb.
The filling is typically a meat with spices mixture, but the flavor isn't as powerful as your typical Turkish dish.
4. Kokorec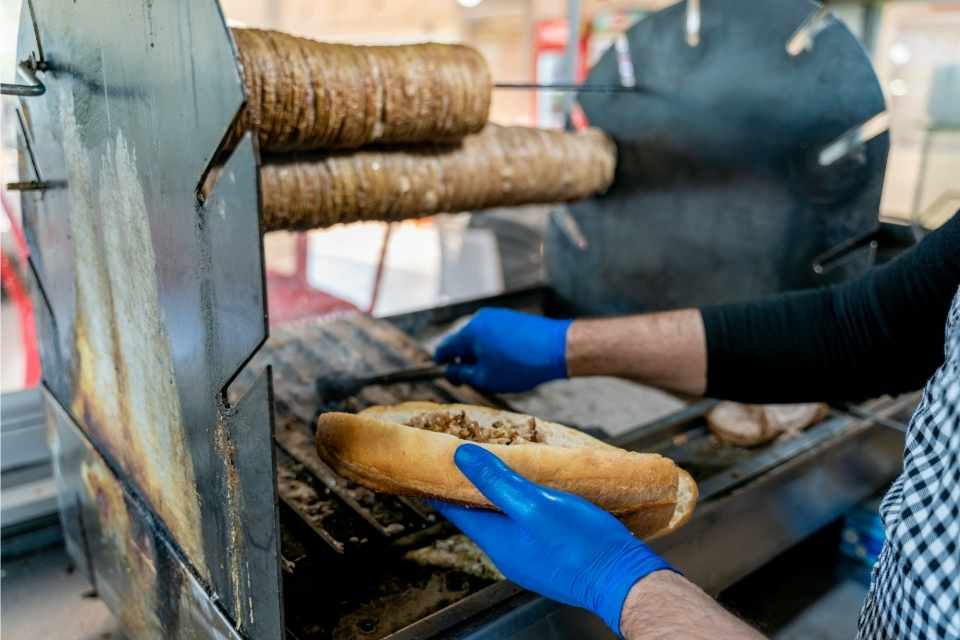 Kokorec is one of the foods in Istanbul you must try at least once. If you meet some locals while you are in Istanbul, they will either rave about it or absolutely hate it. There is no in-between.
To cut to the truth, Kokorec is a dish consisting of lamb or goat intestine, which is wrapped around seasoned offal such as hearts, lungs, or kidneys. This is then typically roasted on a wooden fire in Istanbul, and the result is served on a sandwich.
This is a Turkish delicacy that is loved by locals for its chewy and meaty taste. Though we weren't a big fan of Kokorec when we tried it in Istanbul, we were quite surprised at the taste of it. It did not have that gamey taste you would expect from a concoction of different organs from an animal.
It was the strange chewing consistency and not being able to identify the taste that made it a little strange. Nonetheless, we can see why some people really like Kokorec.
If you want to try some Kokorec in Istanbul, head over to the neighborhood of Eminonu. There are a few restaurants that specialize in Kokorec.
5. Menemen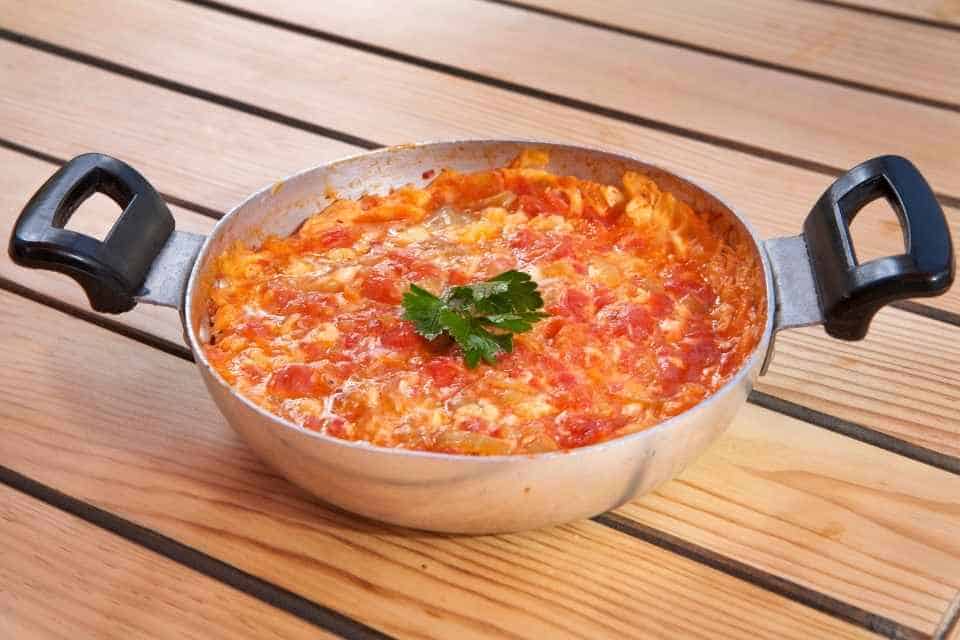 Menemen is one of the best vegetarian Turkish dishes you can have in Istanbul. Often known as Turkish scrambled eggs, this dish is made with eggs, tomatoes, green peppers, and spices like ground pepper to give it a savory kick.
Sometimes, diners can have the option to add cheese to their Menemen as well.
When we are traveling, we love simple and nutritious meals and the Menemen is exactly that. It is full of vegetables and protein, and the dish is usually accompanied by pita bread so you get a filling and balanced meal.
Luckily for travelers, there are plenty of restaurants where you can try this food in Istanbul. Sometimes you might see the Menemen as an appetizer but it should be enough food as a standalone meal.
6. Içli Köfte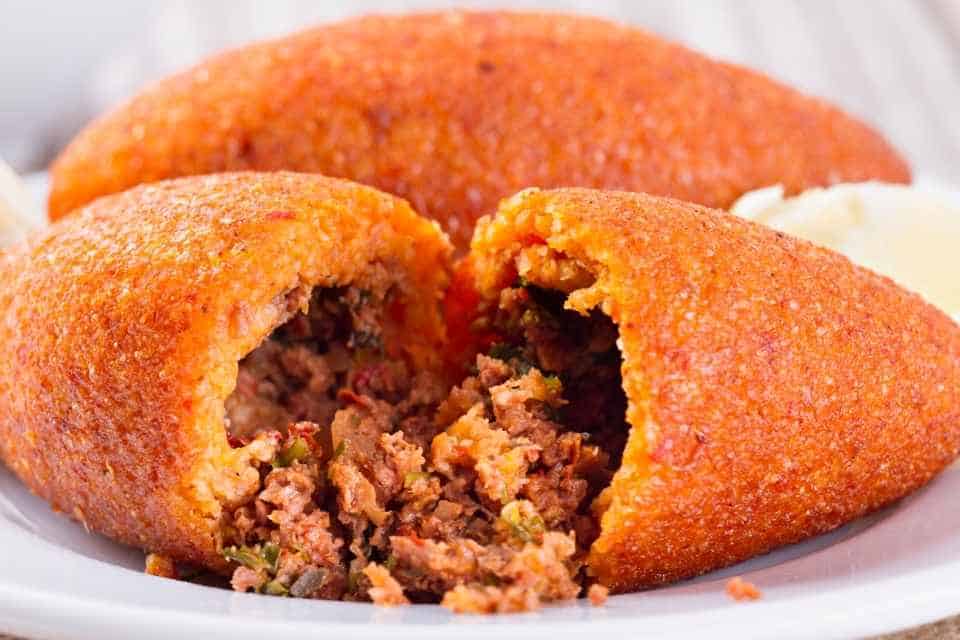 Içli Köfte is more commonly known as Turkish stuffed meatballs. With core ingredients such as bulgur, minced onions, walnuts, ground beef, and rich spices, the Içli Köfte is a very popular dish in Istanbul and Turkey.
The dish is very similar to the Middle Eastern kibbeh, and some believe that is where the Turkish Içli Köfte originates from. That would explain why the dish is much more popular in the southeastern region of Turkey.
Içli Köfte is usually fried, but sometimes you will also find them boiled. In our opinion, the fried Içli Köfte is usually more flavorful and tastes better.
7. Doner Kebap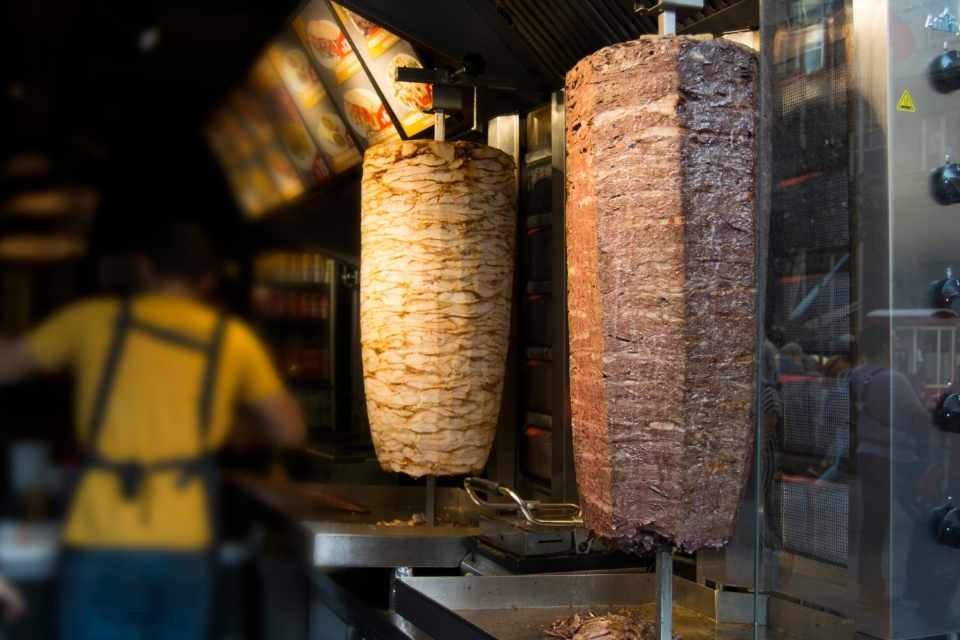 The Doner Kebap is arguably the most iconic dish in Turkey. It's the dish that has garnered so much international attention that you can pretty much find it anywhere in the world.
For those that don't know exactly what a doner kebap is (we weren't exactly sure), it is a type of kebab that is made of stacked meat on a rotisserie. Seasoned meat (usually chicken or lamb) is stacked into the shape of a cone on a rotisserie, where it is spun next to a vertical heater.
The giant blob of meat is then sliced into very thin pieces and served in various formats such as pita bread, a wrap or sometimes even a sandwich. Lettuce, sliced tomatoes and onions are added to the mix.
You (sometimes) get to add a sauce on top, but it seems like it is more popular to not add any sauce on your doner kebap. That was very strange to us because doner kebaps in every other part of the world are drenched with a garlic yogurt sauce.
If you are looking for doner kebap in Istanbul, you are in luck. There are probably more doner kebaps than there are people in Istanbul (just maybe).
Taksim Square is filled with many extremely affordable doner kebap shops that are often filled with locals. Istiklal Street, Eminonu, and the historic center (Sultanahmet) are also filled with doner kebap shops. They are everywhere.
8. Pide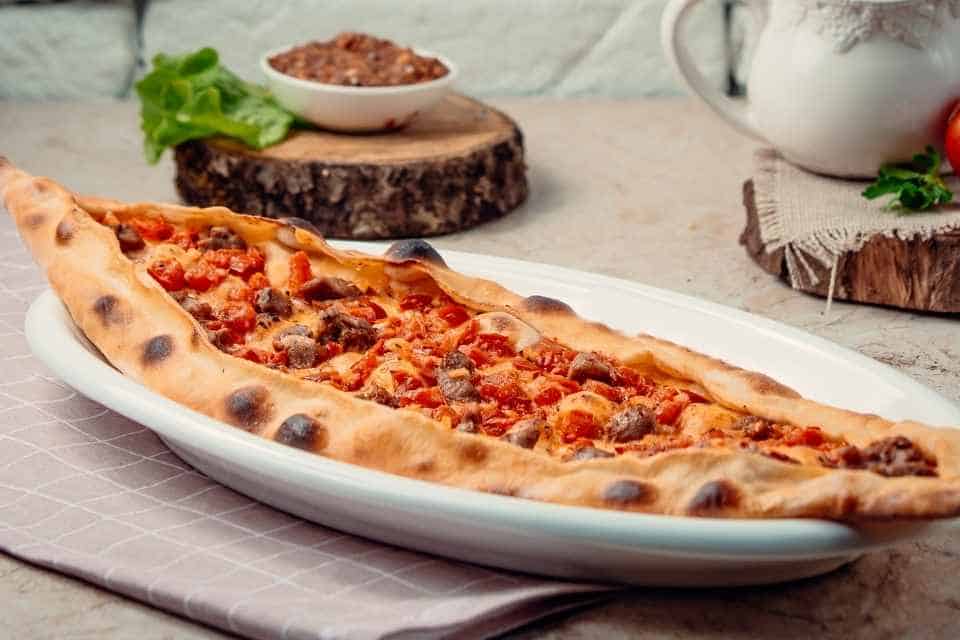 Pide, also sometimes known as the Turkish flatbread or the Turkish pizza, is an oval-shaped flatbread baked with various ingredients.
Unlike Lahmacun, which is often also called Turkish flatbread or Turkish pizza, the dough to a pide is much thicker and more closely resembles the crust of a pizza. Pide also (almost) always has a layer of cheese on top.
One of our favorite variations of the Turkish Pide is the Kiymakli Pide. It uses a minced lamb/beef mixture with a variety of spices and little bit of vegetables. Simple, convenient and delicious, that is what a pide is about.
Pide is one of the most typical foods in Istanbul. You won't have any difficulty finding them in any of the restaurants, but just don't expect a pide to "wow" you. It is a very popular late-night dish after a night out.
9. Gözleme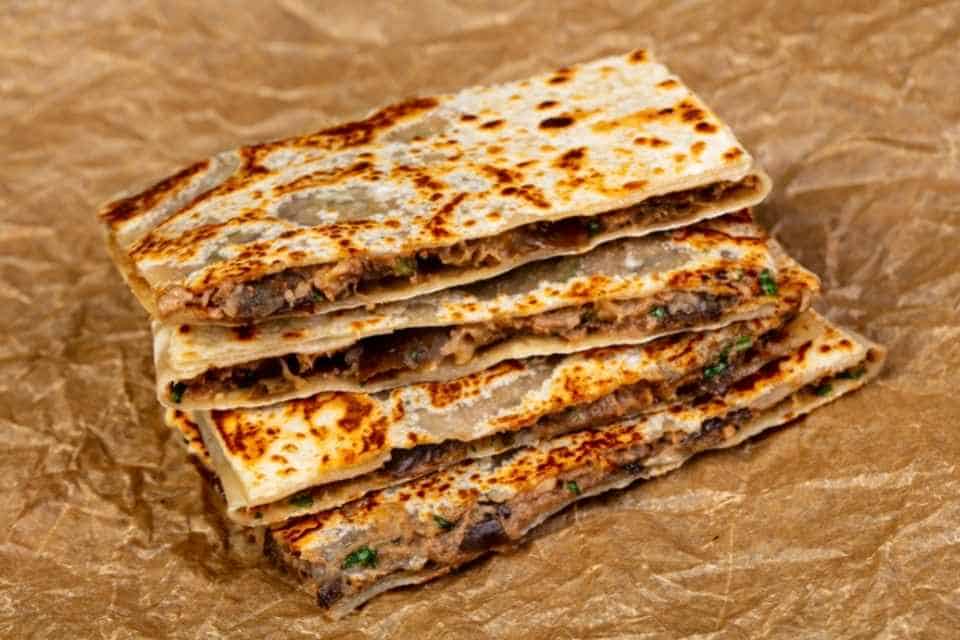 A Gözleme is one of the most popular Turkish pastries. It is a savory stuffed flatbread, where the dough is unleavened and made with flour, salt, and water.
The word Gözleme is derived from the Turkish word közleme, which means to cook or grill on embers. Originally as a typical Turkish breakfast food or snack, Gözleme is now a fairly popular fast food in Turkey.
Similar to the pide, there are plenty of variations of the Gözleme. You can put a combination of meat, vegetables and cheese inside a Gözleme. Don't worry though, you don't have to make up your own Gözleme, as there will be time-tested variations for you to try.
For vegetarians, the feta cheese and spinach combo is surely a winner.
10. Turkish Breakfast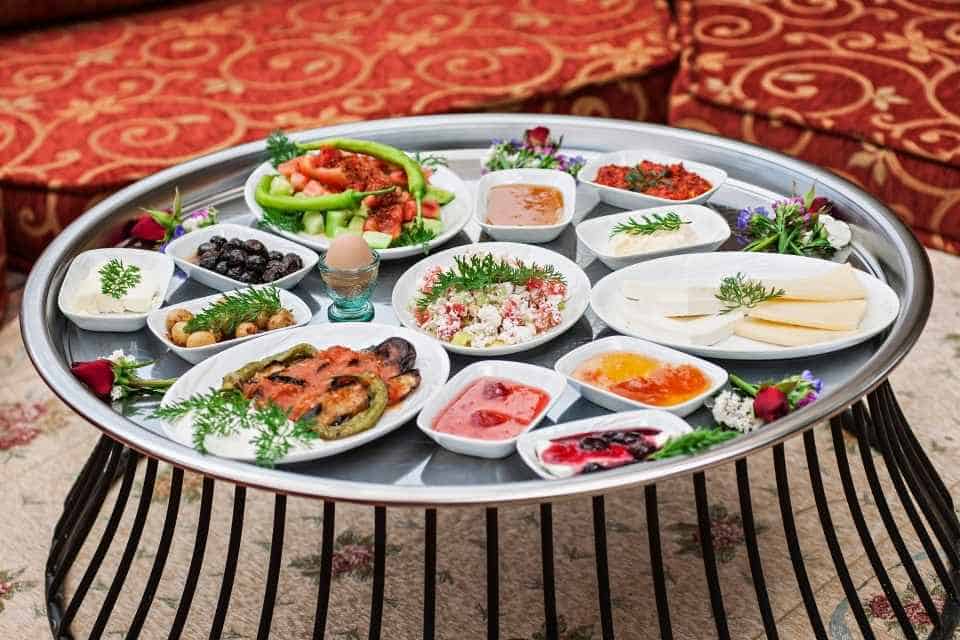 A Turkish Breakfast isn't just a breakfast you have in Turkey. It is a breakfast that usually consists of foods such as cheese, butter, olives, eggs, tomatoes, cucumbers, jam, and honey.
Sometimes, if you want a big Turkish breakfast, you can also have sucuk, a dried sausage made of ground beef and a variety of spices), and menemen. To top it off, you MUST have a cup (or two) of Turkish tea (çay).
The word for Turkish breakfast is kahvaltı, which literally translates to "before coffee". Though Turkish coffee is probably more famous than Turkish Tea, it is tea that is widely consumed during breakfast, not coffee!
11. Wet Burgers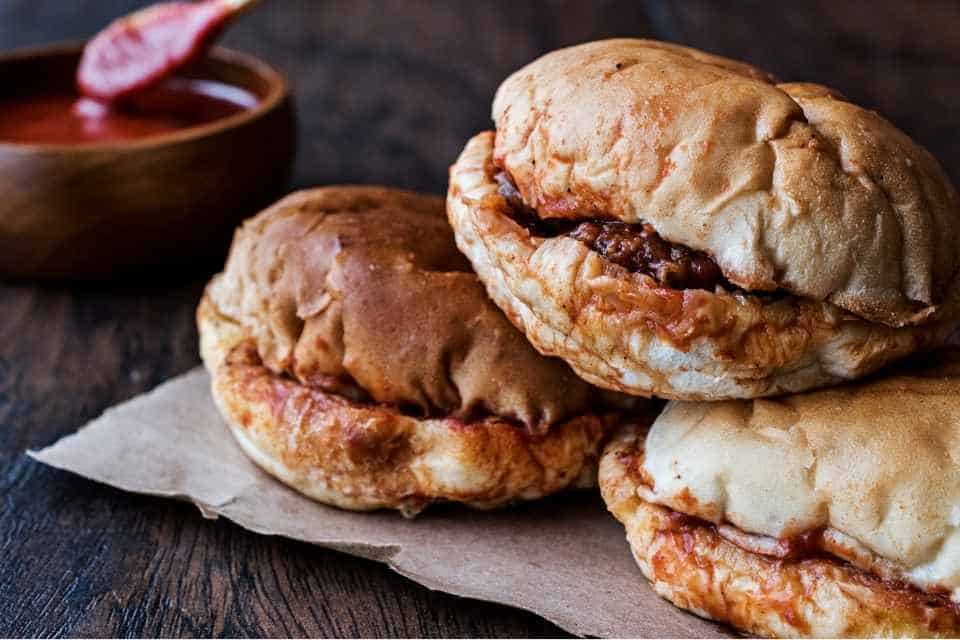 Wet burgers are probably the most unappetizing sounding dish in our Turkish foods guide. Well, let me tell you something. The way it looks is no more appetizing than the way it sounds. Sorry!
Called Islak Burger in Turkish, Wet Burger is one of the most popular late-night foods in Istanbul. Unlike typical burgers where there are lettuce, tomatoes and sometimes cheese, a Wet Burger is with just a patty drenched in a buttery tomato sauce.
Sometimes the tomato sauce is so much that it soaks the buns, hence the name Wet Burger.
Surprisingly, this simple Turkish food is one of our favorites. It is cheap, convenient, tasty, and really soaks up the alcohol after a late night!
If you are in Istanbul, Istiklal Street, where most of the action in Istanbul happens at night, is filled with Wet Burger joints.
12. Börek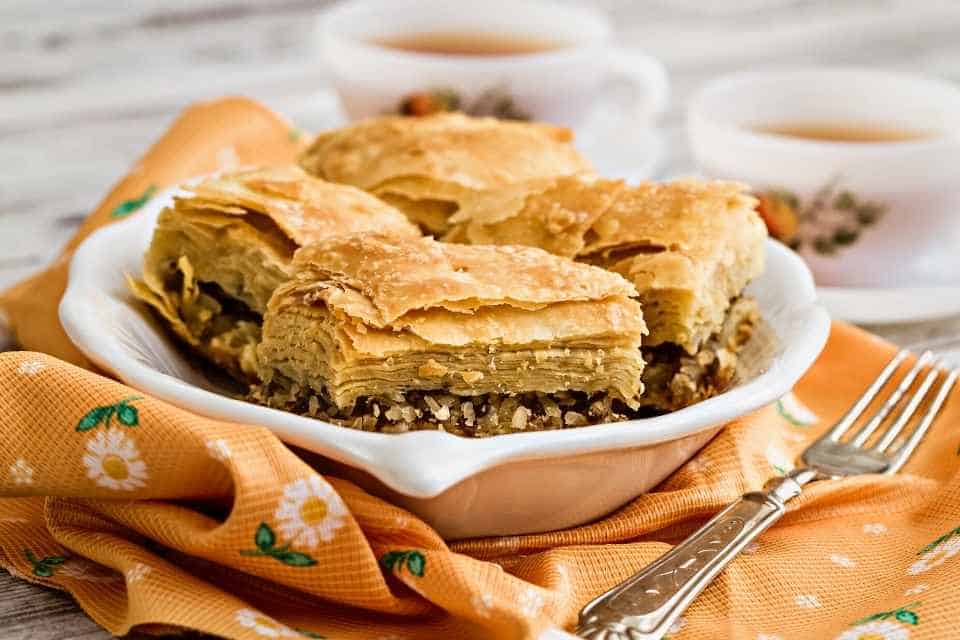 As a very popular snack in Turkey, Börek is a baked, filled pastry made of a thin flaky dough. Its filling usually consists of a variety of ground meat, cheese, and vegetables.
Börek is known to originate from the Ottoman Empire, but it is now widespread in the world. The former territories of the Ottoman Empire (such as the Balkans and the Caucasus) have an abundance of Böreks.
Börek is a tasty and simple snack made with familiar ingredients. If you are not feeling too adventurous on your Turkish trip, then Börek can be your best friend. They are often found in bakery shops and cafes!
13. Adana Kebap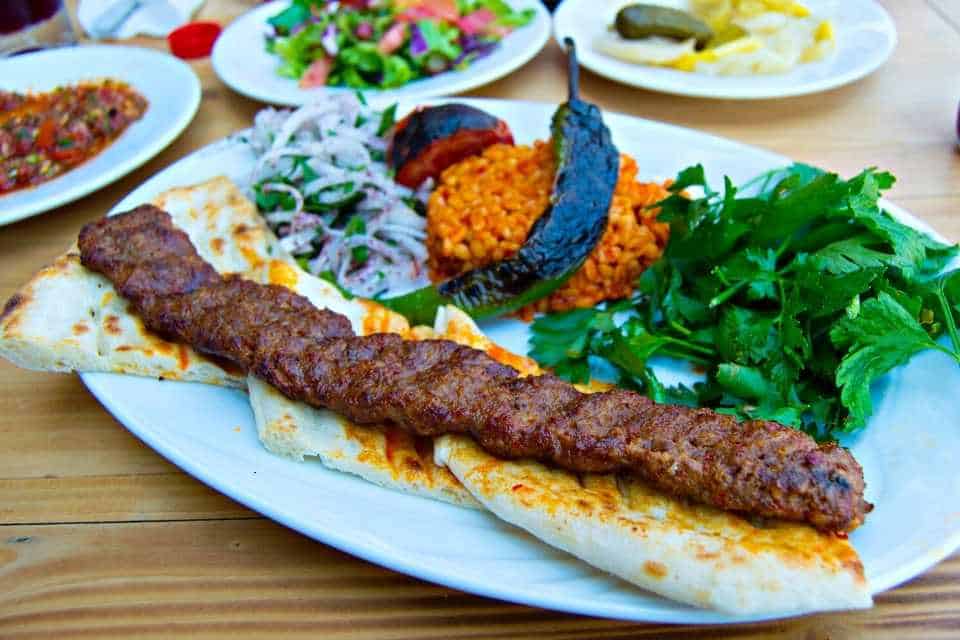 There are many types of kebabs to choose from in Turkey, but none of the flavors can compare to the one of the Adana Kebap. Don't confuse the Adana Kebap with a doner kebap, because the Adana Kebap doesn't use sliced-up doner meat.
Instead, the Adana Kebap is a long, hand-minced kebab grilled on an open mangal (like a barbecue) with burning charcoal. The result is extremely flavorful that is often considered one of the tastiest traditional dishes in the world.
The dish is named after the Adana, one of the biggest cities in Turkey. The meat mince is a mixture of superior male lamb meat, red bell pepper, and tail fat. With its quality ingredients and preparation methods, Adana Kebap is one of the highest outstanding dishes in Turkey.
In fact, it is said that only vendors that have passed inspection conducted by the Adana Chamber of Commerce are allowed to serve Adana Kebaps.
The Adana Kebap is said to be spicy. But if you compare Thai food or Peruvian food, then the Adana Kebap is not spicy at all. For a non-spicy alternative, you can try Urfa Kebap.
14. Turkish Güveç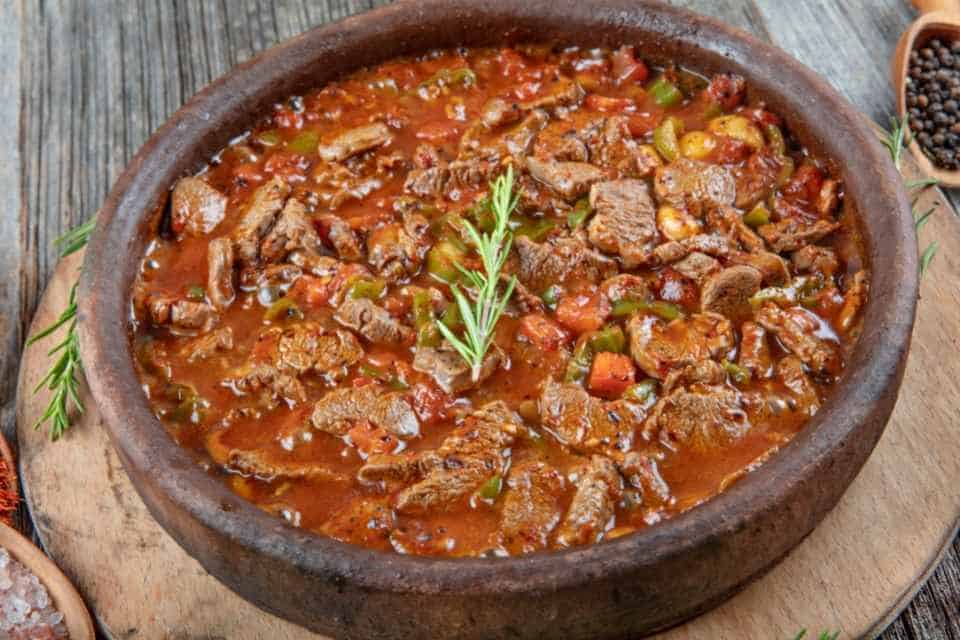 Turkish Güveç is more commonly known as Turkish clay pot stews. Made by slow-cooking a combination of meat and vegetables in a traditional earthenware pot, the Turkish Güveç is one of the most delicious dishes we tried in Turkey.
The process of cooking can take several hours, but all the cooking not only brings out the irresistible flavors of the ingredients but also makes the meat so tender. It is like putting butter in your mouth!
Because Turkish Güveç takes so long to prepare, it is not very common outside the historic center of Istanbul. Your best bet is somewhere touristy like Sultanahmet, but expect to pay a premium for it.
15. Sarma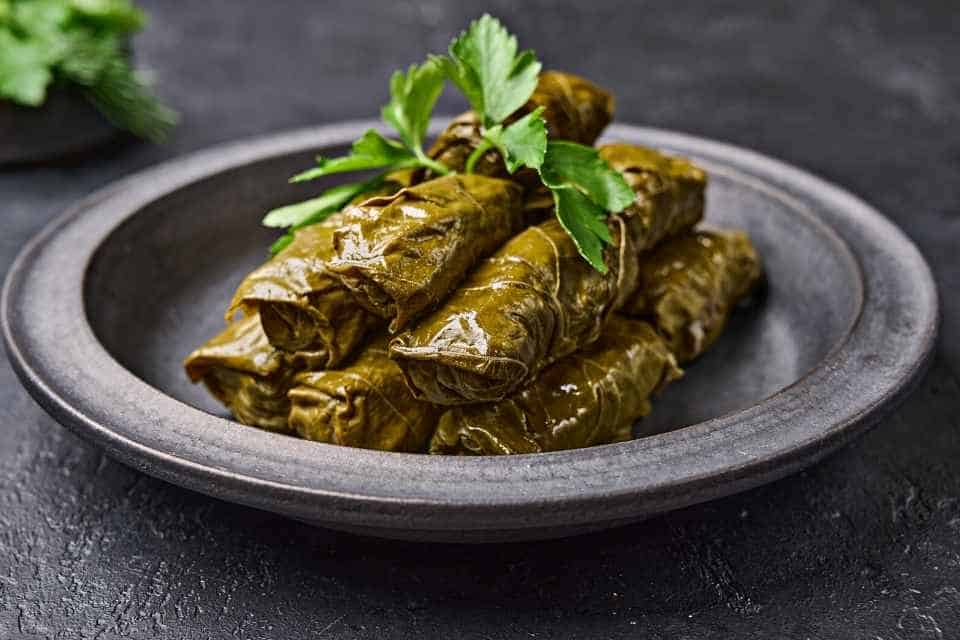 Sarma, otherwise known as stuffed grape leaves, belongs to a family of stuffed foods known as the dolma from the Ottoman Empire to Southeastern Europe.
The wrapping used is typically grapevine, cabbage, monk's rhubarb, kale or chard, while the filling is usually a mix of grains and minced meat.
Sarma, though not too eccentric in its appearance, has one of the most unique flavors we have ever tried. The grape leaves and the soft filling were contradicting in texture and the taste didn't quite sit right with us.
It is an experience trying Sarma but we definitely won't be having it regularly.
From speaking with other people, there might be a chance we just had "bad" Sarma. Your results might vary!
16. Dürüm Kebap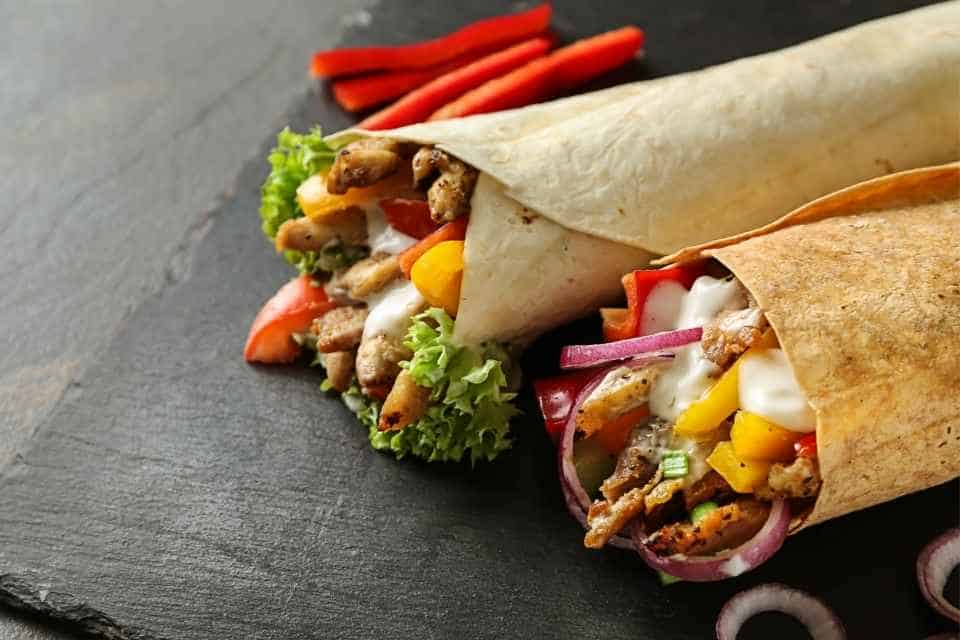 A Dürüm Kebap is simply a roll (Dürüm means roll in Turkish) with typical doner kebap ingredients. It is one of the most common quick meals in Turkey, thanks to how easy it is to make and its affordability.
If you are traveling Turkey on a budget, then look forward to having a lot of Dürüm Kebaps in your diet!
Places that offer doner kebap will often offer Dürüm Kebap, so you can find this simple yet delicious street food pretty much everywhere in Turkey and Istanbul!
17. Şiş Kebap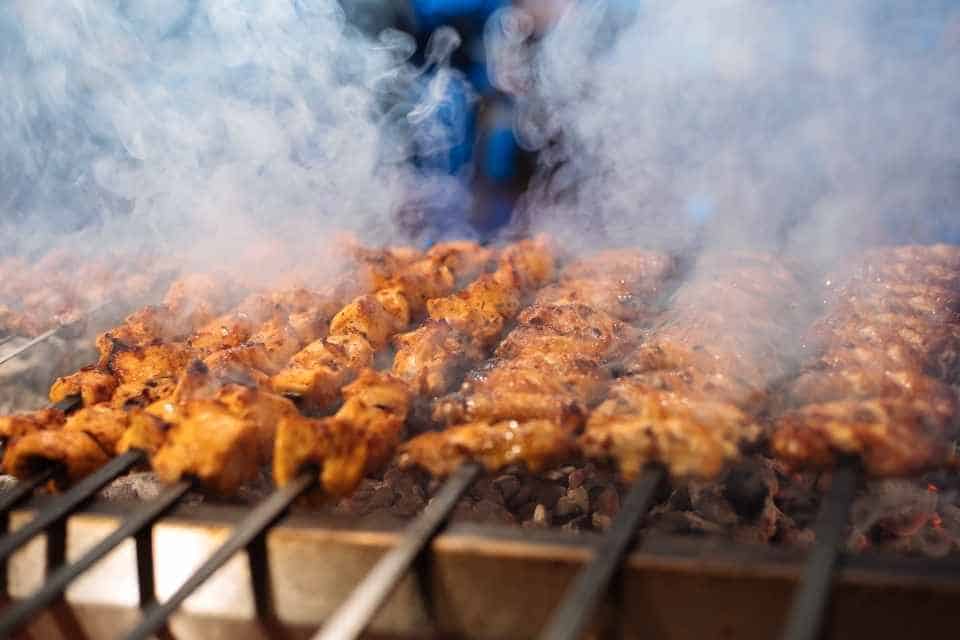 Did you think we were done with kebabs? Never!
The last kebap on our list is called the Şiş Kebap, or more commonly known as the Shish Kebap. It is one of the more popular Turkish dishes you will see in other parts of the world. The word Şiş means sword or skewer in English, and that is exactly how the Şiş Kebabs are served.
The meat served in a Şiş Kebap is traditionally lamb, but it is very common to find other types of meat such as chicken or beef. Şiş Kebap itself isn't a meal, so the dish is often accompanied by rice, grilled tomatoes, pita bread, and a salad.
---
Best Turkish Street Food In Istanbul
1. Midye Dolma (Stuffed Mussels)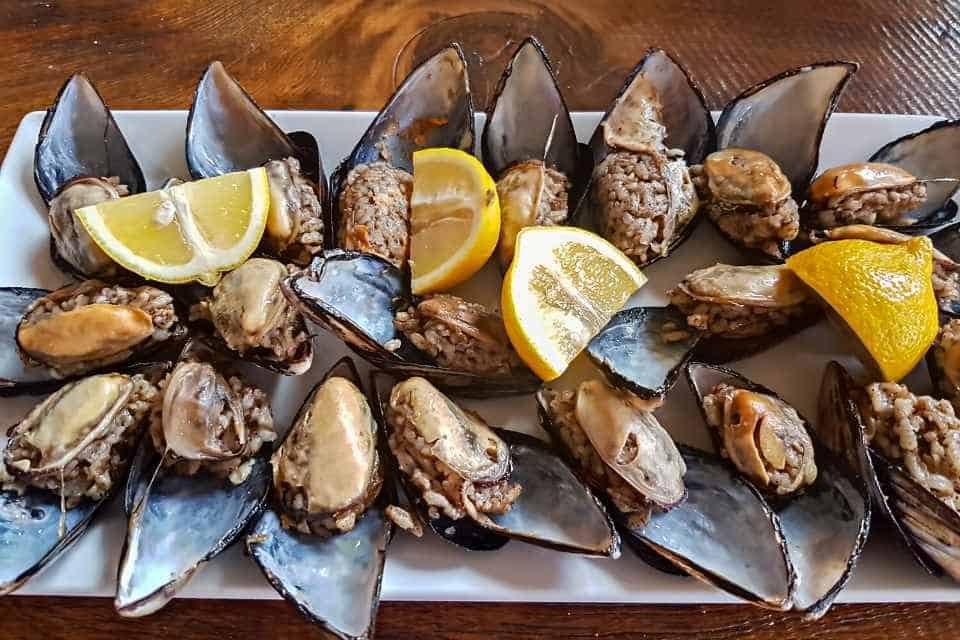 If you are looking for the best street food in Istanbul, stop right here, you have found it. Midye Dolma, or stuffed mussels in English, is a popular street food in Istanbul thanks to the bodies of water that surround the city.
There are many types of stuffings for stuffed mussels, but the Turkish ones involve aromatic rice mixed with a variety of spices. Combined with the fresh mussels directly from the sea, this Turkish dish is a delight.
When eating stuffed mussels, you have the choice of sprinkling fresh lemon juice on top or not. Because lemon juice is very powerful, it can overpower the subtle deliciousness and freshness of the stuffed mussels. Use that with caution.
Midye Dolma is the perfect street food in Istanbul as you can order them by per mussel. They are easy to eat and the rice can fill you up if you order enough of them!
In our opinion, stuffed mussels are some of the best things to eat in Istanbul.
2. Balik Ekmek (Fish Sandwich)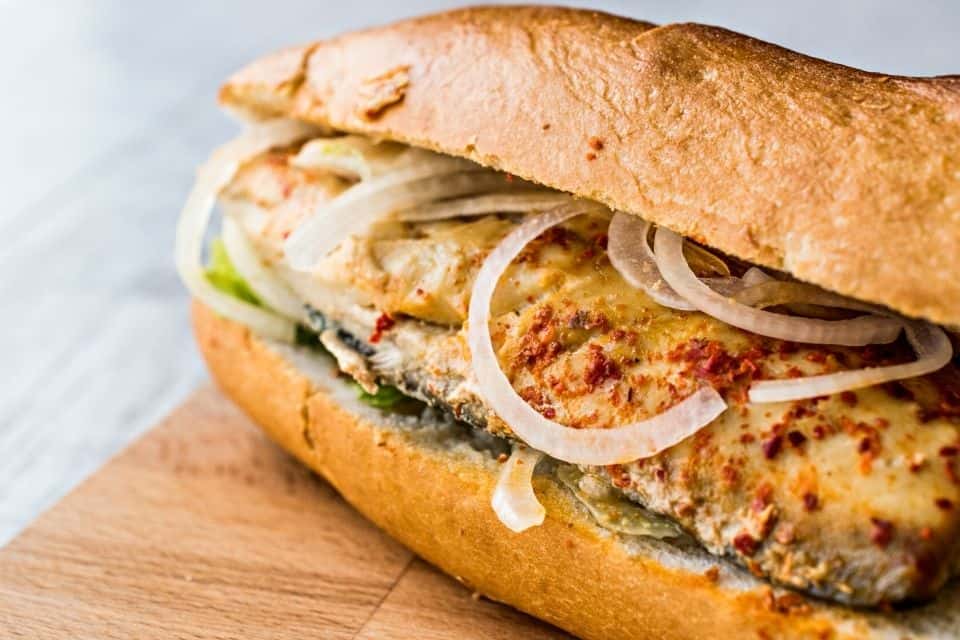 At first glance, Balik Ekmek, or fish sandwich in English, might not come across as a special sandwich in the world. You might think of it like the fish fillet sandwiches you can get in McDonald's, but that cannot be more inaccurate.
Balik Ekmek is very popular in the neighborhoods around the Golden Horn. Because of the location, the fish in a Balik Ekemk is some of the freshest you will ever have.
There you will find many street vendors grilling the fish (usually a mackerel) and serving it in a sandwich along with various vegetables. Each fish sandwich is usually half of a mackerel with its bones taken out.
Not only is Balik Emkek one of the cheapest foods in Istanbul, but it is also one of the freshest and most delicious. There is really no reason why you should miss this on your Istanbul itinerary!
3. Simit (Turkish Sesame Bagel)
Simit, also known as Turkish Bagel or Turkish Pretzel, is one of the most common foods you will find on a street cart.
As you can imagine, a Simit is not anything fancy. It is just a piece of circular bread with sesame seeds on top. Sometimes you will find poppy, flax or sunflower seeds instead.
If you don't try Simit when you visit Istanbul, it is not the end of the world.
In fact, we tried it from one of the food trucks and disliked it. We are not sure if we got one that sat overnight (because we are tourists), or they are just hard, cold, and nearly impossible to chew.
If you are looking for the best foods in Istanbul, you won't be missing anything if you don't try a Simit.
4. Roasted Chestnuts And Corn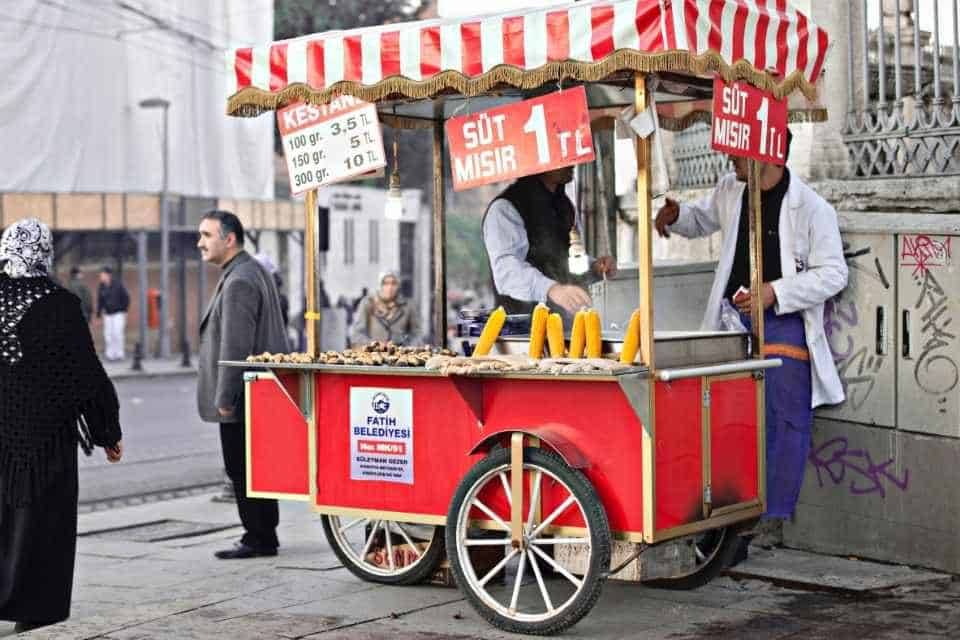 Just like the rest of the world, roasted chestnuts and roasted corn are popular street foods in Istanbul as well. Because it is easy to transport them around, you will find plenty of street carts all around Istanbul.
They are especially popular in touristy places such as Sultanahmet, Eminonu, and Taksim Square.
---
Traditional Turkish Drinks In Istanbul
1. Turkish Tea (Çay)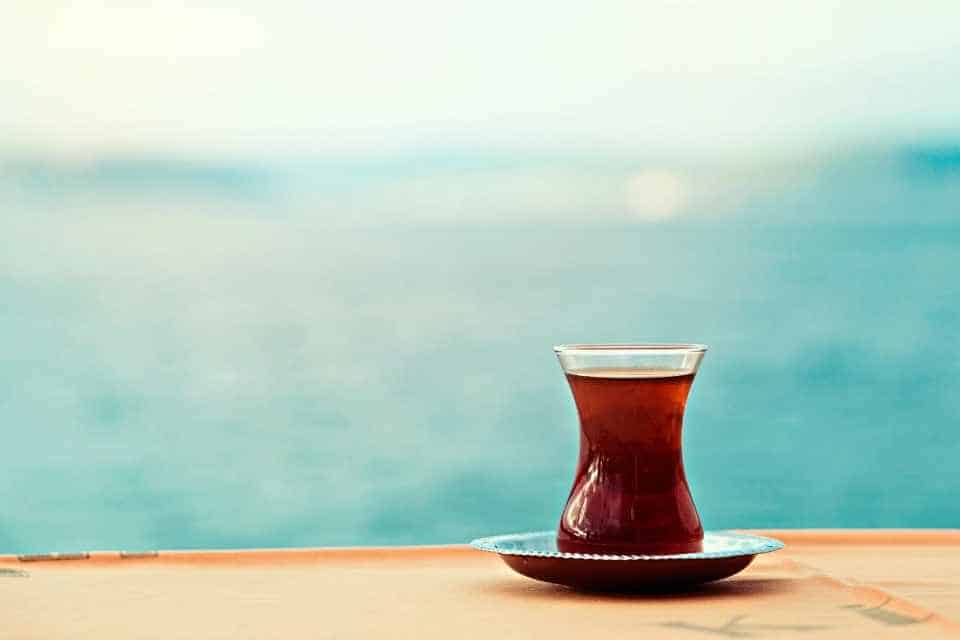 No list of the best Turkish foods to try in Istanbul is complete without mentioning çay, or Turkish tea. On our guided tour in turkey, our tour guide told us that locals usually have 3 to 5 cups of tea per day. This number can go up to 10 during the winter month when the temperatures drop.
What is more surprising is that Turkey is ranked number 1 for tea consumption per capita, more than countries like the UK, China, and even Japan. It is absolutely insane how much tea Turkish people have per day.
Most of Turkish Tea comes from Rize Province, an area on the eastern Black Sea coast where the soil is fertile and precipitation plentiful. The tea is processed like black tea, but the resulting color is a dark burgundy.
Turkish tea is typically served in tulip-shaped glasses called ince belli. If your Turkish Tea doesn't get served in one of those glasses in a restaurant, get your belongings and leave because you are getting scammed!
2. Turkish Coffee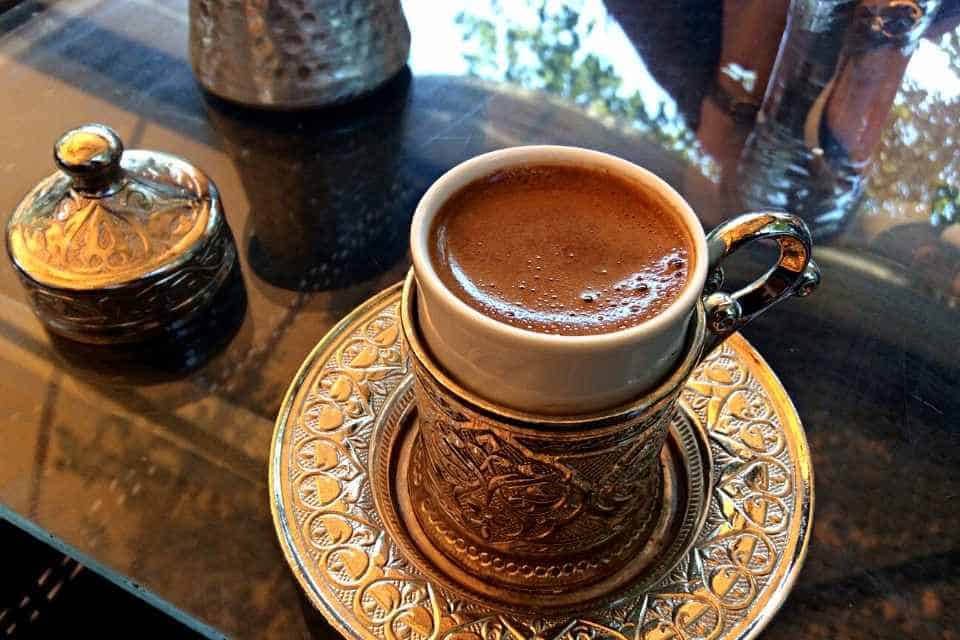 One of the most famous things from Turkey is undoubtedly Turkish Coffee. However, surprisingly, it is not as popular as Turkish Tea.
Turkish Coffee is quite unique in its making. It is brewed by boiling very fine ground coffee, all of which are left in the coffee when served. The leftover coffee grounds are sometimes used to tell fortunes, a practice called tasseography.
From our experience, because of the process of making the coffee, Turkish coffee is very gritty. The taste is quite nice and you have the choice of having it with sugar or no sugar. However, the texture is what turned us away.
Nonetheless, it is one of the most traditional drinks in Turkey. Its roots come from the Ottoman Empire, where it was first banned because it was so strong it was considered a drug. Later, the sultan at the time lifted the ban due to its popularity.
3. Ayran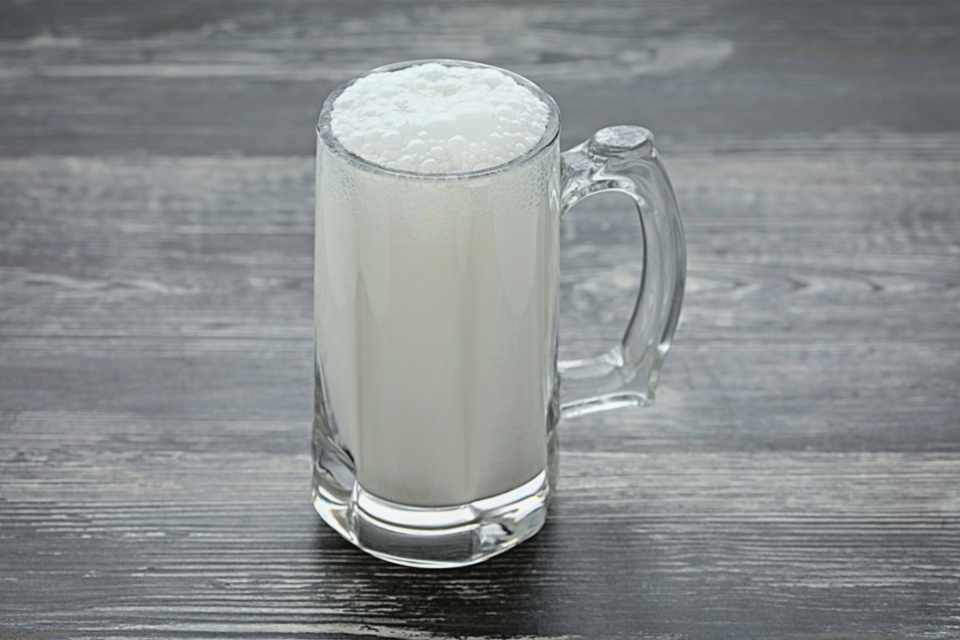 Ayran is a beverage made of water, yogurt, and salt. It is often described as a diluted yogurt or a drink made with iced water and yogurt. Not exactly appetizing right?
We didn't think so either but our mind was changed quickly after having an ice-cold ayran on a hot summer day. The salt, which we thought was going to be horrible, was exactly what we needed to rehydrate our bodies after walking around the different neighborhoods of Istanbul or exploring Cappadocia.
Ayran is believed to have originated from Turkic tribes. Nowadays, it is found commonly in Central Asia, Middle East, and the Balkans, with each country having a slightly unique twist to the drink.
When you are in Istanbul (or Turkey in general), you can either get Ayran in a restaurant or a store. In a store, you will find pre-packaged ayrans that come in the same container as yogurt.
In restaurants, you want to look for one with a proper ayran-making machine. Yes! They have machines dedicated to making ayrans in restaurants. That is where you will find the freshest ayrans in Turkey!
4. Raki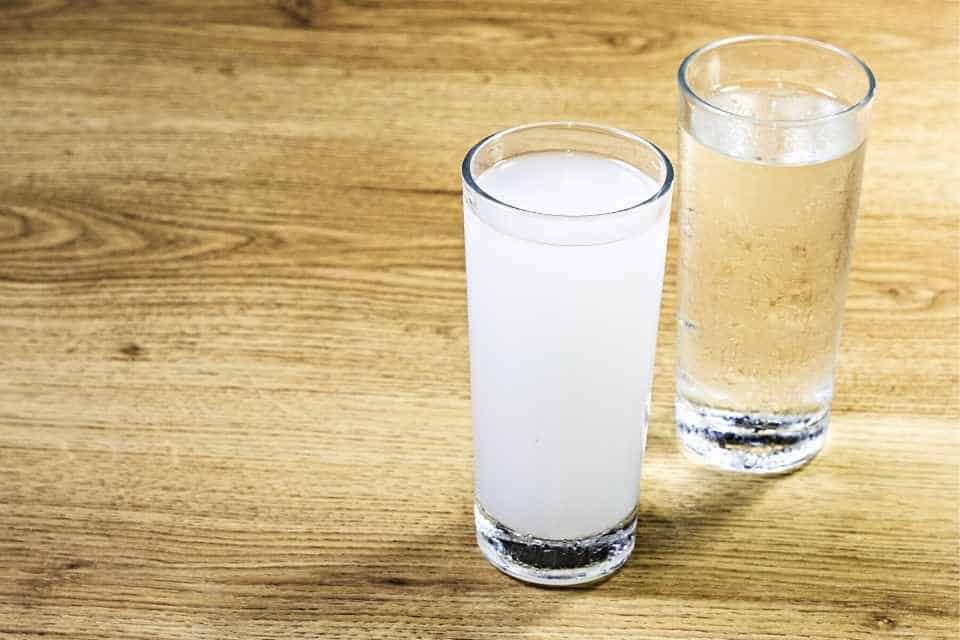 An alcoholic drink made of twice-distilled grapes and anise, Raki is one of the most popular drinks in Turkey. In fact, Raki is the national drink of Turkey and the go-to spirit for any kind of celebration.
Raki is often served with chilled water on the side. Sometimes, depending on how strong you want your Raki, chilled water is mixed in with your Raki. This turns the Raki into a milky color, which is why it has also received the nickname "lion's milk" or aslan sütü in Turkish.
Raki is most often served with meze, a selection of cold and hot appetizer-size dishes. Combined with raki, these sharable plates are the perfect recipe for a memorable night out!
---
Best Turkish Desserts In Istanbul, Turkey
1. Sütlaç

(Rice Pudding)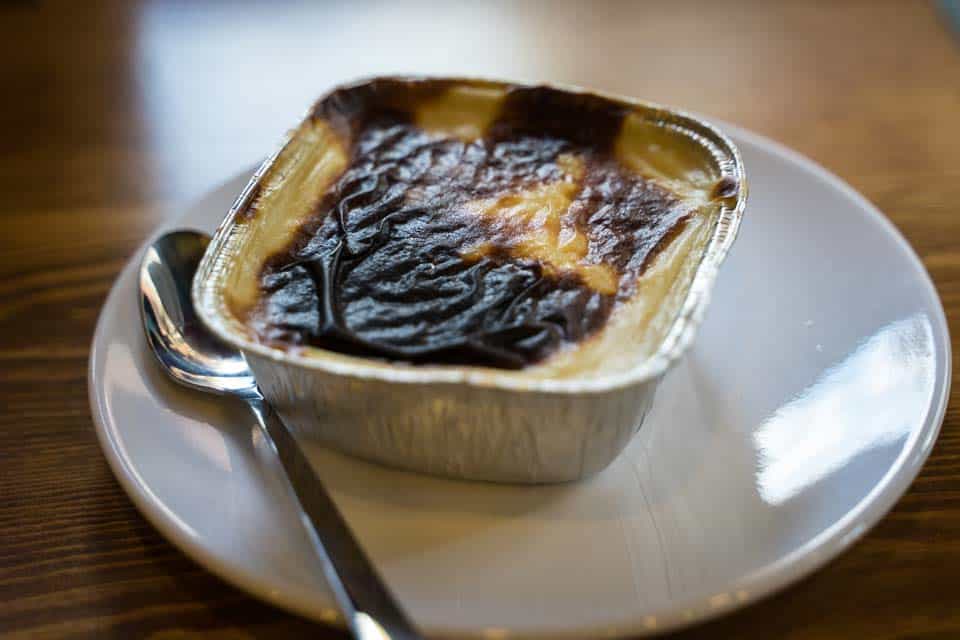 We never thought of Turkey as a country of desserts, but we were pleasantly surprised by the variety and richness of Turkish desserts. One of our all-time favorites is sütlaç, or Turkish rice pudding.
While we have had many different types of rice puddings around the world, none can really compare to Sütlaç. The rich creamy texture and the balanced and light flavors sent our taste buds to heaven!
Made with simple short-grain rice and milk, Sütlaç is first made on a stove in a large pot. Then it is divided into small ceramic bowls and baked in an oven until the top is browned. Lastly, the finished product is cooled in a fridge before it is served.
This Turkish dessert is one of the most popular ones in the country, and finding it in Istanbul is easy. Most proper restaurants should have sütlaç for dessert!
2. Künefe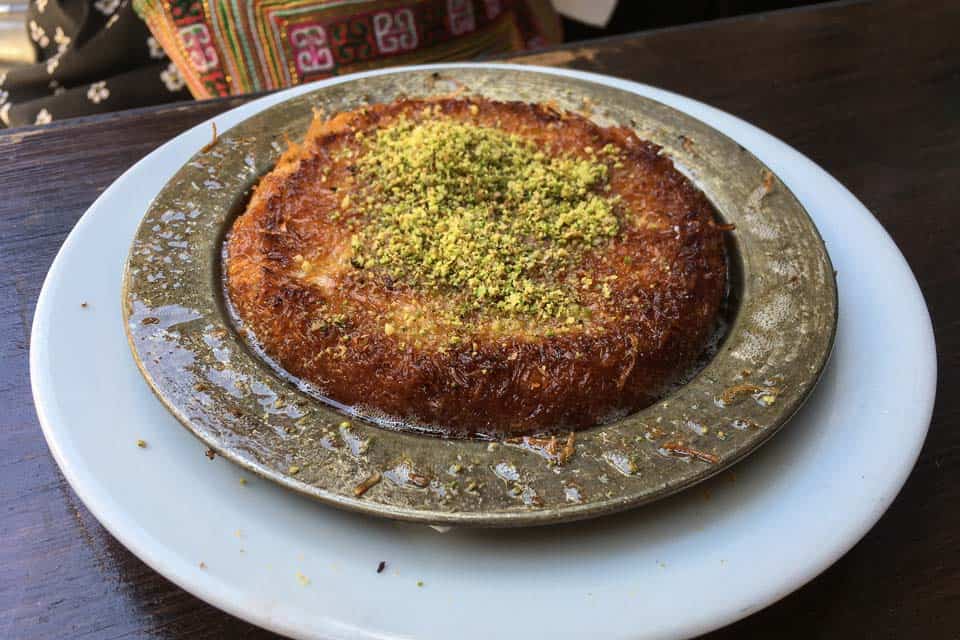 Künefe was one of those Turkish dishes that we looked at and initially thought it was disgusting but loved it as soon as we tried it. It is a traditional Middle Eastern dessert that is comprised of a cheese pastry soaked in sweet syrup.
If there is anything we know about dessert, it is that cheese shouldn't be a part of it, but wow were we surprised when we first tried Künefe. The slight savoriness of the cheese is balanced out by the strong sweet syrup.
When you take a bite of a Künefe, all you can feel is the chewy texture of the cheese and the powerful sweetness of the syrup. It is that unique combination that just works so well.
Just be careful when eating Künefe. Because it is made with cheese, it can fill you up pretty quickly. The saying "there's always room for dessert does not apply to Künefe"!
3. Baklava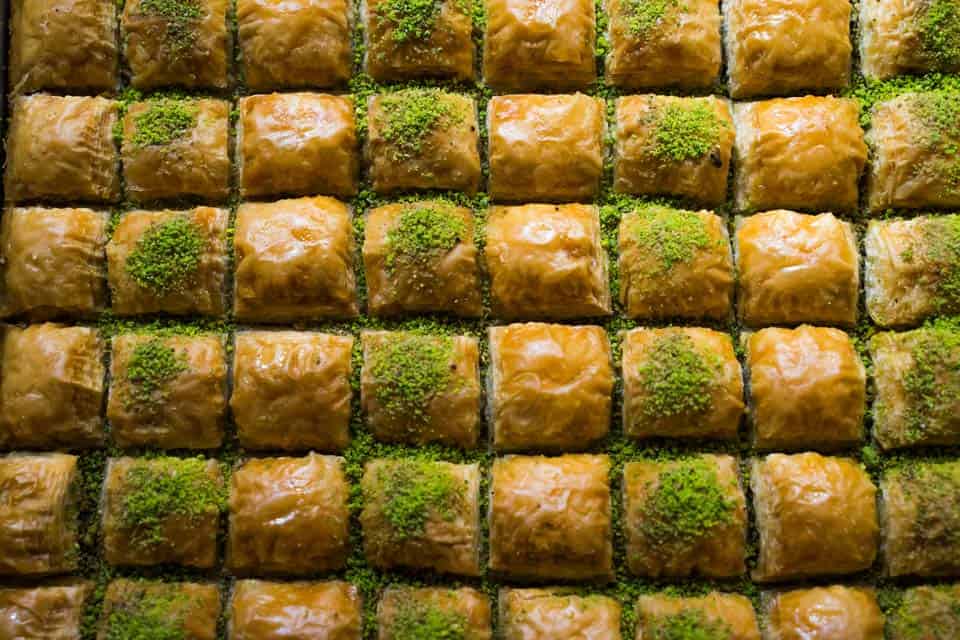 Baklava is undoubtedly the signature dessert of Turkey. Originating from the Ottoman Empire, these bite-size sweets now fill the streets of Istanbul and suitcases of travelers looking for a Turkish souvenirs. However, no one knows the exact history of how it came about.
Baklava is a layered filo pastry dessert that is stuffed with nuts and sweetened with honey or syrup. The most traditional type of Baklava (and one you mustn't miss when you are in Istanbul) is the one with pistachio, a type of nut widely grown in Turkey. However, don't hesitate to try the other flavors because they are all super delicious!
The one thing about Baklava is that it needs to be eaten in a certain way. When it is on display, the syrup sits at the bottom of the pastry. Therefore, when you eat Baklava, you must eat it upside down so the syrup evenly distributes itself.
It also makes sure the button, which is the most buttery part of the pastry, touches the roof of your mouth!
4. Chicken Breast Dessert (Tavuk Göğsü)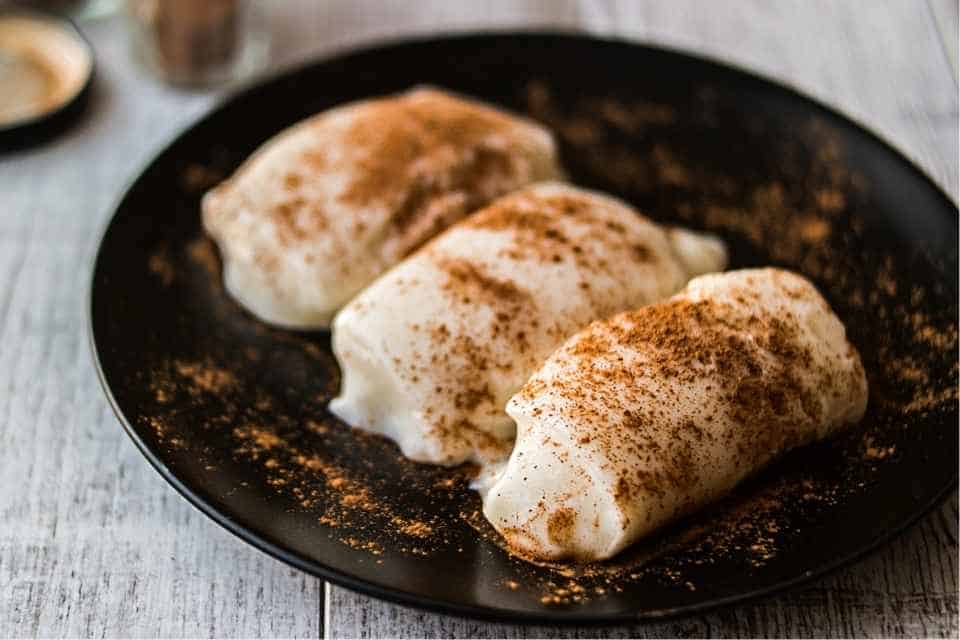 If you thought that Kokorec was the strangest food there is in Turkey, think again.
Let me introduce you to Tavuk Göğsü, aka the Chicken Breast Dessert. If there is one thing we know about dessert and chicken, it is that the two should NEVER be combined together.
Yet when it comes to Tavuk Göğsü, it is one of the most popular dishes in Istanbul and Turkey. We knew we had to try this dish when we were in Istanbul and honestly, we were quite disappointed by it.
As a milk pudding, the taste is somewhat similar to sütlaç. However, the texture is where it went all wrong. Because it is made by boiling chicken breast until it has become very fine and separated, the consistency of the chicken breast is very prevalent in the dish.
Tavuk Göğsü is thick and creamy when you first put it in your mouth, but in the end, you end up having to chew the chicken fiber. Happy beginning, sad ending.
Though we didn't enjoy Tavuk Göğsü, it is definitely worth trying. We recommend that you save some room for the dessert because one portion is big and filling.
5. Dondurma (Turkish Ice Cream)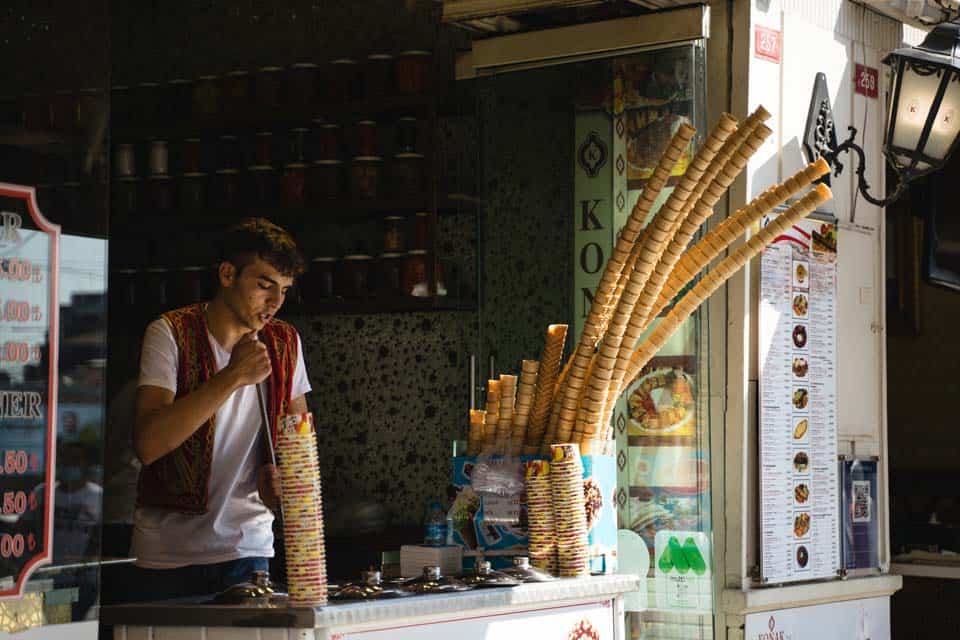 Dondurma, or more commonly known as Turkish Ice Cream, is one of the must-try foods in Turkey, especially in Istanbul. In the center of Istanbul (Sultanahmet or Taksim), you will find restaurants, sweet shops, and local street vendors all selling Dondruma.
Typically, you can easily spot them from the massive stack of ice cream cones, the vendors' fez hats and traditional clothing or a sizable bell in front of their shop.
Dondurma is unique in the way that it is made with mastic, a plant resin that makes the Dondurma very chewy. It is also believed that Dondurma does not melt thanks to its extra added ingredients, but no ice cream is safe with us for more than 10 minutes so we couldn't test that theory.
Purchasing a Dondurma in the historic center of Istanbul is more than just receiving a yummy treat, it is also about performance.
The sellers tease the customer by attaching the ice cream cone onto their long-handled stick, and then rotating it and performing other tricks to make sure the customers cannot grab it. After a bit of fun, the customer finally receives the ice cream.
Though a lot chewier than conventional ice cream, we actually quite like Dondruma. There is definitely a plus side to having Dondurma, it lasts much longer because of its chewiness.
6. Lokum (Turkish Delight)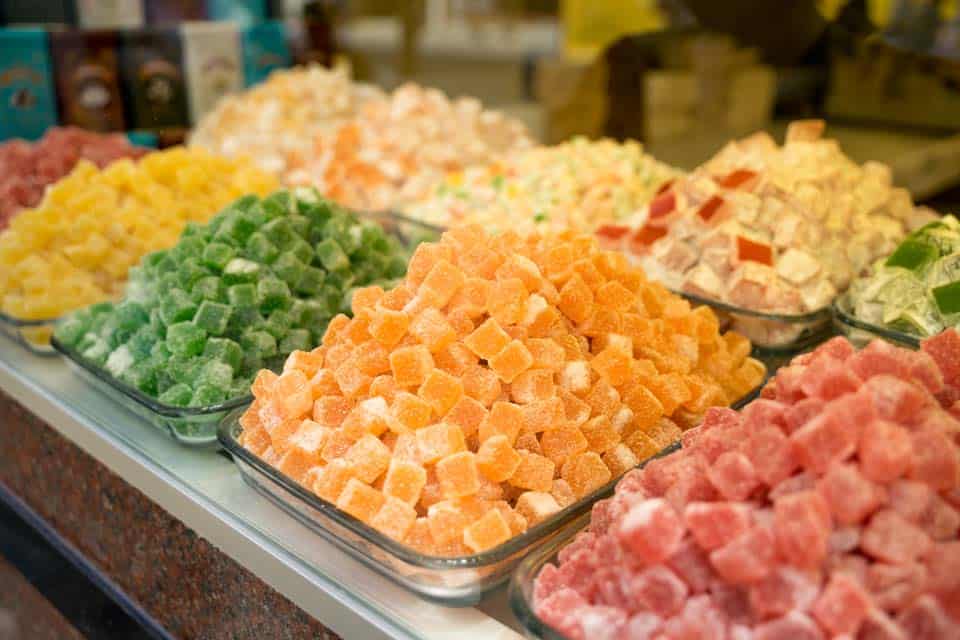 Lokum, commonly known as Turkish Delight, is one of the most popular types of sweets in Turkey.
It is a small cube of gel made with starch and sugar. The most popular flavors are rosewater, lemon, orange and mastic gum but there are a wide variety of flavors available. The cubes are often covered with icing sugar to prevent them from sticking to each other.
Turkish Delight is often eaten with a cup of Turkish Coffee, but it is mostly consumed during national and religious holidays throughout the country. Surprisingly, Turkish people don't consume as much Turkish Delight as it appears, and it is mostly a tourist attraction.
Turkish Delight is sold widely in shops in touristic areas of Istanbul such as Sultanahmet, Taksim, and the bazaars throughout the city!
---
Best Istanbul Food Tours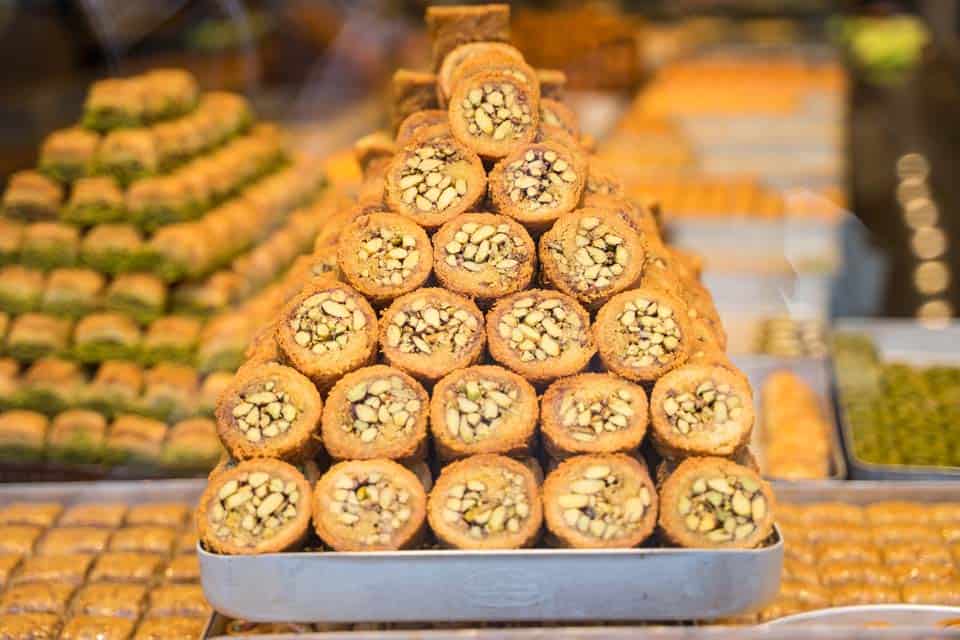 Braving the Istanbul food scene by yourself is a daunting task. There is a multitude of restaurants, neighborhoods, and dishes to explore. Many restaurants do have an English menu but it is often poorly translated. Knowing some basic Turkish phrases for tourists will help immensely!
That is why we recommend going on a food tour in Istanbul. Here are the ones we recommend:
This 3-hour food tour in Istanbul is focused on Kadikoy, the most famous neighborhood for cheap and authentic food in Istanbul. A professional tour guide will take you through the streets of Kadikoy, where you will learn more about Turkish food with your tongue and your ears!
2. 5-Hour Comprehensive Food Tour in Istanbul
If you want a comprehensive food experience in Istanbul, then check out this 5-hour food tour. It starts in the historic center of Sultanahmet on the European side, heads over to Kadikoy on the Asian side, then returns back to the European side. It is a tour that explores the food scenes on the two continents that make up Istanbul.
---
Best Restaurants In Istanbul
If you were to count the number of restaurants in Istanbul, you would be here until your hair turns grey. Istanbul is an absolute food heaven and there are countless amounts of restaurants.
Here we will tell you some of the best restaurants and neighborhoods where you can find good food.
Restaurants in Sultanahmet
Sultanahmet is the historic center of Istanbul. This is where the majority of the sight in the city is located. Here you will find high-end restaurants that target tourists, so expect to pay a premium. Generally, the food is really good and you have many traditional Turkish options here.
Restaurants we recommend in Sultanahmet:
Restaurants in Kadikoy
Kadikoy is a neighborhood in the Asian side of Istanbul known for its incredible (and affordable) food. It is one of the best places in Istanbul to try seafood, as there are many fresh seafood markets around. Cozy and vibrant cafes/restaurants are the most iconic feature of Kadikoy.
Recommended restaurants in Kadikoy
Restaurants in Karakoy, Taksim & Istiklal Street
Across the Golden Horn from Sultanahmet is the "modern" city center of Istanbul, which includes neighborhoods such as Karakoy, Taksim, and the famous Istiklal Street. Here visitors can find affordable street foods as well as fancy restaurants with amazing food and views of the Bosphorus.
Recommended restaurants in Karakoy, Taksim & Istiklal Steet:
---
Like this post? Don't forget to save it on Pinterest!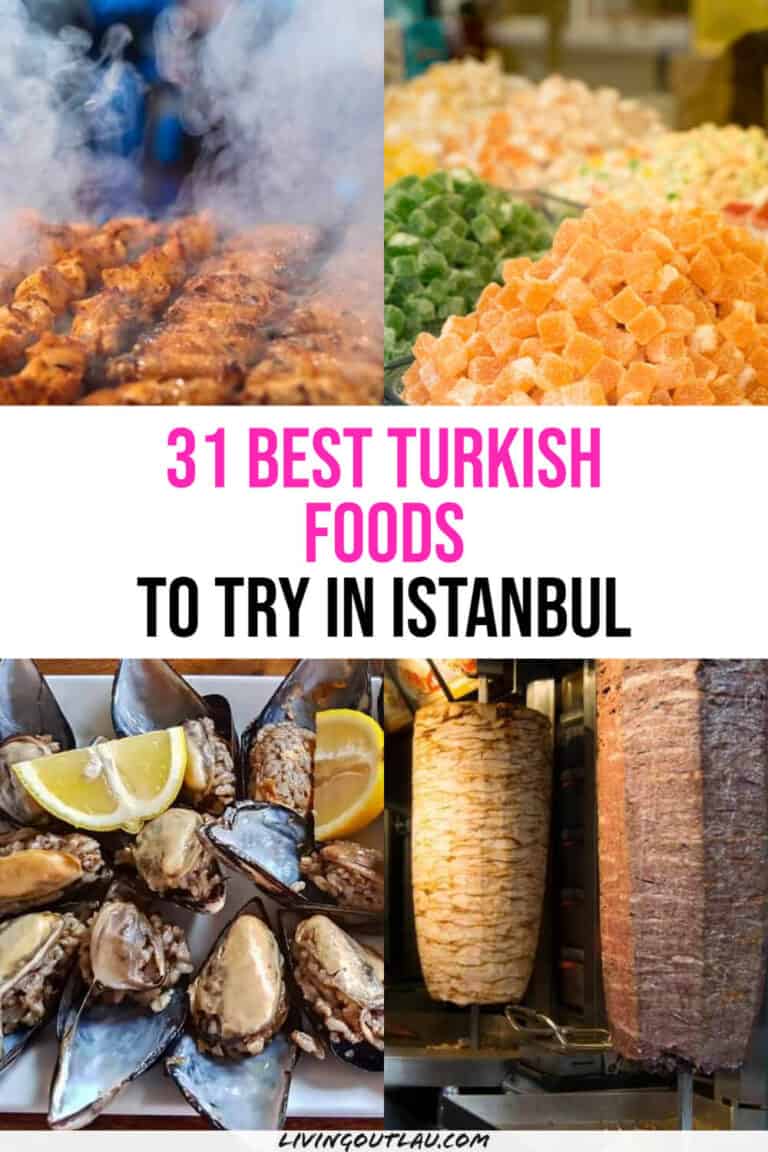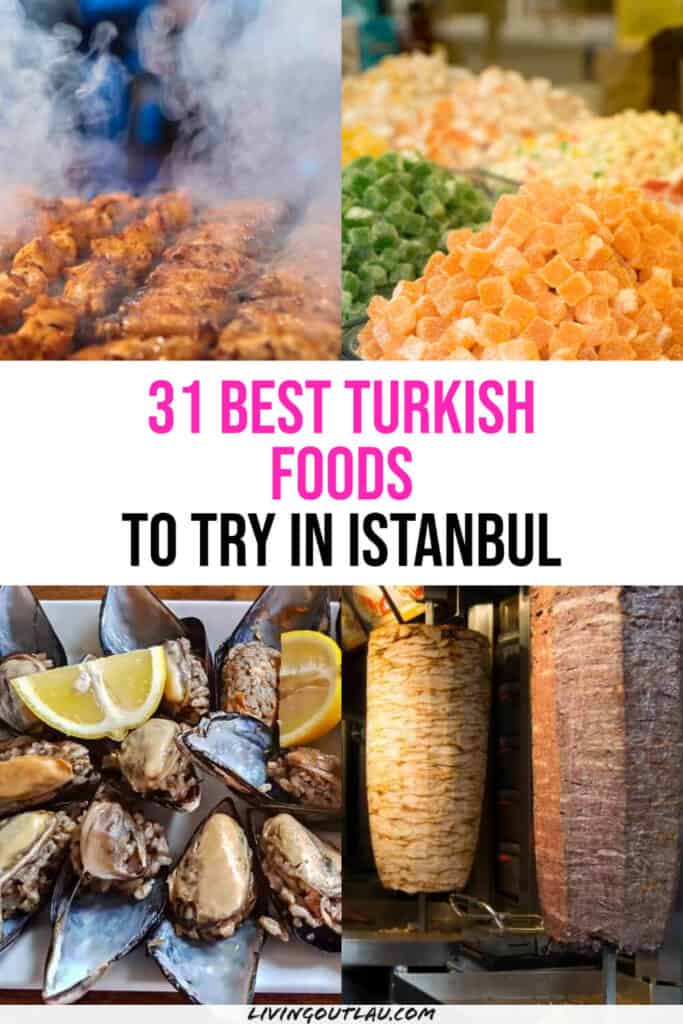 ---
This concludes our guide on the best Turkish food in Istanbul! We hope you have found the perfect restaurant in Istanbul to indulge in the delicious Turkish cuisine!

Any questions? Leave them in the comments!
Disclaimer: Some of the links above are affiliate links. That means if you book or make a purchase through the links, we will earn a small commission at no extra cost to you! The money will help run this site! Thank you!