If you are planning a trip to Turkey, you must wonder whether buying a Turkish sim card is necessary.
In our guide, you will find information about how much it costs to buy a Turkish sim card, where to get it, and whether you actually need a sum card in Turkey or not.

Enjoy!
---
Should You Buy A Sim Card In Turkey As A Tourist?
Before you pull your credit card out and start ordering a Turkey sim card, do you actually need a Turkish sim card for traveling in Turkey? After all, Turkey is one of the most popular tourist destinations in the world for tourism, there has to be plenty of WiFi everywhere you go, right?
Not exactly.
In places like Istanbul and Antayla, numerous public spaces offer free WiFi as long as you can receive a confirmation code on your phone. However, once you get out of Istanbul to other tourist attractions in Turkey such as Pamukkale, Cappadocia, and Ephesus, WiFi can be hard to come by.
Public transportation in Turkey doesn't have WiFi, which is probably the most important time to have it because you need to know where to go.
When you have a Turkish sim card, not only will you get a lot of data to use for the entire country, but you also get a phone number that is necessary for booking things such as buses, accommodation, and tours.
It will allow you use to Google Translate, so you can easily get around without knowing any Turkish words or phrases for traveling!
In general, we highly recommend you to purchase a sim card for tourists in Turkey because it will be much more convenient and save you lots of headaches (as it did for us)!
---
Is A Sim Card In Turkey Expensive?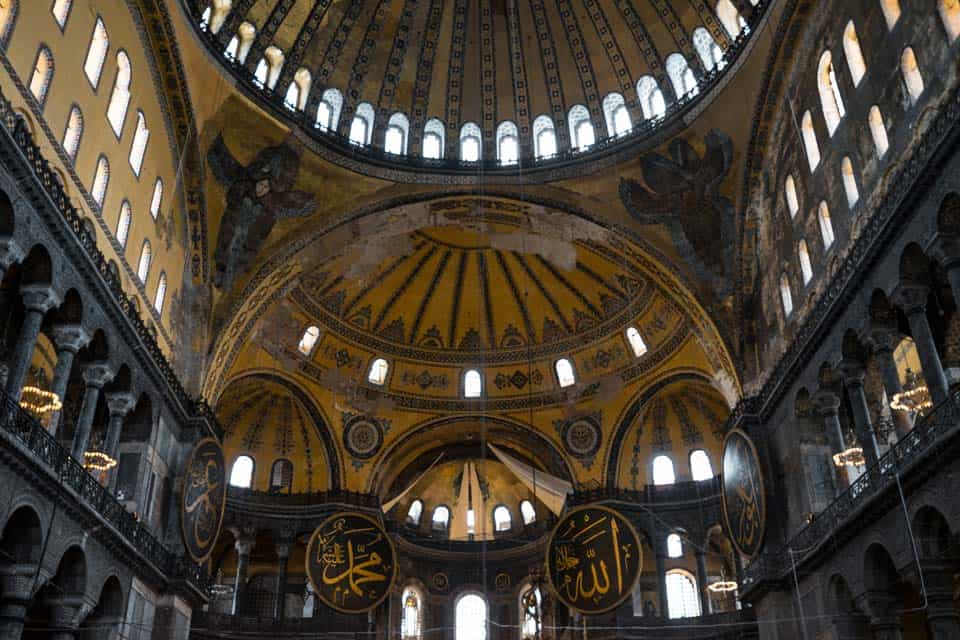 One of the biggest concerns about purchasing Turkey sim cards is the price. Does it cost a lot to get a sim card in Turkey? Fortunately not!
Turkish sim cards are cheap, especially when compared to western standards. It is, however, relatively expensive when compared to the cost of everything else in the country.
For us, we paid about 220 Turkish Liras (~26 USD at the time of writing) for a 20 GB sim card in Istanbul, and that was the lowest offer they had. In comparison, you can have about 5 to 7 great meals in Istanbul at that price!
Disclaimer: Turkey is in the midst of an inflation crisis, the currency exchange ratio from USD to Turkish Lira is changing rapidly. In return, the cost of everything in Turkey, including sim cars, is going to change unpredictably. Please keep that in mind when shopping!
Nonetheless, it isn't a lot of money in terms of western standards. The only downside is that you have to get it for a minimum of 30 days, which is not great if you have a short Turkey itinerary.
If you run out of data on your sim card, it is much cheaper to top it up than buying a new one!
It is worth noting that the prices of sim cards in Turkey are not consistent. The price of the same sim card is different in different parts of the city (or country), especially the airport.
We were looking for sim cards in Istanbul and went to over 10 different stores in different neighborhoods and the prices were never the same. Maybe there is a different price for sim cards for tourists than locals.
The Turkish sim card prices in the Istanbul Airport were the highest. It seems like all airports in Turkey charge a premium for sim cards. Therefore, we recommend avoiding getting a sim card in the Turkish airports if possible.
---
3 Best Turkey Sim Card Providers
As far as we know, there are only 3 companies that offer Turkish sim cards: Turkcell, Vodafone, and Turk Telekom. From our in-depth research and personal experience, Turkcell is the best sim card and mobile phone operator company out of the three.
If you don't want to read the rest of this guide and need to buy a sim card in Turkey right now, go with Turkcell!
1. Turkcell
Turkcell is the leading mobile phone operator in Turkey and it is easy to see why. With the best internet coverage out of the 3 mobile phone operators in Turkey, Turkcell is the best sim card to get on your Turkey trip.
When looking at the coverage map above, it is easy to tell that its coverage is much stronger and more widespread than its competitor.
But how much is a Turkcell sim card? Surprisingly, after spending hours of scouting around Istanbul for our own sim card on our trip, we found that Turkcell is conveniently the cheapest of the three options as well.
We spent about 220 TL for 20 GB of data with calls included (which is something we didn't even know was included) at a shop in the Taksim neighborhood of Istanbul. All sim card plans in Turkey are for a 30-day period.
There is no guarantee that you will find the same price as us because the prices vary depending on the store. Near Sultanahmet (the most touristy part of Istanbul), the same Turkcell sim card was for ~350 TL.
2. Vodafone
Vodafone is the second-most popular mobile operator company in Turkey. Many of you might already know Vodafone since it is a big British multinational telecommunication company. They have services in Asia, Africa, Europe and Oceania.
Vodafone Turkey used to be called Telsim until it was incorporated by the Vodafone group in 2005.
As you can see from the coverage map, a sim card from Vodafone is almost as good as one from Turkcell. In the touristic places of Turkey such as Istanbul and Cappadocia, you will find no issues with Vodafone.
But if you intend on stepping off the beaten path in Turkey, then we recommend that you get a Turkcell sim card.
From our experience, the price of a Vodafone sim card was also more than that of one from Turkcell. The lowest price we can find for a 20 GB Vodafone sim card was about 250 TL (at the time of writing).
Your result might vary depending on which city you are buying it from and whether you are in a touristy area or not.
Vodafone Tourist Welcome Pack
If you have been doing your research on prepaid sim cards for tourists in Turkey, you might come across an extraordinary offer from Vodafone. That is the Vodafone exclusive Prepaid sim card tourist welcome pack.
For only 40 Turkish Liras, tourists can get 20 GB of data, 750 minutes of calls, 1000 SMS, and unlimited messaging via WhatsApp for 28 days. We are sad to announce that this offer is misleading/false. We went to multiple Vodafone stores in Istanbul and none of the shops would honor the offer.
They said that the offer is only valid for recharging, but doesn't include the sim card itself. You could use that offer, but you would have to first buy a sim card first (which already comes with data, minutes, and messages).
If you try purchasing it online here, the site goes to an error page. You are more welcome to try your luck, but just don't get your hopes up!
3. Turk Telekom
Turk Telekom is a formerly state-owned Turkish telecommunications company. In terms of coverage, it is severely lacking when compared to Turkcell and Vodafone.
Its mobile service in touristy destinations is decent, but you can forget about it once you get off the top places to visit in Turkey.
If you plan on visiting the eastern side of the country, then you might not even get any service, let alone a 4G connection.
We don't recommend Turk Telekom unless you are staying in the majority of your days in Istanbul or the other big cities of Turkey.
From our experience, a Turk Telekom sim card is about the same price as one for Vodafone, at around 250 TL for 20 GB.
---
Getting A Turkey Sim Card In Istanbul Airport (IST)
Can you get a Turkey sim card in Istanbul Airport (IST), the new airport of Istanbul? The answer is YES!
Matter of fact, the moment you exit the luggage claim, you will find all three mobile phone operating companies at your service.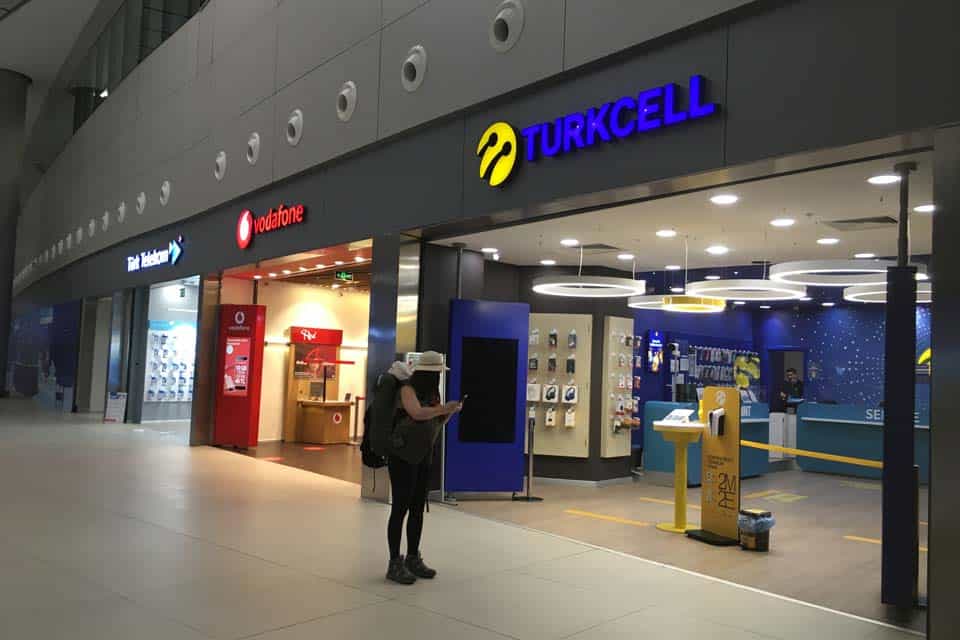 The prices of the prepaid sim cards for tourists are a lot higher (about 50% more from our experience) than what you'd normally find in the city, but if you are someone that needs to get connected right away, then you can do so at the Istanbul airport.
Since it is quite a difficult journey to get from the Istanbul Airport to the historic center of Istanbul via public transportation, getting a sim card will give you internet access to help guide your way.
The sim card shops in Istanbul Airport accepts card and cash (in Turkish Lira, Euros, or USD). There are currency exchanges and plenty of ATMs to take Turkish Liras out if needed.
---
Getting A Turkey Sim Card In Sabiha Gokcen Airport (SAW)
Similar to the new Istanbul Airport on the European side, the smaller and older Istanbul SAW Airport (Sahbika Gokcen International Airport) also has sim cards for sale.
In fact, all three of the mobile phone operator companies are located in the Arrivals Hall of the airport. Being a small airport, there is only one arrival hall. The sim card companies have small kiosks inside the airport and it is very hard to miss them.
Just like the other Istanbul Airport, sim cards at the SAW Airport are much more expensive than the ones you can get in the city center.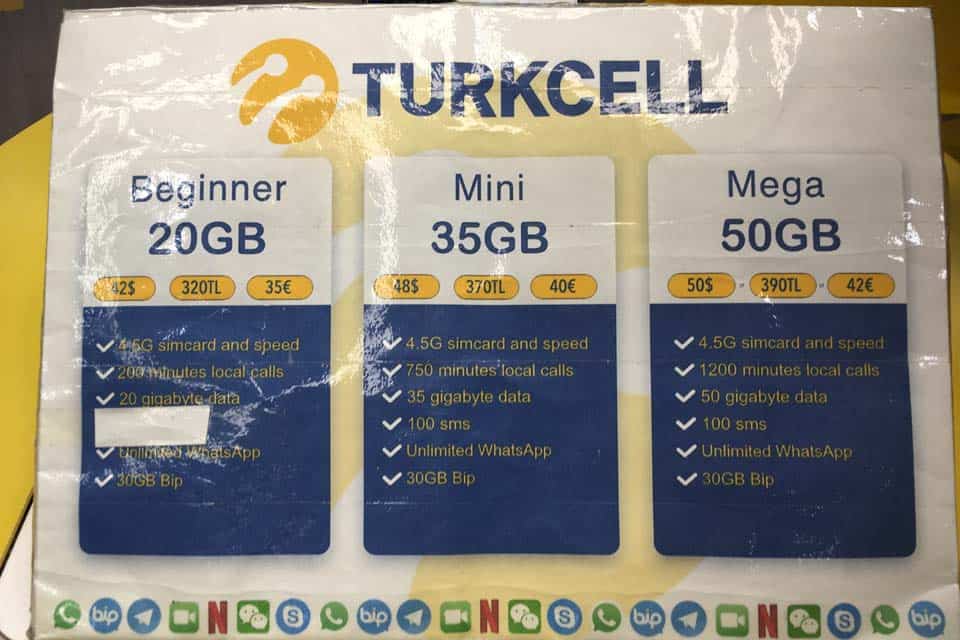 However, if you need internet access to navigate to your accommodation in Istanbul (which is very likely), then you are free to get one!
---
Pocket WiFi In Turkey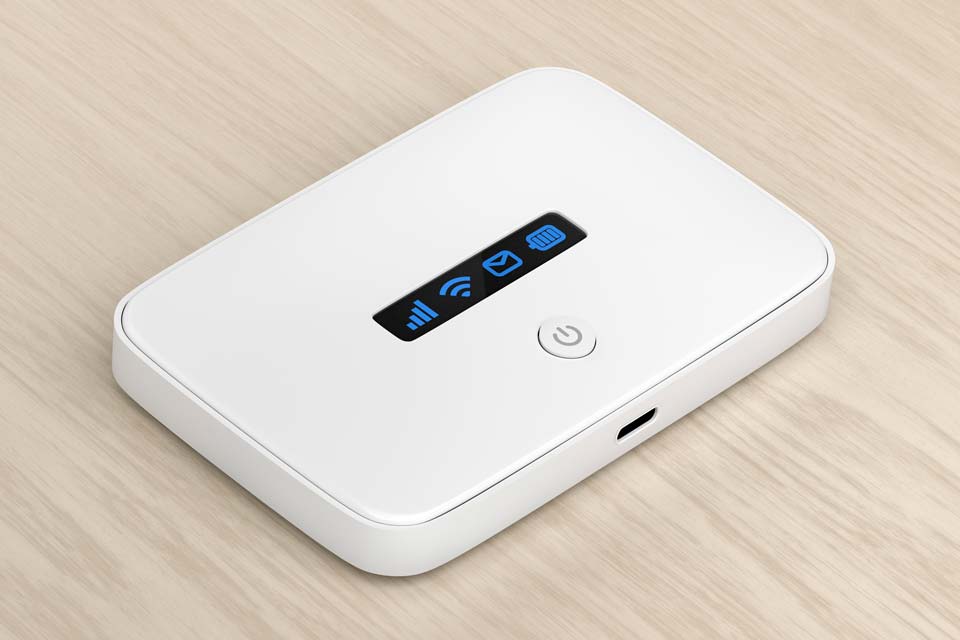 If you are traveling in a group, it might be more wise and economical to get a pocket WiFi (sometimes known as portable WiFi). A pocket WiFi allows multiple devices to connect to the internet, so you can save the time and headache of getting multiple sim cards.
The only disadvantage of getting a pocket WiFi instead of a sim card is not having a local number. Having a local sim card gives you a number that you can use for any Turkey-specific apps, such as BiTaksi (a cheaper Uber alternative), Yemeksepeti (food delivery app) and more. Though these apps claim to work with foreign numbers, we found otherwise.
Pocket WiFi also tends to have a shorter duration, so it might not be viable for those backpacking Turkey.
Nonetheless, for lots of travelers out there. A portable WiFi might be a better alternative than getting a sim card. They usually have unlimited data, which is perfect for those that might want to stream something online on one of Turkey's long-distance buses.
There are plenty of places where you can get a pocket WiFi, but we recommend doing it as soon as you arrive at the airport. That way you can return it to the same place you got it from when you get a flight back home.
---
eSIM For Turkey
Thanks to the latest advancements in technology, getting connected in Turkey is as easy as ever due to eSIMs. As the name suggests, eSIMs are sim cards, but they work digitally so you don't have to go to a physical store and get a physical sim.
This means that you can get all set up before you leave for your trip to Turkey, and immediately get online the moment you step off the plane.
In fact, we quite like getting an eSIM when we are traveling around the world, especially to countries where tourists are likely to be scammed when buying a sim card (such as Turkey). The eSIMs have a variety of data packages and are all valid for 30 days, perfect for all types of travelers.
It is easy to activate, all you need to do is purchase the eSIM online, activate it on your phone, and you are all set! However, eSIMs don't give you a local number, which you might want.
---
Tips For Getting A Tourist Sim Card In Turkey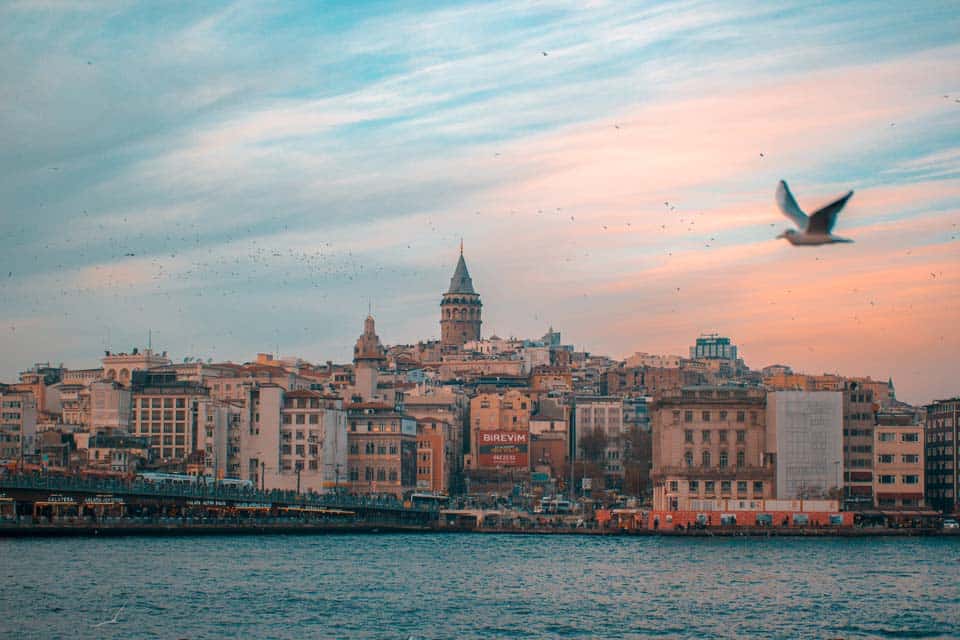 Getting a sim card might seem like an easy procedure. You just go to somewhere that seels sim cards, buy one, pop it in your phone, and voila! Unfortunately, it isn't this simple in real life.
Here are some tips you'll need before getting your prepaid sim card in Turkey:
Bring Your Passport! – Turkey requires that all sim cards are registered to passports, so make sure you bring your actual passport or else you won't be able to get one. A copy of the passport is fine in some places, but we recommend taking your actual one instead.
The Sim Card Can Take A While To Activate – Once you have paid for your sim card and inserted it into your phone, it takes about 15 minutes to an hour to activate on their end. This means it might not be a good idea to get one at the airport, unless you don't mind waiting for an hour.
Keep The Packaging Of Your Prepaid Turkey Sim Card – Your Turkish Prepaid Sim Card comes with a 4-digit PIN that is required every time you put it into your phone. If you don't have this PIN, then you won't be able to use your sim card. (You can also just take a photo of the PIN)
Browse Around For The Best Price – If you are purchasing a sim card in Turkey, then you should go to a few shops and see what the prices are. From our experience, it seems like different shops offer different prices for the same package. However, it is not possible to haggle.
---
Turkey Sim Card FAQs
Is There Free WiFi in Turkey, Especially in the Airports?
Yes, WiFi is fairly abundant in the big cities of Turkey. Airports have free internet access for everyone, as long as they can receive a confirmation code (in the form of a text message) on their phone.
What is The Best SIM Card in Istanbul?
For both coverage and price, Turkcell is the best SIM card in Istanbul! Though if you are staying only in Istanbul, then any of the three major cell phone companies (Turk Telekom, Vodafone, and Turkcell) will give excellent service!
Do I Need A Sim Card For Turkey?
We highly recommend you to get a sim card for Turkey. Some of the bigger cities in Turkey, such as Istanbul and Antalya, have more public WiFi. But if you ever venture into other Turkish destinations such as Cappadocia and Pamukkale, you might have a difficult time getting connected.
---
Like this post? Don't forget to share it on Pinterest!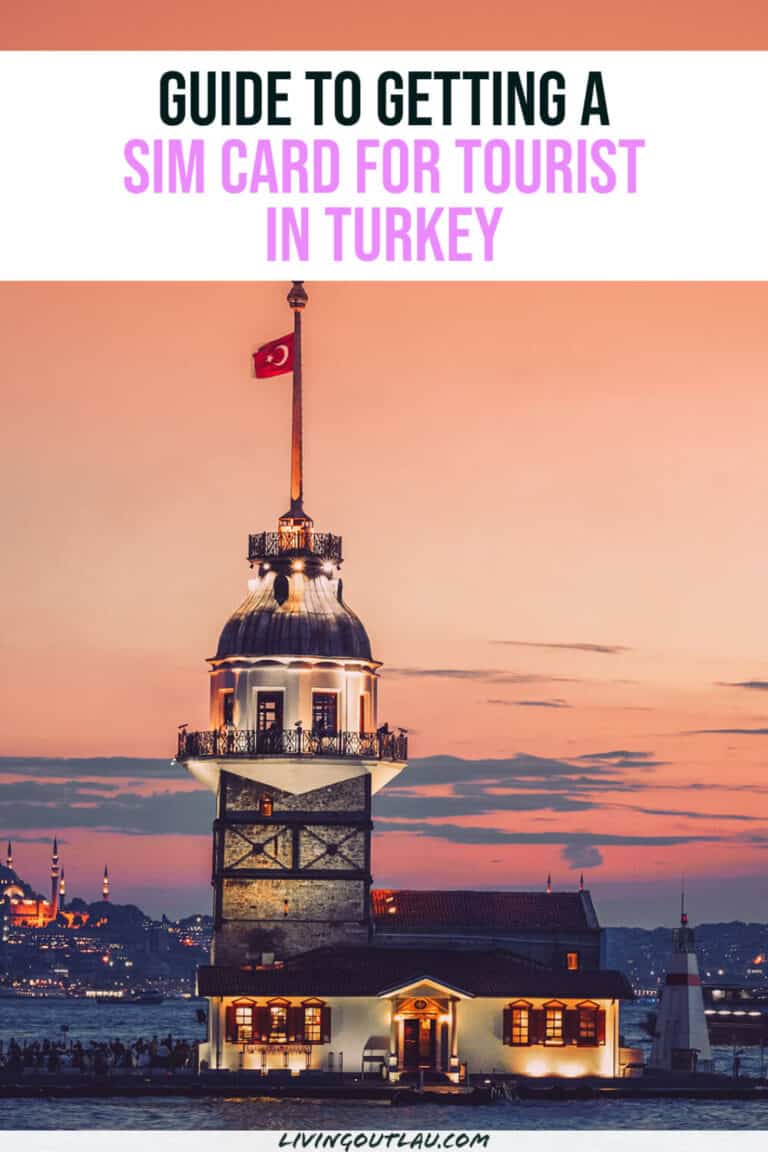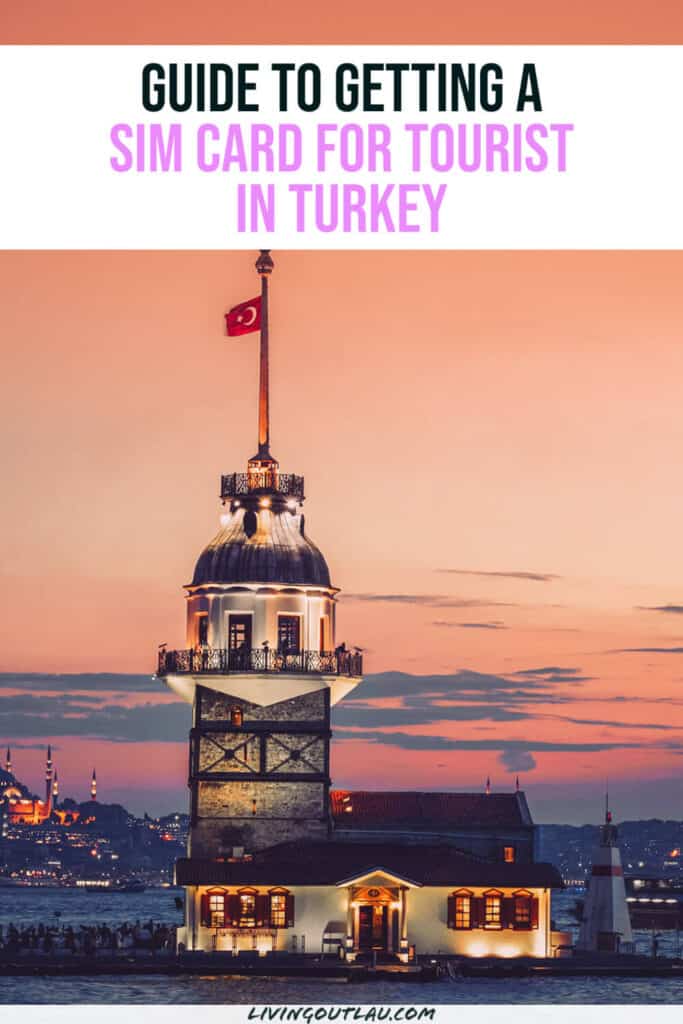 ---
In conclusion, we highly recommend you to purchase your Turkey sim card in the city instead of the airports to save money. However, if your budget isn't tight and you don't mind spending more than you need to, then feel free to get a sim card at the airport!
Any questions? Leave them in the comments!
Disclaimer: Some of the links above are affiliate links. That means if you book or make a purchase through the links, we will earn a small commission at no extra cost to you! The money will help run this site! Thank you!