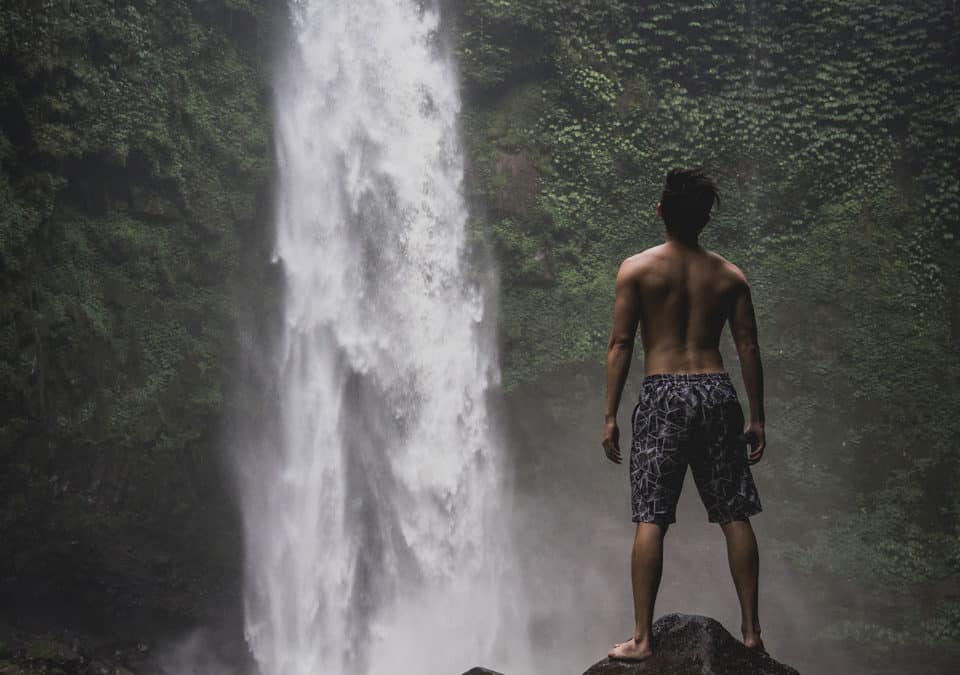 Bali, one of the most popular tourist destination nowadays, has some of the most amazing beaches and spectacular waterfalls. Most of the attractions, honestly, are packed with tourists, leaving some of the natural wonders to be less enjoyable.
Some of the waterfalls such as the Tegenungan Waterfall and the Tibumana Waterfall, though magnificent in their own way, are just way too overcrowded with tourists.
Some of the waterfalls in northern Bali are less populated because they are less accessible, such as the Gitgit waterfall in Gitgit.
Nungnung waterfall, located only a little over an hour from the touristy town of Ubud, is still a hidden gem in Bali waiting to be discovered. It is one of the best waterfalls near Ubud. This Nungnung waterfall guide will tell you everything you need to know from how to get there to what you need to bring for your Nungnung adventure!
Why Should You Go to NungNung Waterfall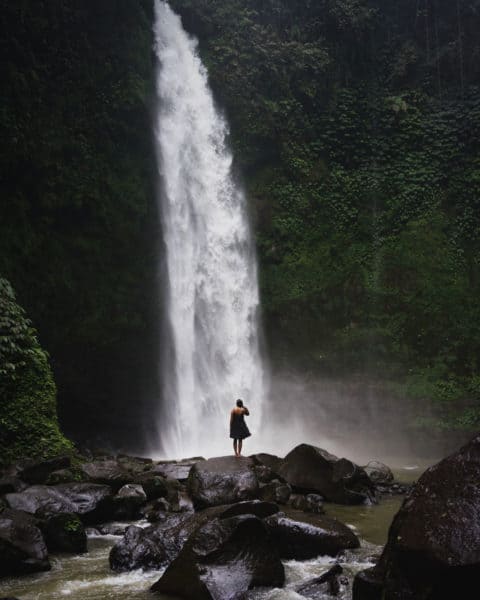 I don't recommend Nungnung waterfall for everyone, because it is not for anyone. If you are the type of tourist that likes everything super easy, doesn't like to make an extra effort to get the icing on the cake, and doesn't like adventure, then you should reconsider going to Nungnung waterfall.
But if you like adventure, want to feel like you are venturing into the jungle just to chase a hidden gem, Nungnung is the waterfall for you. Nungnung waterfall is definitely one of the best waterfalls in Bali.
A little more difficult to access than the other touristy waterfalls such as Tegenungan, Nungnung waterfall is not popular at all. In my 2-hour stay there, we saw no more than 10 people visiting. That is how a natural wonder such as Nungnung waterfall should be enjoyed, without tourists shoving selfie sticks in your face.
Nungnung is also one of the tallest waterfalls in all of Bali, making this natural wonder even more amazing to admire. The entrance is extremely cheap at 10k IDR per person so even people traveling on a budget in Bali can visit. At the entrance of the waterfall, there is also a swing for anyone interested in a bit of an adrenaline rush before hiking down to the waterfall. 
How to Get to the Nungnung Waterfall?
Nungnung Waterfall is located in Badung Regency, about 75 minutes away from the main city of Ubud. It is possible to reach Nungnung waterfall from other main touristy cities such as Canggu, Seminyak, or Kuta, but just beware that the journey will be much longer.
There are 3 ways I recommend to get to Nungnung waterfall:
1. Renting a motorbike and driving yourself there
Probably the most economical option, but also the riskiest. If you know how to drive a motorbike, you can rent one for an extremely affordable price in any of the major cities. Just follow the directions on Google maps and you will get to Nungnung waterfall safely.
2. Renting a car and a driver for the day/half-day
This option is definitely a little more expensive than the first, but still quite affordable for a tourist. If you like comfort and not having the time restrictions of a tour, then this option is for you. It is quite common to rent a car and driver in Bali due to how difficult to access some of these locations are.

3. Going with a tour company to Nungnung waterfall
The last option is not as reliable because tours might not happen if there are not enough people signed up. This option is usually cheaper than renting a car if you are traveling solo. Simply go to the travel agencies in Ubud and ask if they have tours to Nungnung waterfall!
While you are in Ubud, why not find out what else you can do in this Ubud itinerary?
Getting Up and Down Nungnung Waterfall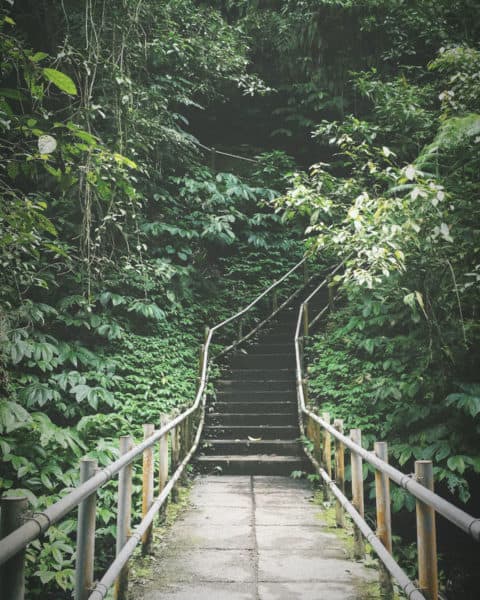 Now that you have gotten to the beginning of the waterfall, the real journey is about to begin!
To get to the waterfall itself, you must endure a tough and long journey. The path to the bottom of the waterfall is a 500-step journey that takes you through the lush jungle and scenic views.
The way down is not so difficult and only lasts about 15 minutes. The path can be quite slippery especially after rainfall. But expect Nungnung waterfall to be much more powerful and amazing after heavy rainfall.
However, the path back up is a lot more strenuous. The 15-minute leisure walk down becomes a 45-minute of torture on the way up. The steps are quite high at times so I would not recommend Nungnung waterfall to people who are traveling with their kids or the elderly. On top of that, the path could get slippery. 
What to Bring With You to Nungnung Waterfall?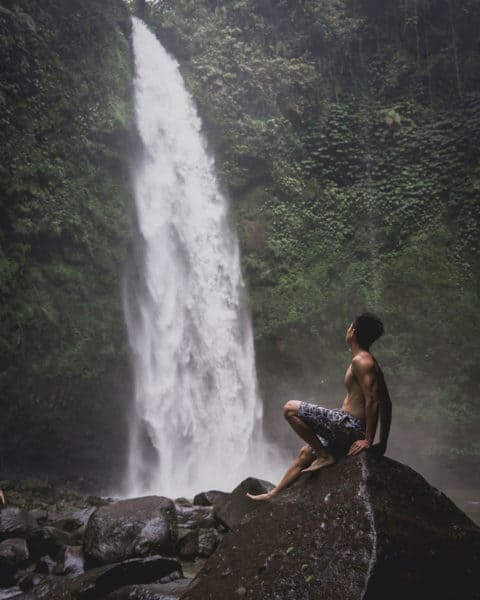 There are some specific things that you might want to bring on your trip to Nungnung waterfall.
Besides the usual water and snacks, you might want to consider bringing a rain poncho. Not only is it going to be useful when the mist of the waterfall engulfs you, but it is also extremely handy if you are coming to Nungnung waterfall on a motorbike. Bali gets a lot of rain all-year-round! My go-to rain poncho has always been the Arcturus Reusable Rain Poncho.
Bring a change of clothes just in case your clothes get wet!! Nungnung waterfall is extremely powerful! Don't be surprised if you get wet even if you don't get close to the waterfall.
Don't forget to bring your bathing suit! It can be extremely relaxing to dip in the refreshingly cold water of Nungnung waterfall after a hot exhausting hike. Be careful if you do decide to go in, the water current can be strong at times!
Make sure to pack that camera! Nungnung waterfall is extremely beautiful in-person and in-photo. You will want something more than a phone camera to capture its marvel. My go-to camera has always been the Sony Alpha A7II Full-Frame Mirrorless Digital Camera. 
Like this post? Don't forget to save it on Pinterest! 🙂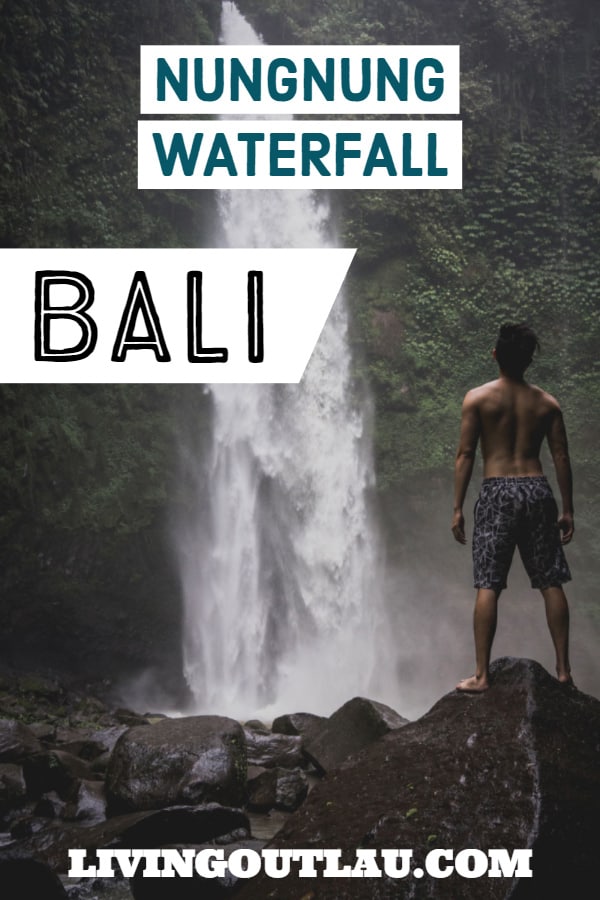 Have you been to Nungnung waterfall in Bali? How did it compare to the other waterfalls? Let us know about your experience in the comments!
Disclaimer: Some of the links above are affiliate links. That means if you book or make a purchase through the links, we will earn a small commission at no extra cost to you! The money will help run this site! Thank you 🙂