Looking for the best waterfalls in Hong Kong? Great idea!
Nestled between the towering skyscrapers, delicious dim sum, and jam-packed MTRs are Hong Kong's unspoiled nature and remarkable waterfalls.
Visiting one of these waterfalls is one of the best things to do in Hong Kong when the weather is too hot and the swimming pools become too crowded. Why swim with strangers when you can swim with beautiful nature?
All waterfalls in HK are free to enter, most allow visitors to swim, and all of them are teeming with natural beauty.
So when you are ready to escape the concrete jungle of Hong Kong, let's check out some of the best waterfalls Hong Kong has to offer!
Enjoy!
---
Best Hong Kong Waterfalls Map
Above is a map of the 17 best waterfalls in Hong Kong we will be discussing. Clicking on the map will take you to Google Maps where you will find more information about each waterfall.
As you can see, the majority of the waterfalls are located in country parks or far from the city center. That means visiting these waterfalls will usually require a long commute on public transportation or drive. Combined with the hike that usually accompanies these HK waterfalls, you must plan and prepare accordingly.
Some waterfalls in HK do not allow swimming. That is because many of them are connected directly to the reservoirs of the city or used for freshwater sampling. In fact, it is a felony to do so and people have been fined for swimming in places they are not supposed to.
Don't worry, we will let you know if they are swimmable or not. But due to the constant changes in local laws, we cannot guarantee you that our information is updated. If you see a sign at the waterfall that says don't swim, then don't swim.
---
17 Best Waterfalls In Hong Kong To Discover
All of the waterfalls we will be talking about are located in New Territories, Hong Kong Island, or Lantau Island. That is why we have divided these HK waterfalls based on the area they are located in, so you can have an effortless time planning your trip to the ideal waterfall!
Waterfalls In New Territories
1. Brides Pool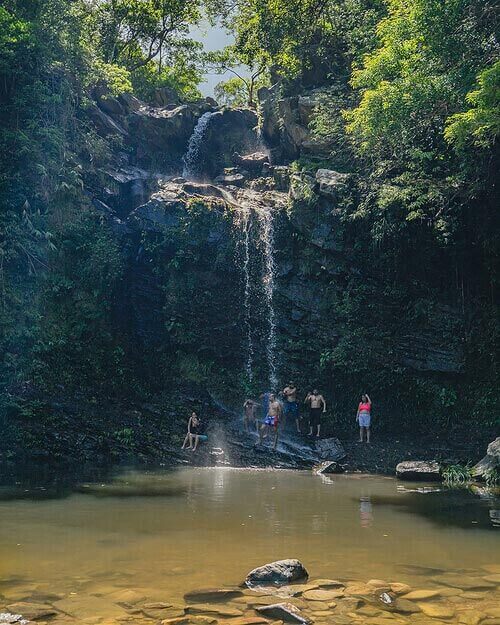 Bride's Pool is undoubtedly one of the most popular (if not the most popular) waterfalls in Hong Kong. For starters, the pool is nestled in the lush nature of Plover Cove Country Park and only involves a short 5-minute hike to reach the pools and waterfall.
Consequently, Bride's Pool attracts a wide range of visitors, from families with children to couples. The pool itself receives plenty of sunlight but the abundance of trees on the sides offer plenty of shade, allowing visitors to have a perfect balance.
However, that is not the only reason why Bride's Pool is so famous. Bride's Pool is considered one of the most haunted places in Hong Kong. It is said a bride was on her way to her wedding when her vehicle crashed. The bridge fell and ended up drowning in the pool.
Bride's Pool is usually quite busy (probably the busiest waterfall in Hong Kong), especially on a hot day on the weekend. The condition of the waterfall and pools is heavily determined by how much rainfall it has received recently. As you can see from our photo, there wasn't a heavy volume when we visited. But usually, it is much more powerful and beautiful!
Available for swimming: Yes
How To Get There: From Tai Po Market MTR Station, take the 20R minibus or 275R (sundays & public holidays only) towards Wu Kau Tang. Get off at Bride's Pool stop and start hiking.
Time hiking: 5 minutes from the Bride's Pool bus stop
Hike difficulty: 1/10
2. Mirror Pool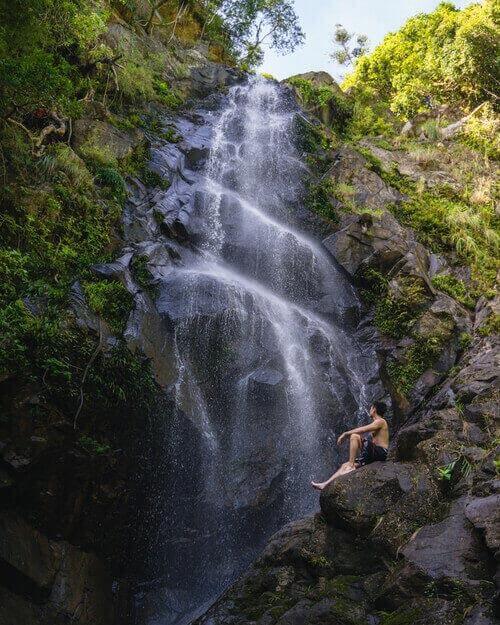 Located a short 10 to 15-minute walk away from Bride's Pool is our favorite waterfall in New Territories: the Mirror Pool. When we visited Bride's Pool, it was a little too busy for us so we decided to continue on the Bride's Pool Country Trail to Mirror Pool.
Though the two waterfalls are very closely located to each other, Bride's Pool is much more popular. We thought that must've meant that Mirror Pool is going to be not very impressive, but boy were we wrong!
The Mirror Pool waterfall cascades much higher than the waterfall at Bride's Pool. In fact, we were able to hear Mirror Pool from far away. The area isn't as big as Bride's Pool, but it also isn't as crowded. Here we were able to have our own space without getting interrupted.
The pool isn't huge but it's big enough to swim in. There is also a pile of rocks on the side where you can climb up for a dramatic "Instagram" photo.
The cascading water is very relaxing, and there is a small protruding rock where people can sit underneath and feel the wrath of the falling water. Surrounding Mirror Pool is dense greenery, which means the area is often very shady. Anyone looking for a waterfall to swim in Hong Kong should highly consider Mirror Pool.
After taking your iconic Instagram photo, don't forget to use one of our waterfall captions!
Available for swimming: Yes
How To Get There: From Tai Po Market MTR Station, take the 20R minibus or 275R (sundays & public holidays only) towards Wu Kau Tang. Get off at Bride's Pool stop and take the Bride's Pool Nature Trail.
Time hiking: 15 minutes from the Bride's Pool bus stop
Hike difficulty: 3/10
Want to know our favorite HK Instagram spot in nature? Check out our Cape D'Aguilar post!
3. Ng Tung Chai Waterfall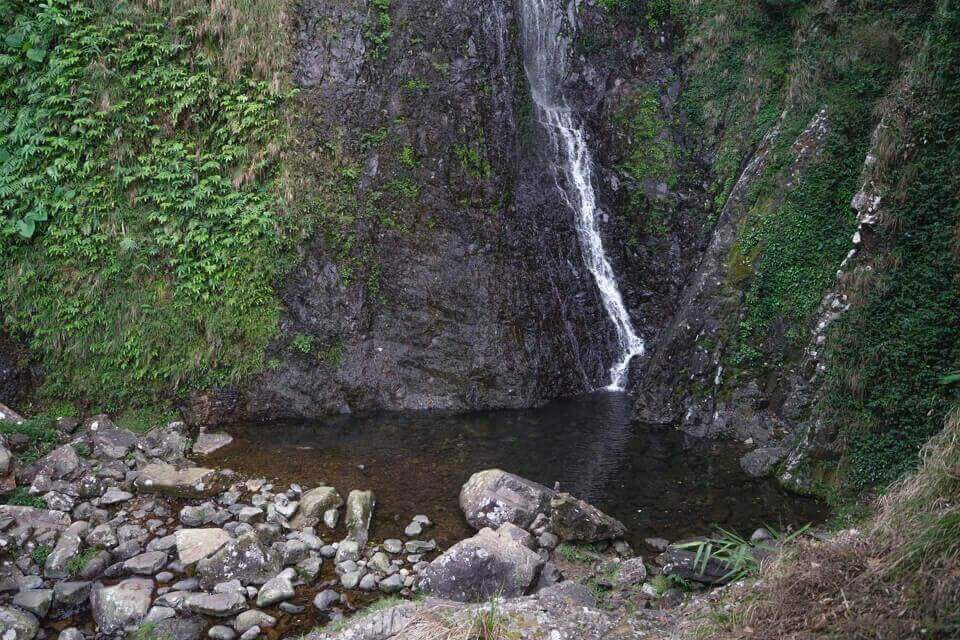 The Ng Tung Chai Waterfall is one of our favorite waterfall hikes in Hong Kong.
Unlike the name suggests, the Ng Tung Chai Waterfall is actually a series of four waterfalls with each one more stunning than the previous. However, what makes this waterfall hike different than the rest is the trail leads to Tai Mo Shan, the tallest mountain in Hong Kong.
The four waterfalls have very imaginative names, bottom fall, middle fall, main fall and scatter fall (also known as Shan Fat Waterfall). I wonder who came up with those names?
But even though their names are rather uninspiring, the waterfalls themselves are some of the most impressive we have seen in Hong Kong. The trail also takes you into the pristine nature of Hong Kong, and there is nothing that excites us more than chasing waterfalls in the middle of nature.
Every single waterfall on the Ng Tung Chai Waterfall hike is available for swimming. The water level of those waterfalls is usually shallow enough for a quick dip but deep enough to cool you down completely. The best fall to swim in is the Main Fall.
Available for swimming: Yes
How To Get There: Either Take minibus 25k at Tai Wo Station towards Pak Ngau Shek and get off at Ng Tung Chai. Or take minibus 64k from Kam Sheung Road Station towards Tai Po Market Station and get off at Ngau Len Wo. Head into Ng Tung Chai where you will find a hiking trail into Tai Mo Shan Country Park, passing Man Tak Yuen (an old traditional Chinese residence) along the way.
Time hiking: 3 hours out-and-back
Hike difficulty: 6.5/10
4. Ma Dai Stream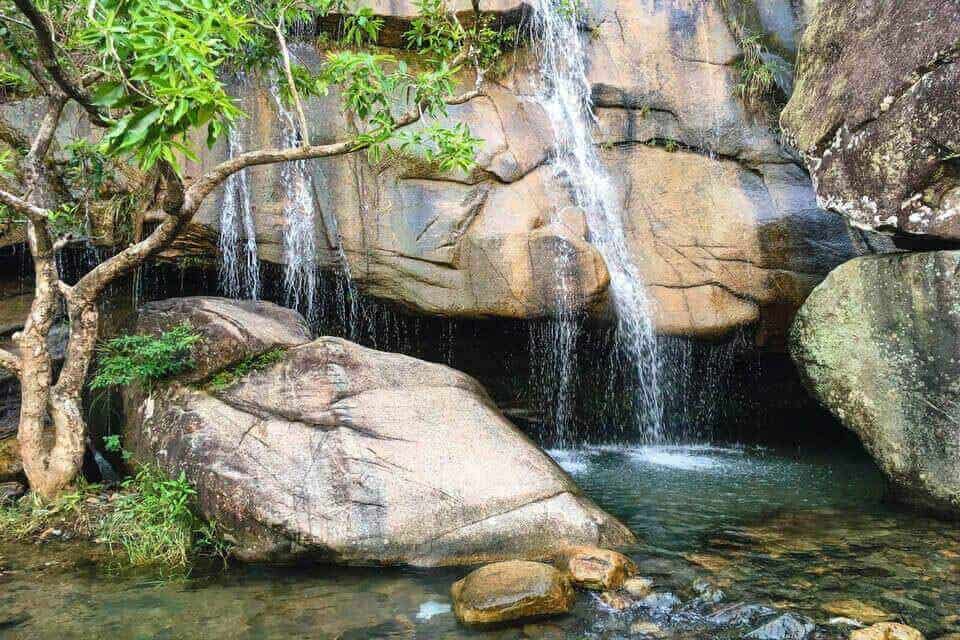 Ma Dai Stream is our go-to waterfall for swimming during the hot summer days of Hong Kong.
Its close proximity to an MTR Station and short hiking trail mean that everyone can enjoy this pristine waterfall and its refreshing pools. Though this means that Ma Dai Stream gets crowded very often, the area has plenty of pools for you to enjoy your own personal space.
There are actually two waterfalls in Ma Dai Stream, one of the photo above and another one that is situated above that. Once a popular cliff jumping and swimming location, the upper falls is now prohibited from swimming. There were plenty of fresh signs warning us the last time we visited.
However, visitors can still swim in the lower falls and the subsequent pools. We still recommend hiking all the way up to the upper falls, as it offers stunning views of Ma On Shan and the country park. Combined with its accessibility, clean water, we cannot recommend Ma Dai Stream enough.
Just remember to keep this place clean when you visit!
Available for swimming: Only in selected pools
How To Get There: Take Exit B of Tai Shui Han MTR Sation to get on Hang Tak Street. Head north and you will quickly see an unnamed road on your right. It has a barrier to stop cars from entering. Continue up this road past the dam and you will arrive.
Time hiking: 20 minutes each way (From Tai Shui Hang MTR)
Hike difficulty: 4.5/10
5. Sheung Luk Stream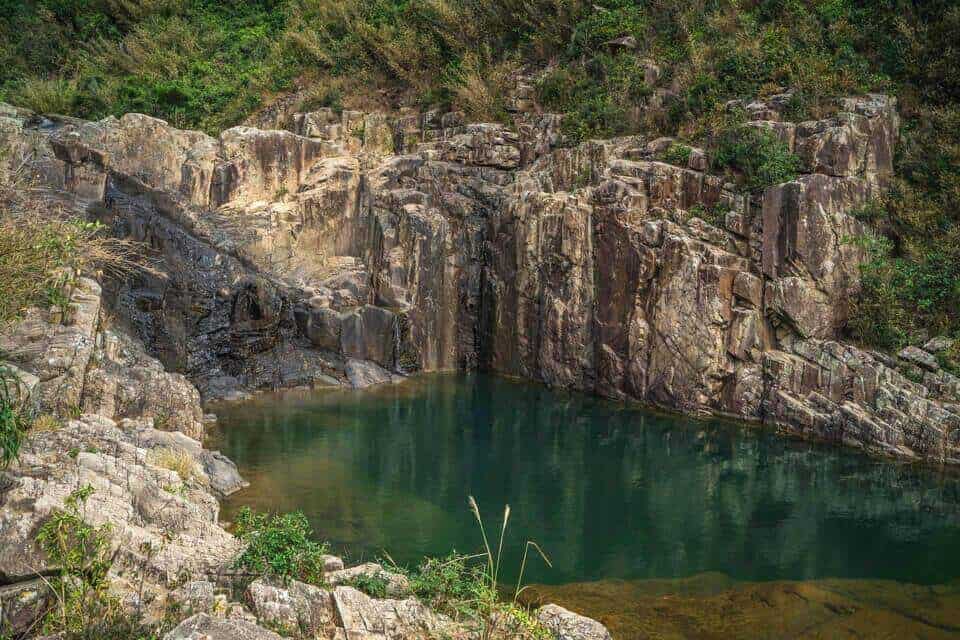 The Sheung Luk Stream, or otherwise known as the Sai Kung Rock Pools, is one of the most visited waterfalls in Sai Kung. Situated deep within the Sai Kung East Country Park, the Sheung Luk Stream is an excellent location for anyone looking for a refreshing dip in the picturesque area of Sai Kung.
The rugged rock face and deep immense pool at the bottom of the falls provide ample space for swimming and chilling on a hot summer's day. This place is also popular for adrenaline-junkies as many people decide to jump off the rocks into the pool here.
Like many waterfalls in HK, the intensity of the waterfall at Sheung Luk Stram will depend on the season when you are visiting and if it had previously rained. When we visited, there was a trickle of water cascading from the top of the rock surface, something that is very unusual compared to the other photos we have seen.
Even without the waterfalls, the several pristine pools are excellent for surviving the Hong Kong sun.
The Sai Wan Campsite, a campsite situated on the pristine Sai Wan Beach, is located minutes away from the Sheung Luk Stream. Visiting the Sheung Luk Stream without checking out some of the beaches in Sai Kung such as Sai Wan Beach would be a complete waste. After all, it is quite a trek to get to Sheung Luk Stream.
Available for swimming: Yes
How To Get There: Take minibus 29R (or taxi) from Sai Kung Town Center to San Wan Pavilion. Hike To Sai Wan and the Sheung Lu Stream will be minutes away. Alternatively, take a boat (about $120 HKD) from Sai Kung Pier to Sai Wan Beach and hike from there.
Time hiking: 40 minutes from Sai Wan Pavilion, 15 minutes from Sai Wan
Hike difficulty: 2/10
6. Ping Nam Stream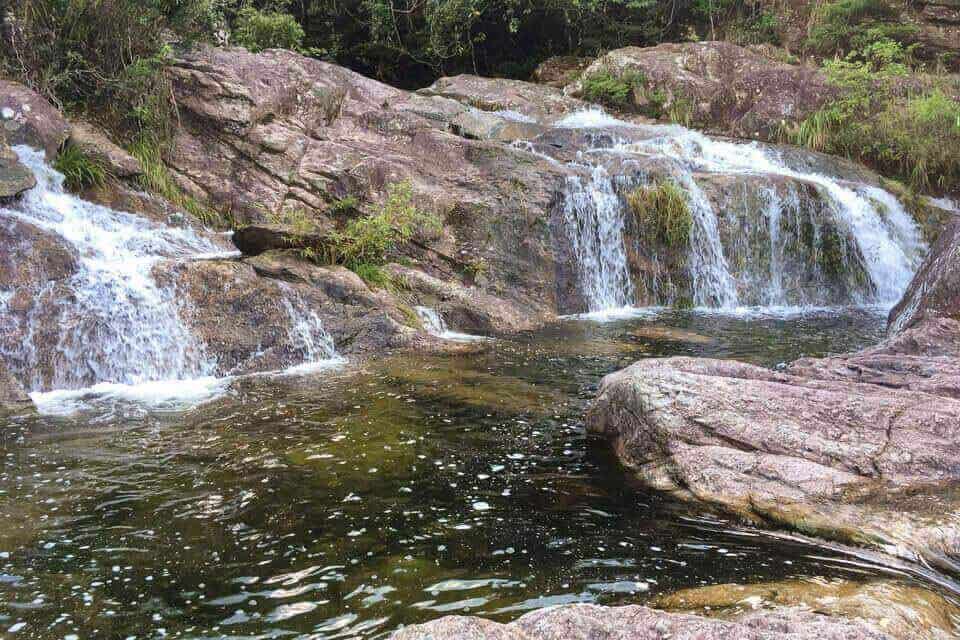 The Ping Nam Stream is one of our favorite Hong Kong waterfalls because both times we have been, we have been the only ones there. It also helps that the Ping Nam Stream has multiple levels of pools and waterfalls, so it is very easy to have your own private space.
Ping Nam Stream is located inside the Pat Sin Leng County Park, which guarantees that lush scenery surrounds you as you soak your worries away in the refreshing pools. The stream is also located in somewhat of a valley with vegetation and mountains on the sides. This makes it one of the shadier and cooler pools in Hong Kong.
To reach the stream, follow the path up the Nam Chung Country Trail until you reach the first intersection with the stream. It should take about 20 minutes. The path is mostly up dirt steps, but the way is shady so you are protected from the sun.
The first intersection of the stream is where the first pool is located. This pool is the biggest and usually the most crowded, and the flow of water isn't as good as the other ones. Continue 5 to 10 more minutes along the dirt path and you encounter the subsequent pools.
The first time we visited we stayed at the third pool because it was empty and the water looked too refreshing to turn down. At a higher pool, there is a small but picturesque cascading waterfall. There is also a small circular pool that is the size of a personal jacuzzi!
Do bring mosquito repellent because we got a few bites.
Available for swimming: Yes
How To Get There: Take 56K minibus from Fanling MTR Station towards Luk Keng. Get off at Nam Chung Public Toilet. Take South Bay Rd onto Nam Chung Country Trail.
Time hiking: 25 minutes to the first pool (from the minibus stop).
Hike difficulty: 4.5/10
7. Little Hawaii Falls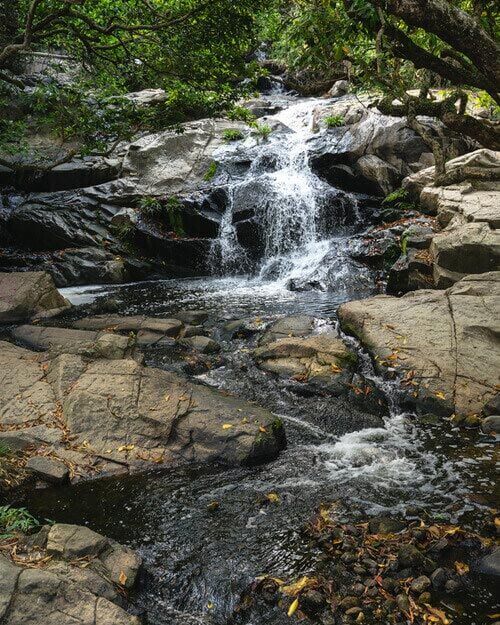 The Little Hawaii Falls is one of the most beautiful and easiest waterfalls to get to in Hong Kong. Located just a 40-minute walk from the Po Lam MTR station, this cute little waterfall is a popular spot for families to explore on a hot sunny day.
The trail is only about 40 minutes from the MTR Station. If you take a taxi to Tseung Kwan O Village (where the start of the hike is), you will immediately start on the Little Hawaii Trail and cut your hiking time by half.
The upper part of the Little Hawaii Falls is usually the more popular attraction, mainly due to its scenic views overlooking Po Lam and Tseung Kwan O. The upper falls has a few spots where visitors can swim. There are also multiple places where families can sit down and enjoy a picnic.
The lower falls of the Little Hawaii Falls is also known as Lin Yuen Terrace Falls, and it is reachable by backtracking on the Little Hawaii Falls and taking a small detour. In our opinion, if you want to swim, you want to do it at the Lin Yuen Terrace Falls. The waterfall here is much more powerful so the water is usually cleaner and has fewer algae.
Available for swimming: Yes
How To Get There: From Po Lam MTR Station, walk to Tseung Kwan O Village. The trail to the waterfalls starts there.
Time hiking: 40 minutes from Po Lam MTR Station
Hike difficulty: 3.5/10
8. Dragon Ball Waterfall At Wang Chung Stream
The Dragon Ball Waterfall is one of the highest waterfalls in Hong Kong. As part of the Wang Chung Stream in the Pat Sin Leng Country Park, the Dragon Ball Waterfall is one of the many waterfalls and pools you can go in for a refreshing swim.
The hike starts on Bride's Pool Road, where you will immediately enter the stream and make your way up. Along this waterfall hike, you will see many small pools and waterfalls, but always keep your eyes on where you are going because you are making your way up the stream and the surface can be slippery.
It isn't a long journey to reach the Dragon Ball Waterfall (pretty sick name eh?) but expect to do some scrambling up rocks. Because of how many pools there are, visitors can always find a secluded place to go swimming in the Wang Chung Stream.
Once you are done splashing around in the pool, you can decide to continue upstream or return the way you came from. If you continue making your way up the Wang Chung Stream, you will eventually reach the Pat Sin Leng Country Trail. Here you can decide to return towards Bride's Pool or hike through the country park.
Available For Swimming: Yes
How To Get There: From Tai Po Market MTR Station, take the 20R minibus or 275R (sundays & public holidays only) towards Wu Kau Tang. Get off at Bride's Pool stop and start hiking.
Time Hiking: ~1.5 hours to reach Dragon Ball Waterfall
Hike Difficulty: 7/10
9. Stone Dragon Waterfall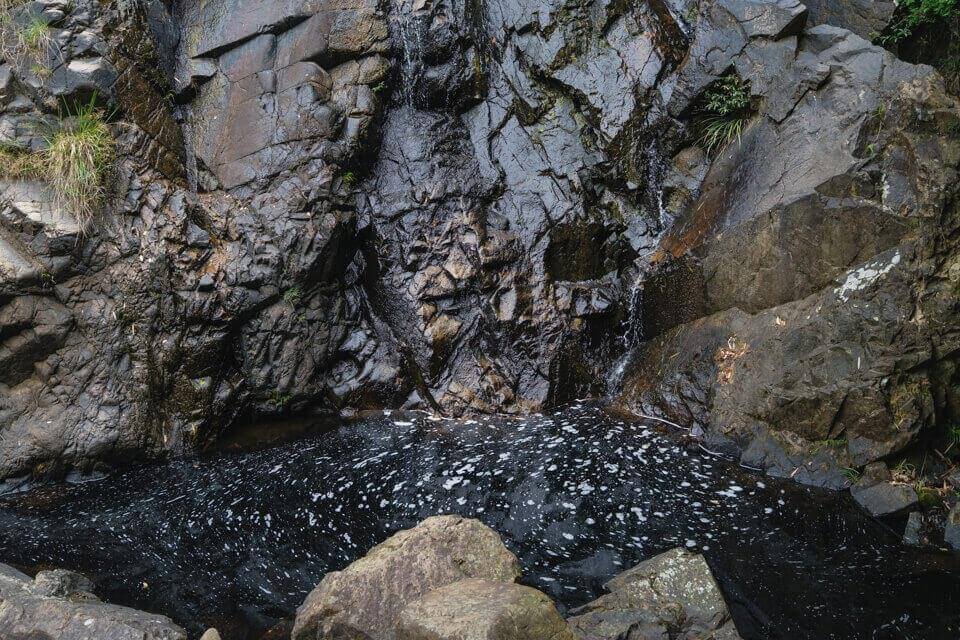 The Stone Dragon Waterfall is one of the most unusual Hong Kong waterfalls and that is probably for a good reason. Out of all the waterfalls we have visited in HK, this one is the hardest to get to and one of the most disappointing.
We decided to visit Stone Dragon Waterfall after seeing some gorgeous photos on Instagram. However, the sight was nowhere near what we saw online. The water was covered with algae and looked dirty, so we didn't swim. There was barely a trickle of water coming down.
We could imagine on a nicer day with more water it would look more impressive than the day we visited. Getting there is also a pain in the a**, with the trail being very overgrown. However, the trail does boast some incredible views of the Ting Kau Bridge.
Remember to pack some mosquito repellent for this waterfall hike, as the waterfall is completely surrounded by vegetation. There were enough mosquitos to be considered an epidemic if we were deciding.
Available for swimming: Yes (but only if the water was cleaner)
How To Get There: Take one of the minibusses from Tsuen Wan or Tsuen Wan West to Tin Kau Village. From there, make your way to Tai Tam Chung Catchwater. Here you will find an opening in the fence with metal stairs (somewhere around here). Go up those stairs and the trail to the waterfall begins. Because the Stone Dragon Waterfall isn't on Google Maps, we recommend using the app maps.me.
Time hiking: 20 minutes each way (from the bus stop). 15 minutes on the trail.
Hike difficulty: 5.5/10
10. Thousand Threads Waterfall
For the more adventurous hiker, the Thousand Threads Fall hike in Hong Kong is for you. Be warned, this hike often requires trekking through streams and is considered a challenging hike.
The rock formations may look steep and scary, but the views from the top are breathtaking, which is why some hikers still venture out to this unique place to find a refreshing pool to swim in.
The great thing about Thousand Threads Fall is that because it is more difficult to get to, it's often quieter than its neighboring Sheung Luk Stream. Visitors looking to swim at the Thousand Threads Fall can pass by the Sheung Luk Stream along the way, so they can decide whether they want to proceed further or not.
The Thousand Threads Fall is one of those waterfalls that is heavily impacted by recent rainfall.
If you go when it hasn't rained in a long time, you will see a bare rock surface and no pools for swimming. If you visited when it has recently rained, the hike is a little more challenging but you are likely to encounter bigger and deeper pools for swimming. Go when it is a torrential downpour and you might find a river, who knows?
Available For Swimming: Yes
How To Get There: Follow the instructions above for Sheung Luk Stream. Then continue beyond the rock pools there and you will reach Thousand Threads Fall. Alternatively, take Luk Wo Country Trail from Sai Wan Pavilion.
Time hiking: ~1 hour if going through Sheung Luk Stream via Sai Wan Village, 15 minutes if taking Luk Wo Country Trail from Sai Wan Pavilion.
Hike difficulty: 3/10 to the stream, 7/10 from the stream
---
Waterfalls On Lantau Island
11. Silvermine Waterfall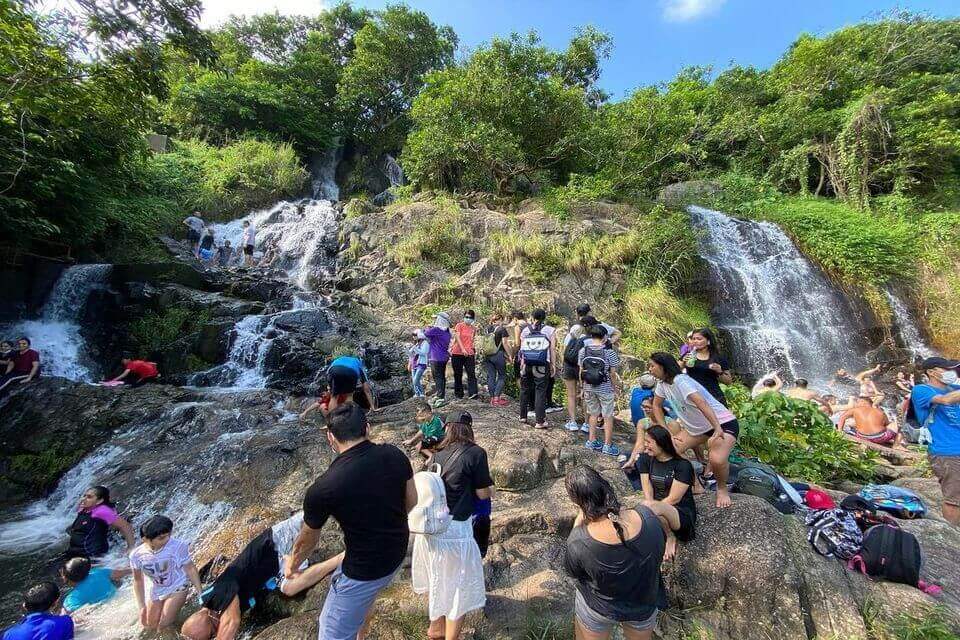 Silvermine Waterfall is one of the most popular places to visit in Mui Wo, and it's easy to see why.
Featuring two parallel waterfalls that meet several cool and refreshing shallow pools at the bottom, Silvermine Waterfall is the perfect place to swim on a hot summer's day. Because the water cascades down the rocks forming more pools at the bottom, there's plenty of space for all its visitors.
Because the Silvermine Waterfall is so easy to get to, there is almost always a big crowd there. Yes, there are plenty of pools there, but there are also plenty of visitors to make it feel very crowded. It doesn't help that there are benches and a pagoda for people to just sit around and relax to the soothing sounds of the waterfall.
If you want to enjoy the Silvermine Fall at its finest, it is imperative that you come on the weekdays when it isn't s busy. Also, the intensity of the Silvermine Waterfall varies dramatically with the amount of rain it has received recently.
Visitors can also enjoy the Silvermine Cave just a five-minute walk up the hill. It's quite small and visitors are not allowed to enter.
Available for swimming: Yes
How To Get There: Take the Mui Wo ferry from Central or bus 3M from Tung Chung. Make your way to Silvermine Beach. From there take, take the street "Mui Wo to Tai Ho Wan".
Time hiking: 30 minutes away from the Mui Wo Pier
Hike difficulty: 2/10
12. Wong Lung Stream
The Wong Lung Stream is home to one of the most impressive waterfalls in Hong Kong. However, not many people know that. That is because getting to those towering falls requires lots of effort, a little bit of skill, and a whole lot of determination.
For those that just want to take it nice and easy, there is an outdoor pool for families to enjoy as well at the beginning of the stream (here). There you will also find benches for a picnic and a makeshift changing room.
To get to the bigger waterfalls in Wong Lung Stream, you must endure some stream trekking with the possibility of getting your feet wet. Scrambling is required in lots of places and there are plenty of ropes (some in bad shape) installed by previous hiking groups for assistance.
It is one of the hikes in Hong Kong where the deeper you go, the better the reward. If you ever get to a point where you feel uncomfortable going any further, just turn around and head back to the nearest pool to relax.
Many people have lost their lives on this hike so be extra cautious when venturing into the Wong Lung Stream.
Available For Swimming: Yes
How To Get There: From Tung Chung MTR Station, walk to Chep Lap Kok New Village. From there, take Wong Lung Hand Road into Lantau South Country Park.
Time Hiking: 30 minutes to 1.5 hours from MTR station, depending on how deep you go.
Hike Difficulty: 2/10 to 9.5/10, depending on how deep you want to go.
13. Man Cheung Po's Infinity Pool (Tai O Infinity Pool)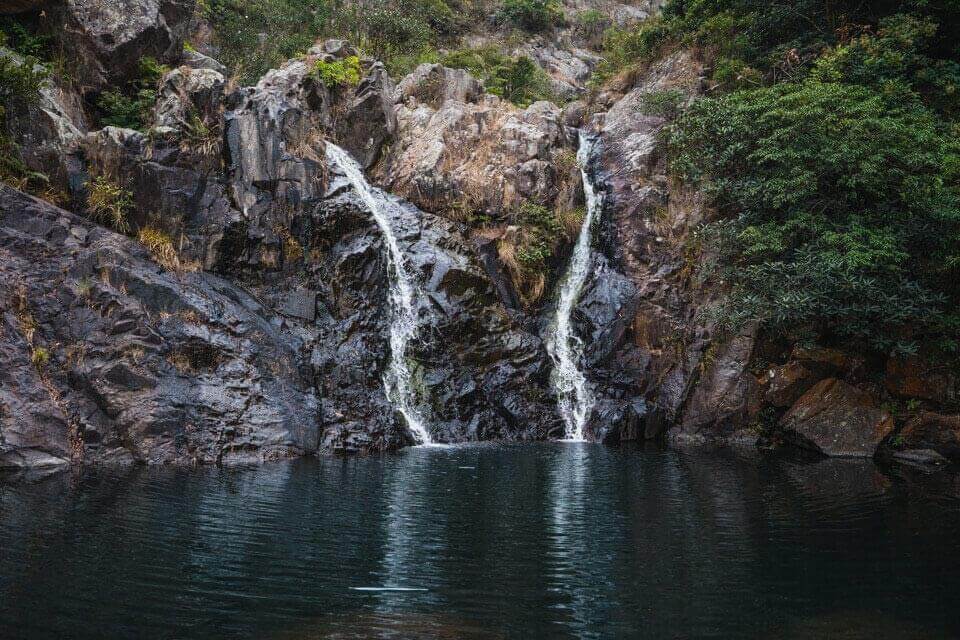 Man Cheung Po's Infinity Pool, otherwise known as the Tai O Infinity Poo or Shui Lo Cho Infinity Pool, is possibly the best waterfall on Lantau island.
It should be noted that the infinity pool is prohibited to swim by the government. Visitors have been fined swimming in this infinity pool before! In fact, the government has installed a barrier and a 24-hour CCTV camera around the infinity pool.
However, there are many pools and waterfalls above and below the infinity pool that have no signs prohibiting visitors from swimming. When we visited, there were several deep and crystal clear pools where you can soak and listen to the sound of the waterfalls.
Similar to Ping Nam stream, the Man Cheung Po's Infinity Pool is at the bottom of the canyon. That means surrounding you is nothing but lush nature and birdsongs. This stream flows into the South China Sea, and visitors can also enjoy the vast sea views when visiting this pool.
Available for swimming: Not in the infinity pool, but in other selected pools above and below it
How To Get There: From Tai O Bus Stop, head south until you reach Lantau Trail Section 7. Continue on the trail southwards until you reach the Buddhist temple, then take a left towards the stream. This takes you to the lower streams. Alternatively, make a left here and it takes you straight to the Man Cheung Po's Infinity Pool.
Time hiking: 1 hour from Tai O promenade
Hike difficulty: 6/10
14. Double Dragon River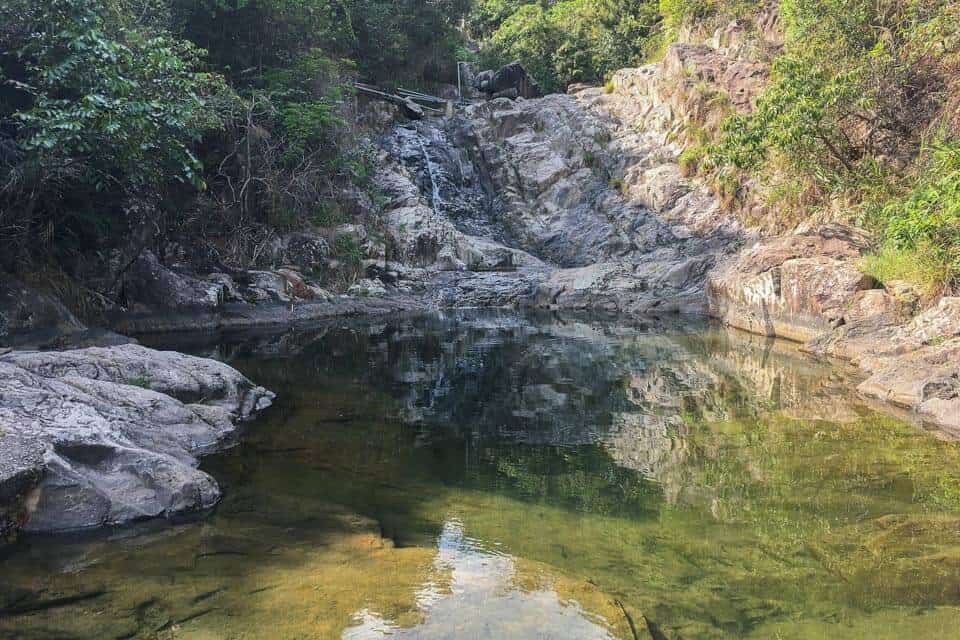 The Double Dragon River features beautiful waterfalls near Pui O, perfect for those visiting Lantau and want a refreshing dip in some freshwater pools. Its close proximity to a bus stop and short trekking time make it easy for even families with small children to visit.
At Double Dragon River you will see a giant, rocky waterfall with a sizeable pool at the bottom that's perfect to swim in. From there, you can scale up the falls to even larger pools and cascading waterfalls. The best falls are the ones further up.
When it visited, it looked like the Double Dragon River is literally in someone's backyard. There is a very high chance you will get this "river" to yourself.
The gorgeous Pui O Beach and Campsite are only a 15-minute walk from the Double Dragon River. As one of the best beaches in Hong Kong, it would be an absolute shame to not check it out when visiting the Double Dragon River.
Signs Prohibiting Swimming: Yes
How To Get There: From Tung Chung, take bus 3M from Tung Chung and get off at Swire House Holiday House. From Mui Wo, take bus 1,2 3M, or 4 and get off at Swire House Holiday House as well.
Time Hiking: 5-minute walk from the nearest bus station
Hike Difficulty: 1/10
---
Hong Kong Island Waterfalls
15. Lugard Falls
Lugard Falls is one of the few waterfalls on the Hong Kong Island side. Unlike most of the other waterfalls in this post, the Lugard Falls is just one standalone waterfall with no pools. Swimming is strictly prohibited there and a railing is installed to prevent guess from getting too close to the waterfall.
The Lugard Falls rests on Victoria Peak, a popular attraction in Hong Kong known for its sweeping views. Because of this, we recommend that you combine a visit to Victoria Peak and The Peak Galleria when visiting.
This is not a waterfall in HK where you can spend hours. It is more of a "snap a photo and leave" kind of waterfall, so plan your visit accordingly.
Available for swimming: No
How To Get There: Take the Peak Tram to The Peak then walk along Harlech Road until you reach Lugard Falls. Altnertiavely, you can hike to Victoria Peak from Admiralty, HKU, or Pok Fu Lam.
Time hiking: 3 minutes from the Peak Tram station.
Hike difficulty: 0/10
16. Tai Tam Mound Waterfall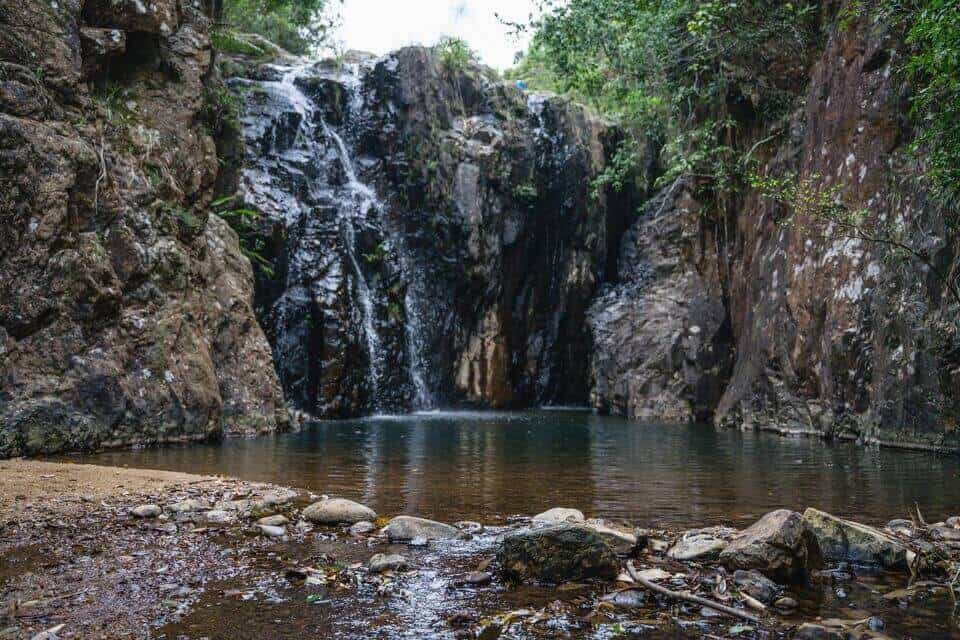 The Tai Tam Mound Waterfall is the only waterfall on Hong Kong Island that requires a good hike. Tucked from the main hiking trail of Tai Tam Reservoir, this hidden gem is often very quiet.
The Tai Tam Waterfall is used to fill the Tai Tam Reservoir, a source of drinking water in Hong Kong, so swimming is strictly prohibited in the waterfall. In fact, when we visited, there were police tapes to prevent people from entering.
Despite not being able to swim in, it is still a breathtaking sight to behold and worth taking the time to visit, especially since you can get a good hike in as well!
To get there is quite simple. You should take the MTR to Sai Wan Ho and then catch the 14 bus towards Stanley Fort, getting off at Tai Tam Reservoir North stop.
From here, it is a 30-minute hike to the waterfall through the Tai Tam Country Park along section 6 of the Hong Kong trail.
The trail is paved most of the way and is mostly flat, making it an easy hike suitable for families. You will need to hike for around 15-20 minutes before you reach the stream.
To get to the Tai Tam Falls, however, you should cross the stream and continue on for another 2 minutes until you see a path just before the wooden bridge. Take this path down towards the falls, but be careful as it's quite steep and can be slippery in places. The waterfall is at the end of this path!
Available For Swimming: No
How To Get There: Take Bus 14 From Sai Wan Ho MTR Station towards Stanley Fort and get off at Tai Tam Reservoir (North) bus stop. Then hike along Hong Kong Trail Section 6 until you reach the falls.
Time Hiking: 30 minutes each way.
Hike Difficulty: 4/10
17. Waterfall Bay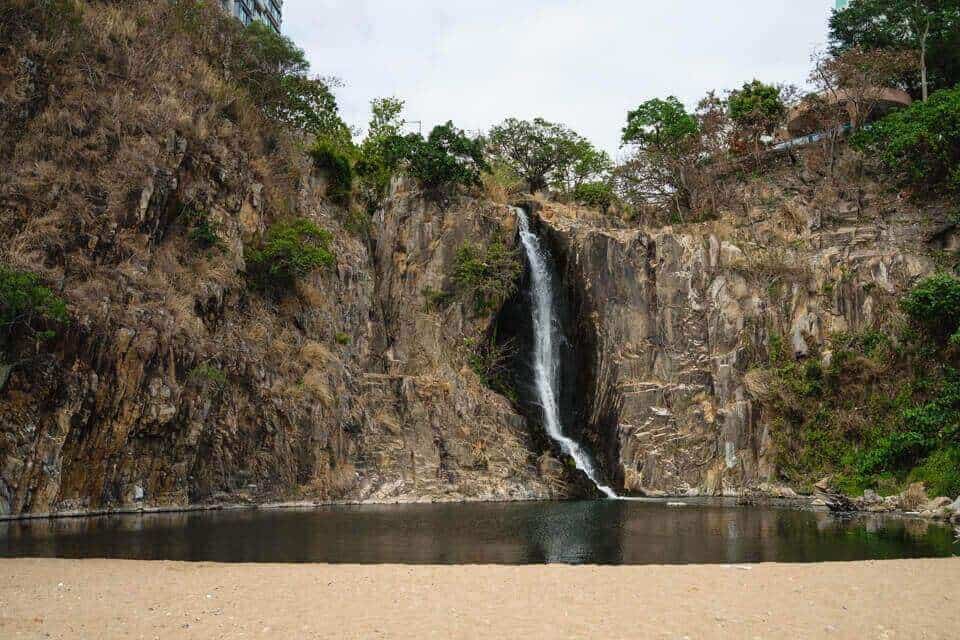 The most impressive waterfall in Hong Kong Island must be Waterfall Bay, a massive waterfall cascading into a fresh pool of water on a beach. This beautiful waterfall is somewhat of a hidden gem in the city and is located just a short walk from the concrete jungle of Pok Fu Lam.
Swimming is strictly prohibited from this waterfall, but we are not sure why since the water goes directly into the sea. One hypothesis is that this waterfall is extremely haunted, and several children have drowned here in the past. That might be why there is a fenced gate along the path to the waterfall.
Back in the Qing Dynasty, a group of pirates massacred an entire village that resided there. The pirates threw the bodies into the water and turned that area into a massive grave. It is now believed that there are "Shui Gui" or water ghosts in the pool, waiting to drag unsuspecting victims into the pool.
Maybe visiting Waterfall Bay at night isn't a good idea… But you know what is? Find out on our favorite things to do in Hong Kong at night guide!
Available For Swimming: No
How To Get There: Waterfall Bay Park is well-connected by public transportation. Take a bus or minibus to Waterfall Bay Park or near it and then walk to the waterfall. There is a railing you will need to hop over.
Time Hiking: 10 to 20 minutes
Hike Difficulty: 3/10
---
What To Pack When Visiting A Hong Kong Waterfall?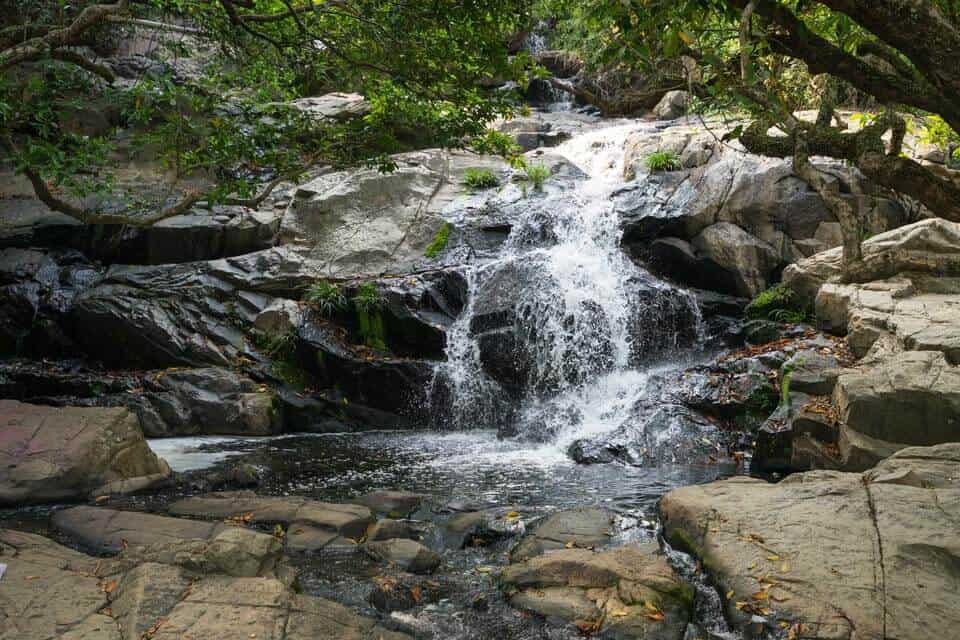 If you are visiting a waterfall in Hong Kong, then you will need to come prepared. Obviously, water is of the utmost importance here, especially when hiking in the summer. If the weather is too hot, maybe you can find an indoor activity in Hong Kong instead.
Insect repellent is another necessity when hiking to a waterfall in HK. Many of these waterfalls have stagnant pools that make for the perfect breeding ground for mosquitoes.
A dry bag, though not a necessity, is something nice to have, especially when you will be doing any stream trekking. It keeps your stuff dry under all circumstances if used properly.
One of my biggest regrets in life (as my mother had predicted) is not putting on enough sunscreen. Though some of these trails are shady, it is still best to put on sunscreen.
---
Like this post? Don't forget to save it on Pinterest!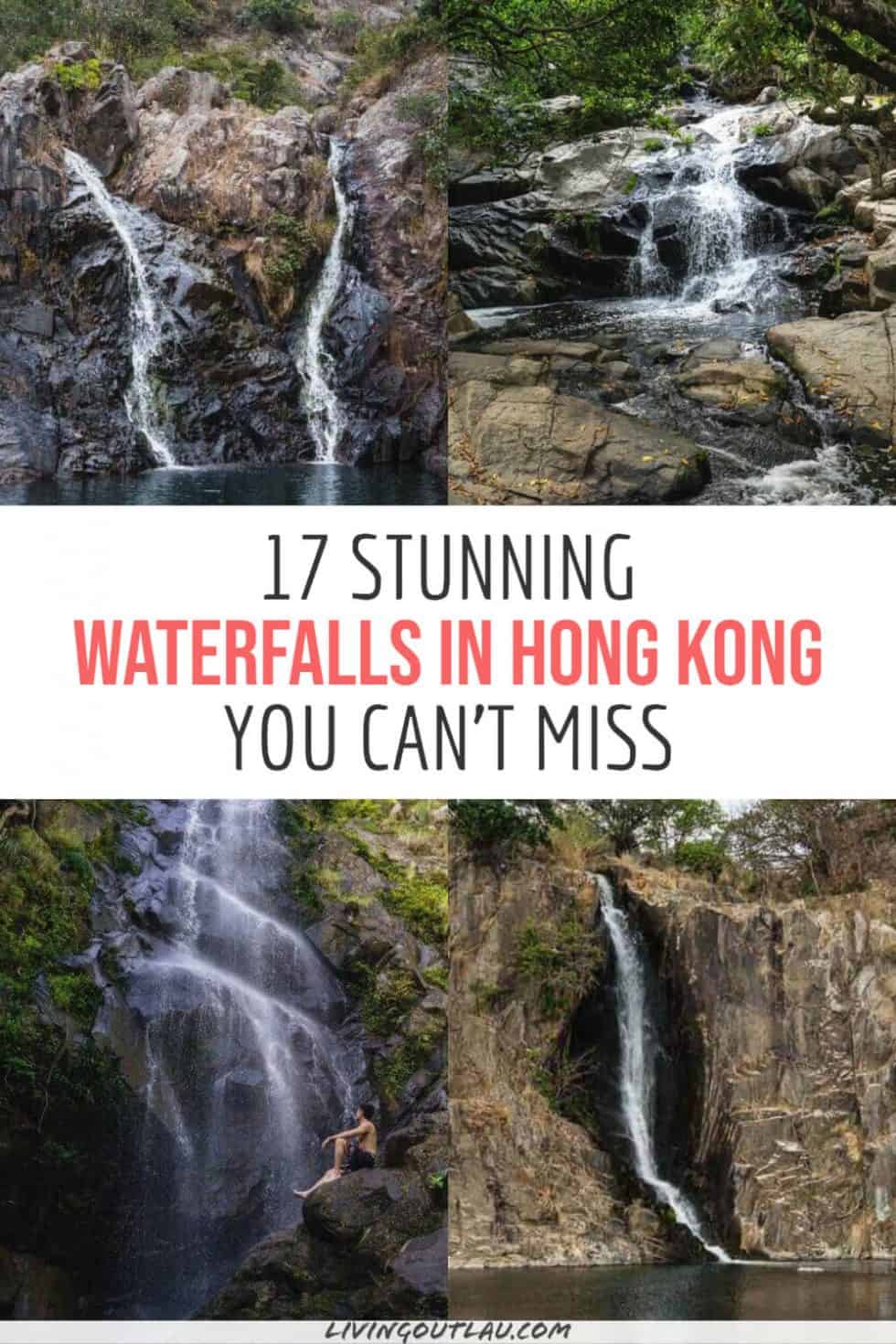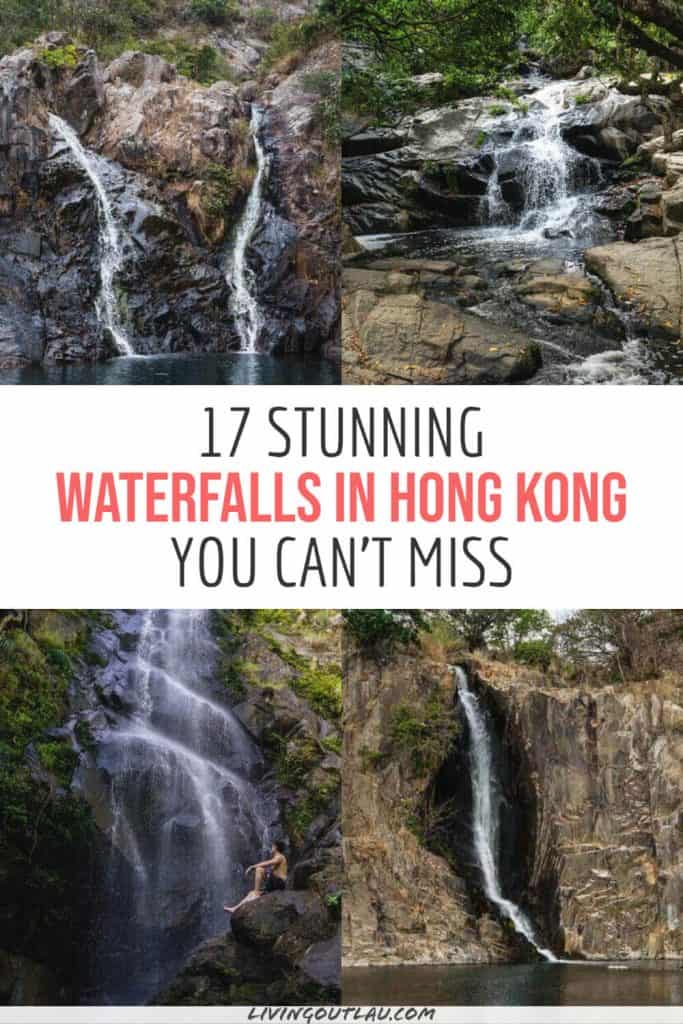 ---
So that's it for our guide to the best waterfalls in Hong Kong. We hope you've found the perfect waterfall and waterfall hike to discover in Hong Kong!

Any question? Leave a comment!
Disclaimer: Some of the links above are affiliate links. That means if you book or make a purchase through the links, we will earn a small commission at no extra cost to you! The money will help run this site! Thank you!