New York City, or NYC for short, receives about 60 million tourists per year.
Tourists from all over the world come to see the most popular destinations such as Central Park, Statue of Liberty, Grand Central Terminal, Empire State Building, and more.
But outside of the super touristy things that everyone comes to see, there is a unique and quirky side to NYC that few get to explore.
If you are looking to take a break from seeing the 5th museum in one day, why not check out some fun and unusual things you can do in NYC.
As a 10+ year New Yorker, here are the top 25 fun and weird things to do in NYC that I recommend!
---
Unusual Things To Do In NYC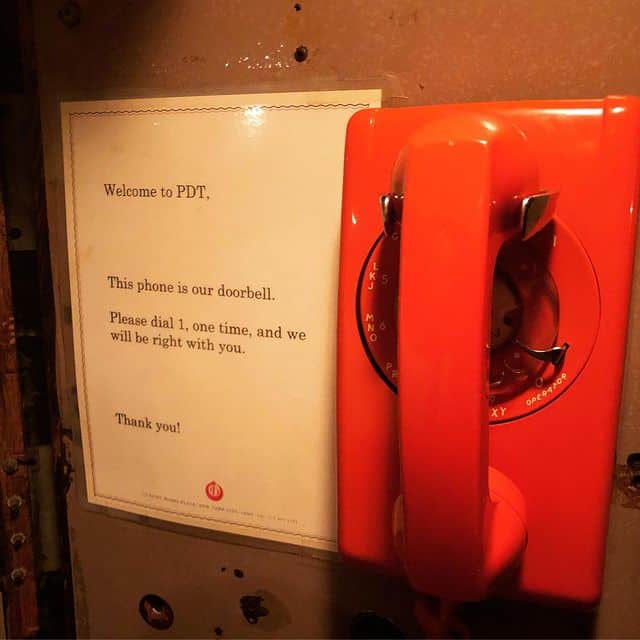 Please Don't Tell used to be NYC's best-kept secret but this hidden speakeasy has become one of the most popular spots in NYC due to its amazing cocktails and classic location. The visitors did the exact opposite of what they were supposed to do and told all their friends about the hidden location of this place.
To find Please Don't Tell, you have to enter through the phone booth of an adjacent hot dog store called Crif Dogs. Once you enter the phone booth, you have to dial 1 for the reception at Please Don't Tell to let you in! What a totally surreal and weird experience!
Insider Tip – To get a table in Please Don't Tell, make a reservation at 3 PM by phone. It will be difficult to get through but you need to be persistent. Otherwise, if you just show up, expect a 2-hour wait or more.
2. Learn to Be a Spy at SPYSCAPE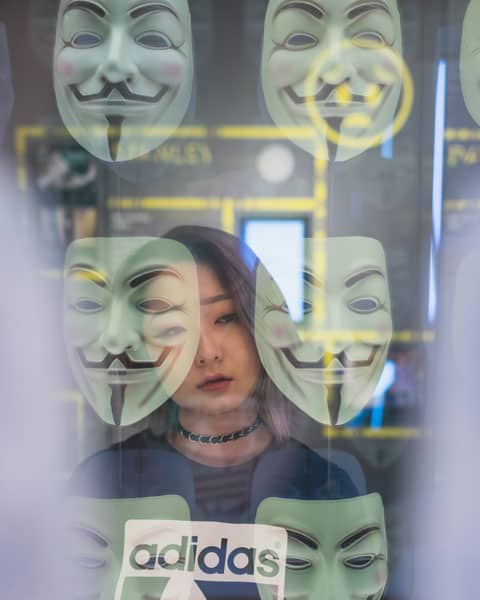 SPYSCAPE is one of the latest unusual museums in NYC. Featuring a find your inner spy interactive sequence, this is a cool spot to take your friends, kids, or even lovers on a date.
It is a museum that will test out your skills in deception, encryption, surveillance, hacking and special ops to see if you have what it takes to be a spy.
You will learn about the history of spies while being able to do activities such as trying to deceive a lie detector, or determining if someone is lying or not based on microexpressions on their faces.
Educational, fun, and weird, this is perfect for someone tired of the usual tourist activities in NYC.
Entrance Fee: $39 per ticket for adults; $32 per ticket for children
Location: 928 8th Ave, New York, NY 10019
Opening Hours: Monday to Tuesday – Closed | Wednesday to Thursday – 12 PM to 8 PM | Friday to Saturday – 11 AM to 9 PM | Sundays – 11 AM to 7 PM
3. Take a Helicopter Ride and See NYC From Above
Tired of seeing Central Park from the same angle over and over again? Or tired of the suffocating crowds in Times Square?
See a side of NYC that not every tourist gets to see by taking a helicopter ride over Manhattan.
The spectacular views from the helicopter ride will leave you amazed. These are the memories that will last forever. Not only will you have unforgettable memories, but also undeniable bragging rights for flying in a helicopter over NYC.
Out of all the unique NYC experiences, there is truly nothing that can top a helicopter ride over Manhattan. Surprisingly, a helicopter tour isn't that expensive!
4. Challenge Your Wits With Escape Games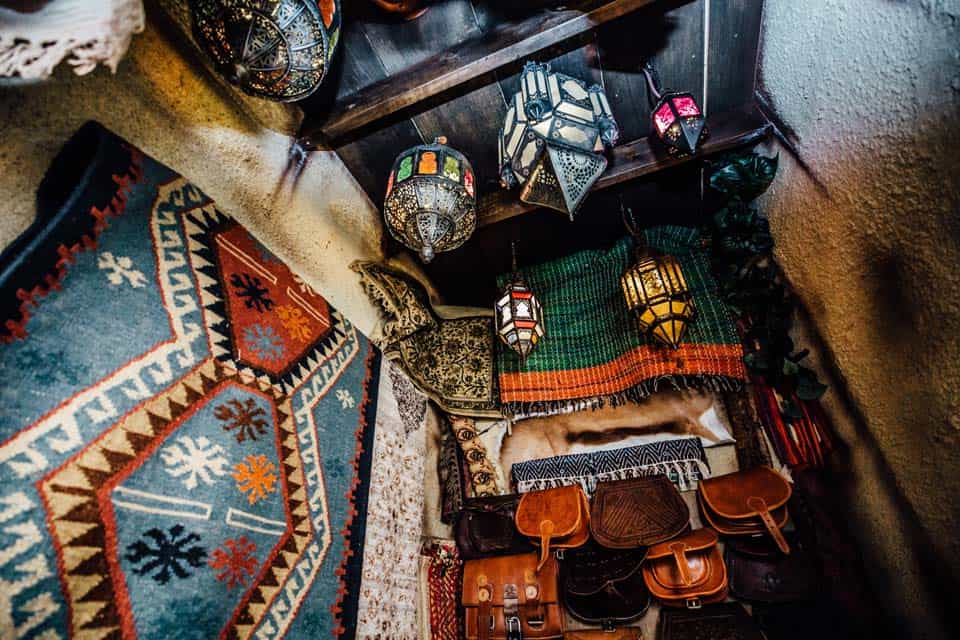 "You are trapped in a nuclear power plant and the nuclear weapons are set to detonate in an hour. Can you find the clues that will stop the detonation? Do you have what it takes to save millions of lives or will you fail?"
This is an example of what an escape game is like.
If you are into finding clues and solving puzzles, then escape games are perfect for you. You must work together with your teammates to find hints and solve the puzzles to escape the room.
Escape games are a fun and unusual way to bond with your friends and people you have met on your travels. They are also becoming increasingly popular in the workplace as a way for team building and bonding with your colleagues.
If you are looking for some interactive things to do in NYC, then definitely give escape games a try!
Location: Various escape room locations throughout NYC but we recommend The Escape Game. They even have online virtual games for people that might want an interactive activity with their friends from the comfort of their own home!
5. Visit The Graffiti Tunnel at 191st Subway Station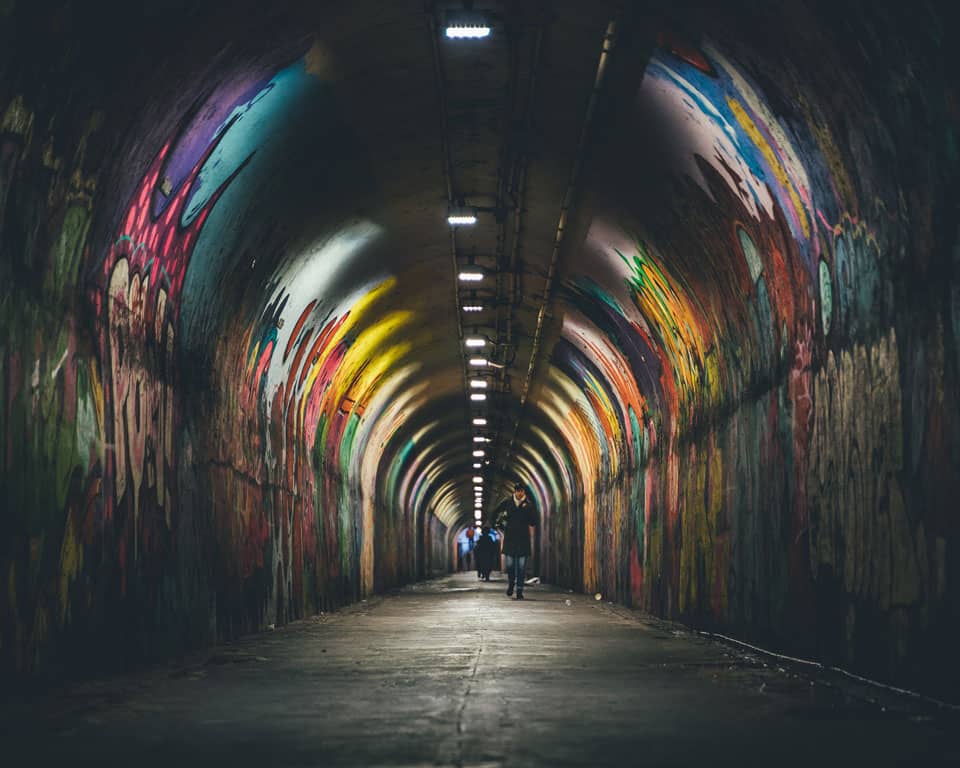 The graffiti tunnel at 191 st subway station is definitely a hidden gem of NYC. Normal tourists usually don't pass by this area because of how far it is from the regular tourist attractions. It is a secret only known to the locals of Washington Heights.
The tunnel that connected the subway station with the street used to be dark, dirty and full of rats. In an effort to make it more lively, artists hired by the city came and revitalized the 191st subway tunnel.
Now it is becoming a popular spot for Instagram photos in NYC, a place where photographers and creatives practice their crafts.
Location: 191 St Subway Station, accessible through the 1 train.
Opening Hours: It's part of the subway station so it's open 24/7, but I would avoid going at late at night because that area can get sketchy.
6. Take The Ferry From Staten Island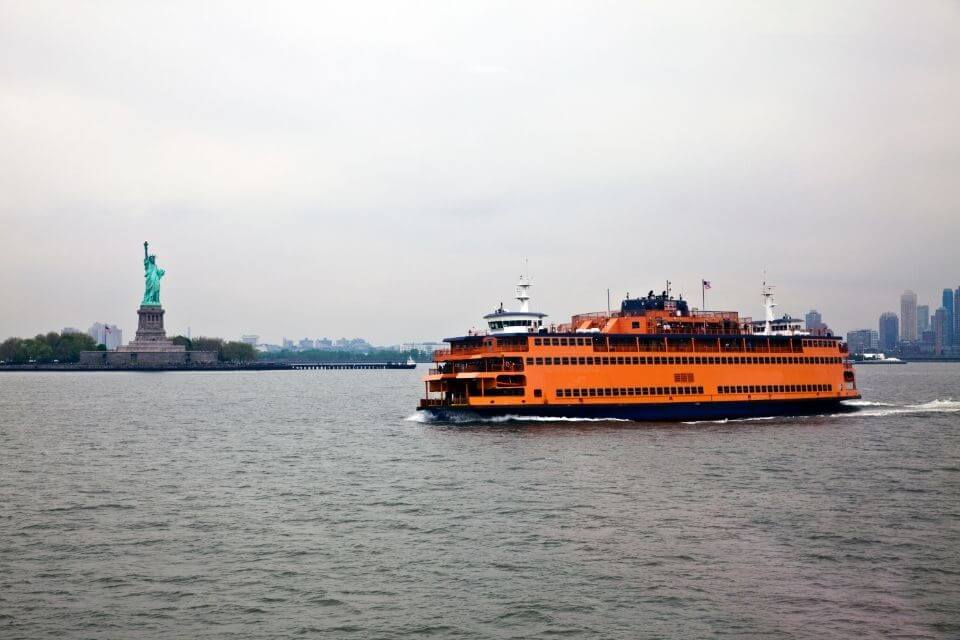 Staten Island? What is that? If this is your first time in New York City, you might have not heard of Staten Island. In fact, Staten Island is the forgotten borough of NYC.
Even though there is not much to do in Staten Island from a touristy point of view, the Staten Island ferry is a way to see the beautiful waterfront of NYC as well as having a closer look at the Statue of Liberty.
In my opinion, the Staten Island ferry is the best place to see the Statue of Liberty. You are not too close and not too far. And you also have the Manhattan skyline as the background for your photos!
What you should not do in New York City is take one of that overpriced Statue of Liberty cruises if you want a good view of the statue! You are too close for a nice photo!
Is it weird to take the Staten Island Ferry? Yes, but it is so worth it. I would consider this activity a top unusual thing to do in NYC as a tourist!
Location: 4 South St, New York, NY 10004, next to Battery Park
Operating Hours: 24 hours a day, 7 days a week, but the frequency of service is lower outside of rush hours
7. See Some Weird Architecture at The Vessel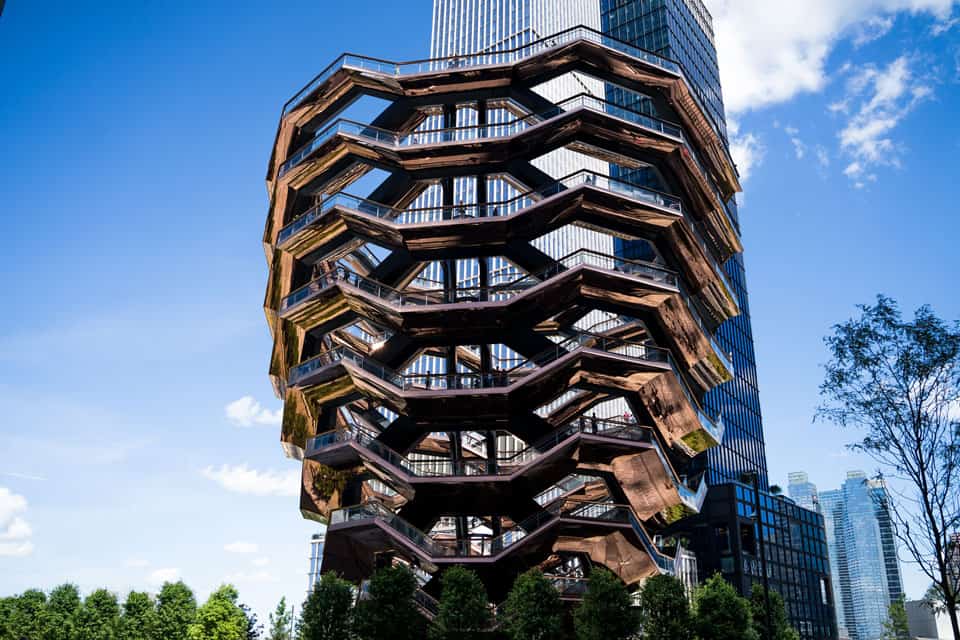 After almost a decade of construction, the strange-looking building called the Vessel has finally opened up to the public. No one knows exactly what it is, some say it looks like a beehive, some say a rib cage, but in the end, I think it is open to interpretation.
Whatever it is, I think everyone can agree that the Vessel is an architectural masterpiece and a photography hotspot in NYC. A piece that the future can look at it and immediately say, "Oh, that's New York City isn't it?"
Everyone is allowed to see the Vessel but you must make a reservation to climb up. Luckily, same-day reservations are free and given on a first-come-first-served basis.
For more information, check out here.
Note: The Vessel is temporarily closed due to several suicides that took place at this iconic NYC landmark. Until the management finds a way to stop this from happening, The Vessel is likely to remain closed.
Opening Hours: Monday to Saturday – 10 AM to 9 PM | Sunday 11 AM to 7 PM (Hours change regularly, refer to the Vessel official site for the most updated info!)
8. Visit The Old City Hall Subway Station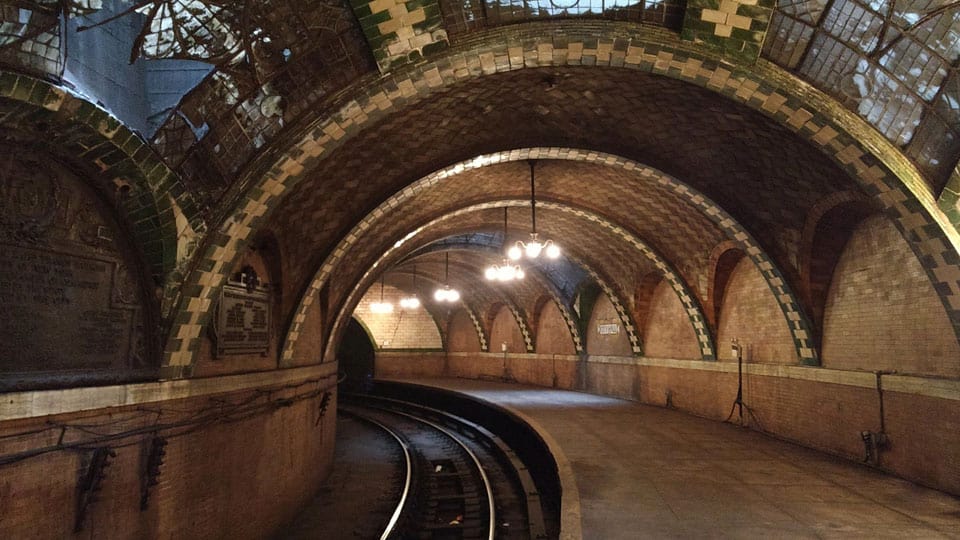 Old City Hall Station was the first New York City subway station to open in 1904. It was a special day for the locals of New York City. Everyone was ecstatic to ride the first subway ride outside of Europe.
But things wouldn't go so well for the glamorous City Hall station. In 1945, the station was officially abandoned due to safety regulations and the elongation of subway trains. The trains can no longer fit into the Old City Hall station.
Nowadays, the only way to visit this abandoned subway station is with a guided tour from the New York Transit Museum. However, guided tours are only available to members of the Transit Museum and tickets sell out fast. Needless to say, visiting the Old City Hall Station is one of the most exclusive experiences to have in NYC!
For those that want a quick glimpse of it, the downtown 6 train will make a loop at the old city hall station once it passes the final stop at Brooklyn Bridge Station. If you "accidentally" forget to get off the train or fall asleep, then you have a chance to get a glimpse at it.
9. Feel Like a Kid Again at the Museum of Ice Cream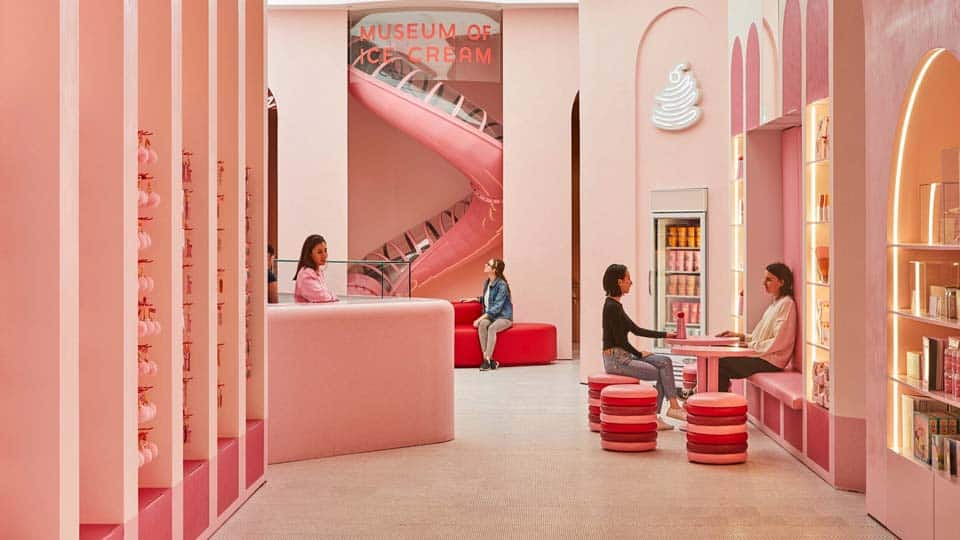 As one of the most electrifying cities in the world, NYC has many unique pop-up installations that offer visitors extraordinary experiences. One of the most popular ones is the Museum of Ice Cream.
As you can expect with a name like that, the Museum of Ice Cream is no ordinary museum. The Museum features 13 quirky multi-sensory installations where guests can immerse themselves in a one-of-a-kind experience, all while enjoying delicious ice cream.
The most iconic installation of the museum is the sprinkle pool (yes, you heard that right!), which is literally a pool with millions of plastic sprinkles. Guests can jump in it, go for a swim, or just float on top of one of the lily pads.
This unique NYC attraction is the perfect place to take some exotic Instagram photos, feel like a kid again, and bond with your friends. If you are visiting NYC with kids, the Museum of Ice Cream is a fun place you can take them to.
Location: 558 Broadway, New York, NY 10012, United States
Opening Hours: Tuesdays & Wednesdays – Closed | Thursdays, Sundays, Mondays – 11:30 AM to 4:30 PM, 5:30 PM to 7 PM | Fridays & Saturdays – 11:30 AM to 4:30 PM, 5:30 to 8:30 PM
Entrance Fee: Varies depending on the package, but expect $42+.
Find out how you can reserve your Museum of Ice Cream tickets
10. Take The Cable Car to Roosevelt Island
Taking a cable car is definitely not a weird thing to do, but taking a cable car in NYC? Now that is unusual.
Otherwise known as the Roosevelt Island Tram, the tram used to be in operation for commuting needs. But as more and more subway stations developed in the area, the demand for the tram declined. Nowadays, it is more of a tourist attraction and a leisure activity than a form of transportation.
The cable car connects E 60st / 2Av of Manhattan to Roosevelt Island, an island that sits on the East River between Manhattan and Queens. Away from the craziness of Manhattan, Roosevelt Island is a great place to relax and watch the beautiful skyline of Manhattan.
Unless you have been living in NYC for a long time, it is unlikely that you will know about this cable car!
Once you are on Roosevelt Island, it is worth spending some time strolling around and checking out the gorgeous skyline views and beautiful parks. Don't miss the historical Smallpox Memorial Hospital. It is no longer operation and is left in ruins!
11. Take Some Cool Photos at Fulton Center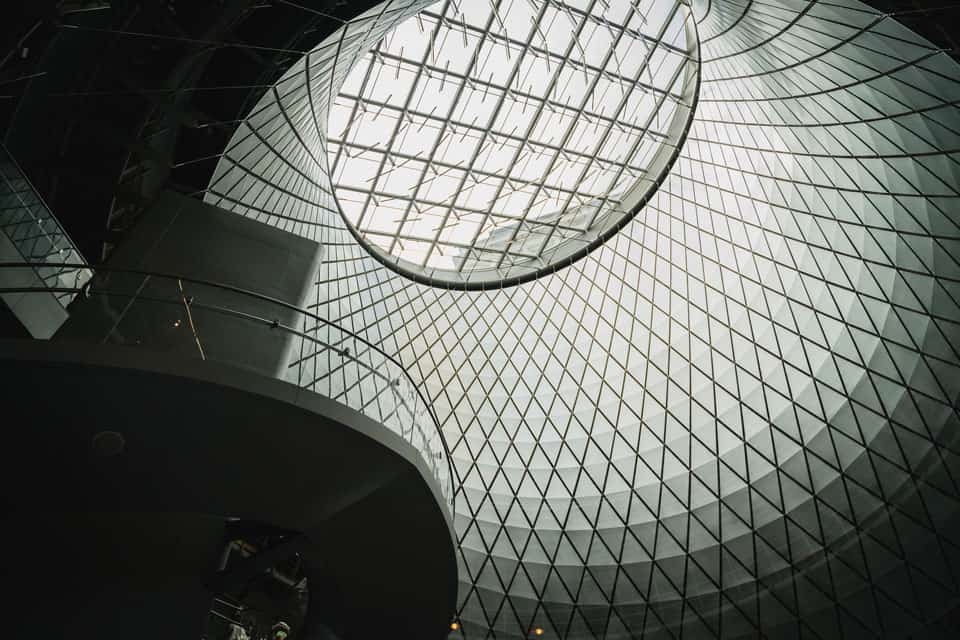 Fulton Center, a major hub of transportation in Manhattan, contains more than just subway connections and retail shops. It is home to some of the coolest and most unusual architecture such as a unique circular layout and a spiral staircase.
Conveniently located near other popular tourist destinations such as Wall St. and World Trade Center, it is easy to fit a visit to Fulton Center on your NYC itinerary.
Photographers and architecture lovers will find the interior design of the Fulton Center enchanting. Don't forget to bring your camera here and take as many photos as you can! Otherwise, stop for a short break to admire the unique architecture while grabbing some food and drinks.
12. Visit The Museum of Sex (18+)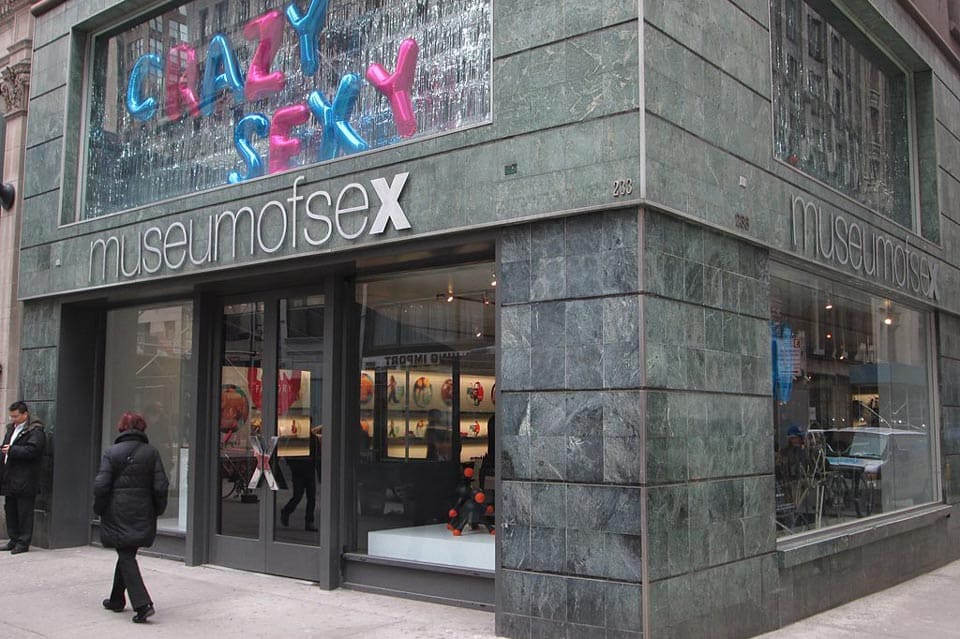 Though not a kid-friendly activity in NYC, a visit to the Museum of Sex is certainly unique. This (18+) museum is dedicated to "the history evolution and cultural significance of human sexuality."
Unlike traditional museums are can be quite boring, the Museum of Sex keeps the guests entertained through various naughty artifacts, intriguing history on human sexuality, and a bouncy breast house at the end of the museum.
The exhibits end with a gift shop where various souvenirs can be purchased. There is also a bar at the end where you can drink till you forget everything you saw!
Location: 200 Broadway, New York, NY 10038
Opening Hours: Monday & Thursday – 1 PM to 10 PM | Tuesday & Wednesday – Closed | Fridays – 1 PM to 12 AM | Saturdays -12 PM to 12 AM | Sundays – 12 PM to 10 PM
13. Explore The Neighborhood of Harlem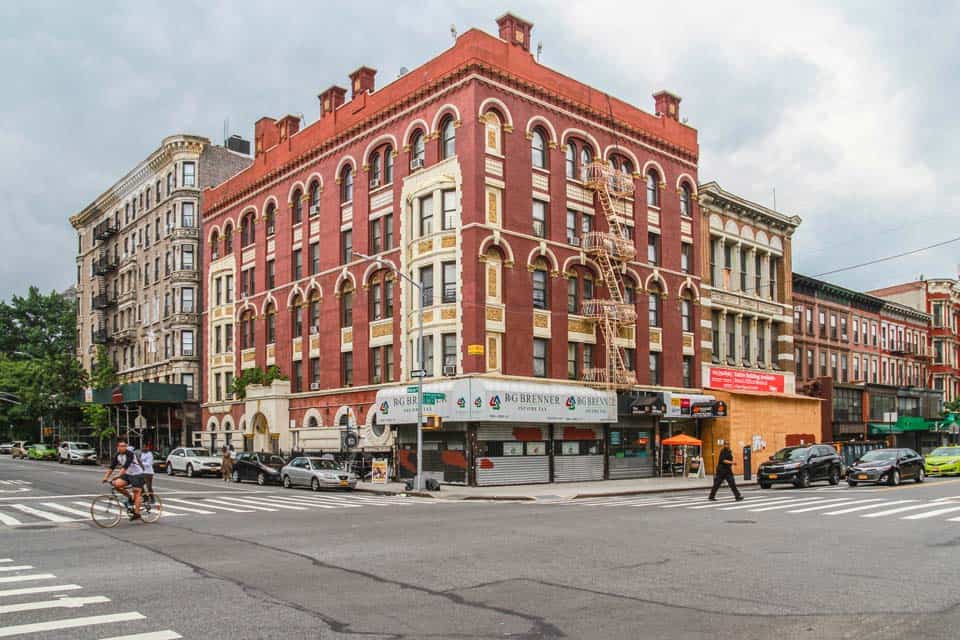 If you are a traveler that likes to explore the off-the-beaten-path places in NYC, take a visit to Harlem in Upper Manhattan. Once one of the most dangerous neighborhoods in NYC, Harlem has transformed into a vibrant community with stylish bars and hip eateries.
Enjoy a day strolling down the recognizable 125th Street, where visitors will find the iconic Apollo, numerous soul food restaurants, and splashes of African-American heritage. The neighborhood is dotted with beautiful street art, murals, and graffiti, so make sure you bring your camera!
14. Visit Liberty State Park in New Jersey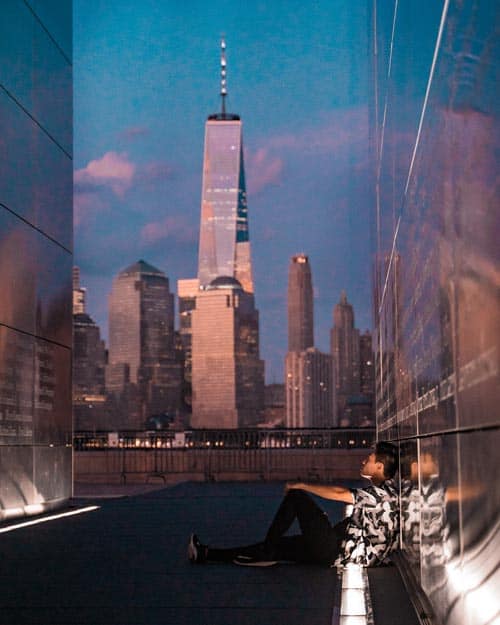 Most travelers to NYC make the mistake of staying in NYC for their entire visit. Little do they know the treasures that lie beyond the borders (plus the stunning views of NYC itself that cannot be seen when you are IN NYC).
One of these treasures is Liberty State Park in Jersey City, New Jersey.
Liberty State Park spans a total of 1212 acres, almost 1.5 times the size of the famous Central Park. Central Park also tends to be crowded and busy, making it difficult to find some peace and quiet.
On the other hand, because visiting Liberty State Park is such an offbeat thing to do in NYC, you will find acres of greenery all for yourself (well, maybe plus a few others.)
Liberty State Park is also home to the Liberty Walkaway, a crescent-shaped promenade that offers amazing views of Manhattan. It is also home to the Empty Sky Memorial, the official state memorial dedicated to the attacks of 911.
Getting to Liberty State Park is easy from NYC. Just take the ferry across the Hudson River from Brookfield Place Terminal near the Financial District and get off at the Liberty Landing Marina, where the park is only a few-minute walk away.
15. Check Out The Cat Film Festival
There might not be a more unique experience in NYC than the Cat Film Festival, an annual festival that celebrates our relationship with our lovely feline companions.
Through a collection of short films, the festival shines the spotlight on these underrated creatures. Better yet, a portion of every ticket sale goes to a local animal welfare non-profit.
The festival takes place around International Cat Day every year, which is on the 16th of October. Better secure your tickets in advance and don't miss out on this once-in-a-year opportunity!
16. Go For a Swim at Coney Island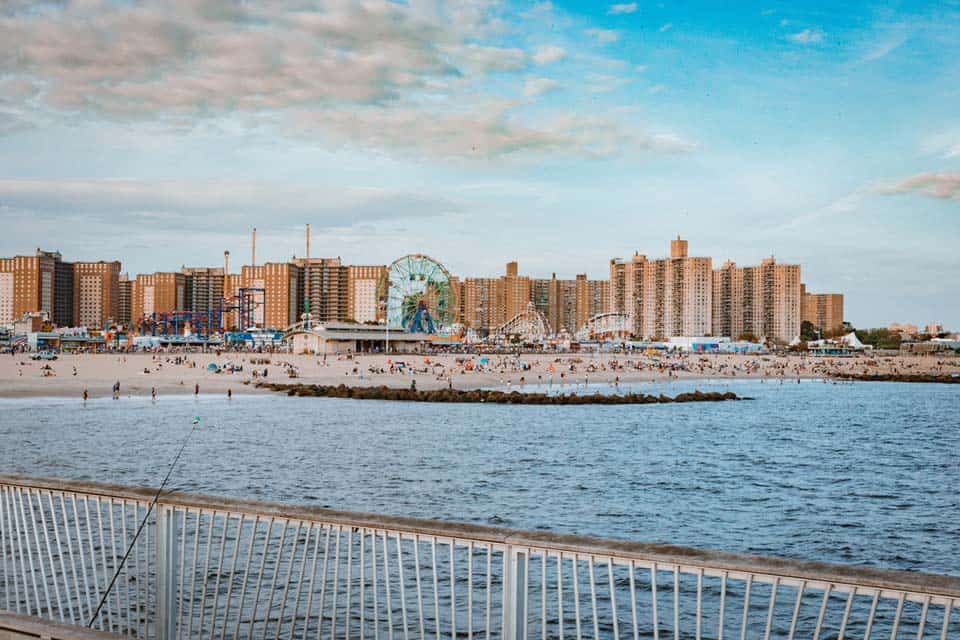 If the hustle and bustle of Manhattan gets too much, why not spend some time in Coney Island? As NYC's most famous beach and amusement park, Coney Island offers the perfect escape from the craziness of NYC.
The 3-mile beach is perfect for a day of swimming with the entire family, but that isn't all Coney Island has to offer. It also has an expansive boardwalk and an engaging amusement park, which happens to be the home of the iconic Thunderbolt roller coaster.
Come for a day of relaxing on the beach, screaming on roller coasters, and shooting zombies in their arcade! Visiting Coney Island is a perfect offbeat NYC activity for families.
Read More: 30 Things New York Is Known And Famous For!
17. Go Play Some Pinballs at Sunshine Laundromat
From hidden speakeasies to underground museums, NYC is full of hidden treasures. The Sunshine Laundromat might just be the most quirky place in NYC. On the surface, Sunshine Laundromat is a regular laundromat where locals come to clean and dry their clothes.
However, behind one of the laundry machines is a hidden room filled with numerous antique pinball machines and a bar. With its dingy decor, dim lighting, and brick walls, this secret room is strange, but unique at the same time.
With a lively but not too loud atmosphere, It is an excellent place to spend an evening with your friends (or on a date). Challenge them to a game of competitive pinball or just have a beer from their affordable bar. There are also really cool board games that you can play.
Even if you ask native New Yorkers, chances are, they might not even know about this place!

Note: The bar only serves beer (no wine or cocktail).
Opening Hours: 7 AM to 2 AM Sunday to Thursday | 7 AM to 4 AM on Fridays and Saturdays
18. Go Glamping on Governor Island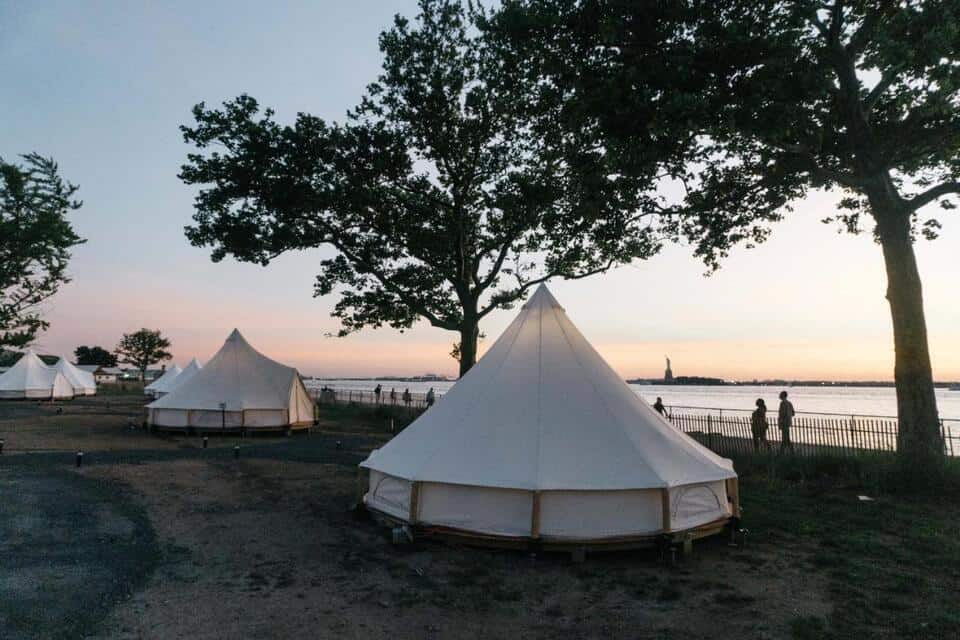 One of the newest unusual attractions in NYC is glamping on Governor Island, a 172-acre island in New York Harbor.
Normally, Governor Island is not used for much besides recreation activities, art exhibitions, and seasonal events. This means Governor Island is often quiet, and with lots of greenery and excellent views of NYC and the Statue of Liberty.

Nowadays, visitors don't have to explore Governor Island on a day trip. The newest attraction on the island includes a set of glamping facilities and an incredible farm-to-table restaurant. Come enjoy a day of sublime tranquility as you admire the Statue of Liberty at sunset, sipping wine and indulging in delicious food.
If you are seeking a romantic and unique thing to do for couples in NYC, we cannot recommend glamping on Governor's Island enough!
19. Take Some Cool Photos At The Irish Hunger Memorial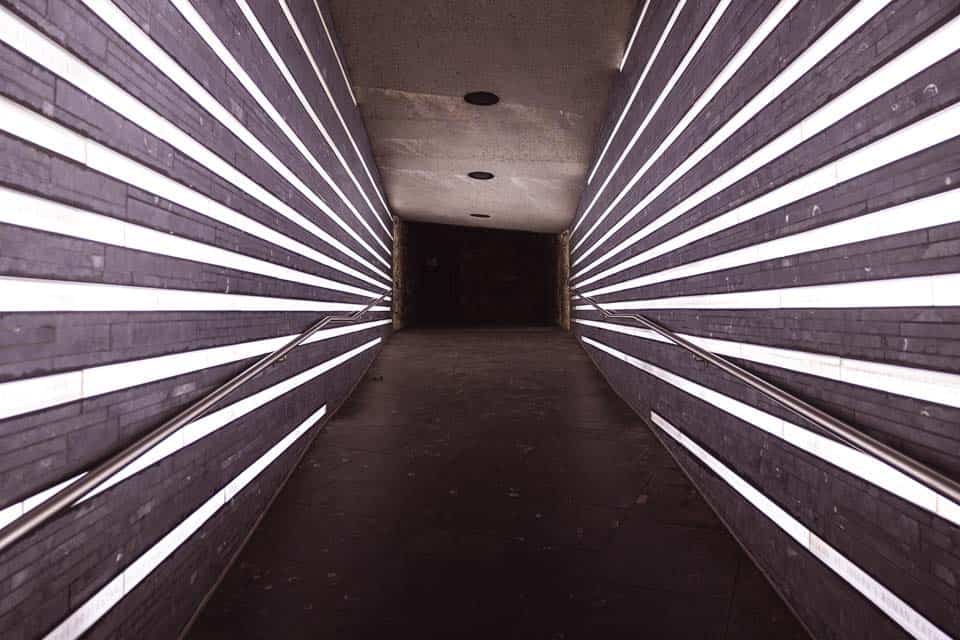 The Irish Hunger Memorial is a solemn museum dedicated to raising awareness of the Great Irish Hunger from 1845 to 1852. The 0.5-acre memorial is located in the Battery Park City neighborhood (near Tribeca and Wall Street), and it doesn't take much to explore the memorial.
While the museum is an excellent place to visit during the day, it becomes a piece of artwork and one of the best photo spots in NYC at night. Bright stripes of white light circle the memorial, bringing the structure to life (though unfortunately it isn't open at night).
If you are looking for something crazy to do in NYC at night, then go for a photoshoot at the Irish Hunger Memorial and finish off with a relaxing walk by the river.
Opening Hour: 11 AM to 6:30 PM daily (but you should visit at night to see the lights light up!)
20. Visit The Unique Industry City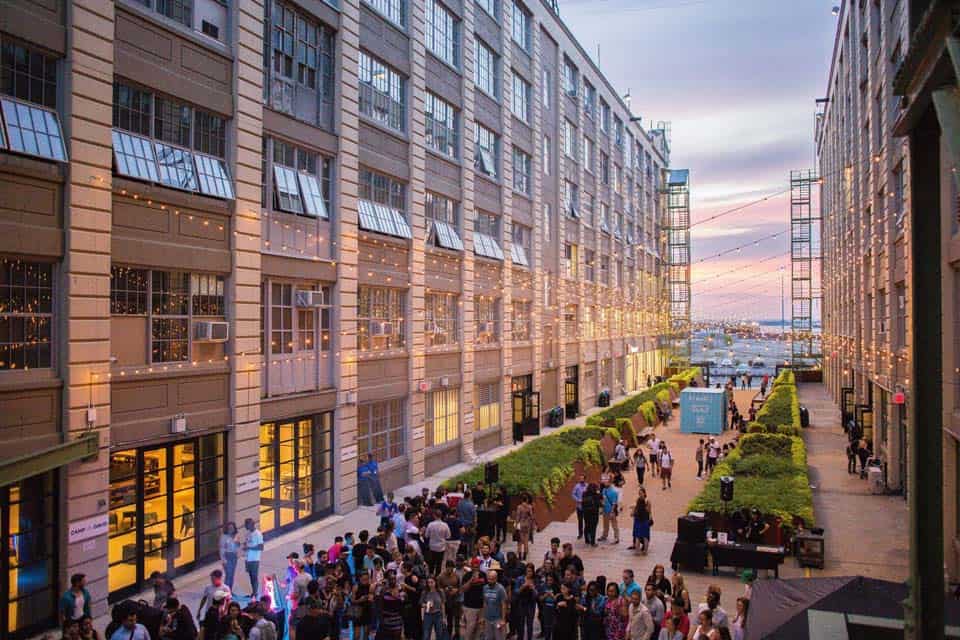 Industry City is one of the most unique things to do in NYC. Locate in Brooklyn New York, Industry City appears to be a mega shipping, manufacturing, and warehousing complex. However, dive deeper and you will find a vibrant creative hub situated in one of the most scenic waterfronts in Brooklyn – Sunset Park.
Nowadays, visitors can find hip restaurants, cool shops, artist studios, grocery stores and more here! It is almost like Industry City is a city within New York City. Graffiti and murals dot the giant industrial complex, and more are popping up every day.
Industry City is such a dynamic place that is full of creativity. Every time we visited, we found something to fall in love with. Our favorite has to be the fire pit in the winter that brings everyone around or the mini-golf!
Opening Hours: 9 AM to 9 PM
Entrance Fee: Free to browse around but plenty of shops to spend your money at!
21. Check Out The Strange Tiny Museum at Mmuseumm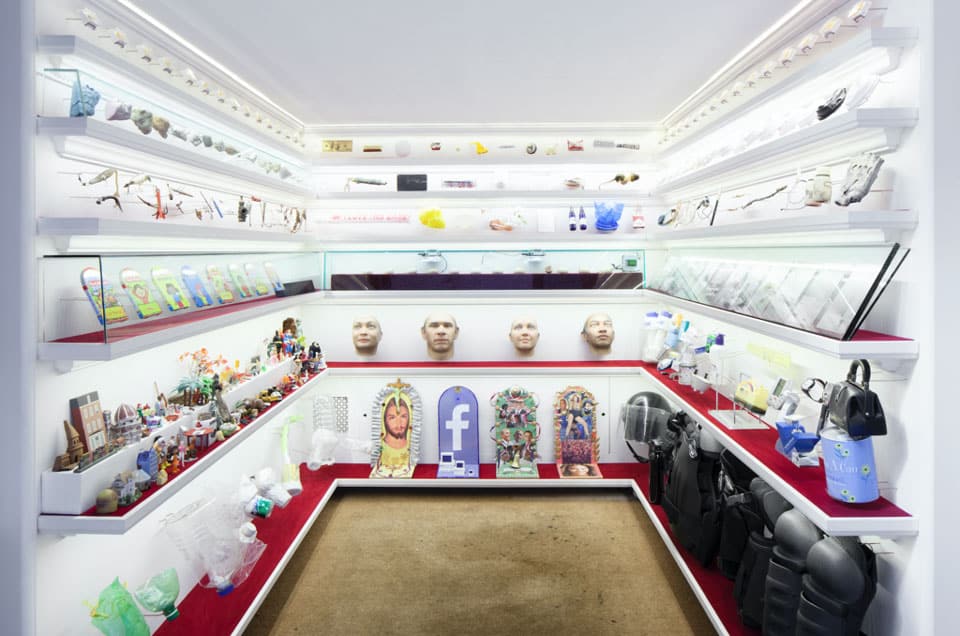 Mmuseumm is hands down the weirdest museum I have been to. Not the typical museum with thousands of exhibitions, Mmuseumm has just a few exhibitions and will take less than half an hour to see everything.

Some might say that calling it a "museum" is a stretch, as it really is just a curated display of artifacts located inside a freight elevator.

The tiny museum features a unique collection of items that are often overlooked, dismissed, or ignored. It's designed to be a contemporary history art museum, dedicated to exploring modern humanity through sets of objects around the world.
So when you see the strange plastic glove from Montana, hot water coil heater from Lithuania, or the other weird items inside the museum, don't be surprised!
Mmuseumm has peepholes on the gates so you can see the exhibitions 24/7. But if you want to physically go inside the museum, then you must either purchase one of the time tickets or organize a private tour on their official site!
22. Explore The Gorgeous New York Public Library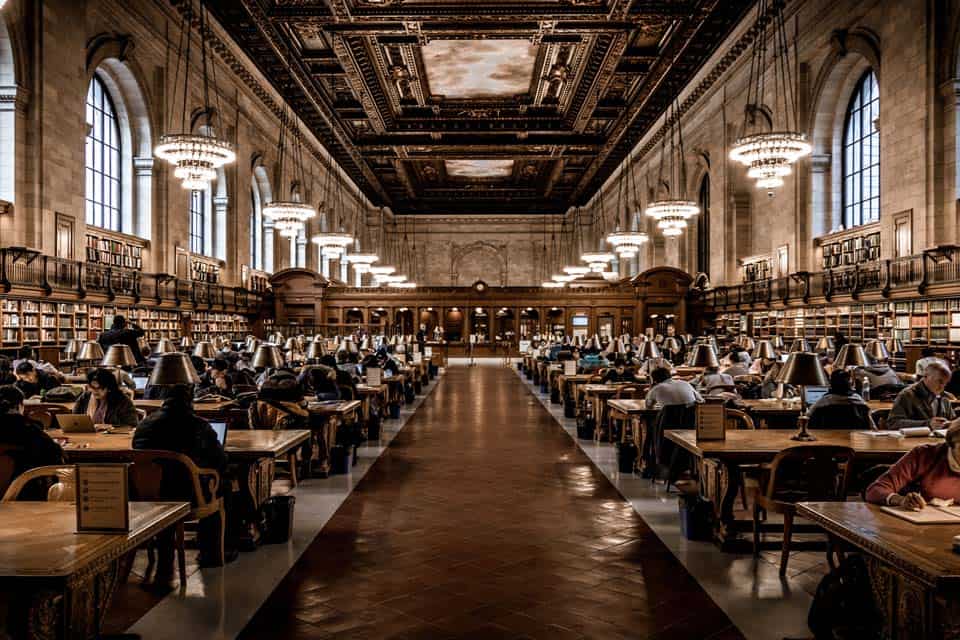 If you are looking for something different to do in New York City, make sure you check out the New York Public Library. As the second biggest library in the United States and the fourth biggest one in the world, it is surprising that this attraction isn't more popular.
Located adjacent to Bryant Park on 42nd street of Manhattan, the beaux-arts architecture of the library contrasts starkly with its surroundings. The main study hall looks like the interior of Hogwarts, and for a second, you feel like you have been transported in time.
Admission is free, and it is not difficult to spend 1 to 2 hours walking up and down the corridors and admiring the stunning interior design. Frequently, there will be exhibits inside the New York Public Library. For tourists, it feels more like an exotic museum than an actual library!
Opening Hours: Tuesday to Wednesday – 10 AM to 8 PM | Thursday to Saturday, Monday – 10 AM to 6 PM | Sundays: 1 PM to 5 PM
Entrance Fee: Free!
23. Enjoy Little Island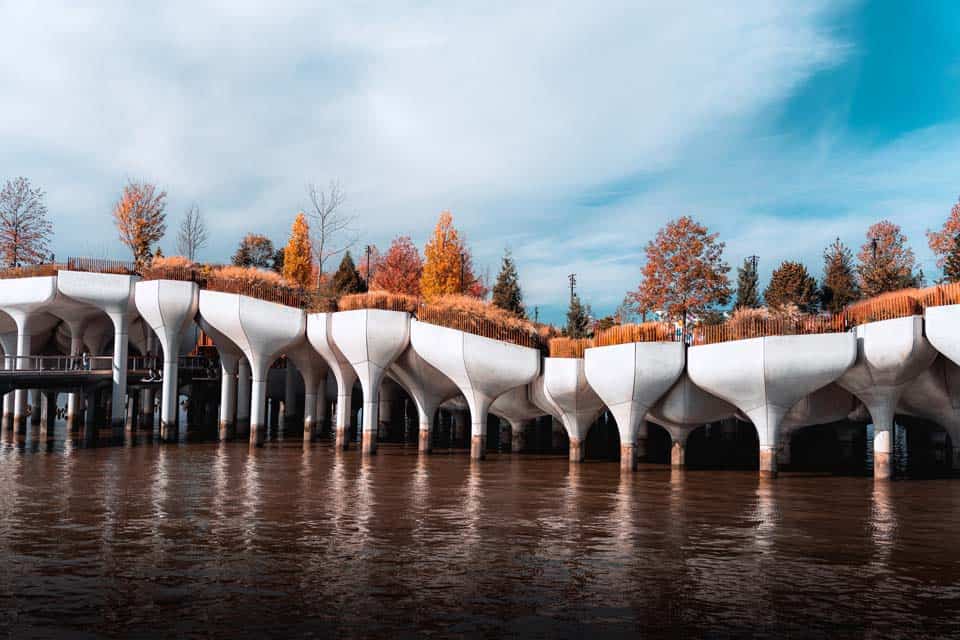 Little Island is one of the newest and most unusual attractions in NYC. It is an artificial man-made island between Pier 53 and Pier 57 on the west side of NYC, just minutes away from Chelsea Market.
This NYC hidden gem has become one of the most popular places to catch the sunset, especially since it has beautiful flower beds and a waterside amphitheater. Its unique design of stilts sets it apart from all the other places in NYC.
This is a great spot to relax and admire the views of downtown NYC. There are usually a few food trucks on the island where you can get some food and enjoy your time!
24. Unique Observatory At Summit One Vanderbilt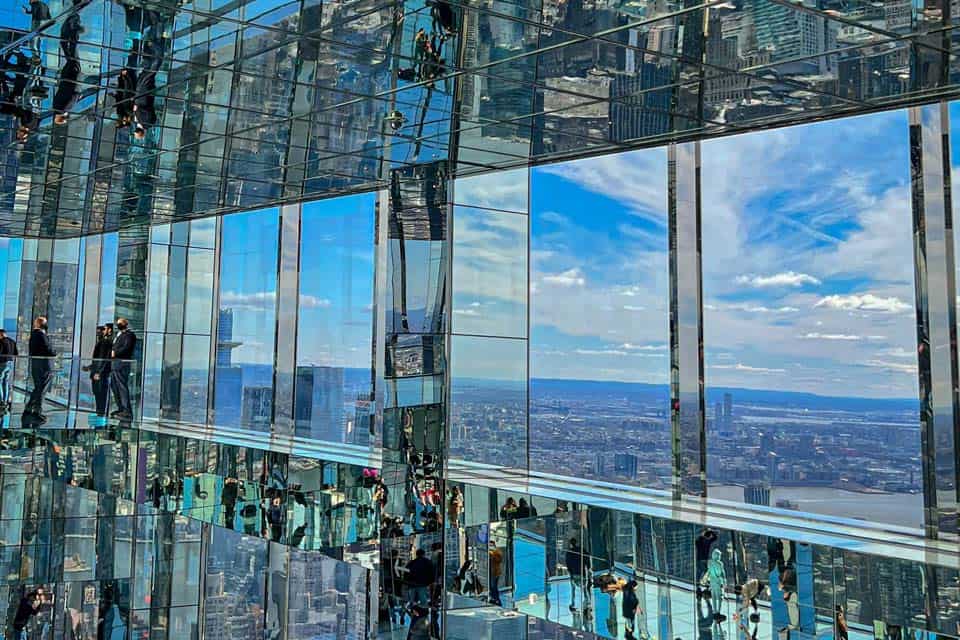 There are tons of observatories in NYC, but none is arguably as unique as the one at Summit One Vanderbilt. It prides itself in being more than just a place to admire the stunning views of New York, but rather a place where art, technology, architecture and thrill come together to take your experience to a new level.
Most of the observatory is made out of glass and mirrors, offering visitors a different perspective than typical observation decks. Visitors can also check out the Instagram-famous balloon room, where they have reflective silver balloons that are perfect for taking trendy photos.
Last but not least, the standard entrance includes the outdoor deck, where you can enjoy some refreshments from their on-site shop as you admire the 360-degree views. Visitors can also experience the "Ascent", which is an outdoor glass elevator that offers thrills and views at the same time!
Opening Hours: 9 AM to 11 PM Daily
Entrance Fee: Starting at 39 USD
25. Learn The Immigration History of New York At Tenement Museum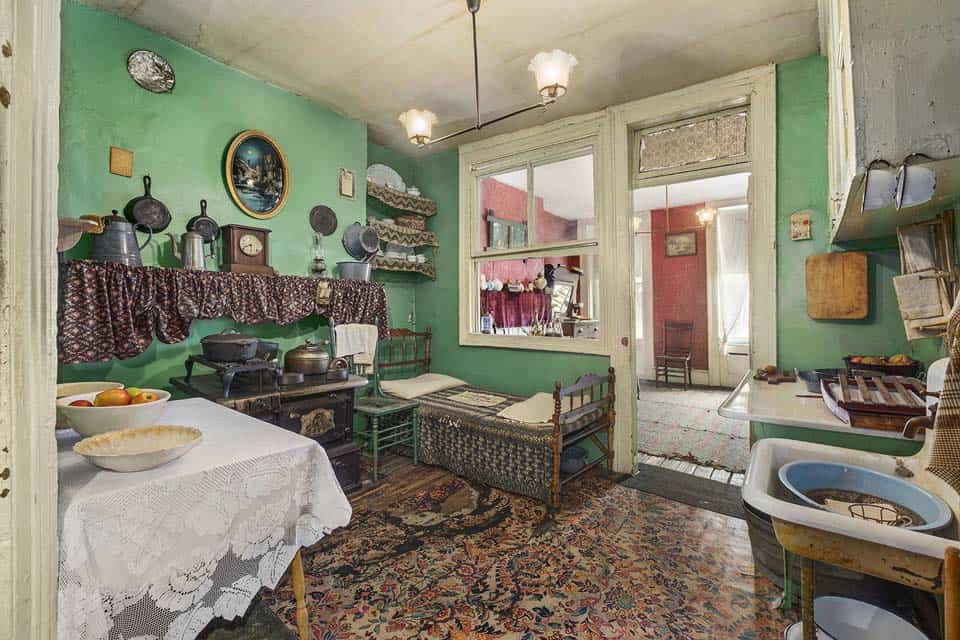 If you are tired of the typical museums in New York such as the MoMa, MET, or the Guggenheim Museum, then check out the Tenement Museum in Lower East Side. This National Historic Site is situated in two historical tenement buildings, many of which were home to immigrant families.
At the Tenement Museum, visitors can learn about the uniquely American story of immigration and how it has laid the foundation for a diverse and vibrant NYC. You can explore the tenement buildings and see how the story of the old inhabitants unfolded.
It is an interesting museum that is humbling and inspiring at the same time.
Opening Hours: 10 AM to 6 PM Daily
Entrance Fee: 30 USD (guided tour only)
---
Unusual Things To Do In NYC Map
Above is an interactive map featuring all of the attractions we've talked about. Click on the star next to the name of the map to save it onto your personal device, so you can use it while you are in NYC.
Some of the activities we mentioned are tours, which means the dot on the map might not be accurately represented!
---
Where To Stay In NYC
Airbnb is a very popular and affordable option in NYC. However, the legality of Airbnb is a big issue in NYC.
Note: You will have no problem renting Airbnb in New Jersey though, especially in Jersey City.
Best Hostel in NYC – Jazz on Colombus Circle Hostel
Jazz on Colombus Circle Hostel is one of the more affordable accommodations in New York City. Their facilities are very basic but are sufficient. Their location is amazing though as it is located next to Central Park, the subway, and Colombus circle. I recommend this hostel if you are traveling to NYC on a budget.
---
Best Cheap Hotel in NYC – Nyma, The New York Manhattan Hotel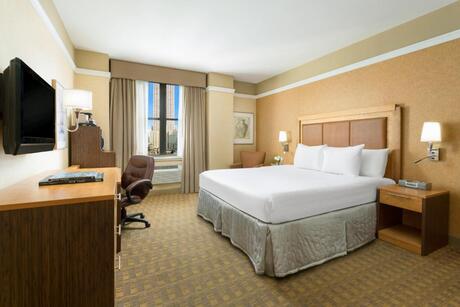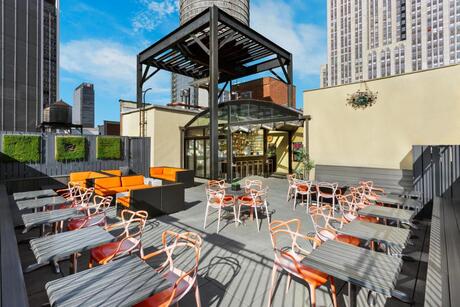 Nyma, The New York Manhattan Hotel is located in Midtown, the most convenient location in NYC. Some of the main attractions of NYC as well as the quirky ones are within walking distance.
At a reasonable price, guests can get a standard clean room with an excellent view. The property also has a fitness room and an outdoor terrace to soak in the sun and the views!
---
Best Luxury Hotel in NYC – citizenM New York Times Square
Out of all the luxury hotels in NYC, citizenM New York Times Square is one of my favorites. Why? I just love the lavish and stylish interior decor. Their rooms are also well-designed to maximize space and comfort. Did I mention how helpful the staff is as well?
---
Like this post? Don't forget to save it on Pinterest!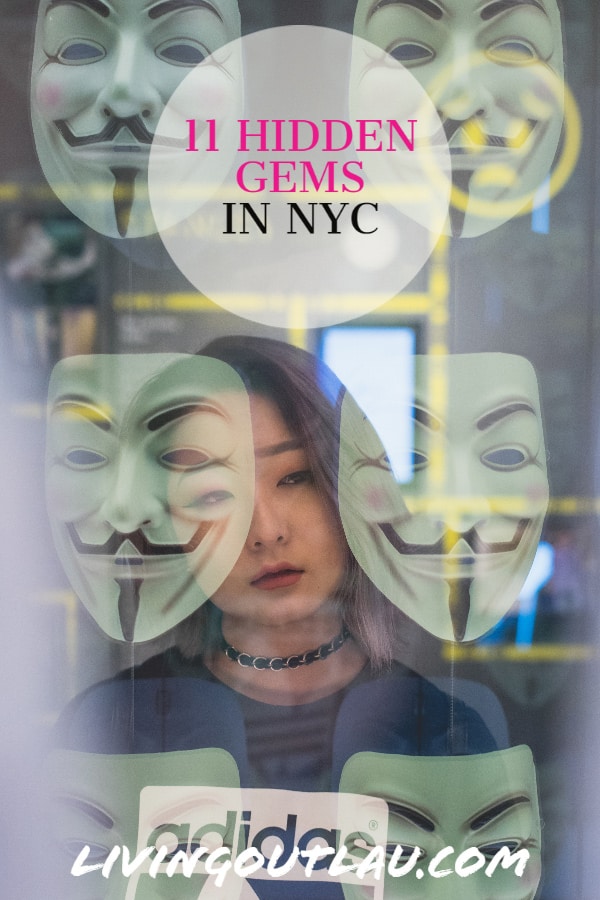 ---
Those are the 25 unusual things to do in NYC. Have you done any of them? Let us know in the comments!
Disclaimer: Some of the links above are affiliate links. That means if you book or make a purchase through the links, we will earn a small commission at no extra cost to you! The money will help run this site! Thank you!