Not sure what to do in Yellowstone in 4 days? Worry not.

As one of the most popular national parks in the United States, there are so many things to do in Yellowstone (YNP). In fact, there are too many things to do that planning a proper Yellowstone itinerary can be overwhelming. Did we mention the park spans across 3 states and is nearly 3,500 square miles in area?

That is exactly why we have written this 4-day Yellowstone itinerary, so you can have all the information you need for the perfect Yellowstone visit.
Enjoy!
How Many Days To Spend In Yellowstone?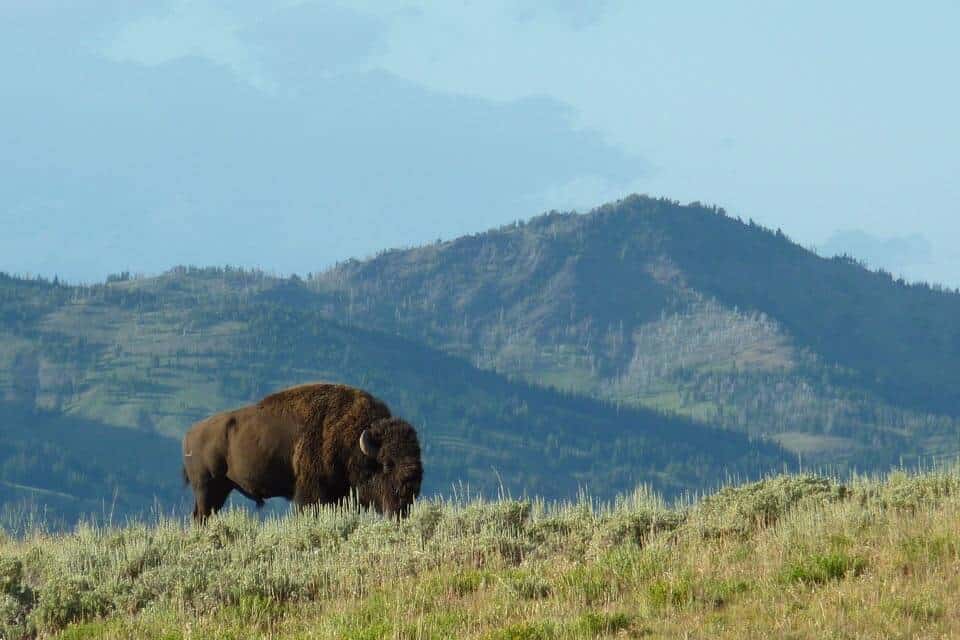 If you are planning an itinerary for Yellowstone, you must wonder how many days should you spend in Yellowstone. After all, the park spans a total of 3 states and nearly 3,500 square miles. So Is 4 days in Yellowstone enough to see everything?
The answer is… YES! Four days in Yellowstone is plenty of time to see its main attractions and more! In fact, it usually takes about 3 days to see the best of Yellowstone, unless there are any unforeseen circumstances such as wildlife traffic, road closures and etc.
That is exactly why in our Yellowstone 4 days itinerary, the last day is a flex day. On that day, we will recommend some activities in Yellowstone you can do but you are more than welcome to visit places you might have missed the previous days.
This will also change depending on the season you are visitingat is why we have written a complete guide here on how to decide how many days to spend in Yellowstone National Park
4-Day Yellowstone Itinerary Guided Map
Above is a clickable map with all the attractions we will be covering on our 4-day Yellowstone itinerary. Because the park is so massive, we have meticulously crafted this itinerary so you can maximize your time by focusing on one area of the park at a time.
If you look at the map carefully, you'll notice that the majority of the attractions are on a figure 8 loop. That loop is called the Grand Loop Rd and is something that you'll need to drive on to get to the sights.
Each color represents the things to do in Yellowstone each day, so you know what to expect. For example, the orange represents all of the Yellowstone activities for day 1, purple for day 2 and so on.
One of the most important things to consider on your Yellowstone trip itinerary is where you will be staying. Though that isn't included in our map above, we will go in depth below so you are equipped with all the knowledge you need to have the perfect Yellowstone trip.
Things To Do In Yellowstone In 4 Days
Day 1 In Yellowstone National Park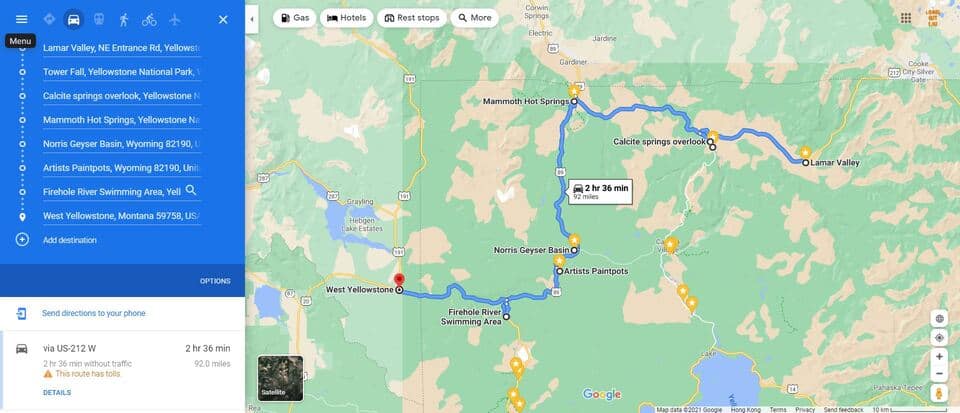 Before we jump into the attractions on the first day of our YNP itinerary, we want to talk about where to stay in Yellowstone.
If you are staying outside the park, we recommend staying in Gardiner the night before and West Yellowstone when you are done with your day. If you are staying inside the park, we recommend staying in Roosevelt Lodge or Mammoth Hot Springs Lodge the day before, and moving to Old Faithful Inn when you are done for the day.
Our Yellowstone 4 day itinerary starts with enjoying one of the best wildlife sightseeing spots in Yellowstone: Lamar Valley.
1. Lamar Valley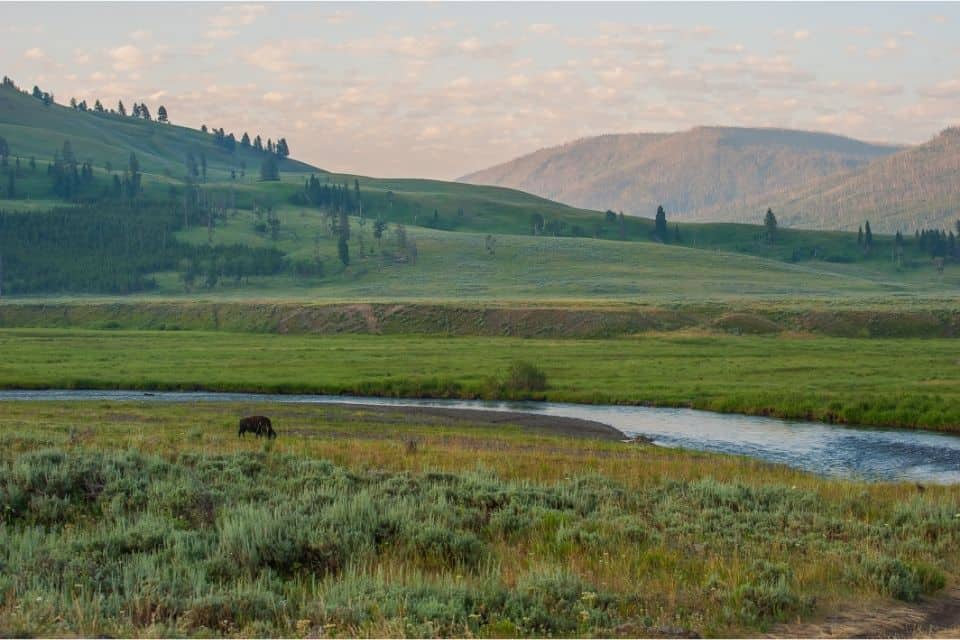 The 3,500 square miles of Yellowstone National Park is home to nearly 300 species of birds, 16 species of fish, 5 species of amphibians, 6 species of reptiles, and 67 species of mammals, two of which are bear species – the black bears and grizzly bears.
That is why one of the best things to do in Yellowstone is to admire the wildlife in its natural habitat. In Yellowstone, there is no better place to do so than the Lamar Valley.
Located about an hour away from the North Entrance of Yellowstone, Lamar Valley is home to a large amount of wildlife in Yellowstone. We highly recommend arriving here near dawn because animals are much more active during dawn and dusk. Just bring a nice hot beverage, some snacks, and admire nature at its finest.
Don't forget to bring a pair of good binoculars as well, or else you might not be able to see much.
You are most likely guaranteed to see bisons roaming in the lush plains (hopefully not on the road causing traffic jams), bighorn sheep and elks. If you are lucky, you might even see some gray wolves, coyotes or bears!
Recommended Duration of Stay: 30 minutes to 1 hour
2. Tower Fall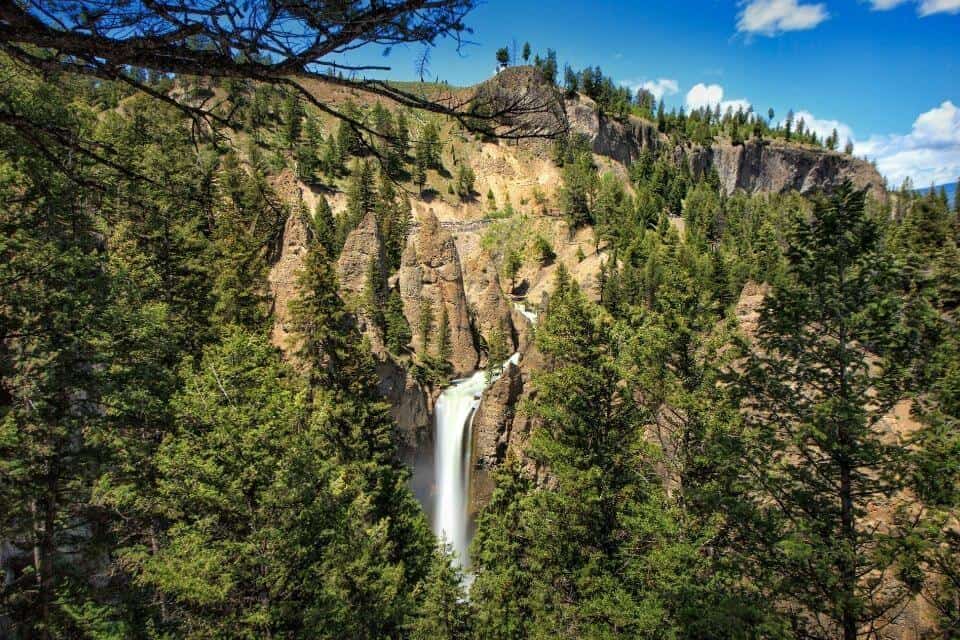 After admiring the wildlife at Lamar, head west towards Tower Junction and into Devils Den. In this area, you will find one of the most historic places in Yellowstone – The Tower Fall. It is the photographs of Tower Fall, along with many others, that led to the birth of Yellowstone National Park, the first national park in the US.
Surrounded by lush greenery and unusual rock basalt columns, Tower Fall cascades a total of 132 feet into the Yellowstone River.
While visitors are no longer allowed to hike to the bottom of the falls anymore, visitors can hike to the bottom of the Yellowstone River. The hike is quite steep but it is quite peaceful and beautiful. If you have extra time, feel free to hike down but we wouldn't recommend it on our Yellowstone itinerary because we have so much to cover.
Visitors can see portions of the Tower Fall from the observation point, but that is the only place where you can catch a glimpse of it.
Recommended Duration of Stay: 30 minutes
3. Calcite Springs Overlook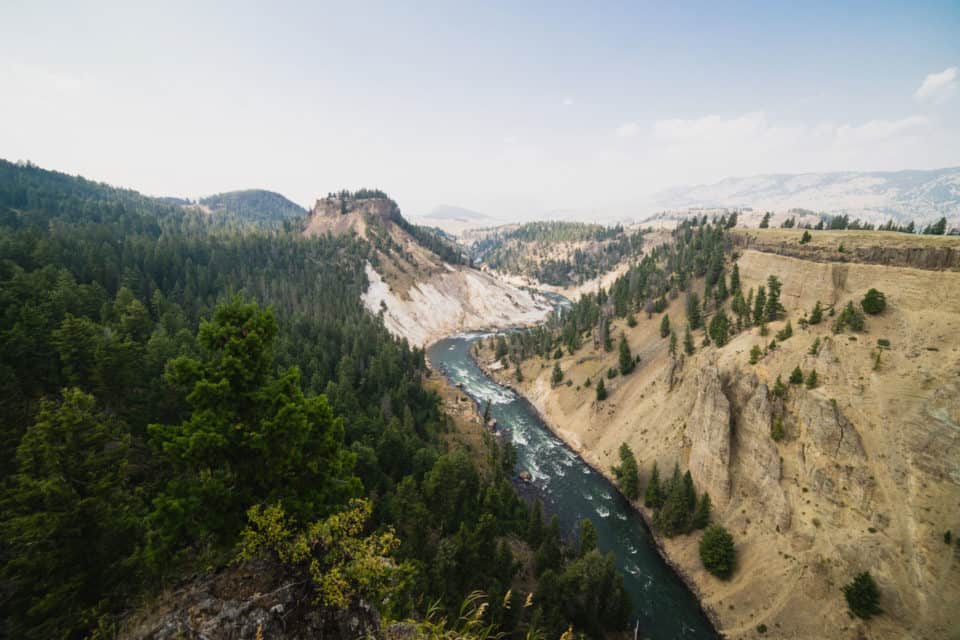 Located a few minutes away from Tower Fall is one of our favorite viewpoints in Yellowstone – the Calcite Springs Overlook.
A few steps from the parking lot and you are blessed with a dramatic landscape of the region. Here you can admire the sheer white-cliffs, teeming forests, and the roaring Yellowstone River all in harmony to create the picture-perfect scenery.
There isn't much to do here besides checking out the viewpoint, so don't expect to spend a lot of time here.
Recommended Duration of Stay: 15 to 30 minutes
4. Mammoth Hot Springs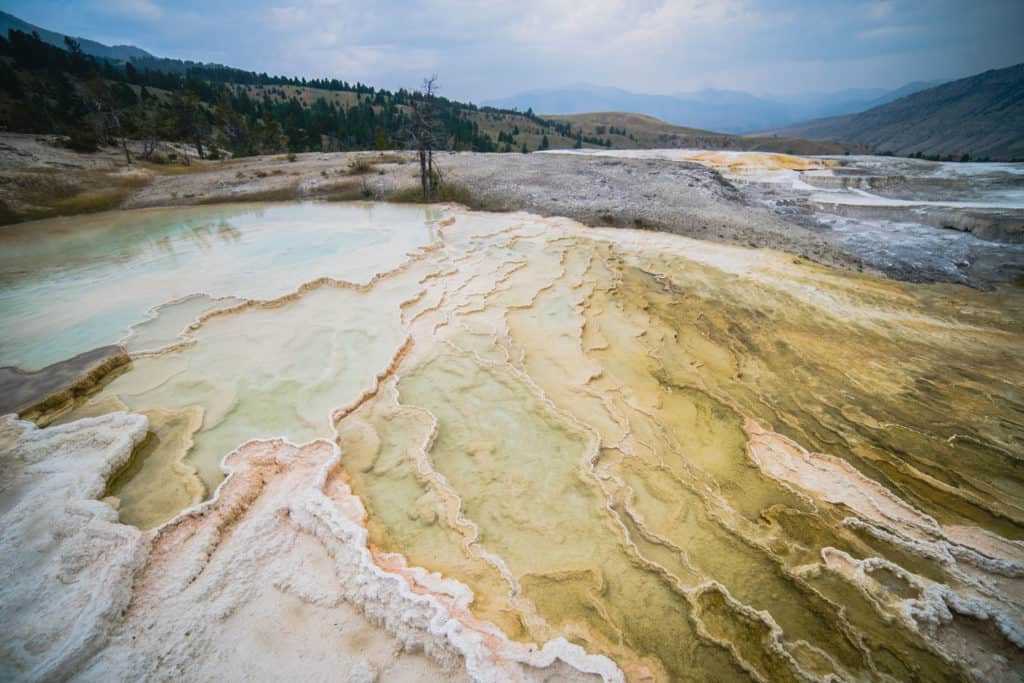 Continue westward from Calcite Springs Overlook and you will stumble upon Mammoth Hot Springs, one of the "Big 3" attractions in YNP. We know what you are thinking… hot springs! Wohooooo!
These aren't the hot springs you are thinking about. The Mammoth Hot Springs is so hot that anyone would instantly melt if he or she stepped inside.
In fact, the Mammoth Hot Springs is formed from this extremely hot water that runs underneath the surface of Yellowstone. The hot water dissolves the porous limestone bedrock and pushes itself out to the top. Once it reaches the surfaces, this mineral-filled water cools and forms the iconic travertine terraces that you see today.
There is a boardwalk that takes you through all of the hot springs in the area. Just beware of the rotten egg smell that you might encounter here (and the rest of the park). That is the sulfur gas that is being released from underground!
Recommended Duration of Stay: 1 to 1.5 hours
5. Norris Geyser Basin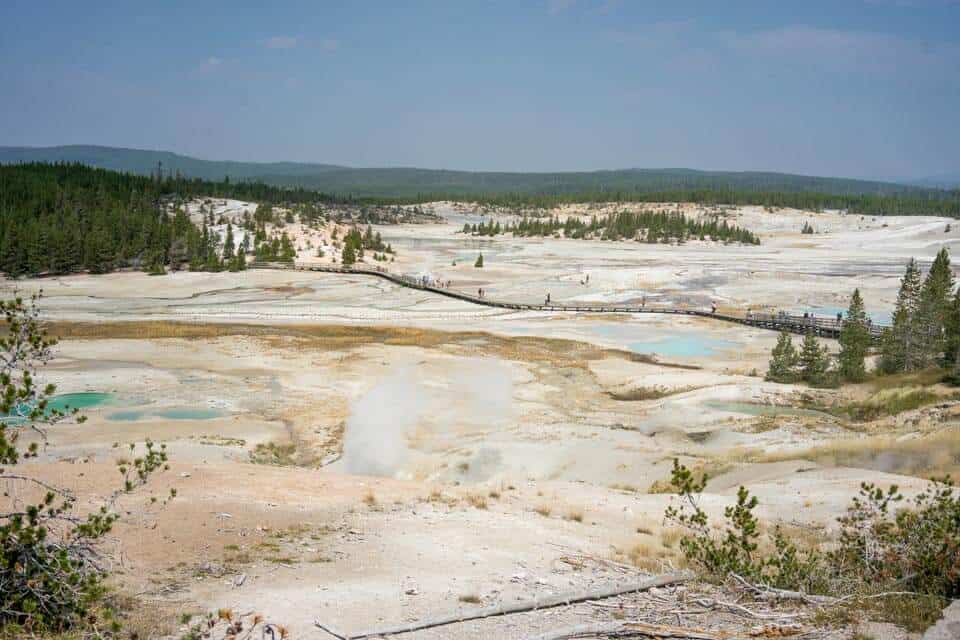 The Norris Geyser Basin is one of the many geyser basins in Yellowstone. Unlike the other Yellowstone geyser basins that are often very crowded, the Norris Geyser Basin is rather unpopular. You won't find the massive crowds that might ruin a good experience for you.
The Norris Geyser Basin is filled with incredible geothermal features such as geysers and hot springs, but what it is most famous for is the Steamboat Geyser.
Steamboat Geyser is known as the world's tallest active geyser. During its major eruptions, it can reach up to a height of more than 300 feet (91 meters). However, the reason why the Steamboat Geyser isn't as famous as the Old Faithful Geyser is because its eruption time is so unpredictable.
There is no guarantee you can see its eruption when you visit unlike the Old Faithful Geyser, which erupts every 60 to 90 minutes. Nonetheless, it is wonderful to just stroll around the boardwalk and check out the cool geothermal features.
Recommended Duration of Stay: 1 hour
6. Artist Paint Pots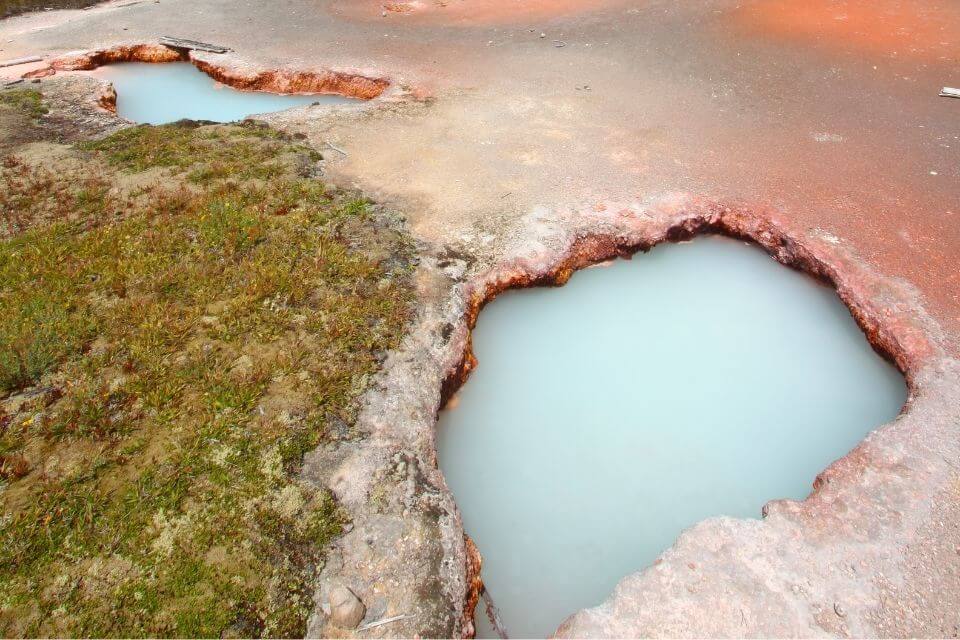 Located a few minutes away from Norris Geyser Basin is the Lower Geyser Basin. Here visitors will find the Artist Paint Pots, another top sightseeing place in Yellowstone to marvel at the unique geothermal features.
This Yellowstone attraction is known for its colorful hot springs, mud pots, and small geysers, hence earning its name, Artist Paint Pots.
The Lower Geyser Basin features a 1-mile (1.6 kilometers) boardwalk that takes you through a partially burned lodgepole pine forest and a wet meadow, where you will find all the "paint pots" in the area.
Recommended Duration of Stay: 1 hour
7. Firehole River Swimming Area (Optional)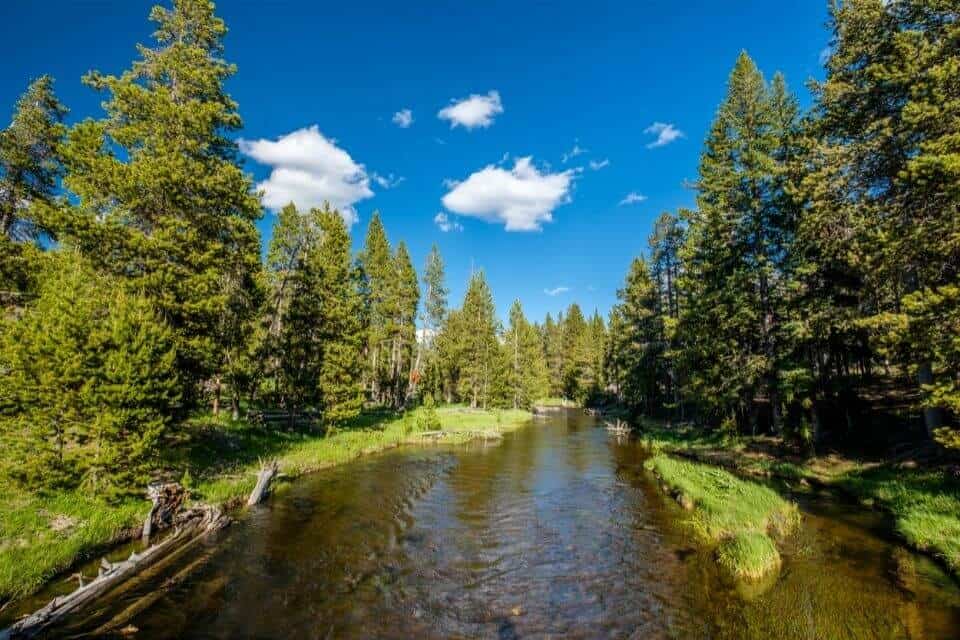 If you are visiting Yellowstone in the summer, then going for a refreshing swim in the Firehole River is a must on your Yellowstone itinerary for 4 days. This is especially true if you are traveling to Yellowstone with kids!
On a nice summer day, the water temperature is perfect for swimming. The best thing about this swimming area in Yellowstone is that the water has varying depths. If you want to stay in the shallow bit and just soak your feet, go for it! But if you want to go for a full swim, you can also do that in the deeper parts of this swimming area.
With this being the last activity on day 1 of our Yellowstone 4 day itinerary, feel free to stay as long as you want. Once you are done, we recommend you either staying the night in West Yellowstone or in Old Faithful Inn (if you are staying inside the park.)
Day 2 In Yellowstone National Park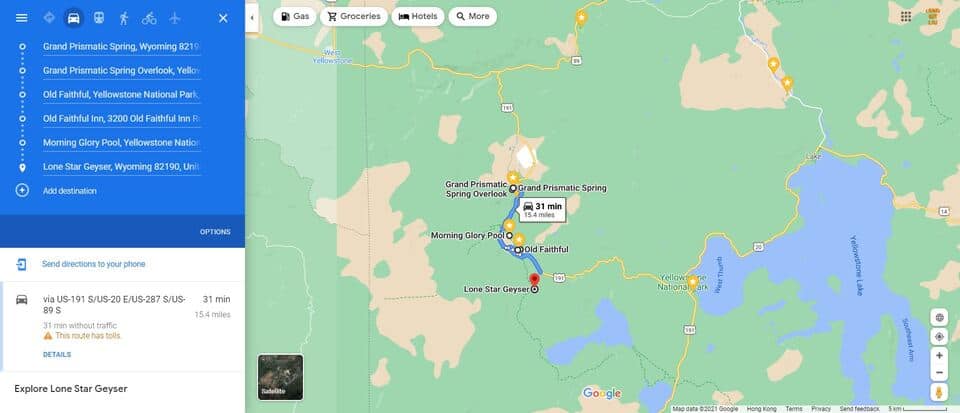 Day 2 of our Yellowstone National Park itinerary focuses on the Old Faithful and Grand Prismatic Spring area. This area is the most popular location in Yellowstone because it is filled with some of the park's best attractions.
Ideally, you would want to stay in Old Faithful Inn the day before. But if you cannot get a reservation inside the park, staying in West Yellowstone will suffice too.
1. Grand Prismatic Spring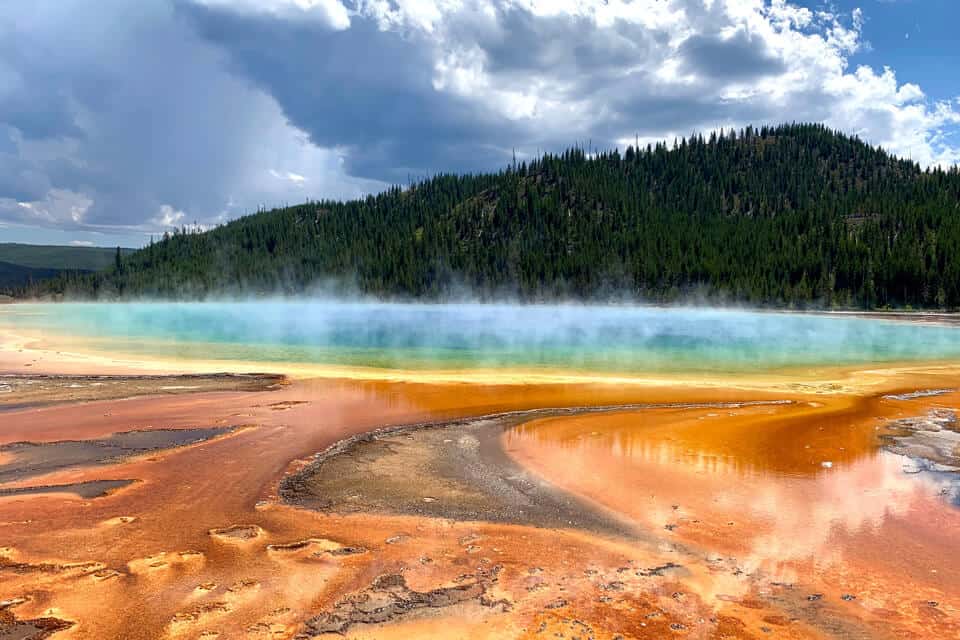 Start your day early at Grand Prismatic Spring (GPS), arguably the most beautiful place in Yellowstone National Park. But beauty isn't the only that the GPS is known for, it is also known for being the biggest hot spring in the United States and the third biggest in the entire world.
The Grand Prismatic Spring is a pretty big deal.
That is why it is important that you arrive at the Grand Prismatic Spring as early as possible, ideally around 8 AM. Otherwise, you might run the risk of not finding a parking spot and having to wait for someone to leave.
The GPS earned its name for the rainbow-like colors that propagate from the center of the spring.
In the center of the hot spring is the hottest part of the spring, and it is also where you will find the color blue. That is because the micro-organisms that live in the hottest part of the spring give off a blue color.
As you move away from the center, the temperature lowers and different micro-organisms exist, which is why the color changes to a more orange hue. If you visit there, I am sure you will get a better explanation.
Spend some time walking on the boardwalk, exploring the Midway Geyer Basin (where GPS is located), and observing the different geothermal features.
Recommended Duration of Stay: 45 minutes
2. Grand Prismatic Spring Overlook @ Fairy Falls Trail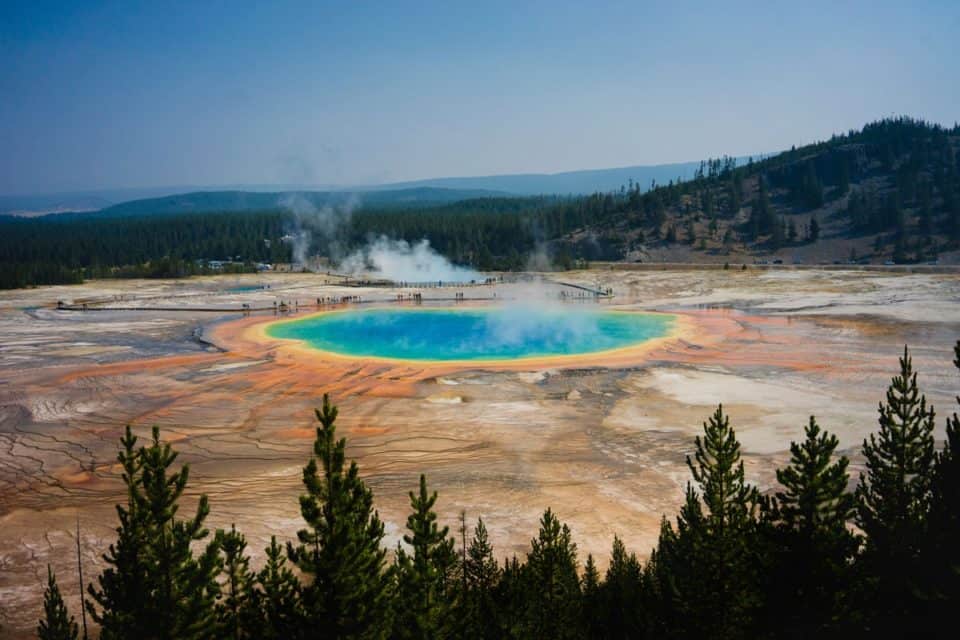 Though the Grand Prismatic Spring is spectacular in every way, it was too big for us to observe it up close. We couldn't see all the beautiful colors it is known for because it was just overwhelmingly huge.
That is why after you visit GPS, you will head over to the Grand Prismatic Spring Overlook on the Fairy Falls Trail. At the overlook, you will be able to see the rainbow colors GPS is known for.
The Fairy Falls trail to the GPS Overlook is flat and takes about 20 minutes one-way, perfect for anyone traveling in Yellowstone with kids or elders. It is also a very busy trail, meaning that bear spray is usually not required (but good to have, especially if you are visiting in the off-seasons).
Visiting the GPS Overlook is one of the things you MUST do in Yellowstone National Park, yet a lot of people miss this semi-hidden attraction.
Recommended Duration of Activity: 1 to 1.5 hours
3. Old Faithful Geyser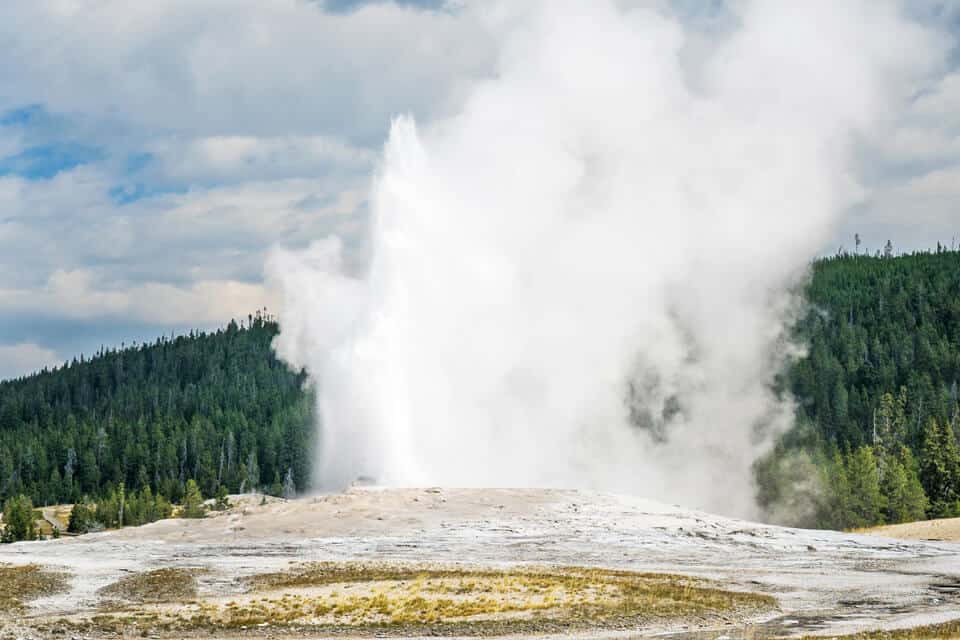 After seeing the most famous hot spring in Yellowstone, it is time to see the most famous geyser – Old Faithful Geyser.
Earning its fabled name for regularly erupting every 60 to 90 minutes, the Old faithful Geyser erupts to a height of about 185 feet. Though it isn't one of the highest in the park, it is one that everyone gets to enjoy due to its consistent timing. Combining its regularity and height, Old Faithful is one of the biggest regular geysers in the world.
Before you head straight to Old Faithful, make sure you stop by the Old Faithful Visitor and Education Center. There you will find the science behind the phenomenon, as well as the eruption times for Old Faithful and many of the other geysers in the park.
One of the ones you need to pay attention to is the eruption time for Lone Star Geyser, which erupts every 3 hours and is the one we want to visit later today.
Recommended Duration of Stay: 45 minutes to 2 hours, depending on Old Faithful's eruption time
4. Old Faithful Inn (Lunch Time!)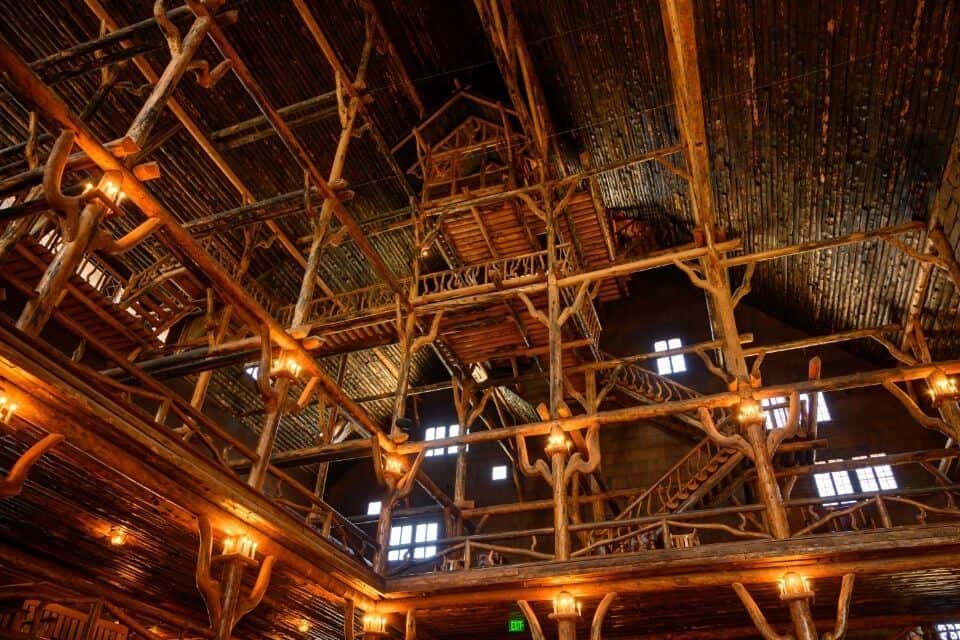 No trip to Yellowstone is complete without either staying in the Old Faithful Inn or at least checking it out. As the first hotel in YNP, having the opportunity to stay in Old Faithful Inn is a blessing. However, it is usually booked out several months in advance.
That isn't surprising though, considering that the Old Faithful Inn is the biggest log structure in the entire world and a present-day national historic landmark. The charming and rustic decor is iconic to the U.S. Midwest, and anyone visiting from outside this area of the United States will be enchanted by it.
Come in and admire the iconic interior architecture in the 75-ft-tall lobby. Free guided tours were available before the events of 2020 but we aren't sure if they still have them. You can ask the reception at the lodge for more information about that.
When you are done checking out the amazing interior decor, head to the connected Old Faithful Dining Room and enjoy a nice lunch. As one of the few restaurants inside the park, the Old Faithful Dining Room has an extensive menu of traditional American dishes.
Recommended Duration of Stay: 1 to 2 hours
5. Morning Glory Pool & Upper Geyser Basin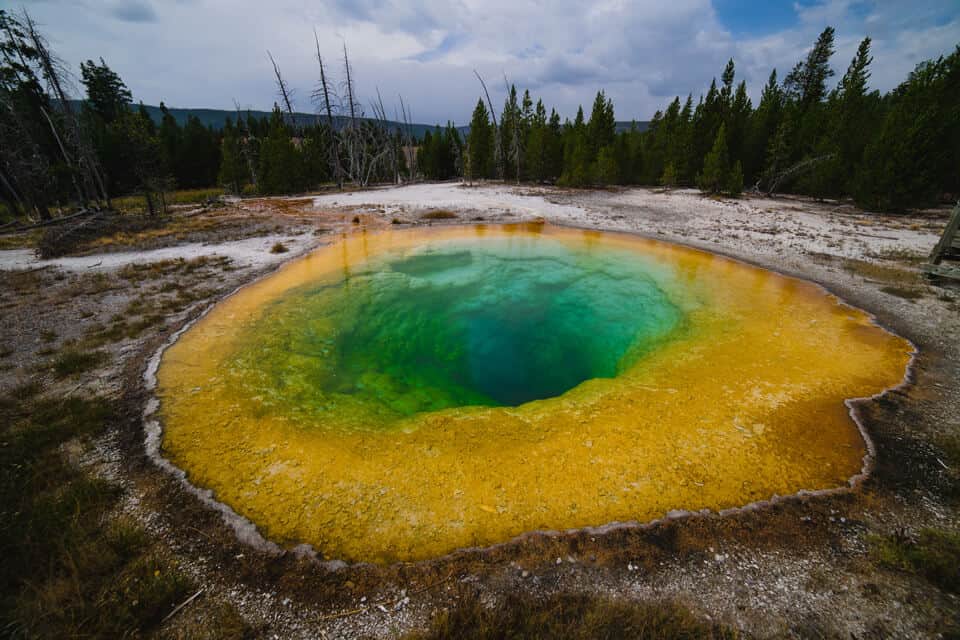 After your hearty lunch, it is time to continue exploring Yellowstone. Right now, you have a choice to make, either to go towards Morning Glory Pool or visit the Lone Star Geyser. The Lone Star Geyser is a geyser that erupts every 3 hours, so you can swap it with the visit to Morning Glory Pool if the timing is better.
But for the sake of our 4 day Yellowstone itinerary, let's assume you are visiting Morning Glory Pool first.
The Morning Glory Pool is a colorful hot spring located in the Upper Geyser Basin of Yellowstone. It has been compared as a miniature version of the Grand Prismatic Spring and we think that is a fair description.
It is located at the end of the Upper Geyser Basin boardwalk. That means visitors can view the other geothermal features along the way.
The health of the Morning Glory Pool is descending as debris (and garbage) are blocking the bottom of the pool, causing the temperature to drop. When this happens, as we learned from the GPS, it changes the color of the water.
Soon enough, the water will just become like any other water unless we are careful and ensure nothing falls inside the pool!
Recommended Duration of Activity: 1.5 hours
6. Lone Star Geyser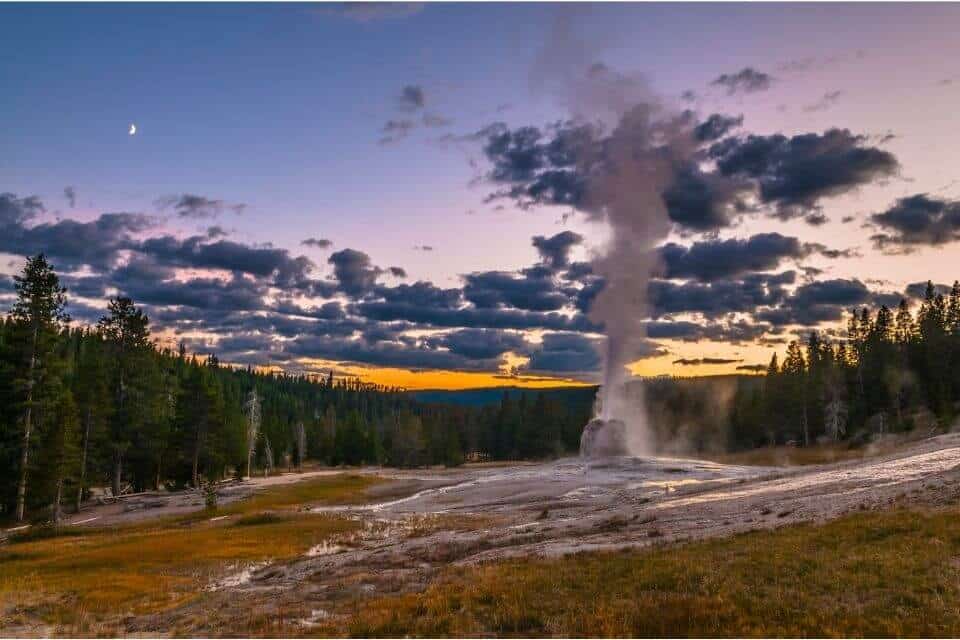 The Lone Star Geyser is the last activity on the second day of our itinerary for Yellowstone National Park. It is situated at the end of a 3.5-mile (5.6-kilometer) trail south of the Old Faithful Overpass.
Visiting this geyser is combining all the best attractions of Yellowstone into one. To begin, you get to enjoy a beautiful and pristine trail with jaw-dropping nature around you. After a serene hike through prime greenery, you emerge at a dramatic-looking geyser in the middle of the woods.
It is quite a spectacular imagery, isn't it?
The Lone Star Geyser erupts to a height of about 45 feet (13.7 meters). Though it isn't as high as some of the other geysers in the park, its location cannot be any better.
Just remember to pack some bear spray when you are visiting, it is not a very popular trail so you have higher chance of encountering wildlife.
Day 3 In Yellowstone National Park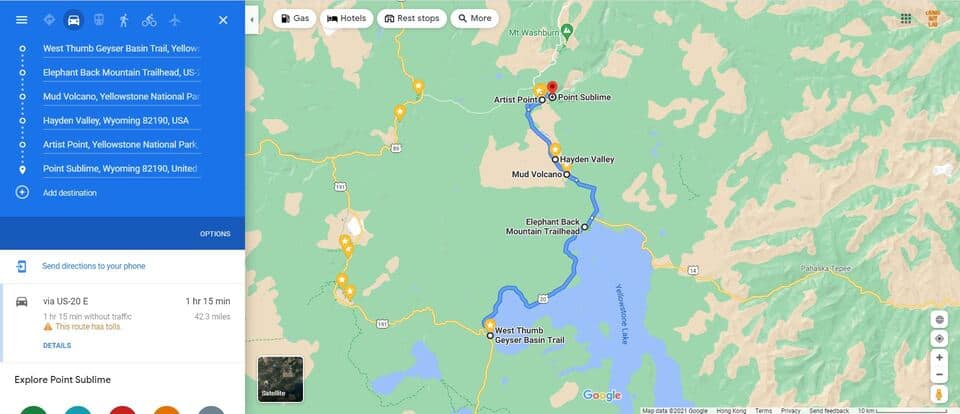 Day 3 of our YNP itinerary focuses on the West Thumb, Yellowstone Lake and the Canyon Village. If you are staying in the park, staying in the Grant Village is ideal. If you are staying outside the YNP, West Yellowstone is the closest to these attractions.
1. West Thumb Geyser Basin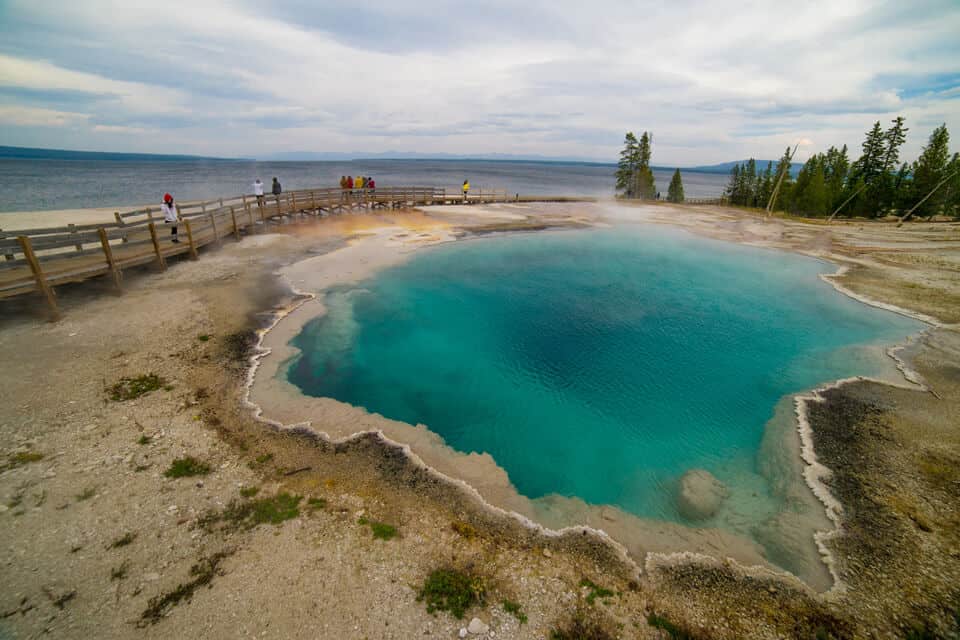 Situated next to Yellowstone Lake, the West Thumb Geyser Basin is one of the most photogenic places to visit in Yellowstone. Unlike the Midway Geyser Basin (where GPS is) and the Upper Geyser Basin (where Old Faithful is), the West Thumb Geyer Basin is much quieter.
This is especially true if you are visiting West Thumb Geyser Basin early in the morning. With the morning glow over Lake Yellowstone as the background, the geothermal attractions there look even more spectacular.
West Thumb Geyser Basin is home to two of our favorite geothermal features in the park:
The Abyss Pool is probably the bluest hot spring in all of Yellowstone. It is situated next to Yellowstone Lake so you can see both the blue of the lake and the blue of the hot spring at the same time. Its color is simply surreal.
The Fishing Cone is one of the funniest features in the park. It earned its iconic name from the fishermen that used to catch a fish from the lake, put it inside the Fishing Cone and cook it using the geyser's water. Nowadays, the geyser no longer erupts and fishing or cooking anything inside the geyser is strictly prohibited.
The geyser also contains numerous toxic minerals.
Recommended Duration of Stay: 45 minutes to 1 hour
2. Elephant Back Mountain Trail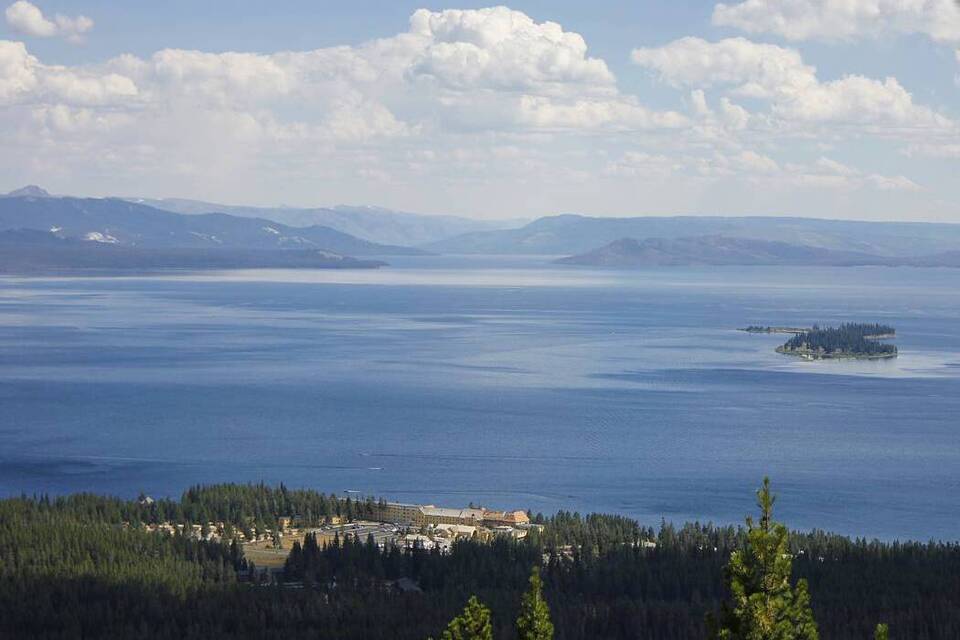 The Elephant Back Mountain is one of our favorite hikes in Yellowstone. It is a 3.5-mile (5.6-kilometer) lollipop loop trail that begins where it starts. On the ascent, hikers gain a total of 800 feet (244 meters) in elevation in about 1.5 miles (2.7 kilometers).
At the peak of Elephant Back Mountain, guests are rewarded with sweeping views of Yellowstone Lake and the surrounding areas. The majority of the hiking trail is through a dense lodgepole forest, and we can't think of a better way to spend your morning than hiking through it. The view at the top is just a bonus.
Because this trail isn't as popular as some of the other trails in Yellowstone (such as Fairy Falls), we highly recommend bringing some bear spray with you.
Recommended Duration of Activity: 2 to 3 hours
3. Hayden Valley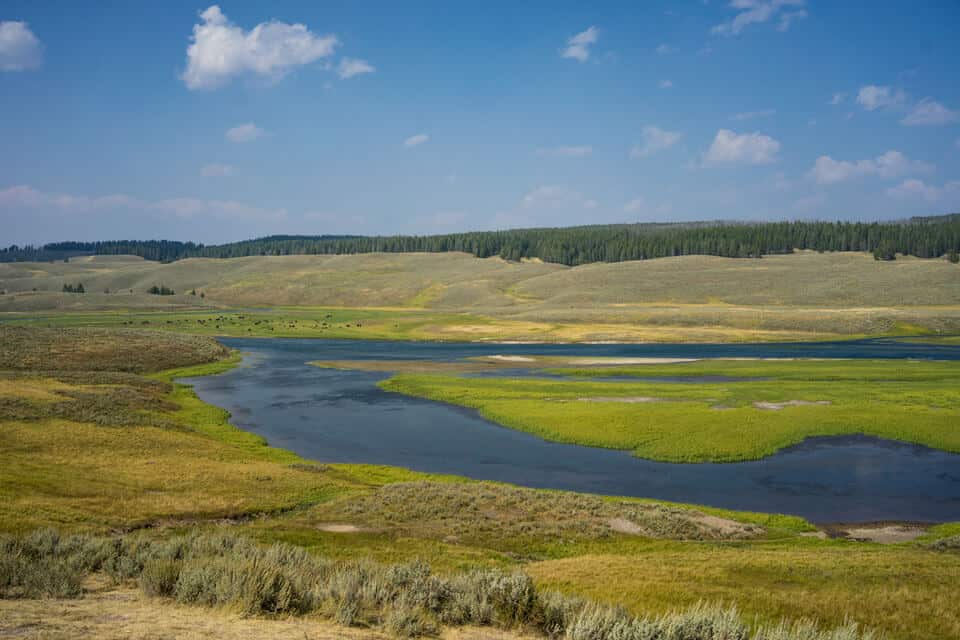 After your tiring hike at Elephant Back Mountain, we recommend heading over to Hayden Valley and eating your packed lunch (something you should always have for Yellowstone). Hayden Valley is similar to the Lamar Valley we visited on the first day in Yellowstone. It is absolute heaven for wildlife watching.
It is a popular location to see elks, bison, and bears (if you are lucky) in their natural habitat. The Yellowstone River runs parallel to the Hayden Valley, making the scenery even more breathtaking. That is why we recommend stopping here, eating your packed lunch and taking a small break.
Don't forget to bring your binoculars with you as well
Recommended Duration of Stay: 30 minutes to 1 hour
4. Mud Volcano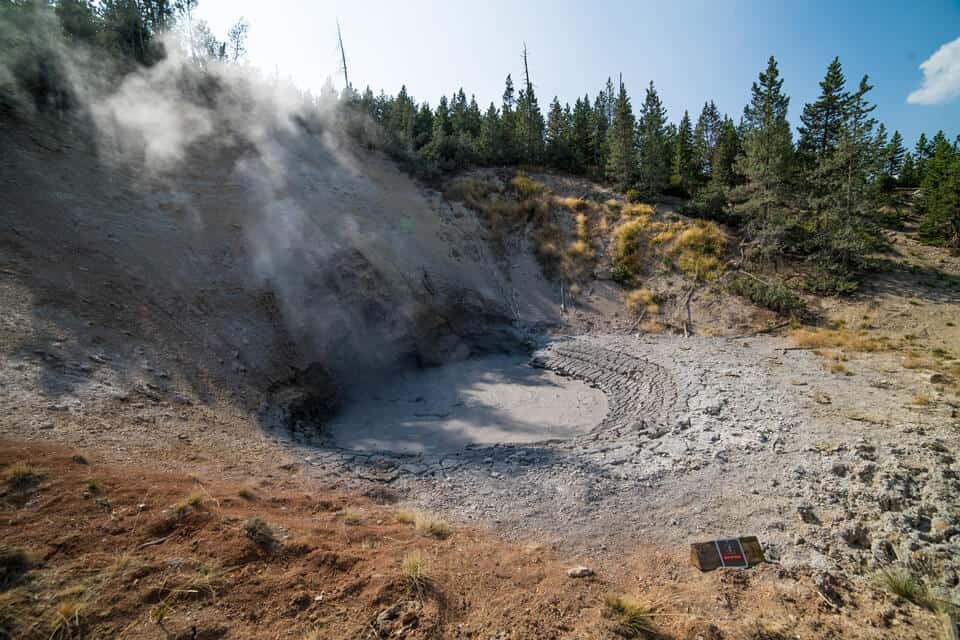 After your visit to Hayden Valley, you will double back a little bit to get to the Mud Volcano. Don't get too excited (like I did)! These aren't mud-spewing towering peaks that look like it just came out of an apocalyptic movie. But rather, these are more like small mud pools that bubble like a witch's cauldron.
Though a little bit disappointed, the science behind the mud volcanoes is truly incredible.
Hot water running underneath the earth's surface mixes with all the minerals underground to create this mud slurry that you see today. By closely monitoring these mud volcanoes, scientists can understand what's happening underneath the surface.
The boardwalk at Mud Volcano takes you through multiple mud volcanoes, but none is as incredible as the Dragon's Mouth Spring. It is a cave that is created by the erosion of hot muddy water. The cave now traps steam and causes a loud roar, as if a dragon is living inside.
Recommended Duration of Stay: 45 minutes
5. Grand Canyon of Yellowstone (Artist Point)
The last attraction on the third day of our Yellowstone itinerary is the almighty Grand Canyon of Yellowstone. Yes. Yellowstone has its own Grand Canyon!
Formed by the constant erosion of the Yellowstone River, the Grand Canyon of Yellowstone stretches a total of 20 miles. It is also home to two waterfalls:
The 109-ft-high Upper Falls
The 308-ft-high Lower Falls
With such an extensive span, there are many viewpoints to observe the Grand Canyon of Yellowstone. The place we recommend is Artist Point, a point known for the paintings drawn by artists at that location. Keep in mind that it is not uncommon for one or more of the viewpoints to be closed.
Artist Point overlooks the Lower Falls of the Grand Canyon of Yellowstone. Surrounding it are white-bleached cliffs and lush forests that only further enhances the scenery.
If you have time to spare, we recommend taking the 2.3-mile out-and-back Point Sublime Trail that starts at Artist Point. The fairly populated trail follows the Yellowstone River downstream and offers more jaw-dropping views.
Note: The Uncle Tom's Trail was a great way to see the waterfalls up close, but the trails has been closed for years now and there is no sign of it opening back up!
Day 4 In Yellowstone National Park
By day 4 in YNP, you should've seen the major attractions in Yellowstone. This day is designed to be a flex day, allowing you to see anything that you might have missed the previous three days. But if you have, worry not, there are plenty of things to do in Yellowstone to keep you occupied! Here are what we recommend:
1. Grand Teton National Park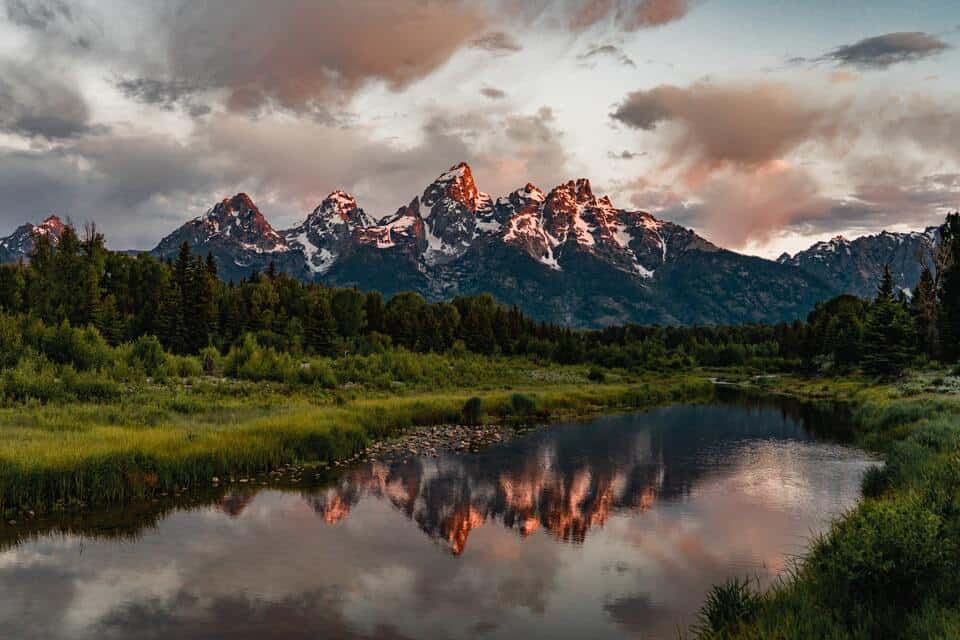 The Grand Teton National Park is another one of U.S.'s best national parks, and it is located less than 7 miles away from the South Entrance of Yellowstone.
Unlike Yellowstone National Park, Grand Teton doesn't have exciting geothermal features. However, it makes up for it with its stunning hikes, picturesque landscapes, and the majestic Grand Teton Mountain Range.
One day in Grand Teton National Park is usually enough to see its main attraction, which is perfect if you have run out of things on the last day of your 4 days Yellowstone itinerary.
Come check out the dramatic views at the Mormon Row Historic District or hike the Jenny Lake Loop. Grand Teton will not disappoint you! If you could, come for sunrise in Grand Teton and you will be amazed!
2. Relax in the Boiling River Hot Springs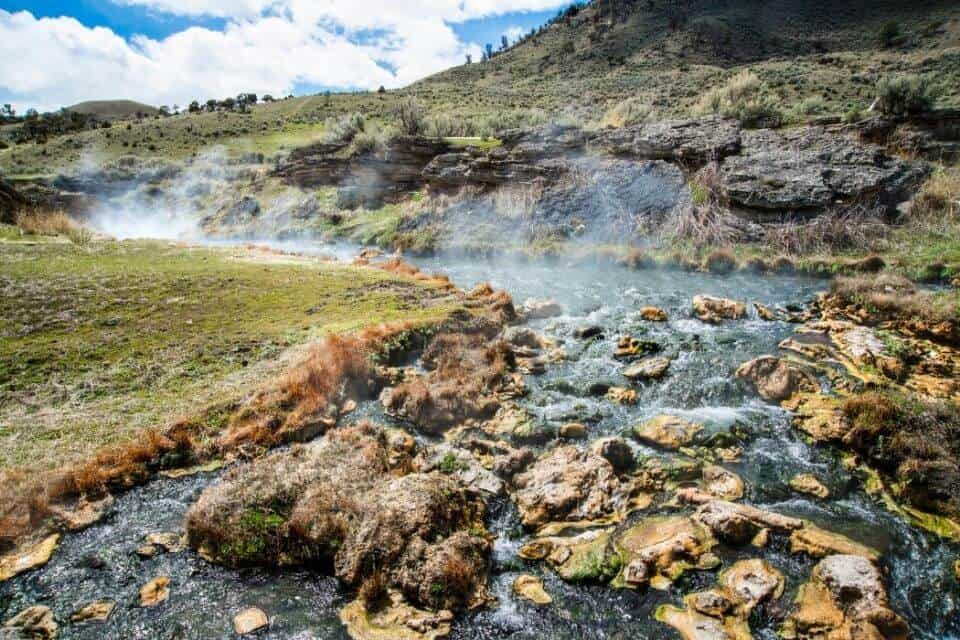 Finally! A hot spring where you can soak in! If you prefer a nice relaxing last day in Yellowstone, consider a relaxing soak in the Boiling River Hot Springs. After all, you deserve it after surviving three busy days in Yellowstone!
Near the North Entrance of Yellowstone, the boiling water runoff from the Mammoth Hot Springs mixes with the cold water from Gardner River, creating nice and warm water for visitors to relax in.
This spot is especially popular with families, as kids can spend an entire day here swimming and playing with the current. The water is not very deep if you are visiting during winter, fall or summer. In spring, the Boiling River is actually closed because the snow melt-off from winter causes the volume of the water to increase to a dangerous level.
We recommend bringing some water shoes because of the rocks at the bottom of the river.
The perfect month to visit the Boiling River is in November, but the other months will provide a good experience as well!
3. Hike Up to Mt. Washburn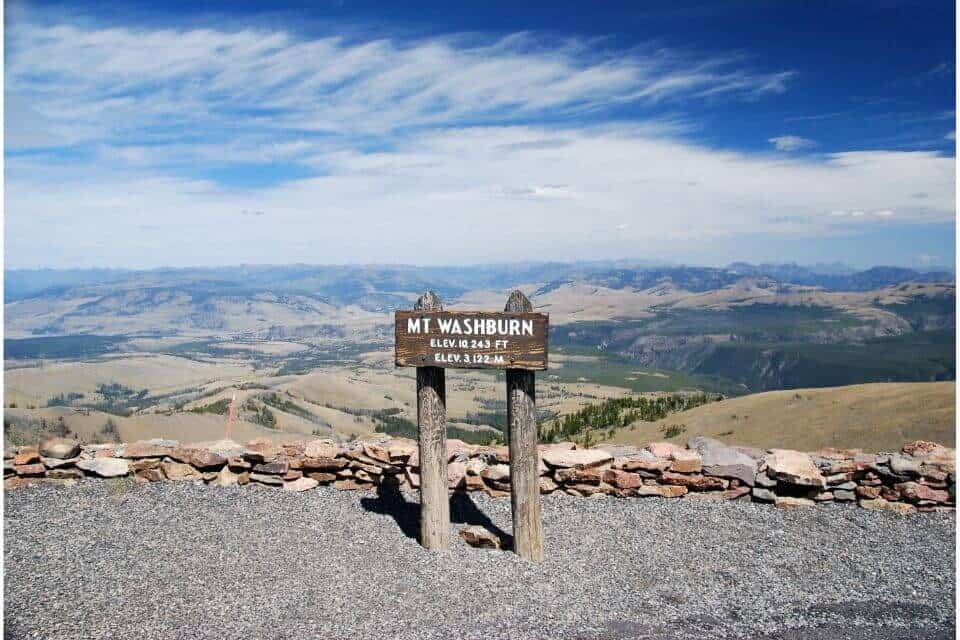 If you want to take advantage of the lush trails and mesmerizing natural views, then consider doing another hike in Yellowstone. Located at 10,129 feet (3115 meters), Mount Washburn is one of the highest peaks in Yellowstone.
At this elevation, visitors are blessed with panoramic views of the entire Yellowstone National Park and beyond. It is quite magical to able to see its entirety and it makes you appreciate the park much more.
There are two trails to Mount Washburn. The first one is from Dunraven Pass, which is a 6 miles (9 kilometers) out-and-back trail that takes around 3 to 6 hours to complete. The other trail to Mt. Washburn is from Chittenden Road. It is the shortest way to the top of Mount Washburn but service vehicles and bikes also frequent this trail.
If you can choose, we would recommend hiking via Dunraven Pass.
Because this is a trail on the quieter side of Yellowstone, bear spray is a MUST on this trail. The trail is also occasionally closed due to wildlife activity, so check with the Yellowstone official site before planning your visit.
How To Get To Yellowstone National Park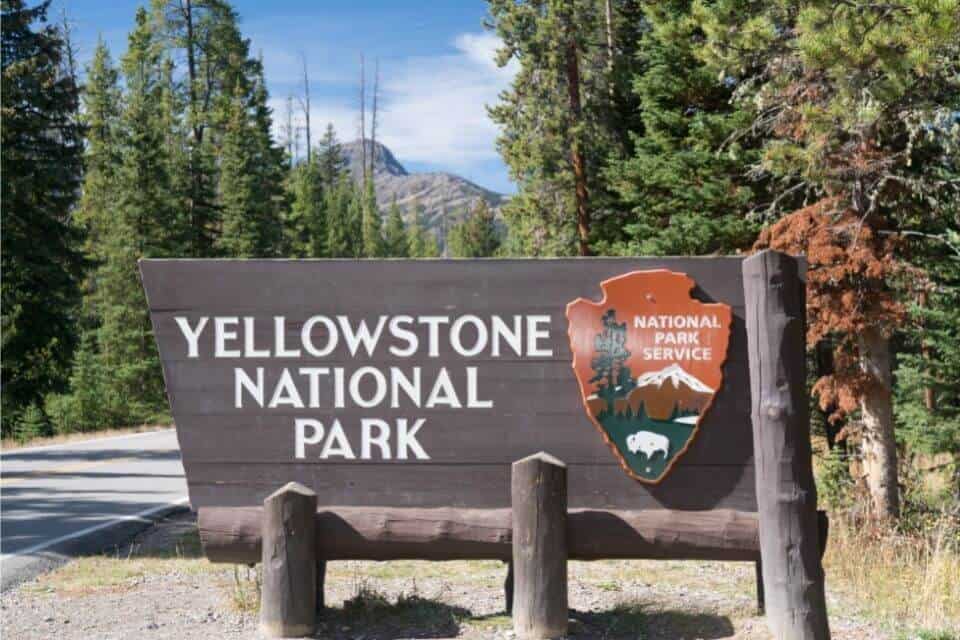 Because Yellowstone National Park is so massive, there are several airports that you can fly into that will bring you within reach of the park. These are the most common ones:
Bozeman Yellowstone International Airport (BZN) – Closest Yellowstone Airport
Jackson Hole Airport (JAC)
Idaho Falls Regional Airport (Flights are rare)
Denver International Airport (DIA)
Salt Lake City International Airport (SLC)
The easiest and closest airport to Yellowstone is Bozeman Yellowstone International Airport (BZN) in Montana. Bozeman is 1.5 hours from Gardiner, where you will find the North Entrance of Yellowstone.
If you want to follow this itinerary to the T, then flying into Bozeman is an excellent option.
Another popular airport to fly into Jackson Hole Airport (JAC). This airport is closest to Jackson, a popular town for winter attractions as it has many ski resorts. Flights to Jackson are usually the cheapest but it takes 75 minutes to get to the South Entrance of Yellowstone from there.
Another airport to fly into to get to Yellowstone National Park is the Idaho Falls Regional Airport in Idaho Falls. From there, it takes about 2 hours to get to West Yellowstone, which is where you will find the West Entrance of YNP. This is the least common flight option to Yellowstone.
If you are on a really tight budget and you are traveling as a family, it might be the best (economically) to fly into Denver, rent a car, and drive to Gardiner. Flights to Denver are incredibly cheap. The same goes for the airport in Salt Lake City.
We have written a complete guide on the airports near Yellowstone National Park, make sure you check it out here!
Where To Stay In Yellowstone National Park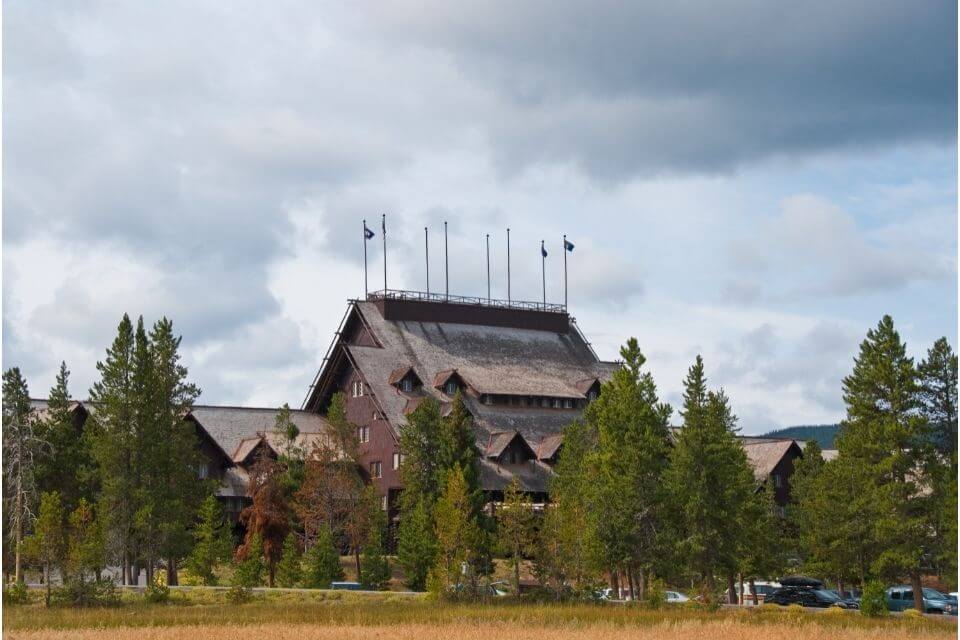 Picking the proper place to stay in Yellowstone will make or break your trip. It is that important. If you have been reading this post, you will know why. It is because Yellowstone is so massive that you could be staying on the opposite corner of the place you want to visit in Yellowstone.
Just for reference, it is nearly 2.5 hours to drive from the North Entrance of Yellowstone to the South Entrance.
That is why it is essential that you don't just stay in one place. We recommend moving to a new lodging as you finish covering all the attractions around your previous lodging. For example, if you are staying in Gardiner, once you have seen Mammoth Hot Springs, Lamar Valley, and Tower Fall, there is no reason to stay up there anymore.
We will now talk about staying inside Yellowstone or staying outside Yellowstone.
Staying Inside Yellowstone National Park
Staying inside Yellowstone National Park is a once-in-a-lifetime opportunity. Once the sun has set and the day visitors are all gone, the park returns to its original serene self. It is an unworldly experience to wander around the park at night where you will find nothing but silence and nature.
On the other hand, staying in the park is inflexible. There are only 9 lodges inside Yellowstone and some of them are open seasonally. That means you are limited by the types of accommodation you can choose from, as well as the dining options that come with these lodges.
Not only are there fewer amenities, but you also pay considerably more than what you would staying outside Yellowstone National Park.
All-in-all, there are many pros and cons that need to be considered when deciding to stay inside the YNP.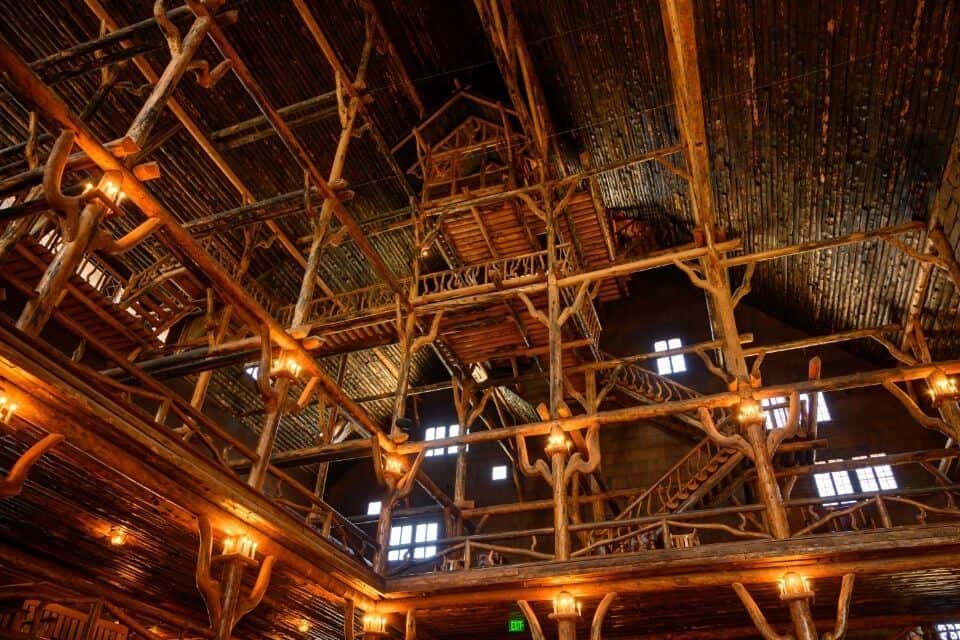 The lodges in Yellowstone are scattered throughout the park, so you can easily pick the proper lodge to stay in according to where your activities for the day will be. In general, if you pick the Old Faithful Inn as your lodging for all 4 days in Yellowstone, you won't go wrong.
Check the Yellowstone official site for more information about the lodges, and remember to reserve them several months in advance, especially the popular ones such as the Old Faithful Inn.
Staying Near Yellowstone National Park
If you aren't staying inside Yellowstone, then you are staying in a town near one of the entrances to YNP. Though you won't get the experience of staying in one of the Old Western lodges inside the park, staying outside the park isn't all so bad.
For starters, the accommodation near Yellowstone is so much cheaper than the ones inside the park, perfect for anyone visiting Yellowstone on a budget. Additionally, you are staying in well-established towns that have grocery stores, gas stations, and restaurants serving different types of cuisine.
Your stay will be much more comfortable in one of the towns near Yellowstone.
However, one of the downsides (besides not being able to be in the park when it's all quiet) is that you might need to travel a tiny bit more to get to the attraction you want to see in the park. Honestly, we don't think that is an issue if you plan on seeing Yellowstone in 4 days.
There are three towns you should consider staying in outside of Yellowstone National Park:
West Yellowstone
Gardiner
Jackson
Gardiner (Near North Entrance of YNP

)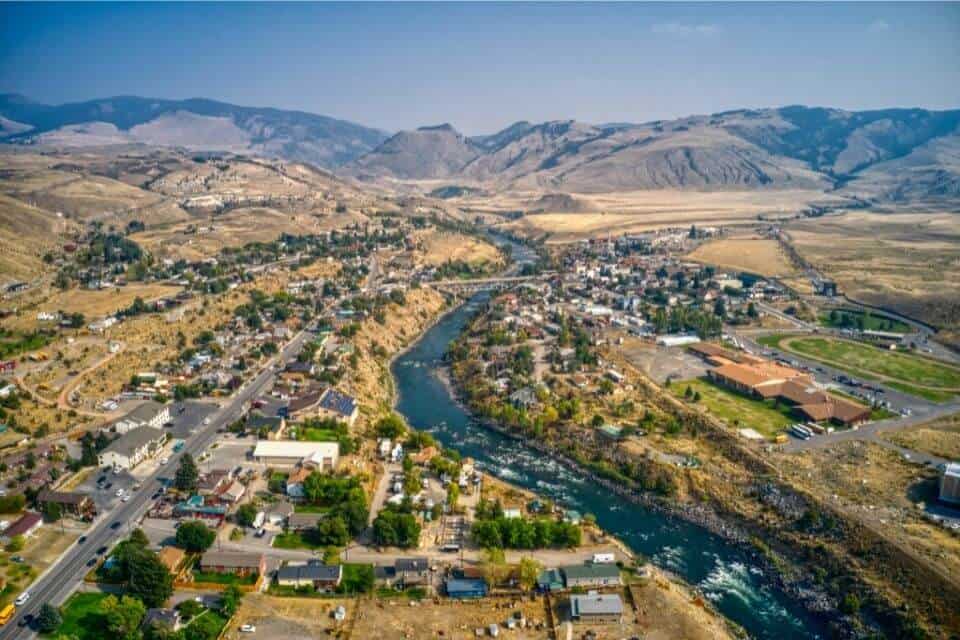 Gardiner is a small town in Montana with about 1,000 residents. It is the first entrance to Yellowstone and the only one that is open all year round. Amenities are not lacking in this town, from grocery stores to restaurants to gas stations, you have pretty much everything you need for a short stay.
Some visitors might consider the aesthetic of this town to be very outdated, but we actually thought it was very suitable considering its history. It is as if the town has kept the same charm since Yellowstone first opened.
Best Vacation Rental in Gardiner – Scott Street Yellow House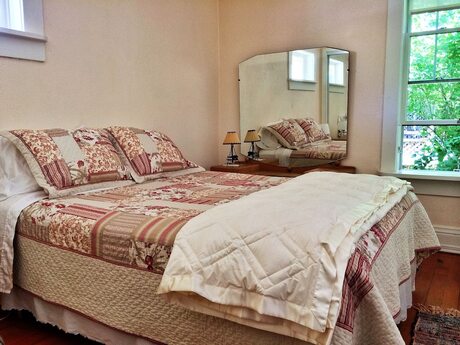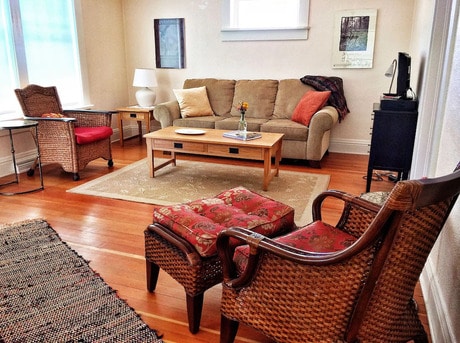 (Images Courtesy of Vrbo)

A cozy home located in the center of Gardiner, the Scott Street Yellow House is one of the oldest properties in Gardiner. It has evolved from time to time to provide guests with modern amenities but still preserving its traditional furnishings.

Some of the best amenities in the vacation rental near Yellowstone are a peaceful garden to soak in the fresh air, a sunny reading room, and a luxurious claw-footed bathtub to soak your aching limbs!
Best Hotel in Gardiner – Yellowstone Getaway Inn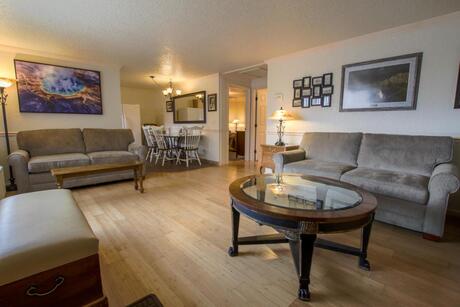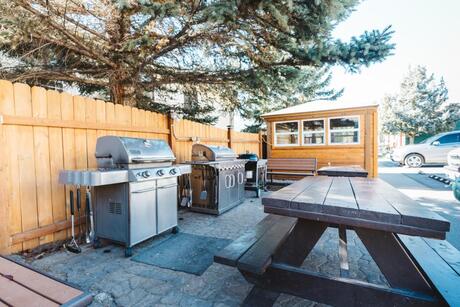 Only a 2-minute drive to the North Entrance of Yellowstone, the location of the Yellowstone Getaway Inn cannot be any better. Surrounding this hotel is also a plethora of other activities guests can enjoy, such as rafting, fishing, or even swimming in the Gardiner River.

When you are not visiting the park, the coziness of Yellowstone Getaway Inn is perfect to help you relax. Each room has a flat-screen TV, coffee maker, air-conditioning and more! Its warm interior decor is surely going to remind you of home!
West Yellowstone (Near West Entrance of YNP)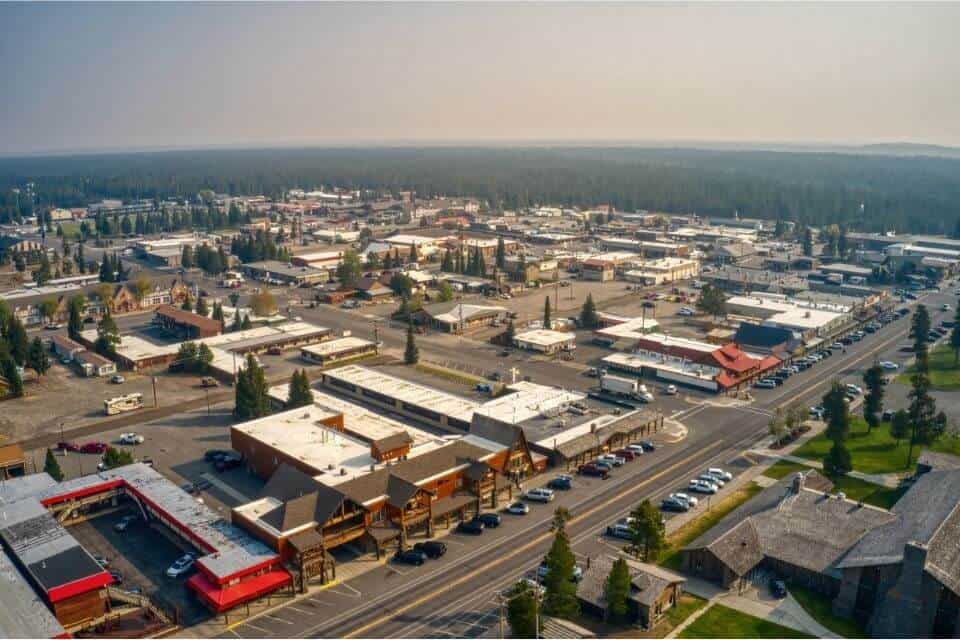 Located adjacent to the West Entrance of Yellowstone is West Yellowstone, another Montana town with about 1,000 residents.

Generally speaking, West Yellowstone is a little bit more modern than Gardiner (maybe because it was built later). Visitors will find more modern amenities, accommodations, and even more options for food, yet the town still retains its "Old Western" vibes. Restaurants in West Yellowstone serve amazing local delicacies such as elk and bison.

If you are staying outside YNP for your 4-day Yellowstone itinerary, then staying in West Yellowstone is inevitable. That is because many of the park's best attractions, such as Old Faithful and Grand Prismatic Spring, are located close to the West Entrance of Yellowstone.
There are also plenty of things to do in West Yellowstone, perfect for days with bad weather or if you want to just relax.
Best Vacation Rental in Yellowstone – Burnt Hole Cabin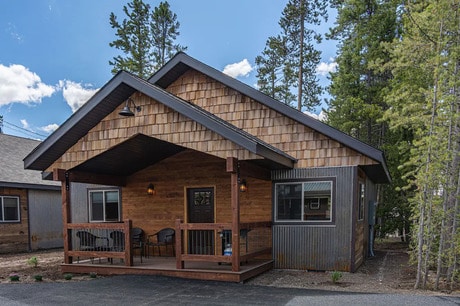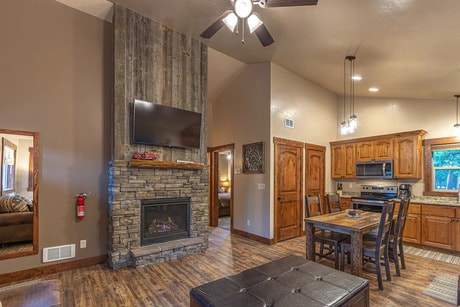 (Images Courtesy of Vrbo)

Located 5 minutes away from the West Entrance of Yellowstone, the Burnt Hole Cabin offers guests convenience and solitude all at once.

On the exterior, the stand-alone cabin features rustic wooden architecture, very suitable for the "Old West". However, the interior is luxurious with a high ceiling, modern furnishings, and comfort beyond imagination.

The Burnt Hole Cabin has two spacious bedrooms, allowing a maximum of 4 guests to stay comfortably. Come relax on the wooden deck, BBQ or fireplace!
Best Hotel in West Yellowstone – Yellowstone Park Hotel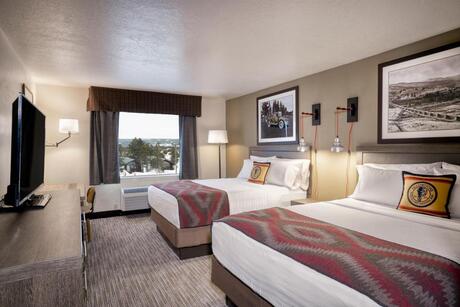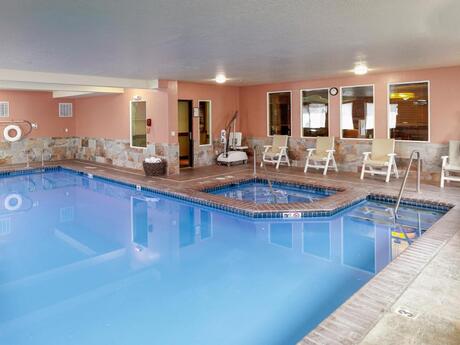 The Yellowstone Park Hotel is located only 3 blocks away from the West Entrance of Yellowstone. Not only will guests have easy access to YNP, but the hotel is in the heart of West Yellowstone. The town's best amenities are all within walking distance away.

Each room in Yellowstone Park Hotel is equipped with a flat-screen TV, refrigerator, and microwave. But what makes it stand out is its superb hared facilities such as the large indoor pool, hot tub, and gym!
Jackson (Somewhat Near South Entrance of Yellowstone)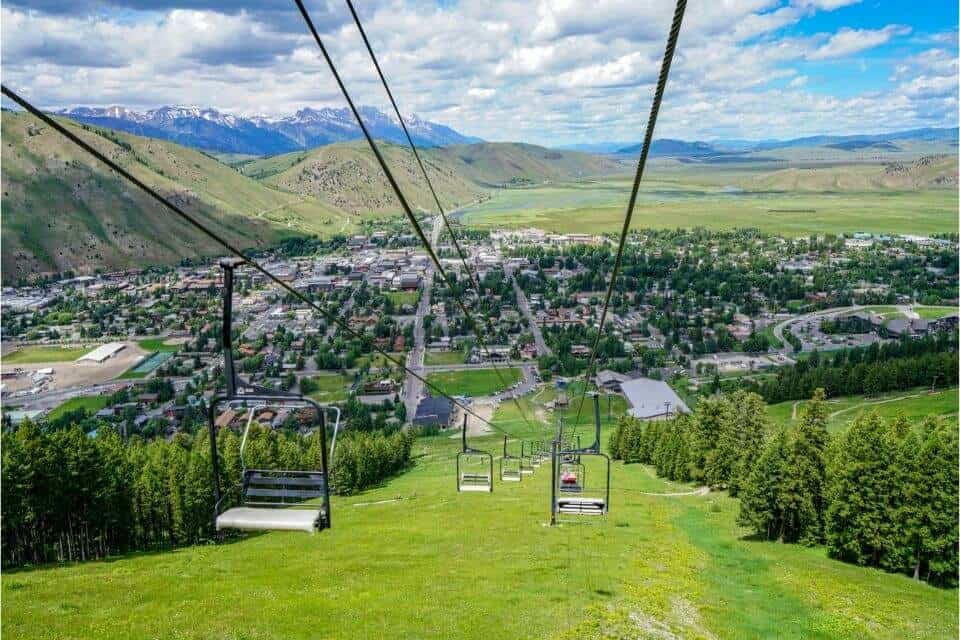 Another popular town to stay in is Jackson, a big town in Wyoming with more than 10,000 residents. Jackson is a famous ski destination, with over 3 ski resorts in the area. Consequently, Jackson is a town that pretty much has everything you might need, its own airport, a huge range of accommodation, and loads of restaurants.
However, staying in Jackson isn't popular when visiting Yellowstone. Why? Because the closest entrance to Yellowstone is 75 minutes away. To get there from Jackson, one must drive through the entire Grand Teton National Park. If you have a Grand Teton and Yellowstone itinerary, then staying in Jackson might not be a bad idea.
There are also plenty of professional tours for Yellowstone that depart from Jackson, which are excellent ways to explore the park (especially if you don't want to rent a car)!
Best Vacation Rental in Jackson – Alpine Cottage Studio w/ Hot Tub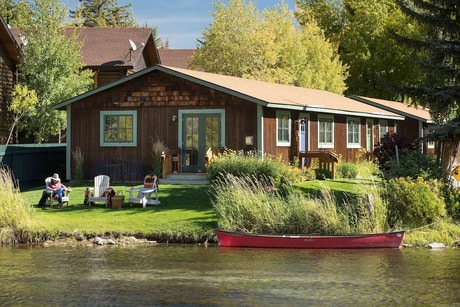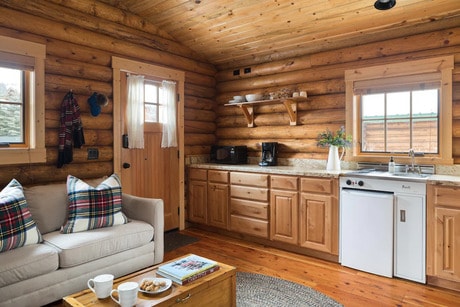 (Images Courtesy of Vrbo)

Enjoy a peaceful stay in Jackson at the Alpine Cottage Studio, designed to offer a maximum of 4 guests to enjoy with its 1 bedroom and pull-out couch. This Jackson vacation rental is located creekside, so guests can relax by the water after a tiresome day in YNP.

This Vrbo also features a shared hot tub, so you don't need to worry about having sore limbs after all the hikes on our Yellowstone itinerary!
Best Hotel in Jackson – Parkway Inn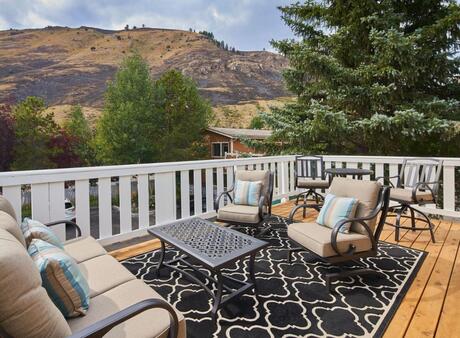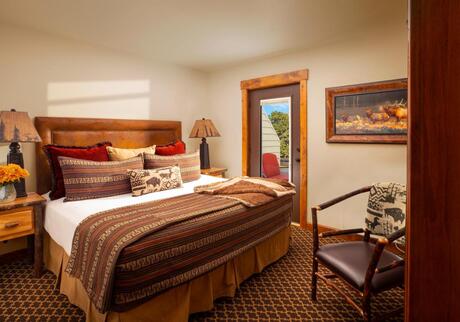 Located a 5-minute walk from historic Jackson downtown, the Parkway Inn offers convenience and comfort in the same package. Each room is "western"-inspired, which means you will find warm colors and cozy furnishings to enhance your stay.

You will also find amenities like a cable TV, free WiFi, a private bathroom, a coffee maker with gourmet coffee provided and more. When you are not chilling like a villain in your cozy room, the property has plenty of shared facilities for you to enjoy, such as the gym, swimming pool, and hot tub.

There are many things you must pack for Yellowstone to ensure you have a safe, fun, and comfortable trip. Here is what we recommend (if you are visiting when it's warm):
Bear Spray – This one is pretty self-explanatory. Bears = danger, bear spray protects you from danger. However, you won't need it if you aren't planning on doing any hiking in Yellowstone, but what is a Yellowstone trip without hiking?
Binoculars – Having binoculars allow you to observe the teeming wildlife that is far away. Missing the opportunity to admire Yellowstone's wildlife is an incomplete visit.
Warm Layers – Because of Yellowstone's high elevation, the early mornings and late nights can be cold, even in the summer. You MUST pack a few warm layers, like a lightweight jacket or else you will freeze!
Insect Repellant w/ Picaridin – Where there are animals, there are insects, and there are a lot of animals in Yellowstone. We recommend insect repellant w/o DEET, as that can cause unwanted reactions.
Reliable Hiking Boots (Him/Her) – Yellowstone has plenty of breathtaking hiking trails that you should take advantage of. Our Yellowstone 4 days itinerary covers a few of them so we recommend some good hiking boots.
Sunscreen – Because of Yellowstone's high elevation, the sun is extra strong there so you could easily get sunburned. Don't come back home looking like you went to Cancun instead!
Day Pack (Him/Her) – We recommend having a multi-functional day pack with you that can carry your camera, packed lunch, water, and any other necessities. This daypack should also have a hip strap so you can use it comfortably for hiking!
Portable Camera – If you don't bring a capable camera to capture the wonders of Yellowstone and the memories you shared with your friends or loved ones, then you are really missing out. We recommend something high-quality, easy-to-use, and light!
Portable Cooler Bag – A cooler bag helps you keep all your food and drinks at the temperature you want. This is perfect for the drinks, snacks, and packed meals you will be having when you are watching wildlife at Lamar or Hayden Valley.
Portable Battery Pack – If you want to find places to charge your phone inside YNP, good luck. A portable battery solves that problem by allowing you to charge your phones and other electronics at all times of the day.
Best Time To Visit Yellowstone National Park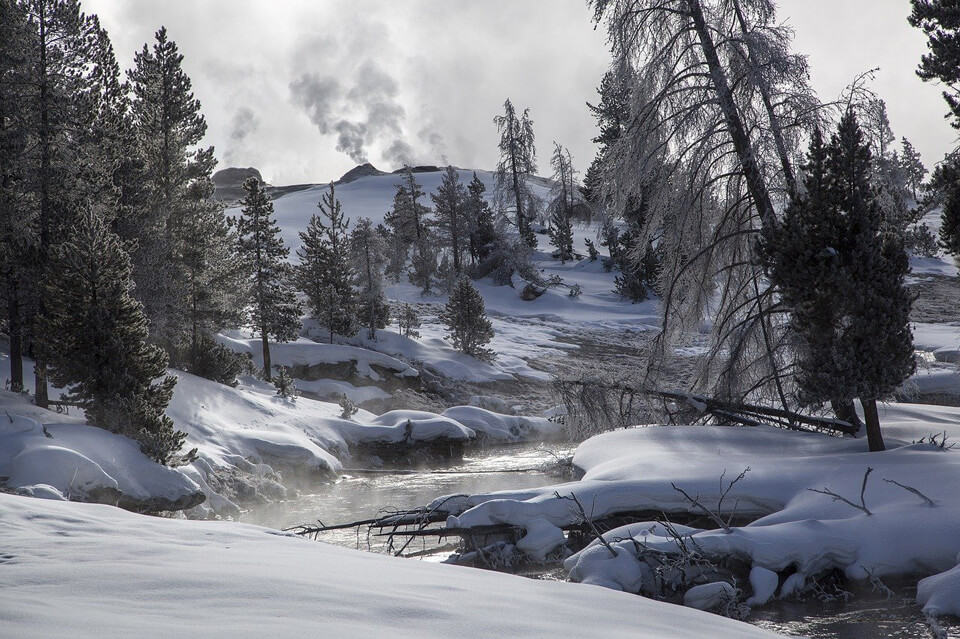 The best time to visit Yellowstone is summer and fall.
That is when all the facilities inside the park are open and crowds come to instill a sense of liveliness that was lost during the colder months. Summer is when you can visit Yellowstone wholeheartedly and experience the best of what it can offer.
Our Yellowstone in 4 days itinerary is designed for summer visits, but it will also work well for fall and spring.
However, with the big crowds in Yellowstone during summer, reserving a lodge inside YNP is very difficult. Even for accommodations outside Yellowstone park, expect to pay more than usual.
Fall is our personal favorite season to visit. The crowds have gone and the park's natural beauty is enhanced by the colors of the autumn foliage. If you know us, we are total suckers for picturesque landscapes and autumn in Yellowstone is exactly that.
Read More: Yellowstone in October: Is It Too Late?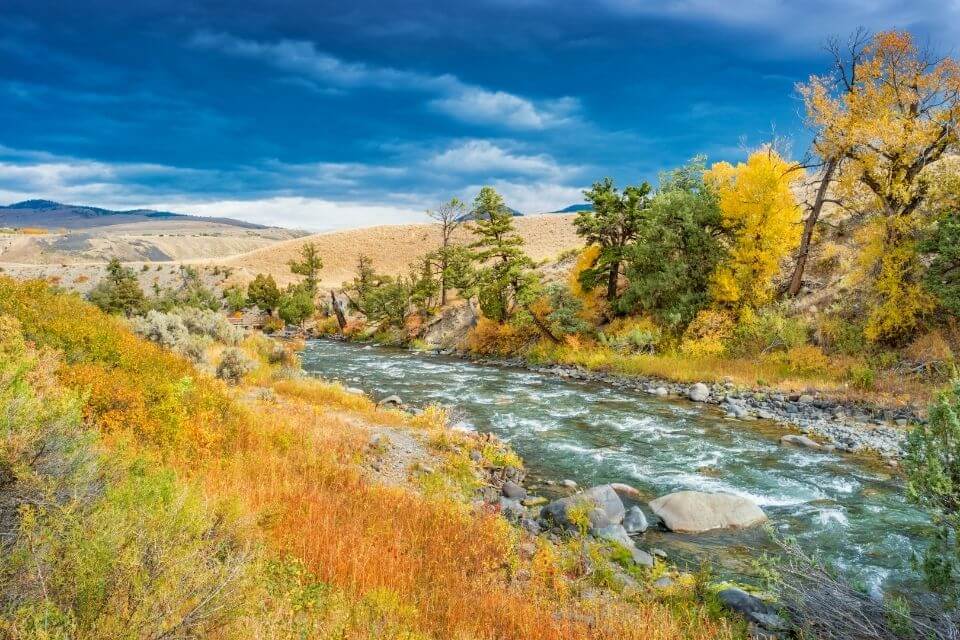 Wildlife activity in the autumn tends to be a bit higher because animals are prepping for the brutal winter. Fall is also rutting (mating) season for elks. Prices for accommodations tend to be cheaper and lesser in demand.
Spring is similar to fall in terms of tourism, but one must be aware of the melting of the snow that has accumulated in the winter. This causes some of the attractions in Yellowstone to close. But generally, spring is not a bad season to visit Yellowstone.
Winter in Yellowstone is challenging. Most of the park roads are closed and you can only explore the park via the snowcoach tours. Though it is a unique time to visit the park, it is quite difficult to enjoy it as much as you would in the other months.
Visiting Yellowstone National Park FAQs
Is 4 days in Yellowstone enough to see the park?
4 days in Yellowstone National Park is generally more than enough to see the park's main attractions. Depending on your itinerary, you might even want to spend a day in the nearby Grand Teton National Park, or discover some of the hidden gems in Yellowstone. The freedom is yours!
Is it better to stay in Yellowstone or outside?
Staying inside Yellowstone National Park is a unique experience that you might never get to have again. When all the tourists are gone at night, Yellowstone reclaim's its natural beauty, and it is surreal to be there. Additionally, you get to go to some of the more popular attractions early in the day before all the tourists come in.
However, staying inside the park is expensive and the accommodations are hard to come by. The facilities inside the park just aren't as good as the ones outside. If you are on a budget or prefer more comfortable and modern hotels, stay outside the park.
Like this post? Don't forget to save it on Pinterest!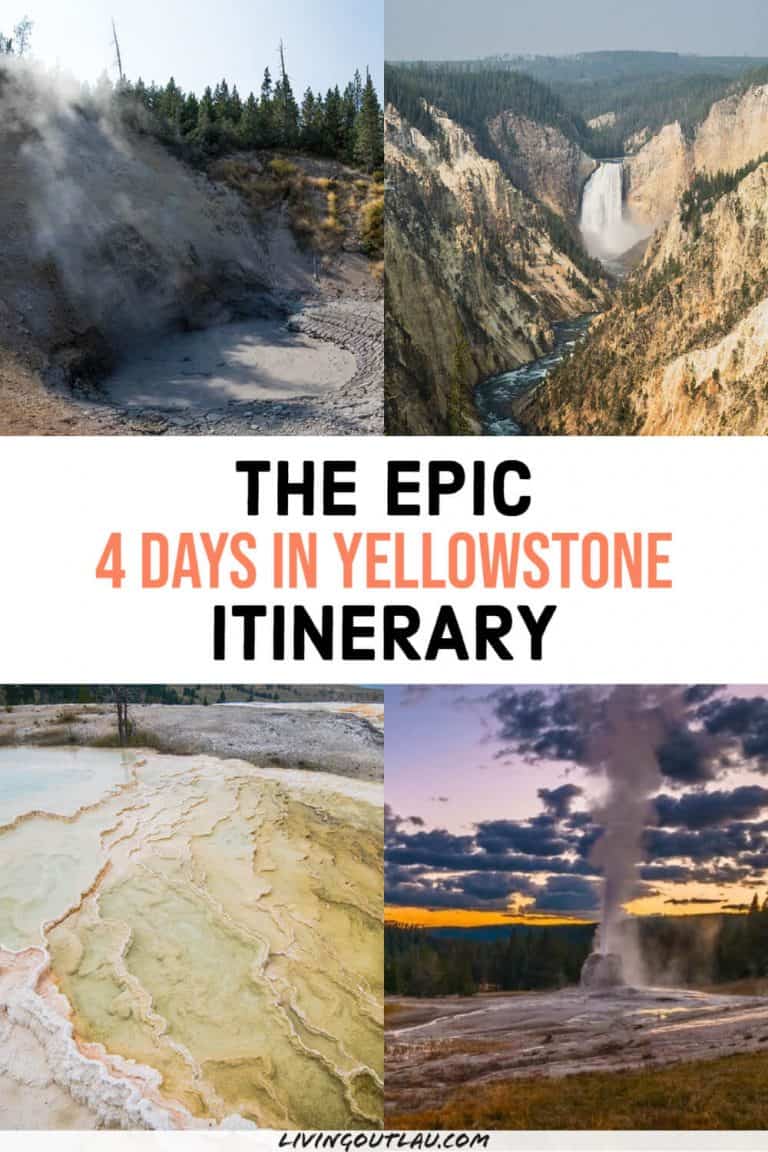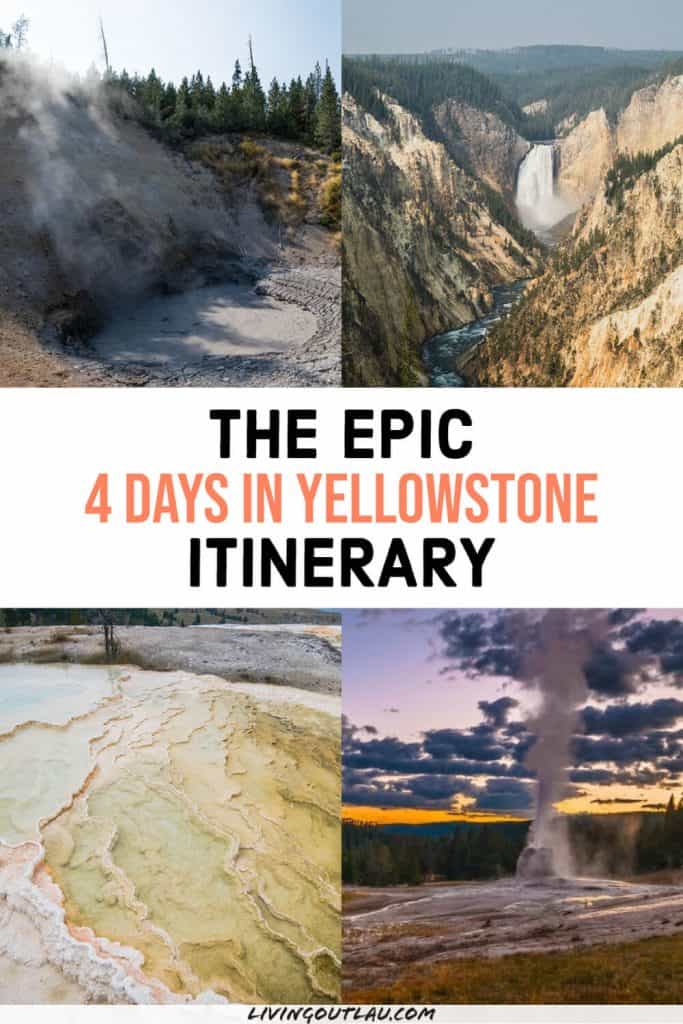 This concludes our Yellowstone 4 day itinerary. We hope we have given you all the essential information for planning the perfect Yellowstone trip.

Any questions? Leave them in the comments!
Disclaimer: Some of the links above are affiliate links. That means if you book or make a purchase through the links, we will earn a small commission at no extra cost to you! The money will help run this site! Thank you!