If you are looking for the best things to do in West Yellowstone, Montana, then you've come to the right place.
West Yellowstone is home to one of the most popular entrances to Yellowstone National Park. Located in southwest Montana, just parallel to the Idaho and Wyoming borders, West Yellowstone is the perfect base for exploring the country's first national park.
However, West Yellowstone isn't all about Yellowstone NP. Though too small to be considered a city, visitors can find local restaurants, gift shops, outdoor outfitters, and entertainment venues.
Whether it's your first visit or your hundredth, there is a tourist attraction in West Yellowstone that you'll love!
---
What Are The Best Things To Do In West Yellowstone?
1. Visit the Grizzly and Wolf Discovery Center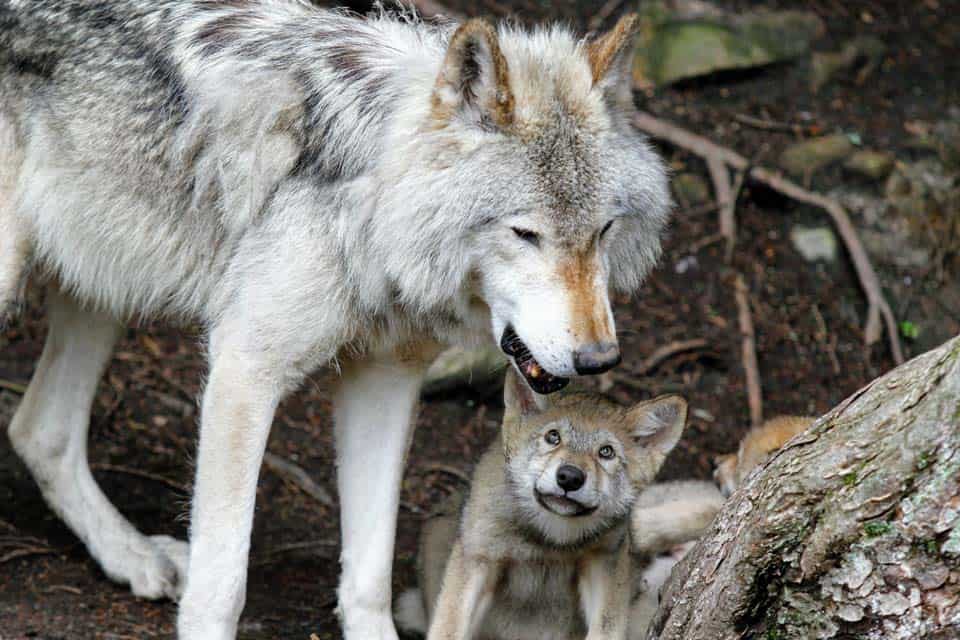 The Grizzly and Wolf Discovery center is the perfect way to get up close to some of the region's famous animals. Located on the outskirts of West Yellowstone, this nonprofit education center is home to grizzly bears, wolves, otters, birds of prey, and ground squirrels.
The center has a longstanding reputation as an ethical wildlife park focused on animal rehabilitation and conservation. The animals housed in the Grizzly and Wolf Discovery Center are either rescued, food habituated, or otherwise unfit to survive in the wild.
The center lets them live out their lives in comfort while acting as representatives for their wild brothers and sisters living in Yellowstone. The goal of the Grizzly and Wolf Discovery Center is to educate visitors about the role of these predators in the greater Yellowstone ecosystem.
Grizzly bears and wolves are the primary attractions of the center, but you can also interact with the otters, ground squirrels, eagles, and other large birds of prey during your tour.
A visit to the Discovery Center also guarantees a bear and wolf sighting!
2. Catch a Show at the Playmill Theatre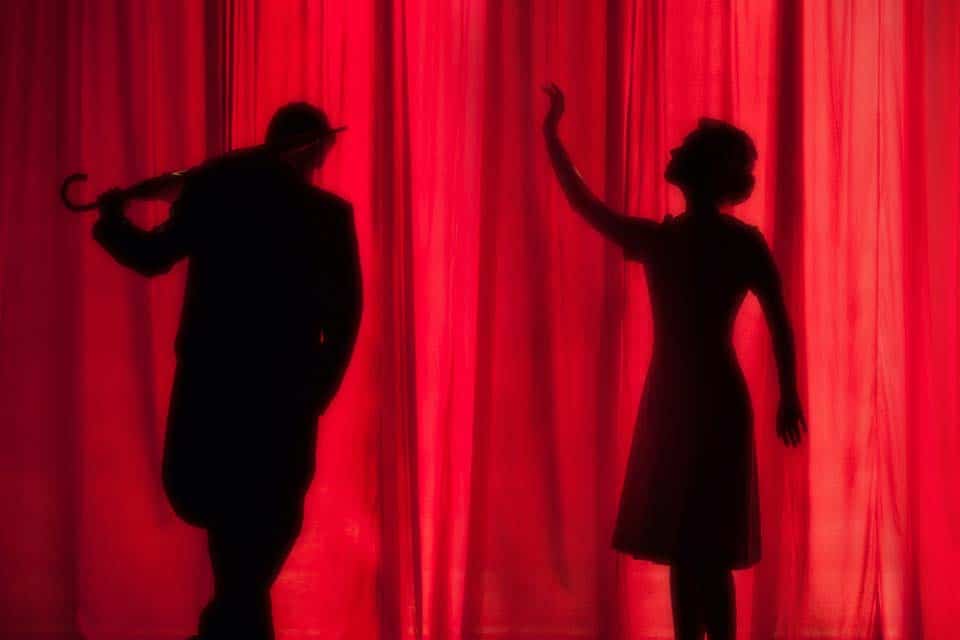 What better way to end a long day of exploring than watching a musical or show at the Playmill Theatre. Originally opened in 1964, the Playmill Theatre has been bringing shows to West Yellowstone for over 50 years.
The theatre is open from May through September and runs a full schedule of Broadway favorites. Past shows have included hits like Singing in the Rain, Peter Pan, and Annie.
Located on Madison Avenue in the center of downtown, Playmill Theatre is the perfect activity in West Yellowstone at night.
The theatre has new shows running every summer for the whole family, so make sure to check their schedule before your trip.
3. Fish Montana's Rivers and Lakes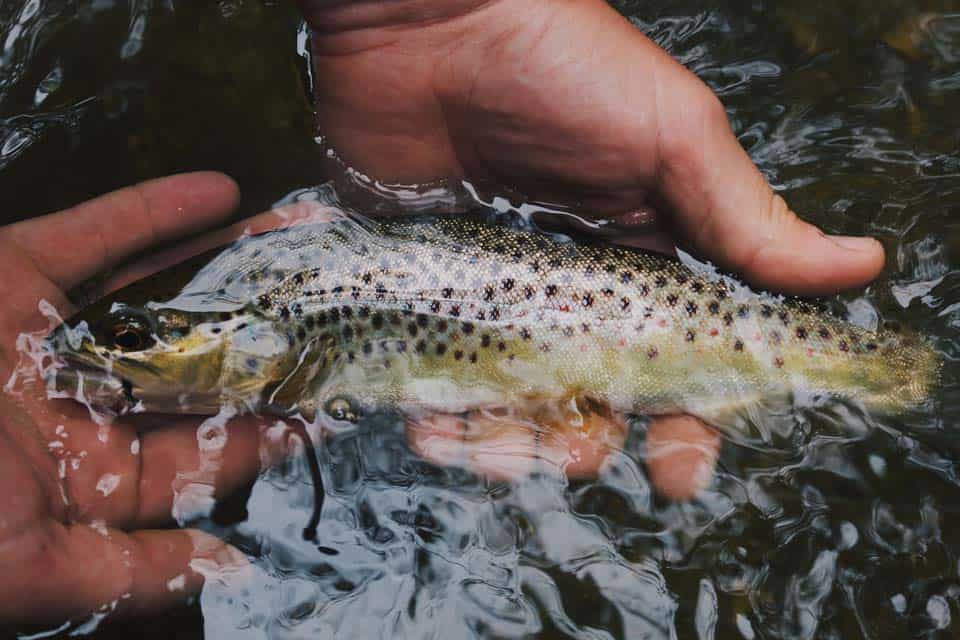 Southwest Montana is well-known by anglers as one of the best fishing locations in the west. The promise of mountain views and giant wild trout appeal to many anglers around the world. West Yellowstone is at the heart of this pristine angler heaven as the rivers and lakes nearby are some of the best for both fly fishing and stillwater fishing.
Madison River continues to be one of the most popular rivers for fly fishermen. This river is easy to access as it is adjacent to Highway 287 with access points near other popular fisheries such as Hebgen Lake and Earthquake Lake.
Local fishing outfitters are also well-versed in the area and many guided tours include a fly fishing trip into the Bear Trap Canyon Wilderness Area via boat. In addition to the Madison River, many locals and visitors fish the Gallatin River located just north of town in Gallatin Canyon.
Hebgen Lake is another fishing option just 15 minutes north of the city of West Yellowstone. With boat rentals and easy access to the waterfront, Hebgen Lake is a great option for the whole family and for kids.
Earthquake Lake, also known as Quake Lake, is another option and is located approximately 25 minutes from West Yellowstone near the Madison River. This is also a fun stop as the lake is a direct geologic consequence of a 1959 earthquake in the area. The earthquake triggered a landslide that blocked off the Madison River, therefore, creating what is now known as Earthquake, or Quake Lake.
4. Learn at the Museum of the Yellowstone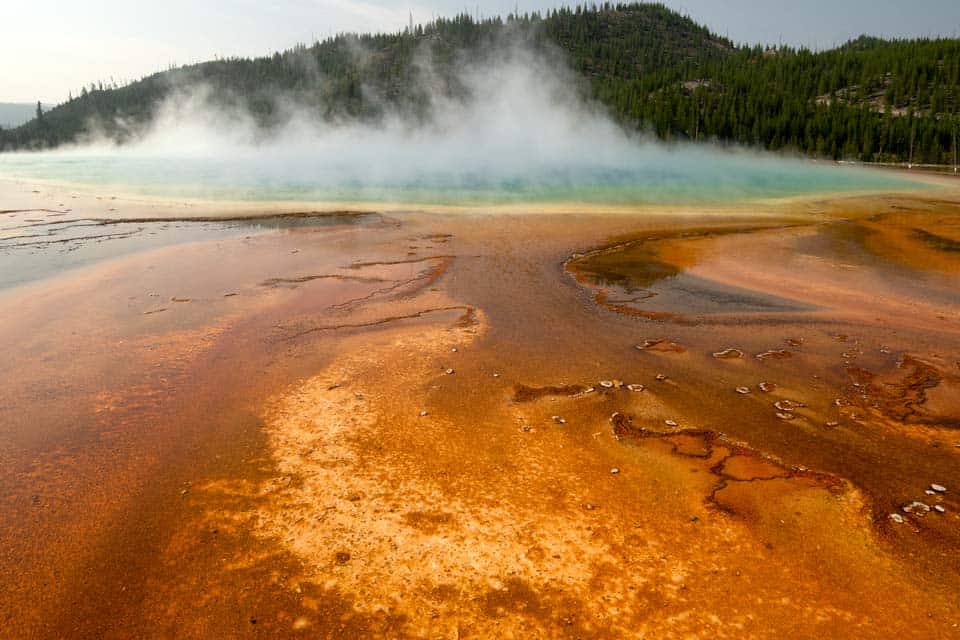 Located at the west entrance of Yellowstone National Park, the Museum of the Yellowstone is a great place to spend the afternoon learning about the history of the west, the park, and the Yellowstone area.
Managed by the Yellowstone Historic Center, the museum focuses on the history of travel to and through Yellowstone National Park. From early explorers on horseback to the famous yellow stagecoaches, this museum has interactive exhibits featuring each mode of transportation and its impact on the region.
Their theater offers movies about Yellowstone's transportation and also the geological history of the area including the 1959 earthquake near Hebgen Lake that dammed the Madison River and created Earthquake Lake.
The Museum of the Yellowstone also offers a walking tour that visitors can take through the old Union Pacific train depot and other historic sites around West Yellowstone. Located next to the west entrance, the museum is a fun way to explore the history and context of this geyser-filled park.
The West Yellowstone visitor center and gift shop are housed in the museum. The visitor center can provide you with more information about the park, hiking, and nearby activities.
5. Cross Country Skiing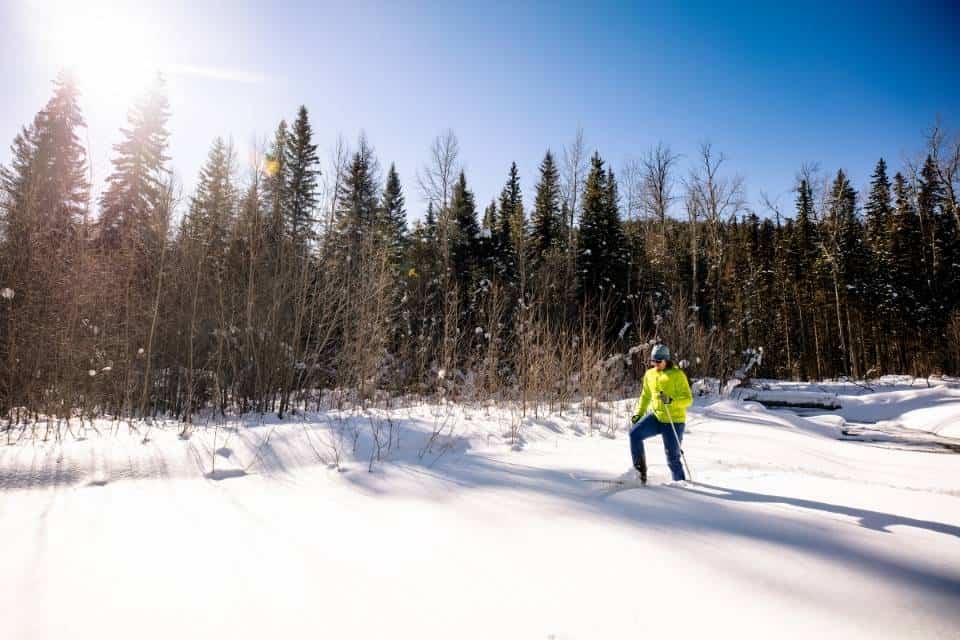 West Yellowstone's snowy winter weather makes it one of the best places to cross-country ski. Though not mountain skiing, it is still one of the winter's best outdoor activities in West Yellowstone. With over 30 miles of accessible trails, it is the perfect destination for experiencing a winter wonderland by ski.
The best place for both beginner and veteran skiers is the Rendezvous Ski Trails. Rendezvous has a trail for everyone. With groomed paths through pine forests, meadows, and dozens of mountainous viewpoints, this park has been rightfully called a "Nordic Skier's dream".
Rendezvous also offers a beginner's loop trail and holds races each November so skiers of every level can feel welcome and part of a larger community.
The west entrance is also one of the best starting points for skiing in Yellowstone National Park. Local guides like Yellowstone Expeditions take visitors to some of the most iconic terrains in the park such as Mammoth Area Ski Trails, Canyon Area Ski Trails, and the Old Faithful Area Ski Trails. With the park closed to cars in the winter, skiers will have these West Yellowstone attractions to themselves.
To rent skis, visitors can check out Free Heel and Wheel, a nearby local outfitter that specializes in cross-country rentals and tours.
6. Watch a Movie at Yellowstone's Giant Screen Theater
Though many come to West Yellowstone, Montana for adventure and seeing sites such as Old Faithful, Grand Prismatic, and the Grand Canyon, sometimes you may still just want to settle in for a movie. Whether it's bad weather or just a really screening lineup, the Yellowstone Giant Screen Theater is a fun place to relax for kids and adults.
The Yellowstone Giant Screen is one of the only certified "giant screens" within a twelve-state area. The screen is six feet tall and the theater is outfitted with surround sound and an IMAX experience. This theater is home to one of the largest screens in the state and a movie experience that rivals that of the nearest city, Bozeman.
The Giant Screen has a rotating lineup of blockbuster films and regional films about the Yellowstone area. There is also a lobby gift shop and lots of opportunities for kids to get popcorn and treats for their movie experience.
7. Enjoy Zipline Adventure Park
The Yellowstone Zipline Adventure Park is an adrenaline-packed aerial adventure for the whole family. With a rope course, zipline, and rafting adventure package, this attraction will thrill even the grumpiest of teenagers.
The most prominent feature of the park is its outdoor obstacle course and zip lines. Full of aerial adventures and challenges, visitors can climb, swing, shimmy, and fly through Montana's famous big sky. This is a great place for kids as little ones as young as four can participate in the ropes course.
However, aerial adventures aren't the only thing this park has to offer. In the summer, the park also offers rafting. Run by Geyser Whitewater, the rafting trips take families down the rapids of Gallatin River while surrounded by the surreal wilderness of Gallatin Canyon.
With the opportunity to see wildlife and fun for the whole family, this park is the perfect place to visit for an adrenaline-packed day in West Yellowstone.
8. Cheer On the Cowboys and Cowgirls at the Wild West Rodeo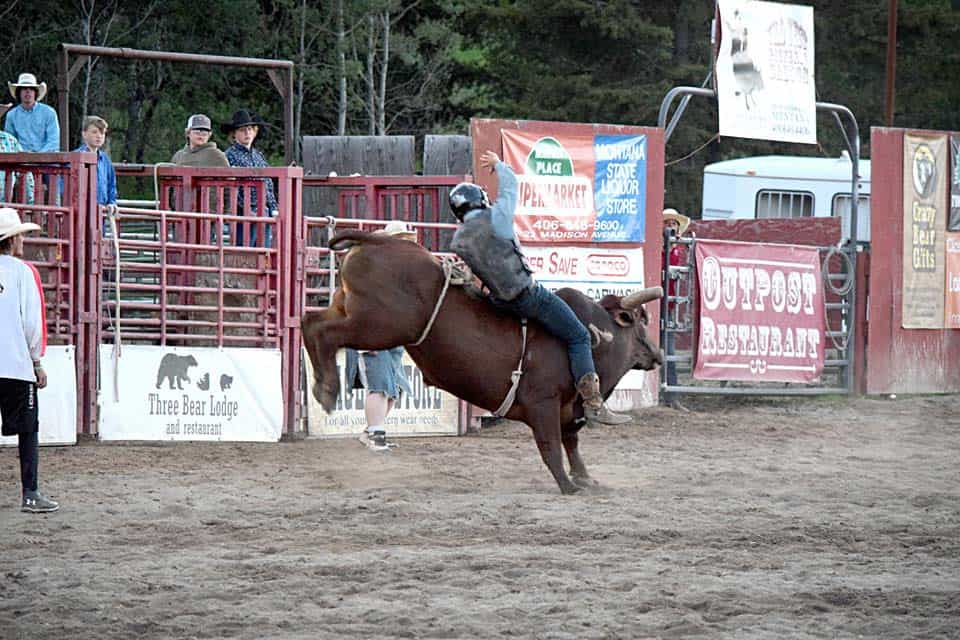 Not only is West Yellowstone home to wildlife such as bears, but it is also home to the Wild West Rodeo, one of Montana's favorite small town events. The rodeo happens every Wednesday, Thursday, Friday, and Saturday from mid-June through August.
Located just four miles from West Yellowstone, MT on Highway 20, the rodeo begins at 8:00 PM and takes visitors through the activities of the old wild west. Much more than just horseback riding, the rodeo showcases local cowboys and cowgirls roping calves, competing in barrel competitions, bull riding, and bronc saddle riding.
The rodeo is full of both beginners and experts making the visit fun for everyone — no matter how many rodeos they've already attended. The rodeo started in 1999 and has continued to be one of the most popular events in West Yellowstone.
9. Hiking in the Custer Gallatin National Forest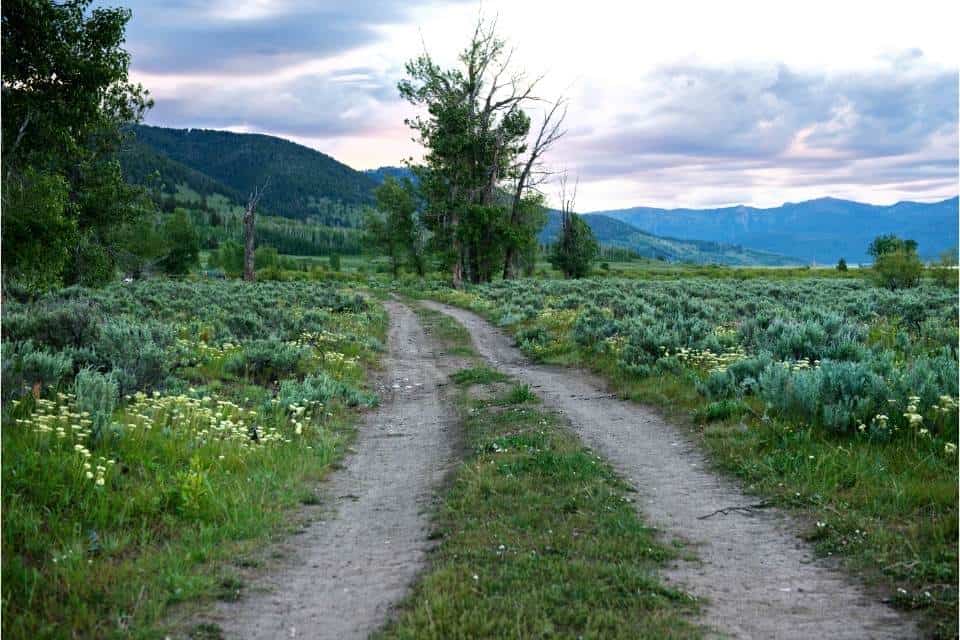 What better way to experience the wilderness of the Yellowstone region than getting outside and hitting the trails? West Yellowstone, Montana is home to some of the most beautiful trails in the country.
The Custer Gallatin National Forest has over three million acres of public lands surrounding Yellowstone National Park and stretching through Southwest Montana, including West Yellowstone.
Just outside of West Yellowstone are trails such as Mount Hebgen Trail, Cabin Creek, Two Ribbons, Sheep Lake, and Lionshead. These hikes will loop you through lodgepole pine forests and mountain-rimmed meadows with views of deep blue rivers and lakes. With varying degrees of difficulty and miles, there is sure to be a hike for any visitor.
Due to the national forest's proximity to Yellowstone National Park and other conservation areas, you are also more likely to see wild animals such as bears, bighorn sheep, elk, and mountain lions than in other hiking destinations.
Make sure to come prepared with bear spray and be aware of your surroundings as you explore. Also, make sure to research your hike and know where your trail begins and ends. The Custer Gallatin National Forest is a huge area that expands far beyond just West Yellowstone.
If hiking isn't your thing, but you still want to check out the trails, look into guided horseback riding expeditions. Many ranches offer backcountry trips or multi-day rides on the higher mileage trails in the West Yellowstone and Hebgen Lake regions.
10. Enjoy a Meal at a Local Eatery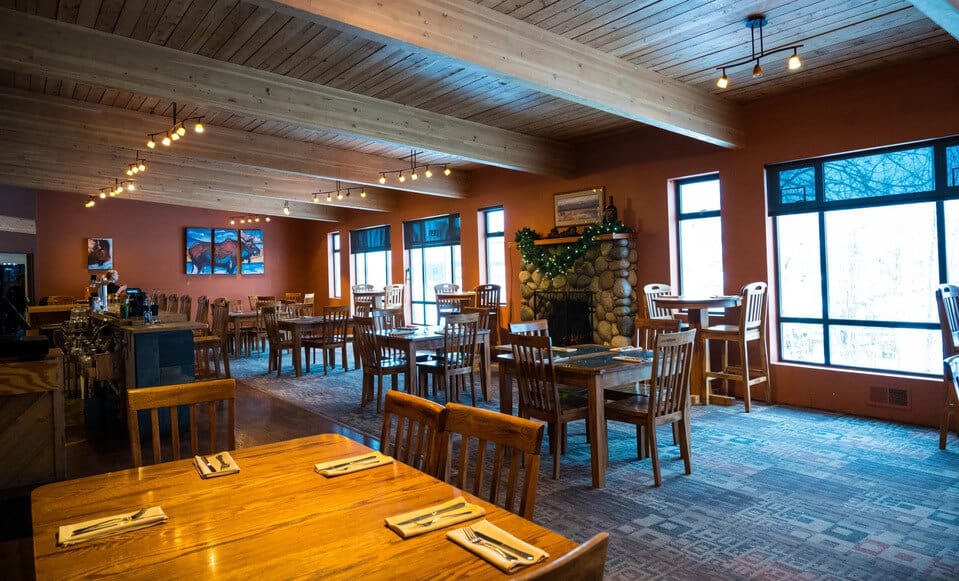 West Yellowstone, Montana thrives and survives on tourism. Located so close to Yellowstone National Park, the city's income relies on the swarms of tourists visiting the area. This means that West Yellowstone has cultivated a community of local restaurants, bakeries, and bars for visitors to choose from.
Breakfast is a big meal in southwest Montana and an important one when starting off a big day of sightseeing in the national park. Ernie's Bakery and Deli is a local favorite for pastries, coffee, and sandwiches to go.
This eatery uses French bread such as croissants and baguettes to make their sandwiches and pastries the best in the area. Ernie's has been locally run for over 30 years and is the perfect place to pick up your breakfast plus lunch to go.
For dinner, Firehole Bar-B-Que has fresh meats that are delivered daily and make for some of the best BBQ in the west. Firehole also has a sit-down and drive-thru location making it easy to find dinner even on busy nights.
Wash down your BBQ with a trip to the Slippery Otter Pub, one of West Yellowstone's best dive bars for late-night entertainment, drinks, and bar food.
Most of the restaurants in West Yellowstone serve traditional American fares like burgers, steak, and pancakes. However, they do offer burgers made of local meats such as elk, bison, and grass-fed cows. It is normal and encouraged to try these meats as they are a typical part of the Montana diet and are often cooked fresh by local hunters in Montana homes.
11. Spend A Day On A Bike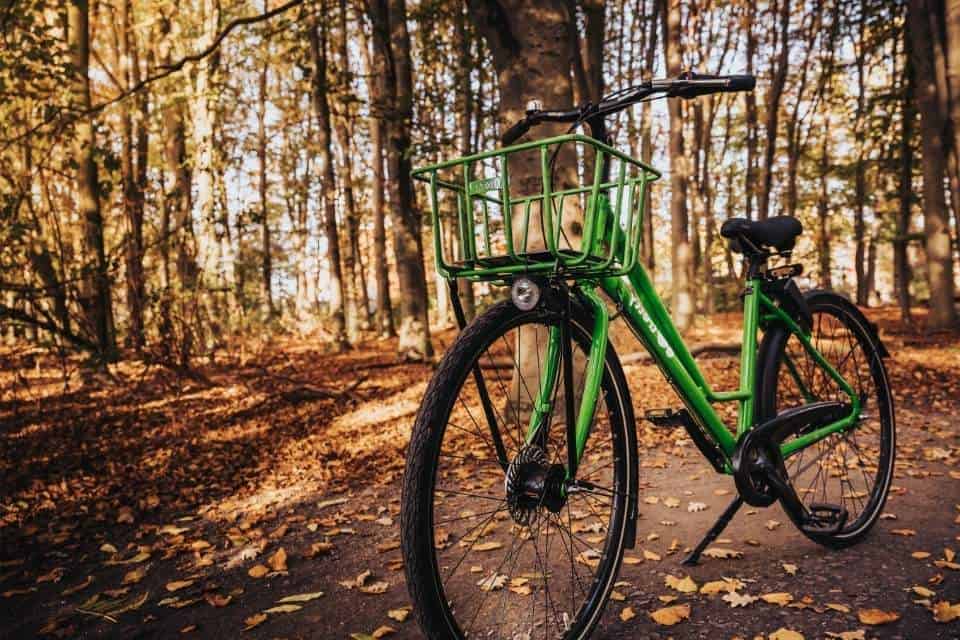 Surrounding West Yellowstone are a ton of excellent biking trails that visitors can use to explore the beautiful outdoors that Montana is known for. To do that, you must first rent a bike, and you can easily do so at Freeheel and Wheel bike shop in West Yellowstone.
Not only do they have all kinds of bikes for everyone in the family, but the shop owner offers you information on some of the best trails in the area.
If you are looking for things to do in West Yellowstone with family, a day out with bikes is not a bad idea at all!
12. Go Shopping For Souvenirs
No trip to Yellowstone National Park is complete without bringing home some souvenirs to remember your trip. Luckily, there are plenty of places to go shopping in West Yellowstone. Our favorite places are Eagle's Store and West Park Mall.
Eagle's store is a small shop that sells the usual trinkets, t-shirts, cowboy boots, and more. They also sell some of the best huckleberry ice cream, so you can browse while enjoying some traditional sweets in this gift shop!
West Park Mall is a complex filled with tons of souvenir shops. This is the perfect place to go shopping because you'll have tons of choices!
13. Johnny Sack's Cabin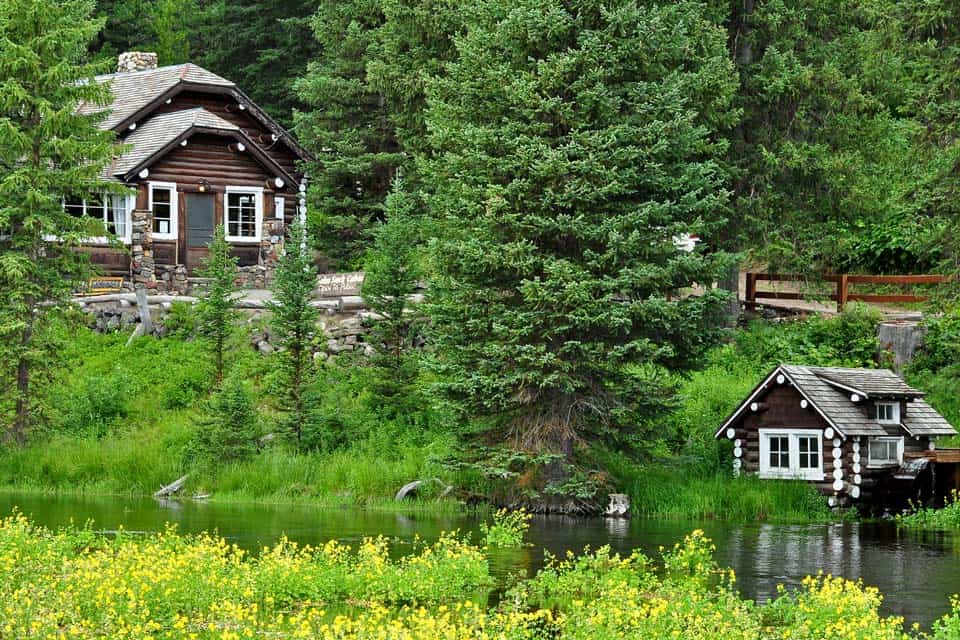 Johnny Sack's Cabin is one of the best hidden gems in West Yellowstone. Situated about a 30-minute drive from town, it is a historical handcrafted log and wood cabin built around 1930. It is a piece of Montana history that has kept its old-time charm.
The cabin is situated at the source of spring and surrounded by beautiful hiking trails. The water is so clear you can see all the trouts that live in the spring. You can bring some food here to feed the trout and see them in their natural habitat.
Finish off your visit with one of the short trails near the cabin!
14. Shoot a Gun At Yellowstone Big Gun Fun
If you are visiting the Midwest of the United States, you might want to try something unique, such as shooting a gun. Luckily, there is a shooting range in Yellowstone called Big Gun Fun. Visitors can find many different types of guns to try – from a Glock to an AK-47.
This isn't your typical shooting range where you practice your aim. It's more of a tourist attraction where you can experience what it's like to shoot a gun. For first-timers, the staff at Yellowstone Big Gun Fun provides tons of instruction to make sure your experience is safe and enjoyable.
15. Go Kayaking or SUP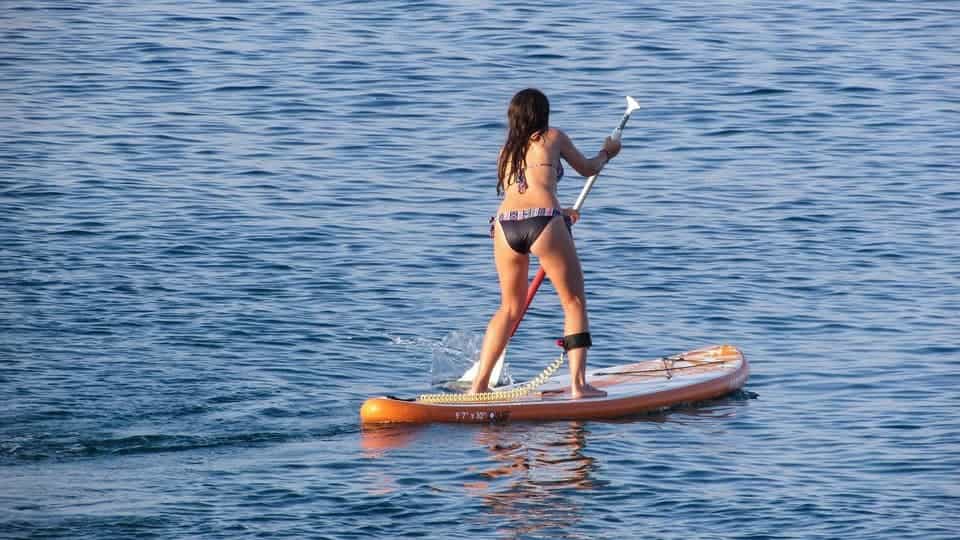 If you are looking for family activities in West Yellowstone, look no further than going kayaking or stand-up paddleboarding (SUP) on Hebgen Lake. The expansive lake is home to calm waters that make for a perfectly relaxing day.
Visitors can rent a kayak or SUP board for half a day and enjoy navigating through the lake. Surrounding by lush scenery, this is one of the best ways to enjoy the nature Montana is known for.
There are several rental companies in West Yellowstone, we recommend Kirkwood Marina. It is situated on the northern side of Hebgen Lake and visitors can get there by car via Highway 287.
16. Visit Yellowstone National Park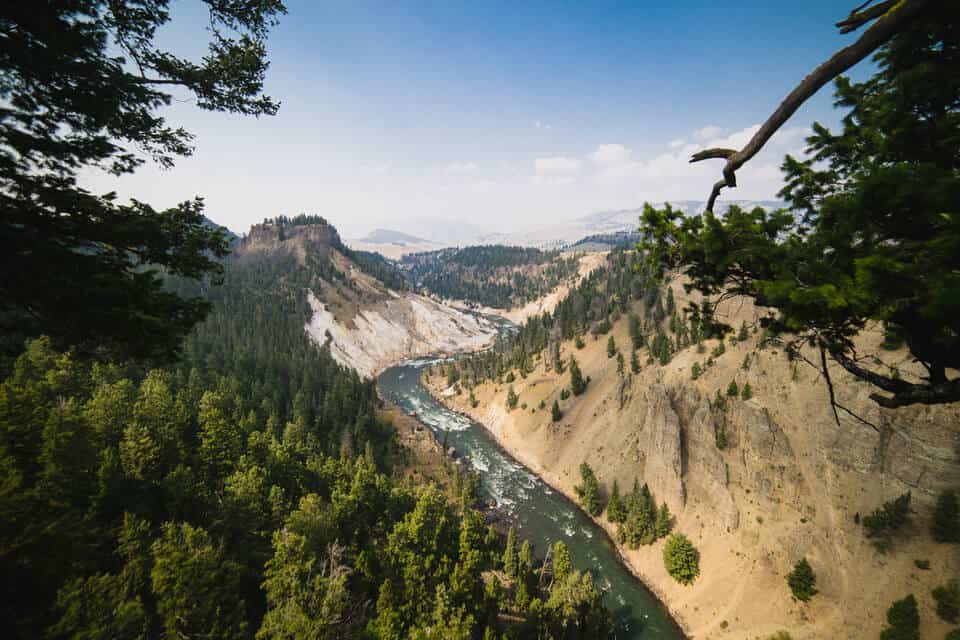 Last, but certainly not least, a no visit to West Yellowstone is complete without visiting the national park it is named for – Yellowstone National Park
The west entrance to Yellowstone National Park has the most direct access to two of the park's most popular sights: Old Faithful and Grand Prismatic Spring. Both are located within one hour of the west entrance of Yellowstone and attract thousands of tourists each year.
You can also access the Yellowstone Grand Canyon, Yellowstone Lake, the Norris Geyser Basin, and Mammoth Area from the west entrance. In the winter, West Yellowstone is the only place you can catch a snow coach into the park. Renting a snowmobile is one of the most popular things to do in West Yellowstone in the winter.
Not just geological sites, Yellowstone National Park is home to grizzly bears, wolves, moose, elk, bison, and more. With fantastic opportunities for photography and wildlife watching, you are bound to see a new animal each day, especially during the months of September and October!
Yellowstone National Park is the crowning jewel of this region, so it is a must-do on any trip to West Yellowstone, Montana.
---
Map of The Best Things To Do In West Yellowstone
Above is a map of all the attractions in West Yellowstone we've talked about. As you can see, most of them are in town but there are a few that are a little bit further out. Usually this map, hopefully you can plan out your Yellowstone itinerary to include some of the sights from West Yellowstone.
Most of them are a lot less crowded and are iconic to the midwest lifestyle! Trust me! They are worth it!
---
Where To Stay In West Yellowstone, Montana
As the entrance town closest to some of Yellowstone's most popular attractions, West Yellowstone is a common place for those that want to stay outside the park but still be near. Here are some of the best places to stay in West Yellowstone.
Best Hotel In West Yellowstone –

Crosswinds Inn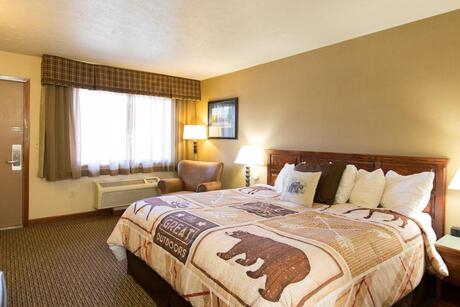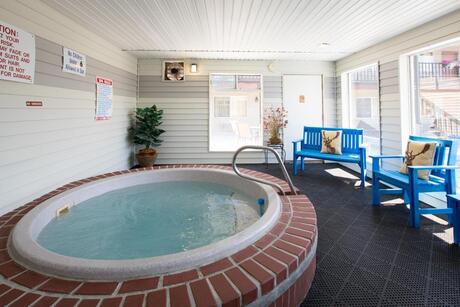 There are plenty of excellent hotels in West Yellowstone, and Crosswinds Inn is certainly of the best. It's centrally located, which means you are within walking distance of some of the best amenities of town and the entrance of West Yellowstone.
Guests are also served a complimentary breakfast in the morning, which means you not only can you try a typical American breakfast, but you also don't have to spend time looking for food.
But perhaps its most iconic feature is the hot tub that guests are allowed to use. There is no better way to end the day in West Yellowstone than soaking your aching limbs in that hot tub!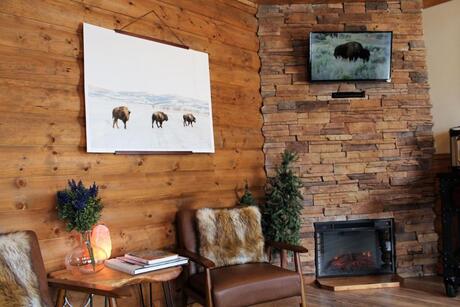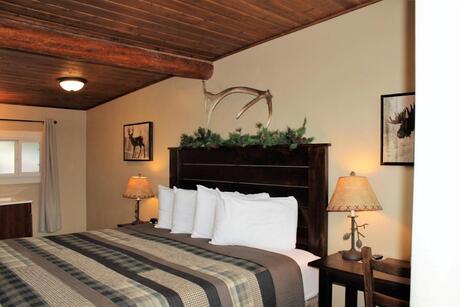 There is no better way to complement your West Yellowstone visit than staying in one of the iconic cabins in the region. The historic Elkhorn Cabins and Inn can help you with that.
This accommodation features timeless cabins where you'll be enchanted by the authentic decor that moment you step in. Guests will feel immediately at home. With their rustic charm and comfortable furnishings, the cabins at Elkhorn are an experience on their own.
But if you cannot afford the cabins, you can stay in the more affordable rooms. Either way, Elkhorn Cabins and Inn has something for you.
---
Visiting West Yellowstone FAQs
Is West Yellowstone Worth Visiting?
West Yellowstone is not only one of the closest towns to Yellowstone's most iconic sights, but it is a town with tons of midwest charm and lots of things to do. Staying here instead of inside the park will save you money and allow you to see of the beauty of the typical Montana mountain town.
What Are Some Things To Do In West Yellowstone At Night?
If you are visiting West Yellowstone in the warmer seasons, you'll find a lot of activities at night in West Yellowstone. For both adults and kids, Playmill Theatre and Yellowstone Giant Screen Theatre are the perfect evening entertainment. Otherwise, there are plenty of bars and saloons where visitors can get a local beer and just relax.
Is It Better To Stay In West Yellowstone or Gardiner, Montana?
There are pros and cons to staying in West Yellowstone and Gardiner. They are both about the same in price, but West Yellowstone offers a bit more amenities. West Yellowstone is closer to Old Faithful and Grand Prismatic Spring, but Gardiner is closer to Mammoth Hot Springs and Lamar Valley. No many how many days you spend in Yellowstone, both places deserve a visit!
---
Before You Go
West Yellowstone is a charming town with plenty of things to do. Hopefully, now that you've read our guide, you'll know how to make the most out of your West Yellowstone trip!
Disclaimer: Some of the links above are affiliate links. That means if you book or make a purchase through the links, we will earn a small commission at no extra cost to you! The money will help run this site! Thank you!