Not sure if you should visit Yellowstone in September? No worries.
As the summer season comes to an end, many travelers wonder if they have missed the prime time to visit one of the best national parks in the US. While it is true that no visit to Yellowstone National Park (YNP) will compare to a trip in the summer, September in Yellowstone showcases a different side of the park.
That is why we have written this guide on Yellowstone so you can decide whether a September trip to Yellowstone is worth it!
---
Pros Of Visiting Yellowstone National Park In September
1. Avoid the Summer Crowds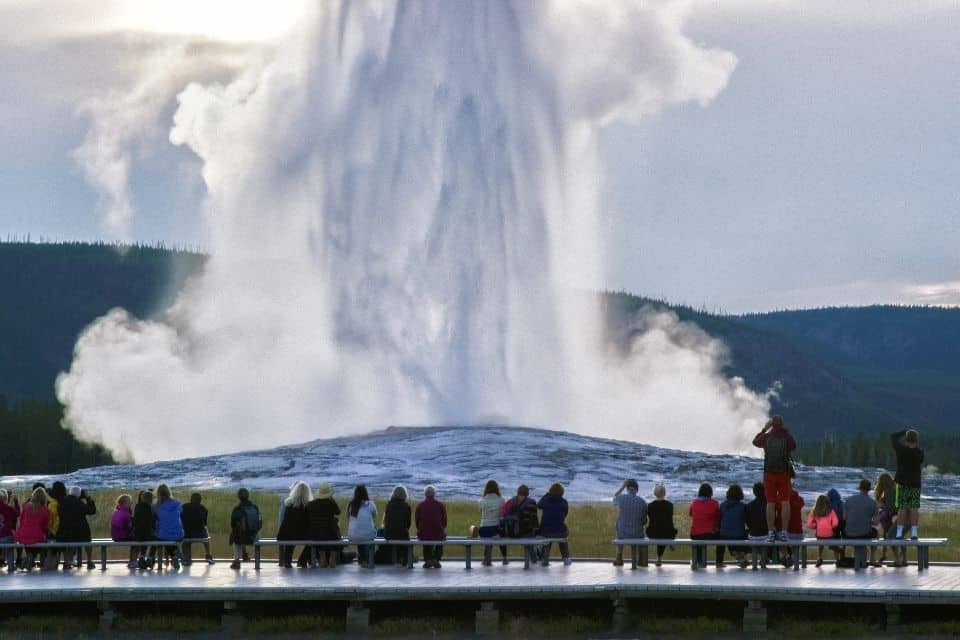 One of the top reasons for visiting Yellowstone in September in oppose to the summer months is unquestionably the ability to avoid the crowd. Summer is the peak season for Yellowstone so you will encounter massive crowds and tons of tour buses.
Home to steaming hot springs, gushing geysers, diverse wildlife, Yellowstone is nature's paradise.
Consequently, there is nothing that can ruin your Yellowstone trip more than getting smacked in the face by selfie sticks, having to shove your way in just to see a glimpse of Old Faithful (the most famous geyser in Yellowstone), or getting stuck in traffic because someone decided to stop the car on the road to photograph a bison.
With fewer people, you can fully appreciate some of the best things Yellowstone has to offer without having to wait an hour for a parking spot in places like Grand Prismatic Spring (the most famous hot spring in Yellowstone) or Grand Canyon of Yellowstone.
2. It Is Easier to Find Accommodation Inside & Outside Yellowstone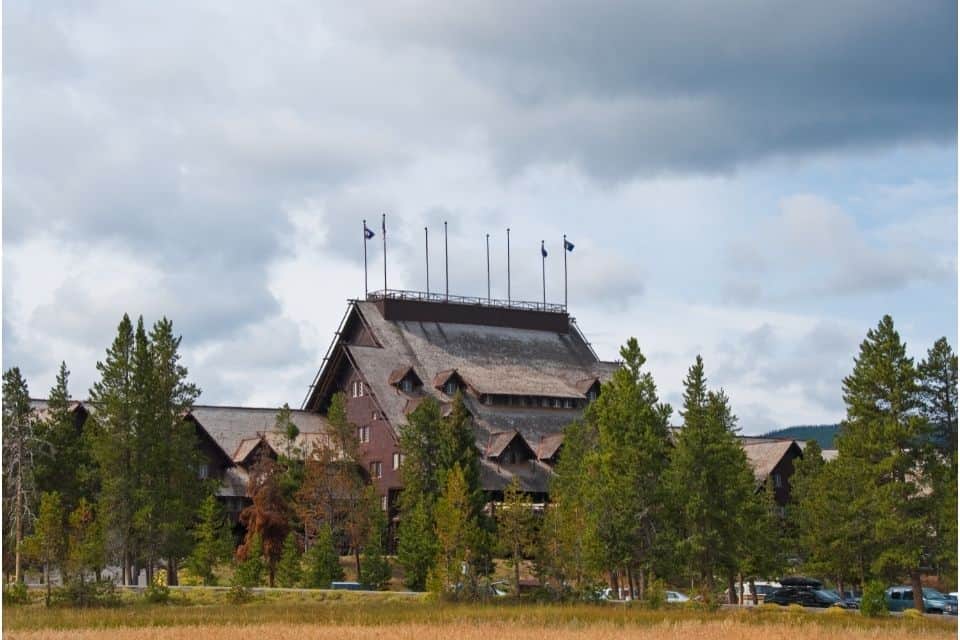 One of the most valued opportunities when visiting Yellowstone is the ability to stay inside the park. During the peak season (aka summer), the lodges inside Yellowstone are often booked more than several months in advance. Given that there are only nine lodges in Yellowstone (some of which are open seasonally), that is not surprising.
If you are not planning on staying inside the YNP, you can still benefit from visiting Yellowstone National Park in September.
Because of the smaller crowds, there is a lesser demand for hotels and other lodgings around the park. Generally, you will have an easier time finding places to stay in one of the towns near Yellowstone, such as Gardiner (MT), West Yellowstone (MT), or Jackson (WY).
Not only is it easier to find the ideal place to stay for Yellowstone, but the prices are also usually lower. If you are on a budget and still want to visit Yellowstone, coming in September (or autumn in general) is an excellent way to save some money.
3. Wildlife Activity in Yellowstone Is at its Peak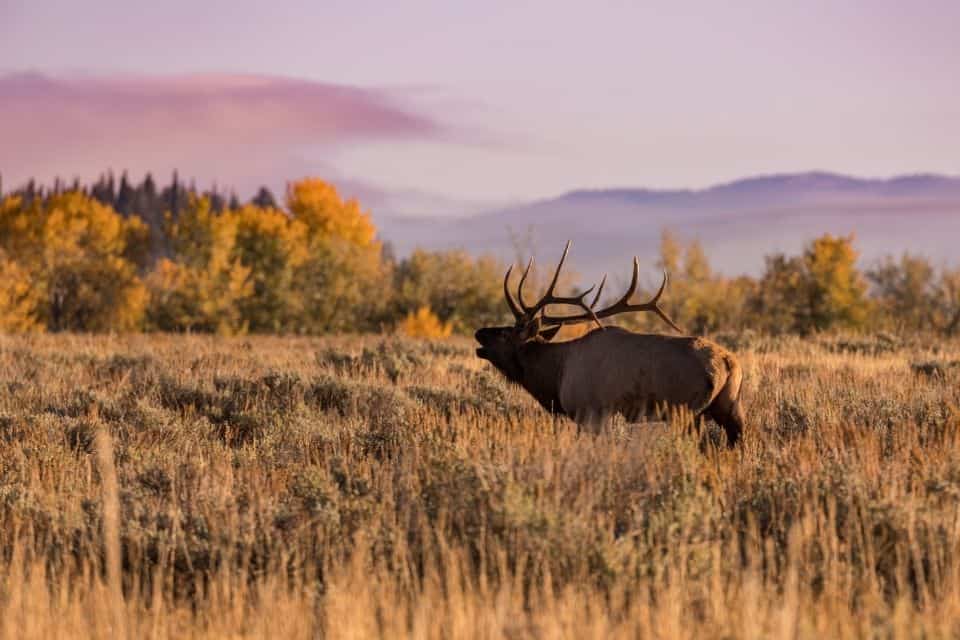 Yellowstone is home to nearly 300 species of birds, 16 species of fish, 5 species of amphibians, 6 species of reptiles, and 67 species of mammals, two of which are bear species – the black bears and grizzly bears. No matter how many days in Yellowstone you are spending, seeing its diverse wildlife is a must.
Many visitors believe that summer is the best time to see wildlife because everything is in full bloom, but that is actually not true. The best time to see wildlife in Yellowstone is autumn.
Autumn is the season of change in the park. It is elk rutting season (mating season), so visitors can experience the bugling of an elk in person.
Hint: Elk rut is not music to the ears, at least not to humans.
Other wildlife such as bighorn sheep and mountain goats notice the change in temperature and move to lower elevations where they will find green pastures.
The iconic animals of Yellowstone, the grizzly bears and black bears, prepare for hibernation in the winter through foraging and other methods. You have the highest chance of seeing a bear in Yellowstone in autumn.
If you are an avid wildlife watcher, then visiting Yellowstone in the fall, especially September, is going to reward you very well.
4. Fewer Mosquitoes & Bugs in Yellowstone
One of the worst things about visiting Yellowstone in the summer or spring is the number of bugs you will encounter. In spring, the melted snow offers mosquitoes a prime breeding ground to lay their eggs. It gets even worse in the summer, as the bugs will have plenty of freshwater sources and warmer temperatures.
By the time September comes around, the number of bugs has dwindled. In higher elevations, it is nearly impossible to encounter them. Even if you are near a freshwater source like a lake or a river, there are very few insects and mosquitoes.
Either way, we recommend you to bring some insect repellent (this one has Picaridin and no DEET) on any trip to Yellowstone (unless you are visiting in the winter.)
Read More: Visiting Yellowstone in November: Is It Too Late?
5. Beautiful Fall Colors in Yellowstone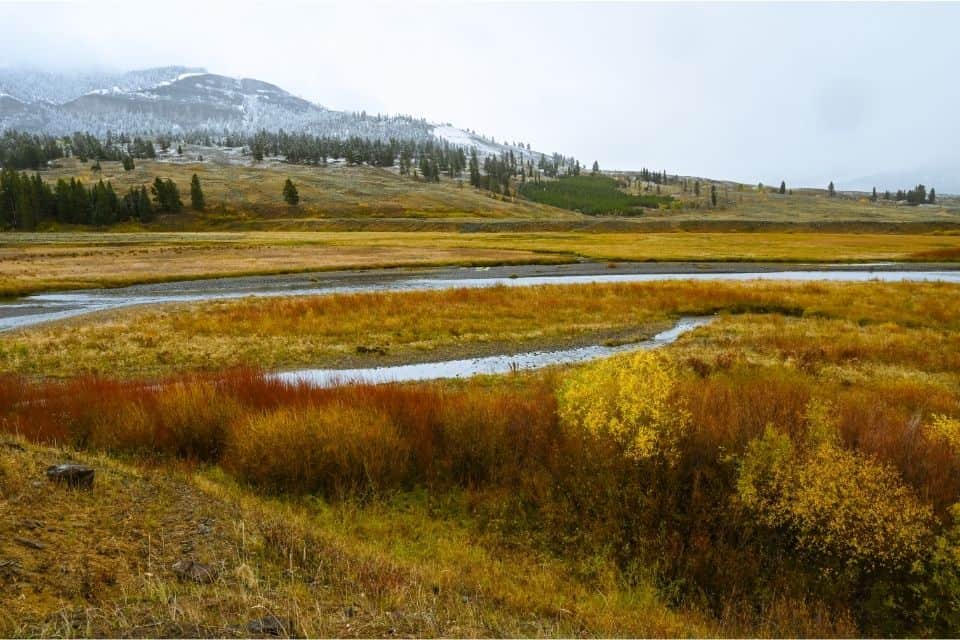 If you are visiting YNP in September, be ready for your eyes to be blessed. When September comes around, the entire park gets a makeover. The sea of green aspen trees gets injected with autumnal colors, showing visitors another beautiful side of Yellowstone.
If you are planning on doing any hikes in Yellowstone (which you should), the autumn foliage and fewer bugs will certainly be a delight. In fact, autumn might just be the best time to hike in Yellowstone. Many of the geothermal features in Yellowstone are colorful, and their beauty is further enhanced by fall colors.
---
Cons of Visiting Yellowstone National Park In September
1. The Days in Yellowstone Are Shorter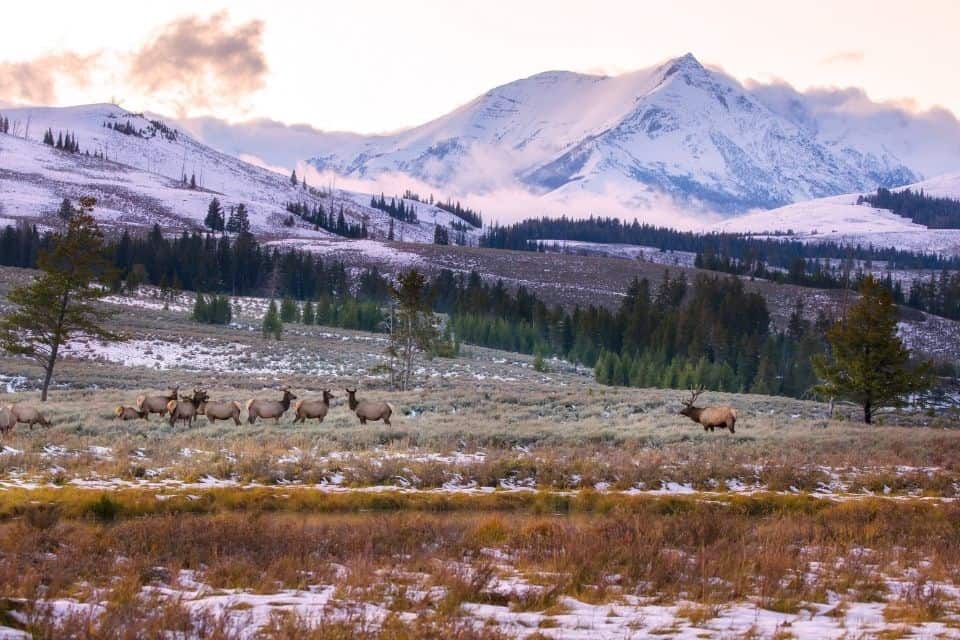 The days in September in Yellowstone are substantially shorter than the days in the summer. In September, the sun rises at around 7 AM and sets around 7:30 PM daily. During the summer, the sun rises at 5:30 AM and sets around 9 PM. If you do the math, you will notice that you lose about 3 hours of sunlight if you visit YNP in September compared to the summer.
This might not mean much to you if you have a multi-day Yellowstone itinerary. But if you are someone that has one or two days in Yellowstone, this could affect what you are able to see.
For more details about the times of sunrises and sunsets in Yellowstone, check out this site!
2. Facilities in Yellowstone Are Starting to Close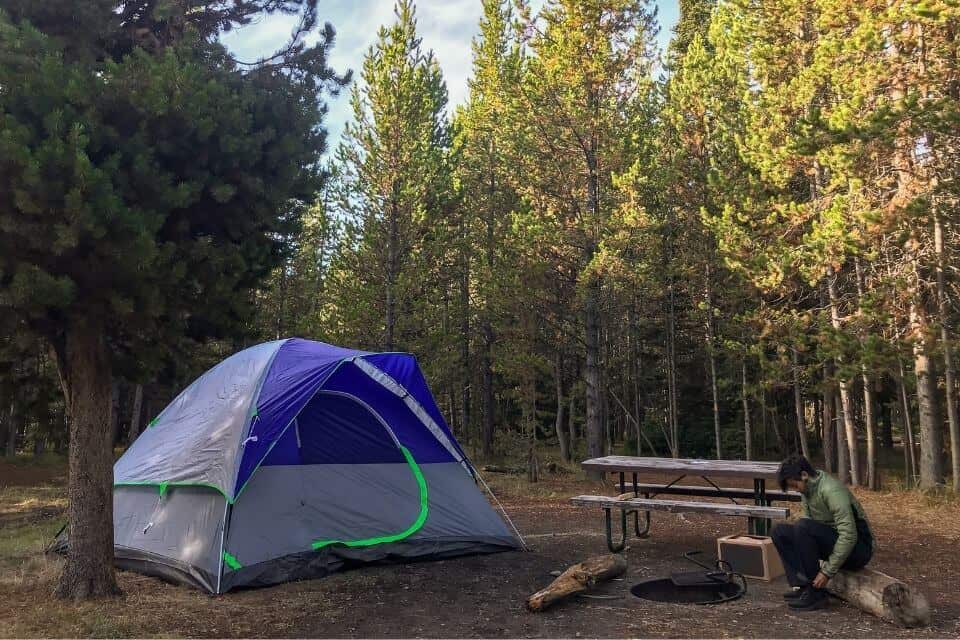 One of the biggest reasons you might not want to spend September in Yellowstone is that things are starting to close. September marks the beginning of the transition to winter, so the park prepares by beginning to shut down some of its facilities.
Many of the campgrounds in Yellowstone start closing in mid to early September, so if you plan on camping, September wouldn't be a suitable time. Though if visitors want to enjoy some of the nature in the region, they can opt to glamp near Yellowstone.
Some of the accommodations inside Yellowstone start to close in mid-September, so visitors might not get to stay in the park as they wished.
Since most of the accommodation in Yellowstone has a restaurant attached to it, that means dining options inside the park also diminish.
However, none of the attractions in Yellowstone are closed, so visitors can still see all places they would like.
Because the closing schedule changes every year due to the difference in weather, please refer to the official Yellowstone lodges opening/closing schedule here.
3. Weather in Yellowstone in September Can Be Suboptimal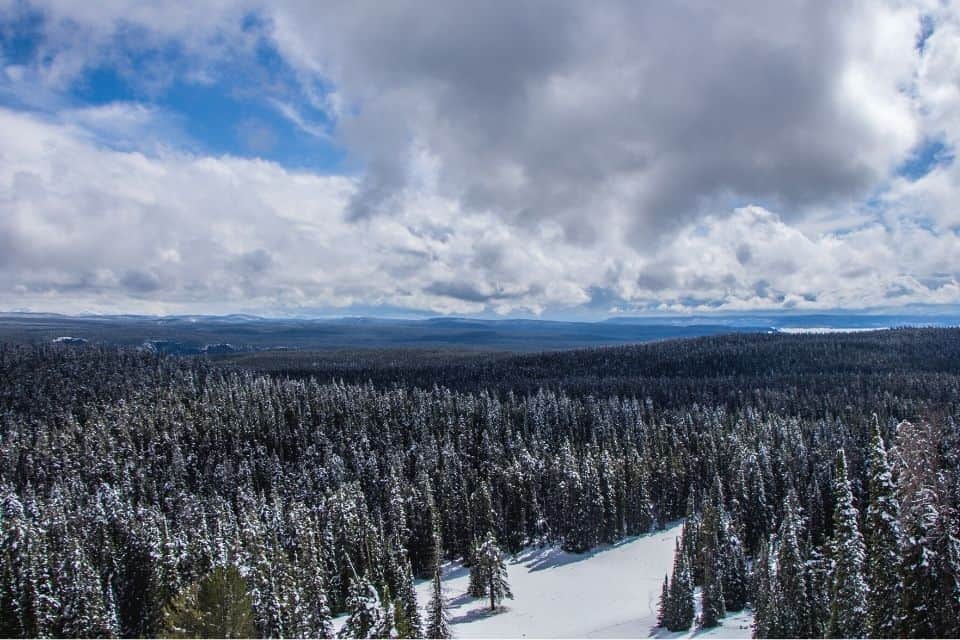 The biggest concern about having a Yellowstone trip in September is the weather. September marks the beginning of autumn in Yellowstone. While autumn doesn't sound too bad in other parts of the world, autumn in Yellowstone can get pretty cold because of its high elevation.
In fact, the weather isn't just cold, it is quite unpredictable. It is not uncommon for it to snow in the park. However, if you have a good sunny day, the temperature can easily reach 70 degrees Fahrenheit. Bikini or winter parka? You might need both!
Regardless if you have good weather or bad weather, the mornings and evenings in Yellowstone are cold. It is highly recommended that you pack many warm layers when visiting Yellowstone in fall.
Here you can find the average temperature in September in Yellowstone, but keep in mind that the climate is very unstable in the world. Make your own judgment before planning a trip to Yellowstone.
Read More: Yellowstone in October: Is it Too Late?
---
Things To Do In Yellowstone In September
A visit to Yellowstone National Park in September is very similar to a visit in the summer in terms of things to do. The cooler weather allows for more strenuous activities in Yellowstone, such as longer hikes. Here are some things to do in Yellowstone in September.
1. Grand Prismatic Spring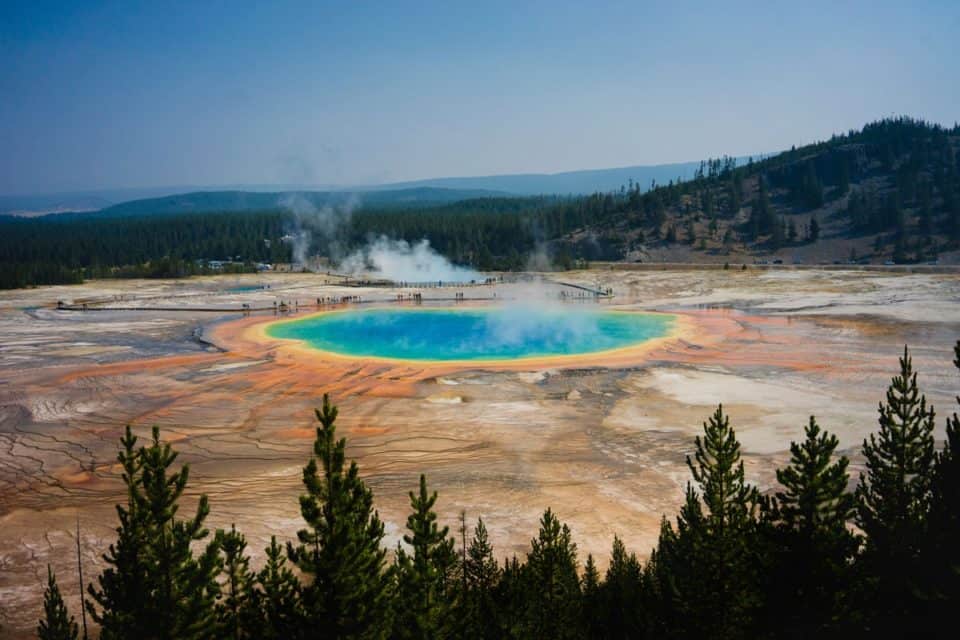 As the biggest hot spring in the United States, the Grand Prismatic Spring (GPS) is one of the top attractions in Yellowstone regardless of the season. In fact, visiting GP in September might be even better than visiting in the summer because of how crowded it gets.
It is not uncommon to have to wait close to an hour to get a parking lot at GPS if you are visiting during the peak season.
The massive Grand Prismatic Spring is known for its rainbow-like colors that propagate from the center of the hot spring. These colors are due to the different micro-organisms that live in different parts of the sping and are one of nature's most incredible phenomena.
Don't forget to go to the GPS Overlook on the Fairy Falls Trail.
2. Old Faithful Geyser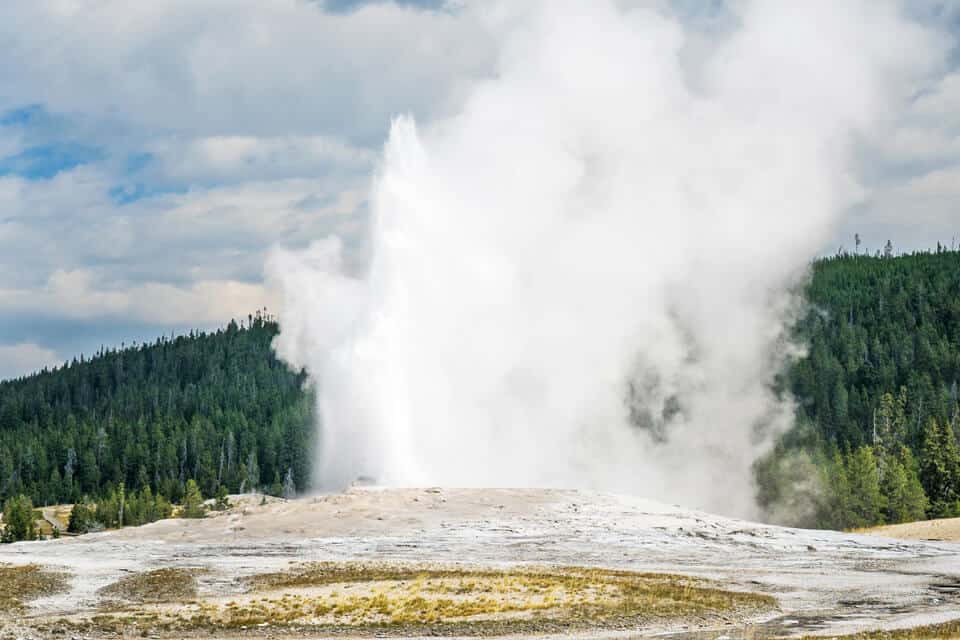 Old Faithful Geyser is the most famous geyser in Yellowstone National Park. It erupts up to a height of around 185 feet every 60 to 90 minutes. While that is far from the tallest geyser in YNP (which belongs to the Steamboat Geyser at over 300 feet), Old Faithful is one of the most regular big geysers.
Old Faithful guarantees that everyone can witness such an incredible geothermal feature with his or her eyes.
Similar to the Grand Prismatic Spring, there is usually a massive crowd at Old Faithful. That means you will have an easier time visiting it during September!
3. Mammoth Hot Springs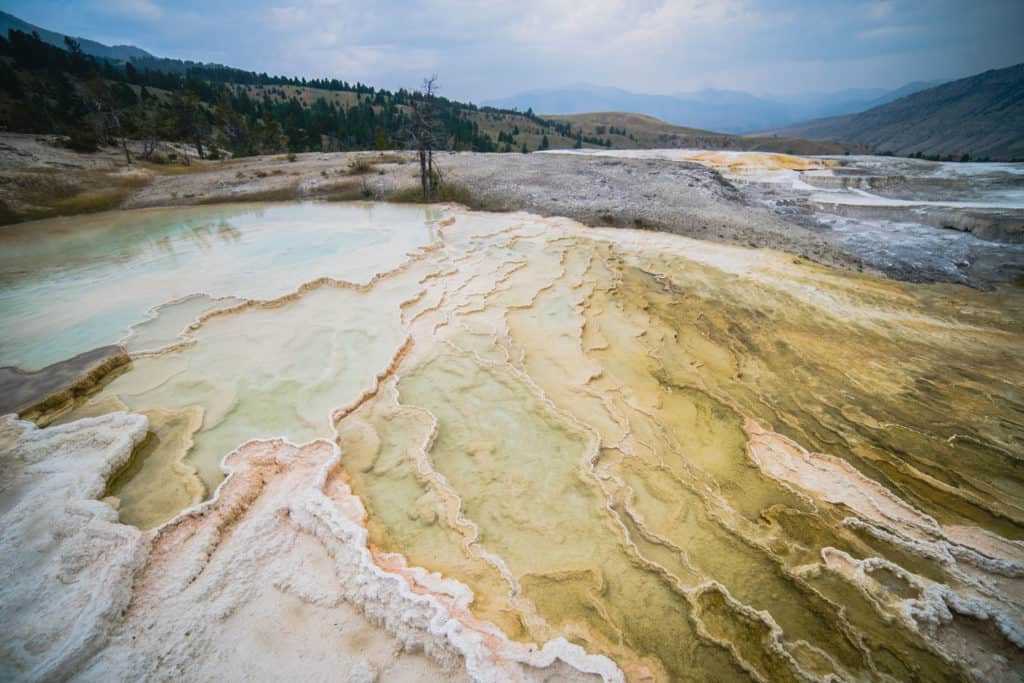 Mammoth Hot Springs is one of the YNP's most northern attractions. Don't get too excited! Mammoth Hot Springs isn't the hot springs where you can have a relaxing soak. In fact, they are too hot that you would instantly melt if you decide to jump in.
Mammoth Hot Springs is known for its inside-out cave appearances. Boiling water from underneath the ground dissolves the limestone bedrock in the region. This mixture makes its way to the surface of the ground, where it is then cooled to form these travertine terraces.
Visiting Mammoth Hot Springs in September is no different than visiting it in any other season. Just make sure you bring something warm because it can get quite windy there.
4. Grand Canyon of Yellowstone
The Grand Canyon of Yellowstone is one of the best places to visit in Yellowstone in fall. Carved out by the constant erosion from the Yellowstone River, the Grand Canyon of Yellowstone spans a total of 20 miles and contains two waterfalls:
109-ft-high Upper Falls
308-ft-high Lower Falls
With its white-bleached cliffs, sea of lush vegetation, and the ferocious Yellowstone River, the Grand Canyon of Yellowstone can easily win any beauty pageant. In autumn, its majestic beauty is further enhanced by the autumn foliage. Specks of vibrant autumnal color dot the landscapes and the scenery looks like it's from a travel magazine.
5. Hiking in Yellowstone in September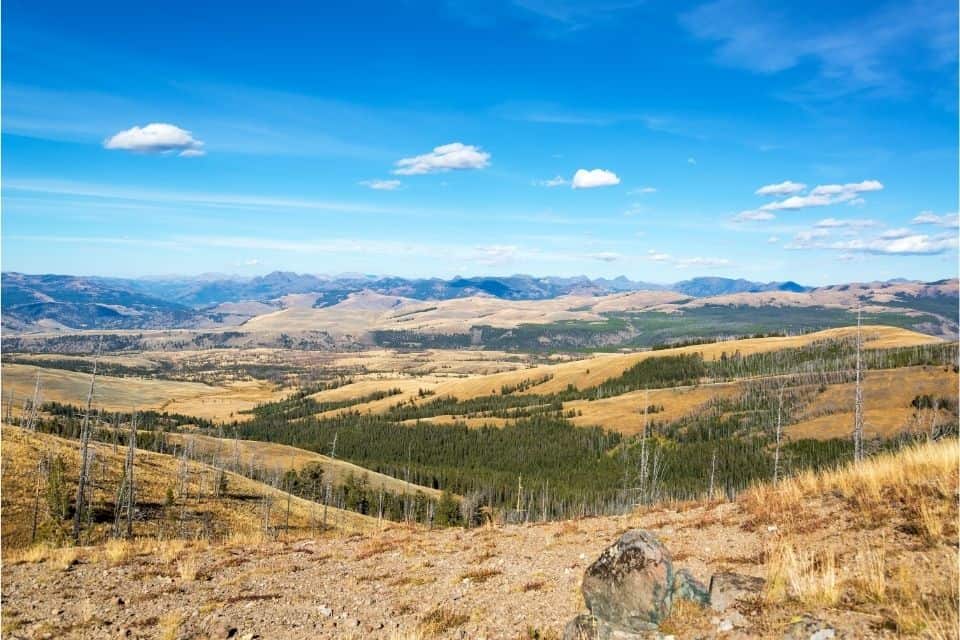 Hiking in September in Yellowstone is an absolute delight. The temperatures are warm enough that you can wear a thin layer and cool enough that you won't sweat like a maniac. Other than the weather, the hiking trails in Yellowstone are dotted with autumnal colors, making your hike even more stunning.
Lastly, wildlife activity is at its peak like we have mentioned. The chances of you spotting an animal in Yellowstone on your hike are higher than ever. Consequently, it is a MUST that you carry bear spray with you if you intend on hiking in Yellowstone in fall.
One of the hikes we recommend doing in September is the Dunraven Pass to Mt. Washburn. It is a 3 to 6-hour out-and-back trail that visits the peak of Mount Washburn, one of the tallest peaks in Yellowstone. Here guests have panoramic views of Yellowstone and the areas around it.
5. Yellowstone Lake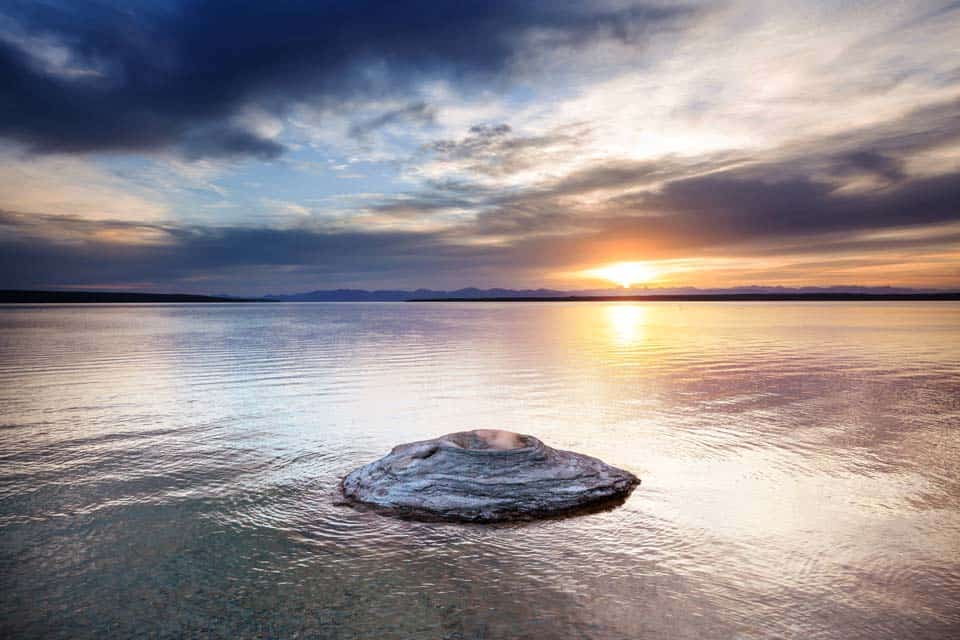 Yellowstone Lake is one of the best places to visit in Yellowstone in September. It offers plenty of wildlife viewing opportunities, as well as hiking trails that lead to stunning vistas. The lake is calm during this time of the year, and visitors can even have a picnic around the lake if they wish.
There are many places to see Yellowstone Lake, and one of the best is at West Thumb. Vistors will also find the West Thumb Geyser Basin here, which is home to some of the most stunning geothermal features of Yellowstone. Our favorites there are the Abyss Pool and Fishing Cone!
---
Packing List For Visiting Yellowstone in Fall
Visiting Yellowstone in fall is a little different from visiting Yellowstone in its peak season. Here is what we recommend packing for your fall visit to Yellowstone.
Bear Spray – As we have said, wildlife activity is at its peak in fall. Bears are a lot more common than any time of the year. Pack bear spray.
Binoculars – To take advantage of the heightened wildlife activity, bringing a binocular is a must. The best (and safest) way to observe wildlife is from afar and via binoculars.
Wool socks (Him/Her) – Wool socks are perfect for the cold temperatures you might encounter. They are also perfect for hiking as they are anti-odor and wick moisture well.
Extra Warm Layers – It is cold and unpredictable in Yellowstone in September. Pack extra warm layers in case you encounter freezing temperatures!
---
Like this post? Don't forget to save this on Pinterest!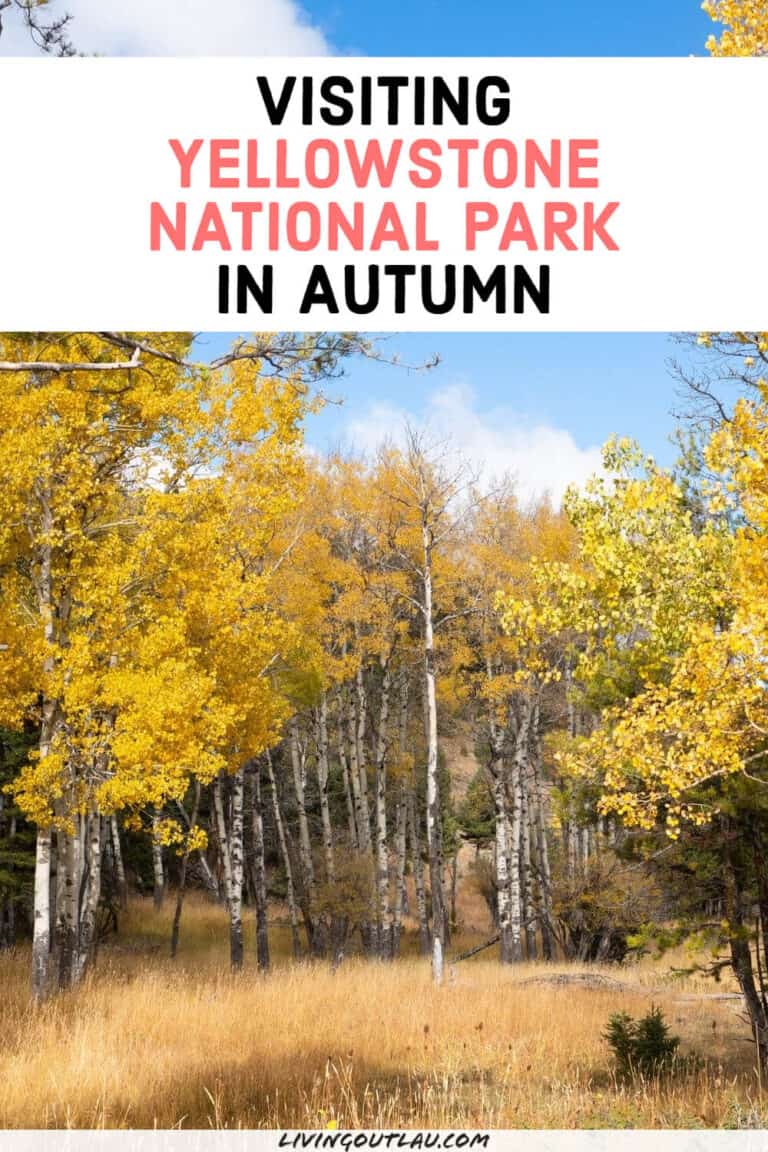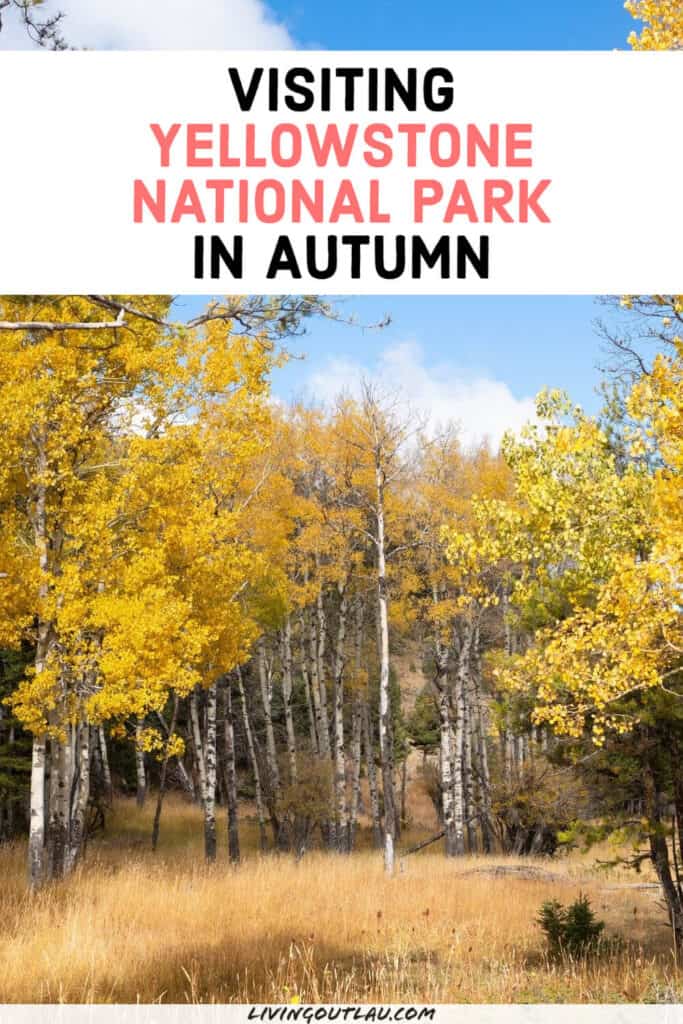 ---
So, Is Yellowstone Worth Visiting In September?
Though there are several disadvantages to visiting Yellowstone in September, the advantages clearly outweigh the cons. Just the fact that you'll be able to enjoy the park with fewer visitors alone is quite an opportunity on its own. Along with the heightened wildlife activity, September is truly one of the best times to visit Yellowstone!
We hope our guide has given you all the information you need to plan a plan in September to Yellowstone!

Any questions? Leave them in the comments!
Disclaimer: Some of the links above are affiliate links. That means if you book or make a purchase through the links, we will earn a small commission at no extra cost to you! The money will help run this site! Thank you!