Not sure how many days in Yellowstone to spend? Worry not.

As one of the most popular national parks in the United States, Yellowstone is a destination that every American has visited or will visit once. But because everyone has different goals when visiting Yellowstone, there is so much information out there on how much time you need in Yellowstone.

That is why we have written this guide, so we can give you a simple rundown of the things you can do given the number of days you have in Yellowstone.

We will start with one day in Yellowstone and go all the way to 5 or more days so you can judge for yourself how many days in Yellowstone do you need on your visit.

Enjoy!
How To Decide How Many Days In Yellowstone To Spend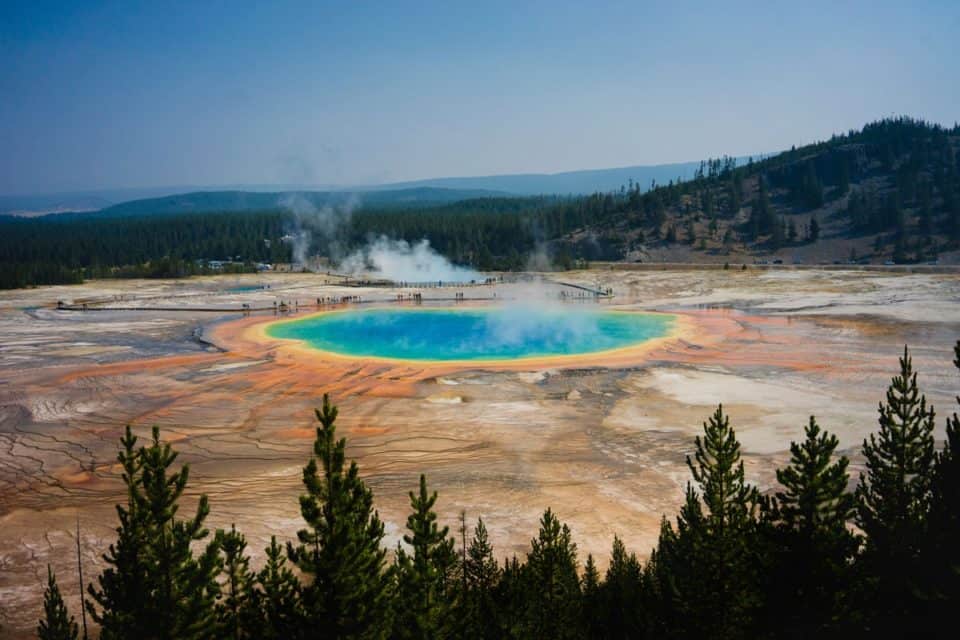 How many days in Yellowstone to spend solely depends on how much you want to accomplish. Spanning across three states and nearly 3500 square miles, there are enough things to do in Yellowstone to spend months here. From alpine peaks to dramatic canyons to gorgeous hot springs to gushing geysers, visitors won't run out of things to do in their Yellowstone itinerary.

However, if the question is how many do you need in Yellowstone to experience its main attractions. Then the answer is at least 3 days, but four days in Yellowstone is recommended.

That might seem quite a lot of time in Yellowstone consider it only has about 10 main attractions. However, the distance between the sightseeing places in Yellowstone is very long, so you will spend a lot of time traveling. For example, the distance from Old Faithful Geyser to Mammoth Hot Springs (two of the biggest attractions in Yellowstone) takes about 75 minutes of driving!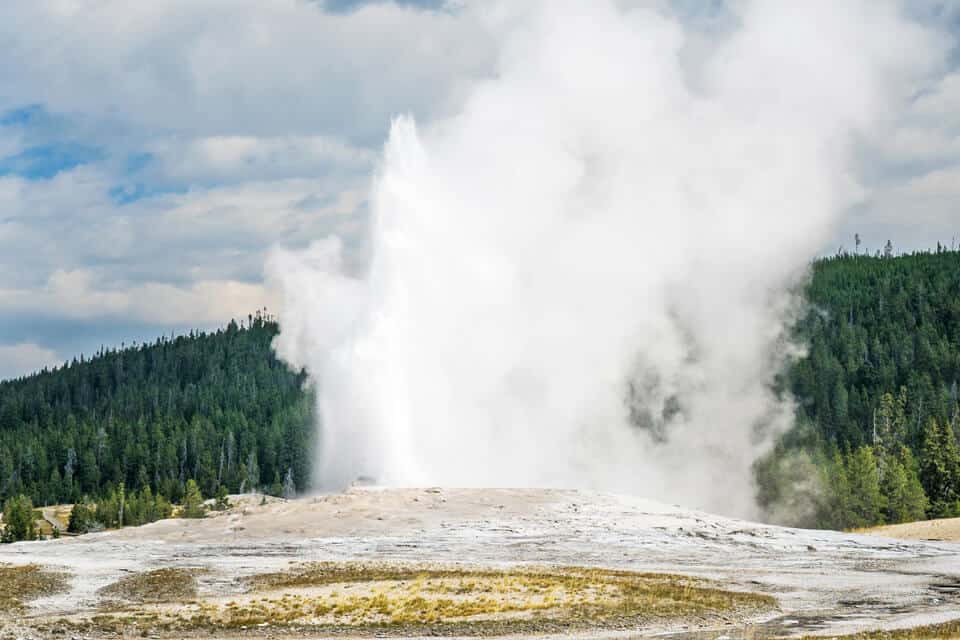 We haven't even accounted for unplanned circumstances such as wildlife traffic. If a herd of bison decides to casually stroll on the road, there is nothing you can do to stop them. You can't honk at them so you will have to wait patiently. Don't forget the amount of bottlenecking caused by visitors taking photographs of these animals!

That is why we recommend staying at least 3 days, optimally 4 days so you can travel leisurely and account for any unforeseen situations.

Here is what your trip would look like if you had 1, 2, 3, 4, 5 or more days in Yellowstone National Park.
1 Day in Yellowstone National Park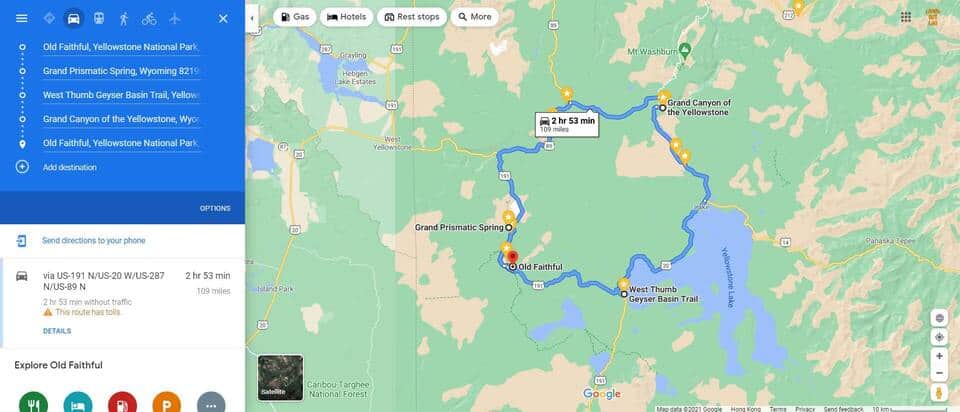 If you only have one day in Yellowstone National Park, I'm sorry but you just won't be able to see much.

Concentrate your time in the Upper Geyser Basin where the famous Old Faithful Geyser and Morning Glory Pool lie. Head north and check out the Grand Prismatic Spring in person, then head over to the Fairy Falls trail and see it from the Grand Prismatic Spring Overlook.

Afterward, head over to the Canyon Village where you will find the almighty Grand Canyon of Yellowstone. Here you will find numerous views to admire its entire glory. Not every viewpoint is open at once so pick whichever one is available to you.

We recommend Artist Point as it overlooks the Lower Falls of the Yellowstone River surrounded by the white-bleached cliffs of the Grand Canyon.
Finish off with a visit to the West Thumb Geyser Basin, which overlooks the pristine Yellowstone Lake and has a few incredible geysers, such as the Fishing Cone and Abyss Pool.

If you only have 1 day in Yellowstone National Park, it is imperative that you stay in one of the few lodges inside Yellowstone (ideally Old Faithful Inn). Yes, it will be more expensive. Yes, it will require booking many months in advance. However, it is imperative for maximizing your time in Yellowstone as the entrances to Yellowstone are quite far.
2 Days in Yellowstone National Park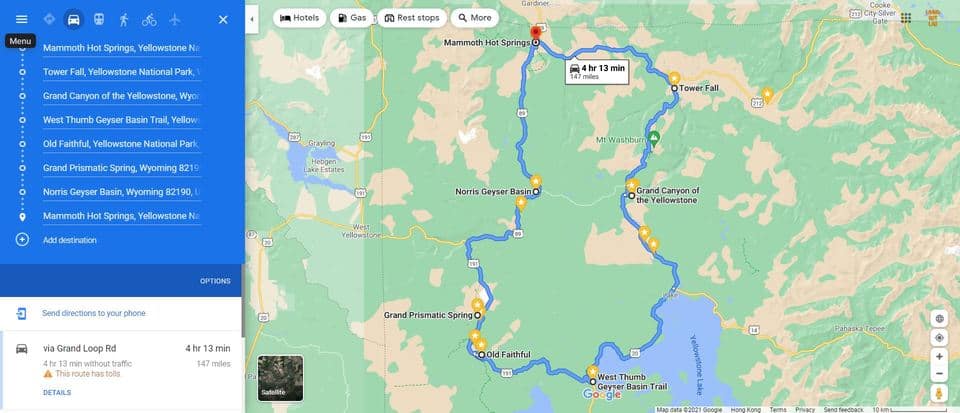 If you could only afford 2 days in Yellowstone, don't worry. We can make it work; we can see (almost) everything. Similar to having one day in Yellowstone, it is important that you stay in one of the Yellowstone lodges inside the park.

In Yellowstone National Park (YNP), there is a famed road known as the Grand Loop Road. This road forms the figure 8 inside the park, and along this road contains the main tourist attractions of YNP. If you have two days in Yellowstone, that will be just enough time to experience the Grand Loop Road.

The 1-day Yellowstone guide above covers the lower circle of the figure 8. On the second day, you can cover the top circle of the number 8. Some of the most notable attractions in the upper half are the Mammoth Hot Springs (our personal favorite), Tower Fall, and Calcite Springs Overlook (our favorite hidden gem in YNP).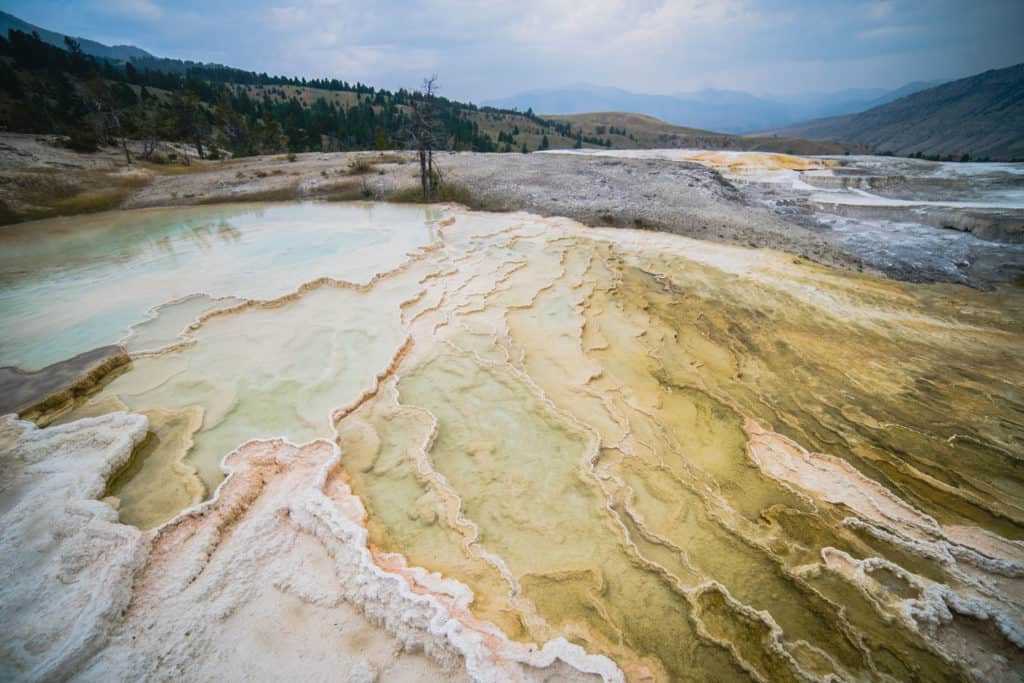 The upper part of Yellowstone doesn't have as many points of interest as the lower part, which means you can see some of the attractions you would've otherwise missed if you had one day, such as the Mud Volcanoes, Noris Geyser Basin, and Hayden Valley (a wildlife hot spot).

When doing the Grand Loop Road, it is important to see if there are any road closures. This is especially common during the off-season (a.k.a. summer) to repair the roads.
Check the road conditions of Yellowstone National Park here!
3 Days in Yellowstone National Park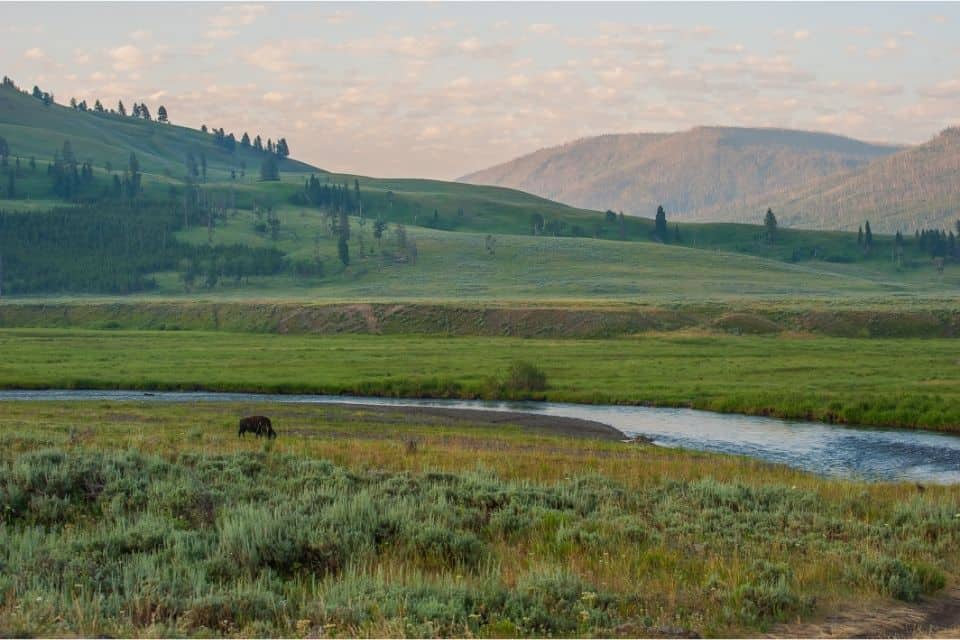 3 days in Yellowstone National Park is the minimal amount of time we would recommend spending in Yellowstone. It is enough time to explore Grand Loop Road in its entirety leisurely. There is no need to stress about any unforeseen circumstances such as wildlife traffic jams and road closures. You can plan your visit to the main attractions in Yellowstone and avoid the crowd.

There is flexibility when you visit Yellowstone in 3 days.

We encourage you to head over to Lamar Valley near Tower Fall and check out some of the wildlife. It is considered one of the best places in Yellowstone to observe wildlife. If you get lucky, you might even see the iconic Yellowstone Grizzly Bears ( but hopefully not too close)!

Having three days allows you to try out some of the hikes in Yellowstone. For easy hikes, check out the Point Sublime Trail by Canyon Village or Elephant Back Mountain Trail near the Lake Village. Both of those offer extraordinary views of some of the best features of Yellowstone.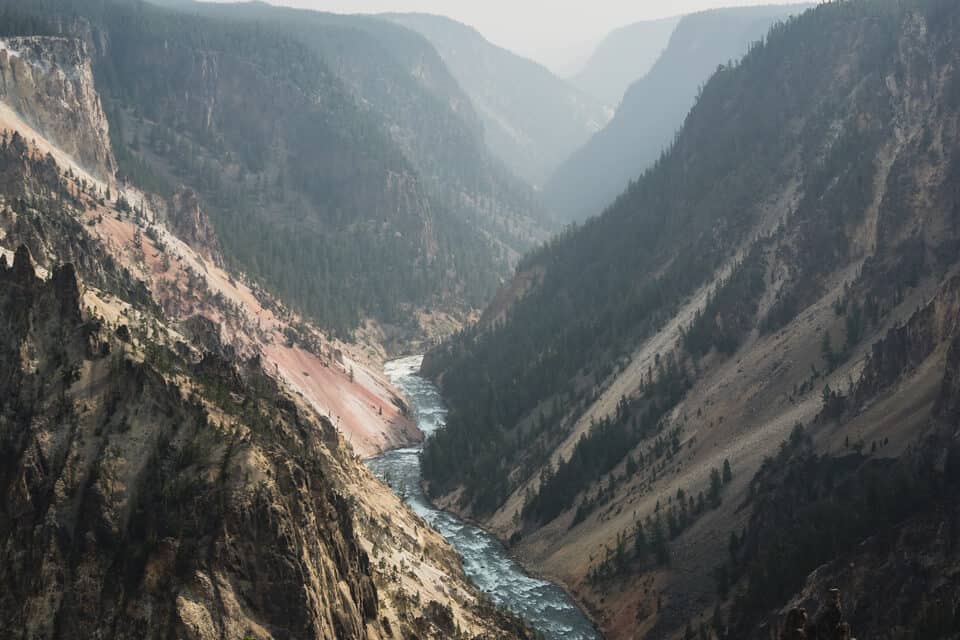 For a more difficult hike, Mount Washburn is a no-brainer as its elevation at 10,243 ft offers panoramic views of the natural landscape.
4 Days in Yellowstone National Park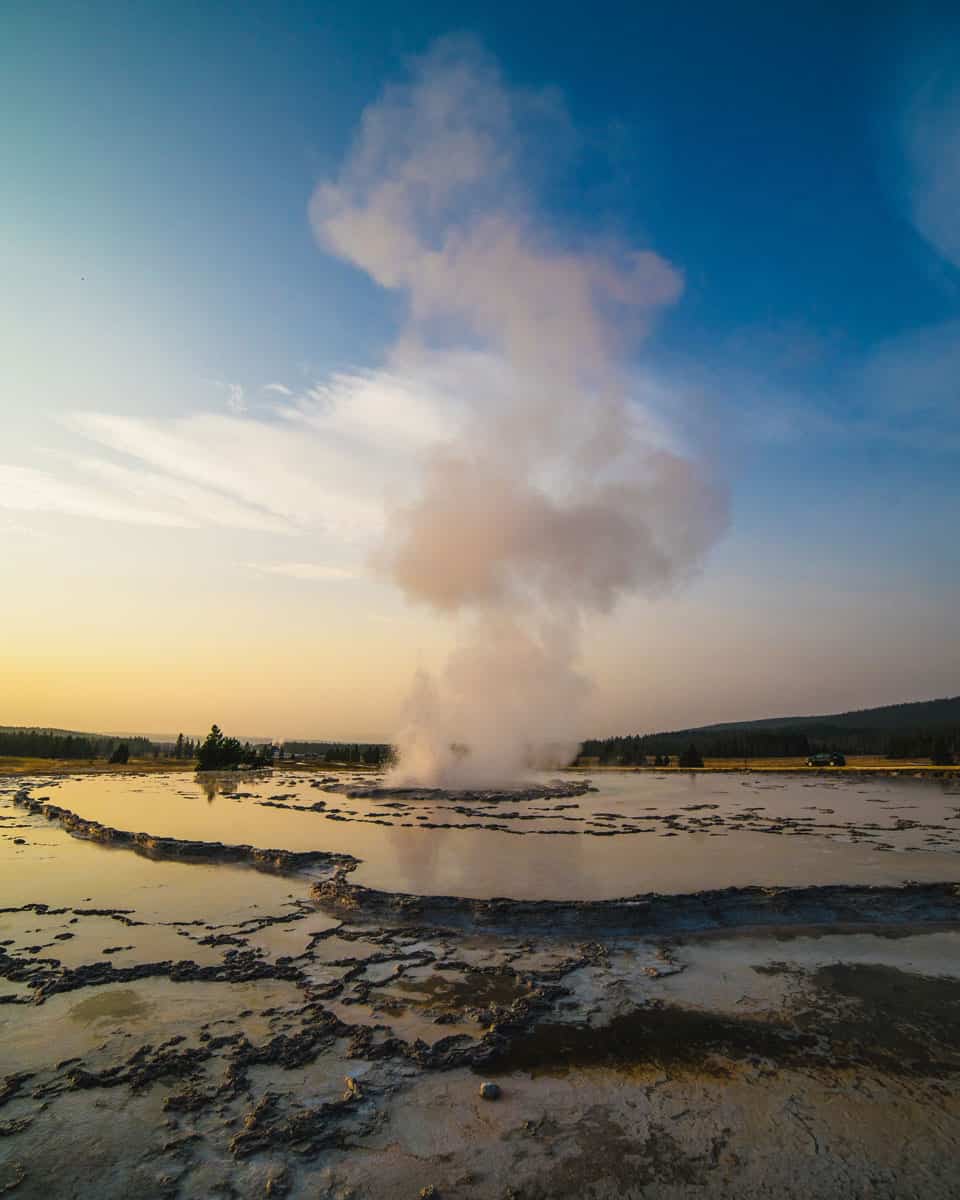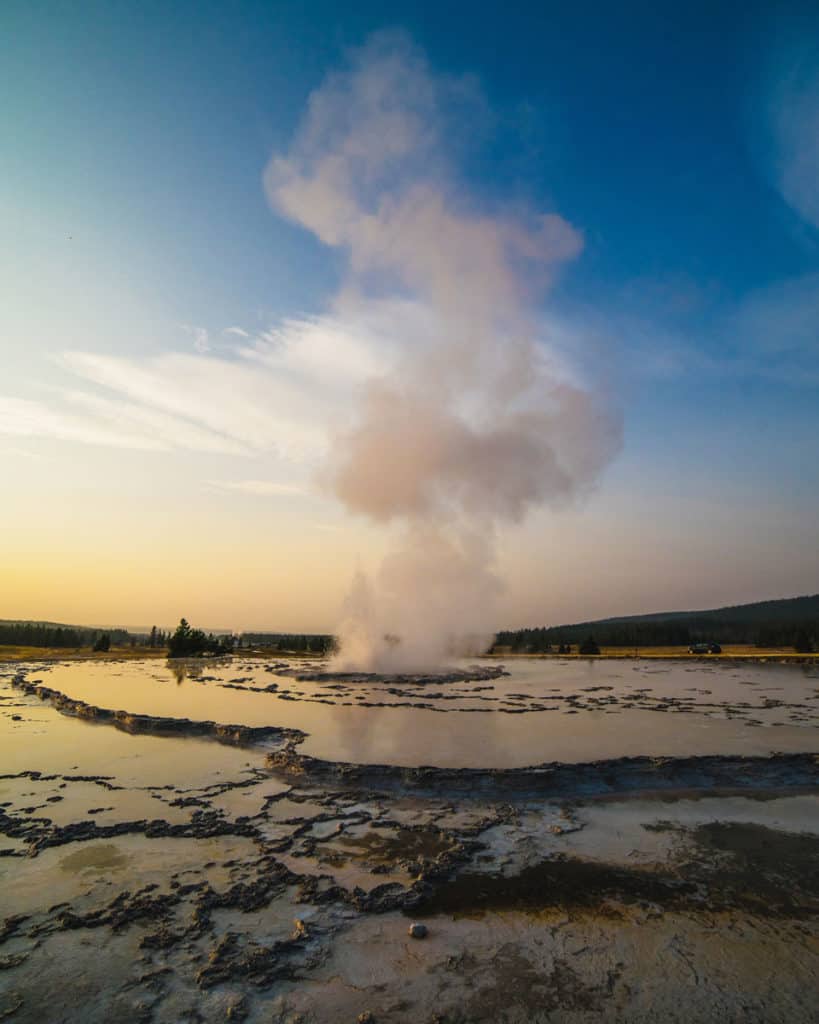 If a friend asks me for my expert opinion on how many days to see Yellowstone National Park, I would tell them 4 days. Four days in Yellowstone gives you enough time to explore the park leisurely, enjoy some of the lesser-known treasures of the park, or even participate in ranger programs.

We recommend heading to one of the visitor's centers and checking out the predicted eruption times for some of the less popular geysers. We really liked the Great Fountain Geyser, as it had a beautiful background and hardly any crowds. It also has a much more impressive eruption than Old Faithful Geyser, the most famous Geyser in YNP.
The only downside to the Great Fountain Geyser is that it erupts once in a 4-hour window, so you might need to wait for some time. We enjoyed a packed lunch and some drinks while being completely immersed in nature.

Four days is perfect for anyone traveling Yellowstone on a budget because this allows you to stay outside of Yellowstone Park and save money on lodging. Small towns outside of Yellowstone such as Gardiner, West Yellowstone, and Jackson offer more amenities and a wider variety of cuisines.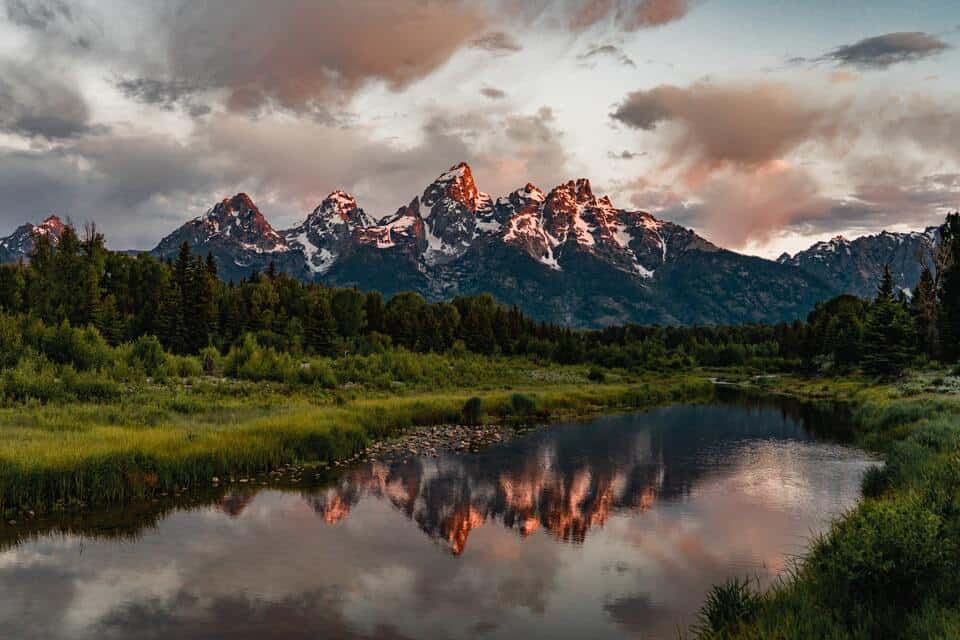 If you have four days in Yellowstone, I would recommend making a short stop at Grand Teton National Park, another beautiful national park located 8 miles away from Yellowstone's South Entrance. It is known for its gorgeous Grand Teton Mountain Range that makes the perfect backdrop for landscape photography.
5 or More Days in Yellowstone National Park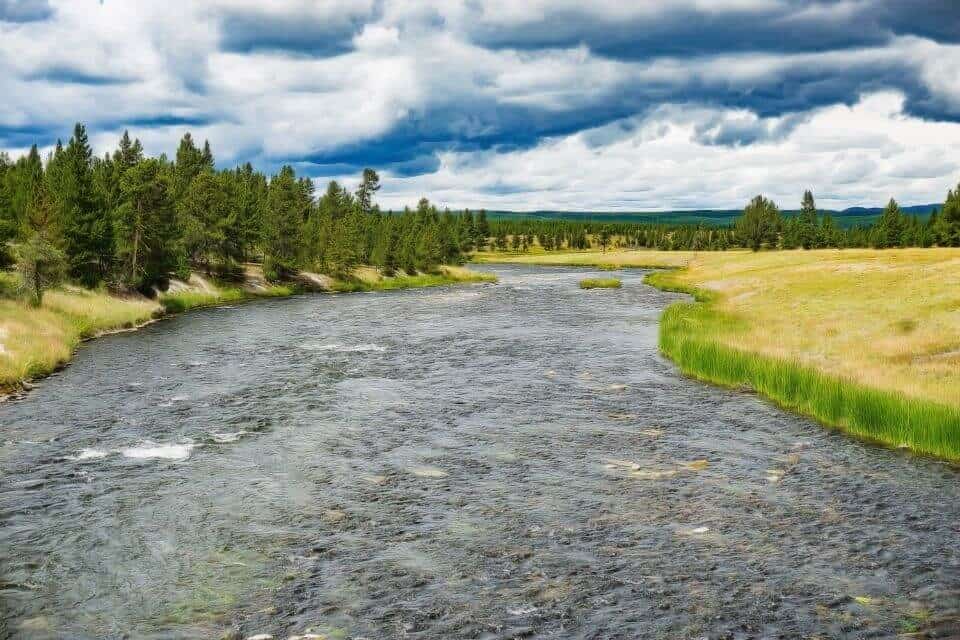 5 or more days in Yellowstone is more than enough time to see all of the main attractions in Yellowstone plus some. It is perfect for travelers that like to travel slowly and appreciate the nature of Yellowstone.

This amount of time in Yellowstone offers you the opportunity to just lounge around for a day. That is why we recommend you to go have a picnic, swim in Firehole River (or Boiling River for a "hot spring" experience), and go for one or more hikes in Yellowstone.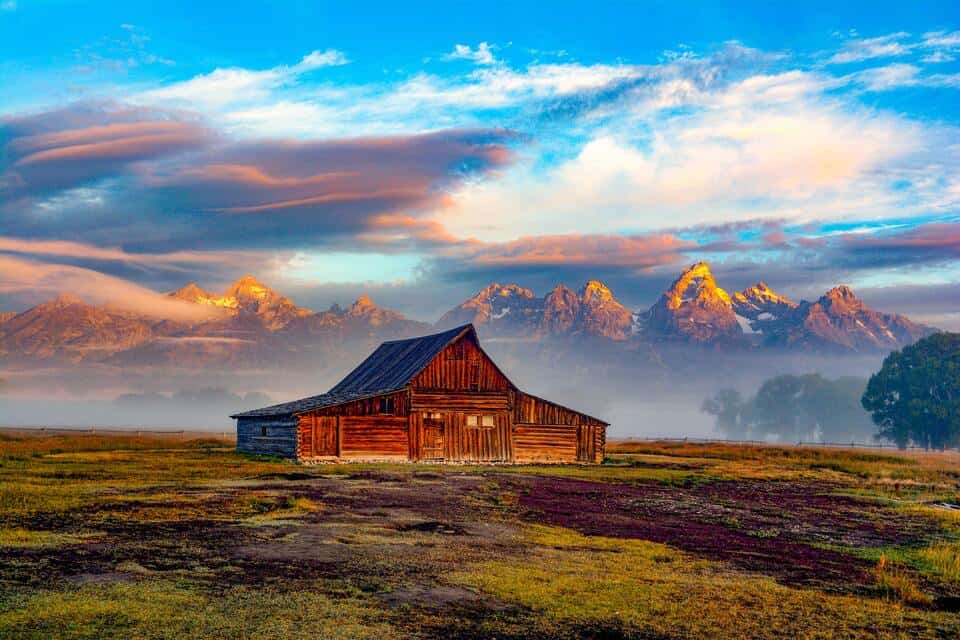 Exploring the nearby Grand Teton National Park is highly recommended if you have five days. Go check out the beautiful Mormon Row Historic District and hike the Jenny Lake Loop.

The world is your oyster when you have 5 or more days in Yellowstone!
Where to Stay in Yellowstone to Maximize Your Time
Because Yellowstone is so big, picking the proper place to stay in Yellowstone is critical to maximizing your time. Below we will talk about the two options you have when you are at Yellowstone – staying inside the park or staying in one of the towns outside of an YNP entrance.
Staying Inside Yellowstone National Park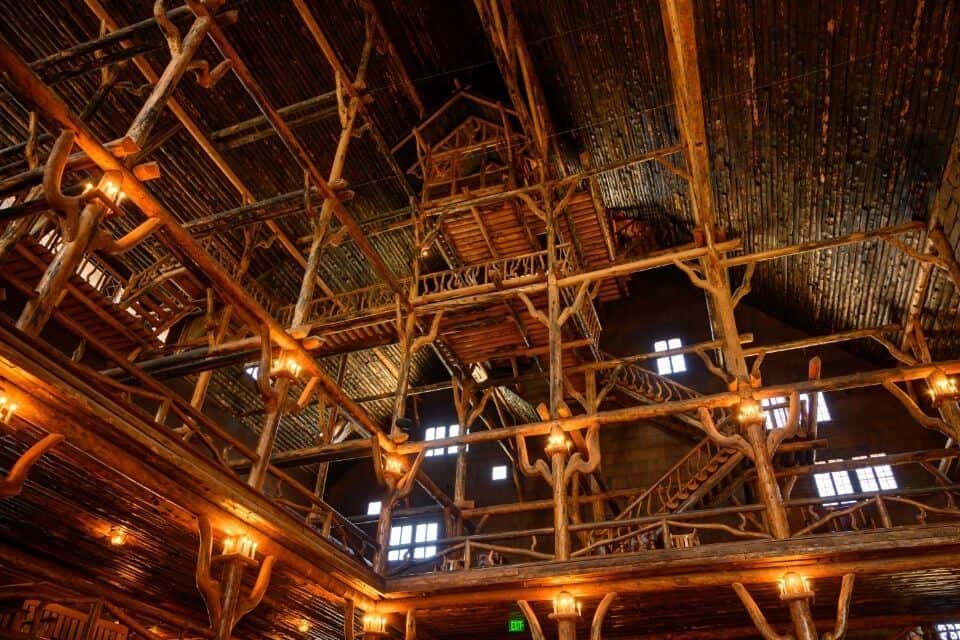 Staying inside Yellowstone is one of the coolest experiences you can have at the park. Once the sun sets, the crowd empties out and you are left with nothing but mother nature's best creations.

Not only that, but staying in the park lets you get around much easier. For example, if you want to visit the Grand Prismatic Spring, the closest entrance is the west entrance, which is located a 30-minute drive away! But if you were staying in Old Faithful Inn, that commute would only be about 10 minutes.

There are a total of nine lodges and over 2,00 rooms in Yellowstone National Park for guests. While most of these lodges are open in the summer, only a selected few are open in the off-season.

These lodges are very popular, especially the more famous ones such as Old Faithful Inn and Lake Lodge. It is important that you make a reservation at least several months in advance to secure a spot in one of the lodges. Remember, Yellowstone is one of the most popular national parks in the United States!
Click here to find out more about the lodges in Yellowstone National Park!
Staying Near Yellowstone National Park
There are five entrances to Yellowstone National Park, but only three of them are somewhat close to the main sights in Yellowstone. They are the North Entrance, West Entrance, and South Entrance.

Because the attractions in Yellowstone are spread out apart and the entrances are hours away from each other, it is recommended that you don't just stay near one of the entrances.

Stay near one of the entrances to Yellowstone, see the attractions near that entrance, and then move to a different hotel at a different entrance. That is how you can maximize your days in Yellowstone.
Staying Near North Entrance of Yellowstone (Gardiner)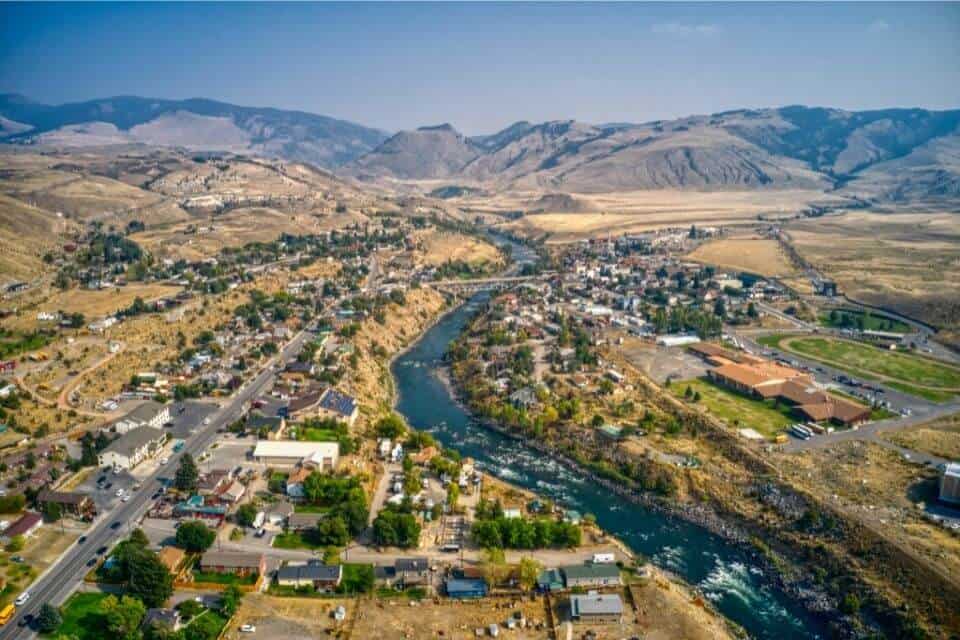 The North Entrance of Yellowstone is located in a Gardiner, a small town in Montana with about 1,000 residents. It is the first entrance to Yellowstone since its creation in 1872 and the only one that is open all year round.

Though a small town, Gardiner has all the amenities you might need. From grocery stores to traditional American restaurants to gas stations, there is everything you might need for a short stay. Accommodations in Gardiner are fairly nice too but don't expect luxury.

The North Entrance is close to attractions in Yellowstone such as the Mammoth Hot Springs, Tower Fall, Calcite Spring Overlook and Lamar Valley.
Best Vacation Home in Gardiner – Scott Street Yellow House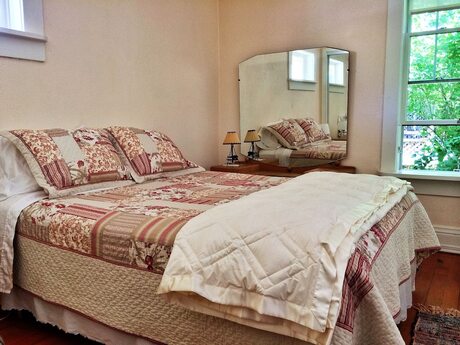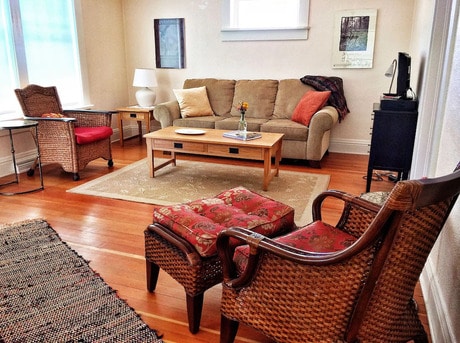 (Images Courtesy of Vrbo)

If you are looking for a cozy stay and in the center of Gardiner, then the Scott Street Yellow House is the perfect place to stay. A home that has been with Yellowstone since the beginning of its creation, guests can feel its part of the history with its timely decor.

Some of the amenities include a peaceful garden where guests can enjoy the refreshing air of Montana, a sunny reading room, and a luxurious claw-footed bathtub to soak your soothing limbs after a hike in Yellowstone. Guests are guaranteed to have an amazing at Scott Street Yellow House.

Click here for more info!
Best Hotel in Gardiner – Yellowstone Getaway Inn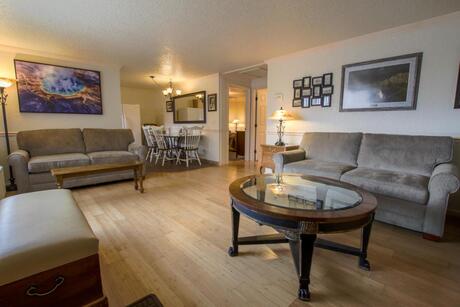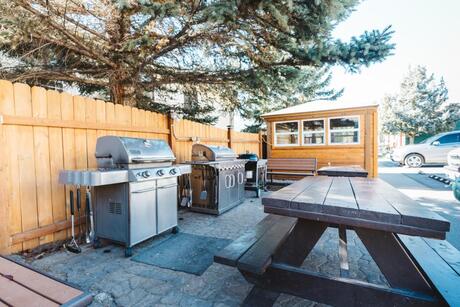 Located a 2-minute drive from the North Entrance of YNP, the location of Yellowstone Getaway Inn cannot be beaten. Visitors will also find a variety of other activities nearby, such as rafting, fishing and swimming.

When you are not exploring Gardiner or Yellowstone, find a peaceful stay at the Yellowstone Getaway Inn. Each room is equipped with a flat-screen cable TV, tea and coffee machines, air-conditioning, plenty of seating area, and gorgeous mountain views. Its homey and warm decor is surely going to remind you of the comfort you get at home.

Click here for more details!
Staying Near The West Entrance of Yellowstone (West Yellowstone)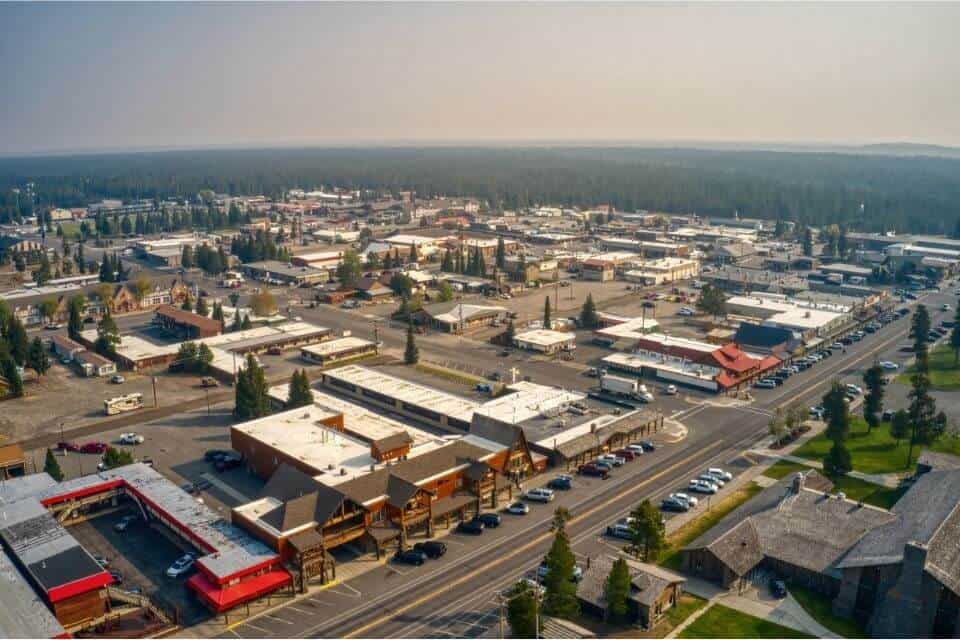 The West Entrance of Yellowstone is located in West Yellowstone, another small town of Montana with about 1000 residents.

Compared to Gardiner, we found that the amenities and quality of hotels are generally better in West Yellowstone. There were more types of accommodations to choose from. Restaurants were better decorated with more luxurious furnishings. We had options when it came to dining in West Yellowstone as it wasn't all traditional American cuisine.

Gardiner felt like it was trapped in that era when Yellowstone first opened up. But as an entrance that was built later, West Yellowstone just felt more modern.

Staying in West Yellowstone is inevitable on your trip if you decide to stay outside the park. That is because the west entrance is closest to some of the biggest attractions in Yellowstone such as the Grand Prismatic Spring (GPS) and Old Faithful Geyser.
Best Vacation Rental in West Yellowstone – Burnt Hole Cabin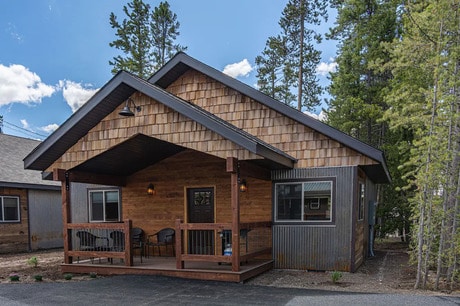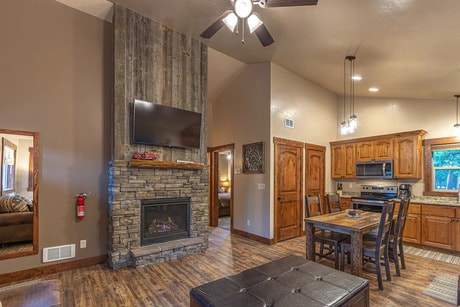 (Images Courtesy of Vrbo)

Located a 5-minute drive from the West Entrance of Yellowstone, the Burnt Hole Cabin offers guests both comfort and convenience. With 2 bedrooms, this West Yellowstone vacation rental allows a maximum of 4 guests to enjoy its pristine amenities, such as a gorgeous deck with a seating area, BBQ, a fireplace and more.

With its luxurious and warm decor, guests will feel at home when relaxing in its spacious living room or making a delicious homemade meal with the fully-equipped kitchen.

This property is located on the perimeter of West Yellowstone, meaning guests can reconnect with nature without being more than walking distance away from the town's amenities.

Click here for more information!
Best Hotel in West Yellowstone – Yellowstone Park Hotel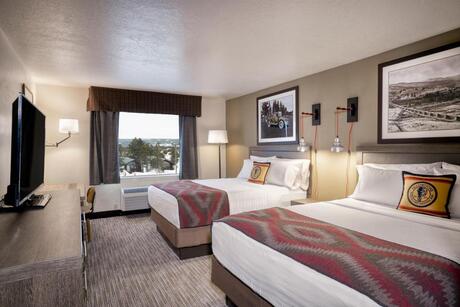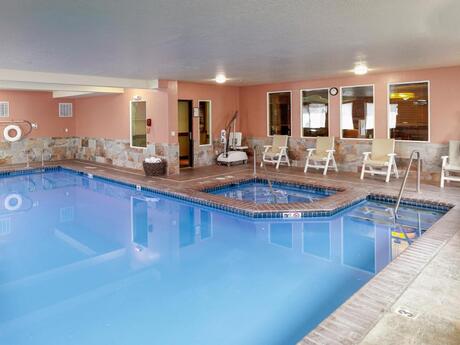 If you want an unforgettable stay at West Yellowstone, then you have to choose the Yellowstone Park Hotel. Located only 3 blocks from the West Entrance, not only is the park right at your doorstep, but also West Yellowstone's best amenities.

The amenities at Yellowstone Park Hotel are what truly blew us away. Each room is spacious and equipped with a flat-screen TV, refrigerator, microwave, and coffee maker. When you are not relaxing in your cozy room, enjoy the hotel's luxurious shared facilities such as the indoor swimming pool, hot tub, or gym.

A continental breakfast is also included in your stay!

Click here for more details!
Staying Near South Yellowstone Entrance (Jackson)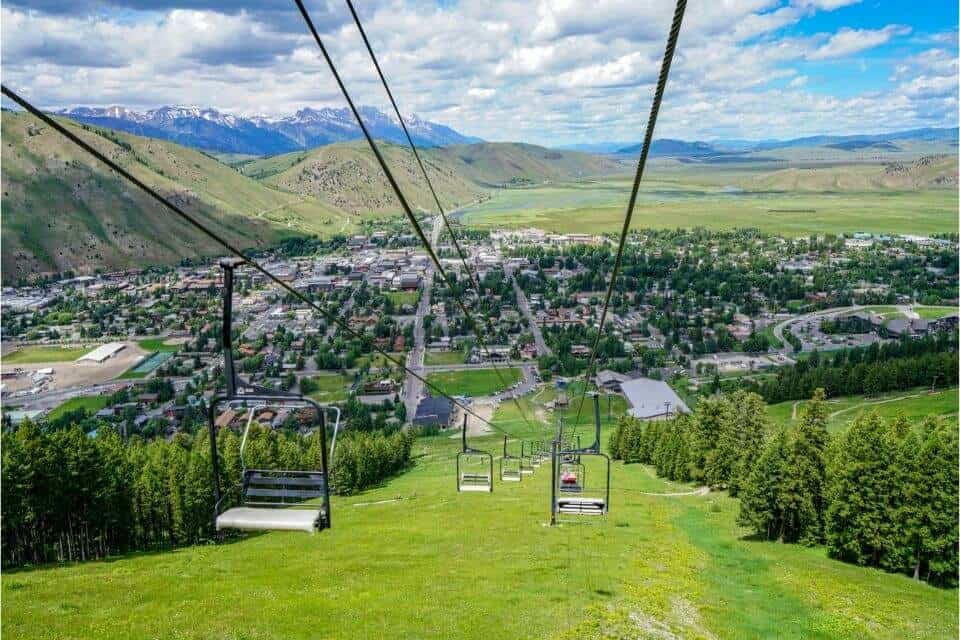 There are many small towns near the South Entrance of Yellowstone National Park, and the most common one is Jackson. As one of the more popular ski destinations in Wyoming, the facilities and accommodations in Jackson are much better than any other of the towns we have mentioned.

Guests will find more affordable accommodations at better qualities, different types of cuisines, various grocery options, and even a town center with a nice park. However, the only reason why staying at Jackson when visiting Yellowstone might not be such a good idea is how far the town is from the entrance.
It is a 75-minute drive to the South Entrance of Yellowstone from Jackson, and that is because you must pass through the Grand Teton National Park to do so. However, if you plan on visiting Grand Teton National Park and Yellowstone, then staying in Jackson for a day or two might not be the worst idea.

It also helps that Jackson has its own airport (unlike all of the other towns near Yellowstone), so visitors will have an easier time arriving.

The closest Yellowstone attraction to Jackson is the West Thumb Geyser Basin and Yellowstone Lake, though it is still 1 hour and 45 minutes away.
Best Vacation Rental in Jackson – Alpine Cottage Studio w/ Hot Tub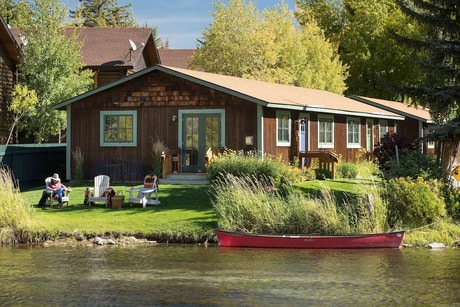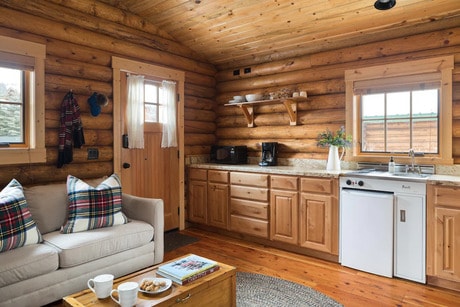 (Images Courtesy of Vrbo)

Enjoy a serene stay in Jackson at this Alpine Cottage Studio, which is located creekside and a few blocks from the town square. This beautiful wood cabin features 1 bedroom, but its pullout couch in the living room allows a total of 4 guests to say, perfect for small families.

After a long exhausting day in Yellowstone, soak your aching limbs in the shared hot tubs or sit on a fresh patch of grass next to the creek and listen to the sound of soothing water. This Jackson vacation rental guarantees you are completely at ease when staying there.

Click here for more info!
Best Hotel in Jackson – Parkway Inn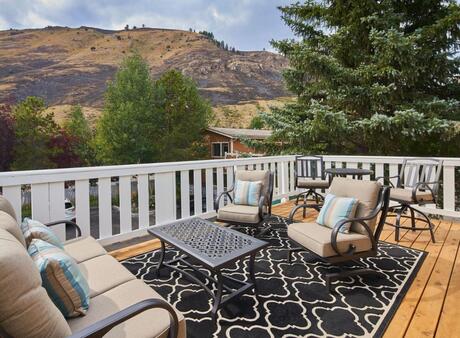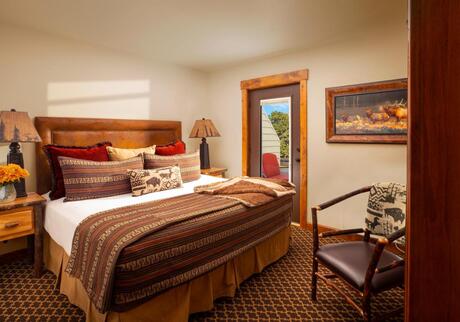 If you are looking for a cozy accommodation with iconic "western-inspired" decor and wood interior, then the Parkway Inn is ideal for you. The warm traditional western furnishings provide the utmost coziness and teleport guests back in time.

In your room, you will find a cable TV, free WiFi, a private bathroom, and a coffee maker with gourmet coffee provided. When you are not relaxing in your comfy room, go have a workout in the gym, swim in the indoor pool, or soak in the hot tub.

Better yet, explore historic Jackson downtown, which is located only a 5-minute walk away. The location of Parkway Inn just cannot be any better.

Click here for more information!
Like this post? Don't forget to save it on Pinterest!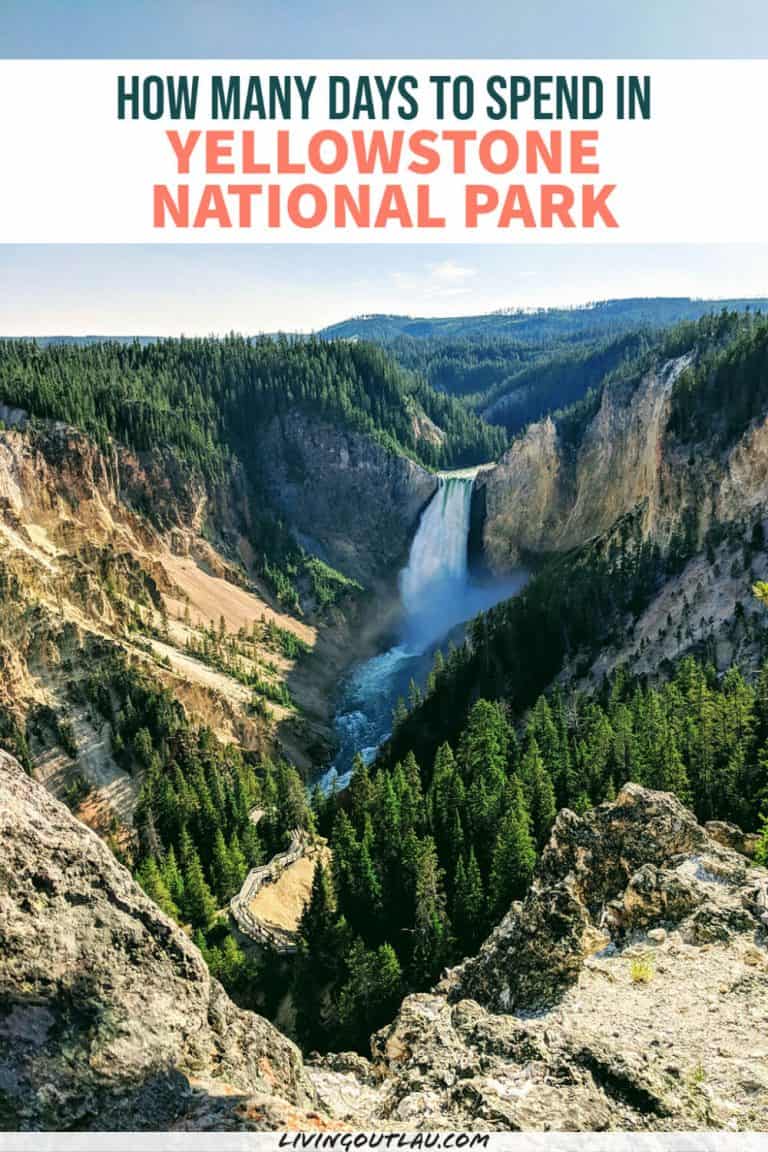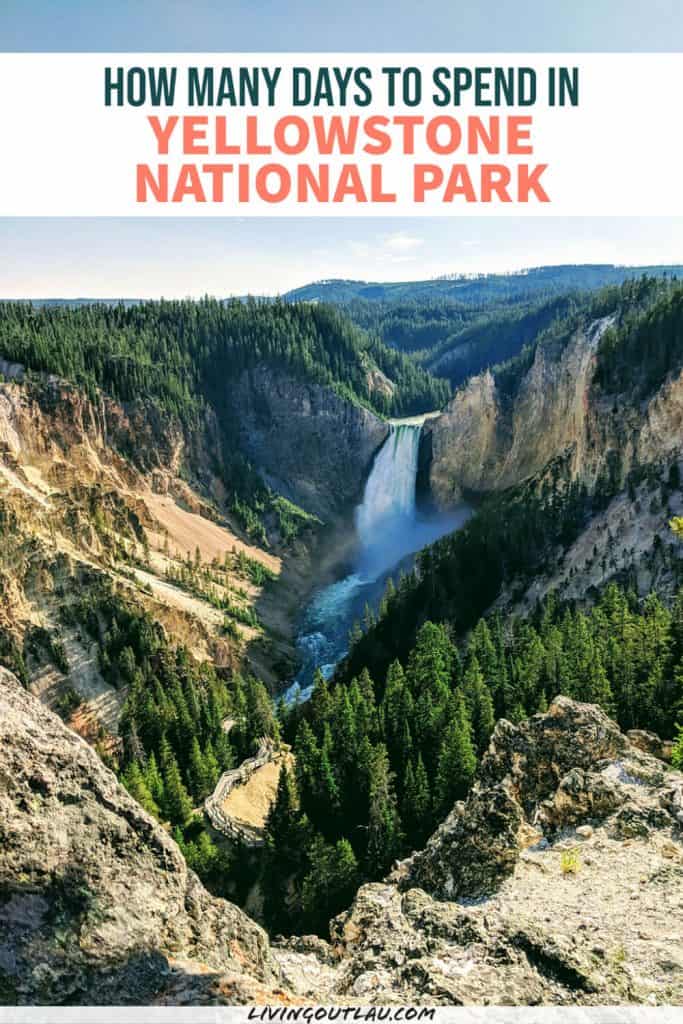 This concludes our guide on how many days to spend in Yellowstone. We hope that you are able to plan the perfect Yellowstone trip with the information that you have given!

Any questions? Leave them in the comments!
Disclaimer: Some of the links above are affiliate links. That means if you book or make a purchase through the links, we will earn a small commission at no extra cost to you! The money will help run this site! Thank you!