Planning a trip to Yellowstone In October? Wondering if it is too late to visit?
October is a decent time to visit Yellowstone. With fewer crowds, cooler temperatures, and more wildlife watching opportunities, an October visit may be even more magical than the park's peak summer season.
Though there are plenty of advantages to visiting Yellowstone in October, there are also plenty of things you need to be aware of. Fall is the transition period for Yellowstone when many things start to close.
Visitors must plan their trip carefully in order to have an enjoyable visit! But worry not, we are here to help.
Read on to find everything you need to know about visiting Yellowstone in October!
---
Yellowstone In October Quick Facts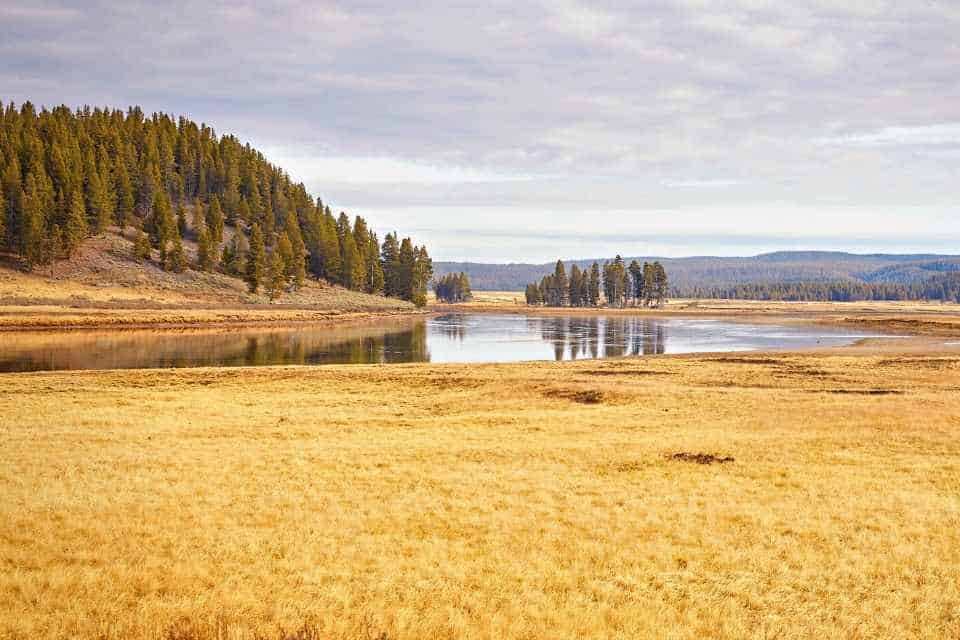 Please note that October is a month of unpredictable weather conditions, which means that there might be new information abruptly. While we do update this article regularly, it is still worth checking the official YNP website for the latest announcements.
Park Roads – All roads are open in October except for Beartooth Highway (US 212), which closes on Oct 11th, but all road closures are weather dependent.
Campgrounds – Fishing Bridge RV Park and Madison Campground are the only campgrounds open and they close during the month of October.
Lodging Inside Yellowstone – Only one lodge is open for the entirety of October. The other seven lodges open during the month of October, but close during the month.
Weather – Autumn weather is unpredictable in Yellowstone National Park. Weather can vary from sunshine to snow.
Crowd Level – October has the lowest crowd levels for the "summer season" (essentially when the park roads are open to cars and not just snowmobiles).
Visitor Centers – Mammoth Hot Springs Gift Shop, Mammoth Clinic, and Albright Visitor Center are open year round. Other visitor centers are opened seasonally or depending on the weather. For an updated list of current openings, check the Yellowstone NPS site.
---
Yellowstone Weather in October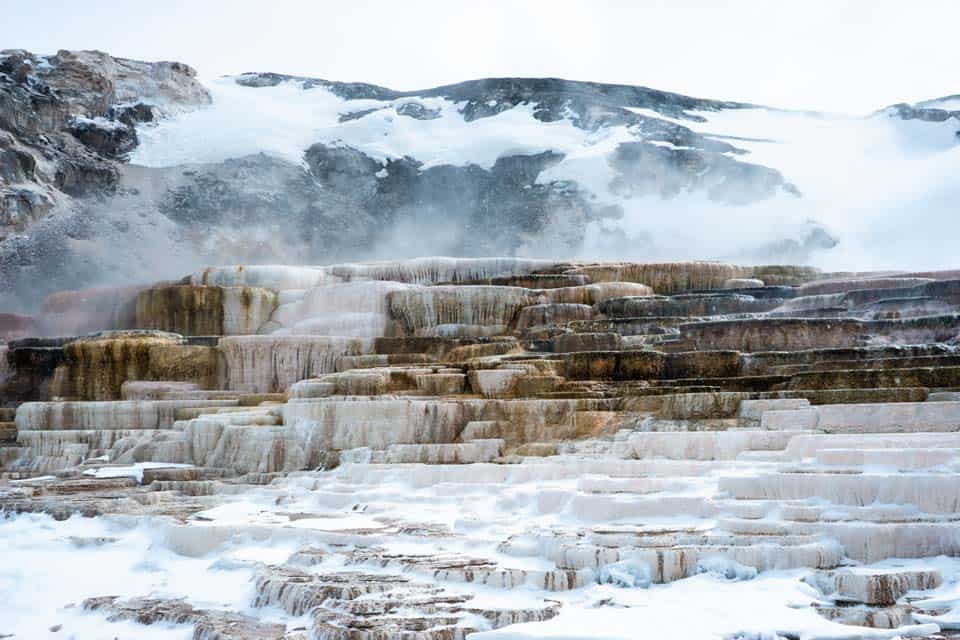 Perhaps one of the biggest concerns for visiting Yellowstone in October is its weather. Is October too cold to visit Yellowstone?
The average daytime temperatures in Yellowstone National Park range between 30°F to 60°F (0°C to 20°C).
At night, temperatures can fall below freezing and into the single digits.
Weather temperatures are also dependent on elevation and which part of the park you are visiting, this means it is a good idea to dress in layers.
Snow is also a possibility in the autumn. Cold fronts can roll in and drop snow accumulations up to twelve inches.
You need to be prepared for possible road closures and snow in the park.
This means having alternate plans and packing winter coats and boots even with sunny weather predictions.
Remember, Yellowstone is an extremely large park covering 3,472 square miles. The weather in West Yellowstone is going to be different from the weather in Hayden Valley, Yellowstone's Grand Canyon, and the northeast entrance in Cooke City.
Pay attention to where you are traveling and the forecasts for each region.
Read More: Yellowstone in September: Is It The Best Time to Visit?
---
Lodging Inside Yellowstone In October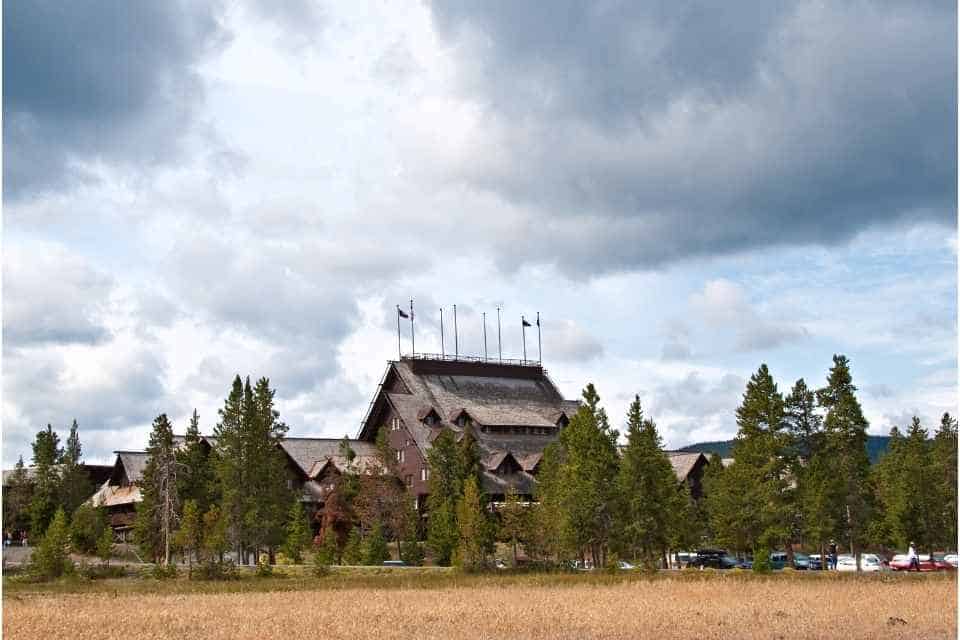 Lodging within Yellowstone National Park is tricky in October as only one lodge is open for the full month. There are seven other in-park lodges that are open during October, but they do close during the month. Listed here are the open lodges and their closing dates:
Grant Village Lodge, Lake Lodge, Lake Yellowstone Hotel and Cabins, and Old Faithful Lodge usually close on October 2nd
Canyon Lodge and Old Faithful Inn typically close on October 10th
Old Faithful Snow Lodge generally closes on October 30th
Mammoth Hot Springs Hotel and Cabins are usually closed all of October
As the closing dates can change unexpectedly, check out the YNP site here for the latest info.
Reservations for park-affiliated lodges are usually made well in advance. However, there are lodging accommodations in entrance towns year-round. Hotels and Airbnbs are available in Cooke City, West Yellowstone, Gardiner, Island Park, Cody, and Jackson.
Splitting up your accommodations between multiple entrance towns can also help you see more parts of the park as each entrance is based near different attractions. West Yellowstone and Gardiner are the best towns to book in for October.
They remain accessible and are located near the best things to do in Yellowstone.
Yellowstone Campgrounds In October
By October, most campgrounds will have closed within the park boundaries. Fishing Bridge RV Park is open the first week of October but closes on October 9th. Madison Campground closes on October 16th.
There are other first-come-first-serve camping options in the national forest areas surrounding the park, but many of these options are remote with limited amenities.
The best options for October camping are near the West Entrance between West Yellowstone and Island Park. Check the Forest Service website for more information about national forest campgrounds or camping options in the surrounding areas.
---
Pros of Visiting Yellowstone In October
1. Easier to Find Accommodations
During the summer months from June to August, finding lodging in the park can be a complicated process and requires lots of advance planning. Rooms in Yellowstone's most famous lodges can fill up as soon as online reservation portals open in May.
It is easier to find accommodations or have your pick of lodges in October. For popular spots such as Old Faithful Lodge, you will still need to make reservations months in advance, but it will be less competitive in October.
In entrance towns, you can also find lodging at the last minute making it easier for visitors to be spontaneous or change plans due to weather.
2. Wildlife Watching Opportunities
As animals make their way to lower elevations for the winter, visitors to Yellowstone are more likely to see park favorites such as elk, bison, mountain goats, and grizzly bears.
Lower crowd levels mean these animals will be closer to the roads. October is also when the elk rut begins meaning many elk bulls will be bugling and showing off their full grown antlers.
3. Fall Colors are Gorgeous
Changing leaves and snow-capped mountain tops mean the scenery is beautiful in the fall. The pure drama of the color, steam, and snow showcase the geothermal extremes of Yellowstone's environment. On sunny days, the colors of geothermal features mixed with the natural fall palette make it clear why Yellowstone's nickname is "wonderland'.
Read More: Best Airports Near Yellowstone National Park
4. Hot Spring Season
The cooler autumn temperatures make the hot spring soaking much more enjoyable than summer months. The springs are also less crowded. Though Yellowstone National Park only has one accessible hot spring for soaking, The Boiling River, surrounding areas are brimming with geothermal pools.
A visit to the national park can be combined with a visit to natural or developed hot springs in surrounding areas such as
5. Fewer Traffic Jams
During the summer months, it can take hours to travel between Yellowstone's most popular attractions. Parking can be a nightmare and people often skip out on bucket list sights due to no parking spots.
October has fewer traffic jams. Though you may still come across the occasional bear or bison jam, it is much easier to crisscross the park in the autumn. You'll also be more likely to find parking at popular trailheads and other attractions like Old Faithful Geyser, Grand Prismatic Spring, and Tower Fall.
---
Cons of Visiting Yellowstone In October
1. The Days Are Shorter
Visiting Yellowstone Park in the fall means less daylight for exploring the park. With sunrise at approximately 8:00 AM and sunset at 7:30 PM, you have just under twelve hours of daylight for hiking and driving in the park. Though the park is open after dark, the roads are unlit.
Visitors might have to spend more days in Yellowstone just to accomplish the same amount of sightseeing in the summer.
2. Many of The Facilities Are Starting to Close
Fall means that Yellowstone's seasonal staff is starting to pack up and move on to new job opportunities. As park staff begins to vacate, gift shops, lodges, visitor centers, and more begin to close. This is happening sporadically throughout the month of October. Though one facility may be open one day, it could be closed the next.
3. Less Food and Recreation Options in Entrance Towns
The seasonal staffing issues in the park also begin to hit Yellowstone's entrance towns in the fall. Rafting and hiking outfitters will close, meaning fewer recreational activities. Some restaurants and stores are only open during the summer months and begin to close up shop in October or November.
4. Hot Spring Colors Will be Less Vibrant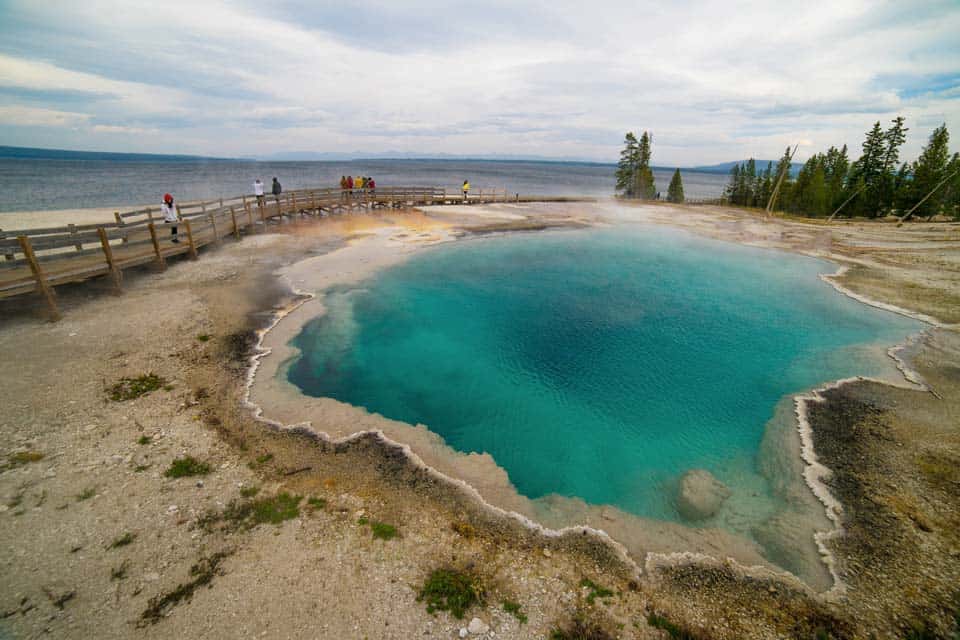 Grand Prismatic Spring and Turquoise Pool in Yellowstone Park will have less vibrant colors during the fall months. Filled with thermophilic bacteria, these pools are most colorful during hot and sunny summer days.
As clouds and colder weather move in, the colors begin to dim. Cooler temperatures also mean more steam at geothermal attractions. The steam can obstruct views of these bright thermal features even on sunny days.
5. Unpredictable Weather
Any trips to the mountain west need to take into consideration the unpredictable weather. Yellowstone is no exception, especially in October. From September through November, temperatures can vary daily.
Travelers in these months need to be prepared for any forecast — sometimes even on the same day. Yellowstone National Park has a large geographic area and spans multiple altitudes. Even a daypack should include layers and a winter coat.
Unpredictable weather also could mean road closures and the closing of some facilities. It is important to have up-to-date weather and closure information as you travel through the park.
---
Things to Do in Yellowstone In October
1. Visit the Boiling River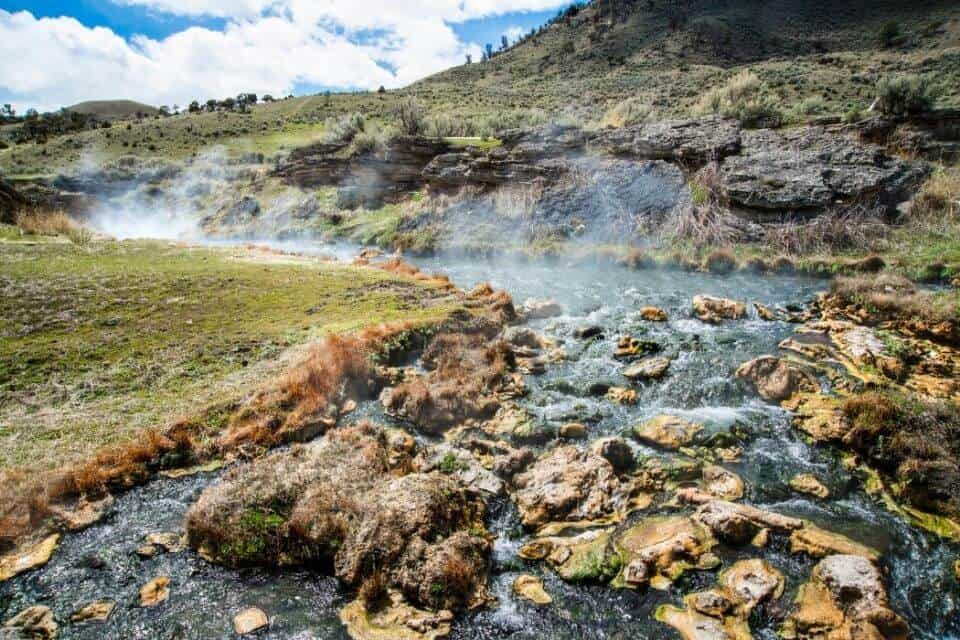 No trip to Yellowstone in October is complete with experiencing Yellowstone's Boiling River. Located past the North Entrance in Gardiner, the Boiling River is the only place where visitors can soak in one of the landscape's famous geothermal features.
Not actually its own river, the Boiling River is located on Gardner River. A hot spring flows over a travertine ledge and mixes with the current. Rocks have been placed on the edge of the river to create warm pools with temperatures reaching 140°C.
Soakers can manage their temperature by moving closer to the spring or further into the river.
A visit to Boiling River does require a 1.2-mile hike. The trail is not marked on the park-affiliated map. However, it is marked on the road driving toward Mammoth Hot Springs approximately three miles from the North Entrance. There is a parking lot and a well-maintained trail. The Boiling River is open during daylight hours.
2. Experience An Elk Rut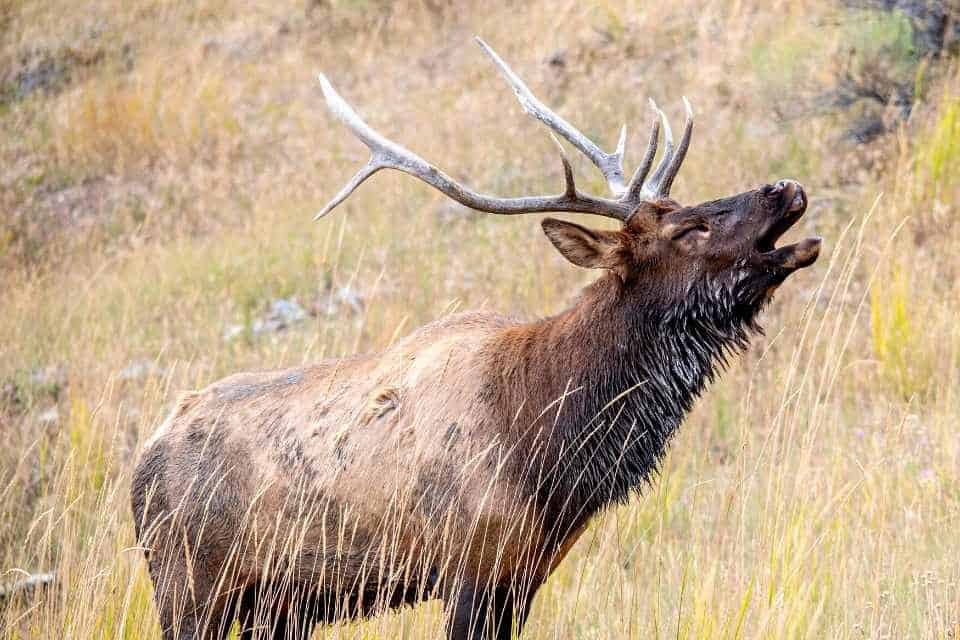 For wildlife enthusiasts, autumn is a magical time of year — not only do you get to hear the cacophony of elk bugles, but visitors get to see them in their full-horned glory as bulls will still have their antlers. Elk go into estrus in the fall meaning that the males begin competing for female attention. Male elks will bugle and fight in order to attract the best mate.
The Mammoth Hot Springs to Tower Falls road is the best place to see the elk rut, with herds congregating there and Lamar Valley. Fall also provides other wildlife-watching opportunities as bison and mountain goats move to lower elevations and bears scavenge before hibernating.
Remember, though seeing wildlife is part of the Yellowstone experience, it is important to keep your distance and act responsibly.
3. Take Advantage of Amazing Photography Opportunities
The fall is one of the best times for photography in Yellowstone. The snow-capped peaks and billowing steam add drama to even a novice photographer's images.
The sun rises later and sets earlier meaning photographers can take photos of the sunrise or sunset without getting up too early or staying out too late. In the fall, the sun will usually rise between 7:30-8:30 AM and set between 6:00 – 7:00 PM.
Firehole Lake Drive, between Lower Geyser Basin and Grand Prismatic Spring, is one of the best stops for dramatic and steamy landscape photos. The three-mile loop features six different geysers and a boardwalk around Firehole Lake.
Artist Point, the west shore of Yellowstone Lake, or Lamar Valley are great sunrise spots. For sunset photography, head to Old Faithful Geyser, Great Fountain Geyser, the Lake Butte Overlook, or the Lower Geyser Basin boardwalk.
4. Stargazing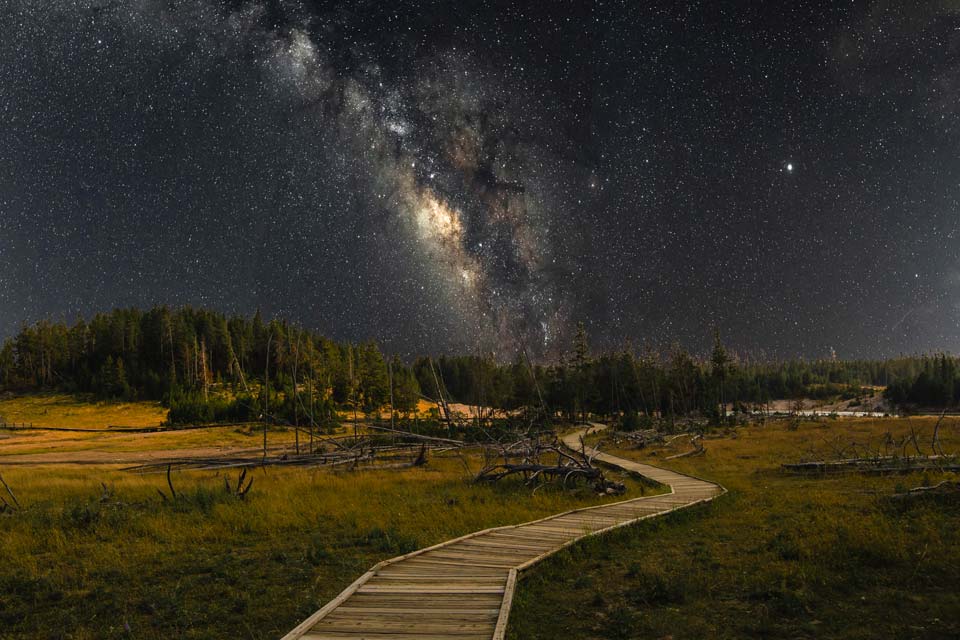 The lack of light pollution in Yellowstone means that not only are stars brighter, but you can see more of them. In the fall, the Milky Way is usually visible around 8:00 PM or an hour after sunset.
The best places to stargaze in Yellowstone include:
Mt. Washburn (requires hiking)
Norris Geyser Basin
Upper Geyser Basin
Old Faithful Geyser
Follow the same wildlife precautions while stargazing that you would follow during the day. If snow or precipitation is forecasted, do not go stargazing.
5. Fall Fishing
Anglers love autumn in Yellowstone National Park and surrounding areas. Most brown trout in west-Montana spawn between mid-October and mid-November. They move into the rivers in and around Yellowstone. Bigger fish come out of their lairs and want to pack on more weight as winter moves in. The trout are willing to go after more flies meaning higher success rates for anglers.
Anglers can be aggressive this time of year. Many leave before dawn to stake out spots. The best areas to fish within the park boundaries include:
Firehole River
Gibbon River below Gibbon Falls
Madison River
Yellowstone River in the Grand and Black Canyons
Anglers can also leave the park boundaries and fish the tributaries leaving Hebgen Lake near West Yellowstone.
Before fishing, check permitting rules within the national park. You can also hire a fishing guide through outfitters in West Yellowstone, Gardiner, or Bozeman.
---
What To Pack For October in Yellowstone
When packing for an October visit to Yellowstone, you want to pack for the winter. Prepare for the worst but expect the best. Here are some essentials you'll need to pack:
Waterproof Hiking Boots (Him/Her) – If you are visiting Yellowstone in October, you'll want to take advantage of its hiking trails. Pack a pair of water hiking boots in case you encounter severe weather!
Darn Tough Wool Socks (Him/Her) – There are no better wool socks in the market than Darn Tough. Their merino socks are moisture-wicking and keep you feeling warm and comfy at all times.
Warm Gloves and Winter Hat – You'll need them, trust me.
Hand Warmers and Toe Warmers – We used to hate hand and toe warmers but now they are a must for any winter adventure.
Waterproof Jacket and a thick insulated jacket – They are the most crucial part of protecting yourself from the elements, which you'll definitely need during fall in Yellowstone.
Make sure you check out our full Yellowstone packing guide here!
---
Yellowstone in October FAQs
Does Yellowstone Get Snow in October?
Yellowstone gets snow in October occasionally. It usually happens when there is a cold front and at higher elevations of the Park.
Is Yellowstone Still Open in October?
Yes, Yellowstone is still open in October. Many of the facilities are starting to close, but visitors can still visit the entire park independently, weather-permitting, of course.
Are Yellowstone Roads Open in October?
Typically, only Beartooth Highway and Dunraven Pass close sometime in October, but road closing is weather-dependent and changes every year. Make sure you check the official site for the latest information.
---
So, Is October A Good Month To Visit Yellowstone National Park?
October might not be one of the best times to visit Yellowstone National Park, but there are some distinct advantages when visiting Yellowstone in late autumn, such as the smaller crowds and higher chance of seeing wildlife. Buy visitors must beware of the cooler temperatures, and plan properly to avoid the road closures that take place in the later part of the month.
Fall weather conditions in Yellowstone park are often unpredictable. Make sure to keep your plans flexible and your suitcase packed with all-weather gear.
Text "82190" to 888-777 for updates on park road closures and weather updates.
Disclaimer: Some of the links above are affiliate links. That means if you book or make a purchase through the links, we will earn a small commission at no extra cost to you! The money will help run this site! Thank you!