Though beautiful in the early winter, November is not the best time to visit Yellowstone National Park. With many of the park's main attractions closed and only one open road in the park boundaries, this month tends to be the most restricted to visit.
However, a trip in November isn't a total loss. In fact, it is a unique time to visit Yellowstone! The landscape is in a seasonal transition, crowds have dissipated, and animals are hunkering down for winter, all of which make the park a wonderland for outdoor enthusiasts.
The Yellowstone region has lots to offer and nearby towns are ready to welcome visitors despite the colder weather.
Though a November trip to Yellowstone may be different from an Instagram post from summer, it will be one filled with one-of-a-kind adventures and the opportunity to get personal with a widely loved national park.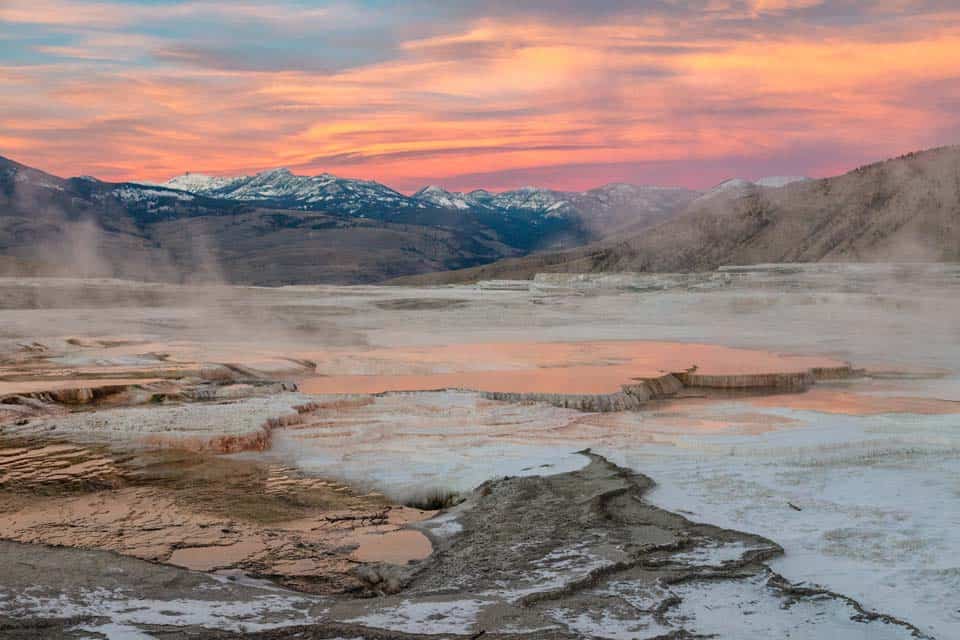 ---
Yellowstone In November Quick Facts
Please note that November is a month of unpredictable weather conditions, which means that there might be new information abruptly. While we do update this article regularly, it is still worth checking the official YNP website for the latest announcements.
Park Roads -The only road open year round is between Gardiner and Cooke City. All other roads are closed.
Campgrounds – All campgrounds are closed in Yellowstone during November except for Mammoth Campground, which is open all year round.
Lodging Inside Yellowstone – All lodging is closed in Yellowstone during November except for Mammoth Hot Springs Hotel and Cabins, which is open until the end of November.
Weather – There are often below-freezing temperatures and snow.
Crowd Level – The park has the lowest number of visitors compared to the rest of the year.
Visitor Centers – Mammoth Hot Springs Gift Shop, Mammoth Clinic, and Albright Visitor Center are open. Check an updated list on the NPS website.
Getting Into The Park: Only the North entrance and Northeast entrance are open.
---
Yellowstone Weather in November
Average temperatures in November are between zero to 20℉ during the day. At night, they can drop below zero degrees.
The park also receives an annual average of twelve feet of snow. This means that in November, there is more than likely snow already on the ground. Preparing for cold and snowy conditions is essential for visiting the park at this time.
If you visit Yellowstone in November you should carry snow chains in your car and be comfortable driving in the snow.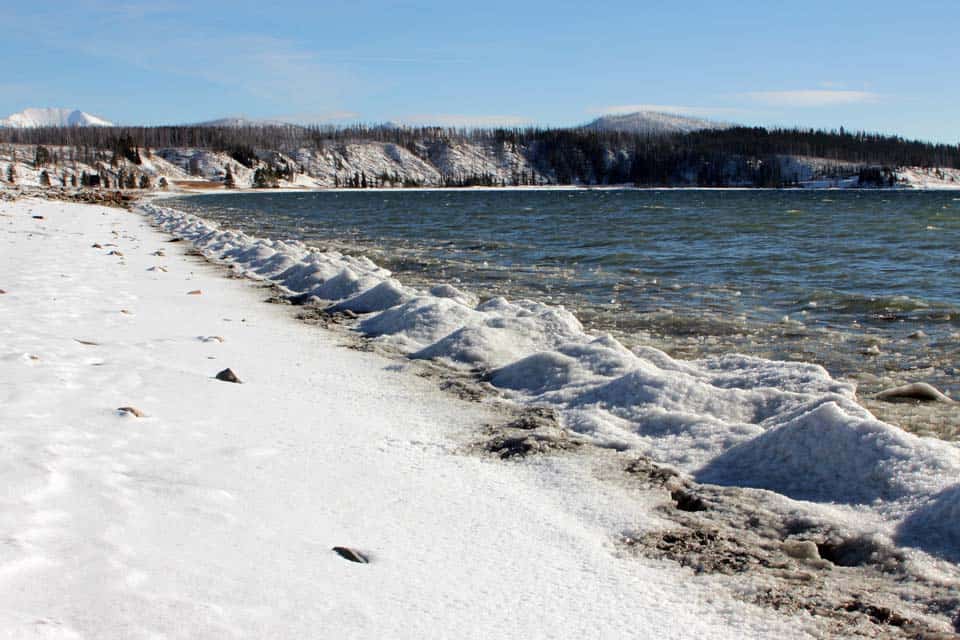 ---
Lodging And Campgrounds in November
Most lodges and campgrounds are closed in November within park boundaries.
Mammoth Hotel and Cabins and Mammoth Campground are usually open through the end of November, but operating dates are dependent on weather and staffing. You can stay updated by checking the National Park website or Yellowstone Lodges website for seasonal operating days.
There are hotels or national forest camping in Yellowstone's entrance towns. The best towns to look for accomodations in are Gardiner and Cooke City as they are located at the north and northeast entrances.
You can also find lodging in Bozeman or Livingston. These towns are further from Yellowstone National Park, but offer more activities in the region such as hot springs, restaurants, museums, shopping, and hiking.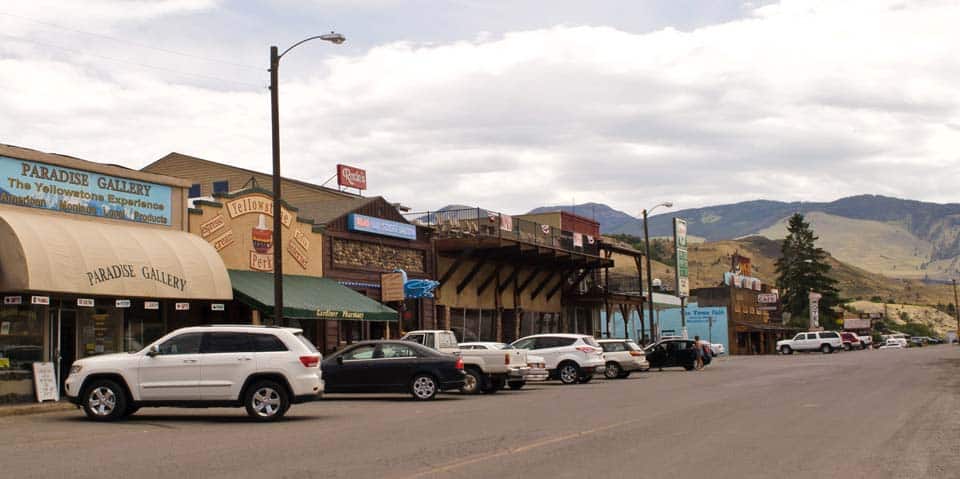 ---
Pros of Visiting Yellowstone In November
Yellowstone in November isn't all gloom and doom, here are some advantages of visiting Yellowstone in November!
Least Crowded Month to Visit Yellowstone
Annually, November has the lowest number of visitors. With only the road between the north and northeast entrance, many tourists come to Yellowstone during other times of the year. The crowds of June, July, August, and September have dissipated as summer attractions shut down, roads close, and the season winds down.
Fewer visitors mean you have more opportunities to explore sites like Mammoth Hot Springs, Lamar Valley, and Tower Falls without the traffic or crowds.
Bighorn Sheep Rut
If you visit Yellowstone in November, you can experience the bighorn sheep rut. November is when bighorn sheep begin to search for mates and males will battle each other for the attention of females. November through mid-December is the best time to see the rut and watch the battles.
The best wildlife watching spots for bighorn sheep is the Yellowstone River canyon in the Mammoth Hot Springs area or the cliffs near Cooke City in the Absaroka Mountains. Bring binoculars as the sheep are often high up and will help with other wildlife sightings.
Cheaper Lodging and Tours
Though park lodging is closed in November, a hotel room in nearby towns is much cheaper than during the peak travel season. In the park's north, Gardiner and Cooke City, have many locally-owned accommodations. They often lower their nightly prices to entice tourism. These towns are open year round, unlike West Yellowstone where some of its restaurants and hotels close up shop.
Other options include Livingston, Bozeman, Emigrant, and Silvergate. Though these towns aren't considered "entrance towns", they offer other amenities and opportunities to experience Montana.
---
Cons of Visiting Yellowstone In November
Here are some disadvantages of visiting Yellowstone in November that you must consider before booking your trip.
Most Park Amenities are Closed
There is a good reason that Yellowstone sees the least amount of visitors in November — most of the park is closed! November is the time of year that the park transitions from summer tourism to winter tourism.
Most park roads close to cars, campgrounds have closed, lodges have closed, three of the five entrances have closed, many tours have stopped, there are fewer accessible hiking trails, and some of the best sights in Yellowstone such as Old Faithful have become completely unreachable.
Cold Weather and Snow
Wyoming Novembers are often cold with lots of snow. Though it depends on the year, a snowpack begins to build in the region by mid fall. In November, the ground is often covered with a layer of white. This means hiking trails and roads will probably be covered.
The cold can be harsh and with snowflakes comes the potential for blizzards and whiteout conditions. Whether hiking or driving, whiteouts can be a dangerous and frightening experience.
Old Faithful and Geyser Basins are Inaccessible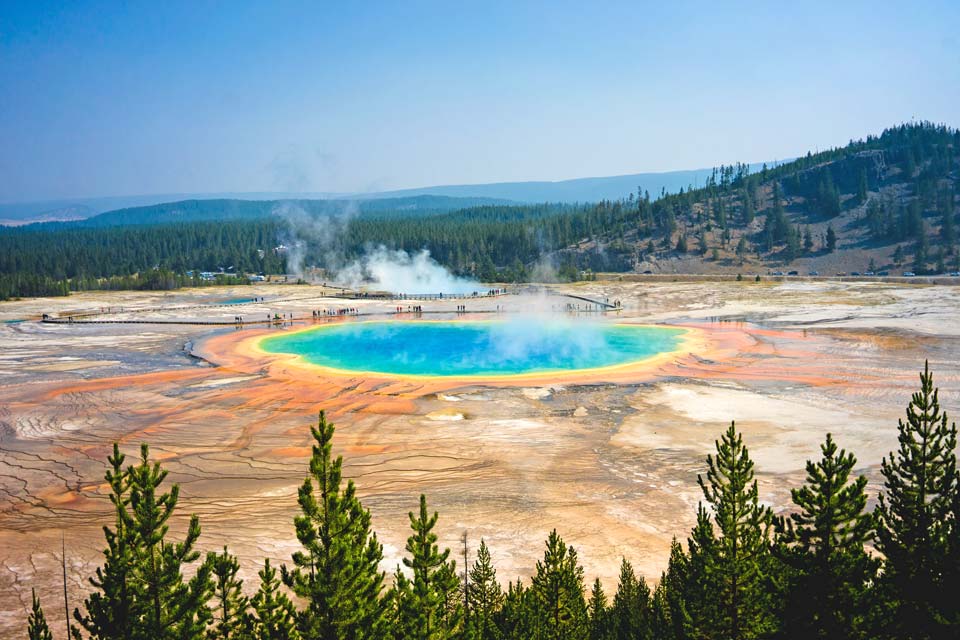 Many visitors come to see the famous geysers and colorful hot springs or go hiking in the park's marvelous geyser basins. However, in November, these sites are inaccessible. With only the northern parts of the park open, Old Faithful, Grand Prismatic Spring, and other hiking trails are not open to the public.
If you are hoping to check Old Faithful and other geysers off your bucket list, plan a trip between May and mid-October, or prepare to take a snow coach between December and mid-March. Visiting Yellowstone in November may not be your best option.
---
Things to Do in Yellowstone In November
Because most of Yellowstone is closed in November, we have included activities in towns near Yellowstone. Those towns are the perfect way to experience winter in the Midwest!
1. Hiking and Snowshoeing Near Mammoth Hot Springs
With most roads closed, hiking or snowshoeing may be the only way to explore. You can take advantage of the frozen landscape and fewer crowds to experience some solitude in United States' first national park.
The best hiking trails on Yellowstone in November are:
Upper Loop of Mammoth Hot Springs
Lower boardwalks of the Mammoth Hot Springs terraces
Tower Falls Trail.
Bison and elk tend to frequent these areas, so make sure to give animals their space.
You can also take guided tours of Yellowstone National Park through organizations like Yellowstone Forever or other outfitters designed to help tourists explore.
These experts know the terrain and can take you on a tour that best fits your comfort level. They also offer snowshoeing or cross country skiing tours depending on conditions.
Hiking in November does require visitors to be wary of the weather. Some trips or trails may require ice cleats or snowshoes depending on the snowfall and conditions. You can rent this gear from outfitters in Gardiner, Cooke City, or Bozeman.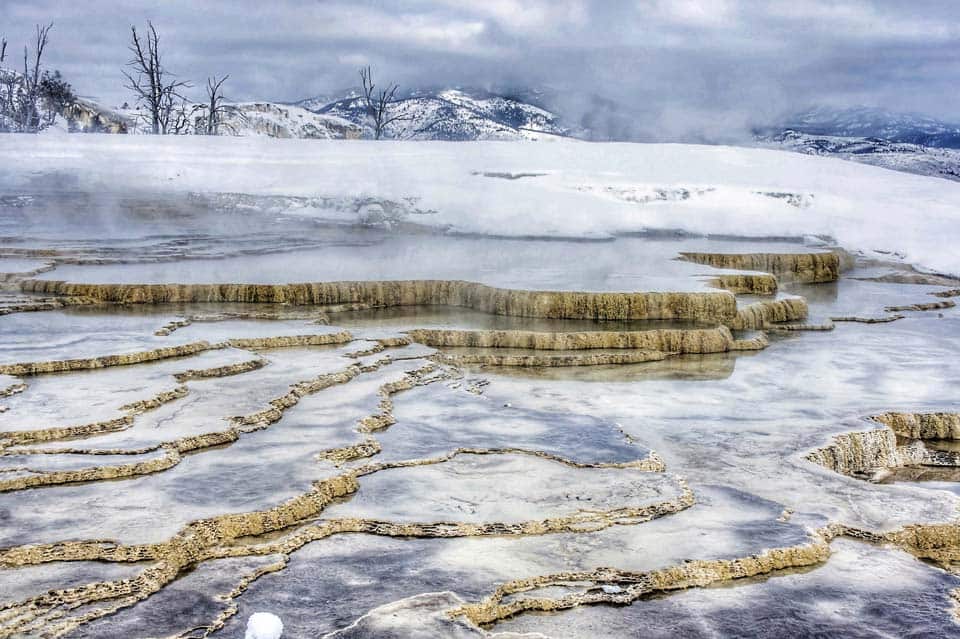 2. Soak In Hot Springs Near Yellowstone National Park
No matter the time of year, one of the region's crowning jewels is an abundance of hot springs. November is one of the best months to take advantage of soaking as you can experience the thrill of sitting in a hot pool surrounded by frozen terrain.
The Boiling River is near Gardiner and is one of the only soak-friendly hot springs in the park.
Located in Yellowstone Canyon between the north entrance and Mammoth, there is a parking lot and short trail to the steaming riverside pools. You can also see wildlife like bison or bighorn sheep from the springs and trail.
There are also plenty of hot spring resorts near Yellowstone. Locals love to spend cold evenings at Chico Hot Springs, Yellowstone Hot Springs, and Norris Hot Springs. Many of the resorts have onsite hotels, restaurants, and live music.
3. Wildlife Watching in Lamar Valley
Though bears have begun hibernating in November, other animals have not! Lamar Valley has some of the best wildlife viewings in the region. Bison, wolves, deer, elk, and bighorn sheep winter in the area and attract a variety of wildlife photographers.
In fact, many of the wintry wolf pictures in National Geographic come from this region! Local outfitters like Yellowstone Tour Guides also offer special wolf-watching or photography tours.
Getting an early start will offer the best wildlife viewing. Be aware that Beartooth Highway is closed during November, so you will have to backtrack to return to Gardiner.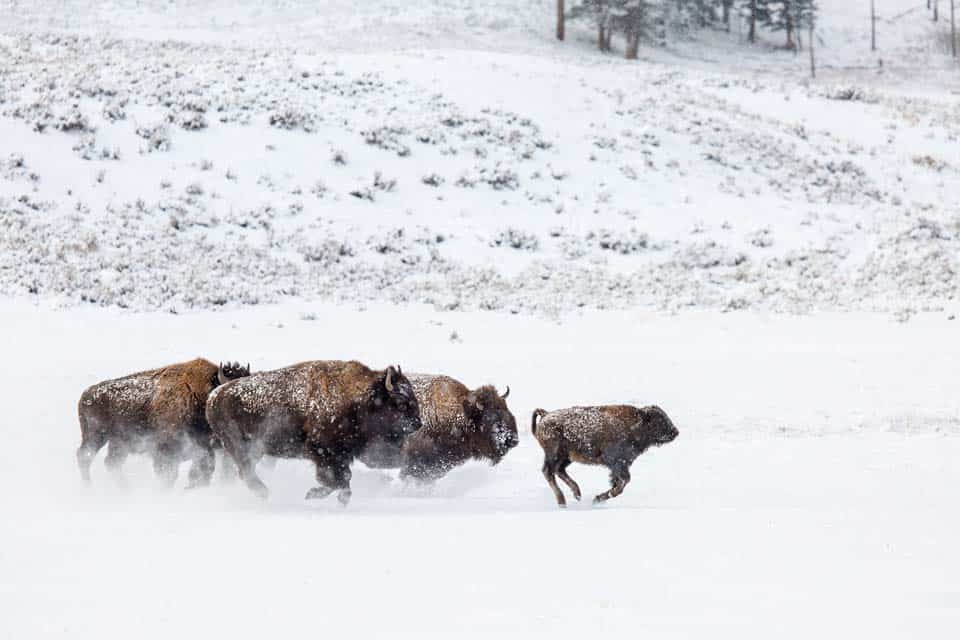 ---
What To Pack For Yellowstone In November
Packing for Yellowstone in November is similar to packing for winter. But if you intend on doing any hiking or snowshoeing (which you totally should), then you'll need some special equipment.
Winter Parka (Men/Women) – Yellowstone's winter demands that you bring a heavy waterproof parka. Without it, there is no way to stay warm and dry in November!
Snow Pants (Men/Women) – Snow pants are perfect for keeping you warm and dry, plus it's durable and flexible enough for you to do any hikes in Yellowstone.
Winter Gloves and Insulated Hat – Gloves and hats are the most overlooked items on a winter packing list. Make sure you pack some!
All-Weather Boots (Men/Women) – You are going to be stepping in snow when visiting Yellowstone in November. All-weather boots keep your feet toasty and dry!
Binoculars – These are a must when it comes to seeing wildlife in Yellowstone, and in November, you don't want to miss that opportunity.
Swimsuit – Swimsuit for November? YES! Swimsuit is a must for enjoying the hot springs near Yellowstone, don't forget these!
Zoomable Camera – The winter scenery of Yellowstone is unique and extraordinary. Make sure you pack a zoomable camera like this one to take advantage of the opportunity.
---
Before You Go
Though November might not be the best time to visit Yellowstone, it does offer a different side of the park that not many visitors get to see. During this month, visitors can explore the park nearly tourist-free (at least the parts that are open), enjoy the hot springs, and see wildlife in a wintery landscape.
It is still possible to have a delightful trip to Yellowstone during November, but visitors must mentally and physically prepare themselves. Hopefully, this guide did exactly that for you!
Disclaimer: Some of the links above are affiliate links. That means if you book or make a purchase through the links, we will earn a small commission at no extra cost to you! The money will help run this site! Thank you!