Not sure what to do in Yellowstone National Park (YNP)?
As the first national park of the United States, Yellowstone is bigger than the state of Rhode Island and Delaware combined! With such massive proportions, it shouldn't surprise you that there are so many things to do in Yellowstone National Park.
However, given how expensive and difficult it is to get vacation days in the US, visiting Yellowstone without a plan is like jumping off a plane without a parachute (okay, maybe not that extreme).
With so much ground to cover, what are the must-sees of Yellowstone? Below we have hand-picked 13 must-do things in Yellowstone along with the recommended duration of stay. This way you can plan your Yellowstone itinerary perfectly.
Enjoy!
---
Must-Do Things In Yellowstone National Park Map
We find it much easier to plan our trip when we can visualize where the places are. Given how massive Yellowstone is, we would say this is essential.
Above is a must-see Yellowstone attractions map. We have numbered them the same way on this blog post for extra user-friendliness. Click on the star next to the name of the map to save it onto your own personal device. This way you can use it when you are in Yellowstone!
Using this map, hopefully, you will be able to plan out how many days in Yellowstone you should spend!
---
13 Must-Do's In Yellowstone National Park
1. Grand Prismatic Spring (GPS)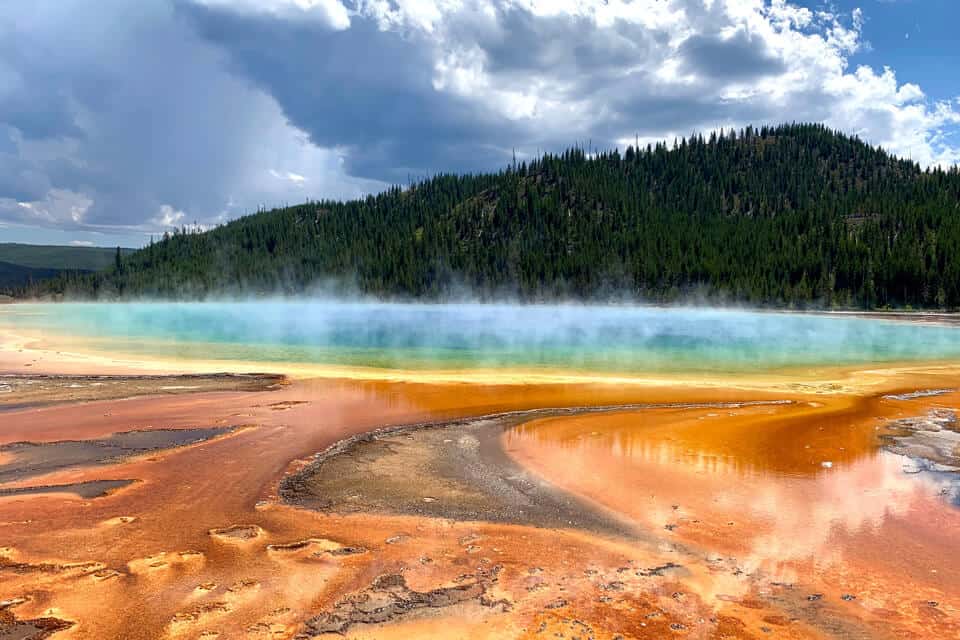 If we have to pick on one place to visit in Yellowstone National Park, it would be the Grand Prismatic Spring or GPS for short.
As the biggest hot spring in the United States and the third-largest in the entire world, the word "grand" is quite suitable. However, size isn't everything when it comes to these surreal geothermal features.
The GPS features rainbow-like colors (hence the name "prismatic") that start in the center and propagate to the perimeter of the spring. In the center where it is the hottest, blue is prevalent, but slowly it goes to green, yellow, to finally orange once you reach the edges of the hot spring.
This phenomenon is caused by the different microorganisms that live in such extreme temperatures. Different-colored microbes live in different parts of GPS because temperature decreases towards the edge of the spring.
As one of the biggest attractions in Yellowstone, it is important that you visit this celebrity in the early mornings (8 AM) or late afternoons. Otherwise, you might have trouble finding parking!
2. Grand Prismatic Spring Overlook At Fairy Falls Trail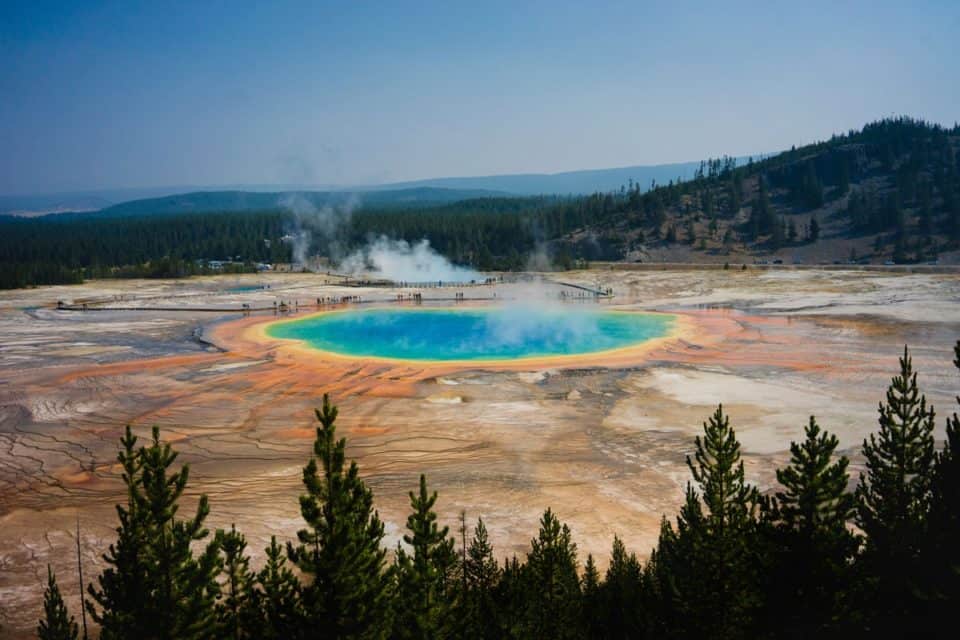 After visiting the Grand Prismatic Spring, you might actually be disappointed (at least we were). This mega geothermal feature of Yellowstone was simply too big to appreciate its beauty up close.
That is where the GPS Overlook comes into place.
The GPS Overlook is located on the Fairy Falls hiking trail, and the trail is only a short 5 minutes away from the GPS itself.
After you have parked your car at the Fairy Falls parking lot, you will need to hike for 20 minutes to arrive at the overlook itself. The trail is extremely flat and moderately trafficked, perfect for any traveling to Yellowstone with kids.
At the GPS Overlook, you can fully appreciate one of nature's most beautiful creations. The vivid rainbow-like colors will look surreal no matter how long you look at them. If this was a sci-fi movie, we would expect aliens to jump out any minute!
3. Old Faithful Geyser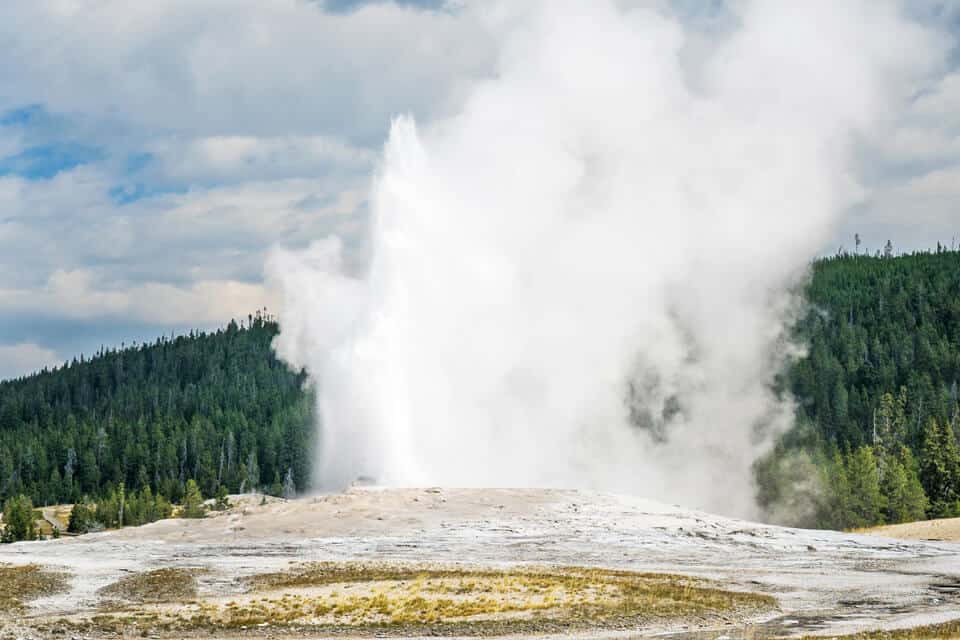 Along with the Grand Prismatic Spring, the Old Faithful Geyser makes up the two must-visit sightseeing places in Yellowstone.
Earning its fabled name by being one of the most regular geysers in the park, Old Faith erupts around every 60 to 90 minutes. Reaching up to a height of about 185 feet, Old Faithful's eruption will amaze you.
The short interval between eruptions means that not too much pressure can be built up underground. As a result, Old Faithful is not close to being one of the highest geysers in the world. It takes pride in being one of the biggest regular geysers in Yellowstone.
The tallest active geyser in Yellowstone (in fact, in the world) is the Steamboat Geyser located in the Norris Geyser Basin. But because of its unpredictable eruption time, it is impossible to plan your Yellowstone trip around it.
Before you visit Old Faithful, head into the adjacent Old Faithful Visitor and Education Center, where they will have the predicted eruption times of many of the park's geysers (Old Faithful included) and information on the science behind the phenomenon you are about to witness!
4. Grand Canyon Of The Yellowstone (Artist Point)
Did you know Yellowstone National Park has its own Grand Canyon? We sure didn't!
Formed by constant erosion from the water of the Yellowstone River, the Grand Canyon of Yellowstone stretches a total of 20 miles with two waterfalls:
The 109-ft-high Upper Falls
The 308-ft-high Lower Falls
With such a long stretch, it shouldn't surprise you that there are multiple viewpoints to admire its beauty. While we aren't exactly sure which one is the best, Artist Point surely offers some incredible views of the Lower Falls.
Dramatic white-bleached cliffs surround the massive Lower Falls, and rumor has it that Artist Point earned its name from the paintings drawn by artists at this location.
5. Point Sublime Trail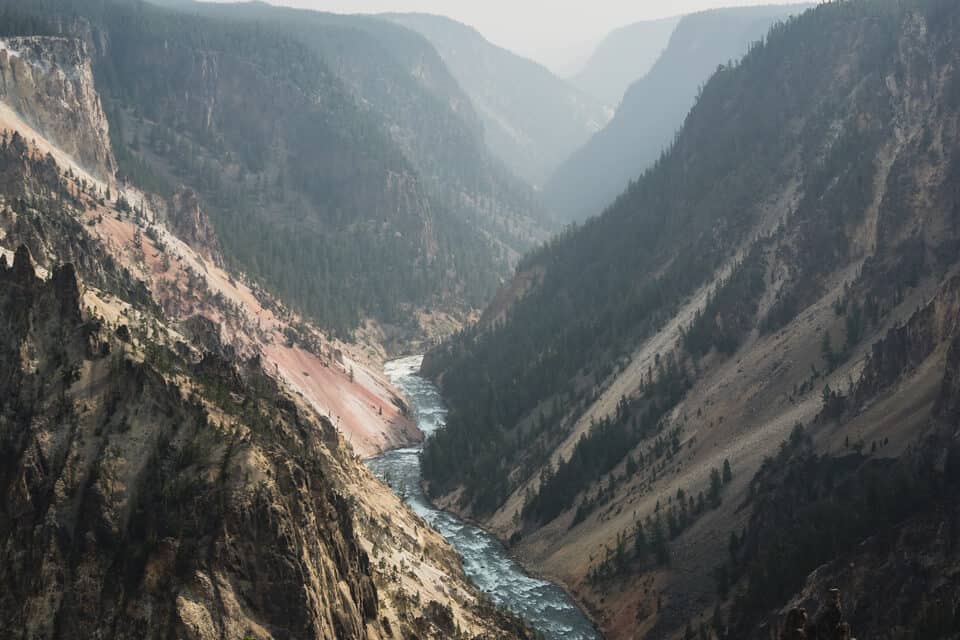 Located in the rear of Artist Point (No.4) is one of the most spectacular hiking trails in Yellowstone National Park. The Point Sublime trail is a 2.3-mile out-and-back trail that continues southward along the Yellowstone River.
The majority of the trail is situated on the edge of the cliffs, offering incredible landscapes of the extensive Yellowstone Grand Canyon. However, those prized views do not come for free as extra precautions should be taken when hiking the Point Sublime Trail.
With no guard rails along the edge of the cliffs, a small misstep could result in falling over several hundred feet. Unlike the Fairy Falls trail, we don't recommend this hiking trail for kids or anyone with a fear of height for that matter.
But for those that do venture on this trail, they will be properly rewarded with awe-inspiring scenery. This trail is heavily trafficked so a bear spray might not be necessary. (But bring one just in case!)
6. Mammoth Hot Springs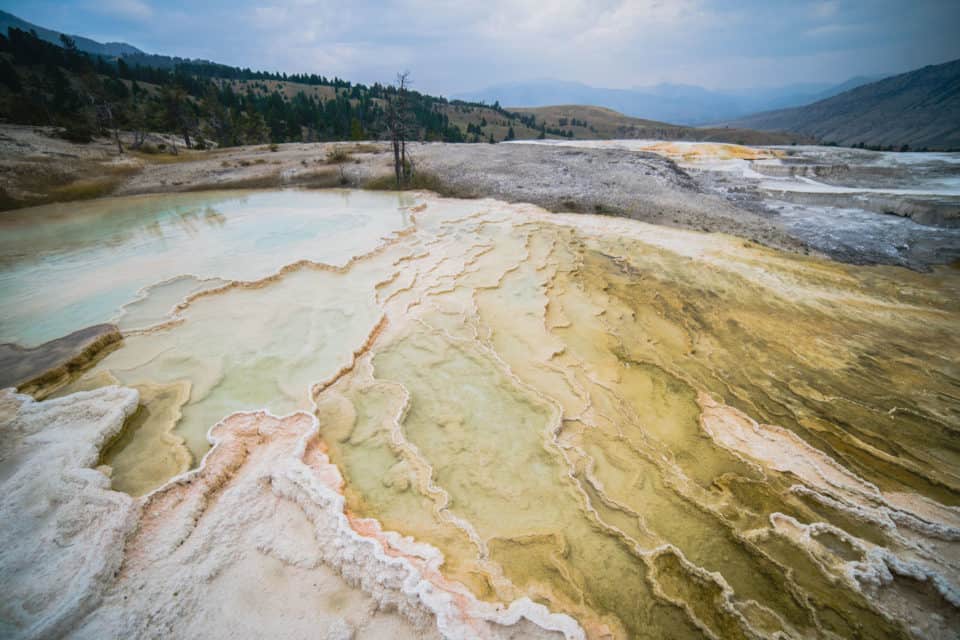 Located near the north entrance of Yellowstone National Park, Mammoth Hot Springs is a must-see Yellowstone attraction, especially if you are staying in Gardiner, Montana.
But don't be mistaken, it isn't because the Mammoth Hot Springs are nice soothing hot springs to relax in. In fact, they are too hot, enough to easily melt you away.
What makes the Mammoth Hot Springs so spectacular is the iconic inside-out cave appearance.
Because Yellowstone is located in a volcanic hotspot, extremely hot water runs underneath the ground. The water melts the porous limestone in this region and pushes the mixture above ground, where it eventually "cools" and forms the travertine terraces that you see.
This unique hydrothermal phenomenon is only seen at the Mammoth Hot Springs and is well worth the trek even if you are staying in other parts of the park.
7. Great Fountain Geyser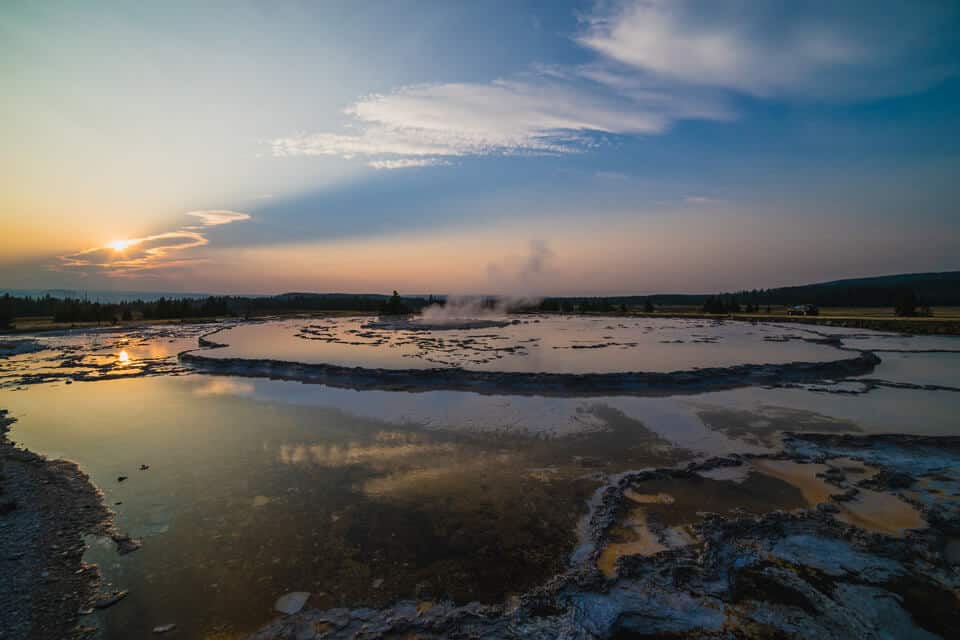 If you are visiting Yellowstone in the summer, you might run into a big crowd. Nothing ruins the beauty of nature more than walls of tourists preventing you from seeing anything and getting smacked in the face by selfie sticks. Unfortunately, this happens quite often, especially at Old Faithful.
Luckily, there isn't a shortage of breathtaking geysers in Yellowstone National Park. Our personal favorite is the Great Fountain Geyser. Erupting only around once per day, the Great Fountain Geyser reaches a maximum height of 220 feet (67 meters) and lasts around one hour!
The entire area of the Great Fountain Geyser is also massive, which we found to be quite astonishing for a geyser.
Situated in the Lower Geyser Basin, it is the perfect place to just relax, bring a snack (or packed lunch), and sit and watch mother nature unfold before your eyes!
To find out when the Great Fountain Geyser erupts, you must visit one of the visitor centers inside Yellowstone. There you will find a monitor with the predicted eruption time for many geysers in the park, including the Great Fountain Geyser, Old Faithful, and many more.
Seeing the Great Fountain Geyser erupt is one of the most unique experiences in Yellowstone, but consider adding this to your Yellowstone itinerary only if you have multiple days in the park.
8. Calcite Spring Overlook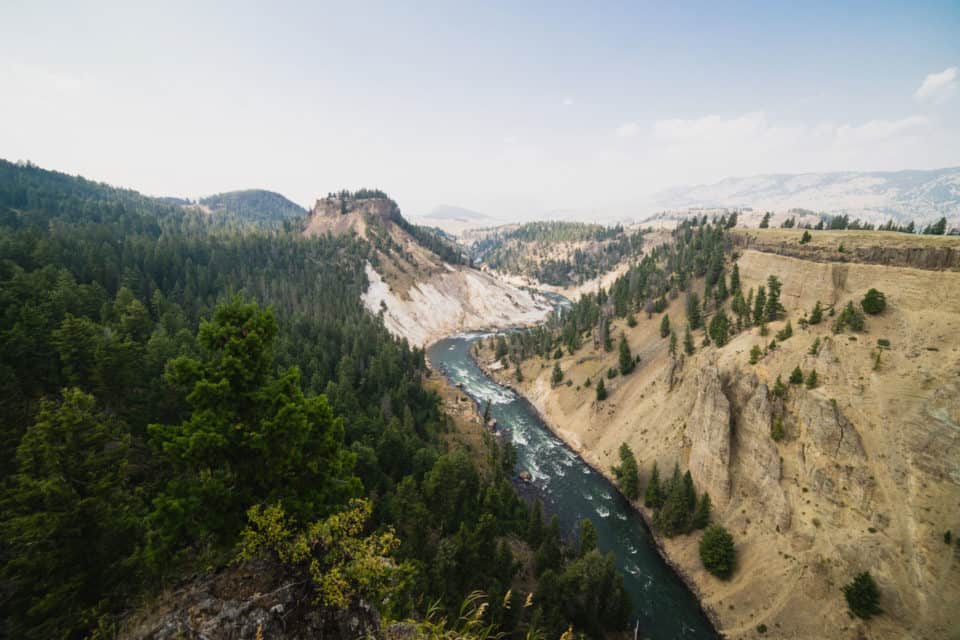 Calcite Spring Overlook is one of the best hidden gems in Yellowstone National Park (for now). We didn't plan on visiting here on our Yellowstone trip but stumbled upon it when visiting the (supposedly) mighty Tower Falls (it was a big disappointment).
The overlook features stunning northward views at the narrowest section of the Grand Canyon of Yellowstone. White-bleached cliffs, beautiful lush forest, the roaring Yellowstone River, and the mountains in the distance all come together to create one of the best views in Yellowstone.
The best part about the Calcite Springs Overlook is that it requires minimum effort, perfect for those who might already be tired from long travels or jet lag. There is no hiking, no bears, and risk of your kids getting lost, Calcite Springs Overlook just cannot be any better!
9. Old Faithful Inn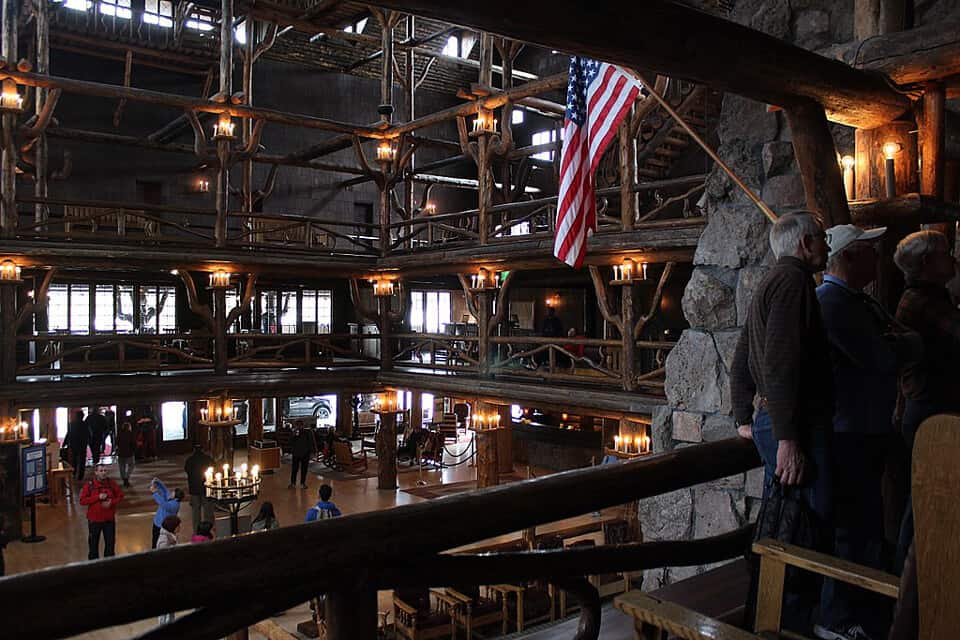 Old Faithful Inn is one of the nine lodges inside Yellowstone National Park. As the largest log structure in the world, Old Faithful Inn boasts a rustic yet charming decor that is fitting for the old American Midwest.
This national historic landmark first opened in 1904, making it the first hotel inside Yellowstone National Park.
As the most sought accommodation inside Yellowstone National Park, you might not have the luxury to stay in one of their rooms. On average, you must book at least 6 months in advance, especially if it is the peak summer season.
If you don't get the chance to stay inside the Old Faithful Inn, worry not. Visitors are allowed to just stroll around and admire its rustic resort architecture. Its 76-foot tall lobby will make you wonder how in the world did they build this massive building with just logs in the early 1900s!
Free guided tours were available for all visitors. However, due to the pandemic, we are unsure if they still provide this tour. We recommend you to ask the receptionist at Old Faith Inn for more updated information.
10. Hayden Valley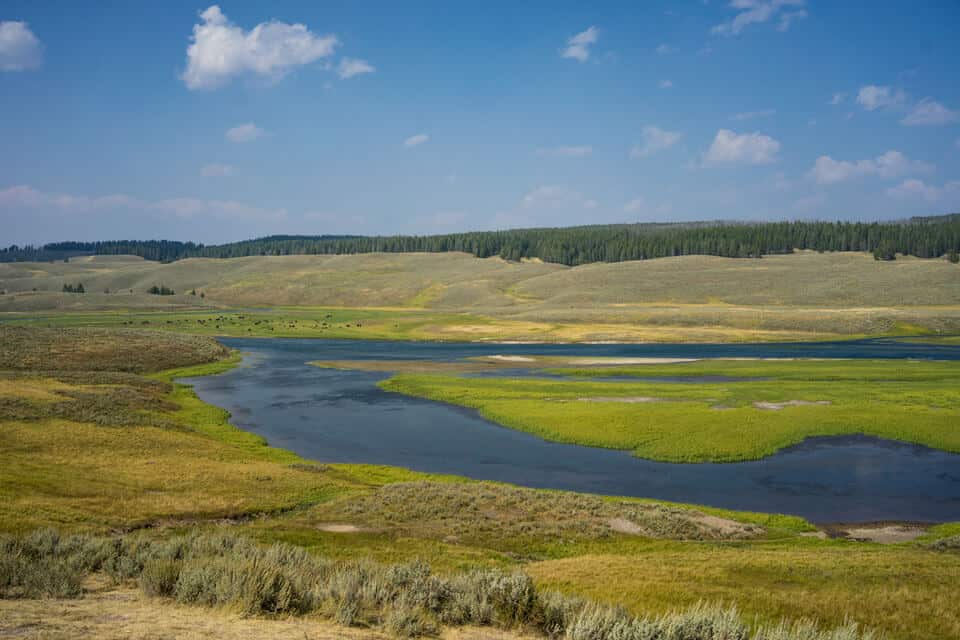 No trip to Yellowstone is complete without seeing some of its wildlife – elks, bison, wolves, bears, and more. While you might encounter a few bison on the road while you are on the road (and experience wildlife traffic jams), nothing is like watching them roam wild on the beautiful plains of Yellowstone.
The best place to see wildlife in Yellowstone is Hayden Valley, an area between the Grand Canyon of Yellowstone and Yellowstone Lake. Hayden Valley along with Lamar Valley make up the two best spots for spotting wildlife in Yellowstone.
While it is usually sufficient to drive by and see what's on the way, visitors are welcome to get out of their cars and observe the wildlife extensively. We highly recommend you to bring binoculars because the herds are usually very far from the road.
The best time to see wildlife is at dawn or dusk, which is when they are the most active. Fall is also rutting (mating) season for elks and foraging season for bears, which means they will be even more active. If you are lucky, you might even see the famous grizzly bears!
11. West Thumb Geyser Basin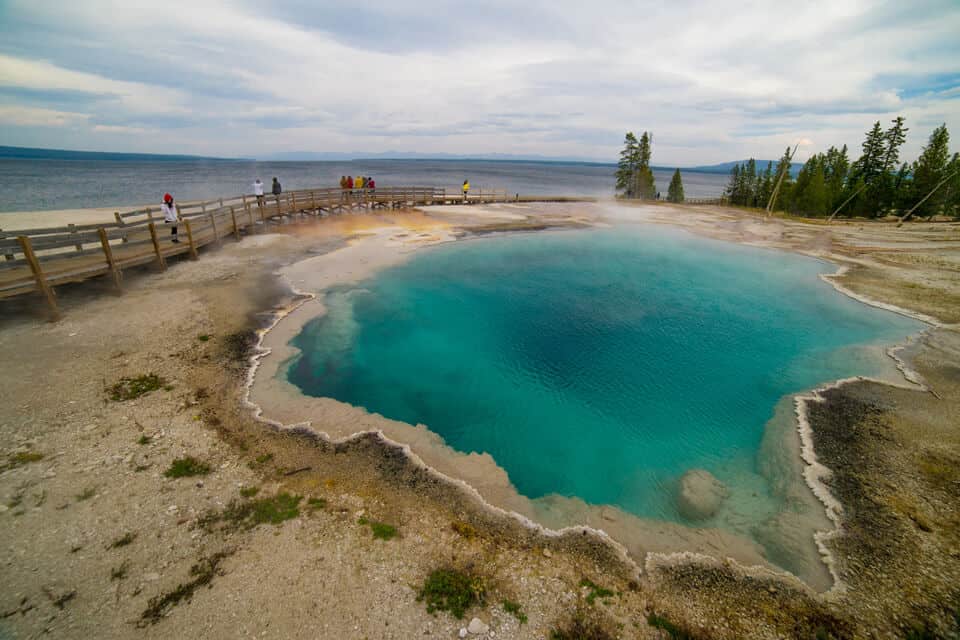 West Thumb Geyser Basin is one of the numerous geyser basins in Yellowstone. Not as famous as the Upper Geyser Basin (where Old Faithful is) or the Midway Geyser Basin (where GPS is), West Thumb Geyser Basin offers a placid environment for visitors to enjoy some of the best attractions in Yellowstone.
With Yellowstone Lake adjacent to the West Thumb Geyser Basin, every geyser or hot spring complements the gorgeous lake and further enhances its beauty.
The West Thumb Geyser is home to the Abyss Pool, one of my favorite hot springs in YNP. Though not as deep as the name suggests, the Abyss Pool reaches a depth of 53 feet. Its teal-ish blue color harmonizes with the blue of Yellowstone Lake, and the color combination is just beautiful beyond words.
West Thumb Geyser Basin also features a geyser by the name of Fishing Cone. It earned its name when fishermen used to throw their catch in the hot geyser to cook their fish and then eat it. Nowadays, fishing or cooking anything inside the geyser is prohibited in that area.
The minerals inside the geyser are also toxic to your body!
12. Mud Volcano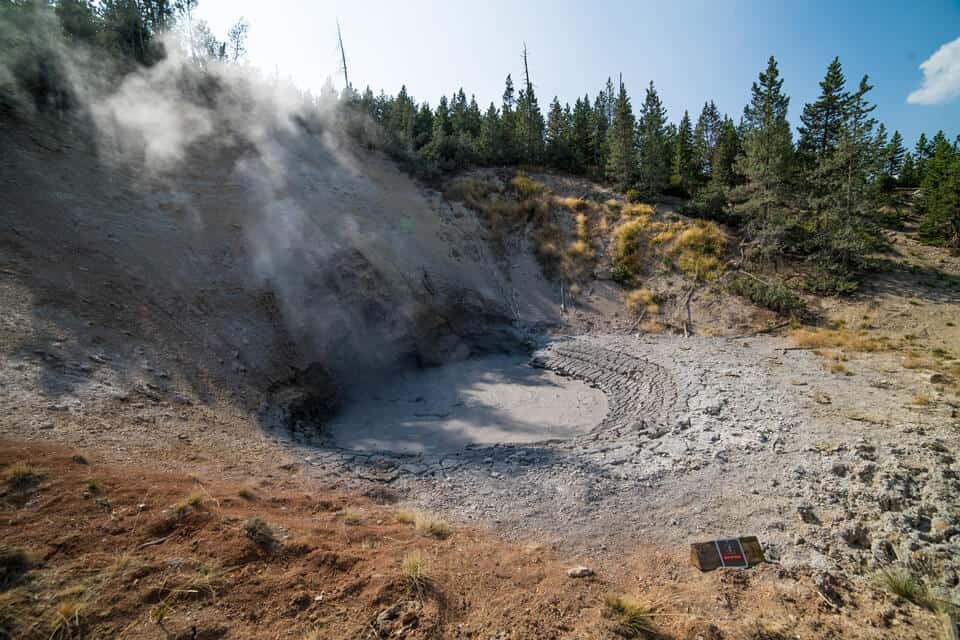 The Mud Volcano geothermal area is located adjacent to Hayden Valley, perfect for anyone that wants to see some spooky geothermal action after seeing some wildlife.
Unlike the name suggests, mud volcanoes aren't towering giants that spew out mud, tormenting anyone that dares to get close. Mud volcanoes are more like muddy pits, like a witch's cauldron.
A little disappointed? Me too.
However, the science behind these mud volcanoes is incredible.
The hot water underneath the ground surface mixes with other mineral deposits, eventually creating the mud slurry you see. By closely monitoring these mud volcanoes, scientists can get a better understanding of what is happening beneath the surface.
The most famous mud volcano in the area is the Dragon's Mouth Spring, a cave created by erosion from the hot muddy water beneath. This cave traps steam and further pressurizes the mud, causing a loud roar as if a dragon is residing inside!
13. Morning Glory Pool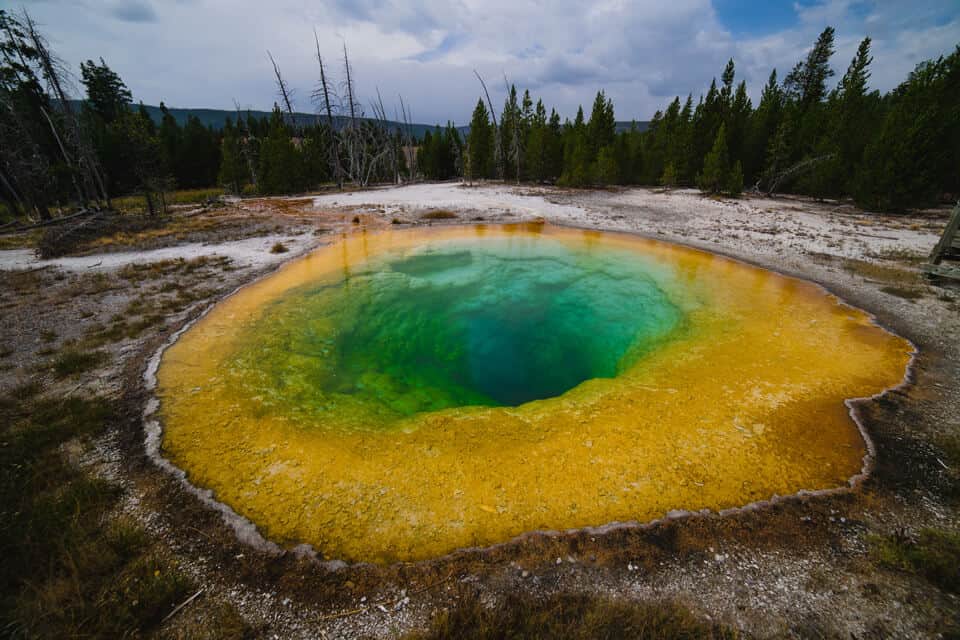 The second most famous geothermal feature in the Upper Geyser Basin (after Old Faithful) is the Morning Glory Pool.
Earning its name from looking like the morning glory flower (when it was first discovered), the Morning Glory Pool features incredibly vivid colors similar to the Grand Prismatic Spring. The only difference is that Morning Glory Pool is much smaller in size.
The Morning Glory Pool used to be blue in color but it's now green. Human activity such as littering in the pool has blocked the source of hot water, causing the temperature to drop and color to change.
Nowadays, Morning Glory Pool is one of the most protected hot springs in Yellowstone. If we don't protect it now, this delicate natural creation might not be here for our grandkids to admire!
Morning Glory Pool is located a 25-minute walk from Old Faithful on the Upper Geyser Basin trail. Because of the other wonderful geothermal features on the path, you might end up spending longer than expected!
---
Where To Stay In Yellowstone National Park
When you are deciding where to stay in Yellowstone National Park, you have two options: staying inside the park or staying near the park.
Staying Inside Yellowstone National Park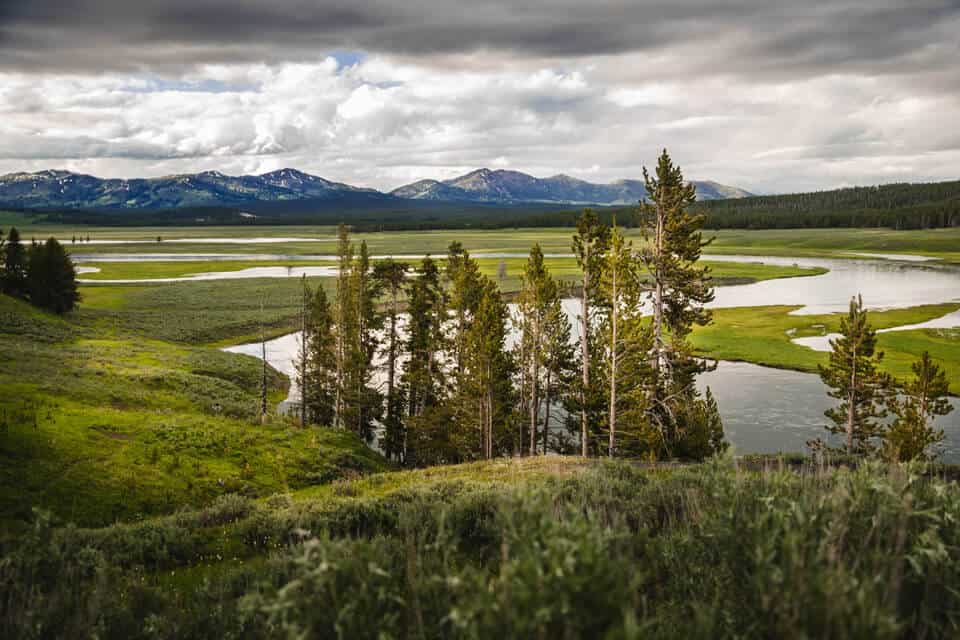 Staying inside the park is a quintessential component of an authentic national park experience. However, booking must be made well in advance and the lodges are expensive.
There are a total of nine lodges and over 2,000 rooms inside Yellowstone National Park. While most of those are available in the peak season (summer), keep in mind that some of them are closed during the off-peak seasons.
Which Lodge is the Best in Yellowstone National Park?
Personally, we haven't stayed in Yellowstone National Park due to budget/amenities reasons. But if there is one place we have to pick, it would unquestionably be Old Faithful Inn.
Here are the names of the other eight lodges in Yellowstone:
Mammoth Hot Springs Hotel & Cabins
Canyon Lodge & Cabins
Old Faithful Snow Lodge & Cabins
Lake Lodge Cabins
Old Faithful Lodge Cabins
Lake Yellowstone Hotel & Cabins
Roosevelt Lodge & Cabins
Grant Village
For more information about the lodges in YNP, check out the official website here.
Camping Inside Yellowstone National Park
Camping in Yellowstone is ideal for those that would like to save money and enjoy the great outdoors. There are a total of 12 campgrounds inside Yellowstone, amassing a total of more than 2000 sites.
Out of the twelve campgrounds, 4 of them do not need to be reserved ahead of time. The rest require a reservation, ideally far in advance.
Because we did not camp in Yellowstone, we cannot offer you lots of insightful information. However, here is the official site for campgrounds in Yellowstone!
Staying Near Yellowstone National Park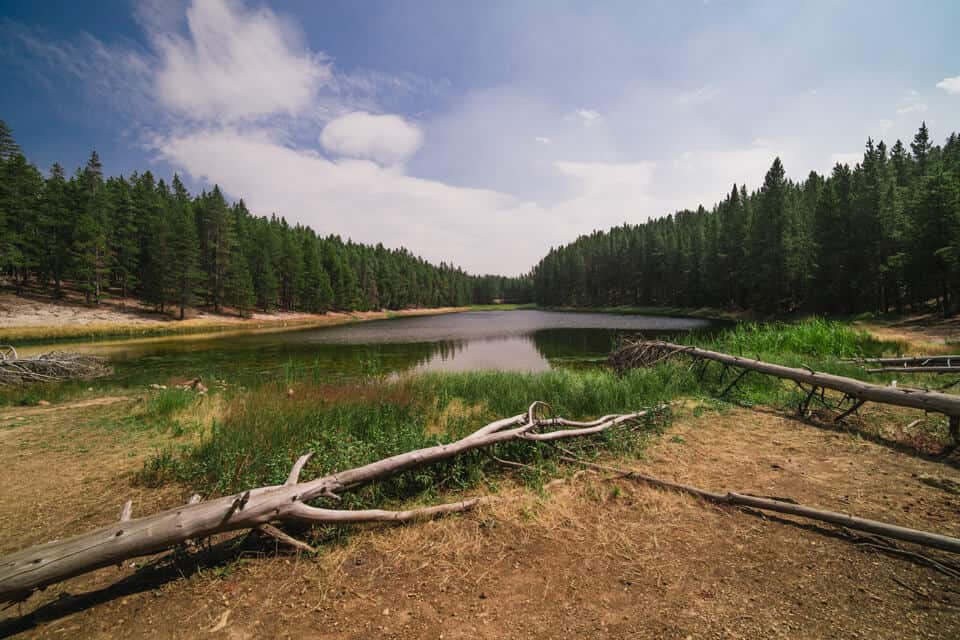 Staying near Yellowstone National Park means you are staying in one of the towns next to one of the entrances of Yellowstone. These towns usually feature more luxurious hotels, better amenities, and diverse dining options.
There are only two towns where you should be staying near Yellowstone:
West Yellowstone
Gardiner
West Yellowstone is the most popular town near Yellowstone because it is located near the west entrance of Yellowstone. You can easily reach all the popular sights in Yellowstone such as GPS or Old Faithful from there.
There are also plenty of amazing restaurants in West Yellowstone to choose from. There are also plenty of activities in West Yellowstone to keep visitors entertained.
Gardiner is located near the north entrance of Yellowstone, which is near attractions such as Mammoth Hot Spring and Calcite Springs Overlook. We recommend staying in both towns (but on different days) to maximize your time in Yellowstone.
Here are some of our favorite hotels in West Yellowstone and Gardiner:
Best Hotel In West Yellowstone – The Evergreen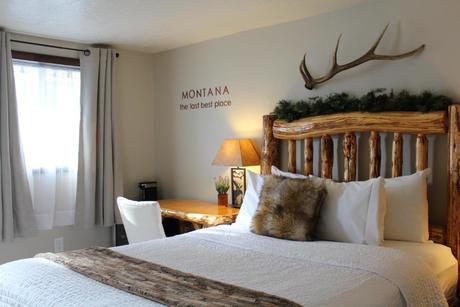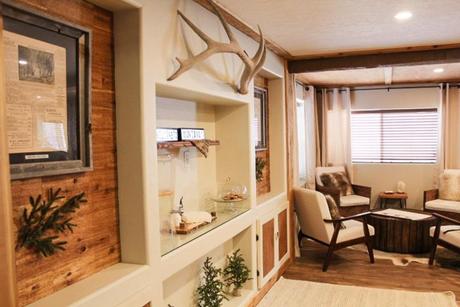 The Evergreen is one of the top-rated hotels in West Yellowstone and it is not difficult to see why. Featuring affordable prices, great amenities, and friendly staff that will answer any questions you might have about the town.

If this is your first time in West Yellowstone, this small boutique hotel will make sure you have the personal care you need!
---
Best VRBO In West Yellowstone – Blue Goose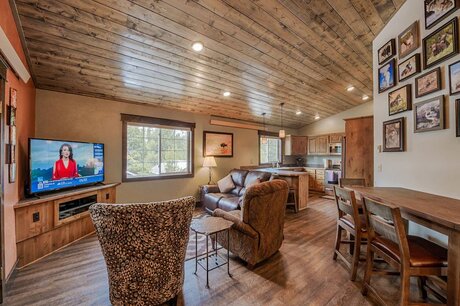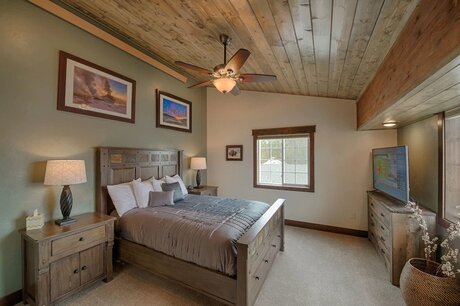 (Images Courtesy of Vrbo)

If you are looking for cozy accommodations in West Yellowstone, then look no further than this 3-bedroom Blue Goose vacation rental. This beautifully decorated vacation home features superb amenities such as fine furnishings, a fully-equipped kitchen, and luxurious bedding to ensure visitors feel completely zen when staying here.

The home also features an outdoor deck where visitors can sit and enjoy the nice weather of Yellowstone with a cup of coffee in their hands. Alternatively, you can fire up the grill on the deck and have some quality family time!
---
Best Hotel In Gardiner – Yellowstone Village Inn and Suites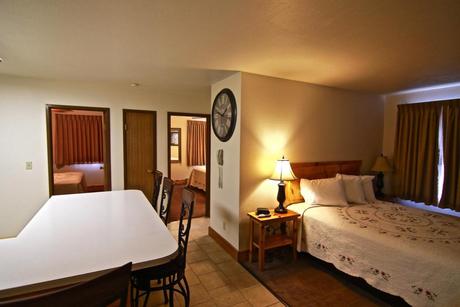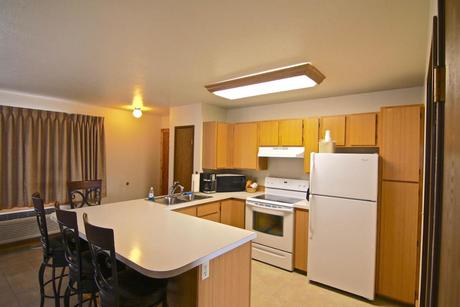 Out of the handful of hotels in Gardiner, Yellowstone Village Inn and Suites are the best among them. Featuring spacious rooms, complimentary breakfast, a heated indoor pool (WHAT?!), and a sun terrace for guests to relax, there isn't much not to like about this hotel.
---
Best VRBO In Gardiner – Water House Two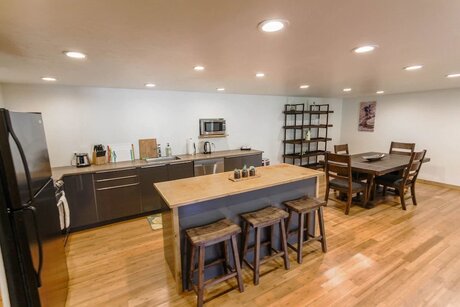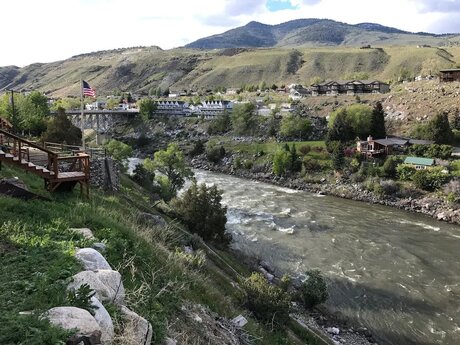 (Images Courtesy of Vrbo)

The Water House Two is one of the top-rated vacation homes in Gardiner. Feature a huge living area, enough sleeping spaces to fit 4 guests, and a fully-equipped kitchen, guests can enjoy the perfect home away from home.

Located 1/2 mile away from the north Yellowstone entrance, this Airbnb is the perfect base for anyone with a short visit to Yellowstone! Its strategic location allows guests to walk to every part of Gardiner. Restaurants, grocery stores and more are all within walking distance.

This Gardiner vacation home features its own private access to the Yellowstone River, where guests can relax and listen to the sounds of the river or dip their feet in!
---
Staying In Jackson, Wyoming
Some Yellowstone visitors might also decide to stay in Jackson Wyoming, a popular ski town that often offers cheap flights. We don't generally recommend staying at Jackson because the closest Yellowstone NP entrance (the south entrance) is located 1 hour and 15 minutes away by car.

Jackson does have nicer accommodations and easier access to another one of the best US National Parks, the Grand Teton National Park. It also has its own airport so visitors can arrive here with ease.
However, if you do decide to stay in Jackson, there are plenty of Yellowstone tours departing from there. That means you might be able to save some money on renting a car!

Here are some of our favorite Yellowstone tours from Jackson, Wyoming:
---
Yellowstone Packing List
One of the most important ways to ensure a nice Yellowstone visit is by packing all the proper essentials. While a Yellowstone packing list will vary depending on the season you visit and activities you plan on doing, here are some general items you will need.
Binoculars – Yellowstone National Park is teeming with wildlife in their native environment. Don't miss out on such a big part of the park's charm and bring a pair of reliable binoculars!
Daypack w/ Hip Strap (Him/Her) – Since you will be spending the majority of the day inside Yellowstone, it is crucial that you bring a sizable and comfortable day pack with you to carry everything you need for the day. This day pack should also provide enough support in case you want to hike.
Quality Camera – To not bring a good camera to Yellowstone is to waste all the opportunities of capturing nature at its finest. We recommend a lightweight one with an interchangeable lens such as this one.
Bear Spray – We all like to come out of Yellowstone alive, don't we? Pack a bear spray to avoid getting eaten by a bear, especially if you are planning on hiking on quieter trails.
Mosquito Repellent (with Picaridin) – With lots of bodies of water inside Yellowstone, there tend to be quite a bit of mosquitoes. Bring mosquito repellent, ideally one with Picaridin and not DEET, and save yourself all the itching!
Sunscreen – This one is obvious, but often overlooked. Since Yellowstone is located fairly high in elevation, the sun is much stronger than usual.
---
Best Time To Visit Yellowstone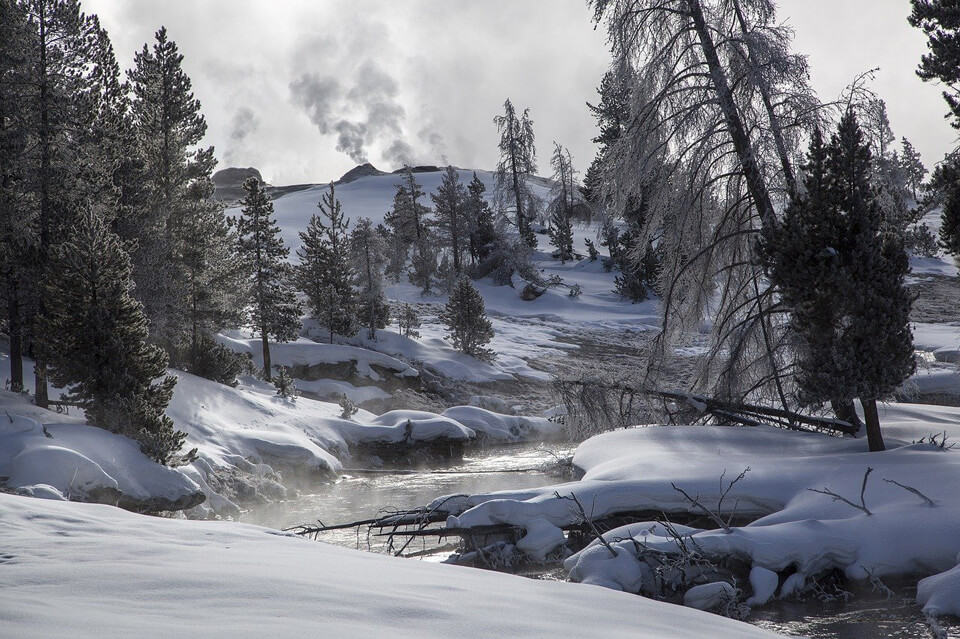 The best time to visit Yellowstone National Park is summer (June to August).
During summer, the temperature is warm, all the facilities are open, and a sense of liveliness sweeps the park. However, you will find higher prices for everything from food to accommodation, a harder time making reservations, and the infamous summer crowds.
Truthfully, the crowd and high prices might deter some tourists (such as me). If that is the case for you, then autumn (September to October) might be the best season to visit Yellowstone. The summer crowd has gone and the autumn foliage brings out the park's rawest form of beauty.
Autumn is also rutting (mating) season for elks so they are more active. It is also foraging season for bears so you might have a higher chance of spotting them as they stock up for the harsh Yellowstone winter.
However, the weather in autumn isn't so nice. Temperatures are low and sometimes even below freezing. Make sure you bring lots of layers if you are visiting Yellowstone in autumn.
Yellowstone tourism in spring (April to May) is similar to autumn. Expect fewer tourists, lower temperatures, and some facilities to be closed. If the weather is nice enough, the spring blossoms in the park can be spectacular!
Winter (November to March) is harsh in Yellowstone. Unless you have a specific reason to be there, we highly recommended you to not visit Yellowstone in the winter.
---
How To Get To Yellowstone National Park
As we have mentioned, Yellowstone National Park spans a total of three states. In those three states, visitors can use one of the five entrances to enter YNP. The five entrances are the North Entrance, Northeast Entrance, South Entrance, East Entrance and West Entrance.
Visitors need to be aware that not all entrances of Yellowstone are open all year round. In fact, only one entrance is open in the winter, which is the North Entrance near Gardiner, Montana.
Make sure you check the official road closure status here before booking your flight to the nearest Yellowstone airport.
We recommend checking the flights to the following airports:
Bozeman Yellowstone International Airport (BZN)
Yellowstone Airport (WYS)
Jackson Hole Airport (JAC)
Salt Lake City Airport (SLC)
Denver International Airport (DIA)
Once you arrive at one of these airports, you will need to rent a car and drive to the entrance of your preference. Some of the airports listed above might be farther away, but cheap flights and rental cars might compensate for the long commute.
The one in BZN the closest to Yellowstone, perfect if you have a short Yellowstone itinerary. SLC and DIA are a bit further away, so be careful if you don't have much time.
---
Visiting Yellowstone FAQs
Is Visiting Yellowstone National Park Expensive?
Unfortunately, visiting Yellowstone on a budget is difficult, but that doesn't mean you have to spend your life savings on your trip. If you stay in budget hotels outside of Yellowstone, eat outside of the park, and score cheap flights, you can lower the cost of your Yellowstone trip dramatically.
It is hard to give you a ballpark of how much you will spend in Yellowstone because so much of the prices depend on the season.
How Much Does it Cost to Enter Yellowstone National Park?
For the average visitor, they will be purchasing the 7-day pass, which costs $35 for a private, non-commercial vehicle, $30 for a motorcycle or snowmobile, or $20 for an individual (bicycle, foot, ski, etc). There are other passes to enter the park and prices change regularly so check the official site here before going!
Can You Camp in Yellowstone National Park?
Yes! Yellowstone offers 12 campgrounds with over 2000 sites! Most of these need to be reserved in advance but a few are on a first-come, first-served basis. Though there are a total of 12 campgrounds, there is a chance some might not open for various reasons.
We recommend you to check out the official camping website for Yellowstone as information changes frequently.
---
Like this post? Don't forget to save it on Pinterest!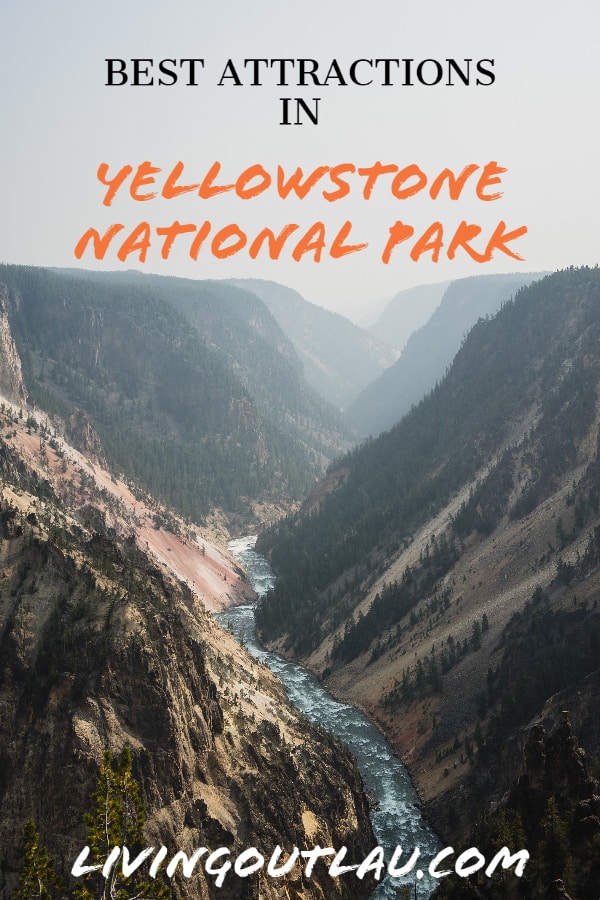 ---
These are the 13 places you don't want to miss in Yellowstone National Park. If you do have extra time in Yellowstone National Park, why not spend one day exploring the nearby Grand Teton National Park?

For the veterans of Yellowstone, which one of these places is your favorite?

Let us know in the comments!
Disclaimer: Some of the links above are affiliate links. That means if you book or make a purchase through the links, we will earn a small commission at no extra cost to you! The money will help run this site! Thank you!