Not sure what to pack for Yellowstone National Park (YNP)? Worry not.
Spanning an area of nearly 3,500 square miles and three states, Yellowstone is simply massive. First-time visitors might be overwhelmed not knowing what the things to do in Yellowstone are and the gear you might need to bring.
That is why we have written this complete Yellowstone packing list post so you can properly prepare for your epic adventure.
Enjoy!
---
The General Yellowstone Packing List
Below is a list of things that you will need to pack for Yellowstone. Because the terrain and weather vary so dramatically depending on the season you are visiting, there are some things that are appropriate for one season and not the other.
So when you are using our Yellowstone packing guide, just keep in mind any seasonal items you might need to (or not need to) bring.
One of the best items to pack with you to Yellowstone is a pair of binoculars. Yellowstone National Park is home to nearly 300 species of birds, 16 species of fish, 5 species of amphibians, 6 species of reptiles, and 67 species of mammals. No Yellowstone trip is complete without admiring some of the incredible wildlife in the park.
Two of the best places to watch wildlife in Yellowstone, Hayden Valley and Lamar Valley, feature wild animals roaming in their natural habitat. Without a pair of good binoculars, it is nearly impossible to see them in action.
A pair of binoculars allows you to observe closely from a safe distance. This is especially important if you encounter any of two bear species in the park, grizzly bears and black bears.
Yellowstone National Park is bear country. You are simply visitors in their home. That is why it is important that you carry bear spray when you visit Yellowstone. Bears are more active during spring and fall in the Yellowstone.

If you don't plan on including any hikes on your Yellowstone itinerary, then you typically won't need a bear spray (but still good to have). However, hiking in Yellowstone is one of the best things you can do in the park and you would be seriously missing out if you don't do any hikes.

If you forget to bring one to Yellowstone, don't worry. You can rent one from one of the many visitor centers throughout the park. However, the price is almost as much as buying one yourself. You'll most certainly need it if you visit other national parks in the United states.
3. Reliable Daypack (Him/Her)
A reliable daypack is one of the most overlooked items on a packing list for Yellowstone. Because you will be doing hikes in the park and strolling around the geyser basins, you should always have a daypack so you can bring replenishments, first aid kits, and other various items you might need.

We recommend a daypack with a hip belt, so if you are doing long hikes in Yellowstone, your shoulders won't feel like they were beaten the day after.

The ones we have used personally are the Osprey Talon 22 for men or Tempest 20 for women. The sturdy construction, spaciousness, and comfort are exactly what you need in a daypack! Osprey also has a lifetime guarantee on their backpacks!
Featuring some of the most beautiful creations of mother nature, visiting Yellowstone without an excellent camera is an absolute shame. From colorful hot springs to powerful geysers, Yellowstone National Park has plenty of picturesque places where a phone camera just won't do it justice.

As a full-time travel blogger, I know how important it is to have the proper blogging camera to get the job done.

That is why we recommend the Sony CyberShot RX10 IV, a beginner-friendly super zoom camera that allows you to capture the beauty of Yellowstone effortlessly. Its most iconic feature is the 24-600mm zoom lens that allows you to capture images from really close or far away.
This is perfect for capturing the astonishing geothermal features Yellowstone is known for (such as Grand Prismatic Spring or Old Faithful) for as well as wild animals roaming in their natural habitat.
I've been doing photography for 7+ years, including taking some classes from professional photographers in NYC, the Sony CyberShot RX10 IV is a great camera to have.
Better be safe than sorry! A first-aid kit is an essential item on any Yellowstone packing list. Because you are in the great outdoors and anything can happen in the wild unknown, it is recommended to bring a portable lightweight first-aid kit.
It is not going to take up any space in your backpack and offers peace of mind. And if something does happen, you will have all the tools to make sure you get immediate medical assistance!
If you plan on doing any hikes in Yellowstone or the nearby Grand Teton National Park, then a first-aid kit is even more important.
A portable cooler bag is one of the items we wish we had brought on our Yellowstone trip. Restaurants in Yellowstone are sparse and only located where there is a lodge, and there are only nine lodges inside the park. Sometimes, it might take up to 45 minutes of driving (one way) to get to one of the restaurants inside the park.
When you are inside Yellowstone, every minute counts. That is why we decided to bring a packed lunch with us every day in Yellowstone. Not only does that allow us to have our lunch without traveling a great distance, but we were able to have it while we were admiring some of the most beautiful scenery in Yellowstone.
With a portable cooler bag, you can keep your packed lunch, beverages, and any other snacks you would like at the optimal temperature. Want a cold beer on a hot summer day? No worries!
If your packing list for Yellowstone National Park doesn't have sunscreen, then you are not ready to visit Yellowstone. On average, Yellowstone National Park is located 8000 feet (2,400 m) in elevation. Because you are closer to the atmosphere of the Earth (and the sun), the sun is much more damaging.
It is not uncommon to come back from a Yellowstone trip sunburned. If you plan on hiking and swimming in Yellowstone, then you are at a greater risk of getting sunburned!
If you plan on swimming in one of the swimmable areas in Yellowstone (such as Firehole River or Boiling River), then make sure you get reef-friendly sunscreen. They can lessen the damage it has on the freshwater environment.
8. Hiking Boots (Him/Her)
No Yellowstone trip is complete without enjoying some of the pristine hiking trails in the park. While you won't need premium hiking shoes, you do need some that are sturdy enough to handle the terrain out there. For hikes in Yellowstone, we recommend something that has ankle support. Waterproof boots aren't typically needed for the Yellowstone hikes.
Those boots will give you the support you need for the longer and more difficult hikes such as Mt. Washburn but they will be breathable enough that you can wear them all day.
Because there are plenty of freshwater sources, insects (especially mosquitoes are) are abundant, especially during the summer and spring. Insect repellent is non-negotiable when visiting Yellowstone, especially if you will be spending some time around lakes (ex. if you are staying next to Yellowstone Lake) as that is where they reproduce.

We typically like to stay away from DEET as it irritates our skin and damages fabric. That is why we like this insect repellent with picaridin, a colorless and odorless substance that works for mosquitoes, ticks, flies, and more.
A portable battery pack allows you to charge all your electronics (sometimes camera included) when you are on the move. This is especially important for Yellowstone, as you will be spending your entire day away from any power source.
On some of your days in Yellowstone, you might want to go wildlife-watching at Lamar or Hayden Valley during sunrise. From sunrise to sunset, it can be over 12 hours without a way to charge your phone, and we know how many videos and photos you are going to want to take with your phone!
So pack a small portable battery pack to make sure you never run out of juice.
11. Rain Jacket (Him/Her)
Don't let the rain stop all your fun in Yellowstone National Park!
Because the majority of the activities in Yellowstone are located outdoors, the rain can really spoil all the fun. Yellowstone is located at a high elevation where the weather can be unpredictable. It is not uncommon for Yellowstone to receive precipitation at any time of the year.
Packing an umbrella with you is too bulky and inconvenient, especially if you are on a hike. That is why we recommend a rain jacket or a waterproof outer shell to protect you from any precipitation you might encounter.
12. Wool Socks (Men/Women)
Wool hiking socks are generally overlooked on any Yellowstone packing list. That is because visitors believe that regular cotton socks will suffice. However, when you are exploring Yellowstone National Park, you are spending a long time outdoors, moving around, sweating, and creating moisture and germs inside your shoes.
Typical cotton socks are horrible at getting rid of moisture. After a long day in Yellowstone, your feet will smell like they stepped in baby's diarrhea. When cotton is wet, it no long insulates your feet, which means your feet might get cold if you are visiting Yellowstone outside of summer.
If you plan on doing any hiking in Yellowstone, then forget about it. Your cotton socks just won't cut it.
That is why we recommend to pack some wool socks for Yellowstone. They have the insulation to keep your feet warm and comfy, and the breathability to keep your feet dry. They are perfect for hiking as well.

Our favorite brand is Darn Tough as they are made in the US with a lifetime guarantee!
Yellowstone is massive and navigating it without a map is a daunting task. Though Google Maps and other digital alternatives are excellent today, they can never truly replace a hard-copy map, especially one from National Geographic.
This waterproof and tear-resistant Yellowstone map by National Geographic features detailed information that you might never find on a digital map. Designed with the help of local experts, it is truly a tool that can help you navigate through the park.
It will also help you when you don't have any cell service inside the park, which believe it or not, happens more often than you think!
This map allows you to cross off things that you have already seen in the park, making planning your Yellowstone trip much easier.
One of the best things to do in Yellowstone National Park is to go swimming in the river. Currently, visitors can swim in two areas of the park: the Firehole River and Boiling River Hot Springs. If you are visiting when these two areas are available for swimming, then bringing a portable and quick-drying towel is a must.
Turkish towels are the latest trend in the towel industry. They are known to be softer, more absorbent, lighter, and dry quicker than traditional towels. They are even known to be better than microfiber towels, which have a reputation for being light and drying quickly.
They are also stylish and can be used as a scarf when it gets cold in Yellowstone.
Most of Yellowstone is unshaded. Combined with the high altitude, sun damage is a potential risk there. That is why it is important to protect your skin, especially your face with a sun hat. Make sure you select one that is waterproof (like the one above), just in case you do happen to visit Yellowstone when it's raining.
16. Bathing Suit
It might be weird to bring a bathing suit into Yellowstone, but did you know that there are many areas where you can go for a dip in the water? Even in cooler temperatures, visitors can dip in the Boiling River, which has warm and even hot water due to the geothermal activity in the park.
And some of the hotels in the region have swimming pools, perfect for those hot summer days!
A filtered water bottle is great to have in Yellowstone. It allows you to drink from any freshwater sources such as rivers and streams, perfect for the time when you have forgotten to buy any water. It is also reusable, which means it is good for the environment, and we all know we need more of that! No more plastic water bottles!
---
What To Pack For Yellowstone In Winter
If you are visiting Yellowstone in the winter, you will have a completely different packing list for Yellowstone. It is not uncommon for Yellowstone to hit below 0 degrees Fahrenheit. Rarely does the temperature go above freezing and snowfall is frequent. In addition, because the altitude is so high, the weather is unpredictable and can change suddenly.
What you wear to Yellowstone during the winter is going to be very different, so your packing list should reflect that.
Those are some factors you must consider when packing for Yellowstone in the winter.
1. Heavyweight Base Layer (His Pants/Top, Her Pants/Top)
The biggest question when it comes to a packing list is what to wear to Yellowstone in winter. You must properly prepare for the extreme cold weather in Yellowstone. The first step in doing that is having a good thermal base layer.
The base layer is one of the most important layers for keeping you warm. Its purpose is to trap heat and wicks moisture away from your body, keeping you nice and dry. There is no better material to accomplish that than a polyester and merino wool blend, so make sure you pay attention to the composition of the layer.
For Yellowstone, it is recommended to have a midweight or heavyweight baselayer. Midweight is for cold temperatures and heavyweight is for below-freezing temperatures.
2. Snow Pants (Him/Her)
Snow pants are insulated and waterproof pants designed for winter activities. If you plan on doing any winter activity in Yellowstone like riding a snowmobile or snowshoeing, then snow pants are a must. If not, they're still excellent for keeping you dry and warm when you explore Yellowstone.
3. Snow Boots (Him/Her)
No Yellowstone gear list is complete without snow boots. Insulated and waterproof, they are designed for all types of winter activities and just moving around. Because Yellowstone is likely to be completely covered in snow, they are essential items to any winter packing list for YNP.
This is not an item you should skimp out on. You want a pair that is comfortable and can keep your feet dry and warm to avoid hypothermia.
4. Winter Parka (Him/Her)
Originally designed for hunting and other activities in the Arctic, the winter parka is the outermost layer of your winter protection gear. Along with the base layer, they make up two of the most important pieces of clothing to keep you warm. Winter parka is your first line of defense against the cold, and it is something that is worth paying a premium for.

Without a proper winter parka, you won't be warm no matter how many layers you have on. Given how cold Yellowstone gets in the winter, a winter parka is truly an indispensable garment for your winter Yellowstone trip.
A winter hat is one of the most overlooked items on any winter Yellowstone packing list. Designed to trap heat from escaping from your head, a winter hat keeps your head and ears nice and toasty. Doing so actually keeps the rest of the body warm.
Most of the body's heat is lost through your head, so a toasty hat will keep you warmer for much longer.

A winter hat will protect you from the strong winter sun caused by the reflection of the snow. It will make sure your scalp doesn't get burned, which is more common than you think!
6. Thick Wool Socks (Him/Her)
When picking out socks for Yellowstone in the winter, it is important that you avoid cotton socks, no matter how thick and fluffy they seem. While cotton is warm and comfortable, they absorb water and retains it. When this happens in your shoes, your socks end up getting moist.
Once your socks are wet, it is much easier for your feet to get cold. Your feet are one of the easiest places to get hypothermia.
That is why you need a pair of winter wool socks. They are designed to keep your feet warm, wick moisture, and be comfortable on your skin!
Read More: Yellowstone in October: Is It Too Late?
Travelers visiting Yellowstone in the winter should be more wary of the sun than in the summer. Though the temperatures can get quite warm, the sun damage in the winter is much more detrimental. The sheets of snow act as a mirror and reflect the sun's ray in the winter, essentially multiplying its strength.

That is why visitors must bring proper sun protection when visiting Yellowstone in winter. Most parts of your body will be covered by clothes, but your face and your lips are especially vulnerable. We recommend bringing a high-SPF lip balm or chapstick.
8. Ski Gloves or Insulated Mittens (Him/Her)
Ski gloves or insulated mittens keep your hands warm. Simple as that. We recommend mittens that have a waterproof and windproof outer shell to protect you from all the elements. Mittens are generally warmer because the heat generated by your fingers collectively is retained better.

If you have something you use for snowboarding or skiing, they are perfect for the Yellowstone winter.
A neck gaiter is designed to prevent any cold air to get into the opening of your jacket at the top. It is a small but important gear that often gets underestimated.
They are often used for snowboarders and skiers to keep them warm and toasty. Don't overlook this simple and affordable gear on your Yellowstone National Park packing list!
Hand warmers are small packets that can produce heat on demand and are designed to keep your hands warm. Foot warmers are small adhesives that stick to the bottom of your socks and keep your feet nice and toasty in the winter. Both of these are not necessities, but definitely good to have as they will come in handy.
---
What To Not Include On Your Packing List For Yellowstone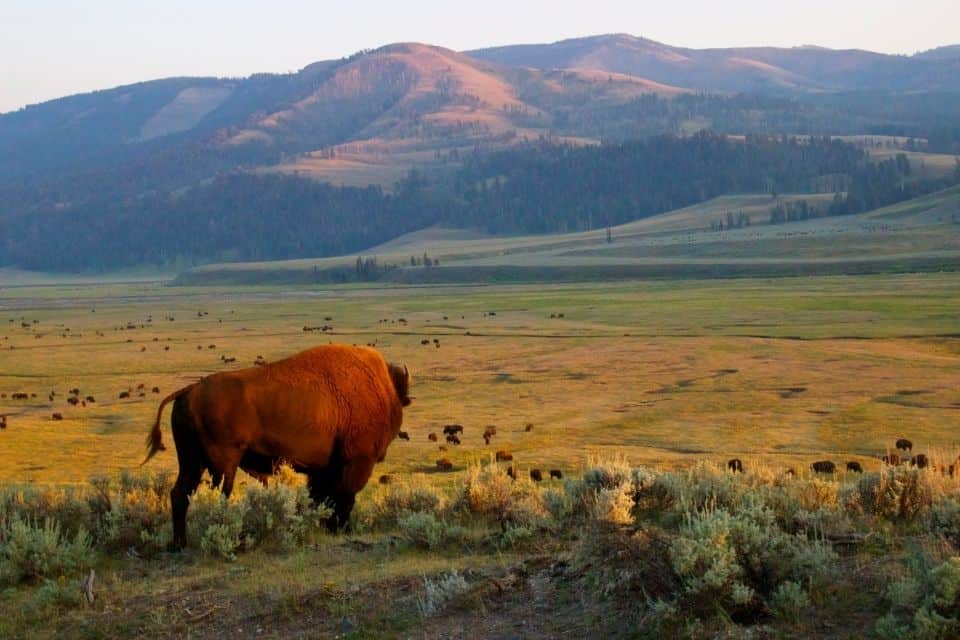 Fancy Outfits
As much as we all like to take nice photos or us in nice clothing at beautiful places, that isn't going to work in Yellowstone. Because of all the moving around and the natural elements, Yellowstone isn't really a place for "fancy" things.

Yellowstone is the great outdoors and your visit should be aimed at enjoying what mother nature has given us! Worry less about getting the perfect social media photo. It will make your stay much more pleasurable!
Drones
We love drones as they offer a new perspective on things. Unfortunately, they are not allowed inside Yellowstone National Park. They are available in the areas outside of Yellowstone National Park, and those areas have outstanding natural beauty as well.
Cigarettes
Smoking is not allowed in geyser basins or hiking trails. They are also prohibited inside buildings or within 25 feet of a building entrance. Though there are still plenty of areas to smoke inside and outside the park, just know you might not be able to do so in certain areas of the park.
For more regulations in Yellowstone, check out the official site here.
---
Like this post? Don't forget to save it on Pinterest!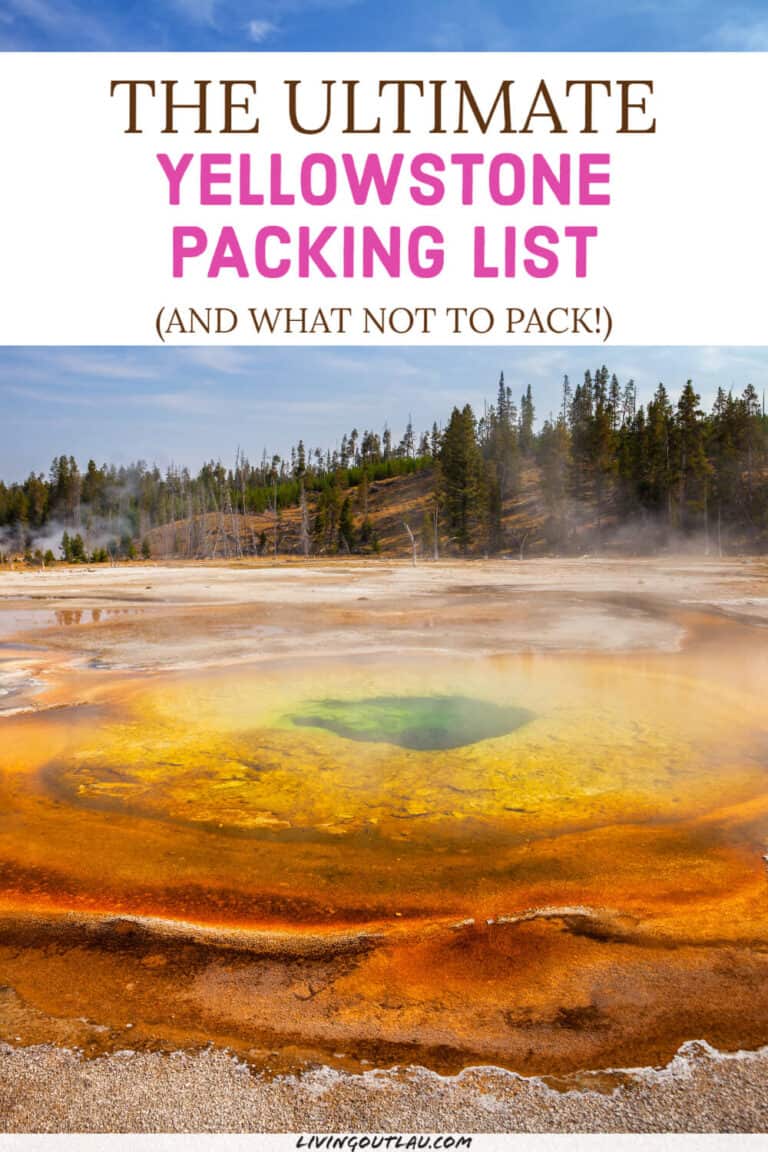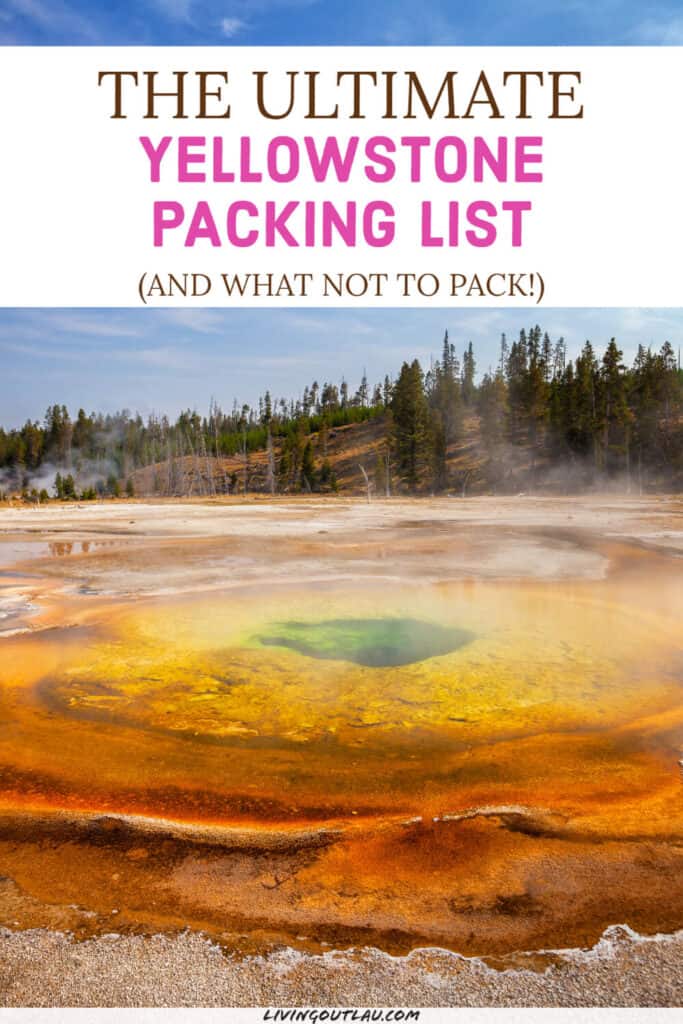 ---
This concludes our Yellowstone packing list guide! We hope you have an idea on the things you need to bring to Yellowstone National Park!

Any Questions? Leave them in the comments!
Disclaimer: Some of the links above are affiliate links. That means if you book or make a purchase through the links, we will earn a small commission at no extra cost to you! The money will help run this site! Thank you!