Not sure what to do in Ipoh, Malaysia? Don't worry, we are here to help.
From incredible limestone cave temples to the rich history of the Hakka miners, Ipoh is teeming with wonders and excitement. Visitors can stroll around the city and take in all the beautiful murals and try some of the world-famous white coffee famous in this town.
After our several visits to this beautiful Malaysian city, we found out that there are just an endless number of things to do in Ipoh! (Well, not endless, but you get it!)
That is why we have written this Ipoh travel blog guide, so you can familiarize yourself with the best Ipoh attractions you must see, especially if you are visiting for the first time!
Enjoy!
---
Ipoh Attractions Map
Above is a comprehensive interactive Ipoh tourist map containing the 25 things to do and places to visit in Ipoh. We have created it specifically for this Ipoh blog post.

Knowing where the attractions are located will help you plan your perfect itinerary for Ipoh. Clicking on the map will take you to the complete map where you will find more details about each Ipoh attraction.
Click on the star next to the name of the map and you can save it onto your own personal device, then you can use it to help you navigate when you are in Ipoh!

If you have any questions about the interactive map, don't hesitate to leave a comment down below!
---
What To Do In Ipoh: 25+ Best Things To Do In Ipoh Malaysia
1. Learn About Tin Mining At Han Chin Pet Soo Museum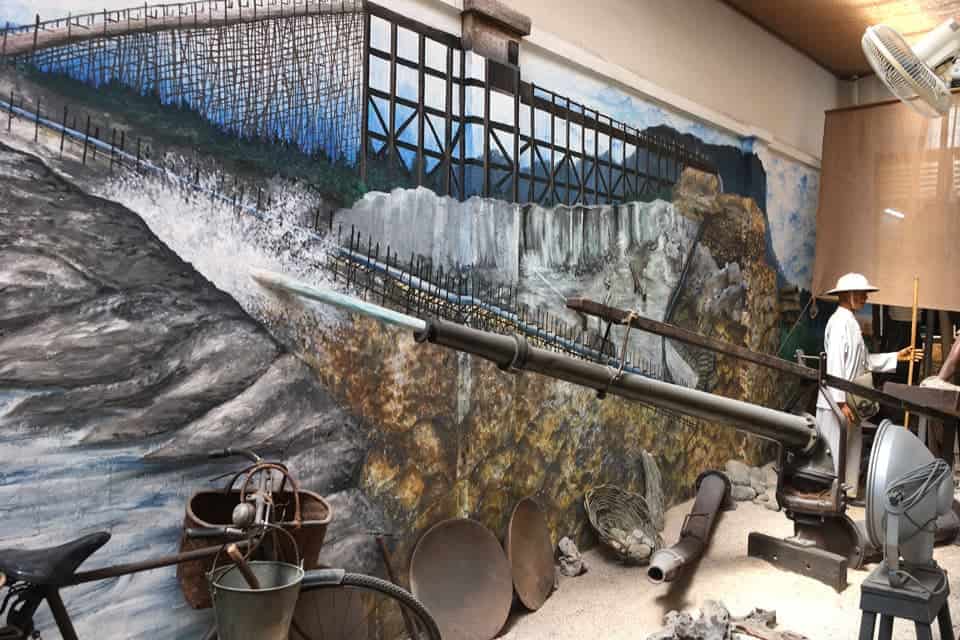 Ipoh is a very different city compared to Kuala Lumpur, the capital of Malaysia. On the surface, it seems impossible that these two cities actually belong to the same country.
That is because the two cities have a significantly different history. Ipoh was found because of the fact that tin deposits were located nearby in the 1880s. To this present day, there are many mining operations and quarries in the area.
The Han Chin Pet Soo Museum is the perfect place to learn about the early history of Ipoh and the Hakka miners. The Hakkas are Han Chinese people whose ancestral homes are mainly in Hakka-speaking provinces in China.
A visit to the Han Chin Pet Soo is a great introductory course to the rich heritage of the Perak State of Malaysia. The best part is that the visit is free and comes with a tour guide. However, there is a recommended donation of 10 Malaysian Ringgit to help preserve such an important heritage building of Ipoh.
You must reserve your timeslot for your visit at Ipoh World Official Site.
2. Visit The Majestic Ipoh Railway Station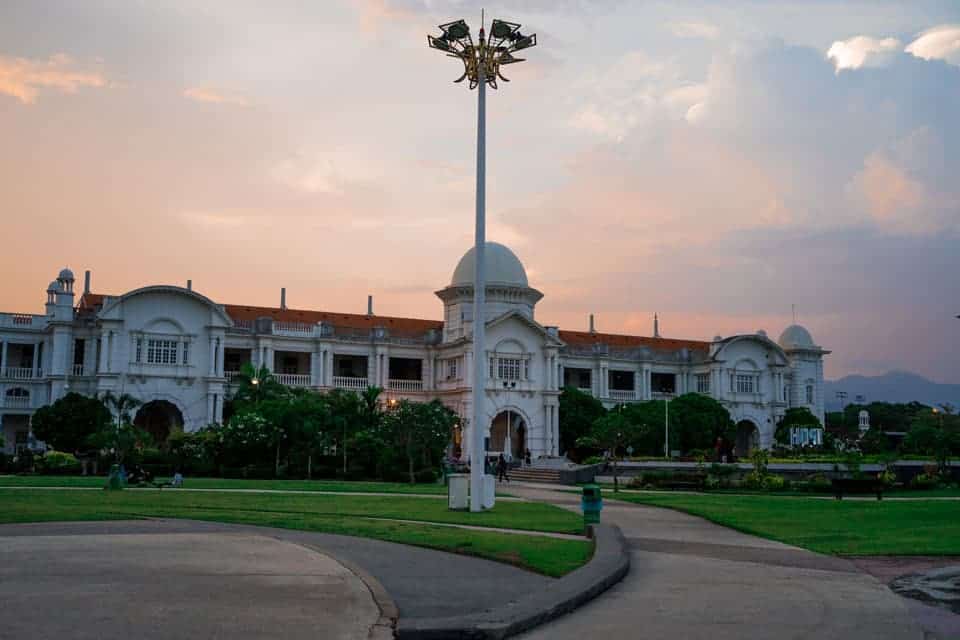 The Ipoh Railway Station is one of Ipoh's most iconic landmarks. Considered as the Taj Mahal of Ipoh, the railway station is one of the most beautiful places to visit in Ipoh. Locals love it so much that they built one of the best hotels in Ipoh, the Majestic Hotel, inside the station!
Besides its beauty, the transportation hub is also used by numerous travelers daily. It has connections to many cities in Malaysia, including Kuala Lumpur and Penang.
The Ipoh Railway Station is one of my favorite places to watch the sunset in Ipoh. The fading light emphasizes the beauty of this remarkable building. After the sun has set, there is an evening water show. The water shoots from the ground and locals and travelers alike jump in to cool down from the suffocating heat of Malaysia.
If you are not sure what to do in Ipoh at night, you won't have a bad time at Ipoh Railway Station.
3. Check Out The Must-Visit Concubine Lane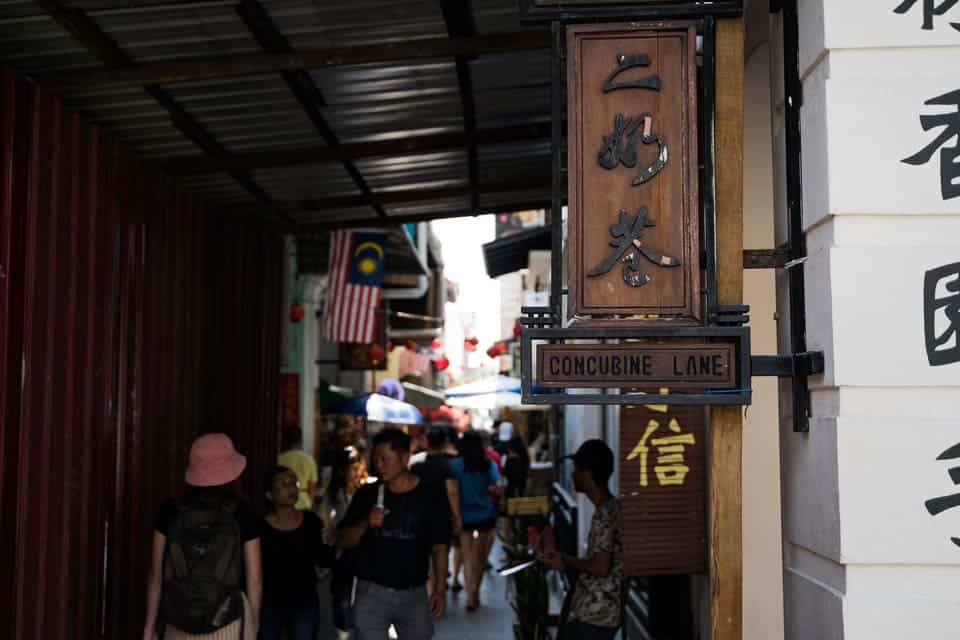 Concubine Lane is one of the most popular attractions in Ipoh and it is easy to see why. A traditional street filled with street food vendors, souvenir stores, and many restored historical buildings, Concubine Street summarizes Ipoh in one small little street.
What is more interesting about the action-packed street is its history. Concubine Lane is actually one of three concubine lanes.
There are two other concubine lanes: Wife Lane (Hale Lane) and Second Concubine Lane(Market Lane). According to the locals, the mining tycoon Yau Tet Shin gave one street to each of his three wives. The wives would make money by collecting rent from the shops along their streets.
Nowadays, the other two concubine lanes are rather quiet and unpopular, but the Concubine Lane itself is a must-visit place in Ipoh.
4. Take A Day Trip To Cameron Highlands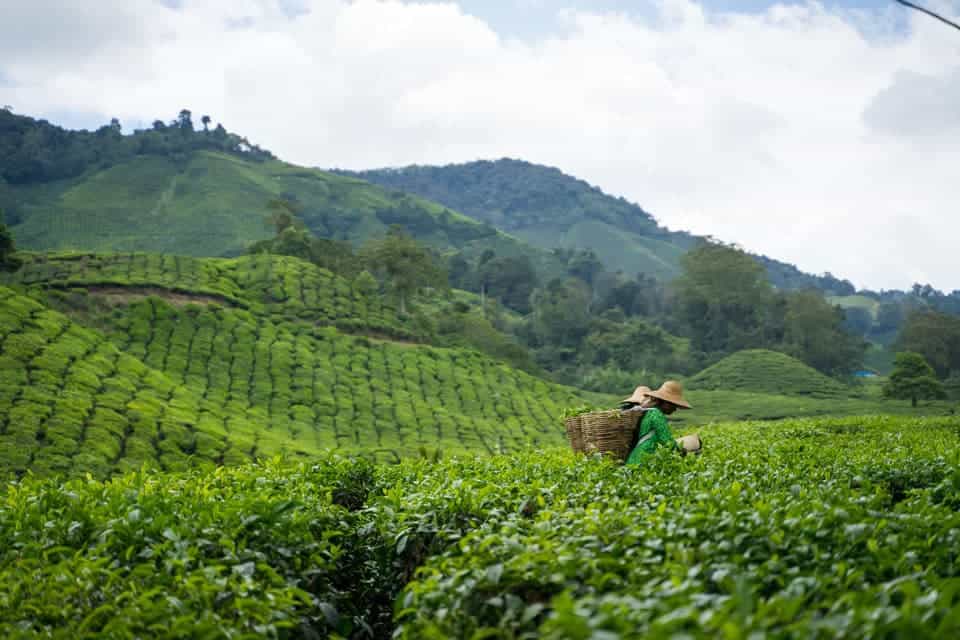 Located a little under 2 hours away from the Ipoh is a nature paradise called Cameron Highlands. Though it is recommended to spend a few days exploring the amazing attractions in Cameron Highlands, a day trip from Ipoh is still a nice experience.
Known for its massive tea plantations, strawberry farms, and beautiful hikes, Cameron Highlands is the ideal place to take a break from the noise and pollution of Ipoh. At an elevation of ~1100 meters to ~1800 meters, the weather and air quality are much better.
The one place you must visit on your Cameron Highlands day trip is the BOH Tea Centre. Not only will you get to see the massive tea farm, but you can also get a free tour of the tea-processing facility!
You can take a bus from Ipoh to Cameron Highlands. However, I recommend you rent a car because you can have the flexibility of deciding which places to visit in Cameron Highlands! Another great option is to take a day trip tour from Ipoh with a tour company.
5. Learn About The History Of Ipoh On The Ipoh Heritage Trail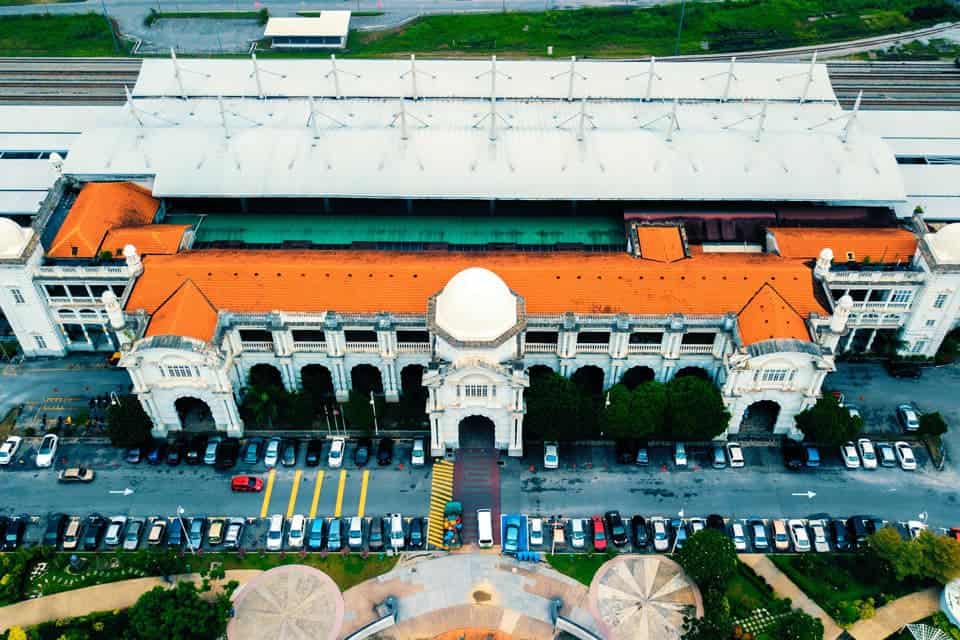 If visiting the Han Chin Pet Soo sparked your interest in the rich history of Ipoh, then you will love the self-guided Ipoh Heritage Trail. With a total of 27 points of interest, this Ipoh activity takes you on a 4-mile around both Ipoh Old Town and New Town.
If Ipoh's weather is too much for you, you are more than welcome to shorten the duration of this trail! That is the magic of self-guided tours!
The trail starts at the Ipoh Railway Station and ends at the Birch Memorial Clock Tower, passing through other famous places in Ipoh such as the Town Hall and Old Post Office.
Covering so many attractions in Ipoh, the Ipoh Heritage Trail is one of the best activities for sightseeing!
The trail usually takes around 2.5 hours to complete. Plan accordingly!
Click here to find out more about Heritage Trail and the 27 points of interest!
6. Check Out The Sunday Market At Memory Lane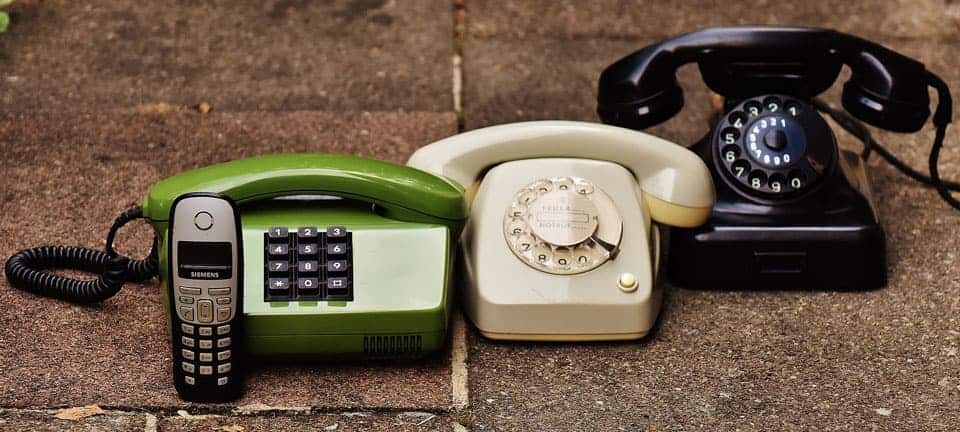 If you happen to be in Ipoh on a Sunday, make sure you don't miss the famous Sunday Morning Market at Jalan Horley. Also known as loken or Memory Lane flea market, visitors will find vintage items that will make them feel old. DVDs of movies from the late 1990s, old toys, flip phones, and many of these merchandise will surely bring a sense of nostalgia.
Similar to Ah Ma House in the hidden-gem town Sekinchan, the Memory Lane market is like stepping into a time machine. As you stroll down this busy street, you will be reminded of the good old times!
Though the items might seem worthless, there is a chance you might find a valuable antique there! If you are a collector of vintage things, don't miss this Ipoh tourist attraction!
Just be aware that the market is only opened on Sunday and goes from around 6 AM to 1 PM.
7. Admire At Ipoh's Street Art and Murals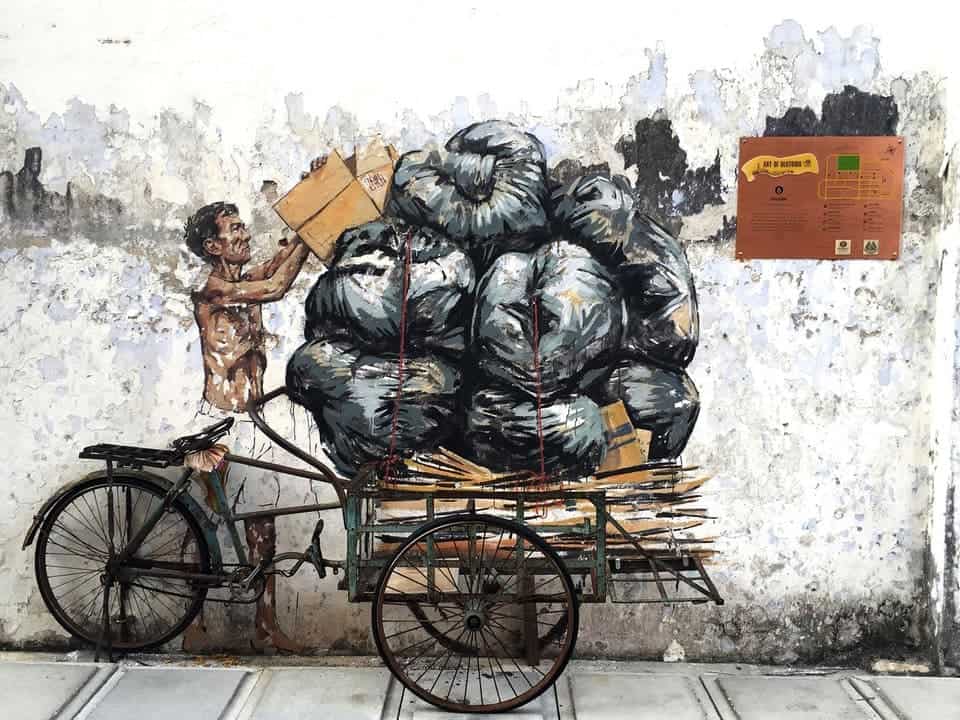 We knew that Penang has some of the best street arts in Malaysia, but we were surprised to find that Ipoh was also riddled with amazing murals.
Most of the street art in Ipoh is scattered throughout the old town, but travelers can find a large concentration of them at Ipoh Mural and Mural Art's Lane.
Ipoh Mural is where you will find the magical Trishaw 3D mural. It is one of the most magical places for photography in Ipoh!
On the other hand, Mural Art's Lane, in our opinion, is much more abstract and cool. The murals in Ipoh are very realistic, oftentimes offering a glimpse into the daily lives of an Ipoh resident.
The two locations are within a short walk from each, and there is no reason why you should go to one and not another.
8. Check Out The "Haunted" Kellie's Castle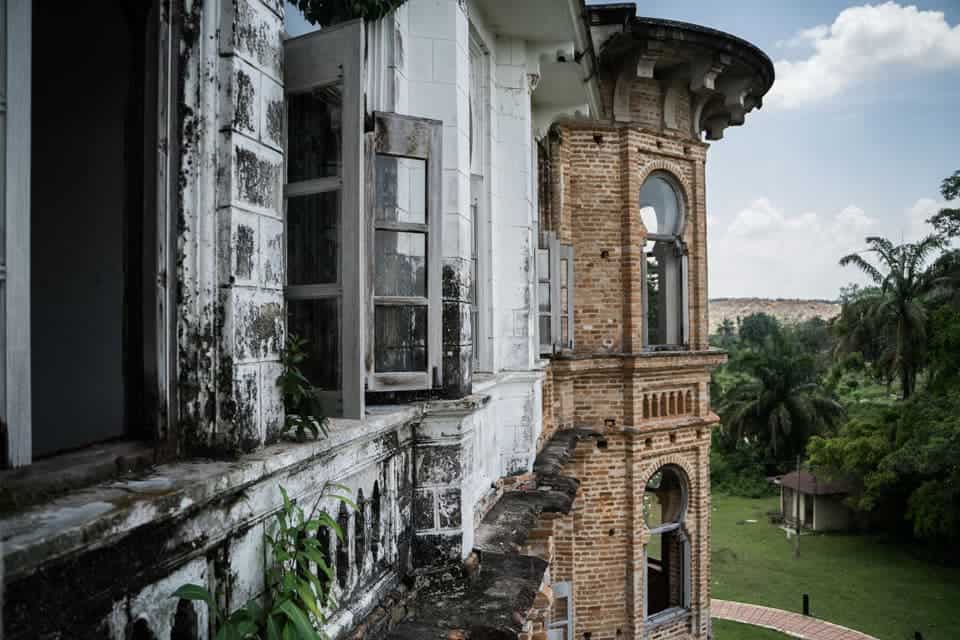 A castle might be a strange thing to find in Malaysia, especially in a place like Ipoh. As a result, the abandoned Kellie's castle is one of the most interesting places in Ipoh. Why is there an abandoned castle in the middle of the Malaysian jungle? Let me tell you.
William Kellie Smith was a Scotsman that moved to Malaysia to seek fortune and wealth. After several unsuccessful business ventures, he eventually found prosperity in the rubber industry.
With his newfound success and newly-wed wife, he wanted to build her a mansion, one that is more extravagant than any other at the time. Many different styles of architecture can be seen in the building, including Moorish and Roman influences.
Unfortunately, his plan to finish the mansion was cut short when he passed away from pneumonia. When he died, the mansion was given to his wife, who lived in Scotland. His wife never visited the mansion and eventually sold it to a private company in Malaysia.
The building now sits unfinished amidst the jungle of palm trees and has become a top attraction in Ipoh. Rumors have it that Kellie's Castle is haunted. A ghostly figure of a man has been seen walking down the corridors of the second floor at night!
9. Hike To The Highest Point in Ipoh (Bukit Kledang) For Stunning Sunset Views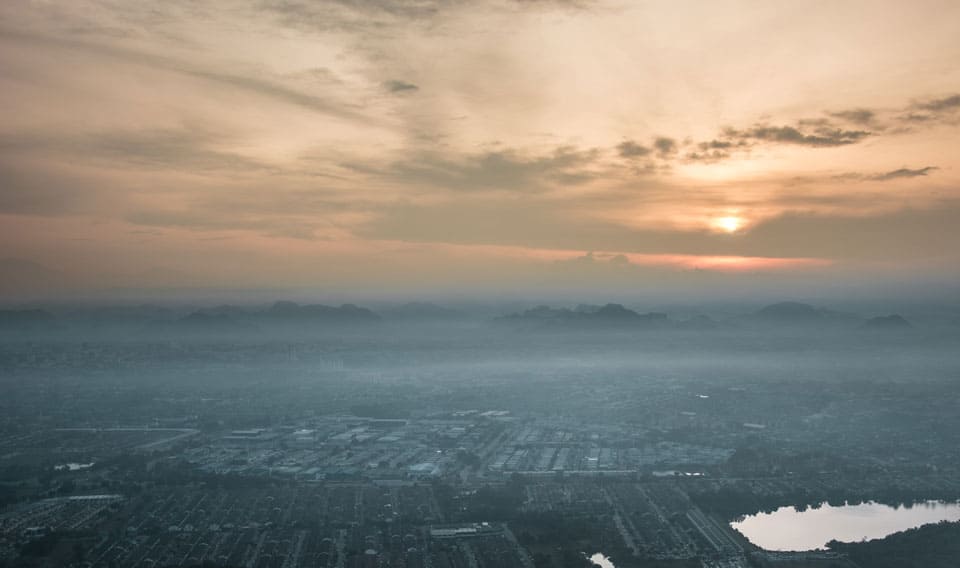 If you are an outdoorsy person and don't mind the debilitating heat, there is a hike in Ipoh perfect for you: Bukit Kledang.
Bukit Kledang, or Kledang Hill, simply refers to the peak of the mountain. There are actually many trails of varying difficulty that lead up there. The full trail is a 9.3 km loop that starts at the bottom and takes you to the top of the Kledang Hill, bypassing the famous "exercise corner", a place with stunning views of Ipoh.
As the tallest peak in Ipoh, summiting this mountain is no easy task. Hikers need to gain over 800 meters in order to reach the summit, which is made more difficult by the steep trail. The full trail usually takes a little more than 3 hours to complete.
Though there are better hikes in Cameron Highlands than the hike to Bukit Kledang, hiking Bukit Kledang allows for an amazing view of Ipoh. Just be careful when you hike up, it is easy to catch a heat stroke if you are not used to the weather. Try to avoid the midday sun if possible!
I recommend installing the app Alltrails before starting your hike so you know the exact location of the trail!
10. Admire The Birch Memorial Clock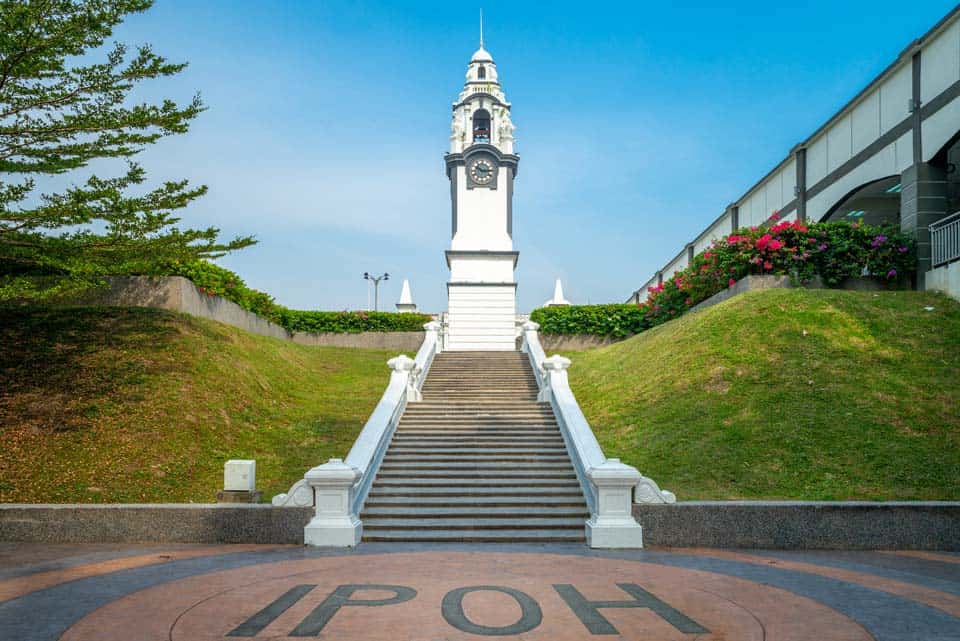 The Birch Memorial Clock is one of the most iconic landmarks in Ipoh Old Town. It was built in 1909 to commemorate the life of James W. Birch, who was the first British Resident of Perak. The clock tower has four grand European-style clocks placed on each side, representing 4 virtues of British administration, namely Loyalty, Justice, Patience and Fortitude.
There is plenty of history that is involved with the Birch Memorial Clock, and travelers can learn more about it on the self-guided Ipoh Heritage Trail. But even without the fascinating history, the grandeur of the Clock makes it one of the most beautiful places in Ipoh.
11. Explore The Ho Yan Hor Museum
Ho Yan Hor is one of the most interesting museums in Ipoh. It is a museum dedicated to Dr. Ho Kai Cheong and his Chinese herbal tea, Ho Yan Hor. He invented this concoction in 1941 using several natural herbal ingredients, and it would help people with flu-like symptoms due to high "body heat", a result of working too hard in the mines during the hot days.
In the Ho Yan Hor Museum, visitors can explore everything about the Ho Yan Hor herbal tea and Dr. Ho Kai Cheong's life. You can even buy some to take home with you as unique Malaysian souvenirs.
The best part is there is no entrance fee, so it is easily one of the best free things to do in Ipoh!
12. Check Out Ipoh Night Market
One of the best things to do in Ipoh at night is to head down to the Ipoh Night Market and eat, shop, and just browse around. The market is the perfect place to try some local food as there are nearly a hundred food stalls selling a variety of dishes.
From the Thai Tom Yam (check out Tom Yam Niase, it's a shop that went viral) to the country's famous Char Kway Teow, there is no doubt you'll find a dish you'll like. And if you are lucky, you can enjoy your delicious food while listening to live music.
Getting to Ipoh Night Market can be challenging since it isn't walking distance from the city center. Visitors have the option of getting a Grab or renting a car (which you can use to explore places like Cameron Highlands and the cave temples).
But because of that, you'll find mostly locals and non-touristy prices at Ipoh Night Market!
13. Shop At Kong Heng Square Artisan Market
If you are looking for a place to do shopping and support local artists, then there is no better place to do so than at Kong Heng Square Market.
As one of the newest attractions in Ipoh, this market sells a variety of handcrafted items such as pillows, jewelry, books, and other accessories. Most of the items are handmade locally, adding to their uniqueness and charm. If you are looking for some souvenirs from Malaysia, this is the perfect place to do so.
If you are not planning on doing any shopping here, it is still worth it to visit. The market is made out of old shophouses that add to the historic charm of this place!
---
Visit A Unique Ipoh Cave Temple: One Of The Biggest Tourist Attractions In Ipoh
1. Perak Cave Temple (Perak Tong Cave Temple)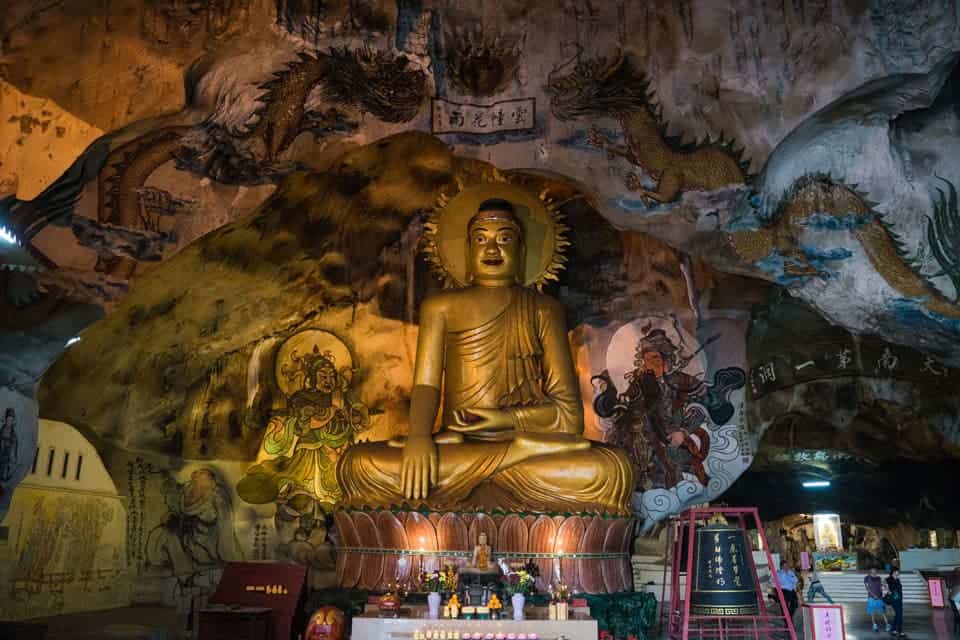 With over 30 caves temples around Ipoh, it might be different to pick the perfect one. If you had to choose one for your Ipoh itinerary, then Perak Tong Cave Temple (or Kek Lok Tong Cave Temple) has to be the one.
Featuring intricate cave formations, exquisite religious artifacts and paintings, and a stunning panoramic view (after a short hike) of Perak, this Ipoh cave temple has everything a tourist might be looking for.
The entrance is also completely free! Is there any con to the Perak Cave Temple? Well yes, it is a little far from the old town of Ipoh. However, every cave temple in Ipoh is a bit far from the center. A taxi is needed to reach the limestone cave temples in Ipoh.
The most majestic feature of this cave temple is the 40-foot sitting Buddha whose presence amplifies the sacredness of the cave. Surrounding the Buddha are vivid murals of deities that are sworn to protect the Buddha. Beautifully depicted, the murals of the cave are like paintings in an art museum.
At the back of the cave is a small hiking trail (~450 steps) that takes you to the top of the hill. Though a bit of an effort (especially in the heat), the view from above is worth the sweat and tears (hopefully not the latter).
2. Kek Lok Tong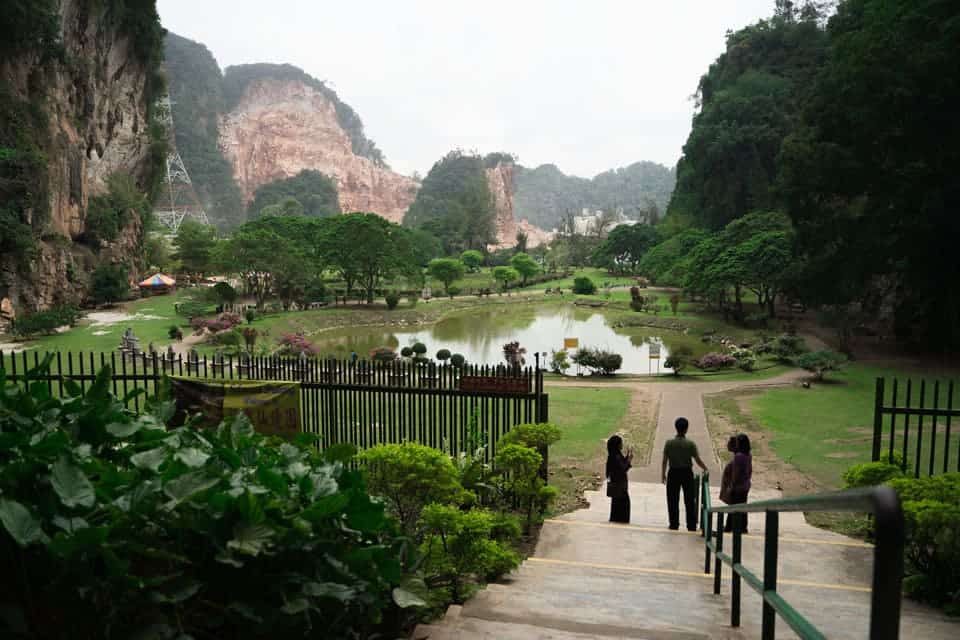 With a massive cave formation, interesting geological features, and a serene garden surrounded by limestone hills, Kek Lok Tong Temple just might be the best place to visit in Ipoh.
Whereas the Perak Tong Cave Temple takes pride in its beautiful views after a strenuous hike, seeing the best of Kek Lok Tong requires minimal effort.
As you enter through the massive opening, you will be immediately greeted by religious artifacts, stalactites, and stalagmites. Navigate through the cave and arrive at the back, where a beautiful and peaceful garden resides.
The garden is the most outstanding feature of this Ipoh cave temple. Take a casual stroll along its well-maintained path, feel the serenity coming from the lily and the fish pond, and observe the funny statues lined across the path. Visitors can spend hours here, relaxing and being at one with nature.
Similar to Perak Tong Cave Temple, Kek Lok Tong is free to enter and a short ride from Ipoh center. However, unlike the Perak Tong Cave Temple, there are many other redeeming cave temples nearby. Some of those will be discussed below!
3. Sam Poh Tong Cave Temple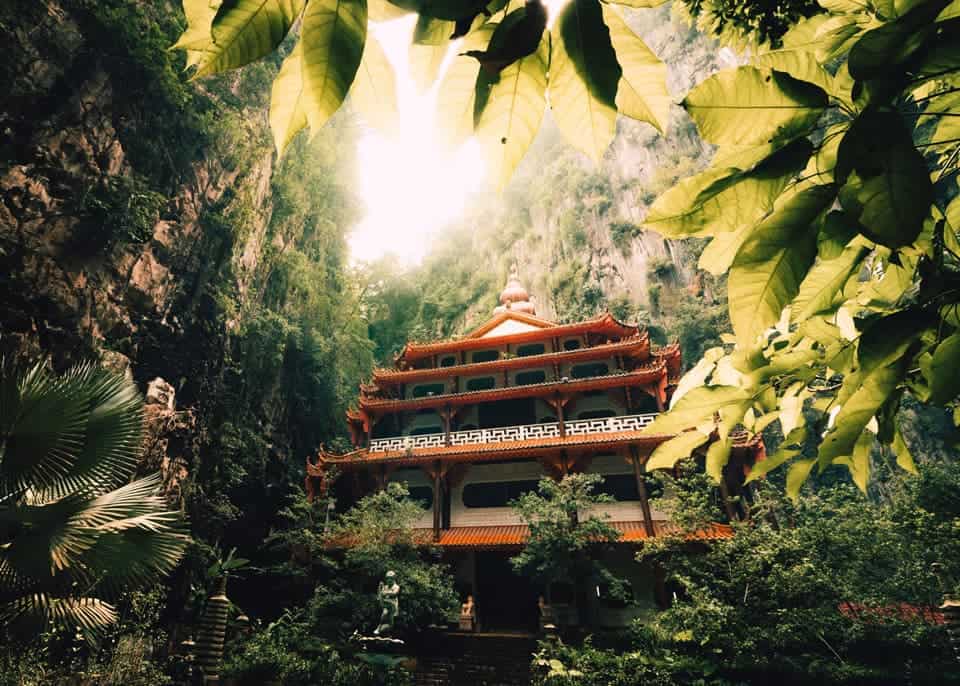 Sam Poh Tong Cave Temple gained its recognition for being the oldest and the main cave temple in Ipoh, Perak, Malaysia.
It is also known as the largest cave in Malaysia and contains a wide variety of artifacts including the reclining Buddha statue.
However, the temple is starting to lose its glory as fewer and fewer donations are received annually to maintain it.
When you visit Sam Pog Tong Cave Temple, make sure you wear comfortable shoes as there is a short climb. Navigate through the cave and you will reach the rear of the temple, where a semi-hidden tortoise sanctuary resides! Tortoise is a symbol of longevity and it is quite common to see them living in temples.
Surprisingly, visitors are allowed to feed the tortoises! Just resist the urge to take them home!
Sam Poh Tong Cave Temple is free to visit but it closes quite early!
4. Ling Sen Tong Temple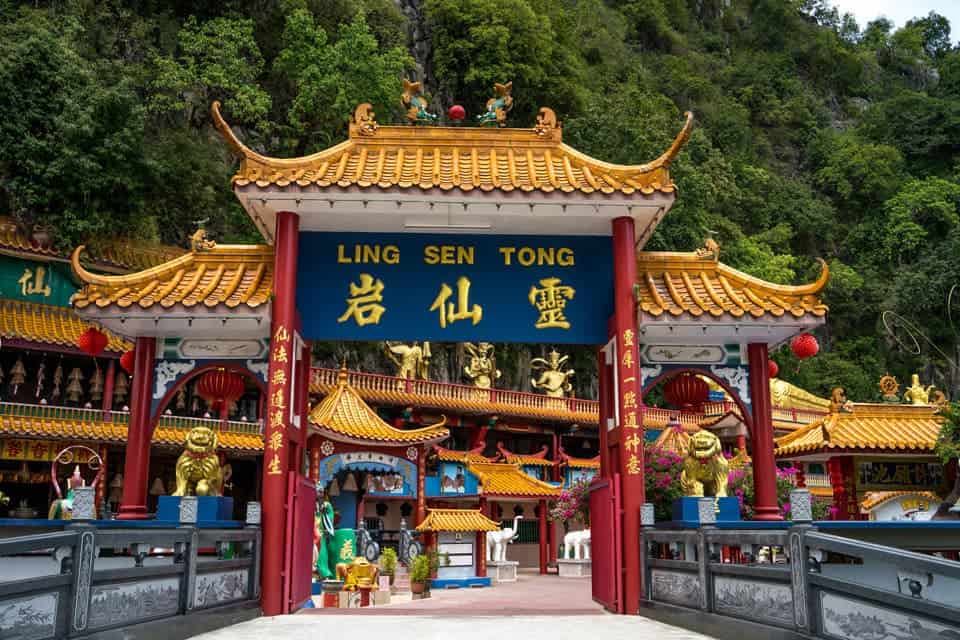 Ling Sen Tong Temple is situated on the foot of a limestone hill, so it doesn't exactly fit the definition of a "cave temple".
Ling Sen Tong is the home to many colorful and carefully crafted statues, all located inside a medium-sized garden. There is no physical activity that needs to be done, unlike Perak Cave Temple or Sam Tong Poh Temple.
Featuring the 12 Chinese Zodiac and characters and deities from Buddhism and Chinese mythology, the Ling Sen Tong is one of the best places to go in Ipoh for anyone interested in Buddhism.
The colorful architecture and statues also make a great spot for Instagram photos!
Ling Sen Tong is free to visit but donations are always appreciated when it comes to temples.
---
Enjoy Some Of The Best Food In Ipoh
1. Delicious Dessert and Street Food At Tong Sui Kai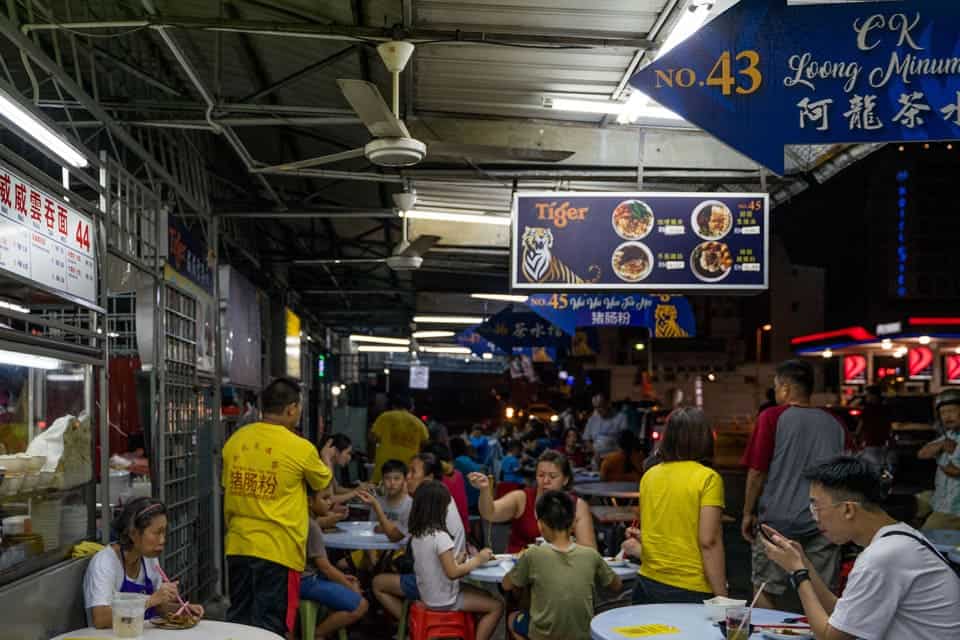 If you are missing the hawker stalls and street food experience in Kuala Lumpur, don't worry! Tong Sui Kai is the famous equivalence in Ipoh. Tong Sui Kai is Pinyin in Chinese and literally translates to Dessert Street.
One of the best things to do in Ipoh at night is to visit the Tong Sui Kai for some tasty desserts. Strangely, it is popular for locals to eat desserts late into the night. It's almost like they are trying to get diabetes!
You will see how popular Tong Sui Kai is when you arrive. Numerous stalls lined up on the side of the streets and plastic chairs and tables are crammed together. There are many vendors, each serving their own specialty. You can find an array of cuisines here, from Chinese to Malay to Indian. Your cravings will be satisfied here!
When we visited, we did not see any tourists here, which only means that this is a great spot. Don't miss this hidden gem in Ipoh on your visit!
Tong Sui Kai is open from 6 PM to 2 AM. If you are hungry after enjoying Ipoh's nightlife, then come satisfy your munchies at Tong Sui Kai!
2. Iconic Ipoh Bean Sprouts Chicken Rice At Lou Wong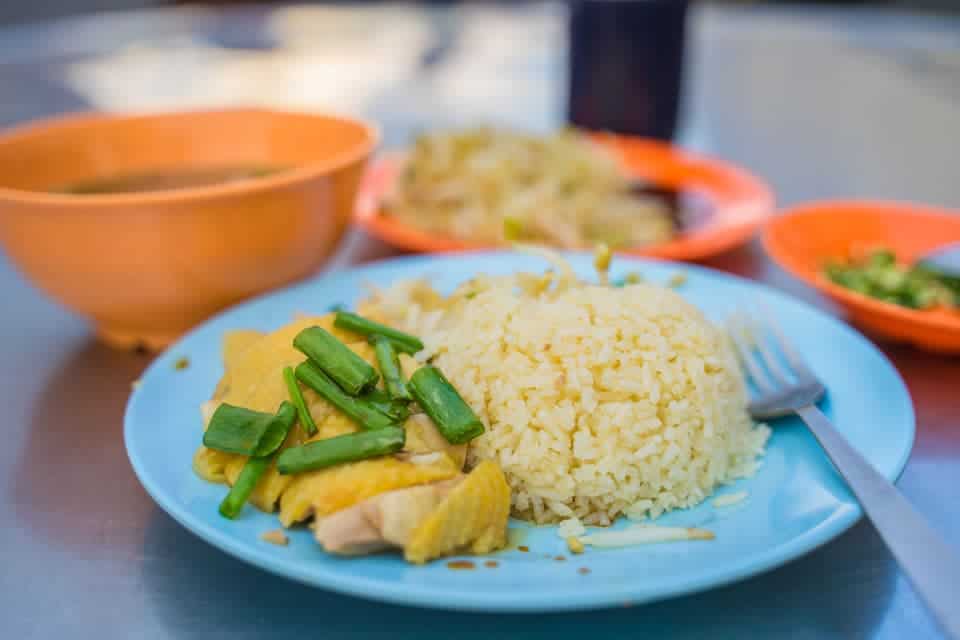 Before we even arrived in Ipoh, we heard of the famous bean sprouts chicken rice. A skeptic myself, I wasn't convinced how magical a simple bean sprouts chicken rice could be.
Well, let's just say I am a believer now.
The simple bean sprouts chicken rice is exactly what it sounds like, chicken with rice with a side of bean sprouts.
What they don't tell you is the texture of the chicken, the perfect seasoning and crispiness of the bean sprouts, and the perfectly cooked and flavored rice. The combination of the three simple ingredients served with haste and affordability was the perfect meal anyone could ask for.
If you are not sure where to go in Ipoh for the best bean sprouts chicken rice, head over to Lou Wong. A Chinese restaurant in Ipoh with a lot of history, Lou Wong's chicken rice is something you must not miss on your first-time visit!
3. Try Out Some Authentic Chinese Dim Sum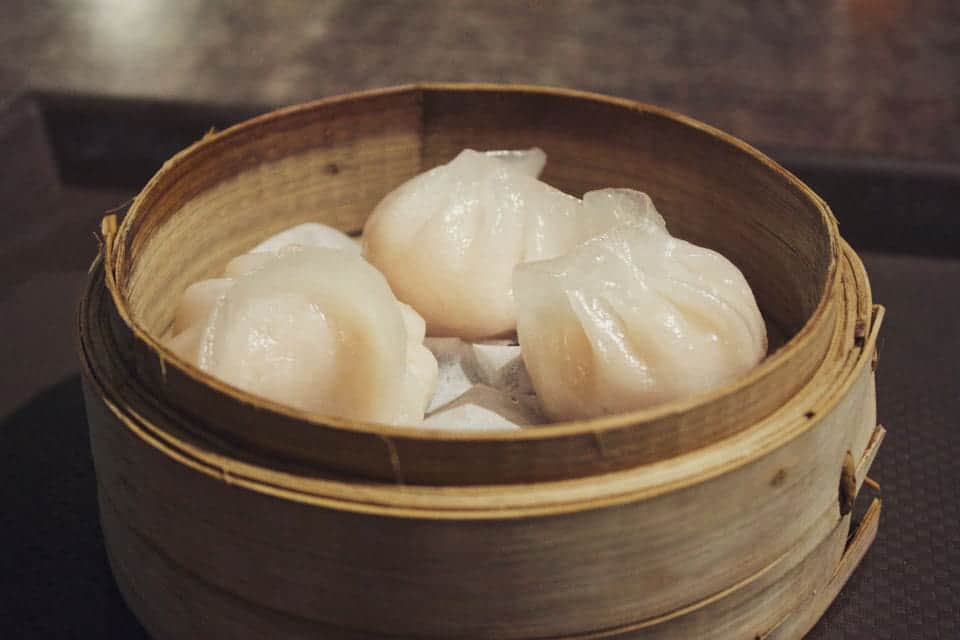 With such a heavy influence from Chinese culture in Ipoh, travelers will find plenty of exotic and delicious Chinese cuisine. One of the best food in Ipoh is the Dim Sum.
For those of you unfamiliar with the Dim Sum, they are small plates that usually come in a bamboo basket, depending on how they were prepared. A dim sum restaurant is usually a gathering place for friends and families where they would order a variety of dim sum to share with the whole table.
The typical dim sum dishes are Siu Mai, Feng Zhao (chicken feet), and Har Gow, though there are over a hundred kinds of dim sum.
Luckily for you, you don't have to visit China or Hong Kong to try some authentic dim sum. Ipoh has many great dim sum restaurants run by Chinese immigrants.
The dim sum restaurant in Ipoh I recommend is Ming Court Hong Kong Dim Sum. It is a lively place that serves some of the freshest Dim Sum in town! 
📖 Note: Dim Sum is a great option for lunch or breakfast in Ipoh, but it is not a dinner option!
4. Have A Cup of The Famous Ipoh White Coffee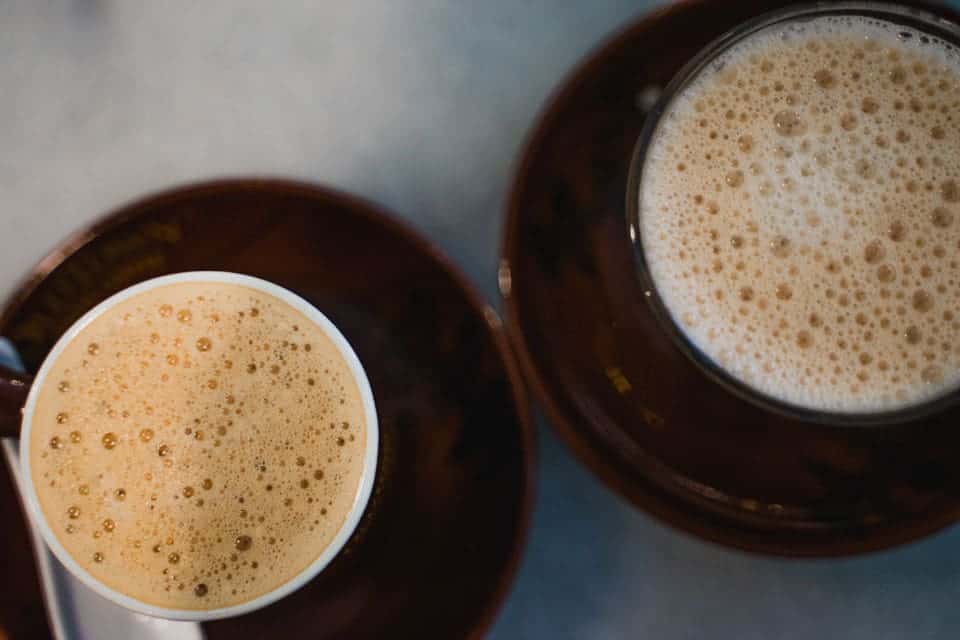 If there is a drink that Ipoh is famous for, it has to the white coffee. It is a drink that originated from Ipoh in the Perak region of Malaysia, a drink so famous that Lonely Planet has named Ipoh one of the top three coffee towns in Asia!
Ipoh white coffee is different in that the coffee beans are roasted with palm oil margarine. The final product is then served with condensed milk, creating a creamy color light color. However, the name didn't originate from the color of the coffee, but rather from the process of using only margarine to roast the coffee.
I personally drink my coffee black so I wasn't a huge fan of the white coffee. It did have a buttery and sweet taste that I found interesting. The white coffee is definitely worth a try in Ipoh.
But where to try it? Good question.
With an influx of tourist looking to sample the best white coffee, many coffee shops in Ipoh has sprung up.
If you want an authentic white coffee experience, the best place in Ipoh is Sin Yoon Long. This coffee shop in Ipoh still follows the original recipe. Other great places are the Nam Heong White Coffee and the Old Town White Coffee, with the latter being an international chain.
---
Things To Do In Ipoh With Kids
1. Lost World of Tambun Theme Park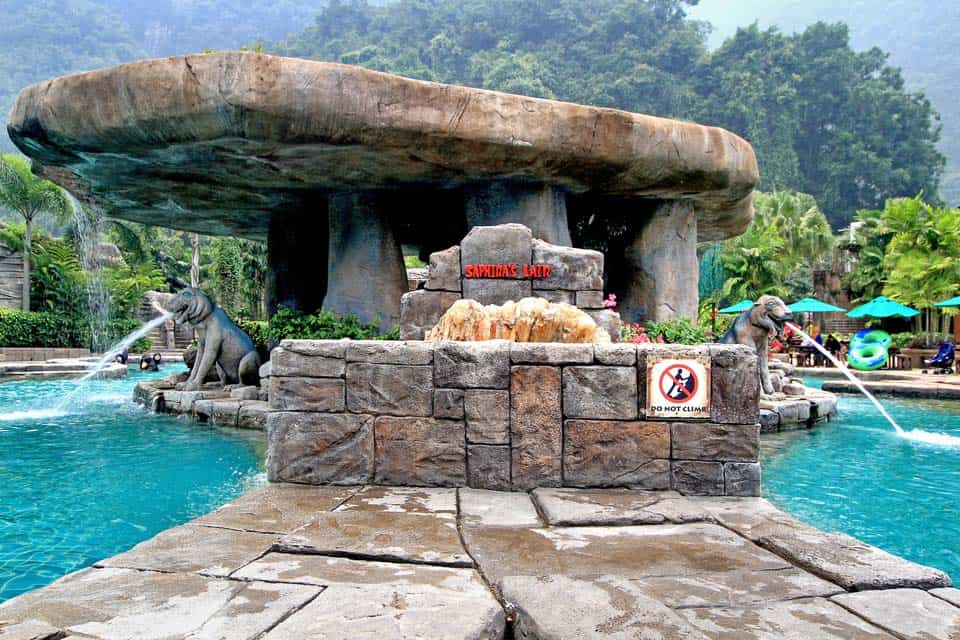 If you are looking for family bonding time with your family (or friends), then a visit to the Lost World of Tambun Theme Park is a must. This theme park combines a water park, natural hot springs, petting zoo, and more into a unique and fun activity for everyone involved.
For those that like adrenaline-pumping fun, go on one of the family-friendly rides in Lost World Amusement Park. Then take a dip in the Lost World Hot Springs and relax with beautiful mountain views around you. If you visit at night, you might even get to see a cool fire performance!
Lost World of Tambun is the perfect place to chill out after a few days of exploring Ipoh's best sights.
2. Platform 9 1/2: The Harry Potter Themed-Cafe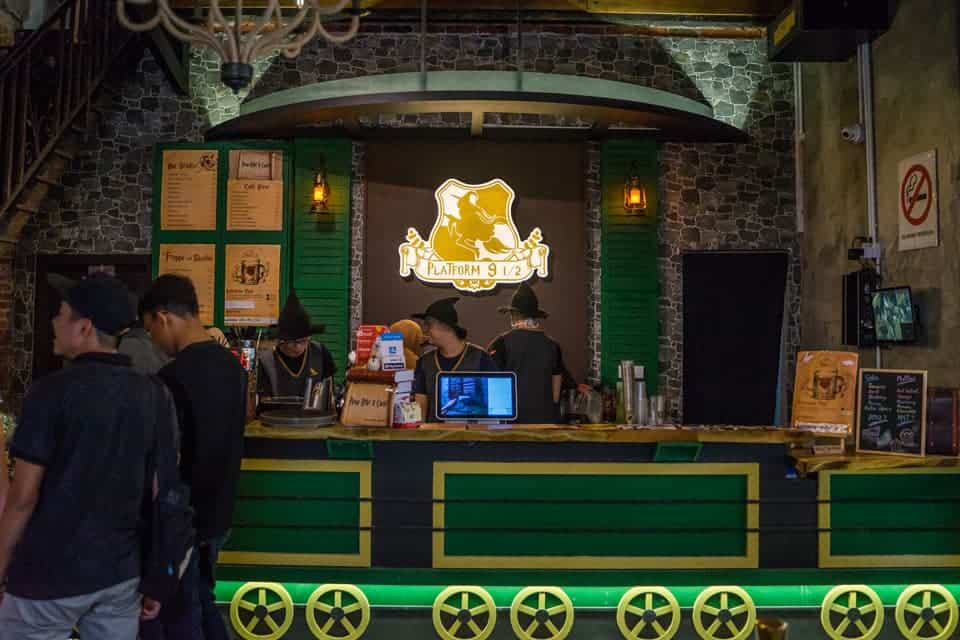 Though most of Ipoh attractions are cultural, there are some quirky things to do in Ipoh as well. The one that comes to my mind is the Platform 9 1/2 Cafe.

Situated inside the popular Concubine Lane, a visit to this themed cafe is a must if you are a Harry Potter fan.
The cafe serves a variety of drinks, including the famous Butterbeer from the franchise. However, its stunning decoration is what draws many visitors daily. Visitors can put on costumes such as witch's hat, wands, and even cloaks to take photos in the Hogwarts look-alike environment.
Though it is marketed as a cafe, only drinks are served inside. If you wish to put on the costumes and take photos, you must first make a purchase. Make sure you arrive at off-peak hours as the place could get crowded. Sadly, many visitors can hog the limited costumes for prolonged periods of time!
3. Visit The Hipster BookXcess Kong Heng Ipoh Bookstore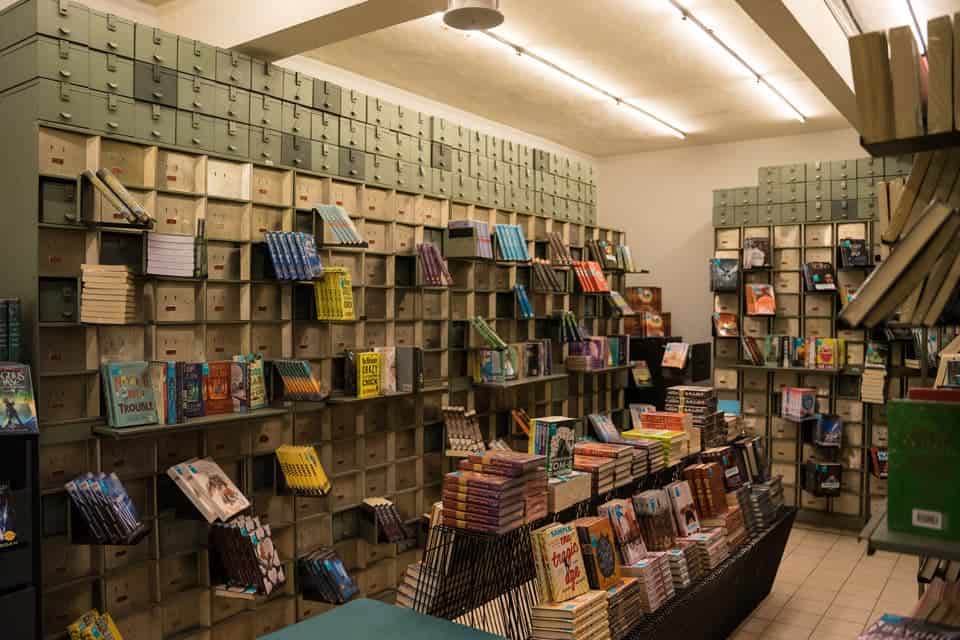 BookXcess is a Malaysian bookstore chain known for its affordability and wide variety of books. Unlike most bookstores in Malaysia that are bland and boring, stepping into the BookXcess Kong Heng in Ipoh is like stepping into an art exhibit.
On the ground floor is your typical bookstore, featuring books of various kinds. The fun begins when you venture into the basement led by alluring neon signs. If you follow the suggestive neon signs that say "Let's get down and nerdy" and "Yes, even deeper", you will eventually reach the basement of the bookstore.
Now that is where the magic is. The basement of BookXcess Kong Heng Ipog is actually the old vault of one of the busiest banks in Ipoh.
As you enter, you will see massive metal vault doors that lead to the once-in-use safety boxes. While there isn't much materialistic wealth in there anymore, there is plenty of knowledge (Well, knowledge is wealth!). The old safe rooms are now used as part of the bookstore, displaying a huge array of books available for purchase!
One of the basement vaults is dedicated to the works of the influential film director Yasmin Ahmad.
4. Check Out Ipoh Upside Down World or Funtasy House Trick Art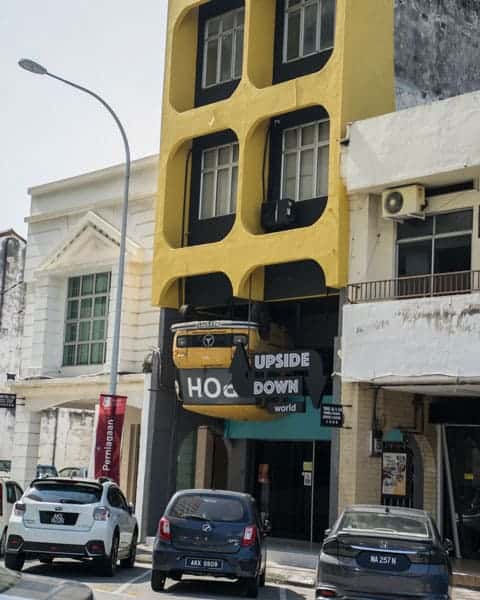 If you are traveling in Malaysia with kids, take them to Ipoh Upside Down World for a few hours of fun and trickery.
The Ipoh Upside Down World is a trick art museum that features rooms where things look like they are upside down. With a little bit of creativity, visitors can spend hours here fabricating the perfect gravity-defying photo!
Though the place only contains several rooms, each room is built meticulously and is fun for all ages.
Another popular trick art museum is the Funtasy House Trick Art. It is the bigger and more popular version of Ipoh Upside Down World. Where Ipoh Upside Down World focuses on environments that appear upside down, the Funtasy Trick Art also contains other types of trick art!
When visiting these places, it is important that you avoid peak hours!
5. The Instagram-Worthy Catch A Toy Store And Art Exhibit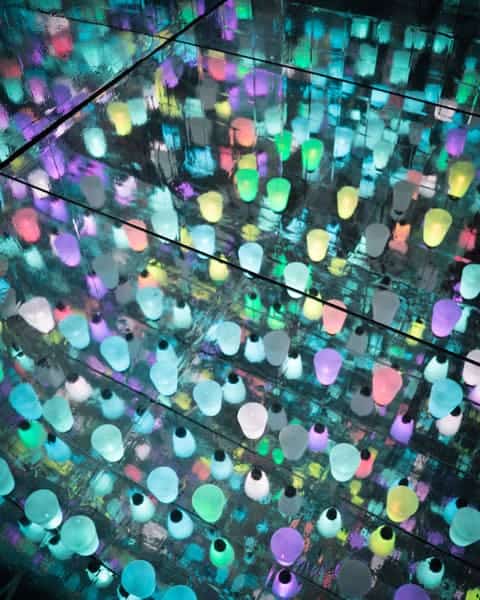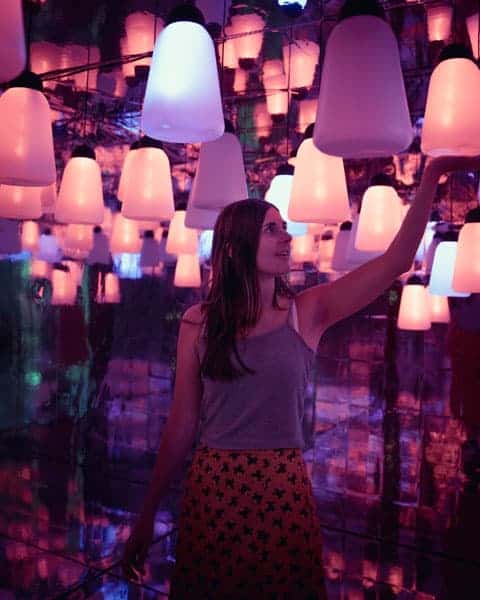 From the name, you might think that Catch-A-Toy is your typical crane machine arcade. Though on the surface it might look like it, there are secrets that many visitors aren't aware of.
Many of the Catch-A-Toy stores boast incredible interior decor, making it one of the best places in Ipoh for photography. The one Catch-A-Toy that swept me off my feet was the Catch-A-Toy @ New Town.
This store only features a few crane machines, but its most impressive feature is the stunning art in the rear. The art exhibit somewhat resembles the revolutionary art museum at teamLab Borderless Tokyo. Now you won't have to take a trip to Tokyo to see the cool art exhibition!
6. DR Seenivasagam Recreational Park
With its pollution, noise and traffic, Ipoh is a city that can easily tire you out, especially if you are visiting with kids. If that is the case, why not take a step back and check out the DR Seenivasagam Recreational Park? Located north of the city center, it is a place where you can properly relax and be with nature.
Its most iconic features are the Japanese garden, the serene lake, and a small bamboo forest!
---
Where To Stay In Ipoh, Malaysia
Best Hostel in Ipoh- Vloft Backpackers Hostel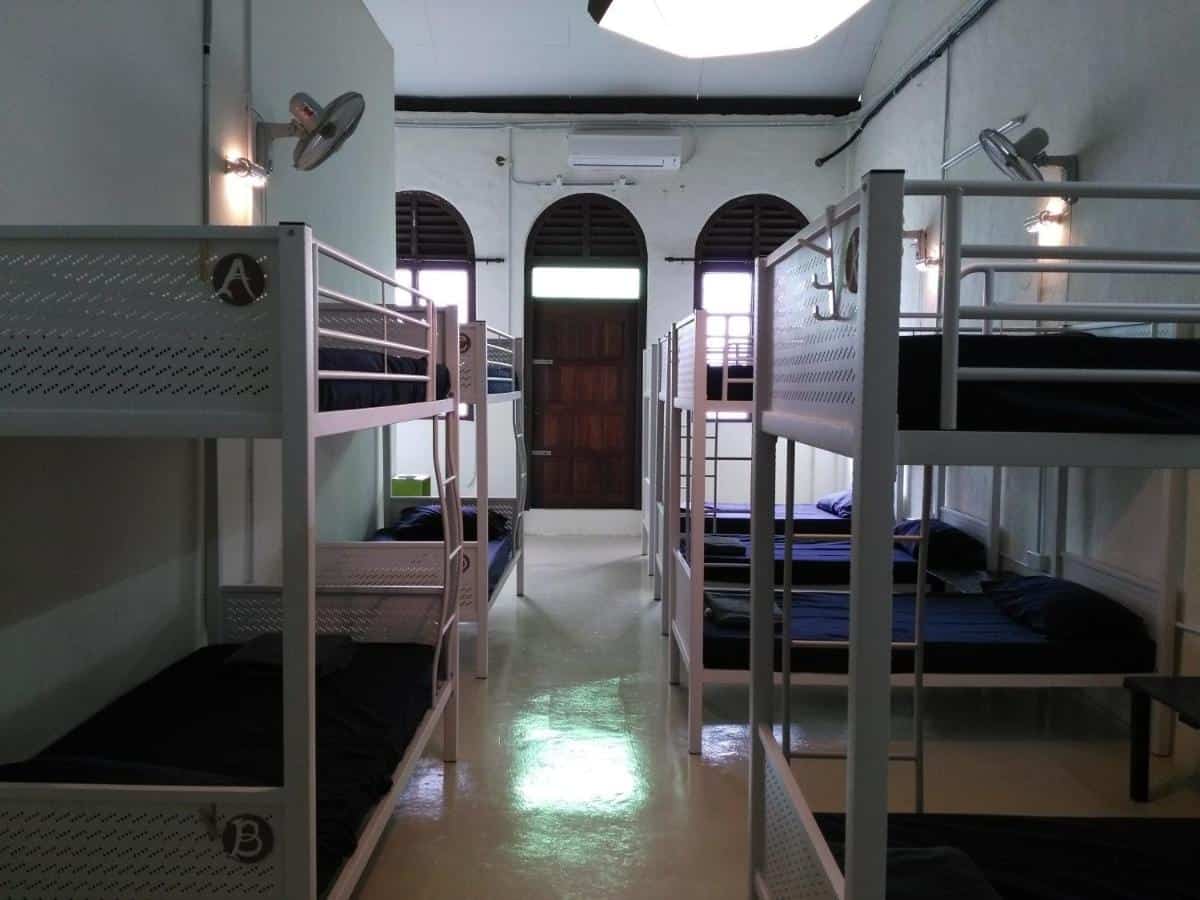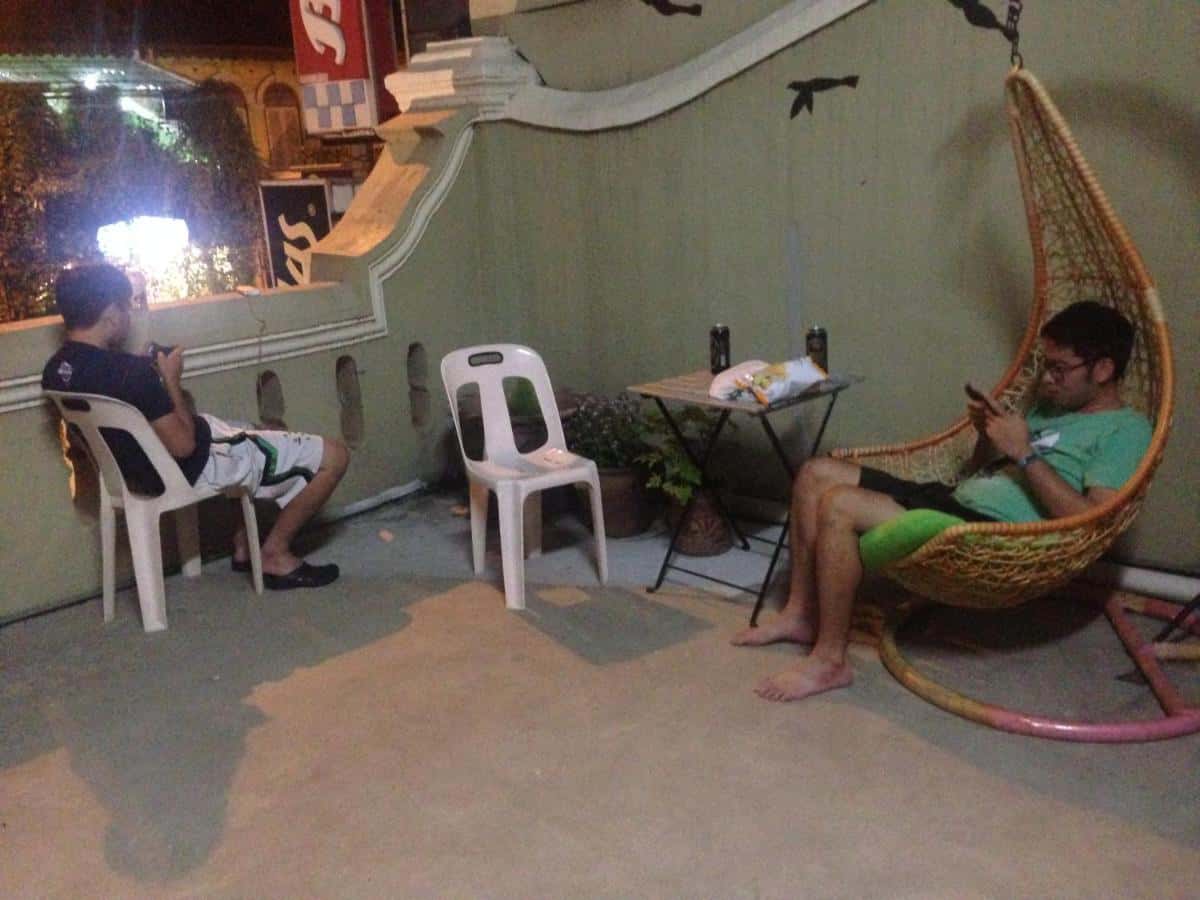 If you are looking for a cheap hostel for a comfortable stay, then look no further. Vloft Backpackers Hostel features mixed dormitory beds, simple decor, and clean facilities. It is a true backpacker hostel where you can meet other like-minded travelers!

If you are not sure what to see in Ipoh, staying at Vloft Backpackers Hostel will guarantee that you are within close proximity to the best Ipoh activities!
---
Best Luxury Hotel in Ipoh- The Banjaran Hotspring Retreat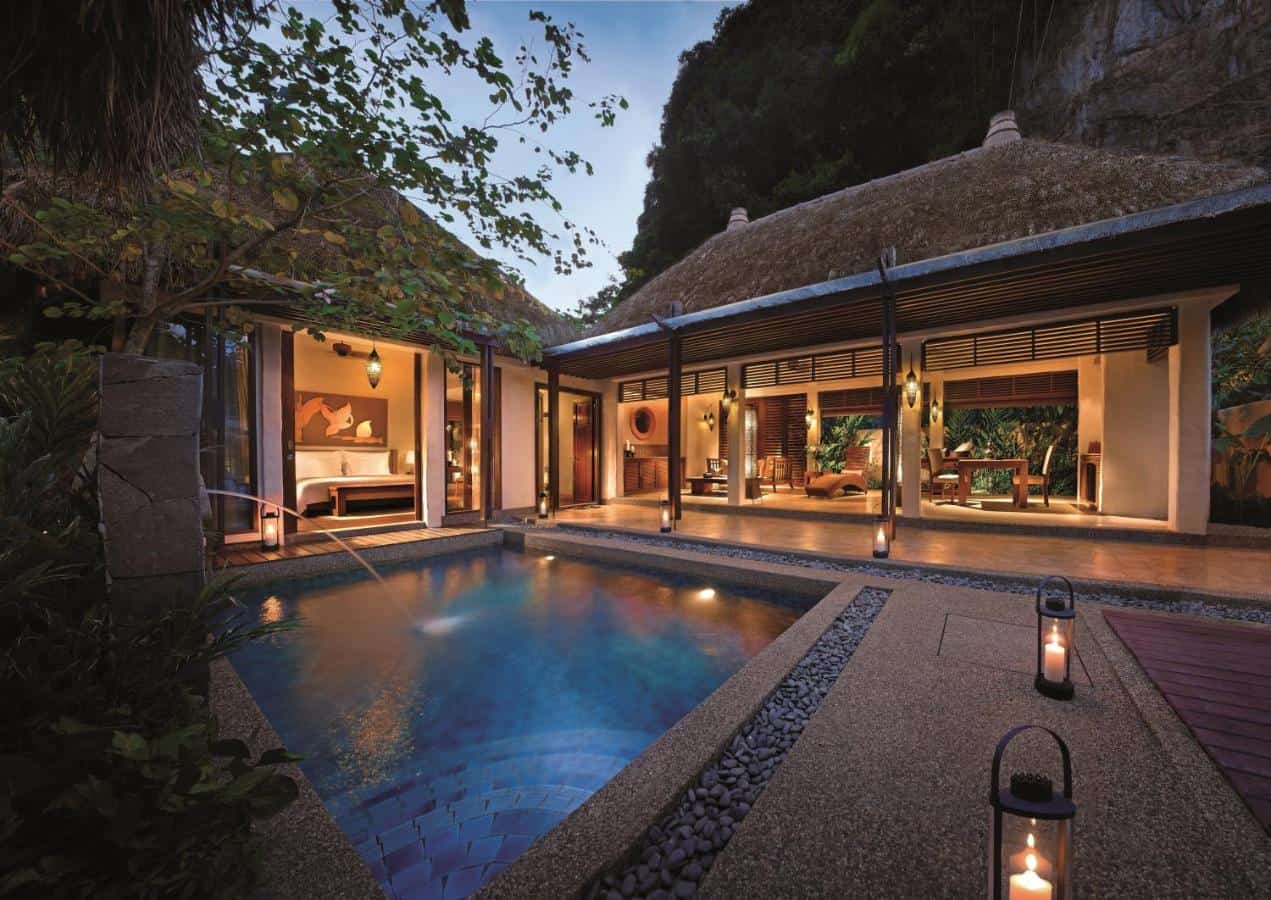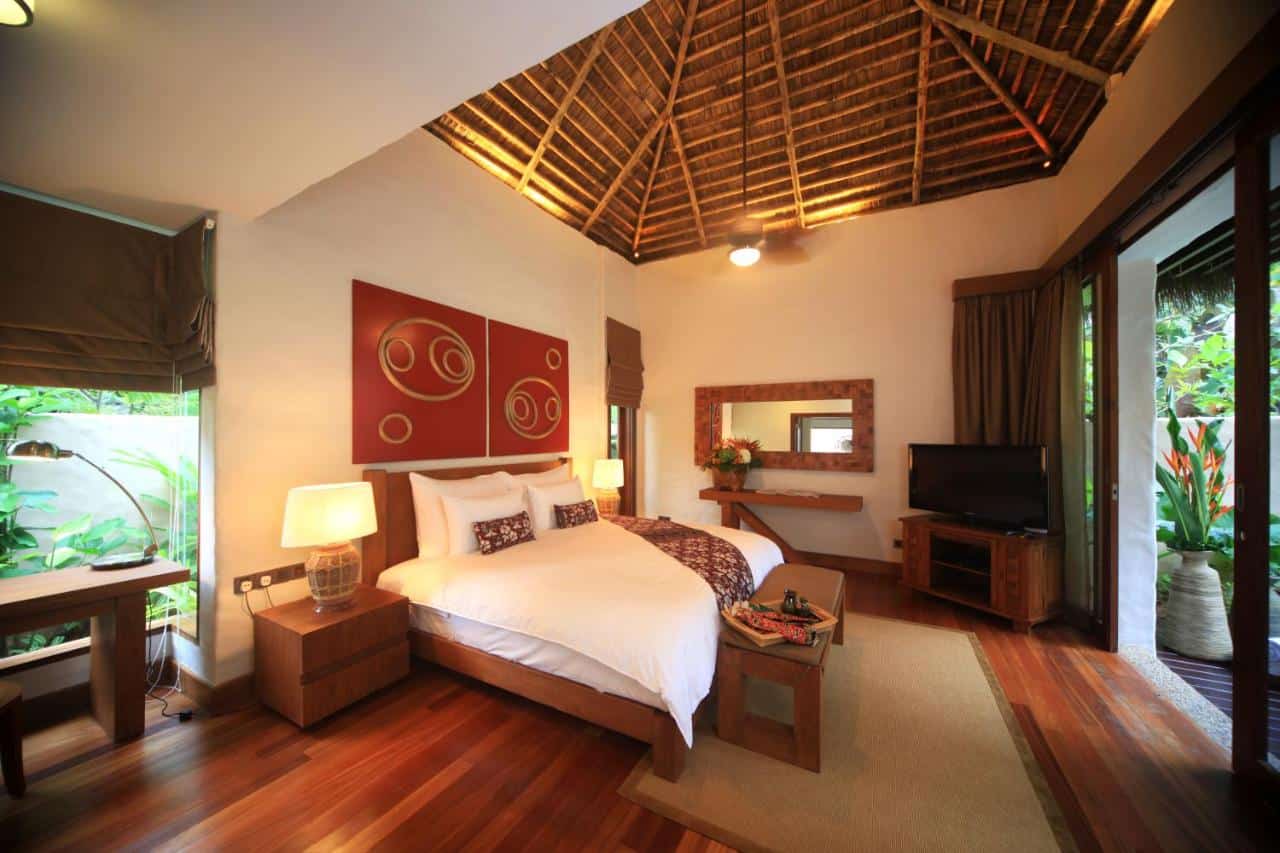 If you are looking for the ultimate luxury experience in Ipoh, then a stay at The Banjaran Hotspring Retreat is a must. Nestled in the stunning limestone hills of the region, guests can relax and promote their well-being with their geothermal hot springs, steam caves, or ice baths.

Besides its outstanding facilities, the peaceful environment is the perfect place to stay in Ipoh for nature lovers. If you can afford it, you will 100 percent love The Banjaran Hotspring Retreat!
Bonus! You can also get a day pass to enjoy all of facilities without actually having to stay there!
---
Visiting Ipoh FAQs
How Many Days To Spend In Ipoh?
2 days is just enough to experience all of the best things to do in Ipoh. However, we recommend spending three so you can have one day of pure relaxation in one of the retreats in Ipoh.
Is Ipoh Worth Visiting?
Ipoh is worth visiting without a doubt! It is one of the most popular destinations in Malaysia, and the city has plenty of offer. From history to food and epic limestone caves to hot spring retreats, Ipoh has it all!
Why is Ipoh Famous?
Ipoh is famous for many things, notably its white coffee and hawker food, stunning limestone cave temples, rich heritage and beautiful architecture.
---
Like this post? Don't forget to save it on Pinterest!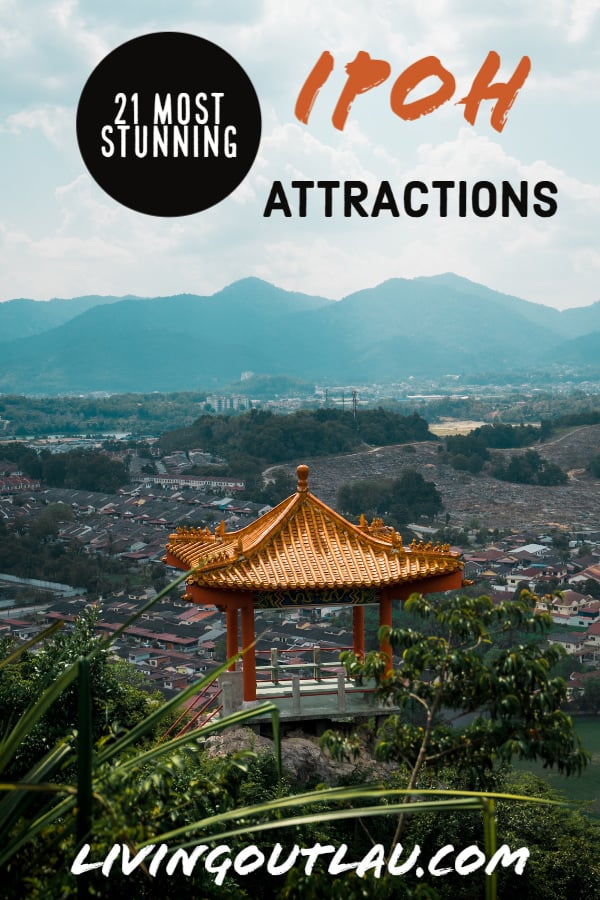 ---
This is the end of our guide on the best Ipoh attractions. Hopefully, it has given you a rough idea of the things to do in Ipoh, Malaysia!

Any questions? Leave a comment!
Disclaimer: Some of the links above are affiliate links. That means if you book or make a purchase through the links, we will earn a small commission at no extra cost to you! The money will help run this site! Thank you!