Are you planning on spending 2 days in Kuala Lumpur?
Looking for a Kuala Lumpur itinerary that will guide you on your Malaysia trip?
Look no further!
Having spent a reasonable amount of time in KL, I have created this Kuala Lumpur 2-day itinerary designed for anyone looking to see the best of KL and then get out!
Enjoy!
---
Is Two Days In Kuala Lumpur Enough?
Before you continue reading this blog post about Kuala Lumpur, you must first decide if 2 days in Kuala Lumpur is enough.
In general, if you are the average traveler that only visits the best attractions in a city, then 2 days in KL should be sufficient.
The transportation system of Kuala Lumpur is very efficient and taxi-hailing apps such as Grab are very cheap. It makes traveling in Kuala Lumpur so effortless.
As the capital of Malaysia, Kuala Lumpur feels like any other big metropolitan city. There is traffic, there is noise, and there is pollution. It is by no means a relaxing place to spend your Malaysia vacation. Travelers usually come to Kuala Lumpur for transit reasons.
However, that does not mean that there aren't notable attractions in Kuala Lumpur. There are quite a few, but 2 days in Kuala Lumpur is enough to visit them all!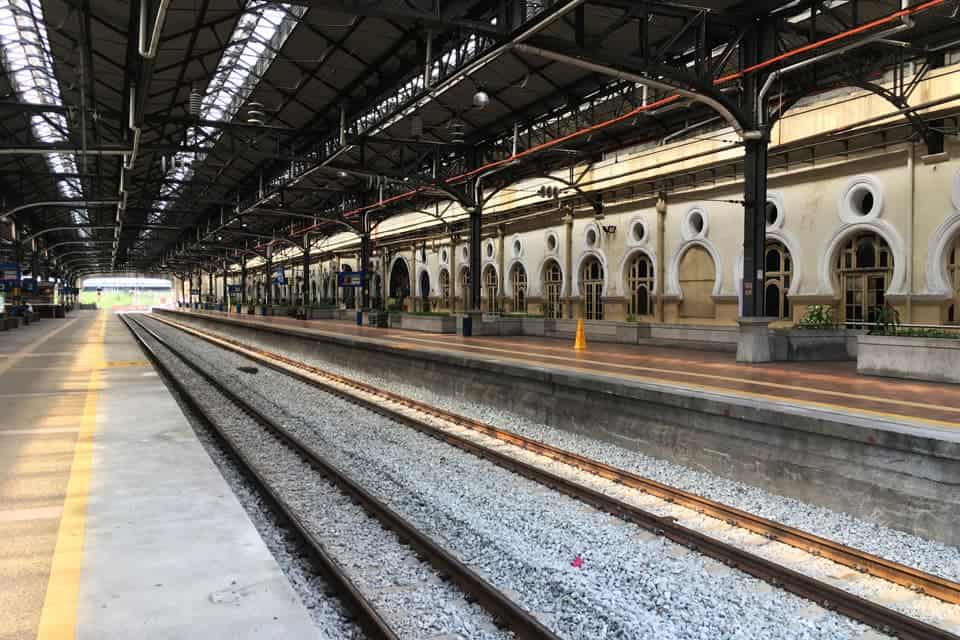 ---
KL Itinerary Map: Things To Do In Kuala Lumpur In 2 Days
Below is an interactive map outlining the things to do in Kuala Lumpur in 2 days. The sequence of numbers is the order in which you will visit these places in Kuala Lumpur. From my own experience and extensive research, it is the best way to maximize your short visit to Kuala Lumpur.
Click on the map and see each of the activities in more detail. You can also save it to your own device by clicking the star next to the name of the map!
---
Weather In Kuala Lumpur
Before we start with a detailed guide on our Kuala Lumpur itinerary, we have to understand the weather in Kuala Lumpur.
Kuala Lumpur's climate, like most Southeast Asia cities, is extremely hot and humid all year round.
It makes exploring the city quite difficult, especially during midday. I highly recommend you to do all the sightseeing in Kuala Lumpur in the early morning and evening. Spend the afternoon when the sun is the strongest resting in your accommodation, or chilling in a cafe, or hanging out in the air-conditioned malls.
Heatstroke is common in Malaysia, especially for foreigners. Make sure you drink lots of water and keep hydrated!
---
The Perfect 2 Days Kuala Lumpur Itinerary
Morning of Day 1: Batu Caves
Welcome to Kuala Lumpur, "The Garden City Of Lights". Rise and shine early because the first place we are visiting on our 2 days Kuala Lumpur itinerary is the famous Batu Caves. Known for its Instagram-worthy stairs, impressive cave systems, and unique religious complexes, Batu Caves is a must-see in Kuala Lumpur.
Batu Caves consist of a total of three massive caves and many smaller ones. At the entrance of the main cave, you will find a towering statue of a Hindu God.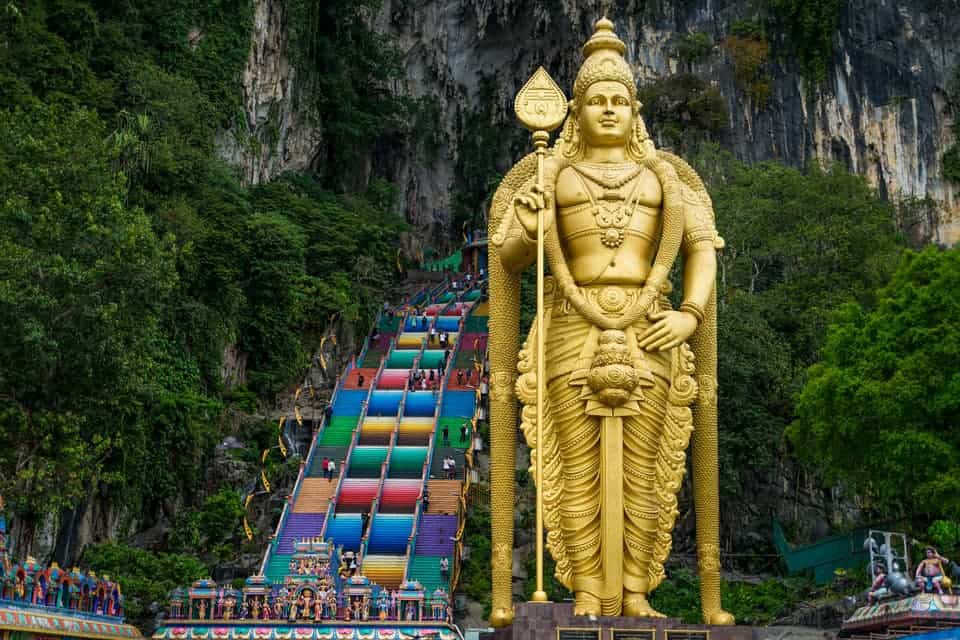 As you carefully make your way up a 272-step climb, you will be attacked accompanied by some friendly neighbors: monkeys. Though the monkeys are adorable, they will get their hands on anything they can take. Water bottles, sunglasses, insect repellent, GoPros, potato chips, nothing is safe around these monkeys.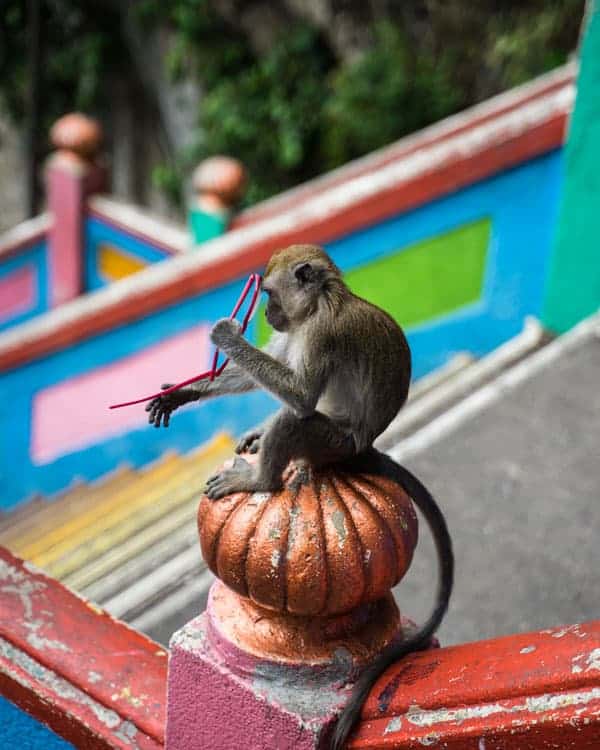 Once you finish your treacherous climb, you will be rewarded with stunning views of the city down below. The adventure doesn't stop there though, as you have just arrived at the entrance of the sacred cave – Cathedral Cave. Here you will find several Hindu shrines where you can see the Hindu influences in Malaysia.
During the annual festival of Thaipusam, Batu Caves can attract up to more than one million pilgrims!
If you want more history and information about the sacred Batu Caves, check out this local tour!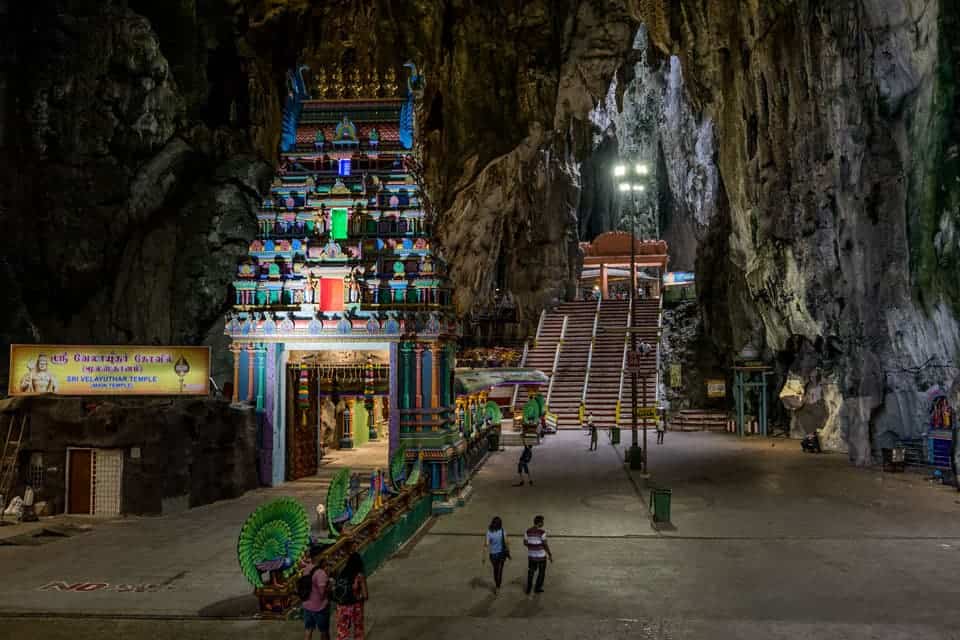 Though the Cathedral Cave is probably the most popular cave in Batu Caves, there is another one that is worth seeing – the Ramayana Cave.
The Ramayana Cave houses paintings and scenes of Hindu gods as well as numerous human-size statues.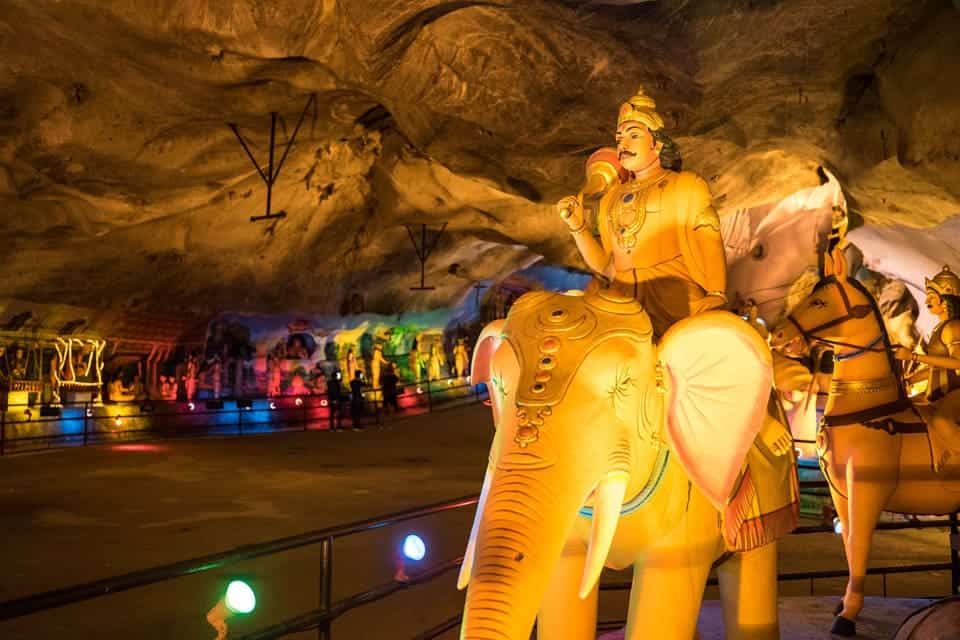 By utilizing the public transportation system of KL, you can easily get to Batu Caves. Take the KLM Komuter Line on any of the stops and get off at the last stop of the line, Batu Caves. Once you have arrived, get out of the station and you will be there!
The whole journey takes about 45 minutes to an hour, depending on if you need to find your way to one of the stations for the KLM Komuter Line.
Batu Caves are completely free to enter. Aim to arrive as early as possible to beat the afternoon heat and to enjoy this sacred place without an overwhelming crowd. The opening hours of Batu Caves are from 6 AM to 9 PM. I recommend arriving no later than 10 AM.
However, the Ramayana Cave has an admission fee of 5 MYR (Malaysian Ringgit).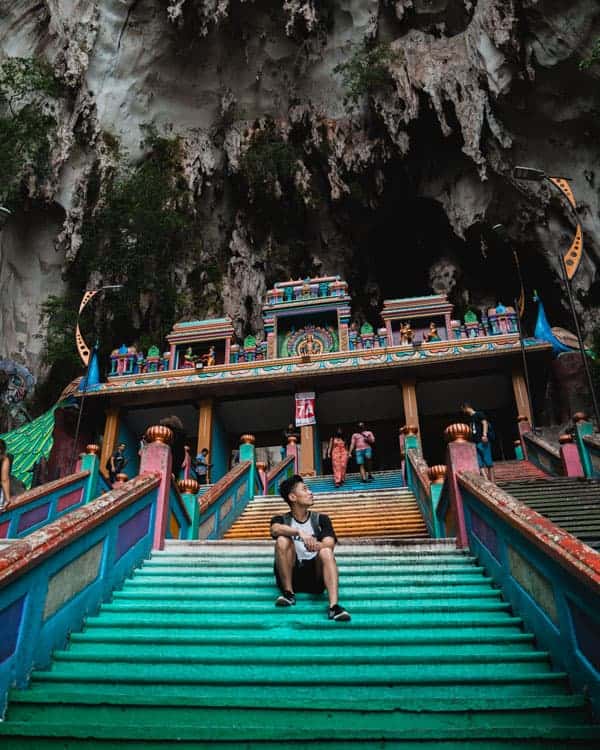 Afternoon Of Day 1: Chinatown (Petaling Street), National Mosque Of Malaysia
By the time you have returned back to the center of Kuala Lumpur after visiting Batu Caves, it should be around midday. If you can handle the heat, you can head towards Chinatown, especially Petaling Street Market. If you cannot, go back to your hotel to rest and head out a little later in the day.
Malaysia is a melting pot of many different cultures and ethnicities. From Indian to Malaysian to Chinese, you can find bits of every culture integrated into the everyday life of Kuala Lumpur. Experiencing Malaysia is about experiencing the different cultures that make up the impressively diverse country.
Chinatown is the hotspot for Chinese culture (if you couldn't tell by the name). Here you will find a heavy concentration of Chinese cuisine, culture, and influences.
Unlike most parts of Kuala Lumpur that have been modernized, Chinatown still retains most of its historic structures. With bustling street markets, cheap street food, and affordable accommodation, Chinatown is one of my favorite places to stay in Kuala Lumpur.
Though a stroll down Chinatown will present you with excitement left and right, there are a few specific spots worth checking out. They are the Petaling Street Market, Sri Maha Mariamman Temple, Kwai Chai Hong. If you have not heard of any of those, don't worry. I'll go into detail on why they are worth visiting!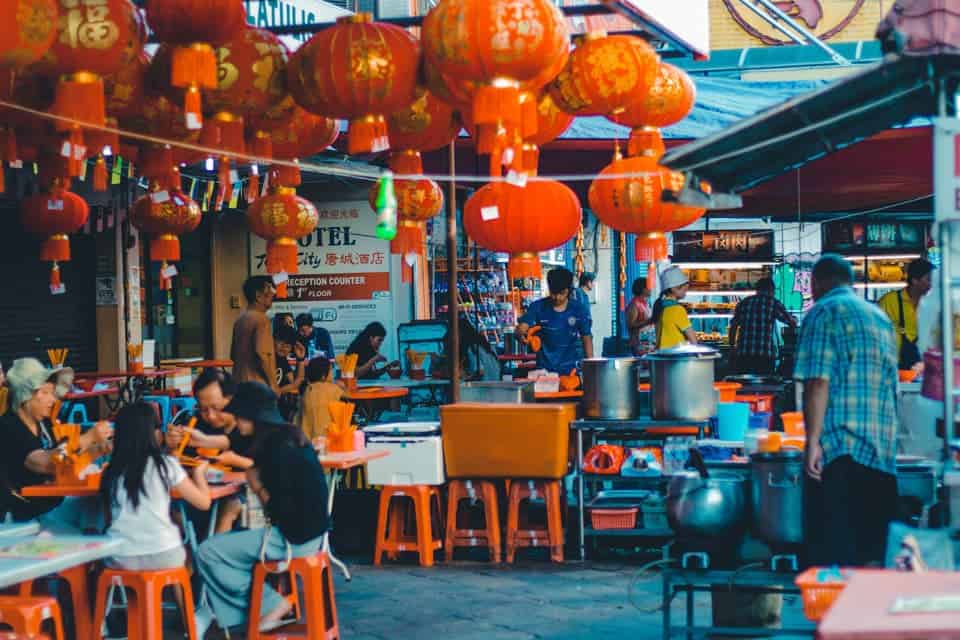 Petaling Street Market is the perfect model of the street markets that southeast Asia is famous for. Dirt-cheap prices, knock-off items, street food, miscellaneous merchandise, sweat, crowds, noise, it's the full package.
You can spend hours wandering around, laughing at the terrible spellings on the fake clothing or trying the strange local food such as the infamous durian. If you do decide to purchase something, make sure you haggle to avoid getting scammed.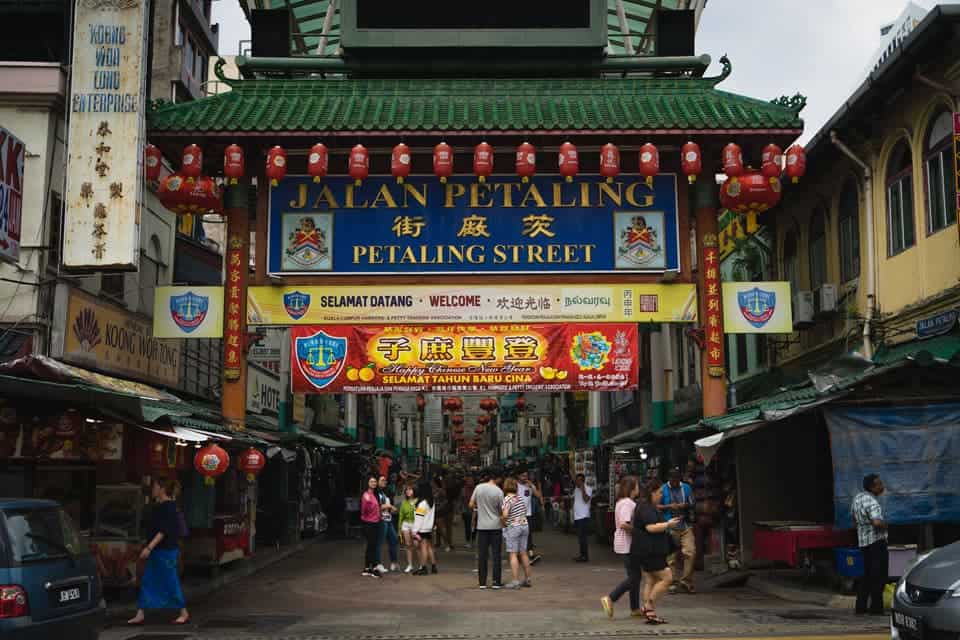 After you have shopped til' you dropped, take a break at the nearby Sri Maha Mariamman Temple. As the oldest Hindu temple in Kuala Lumpur, Sri Maha Mariamman is one of the best places to visit in KL.
With Spanish and Italian tiles, precious jewels, and gold in its design, the elegance of the temple contrasts starkly with the cheap Petaling Street.
Sri Maha Mariamman's location at the edge of Chinatown is another perfect example of the harmony of Buddhism and Hinduism in Kuala Lumpur. Take a moment to look at the intricate artwork and paintings and understand the importance of Hinduism in Malaysia.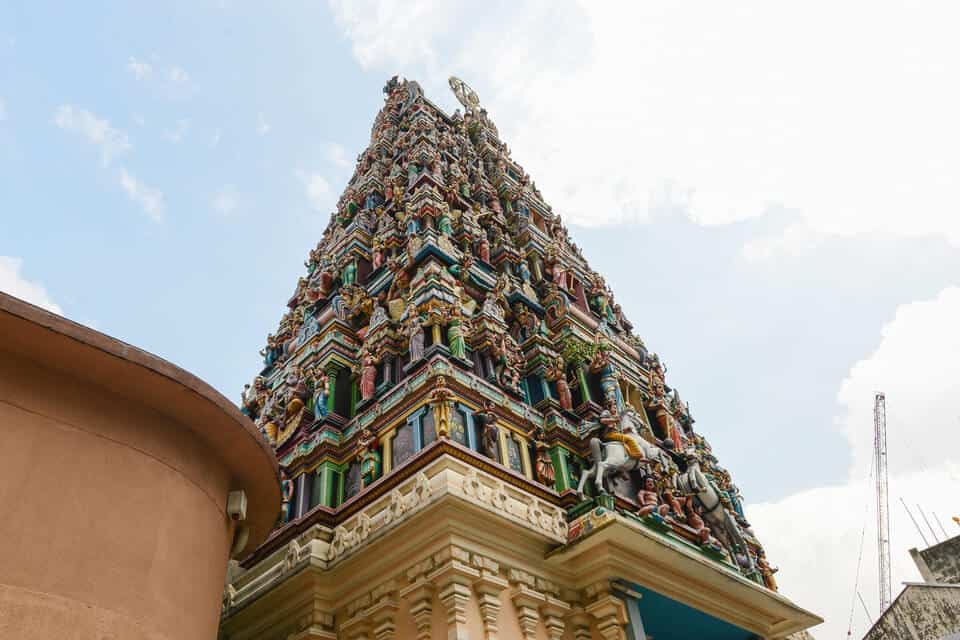 You can only visit a temple for so long before you get tired of it. After making a brief stop at the Sri Maha Mariamman temple, head over to Kwai Chai Hong. A small alley filled with cool interactive murals, Kwai Chai Hong is one of the most picturesque spots in Kuala Lumpur.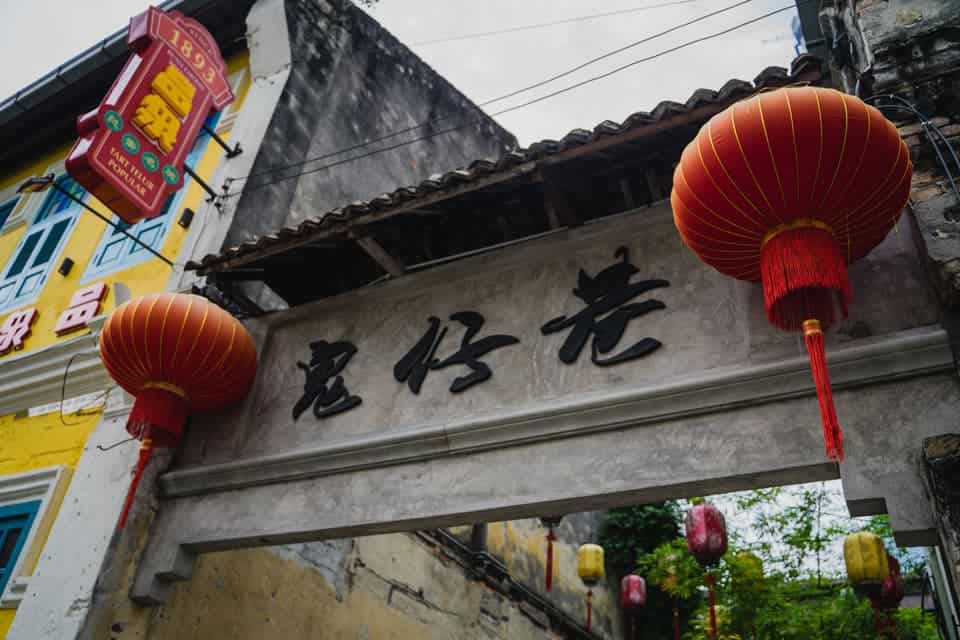 As you can tell by the name, this tourist attraction is influenced by the Chinese. Many of the murals represent the daily lives of local Malaysians and Chinese immigrants, such as the barbershop mural.
Unlike other small cities such as Ipoh and Penang where street arts inundate the streets, a heavily-populated metropolitan city like Kuala Lumpur rarely sees any. Take advantage of this opportunity to enjoy some local arts!
After exploring all of Chinatown, it is time to visit another top attraction in Kuala Lumpur: The National Mosque of Malaysia (also known as Masjid Negara). A national symbol of Islam, the National Mosque of Malaysia is able to accommodate 15,000 people at one time.
The impressive structure has a unique geometric decor, featuring abstract shapes and lattices. The aesthetic of the mosque is so stunning it can double as a museum!
The mosque spans a huge 13 acres, but the part you must visit is the Grand Hall. Non-Muslim visitors are allowed inside outside of prayer times. If you are dressed inappropriately, there are robes and scarves for rent at the entrance of the mosque.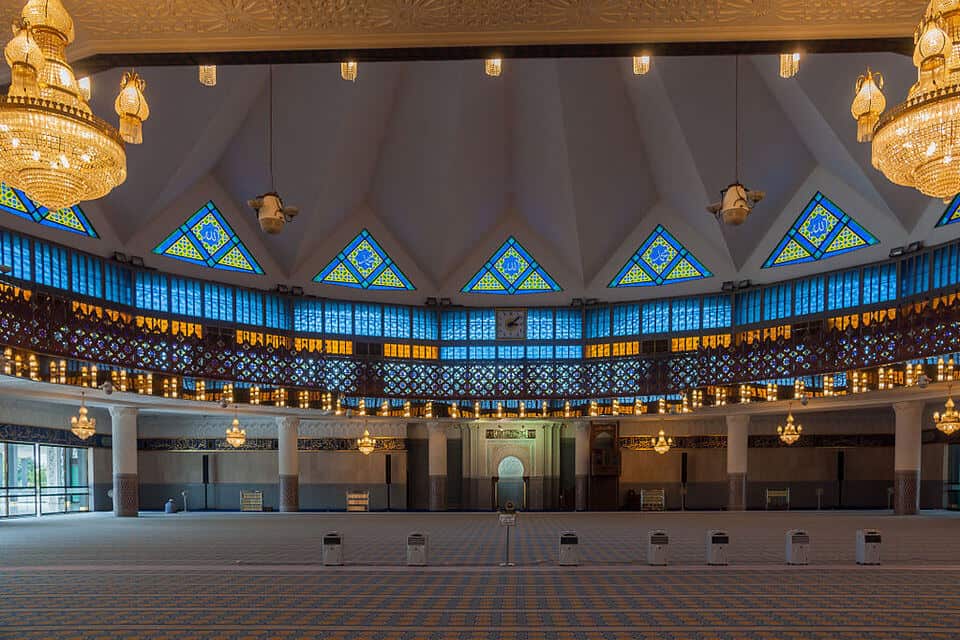 Night Of Day 1: Petronas Tower, KLCC Park
After a visit to the National Mosque of Malaysia, it is time for the highlight of our Kuala Lumpur 2 day itinerary – The Petronas Tower (also known as Petronas Twin Towers).
Any visit to Malaysia would not be complete without seeing the iconic Petronas Towers, whose glory as the tallest building in the world lasted from 1998 to 2004. Though several skyscrapers are now much taller than the Petronas Twin Towers, the impressive engineering feat will never be forgotten.
Many places in KL offer unobstructed views of the magnificent Petronas Tower. Our favorite is the KLCC Park adjacent to the twin towers. Similar to Central Park in New York City, the KLCC provides green spaces to a heavily urbanized city. Sitting in the 50-acre park at night is like finding a haven in the chaos.
The KLCC Park has daily water and light shows to accompany the breathtaking views of the Petronas Towers. The shows are scheduled for 8 PM, 9 PM, and 10 PM.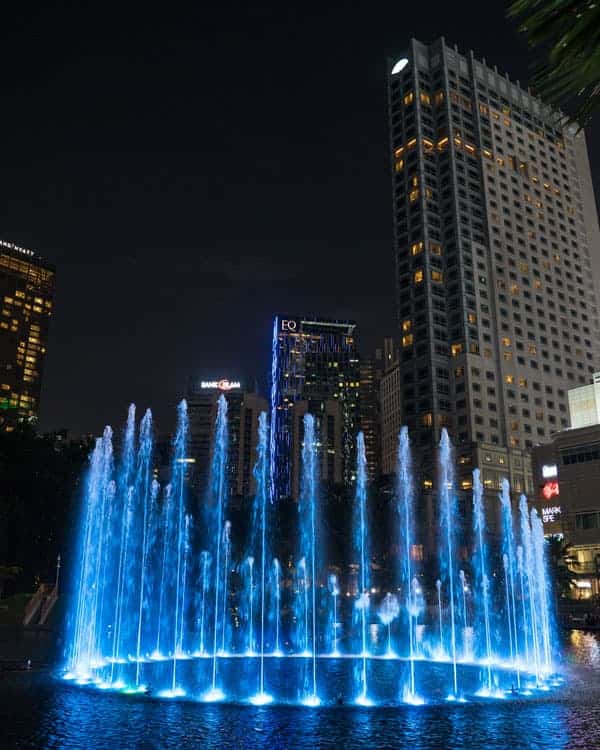 Other amazing places to see the Petrona Towers are the nearby rooftop bars. Though I personally have not been, I have heard great things about them. The most notable place is the Sky Bar on the 33rd floor of the Traders Hotel.
You do not need to be a guest there to visit their Sky Bar. However, you might need to make a reservation depending on if you are visiting Kuala Lumpur on the weekend or during peak season.
If you want to visit the Petronas Tower Observatory Deck, you are more than welcome to do so. Just keep in mind that it closes very early, at 6 PM sometimes. On Monday, the observatory deck is closed all day. It costs 80 RM for adults and 33 RM for children, but they are on a first come first serve basis. Tickets can be purchased online here to save all the hassle.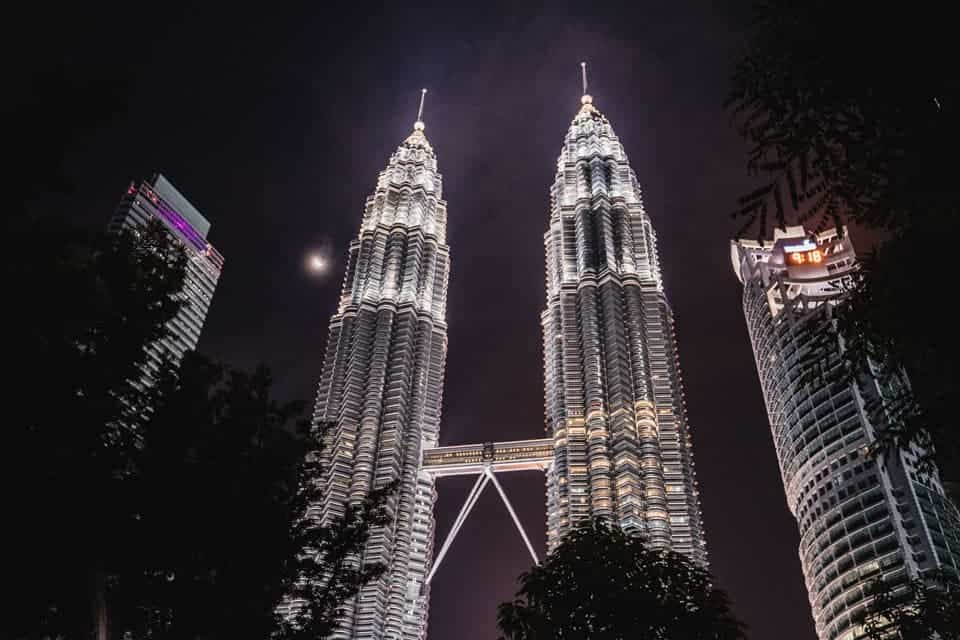 After you are done drooling over the views of the Petronas Tower, you are more than welcome to wander around if you still have energy. From my experience, the heat and humidity made me much more tired in general. The first day of our Kuala Lumpur itinerary for 2 days ends here!
Good night!
---
Morning Of Day 2: Thean Hou Temple, Central Market
Are you ready for another exciting day on our 2 days in Kuala Lumpur itinerary? In the morning, you will explore one of the oldest religious relics in Malaysia, the Thean Hou Temple.
Originally built by Hainanese immigrants in 1987, the Thean Hou Temple is one of the oldest Chinese temples in Kuala Lumpur.
Many visitors come to Thean Hou just for the amazing photo opportunity. That is great. In fact, Thean Hou is one of the most beautiful temples I have been to in Malaysia. Featuring ornate Chinese architecture and seas of dainty lanterns, Thean Hou is a photographer's paradise.
However, Thean Hou is also a very important temple. Dedicated to the Chinese sea goddess Mazu, blessings from the temple are essential for anyone working at sea.
Unlike the national mosque that requires a specific attire, Thean Hou does not have a dress code. There is also no entrance fee! Just keep in mind that it opens at 9 AM so don't come here too early!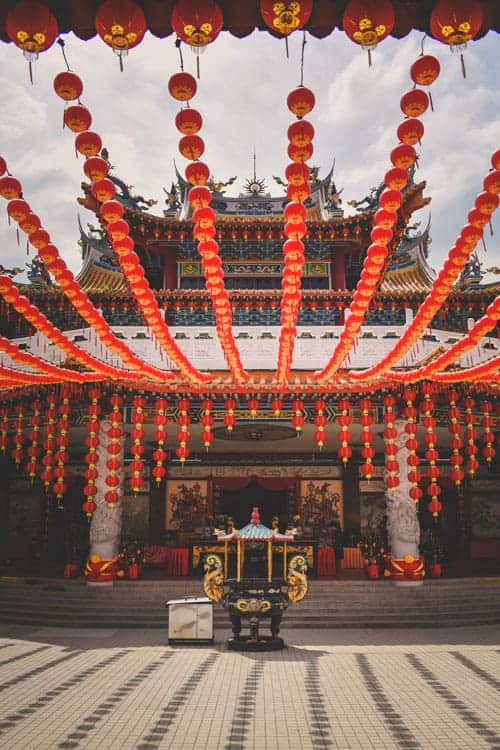 After a civilized visit to the temple, it's time to head back to the scramble. This time around, we won't be going to the Petaling Street Market for our fun, but the Central Market Kuala Lumpur.
Starting off as a wet market in 1888, the Central Market has become one of the most iconic landmarks in Malaysia. Not only does it function as a market, but it symbolizes the heritage of cultures of the multi-racial country. Here you will find vendors with merchandise from various backgrounds: Chinese, Malays, and Indians.
Central Market is one of the best places to shop for souvenirs and handicrafts, as most items are made locally. When you are tired or hungry, there are plenty of cafes and restaurants inside the market. Honestly, Central Market feels like a city within a city!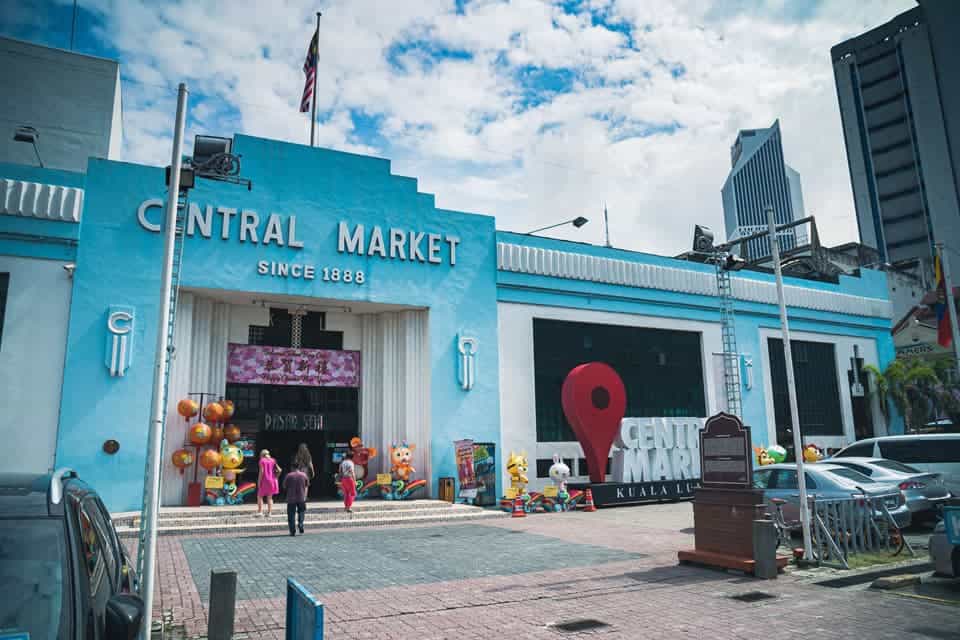 Afternoon Of Day 2: Merdeka Square, KL Forest Eco Park, KL Tower
After Central Market, you will head to the nearby Dataran Merdeka, or Independence Square in English. As the first place where the Malaysian flag was flown, Merdeka Square is one of the most historically important places in Malaysia.
Though you won't be able to learn about much of the history with a casual stroll on the perfectly manicured lawn, the historic buildings offer a glimpse into the past. Malaysia was a British colony before it gained its independence.
At 95 meters high, the flagpole at Merdeka Square is one of the highest in the world!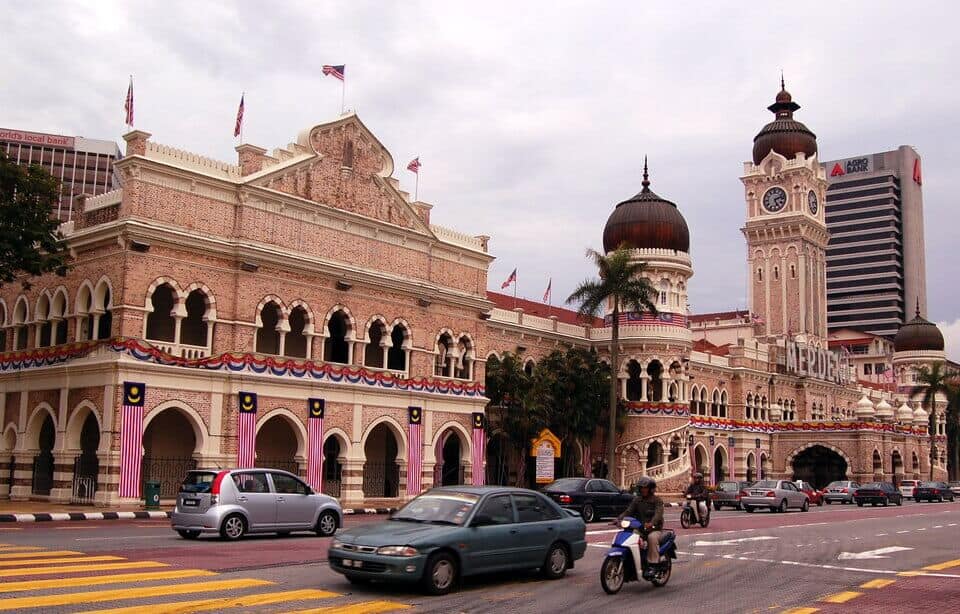 After Merdeka Square, the next stop on our Kuala Lumpur 2 days itinerary is KL Forest Eco Park.
A centrally-located park filled with nature trails, endangered monkeys (rarely), and a beautiful canopy walk, KL Forest Eco Park is like an oasis in a desert. It is surprising to see so much green space concentrated in one area in KL!
The stunning 200-meter canopy walk is the most outstanding feature of the park. Not only is it only one of the most beautiful places in Kuala Lumpur, but you will also feel like you are nested in the jungle!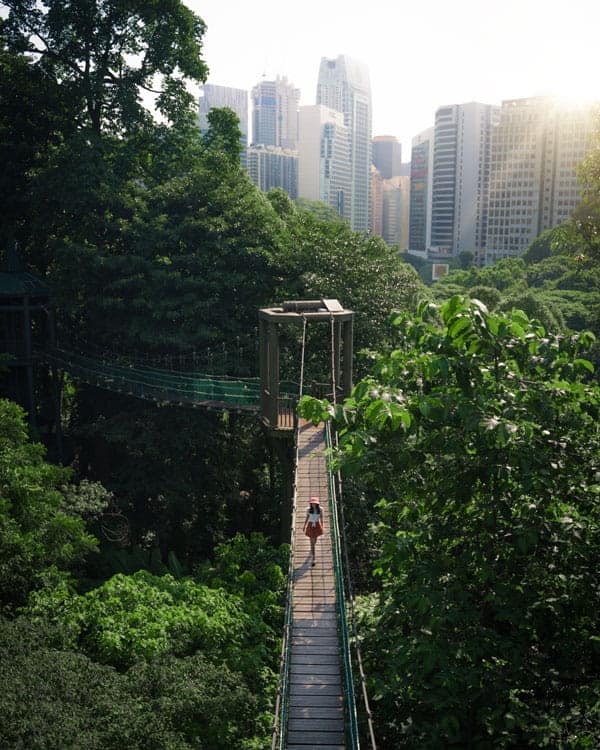 The truth is that some parts of the park are not pristine. Concrete steps might be missing and some parts of the park might even look abandoned. However, that is exactly why I enjoyed it so much.
Seeing nature reclaim its territory, hopping over tree branches, is what makes a nature trail fun. If you wanted to walk on concrete, maybe a shopping mall is a better option for you.
Bring insect repellent as mosquitoes are rampant in the KL Forest Eco Park. I mean rampant!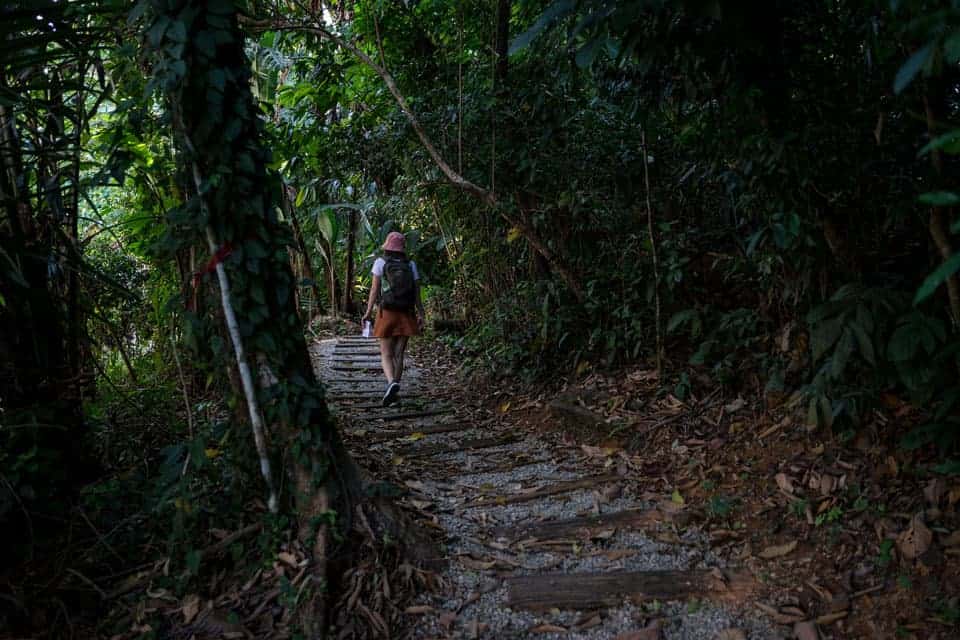 The best thing about the KL Eco Forest Park is that it connects to the next attraction on our Kuala Lumpur itinerary for 2 days – the famous KL Tower (Menara Kuala Lumpur).
At 421 meters high, the Kuala Lumpur Tower is one of the tallest telecommunication towers in the world. Though the views of the tower from below are spectacular, the views from above are even better.
KL Tower features an interior observation deck at 276, which is known to offer a better view of the city than the Petronas Tower's observatory deck. The tower also has an exciting open-air sky deck 300 meters above the ground. Want more excitement? Take a photo at the sky box, where the only thing separating you from the ground is a thin piece of see-through glass.
If you had to pick an observatory for panoramic views of KL, I would recommend KL Tower even though it is not as high as the Petronas Twin Towers.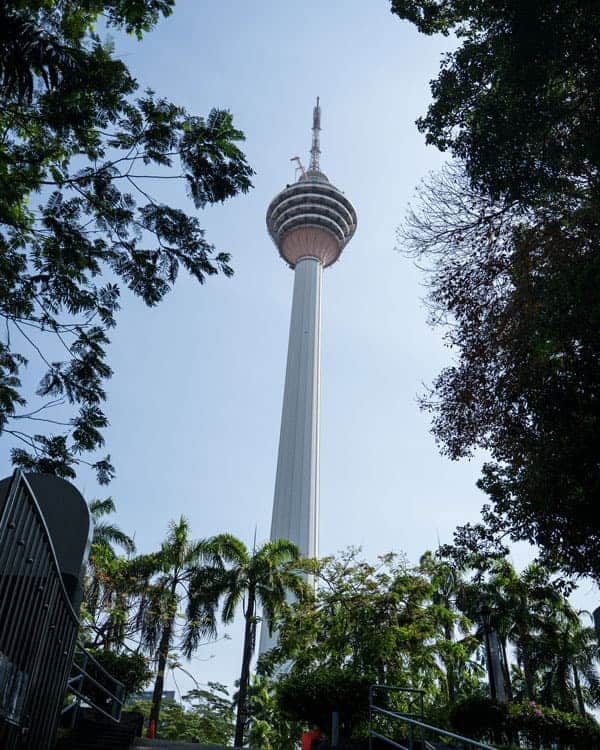 Night Of Day 2: Jalan Alor Night Food Court
No visit to Kuala Lumpur is complete without a trip to the famous food night markets. There are several amazing food night markets in Kuala Lumpur, but the one you mustn't miss is Jalan Alor Night Food Street.
Hundreds of hawker stalls and seafood restaurants inundate both sides of this food street, turning it into a paradise for food lovers (aka everyone). The foods there are absolutely delicious and ridiculously cheap, perfect for anyone traveling Malaysia on a budget.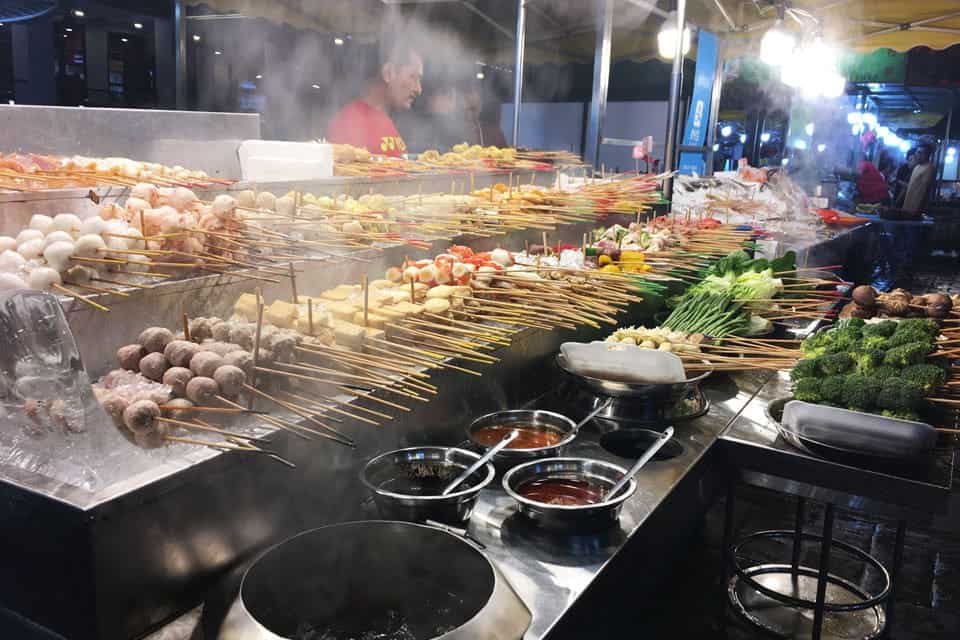 If you did not have dinner yet, Jalan Alor is the perfect place to eat in Kuala Lumpur and sample various types of street food. Try a little bit from each stall and soon you will have a full and happy belly (and a happy wallet).
The most famous restaurant on Jalan Alor Street Food is Sai Woo. Though I did not try the food there myself, I have heard great things from other travelers!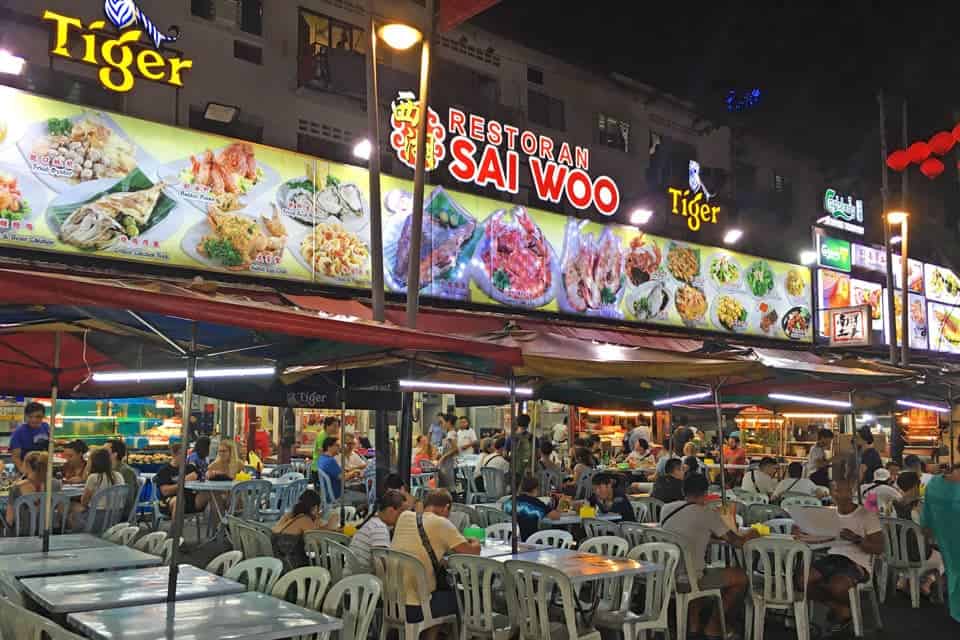 Jalan Alor is the last place to visit on our 2 day Kuala Lumpur itinerary. We know that everyone has a different pace of travel. For those that tend to travel faster, here are some additional places to visit in Kuala Lumpur in 2 days!
---
Additional Places to Visit In Kuala Lumpur In 2 Days
1. Perdana Botanical Gardens
Do you prefer more green spaces when you travel and cannot make a trip to the Cameron Highlands? Take a trip to the Perdana Botanical Gardens.
This gigantic green space is the perfect place for a relaxing stroll after a long day. There are also some very exotic plants there such as poisonous sausages! They are some of the strangest plants I have ever seen in my life!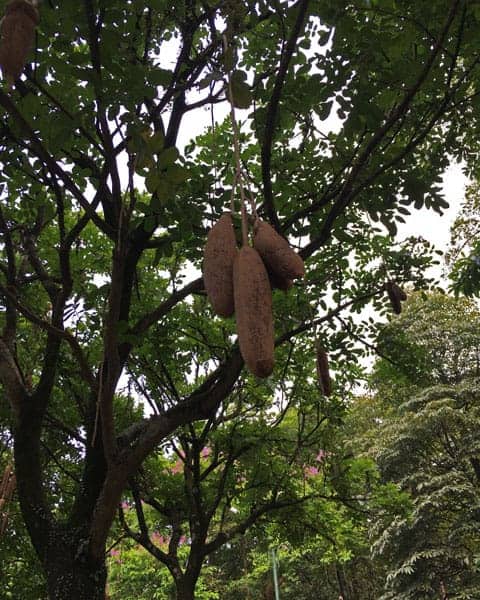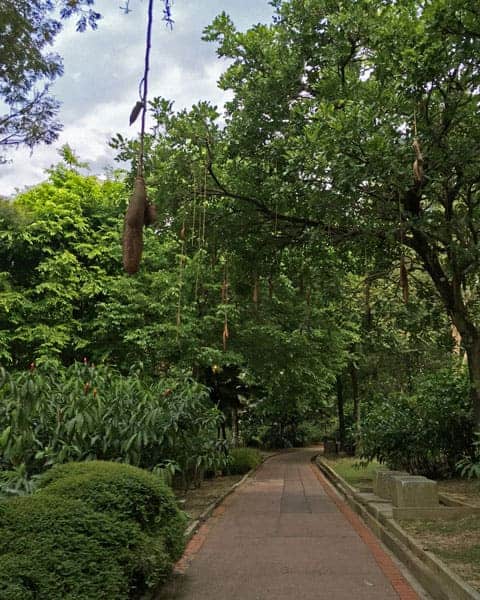 2. Kuala Lumpur Butterfly Park
Adjacent to the Perdana Botanical Gardens is another hidden gem of Kuala Lumpur, the Kuala Lumpur Butterfly Park. Featuring over 5,000 butterflies, this butterfly park is perfect for people traveling with kids in Kuala Lumpur.
However, the entrance price is quite steep at 35 RM, but I can guarantee you that it will be a good experience!
3. Fireflies in Kuala Selangor
One of the best things to do in Malaysia is to enjoy the unique nature. In the Sabah region of Malaysia, exotic animals such as orangutans and proboscis monkeys run wild.
Though these animals aren't in KL, there are colonies of fireflies nearby.
Located about an hour away from Kuala Lumpur is a small and cute little seaside town called Kuala Selangor, the perfect short getaway from KL. Numerous colonies of fireflies live freely in the mangroves that navigate through town.
Though I personally recommend staying a few days in Kuala Selangor (and Sekinchan) to see a different side of Malaysia, it is still possible to see the fireflies from Kuala Lumpur with a private tour.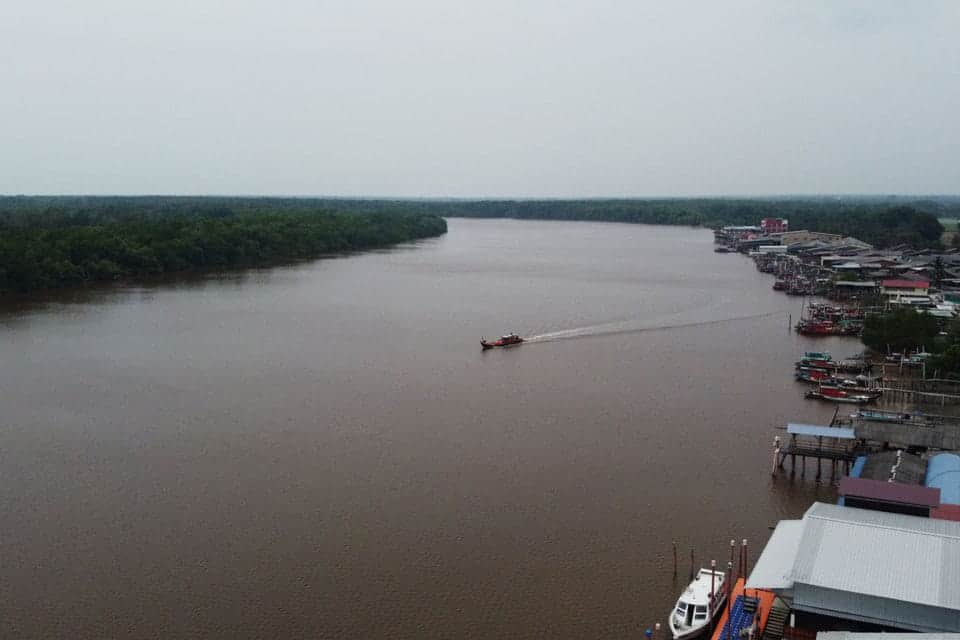 ---
Where To Stay In Kuala Lumpur To Maximize Your 48 Hours
Though transportation is cheap and convenient in Kuala Lumpur, staying in a few areas in KL will help you maximize your 48 hours in Kuala Lumpur.
Here are some of the best neighborhoods to stay in Kuala Lumpur: Chinatown, KLCC (Kuala Lumpur City Center), and Bukit Bintang. Our recommendations will only feature hostels and hotels in those areas.
Best Hostel In Kuala Lumpur – Mingle Petaling Street
If you are looking for a social, beautiful, and affordable hostel in Kuala Lumpur, look no further. Mingle Petaling Street is a hostel unlike no other in KL.
The hostel is located inside an old historic house, where the history speaks for itself in the faded paint and cracks on the wall. But unlike staying at an old house where you expect the facilities to be dated, the facilities are amazing for the low price you are paying.
Mingle also offers free dinner every day for your stay, but you would have to sign up ahead of time because the slots do fill up quickly!
---
Best Cheap Hotel In Kuala Lumpur – Ibis Kuala Lumpur City Centre
Cheap hotels in Kuala Lumpur are abundant, but finding the perfect one can be a daunting task. Ibis is an internationally recognized hotel chain that provides quality rooms and services at an affordable rate.
The Ibis Kuala Lumpur City Centre is no exception. Offering a huge infinity pool with breath-taking views of the Petronas Tower, guests can sightsee without leaving the hotel! The hotel also offers a delicious breakfast buffet, which is the perfect way to start your day in Kuala Lumpur.
Though there are cheaper hotels in KL, the Ibis is not going to bankrupt you and it is worth the extra bit!
---
Best Luxury Hotel In Kuala Lumpur – RuMa Hotel and Residences
Anyone looking for a luxury hotel in Kuala Lumpur will find the RuMa Hotel and Residences a delight.
Unlike other hotels where they just provide a clean room to stay, RuMA Hotel takes it up a notch by providing guests with an extraordinary experience. The interior decor is stylish and speaks nothing but luxury. The swimming pool and rooms are immaculate, and the staff treats you like kings and queens.
This is one of the highest-rated hotels in Kuala Lumpur and it is easy to see why!
---
Visiting Kuala Lumpur FAQs
How Many Days To Stay In Kuala Lumpur?
We recommend staying a minimum of two days in Kuala Lumpur to experience its balance of cultural authenticity and modern luxuries. 3 days is the perfect amount of time to stay if you are not in a rush.
Is Kuala Lumpur Worth Visiting?
Kuala Lumpur is one of the most popular tourist destinations in Southeast Asia, and for good reason. The city is home to stunning landmarks such as the Petronas Twin Towers, incredible street food, and the perfect blend of modern and historical attractions.
When Is The Best Time To Visit Kuala Lumpur?
The best time to visit Kuala Lumpur is September. Since Kuala Lumpur has a tropical rainforest climate, the temperatures are consistently warm throughout the year. Rainfall is also common throughout the entire year, but the summer months June to September are not in the monsoon season!
---
Like this post? Don't forget to save it on Pinterest!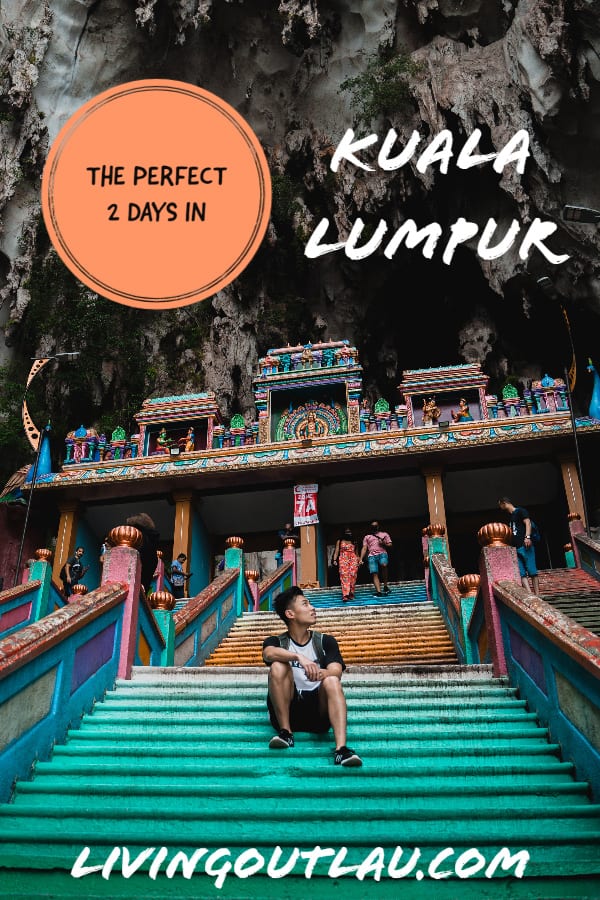 ---
This concludes our Malaysia blog post on the Kuala Lumpur 2-day itinerary! I hope it has given you a rough idea of what to do in Kuala Lumpur in 2 days!

Any question? Leave them in the comments!
Disclaimer: Some of the links above are affiliate links. That means if you book or make a purchase through the links, we will earn a small commission at no extra cost to you! The money will help run this site! Thank you!