Majestic, mysterious, and fascinating, are three words to describe the famous cave temples in Ipoh. These unique geological formations have made this region of Malaysia one of the most visited destinations in the country.
It is a no-brainer that a visit to these incredible Ipoh attractions is a must on any Malaysia trip.
However, with around 30 limestone cave temples near Ipoh, it is difficult to decide which ones are worth your time.
In our Ipoh blog post, we have handpicked 5 of our favorite Ipoh cave temples!
Enjoy!
---
Ipoh Cave Temples Map
The interactive map above details the location of the cave temples we will be discussing. Click on the map and it will lead you to a personalized map where you can see more details of the cave temples.
Because the cave temples are located far from the center of Ipoh, knowing their location will help you plan your Ipoh itinerary!
---
What Are The Best Cave Temples In Ipoh, Malaysia?
1. Perak Tong Cave Temple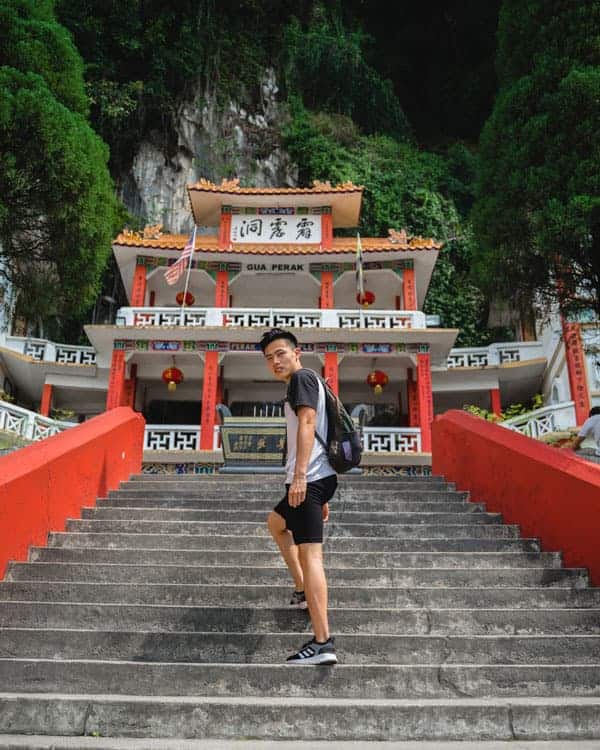 Perak Tong Cave Temple is the most famous cave temple in Ipoh and it's not difficult to see why.
The moment you arrive at the complex, you are greeted by a beautiful staircase that leads to a gorgeous red and white temple. The temple sits at the bottom of a massive limestone hill, and it is also the entrance to the famous Perak Tong Cave Temple.
Before you go in, don't forget to take a cool photo at the entrance. The stairs and the colorful facade of the temple create the perfect Instagram photo! They reminded me of the Batu Caves in Kuala Lumpur.
The admission fee for all cave temples in Ipoh is free. However, donations are greatly appreciated to help maintain the conditions of these amazing places in Ipoh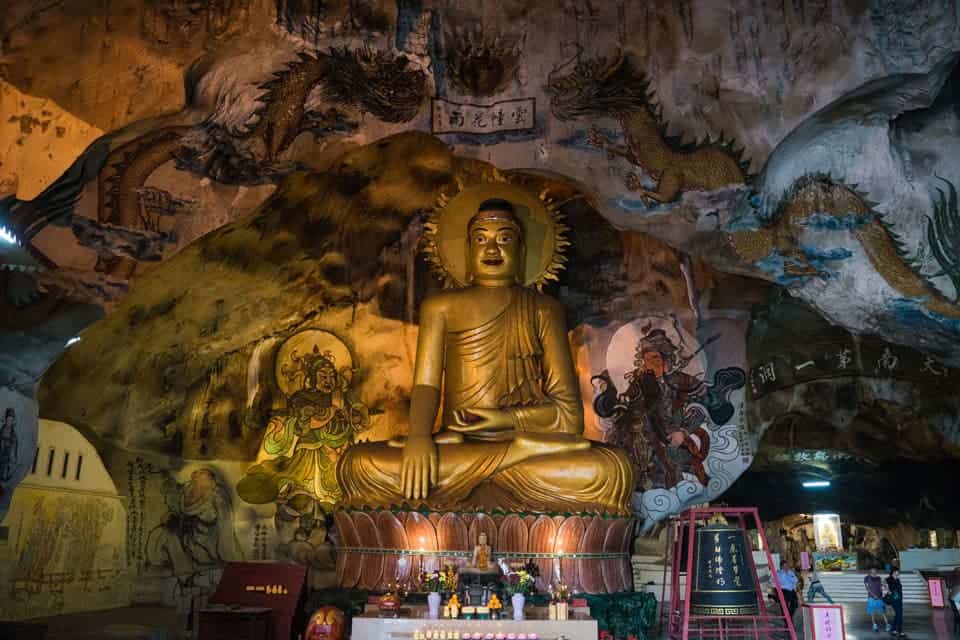 Once you have entered the cave temple, you will begin to see what the rave is about. Immediately you will notice the giant 15-meter tall Budhha sitting amidst the statues of four guardian deities.
On the walls directly adjacent to the Buddha are paintings of other Buddhist deities and mythical creatures such as dragons and phoenixes.
If you thought the murals and street art in Penang and Ipoh are amazing, these religious paintings inside the Perak Tong Cave Temple will leave you breathless.
Though a very tall cave, it doesn't take a long time to explore all of it. After spending about 15 to 20 minutes seeing the different religious artifacts, Chinese calligraphy, and well-crafted statues, head towards the rear of the cave.
In the rear of the cave is a set of stairs that leads to an opening in the back. For anyone that would like to get a panoramic view of the suburban parts of Ipoh, there is a path with over 300 steps that take you to a vantage point. The climb isn't exactly difficult but it can be given the climate of Malaysia.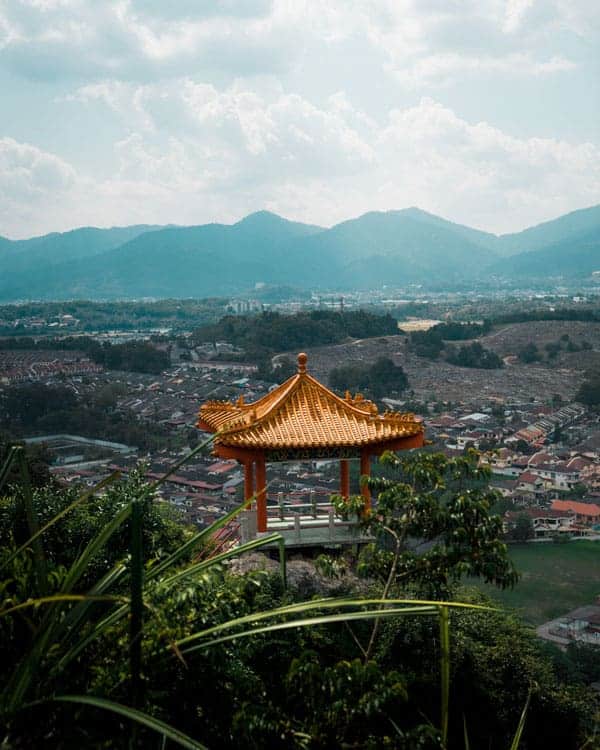 In my opinion, visiting the Perak Cave Temple and not climbing to the top for that unique view is just a waste!
History of Perak Cave Temple:
Every Ipoh cave temple has some sort of history, and the Perak Cave Temple is no exception. In 1926, the cave was discovered by a married couple from China.
With the approval of the state government, the husband started planning the development of the cave temple while his wife sought monetary assistance. After more than 50 years of hard work, the cave temple became one of the best attractions in Malaysia.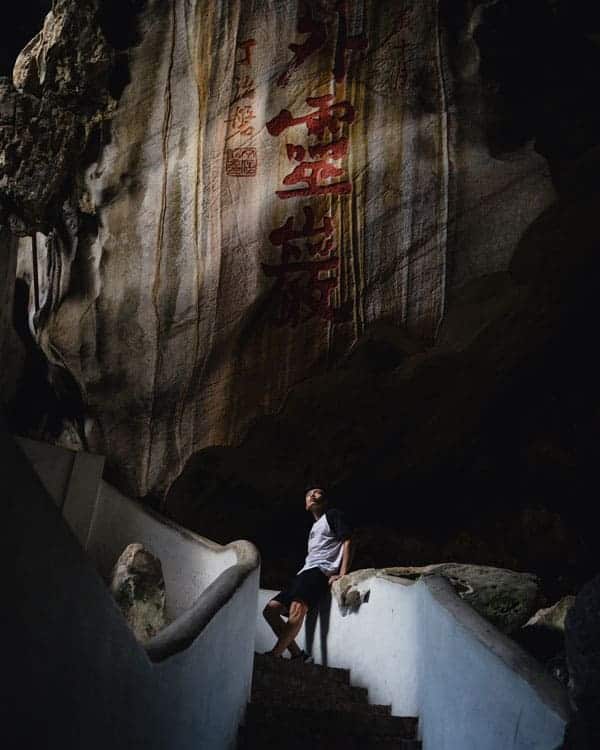 How To Get To Perak Tong Cave Temple:
Perak Tong Cave Temple is located in the north of Ipoh, fairly far from the center of Ipoh. Though there is a bus that passes by the entrance of the complex, the best way to get to Perak Tong Cave Temple is simply by taking a taxi or using a taxi-hailing app such as Grab. It is affordable and much quicker!
2. Kek Lok Tong (Cave of Ultimate Bliss)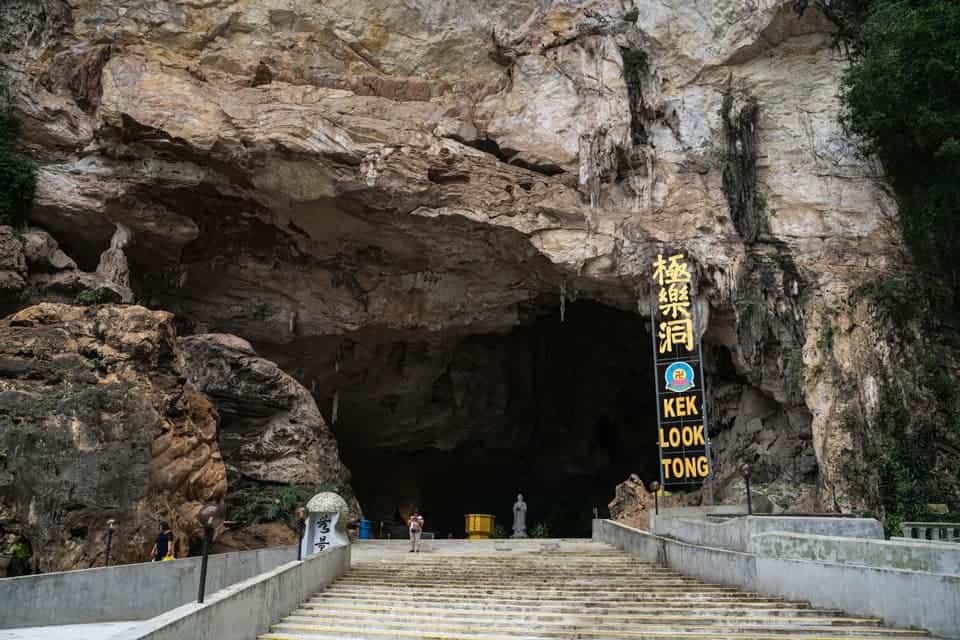 Kek Lok Tong, or "Cave of Ultimate Bliss", is unquestionably my favorite cave temple in Ipoh. Why? Let me explain.
When you arrive at Kek Lok Tong, you aren't greeted with a beautiful temple like Perak Tong. Instead, it is quite the opposite. A huge gaping hole on the foot of a limestone hill awaits you, like a giant rock monster waiting to swallow you whole.
Don't let this intimidate you. The interior of the cave is filled with marvelous geological formations, paintings, decorations, and altars. Take some time and admire the stunning stalagmites and stalactites. Their massive and jagged features create an unworldly feeling, almost as if you were on an alien planet.
On quiet days, it is possible to hear the sound of a water drop reverberating inside this half-Buddhist and half-Taoist cave temple.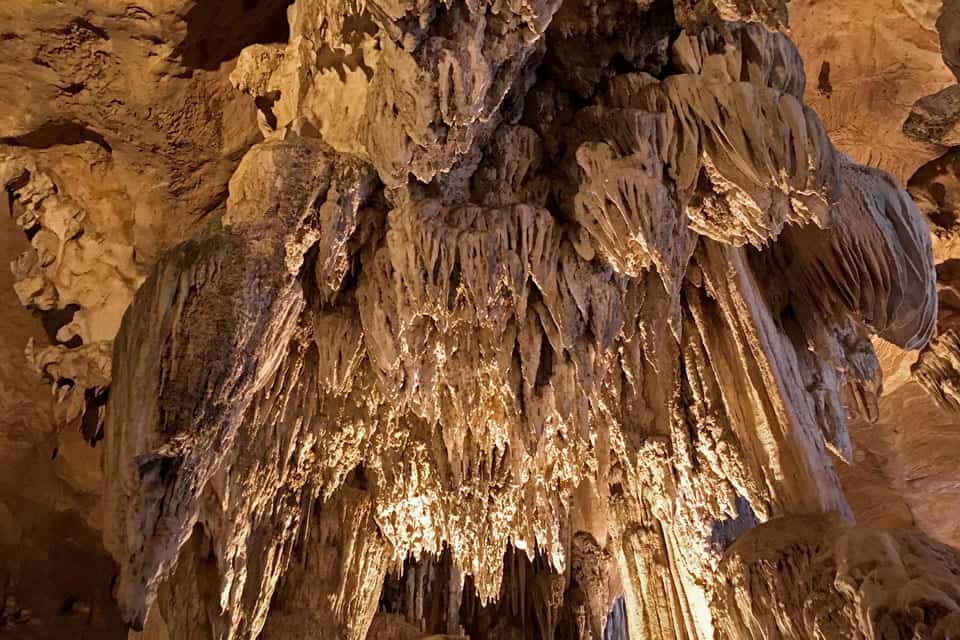 Honestly, after seeing the extraordinary cave at Kek Lok Tong, I was content and ready to head home. However, this is not where the story ends.
At the rear of the cave is a massive opening that leads to an award-winning Zen garden. Did I know what a Zen garden is? No. Am I glad I had to chance to experience it? Yes. If there is a part of the cave that brings "ultimate bliss", it is the Zen garden in the back.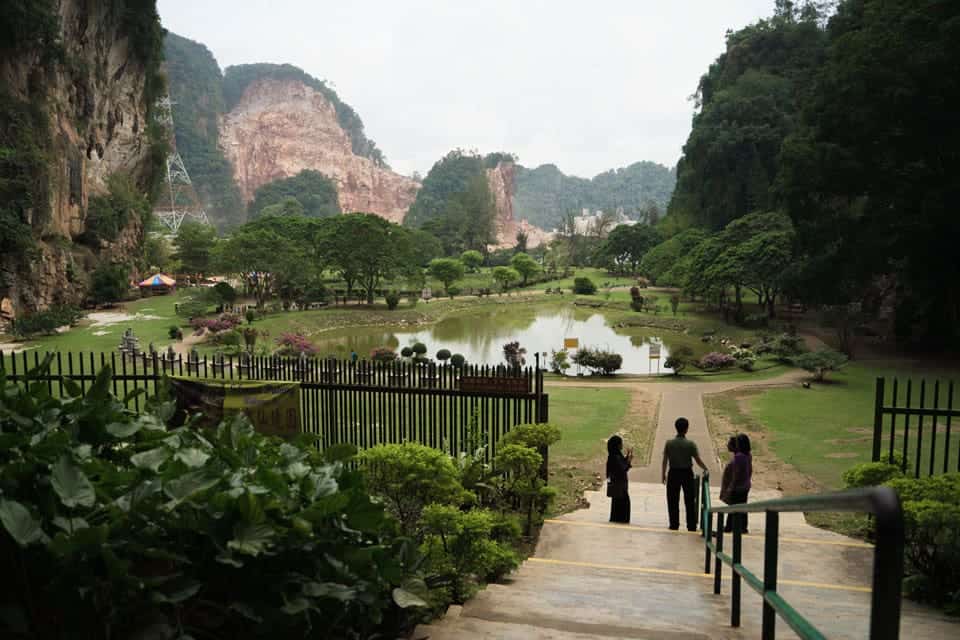 A tranquil garden surrounded by the incredible limestone hills of the region, Kek Lok Tong is the picture-perfect location. Featuring many interesting Buddhist statues, a lotus pond, and the opportunity to go boating on the river (only in peak season), the Zen garden in Kek Lok Tong is a tourist attraction on its own.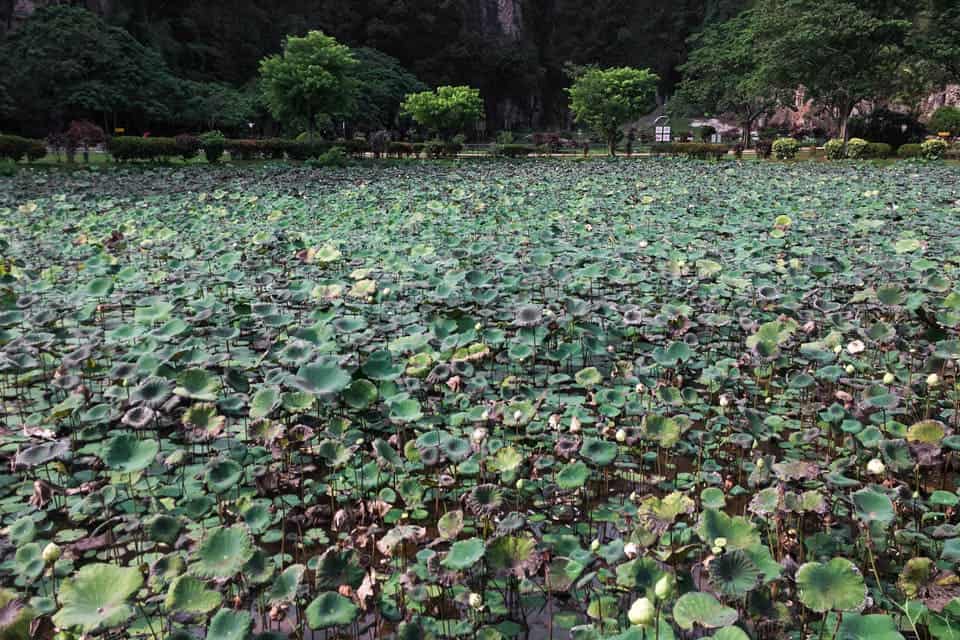 If you like to stay fit while traveling, the well-maintained jogging path that surrounds the lakes is a popular spot for jogging in the morning. You might even see locals enjoying other physical activities, such as badminton. Surprisingly, Kek Lok Tong is a top location for exercising!
Though you can spend 30 minutes seeing the entire place, it is very peaceful to just sit and admire the breathtaking landscapes. Read a book, take a deep breath in, and feel the stress leaving your body. The Zen Garden will provide you with an experience unlike any other!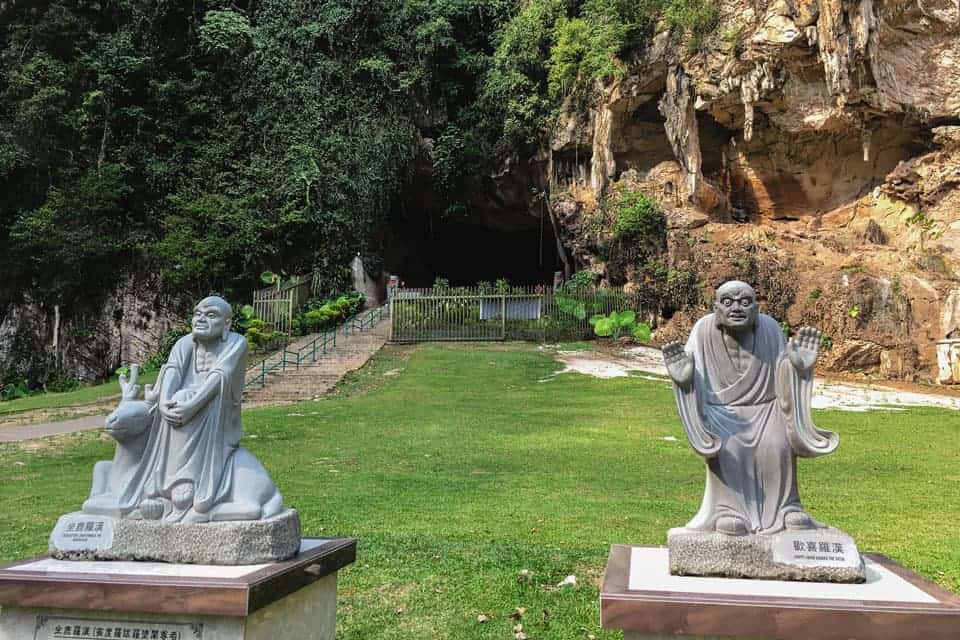 History of Kek Lok Tong:
Kek Lok Tong was a place of worship since the 1920s. However, in the 1960s, parts of the cave were excavated for mining activities. Mining ceased in the 1970s and the place slowly regained the popularity and visitors it once had. Nowadays, it is one of the most famous attractions in Malaysia.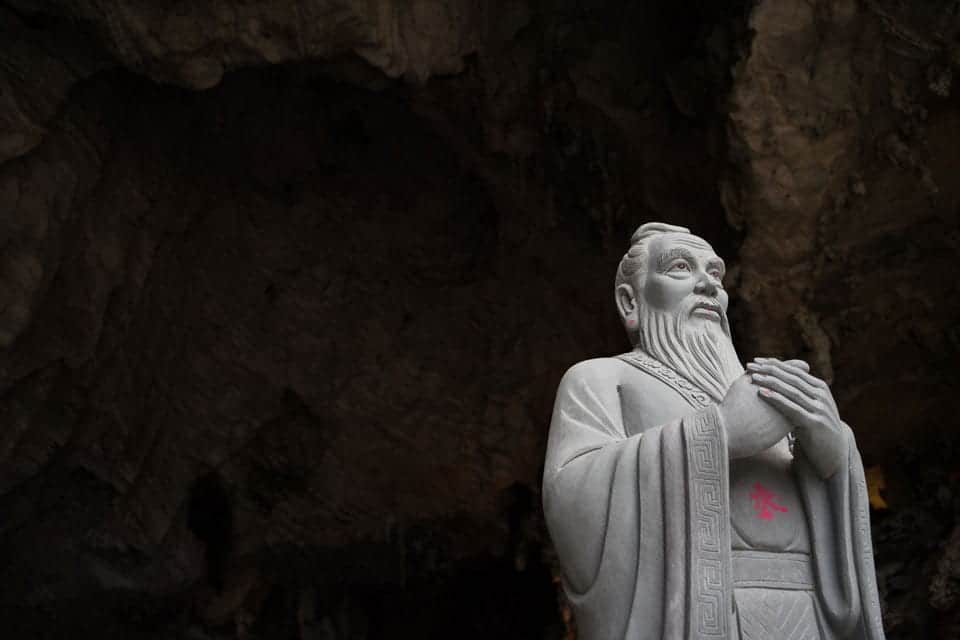 How To Get To Kek Lok Tong:
Kek Lok Tong is a short 10-minute drive from the Ipoh center, where the majority of the best and cheap hotels in Ipoh are located. I do not recommend you to walk or take public transportation, as Kek Lok Tong is located in a fairly inaccessible area. The best way to get to Kek Lok Tong is with a taxi or a Grab.
3. Sam Poh Tong (Three Buddhas Cave)
Founded in the 1890s, Sam Poh Tong is considered the oldest temple in the Perak region of Malaysia. It is also considered one of the biggest cave temples in Malaysia.
With so many textbook achievements, we were sad to find that it wasn't as impressive as the Perak Tong Cave Temple or the Kek Lok Tong Temple. That is partially because the other temples were absolutely stunning.
At the front of the Sam Poh Tong is one of its most impressive features, a beautifully landscaped garden surrounding a large koi pond. The pond is decorated with artificial rocks that resemble miniature mountains.
Rumors have it that this garden won an award for being the most beautiful garden in Malaysia in 1993. Though it is beautiful, I personally would not consider this to be on an award-winning tier.
After passing through the garden you will arrive at the entrance of the cave temple. The cave structure is much smaller compared to that of Kek Lok Tong or Perak Tong Cave Temple.
Inside you will find stalagmites, stalactites, and statues of Budhha and other Chinese deities. In general, the cave felt very run-down.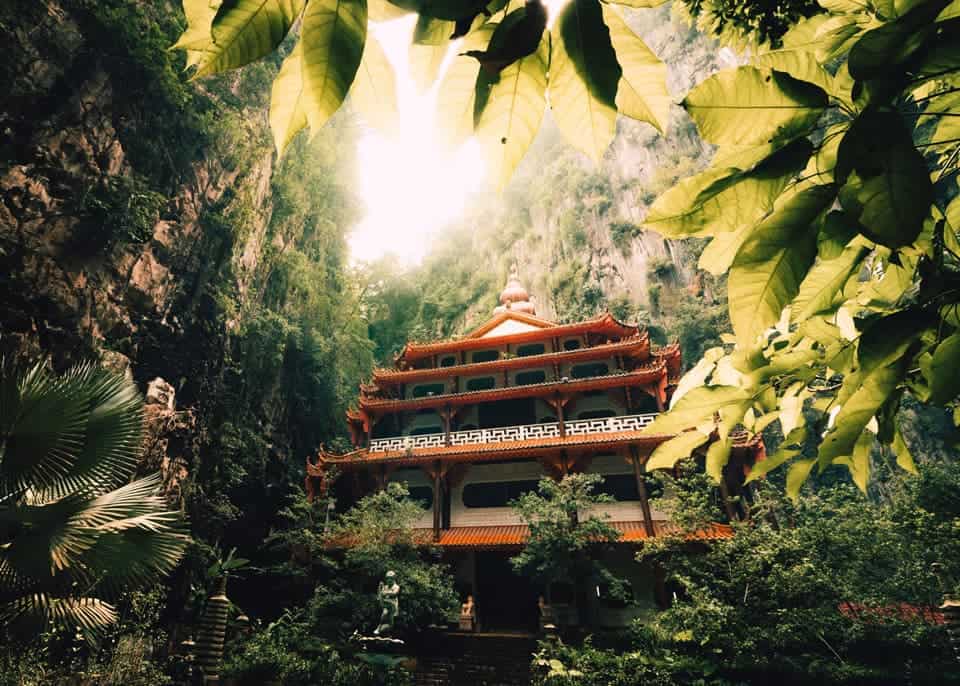 Many visitors miss the rear of the cave, where a beautiful Japanese-style pagoda and the turtle pond are located. The towering cliffs surrounding the rear part of the temple create a unique environment. Visitors can also feed or release turtles, and doing so is said to balance one's karma.
The pagoda is not allowed entry.
History of Sam Poh Tong:
It is said that Sam Poh Tong was founded by a monk in 1890. He decided to make the cave his home and a place for meditation. He remained in the cave until he died. After his death, many other monks and nuns continued using that cave and eventually built a temple in the 1950s.
How To Get To Sam Poh Tong:
The Sam Poh Tong Temple is located 5 kilometers south of Ipoh in Gunung Rapat, so it is recommended that you arrive by car or a taxi.
4. Ling Sen Tong (Rock of Heavenly Spirits)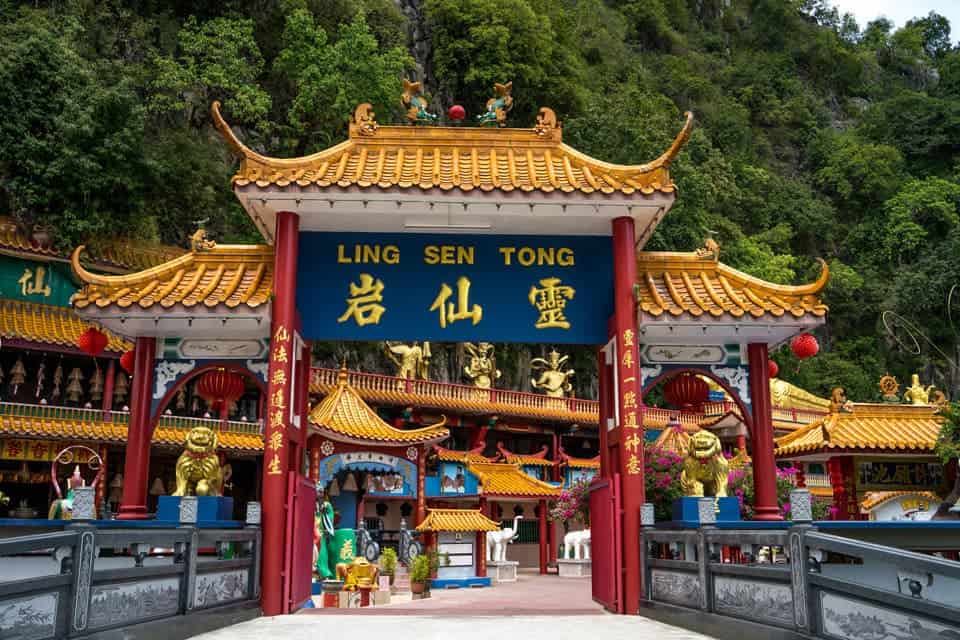 When you arrive at Ling Sen Tong, you might ask yourself, "Is this really a temple?" Featuring colorful architecture and whimsical human-size statues, it certainly feels a little bit like an amusement park. If you traveling in Malaysia with kids, the Ling Sen Tong is a great place to bring them.
The garden is decorated with statues of various characters from Chinese folklore and mythology, including the Monkey King, Guan Yin, and the 12 Chinese Zodiacs.
It might be tempting to take out your camera the moment you arrive here, and that is fine. Just be respectful and don't forget that this is a place of worship.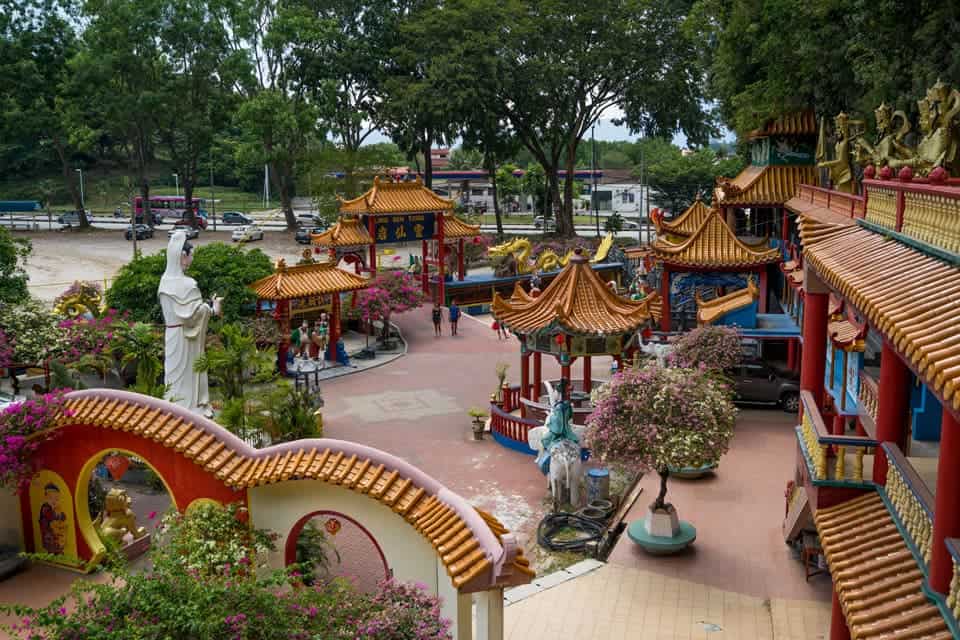 The area of the temple grounds is very small and it shouldn't take you a long time to explore. Wander around and make sure you check out the tortoise pond in the rear. Tortoises are symbols of longevity and are very common in Chinese temples.
On the second floor of the building, you will find joss sticks and a great view of the garden down below!
How To Get To Ling Sen Tong:
Ling Sen Tong, along with Nam Thean Tong and Sam Poh Tong, are located adjacent to each other about 5 kilometers from Ipoh center. The best way to get to Ling Sen Tong and all the nearby temples is by car or taxi.
5. GuanYin Cave (Kwan Yin Tong Temple/ Goddess of Mercy Cave)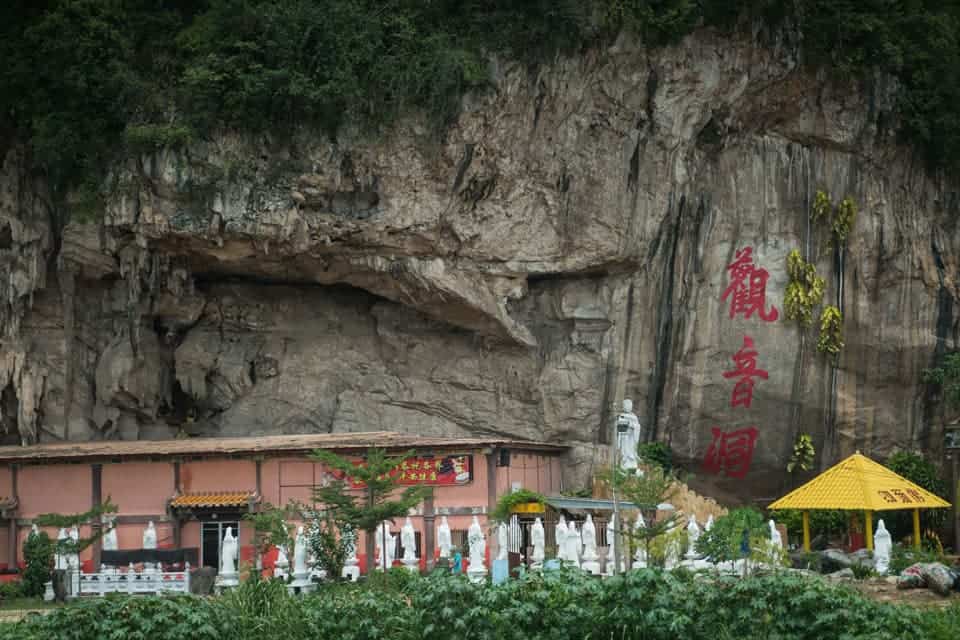 If you just cannot get enough of cave temples, then the last one I would recommend is the Guan Yin Cave (sometimes referred to as Kwan Yin Tong).
A cave temple dedicated to the Goddess of Mercy, you will see the statues before you enter the cave. And what can you find inside the cave temple? More Guan Yin statues. If I were to count how many Guan Yin statues are in that cave, I might still be there.
The temple is well-decorated with color and paintings of other deities and mythical creatures, such as dragons and phoenixes. Along with the lanterns that dot the premise, they create a very picturesque and peaceful scene.
The Guan Yin Cave Temple itself is not too big, and it is a great addition if you have extra time on your Ipoh temple exploration journey!
How To Get To Guan Yin Cave:
The Guan Yin Cave is located at foot of Gunung Rapat on Jalan Gopeng, about 5 kilometers from the center of Ipoh. Like most of the cave temples on this list, a car or a taxi is recommended.
---
Where To Stay In Ipoh, Malaysia
Best Hostel in Ipoh- Vloft Backpackers Hostel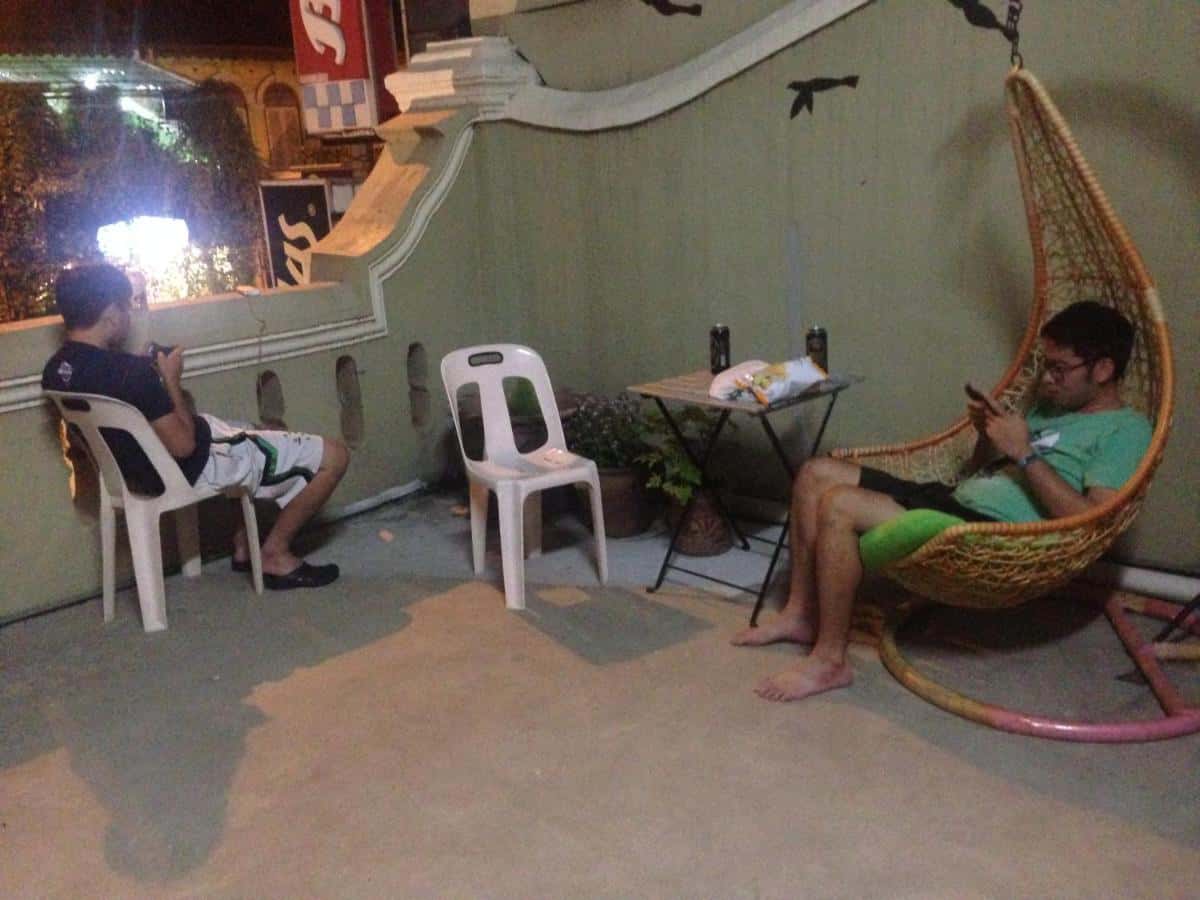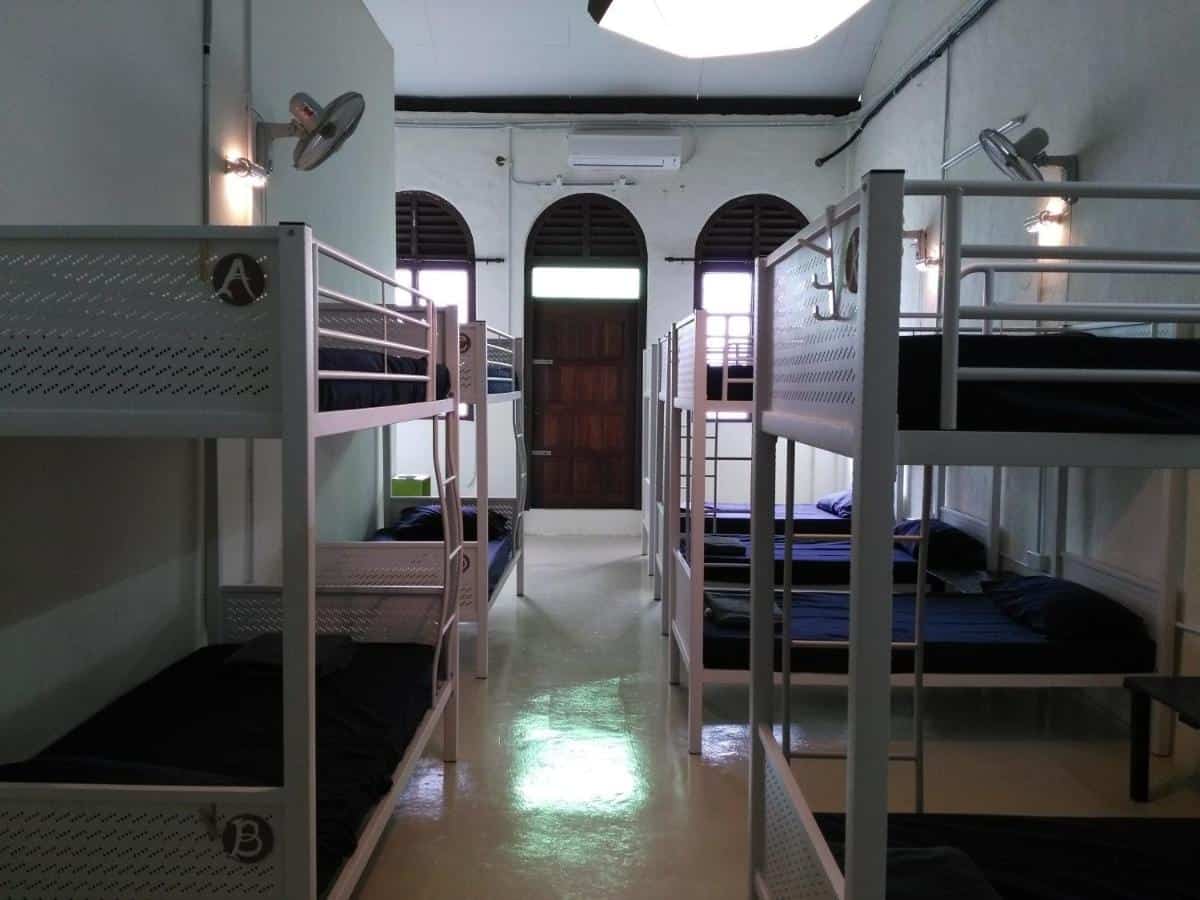 If you are looking for a cheap hostel for a comfortable stay, then look no further. Vloft Backpackers Hostel features mixed dormitory beds, simple decor, and clean facilities. It is a true backpacker hostel where you can meet other like-minded travelers!
Its central location guarantees that no matter what you want to do in Ipoh, it is within walking distance or you can easily find transportation.
---
Best Budget Hotel in Ipoh- D Eastern Hotel
Finding the perfect budget hotel in Ipoh might be daunting because there are so many choices. There are so many criteria to consider: security, comfort, location, and more.

D Eastern Hotel provides spacious rooms at an affordable price. Located in the New Town of Ipoh, the best attractions in Ipoh, convenience stores, and eateries are on your doorstep. For a cheap price, you can also enjoy their amazing breakfast buffet!
---
Best Luxury Hotel in Ipoh- The Banjaran Hotspring Retreat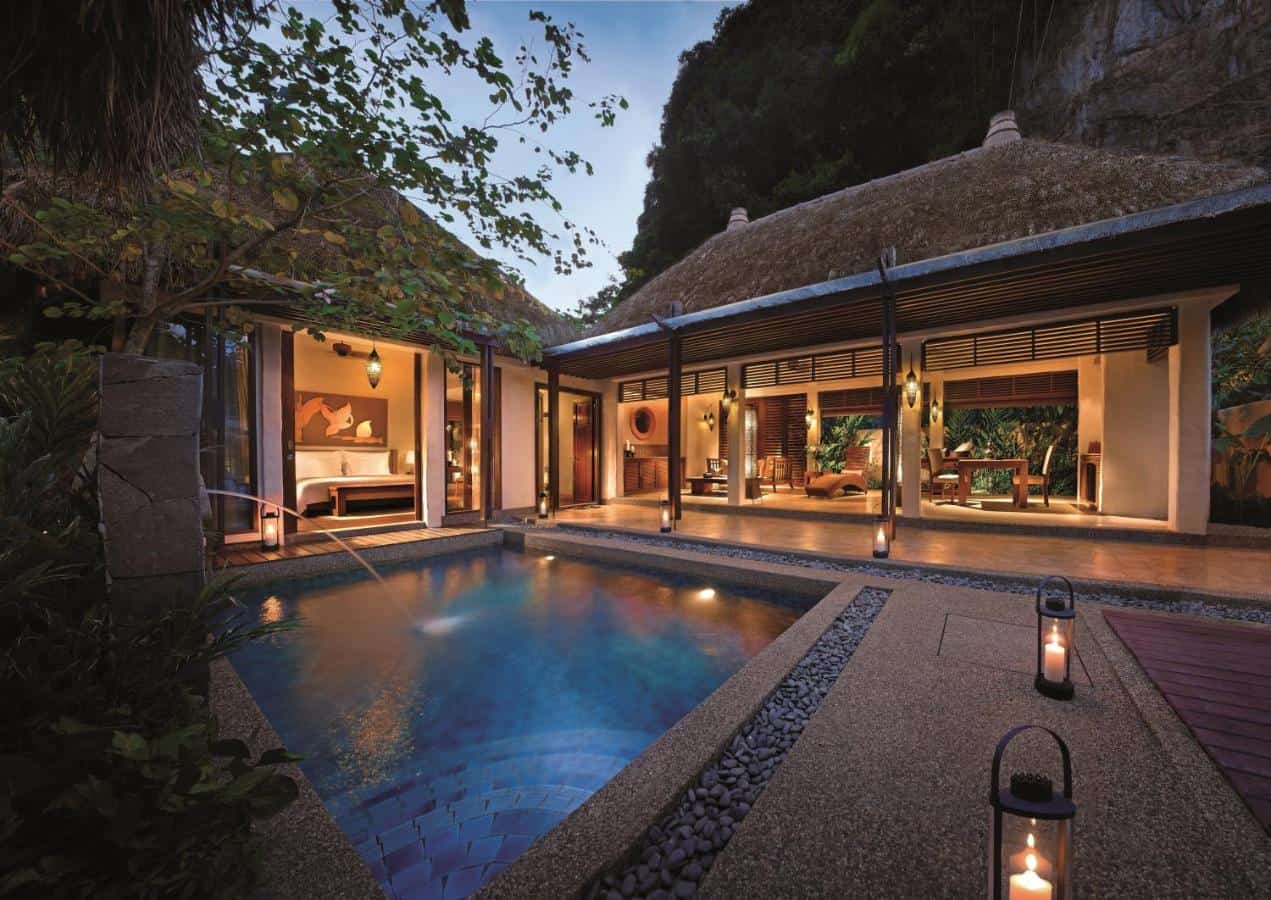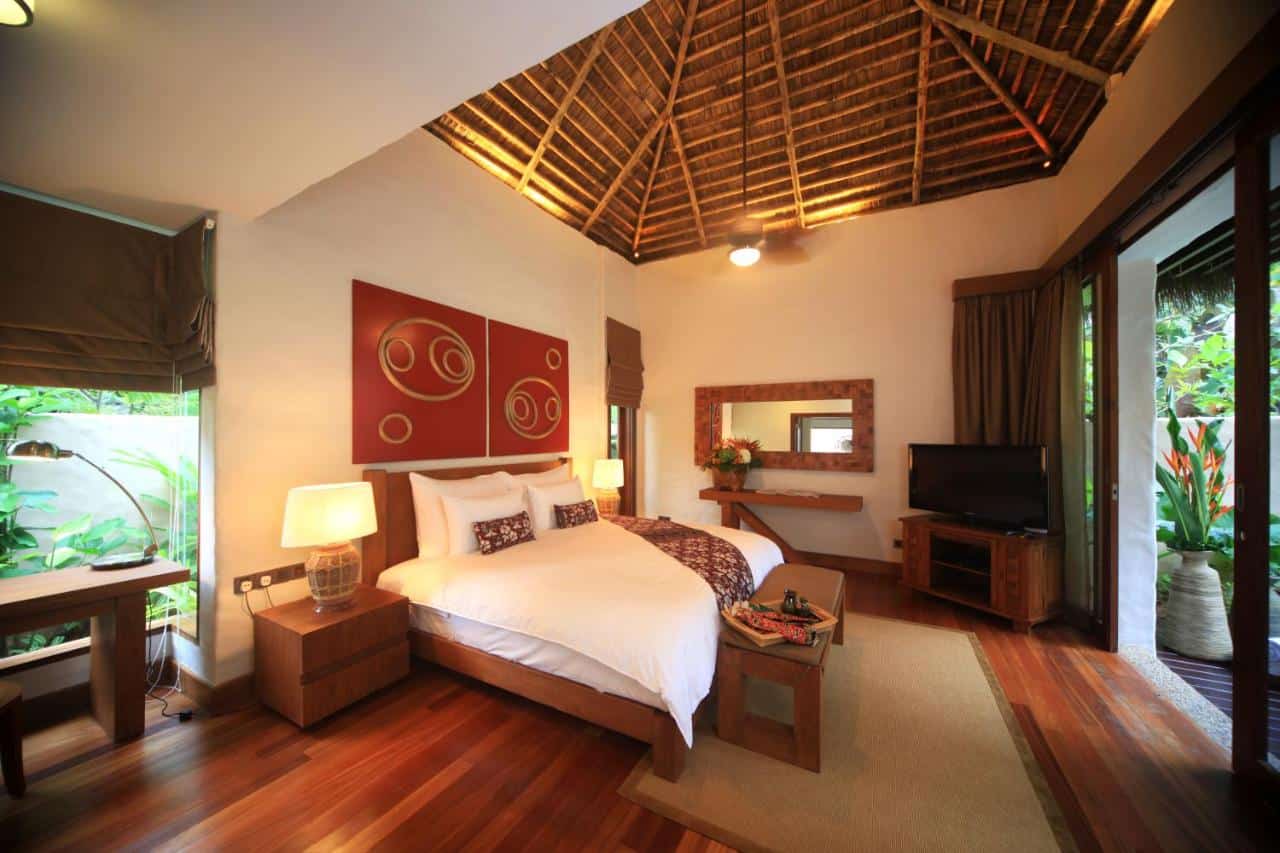 If a visit to the cave temples in Ipoh is not enough, what about staying in a hotel that is surrounded by limestone hills?

The Banjaran Hotspring Retreat is one of the most luxurious hotels in Ipoh. Featuring geothermal hot springs, steam caves, and hot baths, guests can probably relax after a day of exploring Ipoh's cave temples.

The accommodation boasts an amazing natural vibe, perfect for any travelers that love spending time in a lush environment.
---
Ipoh Cave Temples FAQs
Are The Cave Temples In Ipoh Worth Visiting?
The cave temples in Ipoh are definitely worth visiting. They are some of the most unique natural attractions near Ipoh, and not only are they naturally beautiful, but they also provide a lot of historical and cultural significance.
How Many Cave Temples Are In Ipoh?
There are approximately 30 temples near Ipoh, each with something different to offer tourists. Most of them are there to worship Buddhist and Taoist deities.
---
Like this post? Don't forget to save it on Pinterest!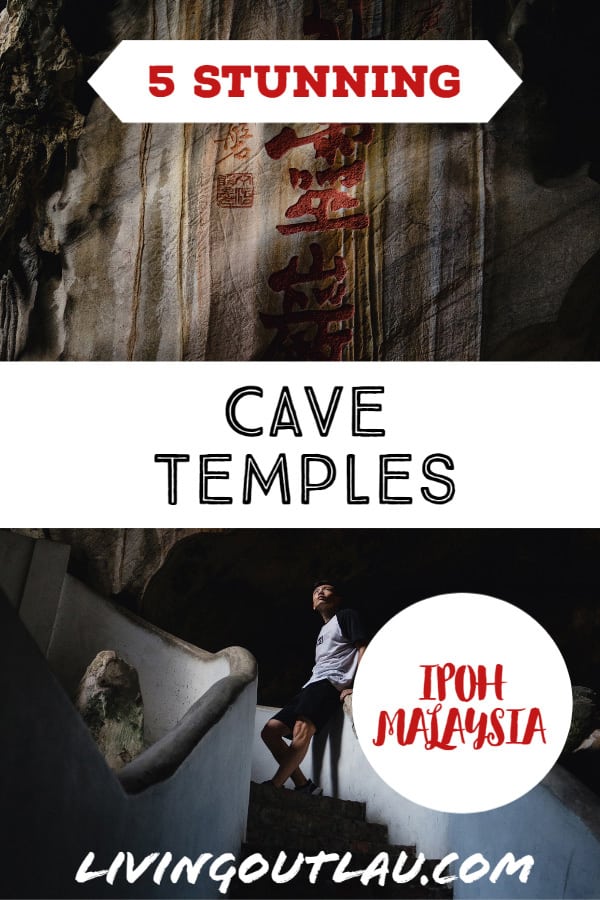 ---
This is the end of our guide on the best Ipoh cave temples! We hope you get the chance to visit some of the ones we recommended!

Any questions? Leave a comment!
Disclaimer: Some of the links above are affiliate links. That means if you book or make a purchase through the links, we will earn a small commission at no extra cost to you! The money will help run this site! Thank you!