Looking for a cheap hotel in Ipoh, Malaysia?
Luckily for you, there are plenty of affordable hotels in Ipoh. Whether you are traveling solo or with family, there is an Ipoh accommodation that is right for you.
Below we have outlined our favorite budget hotels in Ipoh. The majority of these accommodations are located in New Town or Old Town of Ipoh, which are the ideal places to stay if you want to visit the best attractions in Ipoh. Visitors also tend to stay here if they are planning to travel via the Sultan Azlan Shah Airport (Ipoh Airport).
We also outlined the best hotels in Ipoh next to the Amajaya Terminal, perfect for anyone traveling on the bus.
Without further ado, here is our list of budget-friendly hotels in Ipoh!
---
Best Budget Hotels In Ipoh, Malaysia
M Boutique Hotel is the definition of luxury and affordability. Though not one of the cheapest hotels in Ipoh, its fairly low price and great value-for-money earns it a spot on our list of cheap hotels in Ipoh.

Unlike most hotels in Ipoh that just offer you a bed and a bathroom, M Boutique Hotel is more than that. The moment you walk into this boutique hotel, you will be intrigued by its interior decor. Located in a city where houses are usually old and rustic, the contemporary design of this hotel is refreshing.

M Boutique Hotel Ipoh has 3 thematic floors and 5 different types of rooms. The three themes are The Adventure theme, The Majestic theme, and the Excelsior theme. There is a decor perfect for any traveler.

The hotel also features a gym, self-service laundry, a cafe, and the Old Town Coffee Grand, one of the best places to try Ipoh's famous white coffee.

M Boutique Hotel is unquestionably one of the best hotels in Ipoh.

Price: $$$ (Cheap, but not cheap for Ipoh)
Pros:

1. Stylish Interior Decor Not Usually Found In A Cheap Hotel

2. Free Laundry And Gym

3. Delicious Breakfast (Included For Certain Rooms)

4. Good Location (Close To Ipoh Center)
Cons:

1. A Little More Expensive Than Other Options
---
If you are looking for a standard cheap hotel in one of the best places to stay in Ipoh, then look no further. Hotel Cheqinn is located in the New Town of Ipoh, one of the prime locations for sightseeing. The Old Town of Ipoh is only about a 15-minute walk away.

If you are looking for some good food in Ipoh, Hotel Cheqinn is located on Dim Sum Street and many dining options are nearby.

The hotel itself isn't spectacular, but given the price point, you don't expect it to be. It does have the basic amenities and will guarantee you a good night's sleep. It is clean with spacious and comfortable beds. There is hot water in the shower and good water pressure. What more do you expect? 

Price: $
Pros:

1. Affordable

2. Clean and Comfortable

3. Great Dining Options Nearby
Cons:

1. 15-Minute Walk From Old Town Of Ipoh
---
D Eastern Hotel is the perfect hotel in Ipoh for anyone looking for spaciousness and affordability. Featuring 3-person triple rooms and 4-person family rooms, D Eastern Hotel targets families and groups instead of couples. Though any couples might enjoy the extra space that comes with one of their 3-person rooms.

The hotel is strategically located on the eastern side of the Kinta River, just at the entrance of the new town of Ipoh. Old Town is only a short 10-minute walk away. Plenty of amazing eateries including the famous Ipoh bean sprouts chicken rice at Lou Wong is located less than 10 minutes away. 

If you are traveling to Ipoh as a group of 3 or more, D Eastern Hotel is the ideal budget hotel for you!

Price: $$
Pros:

1. Spacious Rooms

2. Great Eateries Nearby

3. Rooms Perfect For Families
Cons:

1. No Breakfast Option

2. Only Options for 3 or More People
---
4. French Hotel
Unlike the name suggests, the French Hotel doesn't come with the French decor or luxury that it implies. However, it does come with affordability and spacious standard rooms. Here at the French Hotel, you will find a no-frills hotel for your Ipoh trip.

It is located in an amazing neighborhood in New Town surrounded by restaurants. Famous attractions in Ipoh Old Town such as the Concubine Lane is only a 10-minute walk.

The only thing that would stop me from staying here is spotty WiFi. As someone that works online, I would not advise staying at this budget hotel in Ipoh if you rely on fast WiFi.

Price: $$
Pros:

1. Free Parking Provided

2. Spacious And Clean Rooms

3. Good Location
Cons:

1. Spotty WiFi

2. No Breakfast Included
---
There are plenty of budget hotels in Ipoh, but Char Lodging Inn takes budget to another level. As you can see in the photos, the rooms are very basic. The decoration is very old-school and retro. It almost feels like the place was frozen in time.

You get what you pay for at Char Lodging Inn: 2 beds, 2 chairs, and a bathroom. It isn't necessarily a bad thing, because you are just paying for what you are using. It is the definition of value-for-money in my book.

It is also conveniently located a close 10-minute walk to Ipoh Old Town. Plenty of well-priced local restaurants are within close proximity to the hotel! 

Char Lodging Inn is the best place to stay in Ipoh if you are on a bare minimum budget.

Price: $
Pros:

1. Super Budget-Friendly

2. Great Location

3. Spacious Rooms
Cons:

1. Unstable WiFi

2. Bathroom Could Be Improved
---
Best Cheap Hotels in Ipoh Near Amanjaya Terminal (Ipoh Main Bus Station)
Amanjaya Terminal is the main bus station terminal in Ipoh. Many buses depart at Amanjaya to various destinations, including Kuala Lumpur, Penang, Cameron Highlands, and more! Chances are if you are traveling to/from Ipoh by bus, you will pass by the Amanjaya Terminal.
1. Valya Hotel
Located an 8-minute walk from Amanjaya Terminal, Valya Hotel's location cannot be more ideal. If you have an early bus ride or arrive in Ipoh late at night, the Valya Hotel is a good place to crash for a night.

The rooms are spacious and feature comfortable beds. The hotel also provides certain amenities such as shampoo, soap, towels, and etc, perfect for anyone on a short stay in Ipoh.

The nearby area is filled with restaurants, grocery stores, and even a proper shopping mall. Travelers will undoubtedly find a pleasant stay at this cheap hotel in Ipoh!

Price: $$
Pros:

1. Affordable

2. Spacious Rooms

3. Short Walk to Amanjaya Terminal

4. Great Facilities Nearby
Cons:

1. No Breakfast

2. No Parking For Guest
---
Sun Inns is one of the most recognized hotel chains in Malaysia for its affordability. The one next to Amanjaya Terminal is no exception. For as low as 13 USD (at the time of writing), you can get yourself a private room with 2 twins beds or one double bed.

Since this is a newly opened hotel (at the time of writing), many of the facilities are new and clean. The same cannot be said about this hotel a year or more from now. Some Sun Inns can be poorly maintained.

Sun Inns Meru Raya is located a 6-minute walk away from Terminal Amanjaya. For anyone that needs to catch a bus at inconvenient hours, Sun Inns Meru Raya's low price makes it one of the best, if not the best place to stay in Ipoh. 

Price: $
Pros:

1. Super Cheap

2. 6-Minute Walk From Terminal Amanjaya

3. Neighborhood Is Full Of Shops
Cons:

1. Spotty WiFi

2. No Breakfast
---
Like this post? Don't forget to save it on Pinterest!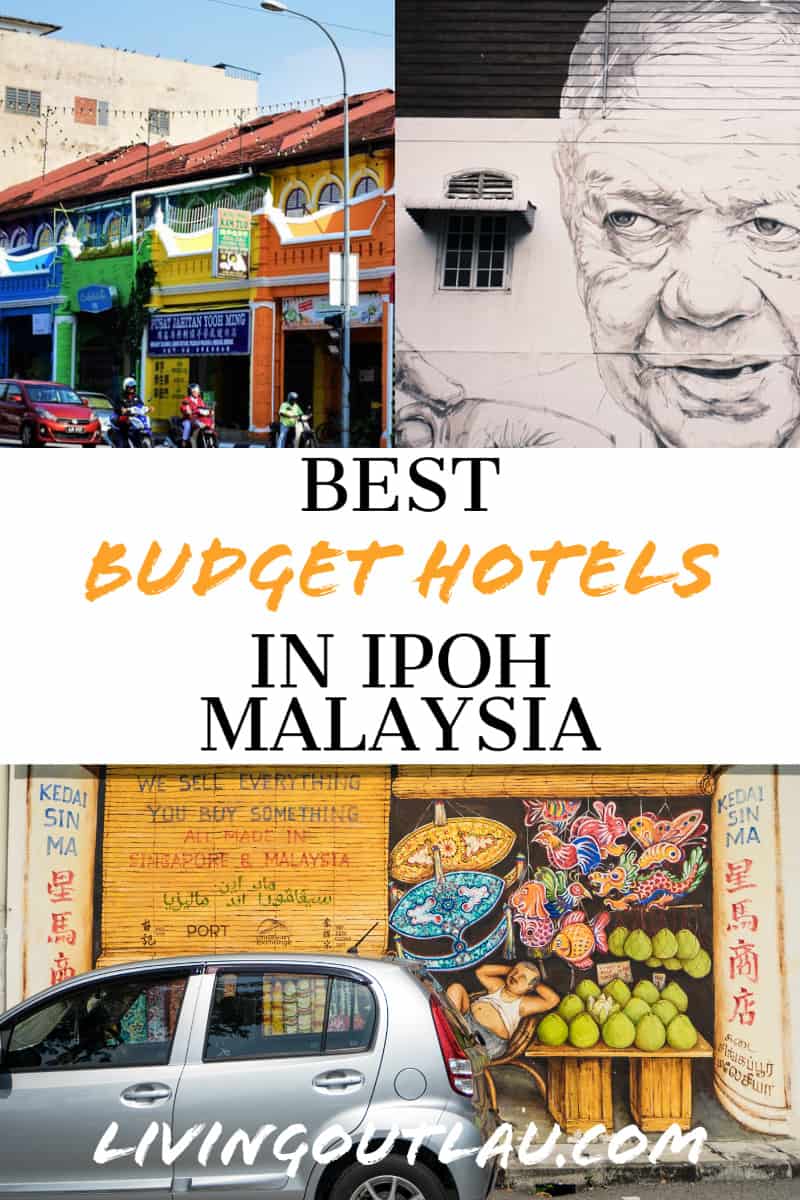 ---
Picking the perfect budget hotel in Ipoh is no easy task! I hope this list of hotels in Ipoh has given you a rough idea of which affordable accommodation is right for you!

Any question? Leave a comment!
Disclaimer: Some of the links above are affiliate links. That means if you book or make a purchase through the links, we will earn a small commission at no extra cost to you! The money will help run this site! Thank you!