Ica, a small city located 4 hours south of Lima, is often overshadowed by its neighboring towns, namely Paracas and Huacachina. While those towns do have their own unique flair, they tend to be overrun with tourists, making the prices extremely high.
Many travelers believe there are no attractions in Ica and skip the town. However, they cannot be more wrong.
Stunning oasis, beautiful oceans, desolate deserts, those are just some of the best places to see in Ica. The town itself is also one of the best places to observe local Peruvian lives and culture, something that is hard to do if you stay on the "gringo trail"
If you have just arrived and you're not sure what to do in Ica, don't worry. We have prepared a personal list of the 7 best things to do in Ica, Peru. Enjoy!
---
Attractions In Ica Peru Map
Located above is a tourist map of the best places to visit in Ica. Using this map, you will be able to properly plan your visit to Ica and suitably allocate your time. As you can see, there are many things to do in Ica but they are spread out apart.
Click on the star next to the name of the map and you can save the map onto your own personal device. This way, you can use it on your phone when planning your Ica itinerary!
---
What To Do In Ica: 7 Top Things To Do In Ica, Peru
1. See The Mysterious Nazca Lines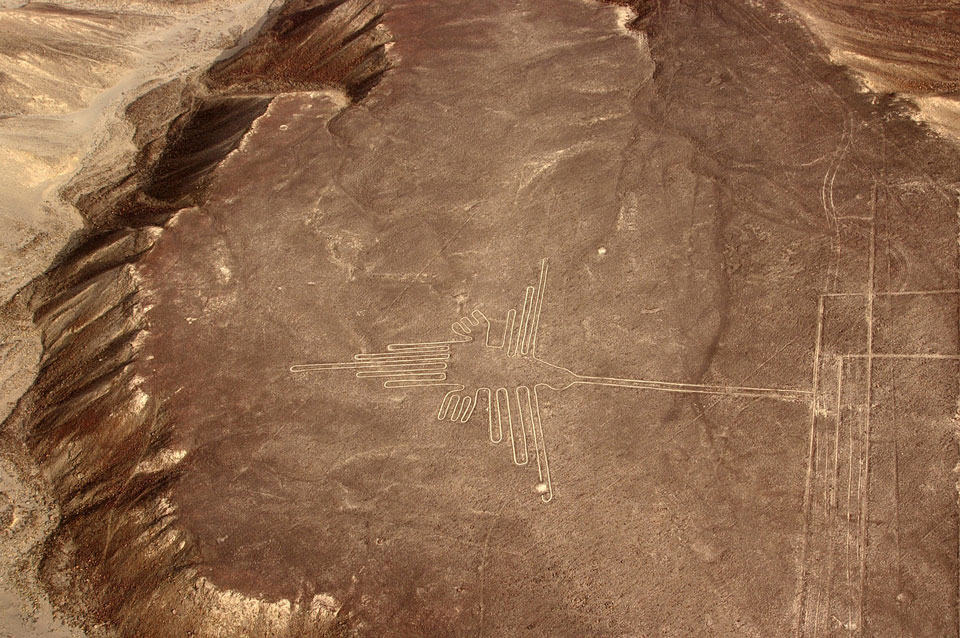 Located about 2 hours away to the southeast of Ica lies one of the biggest mysteries of the universe – the Nazca Lines. Figures of animals, plants, and various objects are drawn into the sand, covering an area as big as 50 sq km (19 sq mi).
Debates have been going on for centuries regarding the mystery of the Nazca Lines. When were they drawn? What purpose did they serve? Were they from extraterrestrial beings?
Archaeologists, scientists, and historians have been trying to determine the actual purpose of this UNESCO World Heritage Site for years. Yet to this present day, the mystery has not been solved and remains one of Peru's most famous icons.
How to Get to The Nazca Lines From Ica?
There are actually two ways to see the Nazca Lines. The best way, though the most expensive, is to see it from the air in a plane. Up in the skies, you will have the best views of the different figures. Your tour guide will also explain to you how they are made and what they believe happened here.
There are many places where you can find tour companies for Nazca Lines, in Ica, Huacachina, or Paracas. You can also find tour companies online, which is definitely much more convenient!
The other option to get to the Nazca Lines is a DIY option. If you do pick this option, you will need to take a bus from the bus station to the Nazca Lines. I recommend taking Soyuz because they are economical and clean.
Note: Soyuz is no longer in operation and has been replaced by PeruBus. We recommend checking busbud.com to find the best bus for you.
Once you arrive, you can climb the observation deck which takes you 13 meters (42 ft) up. It is not the best but you will get a good idea of what these Nazca lines are about! If you are adventurous, there are several hills nearby that offer better views from the top!
2. Explore The Paracas National Reserve (By Bicycle)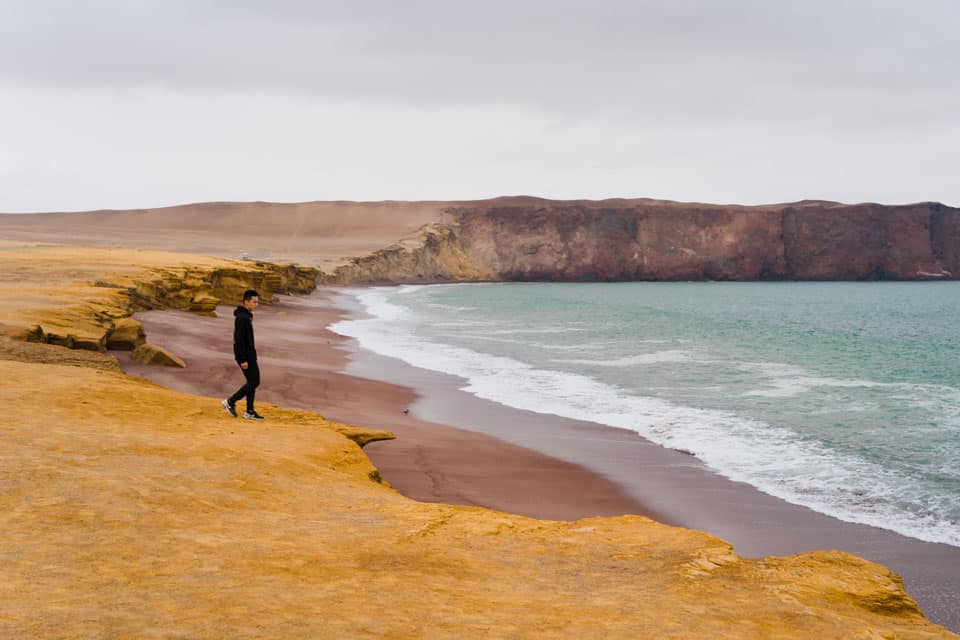 My favorite thing to do in Ica is definitely visiting the Paracas National Reserve. It is a place unlike any other place I have seen in the world, a place where the turquoise ocean meets the orange, desolate desert.
The Paracas National Reserve is a protected area of 335,000 hectares. Located in the arid zone, the Paracas National Reserve rarely gets any rain. Hence, the majority of the reserve is a desert.
You can find many tours in the town of Paracas. These tours are usually the ones that drop you off at the viewpoints, give you 20 minutes, then you get on the bus, and they take you to the other viewpoints.
If you are adventurous and reasonably fit, consider renting a bicycle and riding it across the desert.
How many people can say they have ridden a bike across a desert to reach the ocean? It is an unforgettable experience in Peru that will last a lifetime.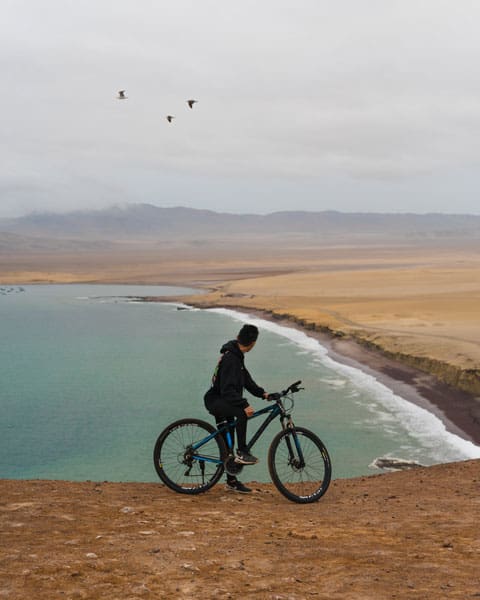 How to Get to The Paracas National Reserve From Ica?
To get to Paracas National Reserve from Ica, you will first have to get to the town Paracas. Luckily for you, Paracas is only a little more than an hour from Ica.
Many bus companies have buses that go from Ica to Paracas but I've found Soyuz (no longer in operation) to be the most economical company and their buses depart frequently.
Once you arrive at Paracas, you will see many different tour companies offer tours to the Paracas National Reserve as well as places to rent bicycles. Paracas is a small town so you will not have any problems finding them!
3. Visit The Isla Ballestas And See Wildlife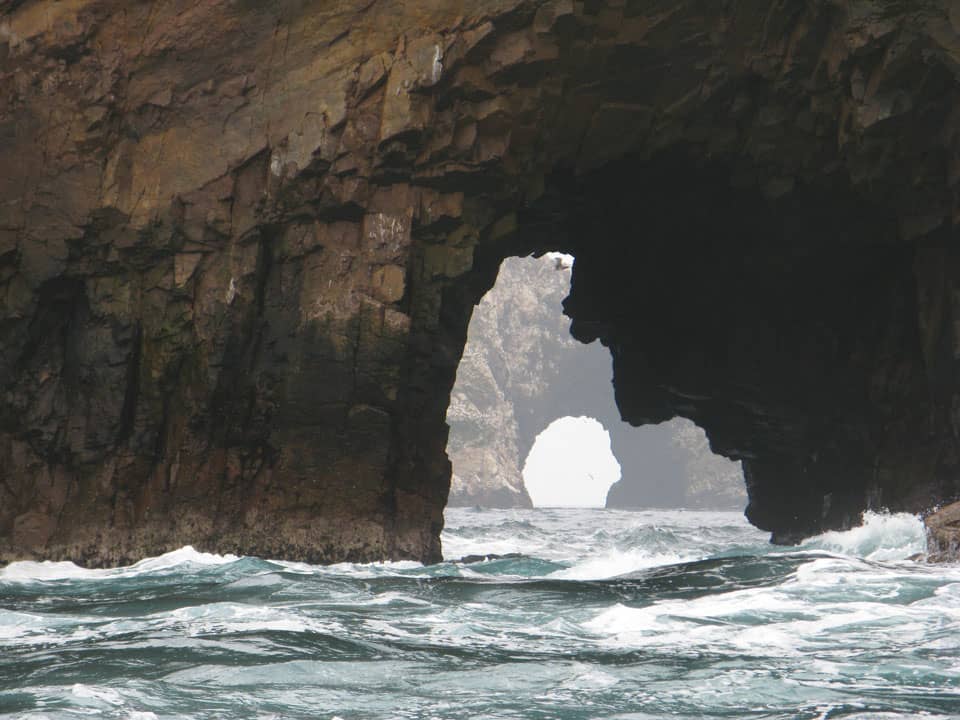 Ballestas Islands, otherwise known as the "Poor Man's Galapagos", are a group of rocky islands located 24 km (15 mi) off the coast of Paracas.
Home to many animals such as Humboldt penguins, sea lions, blue-footed boobies, and many more, the Ballestas Islands are some of the best places to catch a glimpse of the various species of wildlife in South America.
A visit to Ballestas Island will take you on a 2-hour boat journey where you will get very close to the Ballestas Islands. However, no personnel is allowed to set foot on the islands because they are protected environments. An intrusion from humans can affect such a delicate ecosystem.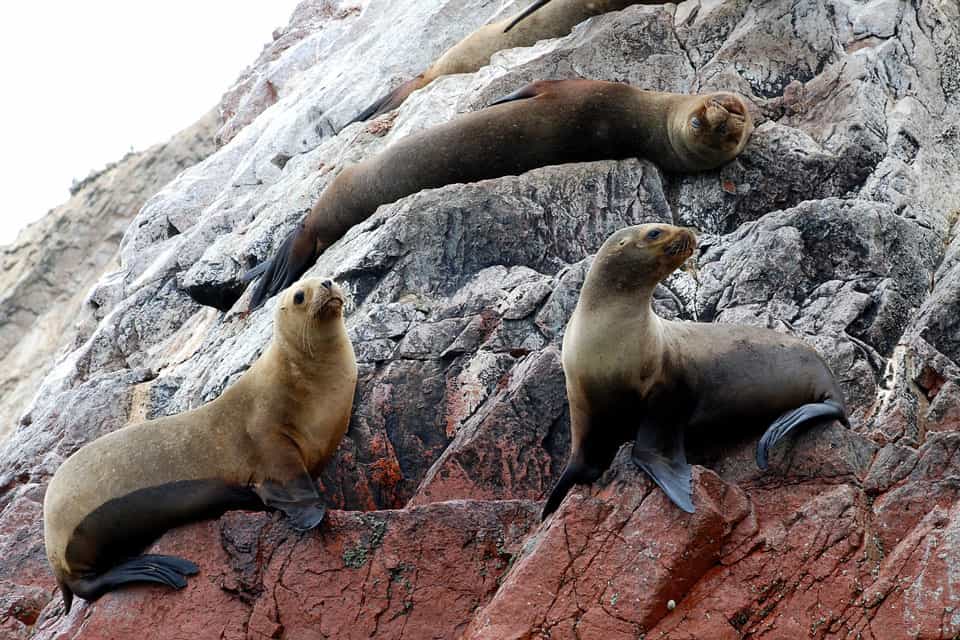 How to Get to Isla Ballestas from Ica?
All tours for Isla Ballestas leave from Paracas at either 8 AM or 10 AM. There are times where there are tours at 12 PM but that depends on the weather. You will find an ample amount of tour agencies on the main street of Paracas, the street where you will most likely be dropped off.
To get to Paracas, you would have to take a bus from any of the bus companies in Ica. I recommend Soyuz because they are economical and comfortable, and their buses depart frequently.
We recommend securing your tour beforehand, especially if you are not staying in Paracas.
4. Visit The Huacachina Oasis to Sandboard And Ride Dune Buggies (My Favorite Attractions in Ica)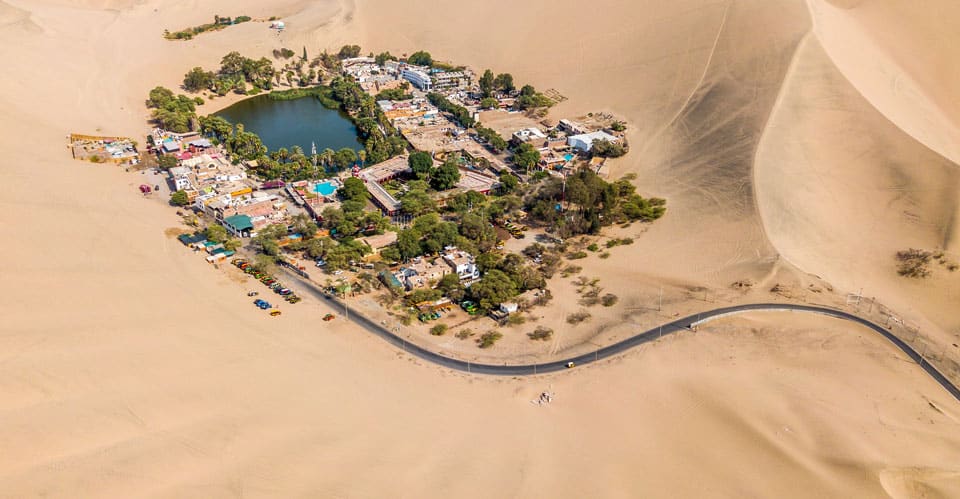 Huacachina oasis is the only desert oasis in South America and definitely one of the top things to do in Peru. After backpacking in Peru for 2.5 months, I can say I liked the Huacachina Oasis more than Machu Picchu (but the Salkantay Trek was amazing).
Connected only by one tiny road with the city of Ica, Huacachina feels like you are in the middle of the desert. You are completely surrounded by beautiful sand dunes on all sides.
Dune bashing on the dune buggies and sandboarding in Huacachina are some of the most popular activities. Tours for both can be found throughout the oasis. However, if you want a more comprehensive sandboarding experience, I recommend you rent out just the sandboard gears and do it on your own.
You can also take the sand buggy taxis as far out as you want and be in complete isolation! It is a surreal experience that must be on any Peru itinerary.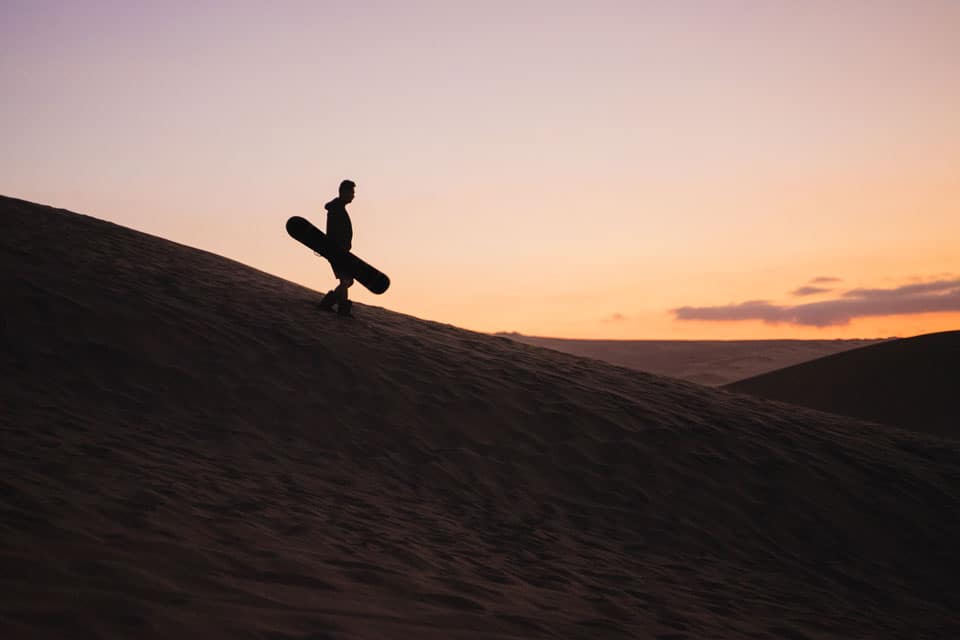 How to Get to Huacachina Oasis from Ica?
Take any mototaxi from the city of Ica to Huacachina. Mototaxis (tuk tuks) are cheap and the ride is only 15 minutes. You can also take a proper taxi but that will be more costly.
5. Go to El Catador For a Free Winery Tour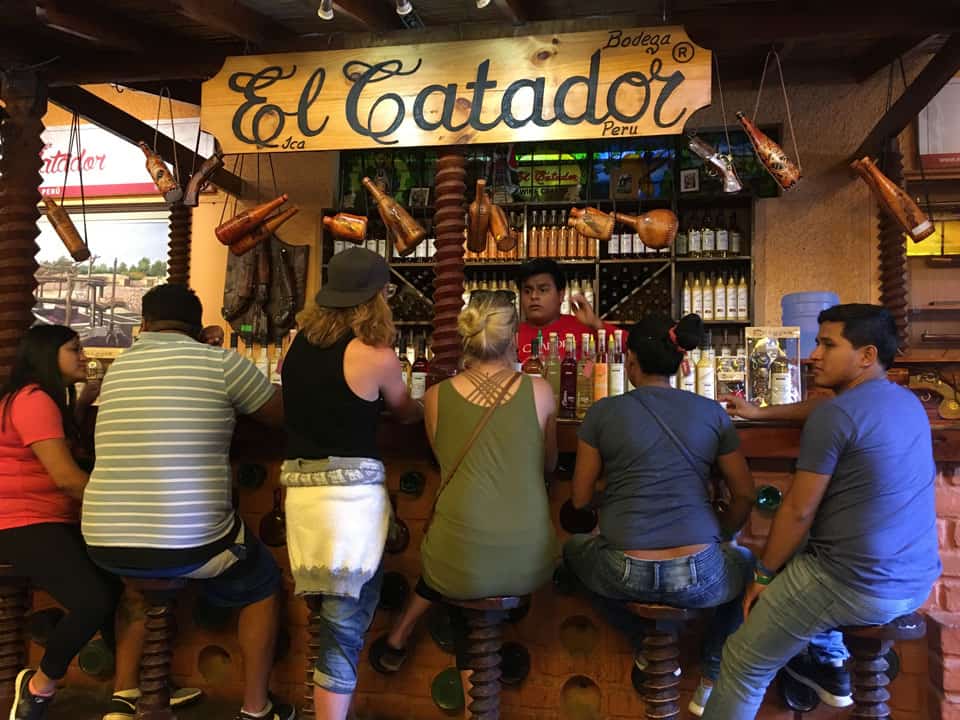 The region around Ica is one of the best places for wine and pisco production. Pisco is a liquor that originated in Peru and is one of the drinks you must try when visiting Peru.
For that reason, there are many amazing wineries in that area.
My favorite one to visit was definitely El Catador. Not only do they offer a FREE tour of their winery, but they also offer you FREE tasting at the end. That is a win-win-win situation right there.
At the end of the tour, you can purchase their exclusive types of wine with flavors you have never tasted before. Some were definitely strange but some were good. Either way, you can't complain about free alcohol!
How to Get to El Catador from Ica?
El Catador is located 15 minutes away from Ica. Take a mototaxi from anywhere in the city and the driver should be able to take you there.
6. Explore The Canyon of The Lost (Cañon de Los Perdidos)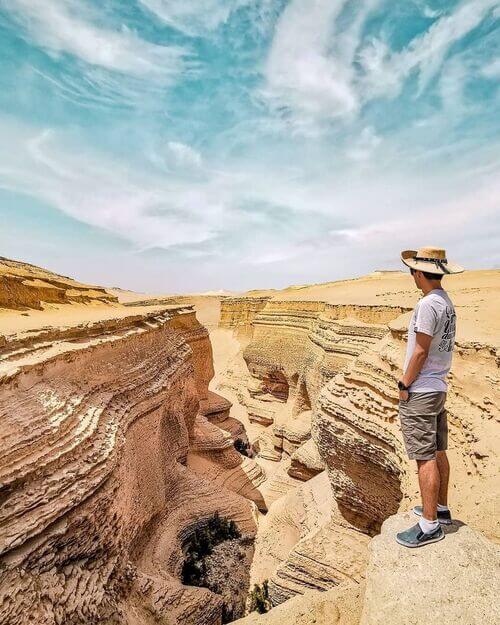 Discovered recently, Cañon de Los Perdidos (or Canyon of the Lost) is one of the best natural attractions in Ica. It is a place that won't be in most of the guide books. Located around 2 hours away by car, the only way to reach this place is either through a tour agency or a rental car.
When you visit Cañon de Los Perdidos, you will feel like you are in a desert. With nothing around you for miles, a sense of isolation rushes over you. You are alone with one of the most magical places in the world.
The geological formations of the canyon will tell you stories about what happened there many years ago. You don't want to miss this place in Ica.
How to Get to Cañon de Los Perdidos from Ica?
Cañon de Los Perdidos is located about 2 hours away from Ica. The safest way to go there is through the tour agencies located in Ica, Huacachina, or Paracas. Though it is possible to reach by yourself with your own vehicle, I wouldn't recommend doing so because you will be in a desert with no service.
7. Visit The City of Pisco (The City Named After The Liquor Pisco)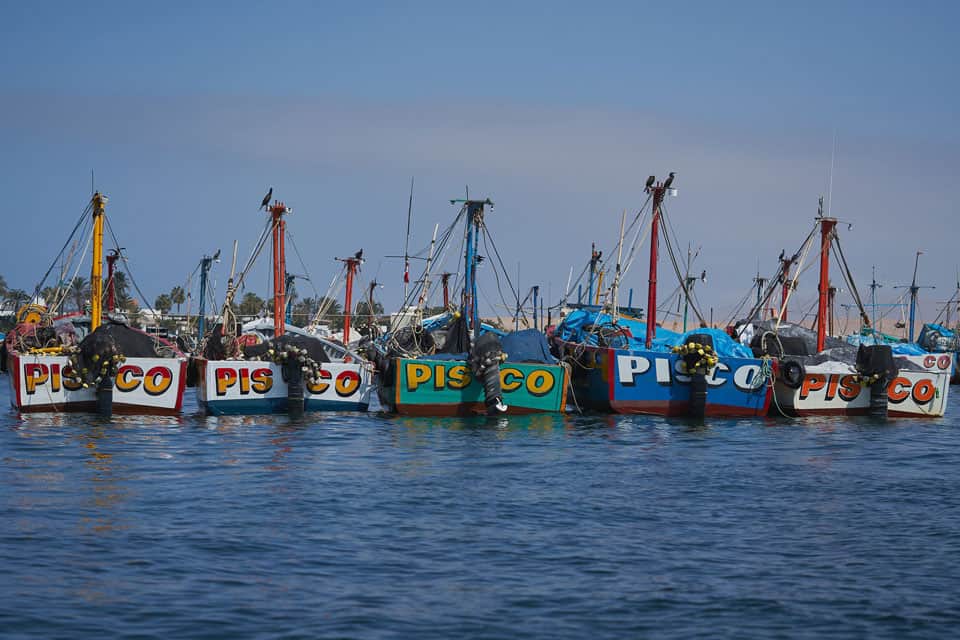 Located a little more than an hour away from Ica, a visit to the port city of Pisco is a great day trip idea. Many people that come from Lima to Ica will often pass Pisco on the way, but not many tourists actually visit Pisco.
Why? I am not so sure. The national drink of Peru, Pisco, is named after the city Pisco. You will find many stores and bars serving up some of the finest local Pisco sours.
Other than getting drunk, Pisco beach is quite a nice place to relax. If you are into archaeological ruins, pay a visit to Tambo Colorado. If you didn't get a chance to try the seafood in Lima, the ones in Pisco are good alternatives.
How to Get to Pisco from Ica?
To get to Pisco from Ica, take any bus headed towards Pisco. My favorite company for that route is still Soyuz because they are economical and have frequent departures. But since Soyuz is no longer in operation, the new PeruBus is the better alternative. You can get the ticket online here.
---
Where To Stay In Ica Peru
Some of these recommendations might be in Huacachina because of the abundance of high-quality accommodations there. To get to Huacachina from Ica, simply take a mototaxi (tuk tuk) for 15 minutes.
Best Hostel in Ica – Ica Adventures II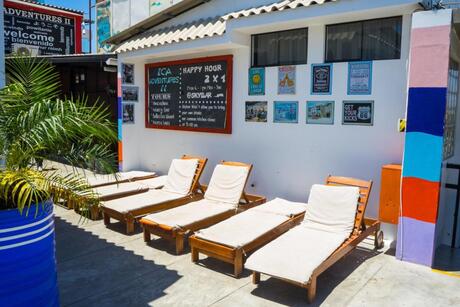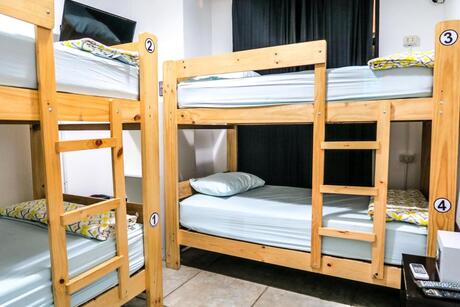 Located in the center of Ica, Ica Adventures II is a great budget accommodation with lots of local activity around. An amazing breakfast is included, the rooms are spacious and clean, the beds are comfortable, and it even has a bar on the roof. A great choice for budget travelers and backpackers.
---
Best Luxury Hotel in Ica – Hotel Las Dunas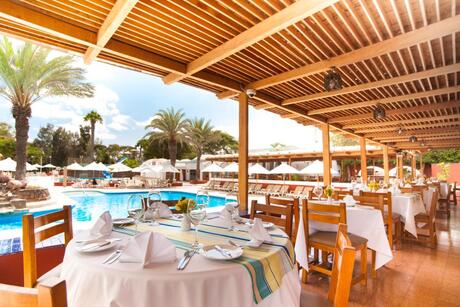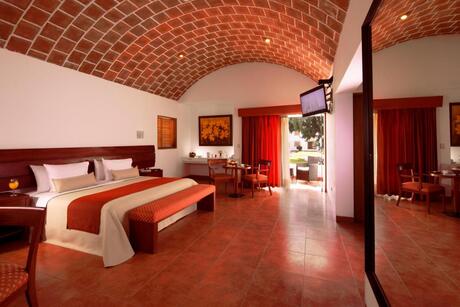 Hotel Las Dunas is like its own oasis inside Ica. 3 swimming pools, a tennis court, gym and spa facilities, and on-site bars, it has pretty much everything you need. If you have the money, I would recommend you to stay for at least one night, it is an experience you won't forget.
---
How Many Days To Stay In Ica, Peru
I recommend staying around 2 days in Ica. It all depends on what you want to do.
For example, if you only want to visit Paracas and Huacachina, you can do it in one busy day.
If you want to visit more places in Ica such as the Nazca Lines or El Catador for a winery tour, then you will have to stay for at least 2 days.
I stayed a total of 3 days in Ica when I was backpacking Peru.
---
Visiting Ica FAQs
Is Ica Worth Visiting?
Ica might be one of the hidden gems in Peru, but the city is definitely worth visiting. The city offers visitors a glimpse into the local lives and access to some of the best attractions in the region, including Huacachina, Paracas, and Nazca Lines!
Is Ica Safe?
Ica is generally a safe city, though it does have dangerous parts. But if you stay on the tourist paths and near the city center (Plaza de Armas), you are less likely going to run into trouble.
---
Like this post? Don't forget to save it on Pinterest! 🙂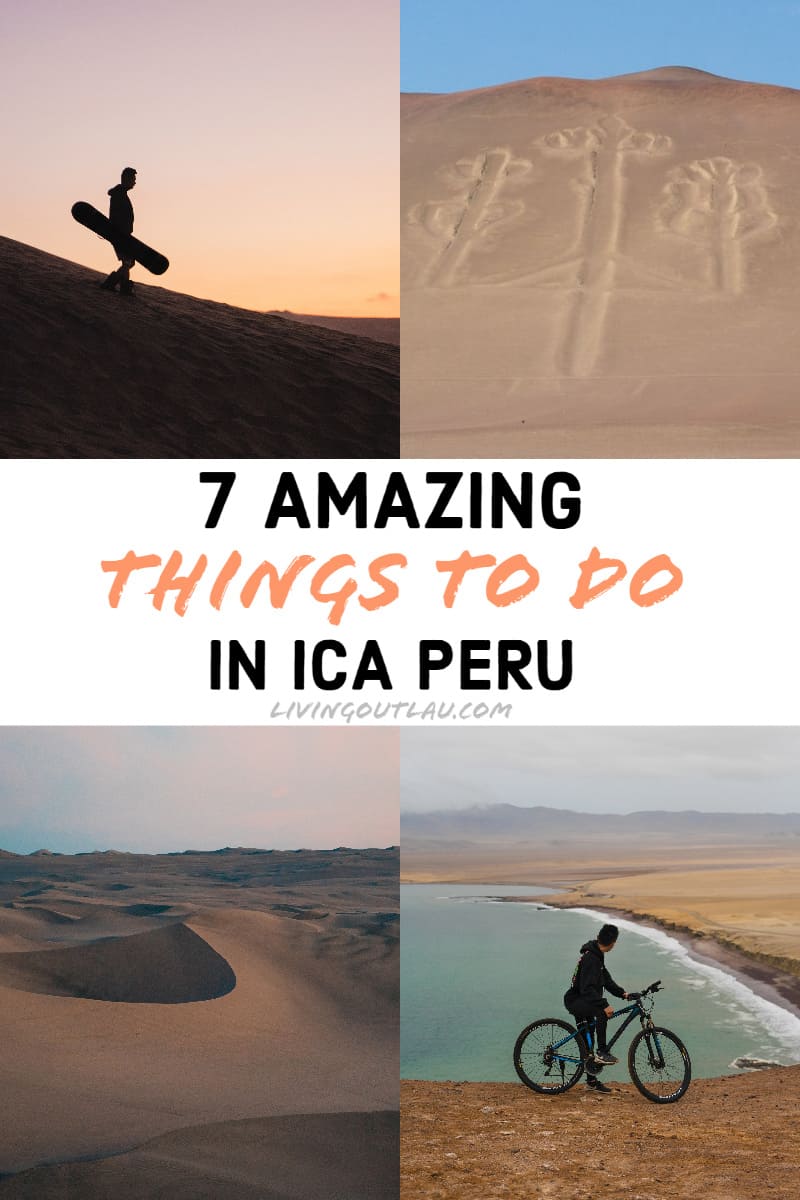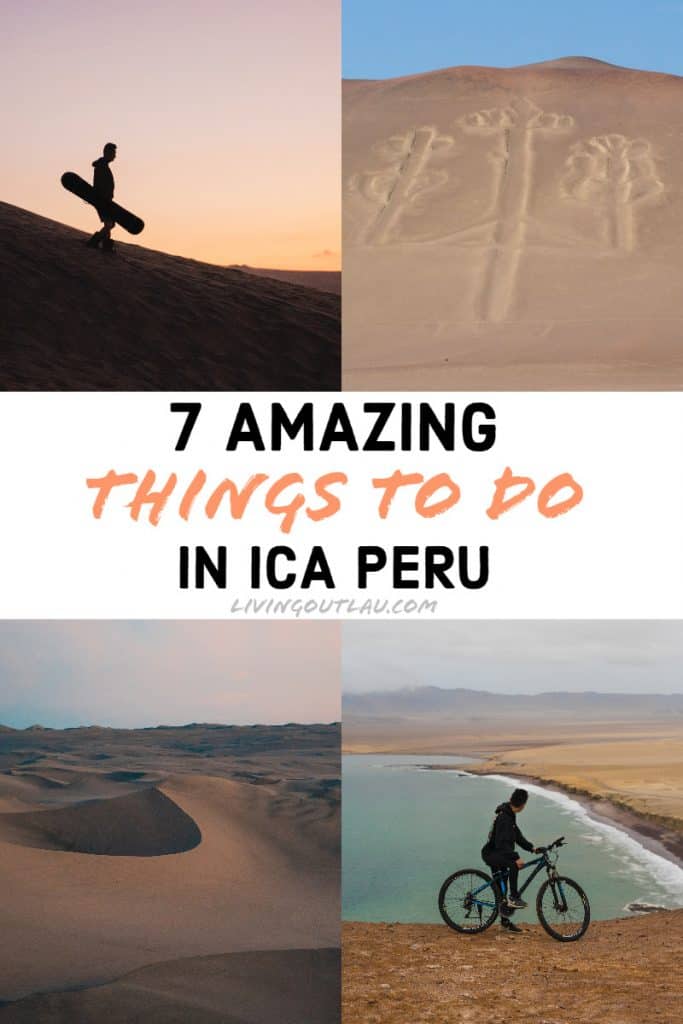 ---
There you have it, the 7 best things to do in Ica, Peru. Many travelers that immediately jump into the Huacachina Oasis miss the numerous wonderful things you can do around Ica.

Don't be one of those!

As always, if you have any questions, leave a comment or send us an e-mail!
Disclaimer: Some of the links above are affiliate links. That means if you book or make a purchase through the links, we will earn a small commission at no extra cost to you! The money will help run this site! Thank you!