There are many places to go sandboarding in Peru, but none is as famous as the sandboarding in Huacachina, home of the biggest sand dunes in South America. The huge sand dunes rise over a hundred feet in most places, making it the perfect place to enjoy not only sandboarding, but dune buggy rides as well.
In this guide, you will find everything you need to know about sandboarding in Huacachina Oasis, the dune buggies, and more!
Looking for a tour company to go sandboarding in Huacachina?
Check out our recommended tour agency here!
---
Why Visit Huacachina?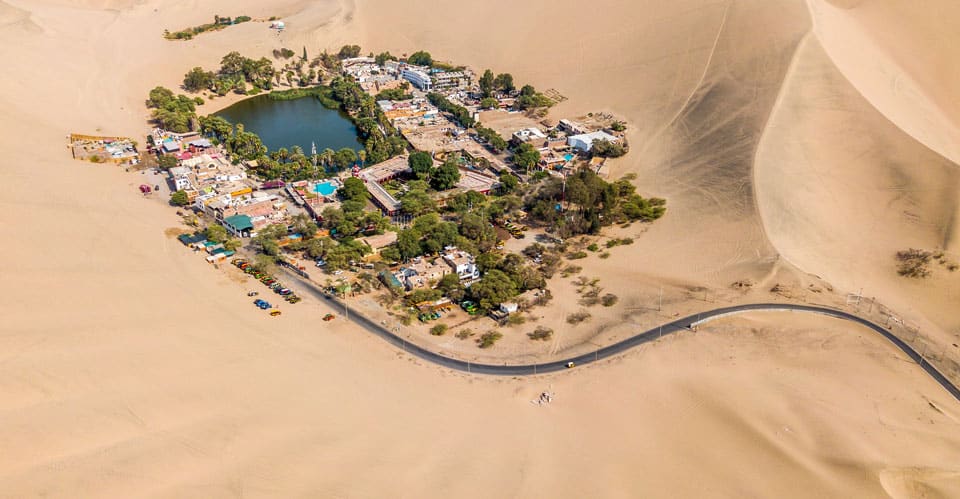 The Huacachina Oasis is the only natural oasis in South America, so the small village surrounds a small lagoon in the center of town. Historically, the lagoon was set to have medicinal waters, thus becoming a resort for wealthy Peruvians in the 1960s. Though it is not possible to swim in the lagoon, visitors can rent a paddleboat and paddle across the lagoon.
Due to the vastness and depth of the sand dunes that surround Huacachina Oasis, the most popular things to do in Huacachina are going sandboarding and riding dune buggies. The Huacachina Oasis also offers the perfect setting for a magical sunset and there are many places in town where you can capitalize on this unique view.
Lastly, since the town is popular with tourists, you will also find a thriving nightlife, which is quite rare considering that you can walk from one side of town to another in less than 10 minutes.
---
How to Go Sandboarding In Huacachina, Peru
Time to get to the best part of this guide – how do you go sandboarding in Huacachina? Huacachina sandboarding is quite easy, simply because there is an abundance of sand dunes located right outside of the village.
Usually, there are two ways you can go about sandboarding in Huacachina – renting the equipment independently from one of the rental companies in town, or going on a sandboarding tour.
Renting Your Own Sandboarding Equipment in Huacachina
Because the sandboarding tours in Huacachina only last a short amount of time, you might not be able to sandboard til' your heart's content. If you really want to fully experience the best sandboarding in Peru, then we recommend you to rent a set of equipment in Huacachina.
There are three different types of equipment you can rent:
Snowboard plus the snowboarding shoes (with the locking mechanism)
Sandboard (loose straps around your feet, not very comfortable and hard to maneuver)
Sand skis (for sand skiing, but it is rather unpopular)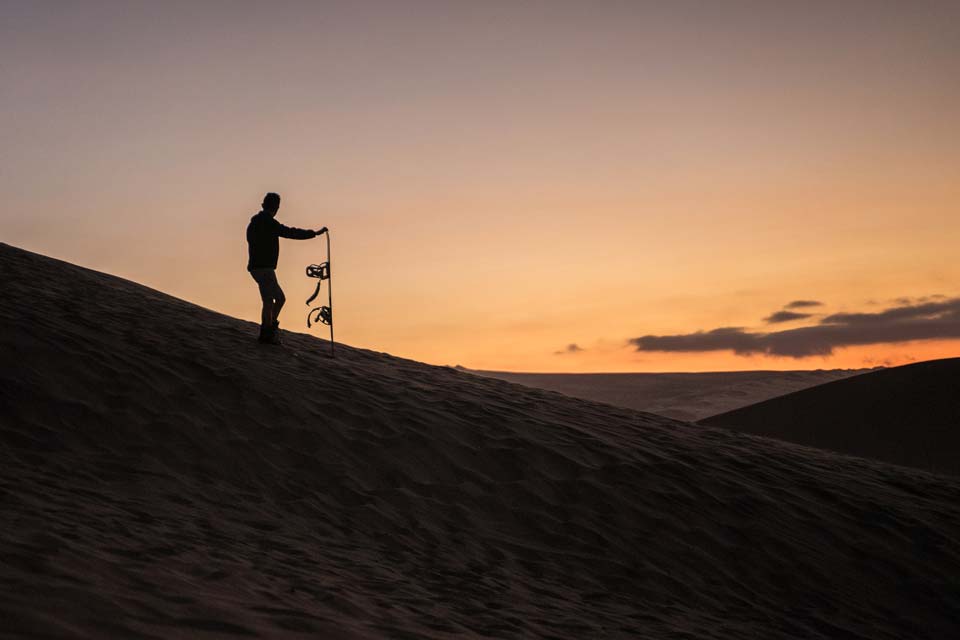 Typically, the equipment is rented by the hour or until the end of the day. We rented a full set of snowboarding gear with sandboarding boots and spent 3 to 4 hours sandboarding the dunes in Huacachina. We recommend allowing more time than you think you will need, simply because going up the dunes is very time-consuming and tiring because the sand is so soft.
All rental equipment should come with wax, so you can wax the bottom of your board to make sure your board doesn't get stuck in the sand.
The snowboard is ideal if you want to stand on your board and ride the sand dunes. But if you want to sit down or lay on your stomach and use the board as a sand sled, then go for the sandboard. Because those don't have fixed footstraps, they are much more comfortable to sit on. But just be aware that you have absolutely no control when you are sitting down or laying on your stomach.
Where to Rent Sandboarding Gear in Huacachina?
There are plenty of small shops in Huacachina that rents sandboarding gear. Since the town is so small, you won't be able to walk more than a few streets without someone asking you if you want to rent sandboarding gear or go on a sandboarding tour.
The shops aren't on Google Maps so it is hard to locate them before arriving in Huacachina. But trust us, you will have no problem renting them.
Huacachina Sandboarding Tours
There are two types of Huacachina sandboarding tours:
One that only focuses on sandboarding and is led by a professional
Another one where you know basic sandboarding but includes dune buggying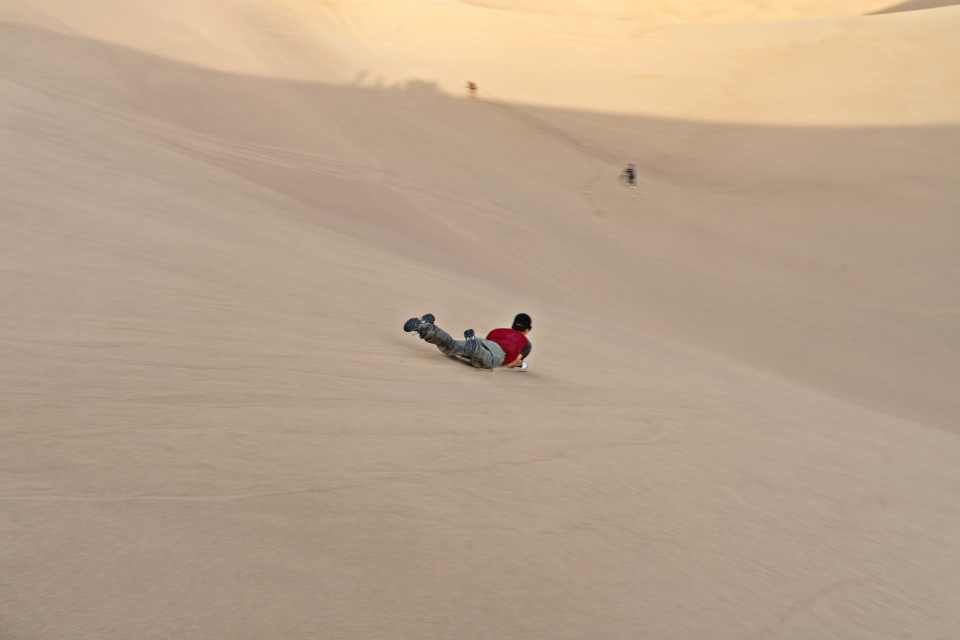 Depending on how much you want to experience sandboarding in Huacachina, you might want to choose one over the other one.
For a professional sandboarding tour, it is difficult to find a guide in person because not everyone is qualified to teach this kind of stuff. So if that is what you wish to do, then make sure you reserve your Huacachina sandboarding tour online ahead of time.
Looking for a professional sandboarding tour with a guide to teach you?
Check out our recommended tour here!
For a combined sandboarding and dune buggy tour, you can easily find them throughout Huacachina. Most tours start about 4 PM and begin with a dune buggy ride across the desert, then you sandboard down some of the higher dunes in the area, and finish with a beautiful sunset. Just know that these tours are shared and you don't get to sandboard that much.
If you are not staying in Huacachina, you can also book a tour online. We recommend going with Viator because they are well-known to be reliable and offer free cancellation up to 24 hours before the start of the event!
Looking for combined sandboarding and dune buggy tour?
Check out our recommended tour here!
---
Dune Buggy In Huacachina Oasis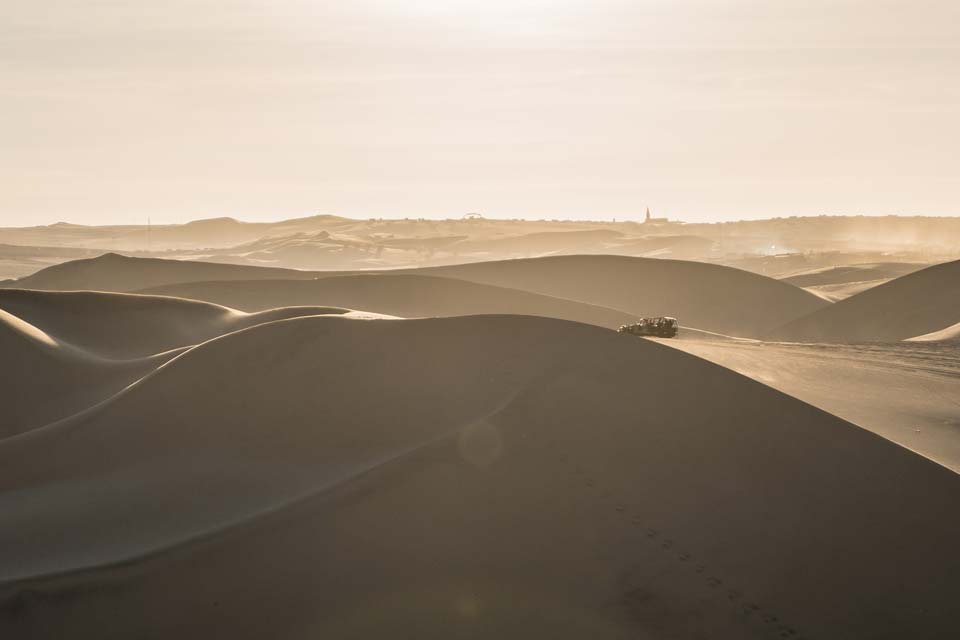 Sandboarding and dune buggying in Huacachina go hand to hand simply because the most popular tours include both of them. However, if you don't wish to do sand boarding, it is possible to strike a deal with the dune buggy operators to just go dune bashing out in the desert oasis.
The dune buggy operators are parked outside the town, and you can just walk up to them and ask how much it is to go on their dune buggies. The dune buggies are kind of like taxis for Huacachina, as they are the only means to navigate the vast desert. You can ask the driver to take you on a nice cozy ride or on a crazy adrenaline-pumping dune bashing adventure!
Just know that this will be more expensive than one of the shared dune buggy tours.
---
How To Get TO Huacachina Oasis
Huacachina is located in southwestern Peru, just west of the city of Ica. There is only one road that connects Huacachina to the outside world, and the road goes through Ica.
From Ica
Visiting Huacachina is one of the best things to do in Ica, and it is very easy to get to. From Ica, take one of the mototaxis to Huacachina (they look like tuk tuks from Southeast Asia). The journey takes about 10 to 15 minutes and costs a few Peruvian soles.
From Lima
Getting from Lima to Huacachina is a little bit more complicated, simply because it takes 4 hours to get there from Lima. First you must take a bus from Lima to Ica, and then a mototaxi from Ica to Huacachina.
There are two companies that operate the Lima to Ica route: the new PeruBus and Cruz del Sur. We recommend PeruBus because it's cheaper, though a little bit more basic when compared to Cruz del Sur.
Find out more about the buses from Lima to Ica here!
Because it takes so long to Huacachina from Lima, it is hard to do a day trip. If that is what you wish to do, we highly recommend that you go with a tour company. We recommend this tour from GetYourGuide because it includes a visit to the nearby Ballestas Islands where you can see plenty of wildlife! You can also cancel up to 24 hours before your tour for free!
From Paracas
Getting to Huacachina from Paracas is easy, simply take a bus from Paracas back to Ica. Then from Ica, you can take a mototaxi to Huacachina. Paracas is located about 72 kilometers from Ica, so the entire journey takes about 1.5 hours.
From Cusco
Getting from Cusco to Huacachina is not easy. Cusco is located on the other side of the country, so your best bet is to either take a long-distance bus to Ica (you might have to transfer in Lima) or fly to Lima and then take a bus to Ica. Once you are in Ica, take a mototaxi to Huacachina.
In other words, it is a huge endeavor to get to Huacachina from Cusco. You can use services like Peru Hop to make your life easier, but they are quite costly.
---
What To Wear For Sandboarding In Huacachina, Peru
Though sandboarding in Peru looks fun, there are proper things you must wear to protect yourself. Here is what we recommend:
Sun protection – Put on some sunscreen and protect yourself against the strong desert heat and sun.
Long sleeve shirt and pants – Protects you against the sun and sand rash when you fall off the board.
Goggles – This is optional but we had so much sand fly into our eyes when sandboarding. We wish we had some goggles.
Long socks – This is especially important if you are renting sandboarding shoes.
Closed-toe shoes – They are perfect for stopping the sand from hurting your feet, especially if the sand is scorching hot.
---
Best Time of The Day To Go Sandboarding In Huacachina Peru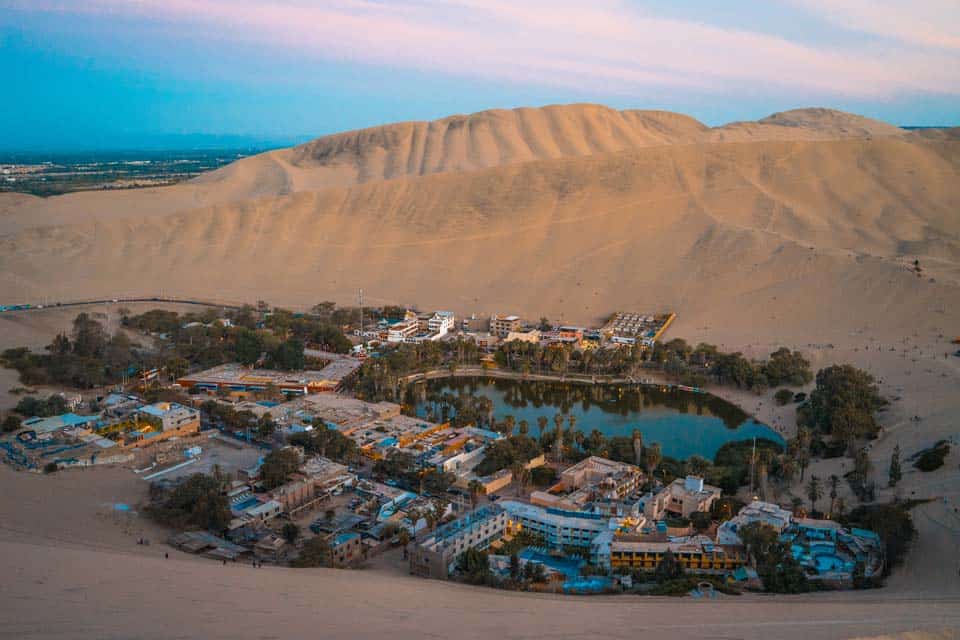 The best time to go sandboarding in Peru, in general, is when the sand isn't so hot. That means either early in the morning or late in the afternoon around sunset. We went 2 hours before sunset and went towards the side where the sun wasn't beaming on for the entire afternoon.
The sand was the perfect temperature and we even got to watch the sunset as we were sand boarding!
---
Where To Stay In Huacachina
Huacachina is a small village so there are very limited accommodations. Do not expect amazing luxury hotels in Huacachina. If that is something you are looking for, we recommend staying in Ica instead, where you will find more luxurious hotels.
Best Hostel in Huacachina – Banana's Adventure Hostel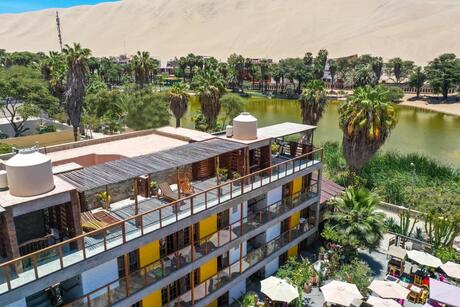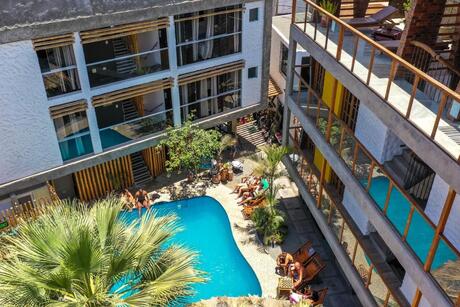 Banana's Adventure Hostel is the highest-rated accommodation in Huacachina and it is not difficult to easy why. With clean and spacious rooms, a nice bar, and lounge areas, guests can have a comfortable and relaxing stay there. This Huacachina hostel is very easy to meet other travelers, as everyone just congregates near the pool and bar area.
Everything is turned off at 10:30 PM, so you can get some good sleep if you want to!
Best Hotel in Huacachina – Hotel El Huacachinero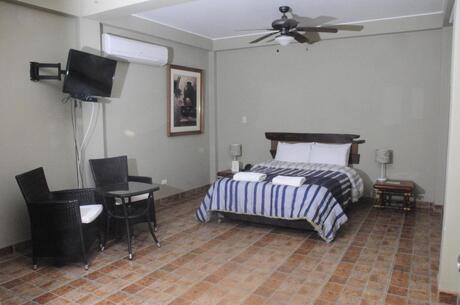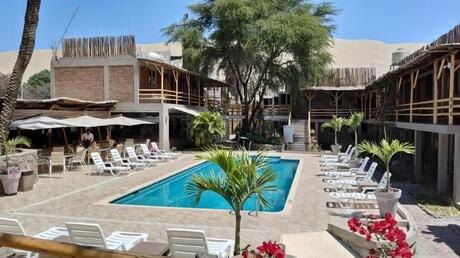 Hotel Huacachinero is one of the nicest hotels in Huacachina, yet its amenities are still very basic. For the price you pay, you will find yourself in a small and cozy private room with a comfortable mattress. There is not much to brag about the rooms.
The highlight of this hotel is unquestionably the pool area, and it is this part where you will be spending most of your time. This hotel has a massive pool that overlooks the giant sand dunes in Huacachina. The views cannot be any more epic.
---
Other Places To Go Sandboarding In Peru
Though Huacachina is arguably the best place to go sandboarding in Peru, it isn't the only place. The coastal desert region of Peru has plenty of sandboarding opportunities. The two other popular locations to sandboard in Peru are:
Cerro Blanco Dune
Laguna de Conache
Cerro Blanco Dune is one of the most impressive attractions in Peru. At 3,880 meters high, it is one of the world's tallest sand dunes. A visit to this usually includes a hike to the top of the sand dune where you can have expansive views of the Nazca Valley, followed by a sandboarding experience from the top to the bottom!
Laguna de Conache is a lake located about half an hour away from the city of Trujillo near northern Peru. The dunes that surround the lake are perfect for sandboarding, though they are not as big and expansive as the dunes in Huacachina. Worth a visit if you have a long Peru itinerary.
---
Huacachina Sandboarding Peru FAQs
How much is sandboarding in Huacachina Peru?

Depending on what type of sandboarding experience you wish to have, the prices can vary. Typically, sandboarding in Huacachina isn't expensive, and you can find tours for less than 25 to 35 USD.

How much is a dune buggy tour in Huachina Peru?

A dune buggy tour that includes dune bashing and sandboarding is quite cheap. Depending on where you get your tour, you can find one for no more than 25 to 35 USD.

Where can you sandboard in Peru?

The best place to sandboard in Peru is Huacachina, a desert oasis surrounded by massive dunes. There are other places you can go sandboarding in Peru, such as Laguna de Conache and Cerro Blanco Dune.
---
So that is how you can go sandboarding and dune buggying in Huacachina, Peru! If you have any questions, please don't hesitate to leave a comment below!
Disclaimer: Some of the links above are affiliate links. That means if you book or make a purchase through the links, we will earn a small commission at no extra cost to you! The money will help run this site! Thank you!