Guatemala is a country surrounded by amazing Mayan Ruins, beautiful colonial towns, and spectacular volcanoes. Though some of them could be dangerous, such as Volcano Fuego and its deadly eruption in 2018, many of them are rewarding hikes.

Hiking Volcano Pacaya is a family-friendly activity that you can do in Antigua with your kids. It is a great way to keep them active while showing them the beautiful nature of Guatemala.

Without further ado, below is our guide on the Volcano Pacaya hike and what you need to know before you climb it!
Hiking Volcano Pacaya In Antigua Guatemala
Volcano Pacaya is one of the easiest volcanoes you can hike in Guatemala and should be on any Guatemala itinerary. It could definitely be used for training for other hikes in Antigua such as the Volcano Acatenango hike.

But just because it is easy doesn't mean it is unrewarding. If you hike Volcano Pacaya, you have a chance to see lava coming out of the volcano, roast your own marshmallows with the volcano's lava, and get amazing views of the Guatemala landscape.

If you take the afternoon tour, you will be rewarded with an incredible sunset as you descend Pacaya Volcano.
Difficulty Of Volcano Pacaya Hike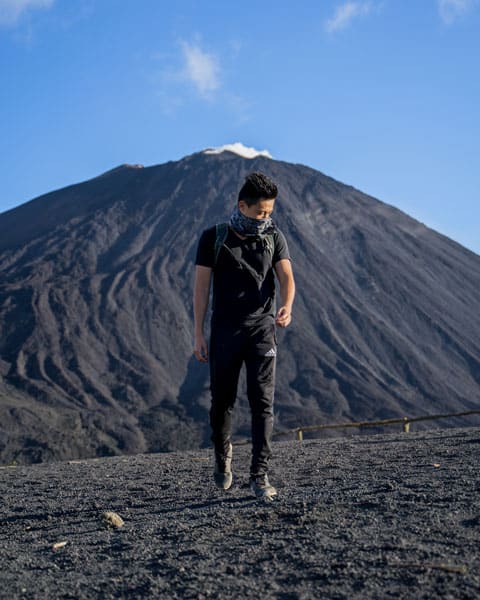 Just because it is a volcano doesn't mean it is a difficult hike. I would rate the volcano Pacaya hike a Medium-Easy difficulty. It is about a 2-hour hike to reach the top where you roast some marshmallows and then head down.

The total time is around 4 hours for the entire trip. There are horses you could rent at the bottom of the hike that will take you up, as well as kids selling walking sticks.

The top of volcano Pacaya is at an elevation of ~2500m, so you might feel a little more tired than usual.
Tours can be easily found in the city of Antigua in Guatemala. There are plenty of travel agencies on the streets and you shouldn't have any difficulty finding them.

Hostels and hotels also offer tours as well, but they tend to be a little more expensive than the travel agencies on the street (reasonably so).

All travel agencies seem to have the same package so just try to find the cheapest.

If you can afford to, we recommend doing the sunset hike instead of the day hike. The views are much better on the sunset hike.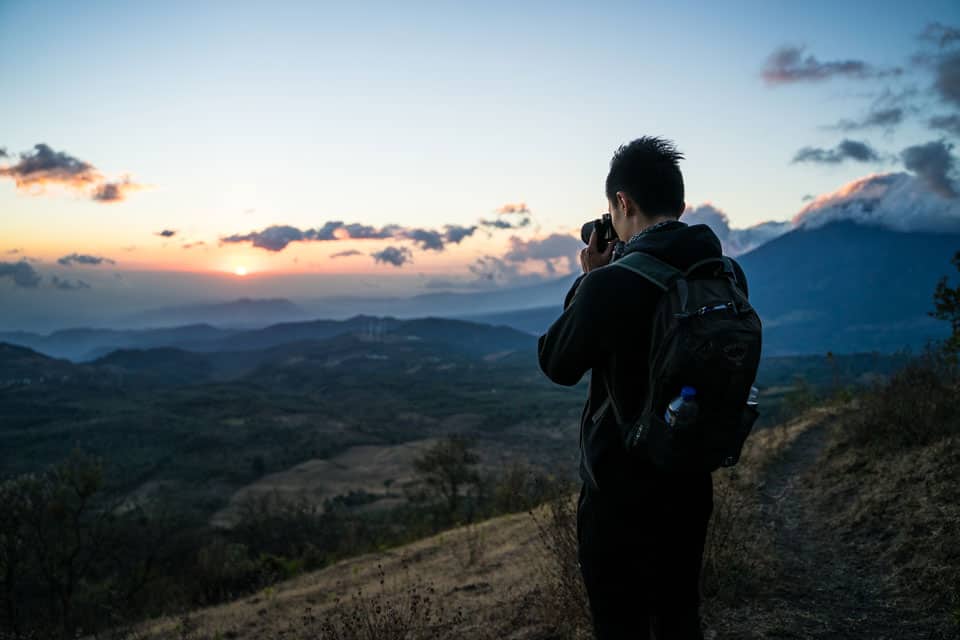 What To Bring On Your Volcano Pacaya Hike
1. Sunscreen.  Don't be one of those tourists walking around Guatemala with a terrible sunburn!

2. Rain poncho or raincoat. Weather can change quickly when you are up in the mountains. Pack one for safety.

3. Money!! 50Q for entrance and in case you want to rent horses or buy walking sticks! There is also a lava shop at the top that sells souvenirs and refreshments but it is not always open.

4. Food/Snack/Water. Pack accordingly, you shouldn't need too much. 1-2L of water should be enough.
Our Experience Hiking Pacaya Volcano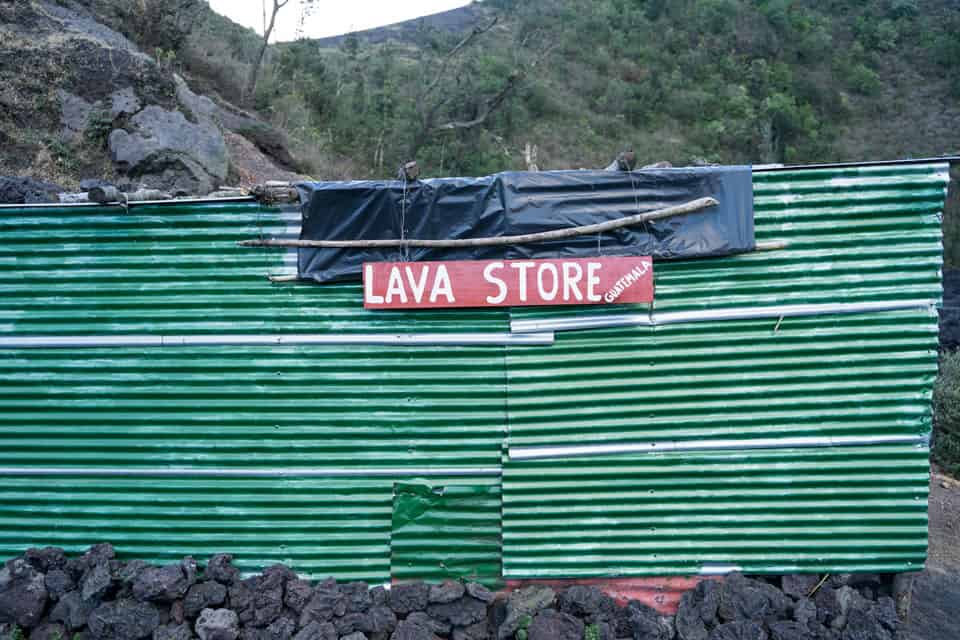 Hiking Volcano Pacaya was definitely a lot easier than I expect.

Our tour company picked us up in our hostel in Antigua and drove 1.5 hours to the start of the hike.

As soon as we got off the van, we were bombarded with kids trying to sell us walking sticks.

They didn't know anything in English but they knew the word "stick". Many visitors bought the stick but we opted out.

We paid the 50Q entrance fee and promptly started the hike up. It was about 10-20 of us with a tour guide in the front, telling us about Guatemala and the different species of floras and animals in the region.

We arrived at the top after approximately 2 hours of hiking, where we roasted marshmallows from the underground lava (Guatemala bucket list checked!). We did see a little bit of lava rolling down the side of Volcano Pacaya, I guess luck wasn't on our side that day.

There is also a lava store that sells souvenirs, jewelry, and replenishments. However, it was closed during our visit. Maybe it is only opened on the weekends.

After that, we descended on the other side of Volcano Pacaya and watched the magical sunset dramatically illuminate our way. By the time we reached the bottom, it was already completely dark.

We hopped on our transportation van and headed back to Antigua. We arrived in Antigua at 8:30 PM.
Where To Stay In Antigua, Guatemala
Best Hostel In Antigua – Adra Hostel
Adra Hotel is one of my favorite hostels in Antigua, Guatemala. Its dormitory rooms are huge and each bed has a comfortable mattress. Each bed is also equipped with a socket and a plug, so you can read a book or go on your laptop in your bed!

If you want to get some sun inside, their outdoor courtyard, as well as the rooftop terrace, are some of the best places to chill in Antigua! Locals from Antigua like to come to Adra Hostel and order a drink from the cafe and just relax!

Click here for more details!
Best Airbnb in Antigua – Colonial Style Residence w/ Courtyard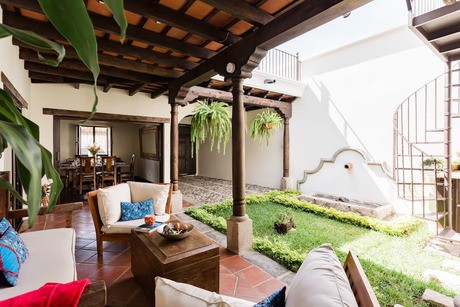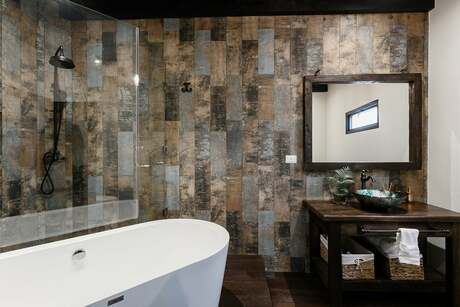 (Images Courtesy of Airbnb)
If you are looking for a homey accommodation featuring a fully-equipped kitchen, then consider this colonial-styled Airbnb in Antigua. Featuring amenities such as a private courtyard and gorgeous living spaces, guests can have the most relaxing vacation ever.

After your arduous hike, come back and soothe your aching limbs in their bathtub or jacuzzi, both of which will make you feel like you are on cloud nine. This Airbnb's 3 bedrooms can comfortably accommodate up to 6 guests!

Click here for more information!
Best Luxury Hotel In Antigua – Hotel Palacio de Dona Beatriz
Hotel Palacio de Dona Beatriz feels like its own city within a city. The moment you step in, you are mesmerized by the Spanish-influenced colonial architecture in this luxury hotel. Their swimming pool, walls, and all the facilities are carefully designed. This is the perfect place to relax after a day at Volcano Pacaya!

Click here for more details!
Like this post? Don't forget to save it to Pinterest! 🙂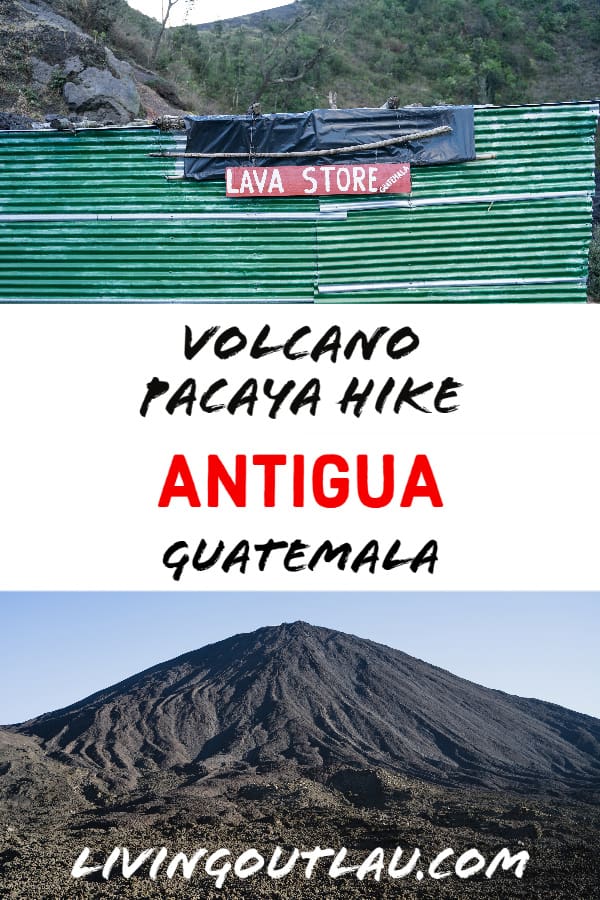 That's the end to our guide for hiking Volcano Pacaya. I hope you have everything you need to know for your hike now! Have you hiked Volcano Pacaya? Let us know in the comments!
Disclaimer: Some of the links above are affiliate links. That means if you book or make a purchase through the links, we will earn a small commission at no extra cost to you! The money will help run this site! Thank you!