Not sure what to do in Guatemala? We are not surprised.

Guatemala, one of the least-visited tourist destinations in the world, is filled with wonders from rainforests to volcanoes. Unfortunately, many of the best things to do in Guatemala are still unknown to travelers.

Honestly, if I haven't spent 2 months backpacking Guatemala, I wouldn't be able to discover Guatemala's true wonder and beauty.

But now after my trip, I can say I have seen a good part of Guatemala and I am ready to share with the world some of the best places to visit in Guatemala. Without further ado, this is the ultimate Guatemala bucket list!
---
Guatemala Bucket List: 21 Best Things To Do In Guatemala
1. Hike Volcano Acatenango and Watch Volcano Fuego Erupt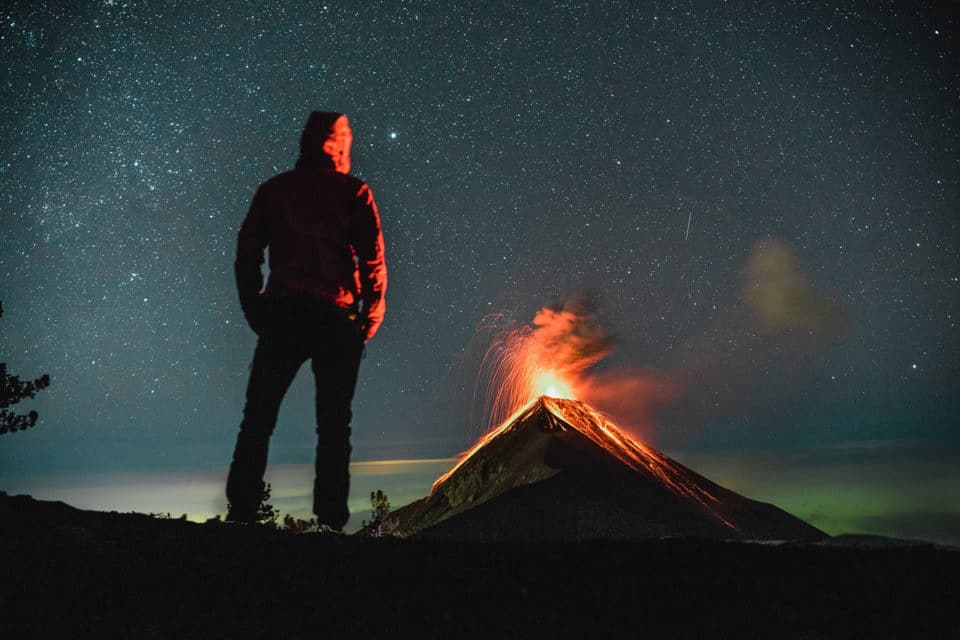 Want to see an active volcano erupt and be alive to tell your friends about it? Then you must come to Guatemala. Hiking Volcano Acatenango is one of the top Guatemala tourist attractions because you get to see the nearby Volcano Fuego erupt.
Not only do you get to see it erupt, but you also camp a few kilometers away from it and hear it erupt every 30 minutes throughout the night. It is one of the most surreal experiences I have ever had while traveling.
If seeing a volcano erupt is one of your bucket list ideas, then you must visit Volcano Acatenango in Antigua.
But before you go, make sure you have all the proper preparations for the Volcano Acatenango hike!
2. Admire the Guatemala Landscape at Cerro de La Cruz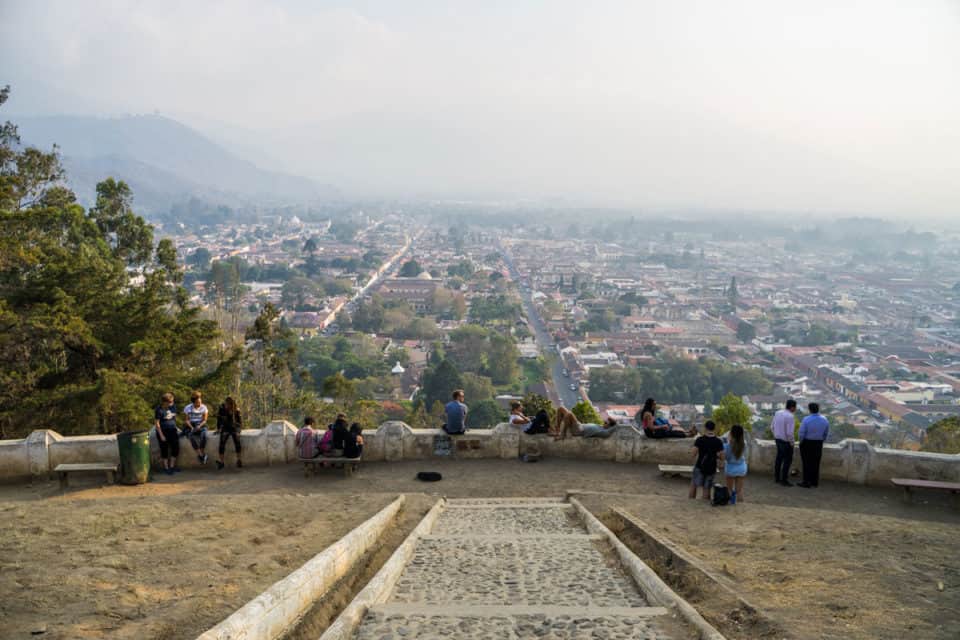 Cerro de La Cruz is the most famous viewpoint in Antigua Guatemala. On a good sunny day, you should be able to see Volcano Agua majestically overlooking the entire city (we didn't get lucky as you can see from the photo).
And on a really good day, you should see Volcano Acatenango and Fuego as well.
Being only a short walk away from the center of Antigua, it is one of the best things to do in Antigua when you first arrive. It will give you a better understanding of this ex-capital of Guatemala!
3. Visit a Cemetery For Fun!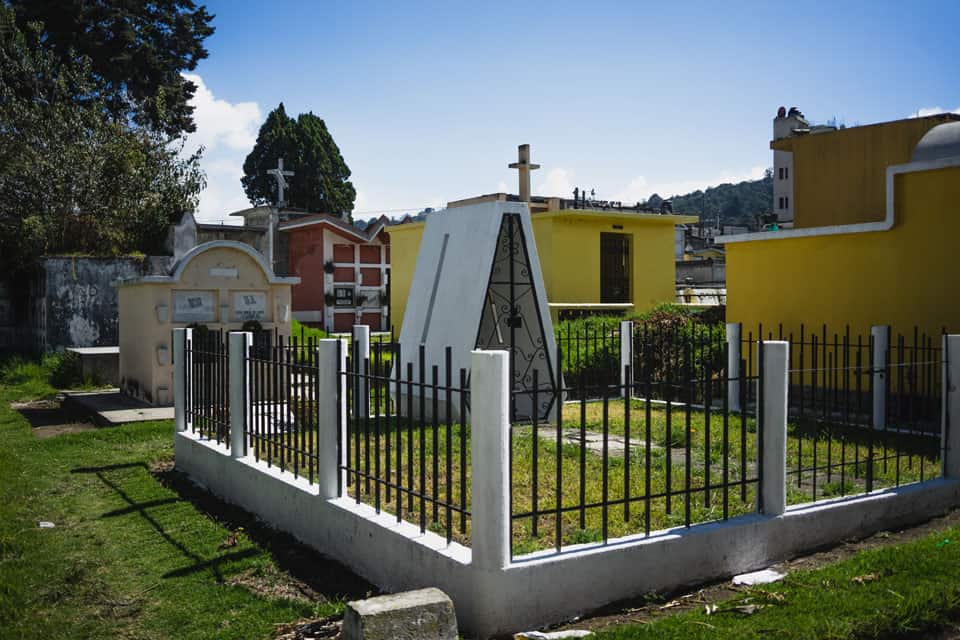 Did you know cemeteries are big attractions in Guatemala? Neither did we. Apparently, Guatemala celebrates death similar to the way Mexico does. This custom can be easily seen during important events such as the Day of the Dead.
They believe that death is a part of the cycle of life and it should be celebrated as well as mourned. As a result, many of these cemeteries, especially the ones in Chichicastenango and Quetzaltenango (Xela), are well decorated.
When I visited my first cemetery in Guatemala, I thought the tombstones were statues or some uniquely designed buildings. Never did I think they were actual graves.
To this day, this huge difference in culture between Guatemala and the western world surprises me.
4. Hike Indian Nose at Sunrise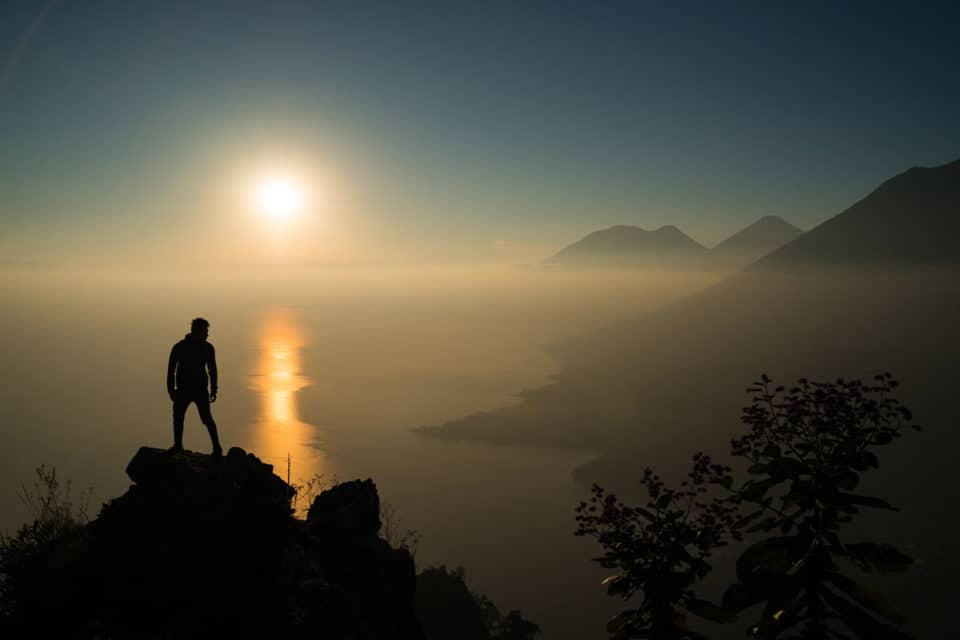 If you are into watching epic sunrises on top of gorgeous mountains, hiking Indian Nose is a must-do in Guatemala. Located in Lake Atitlan, Indian Nose is one of the best hikes in Guatemala.
At the beginning of your sunrise hike, you are in complete darkness. Illuminated by nothing but the moon and your phone's flashlight, you cautiously make it up to the top of the Indian Nose.
One by one, the volcanoes of Guatemala are lit up: San Pedro, Agua, Acatenango, Pacaya, and so on. It was such a surreal experience and I suggest you don't miss it!
In fact, we liked it so much that we think it is the best hike to do in Lake Atitlan.
5. Relax at Jorge's Rope Swing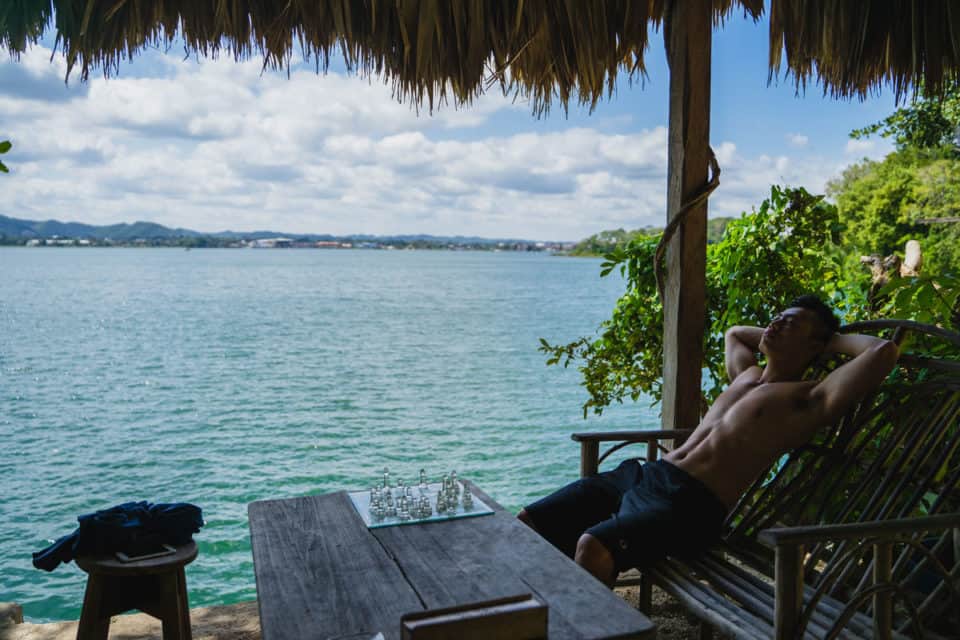 We didn't know of Jorge's Rope Swing when we first arrived at the island of Flores. We were exploring the town of Flores and since it isn't so big, we were quickly running out of things to do in Flores.
Luckily for us, we met a local that told us about Jorge's Rope Swing. Being skeptical at first because we were in Guatemala and usually recommendations from locals go 50/50. 50 percent good and 50 percent a scam.
We are so glad we listened to him because Jorge's Rope Swing became one of our favorite places to visit in Guatemala.
It is a place with rope swings, a platform to jump into the lake from, hammocks, and places where you can relax, eat and drink, or just swim. Jorge's Rope Swing has an activity for everyone!
Don't miss Jorge's Rope Swing when you are in Flores!
6. Hike Volcano Santa Maria and See Volcano Santiaguito Erupt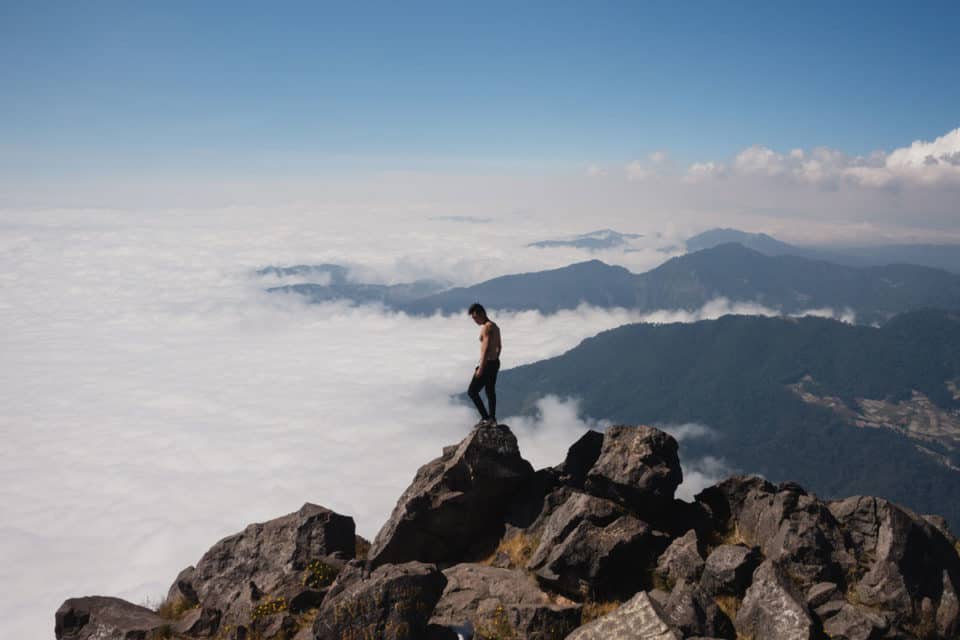 Santa Maria is one of the 37 volcanoes in Guatemala, with some of them being active (such as Volcano Fuego). Luckily, Santa Maria is not one of the volcanoes that are active. However, if you climb Volcano Santa Maria, you will be able to see the nearby Volcano Santiaguito, an active volcano that spews out smoke and lava daily.
The timing for Santiaguito to erupt is quite sporadic. We waited 2 hours at the top just to see it erupt but it didn't. If you really want to see a volcano erupt, then you should definitely hike Volcano Acatenango (No.1 on the list).
Though there's a possibility you won't see Volcano Santiaguito in action, the hike to the top of Santa Maria is rewarding enough to warrant its place on this list. Best thing? You can do it all by hike Volcano Santa Maria by yourself for less than 1 USD.
7. Roast Marshmallows With Lava at Volcano Pacaya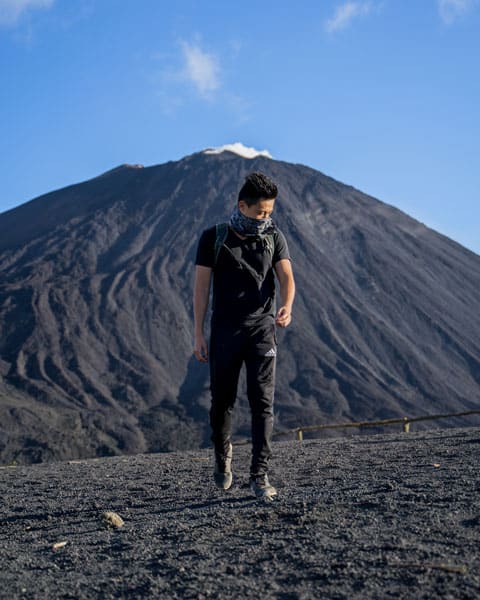 Want to make smores to reminisce the good old summer days? Well, you can do that in Guatemala, but not just anywhere in Guatemala, on a volcano!

On the Volcano Pacaya hike near Antigua, hikers can roast marshmallows over volcanic lava! How crazy is that?! Don't worry it is nothing dangerous and your kids or clumsy friends won't fall into lava or anything. The lava is underground and there are tiny holes on the ground where you can stick your marshmallow through to roast it!
The hike isn't too demanding and visitors can hire a horse at the beginning to take a huge chunk off the hike. This makes it one of the must-do activities in Guatemala with kids!
Roast marshmallows with lava from a volcano? Bucket list check!
8. Take Spanish Classes at One of the Best Places in the World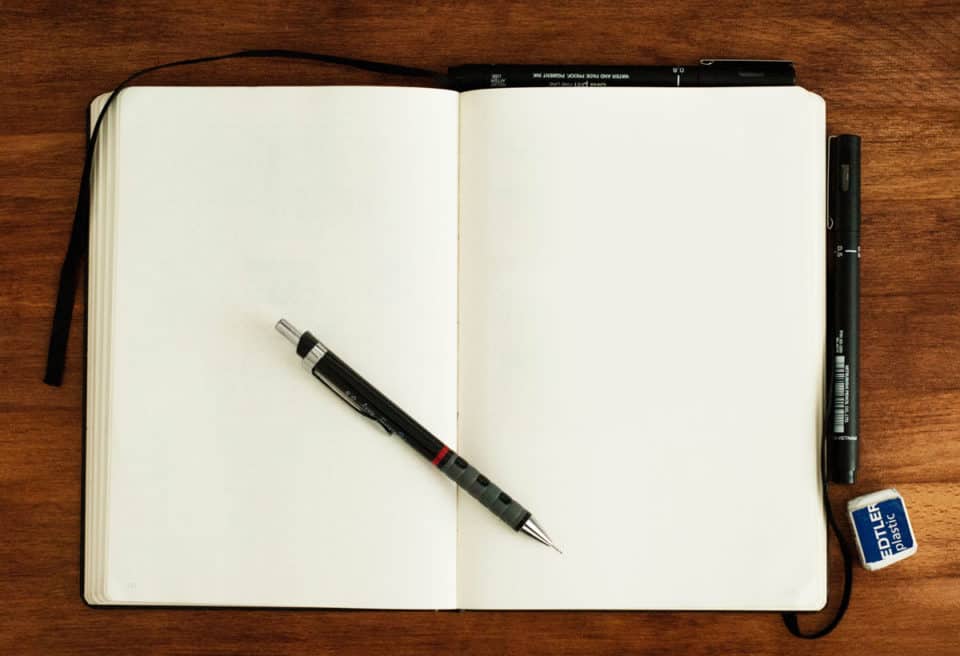 If you are into culture exchange and learning a new language, make sure you stop by Guatemala's second-biggest city, Quetzaltenango (or Xela). Xela is one of the best places in the world to learn Spanish. Want to know why?
The schools offer 1-on-1 classes at a very low price.
The learning method in Xela is "total immersion", meaning not only will you take classes every day, but you will also have to use what you learn every day at the supermarket, at the restaurants, and more. None of the locals speak English.
Homestay options are offered at an extremely affordable price. Oftentimes, the homestay option includes 3 meals a day and your own private room for a fraction of the cost of the hotels and hotels.
Under those circumstances, it is not surprising that you learn Spanish much quicker than anywhere else. It is also a good way to travel slowly and get to know Guatemala's culture.
Find out which Spanish schools are the best in Quetzaltenango (Xela).
9. Explore the Ruins in the City of Antigua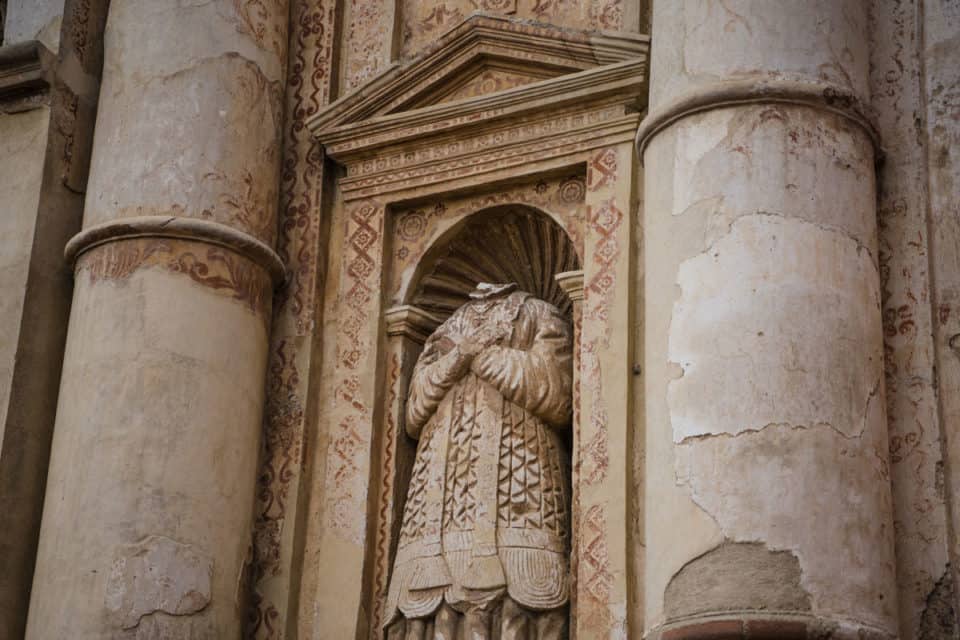 The city of Antigua has been labeled as a UNESCO World Heritage Site due to the number of cathedrals, monasteries, and other important monuments. However, many of those are in ruins now because of the many devastating earthquakes that have happened here, especially the 1773 Guatemala earthquake.
In fact, Antigua used to be the capital of Guatemala. But after all those earthquakes, the capital was moved to present-day Guatemala City.
Antigua was actually abandoned after the 1773 Guatemala earthquake because the damage was too overwhelming. It wasn't until the mid-1800s that development began again.
As a result, many of the buildings you see in Antigua are memories of the past, especially the many ruins you will be able to see in Antigua.
10. Experience An Authentic Guatemala Cooking Class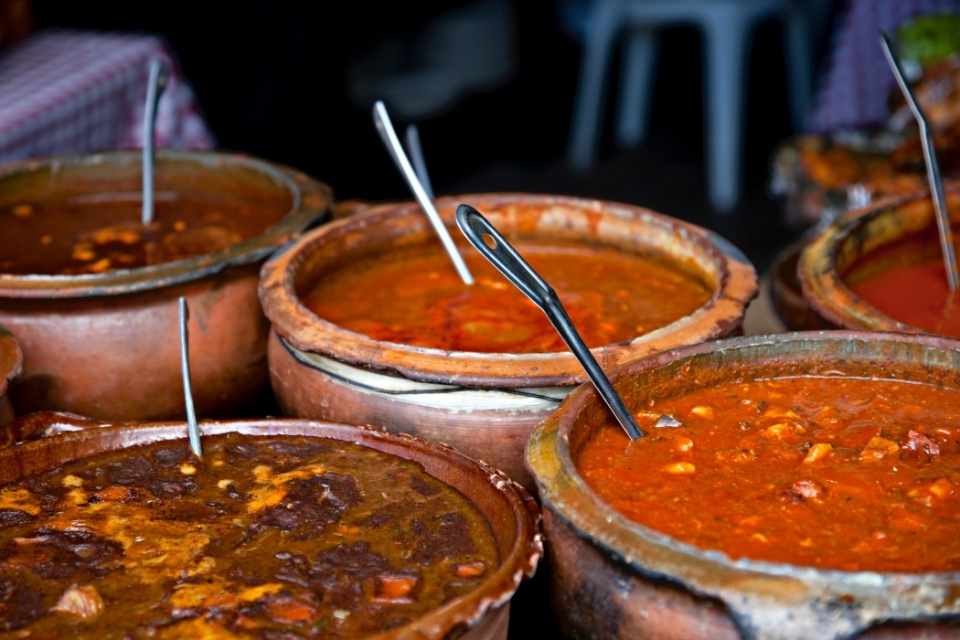 One of the most unique experiences in Guatemala is learning about its local cuisine and gastronomy. While sampling food in markets and on the streets are nice, you can take your experience to the next level by learning how to make traditional Guatemalan dishes.
Discover the types of local ingredients and techniques used to make the typical dishes in Guatemala from local chefs. There is no better souvenir to take back home than the newfound knowledge on how to make excellent Guatemala foods!
There are many cooking classes available in Guatemala, but the most common place to try one is Antigua.
11. Redefine Chaos By Taking a Chicken Bus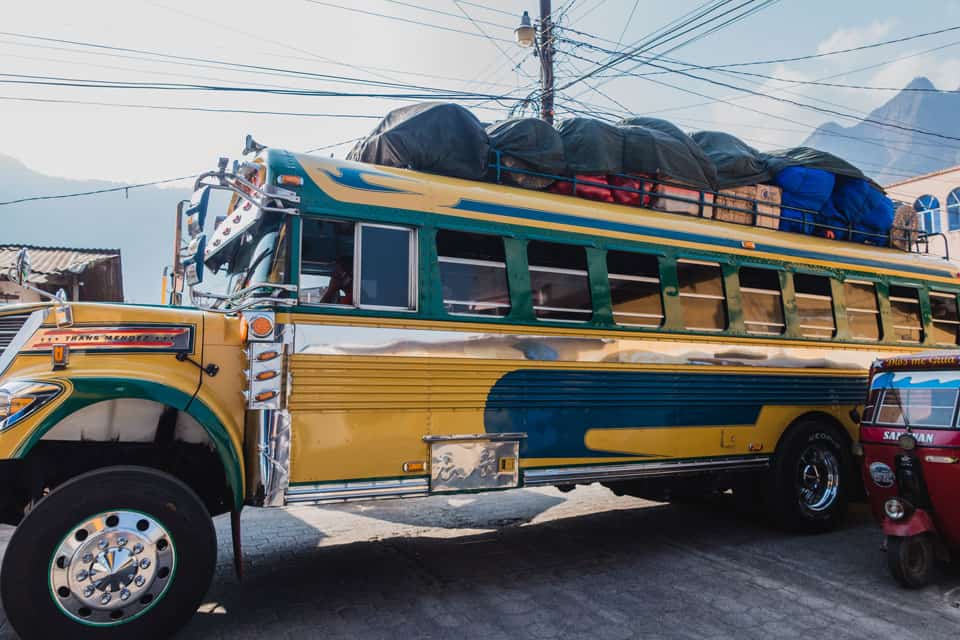 Chicken buses are arguably the most well-known things about Guatemala. For those that are unfamiliar with what they are, chicken buses are simply old school buses from America that have been donated. In Guatemala, they are the main form of public transportation.
Sitting in an old school bus probably doesn't sound interesting, especially if you come from America. However, in Guatemala, chicken buses are chaotic and just outright ridiculous. Unless you experience it, you will not believe what they do with them.
For starters, all seat belts have been ripped out of the seats to make more room. Typically, seats that are meant for 2 people will fit 4. Guatemalans also like to decorate their chicken bus, so each one looks like one of the cars from the movie Transformers.
It is a culturally-shocking experience that cannot be missed when visiting Guatemala, just beware of pickpockets on the chicken buses!
12. Explore The Black Sand Beaches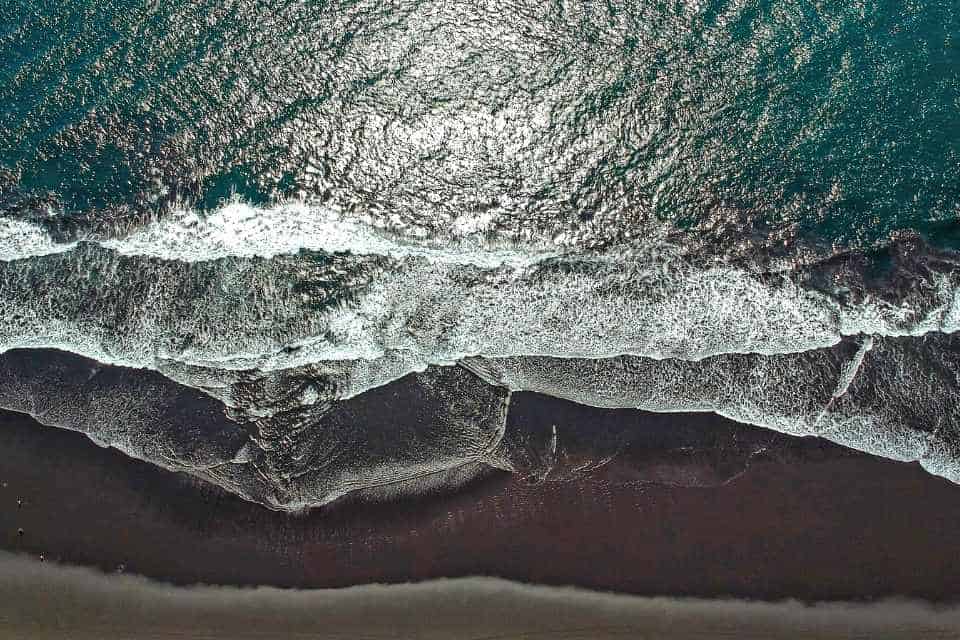 Because of Guatemala's rich volcanic activity, the country is home to some of the most stunning black sand beaches in the world. Most of the them are located on Guatemala's Pacific Coast, and travelers typically visit the laid-back town of El Paredon or Monterrico to enjoy them.
These beach towns are also perfect for experienced surfers who would like to tackle on some challenging waves. If you are visiting during turtle hatching season, you can also release turtle hatchlings on the beach and watch them run into the sea!
Unfortunately, the black sand absorbs heat pretty quickly so these beaches in Guatemala aren't exactly the best place to go sunbathing, but seeing them with your own eyes are a unique experience enough!
---
Best Places To Visit In Guatemala
1. Yaxha Ruins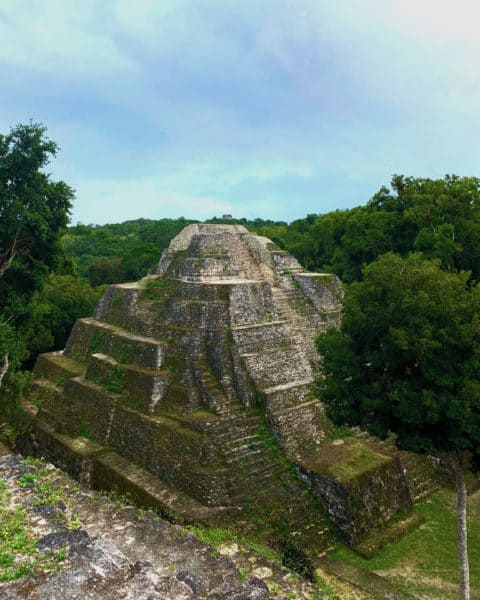 Yaxha Ruins are located in the Peten region of Guatemala near the city of Flores. Yaxha is the third largest ruin in Guatemala, just after Tikal Ruins and El Mirador.
What is so special about the Yaxha ruins beside the massive temples is the location. Yaxha is located off the beaten path, meaning it barely gets any tourism. It is usually outshined by its neighbor Tikal ruins.
As a result of the lesser foot traffic, wildlife is abundant in this area. Tarantulas, spiders and howler monkeys, and birds; they are everywhere.
Yaxha is definitely a hidden gem in Guatemala and something you cannot miss when you come to visit.
2. Hobbitenango, a "The-Hobbit"-Themed Eco-Lodge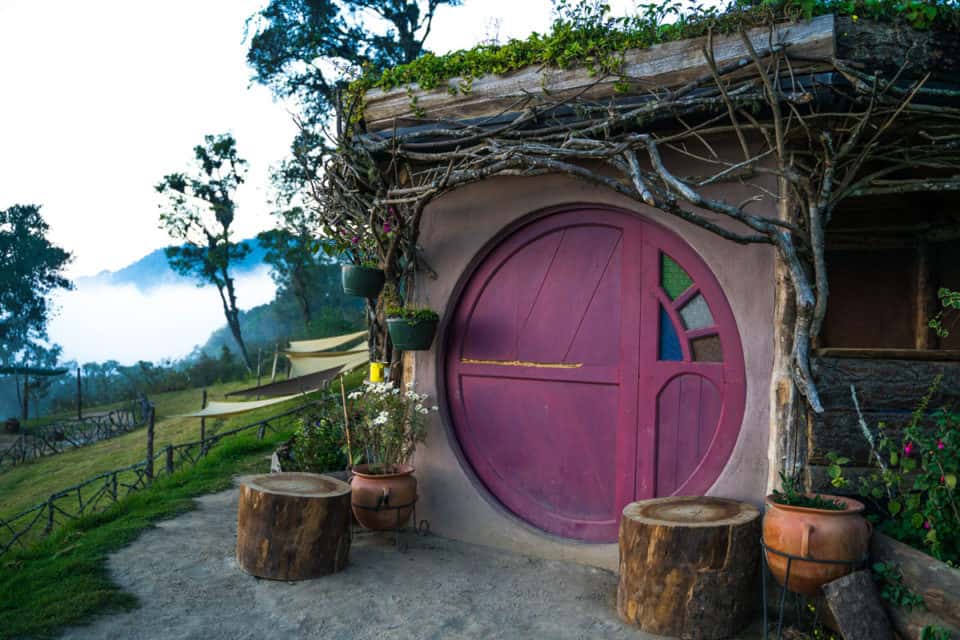 Hobbitenango, or "Land of the Hobbis", is actually what it sounds like, a "Hobbit"-themed eco-lodge up in the mountains of Guatemala. Though the experience cannot compare to visiting Hobbiton in New Zealand, visitors can have a taste of what it might feel like, but without the heavy price tag.
Easily accessible from the popular city of Antigua, you can go to Hobbitenango as a day trip or stay overnight in one of their "hobbit holes".
Their motto is "disconnect to connect", so come spend some time here away from the crazy city life. Take a walk on one of the nature trails with your loved ones, take some cute photos at one of the hobbit holes, or play some games with your family and kids!
Hobbitenango is the best day trip you can take in Guatemala, but make sure you check out our experience at Hobbitenango before going!
3. Chichicastenango, Guatemala's Biggest Market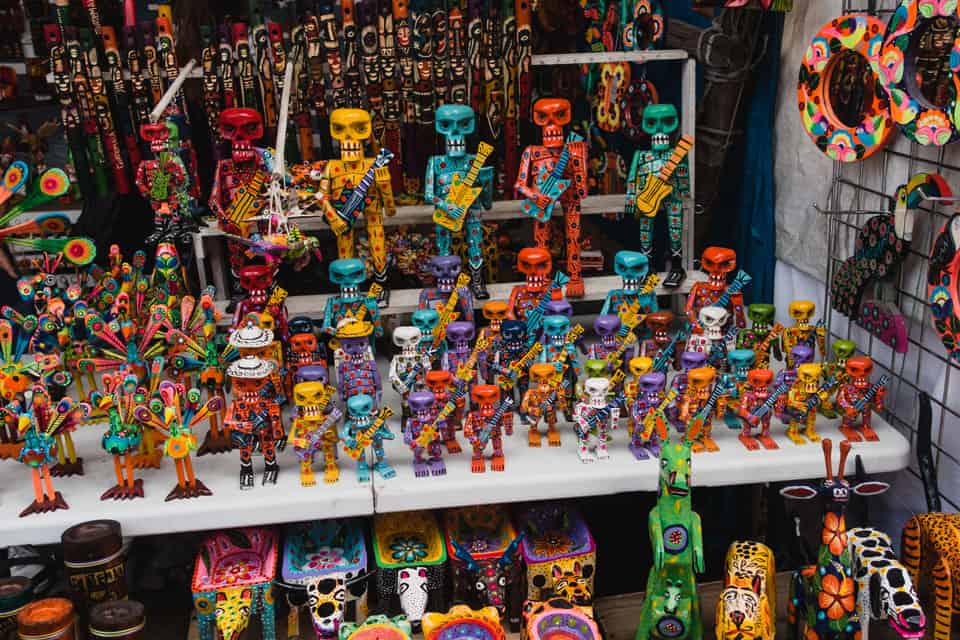 Looking for some of the best hand-crafted items or souvenirs in Guatemala? Come to Chichicastenango in the Guatemalan Highlands!
Chichicastenango is the biggest outdoor market in Guatemala and it is filled with everything you need and everything you didn't know you need. Figurines, handicrafts, authentic Mayan food, juices, smoothies, Mayan calendars, anything you could imagine.
The market is the biggest on Sundays but it is definitely big enough to get lost even on the other days.
Chichicastenango is a good day trip from the cities of Quetzaltenango, Lake Atitlan, or Antigua.
Don't forget to check out the cemetery while you are in Chichicastenango. It is one of the most culturally shocking things to do in Guatemala!
4. Tikal Ruins, Once the Mightiest City of Maya Civilization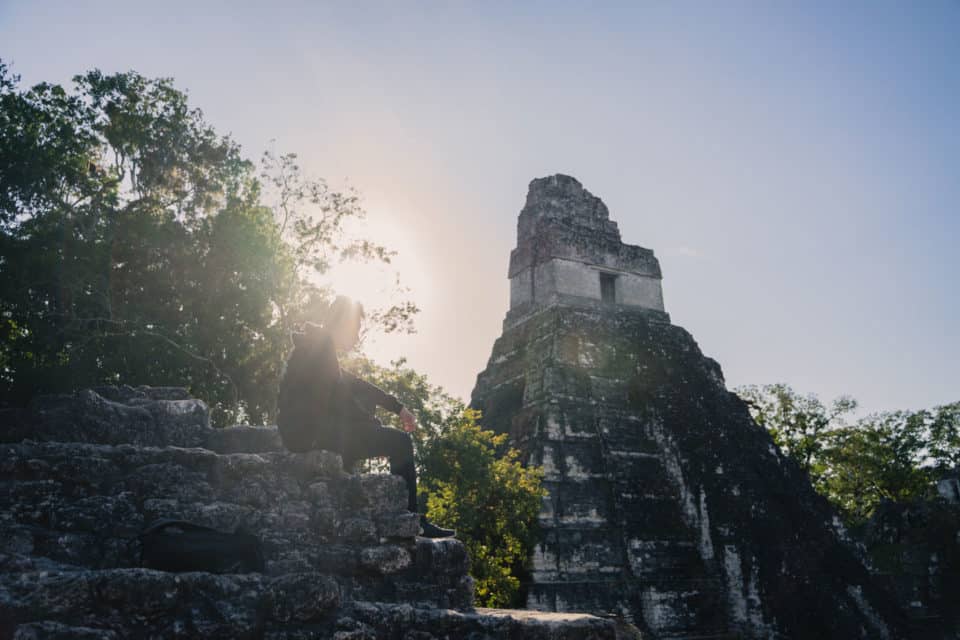 Tikal Mayan ruins, one of the most magnificent ruins in all of Mesoamerica and a UNESCO World Heritage Site, is located in the heart of the rainforest in the Peten region.
It used to be the capital of the Mayan civilization and the most powerful kingdom of the Maya. As a result, the area of Tikal is enormous and it would take you days just to visit its many temple, plazas, and artifacts.
If you thought Chichen Itza in Mexico was amazing, Tikal will surpass all your expectations.
As one of the best tourist attractions in Guatemala, any trip to Guatemala would not be complete without a visit to the Tikal ruins.
For visitors looking to experience Tikal on the next level, they can decide to camp inside Tikal National Park and get up early for sunrise! Just be prepared for a loud night of jungle noises!
5. Flores Island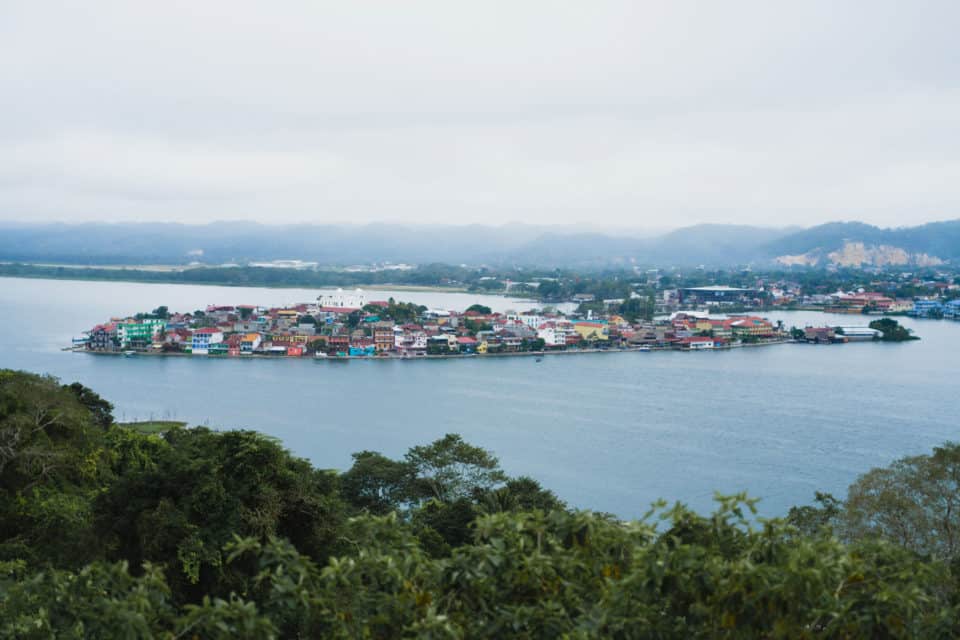 Flores is a beautiful island located in the Peten region of Guatemala. It is completely surrounded by water on all 4 sides, with only one tiny bridge that connects it to the mainland.
Cross that bridge and you will immediately notice the charm of Flores. Colorfully painted houses, rooftop bars and restaurants with views of Lake Peten Itza, cheerful vibes, the list goes on and on.

It is definitely a perfect relaxing spot for your Guatemala vacation, especially if you enjoy days of swimming in a lake and not doing much. Before you go, make sure you check out some of these top things to do in Flores Guatemala while you are there.
6. Semuc Champey's Natural Pools and Cave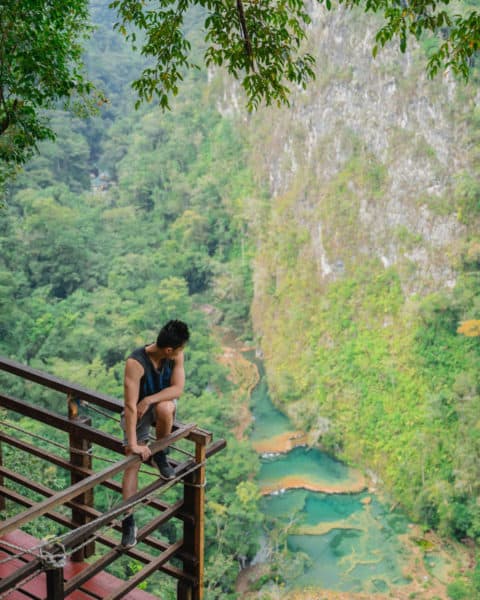 Semuc Champey is one of the most beautiful natural wonders in Guatemala. Located near Lanquin, many travelers take the 8-hour ride from Flores or Antigua to see this beauty with their own eyes.
Semuc Champey is a series of turquoise natural pools that you can swim in and there is no better way to escape the Guatemala heat than jumping into one of them.
After you are done with the pools, make sure you check out the cave at the entrance! The only way you can go in is with a guide and the only way you can explore this cave is with a candle!
It was definitely a little terrifying at times but you cannot miss this must-visit place in Guatemala!
7. Lake Atitlan and The Surrounding Towns and Villages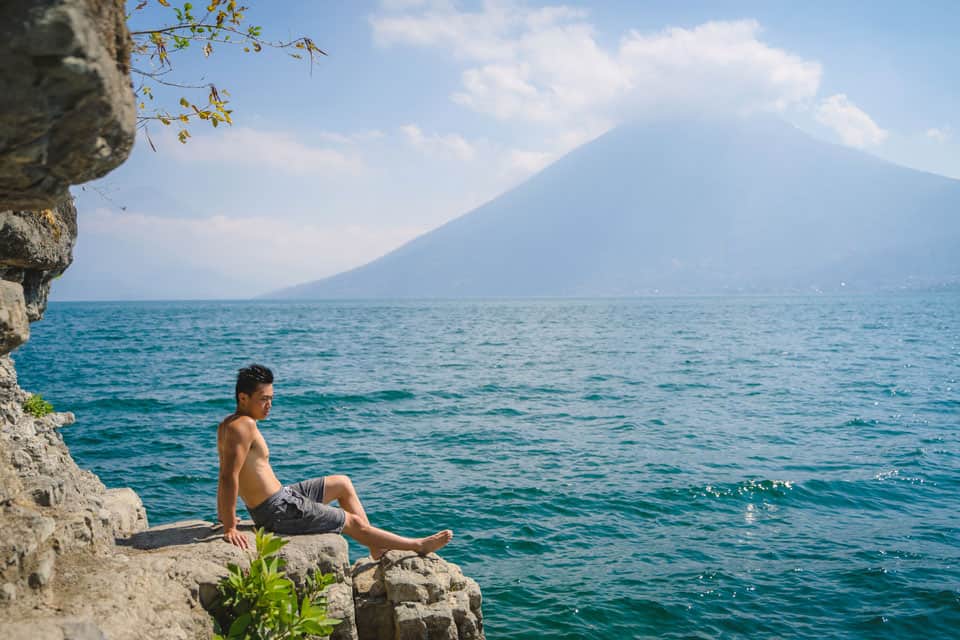 If you are not sure where to go in Guatemala and want somewhere sunny and relaxing, then Lake Atitlan is a must on your Guatemala itinerary. Located close to the airport in Guatemala City, Lake Atitlan is very accessible and offers many places to stay.
Lake Atitlan is a volcanic crater lake made up of 11 small towns and villages around the lake. The most notable ones are San Pedro La Laguna, San Marcos La Laguna, San Juan La Laguna, Santa Cruz La Laguna, and Panajachel.
Each town offers a little bit of something different. For example, San Marcos is a hippie town, San Pedro is known for its parties, and San Juan has a big indigenous population. You will never run out of things to do in Lake Atitlan.
The most popular way to get from one village to another is to take a boat that sails across the lake. A relaxing ride with beautiful views of the landscapes, visitors will quickly fall in love with this place.
Whether you want adventure, party, or just chilling like a villain by the lake, Lake Atitlan will steal your heart!
8. The Iconic Santa Catalina Arch In Antigua Guatemala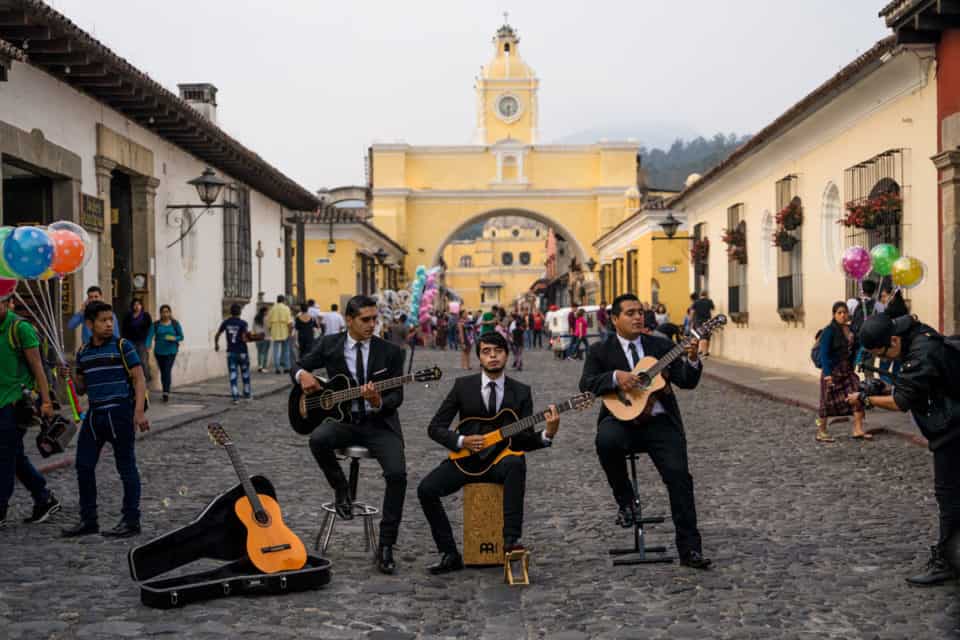 Santa Catalina Arch is the most distinguishable landmark in all of Antigua. It is the place where foreigners and locals alike come to hang out, take pictures and have a good time.
The history of the arch is long so I don't want to bore you. If you want to read it, you can find it here.
Santa Catalina Arch is one of the remaining notable structures of Antigua after the several earthquakes that have occurred.
Visiting the Santa Catalina Arch is one of the many best things to do in Antigua.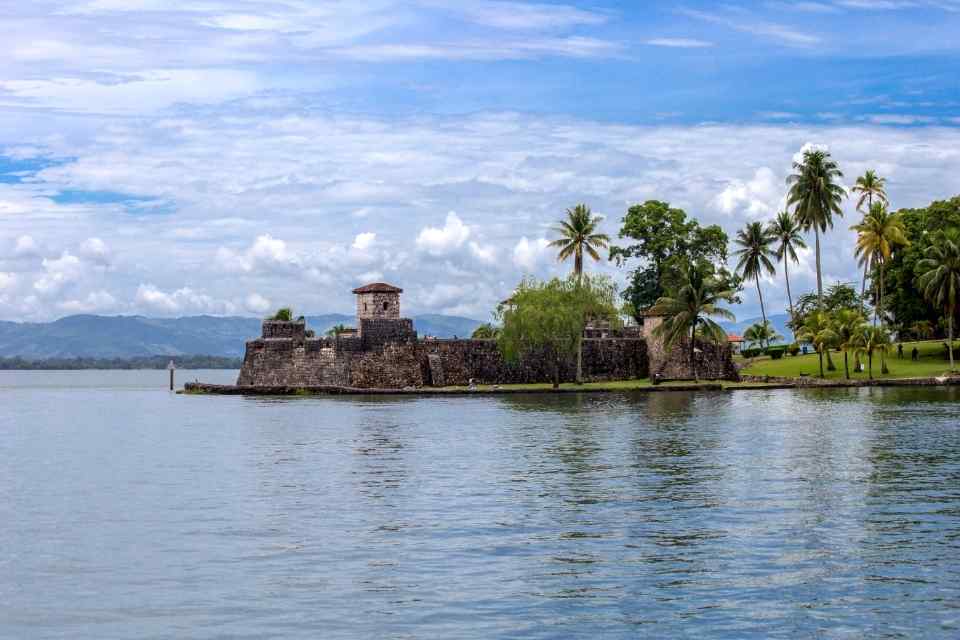 Rio Dulce, or Sweet River in English, refers to the river that runs from Izabal Lake to the Caribbean Sea. It is also the name of the town that is at the connection of Izabal Lake and the actual River (a little bit confusing). Locals will call the town Fronteras at times, but they will also call it Rio Dulce.
Located far away from the majority of the attractions in Guatemala, the region of Rio Dulce is filled with native indigenous culture and a unique ecosystem. Situated along the river, indigenous communities and rural settlements still mostly keep to the traditional ways.
Due to the Caribbean influence, this area, especially Livingston (located at the mouth of Rio Dulce and the Caribbean Sea), has a strong Afro-Caribbean Garifuna culture that is unseen in other parts of Guatemala.
Visitors can rent a kayak and explore the Lake as well as Rio Dulce. Boat tours are also readily available. For those looking to experience a funky and quirky side, staying a few nights in Livingston will do!
---
Visiting Guatemala Packing List
In Guatemala, you will encounter anything from humid rainforests to dry and cold mountains. Hence, it is important that you have a specific packing list for your Guatemala adventure. That is why we have written a comprehensive packing list for Guatemala that you can find here, but below is a compressed version of it.
After 2 months in Guatemala, here are some things I would not go to Guatemala without:
Sunscreen – Do you want to look like a big red tomato? I didn't think so! Pack some for your Guatemala trip!
Insect Repellent with Picaridin – Insects and mosquitos are rampant in the rainforest area of Guatemala. Pack some or get bitten. Your choice.
Filtration Water Bottle – One of my favorite traveler items. It saves money, is good for the environment, and you don't have to carry water everywhere you go. Definitely a must-have item.
Hat and Gloves – Guatemala is very warm in general, but if you plan on doing the volcano Acatenango hike or going to Quetzaltenango, you should pack some gloves and hats.
Rain poncho or rain jacket (Him/Her) – This should be self-explanatory. Rain jackets or rain ponchos are literally lifesavers especially when you are out on a hike.
Warm Clothing – This is very important because you will be at high altitudes at times. Especially for your hike on volcano Acatenango, you will need a lot of warm clothing for that.
---
Safety In Guatemala
When I first started traveling in Guatemala, I was deathly scared about the safety of Guatemala. All the rumors about pickpockets and armed robbery did nothing but make me anxious.
But after spending 2 months in Guatemala, I can say Guatemala is definitely safer than most people think.
The days of armed robberies are mostly gone in tourist areas, but can still happen in cities like Quetzaltenango and Guatemala City.
However, there are a few things you still need to be aware of:
Hikes in Lake Atitlan (San Pedro volcano and Indian Nose), as well as the roads that connect the villages, are filled with bandits. Bandits are locals that will exhort you for money by saying there is an entrance fee to the hike (which there isn't) or telling you something bad might happen if you don't give them money. Go with a tour guide.
Public transportation, also known as "chicken buses" are commonplace for theft. Many travelers have reported having their things stolen while riding the chicken buses. Watch your things carefully while riding it.
Avoid going out late at night and walking in the streets by yourself, especially if you are under the influence.
A common question I get is "is Antigua Guatemala safe or dangerous?" The short answer. Yes, it is safe. Here you can read more about the safety of Antigua Guatemala.
---
Like this post? Don't forget to save it on Pinterest!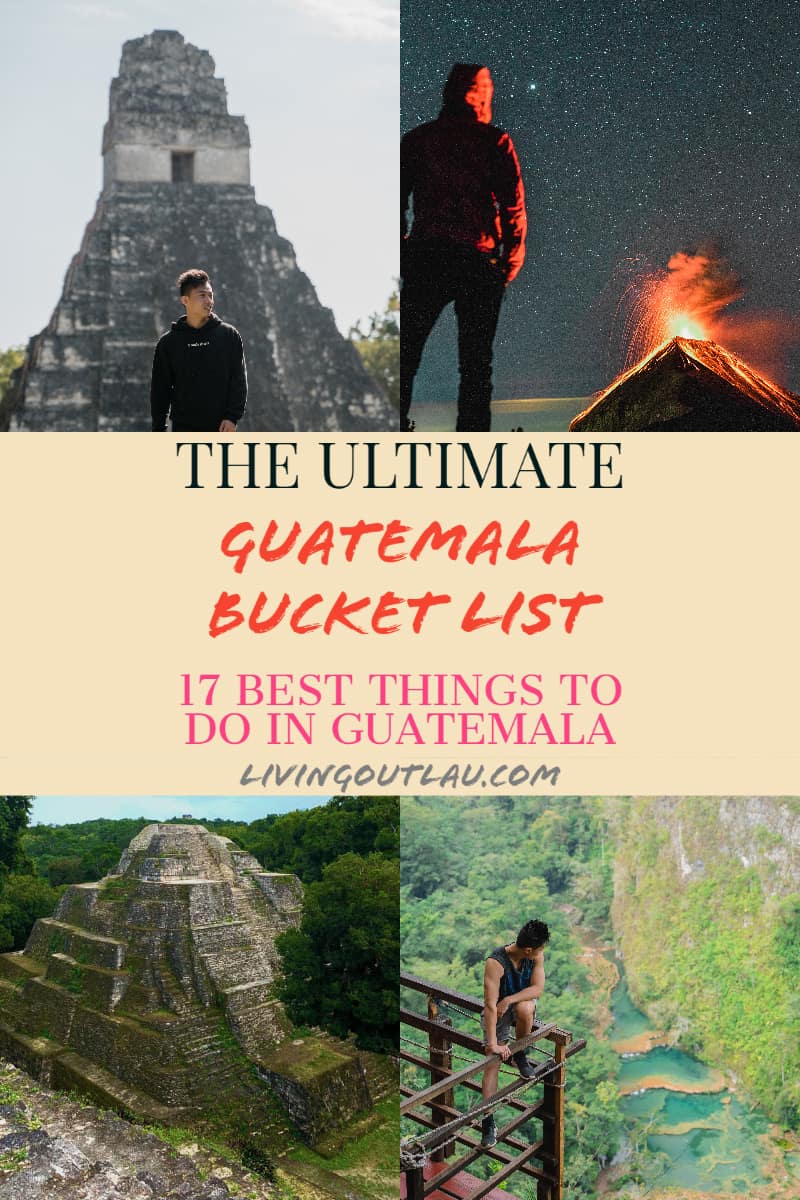 ---
These 20 top things to do in Guatemala will definitely sweep you off your feet. What do you think about this Guatemala bucket list? Let us know in the comments!
Disclaimer: Some of the links above are affiliate links. That means if you book or make a purchase through the links, we will earn a small commission at no extra cost to you! The money will help run this site! Thank you!