As the ex-capital of Guatemala, Antigua is a colorful colonial town and a UNESCO World Heritage Site since 1979. From exploring beautiful cobblestone streets and trying delicious Guatemalan food to hiking magnificent volcanoes and discovering the ruins, there are so many incredible things to do in Antigua, Guatemala!
In fact, too much. Having spent several weeks there ourselves, we found ourselves overwhelmed with the number of activities in Antigua.

That is why we have written this guide so that you no longer have to wonder what to do in Antigua and can enjoy your visit to the max!
Enjoy!
---
25 Best Things To Do In Antigua, Guatemala
1. Visit The Iconic El Arco De Santa Catalina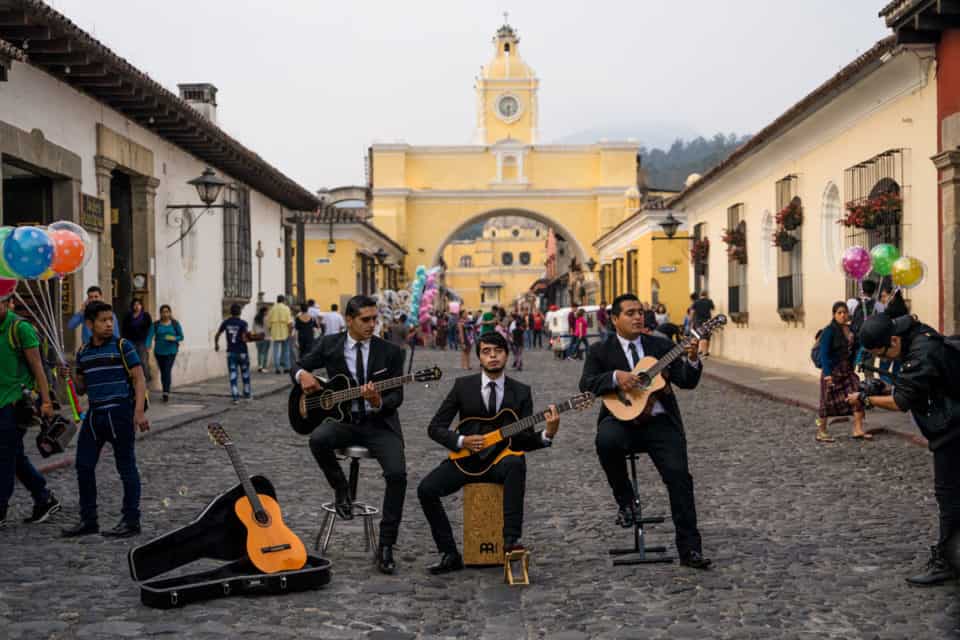 El Arco de Santa Catalina, or Santa Catalina Arch, is probably the most recognized landmark in Antigua. It is the place where you can feel the energy of Antigua come to life.
Near the area, you will find nice restaurants, street performers, cute shops, and much more. In addition to that, this is a great place to watch how the locals live.
The Santa Catalina Arch was built as an enclosed footbridge for nuns to cross the street to their other convent. They were able to purchase a property directly adjacent to their original convent and did not want to be seen in public. As a result, the Arco de Santa Catalina was built.
Nowadays, it is not only an icon in Antigua, but the beautiful yellow arch makes it an excellent photo spot!
2. Take A Cooking Class and Learn About Guatemala Cuisine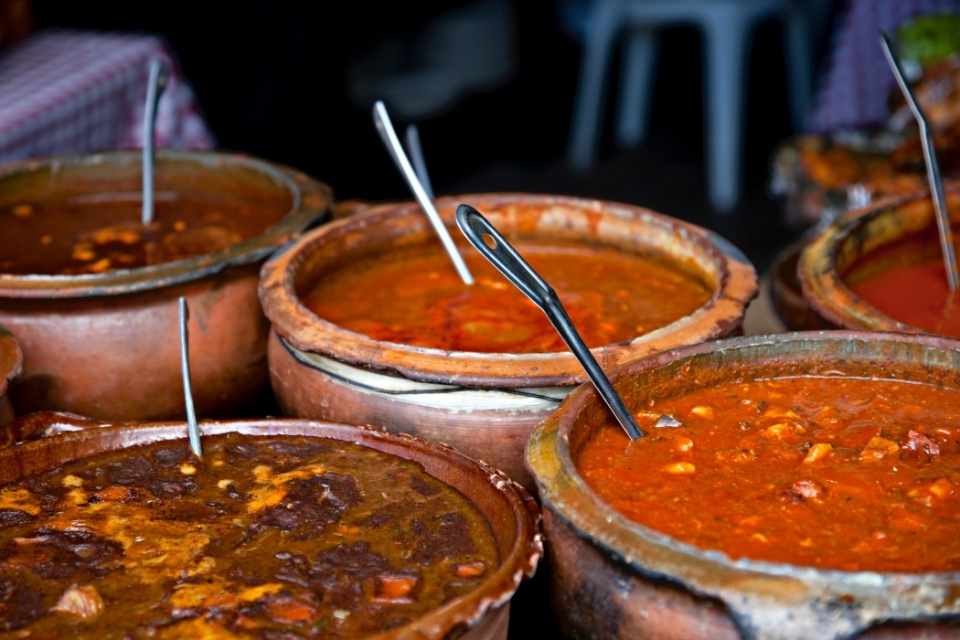 If sampling street food and trying Guatemala dishes at restaurants in Antigua is only piquing your interest in Guatemala cuisine, then why not try one of the cooking classes in Antigua?
This unique experience will teach you how to make various traditional Guatemalan dishes, the ingredients used, and the original techniques that are passed down for generations. When you are done, you get to eat what you cook, so everyone leaves the cooking class with a satisfied belly and brain!
3. Check Out Central Park (Parque Central)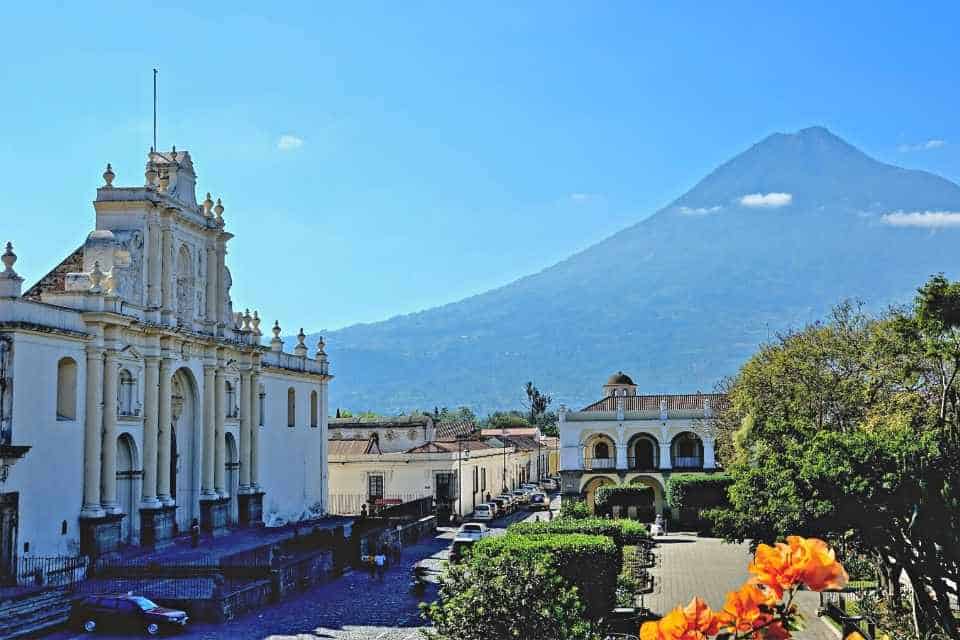 The Central Park of Antigua, also known as Parque Central or Plaza Mayor in Spanish, is where the energy of Antigua can be truly felt. It is where you will find vendors selling local handicrafts and food, locals out enjoying the beautiful weather with an ice cream in their hands, and people out generally having a good time.
This is a great spot to people-watch and building-watch (we might've just invented that word). Besides all the bustling activity going on, the Central Park is surrounded by architectural gems. With palaces, cathedrals, and museums surrounding the square, there is no place more iconic of Guatemalan culture than Parque Central.
Come here with a cup of nice Guatemala coffee and take it all in!
4. Take a Cacao Workshop at ChocoMuseo (Chocolate Museum)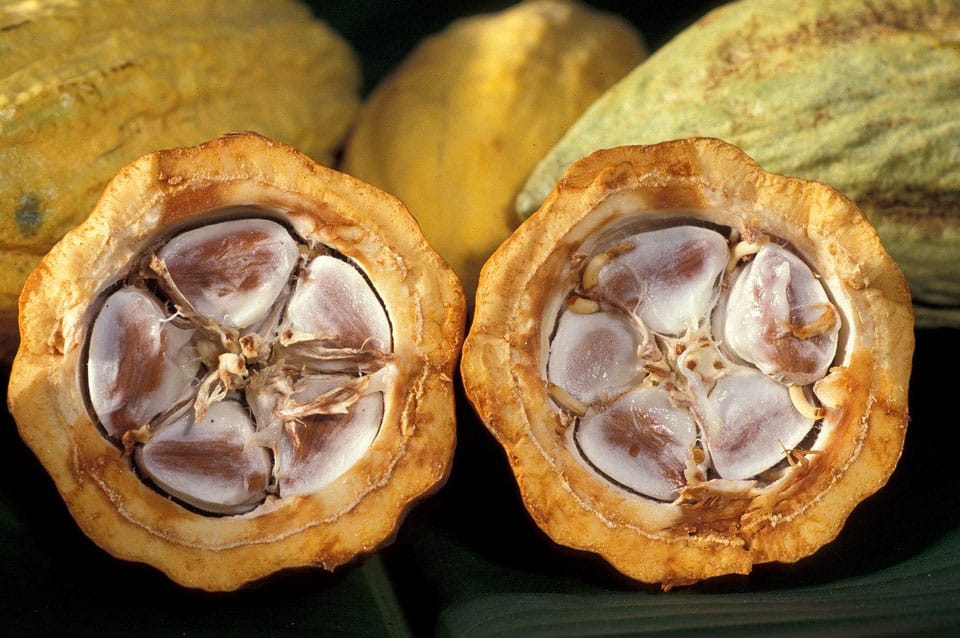 Cacao is one of the native plants grown in Guatemala. Not only does it have plenty of health benefits, but it also had religious importance to the Mayans and the Aztecs. They believed that cacao was sacred and was handed to them by God.
Here at the ChocoMuseo chocolate museum in Antigua, visitors can learn about the significance of cacao and the entire process of turning a cacao bean into a chocolate bar! But it doesn't stop there. Once you have learned how to make chocolate, you get to do it yourself and take home what you made!
This is one of the most unique experiences in Antigua you must try, especially if you are visiting with kids!
5. Enjoy Guatemala Coffee In An Cafe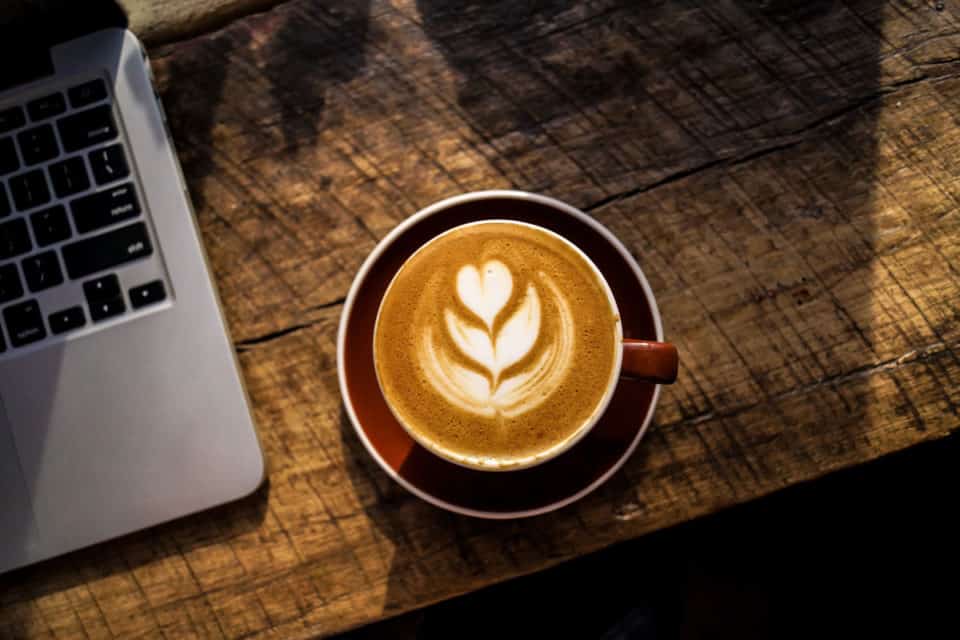 Guatemalan coffee is said to be one of the best coffee in the world.
Surrounded by three volcanoes that provide very nutrient-dense soil, the coffee beans from this region are packed with flavor. Combined with the elevation around the city, trying Guatemala coffee is an experience you must have in Antigua.
And luckily for you, Antigua is one of the best cities in Guatemala to try the coffee or visit a coffee plantation. There are many little coffee shops that offer amazing coffee. Here's our suggestion:
6. Buy Souvenirs At Nim Pot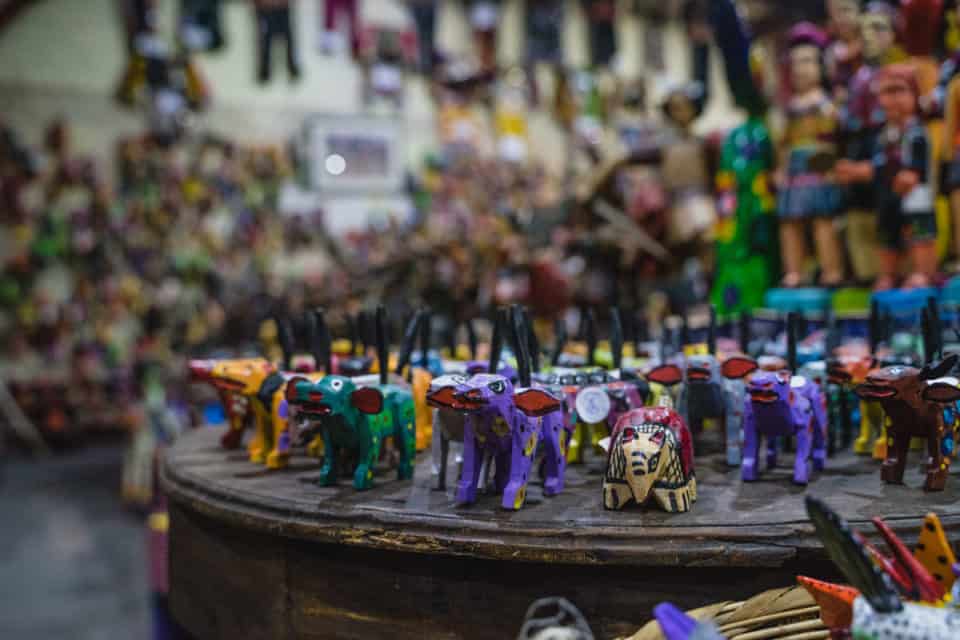 Visit Nim Pot to see one of the biggest souvenir shops in all of Antigua. Located next to El Arco de Santa Catalina, it's nearly impossible to not stumble upon it. Inside, they offer a variety of souvenirs and items ranging from small figurines to clothing of different sizes.
Wallets, ceramics, t-shirts, postcards, coffee, cacao, traditional outfits, any souvenir you can possibly want, this is the place you can find it! Prices are low and the same for both locals and foreigners, so you know you are getting a fair deal. Check this place out for some of the best souvenirs to buy from Guatemala!
8. Visit a Coffee Farm and Learn How to Make Coffee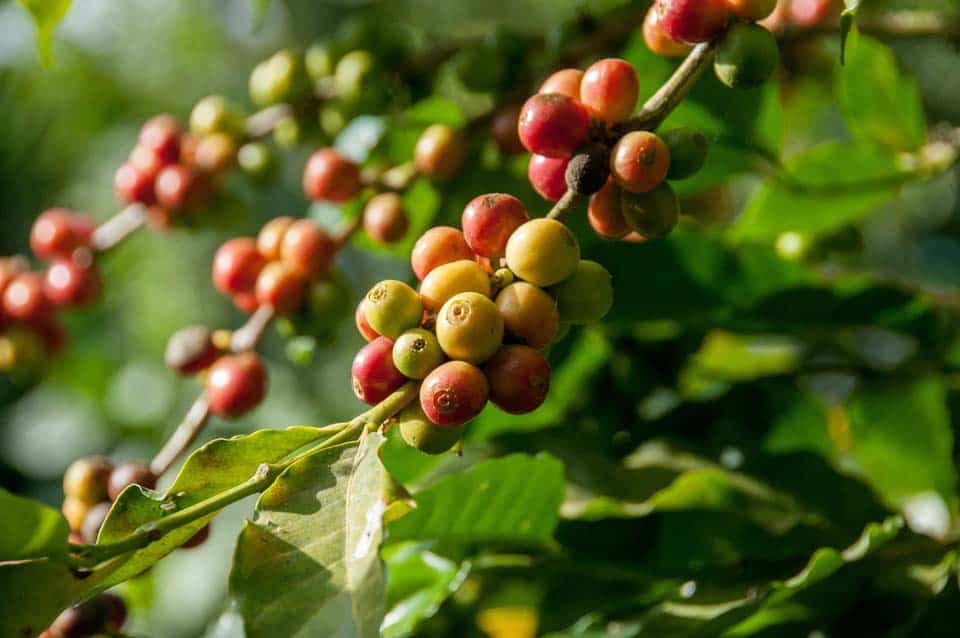 If you don't know by now, coffee is a big deal in Guatemala, and even more so in Antigua. Thanks to the numerous mineral deposits from the many volcanoes in Guatemala, the soil is rich and perfect for crops such as coffee beans.
There is no better place to discover the coffee experience than visiting a coffee plantation. Luckily, there are plenty of coffee tours that offer you a comprehensive experience in every step of the coffee making process.
Visiting a coffee farm is the best way to learn not only how coffee is made and cultivated, but what makes Guatemala coffee so unique!
9. Discover a World of Culture at Cooperación Española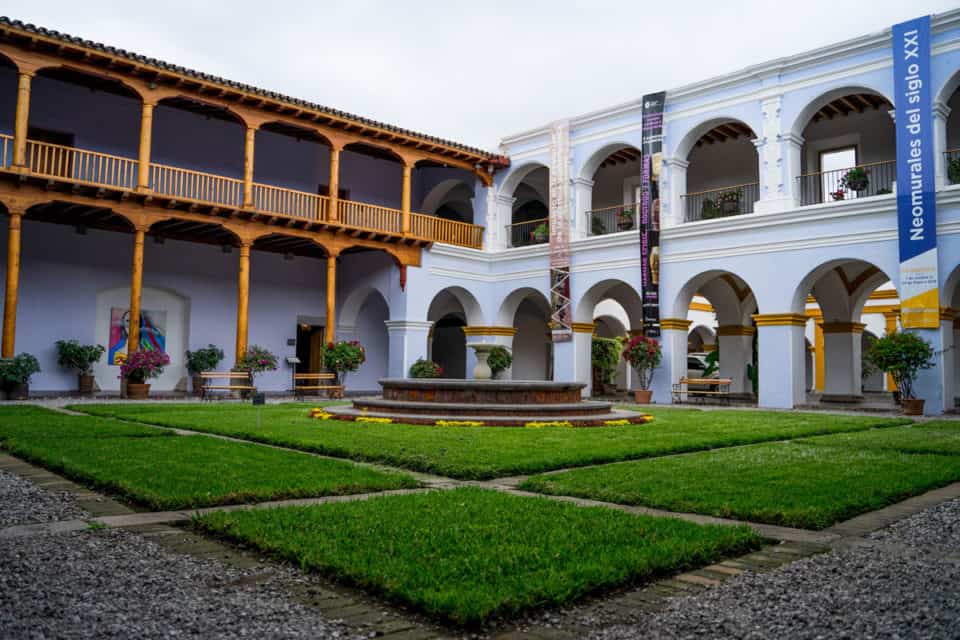 Cooperación Española, or Spanish Agency for International Development Cooperation is not exactly what you think it is. It is a restored historic site full of architecture, art, culture, and of course, coffee!
There is an amazing garden along with benches where you can sit peacefully with a coffee in your hand from the on-site coffee shop.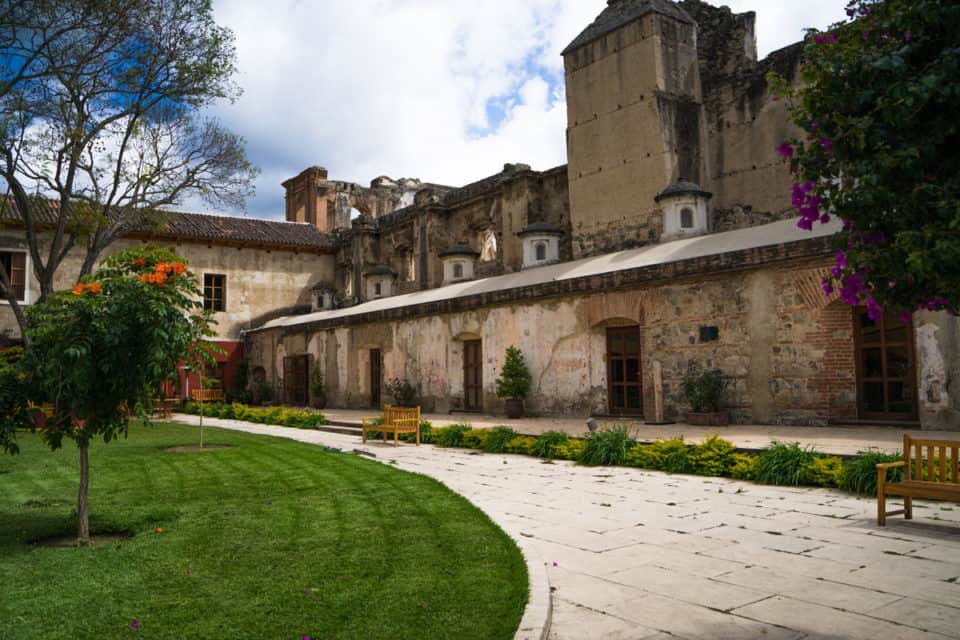 But if you want to walk around, Cooperación Española often times has exhibitions on art and photography so you will never get bored, as well as a library full of literature and useful information.
On top of that, there is no admission cost, making it one of the best free things to do in Antigua.
10. Take a Free Walking Tour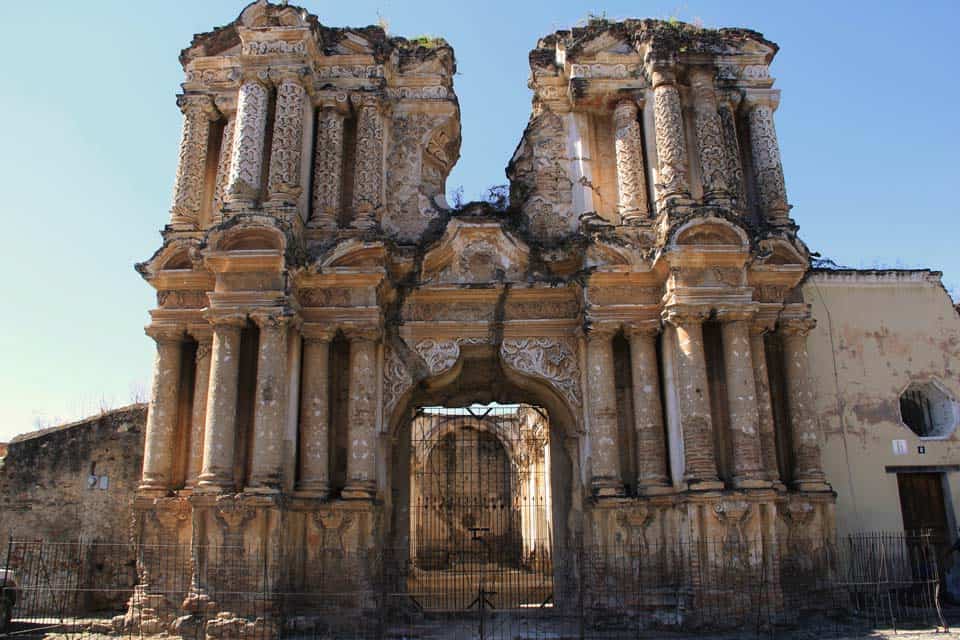 There is no better way to orient yourself with the city than taking an Antigua free walking tour. These free walking tours are led by local professionals who have a passion for their country and want to show travelers.
The walking tour will cover the main sights of Antigua, as well as offer travelers information on what else to do, where to eat, and more. If you have any questions about Antigua, they are more than happy to answer them for you.
The tours are based on tips, so if you aren't happy about the service you received, you don't have to pay anything! If you like a little bit more privacy and personalized attention, we recommend going with a private tour instead.
11. Visit the Charming La Esquina Antigua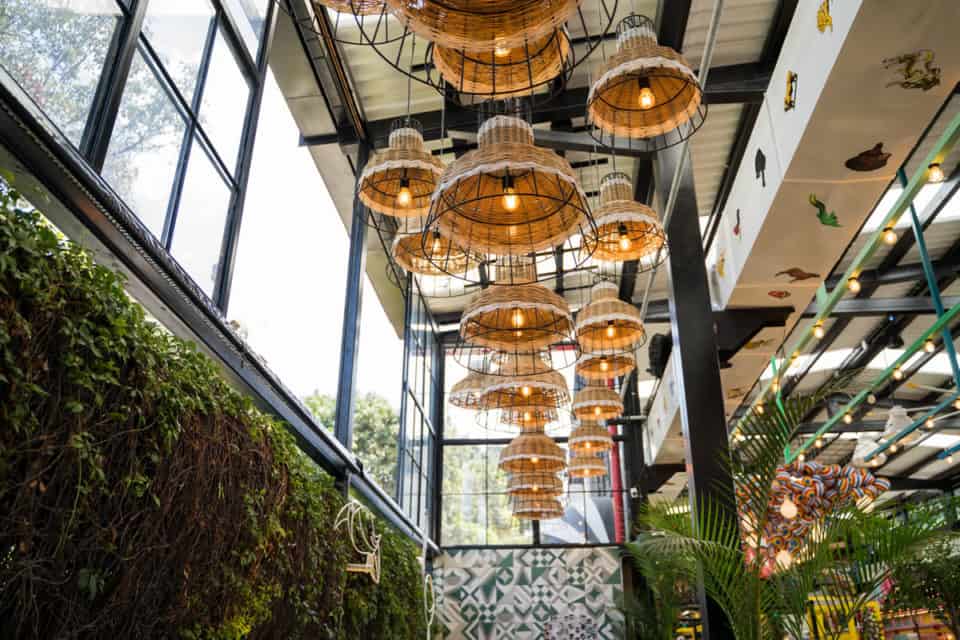 La Esquina Antigua is probably something you did not expect in a colonial UNESCO World Heritage Site. In fact, when we stumbled upon it, we could not believe something like this exists in Antigua. It feels like one of those pop-up shops in New York City if you have ever been.
La Esquina shouldn't be there, but it is. And we were quite happy that it did. This little dainty setting is actually a food court filled with some of the most amazing restaurants and food.
If you are looking for an instagrammable spot or a place to take some amazing photos and eat some delicious food, you have to visit La Esquina. It is one of the coolest places in Antigua.
Note: La Esquina is now permanently closed. It was good while it lasted!
12. Visit Iglesia La Merced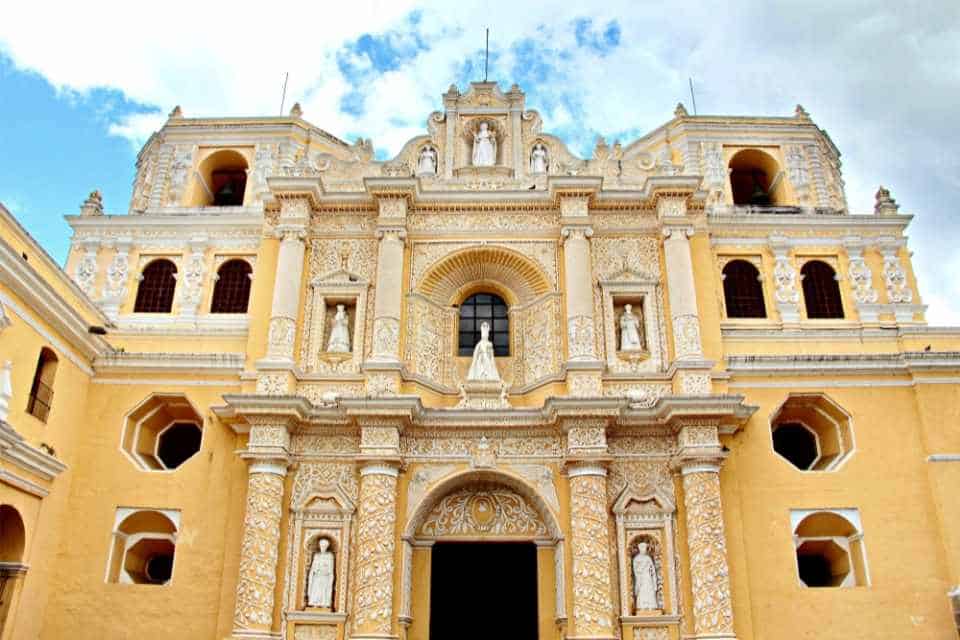 The Iglesia La Merced church was first built in 1548 but was destroyed twice, making it one of the oldest churches in Guatemala.
The current construction you see is built in 1767. It features an ornate baroque-style yellow facade with unusual proportions, due to the structural design that was meant to resist the earthquakes in the region.
And it worked, the church is standing compared to the adjacent convent, which is reduced to ruins.
Visitors can go inside the church and see the interior, as well as the small ruins.
The Iglesia La Merced is particularly popular during the night and the weekends. In the front of the church is a nice park where you will often find locals chatting away, and local vendors selling street food such as elotes (corn cob) and tostadas.
During Holy Week (Semana Santa), Iglesia La Merced really comes to life. Make sure you check it out if you're in Antigua during that time.
13. Try Authentic Guatemalan Food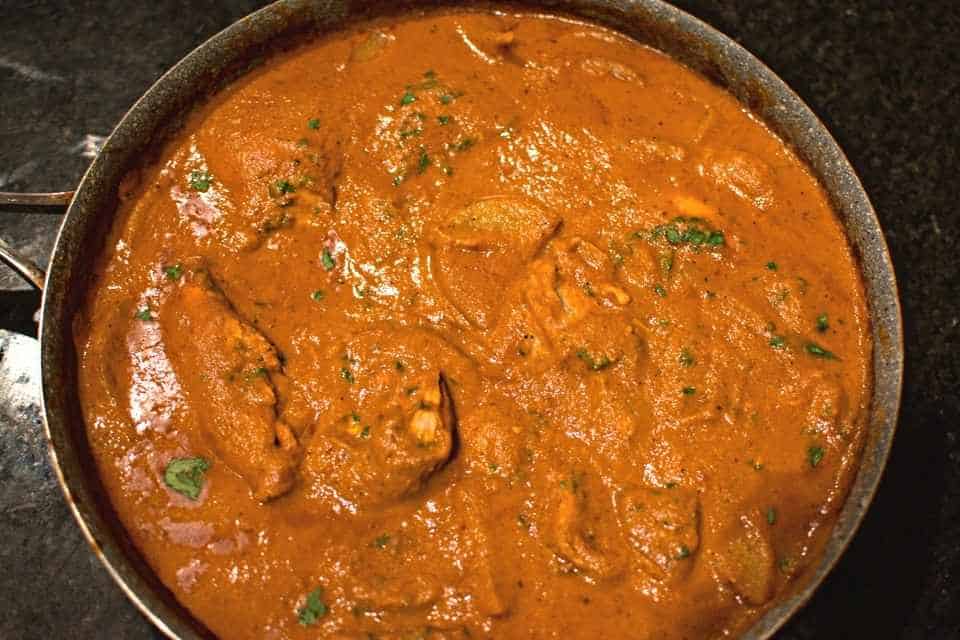 There is no better place to try authentic Guatemalan food than the cultural capital of Guatemala – Antigua. and luckily for you, there are plenty of amazing restaurants in Antigua serving delicious local cuisine.
One of our favorite places to eat in Guatemala is Rincon Tipico. This is a no-frill Guatemalan restaurant serving only the most typical dishes at an affordable price. Typical dishes include rice, beans, and a side of meat such as chicken, chorizo, longaniza and so on.
Rincon Tipico also features menu del dia (menu of the day), which means that you get a drink and a main dish for a good price. The dish changes every day, which means you get to try a different Guatemala dish every day!
Our favorite is the one on Thursdays because they serve Pepian de Gallina, which is a chicken stew and also the national dish of Guatemala!
14. Head to a Rooftop Bar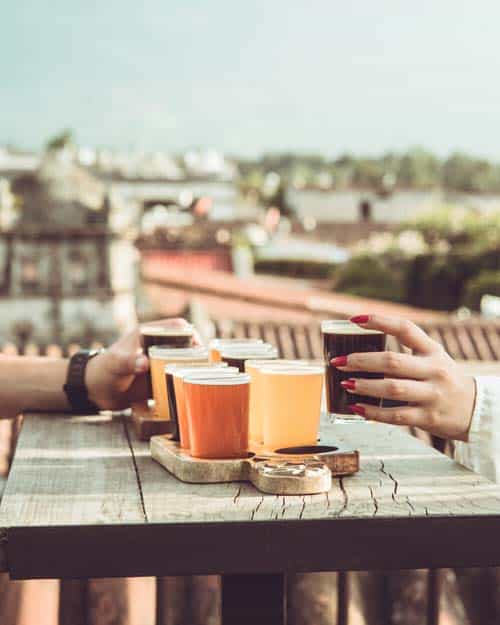 With soaring volcanoes and lush hills surrounding Antigua, its landscape is simply spectacular. Thankfully, there are many places in Antigua where you can enjoy such landscape in total relaxation, such as Antigua Brewing Company.
On the roof terrace of Antigua Brewing Company, you can have a nice craft beer, listen to some live music, and enjoy stunning views of Volcano Agua in the distance.
The best time to visit is during sunset, when you can have panoramic views complemented by the gorgeous colors of the sunset. The nighttime is also a great time to visit, but it is a little bit more lively because of the music.
Nonetheless, it is a great place to experience some of the nightlife in Antigua
15. Learn Some Spanish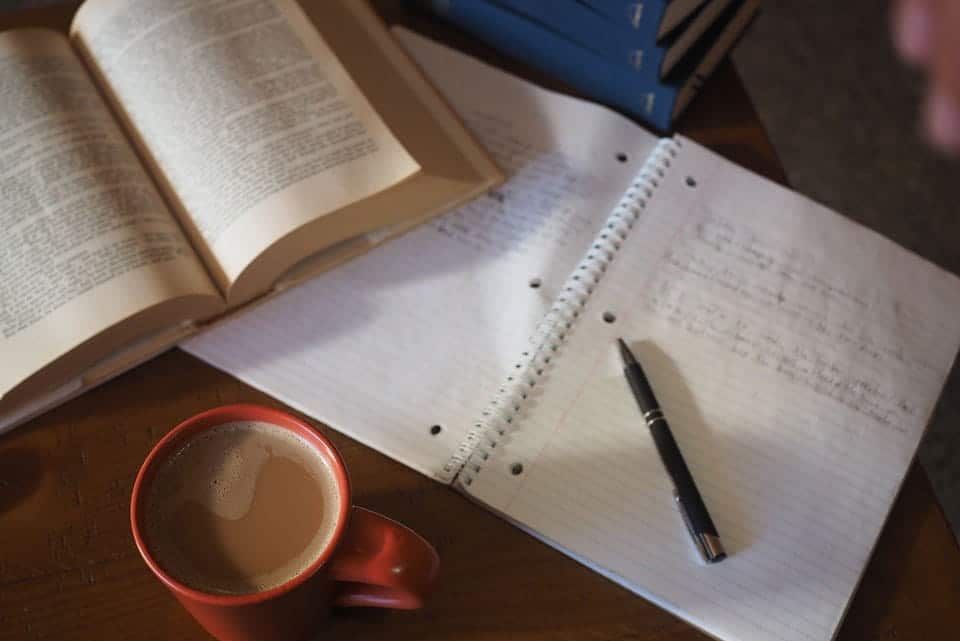 If you are traveling Latin America or have a long Guatemala itinerary, consider taking some Spanish classes in Antigua. Guatemala's Spanish accent is said to be one of the most neutral in the world. This means you have the highest chances of understanding all types of crazy Spanish accents in the world (I'm looking at your, Argentina).
The Spanish classes in Antigua are not only affordable, but most of them are 1-on-1 intensive classes. And after your class, you get to practice what you learned in the shops and markets of Antigua. It is real-world application at its finest.
In fact, it took me only a month before I felt completely confident traveling in South America alone. Learning Spanish in Guatemala is one of the best decisions I made while traveling.
16. Go Party A Night
While Antigua doesn't have a reputation for being one of the biggest party spots in Guatemala, this small city is home to many bars and a few clubs where travelers can enjoy a cocktail and dance the night away.
The most famous bar in Antigua is most definitely Reilly's Irish Tavern. This is where you'll find most of the foreigners and backpackers. Its atmosphere is similar to an Irish pub.
Another bar we really quite liked is La Sala. It is a small bar that almost certainly gets packed as the night goes go. Once it gets packed, it is almost like a nightclub, so lots of fun for those that like to dance!
---
Discover The Ruins In Antigua, Guatemala
17. Antigua Guatemala Cathedral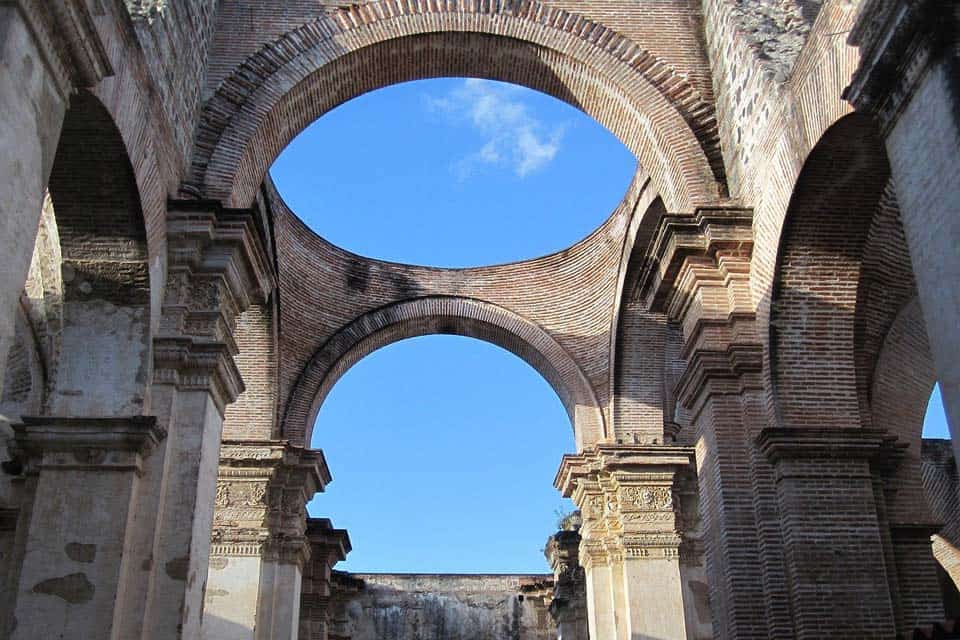 The Antigua Guatemala Cathedral (also known as Catedral San José) is arguably the most famous ruin in Antigua. The cathedral was first built in 1545, but since the construction was so poor, it did not last in the 1583 earthquake.
Its reconstruction started in 1670 and it took 11 years. The end result was a lavish cathedral with a vast dome, eighteen chapels, five naves, and a central chamber measuring 90 meters by 20 meters. It had the best artwork and paintings brought over from Europe.
Eventually, after many earthquakes, the one in 1773 took this magnificent landmark down, and all there is left today are pieces of the grandeur it once had.
18. Santa Clara Convent and Church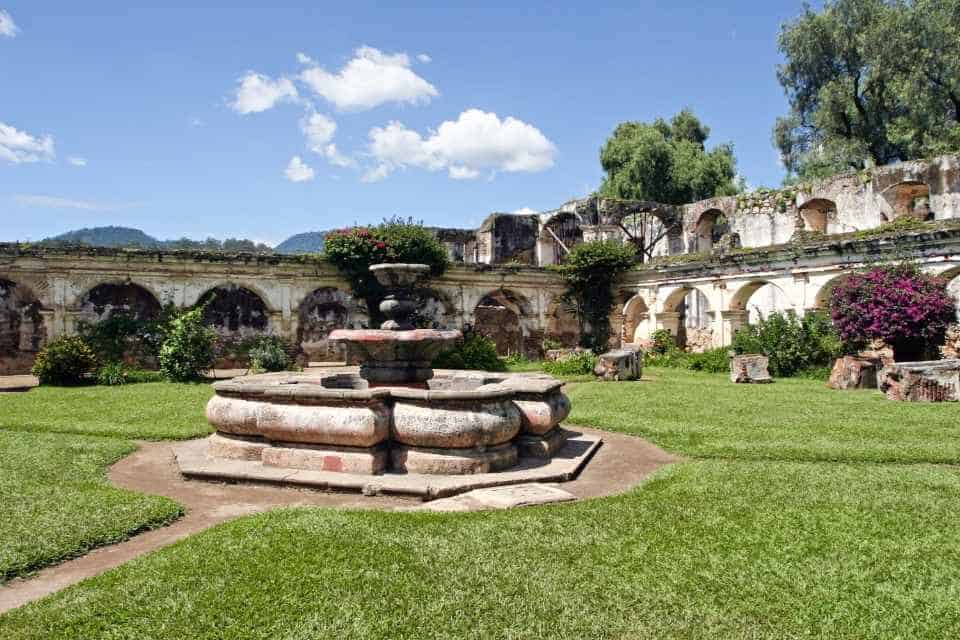 The Convent of Santa Clara was started in 1699 by just 5 nuns. The entire masterpiece took 16 years to finish, but the earthquake of 1717 destroyed it just two years later. It was reconstructed in 1734, and then destroyed again in 1773.
At that point, the nuns gave up and abandoned the convent and moved to Guatemala City.
Nowadays, a gorgeous courtyard with exposed walls and arches makes the perfect place for travelers to stroll around. There is also a fountain in the middle that completes the landscape.
19. San Francisco Church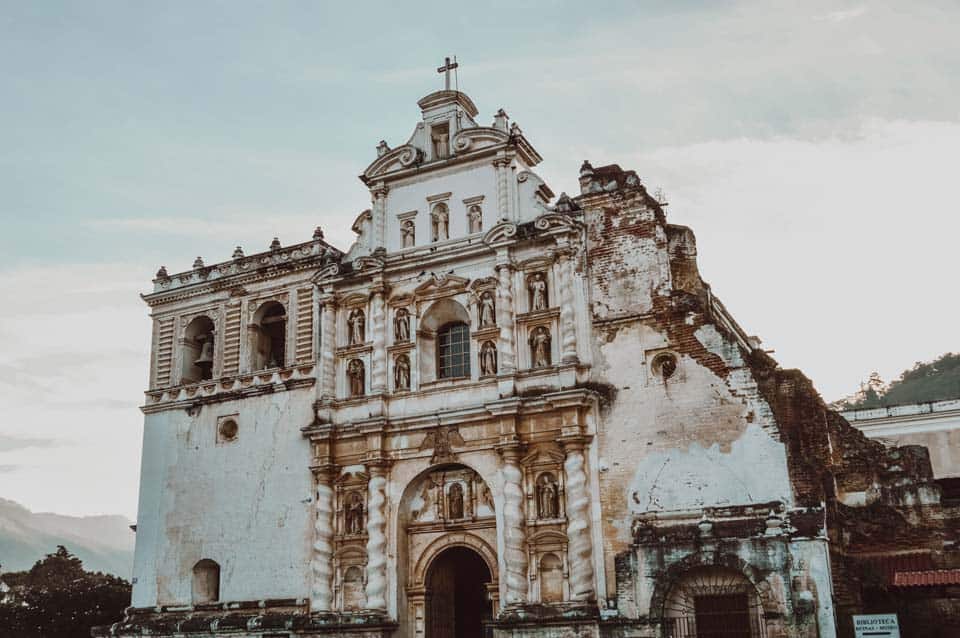 San Francisco Church is easily one of the top ruins in Antigua Guatemala. Similar to all the ruins in Antigua, it did not survive the many devastating earthquakes the city endured.
However, restoration efforts were more substantial for the San Francisco Church. In fact, visitors can now the interior of the cathedral and see the devastation caused.
Inside, visitors will find a small market, museum and much more. It is almost like a small city inside a city. With no entrance fee, San Francisco Church is one of the best free things to do in Antigua, Guatemala.
---
Hiking In Antigua, Guatemala
20. Hike Volcano Pacaya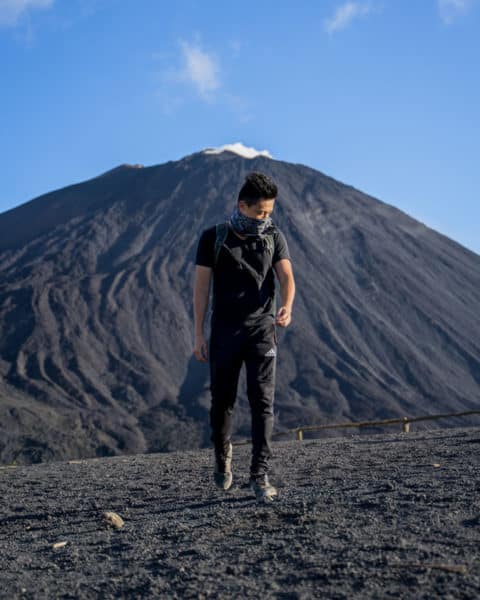 If you are looking for hikes to do in Antigua, Guatemala, consider Pacaya Volcano. Hiking Pacaya Volcano is one of the most enjoyable activities in Antigua Guatemala. The hike up Pacaya volcano is fairly easy (~1.5 hours up) and anyone can do it.
The main attraction besides hiking up a volcano and seeing it up close, you get to roast marshmallows with the lava from the volcano. How cool is that?!
However, don't mistake this as a dangerous activity. The volcanic lava is far from the surface and its radiance is what melts the marshmallows.
21. Cerro De La Cruz For Panoramic Views of Antigua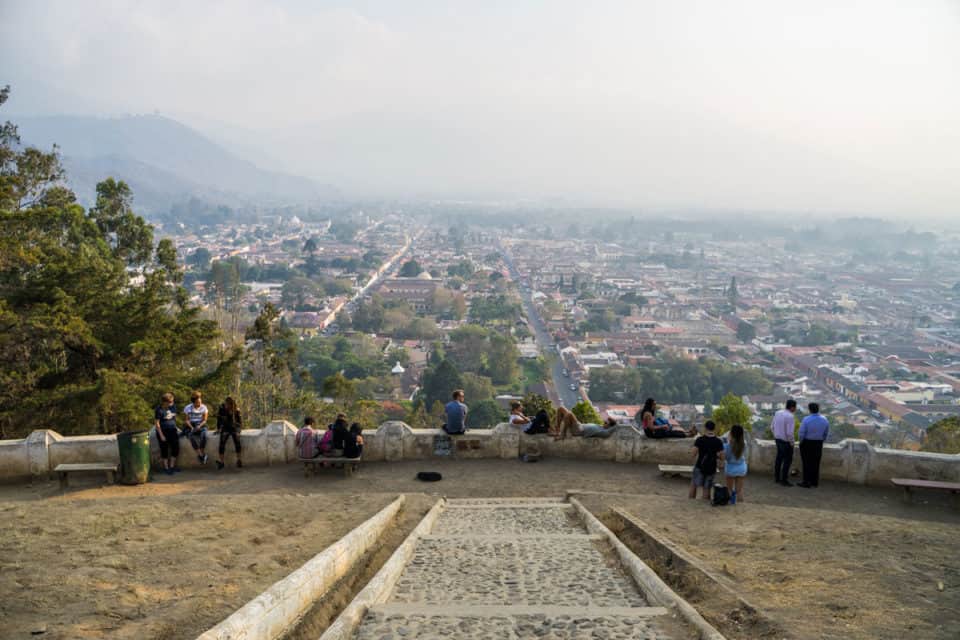 Cerro de La Cruz is definitely a place you should not miss when you visit Antigua. Located just a short 30-45 minutes walk from the center of town, it is the best viewpoint in Antigua. This is a great first sightseeing spot in Antigua, as you can see Antigua in its entirety.
On a good day, you can even see Volcan de Agua (Agua Volcano) watching majestically over the city.
Once upon a time, the way was a little dangerous due to robbery. But as of recently, it is completely safe. On a good day, you can even see up to three volcanoes in the distance. So make sure you bring a good travel camera to capture the beautiful scenery!
3. Hike Volcano Acatenango to Witness a Volcanic Eruption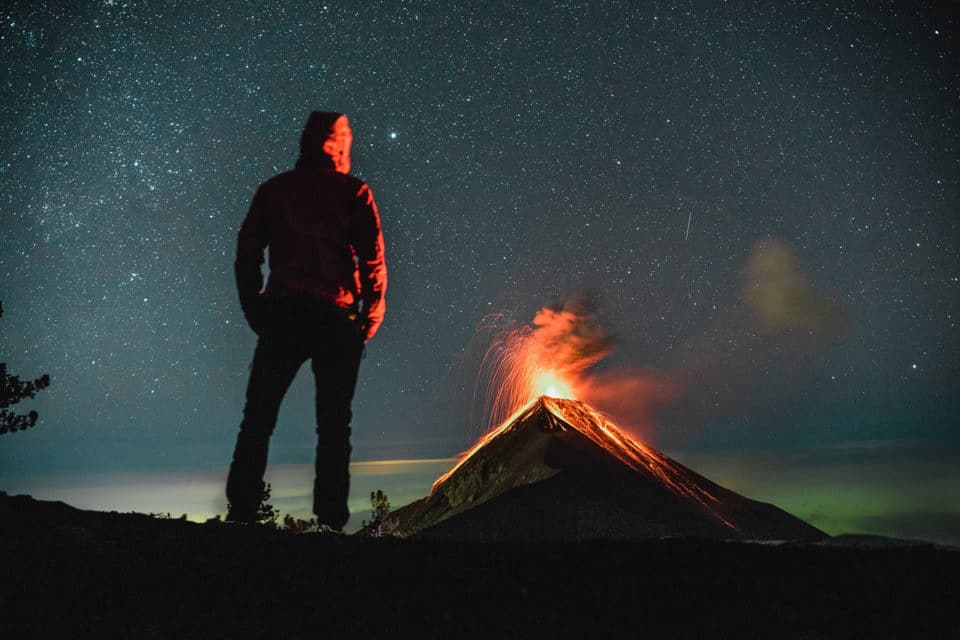 Volcano Acatenango is easily my favorite hike in Guatemala. Yes, this even beats the notably magical sunrise Indian Nose hike in Lake Atitlan!
After a grueling 2-day hike to the top and around 7 hours of climbing, you are rewarded with a view of Volcano Fuego erupting (every 30 minutes or so). You are no less than 2 km away from the point of eruption.
How many people can say they have seen an actual volcano erupt and live to tell the tales? At around 4000m (13000 ft) at the top, you also have a 360-degree panoramic view of the beautiful natural landscapes of Guatemala.
Hiking Volcano Acatenango is definitely the most unique thing to do in Antigua! It is AMAZING LIFE-CHANGING!
You will need a good fitness level to hike Acatenango. This was the hardest hike I have ever done in my life so prepare yourself! If you have done the Santa Maria Volcano hike near Quetzaltenango in Guatemala, just know this one is even harder than that one.
---
Day Trips From Antigua Guatemala
1. Discover a Hobbit-Influenced Lodge at Hobbitenango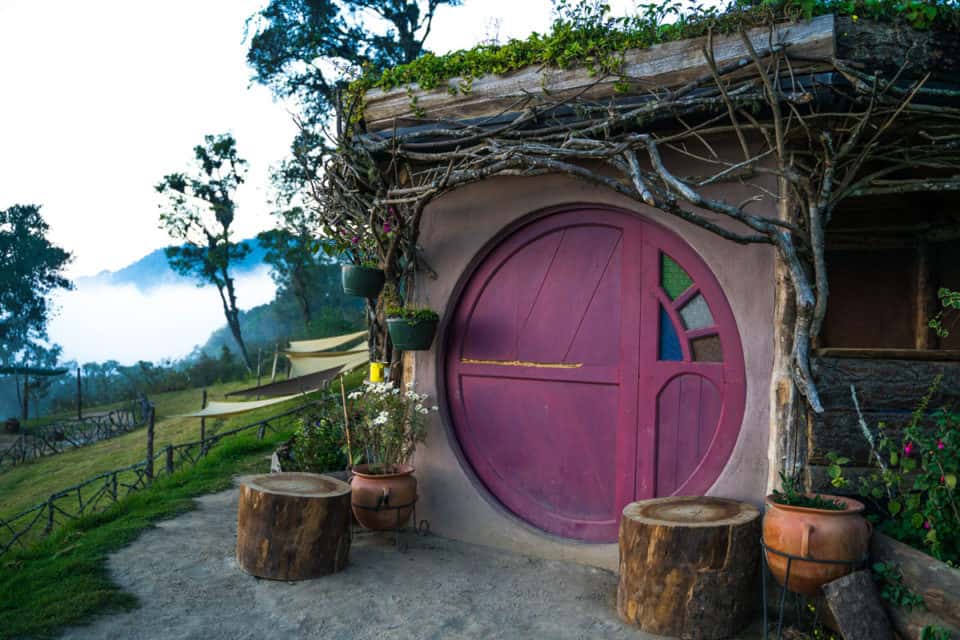 Up in the mountains of Guatemala is a place named Hobbitenango, which translates to the Land of the Hobbit. If you cannot tell by now, this is a "The Hobbit"-themed lodge. It features an on-site restaurant with a very unique menu, 2 small lodges/cottages for overnight guests, and a camping area!
On top of that, they have areas with games such as cornhole and archery and even areas where you could hike or just sit and relax on a hammock. It is definitely an amazing thing to do in Antigua Guatemala.
My advice is if you want to visit Hobbitenango, you should do it on the weekends because there will be more activities going on.
We visited on a weekday and we saw tables for festival-like games but no one running them. It was definitely a bummer.
If you are looking for romantic things to do in Antigua, get yourself one of these Hobbit Holes and experience it with your loved ones!
2. Visit Caoba Farms and Enjoy Organic Produce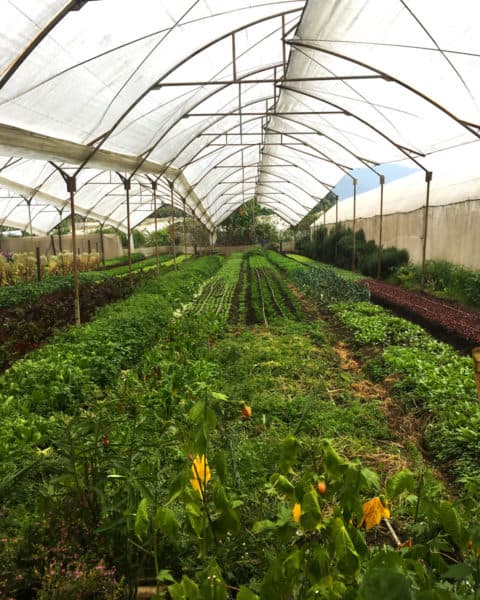 Caoba Farms is an all-organic farm located just 20 minutes away from Antigua on foot. Because it is somewhat on the outskirts of town, it is one of the best hidden gems in Antigua Guatemala.
Caoba Farms is more than just a farm. There are activities scheduled throughout the week (more often on weekends) and an onsite restaurant serving food made from ingredients directly on the farm.
On the weekends, there are events such as live music, a farmer's market, and much more. They have a store on-site that is open every day of the week for anyone interested in buying something.
If you enjoy peace and quiet, I would recommend you to go on a weekday. But if you like live music and a lively atmosphere, definitely try to go on the weekends.
Read More: What Is Guatemala Famous For?
3. Visit Cerro San Cristobal for Panoramic Views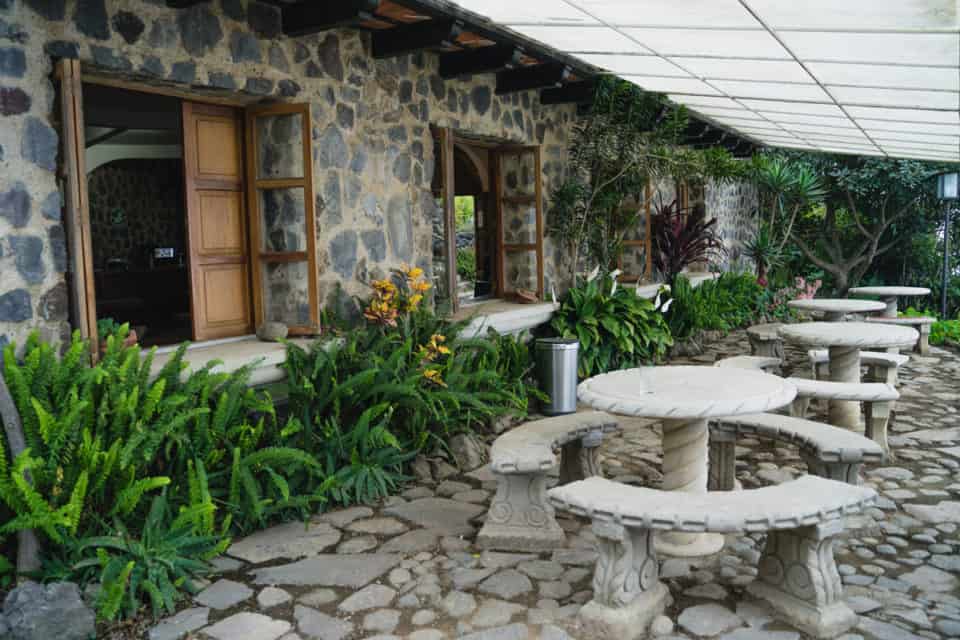 Cerro San Cristobal is an organic restaurant and farm located about 20 minutes' drive or an hour walk from Antigua. Even though this place is a little far from Antigua, it will be worth every minute of your trip to go there.
The restaurant serves pescatarian food and vegetables grown in their organic garden. Visitors are allowed to tour around the garden and see the type of product they are growing. On top of that, they have an amazing view of all of Antigua and the 3 volcanoes (Fuego, Acatenango, and Agua).
Come here, relax, and enjoy a great meal and some of the best views of Antigua!!
How to Get to Cerro San Cristobal From Antigua?
There are several ways to get to Cerro Cristobal from Antigua:
Shuttle from Nim Pot
Uber
Walking
The easiest way is to take a shuttle from Nim Pot. You can purchase the roundtrip tickets for 10Q at Nim Pot. The shuttle runs from 8 AM-6 PM and comes every hour or so ("Guatemalan time"). To get back, you just hop one of the shuttles going back to Antigua.
The second way is to take an Uber, which will be more economical if you have 4 people.
The third way is to walk for about 1 hour from Antigua to arrive at Cerro San Cristobal.
4. Chichicastenango, The Biggest Outdoor Market in Central America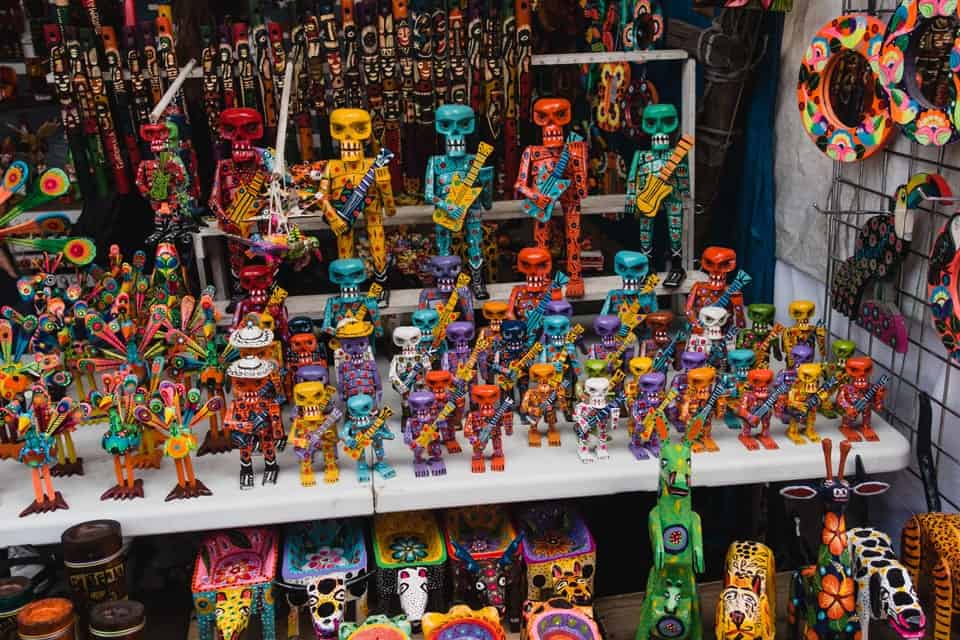 No Guatemala trip is complete without a visit to Chichicastenango, the biggest outdoor market in Central America.
Originally started as a place where locals can get together and sell their goods, Chichicastenango has become one of the biggest attractions in Guatemala.
Throughout the maze-like labyrinth are hundreds, if not, thousands of stalls selling anything you can possibly imagine. From ancient electronics to textiles to smoothies to produce, there is no stone unturned here.
Inside Chichicastenango is an entire basketball court that has turned into a stage for vendors!
To get there from Antigua, you would either have to take a few chicken buses or through a guided tour. We recommend the guided tour because it includes transport and a guide, plus the chicken buses are hard to navigate and can be unsafe.
5. Explore Lake Atitlan and Its Villages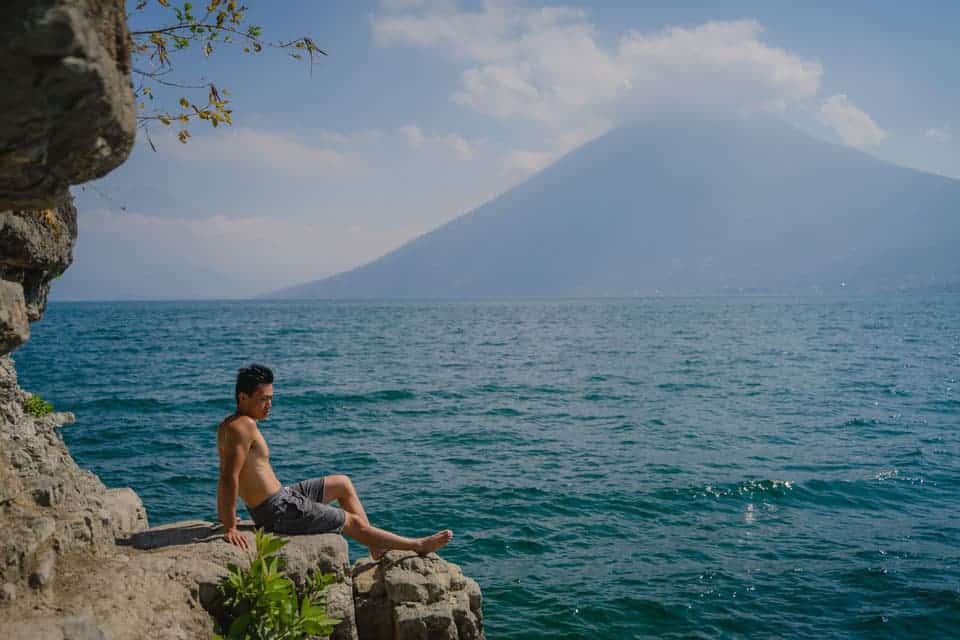 Located about 2.5-hours away from Antigua is the best spot to soak in that glorious Guatemala sun, Lake Atitlan. This massive volcanic crater lake is surrounded by numerous ethnic villages, each providing something unique.
For example, San Macros is known as a hippie haven, full of rustic and charming venues and a great place to go swimming.
San Pedro is one of the most developed villages in Lake Atitlan and offers an excellent backpacker scene and cute coffee shops.
Panajachel offers visitors incredible street food and vendors selling traditional textiles.
Whichever Lake Atitlan village you decide to explore, there is nothing but sunshine, culture and the gorgeous water from the crater lake await you!
Read More: How To Get From Antigua to Lake Atitlan
---
Things to Do In Antigua Guatemala Map
Above is an interactive map featuring all of the attractions we've talked about. Click on the star next to the name of the map and you can save it to your own personal device, perfect for planning your itinerary. It is also useful when you are in Antigua and need something to help you navigate from one place to another!
---
Where to Stay in Antigua Guatemala
Best Hostel in Antigua – Adra Hostel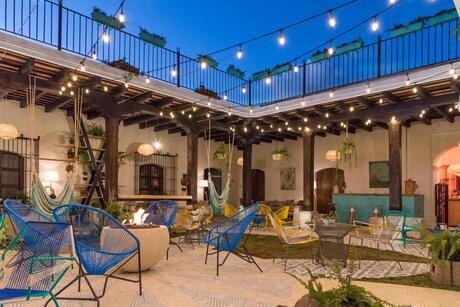 Adra Hostel has one of the most beautiful outdoor common areas I have ever seen. It is the perfect place to meet locals as well as travelers and to do some work on the laptop.
The beds are comfortable and the mattresses are thick. Every bed has its own plug and light. The on-site cafe makes some amazing smoothies as well!
---
Best Vrbo/Airbnb in Antigua – Colonial Home w/Private Courtyard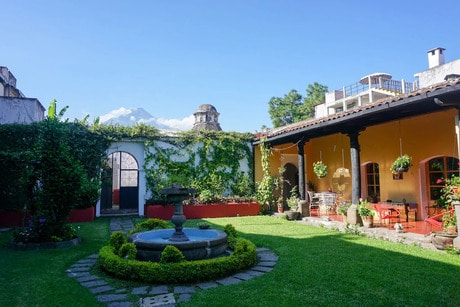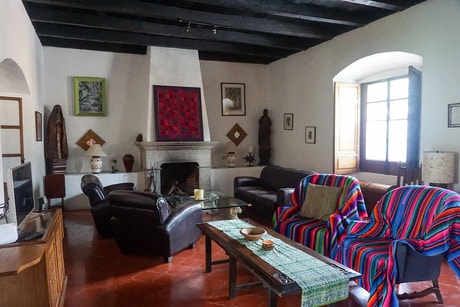 (Images Courtesy of Vrbo)

Looking for a homey accommodation in Antigua? Consider this beautiful colonial home in the center of Antigua.
Its most iconic feature is unquestionably the lush private courtyard, which all 4 bedrooms of this vacation rental open into. Guests can relax on the soft grass, soak in the sun and admire the views of Volcano Agua.
With amenities like a fully-equipped kitchen, living/dining area, a cozy library, washing machines and regular cleaning included, guests are surely going to have a comfortable short-term or long-term stay!
With its 4 bedrooms, 7 guests can enjoy the experience of staying in such a timeless accommodation!
---
Best Luxury Hotel in Antigua – Hotel Museo Spa Casa Santo Domingo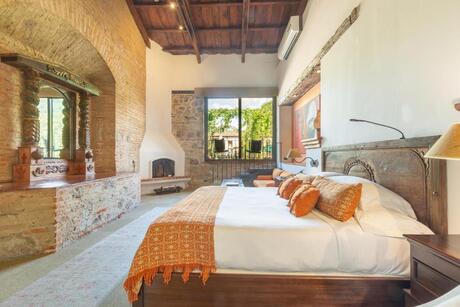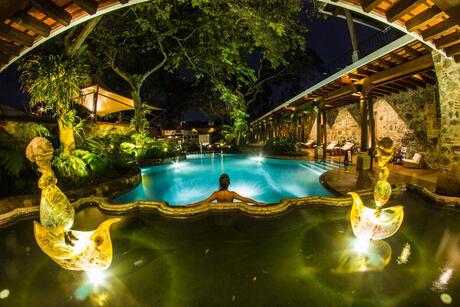 Hotel Museo Spa Casa Santo Domingo is arguably the most famous hotel in Antigua, and it is not surprising why. This luxury hotel is not only a place where guests can have a relaxing stay in one of their beautiful and comfortable rooms, but the hotel is also a museum and a spa.
Hotel Museo Spa Casa Santo Domingo was one of the in America, but it was destroyed by the 1773 earthquake of Santa Marta. In 1989, efforts began to recover this part of Antigua's heritage.
When you stay here, not only are you in one of the most historical buildings in Antigua, but you'll also see plenty of artwork from local artists. It is an immersive experience when you stay in Casa Santo Domingo! Did we forget to mention the beautiful swimming pool?
---
How To Get To Antigua Guatemala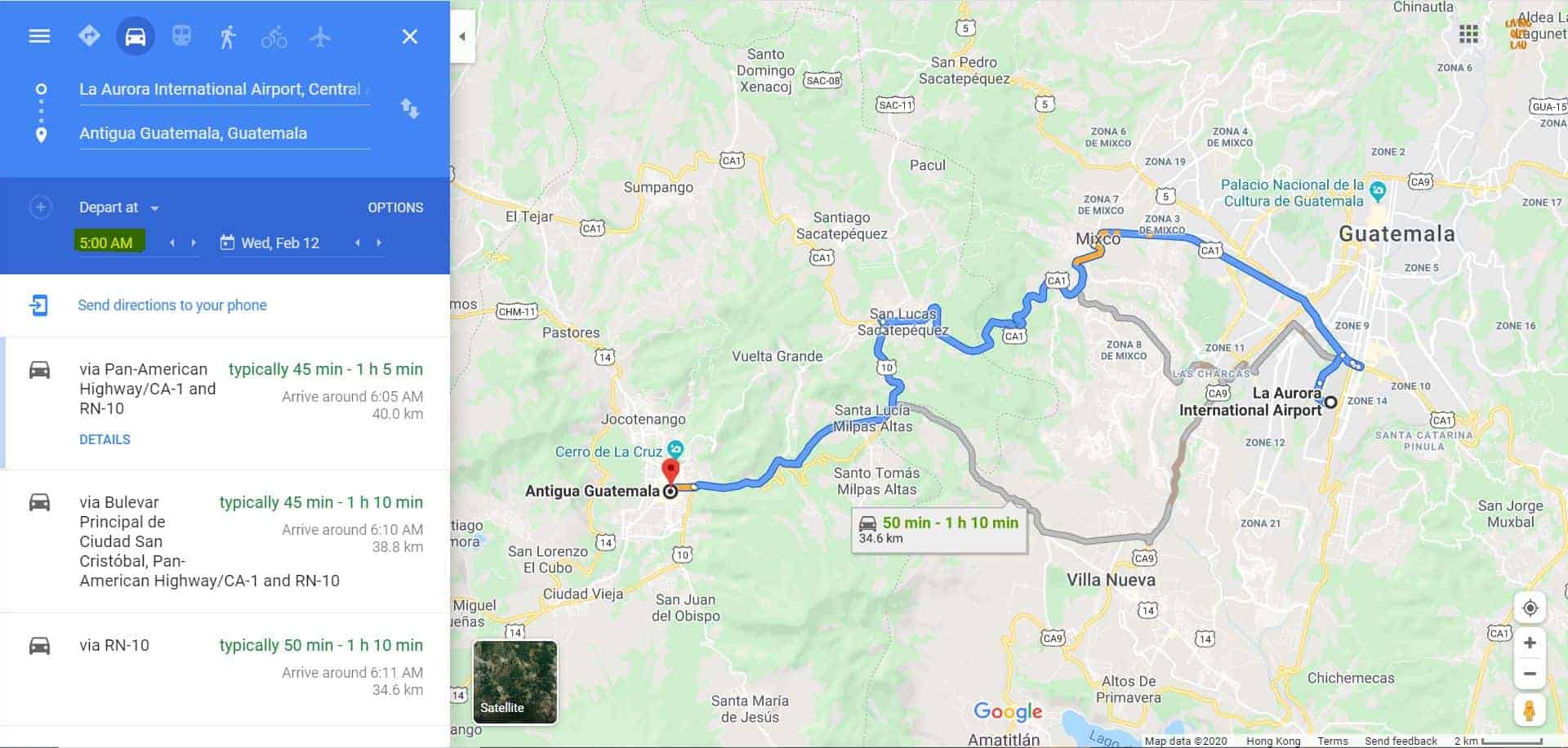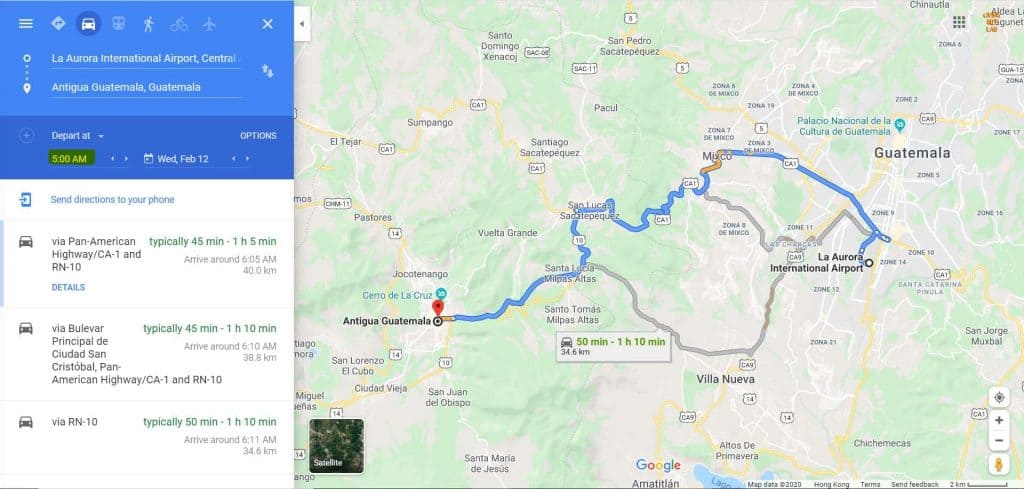 Though the most-visited city in Guatemala, Antigua doesn't have its own airport. The closest airport to Antigua is the La Aurora International Airport in Guatemala City, which is nearly 40 kilometers (25 miles) away.
It takes about a 1-hour drive to get from Guatemala City to Antigua, that is if you don't hit traffic. Rush hour is horrendous in Guatemala City and we were stuck in traffic for 2 hours one time.
There are many ways to get from Guatemala City Airport to Antigua (which we wrote about here), but we recommend arranging a shuttle beforehand. That way, you can avoid having to take the chicken bus (Guatemala's infamous public transportation system) or a taxi, which many tourists get scammed from.
We recommend GuateGo, a transportation company for Central America. They have a great cancellation policy where you can get your ticket's full price in credit for future use, even if you cancel a few hours before your scheduled departure time.
---
Safety in Antigua Guatemala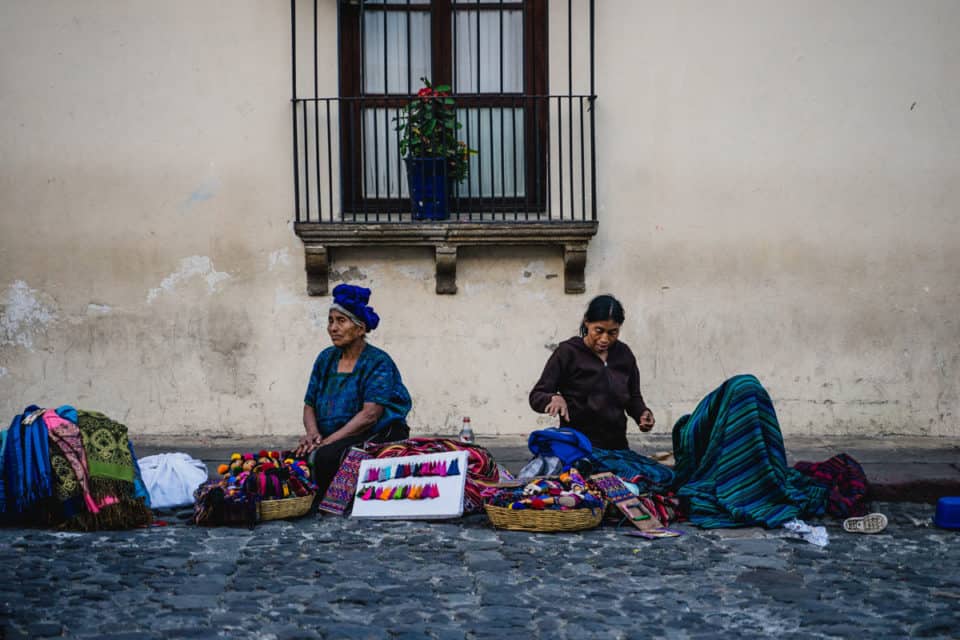 One of the biggest concerns when traveling to Antigua (or any Guatemala city) is whether Antigua is safe or not? The short answer is, yes.
Compared to Guatemala City, the safety of Antigua is much better. It is so much better that even people living in Guatemala City elect to go out at night in Antigua instead of Guatemala City, despite having to drive for at least an hour.
Antigua is safe in both daytime and night for solo or group travelers. However, one thing you must beware of is the thieves that are particularly common during Antigua's nightlife. If you are going to a bar or club, make sure you bring just what you need and don't get too out of control.
I have not heard of anyone being a victim of crime in Antigua, except the few pickpockets here and there at night. Use your wits and don't do anything that would put you in a risky situation!
---
Visiting Antigua Guatemala FAQs
How Many Days To Spend In Antigua Guatemala?
We recommend spending 4 days in Antigua Guatemala if you plan on doing the Volcano Acatenango hike (which you totally should). If you are not planning on doing that hike, 3 days is perfect for Antigua, Guatemala.
Is Antigua Guatemala Worth Visiting?
Without a doubt, Antigua Guatemala is worth visiting. It is the most popular tourist destination in Guatemala. This ex-capital of Guatemala is a quaint colonial city that boasts beautiful natural surroundings and a wide variety of activities for all types of travelers to enjoy. It is also a present-day UNESCO World Heritage Site.
Like this post? Don't forget to save it on Pinterest!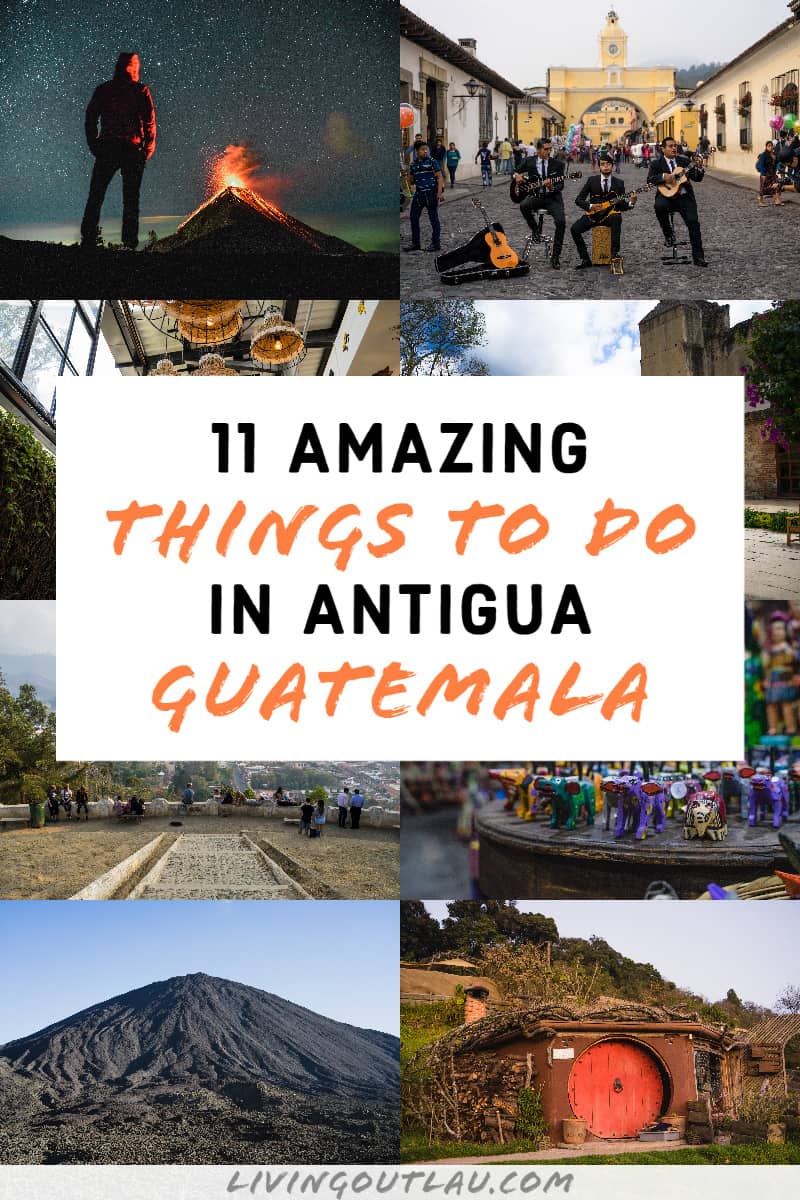 ---
Those are the 25 best things to do in Antigua Guatemala. Have you been to Antigua? What were some things you did when you were in Antigua??
Let us know in the comments!
Disclaimer: Some of the links above are affiliate links. That means if you book or make a purchase through the links, we will earn a small commission at no extra cost to you! The money will help run this site! Thank you!