Tikal ruins, one of the most spectacular, if not, the MOST spectacular Mayan ruins in all of Mesoamerica.  However, unlike other massive ruins such as Chichen Itza where you are not allowed to climb to the top, you can climb to the top of most of the Tikal temples.
However, with a well-preserved historical landmark like Tikal ruins, there are bound to have many restrictions and inconveniences.
This guide will have all the information you need to plan your visit to Tikal Mayan Ruins and how to camp there. Camping in Tikal ruins is a once in a lifetime experience and will make you appreciate the significance of Tikal ruins and its history much more.
Where Are the Tikal Mayan Ruins
Tikal ruins are inside the Tikal National Park, which is located in the Peten region of Guatemala. The Peten region of Guatemala consists of one-third of Guatemala's area and contains some of the most tropical rainforests. Tikal is located in one of those tropical rainforests.
If visiting Mayan ruins in the middle of a rainforest does not excite you, I don't know what does.
Tikal ruins are easily accessible from the beautiful town of Flores in Guatemala or even from San Ignacio or Belize City in Belize. From Flores, it takes about 1.5 hours to get to the Tikal ruins. If you are considering doing a sunrise tour, staying in Flores is the only option you have.
However, if you are satisfied with visiting Tikal in the day, you can easily do it from Belize. However, I highly recommend doing the sunrise tour and staying in Flores. Flores is an amazing town on its own!!!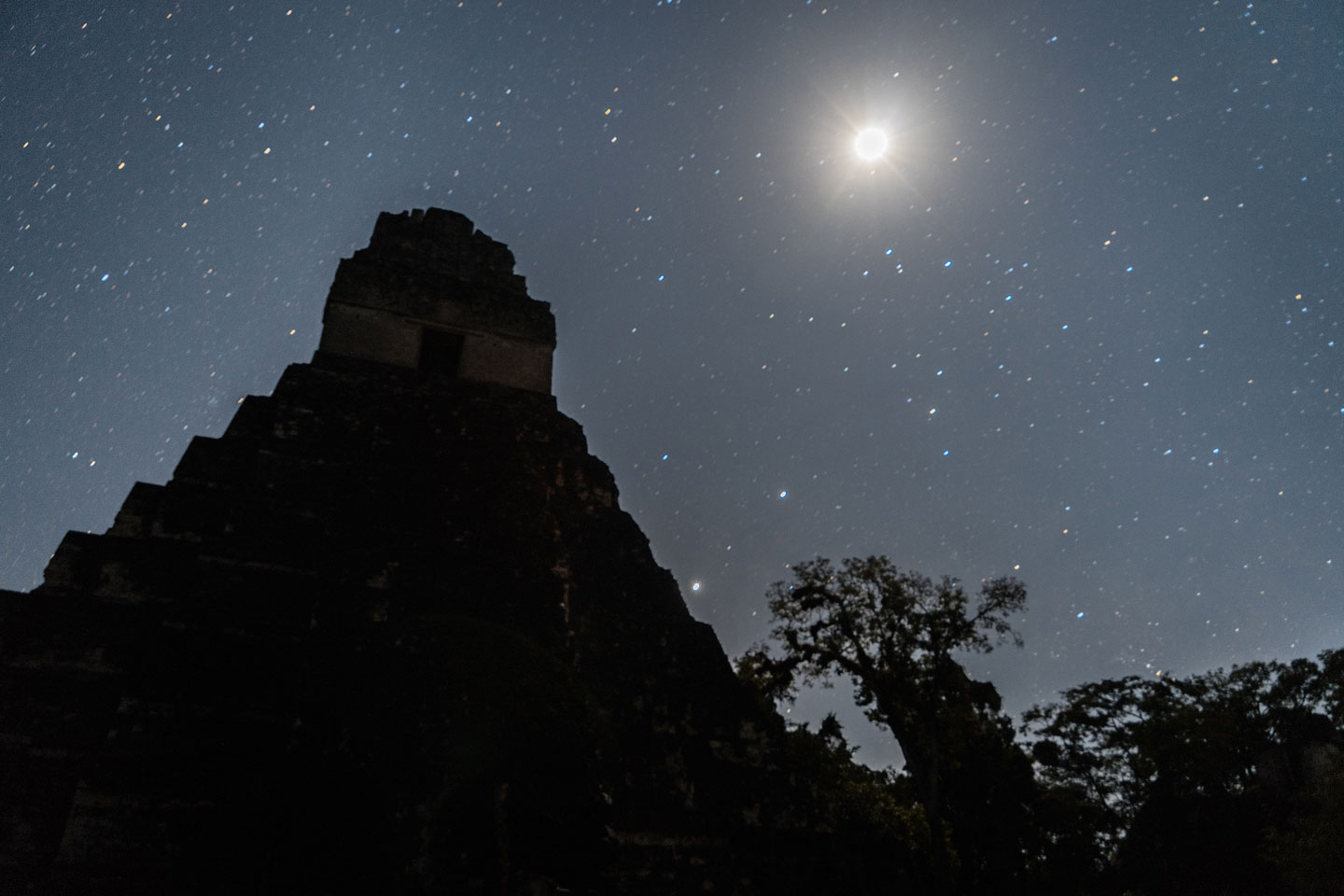 Cost to Enter Tikal Mayan Ruins
The cost to enter Tikal National Park is 150Q for regular entrance and 250Q for sunrise or sunset entrance. The tricky part is, to enter for sunset and sunrise, you MUST have a tour guide. This is because no one is allowed in the park in the dark for safety reasons (and probably money reasons).
If you want to camp in the campground of Tikal National Park, you have to pay an extra 50Q per person to use their campground. In addition to that, if you want to rent out hammocks or a tent from them, it is 50Q and 75Q, respectively. However, the price could be negotiated down.
There are two ways to get a tour guide.
1. You arrive at the park on your own through public buses and rent a private guide at the park (the guide could cost up to 100 USD)
2. You get a tour that includes a tour guide in either Flores or Belize. (More info on that as well).
How to Purchase Tickets for Tikal Mayan Ruins
READ CAREFULLY: Changes were made recently in regards to purchasing tickets for the ruins. You can ONLY purchase tickets in BANRURAL banks. That means you can no longer purchase tickets at the entrance of the park. However, there is an "entrance" of the park where you will pass by a BANRURAL on the way. That is how most people purchase their day tickets.
HOWEVER, the bank only opens from 6 am-6 pm. Meaning that if you want to see the sunrise, you cannot purchase the ticket at the park. So this is where you need to do a little preparation.
For those coming from Flores and wanting to do sunrise: you must purchase your ticket in advance at a BANRURAL anywhere in the country. Luckily for you, there is a BANRURAL 10 minutes walk from Flores. Here is the map attached below.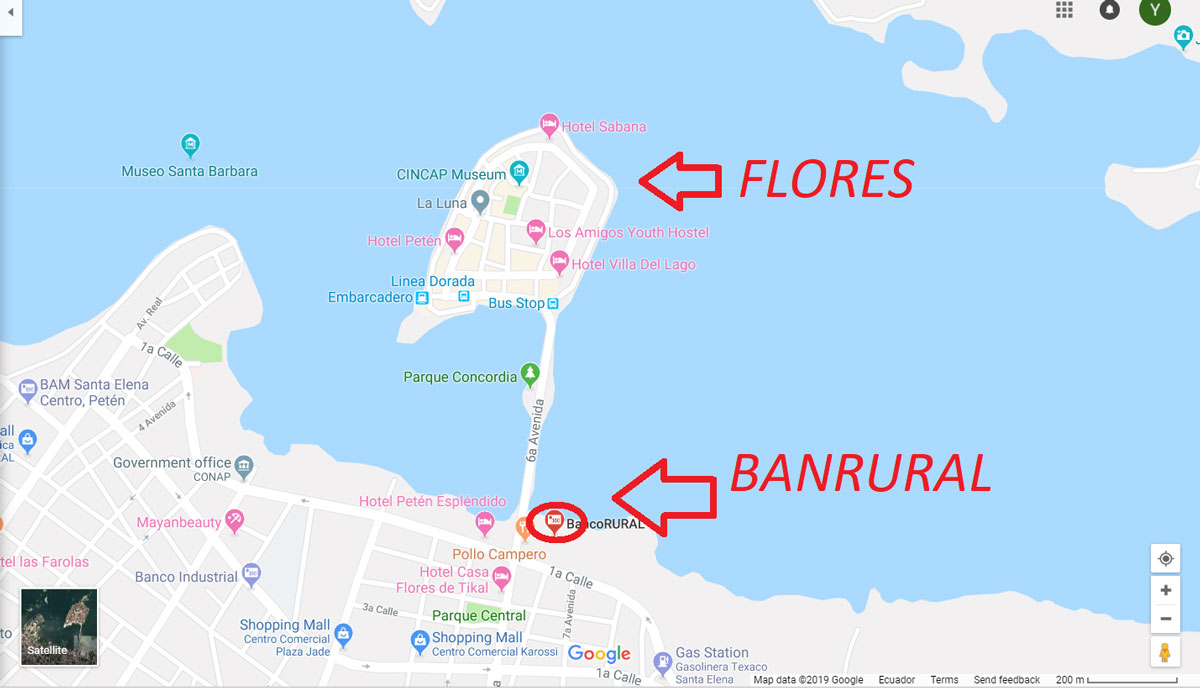 The bank ONLY accepts cash, it will be 150Q for day entrance or 250Q for sunrise or sunset entrance. You will also need a form of identification (ID or passport).
For those coming from Belize, chances are you won't be able to see the sunrise tour and won't have to go through the hassle of buying the ticket a day in advance. And if you do get to do the sunrise, you should be with a tour that will give you information on how to purchase a sunrise ticket. Your ticket will be bought at the entrance of the park for 150Q for the day entrance.
For those doing camping and sunrise, buy your ticket at the bank the day before for 250Q. Get to the entrance of the park, buy the camping ticket there for 50Q, and then once you are at the campground, you can rent out tents and hammocks for 75Q and 50Q, respectively.
Cost of Tikal Tour and Where to Get it
Usually, I am against tours because I like to do things at my own pace. I don't like to be rushed and told what to do. I would much rather explore at my own pace and find the things that interest me. However, I would HIGHLY RECOMMEND a tour for Tikal ruins.
Tours for Tikal ruins can be easily found throughout the town of Flores. But how do you know you are getting the best deal possible? You don't and that's why I am here. I have gone through agencies and agencies looking for the best deal and I have found it.
Los Amigos Youth Hostel. Los Amigos Youth Hostel has its own tour agency that offers the lowest prices I have seen on the entire island of Flores. Sunset or Sunrise tour? 85Q including guide and transport BOTH ways (remember you still need to purchase the 250Q ticket for park entrance.) Regular day tour? 65Q including guide and transport BOTH ways (150Q for a ticket for park entrance.)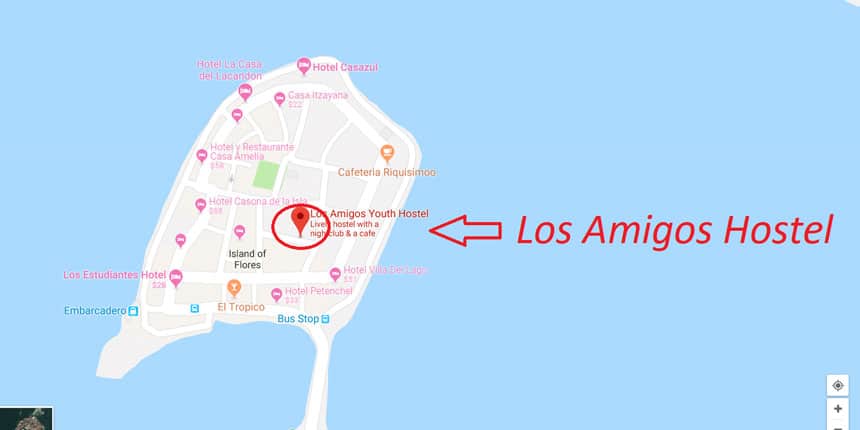 Food Inside Tikal National Park
There are a few restaurants located just outside the park entrance. There are three restaurants that are attached to the hotels. Those are the Jaguar Inn Restaurant, Restaurant Jungle Lodge Hotel, and the Tikal Inn Restaurant. I heard that the food is only average and they are overpriced so we opted out of those restaurants.
Luckily, there are a few comedors (small locally-owned restaurants) that are around as well. The food was pretty good there and the prices were a lot more affordable. Do bear in mind that the comedors close at 9 PM.
There are also small tiendas (shops) outside the park that sells snacks, drinks, and beers.
Camping in Tikal National Park and Why I recommend it
Camping in Tikal National Park was definitely one of the most amazing things I have ever done. Tikal National Park is located in the heart of the tropical rainforest. This means that when you go to bed, you are surrounded by wildlife. But remember, the jungle never sleeps. Throughout the night, you could hear the growling of howler monkeys (which is the same sound they used to make T-rex noises in the movie Jurassic Park), the rustling of the leaves and branches, and much more.
From what I have read, there are jaguars, cougars, spider monkeys, howler monkeys, parrots, toucans, and much more in the forest. The tour guide that we were with has personally seen a few jaguars in the park himself. How scary is that!?! If you aren't excited by this already, camping allows you to see the sunrise much easier. If you were departing from Flores to see the sunrise, you would have to get up at 3:00 AM. But if you were camping in Tikal, you would get a little more sleep. Did I mention the stars that you can see at night from the campsite?!?
Everything You Need to Know About Camping in Tikal Ruins
Camping is a little different in Tikal than other campsites. You cannot make a reservation in advance. You simply show up the day of and tell them you want to camp there. You will have to buy a camping pass at the entrance of the park for 50Q per person. And then once you get to the campsite, you have the option to either rent a tent (fits 2) for 75Q or rent a hammock for 50Q.
If you are planning to do the sunrise tour, you must purchase your sunrise entrance ticket (250Q) the day before. You will not be able to purchase it on the morning of because the bank is closed and very far from the campground. Also, remember I mentioned that you will need a tour guide for sunrise tours? Yes, you will need a guide. There are private guides in the morning at the park but those are EXPENSIVE. I heard they cost around 100 USD.
So this is how we were able to camp and do the sunrise tour. First, we went to the BANRURAL and purchased a sunrise entrance ticket for Tikal (cash only and needs your ID or passport). We purchased a sunrise tour from Los Amigos hostel (85Q) the day before. Remember that tour includes transportation both ways and a tour guide. We did not use the transportation going there because we wanted to go there a day earlier to camp. We took public transportation (read the next part to know how) to get there ourselves. We arrived at around 4 PM, got the camping pass and the tents for the night. Ate at the comedor around 7 pm. We then stargazed for a few hours, took some cool photos and went to bed. We got up at 4:15 AM and met up with the sunrise tour group that was coming from Flores.
We erected our tent on the cement ground which was provided. The tent was very basic (pretty much just a plastic shell). There is like a "roof" made out of straw in case it rains. We were NOT given blankets or anything and it gets COLD at night. They have bathrooms on site but they are about 150m walk from where your tent is going to be. The bathrooms have toilet paper, showers, and water for brushing your teeth etc. They do not have hot water obviously. I would suggest bringing a headlamp or something like that for the walk to the bathroom. Flashlight from the phone is perfectly fine.
We did not shower and could not sleep at night due to the wildlife noises and the cold. But everything was so worth it though. To be able to be at one with the jungle and experience what that is like is truly an unforgettable experience. With this information, hopefully you will have a great time camping in Tikal National Park.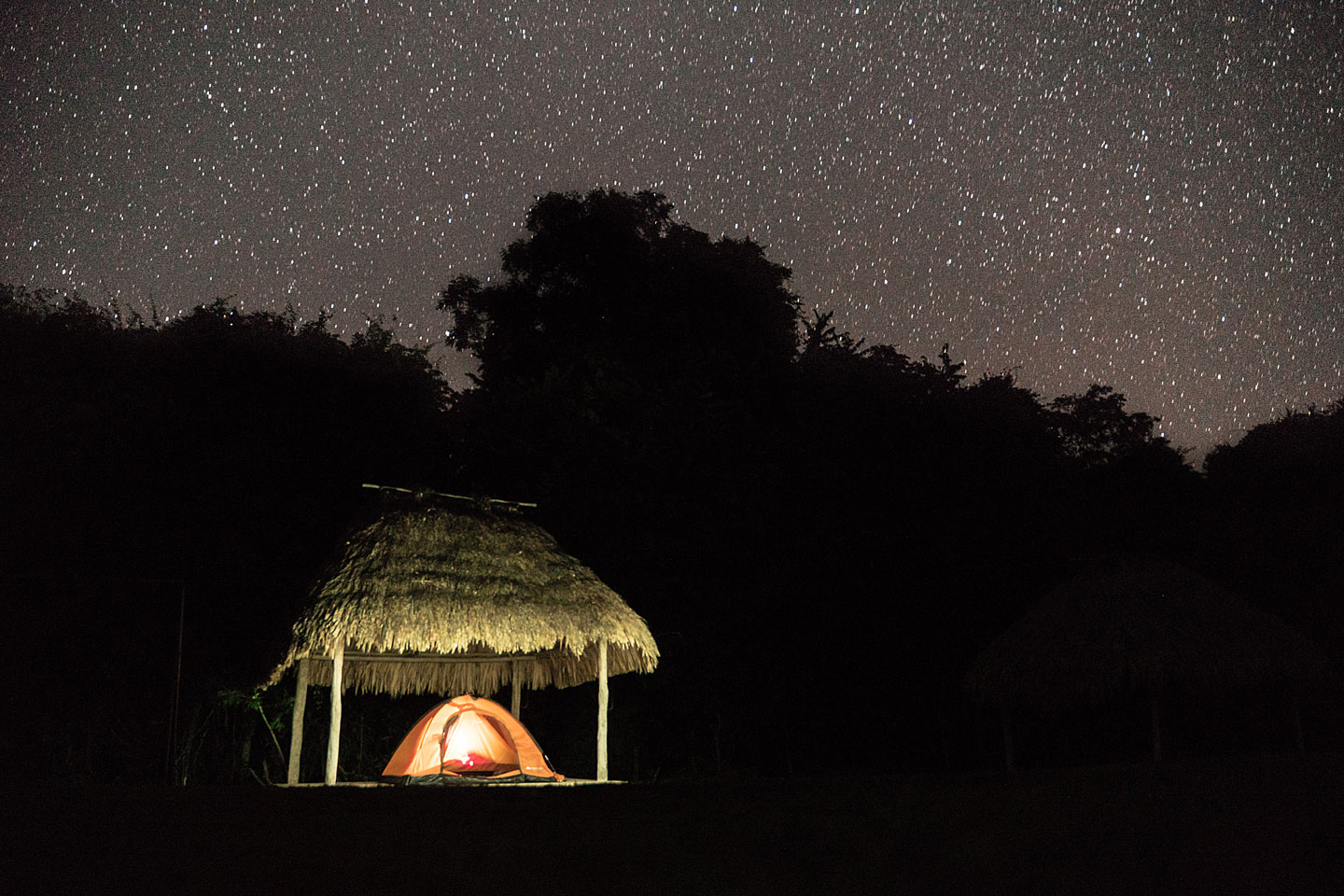 How to Get to Tikal National Park from Flores With Public Transportation
It is actually fairly simple to go to Tikal national park from Flores. All it requires is one public bus (chicken bus or camionetta in Spanish). Once you arrive at the bus terminal, people will ask you where you are going and you just tell them Tikal and they will point you to the right bus. We paid 30Q for our bus. This bus will stop at the "entrance" where your tickets can be purchased for the park.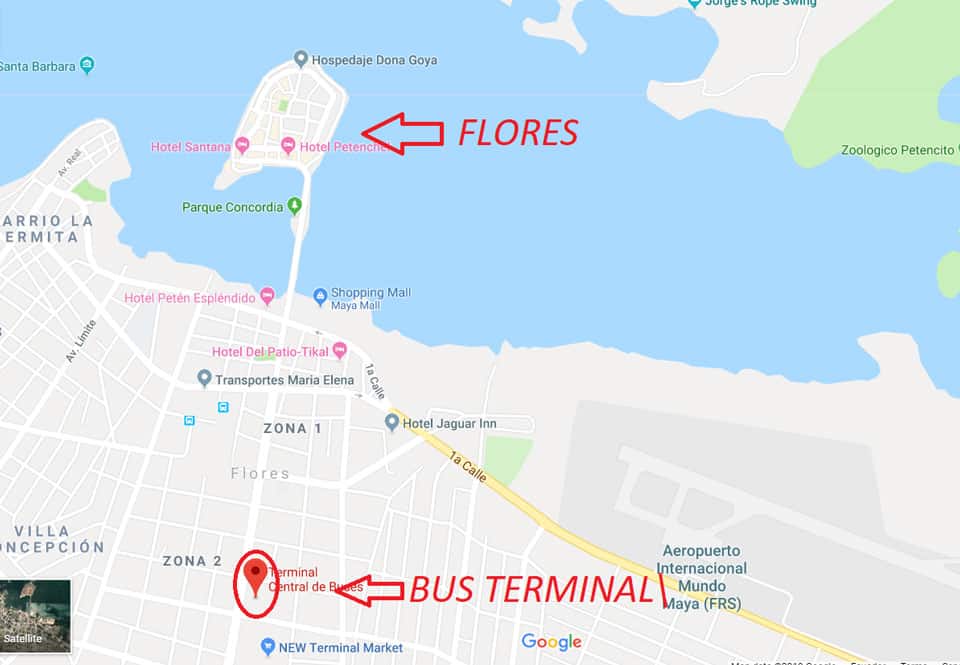 Where to Stay in Flores Guatemala
Arrive solo, leave with a family.
Los Amigos Youth Hostel is one of the best hostels in Flores Guatemala. Featuring its own tour agency and a beautiful garden area to make new friends, a day in Flores will never be boring. The pets on the property will melt your heart away! 
Hostal Don Cenobio is one of my best cheap hotels in Flores. Featuring big spacious rooms, comfortable beds, and simple but yet elegant decor, Hostal Don Cenobio is going to satisfy the needs of a tiresome traveler. My favorite feature of the hotel is the awesome rooftop terrace that overlooks the gorgeous lake. It has to be one of the best places to watch the sunset in Flores!
Hotel Isla de Flores is a luxury hotel that you won't easily find in Guatemala. Featuring well-decorated rooms and huge beds, guests can properly relax after camping in the Tikal jungle for a night. Their rooftop swimming pool is one of my favorite features of this hotel!
Like this post? Don't forget to save it on Pinterest! 🙂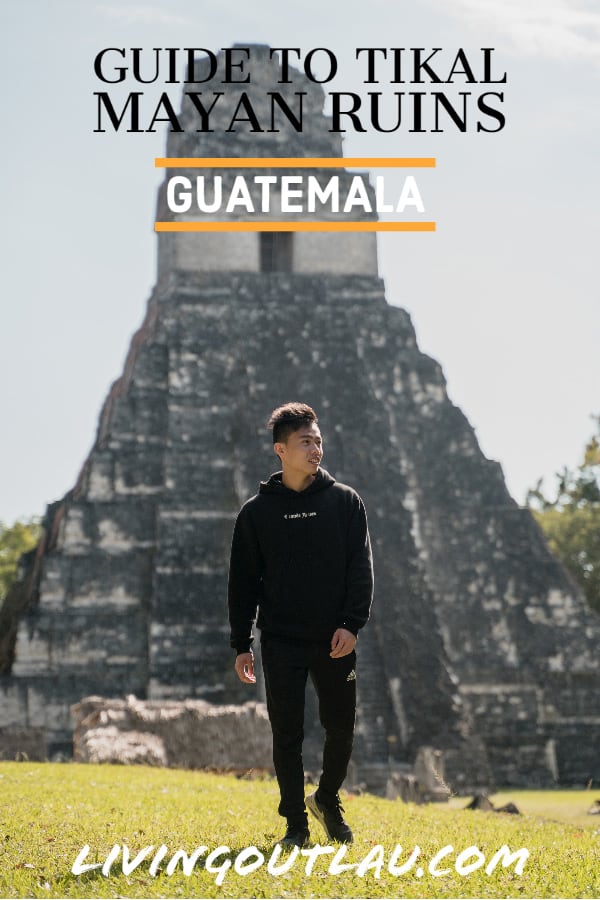 There you have it. The perfect guide to Tikal Mayan ruins and how to camp there. Have you been to Tikal National Park? Did you camp there? What did you think of it?? Let us know in the comments!!!
Disclaimer: Some of the links above are affiliate links. That means if you book or make a purchase through the links, we will earn a small commission at no extra cost to you! The money will help run this site! Thank you 🙂