Not sure what to do in Flores, Guatemala? Worry not, we are here to help.
Personally been there ourselves, we thought this island offered nothing except tours to Tikal ruins, colorful historical buildings, and delicious traditional restaurants. But boy were we wrong.
As the capital of the Peten Department in Guatemala, Flores had so much more to offer than we expected. Every day we were discovering new activities and attractions around the island.
That is why we have written this guide on the 11 best things to do in Flores Guatemala so you can have the perfect trip to Flores!
Enjoy!
---
What To Do In Flores: 11 Best Things To Do In Flores Guatemala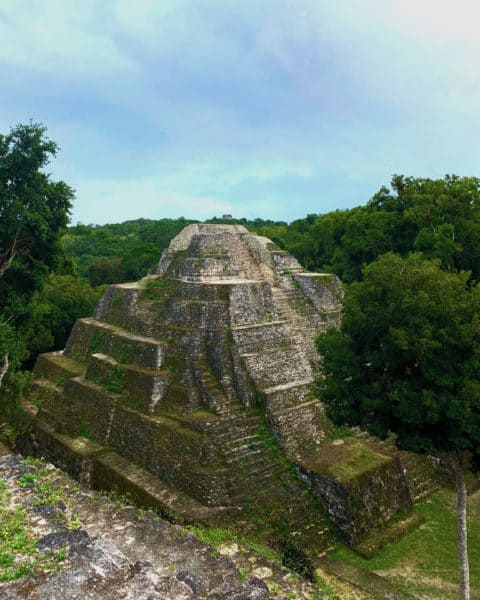 One of our favorite hidden gems in Flores is Yaxha ruins. You might not have heard of Yaxha ruins but don't scratch this off your list. Yaxha is an ancient Mayan ruin that has not garnered the attention it deserves.
A lot less touristy than the neighboring UNESCO Heritage Site Tikal Ruins, this is the place to go to if you want to see the wildlife and flora of the lush Peten Department. Because Yaxha Ruins receive little foot traffic, the condition of the archaeological site is much better and wildlife is abundant there.
Some wildlife species you might encounter include spider monkeys, howler monkeys, tarantulas, and different types of birds. If you are lucky, you might even have the whole ruins to yourself!
How To Get To Yaxha Ruins & How Much Does It Cost?
Yaxha is located about a 1.5-hour drive away from Flores. Though it is probably possible to get to Yaxha via a taxi, it is not a very popular option.
The most common and popular way to get to Yaxha ruins is to get a tour from Flores. Travelers can decide between a sunset tour or a regular day tour. They do not offer a sunrise tour as far as we know.
There are numerous tour agencies nestled in the tiny island of Flores. However, after going from agency to agency, we found that the tour agency inside Los Amigos Hostel offered the best price.
From the tour agency at Los Amigos, it costs 200Q for a sunset tour (including a tour guide). If you want just the transportation, it costs 170Q (at the time of writing). Note that there is an additional 80Q entrance fee to the Yaxha ruins.
2. Enjoy A Nice Relaxing Day At Jorge's Rope Swing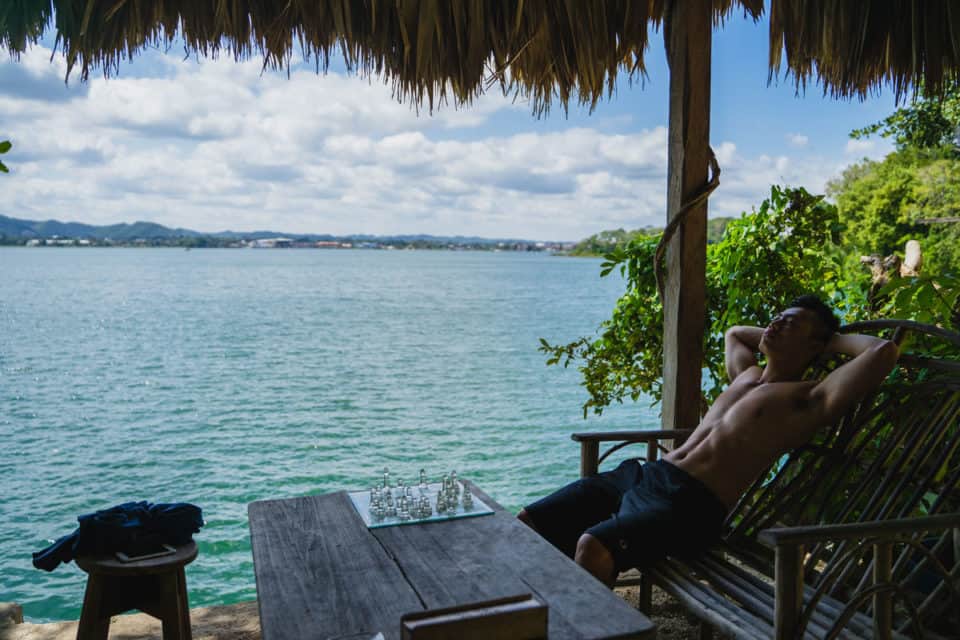 If you were to ask us what our favorite thing to do in Flores Guatemala was, it would be visiting Jorge's Rope Swing. Located a short 15-minute boat ride from Flores island, it is a must-see place on any Flores visit.
Don't let the name intimidate you, Jorge's Rope Swing is a place that has an activity for everyone. The place is situated on the edge of Peten Itza Lake and is actually home to Jorge's family.
Here visitors will find a rope swing and a 6-meter tall wooden diving board. However, under the cozy thatched huts are locally-made benches, chairs, hammocks, perfect for anyone that just want to relax.
Rent one of the board games and challenge your friends, or get a nice tan at their sun lounging area next to the water.
If you are hungry, you can also purchase some delicious nachos and drinks. However, if you want meat, you must inform the owners ahead of time because they will need to go inland and bring some fresh meat back!
How To Get To Jorge's Rope Swing & How Much Does It Cost?
Getting to Jorge's Rope Swing was a lot simpler than we thought. You can either inform your accommodation that you want to visit the Rope Swing and they will arrange transport directly with Jorge's family, or you can walk around the perimeter of Flores Island and speak with one of the boatmen.
It cost us 25Q for a round-trip transport plus a 10Q entrance fee. The cost of the boat ride largely depends on your bargaining skills and how many people you have with you.
3. Schedule A Tour To Tikal Ruins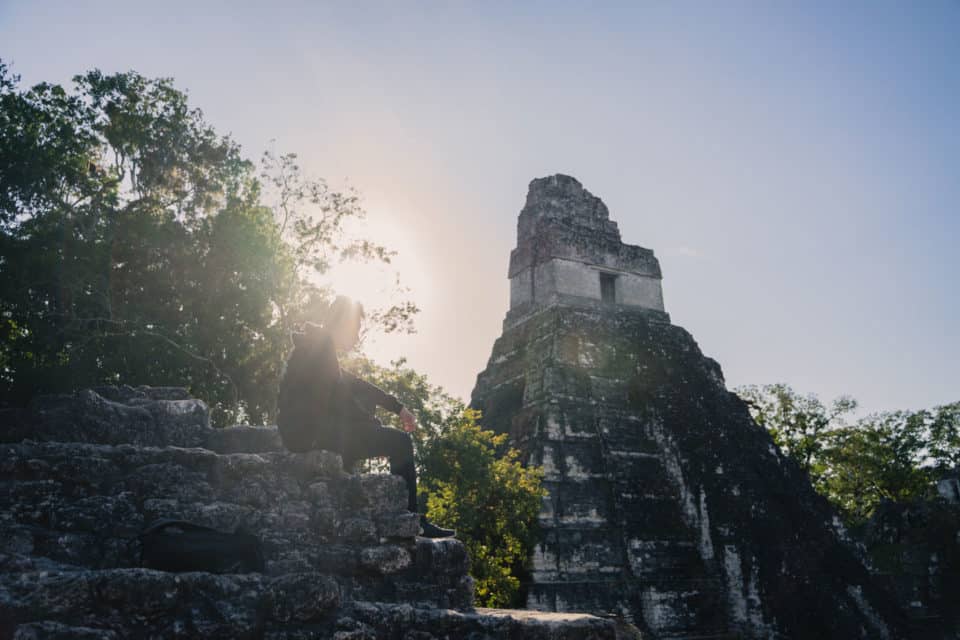 Tikal Ruins is not just the biggest attraction in Flores, but one of the best things to do in Guatemala. Historians believe that there are over 3,000 historical buildings inside Tikal National Park. That isn't surprising, considering the fact that Tikal was a Maya superpower. Its wealth made Tikal the beating heart of the Maya civilization.
This UNESCO Heritage Site of Tikal was one of the biggest archaeological sites in all of Mesoamerica and a must on any Guatemala itinerary.
Surely you will be impressed by the historical significance of Tikal Ruins, but there's more than history here. This famous Mayan ruin is located deep inside the rainforest region of the Peten Department. As a result, you might encounter a wide variety of wildlife here on your visit.
Though definitely not as much wildlife as Yaxha Ruins, you will encounter your fair share of monkeys, birds, and maybe even spiders! The tour guys said they have encountered several jaguars inside the park as well!
If you want to take your experience to the next level, you could also camp inside the Tikal National Park, a bucket list experience you won't forget!
How To Get To Tikal Ruins & How Much Does It Cost?
Though it isn't impossible to get your own transportation to Tikal National Park, it is fairly complicated especially if you don't speak any Spanish. That is why we recommend taking a guided tour to Tikal Mayan Ruins.
Where to get tours to Tikal?
Because it is the most popular sightseeing spot in Flores, it is almost impossible to not find tours to Tikal Ruins. After scouting around, we found the best deal at the tour agency of Los Amigos Hostel.
How much does it cost to go to Tikal ruins?
The ticket to visit Tikal Mayan National Park costs 150Q for a regular ticket and 250Q for a sunrise/sunset ticket (must be purchased at a Banrural bank). If you do decide to visit for sunrise/sunset, a mandatory tour guide is required.
Tours for Tikal day visits are priced at around 170Q, which only includes transport and a guide. Because visiting Tikal Ruins is so complicated, we recommend you to book a Tikal tour online.
4. Admire The Beauty Of Flores At Mirador Del Rey Canek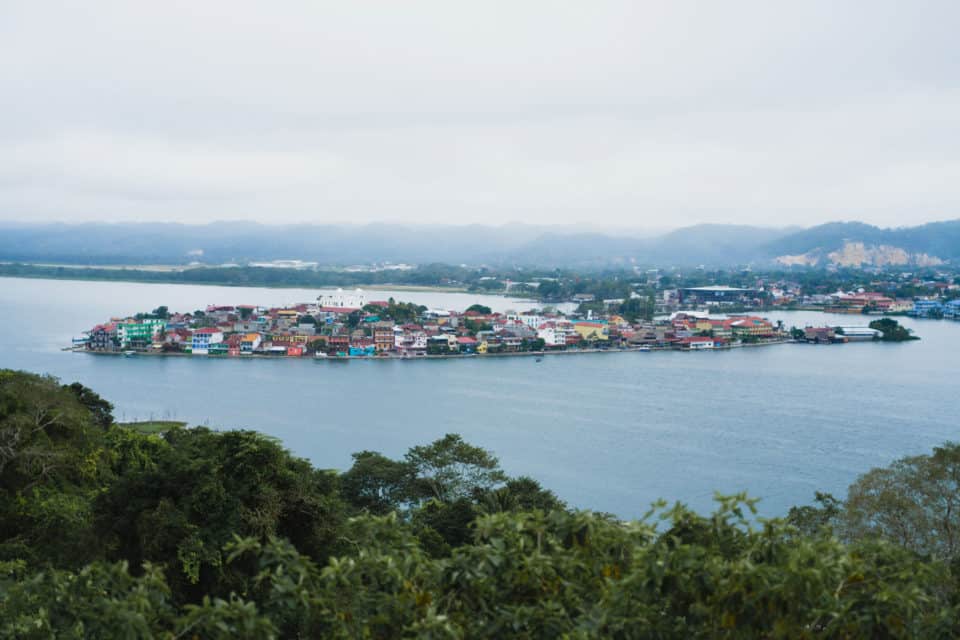 The beauty of Flores Island is best seen from up high. If you are traveling with a drone, that's fantastic. But if you are not, you will want to check out the vantage point at El Mirador Del Rey Canek. Located on a separate island from Flores called San Miguel, this viewpoint is easily accessible via a short boat ride.
Once you have hired a boatman and asked him to take you to El Mirador Del Rey Canek, there is a short 10-minute hike to reach the viewpoint itself. It is a small treehouse that's built on top of a hill. Don't be afraid of its structural stability, the wooden watchtower is quite sturdy.
Mirador Del Rey Canek is definitely the best place in Flores to soak in all of its beauty!
How To Get To El Mirador Del Rey Canek & How Much Does It Cost?
You can easily find a local boat on the perimeter of Flores that will be willing to take you to the mirador (viewpoint). Once you arrive at San Miguel Island, it is a short but strenuous 10-minute hike to the viewpoint. The boat ride takes about 10 minutes.

We paid 30Q per person (3 people in total) for a round trip, the amount can change based on your bargaining skills!
Read More: What Is Guatemala Known And Famous For?
5. Take A Dip At Playa Chechenal Peten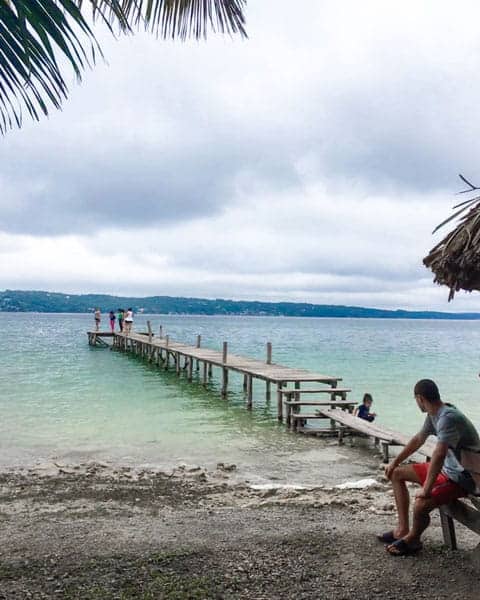 Did you know that there is a beach in Flores? Neither did we.
Located on the other side of San Miguel is Playa Chechenal Peten, or Checehnal Peten beach in English. Had it not been for someone we met at the Los Amigos Hostel, we would have never found out about this hidden gem.
Mainly a spot for locals to hang out, this calm beach in Guatemala features turquoise water and expansive views. Its water color definitely reminded us of some of the beaches we have seen in places in Mexico such as Tulum or Cancun.
If you want a peaceful swim in Flores, then make sure you visit Playa Chechenal Peten.
How To Get To Playa Chechenal Peten & How Much Does It Cost?
Because the beach is located on San Miguel island, you can visit both Mirador Del Rey Canek and the beach on the same day.
Take a boat from Flores like you would if you were to visit the Mirador. Instead of going towards the viewpoint, take the path that's headed for the beach. From the drop-off point at San Miguel to the beach is about a 15-minute walk.
We paid around 30Q (3 people) for a round trip. Chances are you can negotiate down depending on how many people you have.
6. Take The 5-Day Trek To El Mirador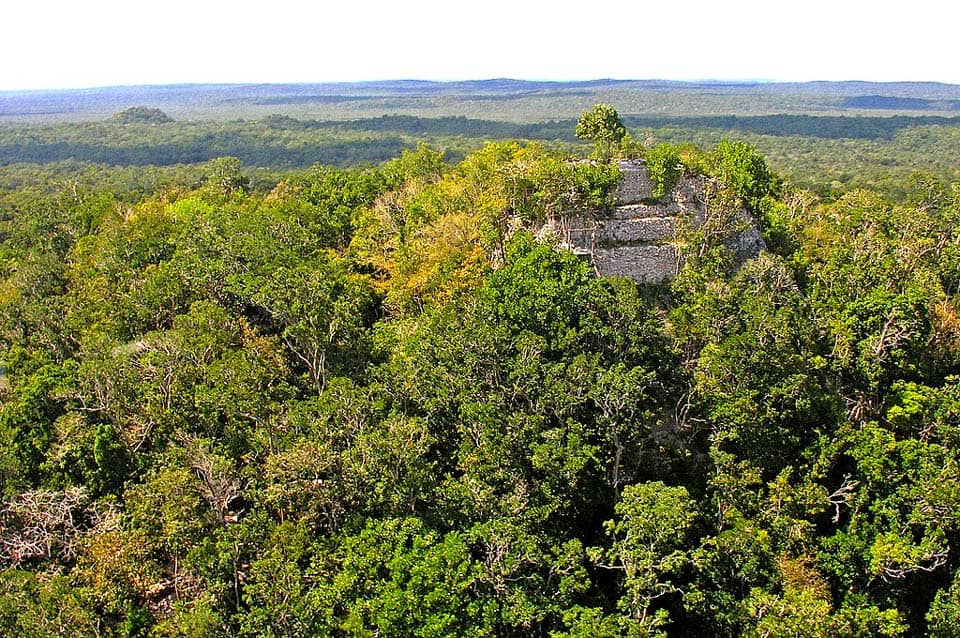 El Mirador is a large pre-Columbian Maya settlement deep inside the rainforest of the Peten Department. The only way to reach it is via a 5-day jungle trek. (Or a helicopter ride but we won't count that!)
As one of the oldest Maya cities, El Mirador is still in the beginning stages of excavation. Most of the historical structures are still hidden in the jungle, waiting for archaeologists to uncover them.
When hikers finally arrive though, they will have the opportunity to stand on top of La Danta, one of the pyramids in El Mirador and the tallest pyramid built without metal in the western hemisphere!
A guided tour will explain to you the fauna and flora of the region, as well as provide you with three meals a day and a tent to sleep in every night. However, the trek to El Mirador is no walk in the park. Some days you might have to walk up to 8 hours a day!
If you plan on visiting El Mirador, make sure you include some nice hiking boots in your Guatemala packing list!
7. Have An Adventure At Ixpanpajul Natural Park
If you are traveling to Flores with kids (or kids at heart), then make sure to visit Ixpanpajul Natural Park. Featuring family activities such as zip-lining and horseback riding, it is the perfect place to take your kids to experience some outdoor activities.
Besides its iconic canopy zip-lining, Ixpanpajul Natural Park features a lush hiking trail and six suspension bridges for visitors to explore. These trails explore some of the most incredible wildlife and flora in the region!
Ixpanpajul Natural Park is located 20 minutes away from Flores by car. Visitors can take a shuttle bus from Flores.
8. Check Out The Uaxactun Ruins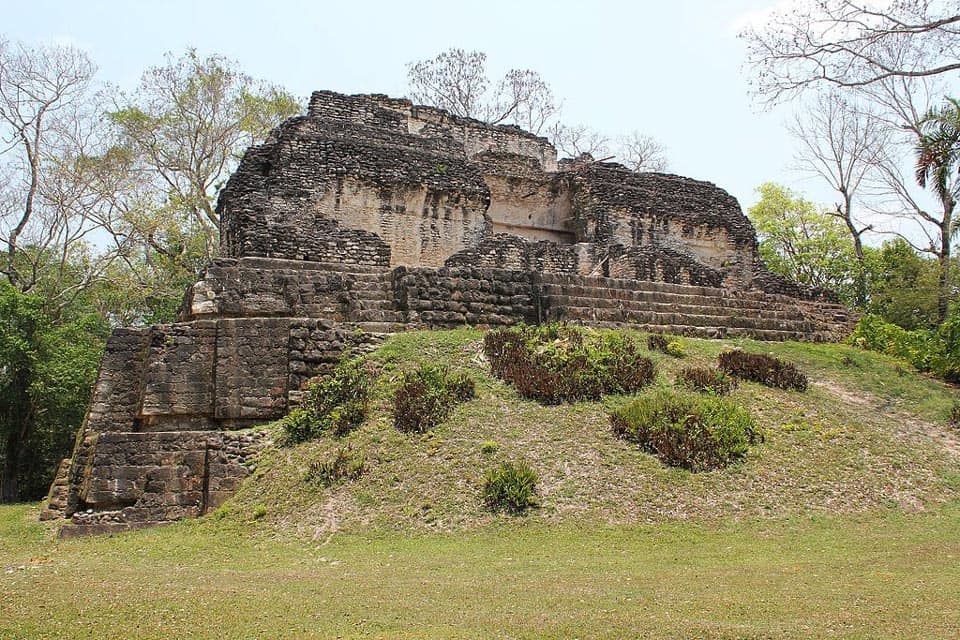 Uaxacatun Ruins is one of the newest attractions in Flores, Guatemala. If exploring all the Mayan ruins only piqued your interest, then consider giving Uaxactun Ruins a visit.
Uaxactun Ruin's most unique features are the astrological Mayan pyramids used to conduct the primitive form of astrology. Uaxactun Ruins are also located next to a small Guatemalan village in the jungle, and it is interesting to see people living around the ruins.
There is also a small landing strip at Uaxactun Ruins. That is because Wrigley's Chewing Gum used the trees in the area to make their gum.
The only con of visiting Uaxactun Ruins is how difficult it is to get there. It is located 23 kilometers further away from Tikal Ruins, which is already over an hour away.
Because of this reason, it is recommended to spend one day exploring Tikal, stay at one of the jungle lodges inside Tikal National Park, then head to Uaxactun the next day. Your accommodation should be able to arrange a tour guide and transportation for Uaxactun for you.
9. Catch the Sunset From a Rooftop Bar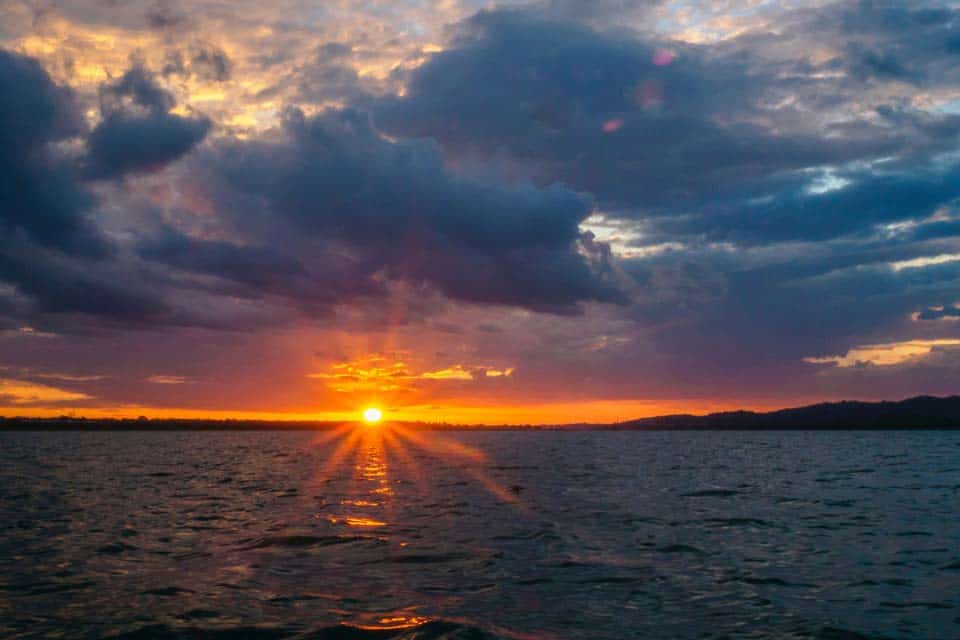 While the island of Flores isn't very big, it is surely filled with lots of rooftop bars. Many of them are situated on the perimeter of the island, offering guests panoramic views of Lake Peten Itza.
The stunning views make it perfect for watching the sunsets, which are somehow always gorgeous in Flores. There is nothing like sipping an aguardiente (local Guatemalan liquor) with coke while watching mother nature work its magic!
There are many rooftop bars in Flores, but the one we recommend is called Sky Bar!
Looking for more epic lake views in Guatemala? Make sure you check out Lake Atitlan!
10. Explore The Santa Barbara Museum (Museo Santa Barbara)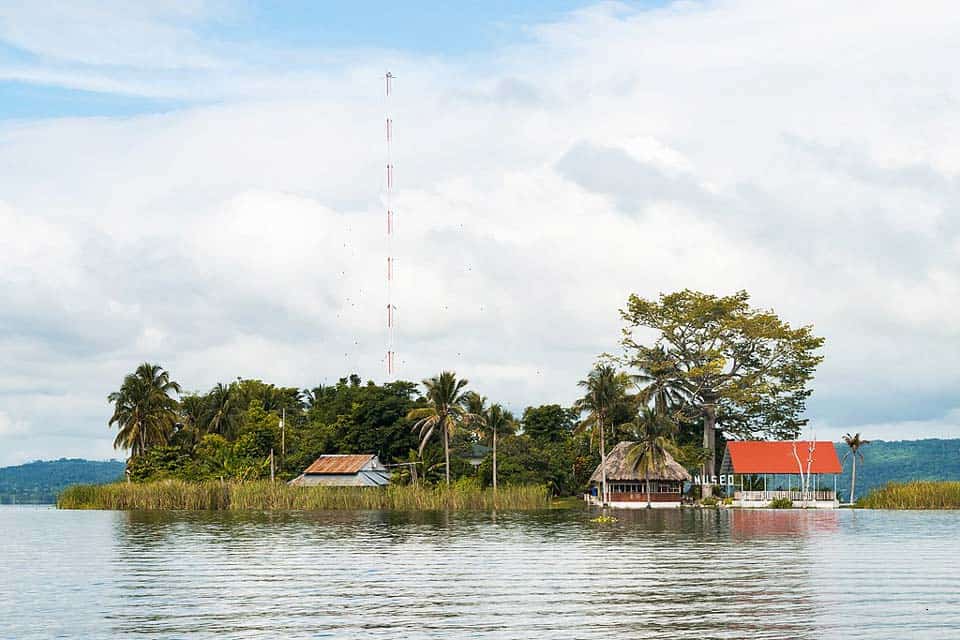 Museo Santa Barbara is a small museum located on a tiny island off the western coast of Flores. This museum has a large collection of Mayan artifacts that were used in daily lives, many of which were found nearby.
When we visited, we found that the collection was a bit disorganized as there wasn't tons of information. It was cool to see some ancient ceramics and obsidian stones that were used for rituals and ceremonies. The museum also had an entrance fee.
The tiny island that Museo Santa Barbara resides on is also home to a restaurant, Hotel Santa Barbara, and a radio station. We thought that just the peacefulness and seclusion of the island were worth the trip itself. It also helped that the views of that small island were incredibly beautiful.
If you want to visit the museum (or just the island), then you must take a 5-minute boat ride from Flores island.
11. Stroll Around The Colonial Streets of Flores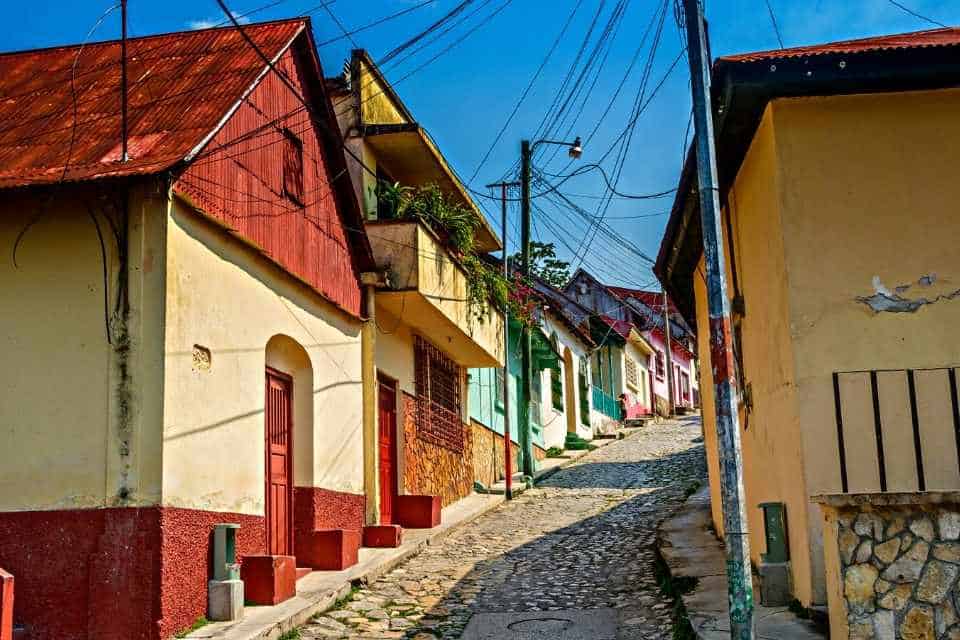 Many people come to Flores to enjoy the sweeping views of the lake and to go to Tikal, skipping out on the beauty that is Flores Island itself. Similar to Antigua Guatemala, Flores is filled with colonial-style buildings, many of which have distinctive red roofs and colorful facades.
Combined with the cobblestone streets, Flores is very photogenic. Don't forget to take your travel camera with you!
Because Flores is so small, it takes about an hour to walk literally walk every single street. There are a few attractions noteworthy on the island, namely the Parque de Flores, a park located in the middle of the island, and the Catedral de Flores!
---
How To Get Around Flores?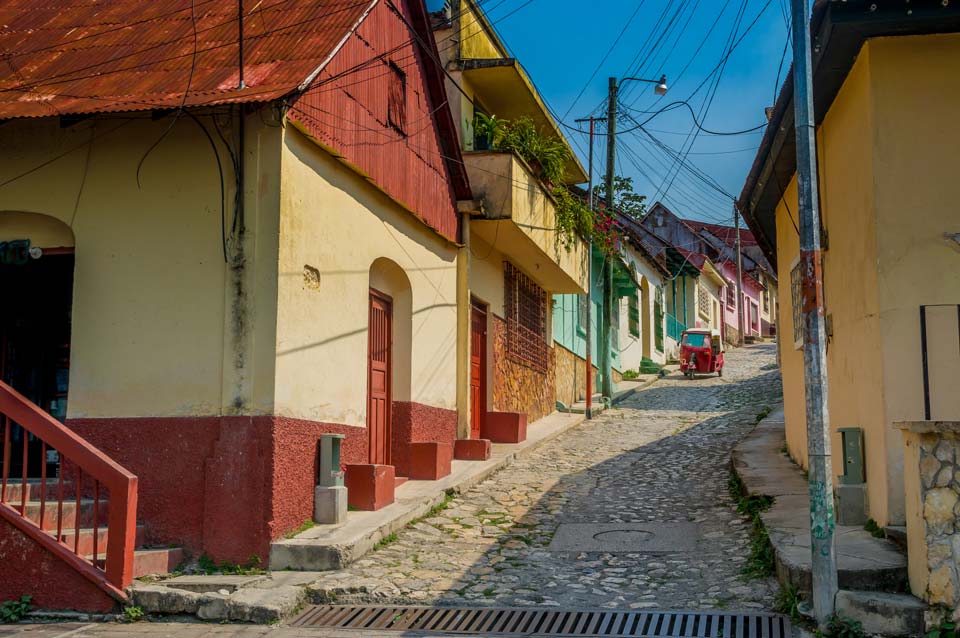 Getting around Flores is actually quite simple. The island of Flores is quite tiny, and visitors might only take a few hours to walk every single street on the island. Even if you are planning on going inland (where Zone 1 is and where the locals live), it is still walkable.
However, those that don't want to walk can take one of the mototaxis, or tuk-tuks, that are readily available on the island. This also goes if you want to get to the airport.
And if you want to venture further out, you can catch one of the buses from the minibus terminal or long-distance bus terminal. These can take you to places such as Tikal, El Remate, or even Guatemala City!
---
How Many Days To Stay In Flores, Guatemala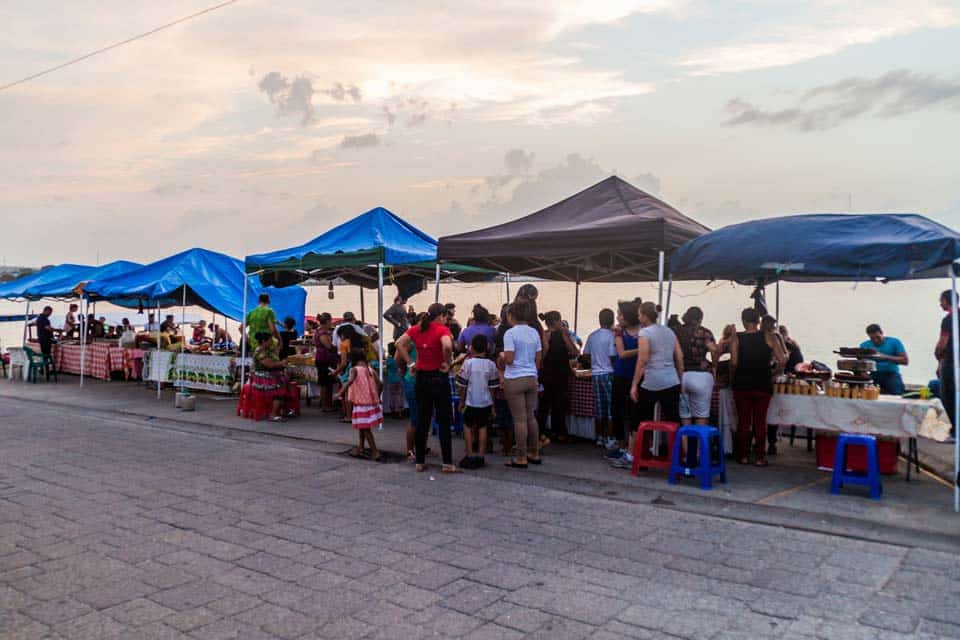 With so many attractions in Flores and so many spots to relax, you can spend weeks in Flores. But what is the ideal time to stay in Flores if you just want to see the best of it?
The answer is… 3 days.
Depending on what time of the day you arrive in Flores, you should be able to see most of the things in 3 days. Three full days is the perfect amount of time but if you are arriving in Flores late in the evening, you might want to stay a day longer.
Day one should be spent properly relaxing and exploring the Flores island. Visiting Jorge's Rope Swing and then watching the sunset with a cold drink in your hand.
Day two should be spent exploring the Tikal Mayan Ruins. As I said, I highly recommend you to go for the sunrise tour and then spend a few hours exploring the massive archaeological site independently.
Day three is perfect for exploring San Miguel Island. Check out the viewpoint, walk around the island, and relax on Playa Chechenal Peten! You could also explore Santa Elena or go to other Mayan ruins.
---
Safety In Flores, Guatemala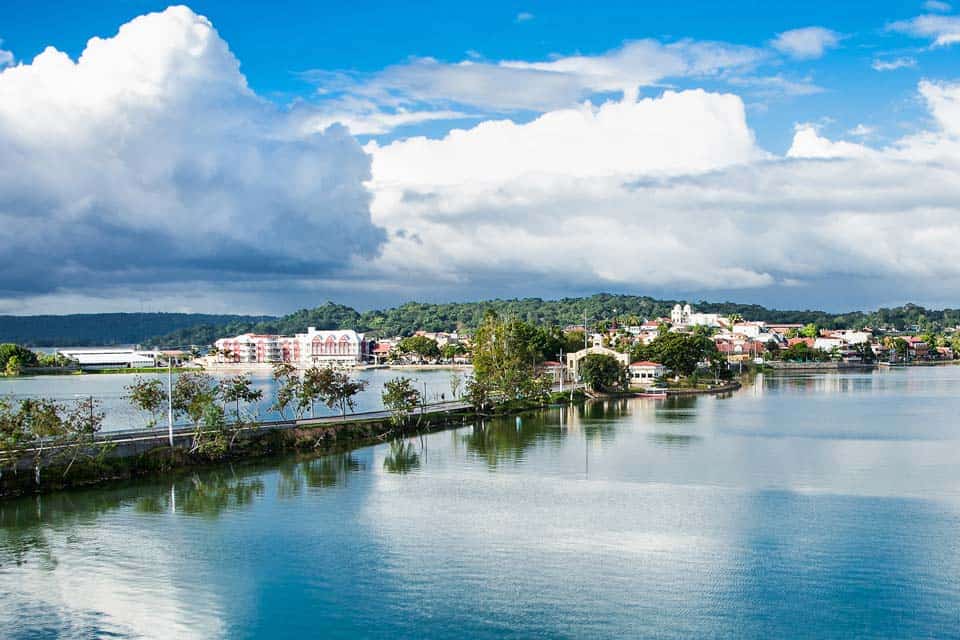 Flores is often the first stop in Guatemala for backpackers and they have usually not accustomed to Guatemala's safety yet. Luckily, Flores Island is a very safe location in Guatemala, both day and night. However, the same thing cannot be said about the inland area, Santa Elena and San Bendito.
Though both of these places offer a more authentic Guatemalan experience filled with noise, poverty, street food and markets, you should exercise increased caution in these areas. Visit in the daytime and be aware of your belongings. Watch out for pickpockets.
At night, don't even consider stepping off of Flores Island and going inland, it is much more dangerous at night. There really isn't a reason to do so at night as well.
---
Where To Stay In Flores, Guatemala
Best Hostel In Flores – Los Amigos Hostel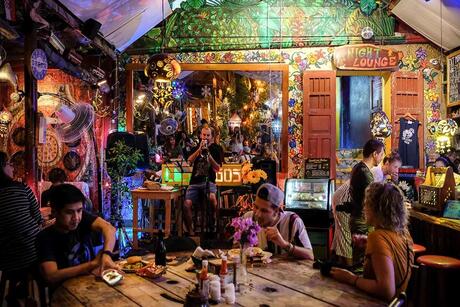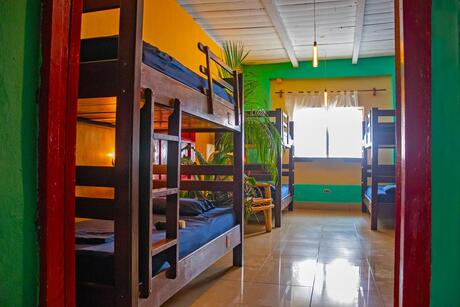 Los Amigos Hostel is by far the best hostel in Flores, Guatemala. Featuring its own affordable tour agency and an amazing garden/lounge area for socializing, Los Amigos is more like a home than a hostel.

After a tiresome day exploring the best attractions in Flores, come back to Los Amigos and relax at their fabulous restaurant and bar! The multitude of pets such as rabbits, turtles, and others gives it a very cozy vibe.
---
Best Luxury Hotel In Flores – Hotel Isla de Flores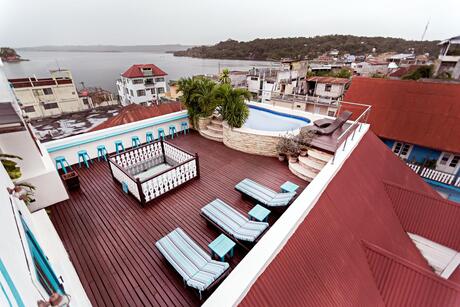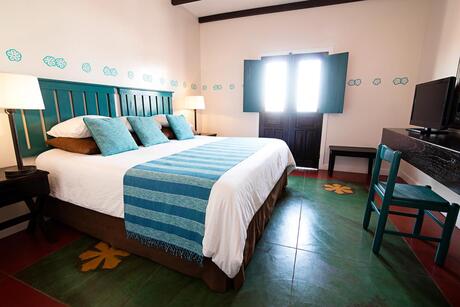 Hotel Isla de Flores is probably the best hotel in Flores, Guatemala and it is easy to see why. From the moment you walk in, you are greeted by the friendliest staff and entertained by the creative interior decor. The rooms and beds are probably the biggest you will find in Flores.
However, my favorite part has to be the swimming pool and bar on the roof, the perfect place to watch the sunset and chill!
---
Visiting Flores Guatemala FAQs
Can you Swim in Flores Guatemala?
Yes, you can swim in Flores Guatemala, but the island itself doesn't have many places for you to get into the water. There are places near Flores such as Jorge's Rope Swing and Playa Chechenal Peten where you can swim easily.
Is Flores Guatemala Worth Visiting?
Flores Guatemala is 100% worth visiting. Not only is Flores the gateway to the Tikal ancient ruins, but the small island itself is very relaxing with great food and lake views. It is one of our favorite places in Guatemala.
---
Like this post? Don't forget to save it on Pinterest!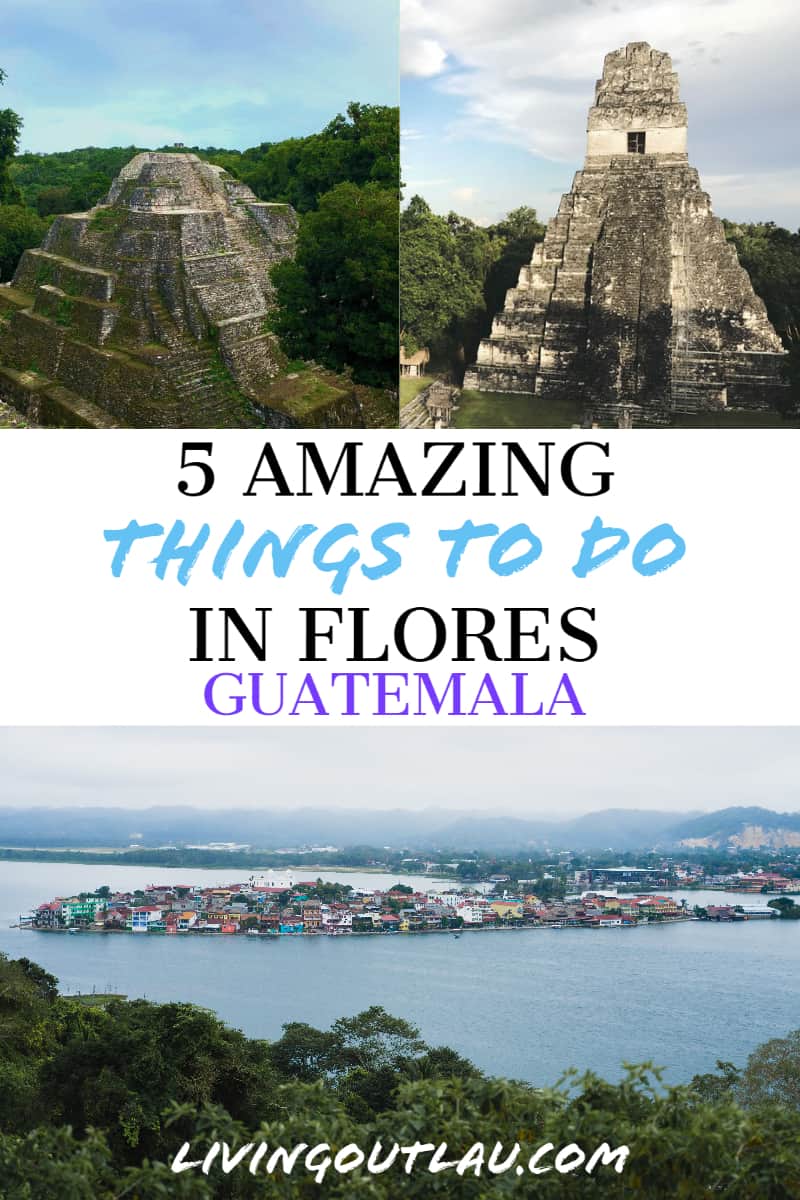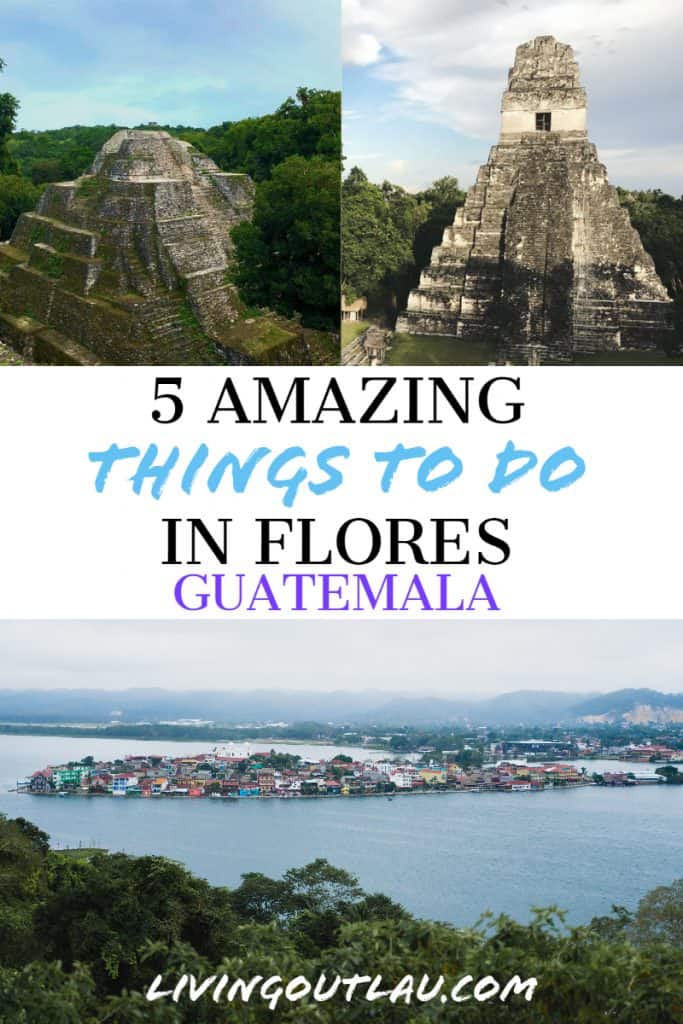 ---
This concludes our guide to the 10 TOP things to do in Flores Guatemala today. We hope our guide has helped you plan your visit to Flores, Guatemala!

Any questions? Let us know in the comments!
Disclaimer: Some of the links above are affiliate links. That means if you book or make a purchase through the links, we will earn a small commission at no extra cost to you! The money will help run this site! Thank you!