Did you just arrive in Flores? Not sure what to do in Flores, Guatemala? We are here to help. Personally been there ourselves, we thought this island offered nothing except tours to Tikal ruins, colorful buildings, and nice restaurants. But boy were we wrong.
Flores had much more to offer than we expected. Every day we were discovering new activities and new things to do around the island. Here we have hand-picked 5 TOP things you can do in Flores Guatemala TODAY!!!! These are activities in Flores that we have done and would highly recommend to anyone.
What To Do in Flores: 5 Best Things to Do in Flores Guatemala
1. Visit the Hidden Gem Yaxha Ruins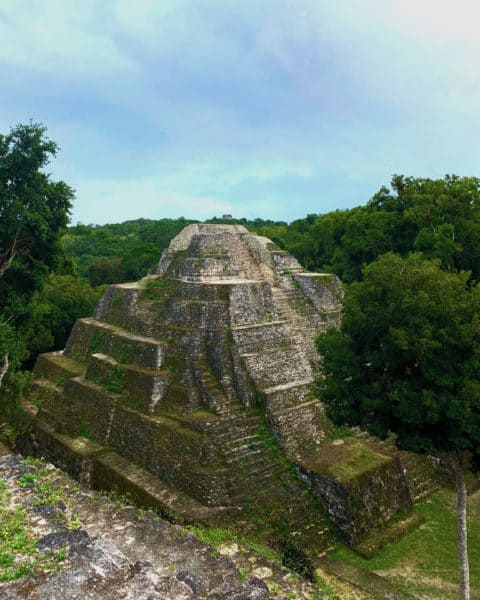 Many people have not heard of Yaxha ruins but don't scratch this off your list yet. Yaxha is an ancient Mayan ruin that has not garnered the attention it deserves.
A lot less touristy than the neighboring Tikal ruins, this is the place to go to if you want to see animals and nature of the region. Yaxha ruins are much better preserved than Tikal ruins, and with less foot-traffic, animals pretty much run wild here.
Here you will easily see animals such as spider monkeys, howler monkeys, tarantulas, many different types of birds, and the amazing ruins itself. If you like ruins and nature with the possibility of having the whole place to yourself, then Yaxha Ruins is for you.
How to Get to Yaxha Ruins and How Much Does it Cost?
The only way we've heard about to get to Yaxha ruins is to get a tour from Flores. There are sunset tours that you can do or a regular day tour. They do not offer a sunrise tour as far as we know.
Where to get the tour to Yaxha ruins? Los Amigos Hostel, located close to the center of the island of Flores.
How much does a tour to Yaxha ruins cost? 125Q for the tour plus a tour guide. Or 100Q for just transport. Note that there is an additional 80Q entrance fee to the Yaxha ruins.
2. Enjoy a Nice Relaxing Day at Jorge's Rope Swing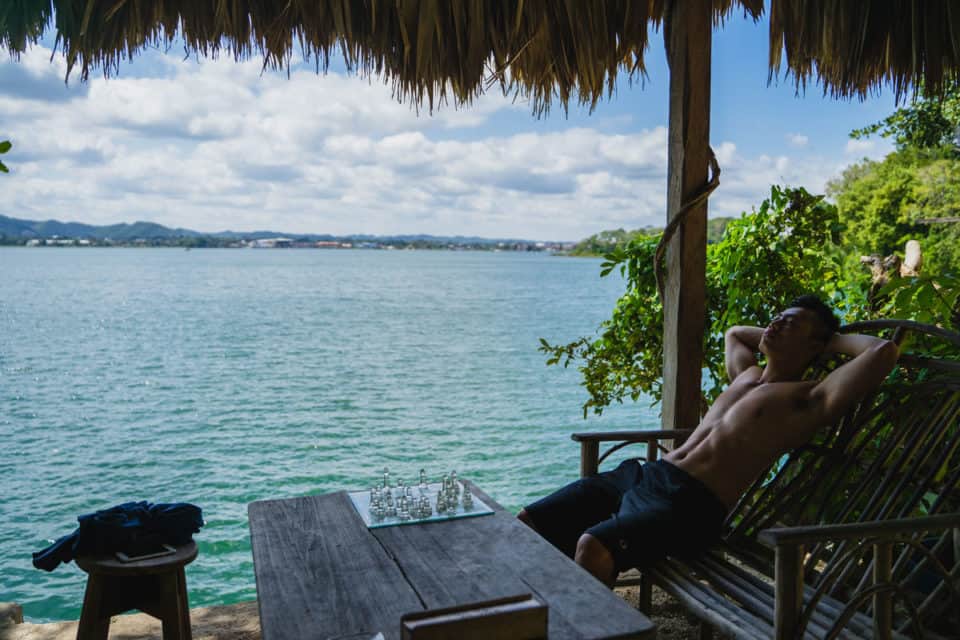 Jorge's Rope Swing was definitely a nice surprise in Flores. Located just a 15-minute boat ride from Flores island, Jorge's Rope Swing is a nice attraction to relax or jump off platforms and ropes.
It is a place that has an activity for everyone. Want to sunbathe? They have areas for that. Want to just relax and chill? They have hammocks and benches for everyone. Want to play some board games with your friends? They got that too. And that is exactly why we consider Jorge's rope swing to be a top thing to do in Flores.
In the end, it is not just a place for rope swings. Learn more about why Jorge's rope swing is a must-see place in Flores.
How to Get to Jorge's Rope Swing From Flores and How Much Does it Cost?
It was a lot simpler to get to Jorge's Rope Swing than we thought. All you have to do is either tell your accommodation that you want to go there and they will arrange transportation for you or you can walk around the perimeter of Flores and find boats that will take you there for a cost.
How much does going to Jorge's rope swing cost? It cost us 25 Quetzales for a round-trip transport plus a 10Q entrance fee at the Rope Swing.
3. Schedule a Tour to Tikal Ruins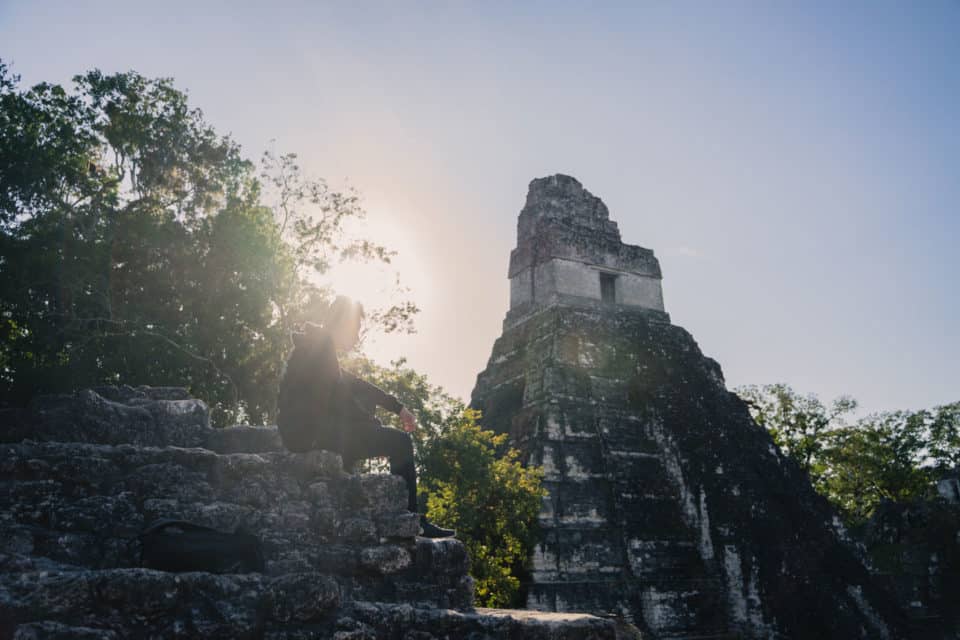 Visiting Tikal ruins is probably the top thing to do in Flores Guatemala. Tikal ruins are some of the most amazing Mayan ruins that I've seen in my entire life. (And I have seen maybe over 20 Mayan ruins so far!!)
One of the reasons why Tikal is so popular is because Tikal used to be the capital of the Mayan empire! On top of that, Tikal is also one of the biggest archaeological sites in all of Mesoamerica. Talk about a historical wonder!
Tikal ruins are located in the heart of the rainforest in the Peten region of Guatemala. Hence, you will see many animals just like you would in Yaxha ruins. However, due to the foot-traffic here, there are a lot fewer animals around. We did hear that there are jaguars in these forests and some of the tour guides have actually seen a few. Did I mention you can camp in the Tikal national park if you want to??!
How to Get to Tikal Ruins From Flores and How Much Does it Cost?
You can either DIY and take public transport to go to Tikal national park or you can take a tour that will include transport for you.
Where to get tours to Tikal? Los Amigos Hostel. Definitely the cheapest in town.
How much does it cost to go to Tikal ruins? By public transport, around 30Q. Tours are 85Q for sunset/sunrise tours and 65Q for regular day tours. There is a required 250Q/150Q (250Q for sunrise/sunset, 150Q for daytime) for the entrance of the park. If you want to do the sunrise tour to Tikal ruins, you would need to buy the ticket to the park at a bank.
It is quite complicated. That is why I have written a separate guide on everything you need to know about Tikal ruins.
4. Admire the Beauty of Flores at Mirador Del Rey canek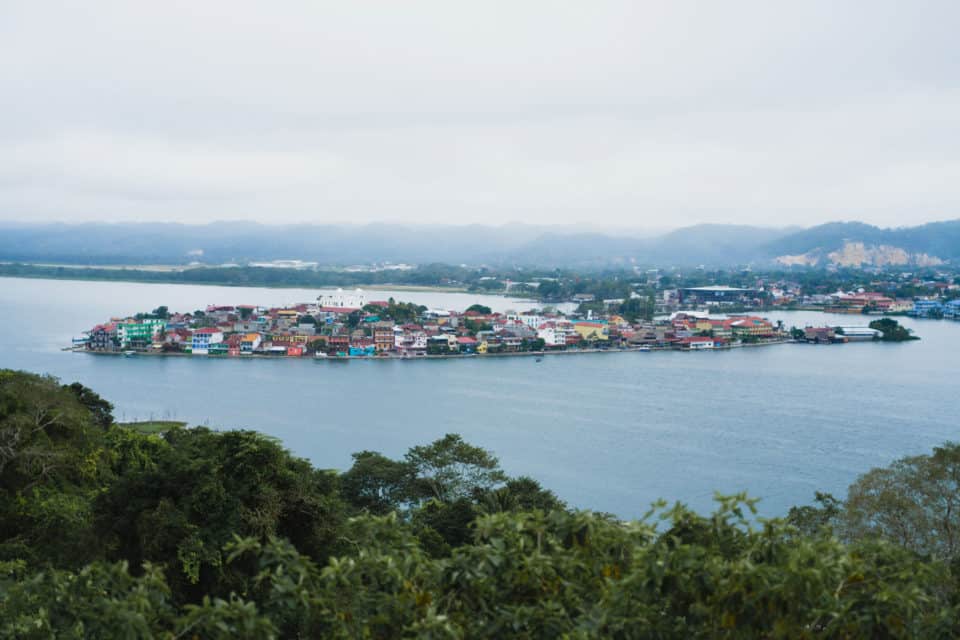 Interested in seeing the beautiful island of Flores up high? Then you cannot miss this gem! Mirador del Canek is located on a separate island from Flores called San Miguel, but it is easily accessible by the local boats.
Roughly a 10-minute boat ride from Flores, you will need to hike another 10 minutes once you arrive to get to the top. This is definitely the best place to see the entirety of Flores' beauty.
How to Get to El Mirador Del Canek and How Much Does it Cost?
You can easily find a local boat on the perimeter of Flores that will be willing to take you to the mirador (viewpoint). Once you arrive at the island of San Miguel that contains the viewpoint, it is a short but strenuous 10-minute hike to the viewpoint. The boat ride itself is only 10 minutes as well.
How much does it cost? We paid 30Q per person for a round trip, the amount can change based on your bargaining skills! 
5. Take a Dip at Playa Chechenal Peten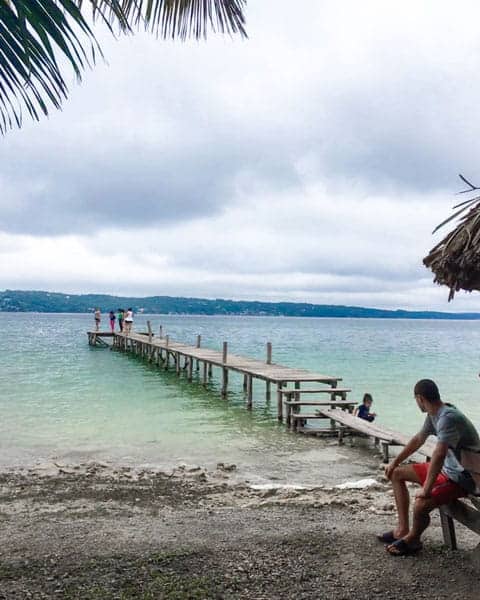 Did you know that there is a beach in Flores?? Neither did we. We found out through one of the travelers we met at Los Amigos hostel. The beach is called Playa Chechenal Peten and it is one of the most beautiful "beaches" I have ever seen. Mainly a spot for the locals to chill and relax, this beach contains turquoise water in a very calm and relaxing environment. The water was warm and the view was just amazing. 
I highly recommend checking out Playa Chechenal Peten.
How to Get to Playa Chechenal Peten and How Much Does it Cost?
Since the beach is located in San Miguel island like El Mirador Del Canek, I would advise you to do both on the same day. You take a local boat from Flores like you do if you want to go to the Mirador, but instead of going one way to the Mirador, you would take another path to head down to the beach. From the drop-off point at San Miguel to the beach is about an easy 15 minutes walk.
How much does it cost? We paid around 30 Quetzales for a round trip. Chances are you can negotiate down depending on how many people you had. We had 3 people in total.
Looking for other tours in Flores Guatemala? Here's our suggestions:
How Long To Stay In Flores, Guatemala
With so many attractions in Flores and so many spots to relax, you can spend weeks in Flores. But what is the ideal time to stay in Flores if you just want to see the best of it?
The answer is… 2 to 3 days.
Depending on what time of the day you arrive in Flores, you should able to see most of the things in 2 to 3 days. Two full days is the perfect amount of time but if you are arriving in Flores late in the evening, you might want to stay a total of three days (or 2.5 days in that case).
Day one should be spent properly relaxing and exploring the Flores island. Visiting Jorge's Rope Swing or Playa Chechenal Peten and then watching the sunset with a cold drink in your hand.
Day two should be spent exploring the Tikal Mayan Ruins. As I said, I highly recommend you to go for the sunrise tour and then spend a few hours exploring the massive archaeological site independently.
Safety In Flores Guatemala
Flores is often the first stop on travelers' Guatemala itinerary and they have usually not accustomed to Guatemala's safety yet. Luckily, Flores Island is a very safe location in Guatemala, both day and night. However, the same thing cannot be said about the inland area, Santa Elena and San Bendito.
Though both of these places offer a more authentic Guatemalan experience filled with noise, poverty and street food, you should exercise increased caution in these areas. Visit in the day time and be aware of your belongings. Watch out for pickpockets.
At night, don't even consider stepping off of Flores Island and going inland, it is much more dangerous at night.
Where to Stay in Flores Guatemala
Los Amigos Hostel is by far the best hostel in Flores, Guatemala. Featuring its own affordable tour agency and an amazing garden/lounge area for socializing, Los Amigos is more like a home than a hostel.
After a tiresome day exploring the best attractions in Flores, come back to Los Amigos and relax at their fabulous restaurant and bar! The multitude of pets such as rabbits, turtles, and others gives it a very cozy vibe.
Hostal Don Cenobio is one of my favorite hotels in Flores. Why? Because it is cheap and has all the basic facilities you will need. The rooms are immaculate and spacious, which is very unlike Guatemala for the price you are paying. The rooftop terrace overlooks the beautiful Peten lake and is the best place to watch the sunset in Flores!
Hotel Isla de Flores is probably the best hotel in Flores, Guatemala and it is easy to see why. From the moment you walk in, you are greeted by the friendliest staff and entertained by the creative interior decor. The rooms and beds are probably the biggest you will find in Flores. However, my favorite part has to be the swimming pool on the roof. What a luxurious amenity!
Like this post? Don't forget to save it on Pinterest! 🙂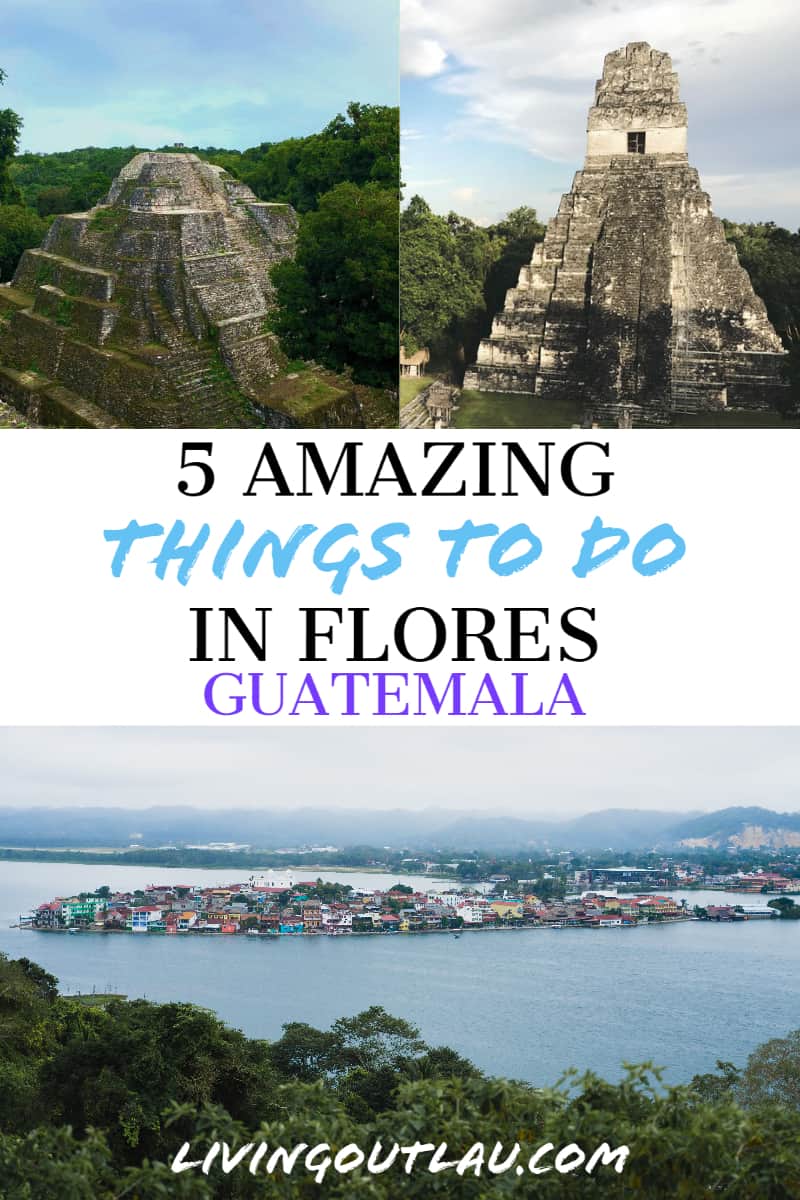 There you have it, the 5 TOP things to do in Flores Guatemala today.
Have you been to Flores? What did you think of it?? This was definitely one of our favorite places in Guatemala. Let us know in the comments!!!
Disclaimer: Some of the links above are affiliate links. That means if you book or make a purchase through the links, we will earn a small commission at no extra cost to you! The money will help run this site! Thank you 🙂