Located at the foothills of the Maya Mountains, San Ignacio is a small city in Belize that provides a unique blend of culture and outdoor activities. It is situated in the heart of the once-mighty Mayan Civilization, a powerful group that has left many historic relics for travelers to catch a glimpse of the past. Combined with the lush landscapes that surround the town, there are plenty of amazing things to do in San Ignacio.
San Ignacio is one of our favorite places to visit in Belize. The charming and peaceful town along with the friendly vibes of the locals made our trip so memorable. That is why we have decided to write this article on some of the best attractions in Belize, so you can have an amazing experience like we did!
Here is our list of the 11 best things to do in San Ignacio Belize.
---
San Ignacio Belize Attractions Map
Above is a map of the best places to visit in San Ignacio. As you can see on this map, San Ignacio's attractions are all centrally located. If you plan to have a comprehensive visit to San Ignacio, it is recommended that you spend at least 3 days to see everything.
Click the star next to the name of the map and you'll be able to save it to your own device. This is going to help you tons when you are planning your San Ignacio trip!
---
What To Do In San Ignacio: 11 Best Things To Do In San Ignacio Belize
1. Visit The Xunantunich Ruins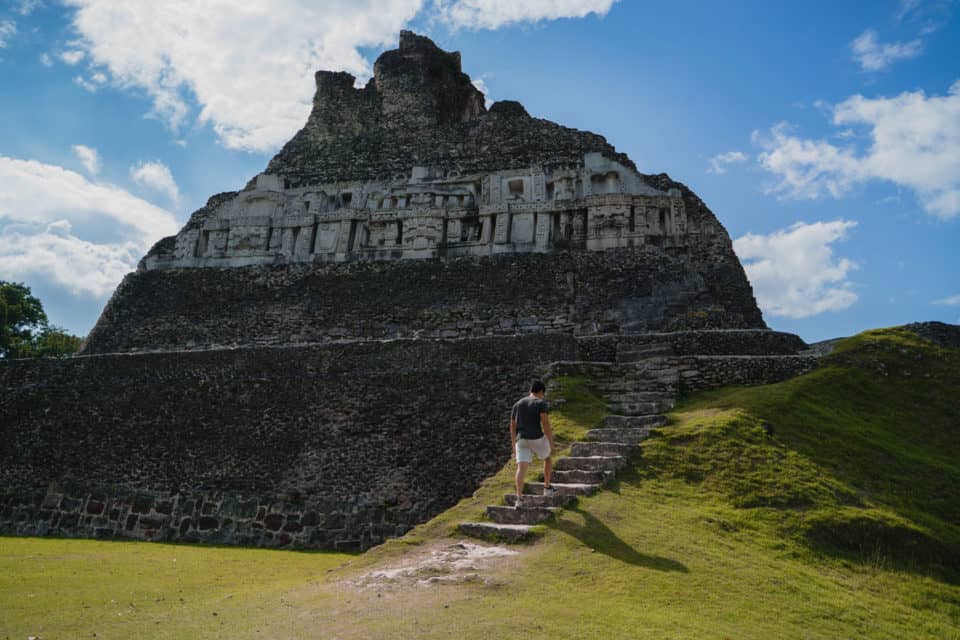 Xunantunich (translating to Maiden of the Rock in English) is one of Belize's most popular Maya sites. Historically, it was one of Belize's biggest city state with 200,000 inhabitants.
It is most famous for the temple known as "El Castillo" or "The Castle". At 130 feet tall (30 meters), it is the second tallest building in Belize, just after the pyramid in the Caracol Ruins. Climb to the top of "El Castillo" and enjoy a panoramic view of the Cayo district!
How To Get To Xunantunich Ruins From San Ignacio
Xunantunich is an ancient Mayan archaeological site easily accessible from San Ignacio. There are usually two ways to get there on your own (without an organized tour from San Ignacio).
Take a public bus at the bus station at San Ignacio that is headed for Benque, tell the bus driver to let you know when you reach the ferry for Xunantunich. It costs 2 Belizean dollars per person.
Take a shared taxi from town to there, it should only be around 3 Belizean dollars per person or 1.5 USD. Make sure it is a shared taxi and not a private one because that charges a lot more.
Both methods take about 30 minutes to arrive at the hand-cranked ferry which will be used to transport you across the river. The river is at most 10 meters long so you will spend less than 2 minutes on the ferry.
Upon reaching the other side of the river, there is a 20-minute walk to the entrance of the ruins where you will purchase your ticket and enter the ruins.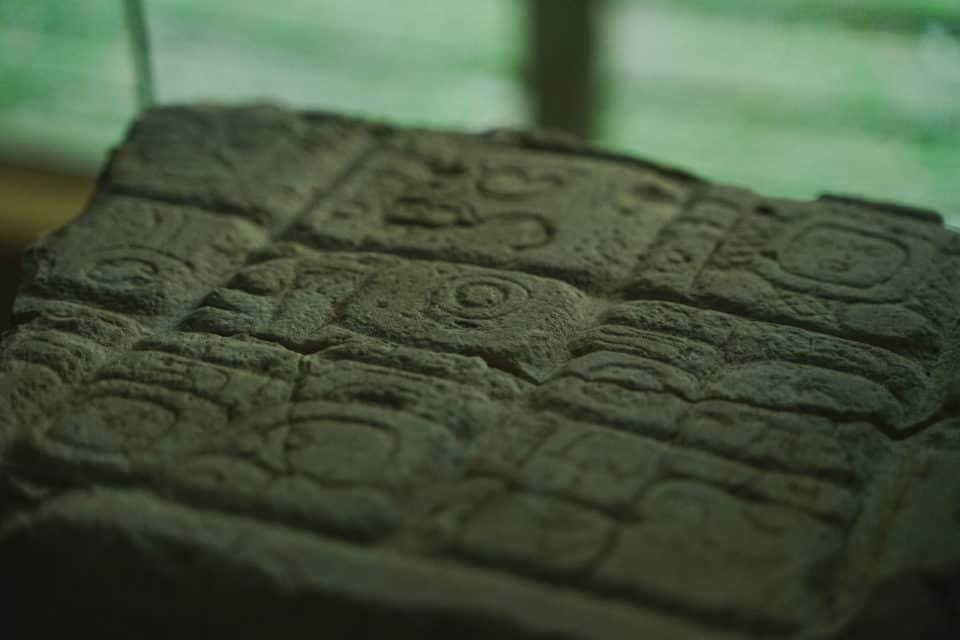 Cost To Enter Xunantunich Ruins
Total Cost: $14 BZD, $10 BZD for entrance, $4 BZD for round-trip transportation on the bus.
We hired a tour guide upon arrival because we were interested in learning the history of the ruins. It cost us $25 BZD in total for the 3 of us.
The guide was very professional and very accommodating. He showed us ruins that were still under excavation, guided us through the jungle and showed us the different types of wildlife (tarantulas and more) native to the region. It was worth every penny.
Xunantunich Opening Hours
Xunantunich is open everyday from 8 AM to 4 PM. Note that the opening hours might change depending on the time of the year!
2. Explore The ATM Cave (Actun Tunichil Muknal)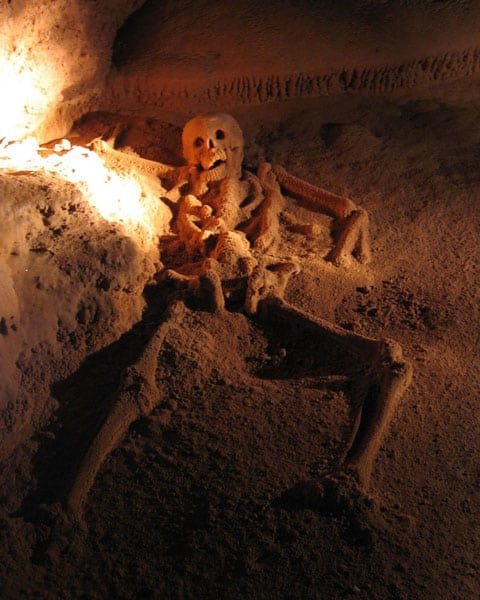 The ATM Cave in San Ignacio is the reason why many tourists from all over the world travel to Belize.
Actun Tunichil Muknal cave (ATM for short) is one of the top 10 most sacred caves in the entire world. The picture that you see is an actual skeleton from inside the cave. This cave is understood to be used for Mayan ceremonial purposes.
Archaeologists believe that human sacrifices were done here to pray for rain. They were able to date back the skeletons to around 700 A.D., around the time when a drought had occurred. Coincidence? I think not.
There are lots of pottery and skeletons inside the cave. Cameras and phones are now banned because a tourist dropped his camera and destroyed one of the artifacts.
But to get to this part, visitors must trek through the Belizean tunnel, swim into a cave, squeeze through tight passageways, and climb up a rock. The cave is filled with stalactites and stalagmites that will take your breath away. If you are an adventurous traveler, you will love this experience in San Ignacio.
We recommend you to be decently fit to enter the ATM cave, but don't let it discourage you from visiting this world-class attraction.
Cost of the ATM Cave
The cost of an ATM Cave tour is approximately 125 USD or 63 Belizean Dollars. It is one of the priciest things to do in San Ignacio but something you have to include on your Belize itinerary!
Because it is such a protected area, you can only visit the ATM Cave with a tour company.
3. Walk Along The Macal River
Usually, I am not the type of person that recommends a nice relaxing stroll along the river, but the area surrounding the Macal River totally blew me away. Go for a walk and admire the colorful buildings situated along the side of the river.
Make sure you go at sunset or sunrise though, the light really brings out the colors of the environment! If you are lucky, maybe you will catch a glimpse of the locals cooling down in the river and just enjoying life.
When I was there, we saw a whole family washing their car by the river and splashing each other with water. It was really nice to see people enjoy the simpler things in life. On the way back, make sure you cross the famous Hawkesworth Bridge!
If you go during sunrise or sunset, you will see and hear a ridiculous amount of birds!!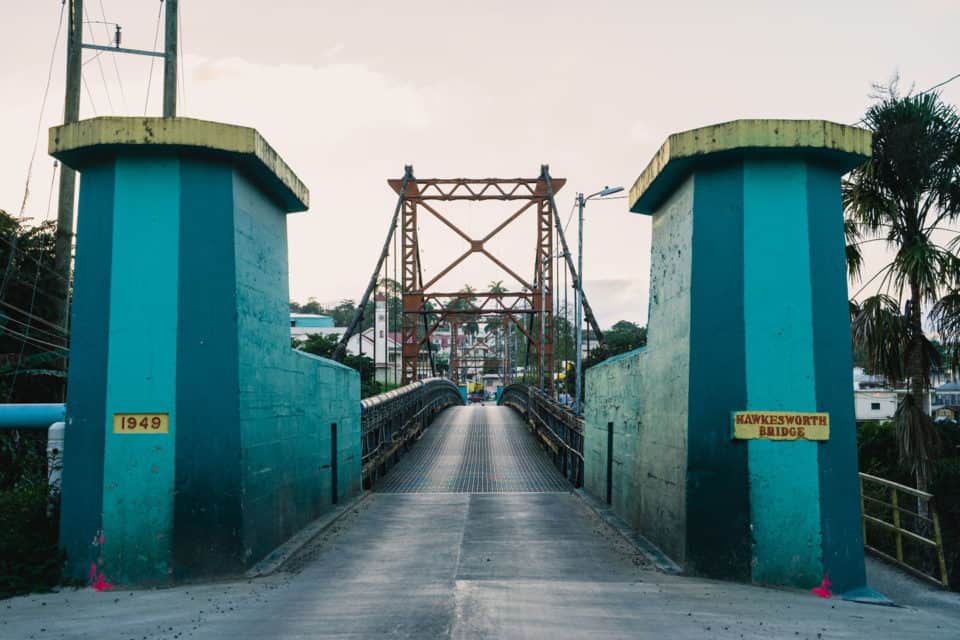 4. Green Iguana Conservation Project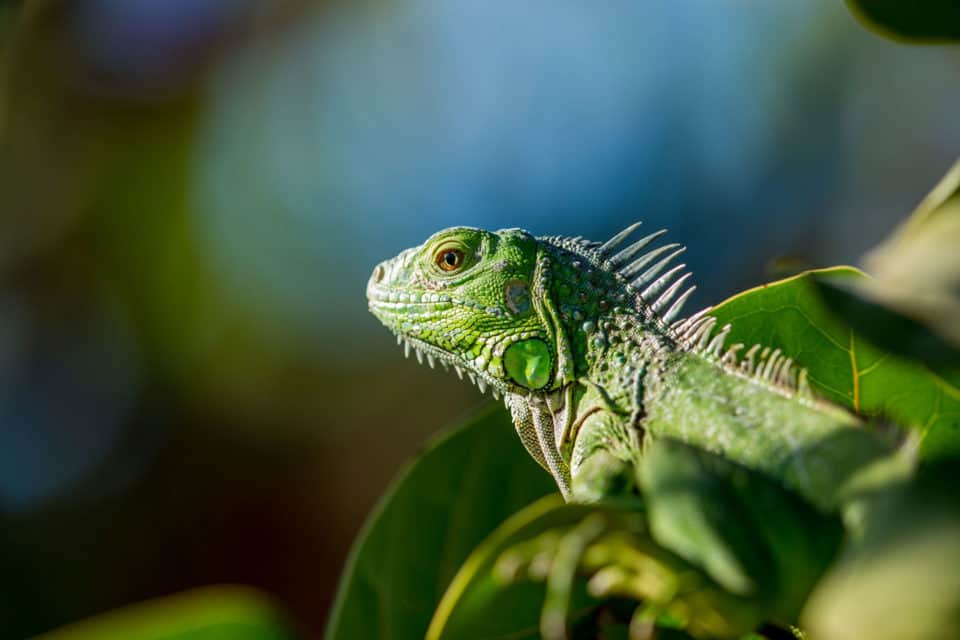 For those that are fond of reptiles and especially iguanas, this is the place you cannot miss. Located in the town of San Ignacio itself, it should not take you more than 20 minutes to arrive at this little sanctuary.
The conservatory is attached to the San Ignacio Hotel but you do not need to stay in the hotel to visit the conservatory. The caretakers allow you to pet them and feed them! How awesome is that!? Since they are species under protection, the iguanas are nursed until they are old enough and released into the wild.
Where Is The Green Iguana Conservation Project?
Surprisingly, the Green Iguana is located inside the San Ignacio Resort Hotel in San Ignacio. From downtown San Ignacio, it is about a 15-minute walk.
Cost To Enter Green Iguana Conservation Project
It costs $18 Belizean dollars or $9 USD to enter Green Iguana Conservation Project.
5. Visit The Cahal Pech Archaeological Reserve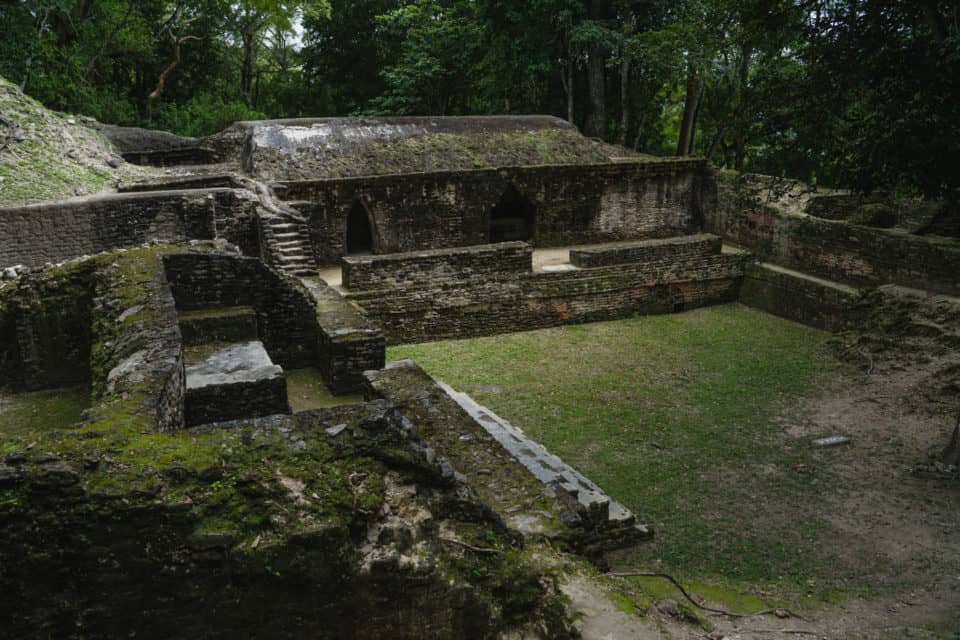 Cahal Pech is definitely not one of the most amazing Mayan ruins I have ever seen in my life. In fact, it is quite small and a lot of it has yet to be excavated. If you want to see the best Mayan ruins, it is a Mayan ruin right across the border in Guatemala called Tikal.
What makes Cahal Pech so special is its serenity and authenticity.
A quick 30-minute walk from the town, visiting it is one of the best activities in San Ignacio Belize. There are literally locals that live in the adjacent area next to the ruins! How cool is that?! Some of these locals' backyard is literally the Cahal Pech ruins.
What I liked about Cahal Pech was that it was not touristy at all. It felt like I had the whole park to myself and I was there at noon. In addition to that, it has a museum attached to it which explains some of the significance of the ruins. It is a very unique thing to do in San Ignacio.
Opening Hours of Cahal Pech Archaeological Reserve
Cahal Pech Archaeological Reserve is open 6:30 AM – 5 PM daily
How to Get to Cahal Pech Archaeological Reserve From San Ignacio
Cahal Pech is located 30 minutes away from San Ignacio on foot, or ~10 minutes in a taxi. I highly recommend walking to this Mayan archaeological site because of the scenery on the way there. You get to see how the local Belizeans live and their lifestyle along with the cute painted houses that they live in.
Cahal Pech Archaeological Reserve Entrance Fee
The cost to enter Cahal Pech is 10 BZD or 5 USD
6. Take A Day Trip To The Mighty Tikal Mayan Ruins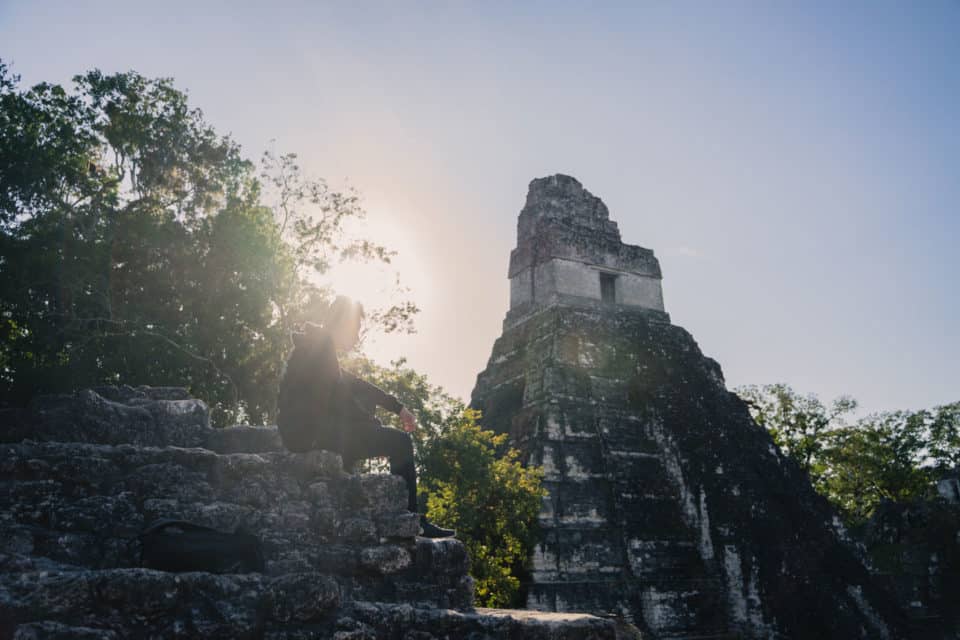 Once a Maya superpower, visiting Tikal National Park is now one of the best things to do in San Ignacio. Located in the jungle of Guatemala, the only way accessible to it is through a day trip organized by a tour.
The Tikal site itself is huge and you can spend the whole entire day exploring the hundreds of ruins, some of which have yet to be excavated or discovered.
A popular activity at Tikal Mayan ruins is to watch the sunrise or sunset at temple 4. However, if you are coming from San Ignacio, the only option would be a regular tour or a sunrise tour.
What made the Tikal ruins stand out so much compared to the other ruins is that Tikal ruins is literally located in the jungle of Guatemala. During your visit, you will see many different animals such as monkeys, parrots, and if you are lucky (or unlucky), a jaguar.

The most unique thing you can do is to camp at Tikal Mayan ruins, it is an experience you will never forget. Though you can only do this if you plan on staying for 2 days in Guatemala.
7. Discover The Ancient Ruins Of Caracol
Did you think you were done with ruins? I hope not.
The region where San Ignacio is located has some of the best Mayan ruins in the world.
Caracol ruins are Mayan ruins located 82 km south of San Ignacio. The ruins were named Caracol (Shells in Spanish) because thousands of shells were found when Caracol was discovered.
The Caracol ruin has a total area of 65 sq miles or 168 sq kilometers and is bigger than any city there is in Belize.
In addition to that, a pyramid named the Sky Tower was discovered. To this day, the Sky Tower pyramid is the tallest man-made structure in all of Belize.
8. Canoe The Barton Creek Cave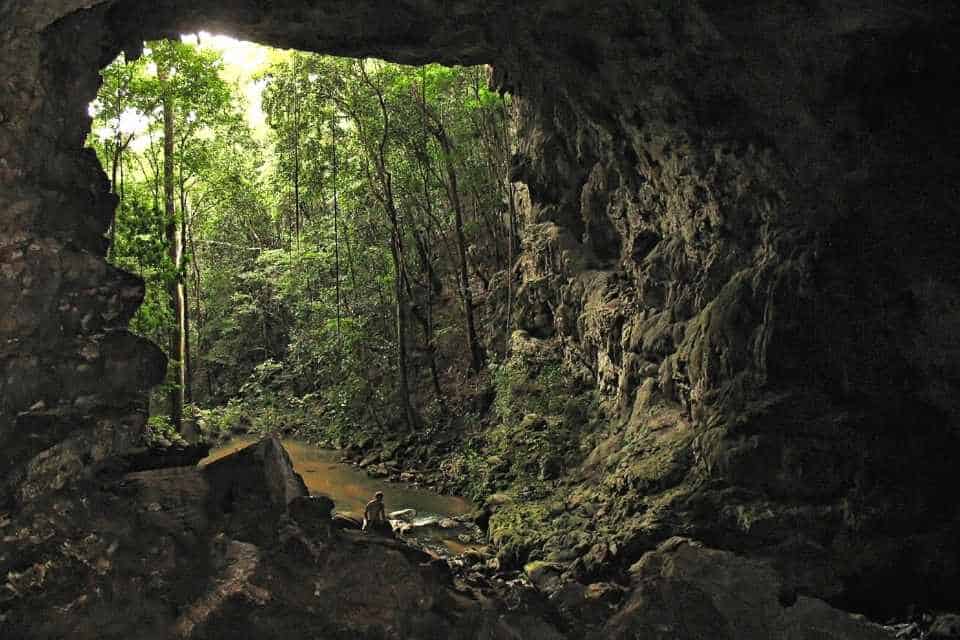 The Barton Creek Cave is one of the newest attractions in San Ignacio, partly thanks to its mention of being one of the 9 most beautiful and unusual cave destinations in the world.
Similar to many caves in the region, the Barton Creek Cave was used for religious purposes. This time around, the indigenous people believed that the cave was the "underworld", and thus used it for burial purposes.
In fact, human remains are still being found inside the cave today.
Because of its sacredness and inaccessibility, travelers looking to experience this sacred cave must take a guided tour. The guided tour usually involves a canoe experience through the cave, where guests can admire the unique cave formations and swim inside (if they dare).
9. Explore The Mountian Pine Ridge Forest Reserve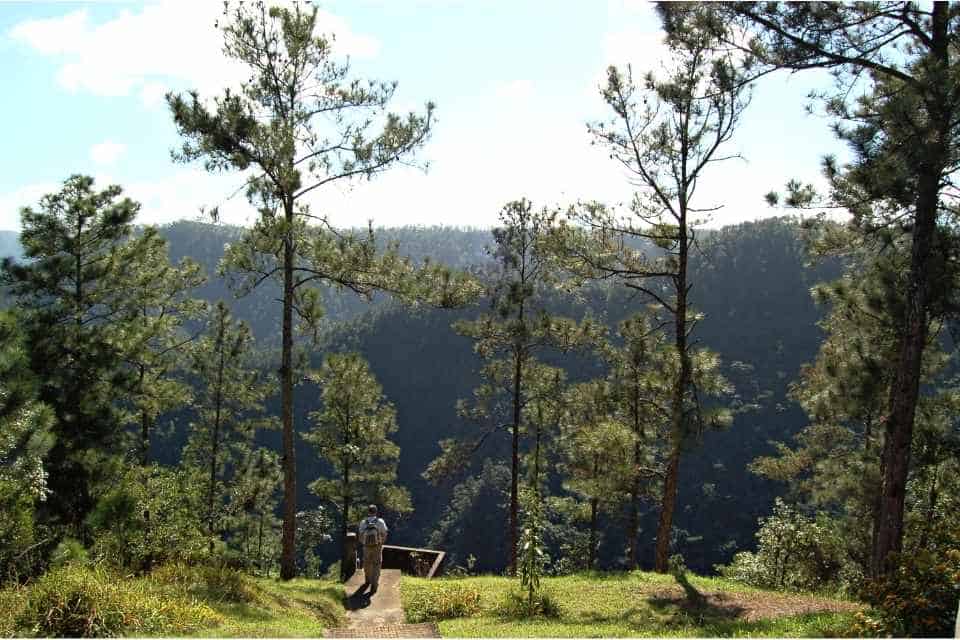 The Mountain Pine Ridge Forest Reserve is a 100,000-acre reserve that was established in 1944. It is home to some of the country's most pristine pine trees (which is very different from the typical vegetation), hiking trails, Mayan ruins, caves and waterfalls.
Any nature-lover would certainly love a day trip to Pine Ridge to discover the untamed nature Belize is known for. Take a dip in the Rio On Pools, admire the 150-foot (46-meter) Big Rock Falls, and explore the Caracol Ruins!
Its secluded location means you either need a car or a guided tour to visit. A guided tour is the ideal way to see this Belizean wilderness.
10. Go Shopping at The San Ignacio Market
If you are looking to purchase some produce or souvenirs from Belize, there is no better place to do so than the San Ignacio Market. Filled with stores that sell anything from traditional clothing to the freshest produce, visitors can find anything they need.
Though the market happens daily (as that is where tons of locals go to do their daily shopping), it is the biggest on Saturdays. On that day, you can spend hours browsing up and down the chaotic aisles, shopping for souvenirs, and trying out local eats (like pupusas) and freshly-squeezed juice.
The market tends to close early as most things sell out by then, so visit in the morning if possible!
11. Go Swimming In Big Rock Waterfalls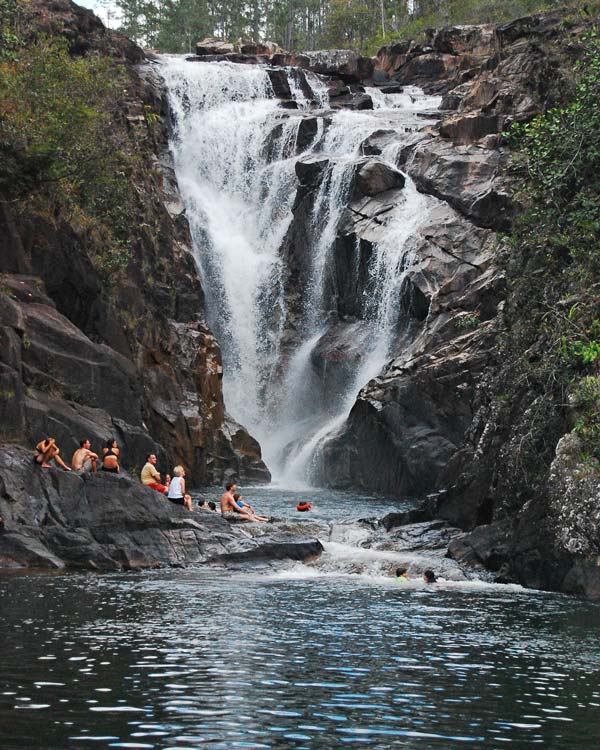 We have saved the best for last… Big Rock Waterfalls is arguably the best hidden gem in San Ignacio. It is a 150-ft waterfall tucked into the Mountain Pine Ridge Forest Reserve. The waterfall empties into a beautiful and deep pool at the bottom, perfect for swimming and escaping the debilitating Belizean heat.
For adrenaline junkies, there are multiple rocks where you can jump from into the refreshing pool. No matter if you want a day of relaxation or adventurous fun, you can find it at Big Rock Falls.
To get to the waterfall, you must hike for about 10 minutes down steep terrain. It is not the most treacherous but you'll need to be careful. For your efforts, you are rewarded with some of the most stunning natural scenery in Belize.
Because this attraction in San Ignacio is rather undiscovered, you'll need to take a tour or get a taxi! It is 45 minutes away so it is best to share with a group of people to make it cheaper!
---
Where To Eat In San Ignacio, Belize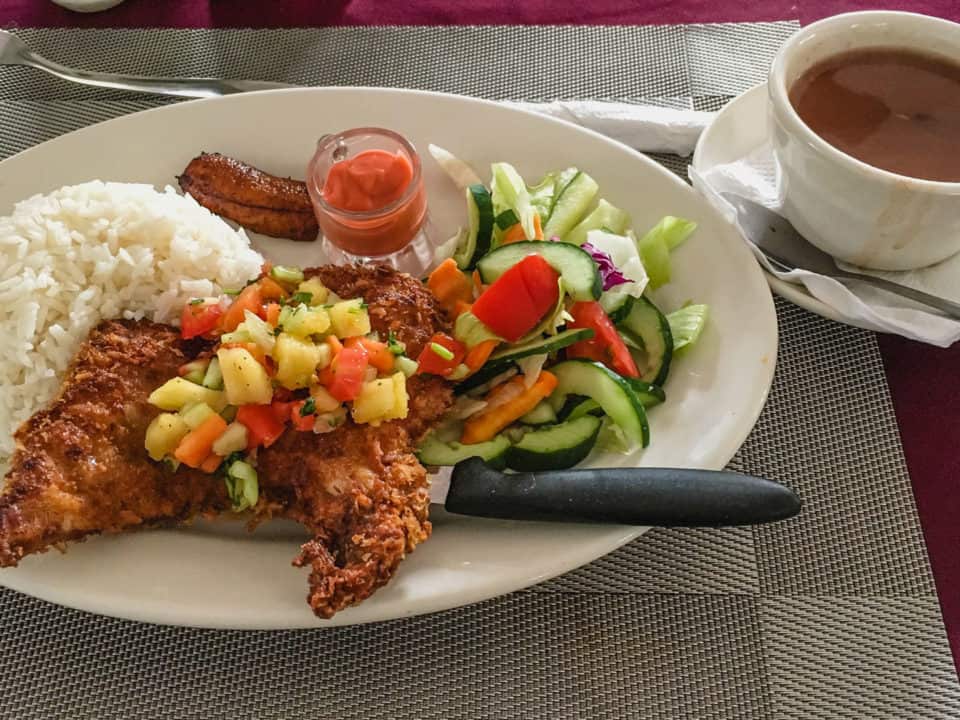 San Ignacio might not be the biggest city in Belize, but it certainly has plenty of restaurants. Many of these restaurants have started with home cooking, but have now become some of the city's most iconic eateries.
Because of the culture in Belize, you'll be having lots of rice and beans in San Ignacio. Though it might sound dull, the locals know how to make it tasty by enhancing the flavors with many different ingredients!
Here are some of the restaurants we recommend in San Ignacio:
Pop's – Pop's is considered one of the most famous restaurants in Belize, and they are known to have to best breakfast in town. Luckily, they serve that all-day-long, which means you won't have to get up early for it. Their fry jacks are some of the best you'll find in Belize!
Guava Limb Restaurant & Cafe – Guava Limb Cafe is one of the pricier restaurants in San Ignacio, but its prices are well justified. The atmosphere is quite nice as you are sitting in a garden full of relaxing vibes. Every dish we tried in Guava Limb Restaurant & Cafe has been delicious!
Ko-Ox Han Nah (Let's Go Eat) – Ko-Ox Han Nah is situated in the dead center of town, and hence often attracts a big crowd at any time of the day. Their menu features a mix of Belizean food and international dishes with a unique twist. We liked everything from this restaurant, and it is fairly affordable, so make sure you give it a try!
---
Where To Stay In San Ignacio Belize
Best Hostel in San Ignacio – Bella's Backpackers Cayo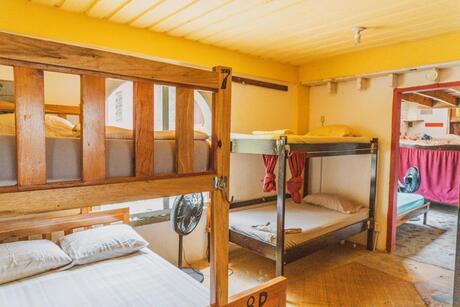 Bella's Backpackers Cayo is one of the best hostels in San Ignacio and it is not hard to see why. With an approachable staff that becomes part of your family, anyone solo backpacking Belize will never feel alone. Their common areas and terraces are also great places to meet other travelers in Belize!
---
Best Hotel in San Ignacio – San Ignacio Resort Hotel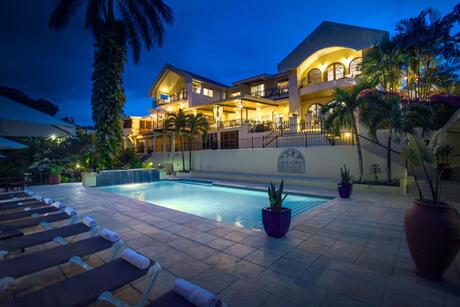 Located a short 5 minutes from the hustle and bustle of the town center, San Ignacio Resort Hotel is the priciest and fanciest hotel in all of San Ignacio. It has both a restaurant and a swimming pool on location, perfect for those that want to take a dip in the pool to momentarily escape the Belizean heat.
The Green Iguana Conservation Project is also in the hotel!
---
Visiting San Ignacio Belize FAQs
Is San Ignacio Worth Visiting?
San Ignacio is one of the most popular tourist destinations in Belize. It is the main cultural hub of the Cayo District, and travelers can experience Mayan Ruins and ancient caves in the rainforest!
How Many Days To Stay In San Ignacio, Belize?
We recommend spending at least 3 days in San Ignacio, Belize. You can explore the majority of the town in one city, but you'll need one extra day for the ATM caves alone. You might want to consider staying longer if you want to relax and travel slowly.
---
Like this post? Don't forget to save it on Pinterest!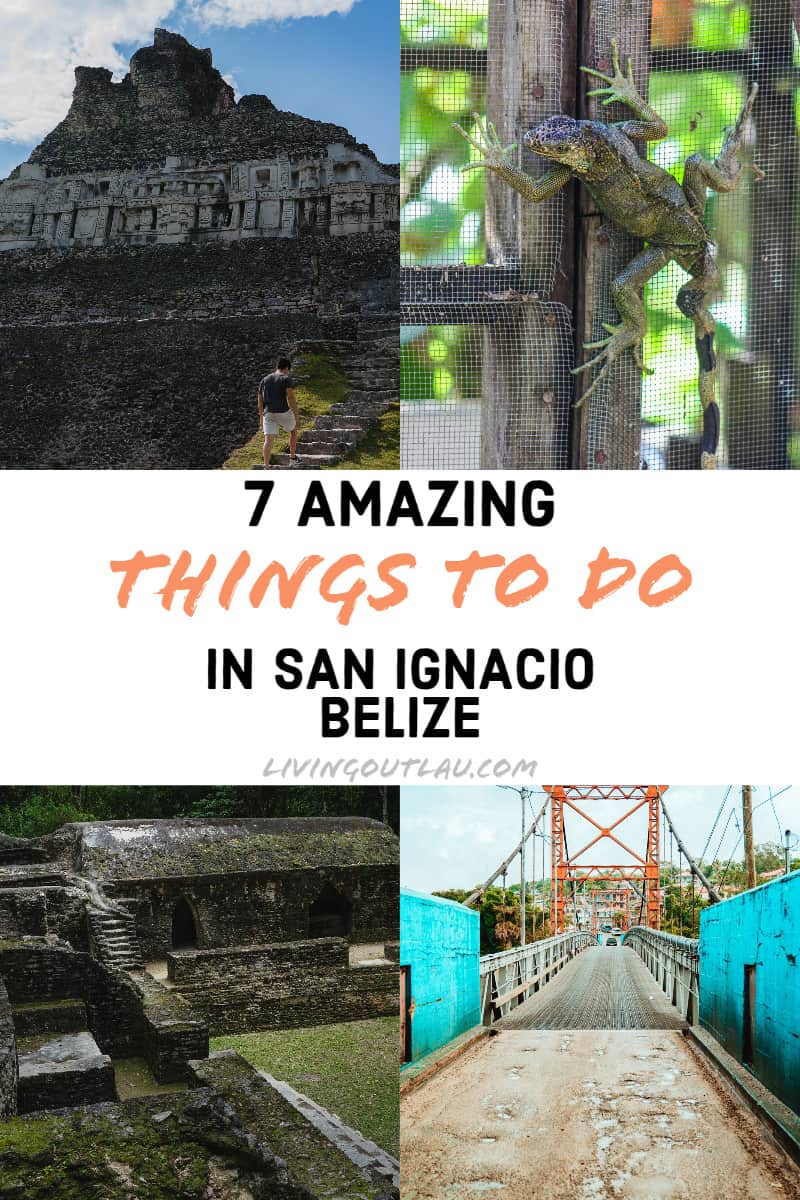 ---

Have you been to San Ignacio Belize? What was your favorite thing to do in San Ignacio? Let us know in the comments!!
Disclaimer: Some of the links above are affiliate links. That means if you book or make a purchase through the links, we will earn a small commission at no extra cost to you! The money will help run this site! Thank you!