Before my first trip to Budapest, one of the biggest questions I had was "how many days in Budapest to spend?" It wasn't until I stayed there for several months did I find the answer.
How many days in Budapest to spend depends heavily depends on what type of traveler you are. For the majority of tourists, 3 days in Budapest is the ideal amount of time to spend. This is perfect for experiencing the city's best attractions, from the legendary Széchenyi Thermal Bath and lively Szimpla Kert ruin bar to the famous Hungarian Parliament building and Fisherman's Bastion!
But we understand that not everyone travels the same way. Some might be happy spending two days in Budapest while some might prefer five days. That is why we have written this article to help you decide how many days in Budapest to spend!
---
How To Determine How Many Days To Spend In Budapest?
There are many factors to consider when deciding how many days to spend in Budapest. Here are some that you should be thinking about.
Do You Enjoy Nightlife and Party Hard?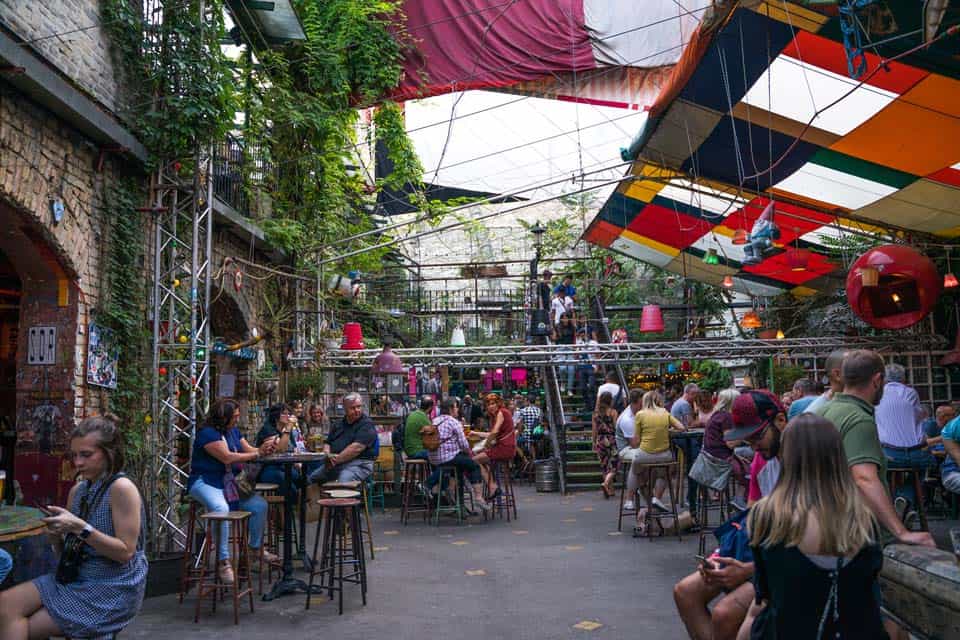 The Hungarian capital is famous for its nightlife, especially the bohemian ruin bars in District VII. If you're a party-lover, then make sure to spend at least one night bar-hopping between Budapest's ruin bars.
My top suggestions are Szimpla Kert, the city's most famous ruin bar with upcycled furniture and live acoustic shows, and Instant-Fogas, perhaps the biggest nightclub and bar in Budapest!
If you're after a more luxurious party experience, you can't go wrong with the numerous rooftop bars which offer epic city views. Two of the most popular rooftop bars in Budapest include 360 Bar on Andrássy út, which has a cosmopolitan vibe and great cocktails, and High Note Sky Bar, a couples-favorite and spectacularly located next to St Stephen's Basilica!
Budapest nightlife is one of the best in Europe, so if you plan to go crazy and party hard on your vacation here, I recommend spending extra time in Budapest.
How Much Time Do You Plan On Spending in the Thermal Baths?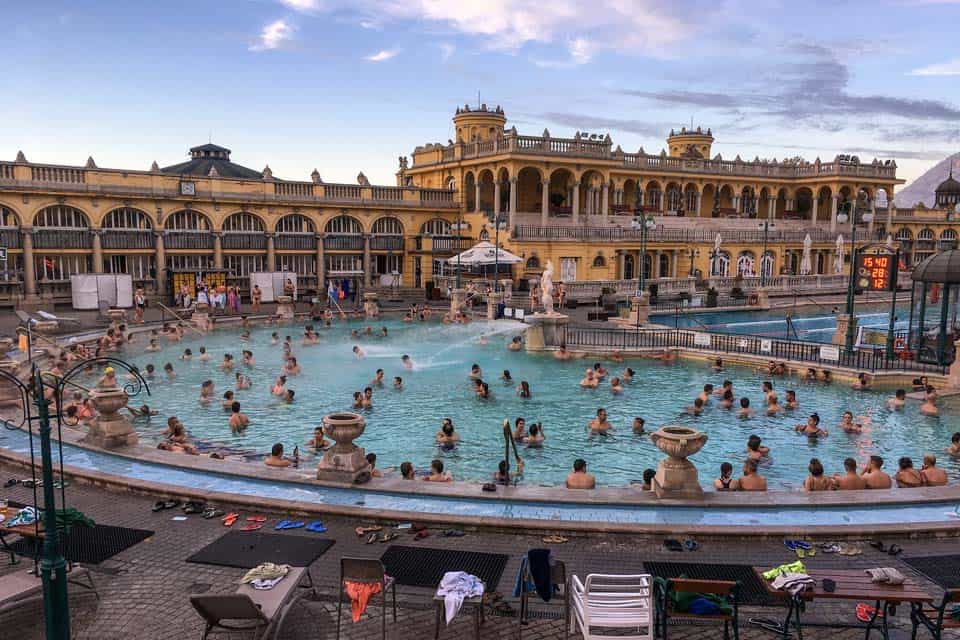 Locals have enjoyed the city's thermal baths for thousands of years. The mineral-rich water in these baths is said to have healing effects, and as a result, tourists flock to soak in the thermal water of these historic bathhouses. For many of them, their primary reason for visiting Budapest is to relax in a thermal bath!
The largest and most popular thermal bath is Széchenyi Thermal Bath in City Park in downtown Budapest. It has a mix of outdoor and indoor pools and even a beer spa for those that would like to combine drinking and relaxing. Its outdoor baths are surrounded by beautiful Neo-Baroque architecture!
For something equally stunning but less touristy, head to Rudas Thermal Bath or Gellért Thermal Bath.
You can easily spend a full day in the thermal baths, so if this is something you wish to do on your vacation, you might want to allot an extra day or two for your visit. We visited 4 thermal baths in Budapest and we definitely had to plan a longer itinerary because of that!
Are You A Slow Traveler?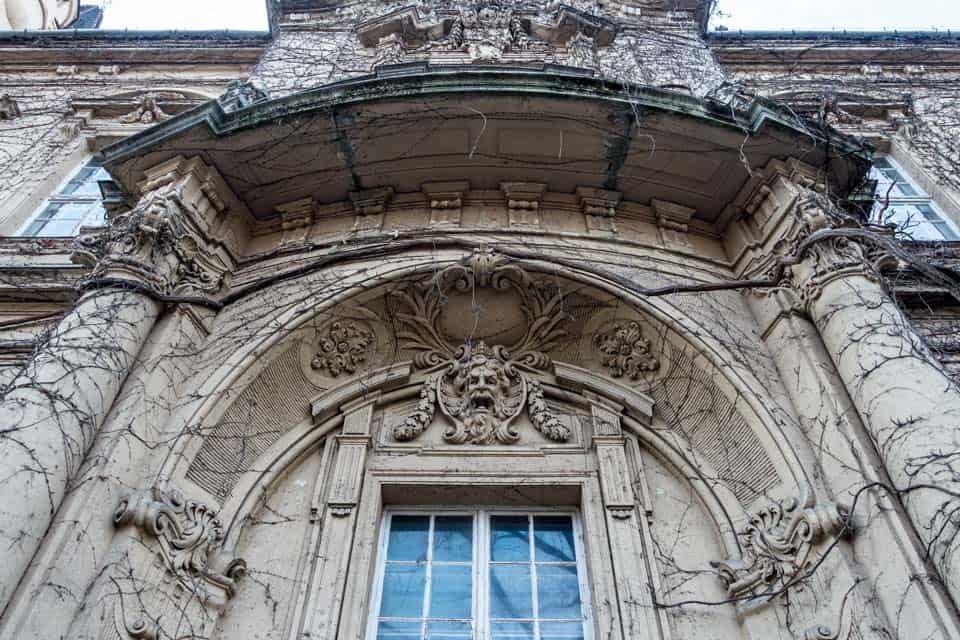 If you're a self-confessed slow traveler, then you'll want to spend a few days more than the typical tourists.
If you are someone that prefers to travel at a leisurely pace and perhaps spend days just strolling in the parks or sitting in a coffee shop, then our recommended 3 days in Budapest is not going to be enough.
There are lots of benefits when you travel slowly, and Budapest's rich culture is the perfect place to do so, but you should keep in mind that you could take a lot longer to see the sights in Budapest than usual.
Do You Plan On Taking Day Trips?
If you plan on taking day trips out of Budapest, you will need to tack on an extra day to allow for this. There are so many incredible day trips from Budapest, from the picturesque town of Szentendre to the bright blue Balaton Lake.
Depending on how many day trips you plan on taking, you should add the corresponding number of days to your Budapest itinerary!
---
How Many Days In Budapest: Suggested Itineraries
We've listed some sample itineraries below to help set your expectations and give you a clear understanding of what attractions in Budapest you will be able to see in your timeframe!
1 Day In Budapest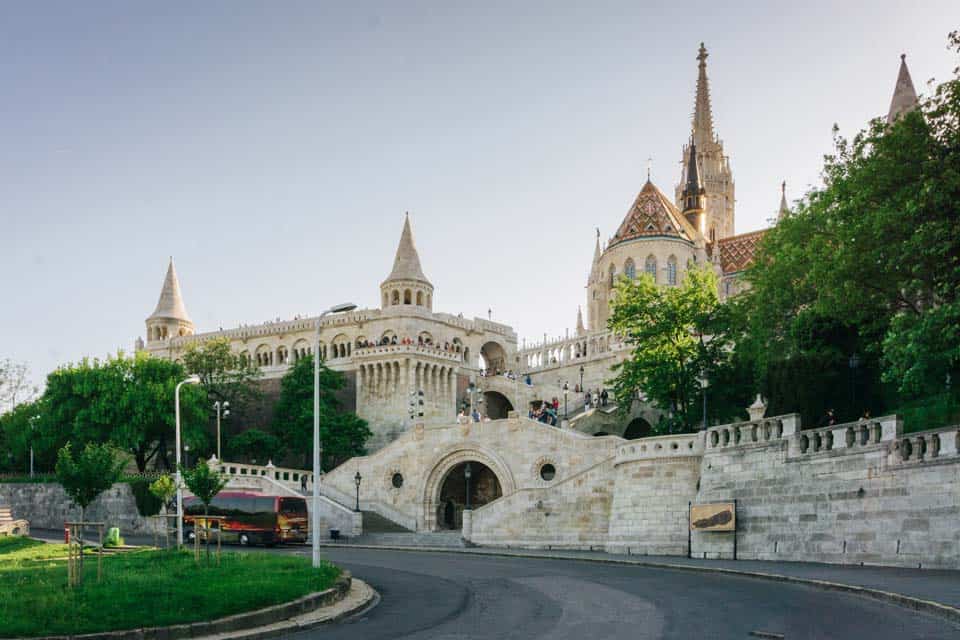 Spending just 24 hours in Budapest would be a real shame as it's only enough time to scratch the surface, but we understand that sometimes one full day is all you may have. Even with advanced planning, seeing the city's main attraction can be difficult. It's unlikely that you'll have time to enjoy a thermal bath or the nightlife.
With one day in Budapest, we recommend you to get up early and head to the Castle District on the Buda side. Check out the Fisherman's Bastion and Matthias Church, one of the most famous Roman Catholic churches in Budapest. While you are on the Buda side, make sure you don't miss the Buda Castle (aka Royal Palace), once the home of the Hungarian kings.
Then, take the Castle Hill Funicular down from the Castle District and head over to the famed Chain Bridge, which goes over the Danube River; stroll across this impressive structure, taking in views of the Parliament Building, Margaret Island, and the huge lion statues on the bridge itself!
Have lunch in one of the riverside restaurants on the other side of the bridge; we love Corso (if you want to splurge) or Dubarry.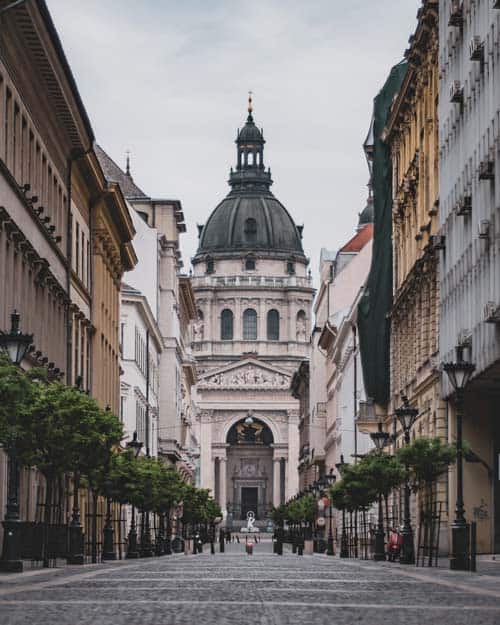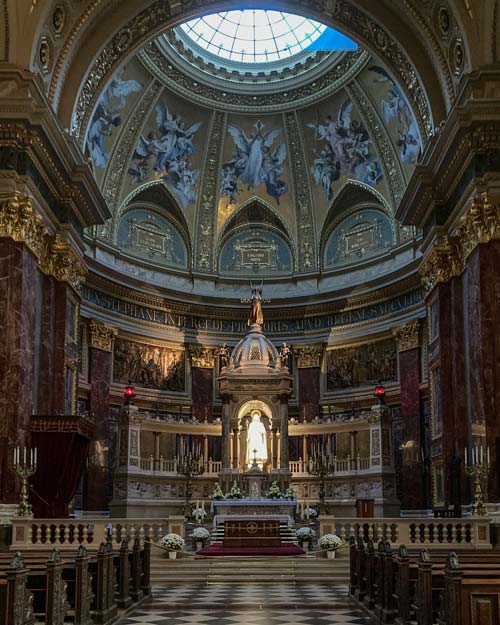 After lunch, head over to St. Stephen's Basilica, one of the tallest buildings in Budapest. It is one of the most religious buildings in Hungary and home to the mummified right hand of the church's patron – King St Stephen. It's at 96 meters tall, the same height as the Hungarian Parliament Building, and it symbolizes the balance between church and state.
Afterward, head over to the Hungarian Parliament Building, the most recognizable Budapest landmark and easily one of the most beautiful buildings in the world. It's home to the Hungarian Crown Jewels and Hungarian Holy Crown. Note that you'll need a guided tour to visit so make sure you reserve your spot online.
Last but not least, walk up along the riverfront path to the Shoes on the Danube monument, a harrowing memorial for the many people (mostly Jews) who were murdered here during World War II.
1 day in Budapest itinerary is packed, and it only visits about 50 percent of the tourist attractions in Budapest.
📚 Read More: Is There Uber In Budapest? Find Out Now!
2 Days In Budapest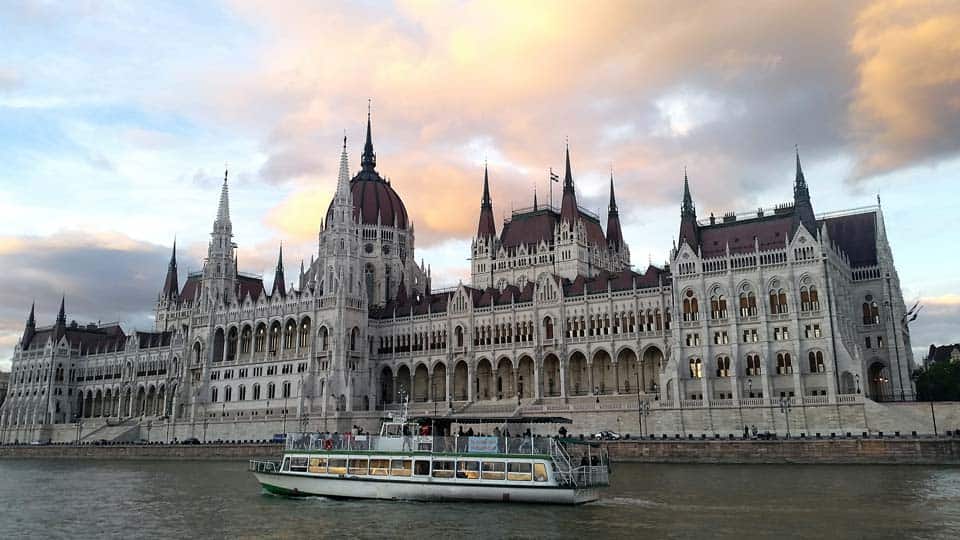 Two days is the minimum number of days we recommend spending in Budapest. In this short timeframe, you will be able to see the main sights and enjoy a thermal bath, but it is unlikely that you'll be able to enjoy this sprawling city at a leisurely pace. Exploring nightlife will be a little difficult, too, because if you have a late night, you'll likely lose a lot of valuable sightseeing time on Day Two.
With two days in Budapest, our itinerary will have to adjust a little bit. You'll want to spend one day on the Buda side (west of the Danube) and one day on the Pest side (east of the Danube). On the first day, we recommend seeing everything on the Pest side, starting with the Central Market Hall, a market in a gorgeous gothic-style building perfect for purchasing produce and authentic souvenirs from Budapest.
Then head up north to check out the old Jewish quarter and the Dohany Street Synagogue, the largest synagogue in Europe. This area is one of the most lively areas in Budapest, full of bars, restaurants, cafes, street art, and more. If you are looking for some good Hungarian cuisine, this area is great for that.
📚 Read More: Is Budapest Safe? You'd Be Surprised!
Then head over to St. Stephen's Basilica. Since you have a bit more time now, you can go up to the top of the dome and check out the stunning views from there. Finally, go for a guided tour of the Hungarian Parliament Building before checking out the Shoes on the Danube monument.
Finish off your day with a sunset Danube river cruise, and if you have energy, you can go check out the ruins bars at night.
Day two is a bit more relaxing. Start your day in the Buda Castle District. Visit the famous Fisherman's Bastion, Matthias Church, and Buda Castle. If you like museums, don't miss out on Budapest History Museum, the National Széchényi Library, and the Hungarian National Gallery in Buda Castle.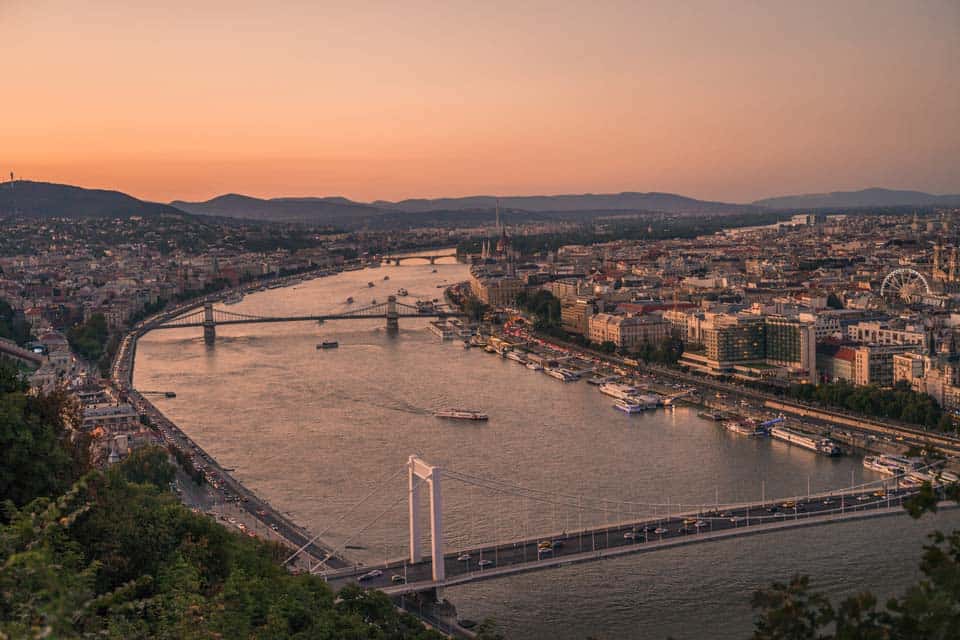 While you are on the Buda side, make sure you climb Gellert Hill. Home to the Liberty Statue (or Lady Liberty), the statue commemorates those who died fighting for Hungary's freedom. It also offers some of the best views of downtown Budapest and the Danube River. You can also visit the unique Gellert Hill Cave Church.
In the afternoon, head back over to the Pest side and go towards Szechenyi Thermal Bath, the largest medicinal bath in Budapest. It is located in the City Park, and if you take the historic Line 1 Metro, you will also pass by Heroes Square and the Millennium Monument. While you are in the city park, visit the magical Vajdahunyad Castle before relaxing in the thermal bath!
📚 Read More: How To Get From Budapest Airport To City Center
3 Days In Budapest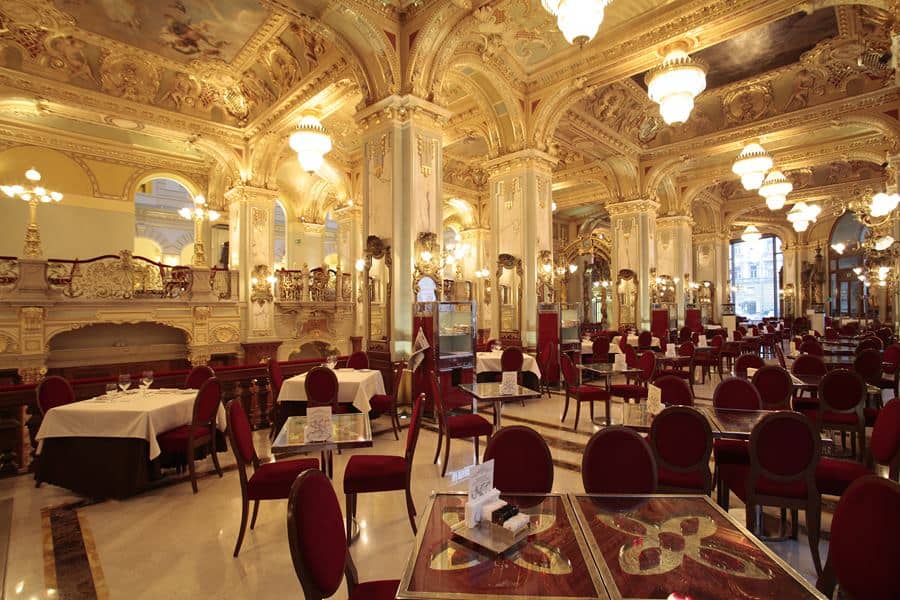 Three days is the perfect number of days to spend in this stunning historic city! This perfect Budapest itinerary allows enough time to see the top tourist attractions such as Fisherman's Bastion and the Hungarian Parliament Building.
Three days in Budapest also enables you to enjoy one of the city's thermal baths, spend some time on Margaret Island, and go bar-hopping at the many ruin bars in District VII.
The first two days of your Budapest itinerary are going to be very similar to what we recommended above.
On the third day, you have a lot of free time and plenty of places you can choose to explore.
Here are some of our recommendations:
Margaret Island – An island in the middle of the Danube, Margaret Island is one of the greenest places in Budapest. You'll find a lush park a Japanese Garden, a pool, a spa, and plenty of walking paths.
Hungarian State Opera House – If you want to enjoy music performances at one of the most ornate buildings in Budapest, then make sure you check it out.
House of Terror – A museum dedicated to the effect of Nazis and the Soviet regime in Hungary, perfect to learn about the dark side of Hungarian history.
New York Cafe – One of the most beautiful restaurants in Budapest. The food here is decent, but the interior is worth a visit. It is a must-visit place for social media influencers!
Hungarian National Museum – One of the most impressive museums in Hungary. There are tens of thousands of artifacts, including objects from the prehistoric period to contemporary times.
📚 Read More: Bucharest vs Budapest: Which One Should You Visit?
4 Days In Budapest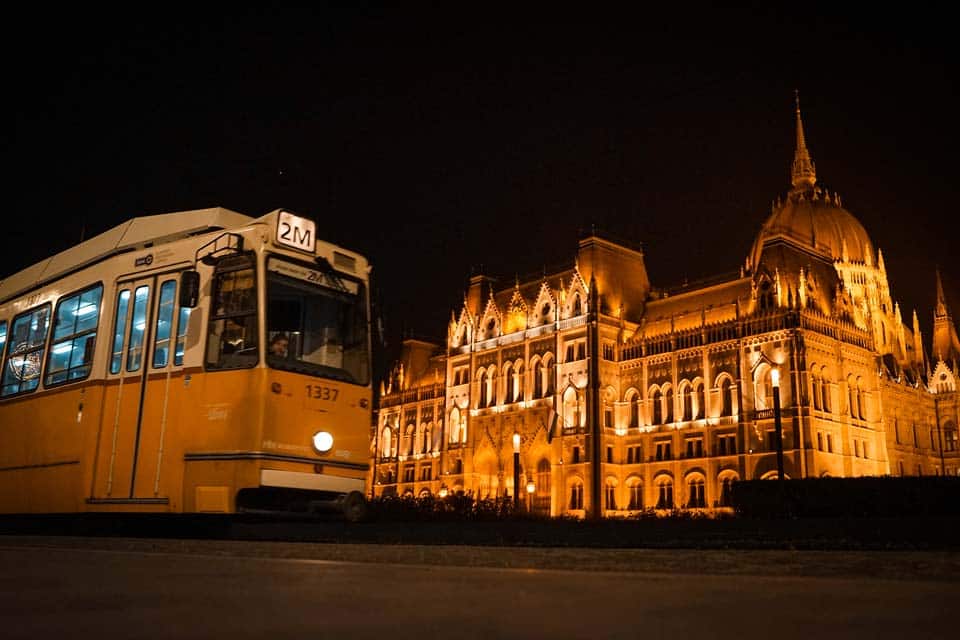 A 4 Days in Budapest itinerary is perfect for slow travelers because it allows more time to dive into the nooks and crannies of this fascinating city. This lengthier itinerary enables you not to feel 'rushed' so you can truly take your time and enjoy the city's vibrant atmosphere and breathtaking architecture!
Your 4-day Budapest itinerary will look very similar to the 3-day itinerary above but at a slower pace, leaving Day 4 to sightsee the attractions you didn't get to on days one and two. We suggest spending an hour or two at the Hungarian Jewish Museum before enjoying a show at the Hungarian State Opera House.
On Day 4, you could also consider a day trip to nearby Szetendre. This colorful town is home to narrow cobbled streets and ornate churches, and the town's main square, Fő Tér, is the perfect place to get a feel for the town with the alleyways surrounding the square lined with museums, galleries showcasing the best of Hungarian art, and souvenir stores.
It's on the banks of the Danube River, so the town is as idyllic as towns can get!
5 Days In Budapest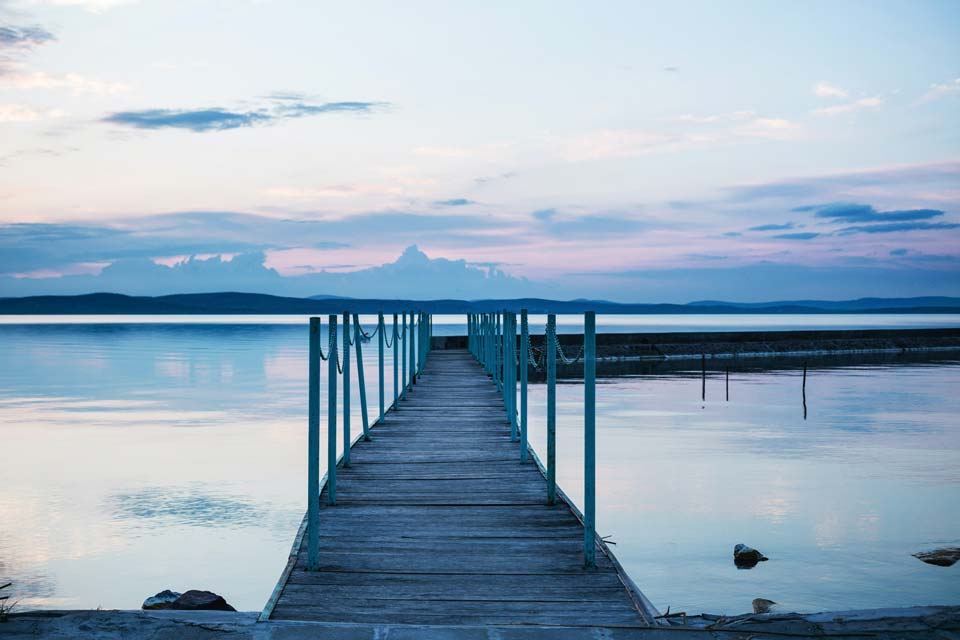 5 days (or more) in Budapest is ideal for digital nomads or slow travelers! In 5 days, you'll be able to get a 'true feel' of the city. This lengthier itinerary will look pretty much the same as the 4-day itinerary, but it gives you extra time to take another day trip or explore the gastronomy of Budapest. The city is full of quirky and trendy cafes and restaurants for travelers to discover!
Although 5 days might seem like a lot of time, we assure you that you'll never be bored in Budapest.
If you decide to take another day trip, you can go to Bratislava, Vienna, Balaton Lake, or Eger.
Bratislava and Vienna are capital cities in Central Europe with lots to do while Balaton Lake is better for those that want to be in nature. Eger is another historic city in Hungary and it has a small town charm that is irresistible!
---
How Many Days In Budapest FAQs
Is Budapest Worth Visiting?
The capital city of Hungary, Budapest, is definitely worth visiting. It has something for everyone – from grand architectural landmarks and historic thermal baths to world-class cuisine and vibrant nightlife. The city is also one of the most affordable central European cities, perfect for anyone traveling on a budget.
How Many Days In Hungary To Spend?
We recommend spending at least 7 days in Hungary. There is a lot to see in Hungary besides Budapest – from the beautiful Balaton Lake to the historic city of Eger and the beautiful resort of Lillafüred. However, you'll need a car to get around Hungary!
---
So, How Many Days Should You Spend in Budapest?
Deciding how many days to visit Budapest is no easy task. The historical capital city has so much to offer tourists. As we mentioned, we recommend spending 3 days in Budapest and adjusting your itinerary depending on your travel style and what you would like to see.
Don't worry about spending too long in Budapest, the city is gorgeous and there is plenty to offer tourists. You're surely not going to be bored!
Disclaimer: Some of the links above are affiliate links. That means if you book or make a purchase through the links, we will earn a small commission at no extra cost to you! The money will help run this site! Thank you!