If you are looking for souvenirs from Budapest to buy, then you are in for a treat. The capital of Hungary is the epitome of everything in Hungary – from culture to nightlife to food and more. This means that the souvenirs you can buy in Budapest are also some of the best.
Shopping for souvenirs in Budapest can be a difficult task. On our first trip to Budapest, we were overwhelmed and intimidated by the number of options.
We wanted to get something nice and meaningful but didn't want to get scammed by buying something fake. Also, there were just too many options.
That is why we've decided to write this article on the best Budapest souvenirs so that you can take home some of the best gifts! We'll also include several places where you can do your souvenir shopping as well as tips to ensure you have a pleasant experience!
---
What To Buy In Budapest: 21 Best Souvenirs From Budapest
1. Palinka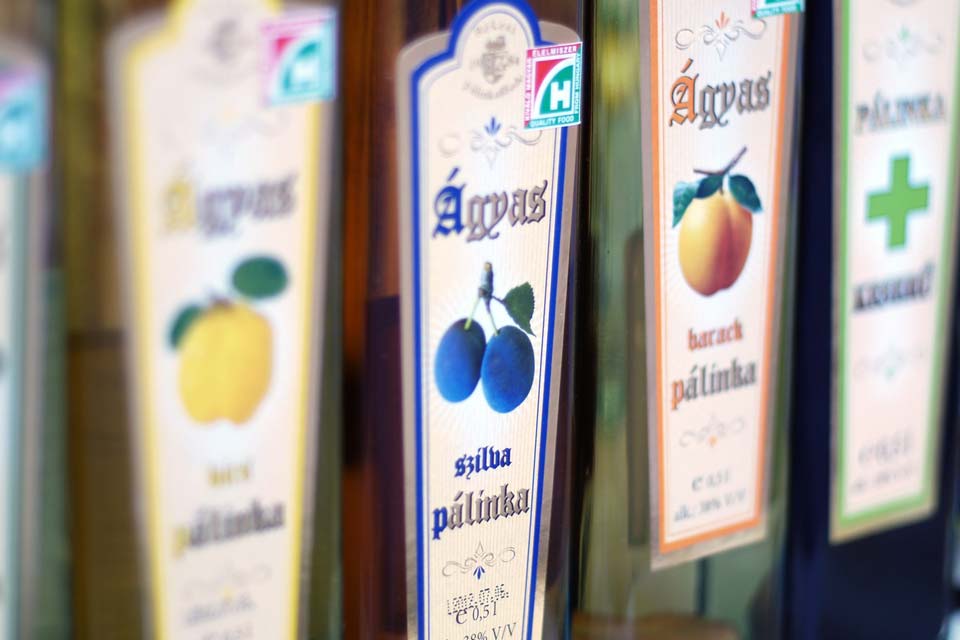 One of the most unique gifts from Hungary is Palinka, a strong fruit brandy most commonly made using fermented plums and often flavored with apricots, apples, pears, and cherries. Spirit connoisseurs will love it as it has an alcohol percentage of 40 to 70 percent.
If you ever visit the ruin bars in Budapest, you have probably seen it on the menu or even tried it yourself. If that is the case, a bottle of Palinka might be the perfect souvenir to remember your trip by!
They also don't cost a fortune and can be found in almost every Liquor and Grocery store in Hungary, perfect for those looking for cheap Budapest souvenirs.
2. Rubik's Cube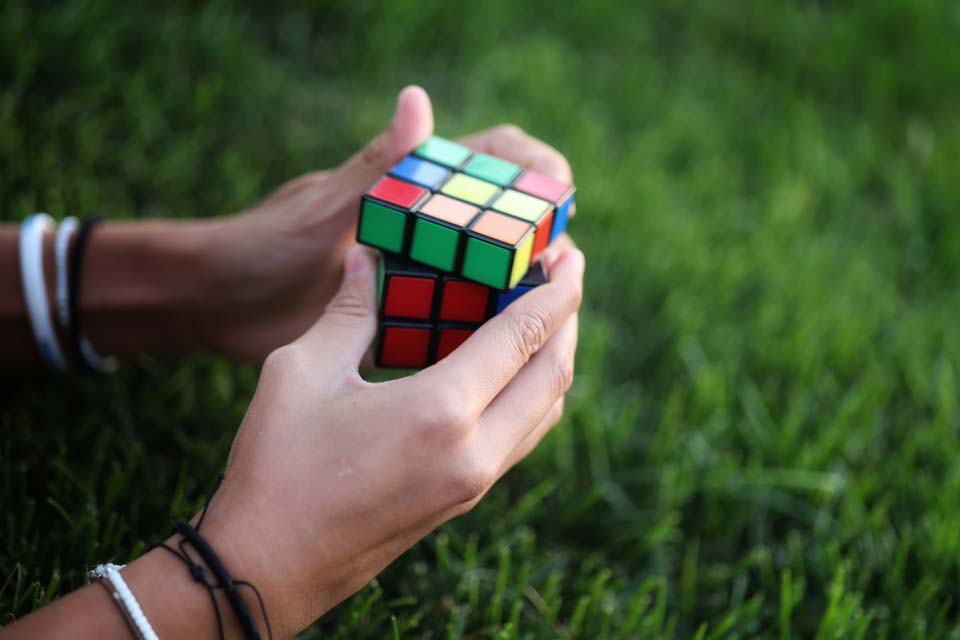 Would you believe the world-famous Rubik's Cube was invented in Hungary in 1974? Yep, this instantly recognizable 3D combination puzzle was invented by Erno Rubik, a Hungarian Sculptor.
The Rubik's Cube is considered a national treasure in Hungary, and former Prime Minister Fürjes Balazs declared the Rubik's Cube a symbol of the Hungarian intellectual spirit.
While it might seem like a mundane item to get as a souvenir, it has a special meaning that a few people would understand.
3. Paprika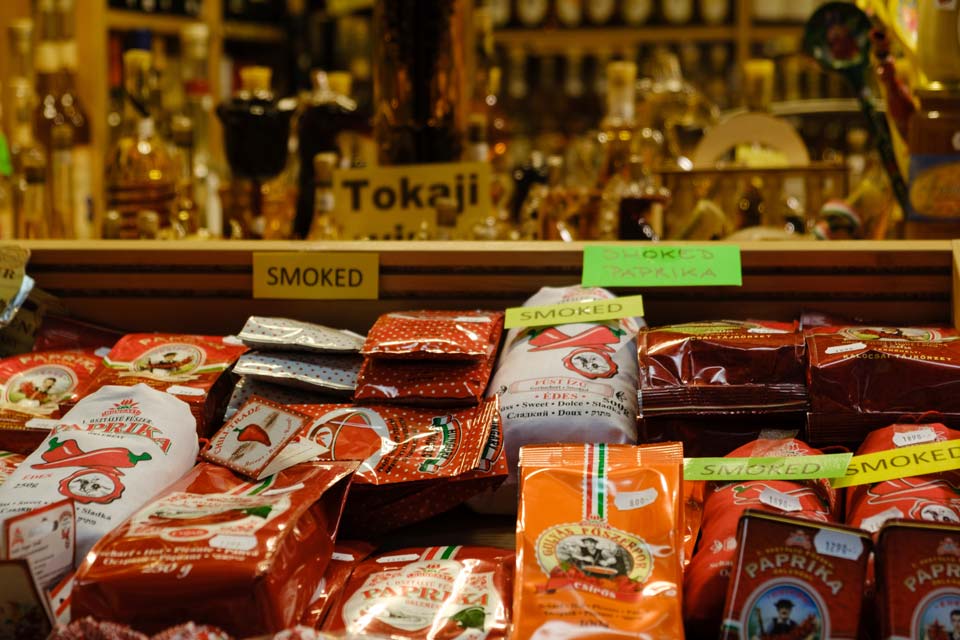 Most visitors to Hungary will have paprika on their souvenir list; that's because this country is one of the world's top producers of this fruity, slightly sweet spice.
Thanks to Hungary's climate and geographical location, Hungarian paprika has a rich flavor and distinctive bright red color.
Many typical Hungarian dishes use paprika as a seasoning – from the famous Goulash (Gulyásleves in Hungarian) to Paprikash to Halászlé (Fishermen's soup).
So if you want a souvenir to remember the tasty foods you have tried in Budapest or want to buy something for something that loves to cook, look no further than Paprika!
Central Market Hall is the place to go for this tasty Budapest souvenir, and you can even get sweet and spicy versions.
4. Kurtoskalacs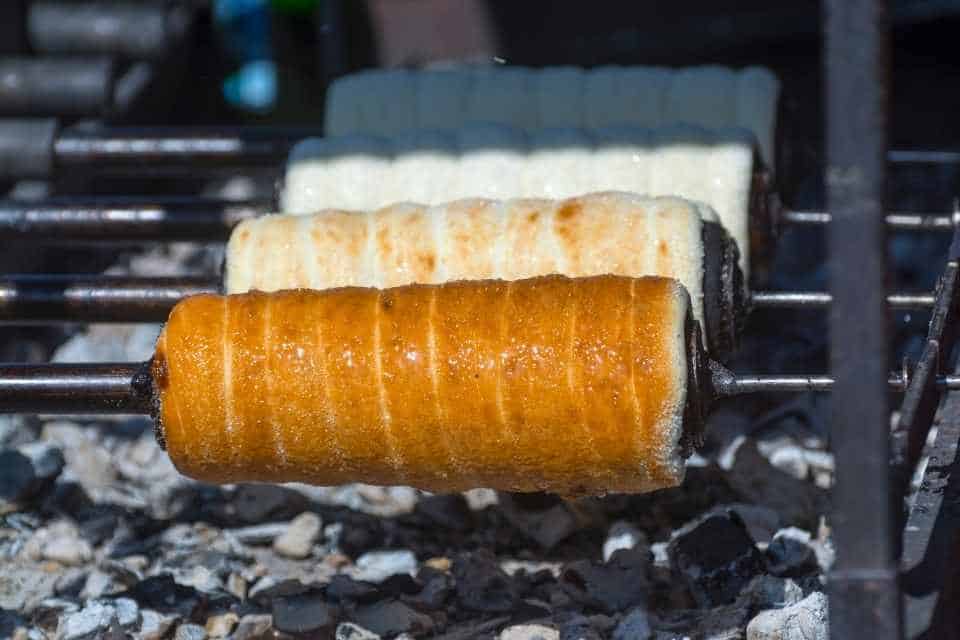 Kurtoskalacs, or more commonly known as chimney cakes, is a delicious Hungarian pastry distinguished by its cone shape that's then rolled in cinnamon sugar. Sold in bakeries and markets across the country, they are served warm and sometimes filled with ice cream.
While they are definitely better if you eat them then and there, especially if they have ice cream, Kurtoskalacs are great souvenirs for someone that might be picking you up at the airport back home, or for someone that you'll see shortly after arriving home.
Of course, you can also buy them for yourself! There are many kurtoskalacs specialty shops in Budapest, our favorite continues to be Molnár's kürtőskalács!
Pro Tip: There are many flavors of kurtoskalacs to try. For beginners, you cannot go wrong with the vanilla or cinnamon ones!
5. Tokaji Wine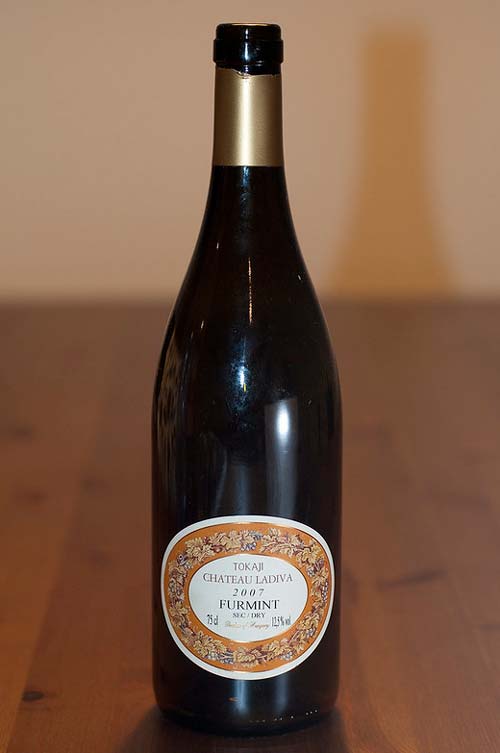 The sweet Tokaji wine is sometimes referred to as the world's oldest wine. The wine gets its name from the Tokaj wine region in Northeastern Hungary, where the grapes are typically grown.
They are also known for being some of the sweetest wines in the world, thanks to the way they are made.
There are six different white wine varieties grown in the Tokaj wine region, and they are – Furmint and Hárslevelű (the most popular), Sárga Muskotály, Kövérszölö, Zéta, and Kabar.
And you won't believe how these grapes get their sweetness – from a mold called botrytis that shrivels and dries the grasp to create a unique and enhanced sweet flavor!
This Hungarian wine varies greatly in price and quality, so be sure to do some research before buying a bottle or, even better, book a guided wine tour in the Tokaj region and try the different varieties for yourself!
6. Hungarian Puzzle Boxes, Our Favorite Souvenirs From Budapest
Look on most people's wishlists of what gifts to buy in Budapest, and you'll generally find a Hungarian Puzzle Box. This intricately-carved wooden box is no ordinary box and features hand-carved figurines and patterns.
Also known as a Hungarian Secret Box, it has an inner chamber where you can store your jewelry or other small valuables, which can only be opened by "locks" that are hard to find – hence the name "puzzle box!"
They make for an ideal souvenir or gift for kids or puzzle fans, and they are widely available in Budapest souvenir shops and market stalls. But we've found some of the most beautiful ones at The Great Market Hall!
7. Hand Painted Eggs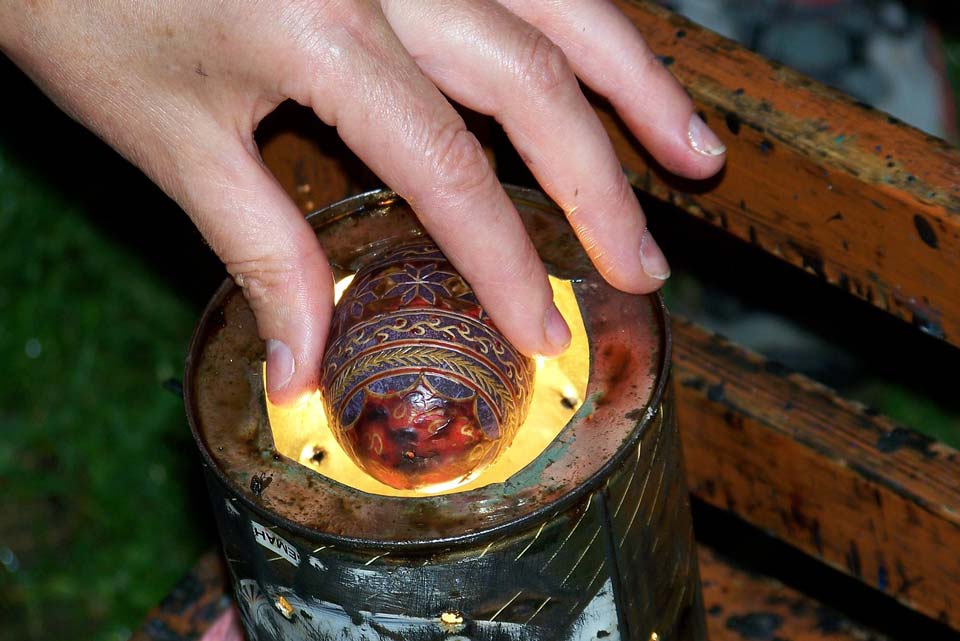 If you are looking for an easy gift idea from Budapest for your loved ones back home, then go for a Hungarian handpainted egg. These eye-catching eggs are not only the perfect home decoration, but they also have a rich history behind them.
The gifting of hand-painted eggs is generally related to Easter in Hungary. The eggs are given on Easter Monday to celebrate rebirth and cleansing. It is also sometimes given outside of Easter to simply show affection.
8. Ajka Crystal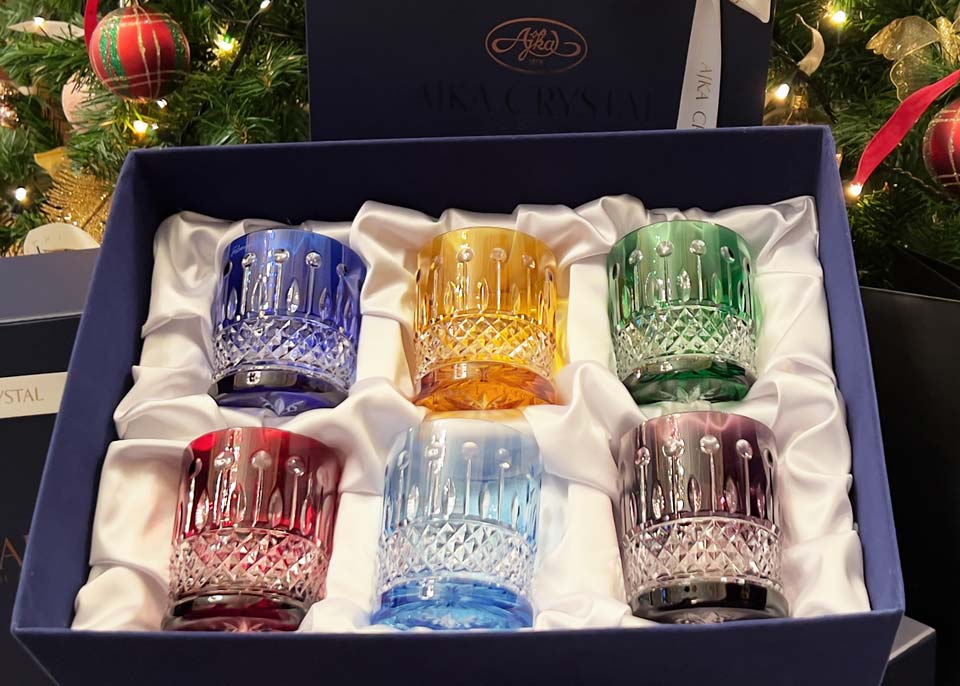 Ajka Crystal is one of the biggest crystal manufacturers in Central Europe and is exported to be used by world-renowned brands like Waterford Crystal, Dior, Tiffany's, Wedgwood, and more. In fact, a whopping 90% of Ajka crystal is transported abroad.
Meaning that displaying a piece of glass art from Ajka Crystal in your home is certain to become a talking point.
The brand specializes in stemware, tumblers, vases, and bowls – and although this particular souvenir is one of the priciest items on this list, it's also one of the most beautiful.
There are several Ajka Crystal specialty stores in Budapest as well as the Ajka Crystal Brand Store. You can also purchase these colorless crystal products at the famous Great Market Hall!
9. Hungarian Porcelain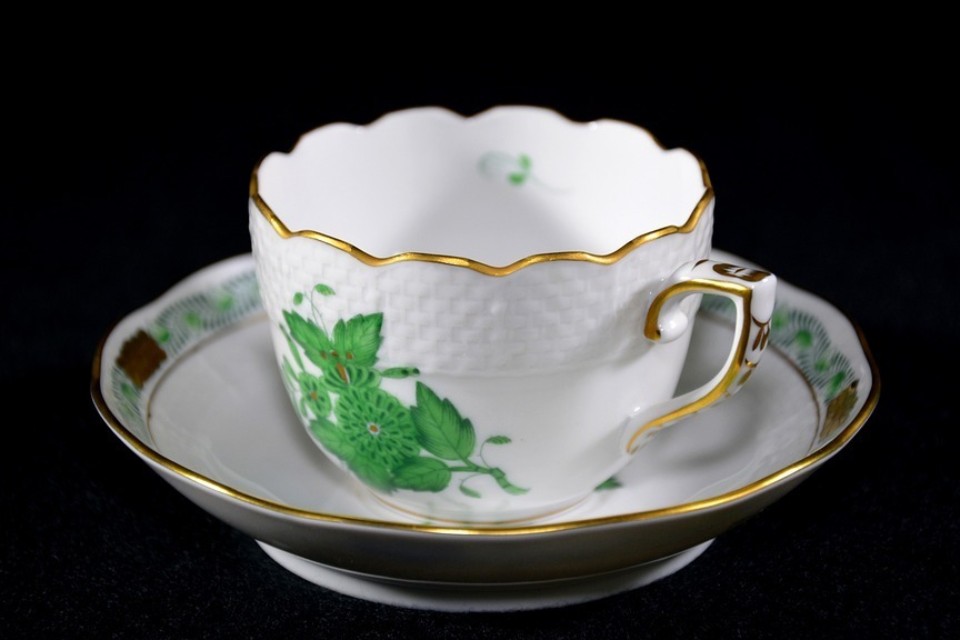 There are two main manufacturers of Hungarian Porcelain – Herend and Zsolnay. Herend porcelain, or Herendi as locals call it, is one of the most prestigious porcelains in the world and is produced in a small village close to Lake Balaton.
One of Herend's most famous designs is the Chinese Butterfly which was purchased by Queen Victoria! This high-end souvenir can be purchased from the Herendi Chinaware Manufacturer Co. in downtown Budapest and other specialist Herend retailers.
The lesser-known Zsolnay porcelain is equally as exclusive and luxurious and is manufactured in the Pécs region. It's most famous for its Eozin technique, a rich glaze that gives the products an ethereal appearance.
10. Hungarian Dolls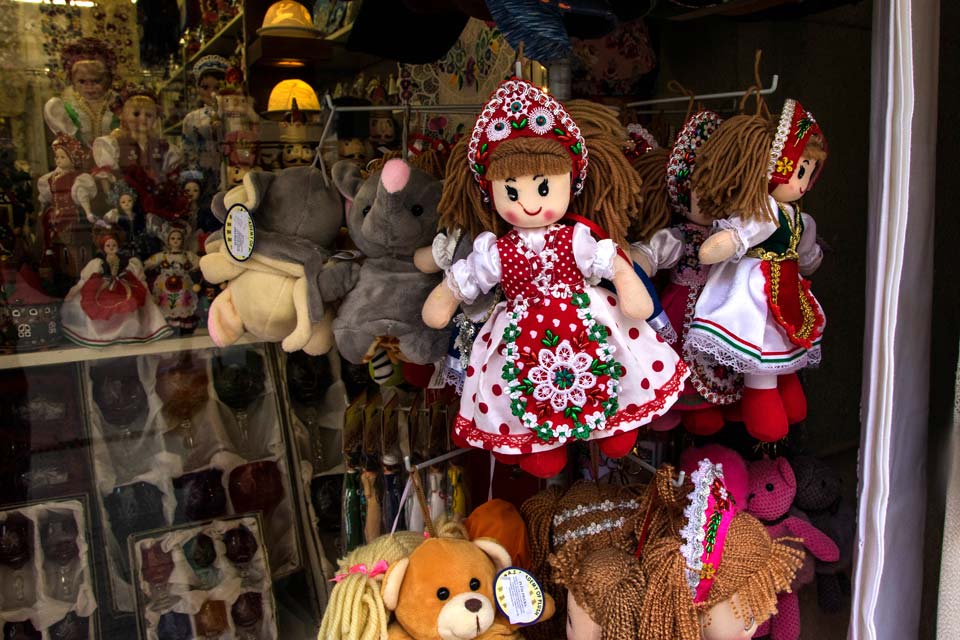 Traditional Hungarian dolls or matyó dolls are great souvenirs to take home from Hungary. Known for their intricate embroidery, colorful clothing, and cultural significance, they are often used as gifts in Hungary.
What makes them so special is that each doll is dressed in traditional Hungarian costumes in respect to the region they are from. So, there are numerous different dolls you can collect, each as spectacular as the next one!
The dresses these dolls wear are often so intricate that they look like they have been carved instead of made from fabric!
11. Unicum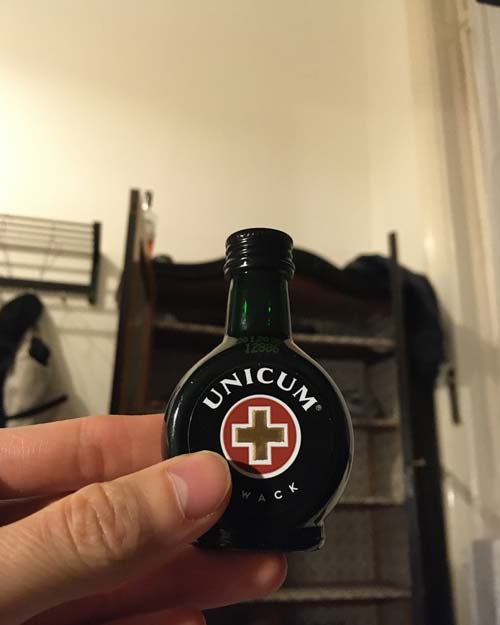 If you are looking for a special gift from Hungary, then you cannot go wrong with Unicum. This strange-sounding name is a liquor made from over 40 different herbs and then aged in oak casks, and it is most commonly compared to Jägermeister.
Typically drunk as an aperitif or digestif in Hungary, Unicum also happens to be the national drink of Hungary! Thanks to its variety of herbs, the taste of Unicum is nowhere near pleasant, but we've seen local Hungarians drink it like it's nothing.
It is definitely one of the most unique gifts you can get from Budapest, and the best part is its super easy to find. You can buy it from liquor stores, supermarkets, and gift shops throughout the city.
Pro Tip: You might want a chaser (something to wash away the taste of Unicum) after drinking it.
12. Shot Glasses
To drink all that Unicum or Palinka you plan to take home with you, why not buy the typical tourist purchase of a shot glass?
This cheap and cheerful souvenir can be bought just about anywhere (souvenir stores, supermarkets, and market stalls being the best places to look), and some of the most popular versions feature the Hungarian Parliament Building or the Budapest Coast of Arms!
13. Hungarian Textiles with Traditional Embroidery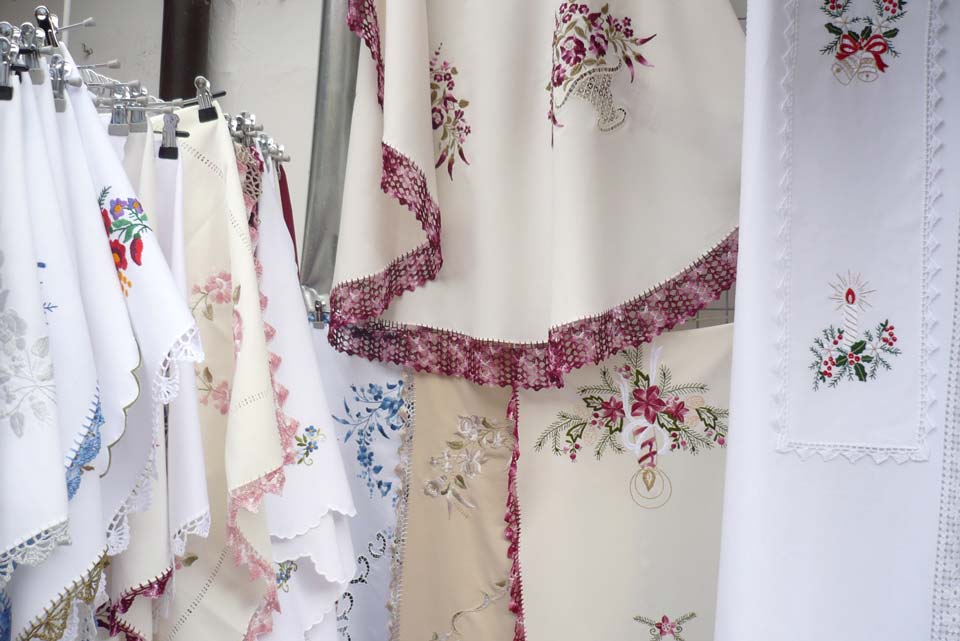 A unique souvenir from Hungary is Matyó embroidery homeware items such as tablecloths, cushion covers, and towels. Or, if you're after a truly memorable souvenir, why not consider an embroidered piece of clothing?
This colorful embroidery often features flowers, especially roses, and is made by the Matyó community in Mezőkövesd in northeast Hungary.
If you want the real thing, keep in mind the price will be high as it's estimated that it takes 6 hours to embroider a large rose!
Some tips to help you find the real thing are to look for a photograph of the seamstress on the label, and if an item is handstitched, you will see imperfections on the inside.
Read More: How To Get From Budapest Airport To The City Center?
14. Hungarian Sausages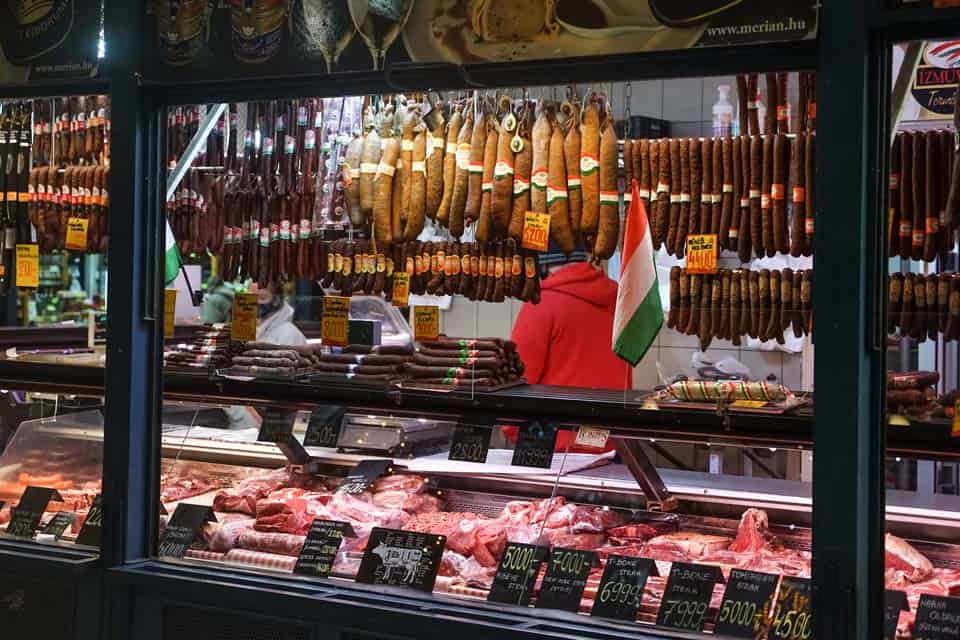 Meat lovers rejoice! You can take some Hungarian sausage home as a souvenir to help you remember the delicious Hungarian cuisine!
Used regularly in Hungarian cooking, these sausages typically contain pork, paprika, and garlic, but they can also include seasonings like marjoram, caraway, or even cognac or white wine. And believe us; they're delicious!
The best place to buy them is certainly Central Market Hall, where you'll find loads of meat sausage specialty shops selling more kinds of sausages than you can count.
But ensure your sausages are properly packaged and meet your country's guidelines for meat imports before you buy them!
15. Marzipan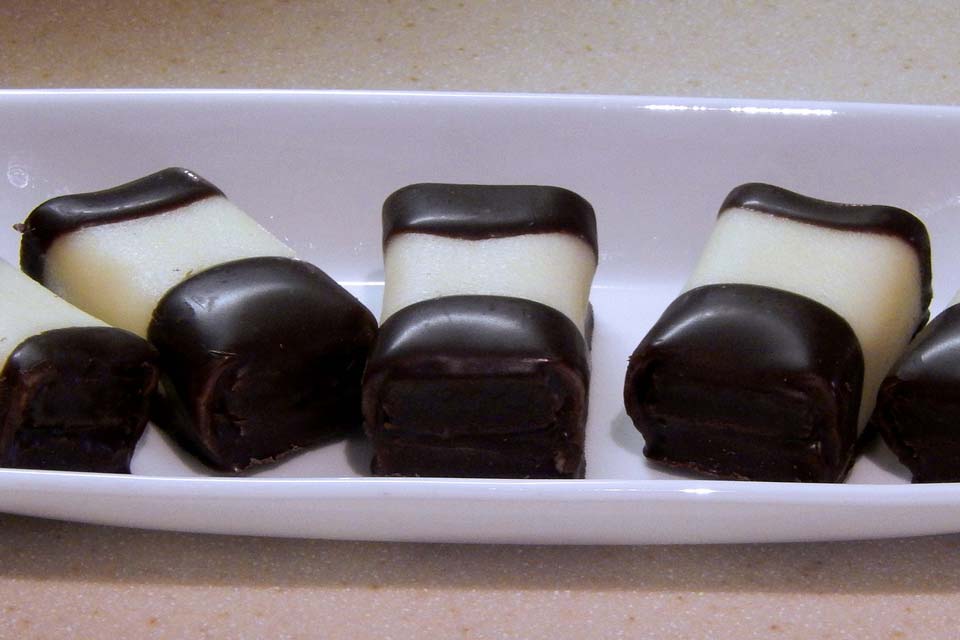 The delightful marzipan, a sweet treat made from almond paste and sugar, is one of the best souvenirs from Budapest for kids. The city is full of pastry shops that sell colorful marzipan figures in a variety of shapes and sizes.
The country loves marzipan so much that they have a Marzipan Museum in Szetendre, a short day trip from Budapest. Though there are many shops to buy marzipan in Budapest, the ones in Szetendre are definitely superior.
So when you take a day trip to Szentendre from Budapest, which you totally should, keep your eyes open for some!
If you can't go, then Szamos Marzipan Confecioner's is one of the most famous marzipan shops in Budapest, but expect to queue.
16. Hungarian Beigli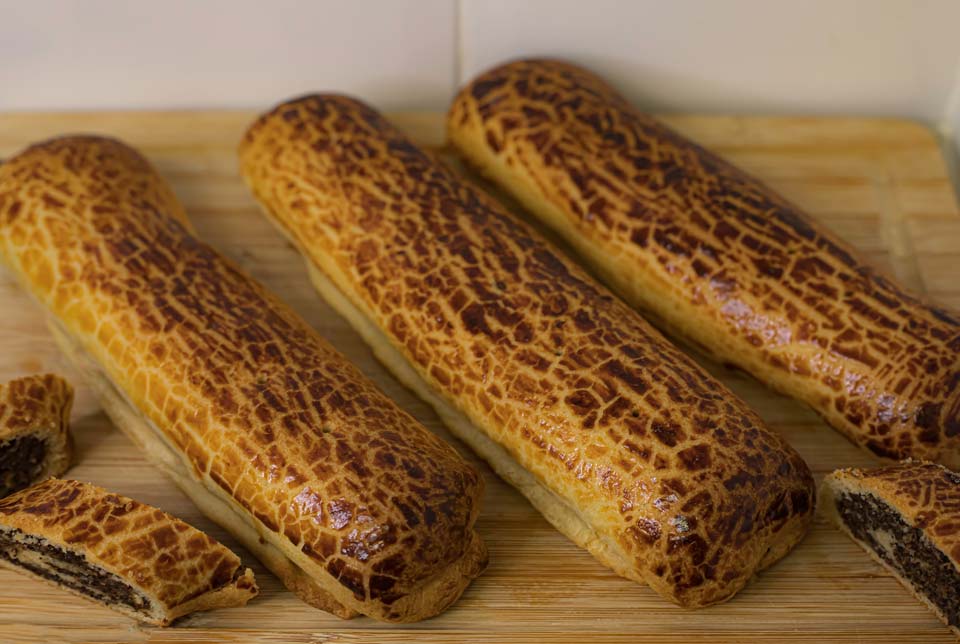 If you are looking for food souvenirs to bring home from Budapest, then the simple Hungarian Beigli might be the perfect one. It's a walnut and poppy seed roll typically served at Christmas in Hungary, but you can find it at all times throughout the city.
You will find that many bakeries fill their Beiglis with yummy fillings like chocolate, cherries, or prunes – so there's one for every taste!
17. Hungarian Artwork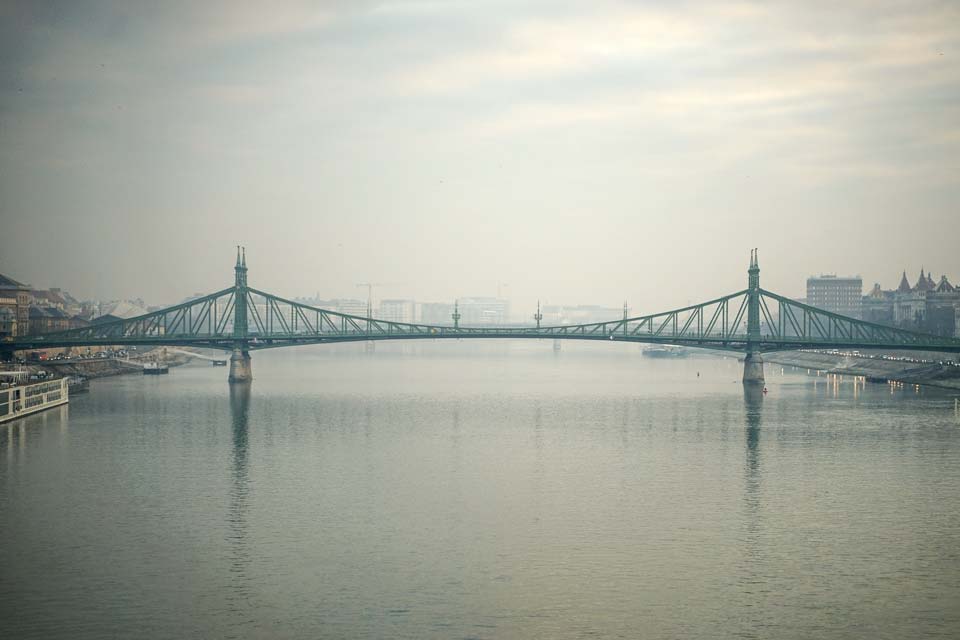 One of our personal favorite souvenirs to take home from a new destination is a piece of unique artwork. There is something about looking at a painting at home and rejoicing in the memories and good times you spent at a destination.
And in the Hungarian capital, you will find souvenir stores and market stalls selling a huge array of stunning artwork by independent artists.
We personally recommend the paintings of the River Danube and Szechenyi Thermal Baths. But the drawings and pictures of St Stephens Basilica, the Chain Bridge, and other lesser-known attractions are equally stunning.
Budapest is a beautiful city and you'll no doubt find a piece of art you love!
18. Towel From One Of The Thermal Baths In Budapest
Spa lovers, we have got the perfect souvenir for you! Budapest is known as the "spa capital of the world," so what better way to remember your time in the city's historic thermal baths like Szechenyi than with a keepsake-type towel from their gift shop?
19. Fridge Magnets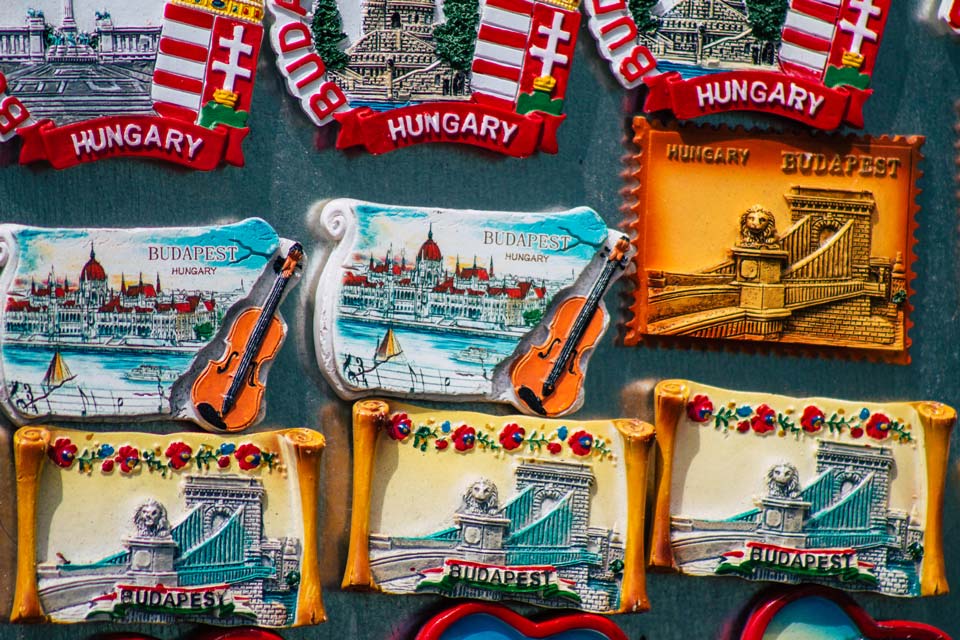 A fridge magnet of one of Budapest's top attractions, like Fisherman's Bastion and Buda Castle, will serve as a lovely reminder of your Budapest trip, and you'll see it every time you open your fridge!
As you can guess, these cheap souvenirs are available pretty much everywhere in Budapest!
20. Coffee Mug
Similar to a fridge magnet, coffee mugs featuring Budapest's most iconic buildings are super-popular souvenirs from the city. Slogan mugs with catchy phrases like "I love Budapest" are another popular choice.
21. Stuhmer Chocolate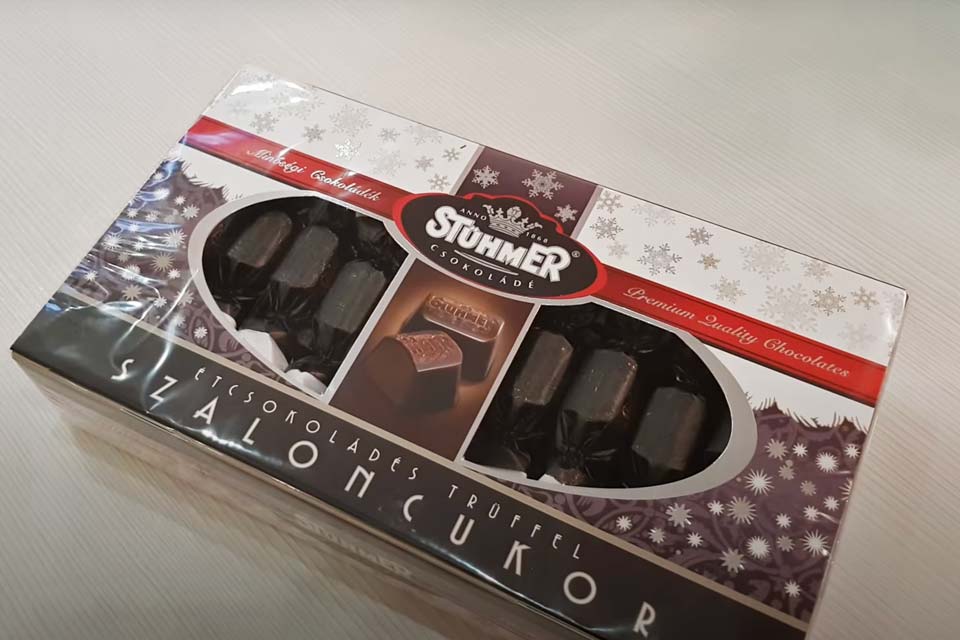 If you have a sweet tooth, then the famous Stühmer chocolate has to be added to your souvenir list from Budapest. These are artisan chocolate produced in Hungary by the Stühmer family and have been involved in chocolate production since the early 1900s.
Their chocolate is known to be some of the highest quality with rich flavors.
No matter your budget or preference, you'll be sure to find something you love in one of Stuhmer's seven stores – whether it be a box of decadent pralines or a simple chocolate teddy bear (sold over the holiday season only), these high-quality chocolate make a great gift from Budapest.
---
Where To Buy Souvenirs In Budapest?
Buying souvenirs in Budapest isn't exactly difficult. Just by walking in the historic district, you'll find loads of souvenir shops along the side of the street. However, there are several places in Budapest where we found the best quality and biggest selection of items to buy.
Here are the places to go shopping in Budapest for souvenirs:
1. Sunday Farmers Market At Szimpla Kert, The Most Famous Ruin Bar in Budapest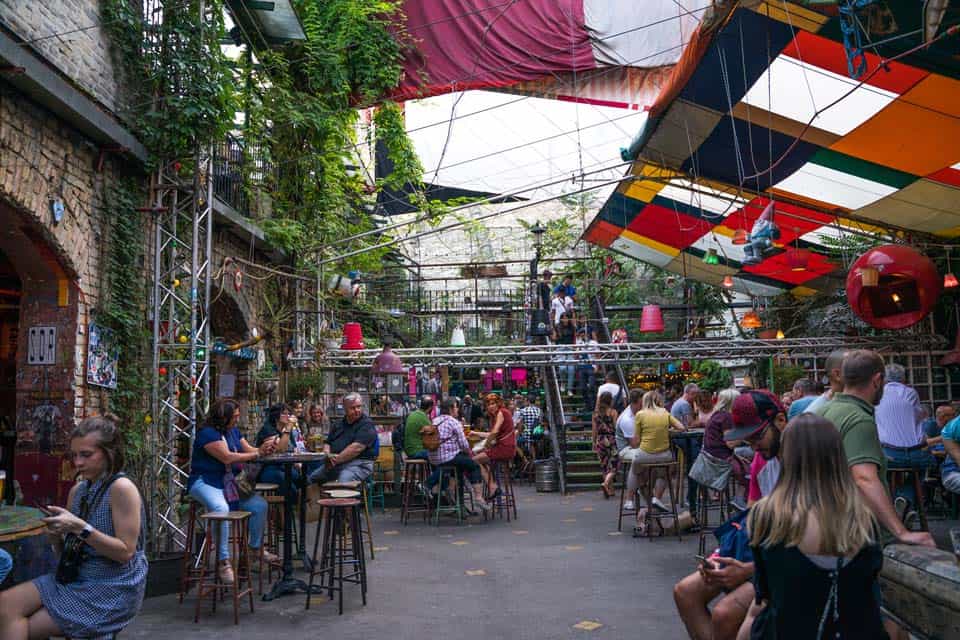 This popular market has been held in Budapest's most famous ruin bar every Sunday since 2012! It has grown and grown, and today, the market boasts over 30 stalls, and up to 2,000 people visit each week!
This not-to-be-missed Hungarian market sells everything from fruit and vegetables to Hungarian sausages, cheese, and honey, and there are strict requirements for all vendors!
On the first floor of Szimpla, you can enjoy an all-you-can-eat brunch featuring the market's best produce, and there's also live music most weeks!
2. Memories of Hungary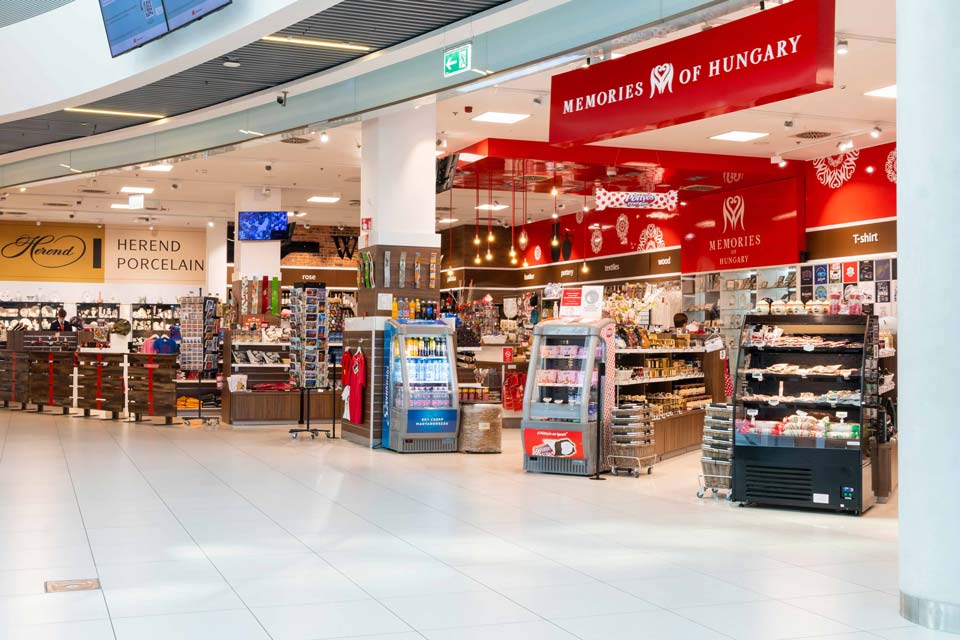 Memories of Hungary is a Budapest souvenir shop that sells a wide range of products, from classic Budapest souvenirs like mugs and fridge magnets to more unique items like Hungarian Puzzle Boxes and Hungarian dolls.
It's the biggest chain of souvenir shops in Budapest and there are several stores dotted throughout the city, including two stores close to Fisherman's Bastion and a large one by St. Stephen's Basilica.
It is one of the best gift shops in Budapest for some last-minute souvenir shopping!
3. Central Market Hall, the Most Famous Place to Buy Souvenirs in Budapest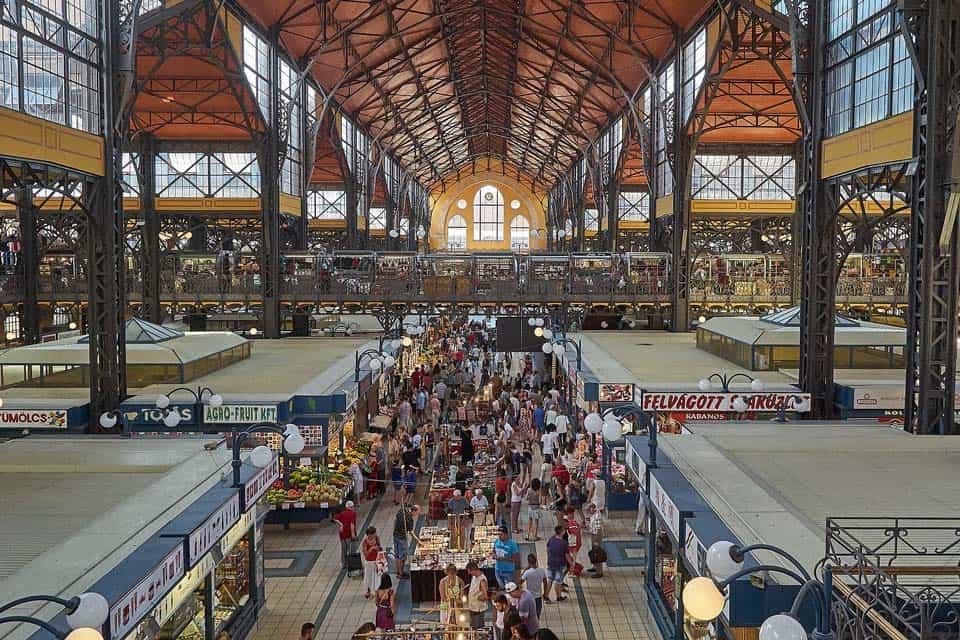 If you want to go to just one place to buy all your Budapest souvenirs, then look no further than the Central Market Hall (aka the Great Market Hall) on the bustling shopping street of Váci utca.
This large 3-story building encompasses a whopping 10,000 sq. ft., and you can buy pretty much every souvenir listed above in this vibrant indoor market – from Hungarian paprika to Hungarian artwork and traditional Hungarian textiles to fresh produce.
Besides being one of the biggest souvenir shops in Budapest, the Central Market Hall is gorgeous and one of the best things to do in Budapest. So make sure you make a shop either way, just give yourself at least an hour or two in there if you want to do any kind of shopping.
4. Paprika Market
Similar to Memories of Hungary, Paprika Market is not (despite its name a market that solely sells paprika). It's renowned for being the largest and one of the best souvenir shops in Budapest and, as you can guess, sells a huge variety of souvenirs.
From a Rubik's Cube to high-quality Budapest Hungarian porcelain figurines, this store has every souvenir you can imagine and more.
Our favorite items to buy at Paprika Market are Palinka, Unicum, and edible Hungarian souvenirs like Hungarian sausage and Hungarian paprika.
5. Saturday Hunyadi Ter Market
If you're after an authentic Budapest shopping experience, look no further than the Hunyadi Ter Market located near Grand Boulevard.
It's one of the smallest indoor markets in the city and has an old-world charm, and features both indoor and outdoor stalls selling an abundance of food items like Hungarian sausages, honey, fresh fruit and vegetables, and much more!
Although this market is open six days a week (it's closed on Sundays), Saturday is the busiest and best time to visit! It is a rather lesser-known attraction, so make sure you come mentally prepared as you might be the only tourist there!
Read More: How Many Days To Spend In Budapest?
---
Tips For Shopping In Budapest For Souvenirs
There's so much choice when it comes to shopping in Budapest, and with so many cheap souvenirs for sale (like Hungarian fridge magnets and marzipan), it can be easy to load up your suitcase.
Or even worse, you have to pay to check on an extra bag because you shopped until you dropped.
So, to help you have a better experience, here are some essential Budapest shopping tips you should follow:
Bring cash with you – Although most shops in Budapest will accept credit cards and debit cards, the smaller market stalls and gift shops might not.
Take some Hungarian forints (HUF) with you – If you shop with Euros or USD, you'll get terrible conversion rates. We recommend taking some cash out using one of the ATMs in Budapest with your foreign-transaction fee-free card.
Shop around and don't buy in the first place – Many stores/stalls sell the same souvenirs in Budapest, so be patient, and you'll likely find a lower price and better quality later.
If the price seems too good to be true, it probably is – For example, authentic Matyo embroidery products are expensive, and if you see them being sold for an affordable price, they are most likely going to be lower-quality knockoffs.
Make sure you haggle at the markets in Budapest – If your desired item doesn't have a price tag, the chances are you can haggle. Central Market Hall is one of the places you'll definitely want to try haggling.
Read More: Is Budapest Safe? Top Safety Tips For Travelers
---
Purchasing Budapest Souvenirs Online
If you missed the opportunity to go shopping in Budapest or you ran out of room in your luggage, you can still have a chance to get some authentic Hungarian souvenirs online.
The easiest way to purchase Hungarian souvenirs is from Amazon, but we found that the quality of them isn't exactly the best. This is especially true if you want to get something more authentic, like a Hungarian Doll or traditional textiles.
For those, we recommend going to Etsy. Many local Hungarian sellers put their products on Etsy, and this is where you can find beautiful hand-embroidered Matyó folk art.
---
Budapest Souvenirs FAQs
Is Budapest Good for Shopping?
Yes, Budapest is good for shopping  – the city is most well-known for its cavernous markets like Central Market Hall, which sells everything you can imagine under one roof. The kilometer-long pedestrianized Vaci Street has more modern products, such as big fashion brands like Zara, Adidas, and more.
What Are The Best Souvenirs From Hungary?
The best souvenirs to buy in Hungary include Hungarian Porcelain, Hungarian Puzzle Boxes, Ajka Crystal, and, Matyo embroidered products.
Do You Bargain in Budapest?
Generally speaking, you can bargain at the market stalls in Budapest as long as the item doesn't have a price tag or if you are buying many items at once. It is not good practice to bargain in souvenir stores in Budapest.
Is Shopping In Budapest Cheap?
Shopping in Budapest is cheaper compared to most other European cities because the annual average salary here is low, and the Hungarian Forint is one of the worst-performing currencies in Europe, meaning you'll easily be able to nab yourself a bargain when shopping here. 
What Are The Best Hungarian Gifts To Buy in Budapest For Him?
The best Hungarian gifts to buy in Budapest for him include Unicum, Palinka, Hungarian Shot Glasses, and, a Rubik's Cube.
What Are The Best Hungarian Gifts To Buy in Budapest For Her?
The best gifts from Hungary to buy for her include Hungarian Wine, Hungarian Dolls, Hungarian Porcelain, and, Matyo embroidery products.
---
There are so many incredible souvenirs to buy in Budapest, and hopefully, with our article, you'll be taking home some valuable items.
In general, you can't go wrong with culturally-significant souvenirs, such as Hungarian textiles with traditional embroidery, Hungarian porcelain, and Hungarian dolls.
But if you just want something that is more light-hearted, a shot glass or a bottle of the national drink of Hungary, Unicum, would be perfectly fine!
Disclaimer: Some of the links above are affiliate links. That means if you book or make a purchase through the links, we will earn a small commission at no extra cost to you! The money will help run this site! Thank you!