Not sure what to do in Budapest in 2 days? Worry not.
As the capital of Hungary, Budapest has a plethora of things to do for every type of traveler. In fact, from the breathtaking Hungarian Parliament Building to the dreamy Széchenyi Thermal Bath, it could get overwhelming to decide what to put on your itinerary.
That is why we have written this guide on an epic 2 days in Budapest itinerary, so you can make sure you see all the main sights in Budapest and not miss anything important from this UNESCO World Heritage site!
We will also provide you with information on where to stay, how to get around, and most importantly, where to eat in Budapest!
Enjoy!
---
How Many Days To Spend In Budapest?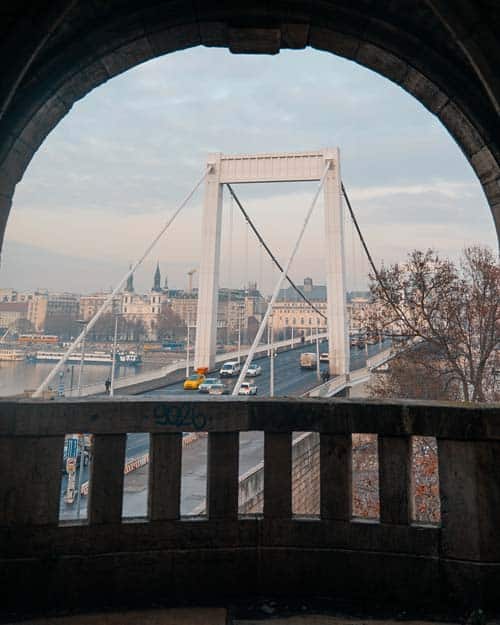 Before we jump into our Budapest 2-day itinerary, let's talk about how much time you should spend in Budapest. After all, is two days in Budapest enough to cover its main attractions?
Luckily, we believe that 2 days in Budapest is just barely enough time for you to explore both the Pest and Buda side, sample some traditional Hungarian cuisine, enjoy its electrifying nightlife, and of course, relax in its world-renowned thermal pools. 3 days would be better, as you wouldn't have to rush anything.
Of course, as the capital of Hungary, Budapest has plenty of things to do that will keep you occupied and happy for much longer than that – day trips, cave tours, and etc. But for the sake of our itinerary, we recommend that you spend at least 48 hours in Budapest.
Make sure you check our our guide on how many days to spend in Budapest if you have difficulty deciding!
---
Things To Do In Budapest 2 Days Itinerary
Day 1 in Budapest
Day 1 in Budapest is going to involve lots of walking! You'll be walking all across the Buda side and parts of the Pest side. Make sure you pack some comfortable walking shoes.
Hungarian Parliament Building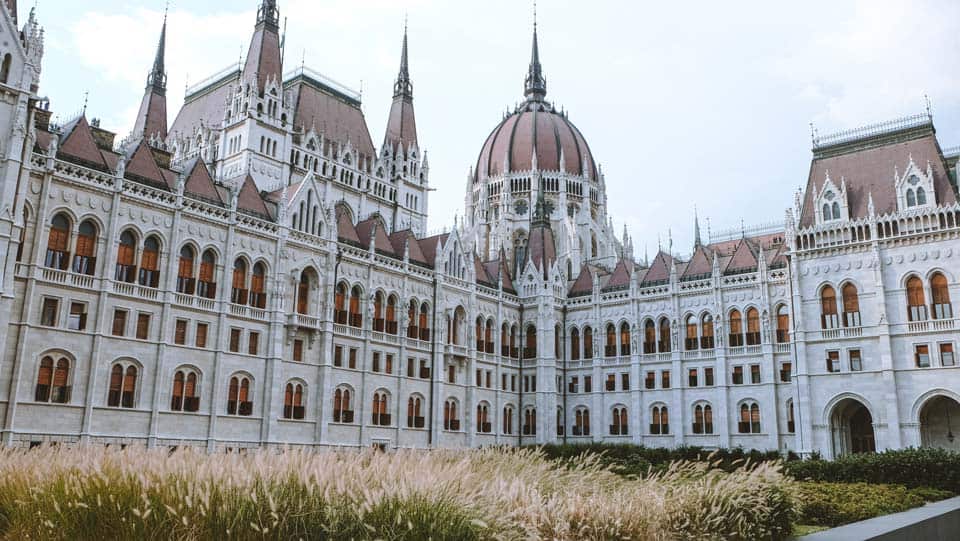 Rise and shine because the first activity on our itinerary is visiting the most famous building in the entire country – the Hungarian Parliament Building. This iconic landmark soars 96 meters high and is the tallest building in Budapest.
Though the tallest building in Budapest, what makes it stand out is the Gothic Revival style of architecture. It contrasts starkly with the Art Noveau, Eclectic, and Neo-Renaissance styles that are common in the city center.
Seeing the exterior of this massive (268 m long and 123 m wide) Budapest landmark is astounding, but what completes the experience is a guided tour inside the Parliament Building.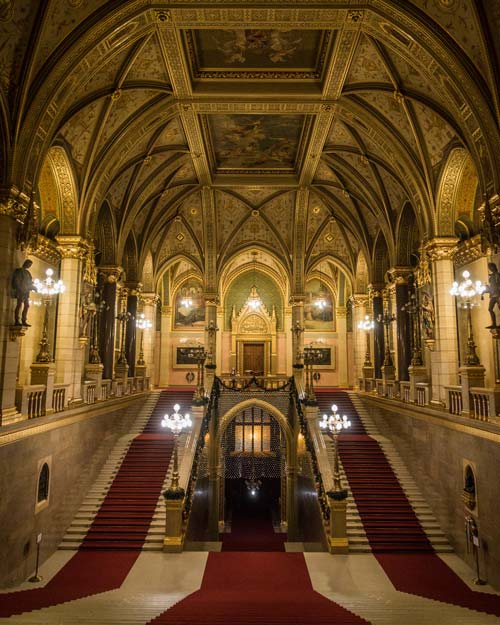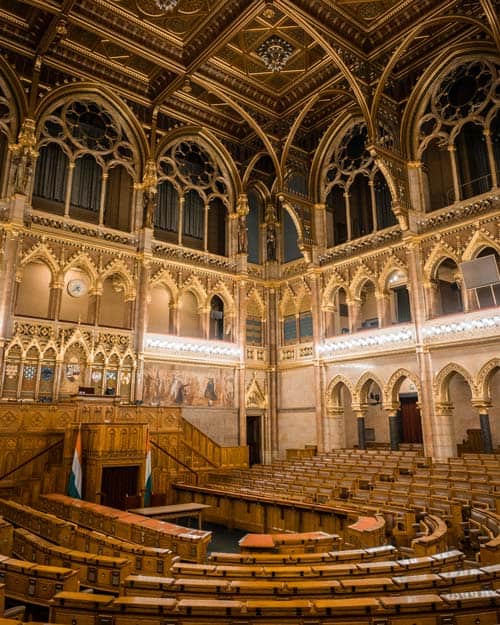 Luckily, tours in many different languages run regularly throughout the day. You must reserve them online, ideally weeks before your anticipated date of visit! Space is limited and tickets sell out quickly, especially during peak season.
However, it is still possible to visit it through a same-day walk-in visit. That is because certain tours are reserved for walk-in's only. You'll need to get to the Parliament Building the moment it opens to reserve your same-day ticket!
Fisherman's Bastion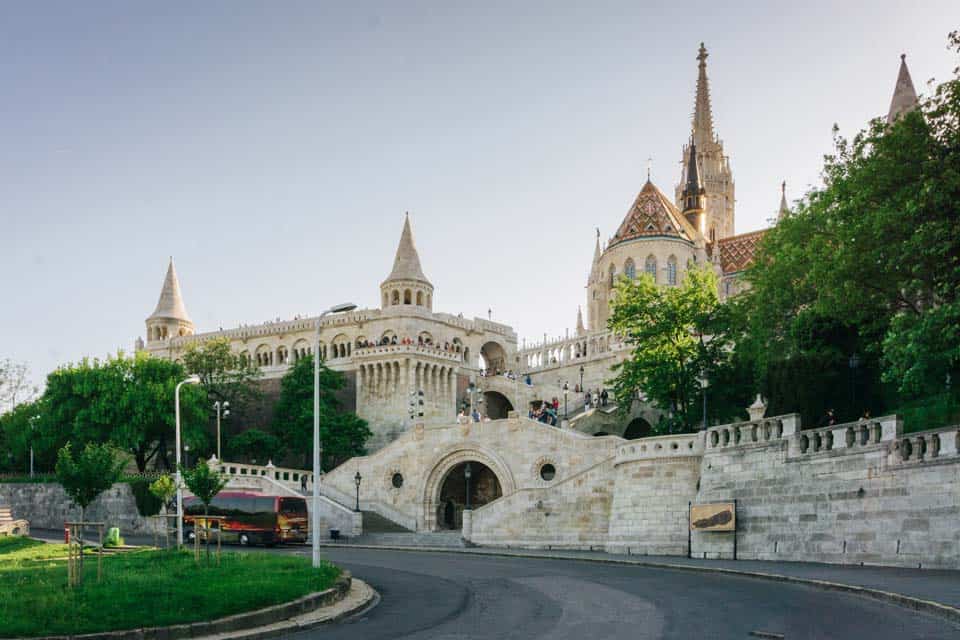 After a visit to the Hungarian Parliament Building, it is now time to explore the Fisherman's Bastion on the Buda side. Walk across the historical Széchenyi Chain Bridge, the oldest permanent bridge in Budapest, to get across from the Pest side to Buda Side. Make sure you take in the views of the Danube River.
As the name suggests, the Fisherman's Bastion is a fortification system that is built on a hill, so time to stretch those legs! A completely free place to visit in Budapest, the Fisherman's Bastion is a must on any Budapest visit.
Historically, because of the Fisherman's Bastion location on a hill, it offered many defensive advantages. Nowadays, this perched attraction offers some of the best views in Budapest. Visitors can see the entire Pest side, including buildings like the St. Stephen's Basilica, Hungarian Parliament Building, and more.
Home to the Fisherman's Bastion are two very important landmarks in Hungary, the King Matthias Church and the St. Stephen Statue. Both of these famous Hungarian figures played an important role in Hungary's history.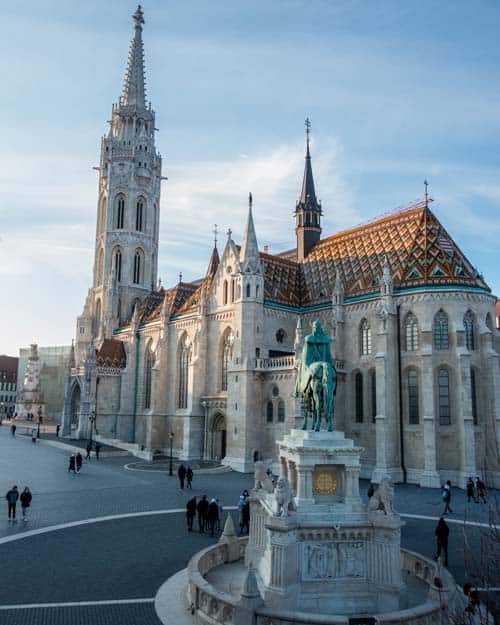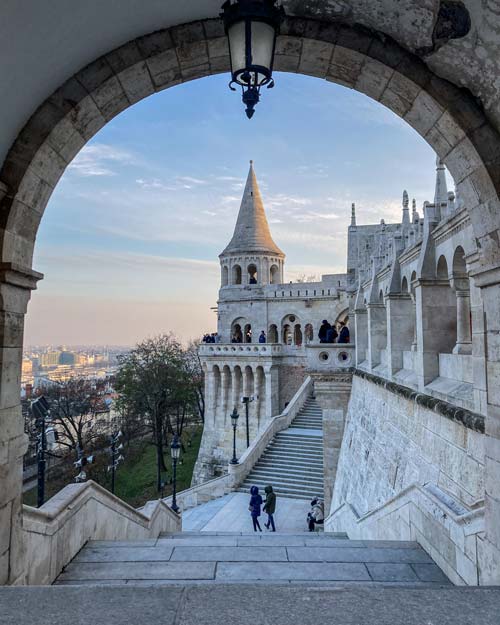 Matthias Church is pay-to-enter and costs about 1800 HUF (around 6 USD). If you are on a budget, we recommend you to skip it. The exterior of the church will amaze you enough!
If you wish to learn about the history of King Matthias, St. Stephen, and Fisherman's Bastion,
check out this walking tour!
Buda Castle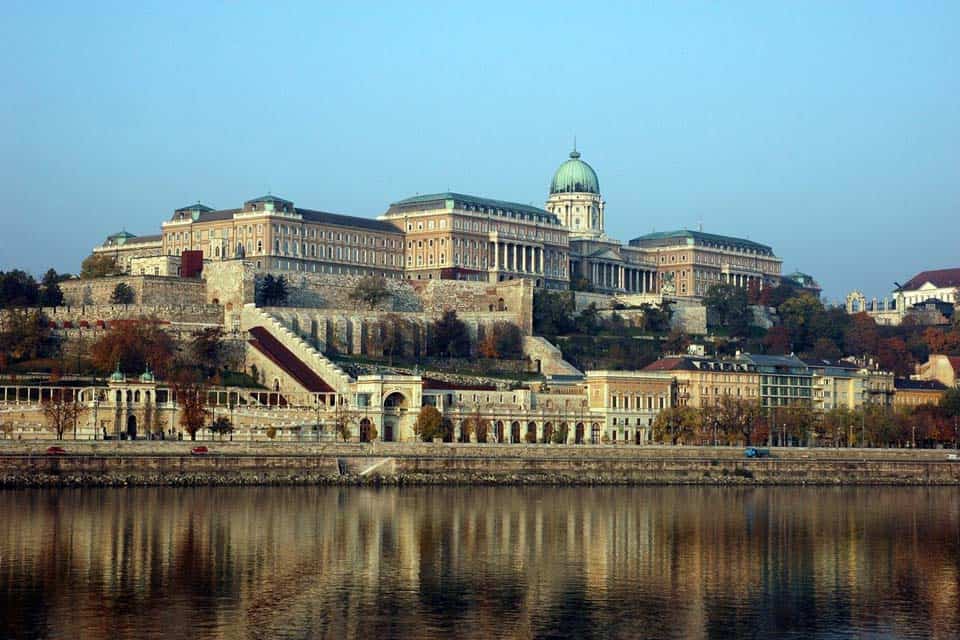 When you are done exploring the Fisherman's Bastion, head over to the Buda Castle, which is directly south of the bastion.
The Buda Castle is a crucial part of the UNESCO World Heritage Site that makes up Budapest. First completed in 1265, it was used as the castle and palace for Hungarian Kings. Nowadays, it is home to the Hungarian National Gallery and the Budapest History Museum.
Entrance to the Buda Castle grounds is free, just like the Fisherman's Bastion. However, both the Hungarian National Gallery and Budapest History Museum do charge for admission (unless you have the highly recommended Budapest Card).
Take some time to walk around the Buda Castle, admiring the amazing architecture and the Matthias Fountain. It is unlikely that you will have lots of time to explore both the museums, but if you do, they are definitely worth checking out.
Sunset at Liberty Statue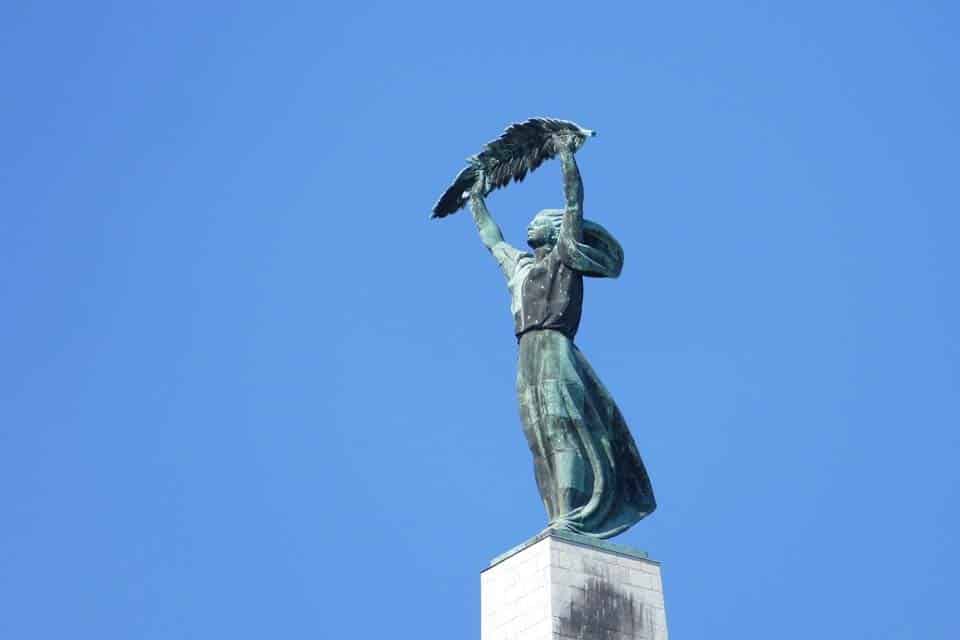 Are you ready for your first sunset in Budapest? Sunsets in Budapest are jaw-dropping, thanks to the multiple bridges that span across the Danube River. Located on Gellert Hill, it is the highest point on the Buda Side (as far as touristy locations in Budapest go).
In other words, the Liberty Statue is the ideal spot to watch the magic of the sunset happen.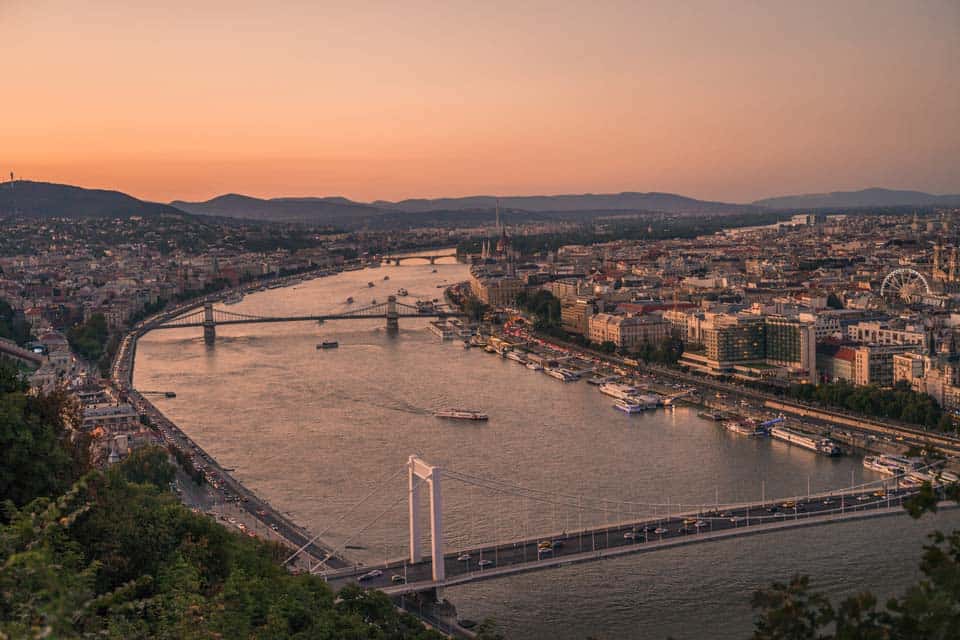 If you have been on a walking tour in Budapest, your tour guide will probably tell you that it looks like a giant bottle opener from afar, and it does. But up close, the statue is a lady holding onto a feather, and it's to honor those that lost their lives for Hungary's freedom, prosperity, and independence.
It was first erected in 1947 after the Soviet liberation of Hungary from the German Nazis. The statue is also sometimes called the Lady Liberty, and the greenish tone of it somewhat reminds us of the Statue of Liberty in NYC.
Evening River Cruise on the Danube River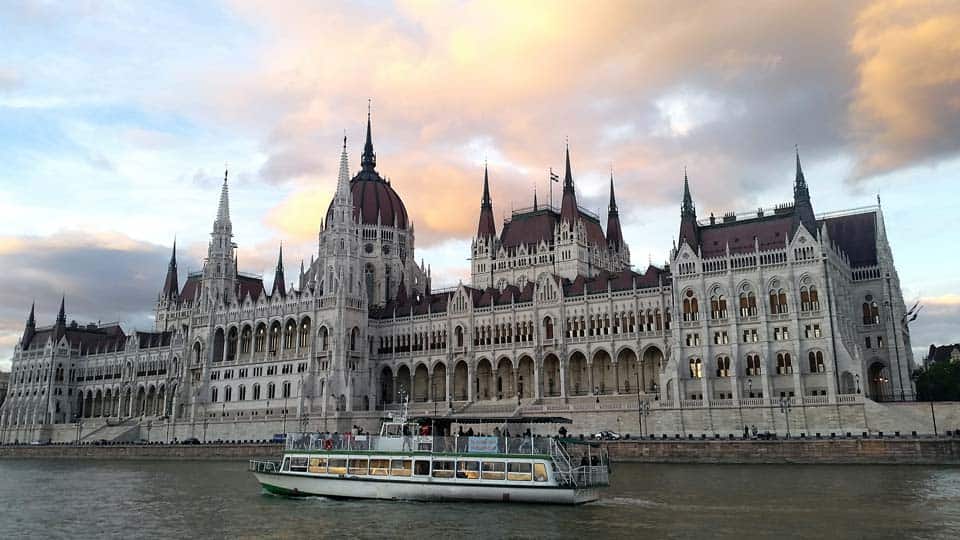 One of the most iconic things to do in Budapest is to go on a river cruise on the River Danube. River cruise tour companies are abundant, which in return makes them very affordable!
The cruise lasts about an hour and takes you along the Danube River, where you can find close-up views of the Elisabeth Bridge, Liberty Bridge, and Széchenyi Chain Bridge. What is more incredible is that the cruise offers arguably the best photo opportunity of the Parliament Building.
At night, the building is lit up and there is no better place to see it than on the Danube River.
Explore The Ruin Bars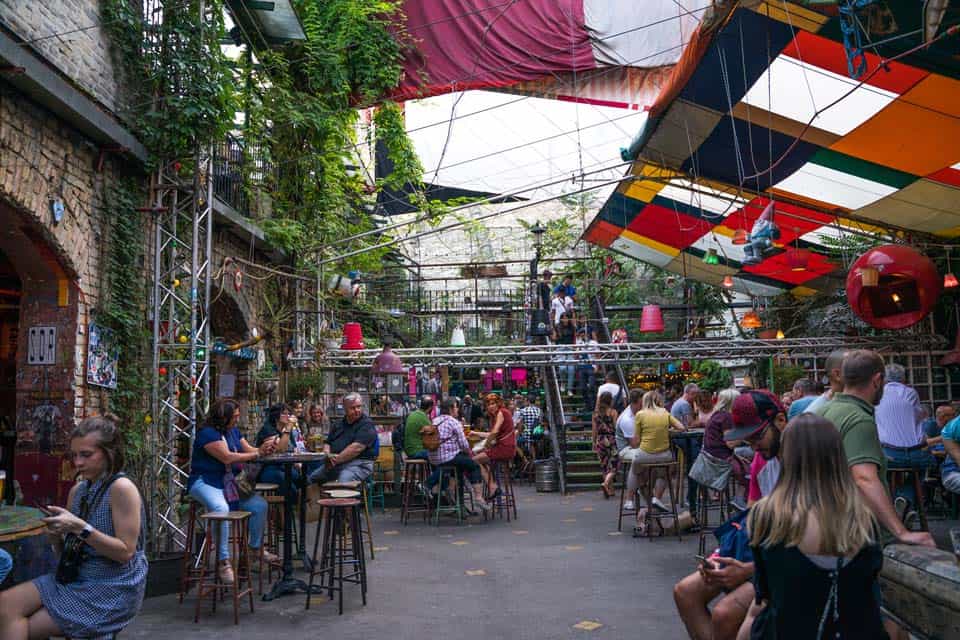 No itinerary for Budapest is complete without a visit to its famous ruin bars. The ruin bars earned their iconic names from the fact that most of them are built from abandoned/neglected buildings left after the communist era in Budapest.
Ruins bars in Budapest are quirky, fun, and one of the quintessential parts of its nightlife. The one bar you must visit is Szimpla Kert, 100 percent the most famous Budapest ruin bar. It has some insanely unique "decor" and multiple bars where you can get served from.
Once you have your drink ready, you can venture into their outdoor space or chill in one of their cozy indoor rooms, perfect if you are visiting in the winter. Szimpla Kert also has plenty of live music, and it is always a good night when you visit Szimpla.
It is also centrally located in the Jewish Quarter, so it is very easy to get to. Just keep in mind that Szimpla ruin bar is a tad more expensive than typical bars.
Day 2 in Budapest
On the second day of your Budapest trip, we are going to focus on the attractions on the Pest side. We will start with a visit to the oldest market hall in Budapest and finish with the world-famous Széchenyi Thermal Bath, so don't forget to bring your swimwear, flip-flops and towel!
Check Out the Central Market Hall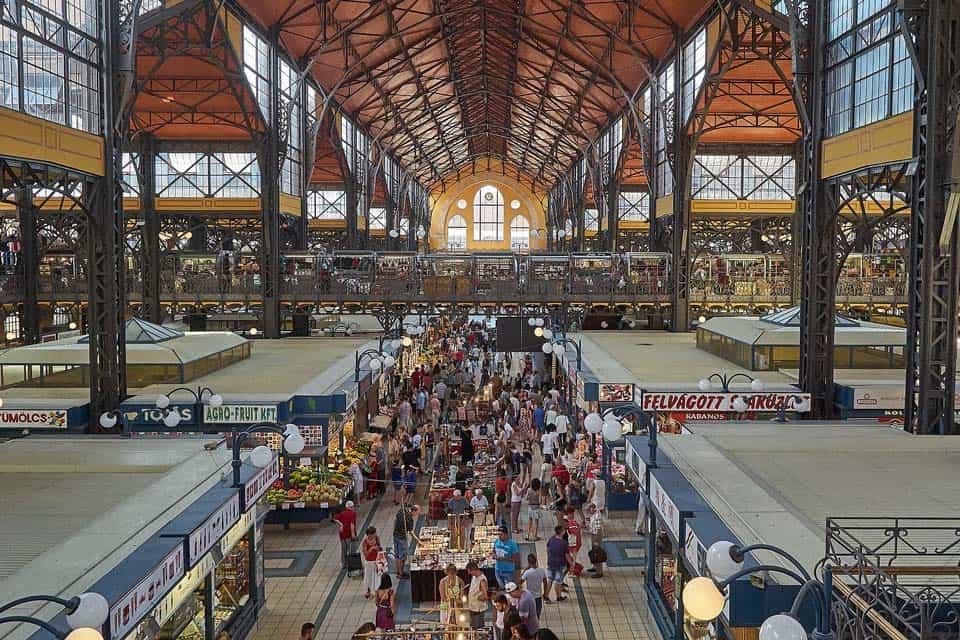 Budapest is filled with many historical market halls, but none is as grandeur as the Central Market Hall. Built in 1897, it is the oldest and one of the most beautiful places in Budapest.
The Central Market Hall is separated into two floors. The ground floor is used for produce while the first floor is mostly for souvenirs and eateries. There is also a basement where a supermarket and a few shops focusing on fermented goods reside.
The exterior and interior of the hall are stunning, and the market is still a place where locals shop daily. Though touristy, the market hall is far from a tourist trap.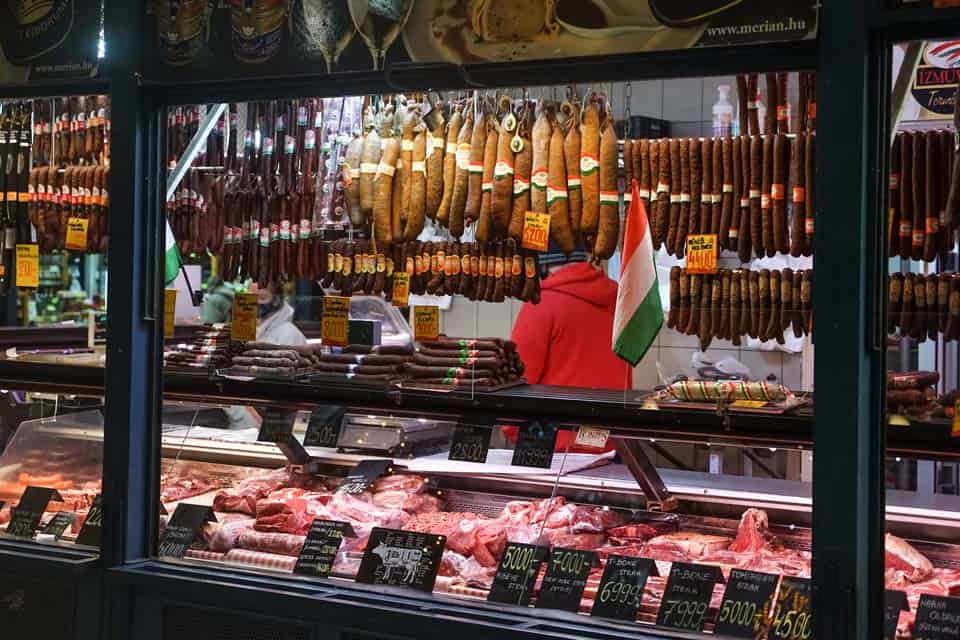 If you are looking to purchase some souvenirs in Hungary, then this is the perfect place to do so!
Discover the Dohány Street Synagogue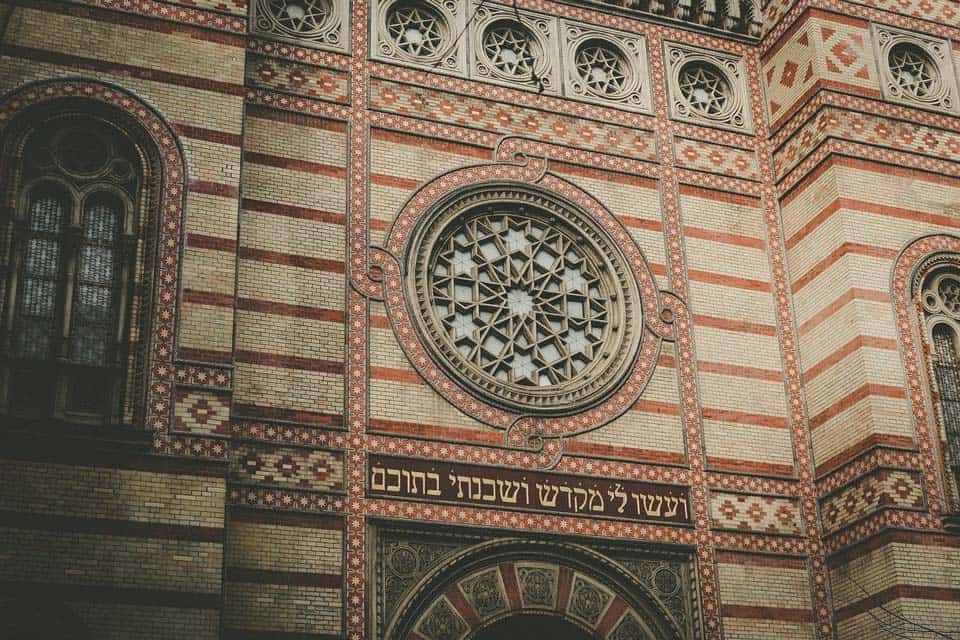 After seeing the Central Market Hall near Kálvin tér (Calvin Square), head over to the Dohány Street Synagogue in the Jewish Quarter. We recommend walking there from Calvin Square, as you will pass the historical Ferenciek Square and Astoria neighborhoods.
Also known as the Great Synagogue, the Dohány Street Synagogue is the largest synagogue in Europe. However, size isn't the only thing that is impressive about the Great Synagogue, both the interior and exterior of the structure are enchanting thanks to its lavish Moorish style of design.
The attention to detail and the intricacy of its construction are consistent throughout the entire building. You can just tell that this isn't another regular synagogue. On the synagogue grounds, you will also find a museum, a cemetery, and a Holocaust memorial.
Like many parts of Europe, the Jews in Hungary suffered a horrible past during World War II.
Because it is one of the most popular sightseeing locations in Budapest, it is important that you secure your ticket beforehand. You don't want to run the risk of having the tickets sell out or needing to wait in line for an hour at the ticket booth.
Visit The St. Stephen's Basilica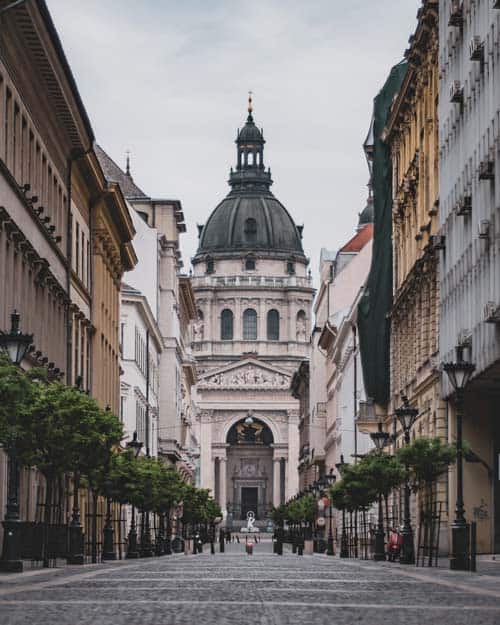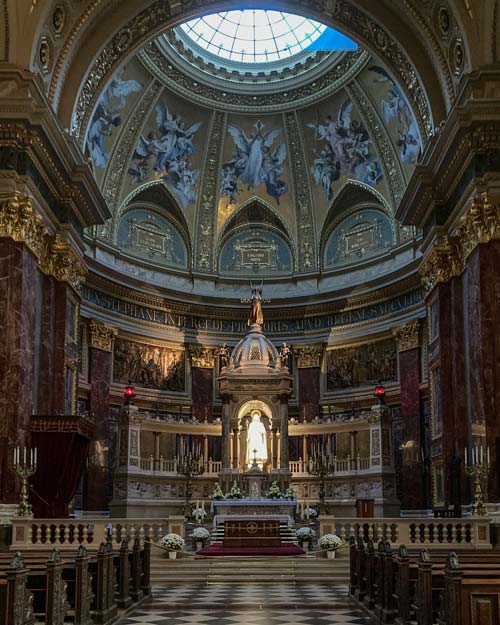 When you think about important landmarks in Budapest, your mind might immediately jump to the awe-inspiring Hungarian Parliament Building. However, there is another one that is equally important – the St. Stephen's Basilica.
In fact, they are so equally important that both of them are at the same height – 96 meters, which is also the highest in all of Budapest. This was far from coincidental, they were designed this way to symbolize equal powers between the government and the church.
The St. Stephen's Basilica was named after Stephen (duh!), the first King of Hungary. In fact, his right hand is housed inside the church, and visitors are more than welcome to look at it. The basilica also houses many important relics and artworks!
Besides the delightful interior of the basilica, visitors can go up to the exterior of the dome and have stunning panoramic views of the city. It is simply a place you cannot miss in Budapest. They also have classical music concerts inside the basilica, for those that are lucky enough to arrive at the perfect time!
There is a fee (donation) to enter the Basilica, and there is an additional fee to get up to the dome. All in all, the price is definitely worth paying!
Heroes' Square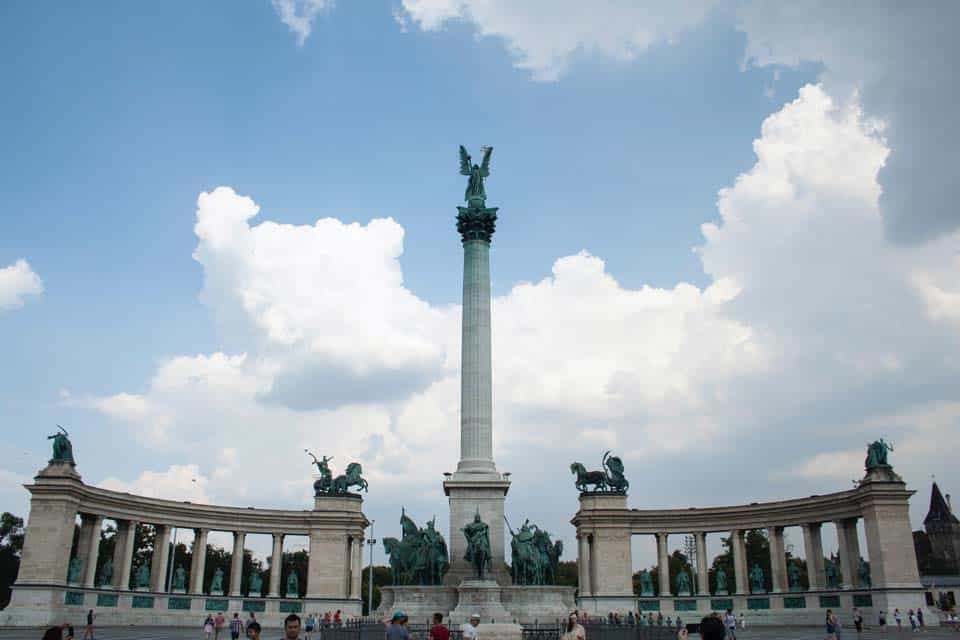 If you are sightseeing in Budapest, you cannot miss Heroes' Square. There lie the statues of the most important people in Hungary's history – the seven leaders of the Magyars, the tribes that founded Hungary. It also contains statues of other important Hungarian leaders, as well as the Memorial Stone of Heroes.
At the center of the symmetrical square is the Millenium Monument. It has a 118-foot-high column where Archangel Gabriel, holds the Hungarian Holy Crown and the apostolic double cross in his hands.
To get to Heroes' Square from St. Stephen's Basilica, you can either for 35 minutes or take the M1 Metro, sometimes called the Millennium Underground. Built from 1894 to 1896, it is the oldest underground system in mainland Europe!
Vajdahunyad Castle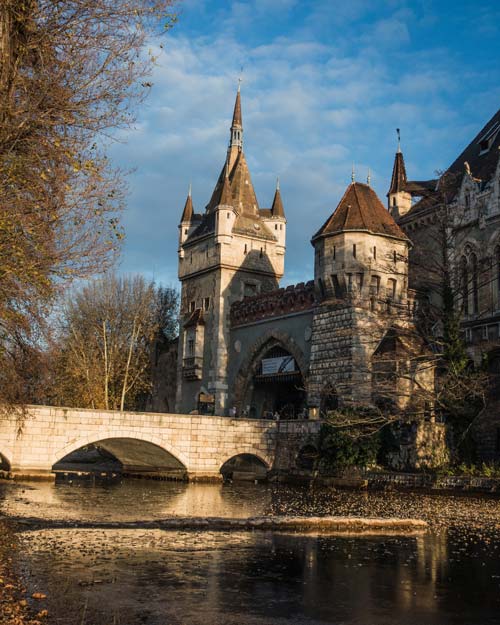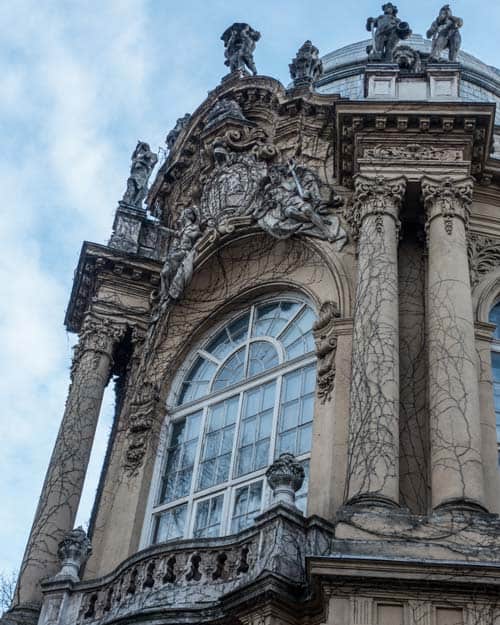 Located a few minutes away from Heroes' Square is an elegant castle called the Vajdahunyad Castle. Situated in the City Park of Budapest, the castle is surrounded by greenery and a lake that only enhances its beauty.
With its multiple architectural styles (Romanesque, Gothic, Renaissance, and Baroque), the Vajdahunyad Castle is quite difficult to pinpoint historically. And, what is a castle doing in the center of a park in Budapest anyways?
The Vajdahunyad Castle was actually built in 1896 to celebrate the 1000-year anniversary of the founding of Hungary. The castle is modeled after a medieval castle called the Corvin Castle in Transylvania, Romania.
This isn't strange as Transylvania was part of Hungary until the end of World War I!
Spend some time walking around the castle. The architecture is stunning but there aren't lots to see besides the main courtyard.
Relax in Széchenyi Thermal Bath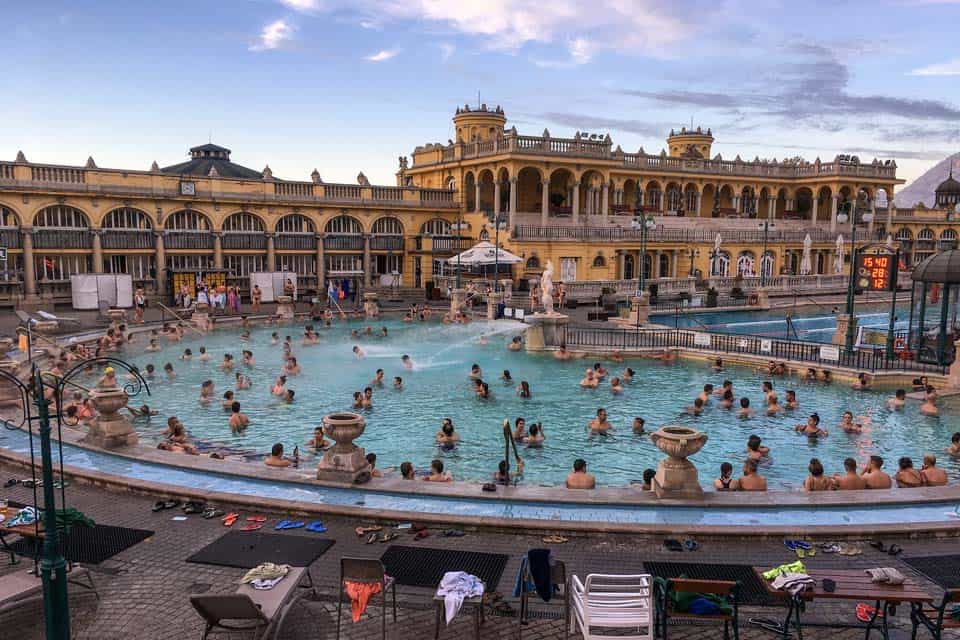 After a busy 2 days in Budapest exploring the best activities it has to offer, it is time to relax. There is simply no better place to do so than the excellent thermal baths in Budapest – namely the Széchenyi Thermal Bath!
As the biggest medicinal bath in Europe, words cannot describe how incredible the Széchenyi Baths are. Built in 1913, the bath certainly contains 18 pools – 3 outdoors and 15 indoors.
Temperatures of the pools range between 18 degrees to 40 degrees Celcius. The thermal pools are directly heated by two natural springs from under the ground!
The indoor pools in Széchenyi Thermal Bath are the perfect place for relaxing, but the outdoor pool is where most people gather as they can admire the gorgeous Neo-baroque palace and soak in thermal waters. In the winter, it is quite a spectacle because you can see the steam covering the surface of the water.
Some of the facilities of the Széchenyi Thermal Bath were once separated by gender, but now all sexes are allowed to enter the saunas, pools, and other facilities together.
When visiting, remember to bring your own towel and flip-flops or you will be charged an unreasonable amount to buy them! Your budget will thank me later.
More Time in Budapest?
If you have more time in Budapest and are looking for additional things to do, we recommend you to check out the Hungarian State Opera House, or sometimes just known as the Budapest Opera House. The neo-Renaissance opera house is the perfect place to spend an evening, especially if it is raining in Budapest.
Make sure you check their official site to see what types of performances are currently on!
We also recommend heading to Margaret Island. It is a beautiful lush green island situated on the Danube and is one of the most popular recreational spaces in Budapest. Come here to get some fresh air, go for a walk, or just admire the spectacular views of both the Pest and Buda side!
---
Where To Eat In Budapest
Sampling traditional Hungarian cuisine is a quintessential part of your Budapest experience. That is why we have dedicated this section to talk about some of the best restaurants in Budapest and what foods you must try.
New York Cafe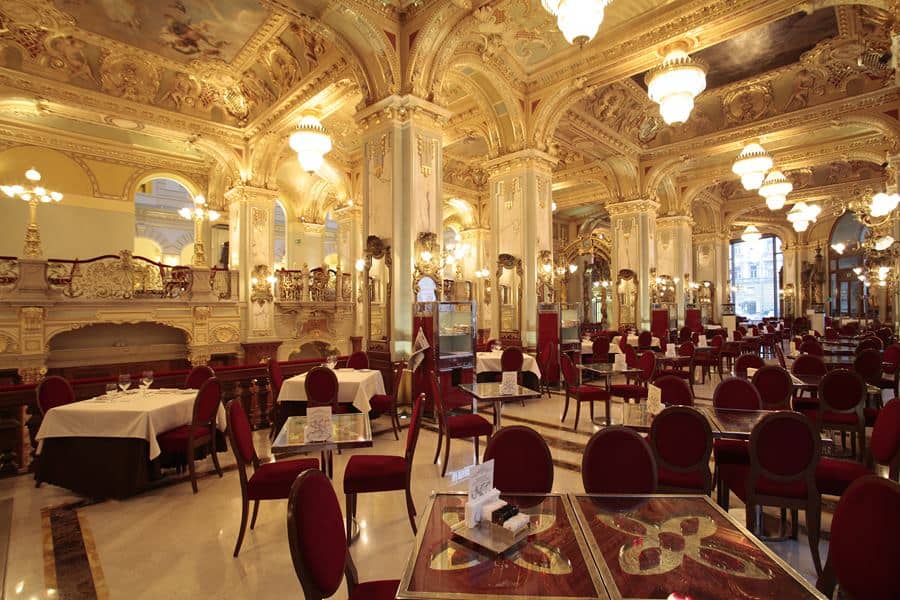 If you are an influencer on social media or just like taking good photos, then New York Cafe is an unmissable gem. This famous cafe is situated inside an Italian Renaissance building, and dining in there literally makes you feel like a king or queen!
The luxurious decor with its marble pillars and exquisite paints will make you drool, but what will also make you drool is the delicious food and its immaculate presentation. However, do expect to shed a few tears at the end when you get the expensive bill!
Molnár's Kürtőskalács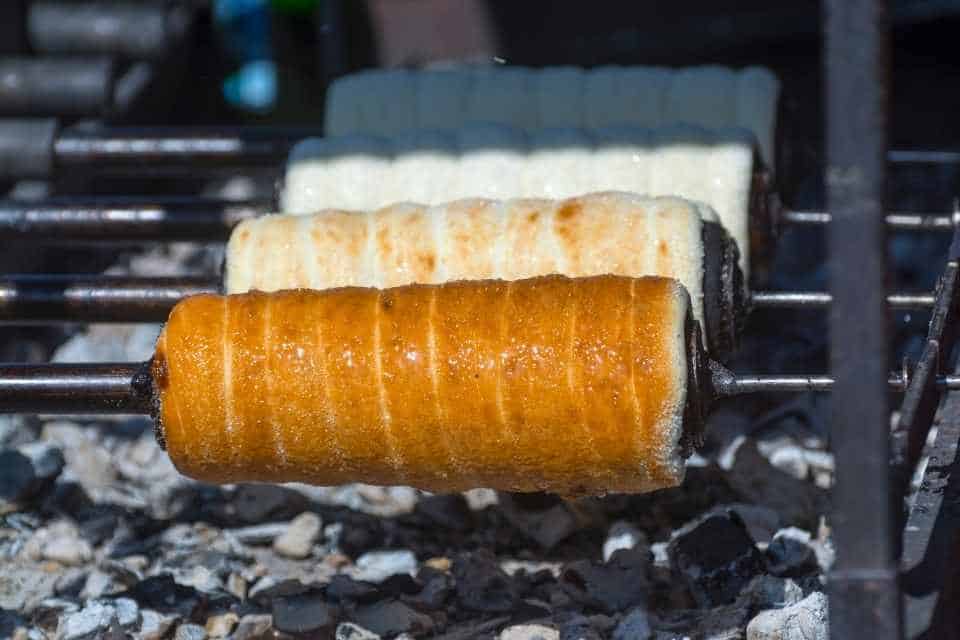 No trip to Budapest is complete without trying kürtőskalács (pronounce this one at your own risk), or chimney cake in English. Baked rotisserie-style over charcoal and then topped with a wide variety of toppings (which you select), kürtőskalács are the perfect snacks.
The most famous place in town to try kürtőskalács is Molnár's. When you give it a try, we recommend starting with the original vanilla-flavored ones first! They are our favorite!
If you have the Budapest Card, you can get a discount at Molnár's!
Retró Lángos Budapest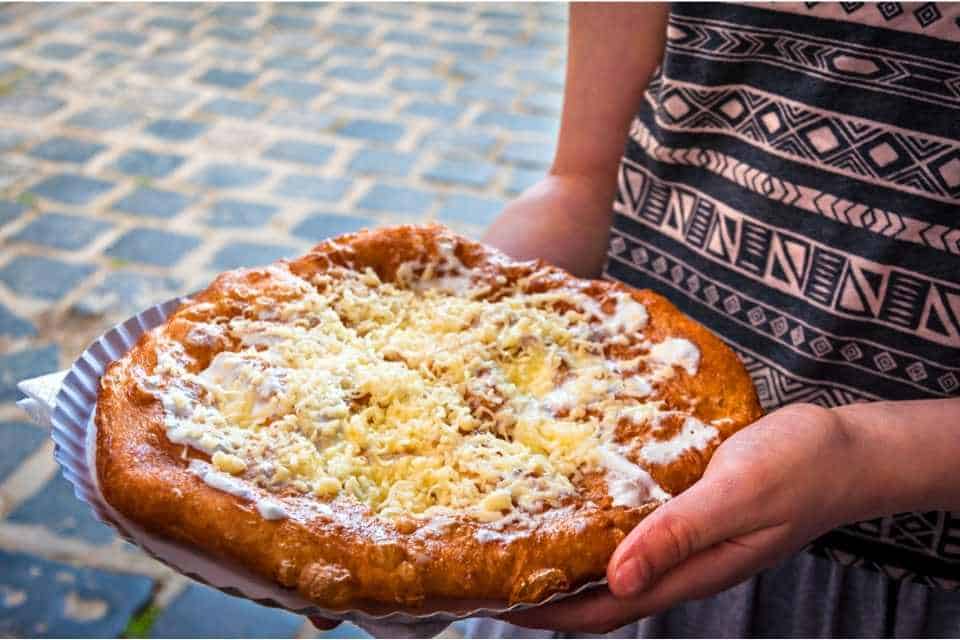 Another traditional Hungarian dish you must try is the Lángos, a flattened deep-fried dough that is usually topped with savory ingredients such as cheese, garlic, sour cream, and more.
It is the ultimate street food in Hungary and you can find it in pretty of places in Budapest, but none is as good as the legendary Retró Lángos. I recommend the Hungarian Lángos, which is topped with sour cream, cheese, bacon, and red onion!
Korhely Faloda & Daloda
Korhely Faloda & Daloda is one of the best restaurants in Hungary for traditional Hungarian food. We recommend the Goulash (the national dish of Hungary) here. If you are lucky, you might also get to listen to live music in its warm and welcoming atmosphere!
Gettó Gulyás
Gettó Gulyás is a fine dining restaurant serving traditional Hungarian cuisine at affordable prices. The goulash soup, chicken paprika, and veal stew are mouth-watering here. It is definitely a restaurant you must try in Budapest!
Frici Papa
If you are traveling Budapest on a budget but still want a taste of authentic Hungarian food, then we recommend heading to Frici Papa. The goulash with dumplings here is our go-to dish!
McDonald's
I know what you are thinking, "how did McDonald's make the list of best places to eat in Budapest?" Well, this McDonald's is different. Budapest is home to the world's prettiest McDonald's, and we personally think it's a shame to not check it out and admire the beautiful design. While you are there, why not have some chicken nuggets?
---
2 Day Budapest Itinerary Map
All of this information is probably overwhelming. That is why we have created a step-by-step map that shows you where every single attraction is on your Budapest 2-day visit.
The color orange outlines the activities on the first day and the color purple outlines the ones on the second day. Lastly, the color green has information on some of our favorite restaurants in Budapest.
This is an interactive map, so don't forget to click on it to get more information!
---
Where To Stay In Budapest
There are plenty of places to stay in Budapest, from affordable party hostels to luxurious hotels in historical buildings. Plus, there are many homey Airbnbs in Budapest for those that want something more relaxed.
Best Hostel in Budapest – Maverick Hostel & Ensuites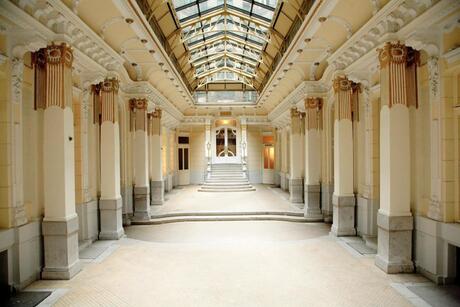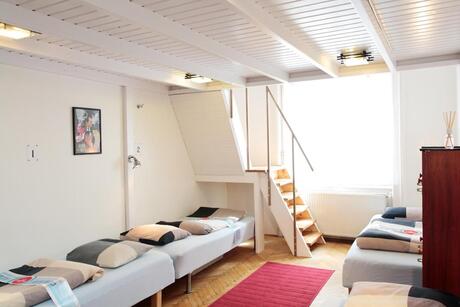 Staying in one of the most historic buildings in Budapest doesn't have to be expensive, thanks to Maverick Hostel & Ensuites!
Located in Ferenciek Ter (Ferenciek Square), you are within walking distance from many of the most attractions-filled areas in Budapest such as the Jewish Quarter, District V (where the St. Stephen Basilica and other landmarks are located), and more! This is very important since you only have two days in Budapest.
Staying here in a well-preserved historical building is an immersive experience that makes this affordable hostel worth it already. However, this hostel takes it up a notch by offering clean mixed dormitory rooms (some without bunk beds), two common areas, social events, 24-hour reception, and free tea and coffee at all times!
Best Boutique Hotel in Budapest – Leo Boutique Rooms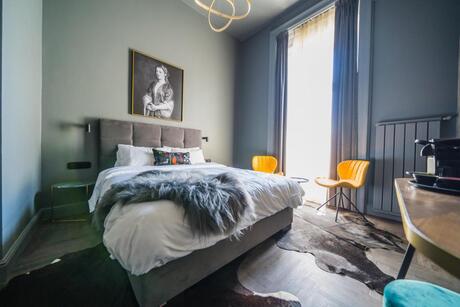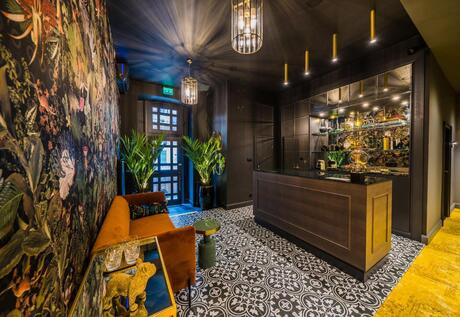 Looking for a stylish boutique hotel in Budapest to call home? Look no further than Leo Boutique Rooms. With its chic and charming decor, visitors can stay in style and enjoy the best of Budapest thanks to its central location at Ferenciek ter.
Wake up to a fresh cup of coffee from your private coffee machine, go for a refreshing shower in your private bathroom, and wind down every night with a flat-screen TV with Netflix. Combined with its ideal location, this boutique hotel will surely complete your Budapest vacation!
Though the hotel doesn't have a kitchen to cook your own meal, its surrounding neighborhood is filled with excellent eateries, which the friendly staff at Leo Boutique Rooms are more than happy to tell you about.
Best Luxury Hotel in Budapest – Kempinski Hotel Corvinus Budapest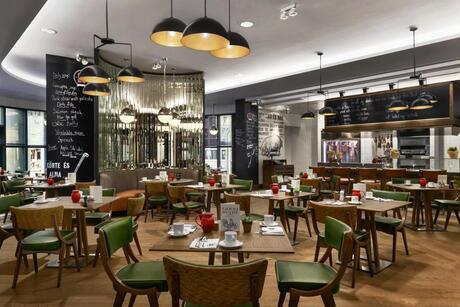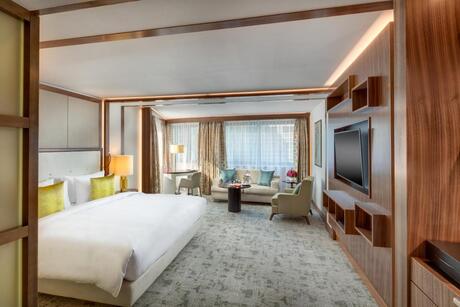 For those that would like to splurge, there is no better place to do it than Kempinski Hotel Corvinus Budapest. This 5-star hotel is going to redefine luxury for you!
To start off, this hotel is situated inside one of the exemplary examples of architecture of Budapest. It feels like you are nobility when staying inside. The hotel features several restaurants from Japanese to traditional Hungarian, so your stomach will thank you later.
When it comes to the rooms, they have a contemporary decor that is modern and cozy. Combined with the above-average spaciousness, you will easily feel at ease at Kempinski Hotel. If you are lucky enough to stay in the suites, original artwork from the Corvinus Collection of Hungarian Contemporary Art is used for decoration!
Its location at Deak Ferenc ter means that getting from the airport is a breeze as the 100E airport bus leaves from there. You will also have views of the Budapest Eye, the Ferris wheel in Elisabeth Square!
---
Is The Budapest Card Worth It?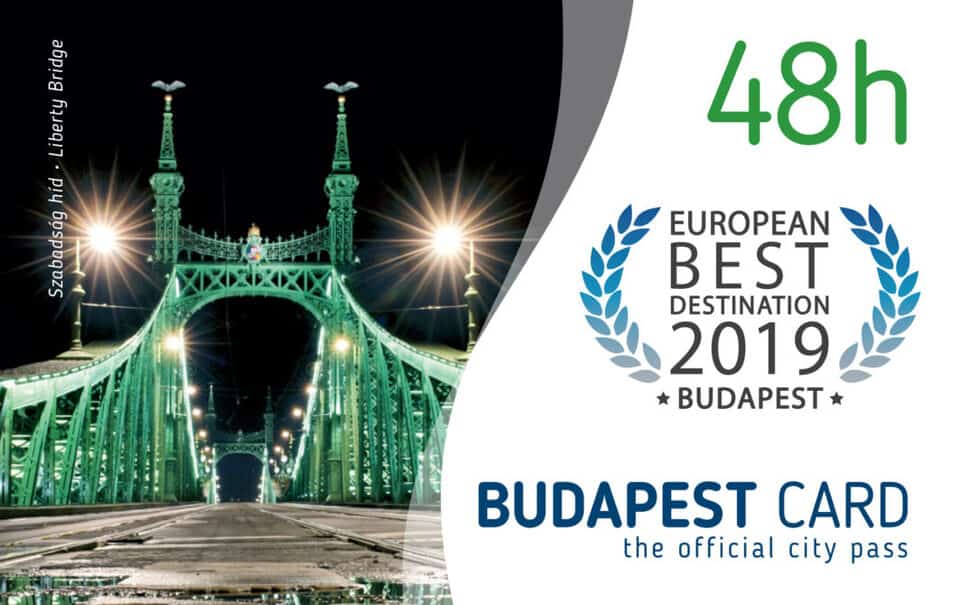 In every major touristy city in Europe, there is a card or pass that offers you certain discounts when visiting the sights in that city – Budapest is no exception. The Budapest Card is the equivalent of such card.
But is it worth it to purchase the Budapest Card, especially if you only have two days? Figuring the answer to this requires lots of calculations, but I have done everything for you.
At the time of writing the 48-hour costs around 33 Euros, or about 12,200 Hungarian Forints. It offers free admission to over 30 attractions and offers discounts to many others. Visitors can also take any form of public transportation for free, except the 100E direct airport bus and the Castle Hill Funicular.
With all these benefits, the Budapest Card is something you should seriously consider getting on your trip. Though there won't be a ton of savings, especially if you don't intend on visiting lots of museums, having it makes your life so much easier, especially when traveling on public transportation.
It offers discounts on many of the things on our itinerary such as St. Stephen's Basilica, Széchenyi Bath, and Danube River Cruise. You can also enter for free at the Hungarian National Gallery and Budapest History Museum.
The pass also offers free walking tours where you can learn more about the history of Budapest from a local. Best of all, you can pick it up at the airport and start using it right away!
It is seriously a good offer!
---
How To Get Around Budapest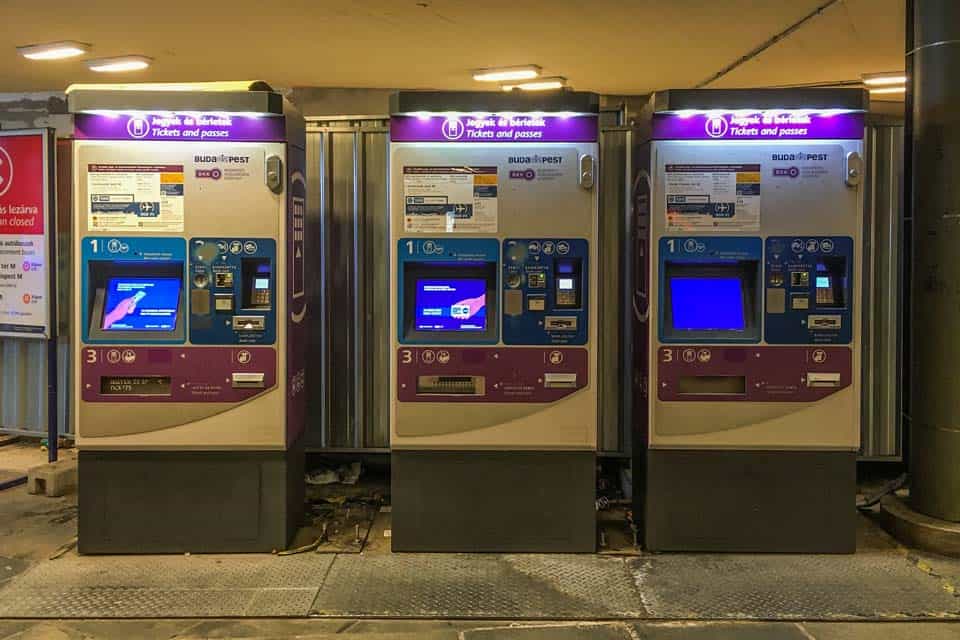 Budapest is actually very easy to get around, partly thanks to its expansive public transportation system, and also partly thanks to how concentrated its attractions are.
With modes like the metro, buses, trams, trolley buses, and suburban railway lines, visitors can easily get to anywhere they want easily. The best thing is that paying for them is very simple, as every mode of transport in Budapest uses the same ticket.
At the majority of the stops, there are these purple machines that sell them, so getting the tickets are simple!
If you are not taking public transportation, you can use a taxi-hailing app such as Bolt (since there is no Uber in Budapest) to get to places you want. Alternatively, you can rent one of the electric scooters such as Lime and get to many places in Budapest.
Budapest is so easy to get around.
How To Get From Budapest Airport to City Center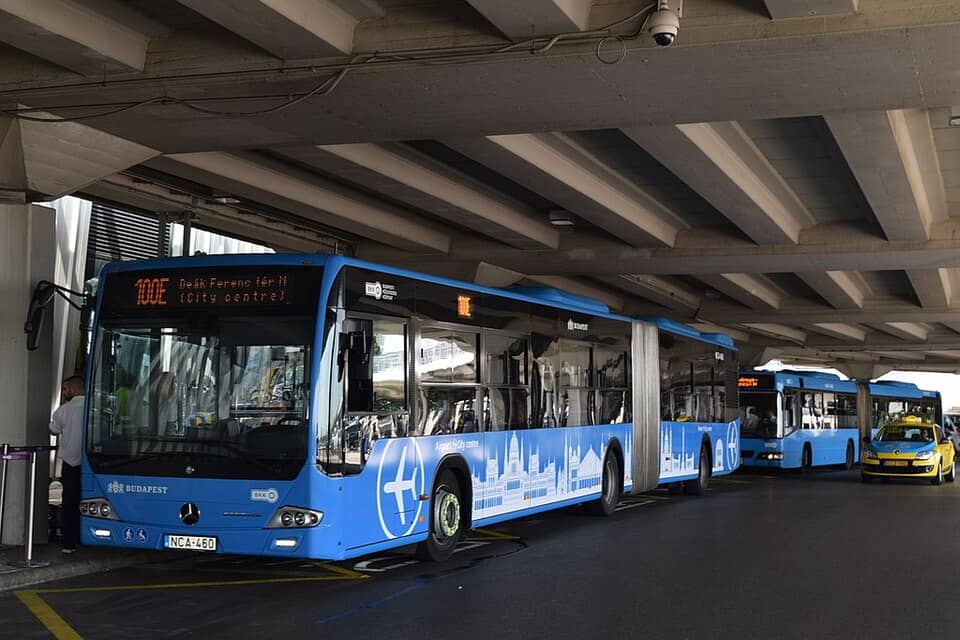 If you visit Budapest, chances are, you will arrive at Budapest Ferenc Liszt International Airport, or just Budapest Airport (BUD). You must wonder, how do I get from Budapest Airport to the city center? No worries.
Getting to the city center from BUD is simple, as there is a direct bus that takes you to Kalvin ter (Calvin Square), Astoria, and Deak Ferenc ter (Deak Ferenc Square). The bus number is 100E, and it is located right outside the arrivals terminal.
The bus journey from the airport to the city center takes about 40 minutes.
However, Bus 100E isn't serviced 24 hours. Its schedule is as follows:
Between 3:30 and 00:25 from Deak Ferenc ter
From the airport between 4:10 and 1:05 past midnight
If you cannot make the last bus at 1:05 AM from the airport, then you will need to take the 200E and switch to another night bus. It requires changing but it isn't too complicated.
If you want comfort and convenience,
check out our recommended private shuttle from Budapest airport!
---
2-Day Budapest Itinerary FAQs
Is Budapest Worth Visiting?
Budapest is definitely worth visiting. It is one of the most beautiful cities in the world, thanks to its amazing architecture and the mighty Danube River. The city is home to some of the best nightlife in the world, as well as some of the most iconic landmarks in Hungary!
How Many Days To Spend In Budapest?
We recommend spending at least 2 days in Budapest, so you can have 1 day each on the Buda side and Pest side. The city has plenty of things to see, but luckily, it is very easy to get around and most of the attractions are concentrated in a few neighborhoods.
Is Budapest Safe?
Budapest is one of the safest cities in the world. For a capital city, the crime rate in Budapest is considerably lowered when compared to other cities. Violent crimes are rare, and travelers typically only have to worry about petty thefts.
Like this post? Don't forget to save it on Pinterest!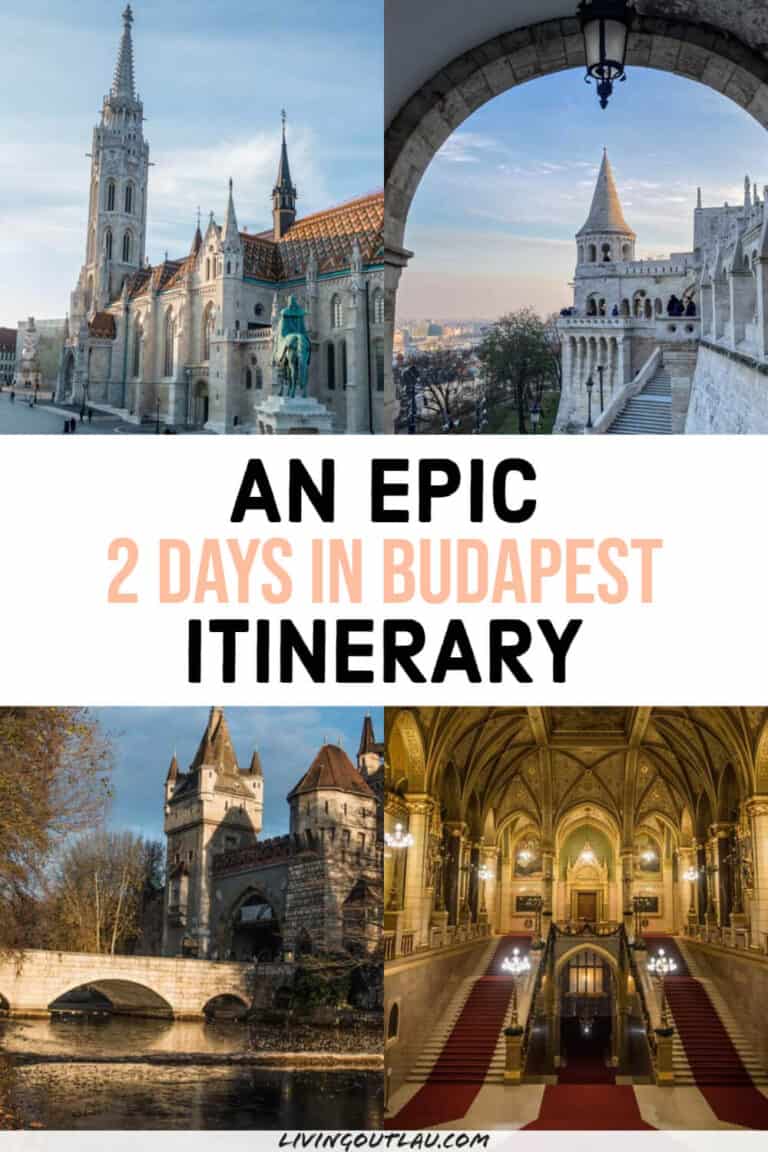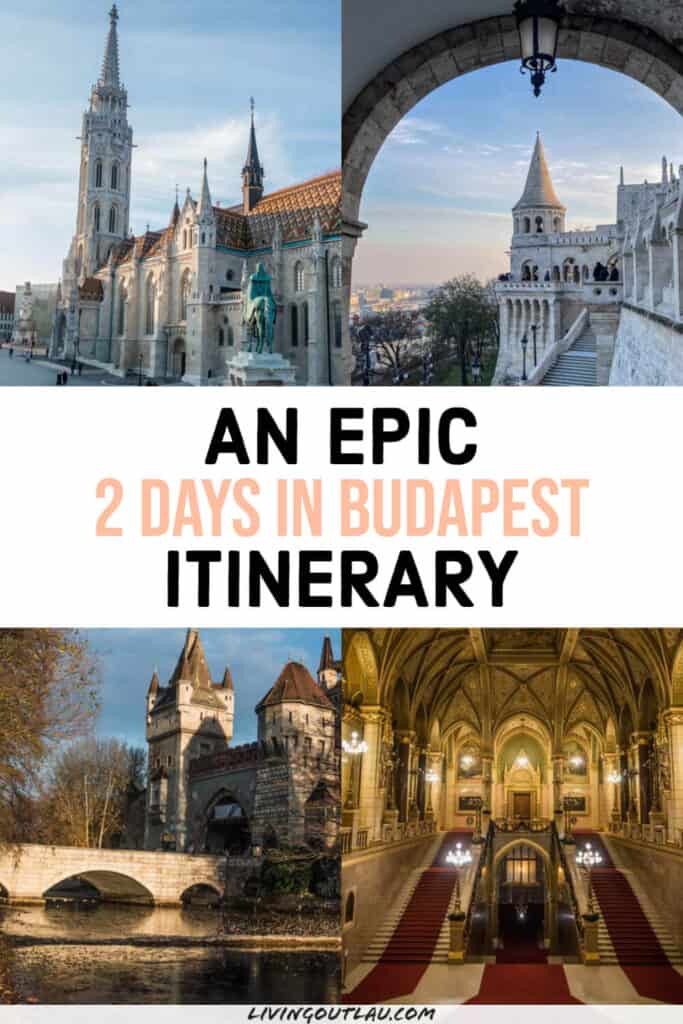 ---
This concludes our 2-day Budapest itinerary! We hope you leave here with at least some knowledge on how to plan your epic trip!
Disclaimer: Some of the links above are affiliate links. That means if you book or make a purchase through the links, we will earn a small commission at no extra cost to you! The money will help run this site! Thank you!