Looking for a nice warm winter destination in the US in December?

With a variety of climate zones, December in USA doesn't mean you have to put your bikini away, hide in your house, or wrap yourself like a mummy.
Even in winter months such as December, January, or February, there is a place in the United States that can turn your fantasy of a warm winter getaway into reality.

From the tropical islands of Hawaii to the deserts of Arizona to the warm beaches of Florida, numerous warm states and cities in the USA are ready to thaw your fingertips!

Below are 30 best warm places to visit in December in USA so get ready to get rid of your winter blues!

Enjoy!
---
30 Best Warm Places To Visit in December in USA
1. Fort Myers Beach, Florida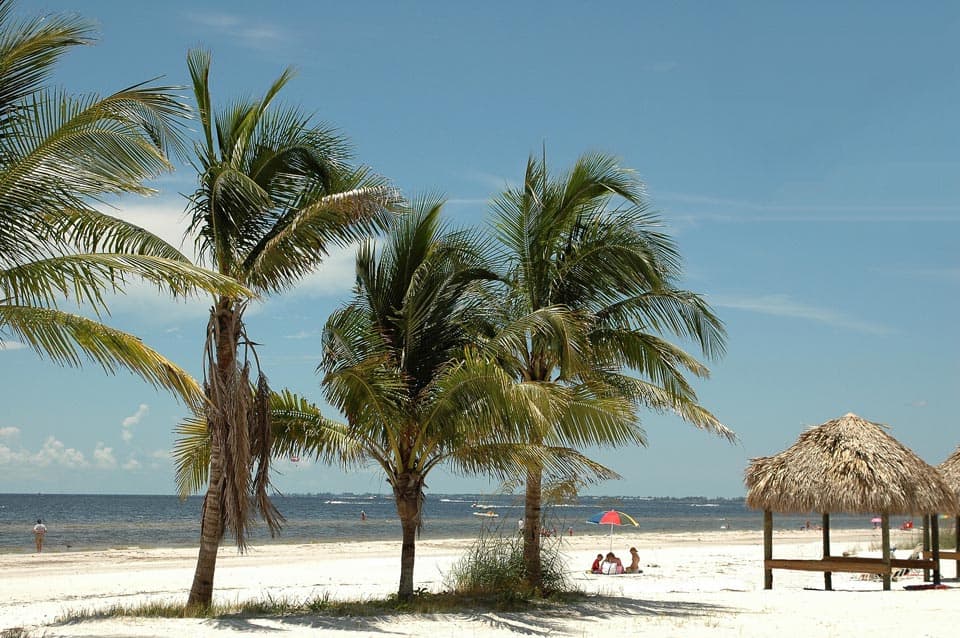 By: Paul Of The Two That Do

The resort town of Fort Myers Beach on Estero Island in southwest Florida is a fabulous all-year-round destination. December may be the first month of Winter but it remains a fabulous time to visit and enjoy all the stunning natural surroundings and landscapes.

Despite average daily temperatures around 25˚C (77˚F) and 7 hours of sunshine a day, December is one of the resort's quieter months.
Buck the trend and you will be treated to fewer fellow tourists enjoying the incredible 7 mile-long white sandy beach or plethora of water sports.
The water temperature may be a little lower but Fort Myers Beach remains the ideal location for parasailing, a guided kayak tour or a fishing trip. On land enjoy cycling or hit one of the many local golf courses. With an incredible range of local restaurants and bars, there are numerous options to replenish those dipping energy levels!
Visitors can also use Fort Myers as a base to explore the nearby attractions, including the iconic Macro Island and 10,000 Islands, where guests can have a hands-on shelling experience.

As well as the usual beach resort attractions Fort Myers Beach offers its own unique take on the traditional Christmas festivities. Look out for the Christmas Boat parade, the nearby Cape Coral Festival of Lights and most of all the hugely impressive 'Holiday Nights' at the Edison and Ford Winter Estate.
From Thanksgiving to early January, guests are treated to nightly entertainment, river cruises, an array of beautifully lit traditional buildings and even Santa himself.
Where To Stay in Fort Myers, Florida
2. Sedona, Arizona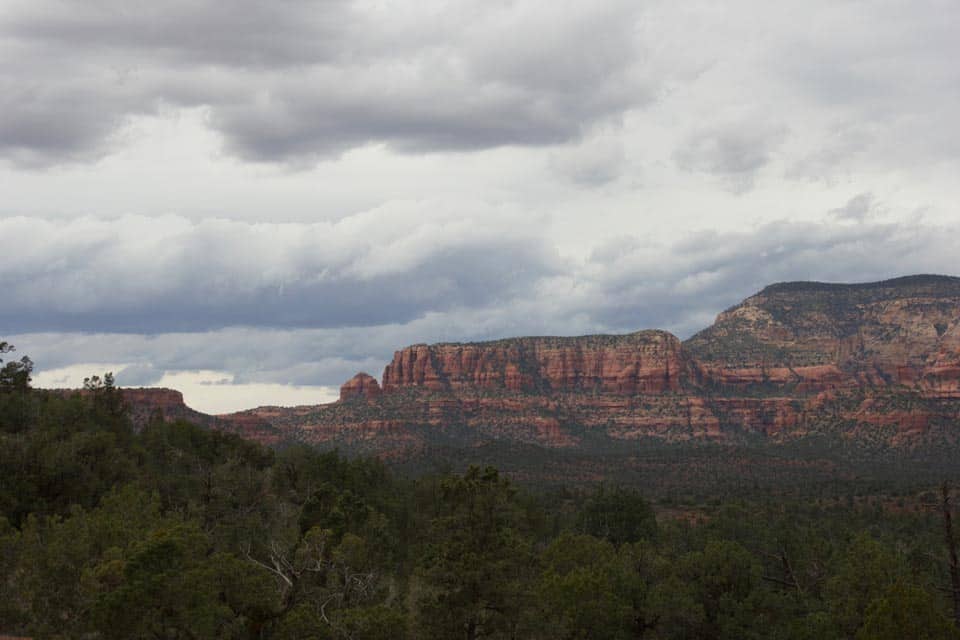 By: Dee Of Vanilla Papers

With its famous red rock landscapes, hiking trails and New Age vibes, Sedona, Arizona is a glorious winter getaway for nature and great shopping.
The Southwest state of Arizona is so popular with winter visitors that so-called snowbirds flock from colder states in droves to enjoy Sedona's average high temperatures of 56 degrees in December.
Sedona boasts more than 100 moderate hiking trails, many with spectacular views of the red sandstone formations, buttes and canyons.
The landscapes are a photographer's dream especially at sunset when they take on an otherworldly orange glow. This scenery surrounds this small desert town whether you're shopping downtown or driving through a residential street.
Start your visit with some history. The Crescent Moon Ranch is a homestead where early settler John Lee first made his home. The historic ranch is surrounded by spectacular scenery and sits at the base of the majestic Cathedral Rock, one of the most recognizable landmarks in Arizona!
Want a professional local to guide you around Sedona? Check out our recommended Sedona tour here!
Trails lined with berry bushes surround the waters of Oak Creek, which is ice cold in December but still refreshing enough to dip your feet into. If you are seeking some warmth afterward, many Airbnbs in Sedona have private hot tubs included!

Sedona also has some great shopping options, boutiques and art galleries filled with authentic Navajo pottery and artwork complete with certificates of authenticity.

Browse a proven store like the Kachina House for Native American pieces, and visit the Tlaquepaque Arts and Crafts Village for some upscale shopping and restaurants.

Visitors can combine Sedona with a visit to Montezuma Castle, Jerome and Prescott in Northern Arizona. Sedona is also an excellent base to take a day trip to Grand Canyon if your heart desires!
Where To Stay in Sedona, Arizona
Read More: Warm Places to Visit in January in USA!
3. Joshua Tree National Park, California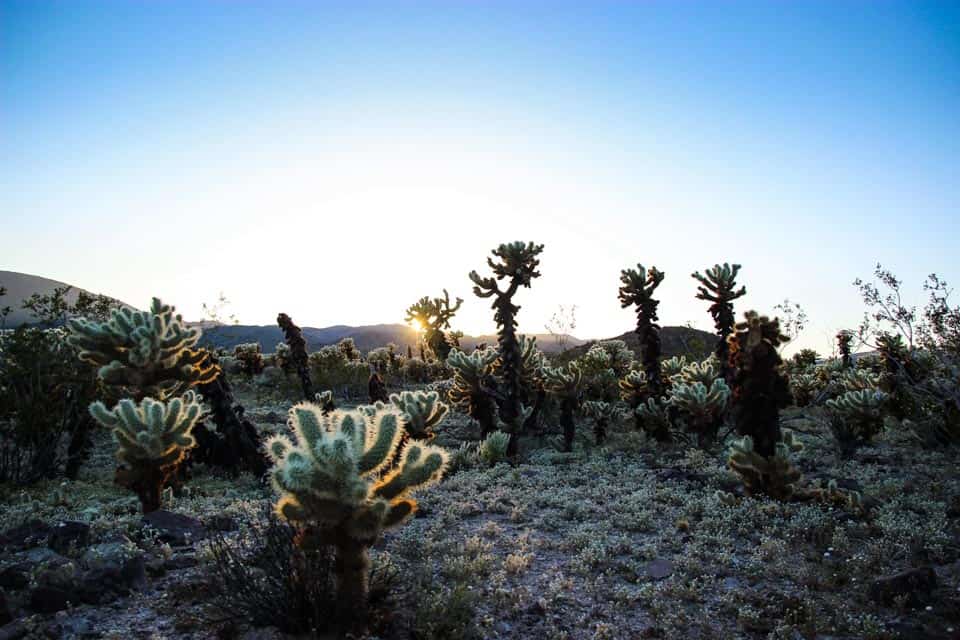 By: Dhara Of Roadtripping California

If you are planning a visit to California in December, you must put Joshua Tree National Park on your itinerary! One of the best outdoor warm weather US destinations for winter, Joshua Tree's desert landscapes and adventure activities will amaze you.
Expect daytime temperatures in December at Joshua Tree National park to be in the low 60s Fahrenheit on average, ideal for hiking and rock climbing, two of the most popular things to do in the park.
It does get cold early and late in the day and through the night, so pack a jacket if you plan to explore at night.
During the day, hike some of the numerous trails in the park, to get up close to the gigantic boulders and the flora in the park, including Joshua trees and other types of succulents.
Joshua Tree is home to a number of California fan palm oases, most of them at the end of hiking trails. Trails range from short and easy to long and strenuous.
If you are an experienced rock climber, you will love the challenges at Joshua Tree. But if you are not, you can still have fun scrambling up the flatter boulders. Many boulder masses are right along the road, making it easy to park and try bouldering.
Other than hiking and rock climbing, you can also drive through the park, visit some of the historic sites and look for wildlife. Get an Airbnb in Joshua Tree with a jacuzzi, and you can do some stargazing while soothing your aching limbs!
Want to explore the untouched treasures of Joshua Tree NP? Make sure you check out this Joshua Tree Jeep tour!
Where To Stay in Joshua Tree, California
4. San Antonio, Texas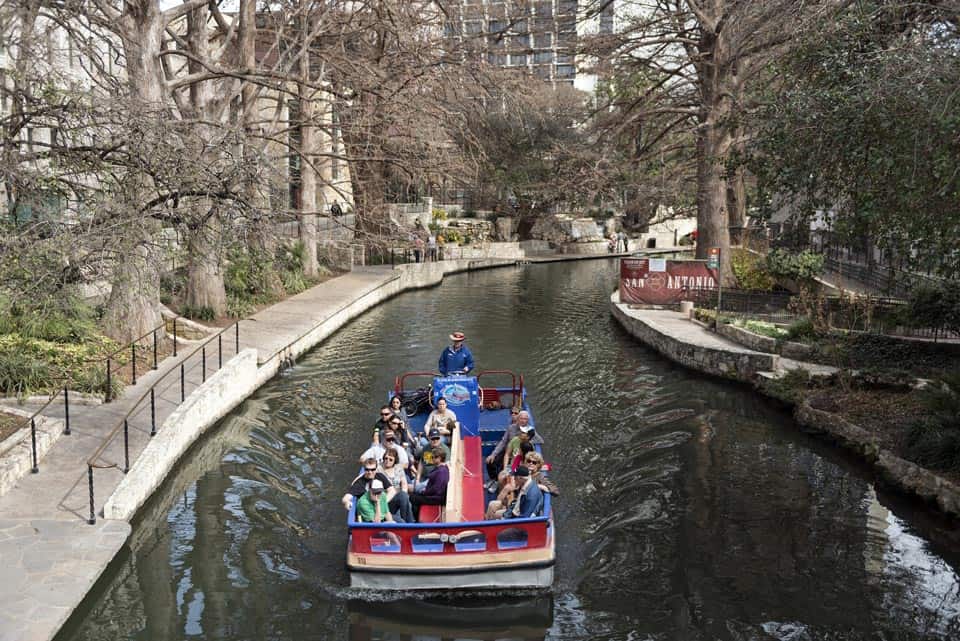 By: Lee and Stacey of One Trip at a Time

Visiting San Antonio for a weekend (or longer!) is highly recommended at any time of year, but it can be even more enjoyable in winter when the Texas heat and the humidity have taken a break. In December you can enjoy the city's outdoor attractions, many of which are best visited on foot.
Start with a stroll through the King William Historic District which was considered the city's most elegant neighborhood from the 1850s to 1920s. Many homes have been beautifully restored to their former styles, some of which are now lovely B&Bs.
From there make your way to the Alamo, which San Antonio is famous for. However, did you know the Alamo is one of five missions that make up Texas's only UNESCO site? Spanish priests established missions along the river in the early 1700s and today you can drive the Mission Trail to explore them all.
Or, with the cooler weather, you can bike the marked trail to do your exploring instead.
Finally, no visit to San Antonio is complete without spending time on the River Walk.
Found below street level, the River Walk is a flagstone path that lines both sides of the San Antonio River that meanders through the city. It features beautiful vegetation and a variety of restaurants, cafés, hotels, and shops.
A river cruise is another great way to see the sights and learn about the city's history. The River Walk, especially when decorated for the holidays in December, can feel like a world away from the bustle of the city above.
Secure your river cruise ticket in advance online here! It even includes a Hop-on Hop-off bus offer!
Where To Stay in San Antonio, Texas
5. Naples, Florida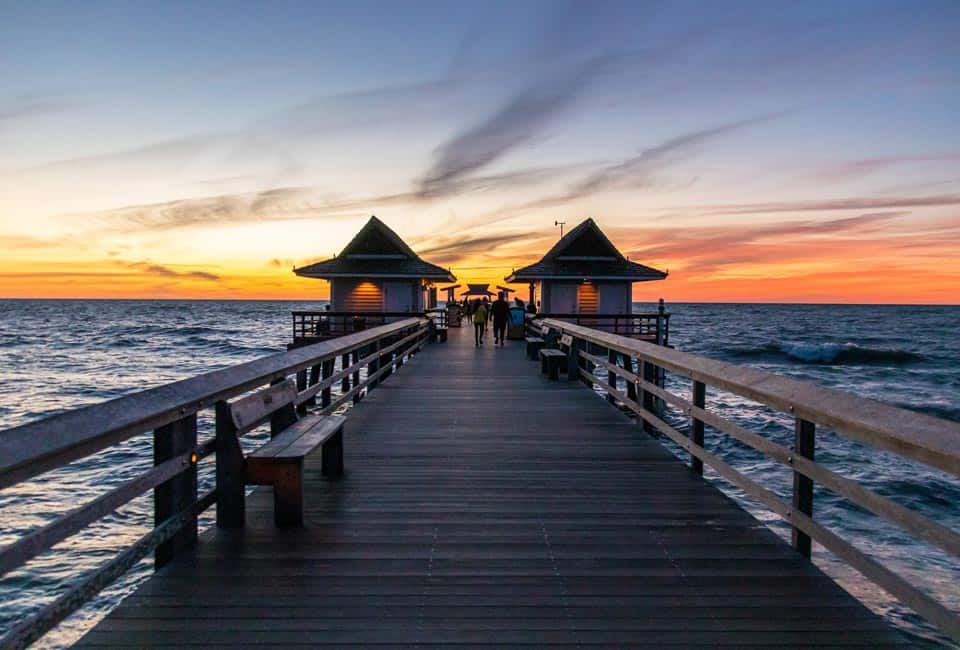 By: Claire Of Stoked To Travel

Beautiful Naples is located on the Gulf Coast of Florida, and is around a 1.5-hour drive from the bustling metropolis of Miami to this calm and charming small city.
In fact, the beautiful Route 41 goes from Downtown Miami to Naples, directly through the heart of the Everglades National Park making it a wonderful day trip from Miami.
Naples is a popular winter sun destination in US, especially for wealthy Americans. They come to hide out here to escape the brutal winter in the northeast, as Naples typically receives sunny, warm weather year-round.
The main things to do in Naples include soaking up the sun, playing golf, shopping and eating at some of the fine restaurants.
The central hub of activity is along the main street, called Third Street South. Here, you'll find a mix of premium boutique stores, antique shops and old-world tea rooms.
There are also some excellent art galleries. Make sure to check out the local calendar of events, as the arts and culture scene is really beginning to emerge in Naples.
As well as fine dining and luxury shopping, Naples is also home to a growing number of craft beer breweries. So when you're not enjoying one of the gorgeous beaches, make sure to sample a local beer.
Finally, the sunsets on the Gulf side of Florida are mesmerizing. I highly recommend Sunset Beach Bar & Grill for a gorgeous beachfront setting and excellent cocktails.
Where To Stay in Naples, Florida
6. Houston, Texas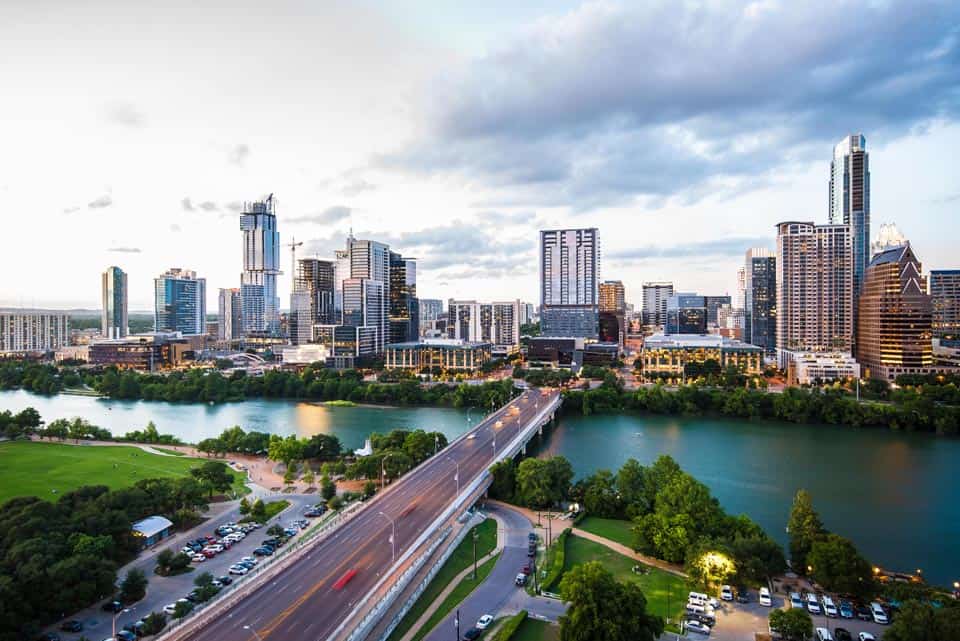 By: Natasha Of Great Ocean Road Collective

For some winter sun, head to the United States's 4th largest city, Houston Texas. This huge metropolis is known for its southern charm, delicious food, Space Center, excellent museums and plenty of green outdoor spaces.
Houston is warm year-round, with December temperatures averaging around 16-18 C (or 60-65 F). Nighttime temperatures can drop lower, but a cozy jacket should be enough without having to pack extra layers.
Daytime weather is typically balmy, perfect for exploring Houston's many outdoor spaces. Pack a mix of short and long-sleeves and you'll be all set.
Start off your trip by exploring the city's downtown which is a unique mix of business high-rises and beautiful 19th-century architecture.
Highlights include:
Houston Grand Opera
Houston Aquarium
Minute Maid Ballpark
If you enjoy holiday-inspired decoration and activities, Houston has plenty to offer. Head to Discovery Green Ice Rink where you can go skating during the entire month. They even have theme events where you can dress up, like Ugly Sweater or Star Wars night.
Next, head to the Houston Zoo for a 15-mile long light show that illuminates the paths throughout the zoo. We also recommend checking out the huge Christmas tree that lights up Hermann Square in front of City Hall.
Looking for ways to explore Houston? Check out this 2-day Hop-On bus tour!
Where To Stay in Houston, Texas
7. St. Petersburg, Florida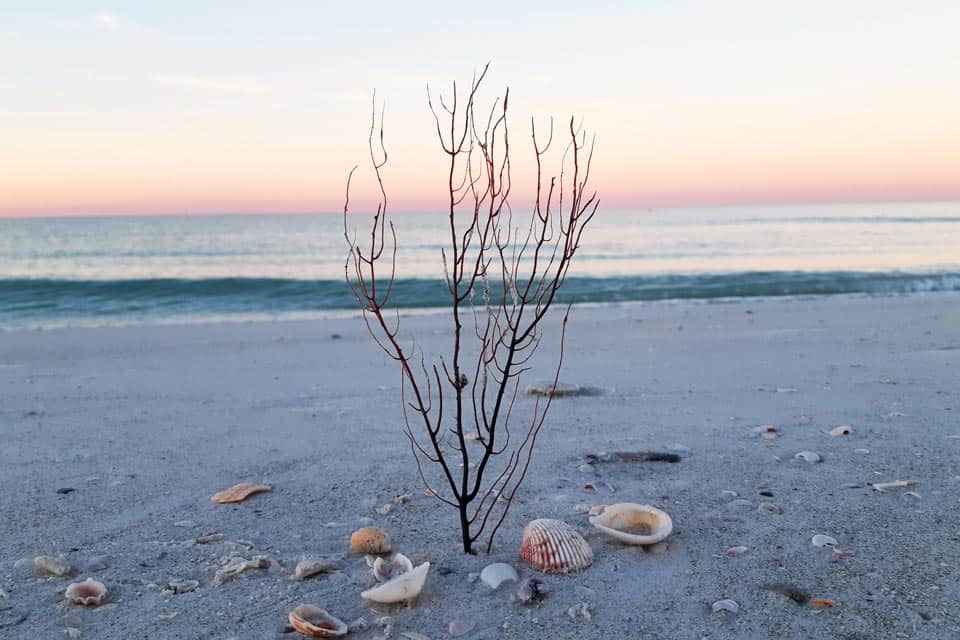 By: Pauline Of Beeloved City

As one of the driest and warmest states in December, winter is always a good time of the year to visit Florida. If you've ever dreamt of spending Christmas on the beach, St. Petersburg will be your perfect destination!
Located on the gulf, near Tampa and Clearwater, St. Petersburg is home to some of the most beautiful beaches in North America. If you head to St. Pete Beach, Madeira island or Treasure island, you will find loads of beautiful beaches. The sand is white and soft, making it perfect for a relaxing day.
There are also a lot of dolphins in the area. Keep an eye on the water and you will most certainly catch a glimpse of dolphins jumping!
There is also a lot to do in downtown St. Petersburg. If you are into art and culture, you will be spoilt for choice! There are a lot of museums! The most famous is the Dali museum. It hosts the largest collection of Dali's pieces outside of Spain. The Holocaust museum is also particularly interesting.
In the evening, make sure you head to Jannus Live. It's an open-air venue that always has amazing live gigs!
Finally, there are also a lot of day trips you can take from St. Petersburg. December is a very good time to visit the theme parks in Florida but also the beautiful springs. The manatees start coming to the springs in December. Crystal River and Homosassa are great places to see the Floridan wildlife.
Where To Stay in St. Petersburg, Florida
8. Honeymoon Island State Park, Florida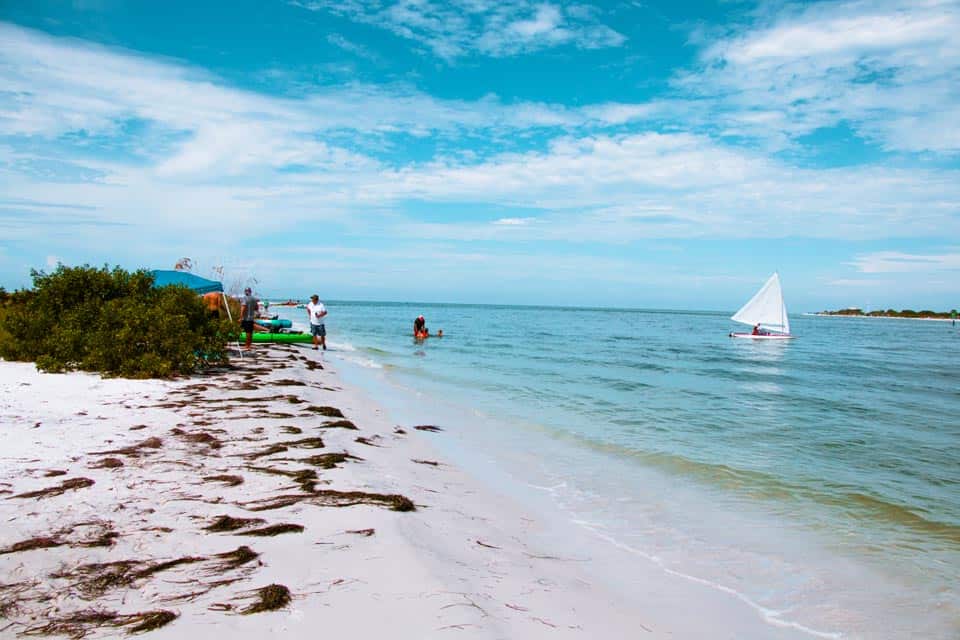 By: Paula Of Paula Pins The Planet

If you are looking for a warm USA destination to visit in December, Honeymoon Island State Park is a great place to visit to explore. With 4-miles of amazing beaches to explore and a 3-mile hiking trail through one of the last remaining virgin slash pine forests.
The island is a great place for outdoor lovers, as it offers many options like soaking in the sun, swimming, fishing, kayaking, biking, and hiking.
You can also take a ferry across the channel to Caladesi State Park, an island with pristine beaches and turquoise water, it is also less crowded and less rocky than the beaches of Honeymoon Island.
Honeymoon Island is a great destination to visit all year-round.
If you visit in December you have higher chances to see birds such as eagles, osprey, and great horned owls, and ground animals including gopher tortoises, raccoons, and armadillos.
Also, in December is easiest to spot manatees and dolphins close to shore, due to the temperate climate during this time of the year, with nice weather and temperatures between 59-70 F.
The Park is open 365 days per year, from 8 am until sunset. To enter the State Park, you have to pay an entry fee of $8 per vehicle.
Honeymoon Island State Park is located about twenty-five minutes north of Clearwater Beach in the Tampa Bay area on Florida's west coast, at the end of the Dunedin Causeway.
Where To Stay Near Honeymoon Island State Park, Florida
9. Savannah, Georgia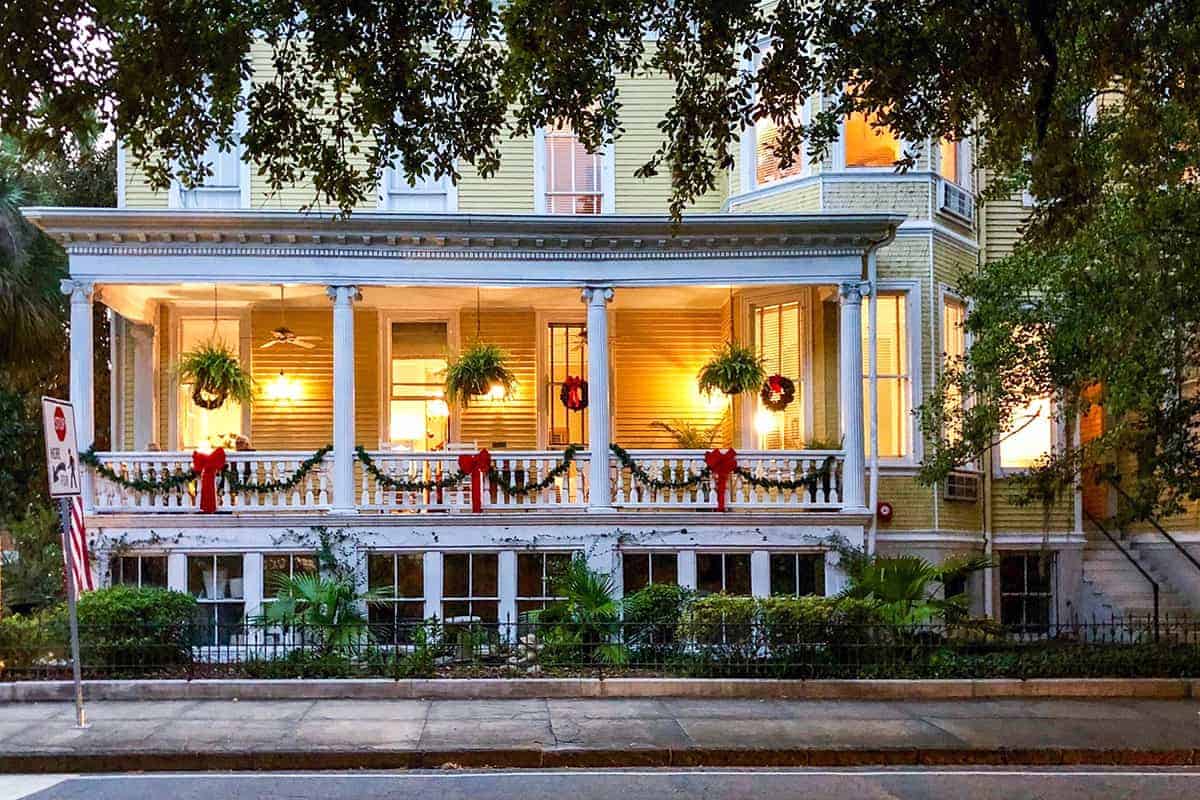 By: Erin Of Savannah First-Timer's Guide

Savannah is always a great spot to visit, but the city looks particularly beautiful during December when it's all aglow with holiday lights.
One of the most festive areas can be found along Broughton Street. That's where you'll find the official Christmas tree and decorative wreaths hanging from the old-timey lampposts lining the street.
Cheerful string lights stretch from the cute shops on one side of the street to the other, and many of the stores go all-out with their holiday window displays.
River Street is always a must-see when you're in Savannah, but there's something really magical about it during the Christmas season. It also makes a great spot to purchase souvenirs, such as a box of delicious pralines from River Street Sweets.
Make sure to visit the Cathedral of St. John the Baptist near Lafayette Square! Their nativity scene is truly breathtaking.
You'll probably spot carolers and a few horse-drawn carriages as you're wandering through the squares of the Historic District, so have your camera ready to capture all the picturesque moments.
A few popular restaurants to try include:
Treylor Park
The Olde Pink House
Clary's Cafe
Six Pence Pub
Two suggested local tours are the Owens-Thomas House and Slave Quarters and First African Baptist Church.
Winter temperatures are generally mild in Savannah and average between 50 to 75 degrees Fahrenheit. It's a safe bet to pack layers you can shed throughout the day, and you can certainly leave your heavy winter coat at home.
Want to explore historic Savannah with a local guide? Check out this Savannah historic trolley guided tour!
Where To Stay In Savannah, Georgia
10. San Diego, California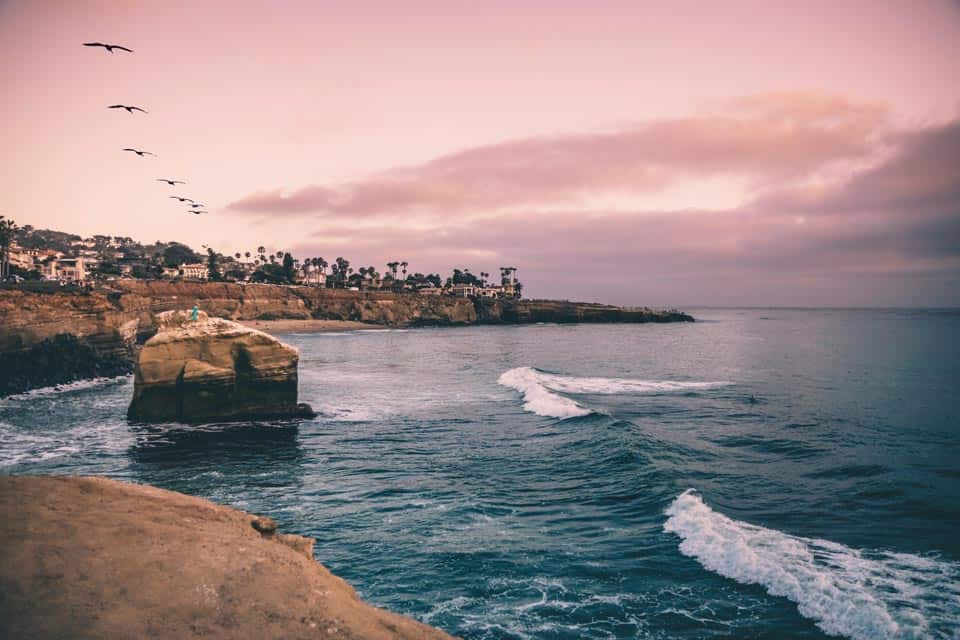 By: Maggie Of The World Was Here First

If you're looking for the ideal warm place to visit in the US in December, you really cannot go wrong with sunny San Diego, California.
Though this Southern California city is blessed with perennially good weather that never gets too hot or too cold, December is a particularly good time of year to visit as tourist crowds are thin and the weather is still, generally, warm and sunny.
Spending 2, 3 or 4 days in San Diego (or more!) is never a bad idea no matter what time of year it is, however, December is always a great time to go.
Though the weather and water may be a little bit too chilly for the beach (the average high is 19 degrees C or about 66 degrees F), there are so many more activities in the city that you won't even miss it!
For instance, you can take in all of the amazing museums, gardens and even the iconic San Diego Zoo at Balboa Park.
You can explore the downtown areas like the historic Gaslamp Quarter, Seaport Village and Little Italy, or you can enjoy the natural scenery at Sunset Cliffs, Cabrillo Monument or beautiful La Jolla.
San Diego has a lot to offer visitors no matter the time of year, so why not head there in December?
Where To Stay In San Diego, California
11. Phoenix, Arizona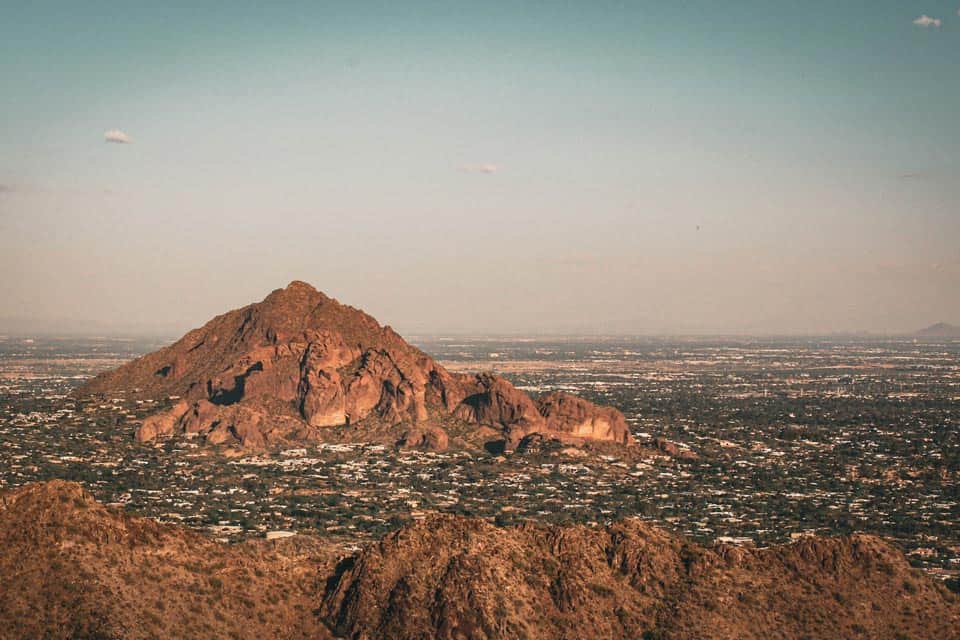 By: Nicole Of American SW Obsessed

Phoenix comes alive during the holiday season. There is so much to do and so many holiday activities. Of course, the warm weather helps!
Imagine walking around neighborhoods to see the houses with their Christmas Lights in shorts and a T-shirt instead of a parka!
If you want to see an amazing light display, check out the Lights of the World. This festival is held at the Arizona State Fairgrounds and is inspired by the lantern festivals of China.
Phoenix is warm year-round but December is one of the best months to visit. The weather in December hovers around 70 degrees Fahrenheit during the day and is quite pleasant even though it does get quite cold overnight. There are also carnival rides, games and performances such as live music.
You can also check out the Desert Botanical Gardens for the Las Noches de las Luminarias. The garden paths are lined with over 8,000 lanterns. It is beautiful to see it aglow and there are musicians who perform throughout the evening. It's a very unique experience for the holidays.
If you are looking to get into the Christmas spirit a great experience is to have breakfast with Santa at the Phoenician. The Phoenician is one of the best places to stay in Scottsdale. This is a holiday favorite where you can eat brunch, have a photo with Santa and decorate cookies.
Phoenix is also the perfect base for exploring Grand Canyon on a day trip. Check out our recommended Grand Canyon tour from Phoenix here!
Where To Stay In Phoenix, Arizona
12. Mobile, Alabama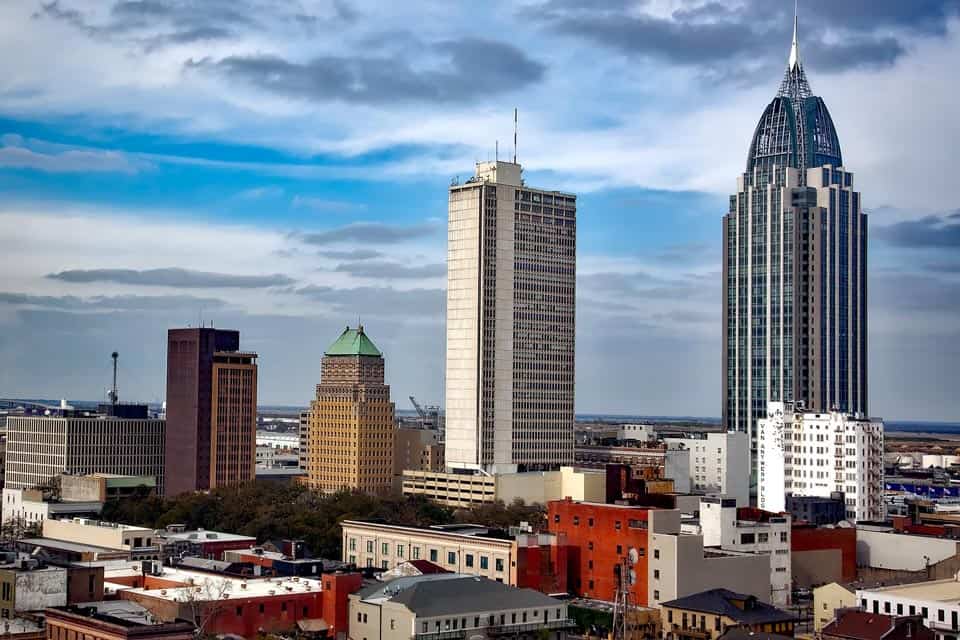 By: Wendy Werneth of The Nomadic Vegan

Situated on the Central Gulf Coast, the city of Mobile, Alabama is full of southern charm. And, as you would expect in a place this far south, the winters are typically very mild.
While the city does get a dusting of snow once in a blue moon, even in December you're much more likely to be walking on the beach in shorts than building snowmen. And you won't be suffering through the oppressive heat and humidity that plagues this area during the summer months.
December is a great time to enjoy this often overlooked destination, particularly in the lead-up to Christmas when all the houses are decorated with colorful lights and other holiday-themed displays.
While you can see some great amateur Christmas displays just by going for a drive around town, the one that's not to be missed is at Bellingrath Gardens. For the entire month of December, the gardens are taken over by the "Magic Christmas in Lights" spectacle.
The light displays change every year, so it's also popular with locals. Many make an annual December tradition of coming here to wander along the garden pathways and admire the beautiful lights.
Historic Oakleigh House, an antebellum mansion that's been converted into a museum, also puts on a special Christmas celebration. That one is a one-night-only affair, though, so time your visit carefully.

Oakleigh is one of many large mansions that line the streets in downtown Mobile. Its history is brought to life by reenactors in period costumes, and during the "Christmas at Oakleigh" event the house is filled with old-fashioned Christmas decorations as it would have been in the 19th century.
Where To Stay In Mobile, Alabama
13. Maui, Hawaii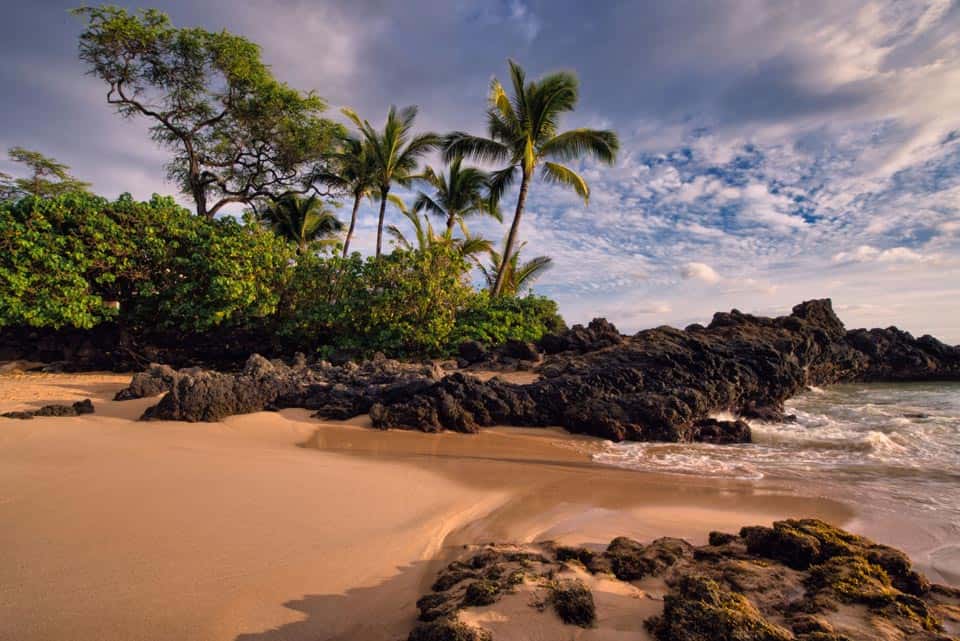 By: Sarah Of CosmopoliClan

Spend your winter vacation in tropical Maui, where fragrant plumeria flowers bloom all year round.
During winter, the Hana Highway is where the trade winds blow and create the ultimate playground for extreme surfers. Head to Ho'okipa Beach just passed Paia and enjoy a spectacular surfing show up close.
It's the perfect time of year to watch the North Pacific Humpback Whales, who migrate to the warm and protected waters between Maui, Molokai and Lanai in December to breed and nurse their calves.
Join one of the whale-watching tours or see them breach from ashore.
The weather conditions are much more favorable on the leeward side of the island, which is where you should be staying in December. Look for a dreamy Hawaiian retreat on Maui's south shore, in Wailea or Kihei, and you'll get to enjoy temperatures in the low to mid 80's.
But even a bit further up north, in Lahaina or Kaanapali, rain will be limited to a short shower followed by even more sunshine, giving you every chance to spot a rainbow.
Lahaina is also the perfect place to end your day of adventure. This lively whaling town is home to plenty of cozy restaurants, art galleries, local shops and a gigantic banyan tree. This eye-catcher looks even more enchanting in December when thousands of twinkling Christmas lights light up its branches.
Where To Stay In Maui, Hawaii
14. Dallas, Texas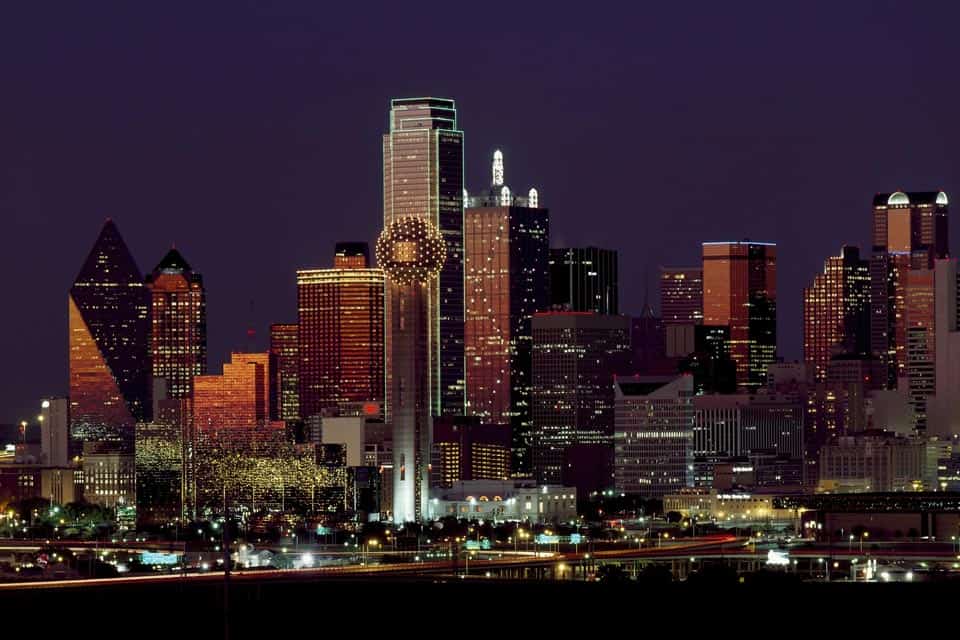 By: Bruna from Maps 'N Bags

Anyone looking for a relatively warm winter getaway in the USA should consider Dallas, Texas.
While summers are scorching, winter in Dallas is mild because it is greatly influenced by the Gulf Coast, making the city a lovely and pleasant place for a wintertime getaway. After all, the average temperature in December rests in the range of 37 and 60 Fahrenheit.
Despite the chilling weather, the culture and festivals will keep you warm and cozy throughout your vacation.
Some other activities that are especially pleasing in the winter are wine tasting, visiting Dallas' incredible museums, or shopping till you drop.
Got hungry? Bite off more than you can chew in the Big D's steakhouses! You may have heard the phrase, "Everything's bigger in Texas". Well, Town Hearth is here to back it up, serving up enormous portions and plenty of Southern swaggers!
Because the city is so incredible, you will want to book your accommodation ahead of time and avoid last-minute annoyances. For instance, there are incredible Dallas Airbnbs where you can stay near most attractions and still have a local feel!
You can spend anywhere from a long weekend getaway to a full week in this lively city. Just pack your coat, scarf, and explore what Dallas has to offer!
Where To Stay In Dallas, Texas
15. Los Angeles, California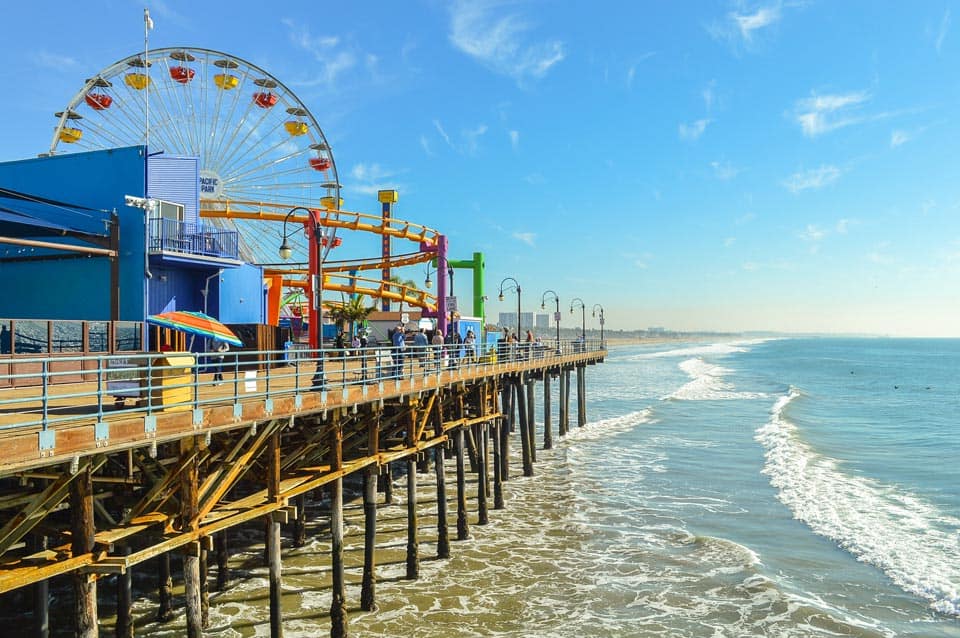 By: Alanna Of Periodic Adventures

Los Angeles is the perfect place to visit in December since the weather is so warm, there are numerous holiday activities, and plenty of other amazing activities around the city! Because snow isn't swaying you to stay at home, you'll want to visit them all.
In December, typical weather is sunny or partly cloudy and the average high temperature is 68°F with lows around 50°F. It seldom rains and snow is definitely out of the question. With a light jacket and pants, you can be comfortable from the mountains to the beach!
Top activities in Los Angeles include:
Relaxing at the beach
holiday light celebrations
Grand Central Market
Griffith Observatory sits in the hills for views of the Hollywood Sign and Los Angeles skyline with beautiful exhibits and educational displays! Getting there can be confusing, so read my local's tips on how to get to Griffith Observatory, which also includes other helpful info.
Relax at one of the many beaches in Los Angeles (enjoyable in the winter too), including Santa Monica, Venice, Huntington, Malibu, and more!
You'll get in the holiday spirit in no time after enjoying the holiday light celebrations at the Los Angeles Zoo, Descanso Gardens, and LA Arboretum.

Lastly, don't miss the incredible food in Los Angeles. At the Grand Central Market, try a warm grilled cheese and tomato soup from DTLA Cheese & Kitchen, or delicious ramen from Ramen Hood.
Because Los Angeles is so massive and filled with amazin things to do, we recommend a guided tour like this one so you don't miss out on anything!
Where To Stay In Los Angeles, California
16. New Orleans, Louisiana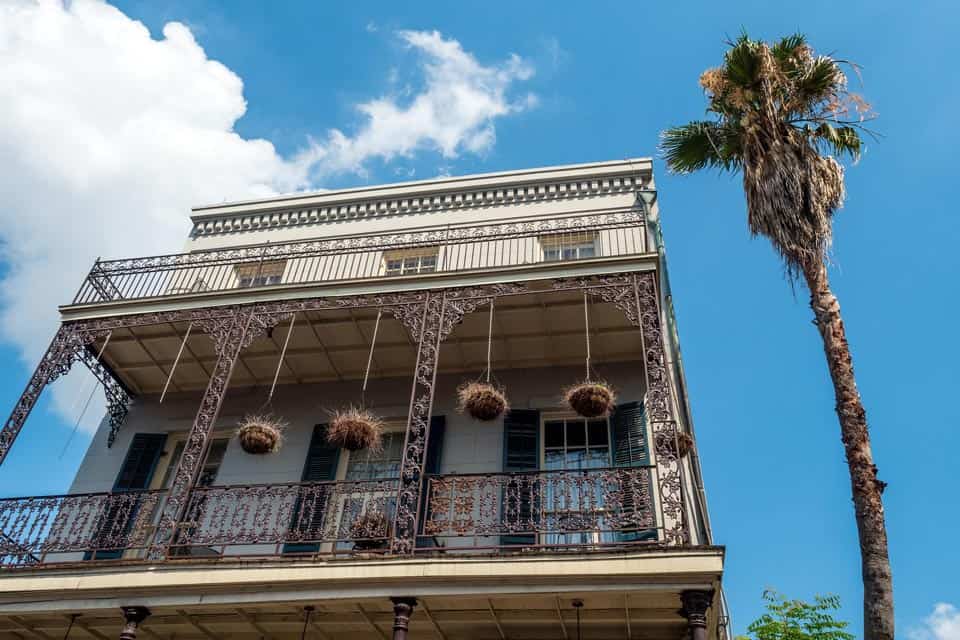 By: Derek & Mike Of Robe Trotting

One of America's best destinations for winter sun is also one of the coolest cities in the United States – New Orleans.
In December you'll find warm temperatures, usually around 60 degrees Fahrenheit, with less humidity and rain. Best of all, it's also a period where there are few crowds but just as much fun.
New Orleans is a city with a party town reputation, but it's also full of history, live music, beautiful architecture and much more.
In the month of December, it's too cold for alligators so you won't be able to do a swamp tour. Instead, take a steamboat tour on the mighty Mississippi River. Many include jazz music, dinner or tours of the Battle of New Orleans battlefield from the War of 1812.
It's plenty warm enough for the many walking tours of the city, so you can visit the French Quarter, do a ghost tour or visit the famous cemeteries of New Orleans. Exploring the Garden District is a must, that's where you'll find beautiful mansions.
Of course, the nightlife in New Orleans is just as popular in December. Make sure to see some live jazz music, especially on Frenchman Street. New Orleans is a fun and progressive town with a laid back vibe. The French Quarter is known for its all-night parties and gay New Orleans is a popular LGBT destination
If there is one thing to do in New Orleans, it is to try the local cuisine. With Creole, Cajun, and soul food influence, the gastronomy in New Orleans is so unique. Combined with the fresh seafood that is available to that region, New Orleans' food is some of the best in the USA
If you want to fully experience the food scene in New Orleans, make sure you check out this guided food tour!
For warm weather and a city that doesn't slow down when the days grow shorter, head to New Orleans in December.
Where To Stay In New Orleans, Louisiana
17. Orlando, Florida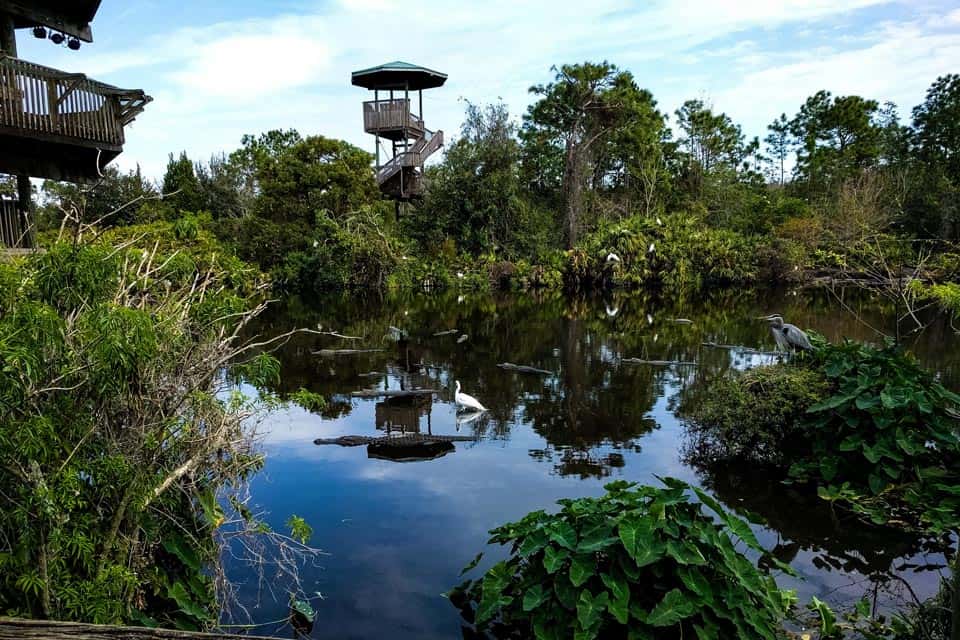 By: Raquel Of Meals and Mile Markers

Orlando Florida is a great warm place to visit in December in the United States! Not only is Christmas in the air, but the air is also warm. While the locals tend to wear jeans and jackets, you wouldn't be out of place in a pair of shorts since the temperature tends to reach the 70s.
Florida may not seem like a winter wonderland, but many theme parks in the city offer many holiday celebrations.
Walt Disney World is the most magical place on earth and Christmas is the most magical time of the year.
Orlando is unquestionably one of the best places to spend Christmas in the United States!
Universal Studios and SeaWorld also host holiday events. However, the closer to winter break you visit, the more crowded these events will be. If at all possible, try to visit before schools let out for the holidays.
If you want to stay away from theme parks, try visiting one of the many festivals in the area. Many of these festivals even have artificial snow!
Christmas at the Gaylord Palms has many activities to choose from, especially if you'd like to watch a holiday-themed show. Even if you're not in the holiday spirit, you can still find things to do, such as visit Gatorland.
This lesser-known attraction may also be more laid-back than some of the more popular parks. No matter how you like to spend your vacation, you'll find something fun to do in the warm city of Orlando this December!
Where To Stay In Orlando, Florida
18. Kona, Hawaii
By: Constance Of The Adventures of Panda Bear

There's no place quite like Hawaii in December – the warm sun, beautiful beaches, and delicious coffee. Add Kona to your Big Island of Hawaii itinerary for the best place for your winter escape.
For beautiful beaches, be sure to check out Makalawena Beach. For a small entrance fee, you'll be treated to gorgeous white sand beaches with a cove full of tidepools. You will have an amazing time at the beach relaxing in the sun and looking for sea creatures in the tide pools.
Kona is famous for its coffee and you'll soon see why. Visit a Kona coffee farm and for a close up look into the process of going from bean to cup. Most coffee farms on the island will offer tastings in addition to tours, you'll get a chance to savor the smoothest cup of joe you've ever had.
Be sure to check out Kona Farmer's Market. Located outside along Ali'i Drive, you'll find over 40 different types of vendors ranging from local handicrafts to fruits and vegetables, to flowers and souvenir stalls and more.
The farmers market is open Wednesdays through Sundays between 7 AM and 4 PM. Ali'i Drive is also the home to the Annual Kailua-Kona Community Christmas Parade.
In December, temperatures are warm ranging from high 60s to low 80s. Though winter is the wet season in Hawaii, Kona is located on the "dry side" of the island so the rains typically don't last too long. Make Kona your next tropical warm-weather destination this December!
While you are on the Big Island of Hawaii, make sure you don't miss the chance to snorkel with manta rays on this guided tour!
Where To Stay In Kona, Hawaii
19. Key Biscayne, Florida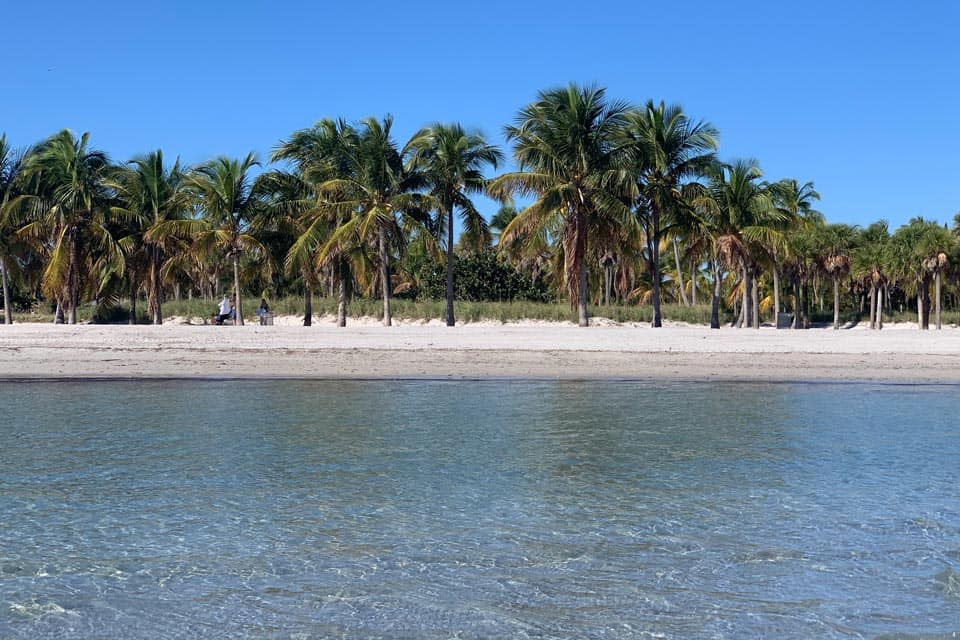 By: Harshi & Aman Of Trot.World

If you are more of a sand-castle than snow-angel making kind of person and looking for a warmer, cozier place during December, then head to Key Biscayne. This island town in Miami-Dade County, Florida, is an ideal spot to get away from the December cold.
Put away your coats & put on your bathing suits to enjoy a white December but in the form of long stretches of white sand beaches.
Swim in the bluest blues, paddle out your kayaks into the ocean, or go sailing. Take a scenic drive from Key Biscayne to the neighboring Key West and go snorkeling and jet-skiing.
While in Key Biscayne, spend your time at a luxury beach-front resort such as The Ritz-Carlton Key Biscayne. Enjoy laying in their private cabanas by the pool or palapas right on the beach as you wiggle your toes in the white sand and sip on yummy cocktails delivered right to you.
If you want to indulge in some shopping, head to Miami, a short 15-30 minute drive to some of the largest outlet malls. If you wish to stay in Key Biscayne, spend your afternoon playing golf at the Crandon Golf Course or watch the sun go down at Rusty Pelican.
With its warm temperatures and sunshine Key Biscayne is the perfect December getaway in USA for leisure and adventure lovers alike.
Where To Stay In Key Biscayne, Florida
20. Oahu, Hawaii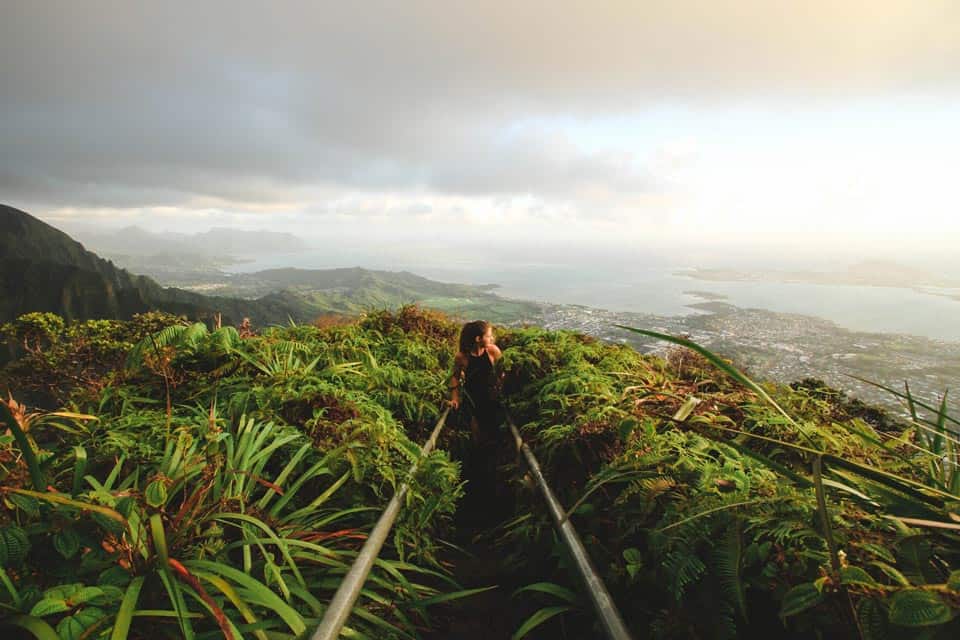 By: Rai Of A Rai Of Light

Oahu, the third largest island and the most popular of the Hawaiian chain, is also the cultural, financial, and main tourist destination of the region.
The island has it all: amazing beaches, a vibrant nightlife, a variety of shopping, an urban city center, and year-round good weather, including during the month of December.
The average high temperature at this time of the year is 81°F, allowing for easy exploration and year-round swim conditions without the need for a wetsuit.
Top sights include:
the state capital Honolulu
Waikiki Beach
Other activities that should not be missed in December include the Honolulu City Lights, the Festival of Lights boat parade, the Honolulu Marathon, and hanging out with Santa on the beach
If you are an avid surfer, check out some of the things to do in North Shore of Oahu. Their incredible waves attract top-level competitors and surfers every year.
It is important to note that December is the most active tourist season with prices to match and the end of the month gets pretty busy.
Affectionately known as the Gathering Place, it offers much to attract travelers from around the world and is often considered to be one of the best places to visit in the USA.
Where To Stay In Oahu, Hawaii
21. Jacksonville, Florida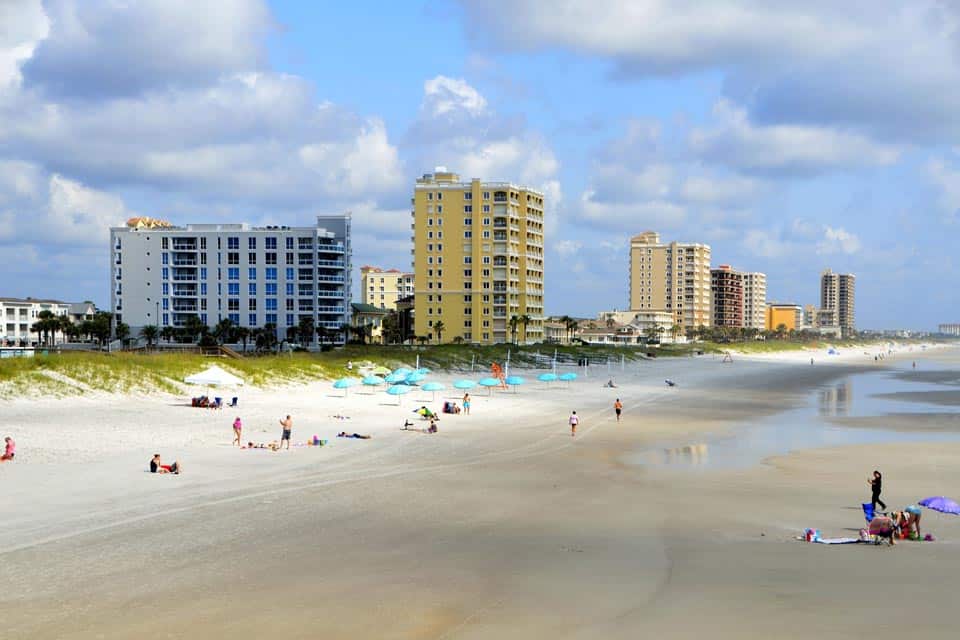 By: Oksana & Max from Drink Tea & Travel

Jacksonville Florida is one of the best places in the USA to visit in December. When much of the country is cooling down, you can still enjoy warm days and a plethora of outdoor activities.
Jacksonville beaches are some of the best in the state. You'll find miles and miles of white sand beaches which are great for a stroll, a dip (if you dare) or adventure activities like surfing or kayaking.
Located in the middle of it is Jax Pier, the most well-known beach is Jacksonville Beach. You can fish along the pier, go surfing on either side or just take in the views of the Atlantic. The pier is half a kilometer long and juts out into the sea.
The nearby Sea Walk Pavilion is a hub of activity. It is home to a number of restaurants, bars, and shops. If you visit in the evening you'll likely stumble across an outdoor movie, live music or other community events.
Fort Clinch State Park is located just up the road from Jacksonville beach and has a stunning beach of its own.
However, it is more well known for the Fort Clinch Museum which is home to the 19th-century Fort Clinch fortifications which played an active role in American history up until World War 2. You can tour the ground or go hiking along the many trails which criss-cross the part.
Where To Stay In Jacksonville, Florida
22. Las Vegas, Nevada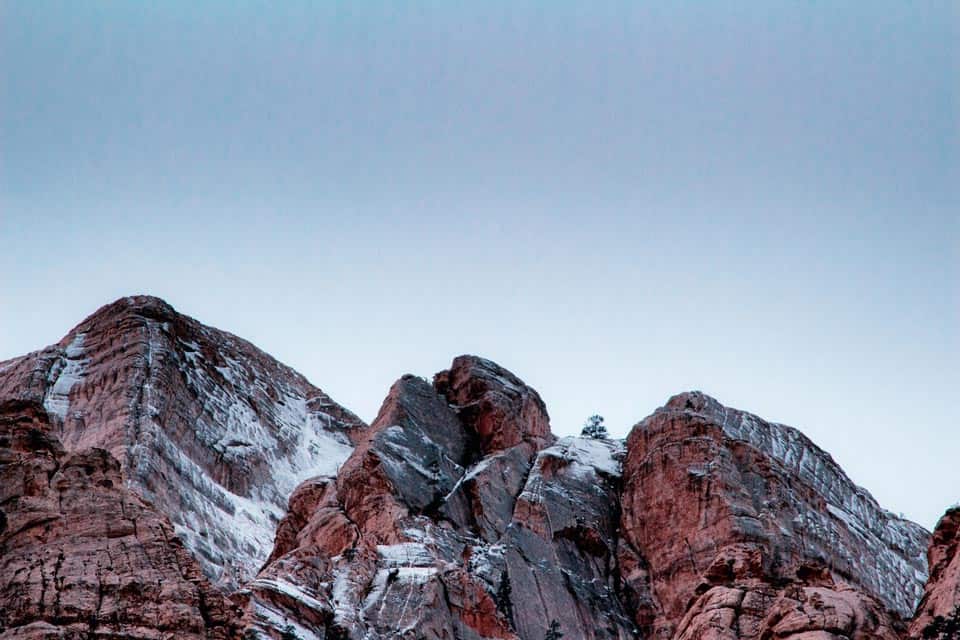 By: Cee of Itz a Family Thing

One of the best places to spend the winter where you can see the holiday spirit and celebrate with palm trees is Las Vegas. What makes Las Vegas perfect for anyone looking to escape cold winters is the mild weather.
The average temperature in the winter is 56 degrees in December, 60 degrees in January, 63 degrees in February, and 70 degrees in March. This is a far cry from the frigid winters of the midwest and east coast.
Read More: 80 Best Las Vegas Quotes and Captions
There is so much to do in Las Vegas from shopping to day trips to Death Valley National Park.
Some of the most popular things holiday events in Las Vegas in the winter are:
Ice skating
Visiting the Global Winter Wonderland
riding the Linq
Zipline
Heading to the top of the Eiffel Tower
Plus, you can't miss the opportunity to visit the Red Rock Canyon.
This is the perfect time to go because you don't have to worry about the brutal heat, you can enjoy the natural beauty in the fresh air. The Bellagio is decorated to perfection for Christmas festivities and is free to visit for unbelievable pictures.
Finally, you can't visit Vegas without stopping to see the water show outside of the Bellagio. Oh yeah, let's not forget about the unbelievable food. Overall, there is no shortage of things to do in the winter in Las Vegas.
Where To Stay In Las Vegas, Nevada
23. Santa Catalina Island, California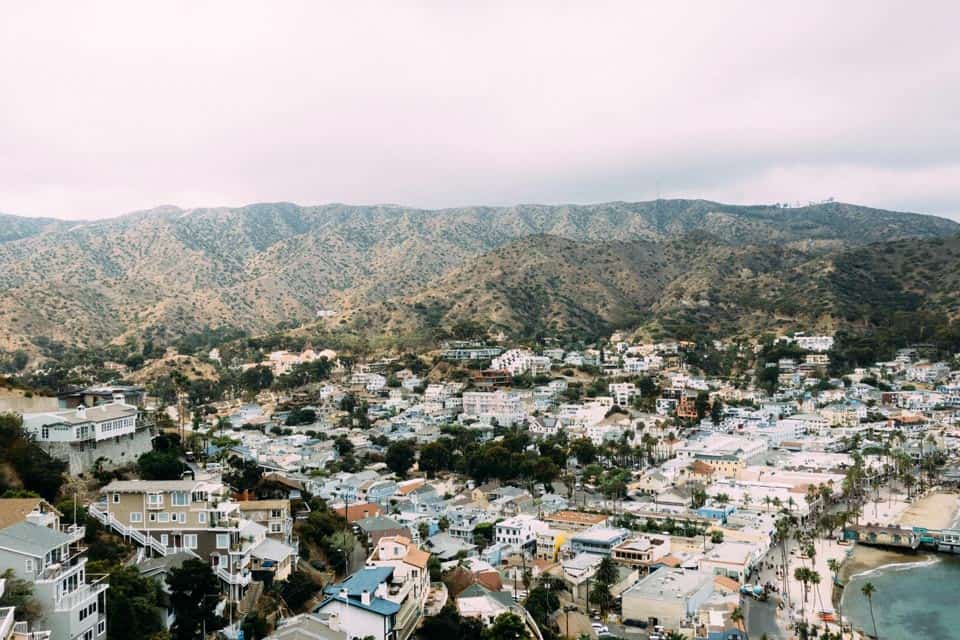 By: Chisom of The Awesome Traveler

Located off the coast of Southern California, Santa Catalina Island is perfect during the summer but better in winter due to the mild weather that does not interrupt outdoor activities.
Catalina Island is a beautiful mix of land and aqua, with a landscape deserving exploration and waters that'll calm your spirit.
Outdoor attractions in Santa Catalina are never short of beautiful.
They cut across the sky, land, and waters, so it is an understatement to say they are many. You can hike on land, go snorkeling in the sea or enjoy helicopter tours. If you enjoy an adrenaline rush, you should try Parasailing or the Zip Line Eco Tour as they are both thrilling and intense.
It is perfectly okay to want to try every activity but a day or two will never be enough as they are nearly endless to list.
Thankfully, Santa Catalina Island hotels offer some of the best hospitality services. For hotel accommodations, you can check out Hotel Catalina or Courtyard Garden suites. For inns, you can look into The Old Turna Inn or Seaport Village Inn.
You can also get vacation rentals with Catalina Dream Vacations or Avalon Cove while the Hermit Gulch Campground can provide you with equipment to set up a tent. If you enjoy spending your winters outdoors, this island is the perfect adventure land for you.
Where To Stay In Santa Catalina Island, California
24. Page, Arizona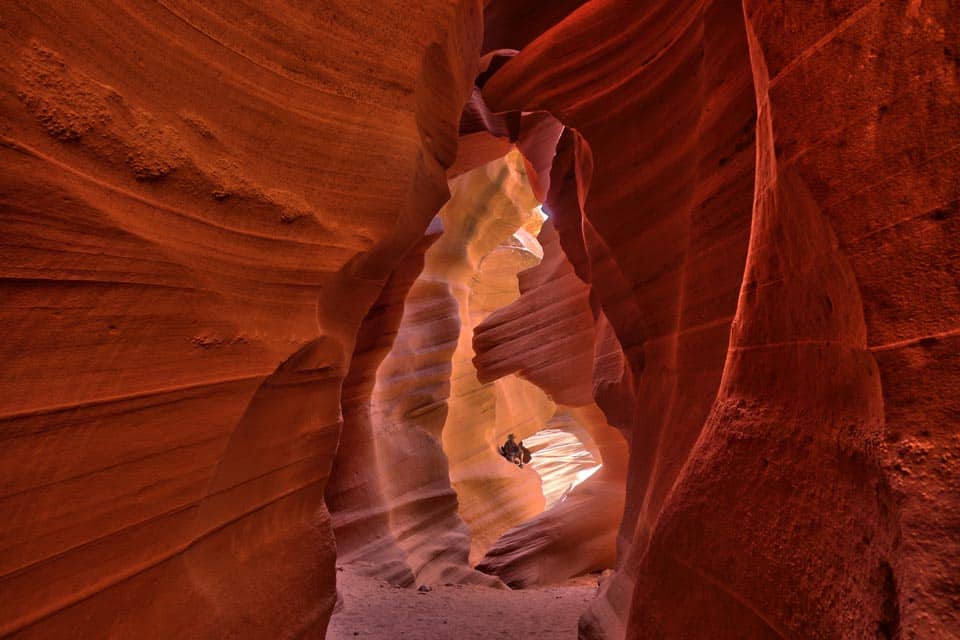 By: Carol Guttery Of California Crossings

With highs up to 100 degrees F in summer, it makes much more sense to visit Page (or anywhere in Arizona) in the winter. Cooler 50 degrees temperatures make exploring Page's landscape a much more comfortable endeavor, and the landscape is indeed the defining feature in Page.
This spot in far northern Arizona makes a great stop on any road trip that includes southern Utah, the Grand Canyon or Sedona's red rock landscapes.
There are three awe-inspiring spots in Page worth visiting:
Rainbow Bridge
Horseshoe Bend
Antelope Canyon
Rainbow Bridge is located in Lake Powell. At 290-feet tall, it's considered one of the largest natural bridges.
It's considered sacred by the Navajo and they believe it to be a symbol of the deities that are responsible for making clouds, rainbows and rain. You can visit the bridge on a tour out of Wahweap Marina and they run every Saturday in the winter.
Horseshoe Bend is a swirl in the Colorado River that begins the deep cuts that ultimately form the Grand Canyon. The overlook offers a 1,000-foot plunge down the canyon walls. It has become a very popular photography spot and an attraction Arizona is known for.
Upper and Lower Antelope Canyons are impossibly beautiful red rock cuts that are hidden away from the scrubby landscape above.
Noonday light filters through the canyons, causing the red rock to glow as if on fire. The canyons are on Navajo Nation land and you can visit either or both canyons via a tour run by the local tribe.
Where To Stay In Page, Arizona
25. Santa Barbara, California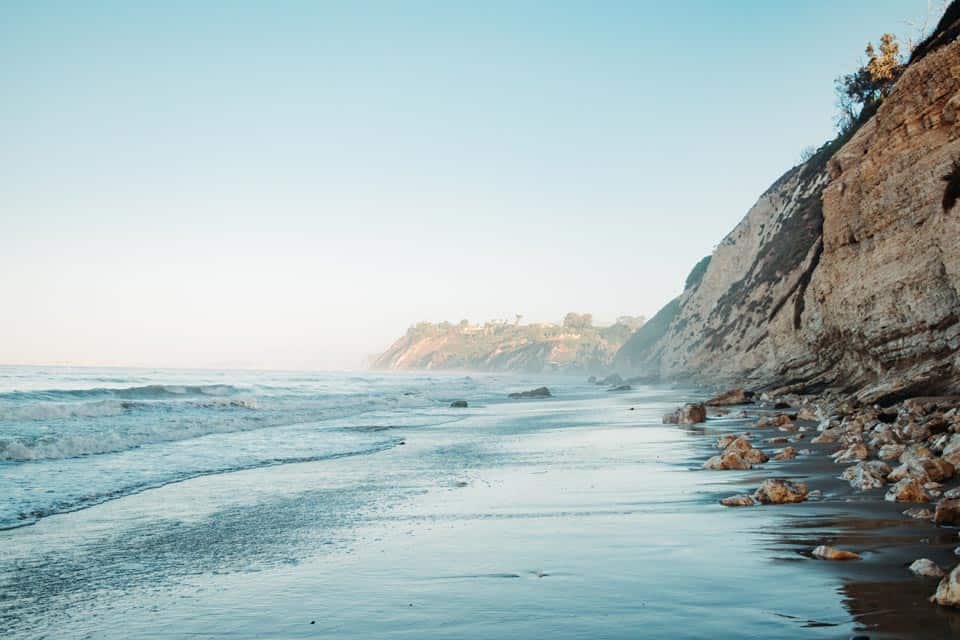 By: Ciara Of Wellness Travel Diaries

Along the beautiful coast of California is the charming city of Santa Barbara – a wellness paradise found between the Santa Ynez Mountains and the Pacific Ocean. This coastal town is notorious for its mild temperatures year-round, making it an ideal destination for a warm winter retreat.
You'll find giant green trees with all their leaves still intact after enjoying the amazing fall in California, short sleeves worn by locals, and occasionally flip flops still being used depending on the day.
During winter Santa Barbara's pristine white building echoes festive colors of greens and reds as the Christmas season begins.
While there's no snow in this beachy town, the holiday season can still be felt through the plethora of Christmas things to do within the town. First off there's the holiday parade that kicks off the Christmas season in Santa Barbara.
On the water, you'll find another parade called the Parade of Lights. This famous annual boat parade lights up the blue ocean, while Santa Claus waves from afar.
Similarly, the Trolley of Lights can be found riding down the famed State Street. This festive trolley is brightly decorated with vibrant lights and Christmas decor, as it drives through various routes.
Besides the parades, you'll find more wintery things to explore by foot, such as the street of La Arcada where fresh popcorn can be purchased, hiking in the mountains, artisanal shops located on State Street, and tasty spots for wine tasting in the funk zone.
Don't forget your camera and a light jacket, and then enjoy this wellness winter retreat!
Where To Stay In Santa Barbara, California
26. Big Island, Hawaii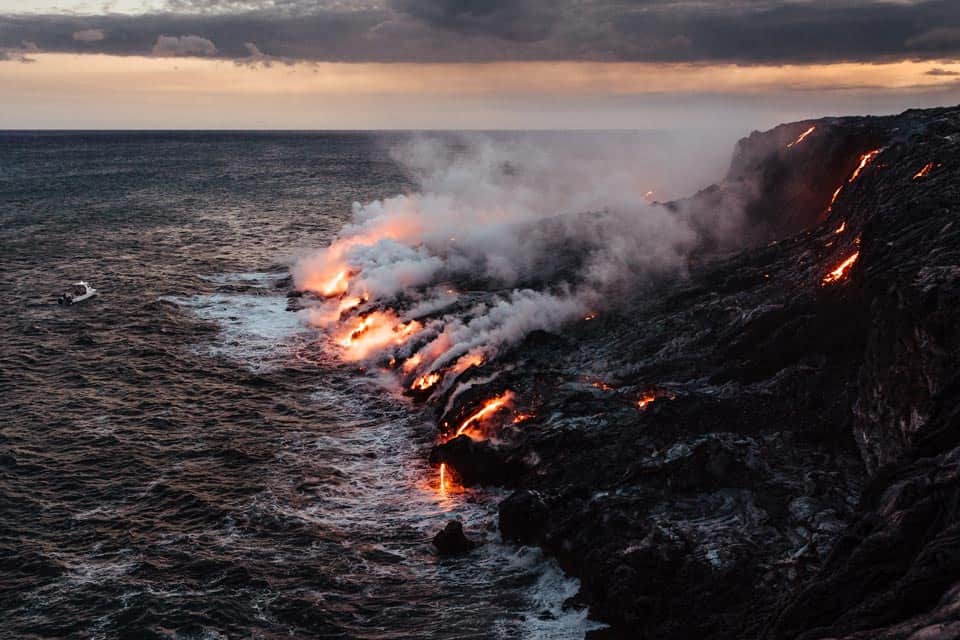 By: Noel Of This is Hawaii Life

If you are looking for a warm-weather destination this winter in the USA, consider spending some time in East Hawaii on the Big Island.
In December, the temperature on Big Islands ranges from 20 degrees Celcius to 28 degrees, or 68 degrees Fahrenheit to 82 degrees. What is even better is the low chance of precipitation, averaging a total of 2 days of rain in the entire month of December.
The windward side of the Big Island is lush, gorgeous and less touristy than the west side of the island.
You'll find gorgeous waterfalls, beautiful coastal views, beaches, tropical gardens and other wonderful landscapes to explore including Volcanoes National Park, which is located in the southeastern region of the island.
You'll find an authentic Hawaiian lifestyle and island vibe at Hilo town, the lovely red road of Puna and new black sand beach at Opihikao, a tropical garden and zoo combination and so many other wonderful attractions to explore on the east side.
It's easy to take day trips to visit lovely waterfalls such as Akaka Falls and Rainbow Falls, drives like Onomea scenic drive or just drive down Banyan drive and explore Queen Liliuokalani Park, Coconut Island and Reeds Bay.
Though Hawaii gets a rep for being an expensive destination, there are many free or cheap things to do on Big Island to help alleviate the pain in your wallet!
Where To Stay on Big Island, Hawaii
27. South Padre Island, Texas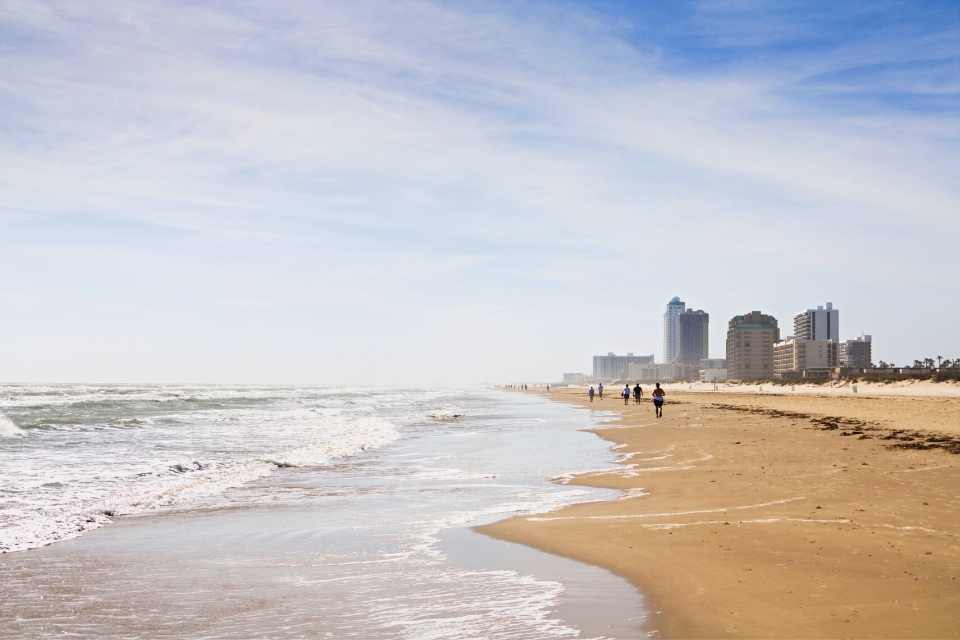 Though Texas might not be known for its islands, the South Padre Island in the southern end of Texas offers travelers a serene warm beach escape, especially during the winter. In December, temperatures typically range from 57 to 72 degrees Fahrenheit.
Visitors can enjoy the plethora of activities South Padre Island has to offer, even in the winter. Come for an exhilarating drive on the beach, go fishing offshore, experience the bird-watching scene, or enjoy the wide variety of watersports this small strip of island has to offer.
Though the water temperature is cooler in December, it is totally possible to go for a swim!
In the warmer months, South Padre Island is filled with sun-worshippers and party-goers. In the winter months, it is a lot quieter. If you prefer peace and quiet for your winter escape, then South Padre Island is one of the best warm places to spend Christmas in USA.
Where To Stay in South Padre Island, Texas
28. Palm Springs, California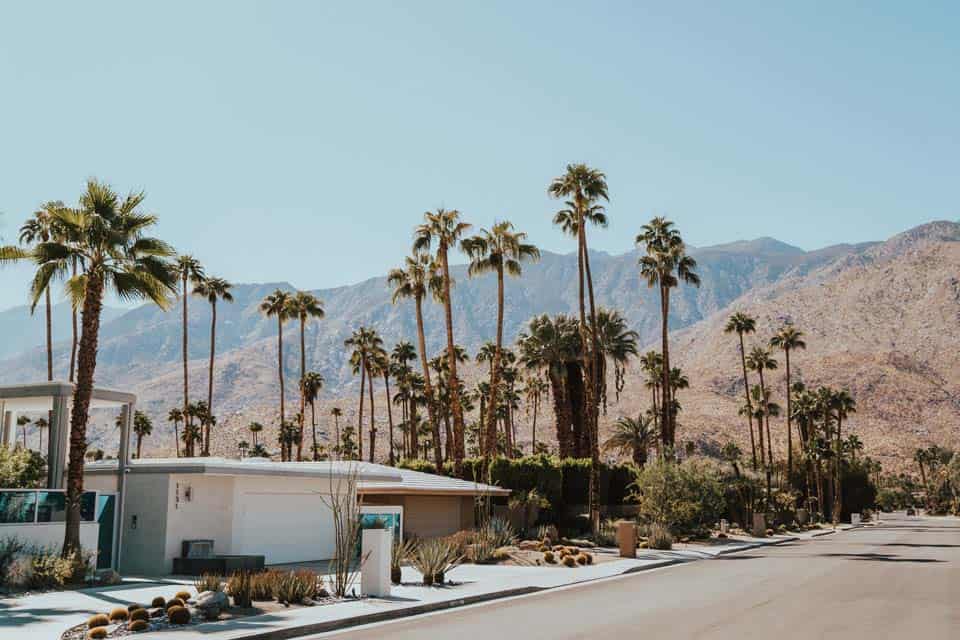 No list of the best places to visit in December in USA is complete without mentioning the glorious Palm Springs, one of the most iconic destinations in America.
Known for its breathtaking mid-century modern residential homes (many of which are homes of celebrities) and palm trees dotting the dreamy desert landscape, Palm Springs is ideal for anyone looking for something posh.
In December, visitors can enjoy exploring the arid environment at a temperature between 45 to 70 degrees Fahrenheit. Don't want to be active for your vacation? Lounge by one of the pools in your mid-century modern vacation rentals. Nearly all homes in Palm Springs have a private pool.
Better yet, enjoy total relaxation in one of the many spas around town, where you can also take a dip in a natural hot spring. Go for a fun game of golf or take a day trip to the spectacular Joshua Tree National Park. There are plenty of things to do in Palm Springs for everyone, as long as you don't mind splurging.
Where To Stay in Palm Springs, California
29. Puerto Rico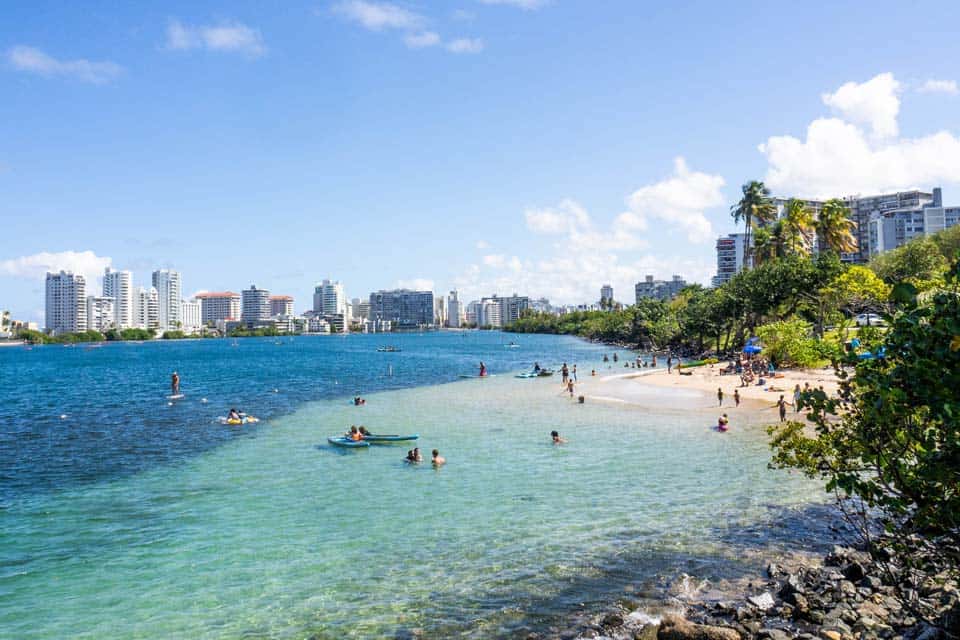 Puerto Rico is one of the most overlooked warm places to visit in winter in USA, partly because it is not a state. Puerto Rico is an incorporated territory of the USA located in the Caribbean. Warm weather is no stranger to this beautiful island of history, culture, and outstanding natural beauty.
In San Juan, the capital of Puerto Rico, the temperature ranges between 75 to 82 degrees Fahrenheit.
Swimming in the heavenly Caribbean Sea and strolling around the historic centre of San Juannot crazy but encouraged!
During December, Old San Juan is covered with glamouring lights draped across historical buildings and an iconic Christmas Tree.
While winter is usually dull in most U.S states, Puerto Rico is thriving with things to do. Don't miss the opportunity to explore the majestic El Yunque National Forest, home to impressive hiking trails and waterfalls.
Puerto Rico is also a paradise for watersports, even in the winter. Adrenaline junkies will love a jet ski tour, which takes you to the nearby Isla Verde island. Otherwise, enjoy a day trip exploring the nearby Cordillera Islands, which feature some of the best beaches in the Caribbean.
Where To Stay in Puerto Rico
30. Marco Island, Florida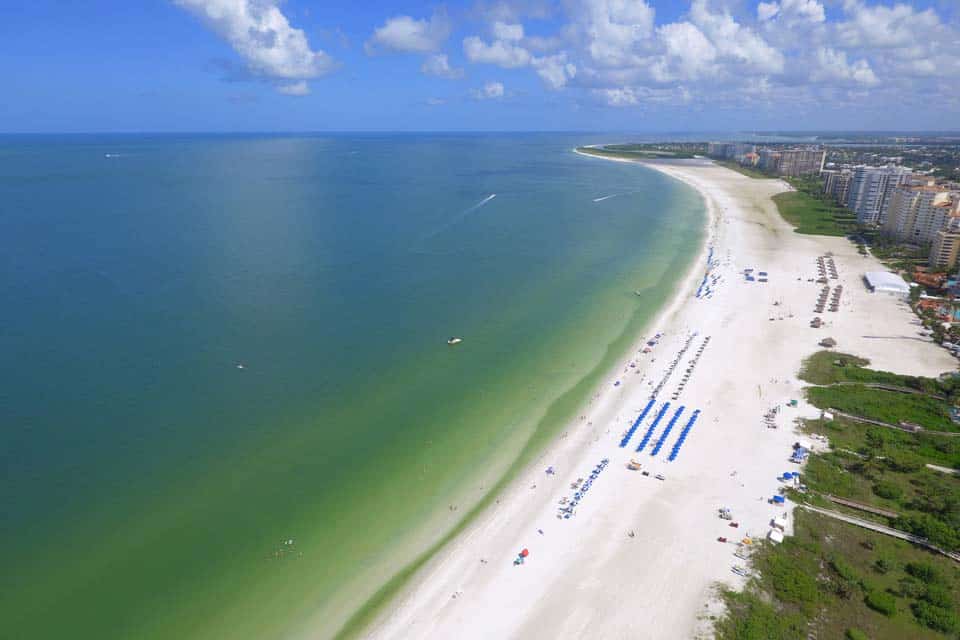 Marco Island in Florida is a popular warm winter destination for both domestic and international travelers.
The island offers a variety of activities, including lounging on the beautiful white sand beaches, exploring the Ten Thousand Islands by boat, playing golf on one of the many world-class courses, or exploring the Everglades National Park nearby, a UNESCO World Heritage Site.
Besides its beautiful natural scenery, Marco Island also offers a variety of luxurious accommodations and dining options. Visitors can choose to stay at upscale resorts or rent beachfront villas for a more intimate experience.
The island's restaurants offer fresh seafood dishes and tropical cocktails, perfect for enjoying al fresco on the beach or by the pool.
But what really sets Marco Island apart as a top winter destination is its mild climate. Marco Island has an average low temperature of 57 and a high of 75 degrees Celcius in December. It is unquestionably one of the best warm winter destinations in the USA!
Where To Stay in Marco Island
---
Warm Places To Visit In December In USA Map
Above is an interactive featuring all of the places we've mentioned. Using this map, you'll be able to see where some of the destinations are relative you where you are based. This can help you plan an affordable and efficient winter sun holiday!
---
USA in December FAQs
What are the warmest states in December in USA?
The warmest states in December in USA are Florida, Texas, Hawaii, and Arizona. But if you are looking for something even warmer, consider the U.S Virgin Islands or Puerto Rico.
What is the warmest place in December in USA?
The warmest place in December in USA has to be the US Virgin Islands or Puerto Rico. Those places are situated in the Caribbean and receive incredible hot weather, even in the winter!
What are the warmest beaches in USA in December?
The beaches in Florida, especially The Keys, are some of the warmest beaches in USA in December. Alternatively, visitors can go to Hawaii, which is guaranteed to have nice warm beaches all year round.
---
Like this post? Don't forget to save it on Pinterest!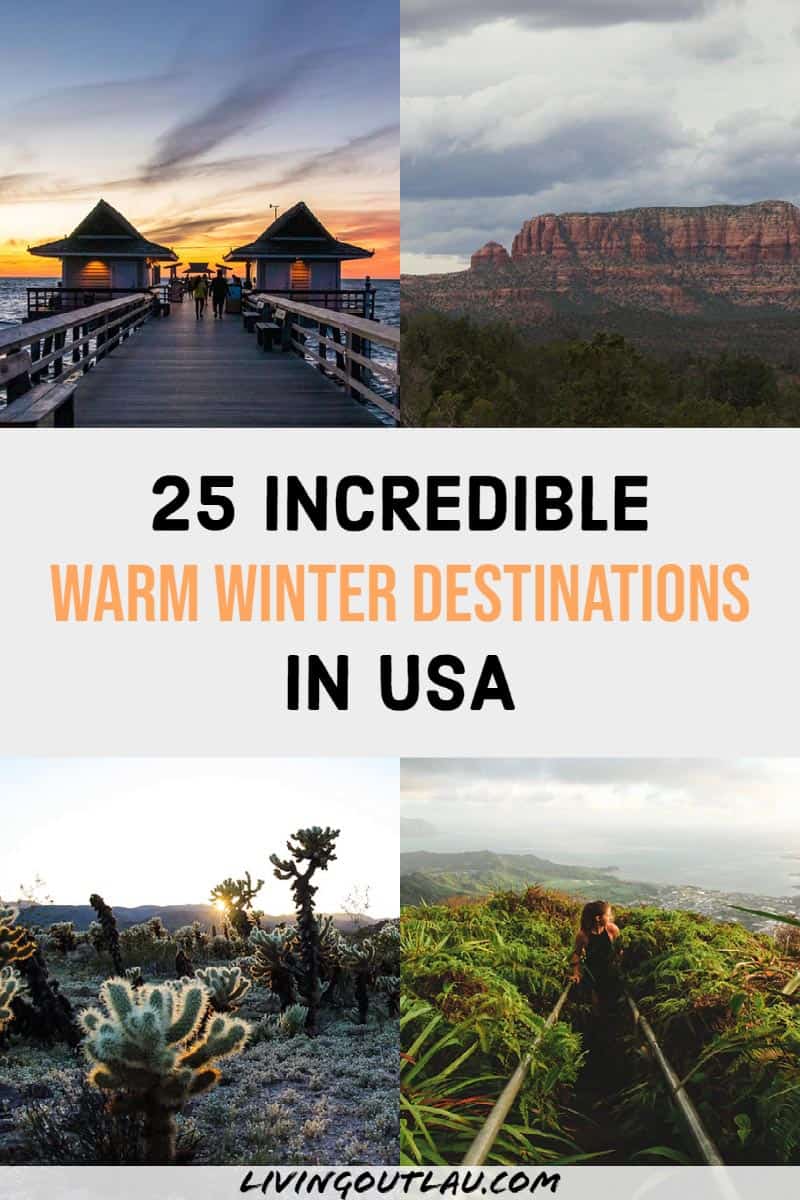 ---
These are the best warm places in USA in December. What are you waiting for? Book your flight, pack your packs, it is time to lose that heavy jacket!

Any questions? Leave a comment!
Disclaimer: Some of the links above are affiliate links. That means if you book or make a purchase through the links, we will earn a small commission at no extra cost to you! The money will help run this site! Thank you!