Joshua Tree National Park is a surreal environment where the Mojave Desert and the Colorado Desert meet, creating a unique ecosystem with a captivating variety of plants (such as the Joshua Tree itself) and animals and beautiful geological features.

Located in the southern parts of California, visitors come from all over the world to admire the starry sky, go on desert hikes and rock climb. With many things to do in Joshua Tree NP, it is no surprise that it is one of the most popular national parks in the US.

Because of its popularity, accommodations ranging from tents to traditional Old West style homes are available and selecting the perfect one cannot be more difficult.

That is why we have written this guide on the best Airbnbs in Joshua Tree California, so you can have an incredible place to stay when visiting one of the best places to visit in California.

Without further ado, here are the 10 best Joshua Airbnbs for every type of traveler!
Want a Quick Tip on The Overall Best Airbnb in Joshua Tree?
The Joshua Tree Prescott House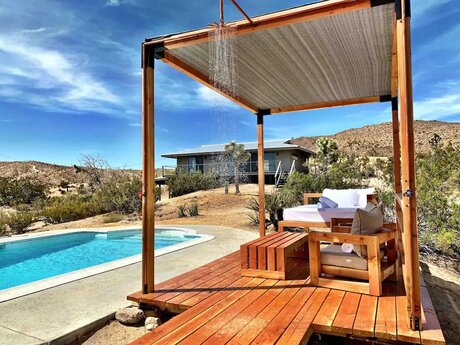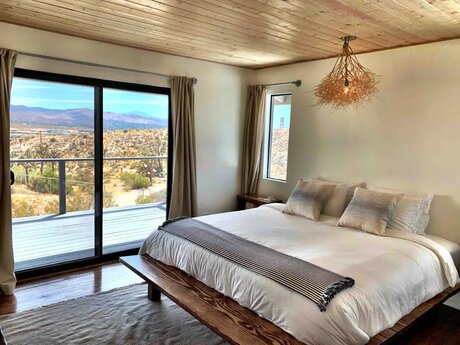 If there is one Airbnb that ticks off all the boxes, it is the Joshua Tree Prescott House. Featuring a private outdoor swimming pool, a heated outdoor shower, and a brand new hot tub, this Joshua Tree Airbnb is unbelievably kitted out.

Better yet, unlike most of the Airbnbs in Joshua Tree that are located too far from civilization, the Joshua Tree Prescott House is a 5-minute drive from Downtown Joshua Tree and 10 minutes from the west entrance of the National Park.

Guests can enjoy the utmost privacy in this Airbnb, which is located on a hill overlooking the surrounding valley. The 360-degree view here is absolutely mesmerizing. If you are lucky, you might get to see some of Joshua Tree's native wildlife, such as coyotes, bighorn sheep, scorpions and more!

This Joshua Tree vacation home can comfortably accommodate up to 4 guests as it has a total of 2 bedrooms and 2 king beds! However, if you are a couple traveling to Joshua Tree, you will definitely enjoy the added space and privacy.

Maximum Occupancy: 4 Guests

Guest Review: I was in awe from the beginning to the end of my stay! Such a beautiful home inside and out. Made sure to catch the sunrise and sunset! The scenery was amazing! Saw so many animals in the front yard. Enjoyed the jacuzzi and can't wait to return to be able to enjoy the pool! Thank you for everything Ryan; you created a beautiful and unique home! – Laura, January 2020
Best Airbnbs in Joshua Tree For Luxury Travelers
1. Serenity Escape In Joshua Tree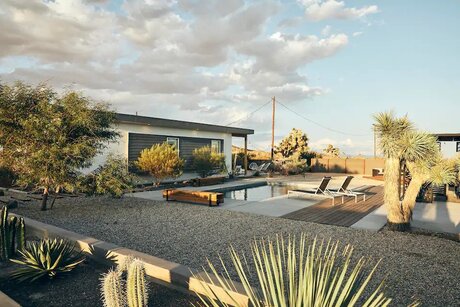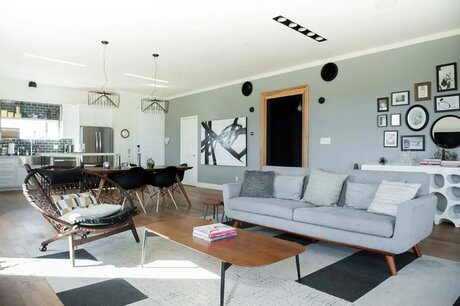 Featured multiple times on Airbnb's Instagram, this luxurious Joshua Tree Airbnb is as aesthetic as it can get. Every single inch of this property is designed to perfection, maximizing comfort elegantly.

The most notable feature is the simple and modern outdoor swimming pool and lounging area. The design compliments the barren landscape around you, and sometimes you forget this isn't a 5-star hotel you pay thousands of dollars for.

When you are not cooling down from the desert heat, you can relax in the rear patio. Offering cozy outdoor couches, infinite skies and mountains, guests will feel completely at ease.

When the night sets, guests can stargaze and soothe their aching limbs in the hot tub. Don't forget to make some s' mores on the fire pit for the ultimate outdoor experience!

This Airbnb is strategically located near some of the best attractions in the area. Joshua Tree National Park, The Integratron, Pappy & Harriet's (Pioneertown) and Downtown Yucca Valley are all located a short drive away.

Maximum Occupancy: 4 Guests (2 Queen Beds, 2 Bedrooms)

Guest Review: Highly stylized home with a fully fenced lot near Joshua Tree. The vibe is tranquil, clean, and modern. We loved turning the pool and string lights on each night and looking at the densely starred sky. The multiple outdoor spaces were wonderful. The outdoor shower/tub was a whimsical addition. The open living, dining, kitchen area was a comfortable space to hang out. The two bedrooms were cozy, and the two bathrooms were crisp and light-filled. Oded was a phenomenal host with great concern for his guests. Our dogs loved the property as well. – Noell, February 2021

Click here for more details!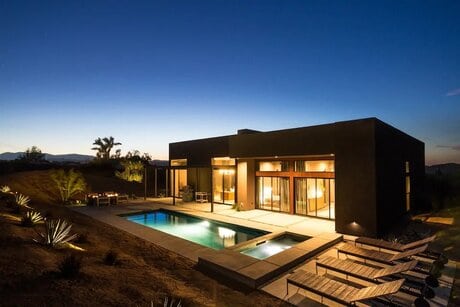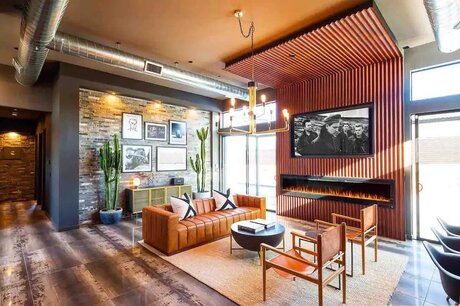 M-House Joshua is no stranger to three words: comfort, luxury, and style. As you step into this Airbnb, it will feel like you have stepped into a mansion with high ceilings, lavish decor, and top-notch furnishings.

As you navigate through this spacious Airbnb, you will eventually reach the backyard. Here you will find a massive swimming pool (perfect for laps), a hot tub for the cold desert nights, and sun loungers to achieve your perfect tan.

The gourmet kitchen is the perfect place to cook a nice meal for you and your travel companions. Better yet, head into Joshua Tree Town or Yucca Valley and eat at one of the old west style saloons. California's famous landmark, Joshua Tree NP, is only located a short 8-minute drive.

A total of 4 guests can comfortably enjoy this Airbnb. Rest your tired body after a hike in Joshua Tree NP on one of the two incredible king size beds. Wake up and live your life in complete bliss on repeat!

Because of its close proximity to Joshua Tree, this Airbnb can get a little bit noisy in the daytime.

Maximum Occupancy: 4 Guests (2 King Beds, 2 Bedrooms)

Guest Review: M House is the best choice if you are traveling to Joshua Tree for a stay! Expect cleanliness, luxury, closeness to shops and the park, beautiful architecture and decor, great amenities, and ease of living at this spot! Joe was a great host with communication and helping us via messages, it made us feel right at home. There is no place like M House, I recommend it for any couple seeking some peace and luxury during a vacation! – Juliann, November 2020

Find out more about its features and availability!
3. Desert Wild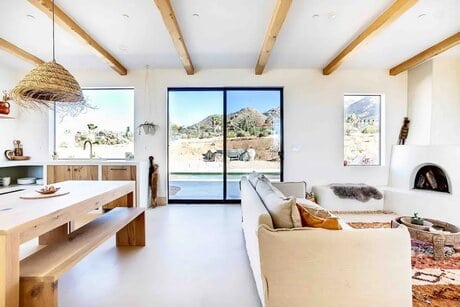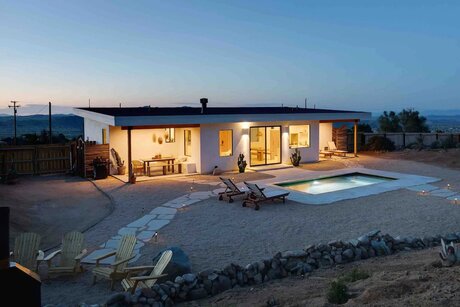 Receiving a full score on Airbnb (at the time of writing), Desert Wild is one of the best luxurious Airbnbs in Joshua Tree. The mission of this Airbnb is to provide a place where guests can safely de-stress, relax their mind and body, and realign with their inner selves.

The interior decor is incredibly simple but elegant, and the color palettes play off each other to provide guests with a cozy and elegant interior. Architecturally, this accommodation in Joshua Tree is at its finest.

Whether you are cooling off in their outdoor pool after hiking or star gazing in their hot tub at night, you will find an unworldly sense of serenity here. Don't want to get wet? Snuggle up next to the gas adobe fireplace and pick a movie on Netflix to watch on their indoor projector.

This Airbnb is located in a residential area in Southern Joshua Tree, where most residents will be in bed by 9 PM. Therefore, it isn't a place where you can party until the sunrise. But if you prefer peace and quiet over everything else, then this Airbnb is the perfect choice for you.

Maximum Occupancy: 4 Guests (1 King Bed, 1 Queen Bed)

Guest Review: This may be the most beautiful home we have ever stayed in and it is even prettier than in the pictures (if that's even possible?). This entire home is a work of art, but at the same time it is so comfortable that we didn't want to leave. Every single detail has been thought of. Not to mention that the views are incredible! We also had a lot of really cute animal visitors bopping around in the morning (quails and bunnies!). Overall, if it's possible to fall in love with a home, we have done it and cannot wait to visit again! – Jenni, January 2021

Click here for more information!
Best Joshua Tree Airbnbs For Families or Groups
1. Joshua Tree Green Haus w/ Hot Tub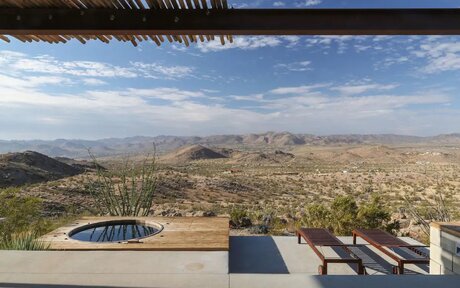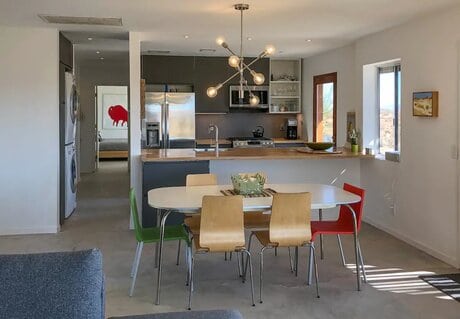 Staying in a family Airbnb in Joshua Tree doesn't mean you have to deprive yourself of the luxury, views and comfort, especially at Joshua Tree Green Haus. This gorgeous Airbnb can fit a total of 6 guests with its 2 bedrooms and 1 pullout queen-size couch.

The most defining feature of the Joshua Tree Green Haus is the two-level outdoor terrace. Here you will find a shaded area where guests can just enjoy a coffee with the sunrise or a chilled wine with the sunset.

Want to get a nice tan and relax in the sun? Lounge in one of the spacious sun lounger with impeccable views of the surrounding valleys. Better yet, jump in the outdoor hot tub and watch the wildlife of Joshua Tree unfold around you.

If you are soaking at night, you will get the chance to admire the starry sky, something you don't get to do if you are from a big city. If you are lucky, you might even see the Milky Way with your bare eyes!

It's only a short drive some of the best things to do in Joshua Tree such as the Joshua Tree National Park, Yucca Valley, Pioneer Town and Integratron. The Joshua Tree Retreat Center is just down the road. This vacation home is also the trailhead for Bartlet Mountain!

Traveling with pets? This Airbnb is also pet-friendly!

Maximum Occupancy: 6 Guests (1 King Bed, 1 Queen Bed, 1 Pullout Couch)

Guest Review: The Green Haus is a gem! The scenery is beautiful and so relaxing. Enjoyed a nice hike and watching the stars from the patio area. This was the perfect getaway. Definitely plan to return in the future. – Genesis, February 2021

Click here for more info!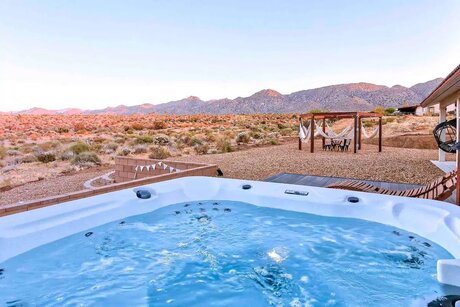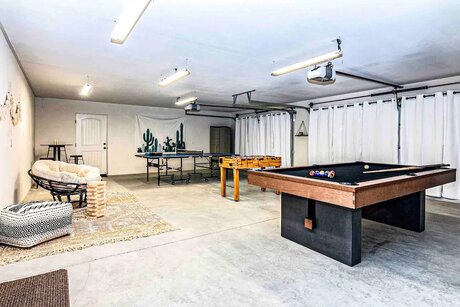 If you are looking for the ultimate family vacation home in Joshua Tree, then this Airbnb is ideal for you. With a total of 4 bedrooms and 4 queen beds, it can accommodate up to 8 guests comfortably.

However, this Airbnb isn't just about comfort, it is also about luxury, relaxation, and a complete reconnection with your family or group of friends!

Featuring a massive outdoor area that includes a hot tub for relaxation, a pergola for just hanging out, a unique tee-pee area, fire pit, lounging chairs, and several hammocks, the exterior of this Airbnb is as incredible as the interior. Nature-lovers could spend the night outside in the tee-pee if they wish!

One of our favorite features of this Airbnb home is the game room. Featuring foosball, ping pong, and a pool table, guests can challenge their friends or family members. Get ready to get rid of your phone because you won't get bored in this beautiful desert retreat home!

Maximum Occupancy: 8 Guests (4 Bedrooms, 4 Queen Beds)

Guest Review: This Airbnb was amazing. The views were unreal (especially watching the sunrise through our bedroom window), the house was extremely comfortable, and the amenities made it so that we almost didn't have to leave the house. The location was also nice for having our own privacy but still being close to town and the park entrance. Will definitely book again. – Hailie, February 2021

Click here for more pictures and details!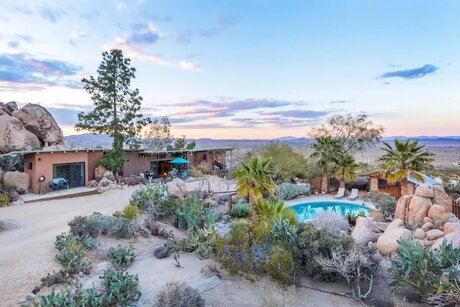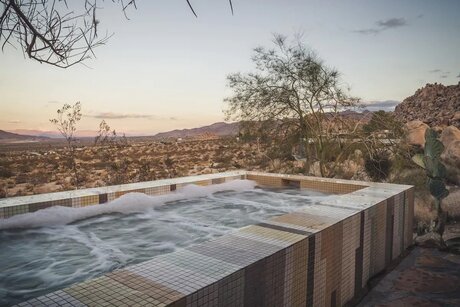 Located on a hill over the valley, the Rockbound Oasis Retreat offers spectacular views, especially if you are soaking in their 14-foot-long hot tub. Tucked in between massive boulders and a 65-year-old cactus garden, this oasis belongs to the cover of a travel magazine.

The views and atmosphere are unquestionably the highlights of the Rockbound Oasis Retreat, but guests will find much more than that here.

Featuring 3 bedrooms, this Airbnb can comfortably fit up to 5 guests. The master bedroom features a king-size bed with an ensuite bathroom and a hanging swing on the outdoor deck. The bathroom also has a stunning large bathtub with incredible views!

Across from the master bedroom is a bedroom with a queen bed and incredible sunrise views. The last bedroom is located adjacent to the main entrance and contains gorgeous views of the boulders and a twin bed.

Other notable features include a fully-stocked chef's kitchen, a large swimming pool, an outdoor rain shower, a large outdoor propane fire pit, and probably the best location in Joshua Tree. The back property line is Joshua Tree National Park!

Maximum Occupancy: 5 Guests (3 Bedrooms, 1 King Bed, 1 Queen Bed, 1 Twin Bed)

Guest Review: We had a fabulous stay at this home and loved the outdoor amenities such as the hot tub and fire pit. Location was perfectly situated between the two entrances to the park and made for easy travel to and from each day. Sunsets from the fire pit with a glass of wine were to die for! Stocked kitchen to be able to cook and BBQ outside were perfect for us. Highly recommend! – Alexandra, January 2021

Click here for more details!
Best Joshua Tree Airbnbs For Couples
1. Starfire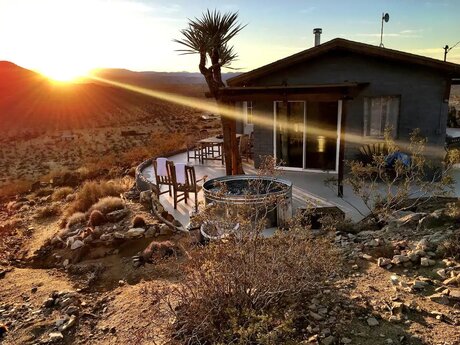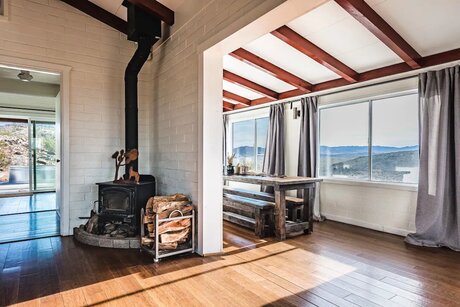 Built in the 50s, Starfire is truly a one-of-a-kind accommodation. Perched on a hill, guests are gifted with 360-degree views of the surrounding area, views that are normally seen at the top of a mountain after a long climb.

This Airbnb is located 3 miles off of the main road, so guests can have that utmost privacy. It is a truly romantic location as it offers an unworldly feeling of just you and your loved one in this entire desert.

However, because it is off-road and requires driving up a hill, you might not be able to reach this place if you are traveling in a sports car. Every other car is perfectly fine.

This romantic Joshua tree Airbnb features 1 master bedroom and 1 loft "stargazing bedroom", where the large windows allow for incredible night views of the starry skies. On the outdoor terrace is also a cowboy pool, where guests can relax in after a day of exploring Joshua Tree NP.

Alternatively, guests can cozy up next to the wood-burning stove and select one of their favorite shows on Netflix or HBO on the 55-inch TV.

Maximum Occupancy: 4 Guests

Guest Review: Like everyone has already said, it's simply amazing. My favorite parts were the deafening quiet of the desert atmosphere, drinking coffee in the morning and enjoying the beautiful view of the landscape through the homes many windows and cooling off in the cowboy tub. – Taylor, November 2020

Click here for more details about Starfire!
2. Casita by The Joshua House Tree House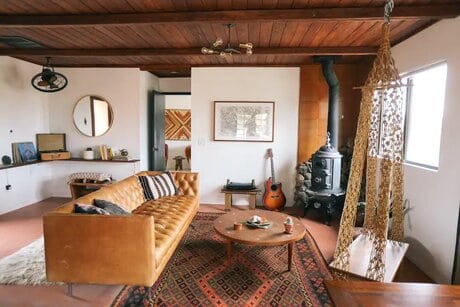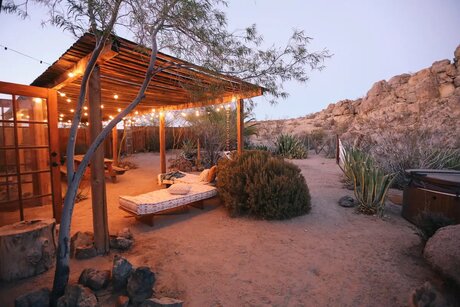 The Casita is a remotely-located 2-bedroom 1-bath 1958 home located 20 minutes from the west entrance of Joshua Tree National Park and 15 minutes from the nearest grocery store.

Its secluded location allows guests to properly enjoy the best of the Mojave Desert: peace, solitude, and relaxation. With the goal for dreamers to rest, reflect, and create, the slow pace of this Airbnb aims to ease the stress in your mind and body, allowing you to enjoy every part of your desert retreat.

Wake up to a nice local coffee drip, choose the perfect record to put on as the sun sets, stargaze in the heated Jacuzzi, and just share this intimate experience with your loved ones.

Maximum Occupancy: 4 Guests (2 Bedrooms, 1 King Bed, 1 Queen Bed)

Guest Review: We couldn't have been happier to stay at the casita. Every last inch of this abode has been thoughtfully curated, both inside and out. It was quiet and serene, immaculate and cozy. The kitchen had the basic necessities to prepare our meals, the beds were beyond comfortable, and the hot tub overlooking the desertscape – incredible! The host was readily available and easy to communicate with, making sure all of our needs were met. Thank you for allowing us the time to relax in this peaceful oasis! – Erica & Gino, January 2021

Click here for availability and more details!
3. The Outlook (Rocktop Deck & Hot Tub)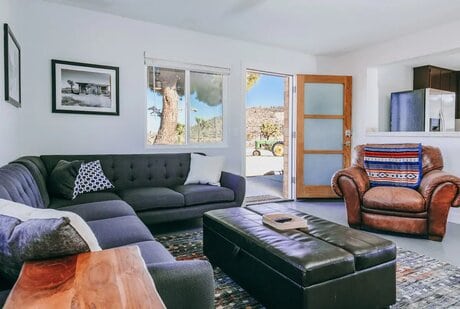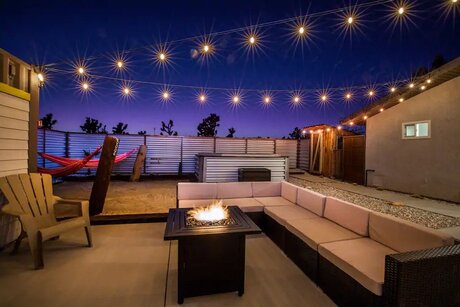 Some of Joshua Tree's most iconic features are the beautiful night skies and dreamy deserts. The Outlook is an Airbnb that maximizes guest's ability to admire these stunning visuals at the comfort of their own home.

The Outlook's most exemplary feature is the incredible rooftop deck with hammocks, fire pit, hot tub, and a huge cozy lounging area. Providing the utmost privacy and cozy atmosphere, guests can drool over the stars in the skies, wide stretches of deserts, and the native wildlife.

This spacious Airbnb features a full kitchen/dining room, 1 bedroom, 1 bathroom, a detached container room, and a functioning outhouse by the hot tub. It contains 2 queen size beds and 1 sofa, allowing 6 guests to sleep soundly. Couples will find an ideal romantic setting here.

Though located in Yucca Valley, this Airbnb is only located 15 minutes to Joshua Tree National Park, 14 minutes to Pappy and Harriet's, and 10 minutes to the Integratron. Its convenient location allows guests to explore the nearby areas as well as Joshua Tree NP easily.

Maximum Occupancy: 6 Guests

Guest Review: Marks place is wonderful whether you're on a romantic getaway or there with friends. The space is clean and beautifully decorated with wonderful touches like the chunky knit blanket on the couch. Every area is cozy and inviting, especially the backyard. It blew us away. There's nothing better than sitting in a hot tub under the stars or chilling in a hammock during the warmer part of the day. It was also nice to view the spectacular desert sunsets from the deck. I'd definitely come back, with friends next time to make full use of the property. Thanks for the awesome stay Mark! I left feeling refreshed and ready to take on the world. – Samantha, January 2021

Click here for more info!
Like this post? Don't forget to save it on Pinterest!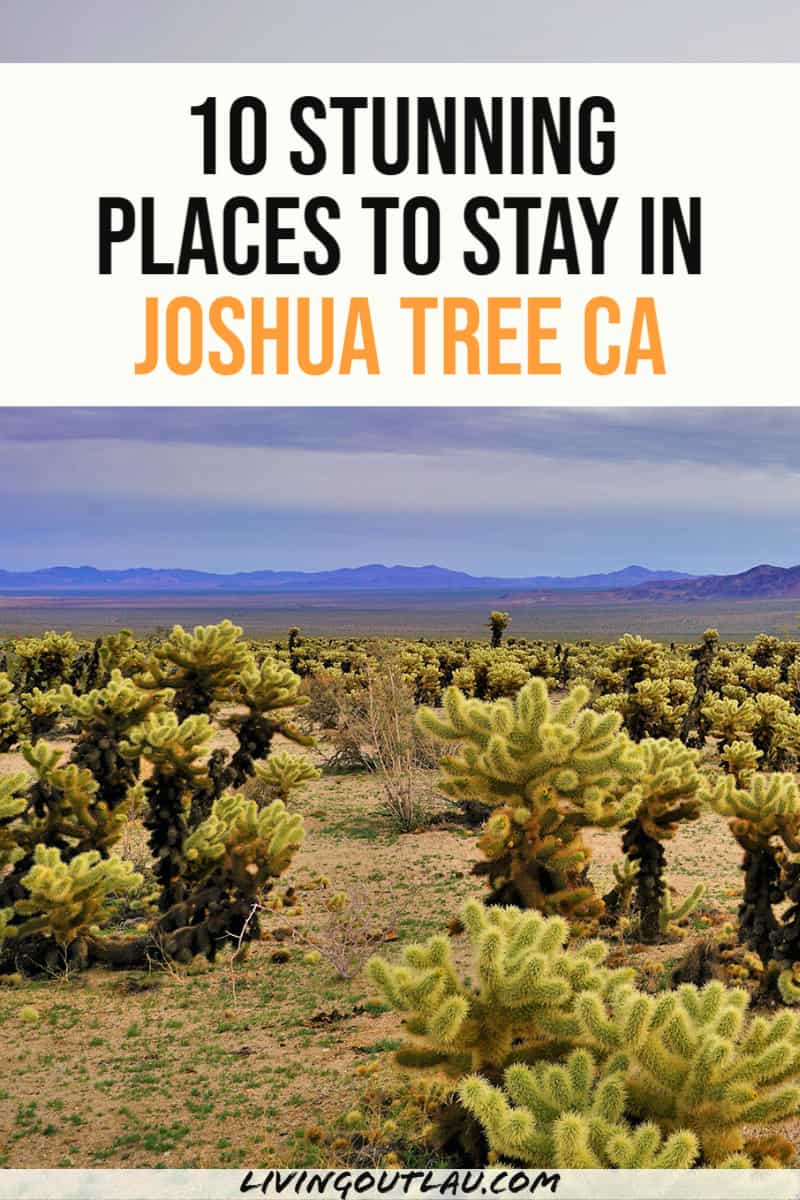 With so many Airbnbs in Joshua Tree, finding the perfect one is not easy. We hope our Joshua Tree guide has given you a good idea of the best places to stay in Joshua Tree so you can explore its surrounding areas more easily!

Any questions? Leave a comment below!!
Disclaimer: Some of the links above are affiliate links. That means if you book or make a purchase through the links, we will earn a small commission at no extra cost to you! The money will help run this site! Thank you!
All Images Of Properties Courtesy of Airbnb