Not sure what to do on North Shore Oahu? Worry not.

Oahu is known for the ever-popular Waikiki Beach, a playground of water sports during the day and beachfront cocktails and eateries as the sun comes down. But you'll be rewarded with so much more if you brave the traffic leaving Honolulu to head up to the North Shore, Oahu's softer, gentler side.

Here are the 15 best things to do on North Shore Oahu, with everything from delicious food trucks to scenic hikes featuring Oahu's wildlife to some of the best beaches in the Hawaiian islands.

Enjoy!
---
Things To Do In North Shore Oahu Map
It is much easier to plan your Oahu North Shore itinerary when you can see the locations of these activities. Above is an interactive map with the things we will be recommending.
Make sure you click on the star next to the name of map so you can save it to your own personal device. This will help you navigate from one attraction to another when you are in North Shore.
---
What To Do In North Shore Oahu: 15 Best Attractions
1. Visit Ka'ena Point State Park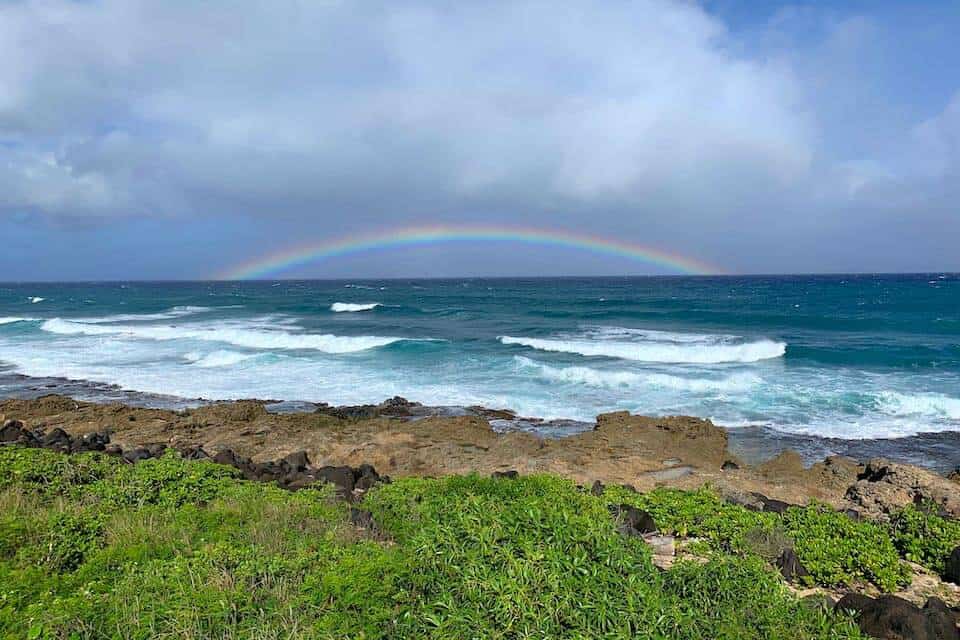 Kaena Point State Park is the perfect introduction to the North Shore, as it wraps its way from the westernmost point of the island on its way north.
Its two sections boast miles of rugged seashore, tide pools against the crashing waves, and one of the best hiking trails on North Shore of Oahu if you're willing to put in the work to see some of the island's fantastic wildlife.
The hike to Kaena Point, just a little over 5 miles, will take you past an albatross sanctuary along the shoreline and an old railway.
Past the nesting seabirds, you'll reach Kaena Point, home to the island's protected population of monk seals. Park staff there help you look for the animals in the waves, as their sleek bodies make for the perfect camouflage. It's one of the most extraordinary experiences in Oahu North Shore.
2. Go For A Scenic Drive!
Another popular activity on North Shore of Oahu is to go for a scenic drive!
The North Shore begs for slow drives through some of the most scenic landscapes you'll find on the island. A popular route is starting in Haleiwa town and driving along the curving road up to Kuilima Cove, a popular snorkeling spot.
Along the way, you'll want to pull off where the mood strikes, or where you just need to stop and take a photo. Lines of cars and traffic jams may mean wildlife up ahead – you'll pass by Laniakea Beach on this route, home to a group of sunbathing sea turtles – or that you've just hit the road on a weekend afternoon.
Be patient. The North Shore is the epitome of slow living.
You can't go on a drive without a car!
Check out our recommended car rental company in Oahu!
3. Try One Of The Native Oahu North Shore Shrimp Trucks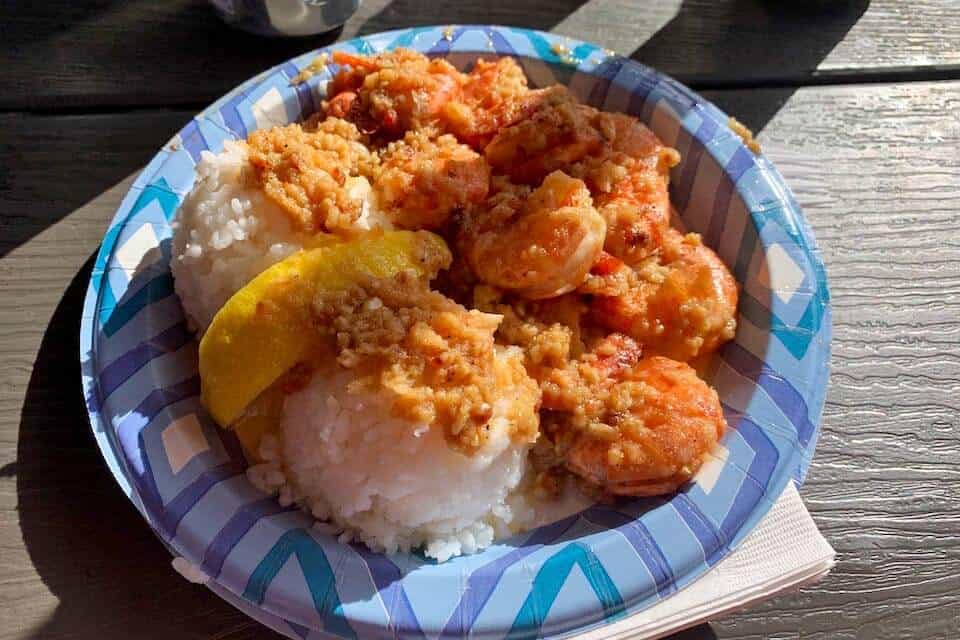 No trip to North Shore of Oahu is complete without sampling some of the best casual eats on this side of the island.
Up here, that means Oahu shrimp trucks.
If you want the best of the best, try Giovanni's Shrimp Truck. They've been selling their platters of messy, delicious scampi to hungry customers since 1993. Expect a line once you're there, and some maneuvering in the small parking lot. It'll all be worth it once you bite into your first garlic shrimp.
Follow it up with dessert from the shave ice truck next door!
If the crowds are just too much for you, though, you have options, as the North Shore is a shrimp truck paradise. Fumi's Kahuku Shrimp is another local favorite, found on the northern tip of the island.
4. Explore Haleiwa Town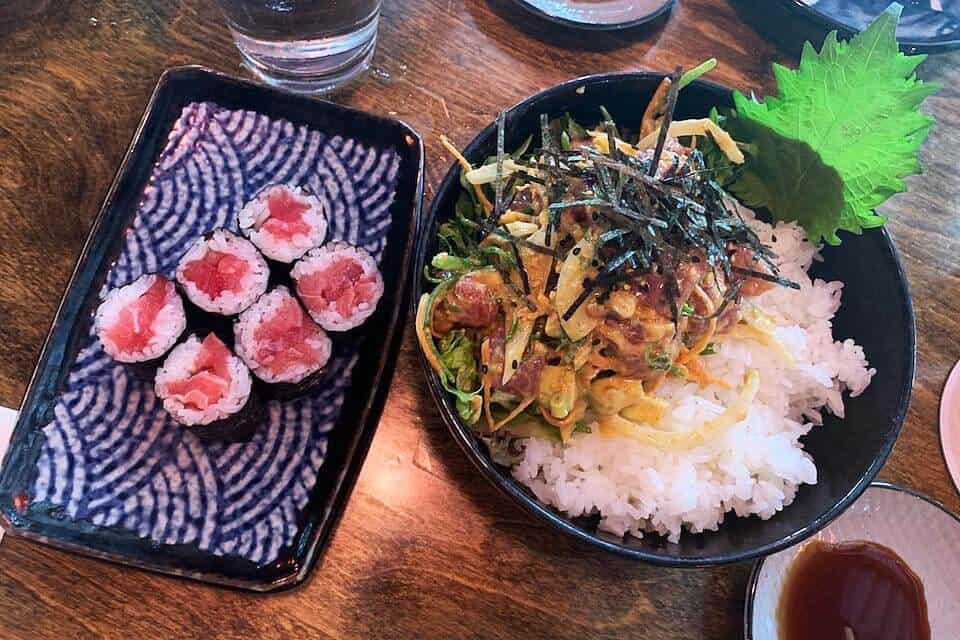 If you won't be partaking in the shrimp trucks, Haleiwa is where you can find a variety of food options to satisfy even the pickiest eaters, including some of the most delicious sushi and poke bowls you'll eat this side of Japan at Banzai Sushi Bar.
Haleiwa is home to some of the best restaurants in North Shore Oahu.
Haleiwa Town is also a hub for shopping, in case you're looking for souvenirs to bring back home or just want to browse the surf shop culture here. The community is perfect for window shopping, and peaking into the art galleries that show off the local artistic talent.
Much more laidback than Honolulu, Haleiwa is the perfect place to while away an afternoon, popping into shops and taking a rest at any of the local eateries.
5. Go For Some Shave Ice!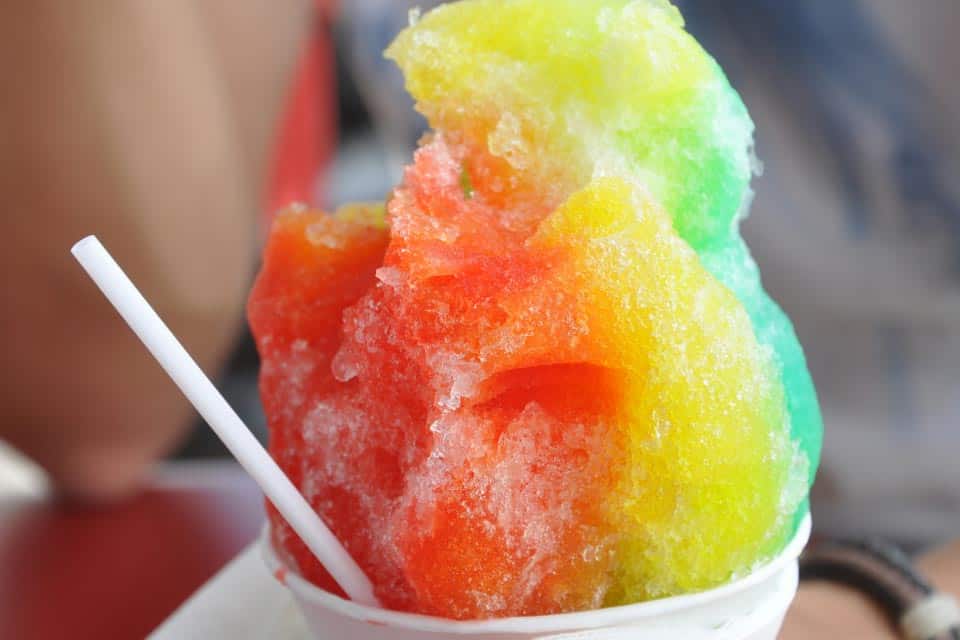 If you have a sweet tooth, one of the best things to do at North Shore Oahu is to go for some shave ice.
This popular Hawaiian dessert just seems more authentic on the North Shore, away from the heavily-trafficked tourist spots near Waikiki.
Shave ice – do NOT call it shaved ice – is often described as a type of snow cone, but the ice here is shaved, not crushed, hence the name. The ice is then coated in the sugary sweet fruit juices of your choosing.
On the North Shore, your best bets will be the truck in the same parking lot as Giovanni's Shrimp Truck, or local favorite Matsumoto Shave Ice. If you find lines at both, you'll see plenty of other options along Kamehameha Highway.
If you're not sure what to order, the orange creams are where it's at.
6. Check Out The Waimea Valley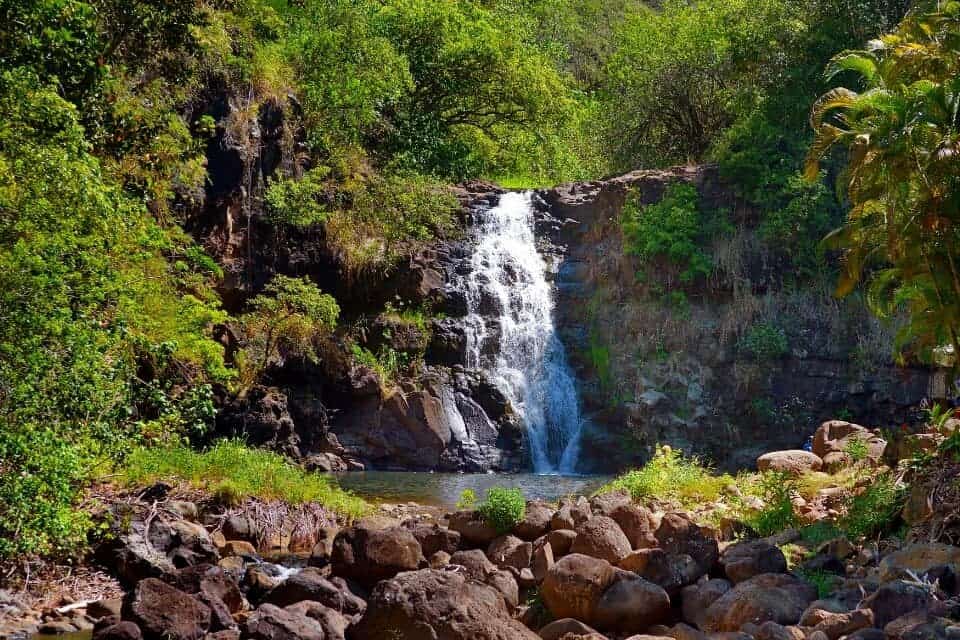 The Waimea Valley is a popular day-use area on the island's North Shore that includes not only spectacular natural features, but areas of cultural significance.

Walk through the botanical gardens on a paved path to the beautiful Waimea Falls, also known as Waihi Falls, a 45-foot tall cascade. When lifeguards are on duty, you can even take a dip at the falls, a bucket list experience for most.

There is a fee to enter the valley, but much of the proceeds go toward the upkeep of the area, and you'll find enough to do to fill an afternoon. Outside of the falls, you'll have access to a number of historical and religious structures important to the Hawaiian people.
7. Ehukai Pillbox Hike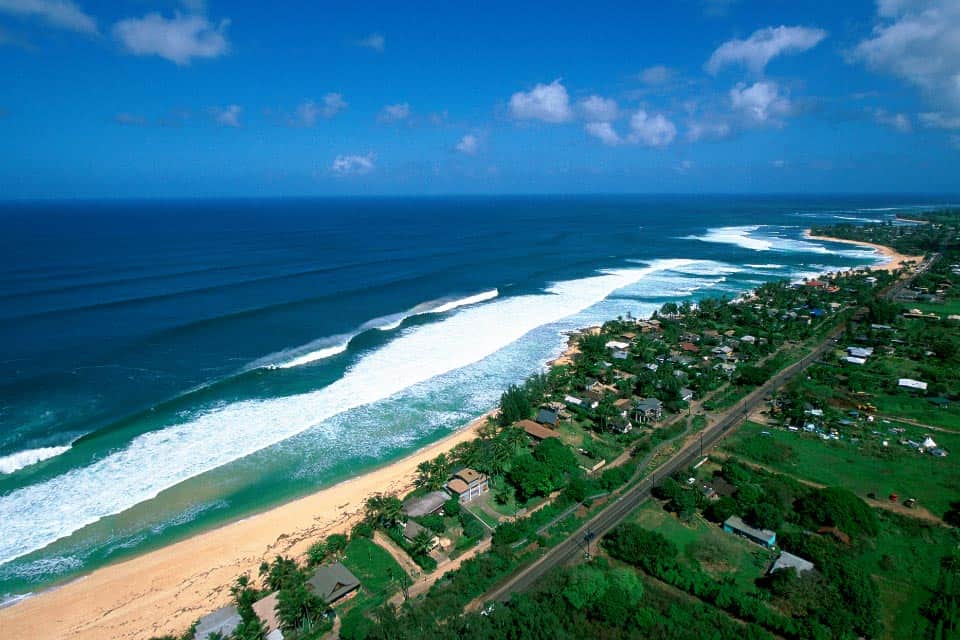 This Oahu North Shore hike takes hikers up to beautiful views of the shores below from pillboxes, essentially concrete bunkers or guard posts, at the vista point above. You'll even be able to see the Banzai Pipeline from your resting point at the top.

There are two World War II-era pillboxes, decorated with colorful peace signs, on this relatively easy 2-mile hike. Just be careful after heavy rain on this one, as the ground can get muddy and more difficult to manage.

There are several pillbox hikes on Oahu that you can explore if you enjoy this one. The Lanikai pillbox hike, or Kaiwa Ridge Trail, in Kailua is the most popular, offering expansive views of both Lanikai and the surrounding towns.
8. Go Snorkeling On North Shore Oahu At Shark's Cove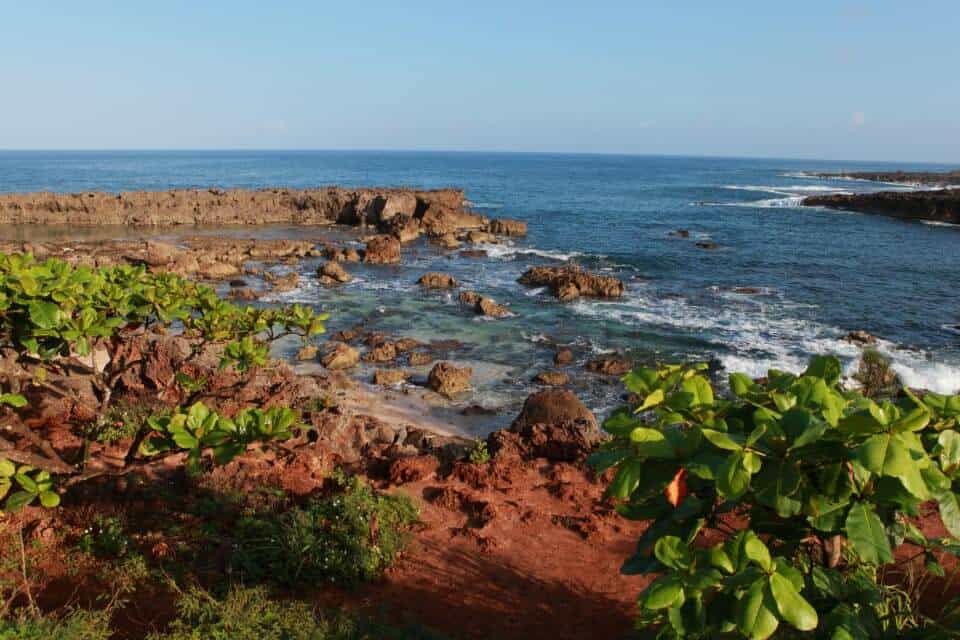 For those looking to snorkel in North Shore of Oahu in a protected cove rather than the open ocean, it doesn't get much better than the crystal clear waters of Shark's Cove.

Despite the name, you won't find any sharks in these shallow pools. You will find a variety of fish, though, so keep your eyes peeled; they like to hide in the rocks and crevices just below the surface.

This area is a scenic spot even if you won't be jumping in the water, with its rocky outcroppings lending themselves to tidepools and access to quite a bit of marine life from the shore.

The cove is just south of Pupukea Beach Park, a marine life conservation area with more excellent dive and snorkel spots if you're wanting to explore more underwater.
9. Discover the Polynesian Cultural Center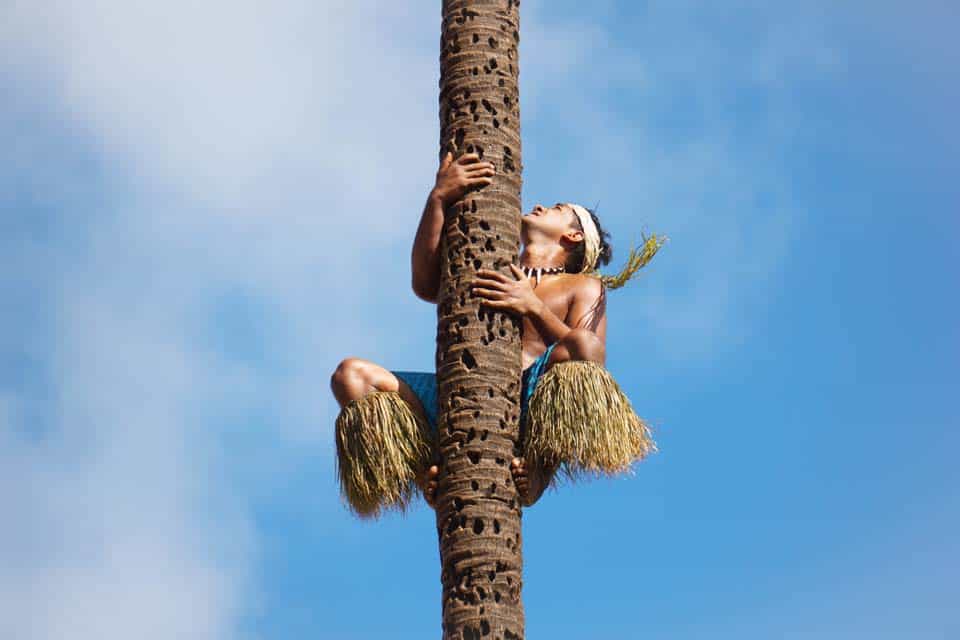 If you are looking for a North Shore activity for family and kids, then look no further than the Polynesian Cultural Center. A cultural attraction designed to educate visitors about Polynesian culture through 6 living museums and various performances, including the famous luau at night.
There is also a buffet at night that will offer you a taste of Polynesia.
Gone are the days when you have to struggle to stay awake at the museum. Because at Polynesian Cultural Center, the museums are fun. Learn how to spear throw at the Tahiti Village, learn how to play the ukulele, and get your groove on in a hula dance.
Don't miss out on this unique experience at the Polynesian Cultural Center in North Shore.
10. Check Out The Dole Plantation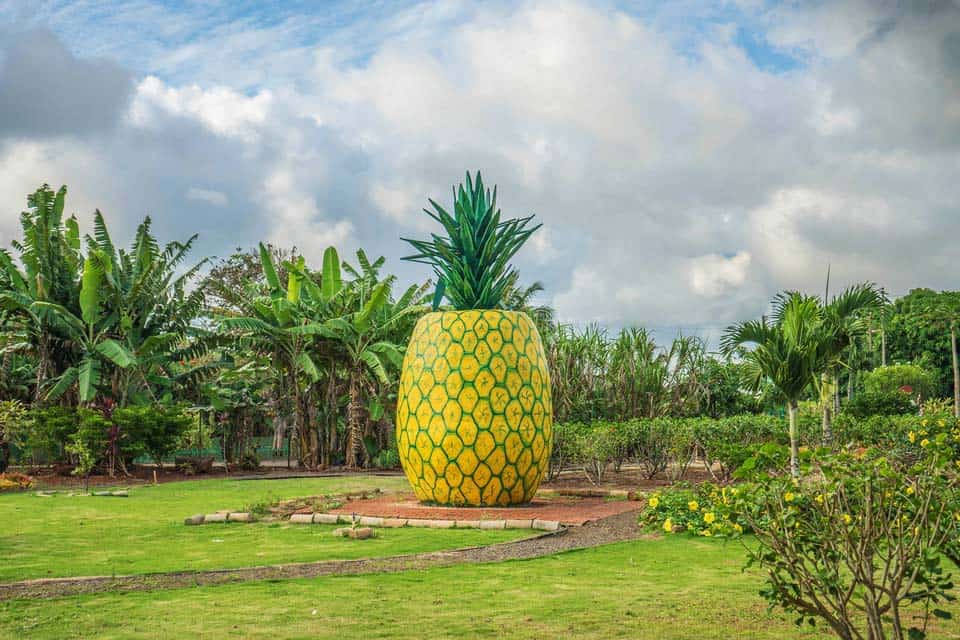 If you have some extra time on your Oahu itinerary, why not check out the historic Dole Plantation? Home to the biggest maze in the world, the Dole Plantation is the perfect place for anyone in North Shore with kids.
When the kids are done having fun in the maze, go take them to the gorgeous garden and have some delicious pineapple ice cream with pineapple juice. There is also a scenic train ride, but it usually has a long queue because of how touristy Dole Plantation is.
There is also an onsite gift shop, but it is quite expensive and the salesman tactics can get quite aggressive. All in all, it is a pleasant few hours at Dole Plantation.
Read More: 21 Things Hawaii Is Famous For!
---
Visit Some Of The Best Beaches In North Shore Oahu
1. Hawaiian Green Sea Turtles at Laniakea Beach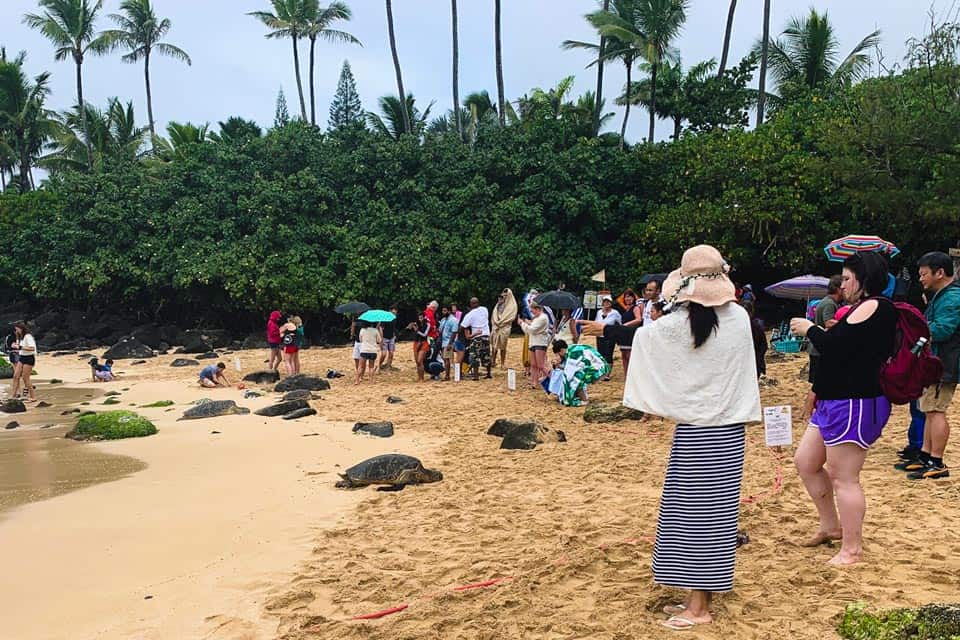 There are many beautiful beaches in Oahu's North Shore, but Laniakea Beach is special thanks to its inhabitants that have made the beach home.
The beach, also affectionately known as Turtle Beach, is home to a population of Hawaiian green sea turtles. They all have names, something you'll see for yourself on the plaques that surround their protected space.
The beach is also a popular spot for snorkeling thanks to the sea turtle activity there. But if you don't want to get in the water, you're likely to find the turtles sunning on the beach. Mind posted signage, though, and keep them – and yourself! – safe by keeping a distance.
2. Relax At Malaekahana Beach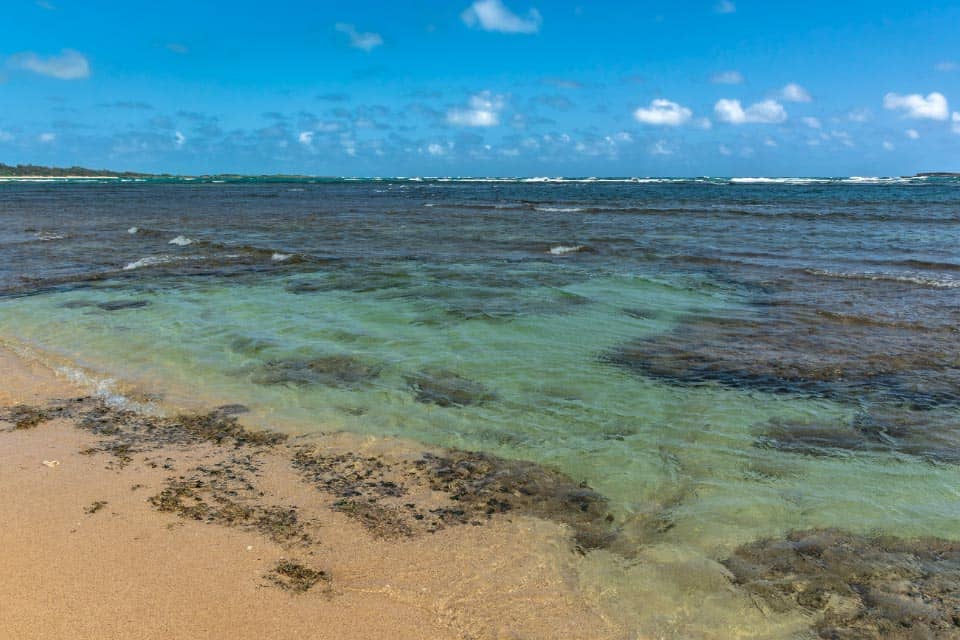 The Malaekahana Beach and recreation area are perfect for those looking for a day at the beach. The waters are calm enough for swimming as long as you're avoiding the winter months, and if you're looking to fish, shore fishing is also an option on this beach.
Surfers will want to visit in the winter, when the waves pick up steam making for excellent surf – including bodysurfing – conditions, even if you're just in the beginner's phase.
Permits are available for beach camping here, as well as cabin-style accommodations around the beach, making this tree-lined park an oasis away from the crowded beaches near Honolulu.
3. Admire the Surfers At Banzai Pipeline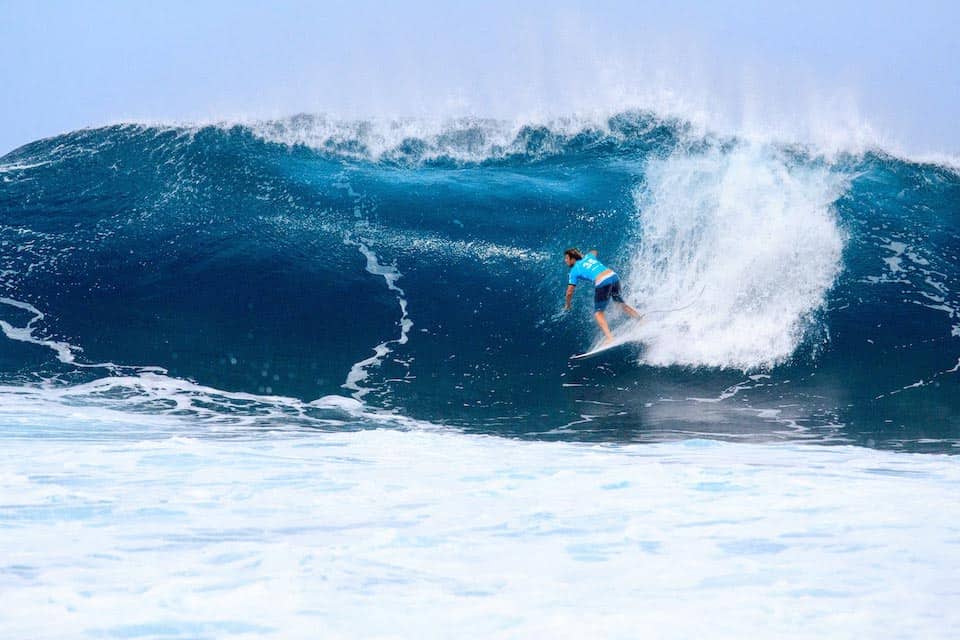 Hawaii is a surfer's paradise, and home to some of the most well-known surf spots in the world.

The Banzai Pipeline is one of those surf spots in Oahu North Shore, known around the world for not only its impressive break, but for the dangers that lurk just below the surface of the water as the "World's Deadliest Waves."

This is an expert-only territory, suitable for professional surfers who can avoid the treacherous reefs and caverns that hide underneath those killer waves.

Visitors wanting to experience the waters here – the Banzai Pipeline, or "The Pipe" is just off the popular Ehukai Beach Park – can do so in the summer months, when the waves have calmed.
4. Waimea Bay
Adjacent to the Waimea Valley lies a fantastic beach park known as the Waimea Bay Beach Park. This spot is popular with surfers in the winter thanks to its 30-foot waves at that time of year and its proximity to the Banzai Pipeline just north of here.
Outside of those winter months, though, Waimea Bay is full of families and beachgoers looking to lay out in the sun, swim and snorkel in the turquoise waters.
This beach has all of the amenities you'd need to make a day of it, including picnic tables for a lunch near the shore and showers before you head back into town.
5. Watch The Sunset At Sunset Beach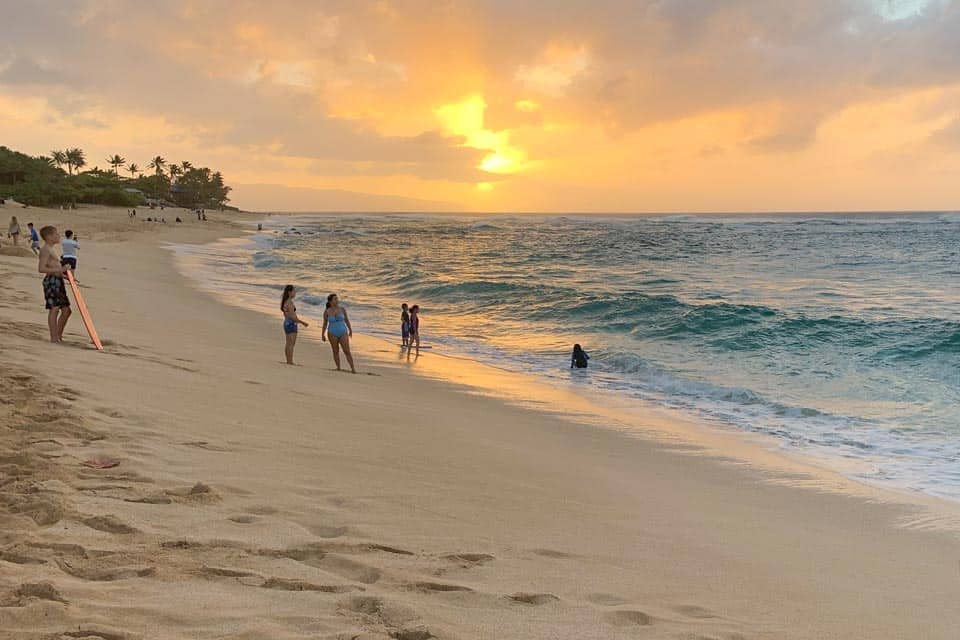 Sunset Beach is the perfect way to round out a day on the North Shore, and the name certainly fits what this stretch of shore is best known for. The sunsets at this North Shore beach are spectacular – oranges, pinks and yellows hues dancing in the sky with the waves gently lapping at the sand.
If you're there in the daytime, you'll find that this spot is also quite popular with surfers, and a great place to people-watch if you're not ready for those big waves yourself.
In fact, it's been the site of one of the biggest surf events in the country, the Triple Crown Surfing Contest.
---
Where To Stay In North Shore Oahu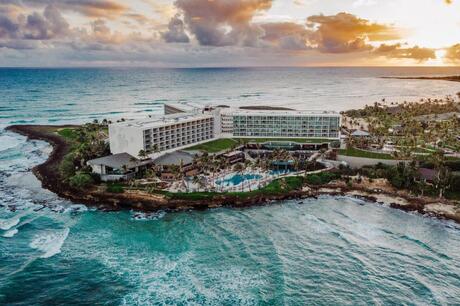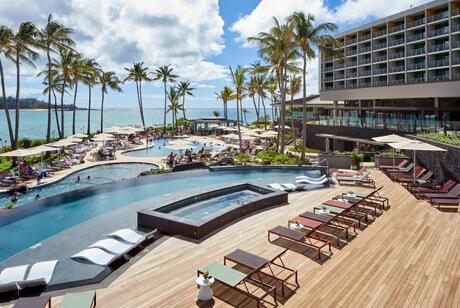 There is perhaps no hotel more famous in Oahu's North Shore than the Turtle Bay Resort. Situated on the pristine Turtle Bay, guests can be at once with nature and all the luxurious amenities the Turtle Bay Resort offers.
The Bay earned its name from the green turtles that are known to feed in the area, and you might get a chance to see them too!

This North Shore Oahu resort is the perfect place to stay for families. It has multiple swimming pools, including ones especially for children. There are also seven beaches where guests can walk to, SEVEN!
When you are not enjoying one of the six restaurants and bars or 19.3 kilometers of hiking and biking trails, check out some of the nearby attractions. Some of the best things the North Shore of Oahu has to offer, such as Haleiwa town, Polynesian Culture Center, and Pipeline are a short drive away.
---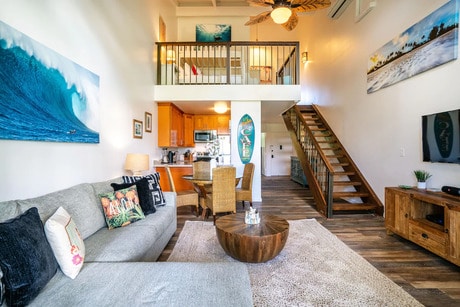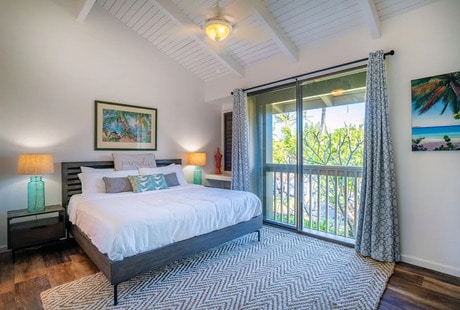 (Images Courtesy of Vrbo)

Located in Turtle Bay, this 3-bedroom 2-bathroom vacation rental in Oahu North Shore is ready for you to enjoy the serenity of this region!

Only minutes away from Turtle Beach, guests can enjoy one of the best attractions of North Shore Oahu with ease. As part of a residential complex, guests will also have access to three private community pools, a barbecue area, and two tennis courts.
Besides the gorgeous beach, guests will also have access to the best things Turtle Bay has to offer. Top tier dining, two PGA golf courses, helicopter tours, surfing, snorkeling, hiking, and plenty of exciting North Shore activities await!

Maximum Guests: 6 Guests
---
Visiting North Shore Oahu FAQs
Is Oahu's North Shore Worth Visiting?
If you are looking to escape the hustle and bustle of Oahu, then the North Shore is perfect for you. This region of the island offers visitors world-class surfing opportunities, stunning beaches, and small charming towns with local food trucks. Oahu North Shore is definitely worth visiting!
How Many Days To Spend In North Shore Oahu?
Two days is a good amount of time to explore Oahu's North Shore. This should give you some time to explore its numerous beaches and the small towns it is so famous for!
---
Like this post? Don't forget to save it on Pinterest!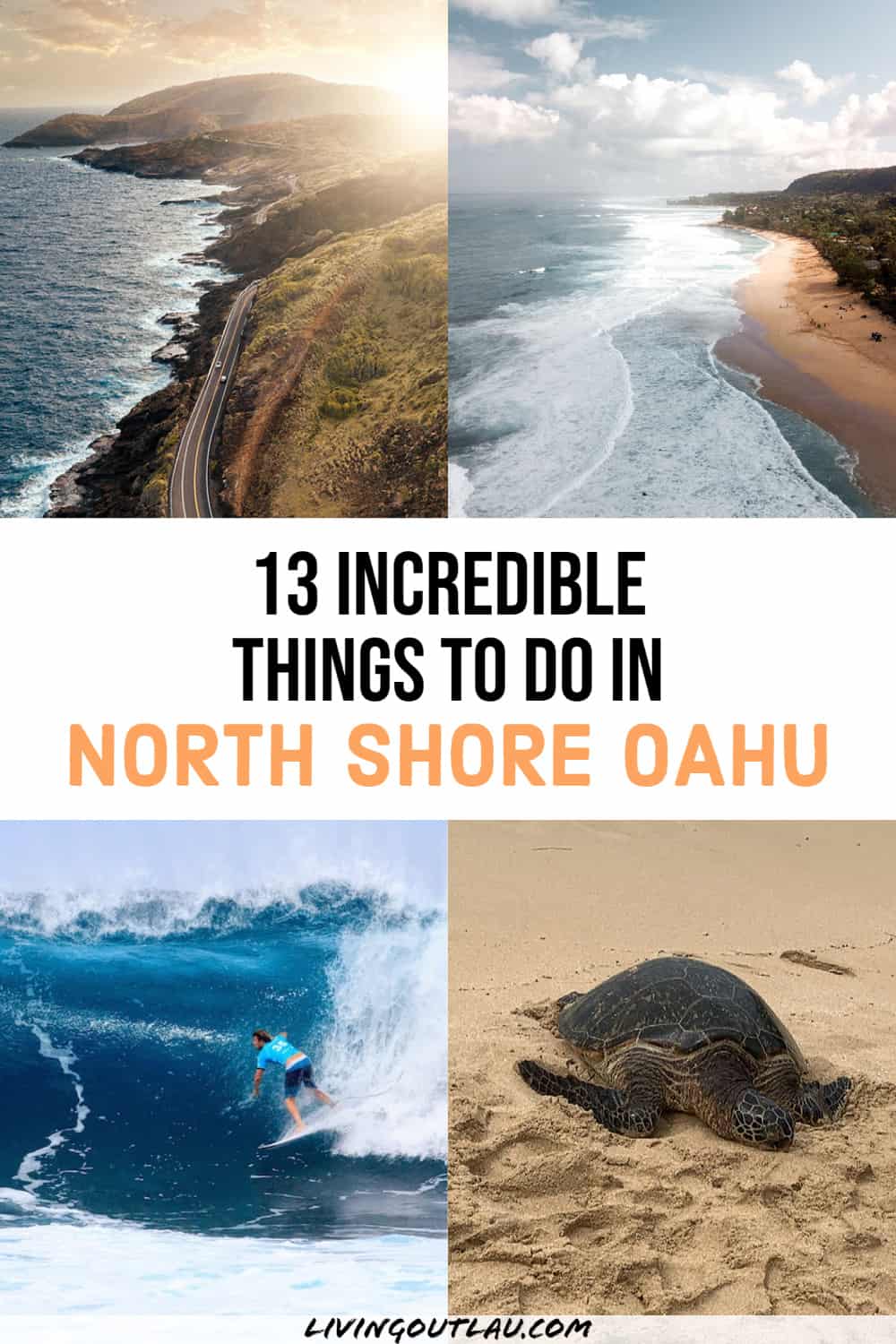 ---
These are the 15 best things to do in North Shore of Oahu! We hope our Oahu guide has helped your plan your visit to North Shore Oahu!

Any questions? Let us know in the comments!
Disclaimer: Some of the links above are affiliate links. That means if you book or make a purchase through the links, we will earn a small commission at no extra cost to you! The money will help run this site! Thank you!