If you are looking for warm places to visit in USA in January, you have come to the right place.
January is one of the coldest months in the USA. Much of the United States is usually ravished by high winds, freezing temperatures, and sometimes even snow or blizzard.
To escape the winter depression, many Americans look for warm winter vacations where they can tip their toes in sand, go swimming or just feel the tips of their fingers again.
Below we have compiled some of the warmest places to visit in January, including cities, states, and National Parks!
Enjoy!
---
Warm Cities to Visit in January
Los Angeles, California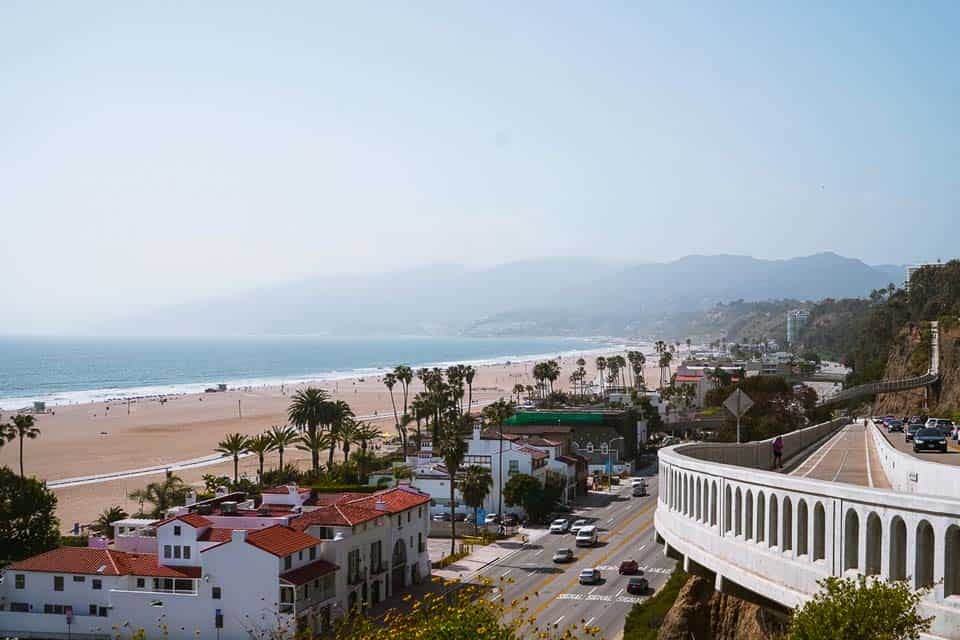 Known for: Hollywood, beautiful beaches, theme parks, attractions
Average Temperature in January: 68°F highs, 48°F lows
Los Angeles is known as the 'city of angels' and is home to beautiful beaches, fantastic theme parks, and fiery sunsets. It's also famous for the Hollywood element, glitz & glamour, and of course, plenty of celebrities.
Many people flock to Los Angeles for its warm winter temperatures during this time of year, but precipitation levels are still relatively high. The average is around 67mm of rainfall.
You'll have no problems putting together a jam-packed Los Angeles Itinerary in January though, as there is so much to do here!
Some of the most popular attractions include:
Hollywood Sign
Universal Studios
Hollywood Walk of Fame
Santa Monica
Malibu
Traveling to Los Angeles at this time of year also allows you to enjoy LA's Chinese New Year Festival, the Kingdom Day Parade, the Rose Bowl Parade and you can even ice skate on Pershing Square.
January is a great time to visit LA as you can avoid the stifling summer temperatures and the huge queues normally found at attractions. It's also great to go whale watching, as gray whales can be spotted on their migration route. To get the best experience of visiting LA in January, it's important to pack a raincoat and purchase an all-inclusive city pass to save on attraction costs.
Palm Springs, California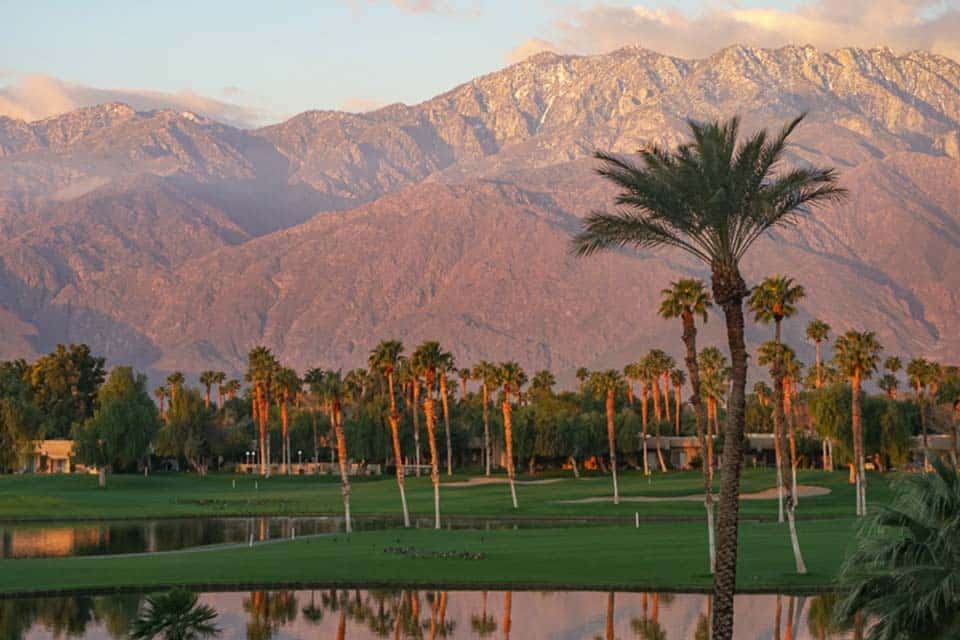 Known For: Fabulous resorts with swimming pools, golf courses, mid-century modern homes, and proximity to the California desert
Average Temperature in January: 71 ℉ highs, 45 ℉ lows
If you are looking for places to escape the winter in January, consider Palm Springs, in Southern California!
Among the many things to do in Palm Springs, touring its mid-century modern architecture is a must. Rent a bike and do a self-guided tour of the most famous buildings and neighborhoods!
Known as the gateway to the California desert, Palm Springs is famous for its resorts and golf courses, as well as the variety of outdoor activities available for you to enjoy.
January is a great month to hike in Palm Springs. Try trails at the San Jacinto and Santa Rosa National Monument, or hike to oases in the Indian Canyons. The Coachella Valley Preserve offers many trails as well, some popular for birdwatching and wildlife viewing.
Of course, you have to enjoy the pool on a Palm Springs vacation, whether you book a vacation rental with a private pool and views of the mountains, or you enjoy a pool at your resort.
Play a round of golf, enjoy fine food and drinks in downtown Palm Springs, and schedule a spa day for that perfect California winter vacation.
Daytime highs in Palm Springs in January are generally in the low 70s, perfect for enjoying the outdoors. Nighttime lows are usually in the mid-40s, so you'll need a light jacket if you plan to be out and about early or late in the day.
Only two days of rain on average are expected in January in Palm Springs, so you will very likely enjoy bright sunny days on your vacation!
San Juan, Puerto Rico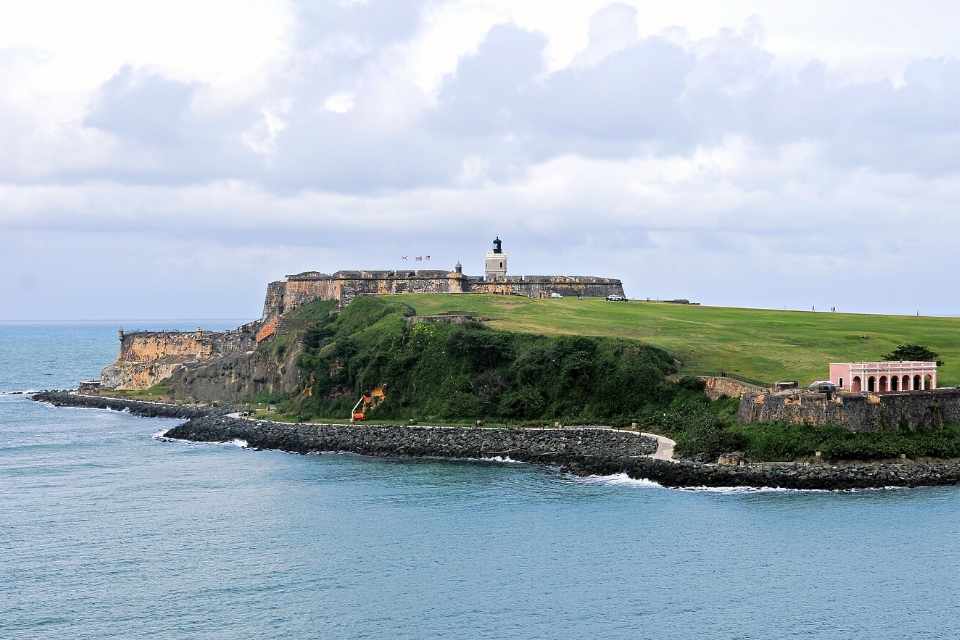 Known For: Beautiful weather year-round, rum distilleries, historic forts
Average Temperature in January: low 80s ℉ highs, mid-70s ℉ lows
San Juan, Puerto Rico is an excellent January destination. This United States territory is located in the Caribbean and enjoys gorgeous tropical weather year-round, so it is a great place to visit to escape cold winter weather.
January is actually one of the less rainy months of the year, averaging about 4.4 inches of rainfall.
There are many fantastic things to do in San Juan. Its historic city center, Old San Juan, is an amazing place to explore.
Puerto Rico's Spanish colonial heritage is evident in its many beautiful plazas and fountains. San Juan's historic defenses – its city walls and the fortresses of El Morro and Castillo de San Cristóbal – are honored as a UNESCO World Heritage Site.
Puerto Rico is known for its rum production, and if you'd like to sample their libations directly from the source, you can tour the distilleries. Some distilleries are located in San Juan, but to tour the famous Casa Bacardi, you'll need to take a trip across the harbor to the main part of the island.
If you visit San Juan in January, you'll get to experience part of Puerto Rico's grand holiday season, which extends all the way into the middle of the month.
Celebrations end with Las Fiestas de la Calle San Sebastián. This multi-day festival features music and performers and fills the plazas and streets of Old San Juan.
Austin, Texas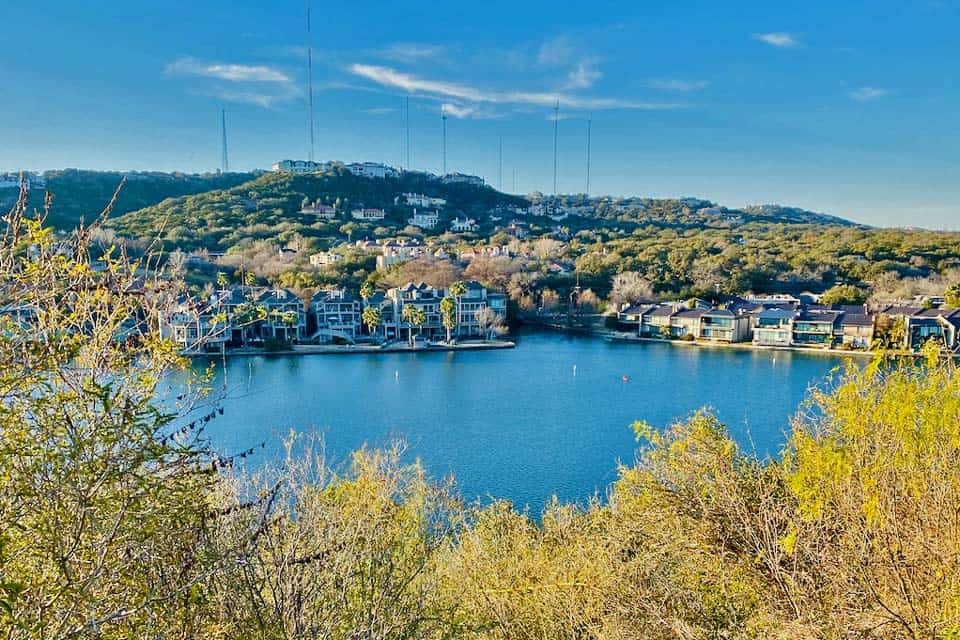 Known For: "The Live Music Capital of the World"
Average Temperature in January: 62°F highs, 43°F lows
In the city of Austin, Texas, you will not run short of fun things to do with amazing outdoor adventures, unique boutiques and restaurants, and a fantastic music scene. If you book a trip to Austin, you will only wish you stayed longer!
The first week of January is called "Free Week" when hundreds of Austin venues participate in providing live music at no charge. This Austin music tradition has been around for almost twenty years. Music lovers come far and wide to hear some of their favorite acts and partake in this fun-filled environment.
Those that want to lose a few extra pounds after the holidays, come to Austin for the 3M Half Marathon in January. Here you will run past some of the most well-known locations in Austin. This 13.1-mile course is known to be one of the fastest in the county with mostly downhill running.
You could spend your entire trip in Austin's downtown.
Some of the key spots are:
Texas State Capitol
Congress Avenue Bridge
Sixth Street
SoCo District
While Austin is largely known for its eclectic downtown scene, you will want to make time to see some of the hill country.
Take a scenic drive through Tarrytown and eat at one of the great waterfront dining restaurants on Lake Austin. Before heading back downtown, make a stop at Mount Bonnell to see some of the most stunning views of Austin, along with the iconic 360 bridge!
Tucson, Arizona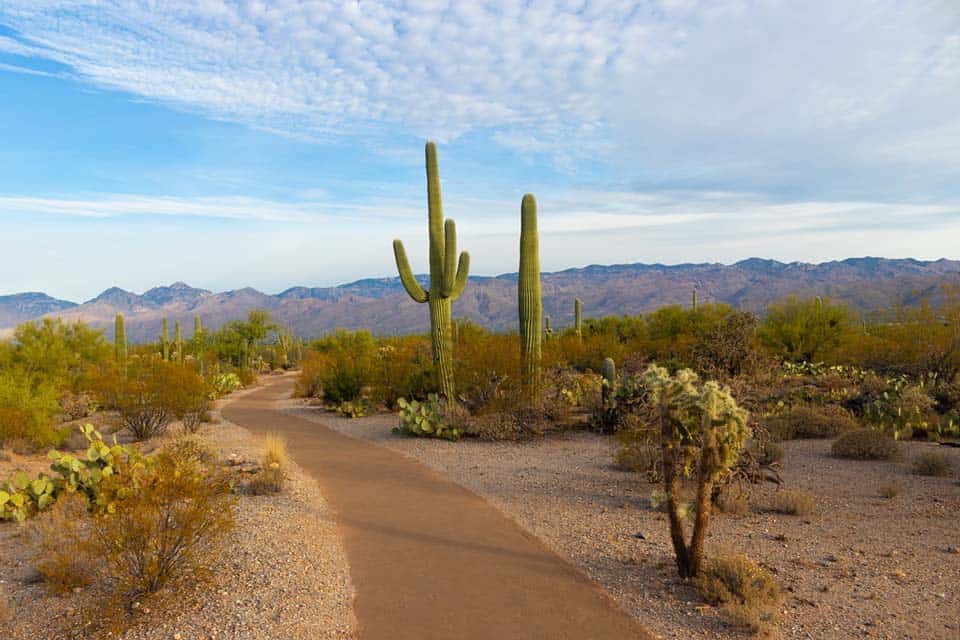 Known for: Sonoran Desert
Average temperature in January: 66 °F highs, 41 °F lows
Tucson, Arizona is known for its hot, dry climate in summer, but in January the cool weather and sunny skies make it the ideal hiking destination.
Saguaro National Park offers a number of great trails through the Sonoran desert with breathtaking views of the mountains and desert scenery. You may also catch a glimpse of native wildlife like jackrabbits, wrens, and woodpeckers, and the desert's signature flora: the saguaro cactus.
Or, for a little more information on this Arizona landmark, the Arizona-Sonora Desert Museum offers the history, flora, and fauna of the desert all in one place.
Across its 98 acres, the Desert Museum contains a zoo with 230 species, a botanical garden, two restaurants, an aquarium, and a history museum all rolled into one!
Check out the Raptor Free Flight, a must-see presentation where native raptors fly right by the crowd, and swing by the Packrat Playhouse if you have kids.
If you're visiting towards the end of the month, you can catch the Tucson Gem, Mineral, and Fossil Showcase just as it starts up on January 28th. The exhibition has over 48 locations across the city, all with gorgeous gems, jewelry, and fossils.
The most popular showcases are the Tucson Gem & Mineral Show at the Tucson Convention Center, The JOGS Tucson Gem, and Jewelry Show at the Tucson Expo Center, and the massive Gem Show at Kino Sports Complex.
Snag a one-of-a-kind glittering necklace for $5 or purchase a rare, crystallized rock for $200,000 (or simply admire these incredible gems). If you are in town for the showcase, be sure to book well in advance to secure a hotel room in the city.
Coming from out of town? No problem! While there is an airport in Tucson, it's often easier (and significantly cheaper) to fly into Phoenix, then take a bus to Tucson– while admiring the desert view, of course.
Temecula, California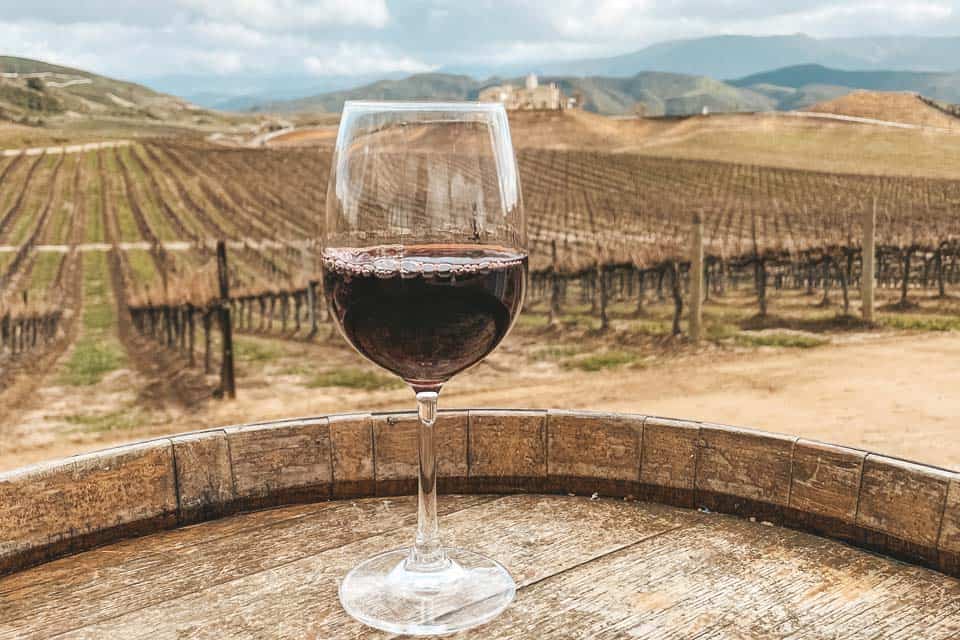 Known for: Wineries
Average temperature in January: 70°F highs, 48 °F lows
Temecula, California, is a fabulous warm winter vacation to enjoy when you're ready to escape the rainy, snowy weather at home and relax in Southern California's Wine Country!
Temecula enjoys an average high temperature of 70°F and only four days of precipitation in January, so you can plan to spend plenty of time outdoors.
Temecula is located just a one-hour drive northeast of San Diego and is well-known for its fabulous local wineries and vineyards.
One of the best things to do in Temecula, California, in January (and at all times of the year!) is to visit some of the best wineries in Temecula, such as Wilson Creek Winery, Leoness Cellars, and Baily Vineyard & Winery.
Since there are close to 50 wineries in Temecula, you'll have no trouble finding one that suits your taste!
After exploring the wineries, head into Old Town Temecula to explore some of the local shops and restaurants in the "Old West" inspired town.
You can enjoy brunch at 1909 Temecula or Public House or an upscale dinner at The Goat & Vine. You can also learn line dancing and how to country two-step at Temecula Stampede—the largest country-western music venue on the West Coast.
If you'd like to plan a memorable activity during your trip to Temecula in January, consider a hot air balloon ride or horseback ride through the scenic wine country. Since the weather will be sunny but not sweltering hot, winter is one of the best times to enjoy these popular activities in Temecula.
Destin, Florida
Known for: "World's Luckiest Fishing Village"
Average temperature in January: 60°F highs, 48 °F lows
January is one of the dry months in Destin, with rain only being an average of just over 4 inches for the month. The summer months typically get much more rain.
Every January is the 30A Songwriters Festival in nearby Santa Rosa Beach with artists coming from all over the world, including big names.
Other things to do in Destin include:
HarborWalk Village
Crab Island
Destin Commons
HarborWalk Village is on the Destin Harbor and is filled with shops, restaurants, and plenty of activities, such as axe throwing, mini-golf, and a mirror maze.
Crab Island is a popular sandbar just across from the Marler Bridge, where boaters come and hang out, listen to music, play games, and have drinks. It's about 2-4 feet of water in this area. Expect January to be slow as Crab Island doesn't pick up until March and April.
Destin Commons is an outdoor shopping outlet with over a hundred stores and restaurants.
Don't forget to dress warm as although winters are mostly mild, they can get a bit cold. If you need some indoor activities to do in Destin, you're in luck!
You can visit Uncle Buck's Fish Bowl & Restaurant for some bowling. Wild Willy's Adventure Zone and Fat Daddy's are arcades that are fun to play some games at.
The Boardwalk of Okaloosa Island has an indoor center with shops and restaurants.
If you're looking to avoid the heat and summer crowds, visiting Destin in January is a great choice!
San Diego, California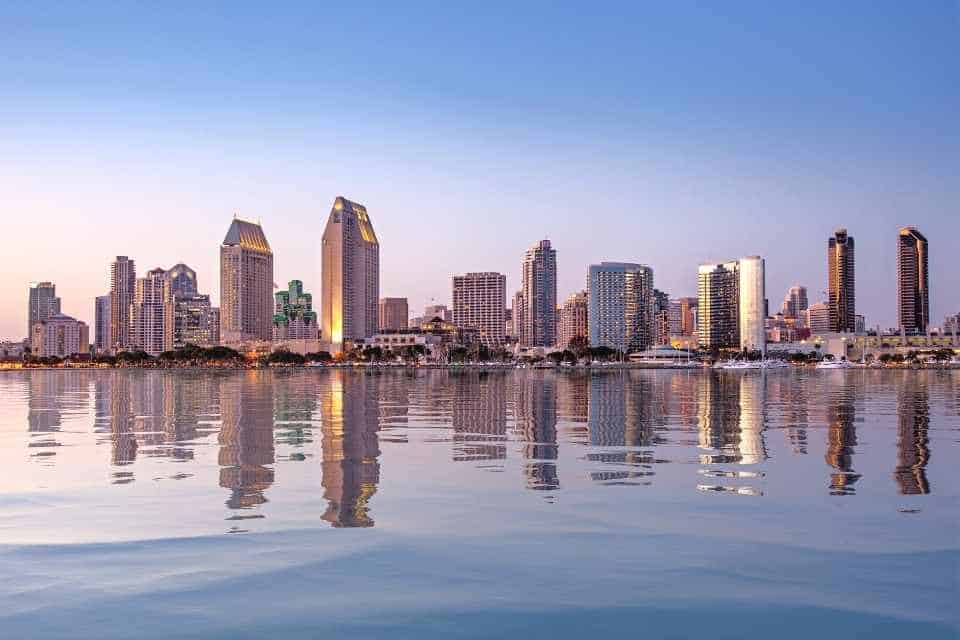 • Known for: San Diego Zoo, San Diego Safari Park, SeaWorld and LEGOLAND
• Average temperature in January: around 66 °F highs, 50 °F lows
Located at California's southernmost gateway, the city of San Diego is a great place to visit in January thanks to its warm weather, beautiful sceneries, and lively atmosphere.
From San Diego Zoo to SeaWorld and LEGOLAND, there are plenty of family-friendly attractions in San Diego, as well as plenty of things to do in Little Italy San Diego and the historic Gaslamp Quarter for the adults. As you walk around these vibrant neighborhoods, you will find excellent restaurants and bars as well as unique stores, shops, and galleries.
If you visit in early January, you may still be able to catch a glimpse of the beautiful Christmas tree at Piazza Della Famiglia.
Every Saturday, there's a farmer's market from 8:00 am to 2:00 pm along West Date Street that offers local produce, arts, and crafts. There are also plenty of stalls that serve the locals' favorite food such as tacos, pizzas, and French baked goods, so don't worry about coming to the market hungry.
One thing you should keep in mind is that even though the temperature in January is warm and it barely ever rains in San Diego, it does get windy and chilly at night so it's best to bring a light jacket with you!"
Orlando, Florida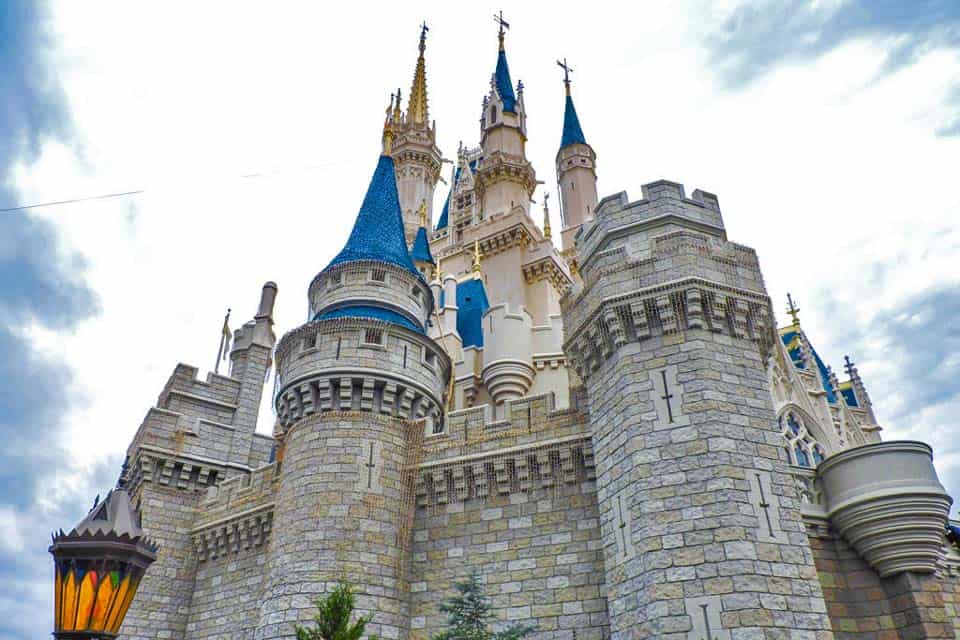 Known for: Theme parks
Average temperature in January: 69 °F high, 52 °F lows
With its theme parks and waterparks, Orlando in Florida is a fun destination for small kids and big kids all year round. However, if you visit during summer or big US holidays, you will be elbowing your way through crowds and waiting in line for most of the day.

Mid-January is a great time to visit as schools are back, resulting in fewer people lining up for rides. In addition, temperatures are cooler, making getting around the parks by foot a less sweaty affair!

Some hotels drop their prices in January, which is a bonus if you want to visit Orlando on a budget! Pro-tip, always remember to look out for the additional resort fees when choosing your accommodation.

Also, be cautious of the Walt Disney World hotel shuttle bus times because they tend to return early in winter. If you plan to rely on the shuttle bus, you may miss the fireworks at Disney's Magic Kingdom.

Cons aside, if you visit Disney and Universal Studios after the Christmas holidays in January, you will most likely have the chance to get around the rides twice, giving you lots of bang for your buck.

Average high temperatures tend to be around 69°F, and it is cooler at night, so be prepared and pack a light jacket or sweatshirt.
Clearwater, Florida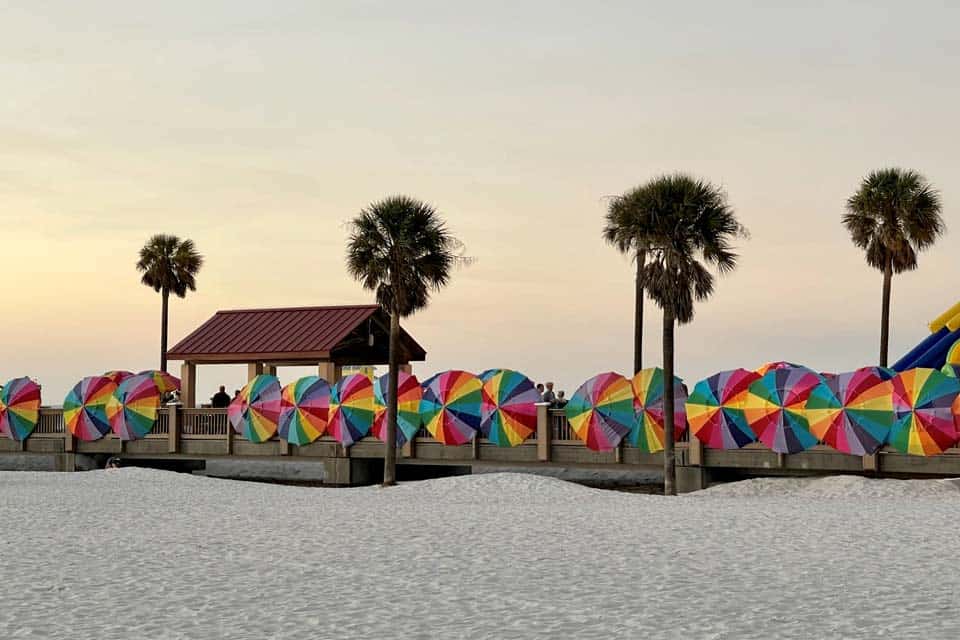 Suggested by Merry Allison of Virginia Vacation Guide
Known for: Beautiful beaches and sunsets, water activities, dolphin sightings
Average temperature in January: 70 °F high, 50 °F lows
Nestled on the gulf coast and featuring one of the best beaches in the state of Florida, Clearwater is an excellent destination in January.
The average January temperature ranges from 50 to 70, though temperatures will occasionally dip a little lower. This can make ocean swimming a bit less inviting, however, there is still a wide range of activities to enjoy in the town.
In late January, the annual RunClearwater event takes place, which features a 5k, half marathon, marathon, and ultra-marathon course. The courses begin and end at lovely Sand Key Park, and feature beautiful views of the Gulf of Mexico, Intracoastal, and Clearwater Beach.
Sunsets at Pier 60 is one of the most famous events in Clearwater. It occurs year-round from two hours before sunset to two hours after sunset, and it features performers, art booths, park rides, and more, all set before the backdrop of perfect sunsets at Clearwater Beach over the Gulf of Mexico.
Clearwater is also famous for its water activities. You can rent jet skis or take a boat ride for an up-close encounter with the many dolphins who make Clearwater their home. You can also book a sunset dinner cruise, or even book a voyage on a pirate ship.
Another major attraction in Clearwater is the Clearwater Marine Aquarium, which focuses on the rescue, rehabilitation, and release of injured marine animals around Clearwater, including dolphins, sea turtles, sharks, and otters.
Clearwater is conveniently located near Tampa and St. Petersburg. All of these features make Clearwater a perfect destination for a January vacation.
Miami, Florida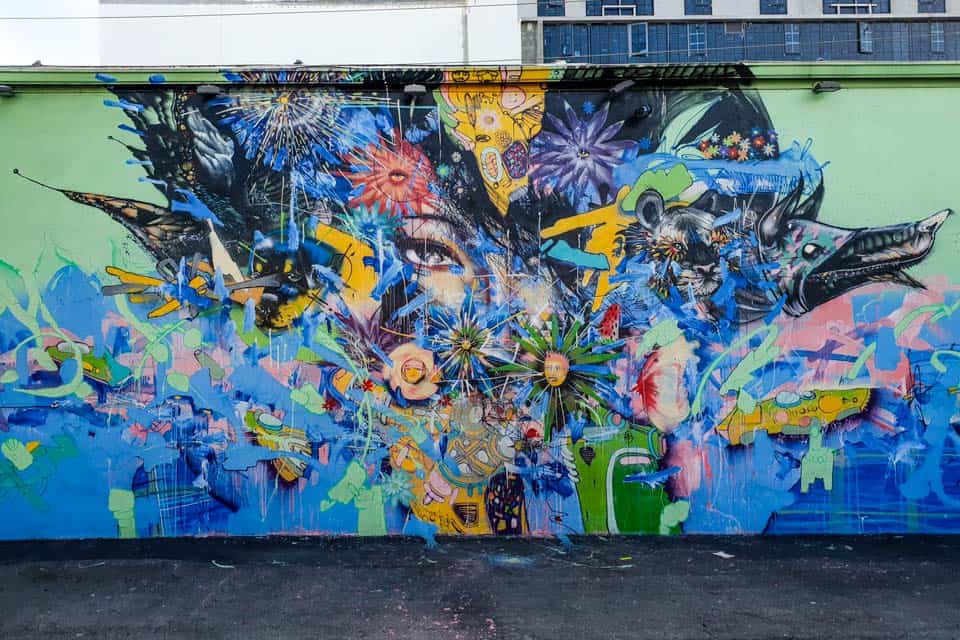 Suggested By Kate of Kate Abroad
Known For: Beaches, art and food.
Average temperature in January: 73°F highs, 63°F lows.
Miami is such a colorful city and its vibrancy is in no way dimmed by mid-winter. The arts district is an absolute must-see, especially the Wynwood Walls, the downtown spot full of abstract murals. Just make sure to get there early to get photos without crowds.
When in Miami, the beach is an absolute must-do. South Beach is the most famous of them all but there are plenty of other beaches in and around Miami that are just as beautiful, all you need to do is walk or drive up or down the coast a bit.
Finally, you can't go to Miami without experiencing the Cuban culture. Miami is incredibly diverse but the Cuban culture is one of the biggest drawcards for visitors. The best way is to go exploring in Little Havana, find a cafe and order the first thing on the menu.
Winters in January are mild with average temperatures but the humidity levels are still very high. There is definitely no snow in Miami and even rain is somewhat rare as it rains an average of 7 days. If you're interested in outdoor activities, January is definitely the most pleasant time of year.
Some of the top events in Miami in January include:
South Beach Jazz Festival
Art Deco Weekend
Dr. Martin Luther King Jr Day Parade
San Antonio, Texas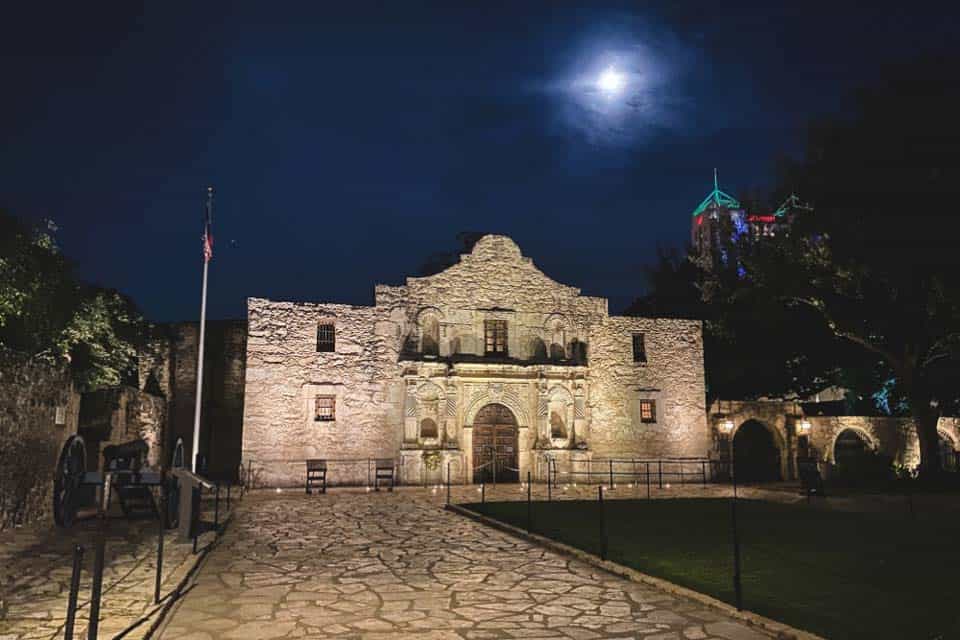 Suggested by Kyle Kroeger of ViaTravelers
Known For: The Alamo, San Antonio River Walk, San Antonio Spurs, and rodeos
Average Temperature in January: 64° F highs, 40 °F lows
San Antonio is a popular tourist destination due to its rich history and culture. There are many things to see and do in San Antonio, from visiting the Alamo to exploring the Riverwalk. There are also a variety of restaurants and bars in the city, and plenty of shopping options.
San Antonio is a great place to visit year-round, but the best time to visit is in January when you can escape the cold (if that's where you are coming from). Also, during this time it's non-peak tourism, which gives you a chance to see the sights on your time and schedule.
If you are a basketball fan, January is a great time to visit to see the legendary San Antonio Spurs play (or play against your favorite team).
Not a basketball fan? San Antonio is extremely well-known for its rodeos. There are rodeo spots located all around the city with the biggest venue right next to where the Spurs play.
San Antonio in January can be a great time to visit but it's also a city with a variable winter climate so to prepare for a trip to make the most of your visit make sure you dress in layers or bring flexible clothing. The weather can be unpredictable, so it's best to be prepared.
Don't miss the River Walk or the Alamo. Both of these are a must-see when visiting San Antonio. If you are traveling with kids, there are a ton of great activities such as Six Flags theme park, SeaWorld, and an amazing botanical garden.
New Orleans, Louisiana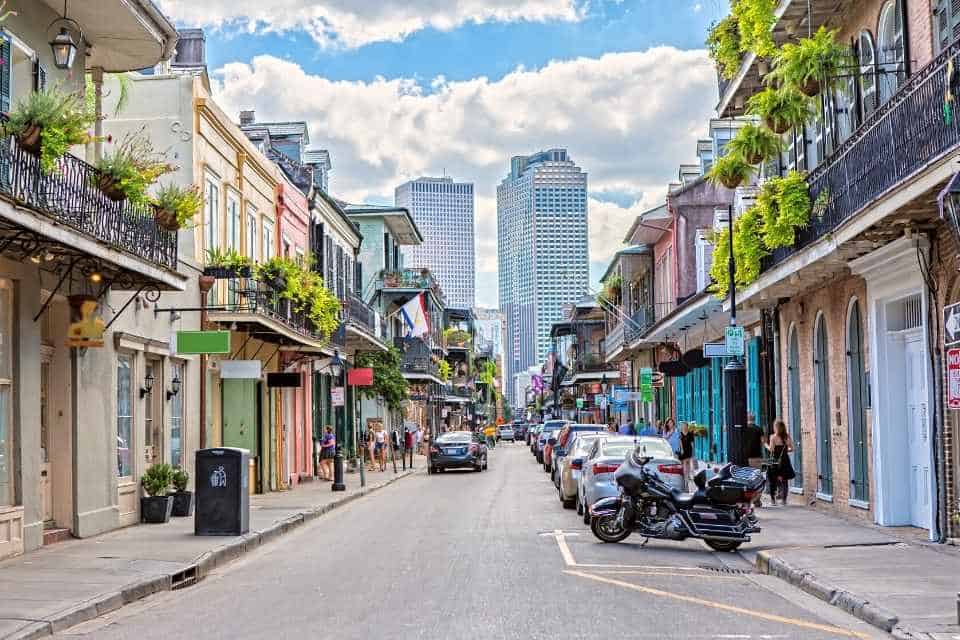 Known for: Mardi Gras celebrations, rich food, distinctive music
Average temperature in January: 64° F highs, 44 °F lows
New Orleans is one of the most unique warm January destinations in the USA. While there aren't any soft sand beaches or glistening Caribbean waters, visitors can enjoy a dynamic city that is rich in culture and food.
The most famous thing about New Orleans has to be Mardi Gras, a celebration season before the fasting of Lent. The celebrations and festivities begin after Christian feasts of the Epiphany, which is 12 days after Christmas. From then until Shrove Tuesday, the city is filled with music, parades, feast, and excitement!
Make sure you take some time to explore the French Quarter, one of the most historic neighborhoods in New Orleans. Located on the banks of the Mississippi River, this is where the French first settled in New Orleans.
In the French Quarter, you'll find charming colonial buildings that take you back in time. Paired with an array of modern entertainment such as bars and nightclubs, New Orleans really has it all.
And if that hasn't convinced you yet, New Orleans food is unique in every way. It's a fusion between American, French, Spanish, Italian, West Indian, and Mexican flavors, surely something that will spice up your January vacation.
South Padre Island, Texas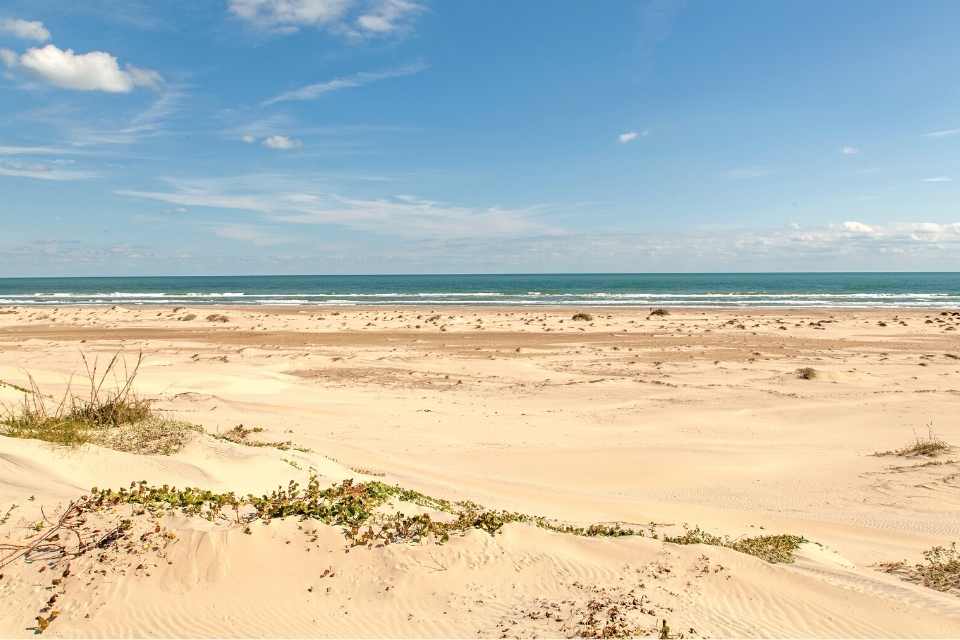 Known for: Incredible beaches and lovely warm temperatures year-round.
Average temperature in January: 69° F highs, 55 °F lows
Looking for a nice warm place to visit this January in the USA? If so then look no further than South Padre Island in Texas.
After all, it makes for an enchanting, mild, and altogether affordable getaway off the coast of Southern Texas.
In fact, this barrier island sits in the Gulf of Mexico and is known for magical weather in January, which includes just three days of rain per month.
Plus, January is the low season. Therefore, you'll get affordable prices on hotels and can enjoy deep discounts on flights to Brownsville International Airport.
Then, upon arrival, check into one of the area's many amazing hotels like the Hilton Garden Inn which is a fabulous beachfront property.
Now, when you're settled in, explore some of the best things to do in South Padre Island, like The Padre Island National Seashore.
It's a stunning park with 65 miles of unspoiled coastline that is home to the largest undeveloped barrier island in the world.
Yes, it costs $10 per car to enter but it's well worth it to pitch a tent at Bird Island Basin Beach and drive out onto the clean and pristine Malaquite Beach.
Then, continue your trip with a stop at the Sealife Nature Center where you can do an eco-friendly dolphin cruise before visiting rescued animals like Domino the sea turtle, in addition to tortoises, iguanas, and more.
Next, ascend the historic Port Isabel Lighthouse, which was initially constructed in 1865 and is the only lighthouse that you can actually climb to the top of in Texas.
Afterward, visit the South Padre Island Birding and Nature Center, where you can ascend a 5-story watchtower to get unparalleled views of the area and the migratory birds found here.
---
Warm Islands to Visit in January
Oahu, Hawaii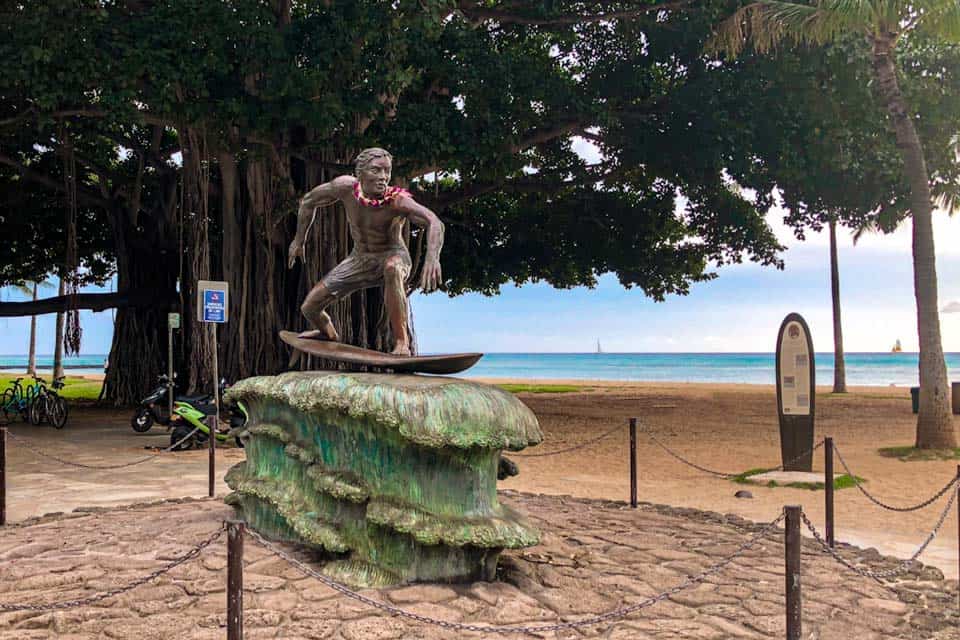 Known for: Waikiki Beach, North Shore surfing scene, Pearl Harbor, spectacular hikes, shopping and nightlife.
Average temperature in January: 79°F highs, 68°F lows.
Since most tourists wrap up their vacation after the first week of January, the crowds on Oahu are noticeably lower.
The mild temperatures on the island are warm enough to spend time on Waikiki or Lanikai beach and cool enough to enjoy outdoor adventures and sightseeing activities. And after the December rains, Oahu's scenery is at its best.
The ultimate way to experience this lush decor is by visiting one of the verdant botanical gardens dotted with fragrant flowers or by hiking your way to a secluded waterfall. Occasional showers may occur but they don't tend to last longer than 15 minutes and often results in a beautiful rainbow.
In January, you'll stand a better chance of visiting Pearl Harbor without the crowds than you would during the busy summer months. Note that some attractions, such as the popular Hanauma Bay snorkeling site and Diamond Head State Park, require advance reservations throughout the year.
A day trip to the world-renowned surfing hotspot located on the North Shore Oahu is a must any time of the year but especially in January. That's when the waves are at their best and when most surfing tournaments take place.
Another seasonal activity that you can't miss out on is a whale-watching cruise. No better time to see these gentle giants up close as they make their way to the 'Au'au channel between Maui and Lanai to breed and give birth to their young.
January is also a great month to visit when it comes to entertainment, thanks to the Martin Luther King Parade and the Chinese New Year Celebration.
Read More: Best Warm Places to Visit In December (USA)
Maui, Hawaii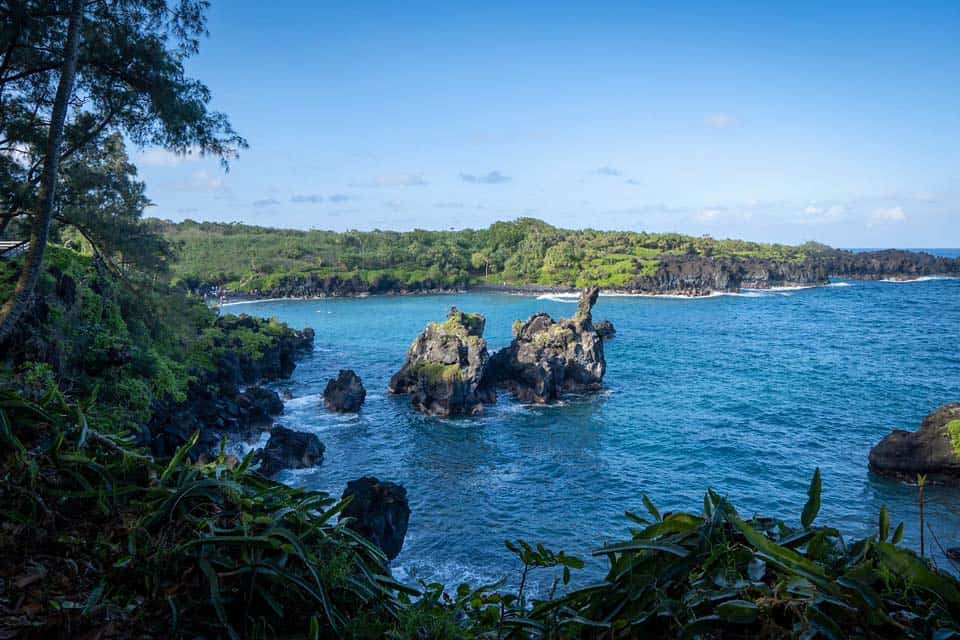 Known for: Incredible beaches, the Road to Hana, Humpback whales
Average temperature in January: 70°F highs, 55 °F lows
There are few better places to visit in the United States in January than Maui. Within its 727 square mile footprint, Maui offers some of the world's best surfing, epic mountain hikes, and the chance to spot some of Hawaii's abundant wildlife.
Any Maui itinerary in January must include going on a whale watching tour- anywhere from 10,000 to 12,000 humpback whales migrate to Maui's Auau Channel each year, from November through May, to breed and raise their calves, providing excellent opportunities to observe these acrobats of the sea.
An iconic activity in Maui is driving the Road to Hana, arguably one of the most scenic drives on the planet, where you'll drive along a 65-mile road, snaking past countless waterfalls, oceanside overlooks, and some of the lushest rainforests on the planet.
And what's a trip to Hawaii without attending a luau?
One of the best options for this experience on Maui is Feast by Lele- the food and dancers are phenomenal and the show highlights and thoughtfully tells a brief history of four different Polynesian cultures.
While it's wonderful to escape the cold in Maui, come January, it's worth noting that January does fall within the island's rainy season, so you should be prepared for sporadic rain showers, often in the afternoon (nothing a rain jacket can't solve!).
But not to worry- the rain showers are usually short, so you'll be back enjoying Maui's incredible scenery before you know it!
St Croix, USVI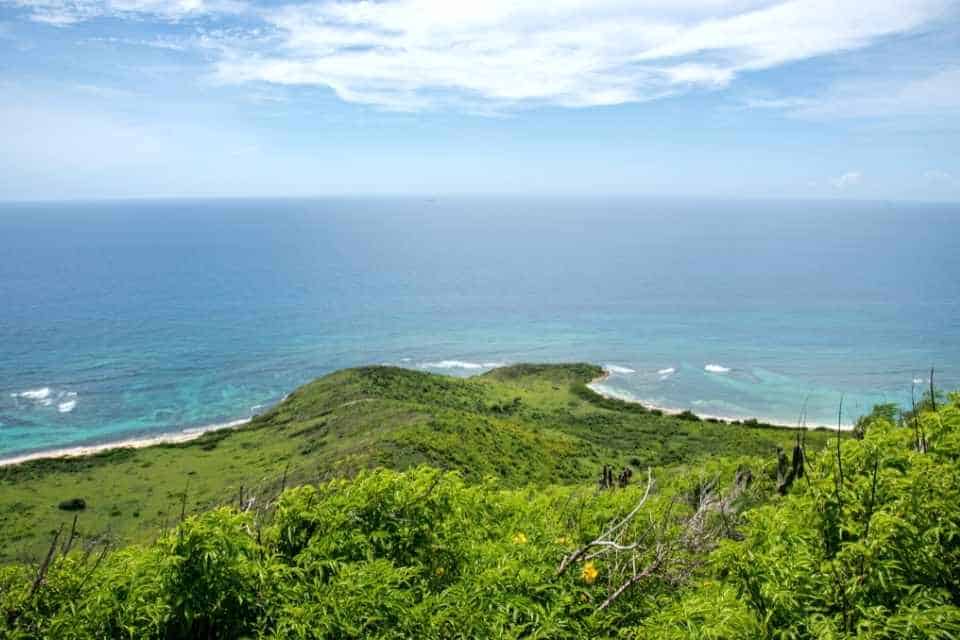 Known for: Tropical weather, beautiful natural beaches, snorkeling
Average Temperature in January: 82 °F highs, 72°F lows
St Croix is one of the best US islands to visit during January. This picturesque paradise that makes up the U.S Virgin Islands offers plenty of white-sand beaches, historical attractions, and delicious Caribbean food for travelers.
The temperature in this part of the Caribbean is warm year-round, so visiting in January makes for a perfect winter getaway where you can enjoy warm sunny weather while hanging out at the beach and sipping on some drinks. The water is also pretty warm, so you can swim and snorkel comfortably.
Famous beaches like Cane Bay Beach, Sandy Point Beach, and others are the perfect place to swim, snorkel, kayak, and observe marine life.
Some areas are ideal for snorkeling and watching animals like sea turtles, colorful fish, eagle rays, and much more. The waters are pretty tranquil, making them an excellent family-friendly place to visit.
There also isn't a lot of rain during this month either, making it ideal to avoid the tropical storms that routinely occur near the spring and summer.
With the temperature reaching an average high of 80 degrees Fahrenheit each day, you can make every day a fun day at the beach. There are also many hiking opportunities throughout the island.
A lot of tour companies can take you on all kinds of adventurous trips, including snorkeling with sea turtles, and kayaking across the beautiful crystal clear waters. St Croix is also close to two other major islands, St Thomas and St John, which are only a ferry ride away.
St. John, USVI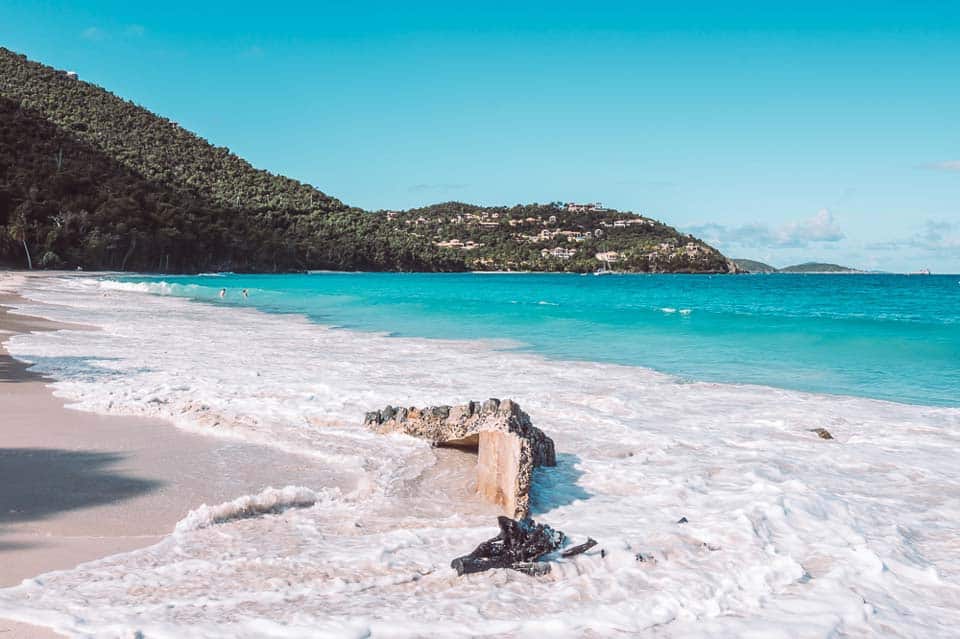 Known for: Virgin Islands National Park
Average temperature in January: 83°F highs, 74°F lows
January in St. John kicks off with the excitement of New Year's week. During this time, visitors will see giant luxury yachts passing in the distance and docking in the bays.
Many local bars and restaurants, like DRINK St. John and Beach Bar in Cruz Bay, throw annual New Year's Eve parties to bring January in with a bang.
For beach lovers, the January weather is absolutely perfect, with highs in the low 80's (°F) and a gentle breeze in the air. The strong summer sun has let up and short, intermittent rainfall leaves Virgin Islands National Park looking green and lush.
These are the perfect conditions for hitting up the famous North Shore Beaches, like Trunk Bay, Maho Bay and Cinnamon Bay. Mornings on St. John, before the sun fully rise, are also perfect for hiking trails like the 2-mile coastal Ram Head Trail or the 5-mile trek down past Danish plantation ruins to Reef Bay.
As January is considered the high season in St. John, it's imperative to book your lodging and rental car six to eight months in advance. Be sure to also make restaurant reservations wherever you can, otherwise you might not get a table.
For many restaurants, reservations can be made while you're already on St. John, but places like ZoZo's and Extra Virgin Bistro will require booking several weeks ahead.
Key West, Florida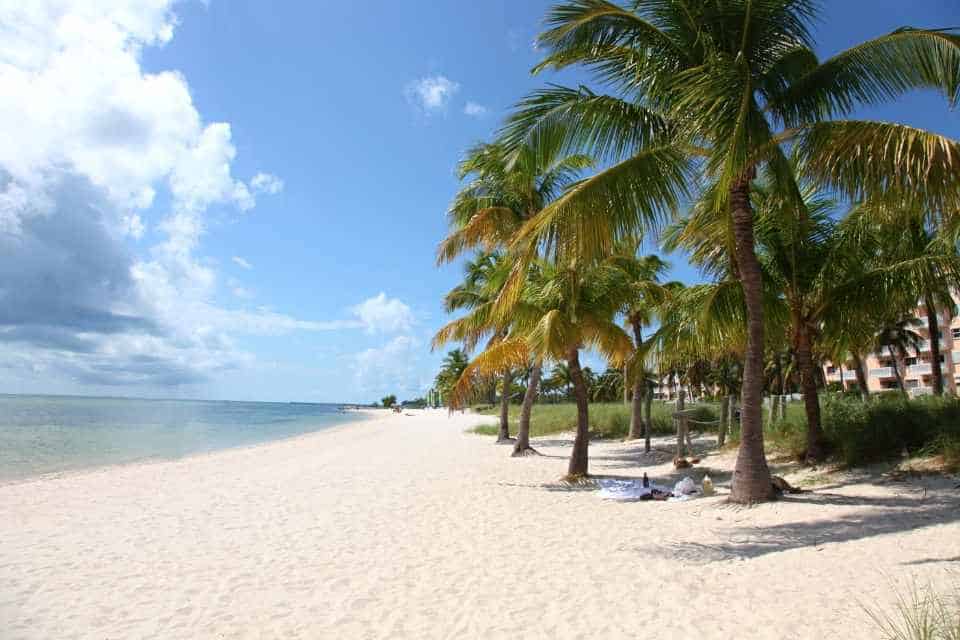 Known for: Colonial architecture, historic sites, beautiful beaches, water sports
Average temperature in January: 75°F highs, 66°F lows
If you are looking for a warm winter getaway, there is no better place to visit than the island of Key West in Florida. Though it is one of the coldest months in Key West, the temperature is still more than warm enough to enjoy its outdoor activities, especially swimming in the sea and lounging on a beach.
The locals are proud to say that the only things they salt there are margaritas, not sidewalks!
One of the best things to do in Key West in January is to sample its incredible freshly-caught seafood. And in January, visitors can do just that at the annual Florida Keys Seafood Festival.
During this month, visitors can enjoy the perfect water temperature and go snorkeling. The coral reef near Key West support a wide variety of marine life!
And of course, don't miss the historic center of Key West and the world-famous Duval Street, where you'll find your definition of epic nightlife redefined.
If you are into literature, don't skip the Ernest Hemingway House and Museum!
---
Warm National Parks to Visit in January
Joshua Tree National Park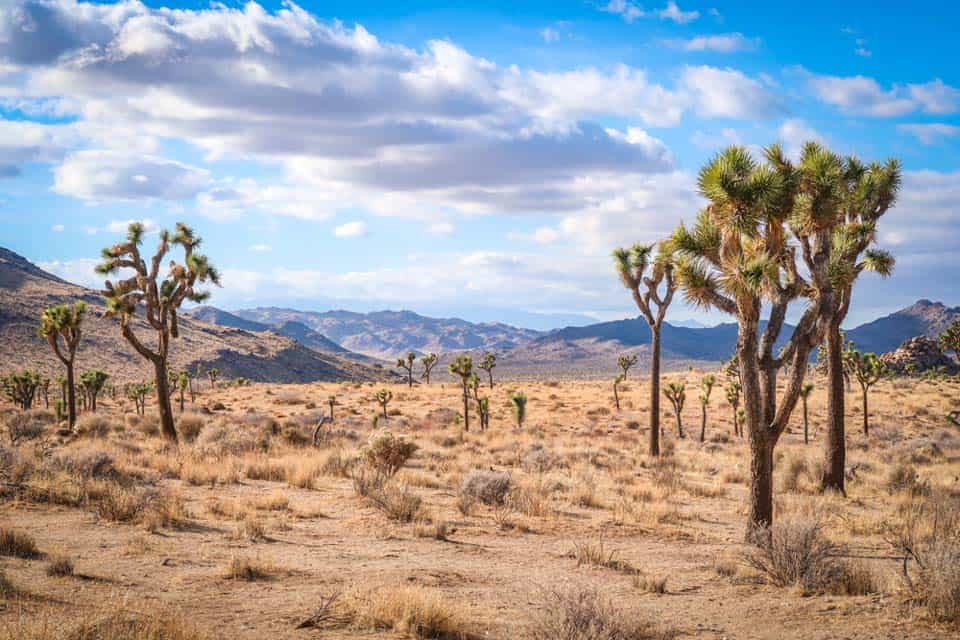 Known for: Unique high desert landscape, hiking and rock climbing
Average temperature in January: 63 °F highs, 37 °F lows
If you're looking for a gorgeous sunny destination this winter, look no further than Joshua Tree National Park.
Located only 2.5 hours away from Los Angeles by car, Joshua Tree is a stunning park that spans both the Mojave and Colorado Deserts. This distinctive region is filled with piles of loose boulders and unusual-looking trees that only thrive in the Southwestern United States.
One of the best ways to explore Joshua Tree is on foot.
The park boasts miles of hiking trails for all skill levels showcasing the area's spectacular beauty. One of the best Joshua Tree hikes is the Hidden Valley Nature Trail – a one-mile interpretive loop through a former cattle rustler's hideout.
If you are looking to escape the crowds, select the Panorama Loop or the Willow Hole Trails instead.
Another popular activity in Joshua Tree is rock climbing.
Joshua Tree is a world-class climbing destination that is filled with thousands of boulder platforms and climbing routes. Even if you're not formally trained as a climber, outdoor lovers of all ages can enjoy playing around on the various rock formations.
The cities near Joshua Tree are also worth checking out during your visit. The towns of Joshua Tree, Yucca Valley and Twentynine Palms are famous for attracting artists and other quirky types. To get a real sense of the region, start your tour with a visit to The Noah Purifoy Outdoor Museum or the World Famous Crochet Museum.
With high temperatures reaching 60 degrees F and minimal rainfall, Joshua Tree is a great destination for sunny weather in the month of January. Be sure to pack sunscreen and plenty of layers, however, as temperatures vary wildly and often freeze overnight.
Death Valley National Park
Known for: Surreal landscapes including salt flats, sand dunes, craters, colorful mountains, and rugged canyons
Average temperature in January: 68 °F highs, 41 °F lows
Death Valley National Park is one of the most unique and incredible destinations you can visit in North America.
With over 3 million acres, Death Valley is the largest national park in the US, not including the one in Alaska. Death Valley is located in the Mojave Desert along the California and Nevada border, about a 2-hour drive from Las Vegas, NV.
Death Valley National Park is famously known for having the lowest elevation on the continent and is known for its scorching hot summers.
It is one of the hottest places on earth, with summer temperatures topping 120 degrees Fahrenheit. When planning your trip to Death Valley, it is important to consider the weather and time of year.
January is the ideal month to visit Death Valley because the weather is comfortable, with warm sunny days and an average high temperature of 68 degrees Fahrenheit.
In January, you will have fewer crowds and cheaper accommodations inside the park as well.
Everglades National Park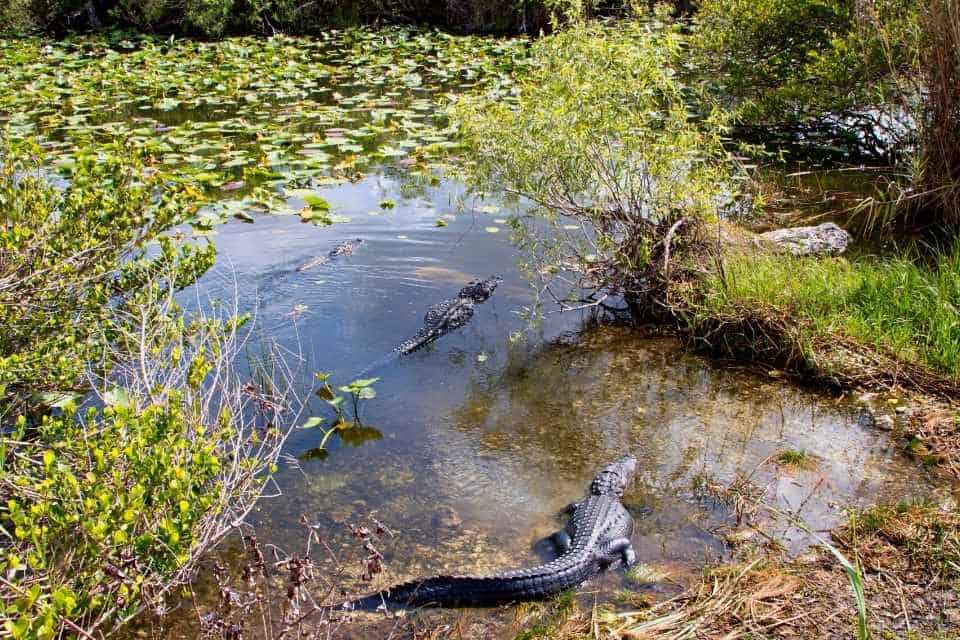 Known for: Stunning wildlife, surreal landscape
Average temperature in January: 77 °F highs, 57 °F lows
Situated in the southern tip of Florida, Everglades National Park is the warmest national park in January and a perfect stop on a road trip to Key West. Nicknamed "The River of Grass", much of the area in Everglades is a wetland, home to some of the most exotic wildlife on the planet.
In fact, the Everglades National Park earns the titles of UNESCO World Heritage Site, an International Biosphere Reserve, and a Wetland of International Importance.
January is the dry season for Everglades National Park. During this time, not only is the weather at one of its most tolerable, but the humidity is also quite low. This means that visitors won't be destroyed by the biting bugs in Everglades.
As other parts of the world get colder, herds of migratory birds find home in the Everglades National Park for the winter, perfect for bird watchers.
As the water sources dry up during the dry season, this forces all the wildlife to congregate near the only water sources that are left, increasing the possibility of seeing a big variety of wildlife, including one of the 70 species of endangered animals there!
---
Warm States to Visit in January
The warm states to visit in January are Arizona, Hawaii, Florida, and Texas. These states regularly hit over 80 °F highs in January, making them the perfect winter escape destination.
Arizona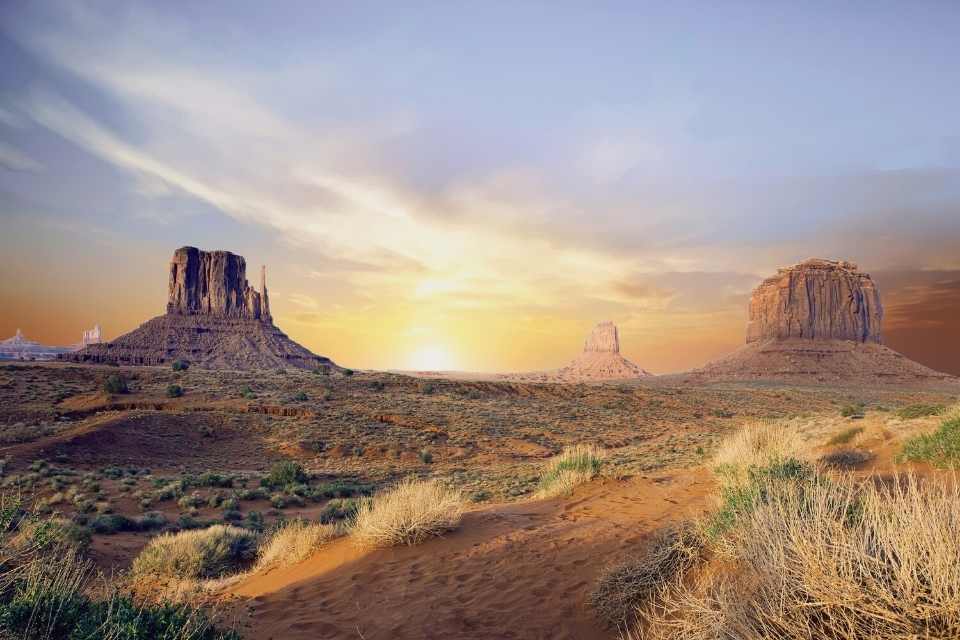 Situated in southern United States, Arizona is one of the warmest states in January. During this time, the temperature is not too cold but warm enough to explore all the outdoor adventures Arizona is known for.
From the magical Antelope Canyon to the red-rock formations of Sedona, visitors have plenty of places to explore in the winter months such as December, January and February. The capital of Arizona, Phoenix, is bustling with activity as locals are out to enjoy the temperature weather.
Best places to visit in Arizona in January:
Hawaii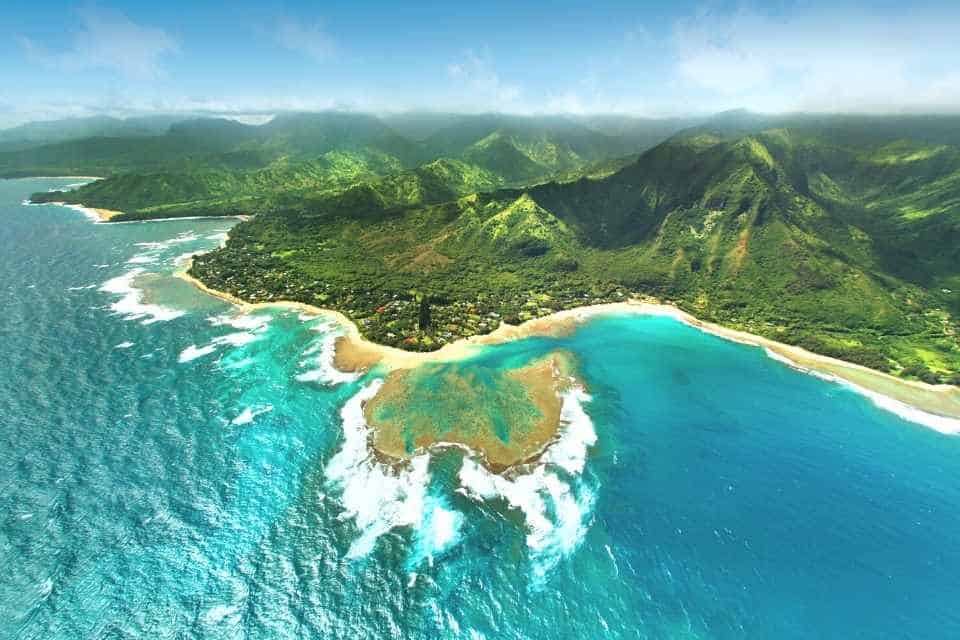 Hawaii is perhaps the best state for a warm winter vacation. This archipelago is home to some of the world's most unique geological features such as soaring volcanoes and endless beaches. January is also one of the high seasons for Hawaii, as many Americans are out to get away from the bitter winter.
Though busy in January, Hawaii has plenty to see and lots to do. Enjoy water sports such as surfing and snorkeling, learn about the rich Polynesian culture, go on some epic waterfall hikes, the list just goes on and on.
A vacation to Hawaii in January is going to make sure you come back with a nice tan and all your stress gone.
Best places to visit in Hawaii in January:
Florida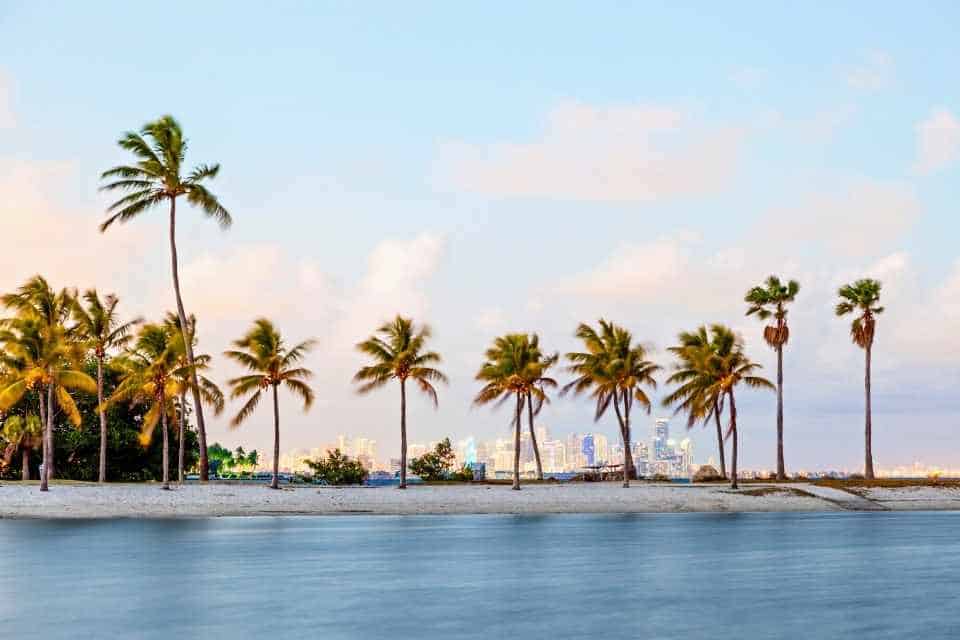 January in Florida is one of the best times to visit. Not only is the weather warm and moderate, but it is also the dry season. As the December holiday season comes to an end, the crowds start to die down.
This means cheaper accommodation and a much better time at attractions such as Disneyland and Universal Studios.
Visiting Florida in January means that you can still enjoy some of its fine beaches. Head down to the Gold Coast near Miami and enjoy some of the warmest temperatures in Florida. Or, check out The Keys, Florida's string of islands known for their tropical beaches, historic sites, and amazing water sports.
Best places to visit in Florida in January:
Texas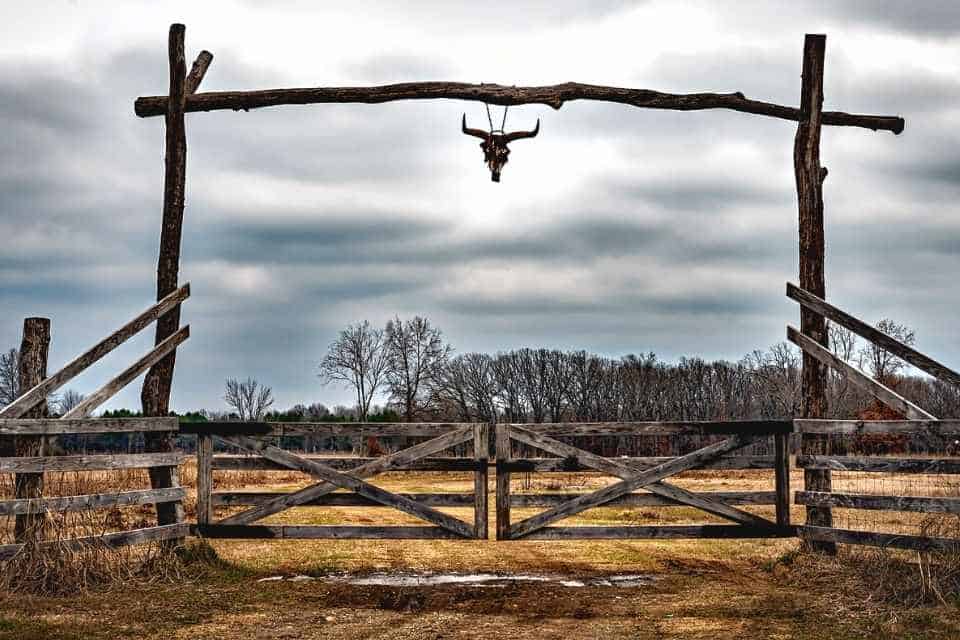 The diverse landscape of Lone Star State offers visitors plenty of activities, especially during the quiet month of January. During this time, the crowd is at its lowest, which makes enjoying some of Texas's best attractions much easier.
Head to west Texas and check out the State's famous Big Bend National Park, where the arid landscape and impressive rock formations will amaze you. Want to enjoy some nice beaches? Head south to South Padre Island or Galveston!
Or do you just want to enjoy some activities in the city? San Antonio, Dallas, and Houston all have plenty to offer!
Best places to visit in Texas in January:
South Padre Island
Houston
San Antonio
Dallas
---
Warm Places To Visit In January In USA Map
Above is an interactive map featuring all of the places we've mentioned above. With this map, you can plan your winter visit more easily based on how far each destination is from your home!
---
Warm Places in January FAQs
Which state in the US has the warmest weather in January?
Hawaii is the state with the hottest weather in January, but visitors will also find warm temperatures in Florida, Texas, and Arizona.
Where is a warm place to visit in January in USA?
One of the warmest places to visit in January in USA is Miami, Florida. The Everglades National Park is the warmest National Park in January!
---
I hope our guide on the best warm winter vacations in January will help you escape the frigid cold.
Any questions? Leave a comment!
Disclaimer: Some of the links above are affiliate links. That means if you book or make a purchase through the links, we will earn a small commission at no extra cost to you! The money will help run this site! Thank you!