There are many stunning outlying islands in Hong Kong, but possibly one of the most underrated is Tung Lung Chau (or Tung Lung Island, "Chau" means island in Cantonese.)

Located just a few miles off the coast of the Clearwater Bay peninsula, Tung Lung Chau attracts flocks of visitors all year round wanting to bask in its unspoiled natural landscape.

Though it is mostly uninhabited, there are many things to do in Tung Lung Chau, such as hiking the full 9km circular loop, taking "Instagram-worthy" photos at the Eagle Tooth Rock (牙鷹石), rock climbing the most challenging cliffs in Hong Kong, or even camping with friends.

That is why we have written this complete guide on how you can explore Tung Lung Chau, conquer the long hike and enjoy the island's best attractions!

Enjoy!
---
Why Visit Tung Lung Chau (Tung Lung Islands)?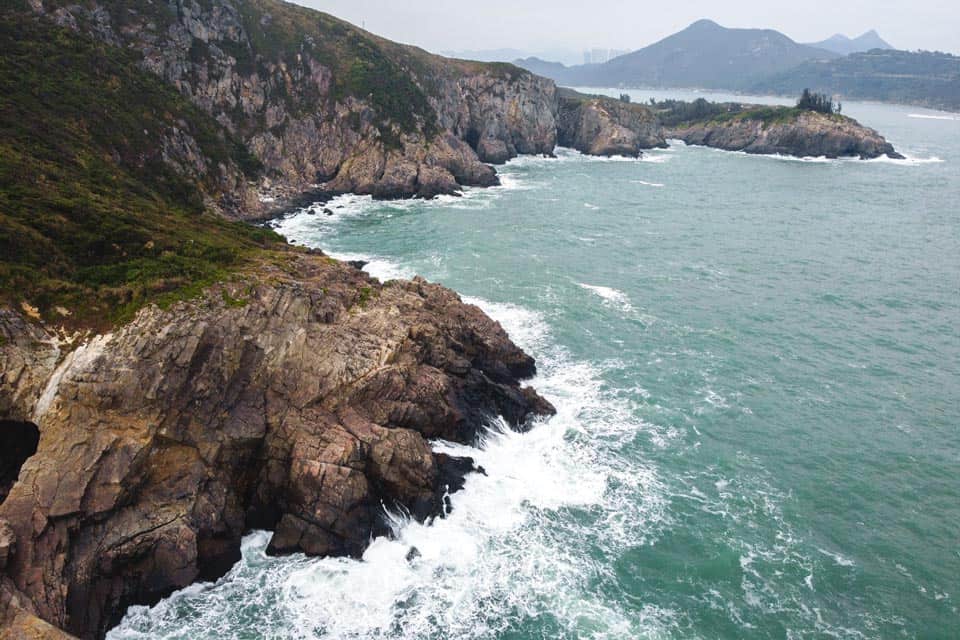 Characterized by epic geological formations, historical landmarks, breathtaking views and an arduous hiking trail, Tung Lung Chau is one of the best places to visit in Hong Kong if you want to escape the urban concrete jungle. Because the island is mostly uninhabited, its natural beauty remains unspoiled.
There is no doubt that Tung Lung Chau is a breathtaking place with plenty to offer; and suitable for day trips or a weekend's camping adventure.
Visitors usually come to Tung Lung Chau for the scenic hike.
Though it's quite a long hike if you want to do the full circular loop, it's not too challenging as the incline is mostly very gradual. It is quite a nice hike that doesn't exhaust you too much, but also makes you feel like you've had a good workout.

The constantly changing landscapes from lush vegetation to jaw-dropping rock formations, to open grasses swaying in the wind and then to dense jungle-like, over-grown bushes will never bore you!
---
How To Get To Tung Lung Chau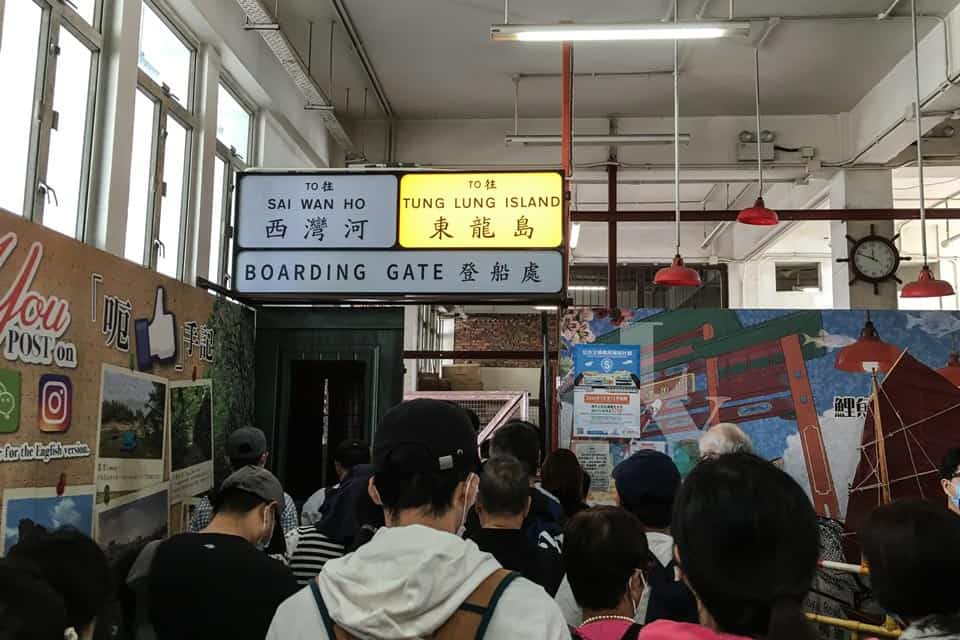 Getting to Tung Lung Chau is relatively easy. You can take a ferry from two piers in Hong Kong.
From the Kowloon side, you can take the ferry from Sam Ka Tsuen pier in Lei Yue Mun in Yau Tong, and for those staying on Hong Kong island, it is best to take the ferry from Shau Kei Wan Typhoon Shelter in Sai Wan Ho.
Taking The Tung Lung Chau Ferry From Sam Ka Tsuen (Kowloon)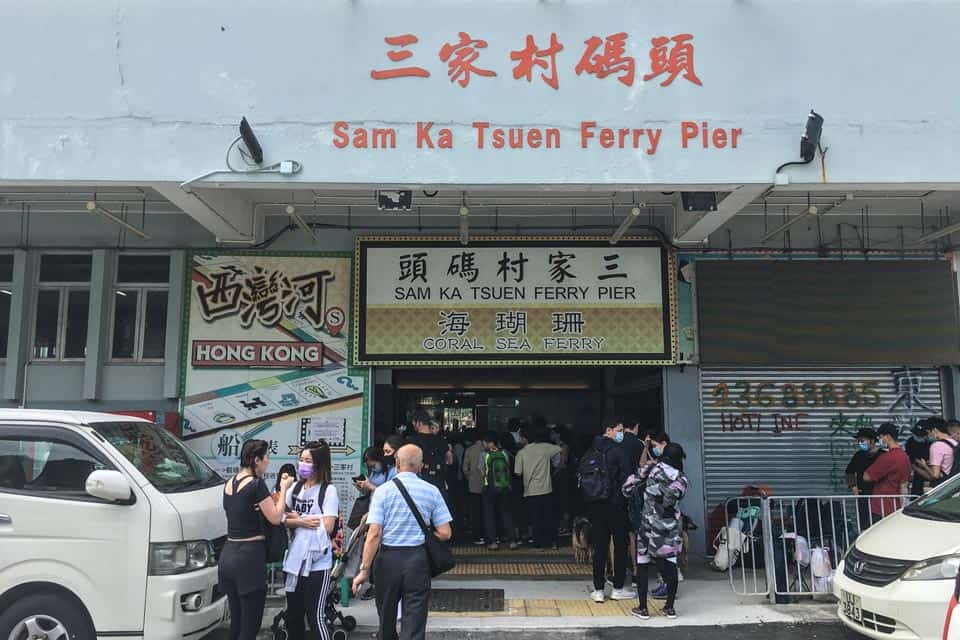 We took the ferry from Sam Ka Tsuen and purchased our return ticket at the ferry terminal.
For a round trip, the Tung Lung Chau ferry costs $45 HKD and $20 HKD for pets (at the time of writing). You can pay using cash or the contactless Octopus card. You must purchase both the ticket to Tung Lung Chau and the return ticket together.
Ferry times from Sam Ka Tsuen can be found online, but it is best to arrive 15 to 20 minutes early so you don't risk the chance of the tickets being sold out (especially the return ticket) and secure a spot on the boat. Unfortunately, we did see some people not being able to get on the boat.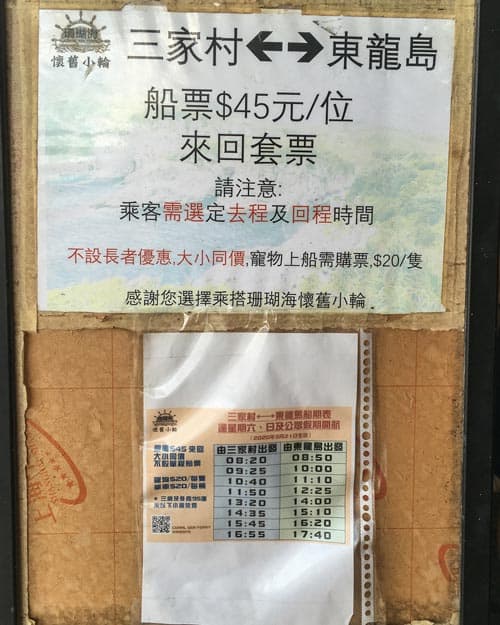 If you are traveling from Sam Ka Tsuen, the ferry will drop you off at Tung Lung Chau Public Pier (also known as the Nam Tong Pier), one of the two piers on Tung Lung Chau. Boats that return to Sam Ka Tsuen will depart from this pier, so you must return to this location for your return journey.
When we took the ferry, we went on a popular day so they added an extra return ferry, which was quite nice for us as we weren't sure we would have enough time to make the last ferry at 5:30 PM!
It is important to note that both ferries operate only on Saturdays, Sundays and public holidays, so make sure you allow plenty of time to explore the island and don't forget your return ferry time, or you could be stuck there for a week!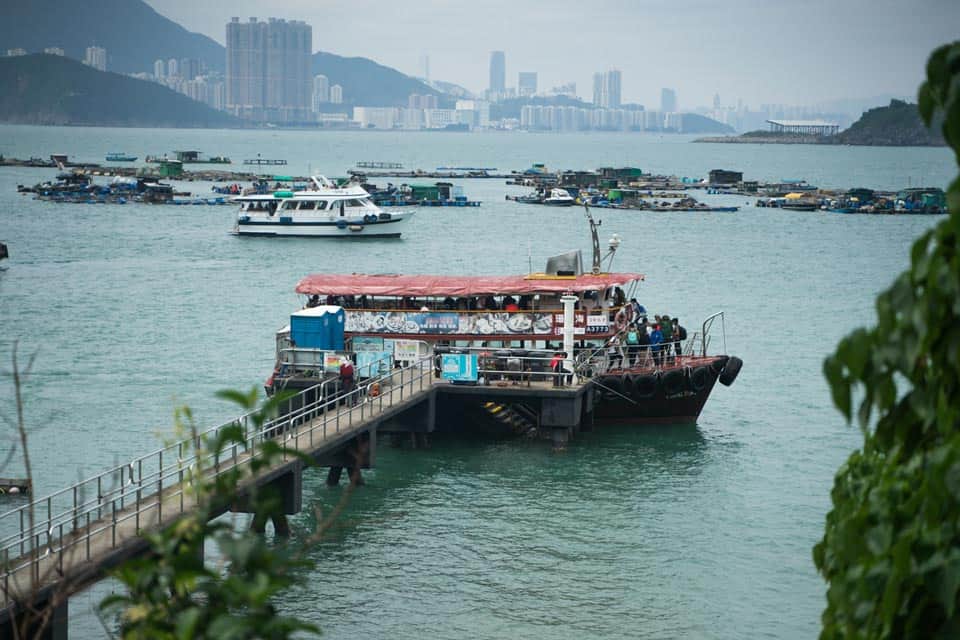 Ferry To Tung Lung Chau From Sai Wan Ho (Hong Kong Island)
Though we didn't take the ferry from Sai Wan Ho, we heard it is as simple as getting a ferry from Sam Ka Tsuen. The ferry to Tung Lung Chau departs from Shau Kei Wan Typhoon Shelter.
Ferry times for Sai Wan Ho can be found online, but it is always good to arrive at least 15 minutes early to secure your ticket. From our understanding, it seems like the ferry option from Sai Wan Ho is less busy than the one in Sam Ka Tsuen. That might be due to the fact that the ferry runs less frequently from Sai Wan Ho.
The ferry from Sai Wan Ho costs $55 HKD for a round trip.
If you are traveling from Sai Wan Ho, the ferry will drop you off at Tung Lung Chau North Pier (also known as the Fat Tong Mun Pier). This is also the same pier you will be taking your return ferry if you came from Sai Wan Ho.
The two piers on Tung Lung Chau island are about a 15 to 20-minute hike from each other, so both ferries are optimal for getting to Tung Lung Chau.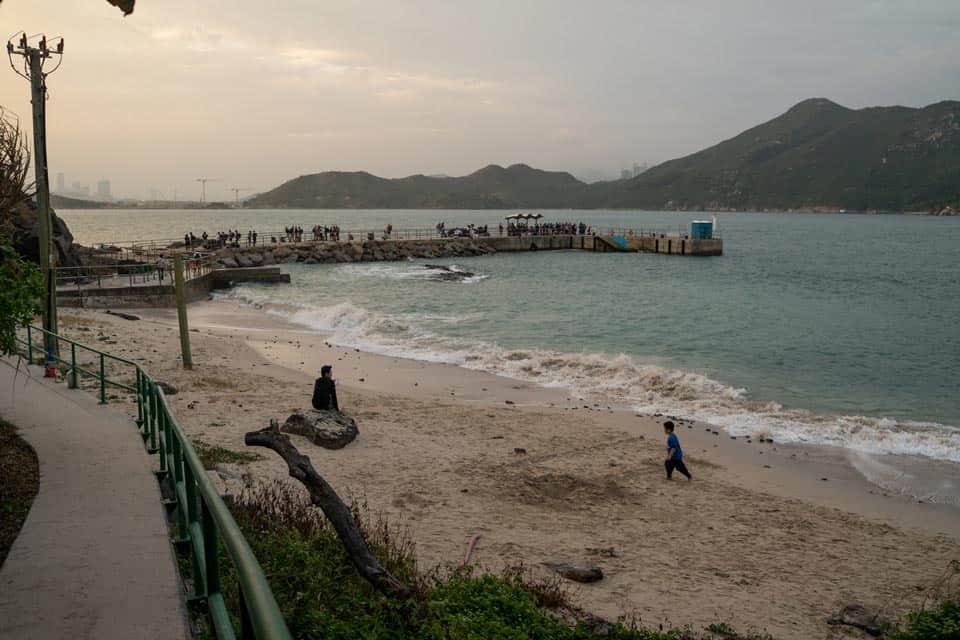 ---
Hong Kong Tung Lung Chau Hike Summary
If you are planning a visit to Tung Lung Chau, you must be interested in doing its hike. More like a scenic loop, the Tung Lung Chau hiking trail takes you through all the top attractions of this small island, as you can see from the map above.
Here is a quick summary of the hiking trail on Tung Lung Chau to see if it is right for you!
Duration Of Hike: The total adventure time was 5-6 hours in total.
Out of the 6 hours we spent on Tung Lung Chau, our actual moving time was about 4 hours hiking. The rest of the time was used for breaks, admiring the scenery and taking photos.
We also did not go to the Eagle Tooth Rock (牙鷹石) or Secret Cave because we ran out of time and had to catch the last ferry back, so allow extra time if you plan to visit these unique geological formations in Tung Lung Island.
However, we did make an extra stop at the Belly Button Cave (肚臍洞) which took us about an additional 45 minutes to 1 hour of hiking time.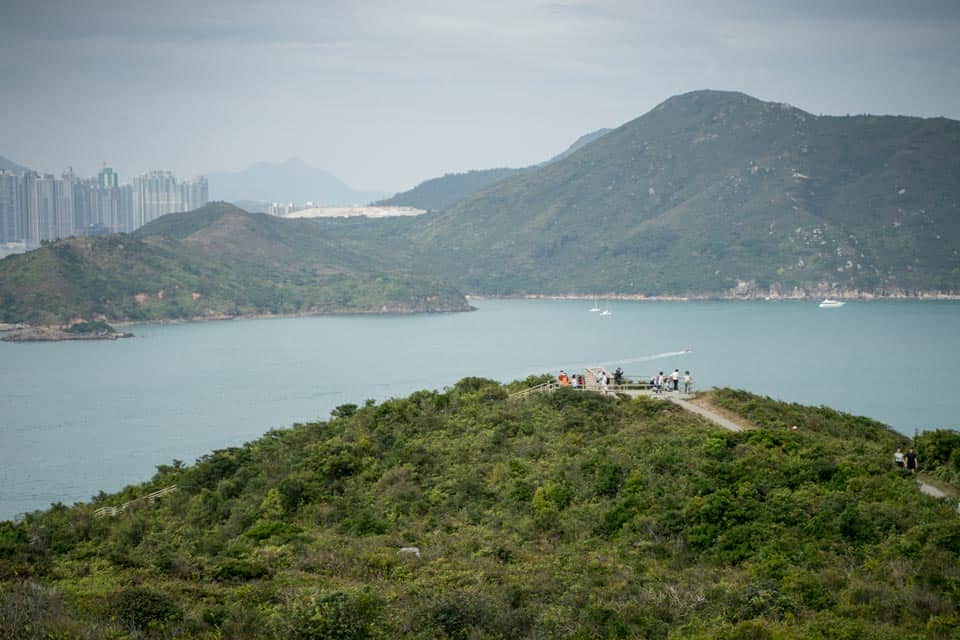 Tung Lung Chau Hike Difficulty: 7.5/10 for distance, 6/10 for physically demanding.
It is not a physically difficult hike and most of the incline is gradual, but there is a lack of shade on the entire island which can exhaust you quickly if you're not well prepared. The terrain is also very beginner-friendly, perfect for anyone that wants to do any hiking in Hong Kong with kids.
However, this Tung Lung Island hike is at least 8 kilometers, so if you are not used to the distance it might tire you out!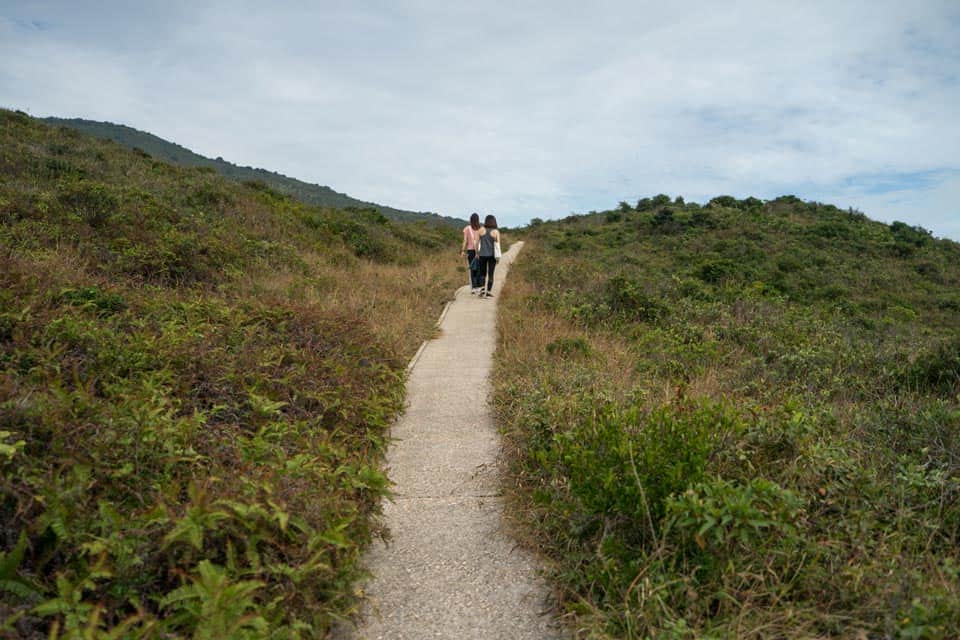 Elevation Gained On Hike: 539 meters (1,768 feet) gained in total throughout the entire loop.
Because we did not go out Eagle Tooth Rock and went down to Belly Button Cave, your results might vary.
Total Distance Of Hike: Our loop was 9.8 kilometers (6.08 miles) for the entire loop but we visited the Belly Button Cave. Normally, expect around 8.5 kilometers for your hike on Tung Lung Chau.
---
What To See On The Tung Lung Chau Hiking Trail
Above is the Tung Lung Chau map with all its attractions, both well-known and hidden. The best way to see all these places is by hiking the full ~9 km circular trail from the pier where the ferry drops you off on Tung Lung Chau.
Make sure you click on the map, as that will take you to our personally designed Google Maps with each attraction in detail.
Depending on which ferry you take, you will either start from Tung Lung Chau Public Pier in Nam Tong village or Tung Lung Chau North Pier near Fat Tong Mun. The two piers are about a 15-minute walk from each other and start in a small village where you can pick up some water or snacks before you set off.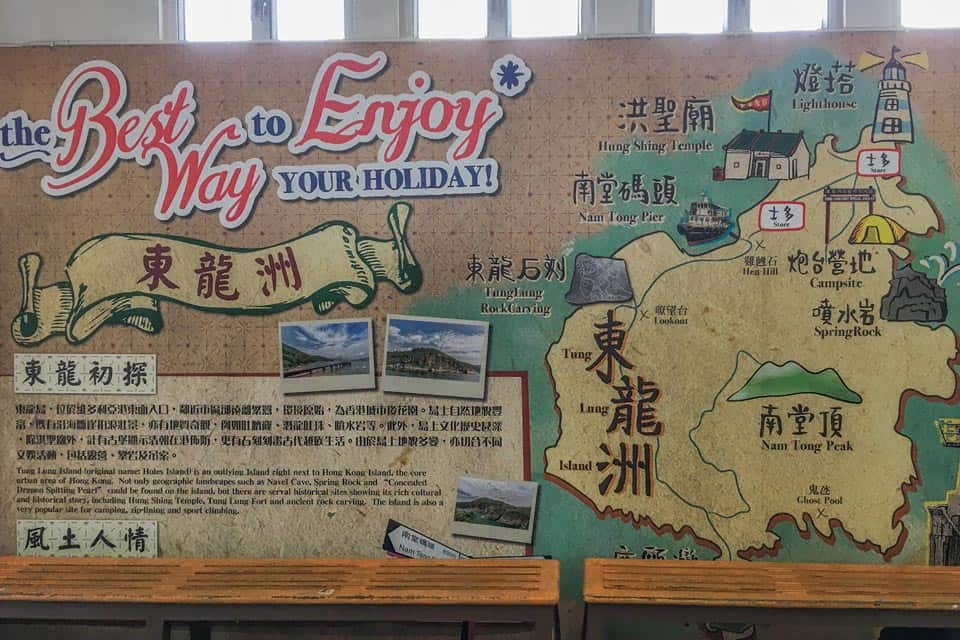 Now you're ready to start your hike!
Should you hike the Tung Lung Chau loop clockwise or counter-clockwise?
We decided to hike the loop counter-clockwise as we heard it was the best route to take. After experiencing the entire hike, we can say that it is less physically demanding to hike counter-clockwise but a bit more dangerous.
Why? If you hike counter-clockwise, the descent from Nam Tong Teng involves a steep and slippery rocky terrain
If you hike Tung Lung Chau clockwise, it will be more tiresome because of the steep incline to Nam Tong Teng, but your decline will be on a nice gradual paved path.
Here are some of the best sightseeing spots on your Tung Lung Chau hiking trail.
1. Tung Lung Chau Ancient Rock Carving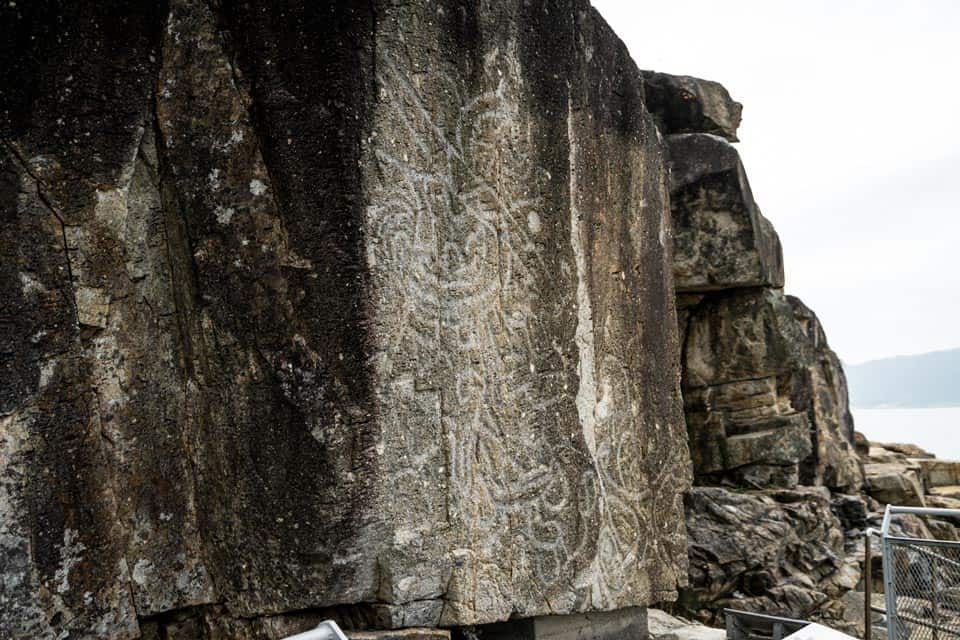 Aside from being an area of impressive natural beauty, Tung Lung Chau has also retained a lot of its history. The first historical point on the Tung Lung Chau hike is the ancient rock carving, located on the northwestern side of the island.
The Tung Lung Chau ancient rock carving is the biggest of the nine rock carvings in Hong Kong, measuring 1.8 meters x 2.4 meters. If you are interested in the other rock carvings, make sure you check out Po Toi Island, Cheng Chau, Cape Collinson (recently discovered), and more!
According to the information displayed at the site, it dates back to over 4000 years old near the Bronze Age. While no one really knows what it says, the pictures slightly resemble a dragon.
As with all things old and impressive, getting to them requires some sacrifice. The way to the ancient rock carving requires hiking down, and back up again, some 460 steps, which if you are planning to take the full 9 km hike you might want to factor in.
While it might be a little tiring to visit, it is definitely worth checking out.
2. Tathong Point: Tung Lung Chau's Most Southern Peninsula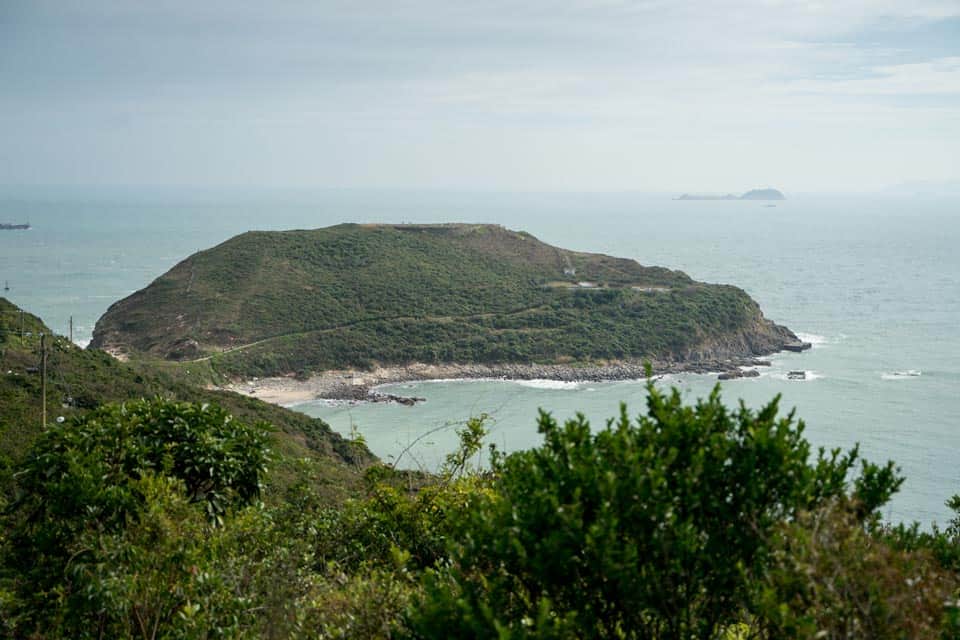 Tathong Point itself doesn't really have any attractions as such, with the only structures on the peninsula being an old radio station and the ruin of the island's coastal defenses.
However, it is still worth checking out for the incredible views looking back at the island from the end of the peninsula. At this southern tip, visitors can faintly make out Cape D'Aguilar, home to the only marine reserve in Hong Kong.
To get to the peninsula from the trail, follow the road sign to Luk Keng Wan and walk 80 or so meters down the hill.
When you come to the start of a huge fenced-off area, you actually want to turn left and scramble up the hill along the side of the fence. It looks dangerous, but it's not. You are a long way from the cliff edge (but still be careful!). From the top of the hill, you will find a good spot to capture some insane photos of the island.
You can then enter the grounds through a broken part of the fence by following a small trail, leading you to a circular ruin that resembles what a helicopter pad might look like if it was built in the 1800s. 
3. Nam Tong Teng: Tung Lung Chau's Highest Peak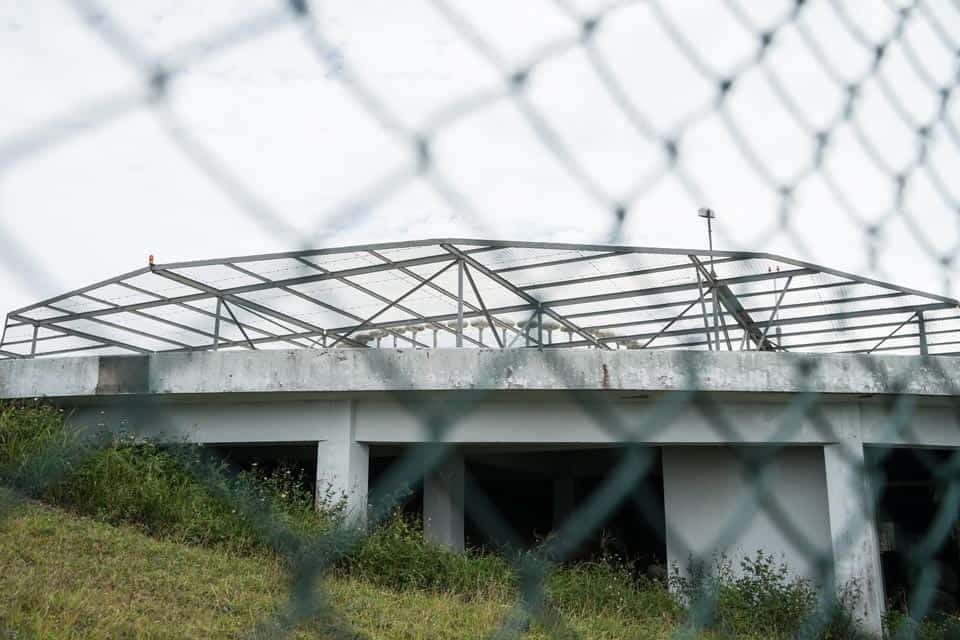 If you had decided to hike counter-clockwise, hiking up to Nam Tong Teng should be relatively easy for you. At over 230 meters high, Nam Tong Teng is the highest peak on Tung Lung Chau, but it is minuscule compared to Lantau Peak, Tai Mo Shan or Lion Rock.
The path is well paved all the way and the incline is gradual, which makes it an easy terrain to hike on (if done counter-clockwise). As you hike, make sure you turn around and admire the incredible views behind you.
The hike to the peak has little shade until you reach the top, so make sure you pack plenty of water.
At the top of the peak, you will find Tung Lung Chau's satellite communication station and a helipad. This station is completely gated off so don't try to enter!
Once you reach the station, follow the fencing around and you will find a narrow and slightly overgrown path. Follow that path and it will allow you to continue on your hiking path.
If you have hiked counterclockwise, the route down the peak is a little more tricky as the pavement has now disappeared and the more rustic and fun hiking begins!
4. Belly Button Cave (Only For The Adventurous)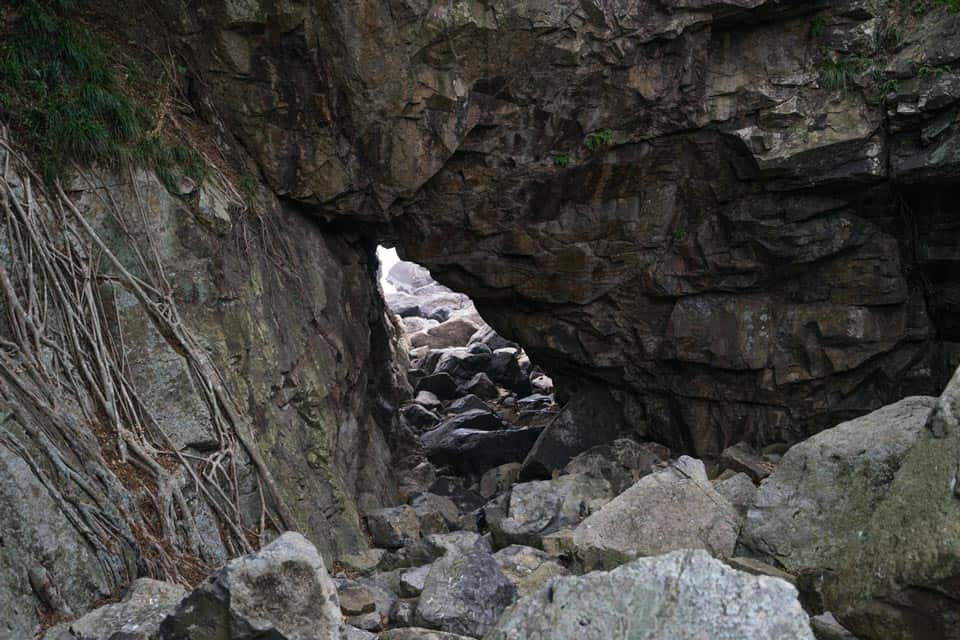 We'll start by being brutally honest, we wish we had read a guide on the Belly Button Cave (肚臍洞) before tackling this beast. Luckily for you, we will explain the reasons why so you can embark on this quest with the full knowledge of what to expect.
The Belly Button Cave (might also be called Navel Cave) is a unique and natural rock cave that opens up onto a cool rocky bay. With a massive opening on the side of the rock surface, the Belly Button Cave offers visitors an extraordinary photo experience.
You can also walk through the cave and emerge seaside, but beware of the strong waves that are often present near Tung Lung Island.
Though quite the geological formation, arriving at Belly Button Cave requires some sacrifices.
The entrance to the "path" is quite hidden from the hiking trail, so you must rely on the app maps.me to find the exact location for the start of the trail.
Once we got on the trail, we started walking through this dense, overgrown brush that came up to our armpits. The trail began to make its way down the mountain through thick forestry that required some bushwhacking in places.
The Belly Button Cave is located at the end of a steep "sketchy" path on the right before you reach the edge of the cliffs. If it wasn't for the ribbon you find on the hiking trails in Hong Kong, we would never have found it.
If there is one thing we learned from hiking to the Belly Button Cave, it is to cover yourself as much as possible. Long sleeves and pants are necessities, even if you are visiting Tung Lung Chau in the summer.
5. Tung Lung Fort (AKA Fat Tong Fort)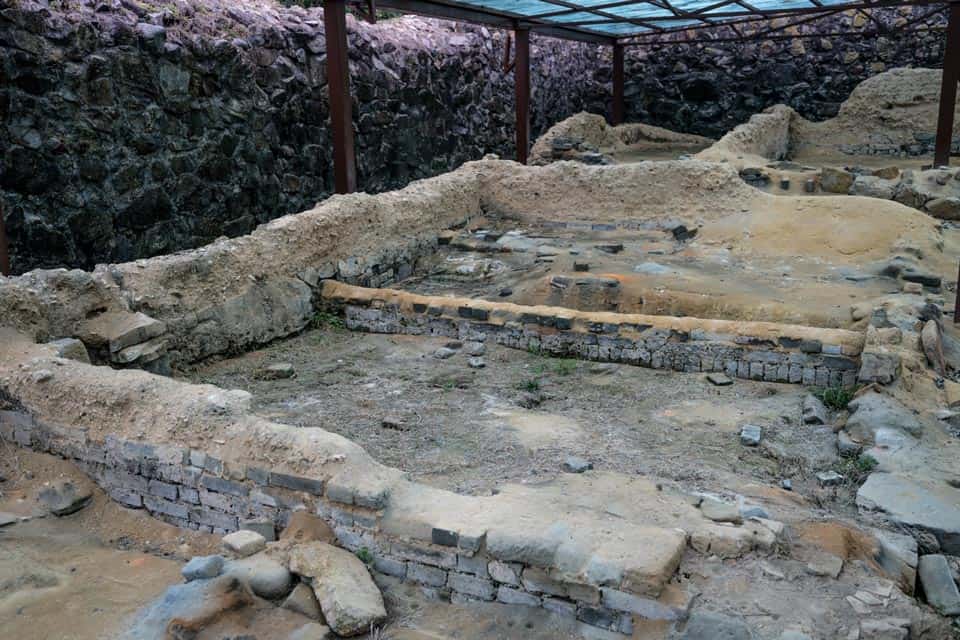 Spoiling us with another impressive historical site on Tung Lung Chau is the Tung Lung Fort.
The fort dates back to (1662-1722) during the Kangxi era. According to old, historical documents that no one has seen, it was built to protect the island from pirates. According to some different historical documents, the fort was built by Yang Lin, Viceroy of Guangdong and Guangxi in 1719.
Although exact details of when it was built are a little hazy, it has been abandoned since the 1800s, and today it remains nothing but a ruin…but a cool ruin, at that.
The ruin itself has undergone some partial repair and restoration work, as well as an archeological excavation in the early 80s, but the majority of the fort remains true to its original form.
The fort is small and does not require much time to see, but it is worth taking the time to admire this great monument.
Make sure you check out the viewpoint that is a little further down the path from the fort.
6. Spring Rock
In close vicinity to the Tung Lung Fort is another one of the island's hidden gems – Spring Rock (噴水岩). This one is quite difficult to find mostly because it is somewhat misleading. If you are using Google Maps (like we were) you would arrive at the lookout that we mentioned above in the Tung Lung Fort section.
However, this isn't where the Spring Rock is. If you want to visit Spring rock, use the maps.me app and you will discover a small trail that takes you closer to the edge of the island. Because we didn't visit the correct place, we can't tell you what that is like.
But according to what we read online and the poster from the Sam Ka Tsuen ferry pier, it is a place where the waves crash violently with the side of the cliffs, creating a gush of water that shoots into the sky. At a certain angle, it looks like a small geyser.
A short walk from the Tung Lung Fort, it is worth checking it out if can spare the extra time. Spring Rock is also one of the most popular locations for rock climbing in Tung Lung Chau!
7. Secret Cave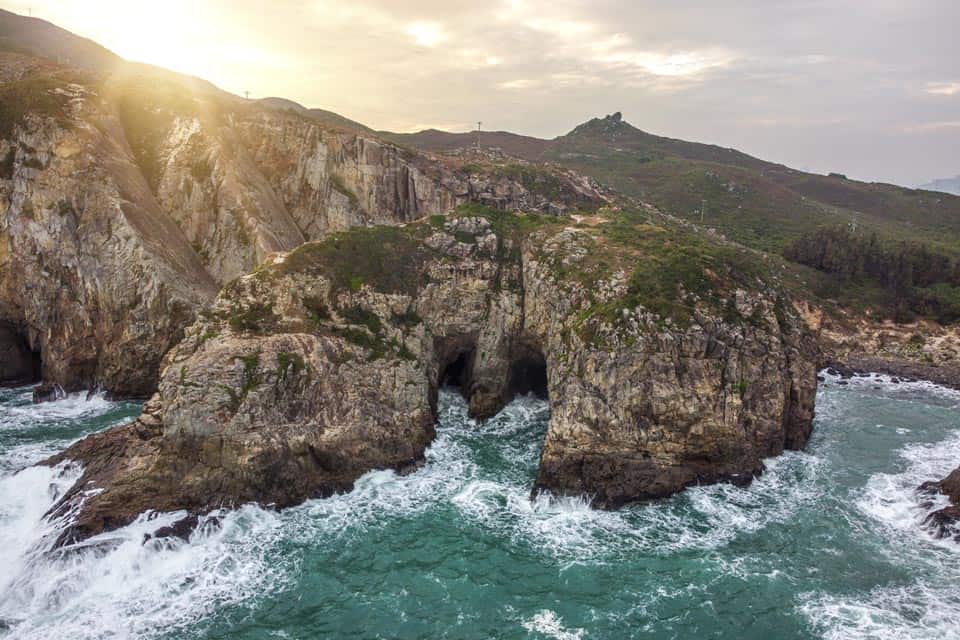 The Secret Cave (崖下秘洞) is another location in Tung Lung Chau that we didn't get to visit due to the time restraint. We were only able to see it with our drone from the lookout point next to Tung Lung Fort.
From the drone shot, it is an impressive and slightly phallic-looking cave that only has a Chinese name (崖下秘洞), which roughly translates to Below-Cliff Hidden Cave.
Though on maps.me, there is technically a trail that arrives somewhere near it, we are unsure if you can get down and see through it like the Belly Button Cave. However, we have seen pictures of it looking out from inside the cave, but we aren't sure if those pictures are from rock climbers.
This location is one of the most popular spots for rock climbing on the island. Like the Spring Rock and Belly Button Cave, the Secret Cave is a somewhat unpopular attraction on Tung Lung Chau. Consider adding this to your visit if you have extra time.
8. Eagle Tooth Rock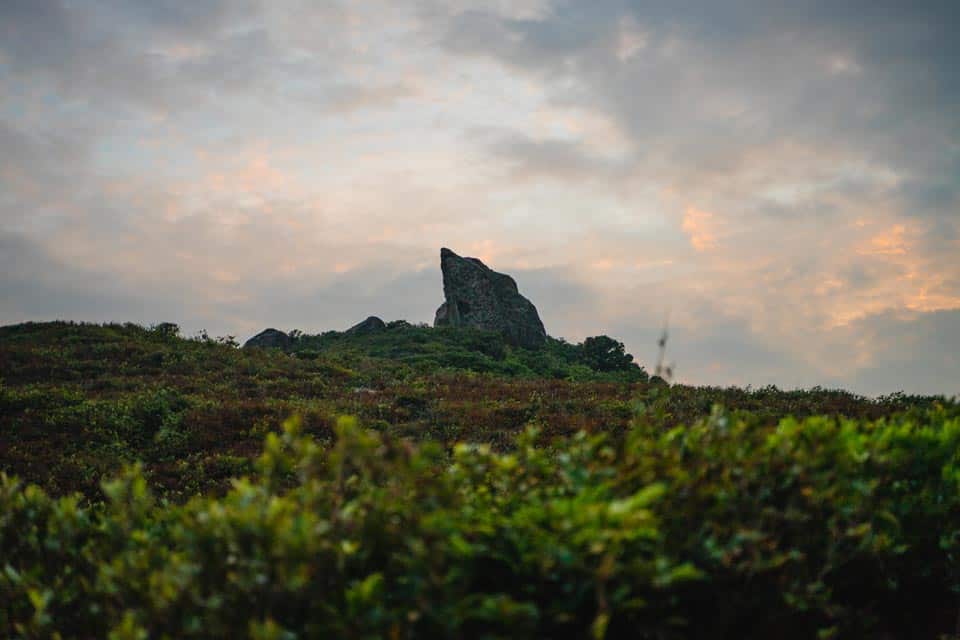 As soon as you step off the ferry, your eyes begin to marvel at all the impressive rock formations around you. We bet our bottom dollar that your eye is immediately drawn to one, singular rock formation that sticks out like a sore thumb.
This rock is commonly referred to as Eagle Tooth Rock (牙鷹石), as its Chinese name translates to. When you look at the rock from the trail, it's not hard to see how it got this name as it resembles an upturned eagle's beak.
To get to the rock, it's just a short, 10 to 15-minute walk from the main hiking trail from the North side of the island to the rock formation.
Getting there is only a 25-minute detour (there and back) but it's worth factoring in more time as you'll want to spend time taking photos.
9. Tung Lung Chau Lighthouse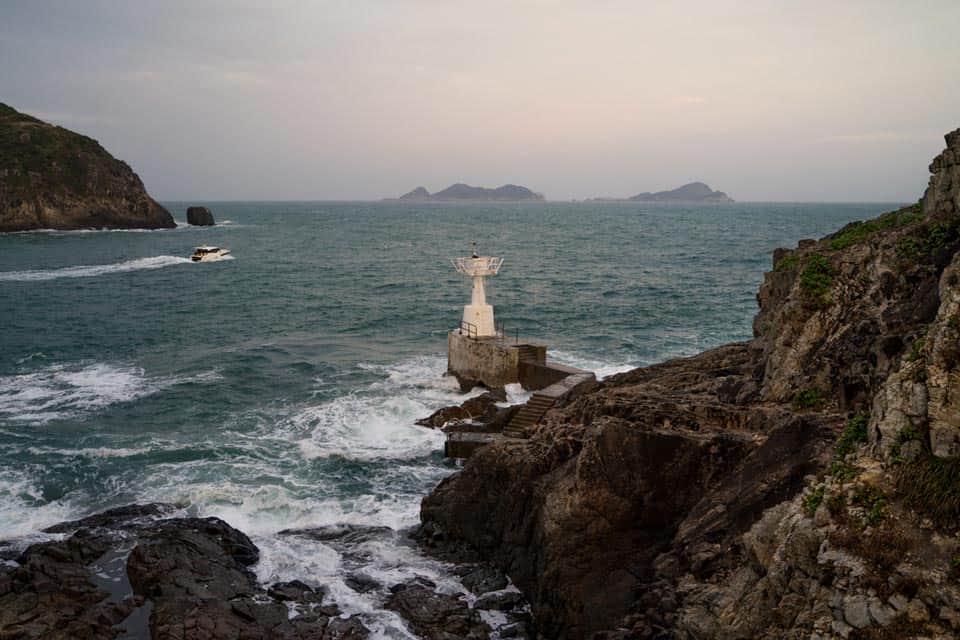 Little information is available for the Tung Lung Chau Lighthouse, but don't let that undermine its beauty. Located in the Northeastern tip of the island, the Tung Lung Chau Lighthouse sits on the edge of the rocky outcrop, enduring the powerful waves that relentlessly assault it daily.
The lighthouse is located near the Tung Lung Fort, so it is definitely worth the small detour to visit it. This area, though far from the toilets, is a popular place for camping because it boasts some of the most magnificent views on Tung Lung Chau.
---
Other Things To Do On Tung Lung Chau Besides Hiking
1. Go Camping On Tung Lung Chau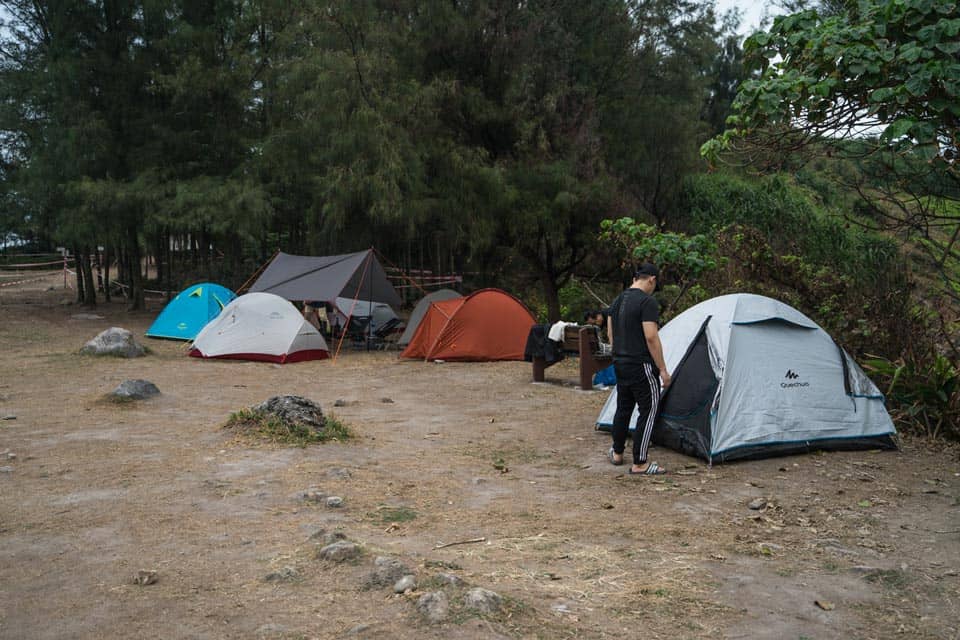 One of the best things to do in Tung Lung Chau is to go camping. With the campsite located near the Tung Lung Fort, it has been a special area to camp since the late 70s.
Camping at Tung Lung Chau is quite a simple process, but you will need to carry all your equipment and everything you need, as there is no tent rental and limited options when it comes to refreshments.
The shops also close after the last ferry has left for the day, meaning from around 5:30 PM to the next morning, you are pretty much on your own!
The Tung Lung Chau campsite features dry toilet facilities, access to stream water, barbecue pits, benches and tables, and rubbish bins. If you would like to drink the stream water, make sure you have a way to treat it. We drank from it using our LifeStraw bottle and we were fine!
Some campers might decide to camp near the Tung Lung Chau Lighthouse. While that is not an official campsite, it offers unparalleled views and the utmost serenity.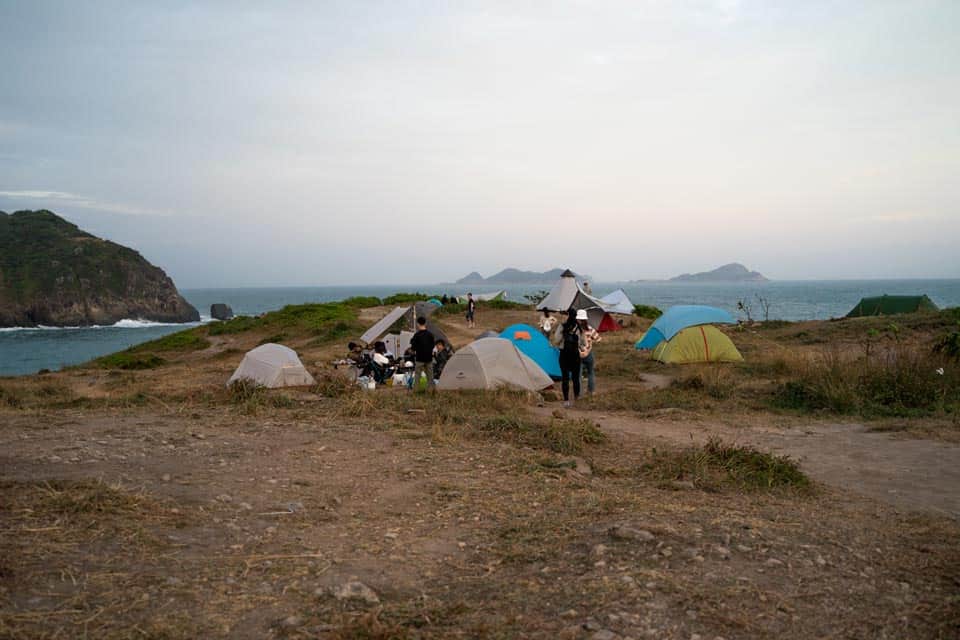 If you just want to visit the island to camp, getting there is easy. The campsite is located on the North East side of the island, so it's easier to get a ferry to Tung Lung Chau North Pier from Sai Wan Ho. Otherwise, it is only a 20-minute walk from the Tung Lung Chau Island Public Pier if you are coming from Sam Ka Tsuen.
2. Rock climbing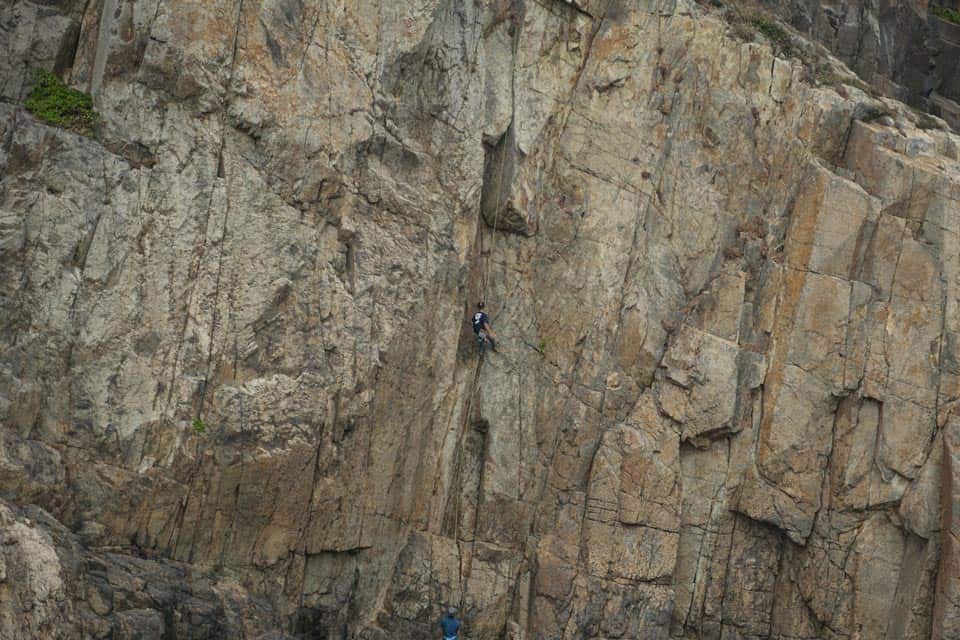 For avid rock climbers, Tung Lung Chau is one of the best places to go rock climbing in Hong Kong. Its steep, vertical rock faces are not to be underestimated and require the highest level of skill.
Most of the rock climbing sites are on the west side of the island, but some like to climb the Kite Rock in the center of the island if the cliff edges seem a little daunting.
While Tung Lung Chau offers a variety of different levels of technicality, the overall difficulty rating for climbing on Tung Lung Chau is medium to high.
Though we are not rock climbers ourselves, we were able to witness climbers tackling the beastly rocks and it is not for the faint-hearted.
If you are new to rock climbing then perhaps Tung Lung Chau is a little ambitious for you. You can practice at one of Hong Kong's indoor climbing walls beforehand to see if it's for you.
Whatever your experience, we would not recommend rock climbing alone and best to be accompanied by a professional guide.
3. Swim At A Beach on Tung Lung Chau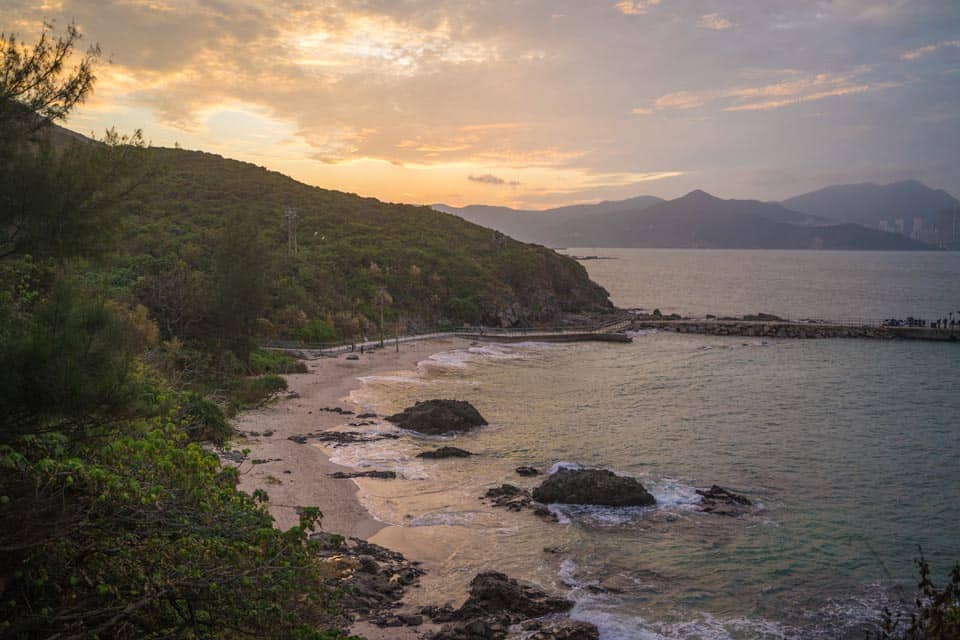 Although best known for the campsite and hiking trail, beaches in Tung Lung Chau are also a good spot to chill out and relax away from the bustling city.
There aren't many beaches to choose from, both the small beaches we saw rest on either side of Tung Lung Chau North Pier. The beaches are small but they're clean and quiet, with a small shop nearby to replenish at.
If you're looking for a quiet beach in Hong Kong with fewer people, you might want to consider Tung Lung Chau.
---
Food And Restaurants On Tung Lung Chau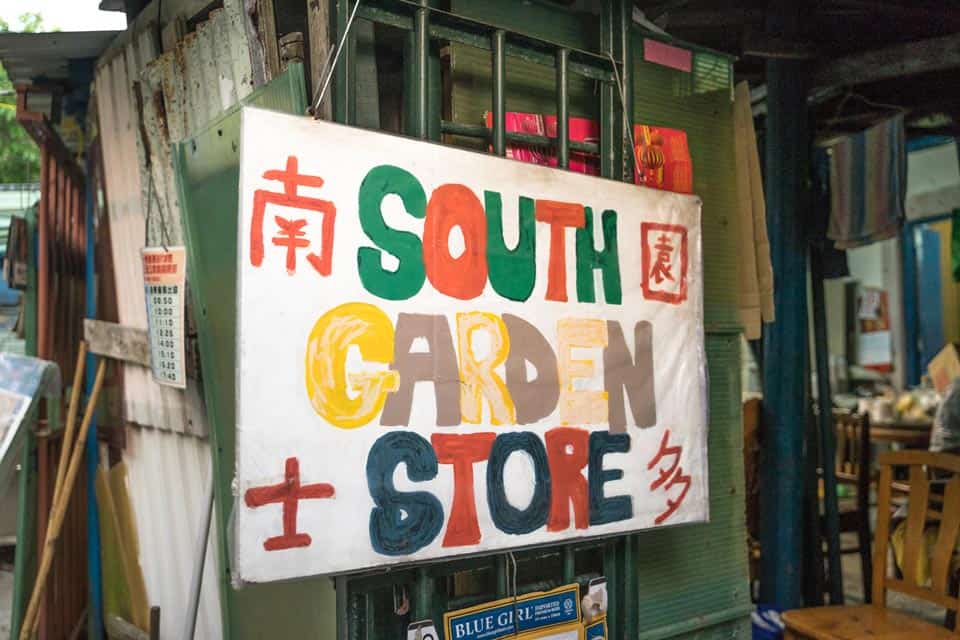 Are there any food or restaurants on Tung Lung Chau?
The answer is: Yes!
Near the two piers of Tung Lung Chau are tiny "villages" where the few inhabitants of Tung Lung Chau reside. Here you will find small restaurants and stores (similar to the ones in Ham Tin or Sai Wan in Sai Kung) offering you food and drinks.
While their selection is certainly not the greatest, the meals are quite delicious and the perfect fuel for exploring Tung Lung Chau. Visitors can try some homemade herbal tea in one of the stores.
However, because the ferries only operate on the weekends and public holidays, everyone that wants to visit Tung Lung Chau is going to be there on those days.
The result? Extremely packed restaurants that could take over an hour to prepare your food.
If avoidable, we recommend you to bring your own packed lunch or eat a big meal before visiting Tung Lung Chau. This way you don't waste valuable time waiting for your food!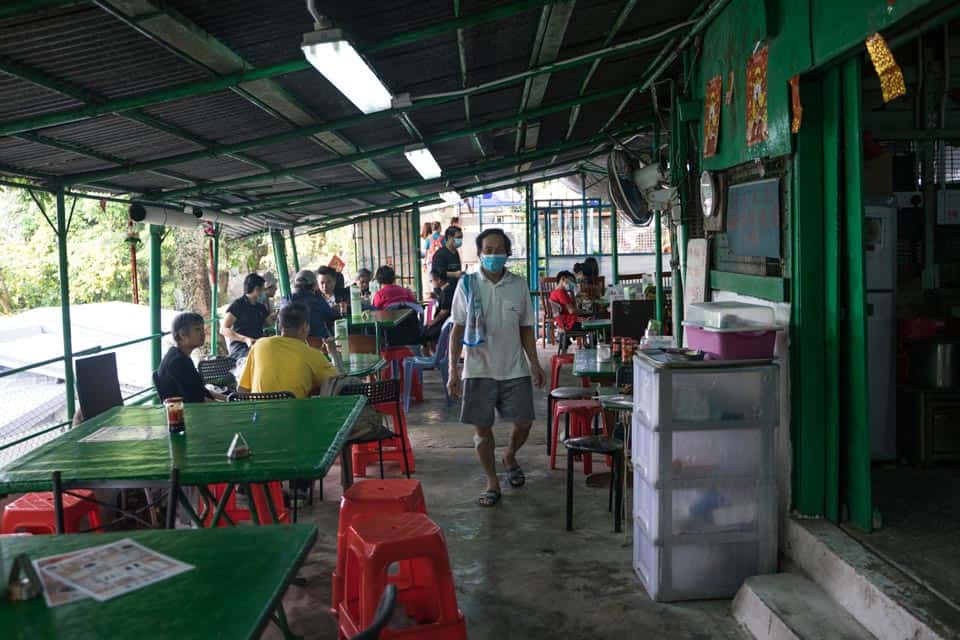 ---
Best Time To Visit Tung Lung Chau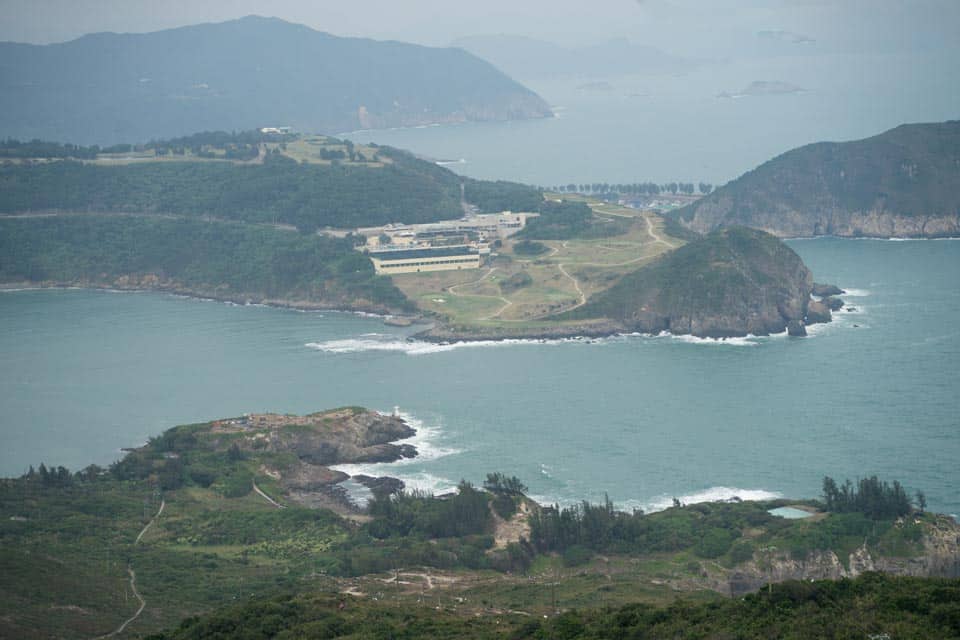 Because of the lack of shade on this island, the best time to do any hiking on Tung Lung Chau is in the winter (December to March). Hong Kong's winter weather is mostly dry with hardly any rainfall, making it the perfect time to venture outdoors.
We highly advise against hiking Tung Lung Chau in the summers of Hong Kong because the trail is very exposed and offers little shade. If you do decide to hike, pack lots of water (3 liters or so) and go early in the day so you can avoid the midday heat!
Because this is a ~9 km hike, it is best to be well prepared and plan your time accordingly. If you wake up late, perhaps you should consider a smaller hike like Ap Lei Chau and try Tung Lung Chau another weekend.
Tung Lung Chau ferries only operate on weekends and public holidays, so it is best to plan ahead if you want to add Tung Lung Chau to your Hong Kong itinerary.
---
How To Prepare For Your Tung Lung Chau Trip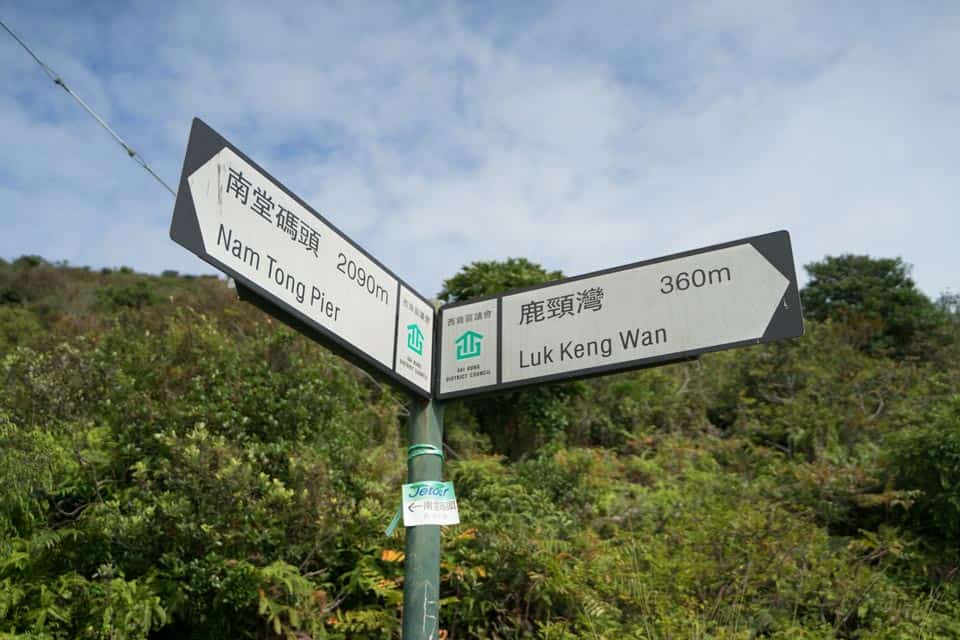 If you are planning on visiting the Belly Button Cave, we highly recommend you to wear long pants and sleeves. Even if you are not, consider them due to the lack of shade and long hike on Tung Lung Chau.
If you want to try rock climbing, it is best to find a rock climbing guide as the rock faces are very steep and should only be tackled with the assistance of a professional.
Planning is essential when you want to take a day trip to Tung Lung Chau. The entire hike itself takes about 5 to 6 hours to complete, so allocate enough time if you don't want to miss the ferry. Remember: Ferries are only available on the weekends or public holidays!
There are a few restaurants on Tung Lung Chau. But because of their popularity, they are often crowded. Even though their food isn't bad, you might have to wait up to an hour or more for your food, especially during peak hours such as lunchtime.
The hiking trail is mostly paved, but upon descending Nam Tong Teng Peak, the path becomes quite steep and overgrown. So, we would recommend sturdy hiking boots to support your ankles on this descent.
---
Tung Lung Chau FAQs
How Difficult Is The Tung Lung Chau Hike?
The Tung Lung Chau hike is moderately difficult and takes about 5 to 6 hours in total to complete. Most of the hikes are unshaded, which further adds to the difficulty level as hikers can easily catch a heat-related illness while hiking.
How To Get To Tung Lung Chau Island?
To get to Tung Lung Chau Island, you can either take the kaito ferry from Sam Ka Tsuen in Kowloon or Shau Kei Wan Typhoon Shelter in Hong Kong Island. Just remember that there is service only on Saturdays, Sundays and Public Holidays.
Like this post? Don't forget to save it on Pinterest!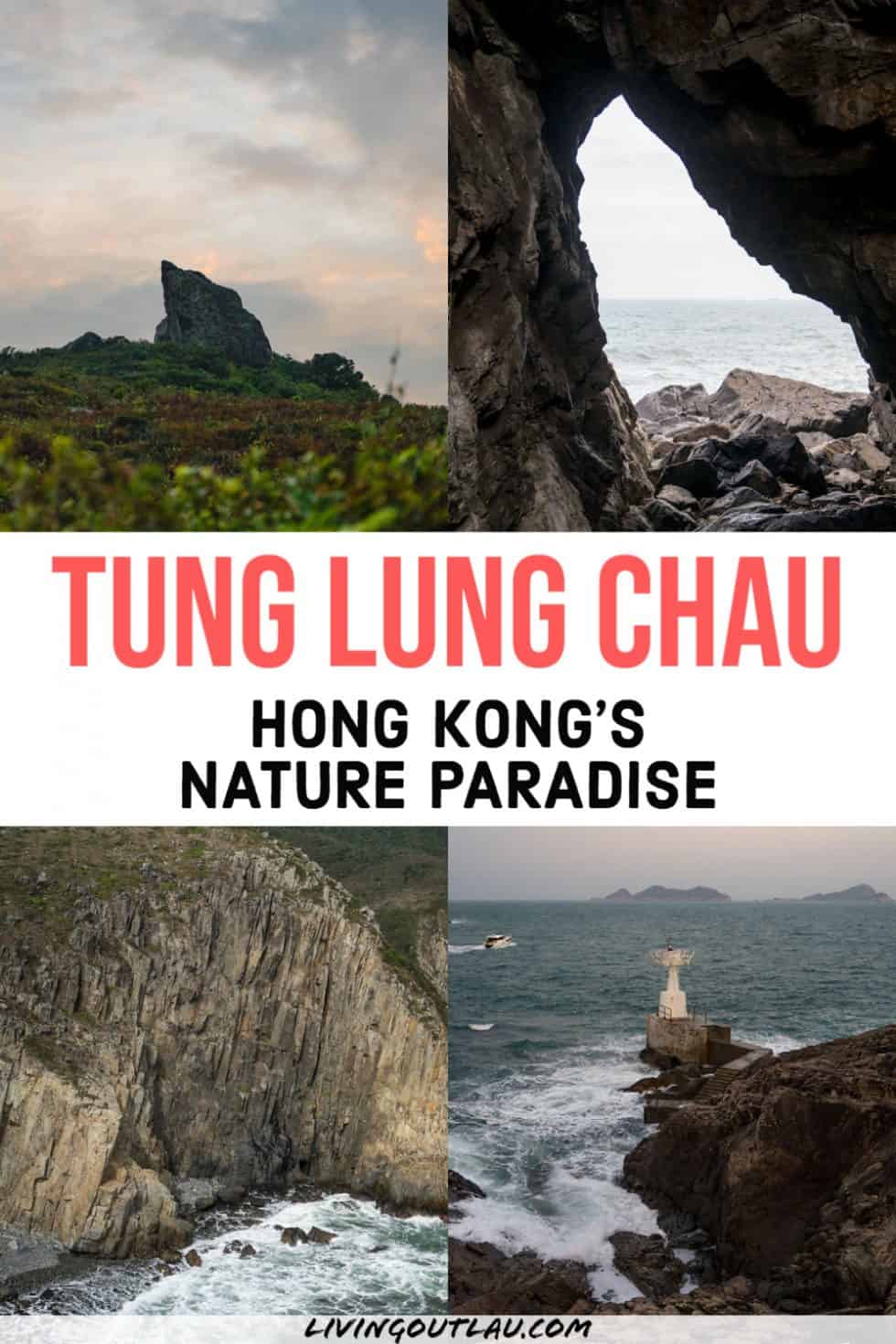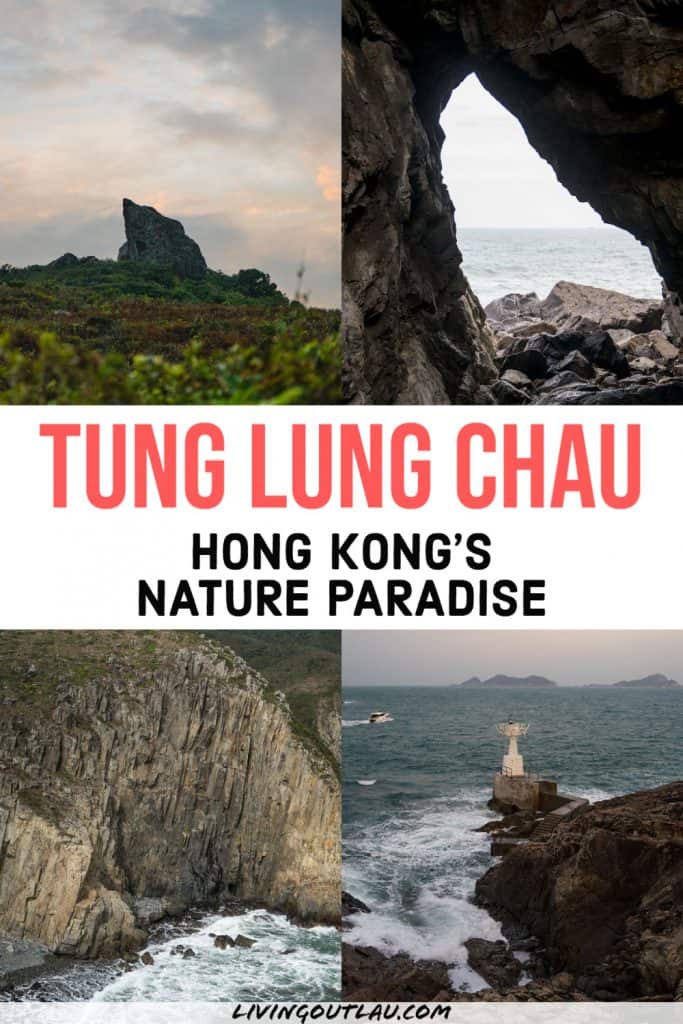 ---
This is the end of our guide to Tung Lung Chau in Hong Kong. We hope we have given you an insight into all the attractions in Tung Lung Chau and provided the necessary information to explore this incredible island!

Any questions? Let us know in the comments!
Disclaimer: Some of the links above are affiliate links. That means if you book or make a purchase through the links, we will earn a small commission at no extra cost to you! The money will help run this site! Thank you!