Located in the Southern District of Hong Kong is Ap Lei Chau (also called Aberdeen Island), the most densely populated island in Hong Kong. Surrounded by pristine bodies of water, Ap Lei Chau has become a relaxing escape from the bustling city life of Hong Kong.

While there are many things to do in Ap Lei Chau such as strolling along the promenade and checking out the nearby temples, the iconic attraction is Mount Johnston (Yuk Kwai Shan), the highest peak in Ap Lei Chau.

Hikers are rewarded with breathtaking views of the South China Sea and the surrounding areas, a glimpse into some of the most interesting geological formations in Hong Kong, and a gorgeous tidal pool. It is hard to not fall in love with this hike.

That is why we have written this guide on how you can do the Ap Lei Chau hike!

Enjoy!
Hong Kong Ap Lei Chau Hike Summary
Not sure if the hiking Ap Lei Chau in Hong Kong is right for you? Here is a quick summary:
Duration Of Hike:Around 3 hours in total out-and-back.
Out of the 3 hours, we spent 2 hours and 15 minutes hiking, the rest of the time was used for breaks, admiring the views, and taking photos.
We also did not go in the tidal pool at Mount Johnston Lighthouse (because we were out of time), so allot an extra 15 to 30 minutes if you plan on swimming in Ap Lei Chau!
Ap Lei Chau Hike Difficulty: 8.5/10 for technicality, 6/10 for physically demanding.
It is not a physically difficult or long hike, but the treacherous descent and ascent might require you to have a bit of hiking experience and/or lots of patience.
Elevation Gained On Hike: 327 meters (1,073 feet) gained in total out-and-back.
Total Distance Of Hike: 4.3 Kilometers (2.67 miles) out-and-back
Why Hike Ap Lei Chau? On the Ap Lei Chau hike to Ap Lei Pai via Mount Johnston, hikers can admire the extensive views of the South China Sea, Ocean Park, Lamma Island, South Horizons, The Peak, and more.
Ap Lei Chau and Ap Lei Pai are connected by a natural sandbar (tombolo), an incredibly rare natural occurrence.
At the end of the hiking trail, Mount Johnston Lighthouse stands proudly at the edge of the cliff and hikers can enjoy the magnificent juxtaposition.
A tidal pool also sits about 30 meters away from Mount Johnston Lighthouse, so you can get a refreshing dip before heading back! (This is one of our favorite hidden gems in Hong Kong, don't tell everyone!)
Ap Lei Chau Hiking Trail To Ap Lei Pai (Via Mount Johnson)
Above is the Ap Lei Chau hike to Ap Lei Pai via Mount Johnston (also known as Yuk Kwai Shan in Cantonese).
Unlike the Lion Rock hike that has multiple possible starting points, there is only one for Ap Lei Chau. There are "unofficial trails" that go around Mount Johnston but we won't be including those in this guide because we haven't done those and think they are not worth the risks involved.
Ap Lei Chau, the third-most densely populated island in the world, is located south of Hong Kong Island. Luckily for you, the MTR (Mass Transit Railway) now operates on the Southern District of Hong Kong Island, thereby connecting this Ap Lei Chau to the rest of Hong Kong.
As a result, the Ap Lei Chau hike starting point is easily reachable by the MTR. Hikers must take the MTR to Lei Tung MTR Station on the South Island Line.
Once you have reached the Lei Tung MTR Station, you must take Exit B for Lei Tung Estate.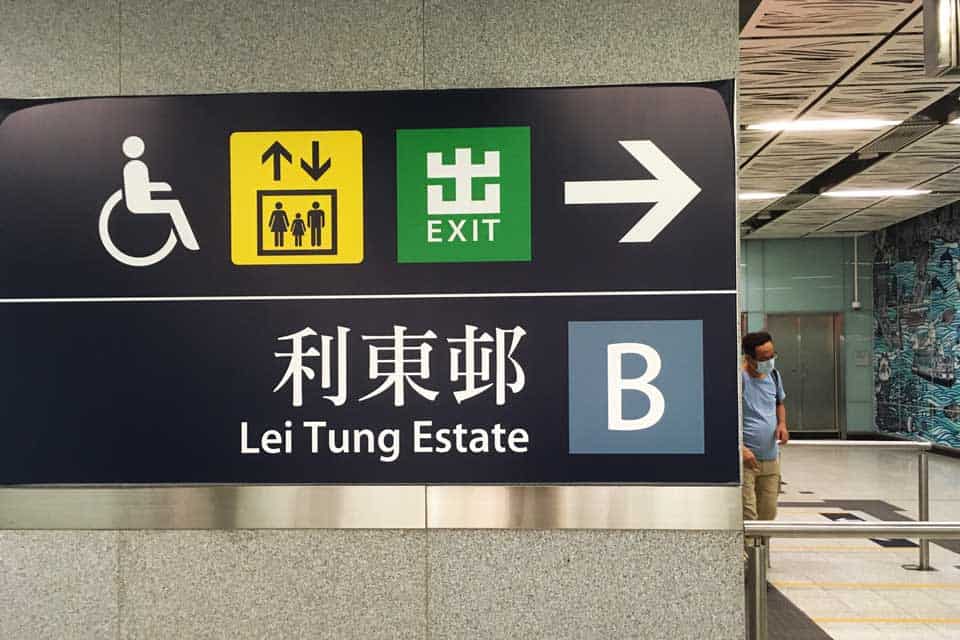 Exit B will take you to the ground level, where you will then head in the opposite direction of the public housing estates (refer to the map above if you need help).
Shortly, you will see a bus stop. Stick to the left side of the street and the Ap Lei Chau Kai Fong Primary School will soon come into your view.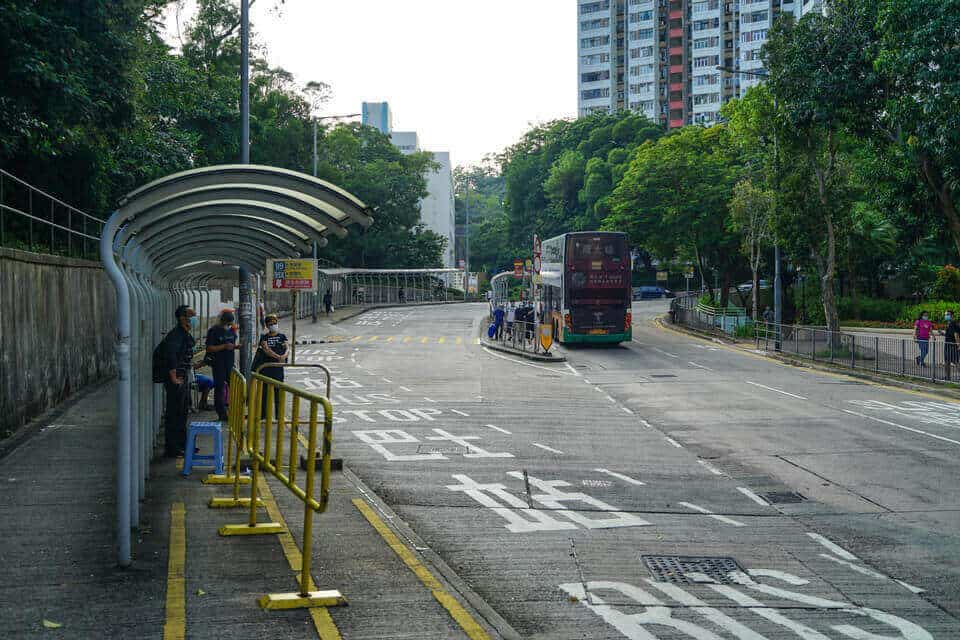 Before you reach the school, there is a small path that forks left into the trees. Take that path and momentarily you will reach a small nameless road.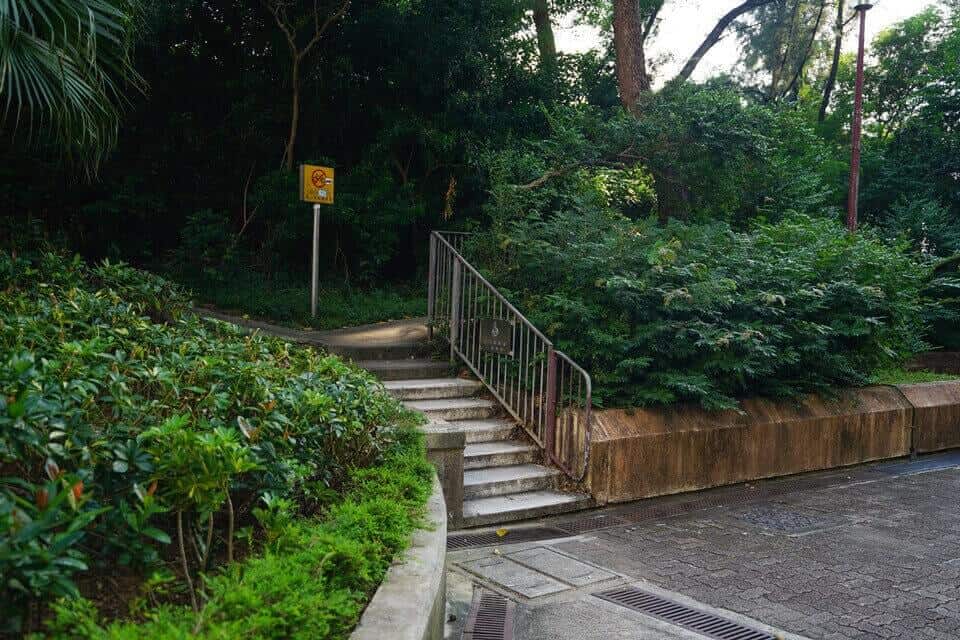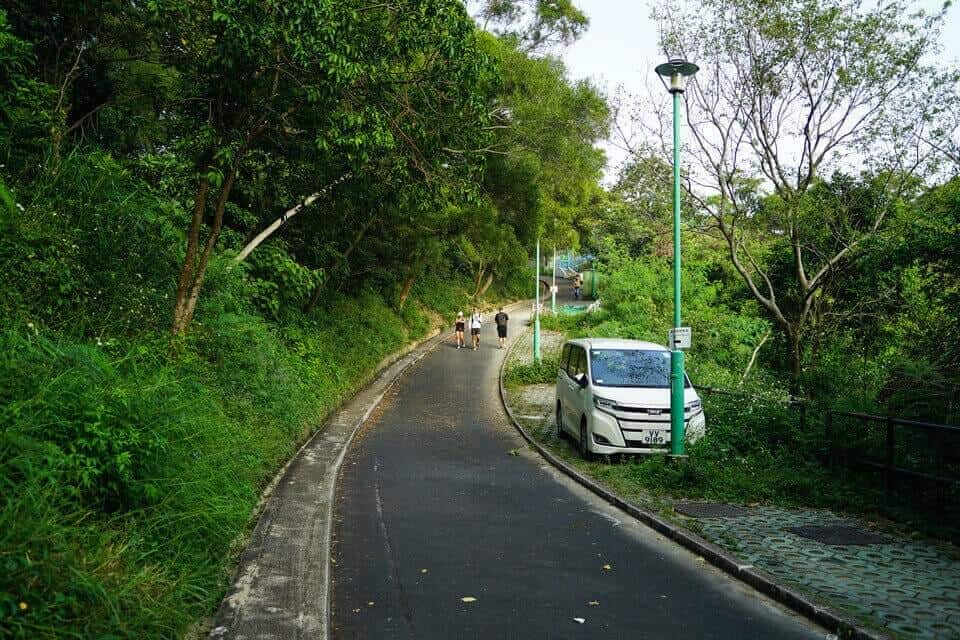 Go up this road and you will shortly notice the Ap Lei Chau Service Reservoir Playground on your right. Walk past by that and you will eventually reach the end of this nameless road, where you will find a sign for Yuk Kwai Shan (Mount Johnston in Chinese) and a small trail that leads down and to the right.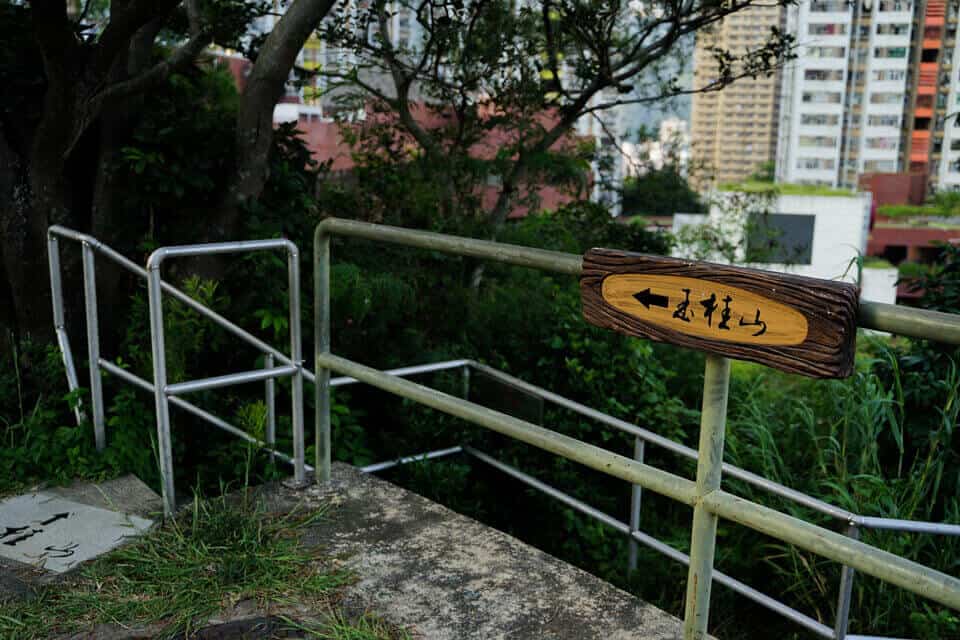 That is the starting point for the Ap Lei Chau hike. It is somewhat difficult to locate, mainly because the upcoming path feels like it is part of private property.
When you have passed the sign for Yuk Kwai Shan, you will walk around the perimeter of the Ap Lei Chau Reservoir's fence. This path gradually slopes up into the woods where the official hike begins!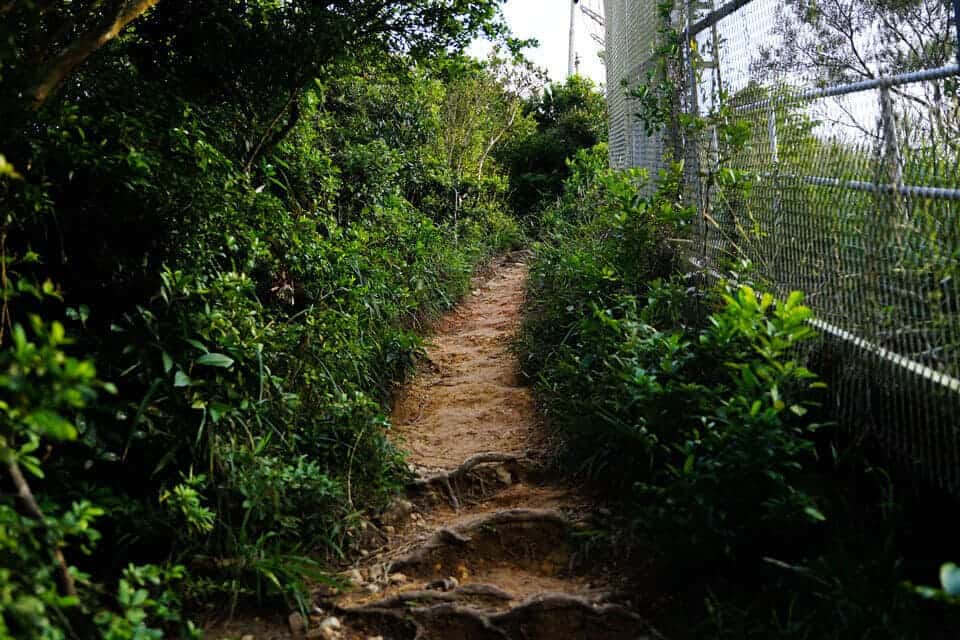 About 5 minutes into this hike, you will come across a 3-way fork (you might need to look carefully to find the third) and a sign that will warn you bout the danger of this hike.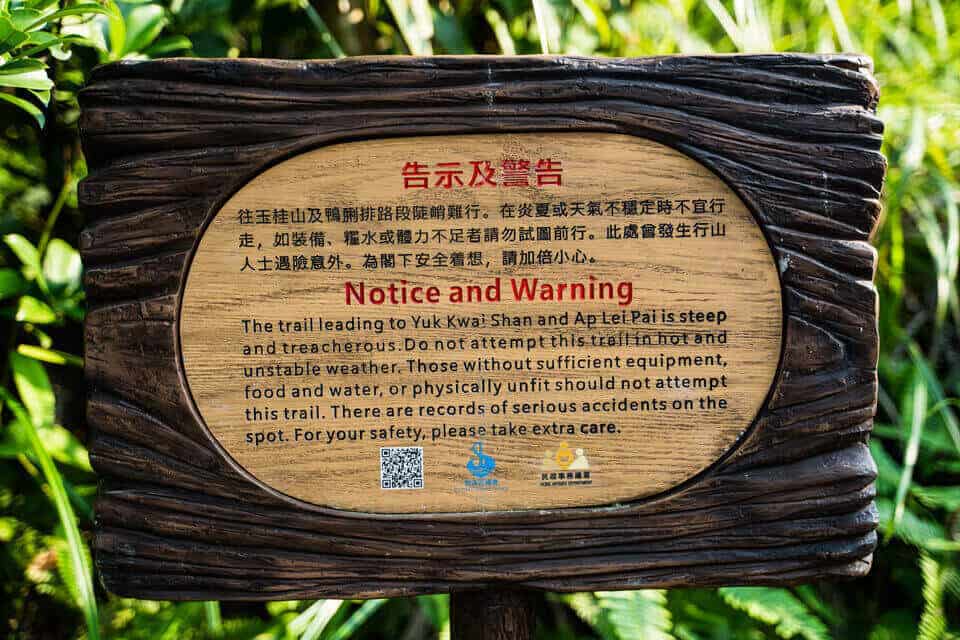 We have personally tested 2 of these paths, the middle one and the right one. We have spoken with locals that regularly climb Mount Johnston and they said that the three routes have varying difficulties.
The left path is the easiest, the middle path is intermediate; the path on the right is the most difficult. They all converge at the top of Mount Johnston.
Though Mount Johnston might look intimidating from the bottom, it takes only about 25 to 30 minutes to reach the top.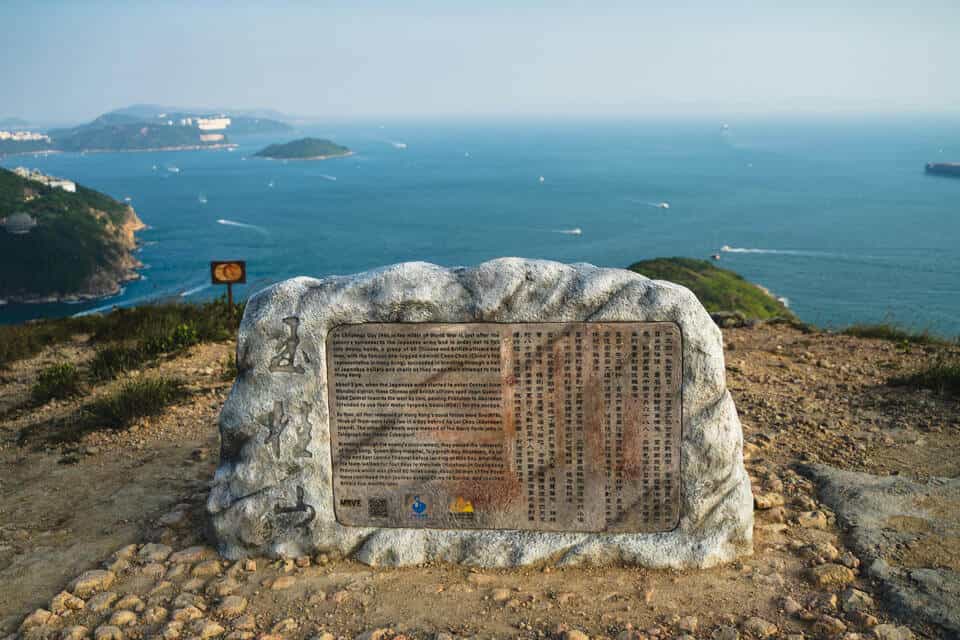 Now that you are at the top, you will be able to see Ap Lei Pai on the other side. The descent from Ap Lei Chau to the tombolo only takes about 20 minutes or so, but halfway through the descent you will arrive at a very steep section.
Similar to the earlier part of the hike, ropes are situated along the trail to assist hikers with their hike.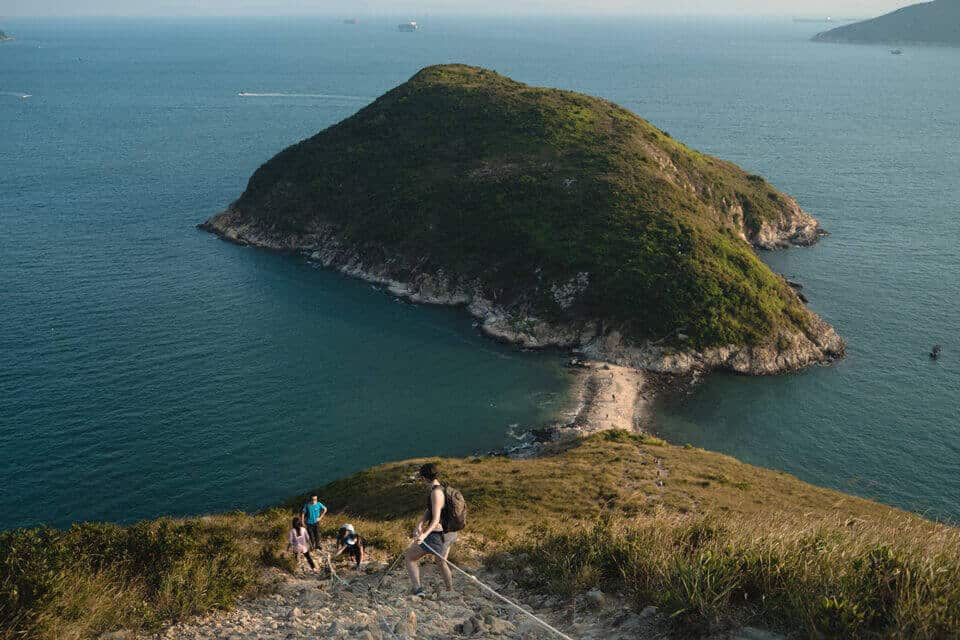 Once you are down at the sandbar (tombolo), the Ap Le Pai hike will begin. It takes about 20 minutes to reach the tip of Ap Lei Pai, where you will find the Mount Johnston Lighthouse and a tidal pool to take a dip in.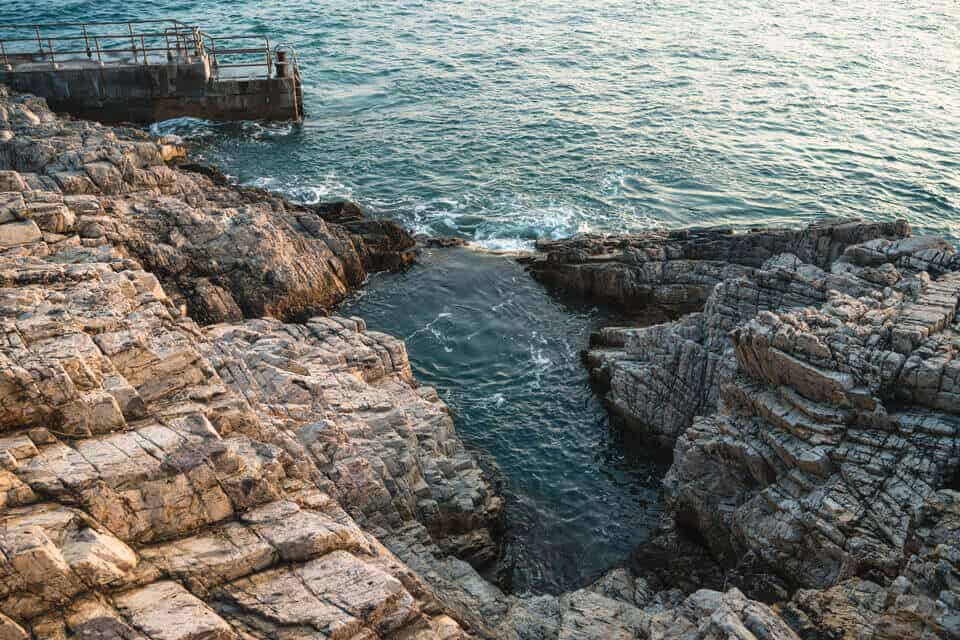 Retrace your step and return the same way you did. The hike back from Ap Le Pai takes about the same time, though you are gaining more altitude because you start at sea-level (instead of Lei Tung) at the sandbar and hike up to the top of Mount Johnston.
Alternatively, there is a pier at the end of Ap Lei Pai where you can flag down a sampan (a wooden Chinese boat) to take you back to Ap Lei Chau Waterfront Promenade.
Though we haven't done that ourselves, we have seen some hikers do it to avoid the steep and possibly treacherous ascent and descent of Mount Johnston.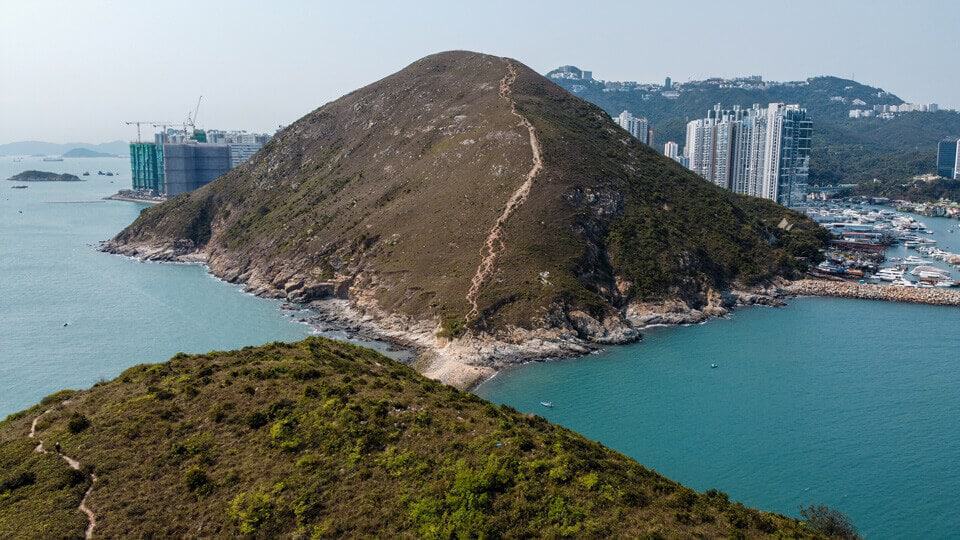 For the more adventurous, there is a third way to get back to civilization – coasteering. Though we didn't try it ourselves, we did see quite a few people attempt it the few times we were there.
Hikers can get from the sandbar between Ap Lei Chau and Ap Lei Pai via a coasteering route that goes from the southwestern part of Ap Lei Chau to the sandbar. This route is not only shorter, but it offers expansive views and avoids the crazy incline on the way back to Ap Lei Chau.
You can easily find the coasteering trail on Google Maps!
Our Experience Hiking Ap Lei Chau To Ap Lei Pai
Getting To The Start Of The Hike
Because the start of the hike is at Lei Tung MTR Station, getting to the start of the hike is extremely easy, even if it is your first time in Hong Kong.
We took the MTR (Mass Transit Rail) from Jordan (where we were staying) to Lei Tung MTR Station via the light green South Island Line towards South Horizons.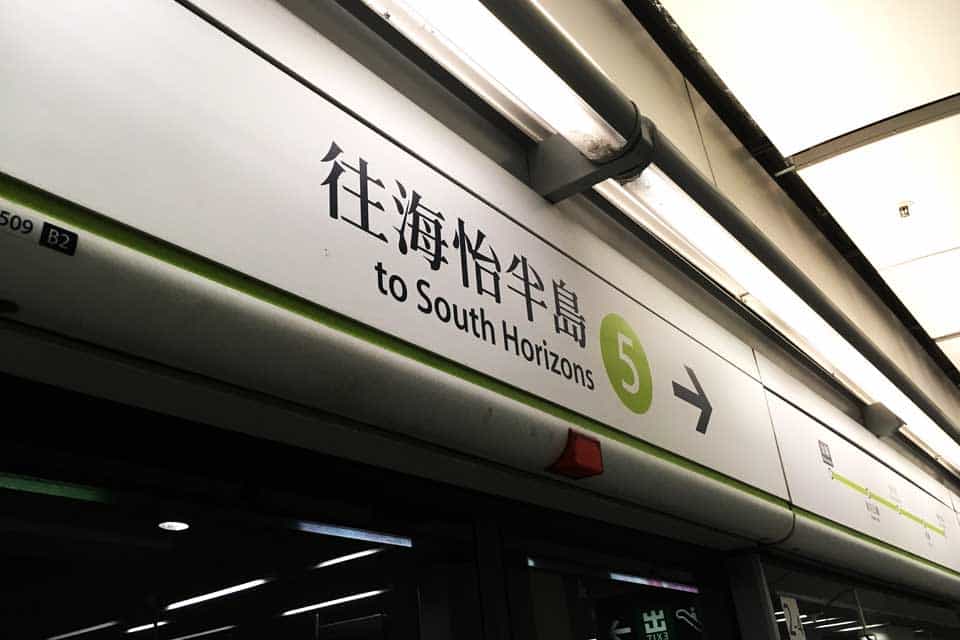 If you are new to Hong Kong, we highly recommend you to have the refundable contactless Octopus Card as it will save you time and money. You can also buy single-ride tickets at the station.
With the goal to watch sunset on top of Mount Johnston (on the return), we arrived at Lei Tung MTR Station at 3:45 PM. We bought water from the local 7-Eleven because the Ap Lei Chau hiking route has little to no shade (it wasn't our first time hiking it).
By 4 PM, we had passed the Yuk Kwai Shan sign and were at the trailhead of the hike.
Arriving At The Summit Of Mount Johnston
About 10 minutes into the trail, we encountered the three-way fork mentioned above. Having done both the difficult path on the right and the moderate path in the middle, we knew that the middle route offered better views and more adventures.
As we emerged out of the thick vegetation, we found ourselves on a steep incline to the top. Along the trail were ropes for pulling yourself up, but honestly we barely needed them (on the incline).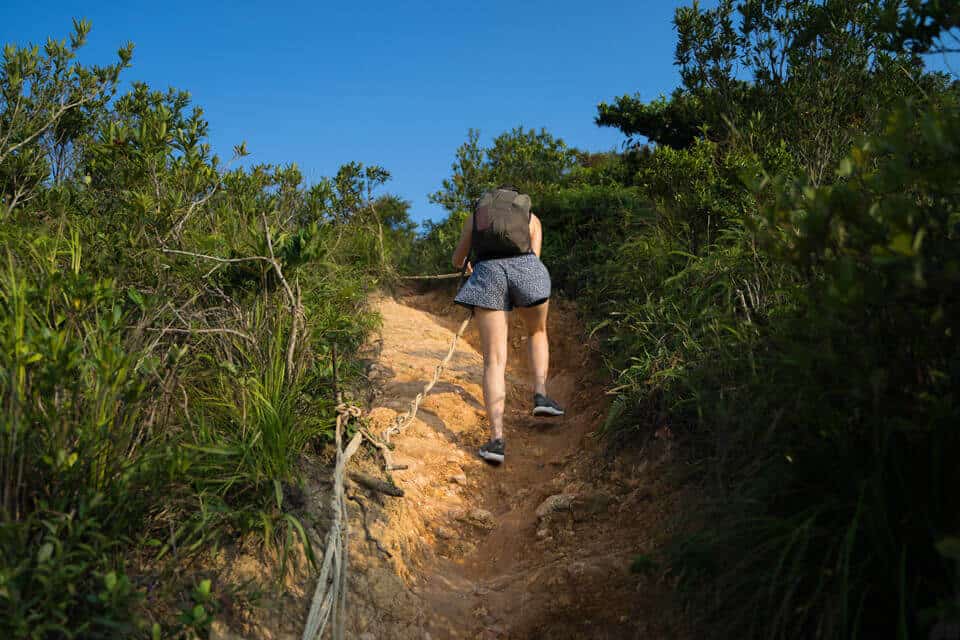 We were constantly tripping over them and the trail had enough grip to prevent us from slipping. (After doing the Lantau Peak hike via West Dog's Teeth, there isn't a hiking trail too steep for us.)
However, we would not recommend hiking Ap Lei Chau after a rainstorm or hot weather. It is simply too dangerous (especially the steep descent and lack of shade). In fact, there was a sign warning us to not hike during unstable or hot weather!
It took us 30 minutes to reach the top, but 5 minutes of that was for taking pictures and admiring the views behind us. As we went up that steep slope, the entirety of Ap Lei Chau became visible. We could see the many housing estates, many of which were now at the same height as us.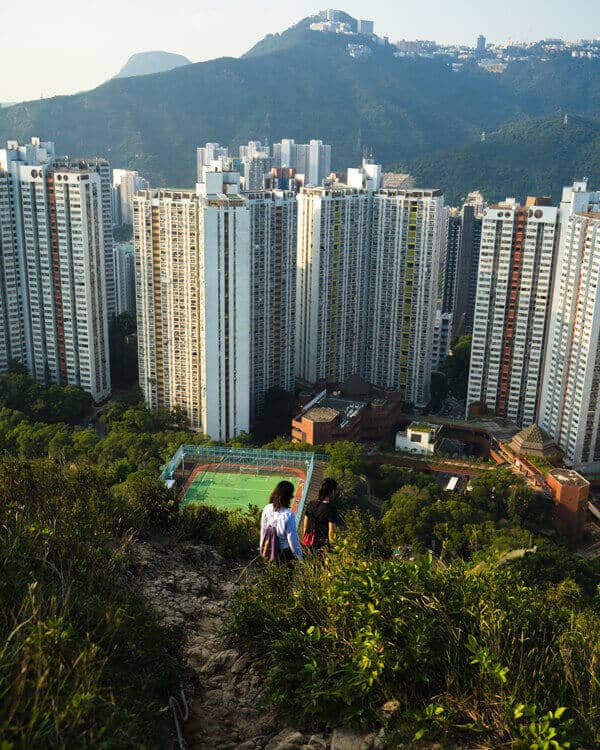 We took a small break to replenish the fluids we had lost, admire the views of the South China Sea and the Outlying Islands, and watch the numerous ships go by. In about 10 minutes, we were on the descent towards the sandbar.
Descent To the Ap Lei Chau Sandbar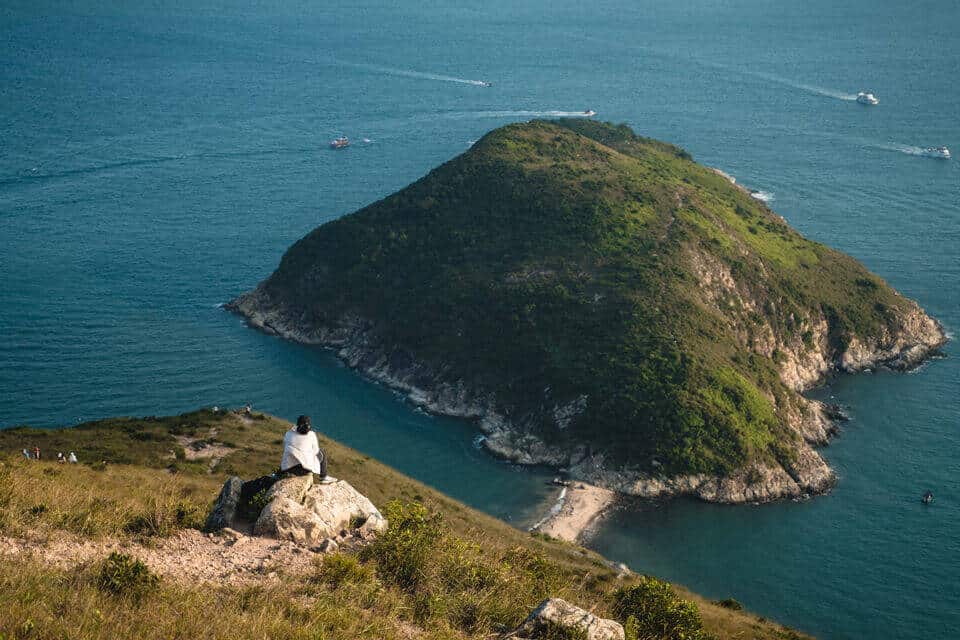 The descent towards the sandbar started out pretty alright. The path was steep but not as steep as we thought, considering the incline we just had to conquer. That is when we jinxed ourselves because 5 minutes into our descent, we started to notice we were walking towards a "cliff".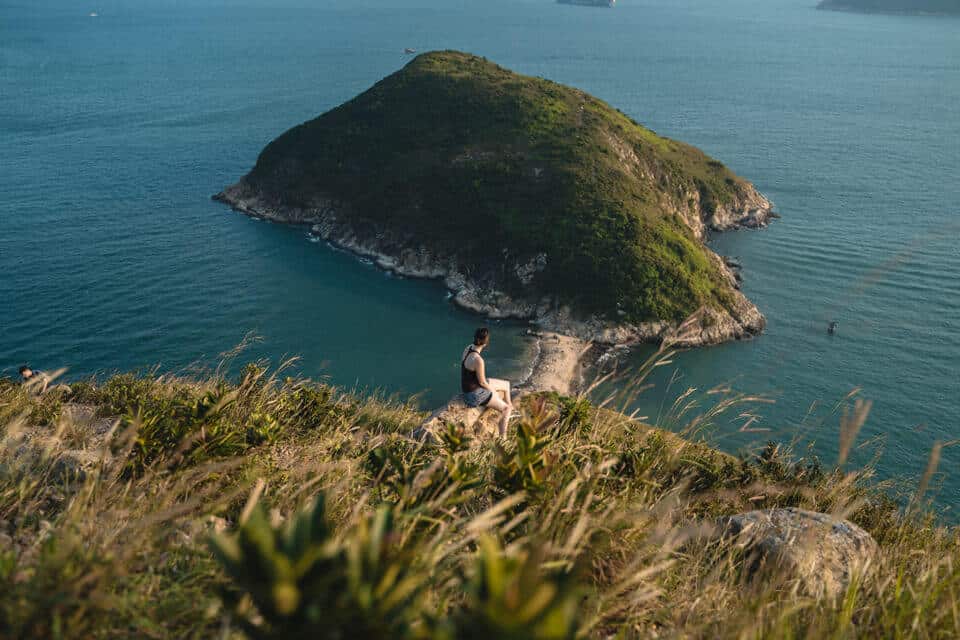 The mystery unraveled itself when we got closer to said "cliff". In front (and also below) of us was one of the steepest descents we have seen in Hong Kong. We stood still for a minute observing all the people that were climbing up and down this slope.
One woman had work gloves on and was on all fours trying to climb back up the mountain. We could tell she got roughed up a bit because there was dirt all over her black sweatpants.
Then there was another woman trying to make her way down. She decided that the best method was to sit on her butt and slowly lower herself down, which reminded me of the way I get into a cold swimming pool.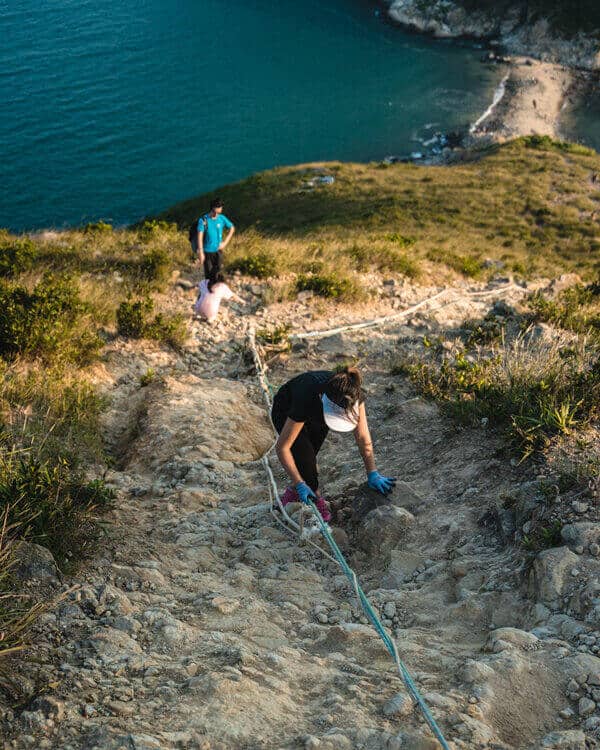 Not going to lie, we were pretty intimidated the first time we hiked Ap Lei Chau. However, this time around, we knew that if we just stepped on rocks that are slightly jutting out, we can go down without slipping. That is exactly what we did, and we also used the rope in some places.
In our opinion, this is the hardest part of the hike. One misstep and you can easily fall and slide down the steep slope. It isn't a dramatic cliff where you can fall over and die, but you might bruise or twist your ankle if you fall.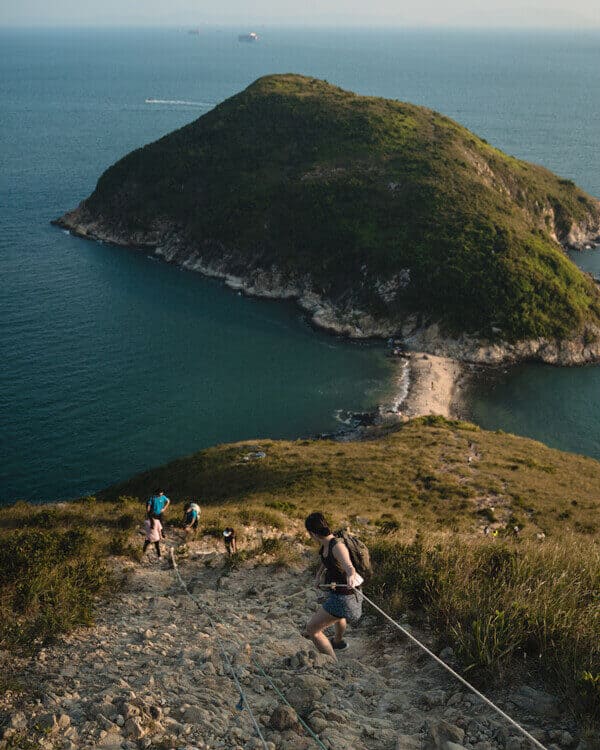 Slowly and steadily, we made it all the way down to the sandbar. Being surrounded by water on both sides, you would think that this is a good place to swim. However, the sand on the beach is incredibly gravelly, making it painful to enter the water.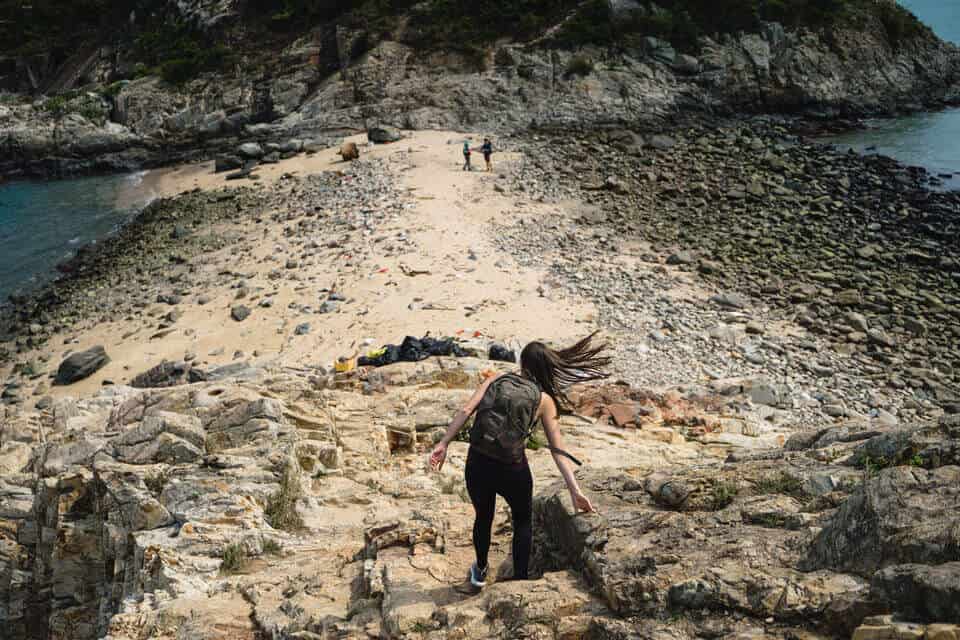 Not only that, but an incredible amount of litter was scattered on the beach. From plastic bottles to styrofoam boxes, they make it difficult for anyone to find a pleasant place to just sit down. Though the turquoise water did look tempting, we even saw litter floating atop of it.
If you have been to Cape D'Aguilar (which you totally should), this beach looked like the Garbage Bay from there.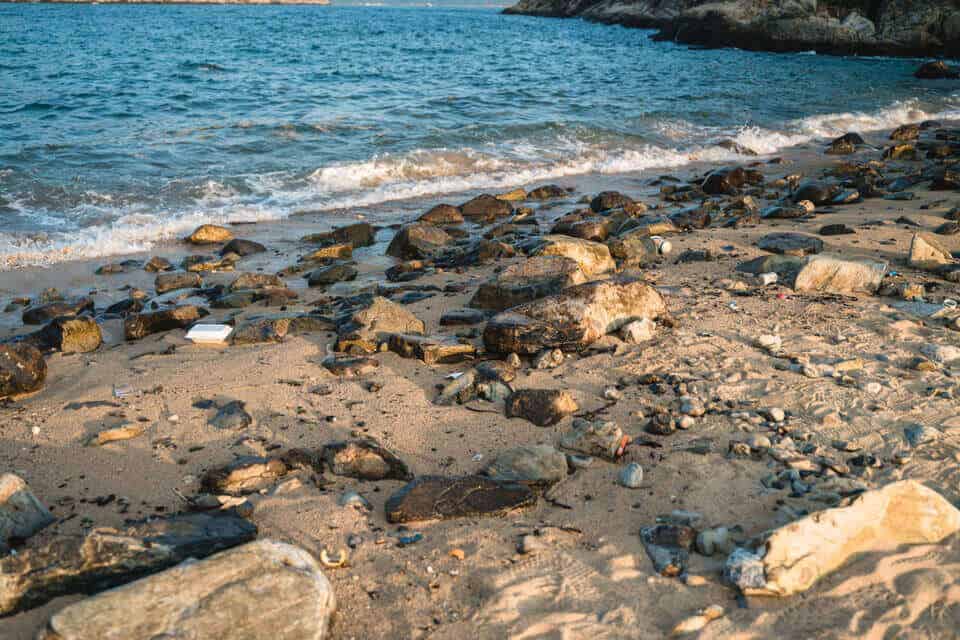 We were a little disappointed to find the sandbar polluted, but we knew that there was a nice tidal pool at the end of Ap Lei Pai.
The Ap Lei Pai Hike To Mount Johnston Lighthouse
Wasting no time at all, we scrambled up the rock surface and started our Ap Lei Pai hike. Hiking Ap Lei Pai was a very different experience than hiking Ap Lei Chau. Ap Lei Pai only has one-third of the altitude of Ap Lei Chau and features a more gradual terrain.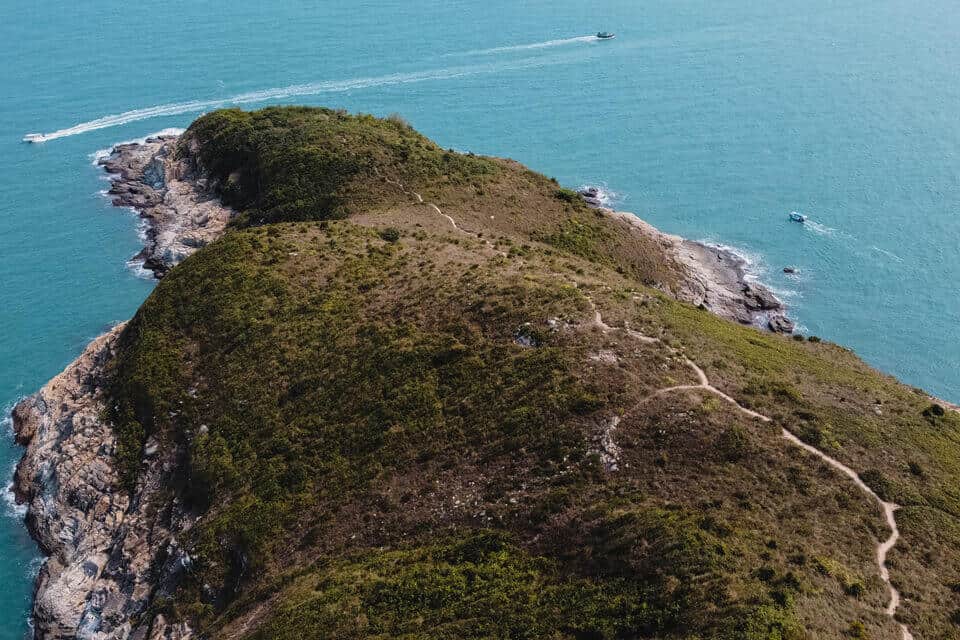 Expecting more rocky surface and ropes to pull us up, we were pleasantly surprised to find some shaded paths, more vegetation, and a fairly flat hiking trail. We even found some blossoming flowers on the trail!
It took us about 25 minutes to go from the sandbar to Mount Johnston Lighthouse. The last bit involved going through a short and densely vegetated trail that opened up to the barren cliffs. It was quite the experience.
In front of us were the vast South China seas, a few of Hong Kong's islands, and the Mount Johnston Lighthouse. Every time we have been there, we saw teenagers climbing the Mount Johnston Lighthouse. It might be a good photography spot but it is quite a risky climb (the Mount Johnston Lighthouse is "closed").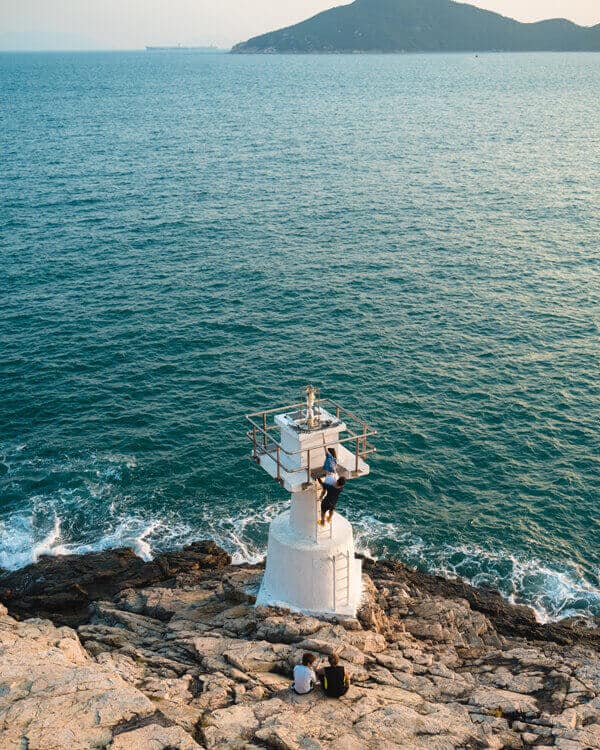 After shaking our heads at the teenagers, we went towards the beautiful tidal pool. From more than 15-20 meters away, it is impossible to see the pool over the rocky cliffs. (Maybe that's why it is almost always empty, even on the weekends.)
Depending on the tides, the edges of the pool might be well-defined or it might look like a peninsula. Ether way, it is the perfect location for a relaxing swim! We also know some people that cliff jump off the rocks but we don't recommend it for your own safety.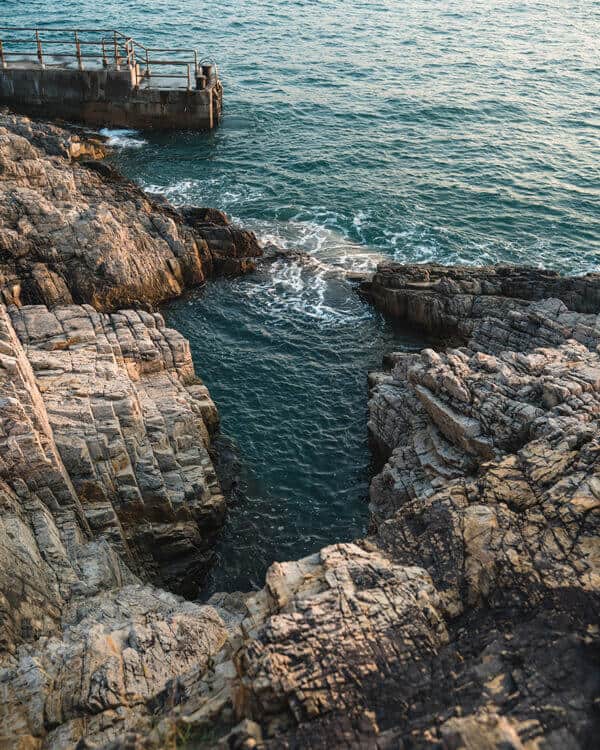 We didn't get the chance to go in the pool this time around because we wanted to catch the sunset at the top of Mount Johnston. We wanted to avoid going up the steep incline of Mount Johnston in the dark. With limited visibility and steep and rocky terrain, safety would be a concern going up Mount Johnston.
Returning Back To Lei Tung MTR Station
Unfortunately, the sun set when we were still on Ap Lei Pai. We weren't able to watch the sunset where we had originally planned. Luckily for us, the last remaining ray of light was good enough to guide us to the top of Mount Johnston.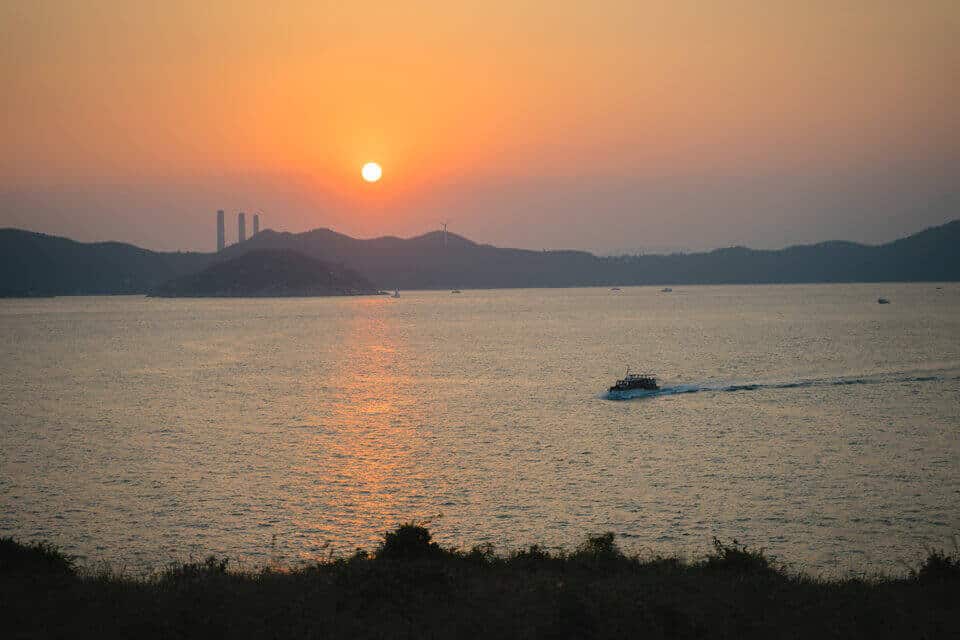 We made it back up Mount Johnston by around 6:30 PM, 30 minutes after the sun had set. The public estates that were vibrant with different colors were now hidden in the shadows. Instead, we were rewarded with a stunning night view with specks of light dotting the landscape.
Our eyes have adjusted to the darkness at this point, and we could just barely make out the scenery around us. In the distance was the soft silhouette of the three chimneys of Lamma's Power Station, making one last stand against the dark abyss.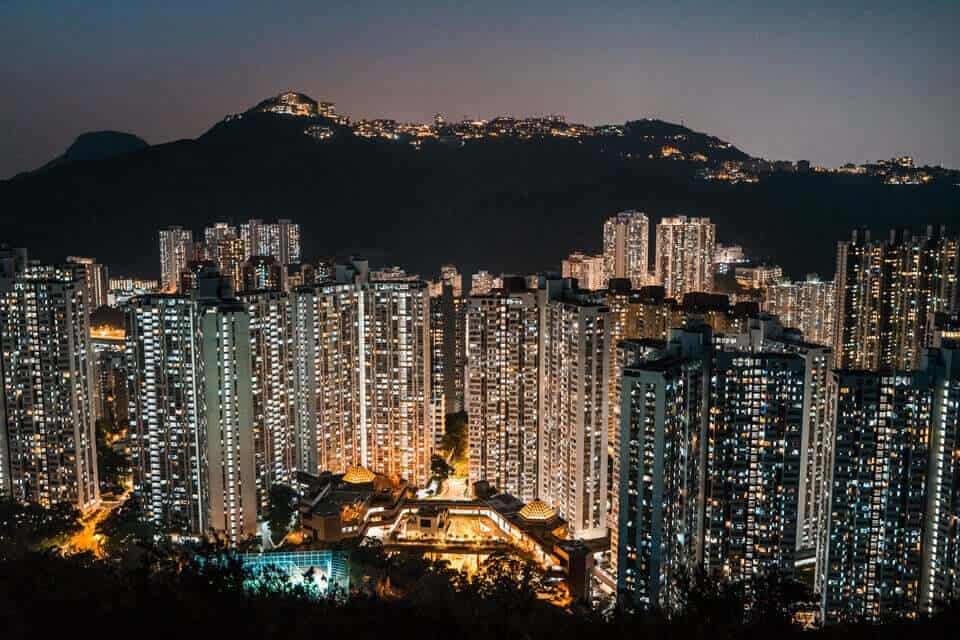 The surreal imagery combined with a breeze you only get at the top of a mountain was an amazing experience.
After we enjoyed the scenery, we made our way towards Lei Tung. The descent usually takes about 10 to 15 minutes in the daytime, but utmost precaution must be taken at night.
Like we have mentioned, the path is extremely steep with a rope along most of the trail. With limited visibility, we had to make sure our footing was secured.
In fact, there is a warning at the top of Mount Johnston, advising hikers to hike down before sunset.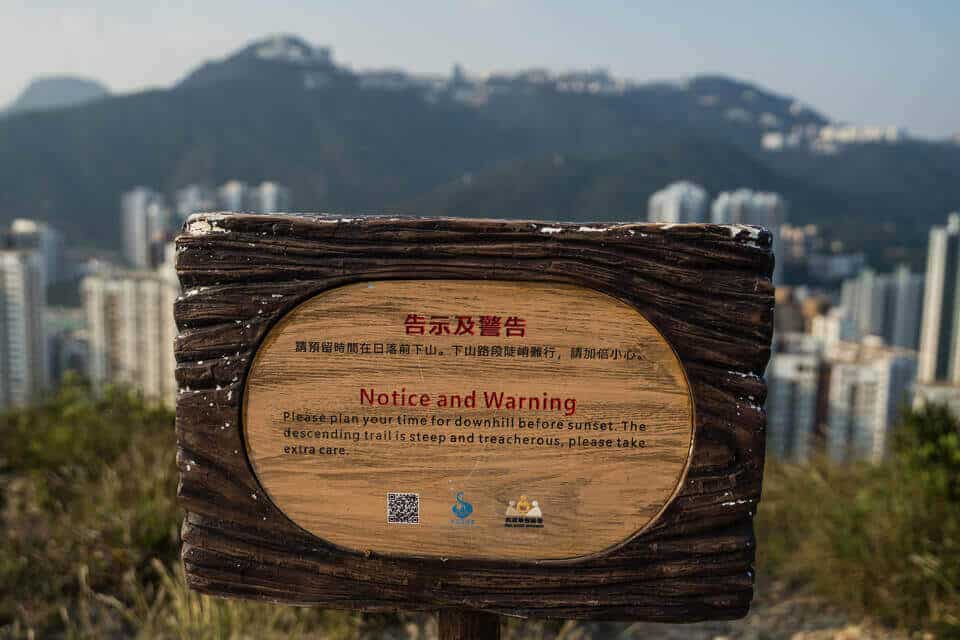 It took us a total of 30 minutes to safely make it down the trail. It wasn't as terrible as we thought it would be, but we were SLOW!
The sunset and night view at Mount Johnston is unquestionably worth it, but just be aware that you will have to make the descent in the darkness. If you plan on staying till past sunset, we recommend you to as least bring a headlamp.
Is The Ap Lei Chau Hike Difficult And Dangerous?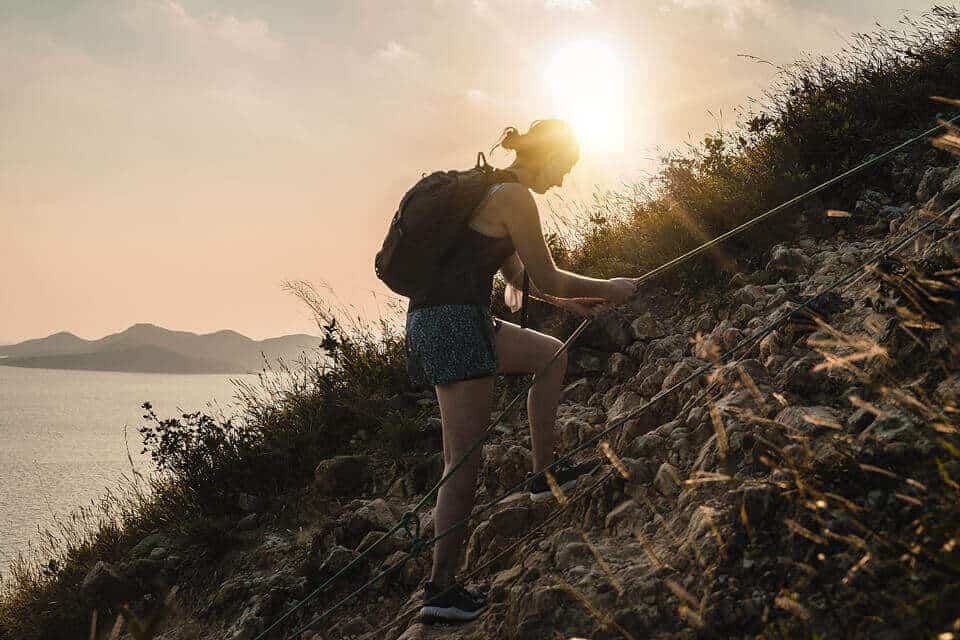 We want to dedicate this part of the guide to talk about the difficulty of the Ap Lei Chau hike because there are so many mixed opinions online.
Unlike hikes such as Sharp Peak and Lantau Peak where they are well-known to be difficult, some people find hiking Ap Lei Chau easy and some find it hard.
After hiking Ap Lei Chau a few times, we started to understand why some people might find it harder than others.
For one, parts of the hiking trail are very steep, probably some of the steepest we have encountered in Hong Kong. Not only is it steep, but the path is also full of loose sand and gravel, making it difficult to find safe footing. If you fall, you will be sliding down on your butt for some distance.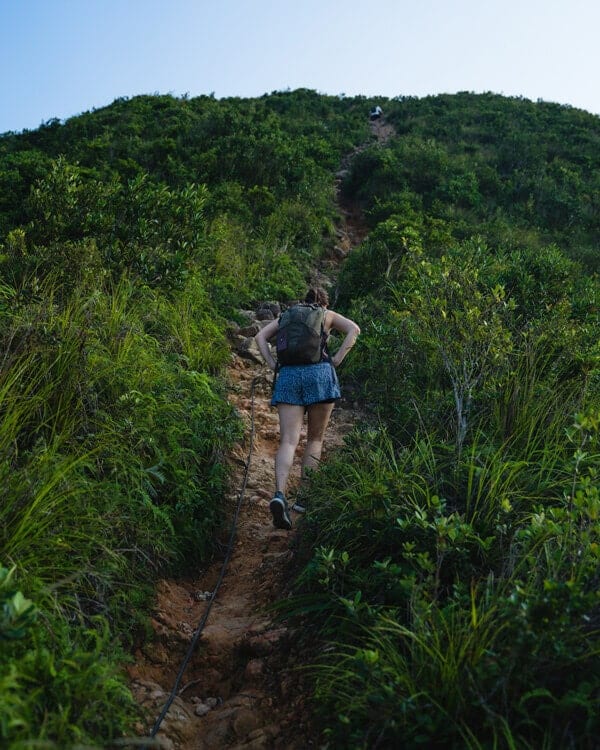 Second, the entire Ap Lei Chau hiking trail is barely shaded. Heatstroke and heat exhaustion become some of the most alarming issues on this hike, especially in the summer. A few years ago, a hiker had to be airlifted from Ap Lei Chau because she suffered serious heatstroke.
A combination of heat conditions and a treacherous trail can lead to many accidents.
DO NOT hike Ap Lei Chau in the rain or after it has just rained.
Why do some people find the Ap Lei Chau hike easy?
We personally didn't find it too difficult because we hiked on many different terrains. We learned how to properly descend very steep mountains while minimizing the risks of falling or slipping. Because the ascent and descent parts were short in length, we didn't mind taking our time.
However, we did find the heat (and humidity) in Hong Kong quite challenging. Bring extra water!
Best Time To Hike Ap Lei Chau In Hong Kong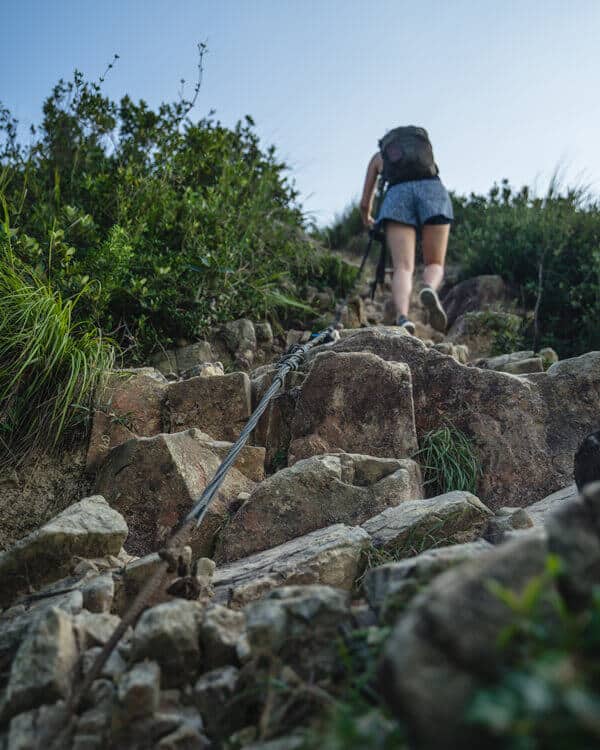 Generally, the best time to do any hiking in Hong Kong is in the winter (December to March). The weather in winter is more moderate and rainfall is infrequent.
We highly advise against hiking Ap Lei Chau in the summers of Hong Kong simply because the trail is so exposed. If you do decide to hike, pack lots of water (3 liters or so) and try to avoid the midday heat.
You might want to consider some indoor activities in Hong Kong if you are visiting in the summer.
You also want to avoid weekends when hiking Ap Lei Chau. That is because the trail will be simply too crowded and you might have to share the rope with others when making your way down or up.
There are also many loose fist-sized rocks on the slope, and any of them can be dislodged by another hiker. We have seen people almost get hit by falling rocks as a consequence.
Additional Information On Ap Lei Chau Hike In Hong Kong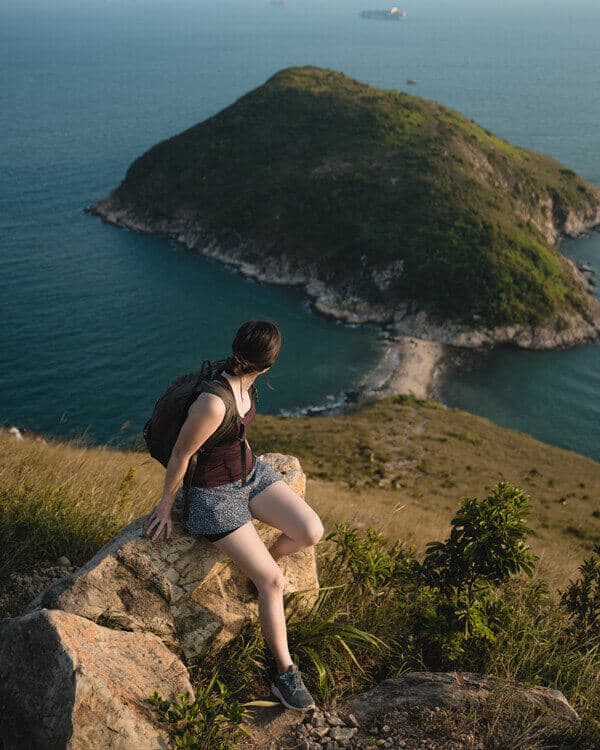 The tombolo (sandbar) between Ap Lei Chau and Ap Lei Pai is never submerged (as far as we know). Don't worry about getting stranded.
Although there are other trails to reach Ap Lei Pai (such as coasteering around Ap Lei Chau), those trails are usually overgrown and/not worth the unnecessary risk. However, they are cool experiences if you want something even more adventurous.
While admiring the night views on Mount Johnston is one of our favorite things to do in Hong Kong at night, it sure comes with a price. You must make your way back down to Lei Tung in the dark. Bring a headlamp and go SLOW if you decide to do so.
Supportive hiking shoes are highly recommended for this hike. You might also want to consider wearing some work gloves for holding onto the ropes along the trail. Don't forget to pack swimwear for the nice pool at the end as well!
Like this post? Don't forget to save it on Pinterest!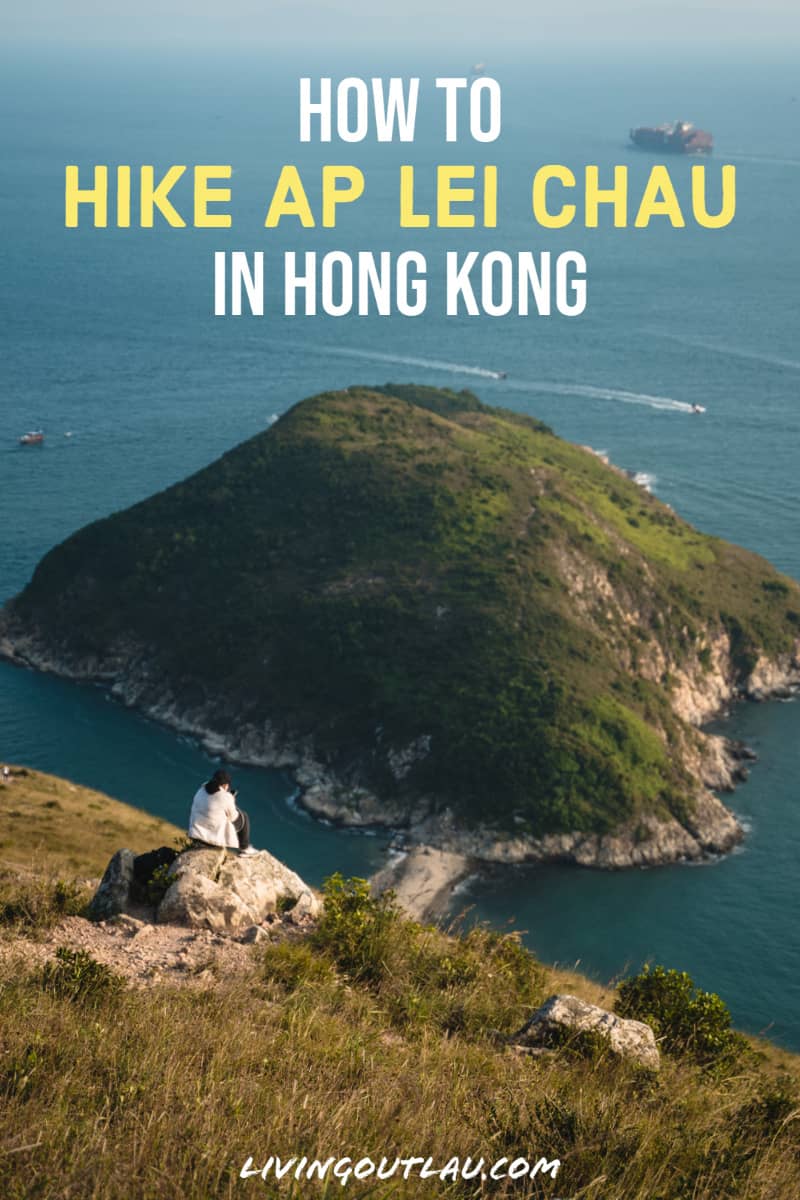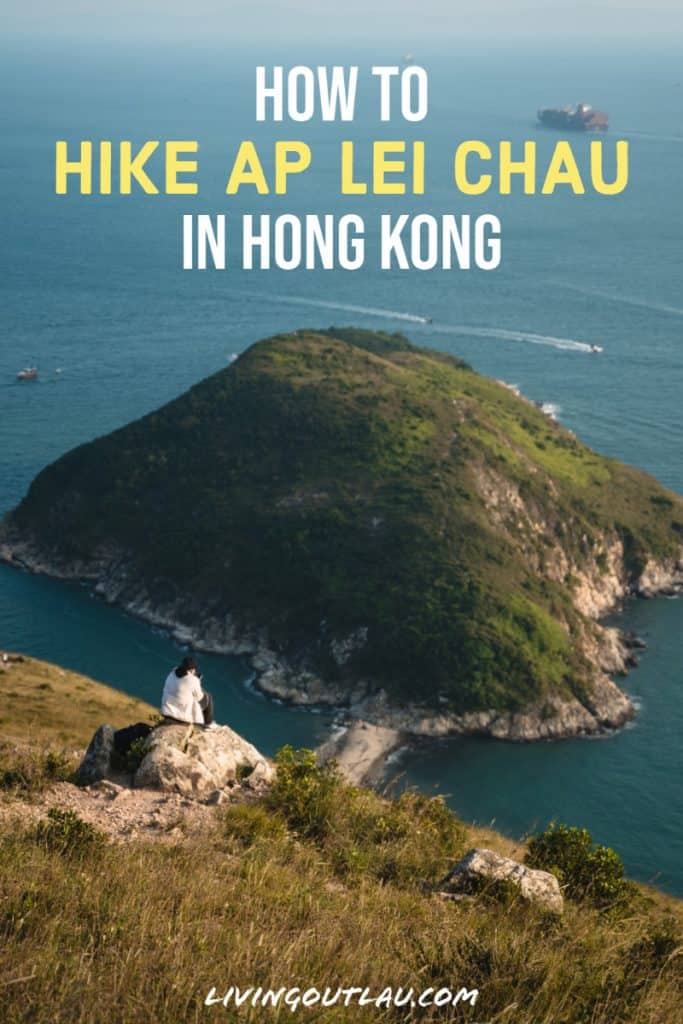 This is the end of our guide to hiking Ap Lei Chau HK. We hope we have given you the necessary information to tackle this challenging but fun hike!

Any questions? Let us know in the comments!
Disclaimer: Some of the links above are affiliate links. That means if you book or make a purchase through the links, we will earn a small commission at no extra cost to you! The money will help run this site! Thank you!