Planning a visit to Cape D'Aguilar? We are here to help.

As one of the most trendy places to visit in Hong Kong, Cape D'Aguilar is becoming a must on any Hong Kong itinerary. Here in our guide, we will teach you how to get to Cape D'Aguilar, what to do there, and how to hike Cape D'Aguilar!

Enjoy!!
---
What Is Cape D'Aguilar In Hong Kong?
Cape D'Aguilar is one of our favorite hidden gems in Hong Kong. Situated on the southeastern tip of Hong Kong Island, Cape D'Aguilar is the home of Cape D'Aguilar Marine Reserve, the only Marine Reserve in Hong Kong.
Stretching a total of 20 hectares between Kau Pei Chau and the rocky coastline, the Marine Reserve is a highly-protected area. Though the glistening water and crashing waves might be appealing, swimming is completely prohibited in this area. Fishing, diving, and collection of any organisms are also prohibited.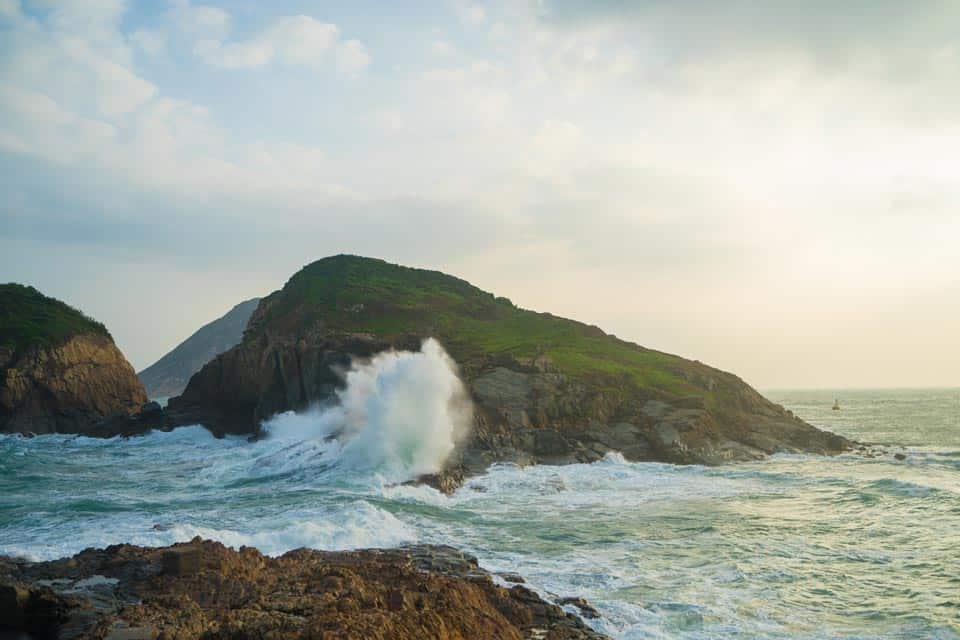 Because of the lack of light pollution, stargazing and astrophotography here have become popular night activities in Hong Kong.
Though you cannot swim, Cape D'Aguilar offers sweeping coastal views, something that is rare in the bustling city of Hong Kong. Dramatic cliffs and powerful waves dot the beautiful coastline, and for a second you have to remind yourself you are not in Hawaii.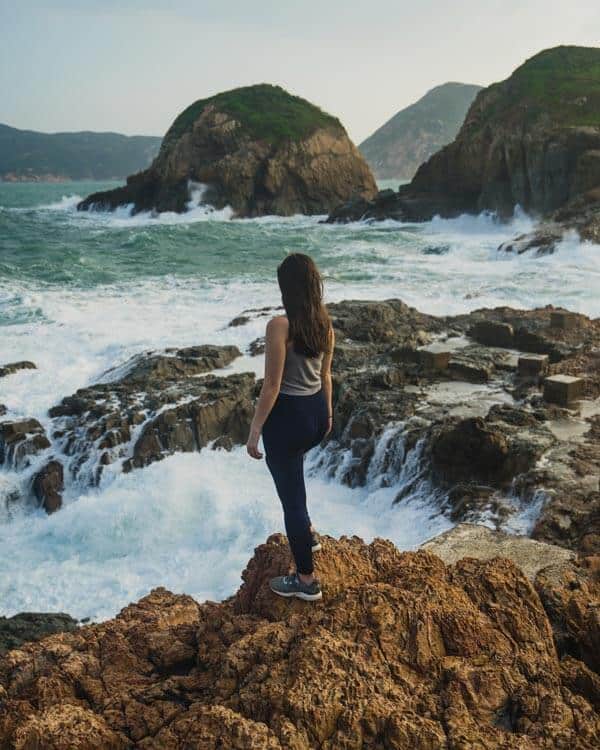 Besides breathtaking views, visitors can embark on an easy Cape D'Aguilar hike (more like a walk) and check out the two surreal caves caused by natural erosion.
A day trip to Cape D'Aguilar is perfect for anyone looking to get out for some fresh air and amazing views but doesn't want to do something strenuous like a Lion Rock or Ap Lei Chau hike.
---
How To Get To Cape D'Aguilar
Because Cape D'Aguilar is located on the southeastern tip of HK Island, getting there is no easy task. It is almost as difficult as getting to Sai Kung or Lantau Island.
To get to Cape D'Aguilar, it is best to take the MTR (Mass Transit Railway) to Shau Kei Wan MTR Station (Don't forget your Octopus Card). Take exit A3 at the Shau Kei Wan MTR Station for Shau Kei Wan Bus Terminus.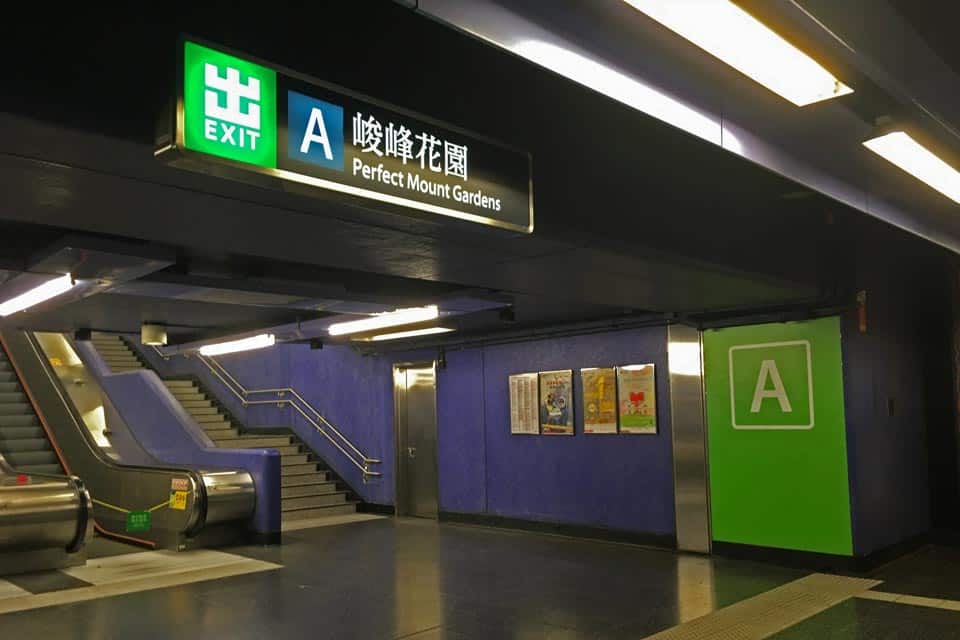 Once you arrive at the surface, follow the signs for bus No. 9. If you are visiting Cape D'Aguilar on the weekend, the bus stop won't be difficult to locate as there will be a huge queue. That is because bus No. 9 is also the same bus to take to arrive at the trailhead of the Dragon's Back hike.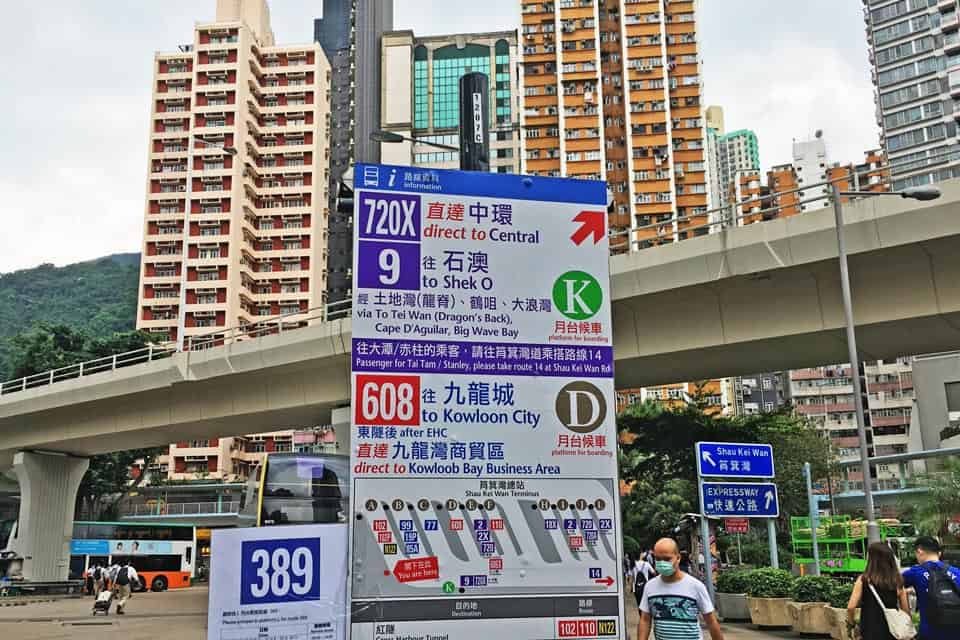 When you get on your bus, make sure it says Cape D'Aguilar and Shek O, especially on the weekdays. Because of its lack of popularity, some buses might go directly to Shek O and skip Cape D'Aguilar.
Get off when you reach the Cape D'Aguilar bus stop. The ride takes about 25 minutes and Cape D'Aguilar is the fourteenth stop.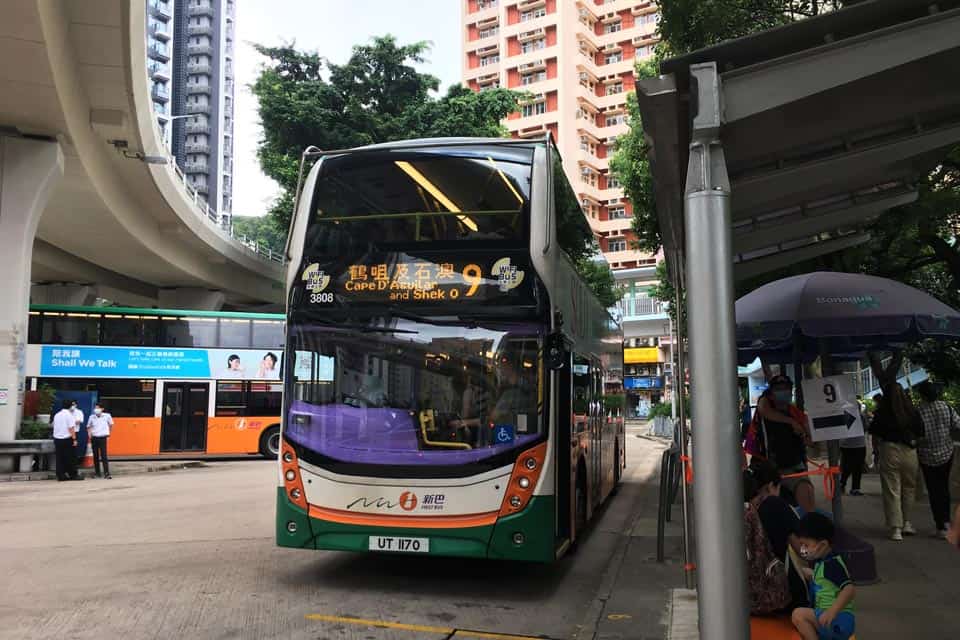 Can you Drive to Cape D' Aguilar?
You can drive to Cape D' Aguilar, but the furthest point your vehicle is allowed is where bus No. 9 drops you off. Though there is a road that goes as far as the PCCW Transmitting Station, essentially cutting 2.5 kilometers off your total route, there is a sign that says only taxis are allowed on the road.
---
Cape D'Aguilar Hike Summary
Before you get on the public transportation to Cape D'Aguilar, let's see if this is the right place for you to visit.
Total Distance Of Cape D'Aguilar Hike
The total distance of the Cape D'Aguilar hike is approximately 8 kilometers (5 mi) out-and-back. You can add a little bit more to your hike if you go to the Cape D'Aguilar Battery or just explore a bit off the path.
Total Elevation Gained On Cape D'Aguilar Hike
Hikers gain an approximate elevation of 250 meters in total (including up and down) on the Cape D'Aguilar hike. The trail is very flat and considered one of the easiest trails in Hong Kong.
Total Duration Cape D'Aguilar Hike
The total duration of the Cape D'Aguilar hike is approximately 3 hours and 15 minutes. This includes about 45 minutes of enjoying the views and taking photos. Only 2.5 hours of that was moving time, and we were doing it leisurely.
Cape D'Aguilar Hike Difficulty
As we mentioned above, Cape D'Aguilar is not a difficult hike at all. In fact, it might not even be considered a hike for some, as ther eis hardly any elevation change. The path is not steep, well-paved and shaded for the most parts, making it even possible to hike during the summers of Hong Kong.
To call the Cape D'Aguilar hike a hike is a little belittling to the other hikes in Hong Kong (such as Lantau Peak or Twin Peaks hikes) because it is more like a leisure walk.
The start of the hike is about 120 meters high in elevation and you descend all the way down to sea level. To return, you take the route back, so you technically only hike up an altitude of about 120 meters.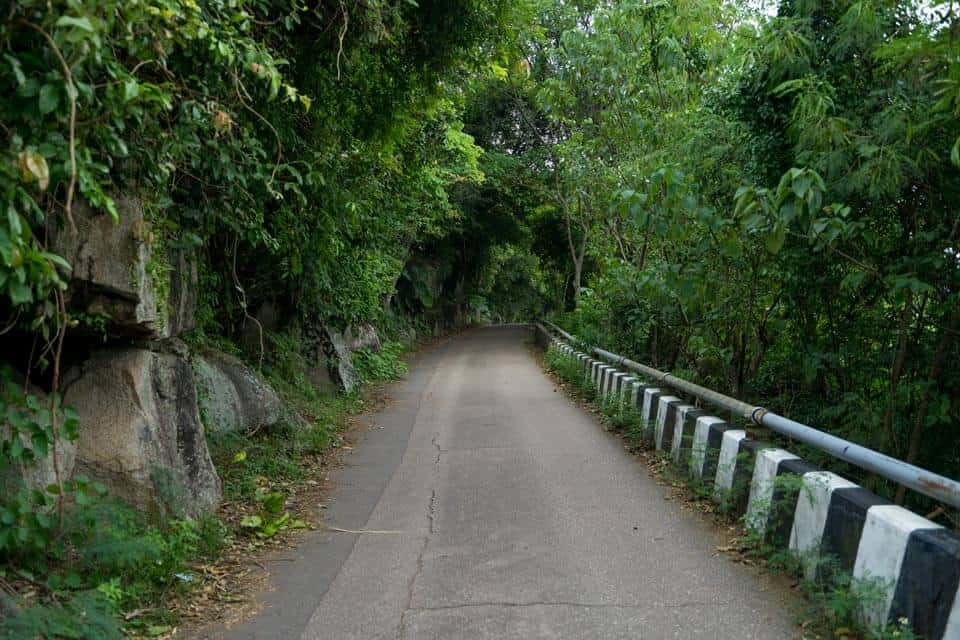 The one redeeming factor is that this entire route is about 8 kilometers long (out-and-back). It does take about 2.5 hours to complete the entire Cape D'Aguilar hiking trail. If you want to stop to admire the views of marine features, you could easily spend 3.5 to 4 hours here. 
---
Cape D'Aguilar Hiking Trail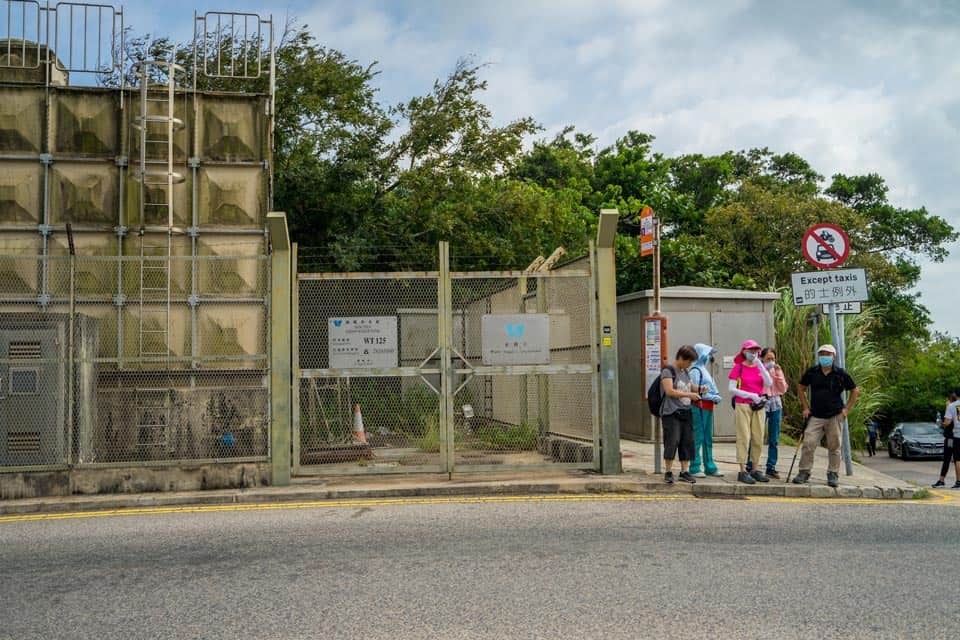 The hiking route starts off at the Cape D'Aguilar bus stop, where the bus drops you off. You will find Cape D'Aguilar Road on the right. Follow that down as it leads you through some windy turns and amazing views of Tai Tam Bay.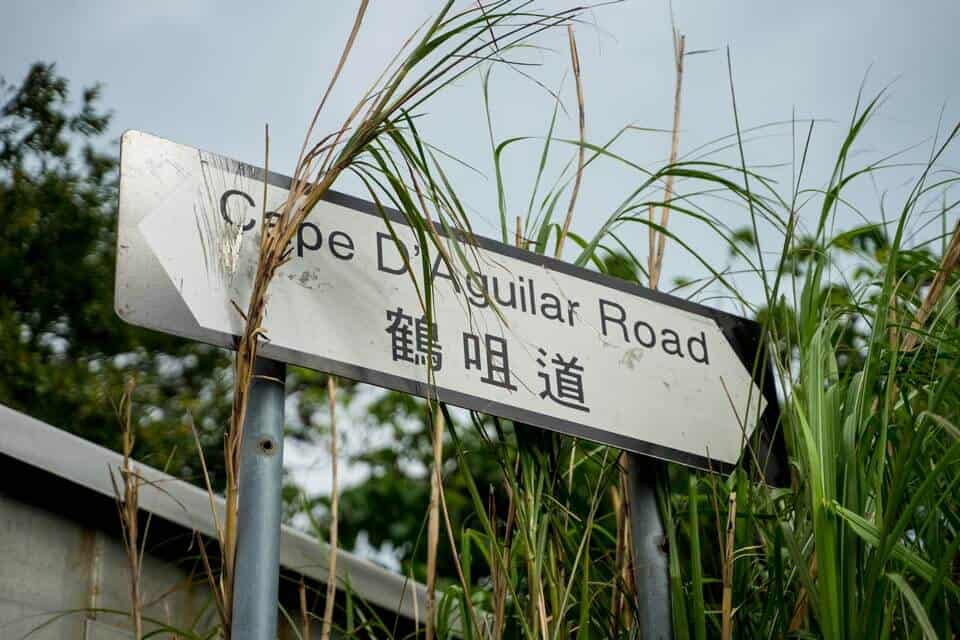 After about 20 minutes of downhill walking, you will arrive at Hok Tsui Tsuen, or Hok Tsui Village in Cantonese. If you venture a bit into the village (the village is tiny), you will find a small store selling light refreshments. If you are lucky, it might even have tau foo fah (soybean pudding), a local favorite dessert.
Don't worry if you decide not to make a slight detour, there is also a small "restaurant" (I am not really sure what to call it) shortly after the village.
It has proper outdoor seating and more options when it comes to food and drinks. However, we are unsure if this is open on the weekdays, as the owners are deterred by the fewer visitors or might need to go to work.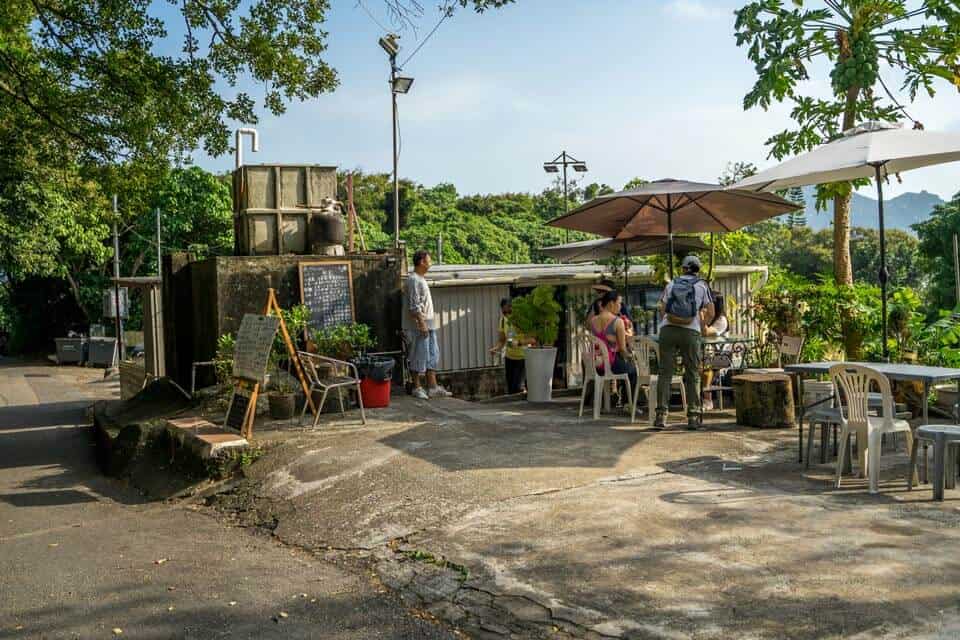 About 40 minutes into the hike, you will reach the PCCW Radio Transmitting station and a "No Trespassing" Sign. Simply follow the dirt path on the left and continue along the route.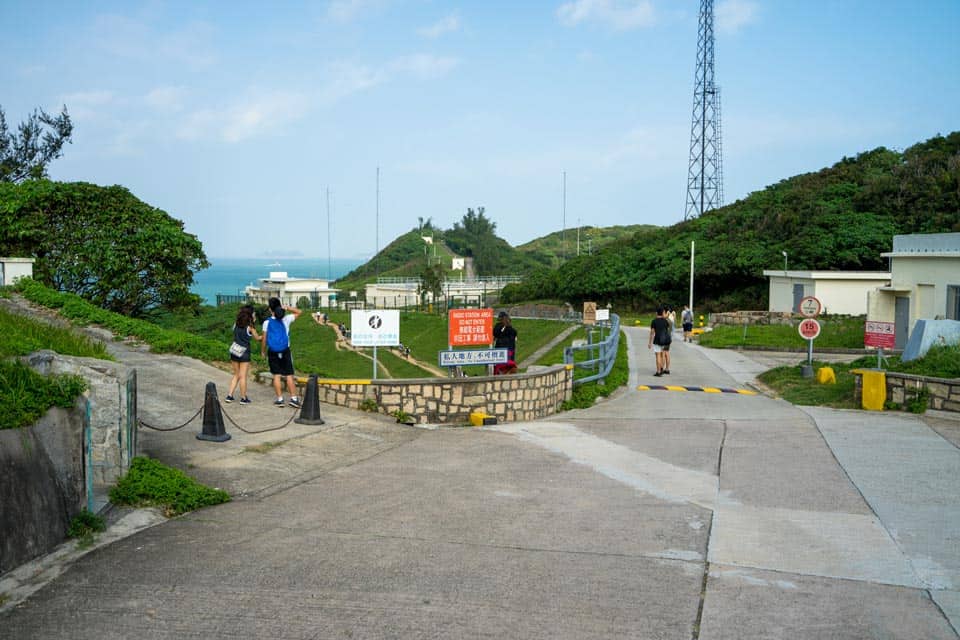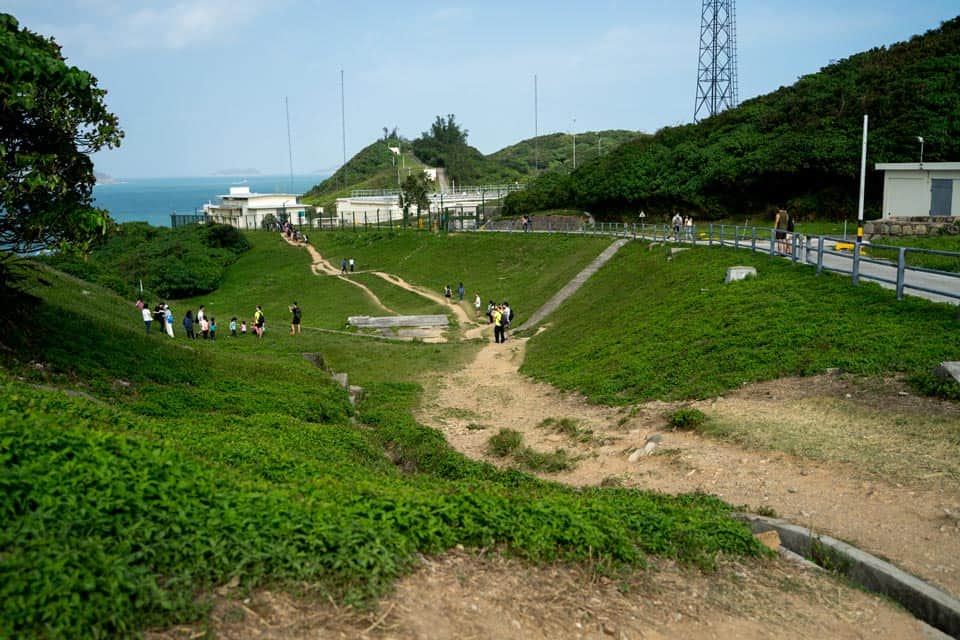 After you have turned the corner at the end of the green fence, beautiful coastal views will open up. To your left is the (in)famous Hok Tsui Garbage Bay and it is sadly filled with garbage (though improving day by day due to volunteering efforts).
If you wish to check it out, look for a small dirt path on the left that descends onto the bay.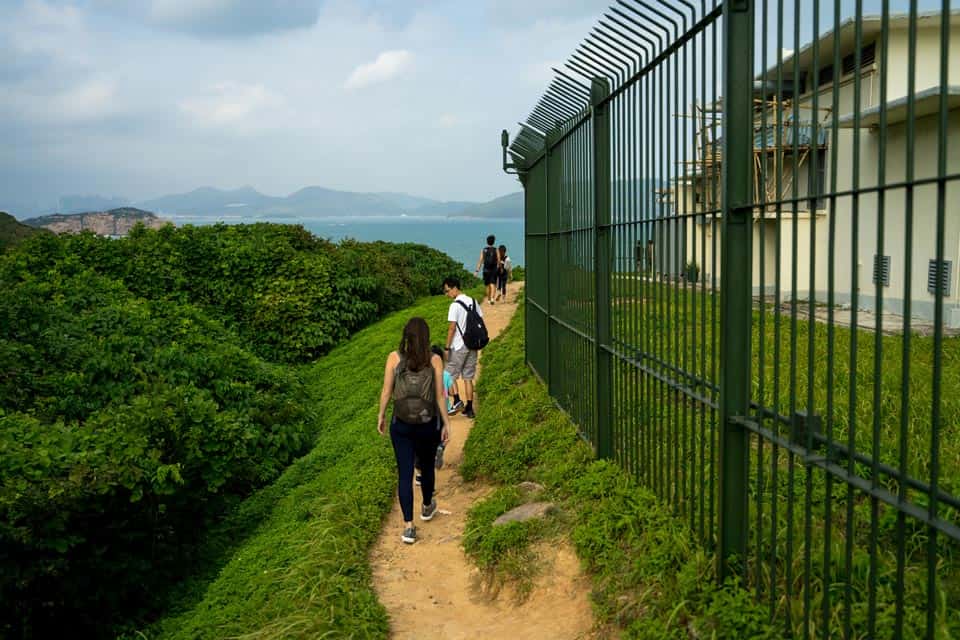 Continue onward and you will eventually reach a fork. The path on the left leads to the Cape D'Aguilar Lighthouse and the path on the right leads to the Cape D'Aguilar Marine Reserve. We recommend you to check out the lighthouse before going to the marine reserve because the lighthouse is a quick visit.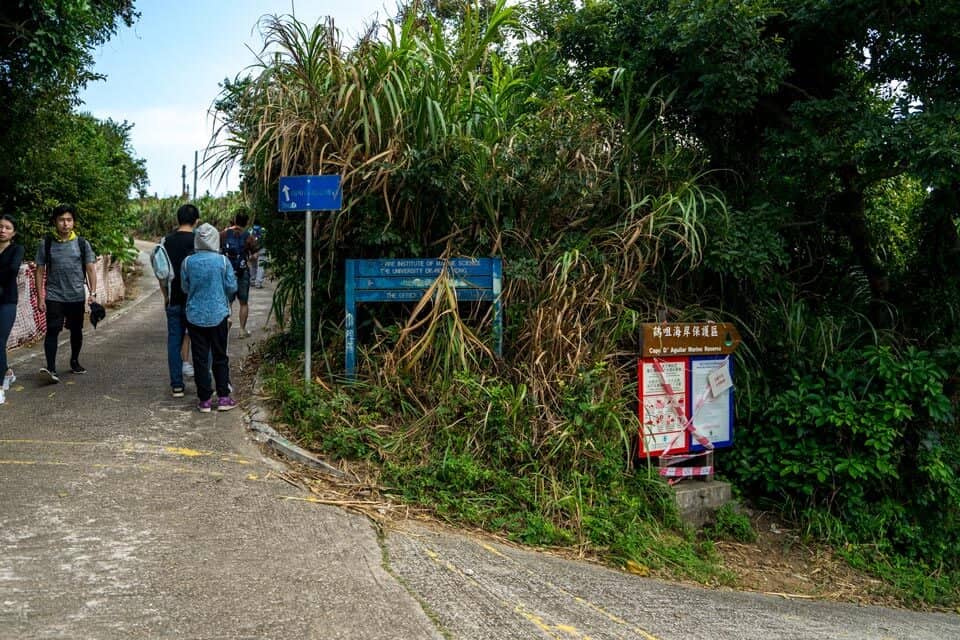 After you have checked out the lighthouse, make your way toward the Cape D' Aguilar Marine Reserve. Shortly, you will reach a long downward slope with spectacular views of Hok Tsui Wan and Kau Pei Chau to your right. This is the most scenic spot of the entire hike.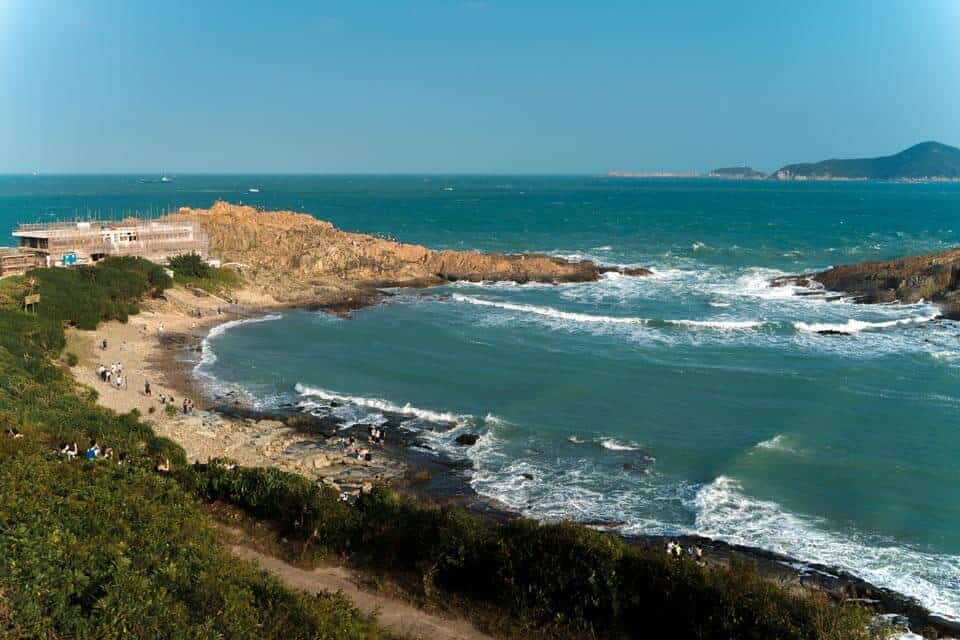 Continue all the way down the slope and you will arrive at a fork again, one continuing forward and one towards the right. The path to the right takes you to the beach and its various attractions such as the Crab Cave and dramatic lookout points.
The path continuing forward takes you to a parking lot, but on the left of that parking lot is a small path that leads to the Thunder Cave.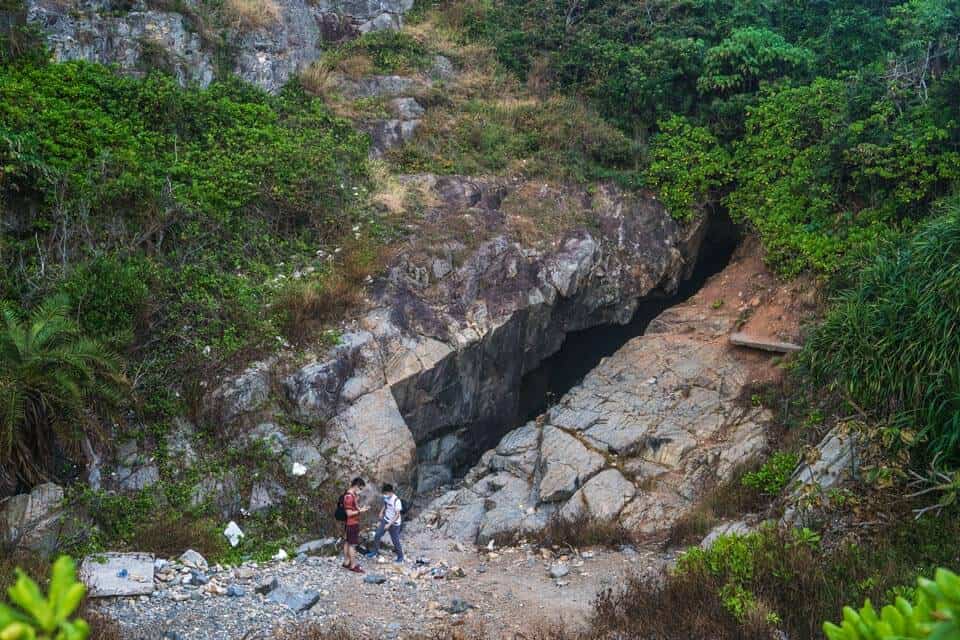 Stroll along the beach, check out the stunning geological features, take some photos and fully enjoy this beautiful nature's creation before heading back the same way you came from!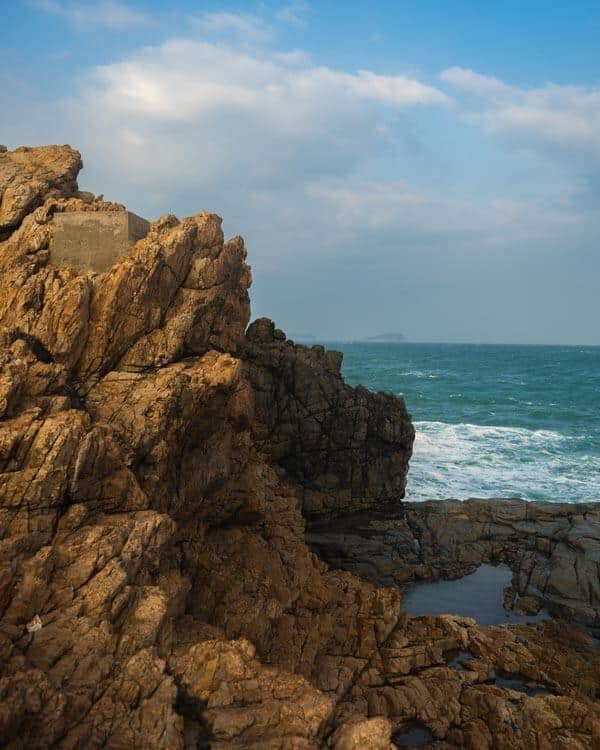 ---
Things To Do In Cape D'Aguilar, Hong Kong
1. Find Tranquility At Garbage Bay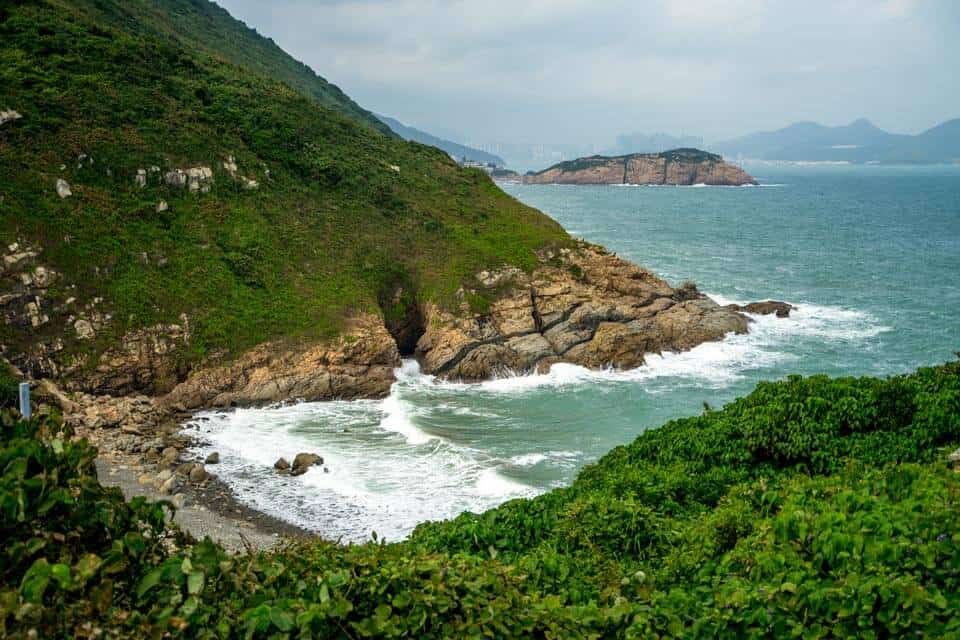 Though we haven't actually been on the beach of Garbage Bay itself, we have actually heard good things about it. Volunteering efforts have removed a lot of the trash that naturally flows up ashore here (due to its location). The issue is getting better day by day.
From what we could see from above, the Garbage Bay looked like it was fairly clean on the day of our visit. Though we assume that it could fluctuate quite a bit depending on the last time it was cleaned and how much rubbish it has accumulated.
However, if you are lucky, you will have the entire beach completely to yourself. Listen to the crashing waves as you admire the beautiful views on your own private beach!
Because of its name, many visitors will simply skip this attraction. There were hundreds of visitors on the day we visited and not a single person went down to the bay.
2. Cape D'Aguilar Lighthouse (Hok Tsui Beacon)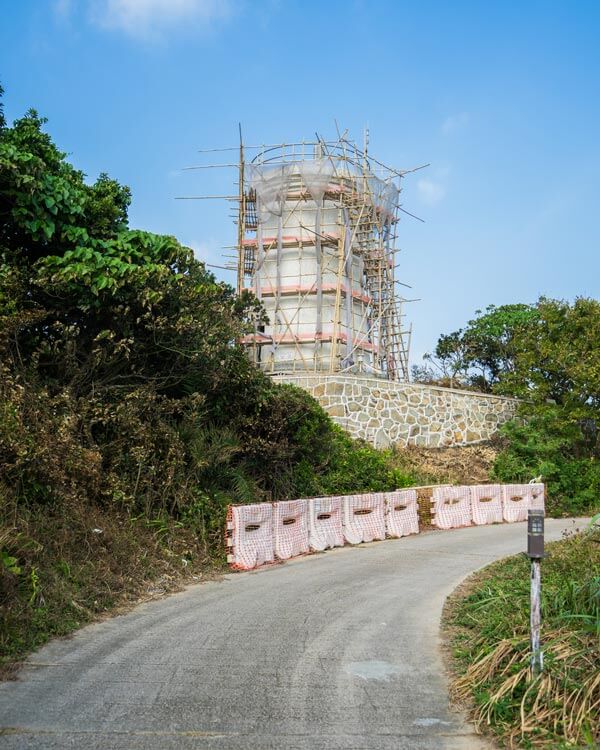 Put into service in 1875, Cape D'Aguilar Lighthouse is the oldest lighthouse in Hong Kong. It was in use until 1893, when the commissioning of Waglan Island Lighthouse made it redundant. It wasn't until 1975 that the Cape D'Aguilar Lighthouse was re-lit. Nowadays, it is a declared monument of Hong Kong.
Standing 9.7 meters tall, the Cape D'Aguilar Lighthouse is perched over a hill, offering breathtaking views of the surrounding areas. Visitors can admire its original structure, which was built using granite. The foundation and the arch doorway are built simply using stone blocks. (That is properly why it was under renovation when we visited.)
When it isn't under renovation (which seems to be quite often with this Hong Kong landmark), Cape D'Aguilar Lighthouse is an unmissable attraction. Though you cannot climb to the top, its rustic construction is worth the small detour to get there!
3. Cape D'Aguilar Marine Reserve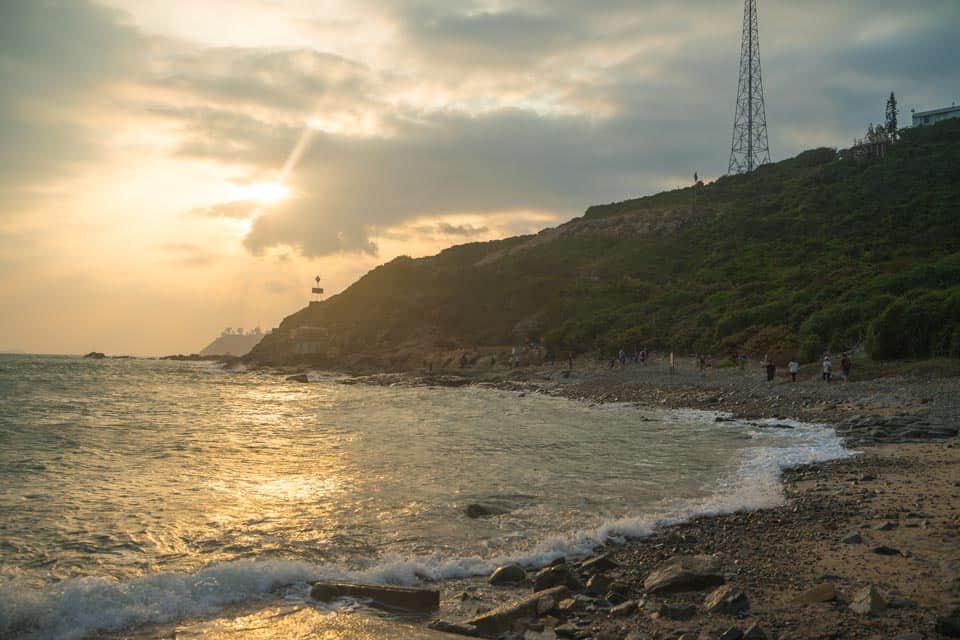 As mentioned above, Cape D'Aguilar Marine Reserve is the only Marine Reserve in Hong Kong. Managed by the Agriculture, Fisheries and Conservation Department (AFCD) in conjunction with the Swire Institute of Marine Science (a research faculty from HKU), they protect the rocky shores and the subtidal habitats in the area.
That means no swimming, diving, fishing, or collecting any organism. Violators will be fined heavily. That doesn't mean you can't walk along the rocky shores and admire the stunning geological formations and the tumultuous waves
Just be careful walking near the waves. There was a recent tragic accident when a man got washed into the sea.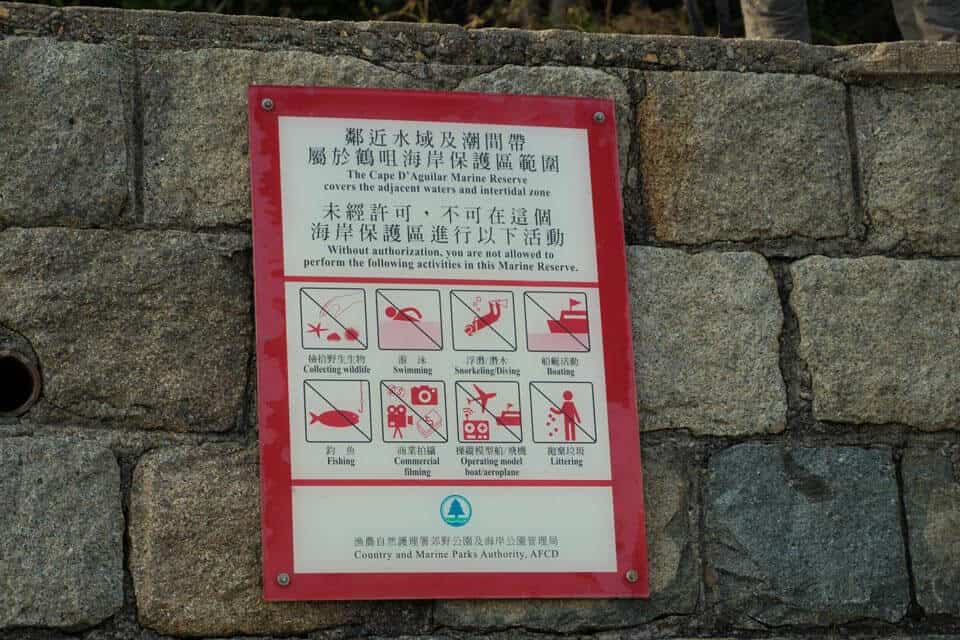 With the infinite sea as the backdrop, Cape D'Aguilar Marine Reserve is one of the most beautiful photo spots in Hong Kong. Visitors can spend some considerable time here taking photos, watching the violent waves and listening to the soothing sounds of the sea.
Look into the distance and you will see some of the most popular Outlying Islands in Hong Kong, such as the Tung Lung Chau and the rugged Po Toi Island.
4. Bones Of Miss Willy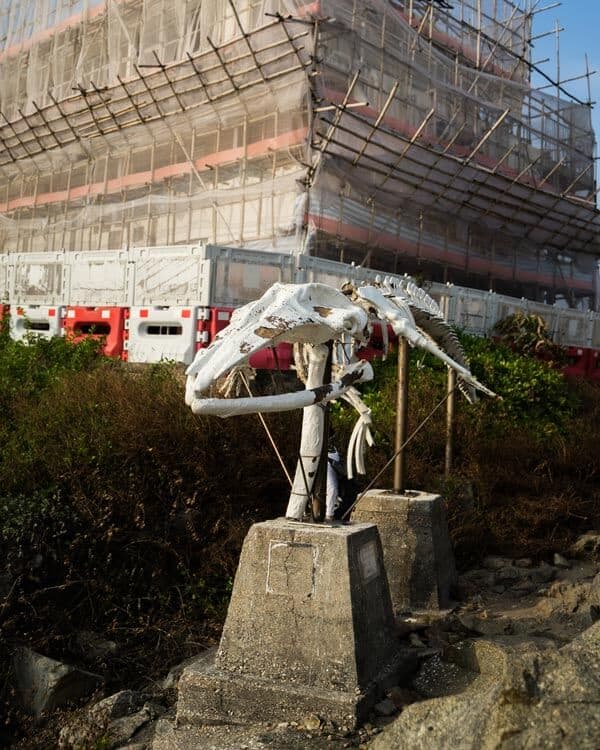 Bones of Miss Willy is one of the top attractions in Cape D'Aguilar, though I honestly don't see the appeal of it. Located adjacent to the Swire Institute of Marine Science, Bones of Miss Willy is inside the Cape D'Agilar Marine Reserve.
Bones of Miss Willy is actually a skeleton of a whale, which I assume was called Miss Willy. Because there is really a lot of information on this random skeleton, we don't really know much. Who is Miss Willy? What is Miss Willy? How is Miss Willy? (Probably not too good.)
Unsheltered from the natural elements, the Bones of Miss Willy have definitely seen better times. Many outer parts of the skeleton seem to be coming off, revealing what is inside. From what we could see, we don't think the skeleton is that of an actual whale (but we could be wrong).
5. Check Out Thunder Cave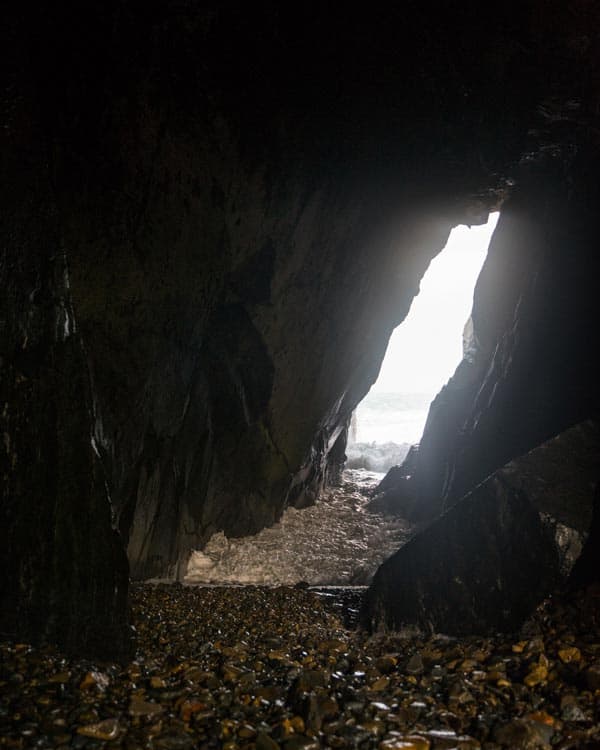 Thunder Cave is one of the coolest geological phenomena at Cape D'Aguilar. This narrow sea cave is a result of a small crack in between the rocks. Because of its tiny opening, the sound of the violent waves reverberates, as if thunder had just struck nearby.
Be careful when visiting the Thunder cave. Don't get too close to the waves because the surface is covered with slippery pebbles. It is unpredictable how far up the waves can come up.
6. Take A Photo At The Crab Cave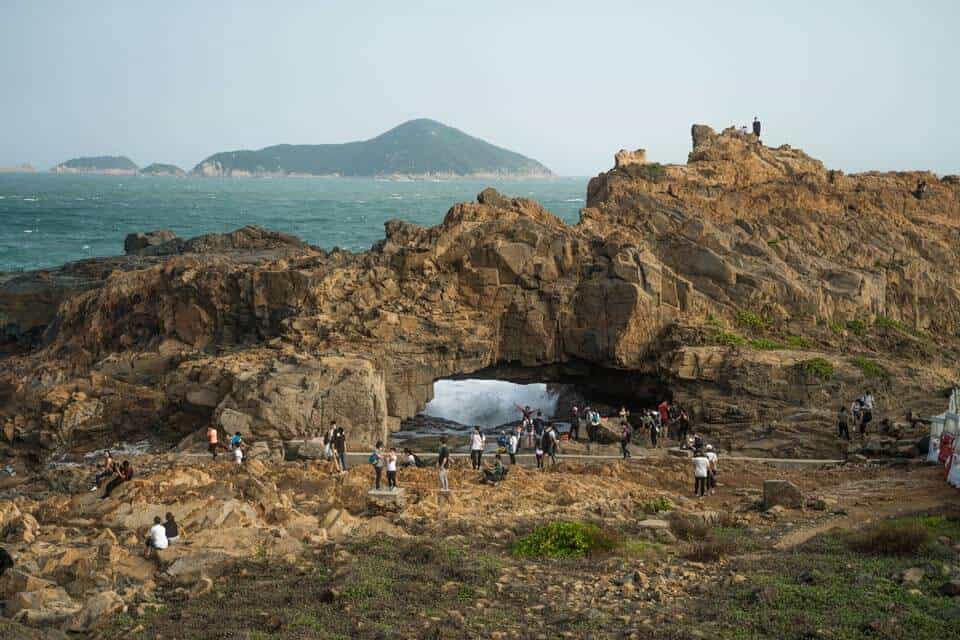 Visiting the Crab Cave is one of the best things to do in Cape D'Aguilar. Located next to the Swire Institute of Marine Science, it is easy to locate the Crab Cave. If you are visiting on the weekend, the big crowd and long queues for a photo opportunity will give it away.
Crab Cave earned its iconic name from the arch-like rock formation that resembles a crab. The mouth of the crab is the perfect place for a photo, as the wild waves behind you create a dramatic landscape.
Just be careful to not go too far in, the crab might not swallow you up, but the waves definitely will!
Visitors are also welcome to climb up to the top of the Crab Cave for a better view of the coastline. Just be careful as the rocks are razor-sharp!
7. Cape D'Aguilar Battery
Though we did not visit the Cape D'Aguilar Battery, we did see it on the way to the Marine Reserve. Because it is not located on the main trail, visitors will have to take a 1-hour detour (down-and-up) when they get to the Hok Tsui Village.
The Cape D'Aguilar Battery was destroyed in World War II and only ruins remain. The path is also somewhat overgrown but it is worth checking out if you have extra time.
---
Tips For Visiting Cape D'Aguilar In Hong Kong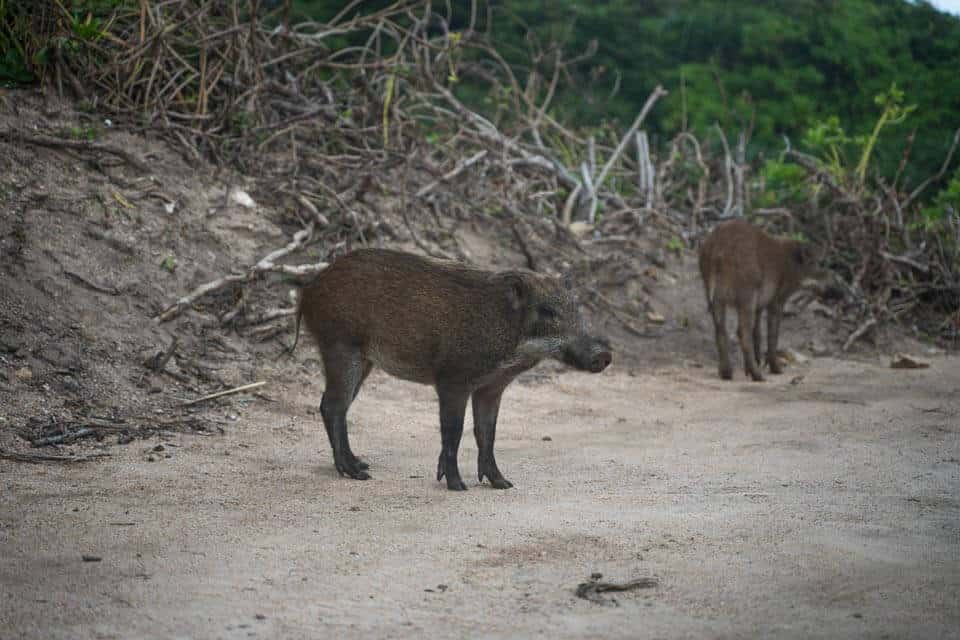 Don't fly your drone here! We tried flying our drone and it was just way too windy. The wind was taking our drone away and we couldn't control it at all. We were unbelievably close to losing our drone.
You might encounter a pack of village dogs. Don't be afraid. They are friendly as long as you don't try to run! You might also encounter some wild boars. There is no need to be afraid of those either.
Make sure you don't miss the last bus back to Shau Kei Wan. If you do, good luck! (You will have to take a taxi/Uber.)
The waves are brutal at Cape D'Aguilar and there are many conditions in Hong Kong that can exacerbate this situation. If there is a typhoon warning, we highly advise against visiting Cape D'Aguilar. You might want to consider an indoor activity in Hong Kong instead.
---
Cape D'Aguilar Hong Kong FAQs
Can You Visit Cape D'Aguilar At Night?
Yes, you can visit Cape D'Aguilar at night, but visitors should be extra careful of the crashing waves and potential wildlife.
Is Cape D'Aguilar A Hard Hike?
No, Cape D'Aguilar is one of the easiest hikes in Hong Kong. Though it takes about 2.5 hours to go out-and-back, the trail is very flat and there is gorgeous scenery along the way!
Is Cape D'Aguilar A Good Place For Sunrise?
Sunrise in Cape D'Aguilar is gorgeous because part of the cape faces east. Not only can you get sweeping views of the sea with the sun slowly rising above the horizon, but you can enjoy it with some of the epic rock formations at Cape D'Aguilar.
---
Like this post? Don't forget to save it on Pinterest!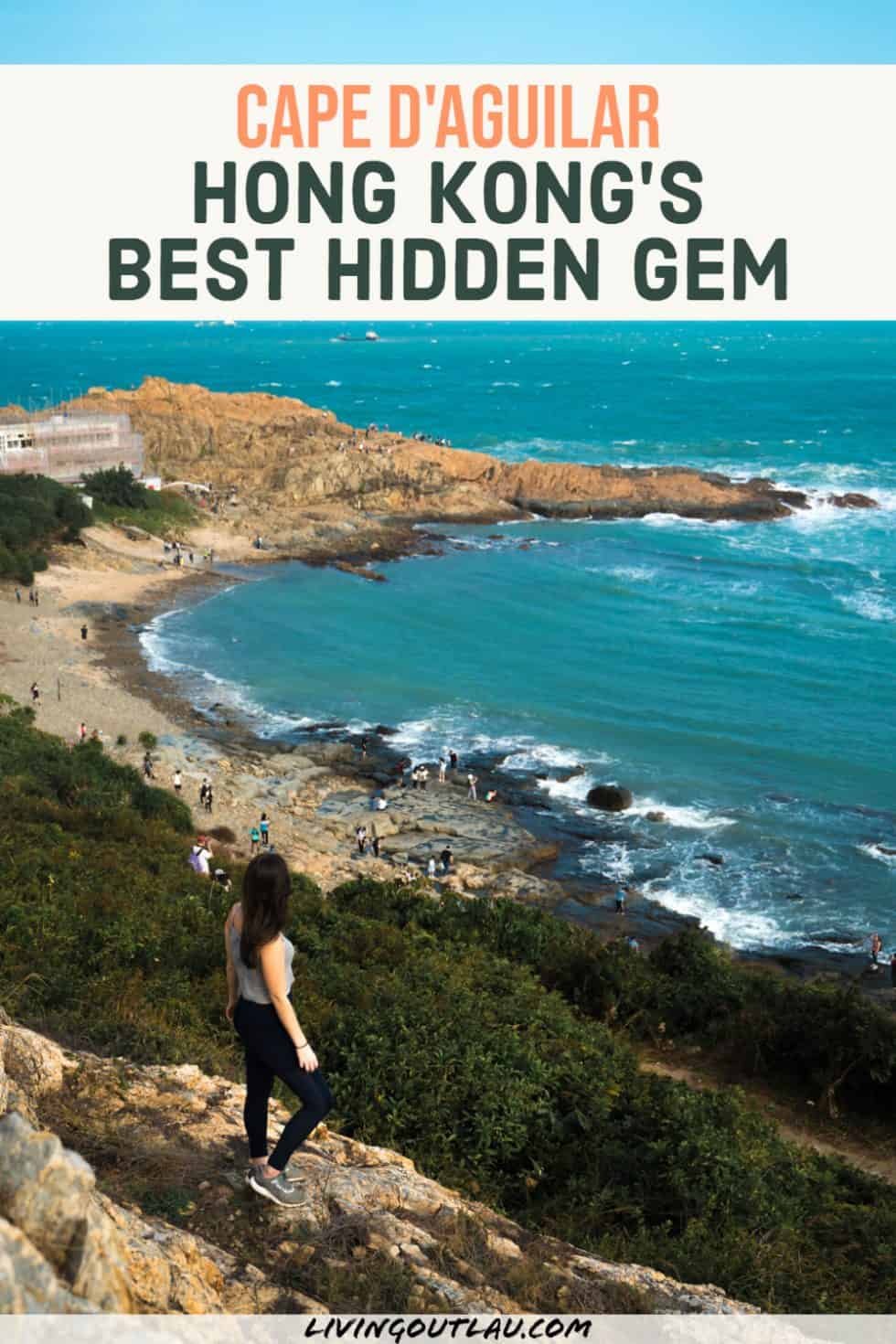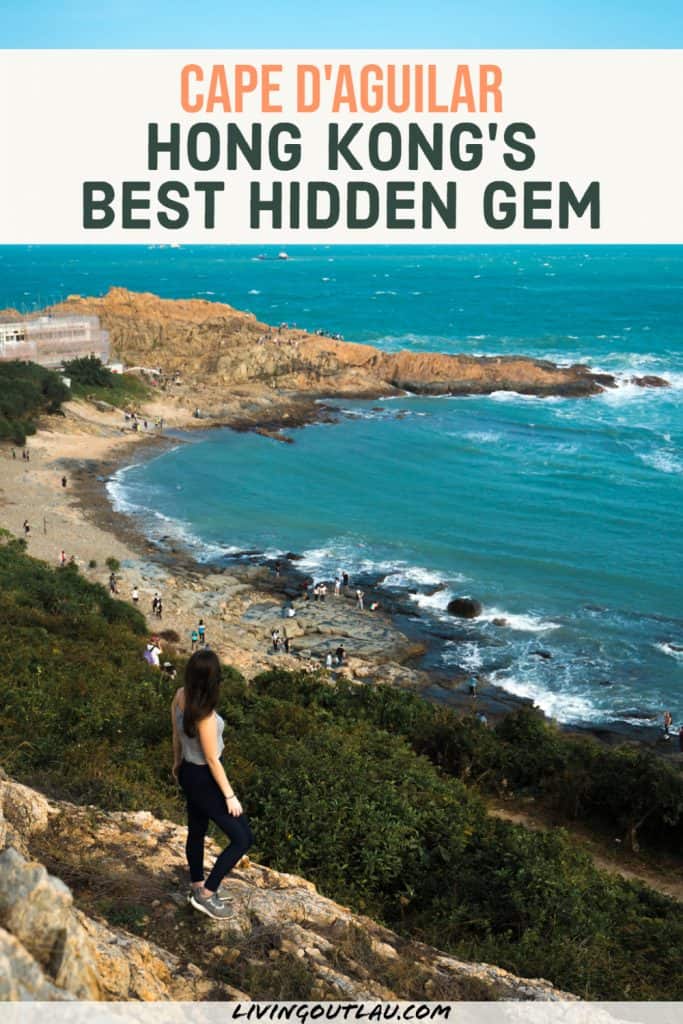 ---
This is the end of our guide on exploring Cape D'Aguilar. We hope you have a good time visiting this beautiful hidden gem in the southeastern corner of Hong Kong. Don't hesitate to share your discovery with your friends or family!

Any questions? Let us know in the comments!
Disclaimer: Some of the links above are affiliate links. That means if you book or make a purchase through the links, we will earn a small commission at no extra cost to you! The money will help run this site! Thank you!